The last few years, we've skipped looking back at the big stories in travel because it was too hard and too obvious: COVID-19. But this year feels different.
Travelers, airlines, hotel companies, and every corner of the world is still grappling with the pandemic and its aftershocks, of course. It has shaped travel in 2022, too. Odds are, it will in 2023 as well.
But for now, let's look back at the biggest stories, trends, and changes we saw in the past year.

Travel's Big Comeback
I think we can call it now: 2022 was the year travel returned to pre-pandemic form.
You can see it in the numbers the TSA tracks of passengers moving through U.S. airports, inching closer and closer to (and sometimes exceeding) what we saw in 2019 throughout the year. It's easy to see just how far travel has come in this graph from Airlines for America comparing 2022 travel numbers to three years ago.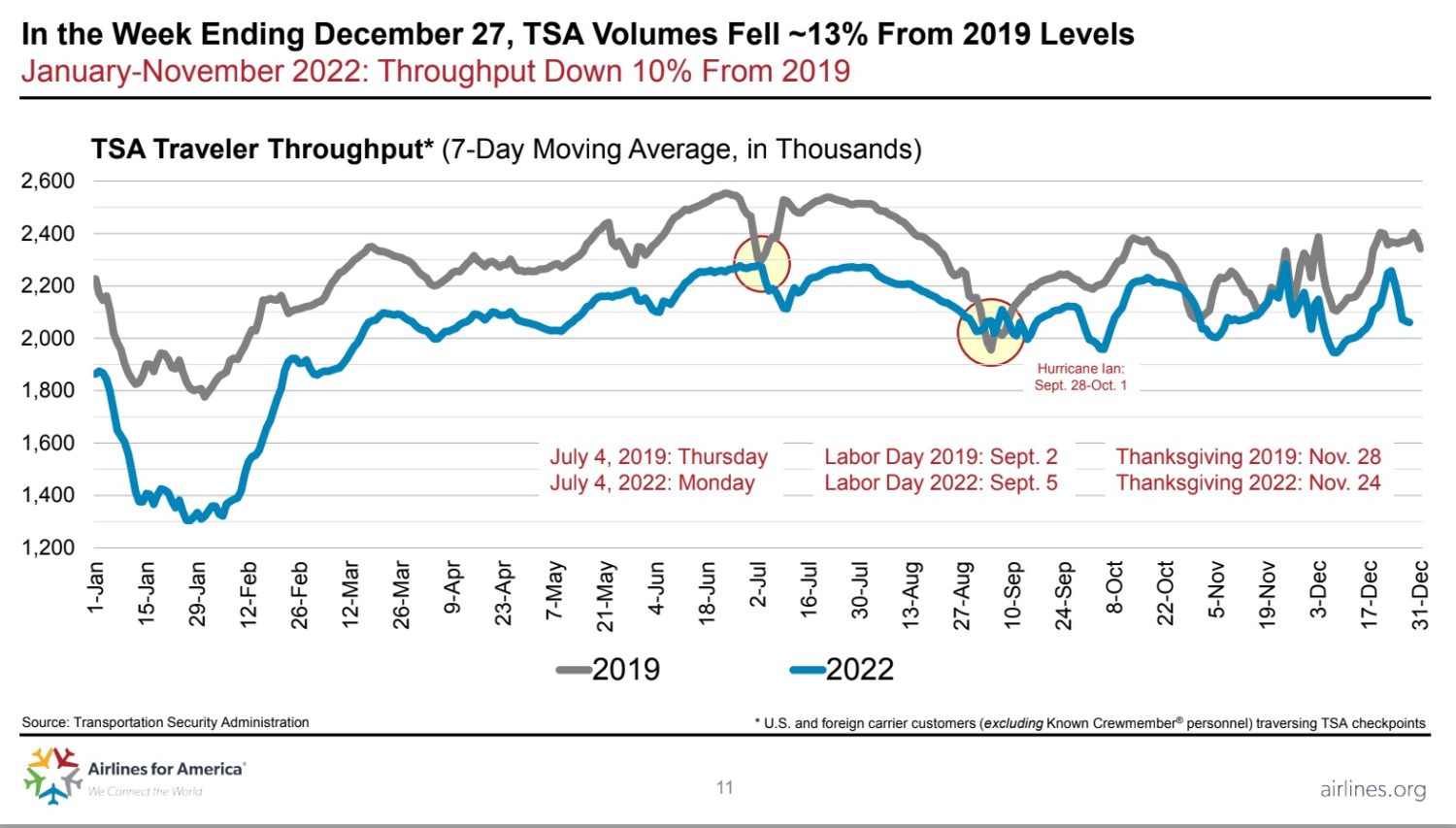 Sure, it's not quite there yet. Importantly, business travel has been much slower to resume even as millions of Americans returned to the skies for vacations or visiting family.
But let's zoom out beyond the day-to-day numbers and think bigger picture: Much of the air travel experience looks and feels just like it did before the pandemic. 
Airlines have resumed many of the flights they put on pause during the early days of the pandemic. Planes are packed – in some cases, more full than ever – and the days of blocked middle seats are long, long gone. Inflight drink and snack service (or what little we get, anyways) has come back, too.
One major change came about suddenly: Masks are no longer required on planes. The federal mask mandate ended abruptly on April 19, 2022, after a surprise federal court ruling struck it down. Despite objections from the White House, it never returned. But by the next day, many travelers were clearly eager to ditch their masks in planes and throughout airports for the first time in two years.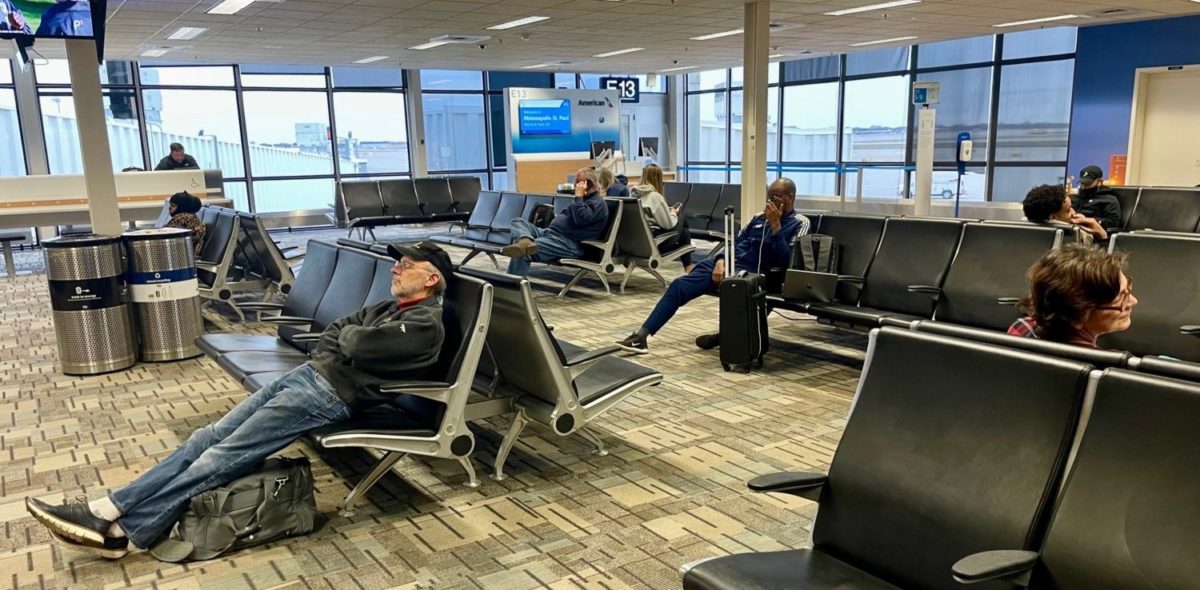 Travel is back. But again and again, that surge in travel clearly pushed airlines past their breaking points in 2022…

Southwest Caps Off a Year of Delays and Cancellations
The year ended much the way it began: With flights being canceled and delayed by the thousands.
Southwest is still in the midst of an unprecedented meltdown, stranding millions of Americans after canceling more than 12,000 flights since just Sunday – more flights than Delta and United combined canceled in the entirety of 2019. It's all but certain to go down as the worst airline meltdown in history.
Southwest's might be the worst, but the airline is hardly alone. Again and again, almost every carrier in the country has suffered mass disruptions, canceling hundreds if not thousands of flights over the course of just a few days.

Read our op-ed calling for greater passenger rights and compensation in the event of delays and cancellations!
That unreliability has been the defining issue for U.S. travelers for the last two years straight, ruining long-planned trips with unprecedented delays and disruptions. But why?
After downsizing through early retirements and exit packages, airlines haven't been able to grow fast enough to cope. But they've stretched themselves too thin, packing schedules and passengers as tight as possible to make up for years of lost revenue … without leaving themselves enough wiggle room to recover when things go seriously wrong. Throw in a storm, an IT issue, a labor dispute, and airlines fall apart.
That's why Delta melted down several times over the early summer, tarnishing its long-held reputation as an on-time machine. Before Delta it was Spirit suffering thousands of cancellations. Or Southwest again. American, United, and practically every other carrier in the country has struggled to keep up.
Will things improve in 2023? Only time will tell.
Airport Lounges Have Gotten Packed
All those travelers returning to the skies must have top travel credit cards like The Platinum Card® from American Express in their wallets, because many airport lounges across the country are more crowded than ever.
Delta Sky Clubs have been the poster child for problems, with long lines regularly forming outside at-capacity lounges at some the Atlanta-based airline's biggest hubs. The airline first tried to crack down this past spring, limiting lounge visits to three hours before departure but eventually backtracking on a plan to cut lounge access upon arrival after an uproar.
But that wasn't enough. The airline will roll out a slew of additional changes early next year: raising the cost of guest passes and daily entry fees along with annual memberships, making it harder for even top elites with Delta Medallion Status to pick lounge access as a perk, and more. Yet these lines remain, making it hard to get in.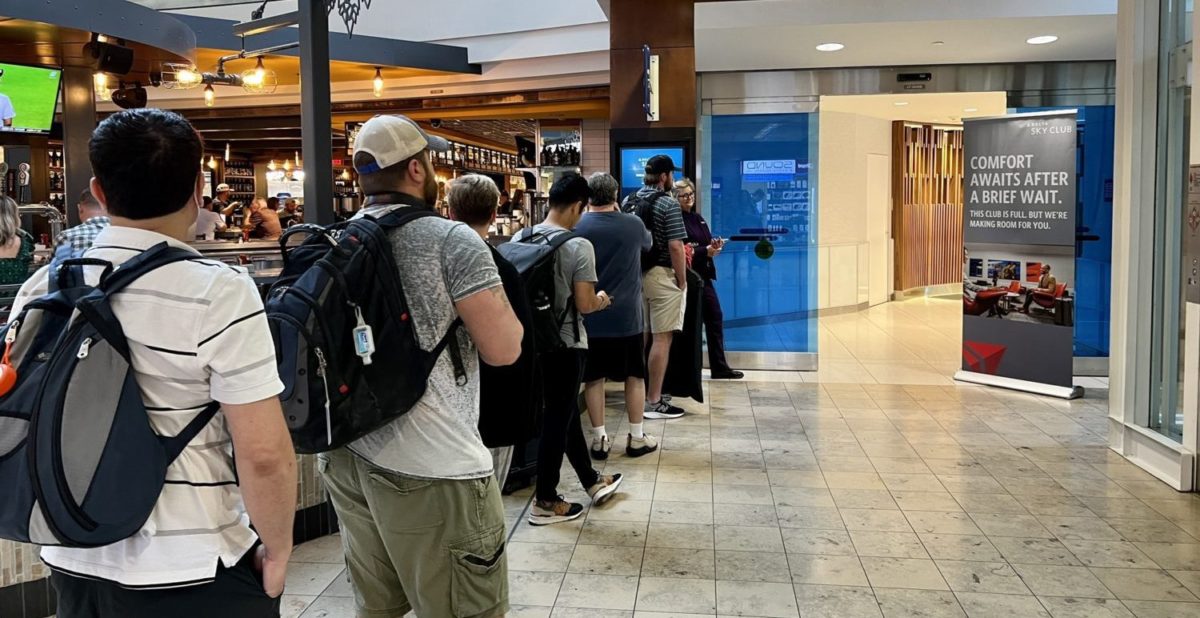 Read more: Why Are Delta Sky Clubs So Crowded These Days?
What changed in 2022? Too many travelers have easy access into Sky Clubs with American Express credit cards. And for now, Delta appears unwilling to tackle that issue.
It's not just a Delta issue. American Express Centurion Lounges were popular to a fault before the pandemic, and it's only gotten worse as travel has resumed. Lines like this one to get into the Denver (DEN) Centurion Lounge just a few weeks ago have become commonplace.

American Airlines' Admirals Clubs at its big hubs can be packed, sometimes at capacity. And even the exclusive United Polaris Lounges for business class regularly fill up each afternoon before international departures. It's all another sign of travel bouncing back – and travelers are increasingly thinking bigger and bigger.
International Travel Is Back on the Menu
At the start of 2022, we made a prediction: International travel would get harder as many countries clamped down during a nasty COVID-19 wave, then roar back throughout the year.
Roar back it has.
From Spain to the United Kingdom to Greece and almost every country in between, Europe is open like it's 2019 again, with no COVID-19 entry requirements to deal with whatsoever. After nearly two years on pause, Australia reopened for international travel in early 2022. With Japan reopening in October and other stragglers following suit, nearly all of Asia is open again, too.
The explosion in international travel demand is undeniable as travelers who put off big trips abroad finally made it happen. You can see that appetite for trips abroad in this data from Kayak, showing that searches for international flights have overtaken domestic trips for much of 2022.

Most importantly, the U.S. finally dropped the testing requirements to fly home from abroad – a massive landmark for travel from this past year. It was the most significant loosening of U.S. travel restrictions we had seen since the start of the pandemic, allowing Americans to travel internationally without the fear of getting stuck abroad for the first time in almost 18 months.
That single change unlocked a flood of demand for travel overseas … and airlines were more than happy to seize on it.
Airlines Go Big With New International Routes
With 2022 set to be the first full year of travel coming out of the worst of the pandemic, the airlines knew they had to grow to match demand. Luckily for travelers, that meant many airlines expanded their networks to include new routes to new destinations. And in some cases, some brand new airlines even sprouted up to help drive fares down.
The list of brand-new routes to get Americans somewhere exciting in 2022 goes on and on and on. From new nonstop routes to Helsinki (HEL), a United Airlines flight to Amman (AMM) in Jordan, and Delta's surprising new service from Los Angeles (LAX) to Tahiti (PPT), there were a lot of new international flights to pick from in 2022.

While airlines targeted destinations across the globe, the emphasis on Europe was obvious. Here's a brief list of new routes airlines added to their maps in 2022 (or on deck for 2023):
Newark (EWR) to the Azores (PDL) on United
Newark (EWR) to Malaga (AGP) on United
Newark (EWR) to Stockholm (ARN) on United
Newark (EWR) to Dubai (DXB) on United
Newark (EWR) to Palma de Mallorca (PMI) on United
San Francisco (SFO) to Rome (FCO) on United
Chicago (ORD) to Barcelona (BCN) on United
Chicago (ORD) to Shannon, Ireland (SNN) on United
Washington, D.C. (IAD) to Berlin (BER) on United
Washington, D.C. (IAD) to Cape Town (CPT) on United
New York (JFK) to Berlin (BER) on Delta
Seattle (SEA) to Tahiti (PPT) on Air Tahiti Nui
Raleigh (RDU) to Reykjavik (KEF) on Icelandair
San Francisco (SFO) to Ho Chi Minh City (SGN) on Vietnam Airlines
Dallas (DFW) to Madrid (MAD) on Iberia
Washington, D.C. (IAD) to Madrid (MAD) on Iberia
Seattle (SEA) to Istanbul (IST) on Turkish Airlines
and more!
And that list doesn't include the many, many routes overseas that airlines resumed after a pandemic pause..
While the legacy airlines bolstered their networks, some new players jumped into the fray, too. The first to announce its presence was perhaps the most playful: PLAY Airlines and its fleet of bright red planes started flying in 2022, offering ridiculously low fares across the Atlantic through its hub in Reykjavik (KEF). When it launched, PLAY was offering one-way tickets to London (STN) starting at $108…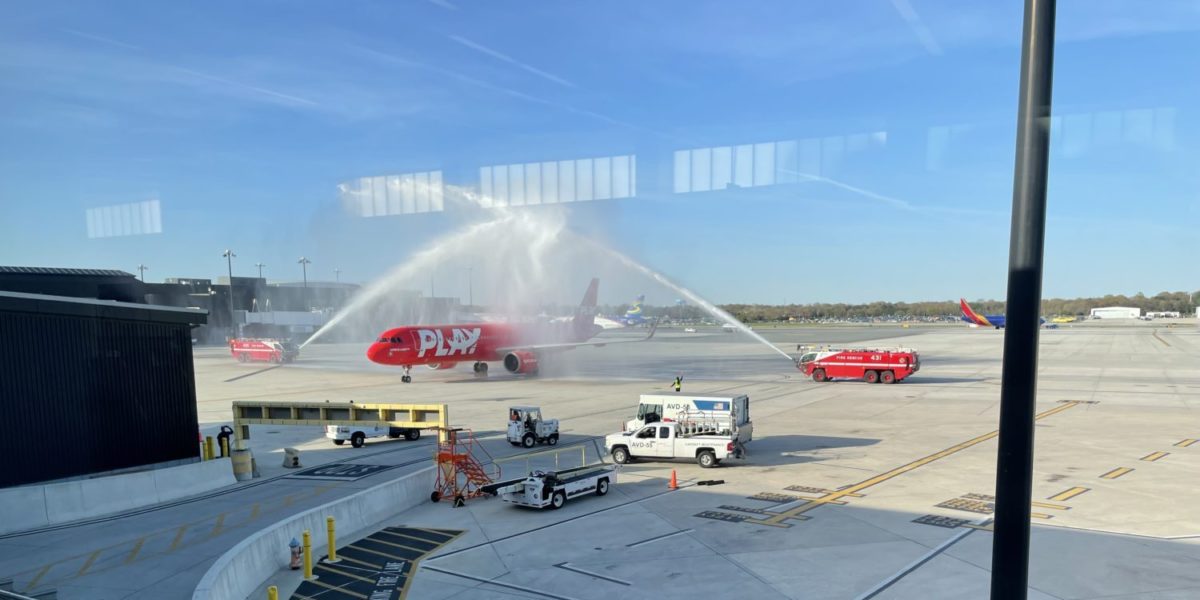 Read our review of the very-first PLAY Airlines flight from the U.S. to Iceland!
We boarded the very first PLAY Airlines flight from the United States and reviewed the journey if you're curious.
Also jumping in on the transatlantic action this year was newcomer Norse Atlantic Airways. Picking up where Norwegian left off, Norse offered some mind-bendingly low bare bones fares to get to destinations like Oslo (OSL), London (LGW), and Berlin (BER), when it launched. We also got a chance to fly Norse Atlantic soon after they launched their London service this fall, flying both Norse Atlantic economy and Norse Atlantic's Premium seats.
Even if you aren't interested in flying one of these budget carriers across the Atlantic, their presence was a boon for U.S. travelers in 2022. The bargains offered by Norse and PLAY forced other legacy airlines to drop their own prices, leading to flight deals on carriers like Air France to Oslo (OSL) for $230 roundtrip – one of the best flight deals of the year!
Ultra-Low Cost Carriers Making Moves
It was the love triangle we couldn't stop watching: Frontier and JetBlue both vying for the heart of Spirit Airlines. Will they or won't they?
Let's rewind. First, Spirit and Frontier announced a merger to become the preeminent mega-budget carrier in the U.S. in February. The surprise announcement left everyone's heads spinning … but the drama would only continue.
Two months later, JetBlue came off the top rope with a $3.6 billion offer to take over Spirit, offering 40% more than Frontier did. While the number was staggering, it didn't seem like a fit – they're very different airlines. And Spirit made clear it wasn't interested in pairing up with JetBlue.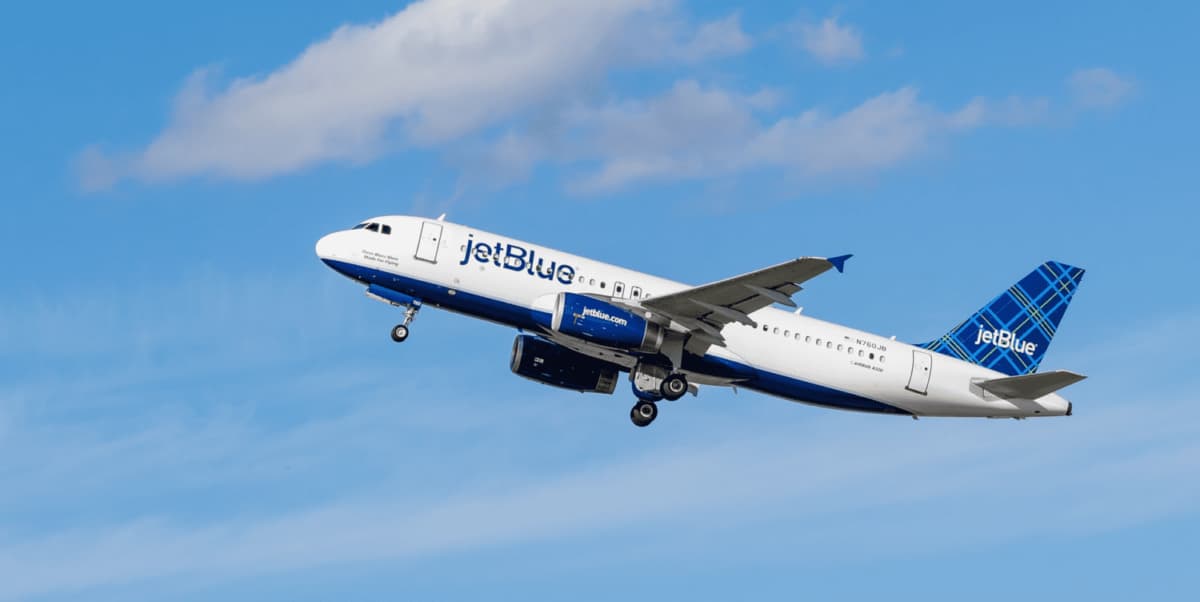 But after months of back and forth, JetBlue formally won the bidding war for Spirit Airlines with its (increased) $3.8 billion offer by persuading Spirit's shareholders that it was the right plan. Of course, federal regulators aren't yet done with JetBlue's Northeast Alliance case, and this merger will then be reviewed by the Department of Justice, too, so nothing is written in stone. One of the top stories in 2023 may be that this merger fell apart.
Deal or no deal, it was huge news for low-cost carriers in the United States. But Spirit isn't the only airline making moves.
Minnesota's own Sun Country Airlines made its mark in 2022, expanding aggressively with 15 new routes in and out of Minneapolis-St. Paul (MSP) – plus, a short (and cheap) jaunt to Eau Claire (EAU), just miles across the border in Wisconsin. A year after going public, Sun Country made its presence known with a bold goal: Competing with Delta and turning Minneapolis into a "two-airline market."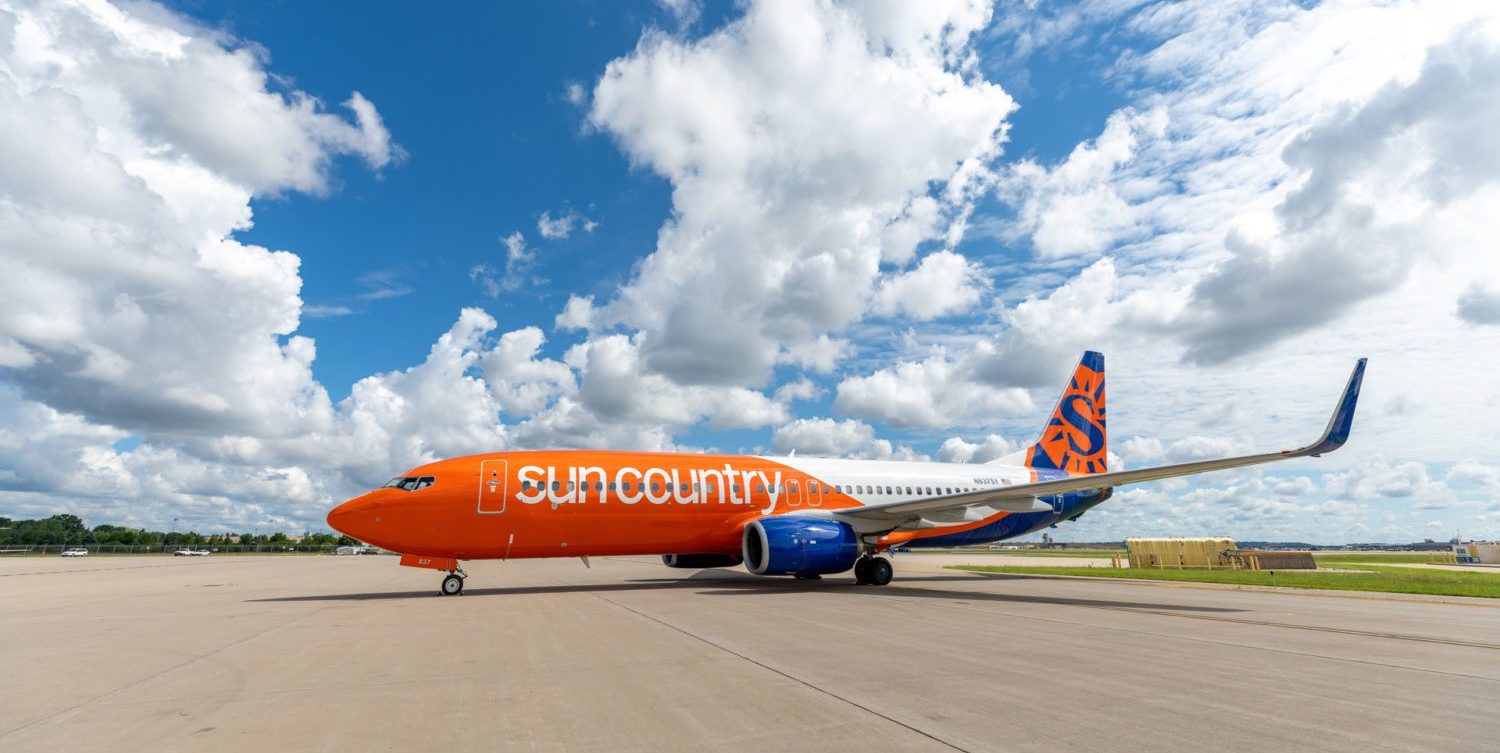 Flight Prices Went Up (But Good Deals Are Out There)
We'll remember 2022 as the year flight prices yo-yo'ed like never before.
From skyrocketing pre-summer airfare to flight prices bottoming out to some of Europe's most coveted destinations, making sense of flight prices has been a challenge for travelers in 2022. Throughout much of the pandemic, airlines simply threw out their rulebooks for how they priced flights, leading to two-plus years of unthinkable bargains.
But as travel skyrocketed and inflation followed suit, we kept getting the question: Why is airfare so expensive right now? We did our best to answer that question for people facing down four-figure airfares.
Before summer, data released by the U.S. Bureau of Labor Statistics' Consumer Price Index showed an 18.6% increase in airfare from March to April 2022 – the largest one-month jump in recorded history. Airfare was up 33% in 2022 when compared to this time last year. That means, on average, Americans were paying a third more for flights than they did the year prior.

As with all things, one of the biggest factors behind flight prices is the simple law of supply and demand, and travel demand exploded to levels we haven't seen since before the pandemic, outpacing airlines' ability to carry them all. After putting planes in the desert, retiring jets, and downsizing staff to survive the downturn, airlines couldn't (and still cant) grow back to 100% fast enough to cope with the surge in demand. With demand for travel matching the supply of flights, airlines charged more.
But rising average airfare was not the whole story. Those big-picture numbers obscure an important point: The great deals on cheap flights haven't gone anywhere.
The tide started to turn in a big way halfway through the year as domestic airfare prices receded. We saw more sub-$200 and even some sub-$100 domestic fares after Fourth of July weekend. Across the pond, we've seen a bonanza of cheap flights to Europe – including some of the lowest fares we've ever seen. Think about a fare from Miami (MIA) to Athens (ATH) for $384!

It was a frenzy of cheap flights, and things got even more attractive when you looked out into winter and spring 2023, with flights to places like Antigua (ANU) in the Caribbean starting at just $274 roundtrip or Aruba (AUA) for $325 roundtrip!
From there until the end of the year, flight prices stabilized, even showing a 3% dip in flight prices right at the end of the year. The latest federal inflation report released in December 2022 showed average airfare fell by 3% from October into November, the second consecutive month with a decrease. Bigger picture, these average changes in airfare have been see-sawing for several months as the air travel industry (and overall inflation as a whole) found its footing.
So yeah, you might have gotten a little motion sickness along the way, but we left flight prices better than we found them in 2022.
Banks & Airlines Are Competing for Premium Travelers
As travel stabilized, one trend was undeniable. More than ever before, airlines and travel credit card companies alike are laser-focused on premium travel: fancy first and business class seats, expanding and building new lounges, offering more travel perks, and luring customers in with huge credit card bonuses.
It isn't hard to see with credit cards. Over much of the last year, we've seen almost every bank up the ante with their top-of-the-line travel credit cards, hoping to lure them in. There were (and still are) 150,000-point bonuses up for grabs on The Platinum Card® from American Express. Chase temporarily bumped up the bonus on its flagship Chase Sapphire Reserve® as high as it's been in nearly six years. Capital One has attempted to corner the market with its Capital One Venture X Rewards Credit Card, too.
This past summer, Delta and American Express launched a limited-time offer on their suite of co-branded American Express credit cards including a record-setting bonus on their Delta SkyMiles® Reserve American Express Card. What's more, Delta and Amex tried to draw in even more diehard travelers (including yours truly) by making a limited-edition card from the metal of a retired Boeing 747.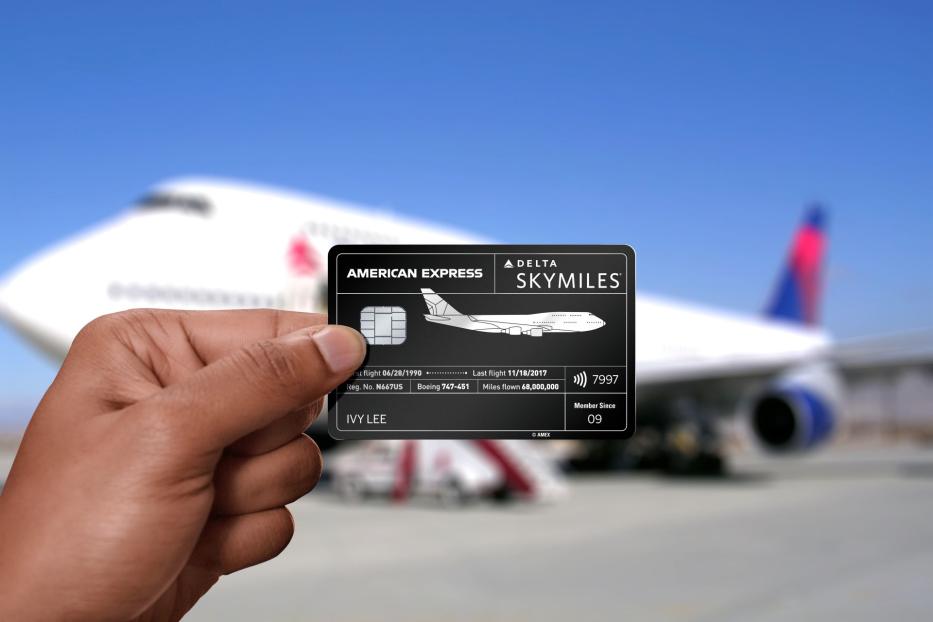 Nothing says "premium travel" quite like airport lounges, and banks made their moves in 2022.
American Express has continued building out its impressive portfolio of Amex Centurion Lounges, with several new additions and expansions underway. Capital One entered the lounge wars late last year with the stellar new Capital One Lounge in Dallas-Fort Worth (DFW), with two more lounges expected to open in Denver (DEN) and Washington-Dulles (IAD) early next year. A location in Las Vegas (LAS) is also in the works, along with novel dining concepts called Capital One Landings coming for Washington, D.C-Reagan (DCA) as well as New York City-LaGuardia (LGA).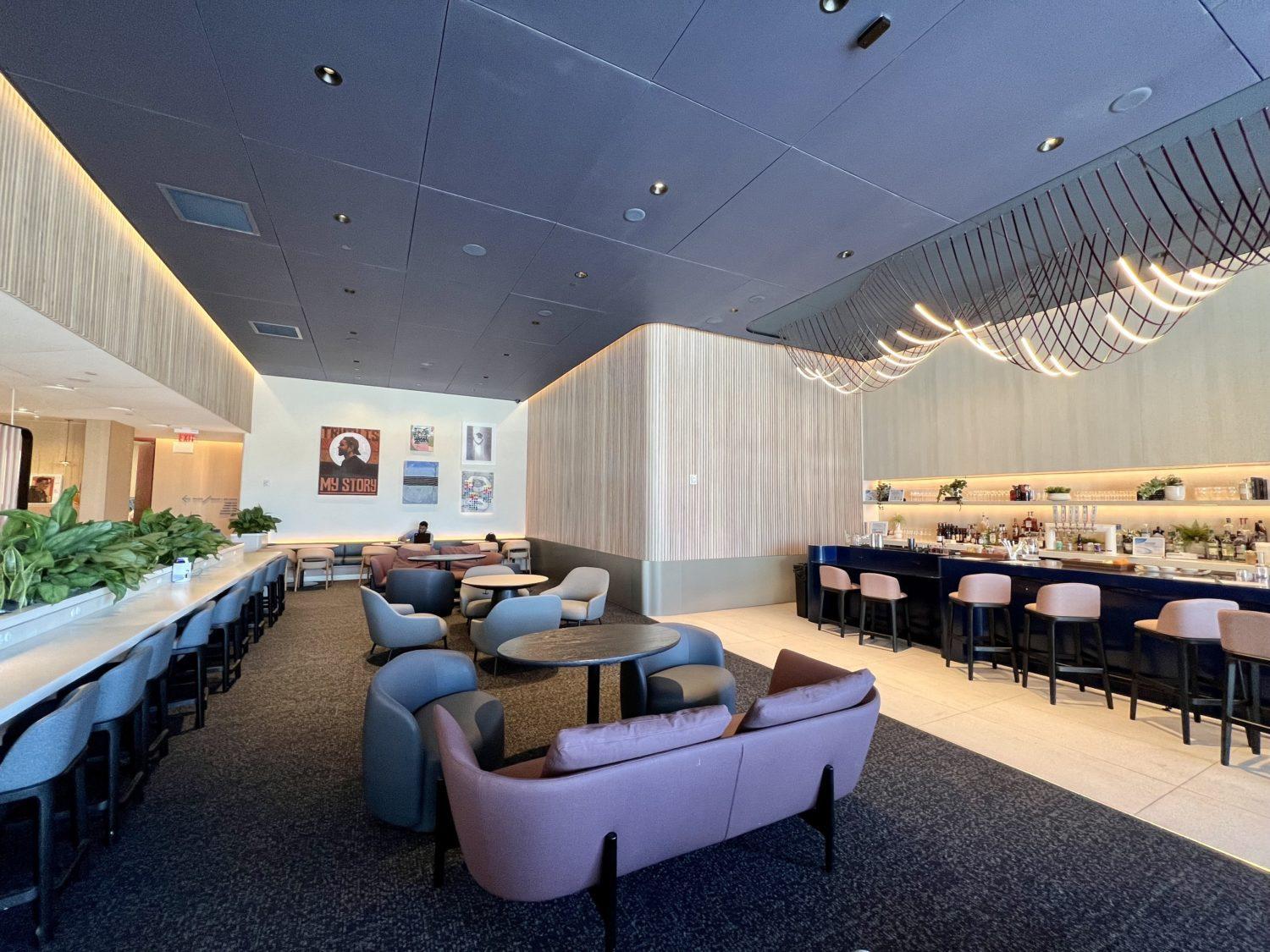 But Chase is pushing even harder. The bank is working fast on opening its own branded lounges all over the world. The first of those lounges opened in late October … all the way over in Hong Kong (HKG). None of the seven confirmed U.S. locations have opening dates just yet.
Points & Miles Took a Hit (But It's Not All Bad News)
There are three certainties in life: Death, taxes, and airline mileage devaluations. This past year has been no different.
Points and miles are not an investment. They are there to be used. And as tempting as it might be to watch your mileage balances grow and grow, you're asking for trouble. Why? Because over time, airlines keep charging more miles for the same flights. It's inevitable, and the list of these downgrades from 2022 is long.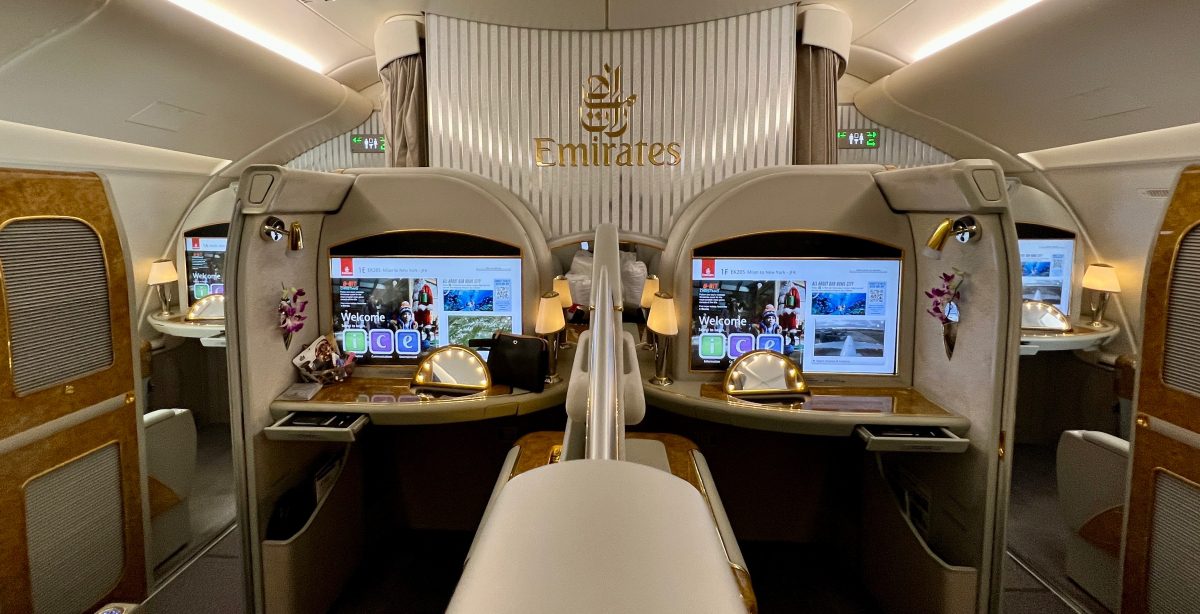 That's just a small sample. But believe it or not, it's not all bad news. There were a few big wins for travelers with points and miles in 2022, too.
Air Canada Aeroplan has cemented its titles as one of the best airline mileage programs in the world by adding more and more partner airlines. The most recent additions? Emirates and Singapore, opening up the best way to book business class on both airlines.
But the big win of 2022 for travelers with credit card points was Qatar Airways' tie-up with the Avios program of British Airways. With that small change, it makes it almost laughably easy to book Qatar Qsuites at reasonable rates with points from cards like the Capital One Venture X Rewards Credit Card, the Chase Sapphire Preferred® Card, or the Platinum Card® from American Express.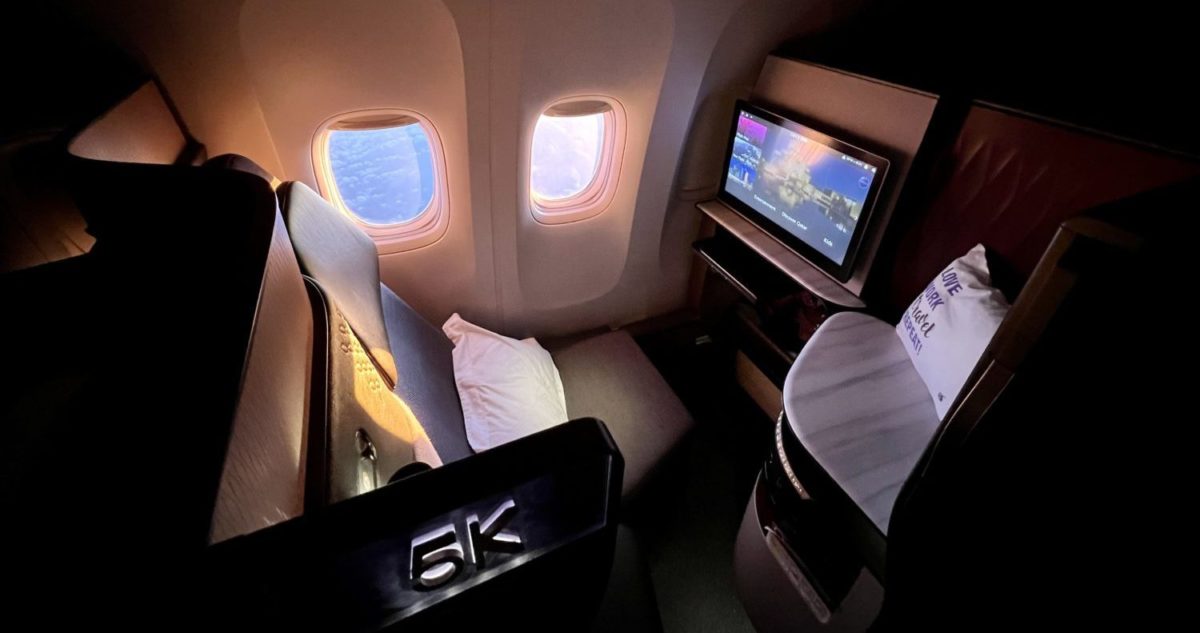 Bottom Line
As the year closes out, I can't shake the feeling that travel feels … pretty much back to normal for the first time in years.
As a travel company, we're grateful for that. That overarching trend has shaped this past year in travel – in ways good and bad.