Most travelers follow a similar script when planning any trip: Set the dates, pick a spot, book a hotel, book a flight, and go.
You're doing it wrong: That's a recipe to pay too much for flights almost every single time. But four simple words could help you significantly cut the cost of airfare every time you fly. And no, it's not by clearing your cookies or booking flights on a Tuesday. This is even bigger than that.
We call it The Flight First Rule. And it's exactly what it sounds like.
Instead of deciding on the dates of your trip before booking your flights, flip that familiar script on its head and start by searching for flights, letting the price guide you to the cheapest dates possible. It's all about being as flexible as you can to save on flights – and trust us, it makes a big difference … especially as flights have gotten more expensive lately.
You might be shocked at how much you can save just by departing a day earlier or later than you initially planned. Or by traveling during cheaper seasons, you could save even more.
Big Savings in Action
First things first: You should be using Google Flights to search for airfare. The web giant's airfare search engine is powerful and versatile, and there's no better way to hone in on the cheapest dates for your flights.
That's because Google Flights lets you scroll through months' worth of flights, filtering based on your needs for baggage, avoiding basic economy, and more. With Google's handy calendar view, it's easy to visualize the cheapest days to travel on a given flight: they typically show up in bright green.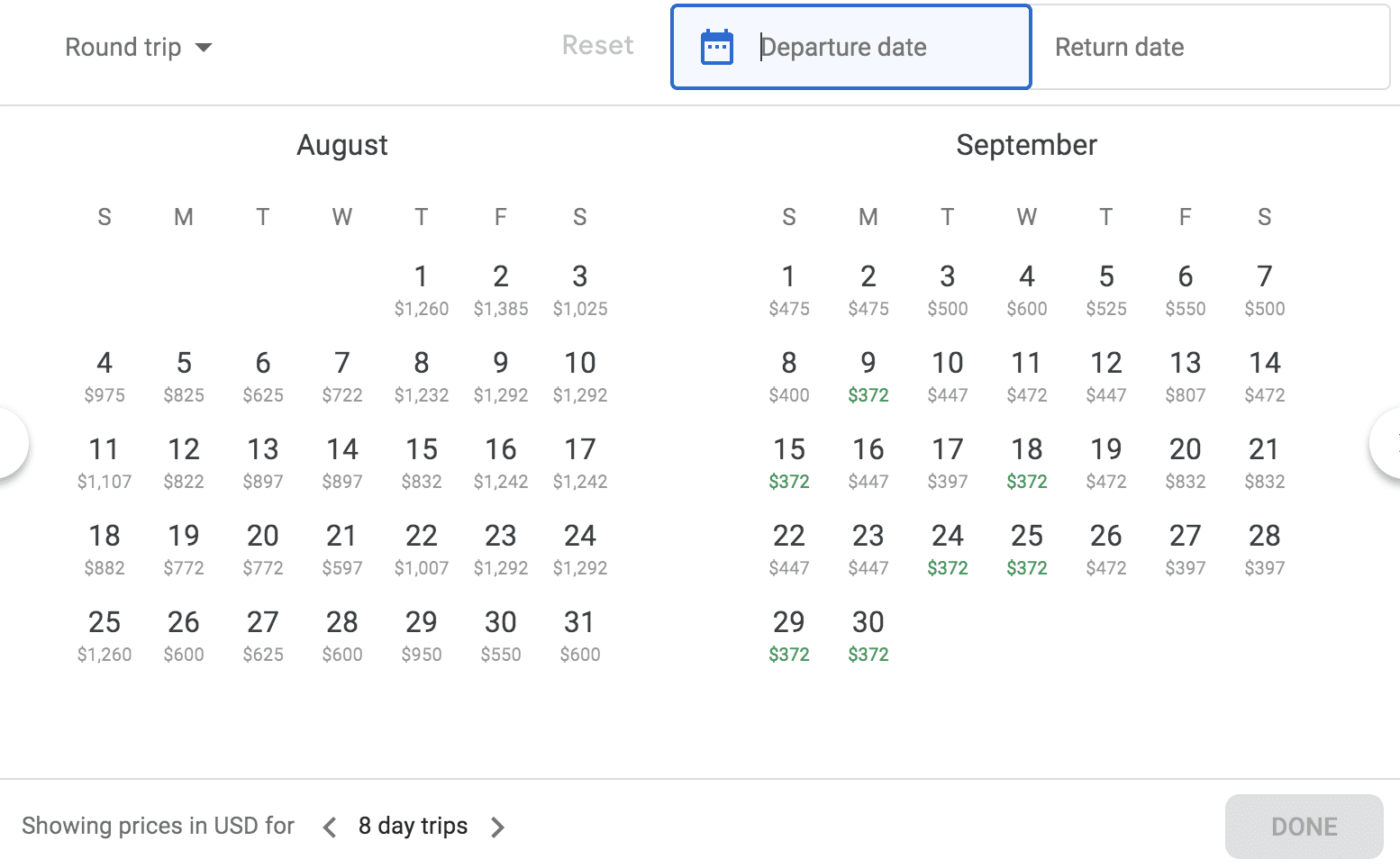 Let's say you live in Minneapolis and want to head out to Chicago later this year. If you decide on a week in late August departing on a Monday, you'll pay a heavy price for that nonstop flight. Don't pay $300 or more for a quick domestic flight like this.
If your schedule is flexible – or you haven't decided on when to go yet – check the calendar on Google Flights. You could go for a week in September instead … and save almost $200 per ticket!
But it doesn't require a massive schedule change to save money. Sometimes, altering your trip by just a day or two can result in huge savings. In this case, moving the trip by just a day from that original $338 flight, departing and returning on a Tuesday (instead of a Monday), brings the price down to just $184 roundtrip. That's nearly half the cost of the flights one day earlier.
By putting The Flight First Rule in action, you saved at least $154 on your flight. Those savings add up fast, especially if you're booking flights for two or an entire family. Once you've booked your flights, that's more money for a hotel, Airbnb, a nice restaurant, or whatever you've got in store. And if you're planning a big international trip, the savings can be even more substantial.
This is just one example – we could go on with dozens and dozens of flights. But it clearly shows just how much you can cut your costs when starting your travel planning by searching for flights … and not by setting your schedule in stone first. 
Don't worry about finding the right hotel or Airbnb until after you've got your flights booked. Or find your cheap flight first, research your lodging options around those dates, then book both at the same time.
Of course, this example won't work for everyone. Vacation time is limited. Families, teachers, and everyday workers structure their trips around specific dates when school or work is out.
But whether your schedule is wide-open or more constrained, whether you can travel at any time or only shift your trip by a day or two, the savings by using the Flight First Rule are there. And they can be massive.
Can't be flexible? Are travel dates set in stone? Set a Google Flights Price Alert to get notified when the price of the flights you need drops!
The Principles of Cheap Flights
Follow the Flight First Rule, and you're on the right track to saving on flights. And it's always worth poking around on Google Flights, day by day, to see how much you can save on a trip you've got in mind.
But there are a few basics behind how airlines set pricing that can help guide you in the right direction:
Avoid the peak summer, from roughly June 20 through Aug. 20, as that's when travel demand, and therefore airfare, is at its highest. By traveling in the shoulder seasons – just before and after that span – you can often save a lot.
That old saying you've heard about scoring the cheapest flight by booking on a Tuesday? Yeah, that's not true. Read up on the best day to book flights – it's not what you think.
But there are some cheapest days to fly. You'll often find the best deals by departing and returning on a Tuesday, Wednesday, or Saturday. 
See a great deal but not sure you can make it work? Book the flight now, and figure out the rest later thanks to the 24-hour rule, a federal law requiring a full refund for any flight from, to, or within the U.S. if you cancel within 24 hours of booking. That should give you enough time to check in with your travel buddy or confirm you can take time away from work.
Don't book at the last minute! The days of cheap airfare weeks or days before departure are long gone. Your best bet is to book at least 30 to 45 days before departure to get the best deal – and even earlier for a big international flight.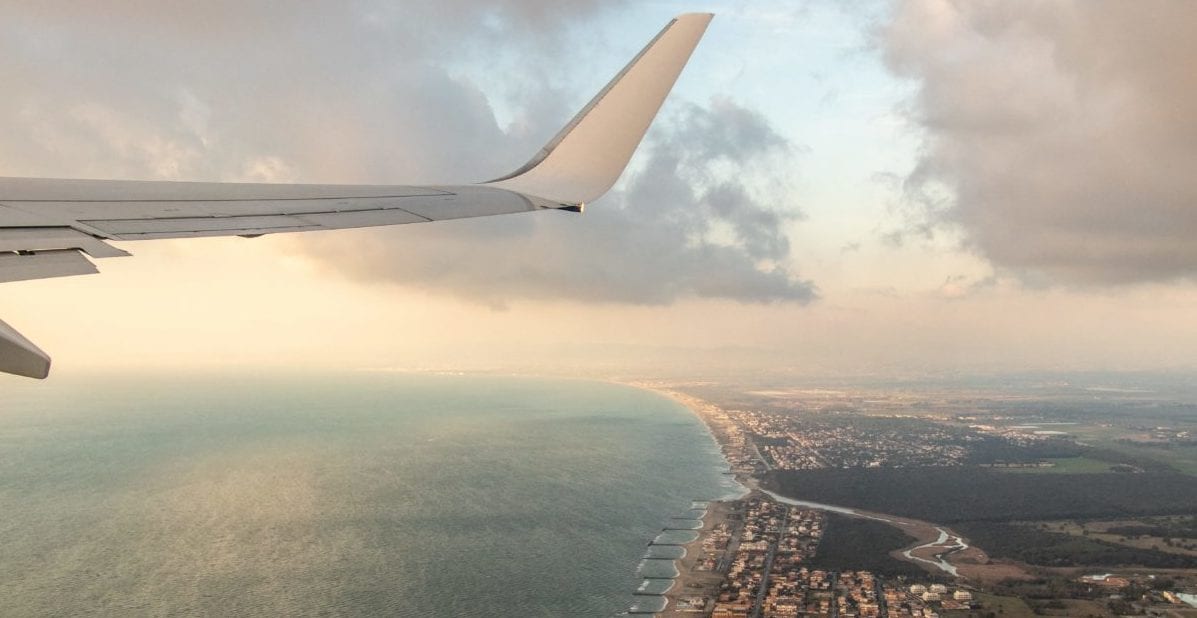 Read our master guide on how to find cheap flights!
You can take things a step further with this concept and save even more by being open to any destination if you're willing to go wherever a cheap flight takes you. Fire up Google Flights Explore to search for a one-week trip in the next six months and you'll be able to narrow in on a destination and set of dates with the cheapest airfare.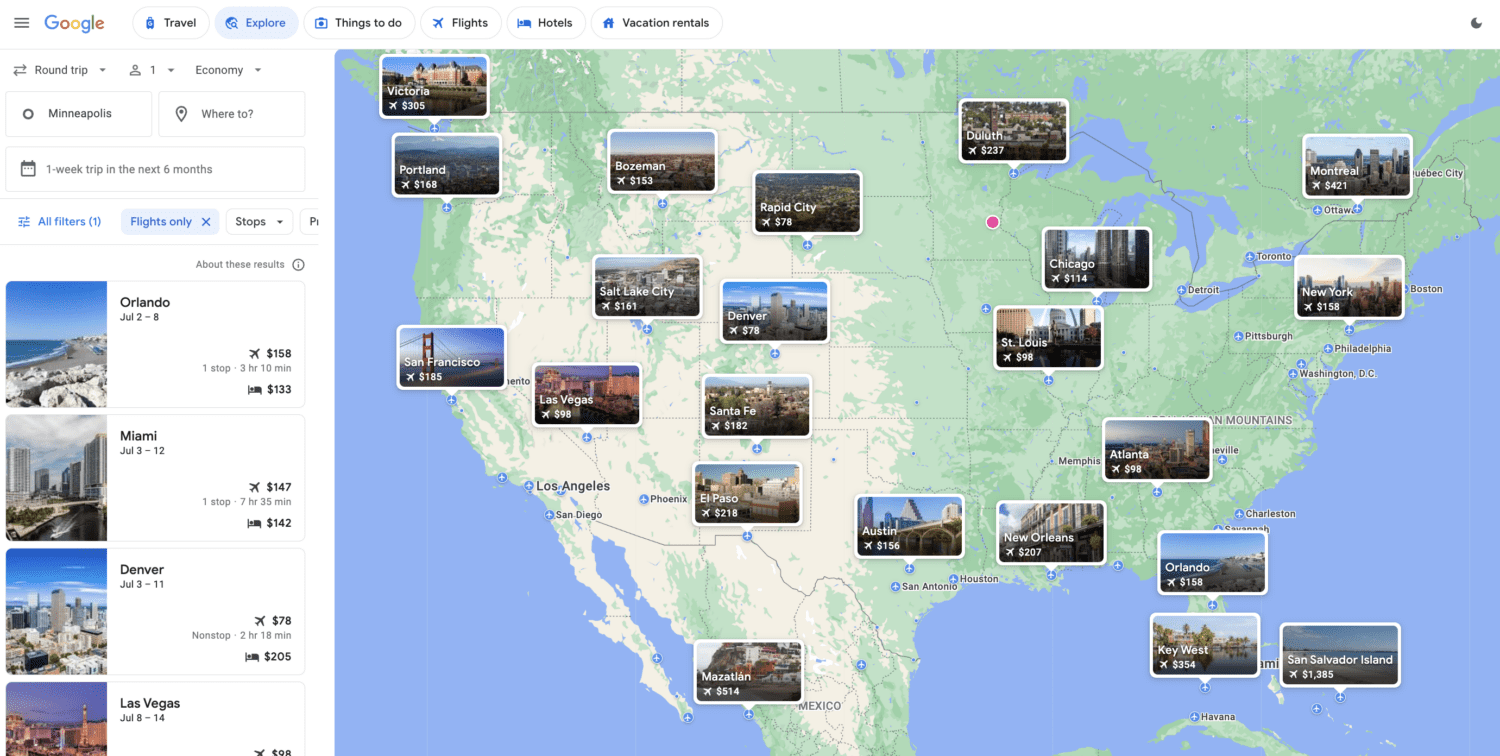 Or let us do the work for you. You can sign up for free to get alerts for cheap flights sent straight to your inbox.
Want to take things to the next level and get 10x more alerts about good deals flying from your preferred airports? Upgrade to Thrifty Traveler Premium – we'll send all the best (and cheapest) domestic and international flights straight to you immediately.
Bottom Line
Finding a good deal on airfare isn't rocket science. It all comes down to using the right tools and being flexible.
But the first and most important step that every traveler can employ is also the easiest: The Flight First Rule. Start your travel planning by searching for flights first – that's all it takes.
If you're open to changing plans even slightly, you could save a bundle.