You've seen the stories about travelers using credit card points and miles to see the world for next to nothing. It sounds like a dream, but is it even real? And where do you begin?
There's plenty of hype and exaggeration out there, but using the right credit cards – and using them responsibly, paying them off in full without going into debt – can absolutely help you travel more for less. But with hundreds of travel rewards credit cards out there, it's overwhelming to pick the right one for you. What cards are worth it and which cards aren't worth the plastic (or metal) they were printed on?
There's no one-size-fits-all answer: The best starter travel credit card for you depends on … well, you: Your spending, your financial situation, your travel patterns, and your goals. But generally speaking, we think the best options for beginners can be boiled down to just a handful of options.
Keep in mind: Credit cards are serious business. You should never apply for a credit card if you're already in debt, and never charge more to a credit card than you can afford to pay off immediately. However many points and miles you can earn, they're not worth it.
Read on for the list of our favorites.
The Chase Sapphire Preferred® Card
Not only do we think the *csp* is the best option for beginners. It has held its own as one of the best travel rewards credit cards, period.
That's due in large part to the current bonus of 60,000 Chase Ultimate Rewards points after spending $4,000 in the first three months of card membership.
While the card carries a $95 annual fee that is not waived for the first year of card membership, it offers a ton of value that easily outweighs that charge. Beyond the points, you get strong travel insurance coverage on flights booked using your Preferred Card as well as a rental car insurance policy that is second to none.
But the beauty of the Chase Ultimate Rewards points you'll earn from the Chase Sapphire Preferred is that there are several ways to use them. There's a simple and straightforward way: You can book flights, hotels, rental cars, and more directly through the Chase Ultimate Rewards travel portal. When you use them this way, you get a bonus: Each point is worth 1.25 cents toward your travel. That means the 60,000-point sign-up bonus is worth $750 toward travel.
But the Chase Sapphire Preferred is also great because it's an introduction to the versatility of credit card points. You can transfer these points to more than a dozen different airline and hotel partners like United, Virgin Atlantic, Hyatt, and many others. Do it right, and you can unlock even more travel this way.
The final reason it's one of the best starter credit cards for travelers is a practical one. Chase has some of the most restrictive rules for opening new credit cards. Once you've opened a handful (from any bank, not just Chase) you'll no longer be approved for a Chase card. That's why we recommend opening Chase cards first.
Read More: Great Ways to Spend Chase Ultimate Rewards Points
Learn more about the *csp*
The Capital One Venture Rewards Credit Card
Next on our list of the best starter credit cards is a longtime favorite. It's the *capone venture*.
Just like the Chase Sapphire Preferred Card, this card's annual fee clocks in at just $95 a year, which is fairly easy to stomach. It's one of the cheapest travel cards that carry a credit of up to $100 that will cover your cost of enrolling in either TSA PreCheck or Global Entry, speeding up your path through airport security or customs and immigration (or both!) You won't get hit with foreign transaction fees when traveling abroad, either.
Most importantly, this card offers a welcome bonus of 75,000 Venture Miles after spending just $4,000 in the first three months of card membership. Since you earn at least 2x miles per dollar spent with your card, you'll end up with at least 83,000 miles once you meet that minimum spending requirement.
If you don't want to deal with the hassle of transferring points and jumping through hoops to book a free flight or hotel, this is the right option for you. You won't find an easier way to use points on travel. Just book your flight, hotel, rental car, or other travel expense with your Capital One card, then go back and remove the purchase using miles.
Every Venture Mile is worth 1 cent apiece, which means the 75,000-mile bonus gets you at least $750 toward travel. You can also book flights, hotels, and rental cars through the new Capital One Travel Portal or send your points to an impressive array of Capital One transfer partners to get even more value out of these miles. Some of our favorites include Air France/KLM, Air Canada Aeroplan, British Airways, and Turkish Airlines.
Having the option to go the easy route or take things to the next level through transfer partners is what makes Capital One miles – and the Venture Card – such a great place to get started.
Learn more about the *capone venture*
The Capital One Venture X Rewards Credit Card
The *capone venture x* takes everything we've loved for years about the Venture Card … and puts it on steroids. And while the annual fee might scare off many travelers just getting started with credit cards, it really shouldn't.
Let's start with the bonus, as that's identical to the regular Venture Card. You'll earn 75,000 Capital One Venture miles after spending $4,000 in the first three months of card membership which can be redeemed for at least $750 towards travel.
The card charges an annual fee of $395 each year, but that's deceiving. Each and every year you hold the card, you'll get a $300 travel credit to use in the Capital One Travel Portal to book flights, hotels, and more. So if you plan to spend at least $300 on travel in 2023, the annual fee on this card is more like $95. That's why we urge readers not to let the Capital One Venture X annual fee scare them off.
But the benefits don't stop there, either. You'll also get complimentary Capital One Lounge and Priority Pass Lounge access for you and up to two guests traveling with you. That includes the incredible new Capital One Lounge in Dallas-Fort Worth (DFW) and two more on the way soon.
You'll also get a $100 credit to cover the cost of a TSA PreCheck or Global Entry membership, incredible travel insurance protection, and more.
Make sure to check out our story on the full benefits of the Capital One Venture X Card. If you plan on spending money on travel, this is truly a no-brainer card – as long as you can responsibly meet the minimum spending requirement to earn the big bonus.
Read More: The Best Ways to Use Capital One Venture Miles
Learn more about the *capone venture x*
The Chase Freedom Flex and Freedom Unlimited Cards
OK, so technically these are two different cards. But holding either one of them is a fantastic idea, especially if you already have the Chase Sapphire Preferred Card … and even if you don't.
That's because while these cards are marketed by Chase as no-annual-fee cashback credit cards, you can convert the cashback earned to Ultimate Rewards points so long as you hold either Chase Sapphire Preferred Card or the Chase Sapphire Reserve.
That's significant because both cards earn bonuses on spending categories that you won't currently earn from the Chase Sapphire cards. While earning the bonus on the Preferred Card is a great start, using these Freedom cards on your everyday spending is a better bet.
On the Chase Freedom Flex℠, you'll earn a $200 bonus (20,000 Chase Ultimate Rewards points) after you spend $500 in the first three months of card membership. With the Chase Freedom Unlimited®, you'll earn an additional 1.5% back (1.5x Chase points) on all spending up to $20,000 spent in your first year. That's worth up to $300 cash back, or 30,000 Chase Ultimate Rewards points.
That's an incredible deal for cards with no annual fee.
Read More: Chase Freedom Flex vs Freedom Unlimited: Which Version is Right for You
Learn more about the Chase Freedom Flex Card. 
Learn more about the *chase freedom unlimited*
The Barclays American Airlines Aviator Red Card
You won't see this card mentioned often, but few credit cards offer an easier, more lucrative welcome offer bonus than the AAdvantage® Aviator® Red World Elite Mastercard®.
Just for opening the card, making a single purchase, and paying the card's $99 annual fee, you will earn 50,000 American Airlines AAdvantage miles. You should easily be able to get $500 in value – or much, much more – by booking flights with these miles.
This card makes the list of one of the best credit cards for beginners as there is no daunting spending requirement to receive the bonus miles. Even if you don't plan to fly on American Airlines often, these miles can get you a long way in seeing more of the world for less money. And if you do fly AA, you'll get a free checked bag on every domestic flight.
In fact, the best way to use American Airlines miles is for flights on some of their partner airlines, and not actually flying the airline itself. That includes great partner airlines like Japan Airlines, Qatar Airways, Cathay Pacific, and more.
Read More: 7 Reasons American Airlines Miles Have Huge Value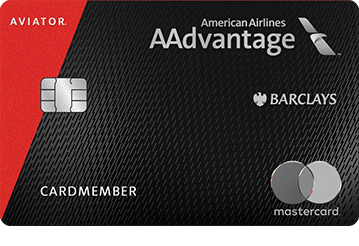 Learn More about the AAdvantage Aviator Red World Elite Mastercard. (For full disclosure, this is not an affiliate link).
A Co-Branded Airline Credit Card
Almost everyone has their go-to airline. Whether it's because of the seats, service, or the array of nonstop flights from your home airport, sometimes picking which airline to fly isn't much of a choice at all. Why not get some benefits out of it?
If you often find yourself flying with the same airline and checking luggage, that airline's co-branded credit card is likely a wise decision. Not only will you get free checked luggage just for holding the card, but you will also get priority boarding which can help you beat basic economy fares on airlines like Delta, United, and American.
And unless you're flying on United or JetBlue, you don't even need to pay for the airline ticket with the card to get the free checked luggage benefit. It simply gets attached to your frequent flyer account which will allow you the free checked bag.
Considering bags cost at least $30 each way and the annual fee on these cards are typically under $100, taking two roundtrip flights a year will more than pay for your annual fee – assuming you check luggage, of course.
This also allows you to pay for the flight with a card that might be more rewarding or allow you to use other points like the Capital One Venture X Card or the Chase Sapphire Preferred cards listed above. We're strong believers that just because you have an airline card, it doesn't mean you should be spending money on it.
But when it comes to co-branded airline credit cards, timing is critical. Twice or more a year, airlines like Delta and United regularly roll out bigger bonuses on their credit cards – and that's when you want to strike.
Be sure to stay tuned (or just sign up for our free daily newsletter!) for when those bigger bonuses make a comeback.
See our full list of the top airline credit cards!
Bottom Line
We get it. There is a lot to digest in the world of points and miles and knowing just which card to start with can seem like a full-time job. Use this list to help you get started and pick one of the best starter credit cards for travelers in 2023.