At long last, it's open. After nearly three years of false starts and delays, the long-awaited Denver Centurion Lounge from American Express finally opened its doors on Monday.
The new Denver Centurion Lounge is the latest in a slew of new Centurion locations that have opened in the last year – pandemic and all. At 14,000 square feet and change, it's among the biggest Amex Centurion Lounge yet. So we put it to the test on opening day.
Does it live up to the Centurion name? Do new features like a craft beer bar and a live cooking station stand out? And above all, was it worth the wait?
Getting into the Denver Centurion Lounge
The new Denver Centurion Lounge is located in Concourse C – home to airlines like Southwest, Alaska Airlines, and Spirit.
But no need to worry if you're flying another airline. Denver's speedy tram system can get you there before or after your flight without needing to reclear security, as all the airport concourses are connected airside.
Just head down the C gates toward Gate C46. It's hard to miss the lounge overlooking the concourse.
Just round the corner and head up the escalator to get in.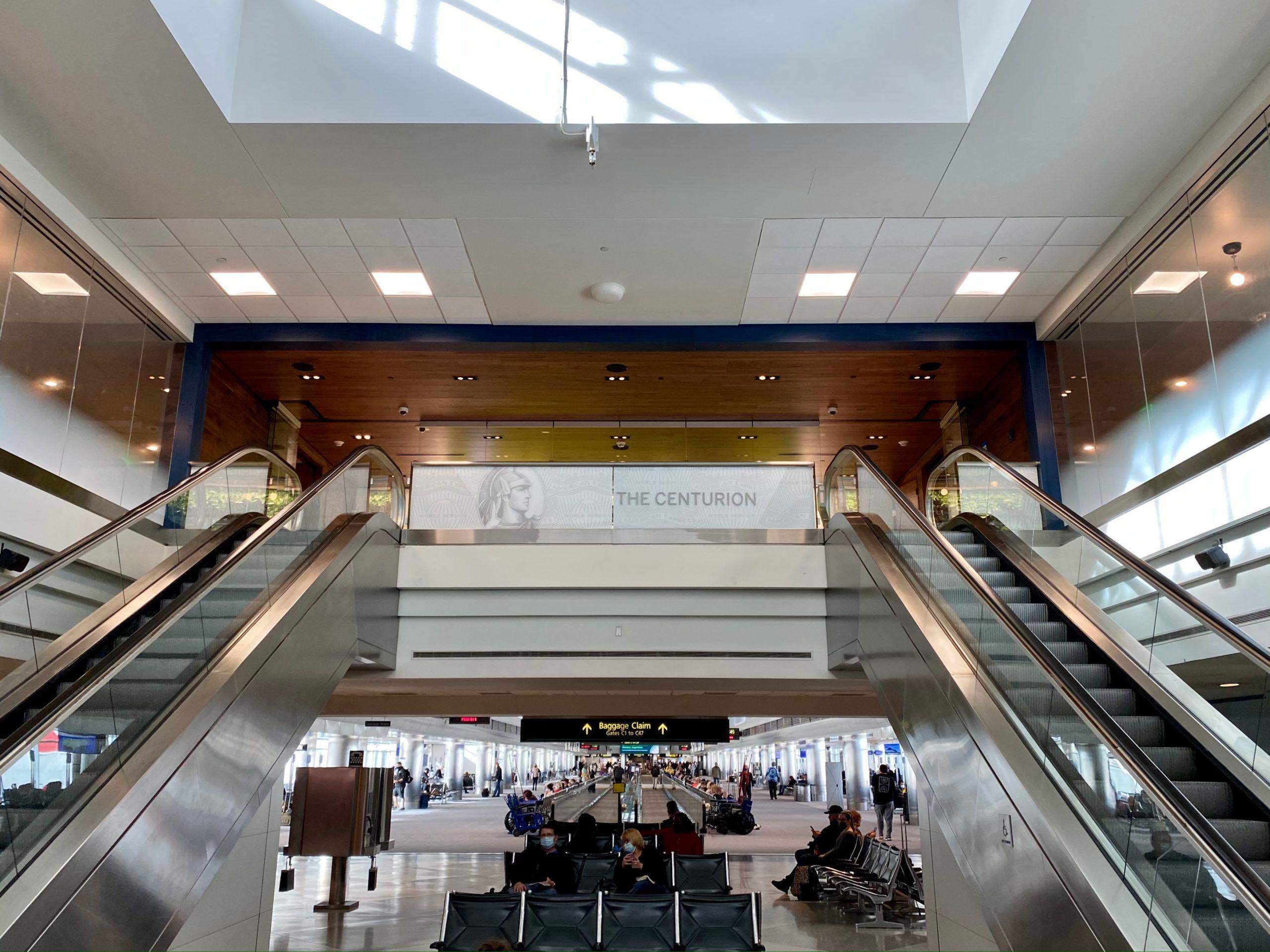 Currently, the lounge is only open from 7 a.m. to 3 p.m. daily. But American Express hopes to extend those hours as travel comes back.
To get into any Centurion Lounge, you'll need the right credit card. And few are better than The Platinum Card® from American Express. It'll get you into all 14 Centurion lounges and counting for free. But you can no longer bring guests in free: As of Feb. 1, 2023, guests cost $50 apiece (or $30 for minors) unless you charged a whopping $75,000 to your Platinum Card in the last year. Guests two years and younger are still complimentary.
Still, the Platinum Card also opens doors to 1,000-plus Priority Pass lounges, Delta Sky Clubs if you're flying Delta that day, Escape Lounges, and more.
Read our full review of the Amex Platinum Card.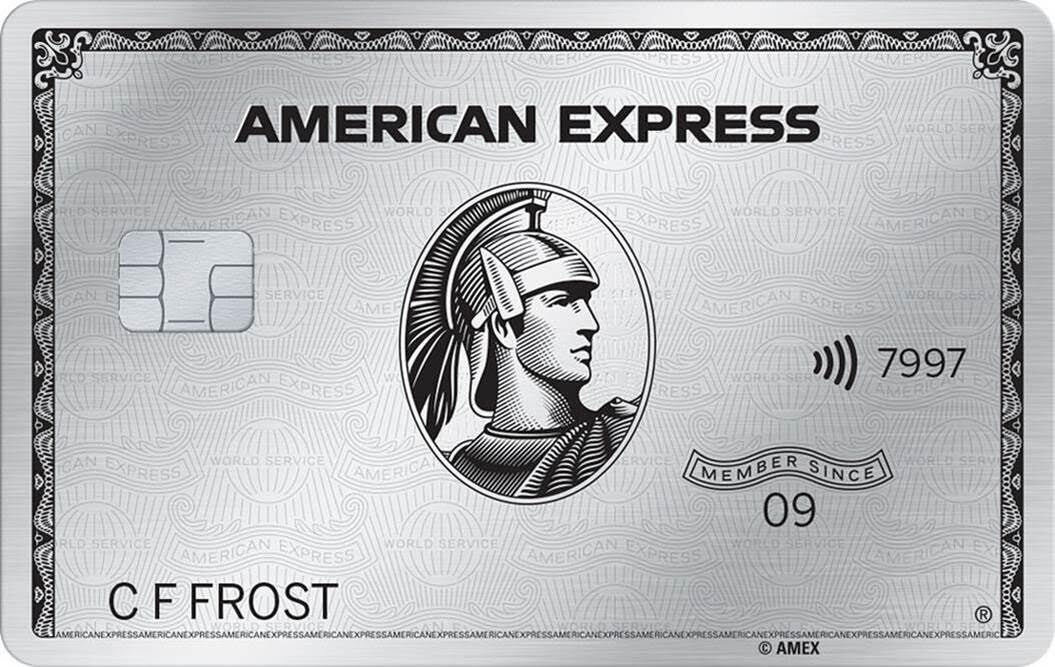 Click Here to learn more about the Platinum Card from American Express.
The Business Platinum® Card from American Express will get you in as well. And there's a relatively new option: The Delta SkyMiles® Reserve American Express Card, Delta's top-tier travel card. But you have to be flying Delta that day to use a Centurion lounge, and you can't bring free guests with you – they'll be $50 each.
Read our master guide to getting into & using Amex Centurion lounges!
Once you make it to the lounge, prepare to flash your card, boarding pass, and a photo ID to get in.
The changes American Express has made due to COVID-19 were obvious even before setting foot in the lounge itself. Amex has installed distance markers for travelers lining up to get in, put plexiglass shields at the welcome desk, and every employee was wearing a mask.
A lounge attendant quickly welcomed me and offered to show me around the new space. And what a space it is…
Lounge Space & Amenities
At 14,650 square feet, the new Denver Centurion lounge is larger than all but one Centurion lounge – the new space in New York City (JFK). And that extra space shows.
Unlike many Centurion lounges that feel cramped and get crowded, the Denver location looks and feels positively massive. Of course, it doesn't hurt that there weren't too many guests visiting the lounge on opening day.
The space is laid out in a monster horseshoe shape, wrapped around frosted glass windows that overlook the concourse below. There are pockets of lounge chairs with tables, workspaces, high-backed cubbies scattered throughout. Much of one side of that horseshoe is devoted to lounging and drinking, while the opposite side is where you'll find all the food and a cafe-style seating area.
Despite its size, the lounge is divided up very well into pockets of seating areas. It flows well. And the decor is superb: Rich woods set against some sharp colors. And there are some nice design flourishes throughout as well, like this light fixture over a long work table.
Of course, there are the standard Centurion TV walls, too – a mainstay in all its lounges.
There's some great natural light, too. You'll also find a large bank of floor-to-ceiling windows on one side of the lounge, with great views of Southwest jets on the tarmac. There's a smaller bank of windows on the opposite side of the lounge in the dining area, too.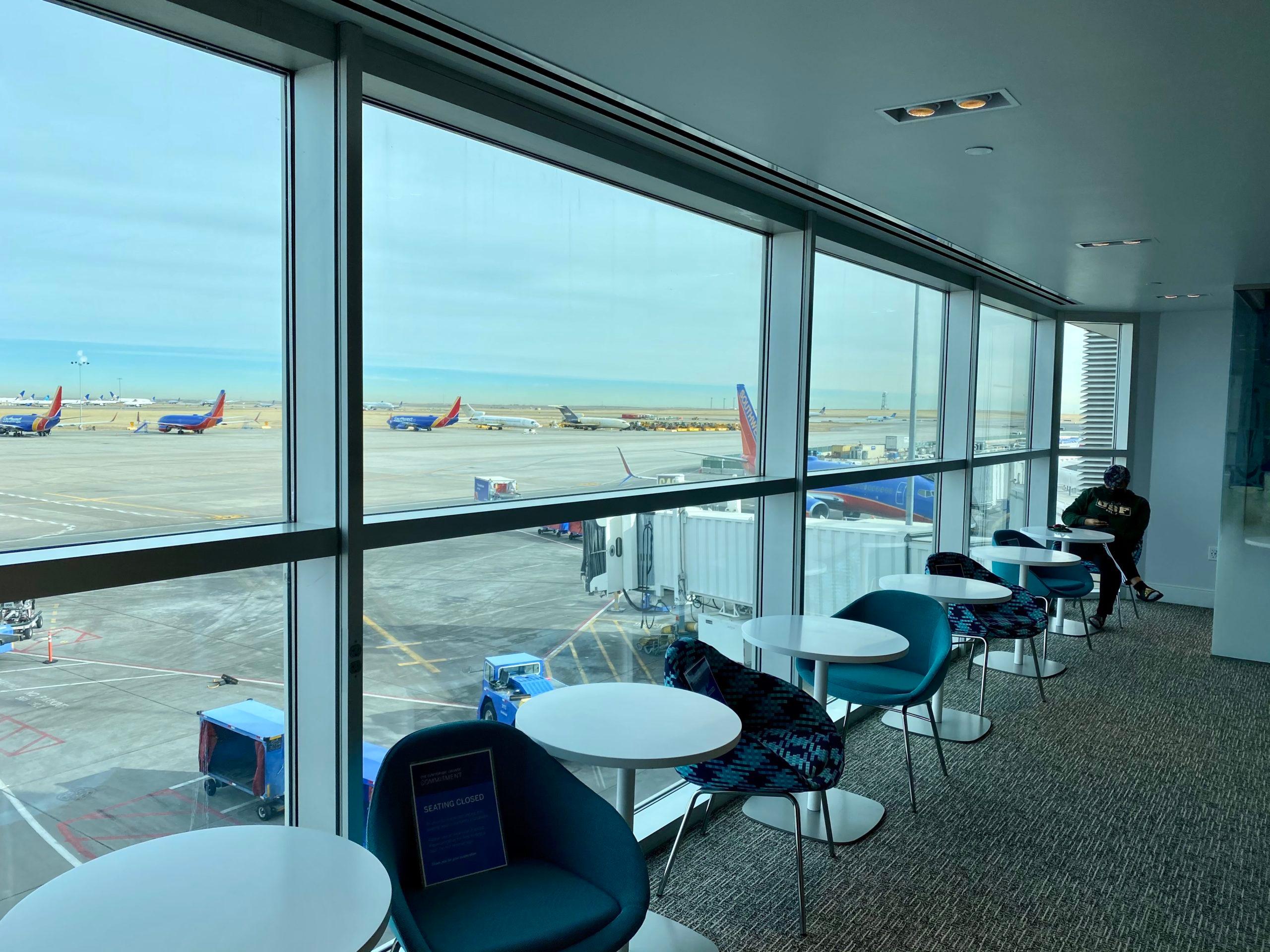 I liked the wide variety of seating options throughout the lounge, from cafe-style seating that rings around its horseshoe shape to individual work cubbies and high-backed chairs for additional privacy.
Over in the dining area, you'll find plenty of tables to grab a bite.
American Express has held up its promise to enforce social distancing. All throughout the lounge, seating was blocked off with placards to keep guests apart. Lounge attendants regularly moved those signs around as guests came and went. And it seemed that every visitor was escorted to a seat as they got there to ensure they didn't sit somewhere too close to another party.

Unlike the Dallas-Fort Worth (DFW) Centurion Lounge, you won't find a spa or similar amenities here. For families in transit, there's a small, private family room with a TV, some games, and seating inside. There's also a small private room meant for taking phone calls, though that was in use throughout my stay.

One of several unique features of the Denver Centurion lounge: It's got a dedicated game space, with a shuffleboard table, pool table, and jumbo boards to play checkers and Connect Four. While the appeal of playing shared games may not be high during the pandemic, at least lounge attendants wiped down the game surfaces between each use.
Finally, there are the bathrooms. And they struck me as much larger than what you'll find inside most Centurion Lounges. And yes, they're equipped with high-end L'Occitane soaps and lotions.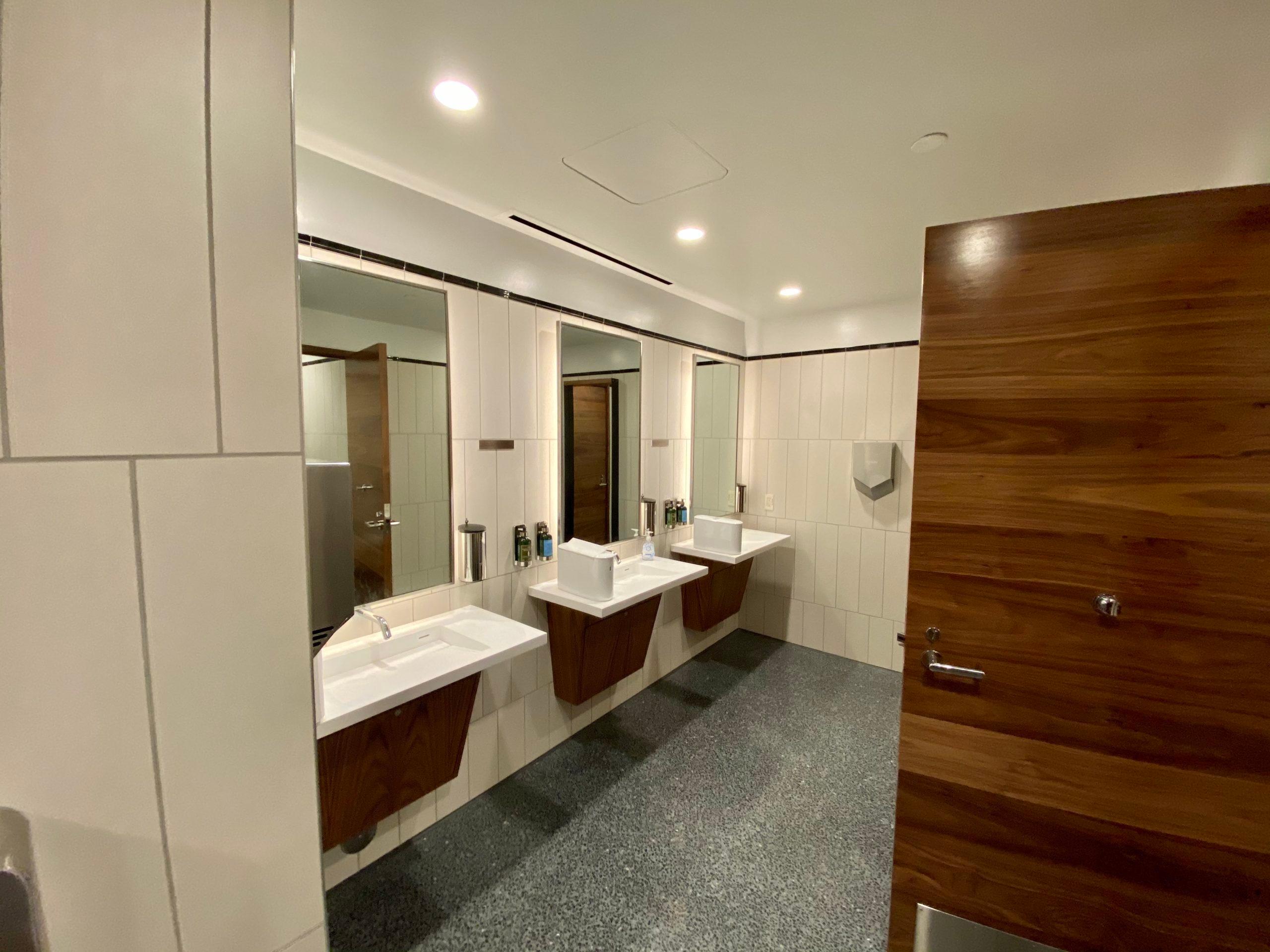 The Denver Centurion Lounge also has two dedicated shower suites. Normally, these are available on a first-come, first-served basis. But both showers remained closed during my visit due to the pandemic.

The Bars (Yes, Plural)
In a testament to just how large the Denver Centurion lounge is, you'll find not one but two bars.
The first bar is at the top horseshoe, and it's similar to what you'll find at all Centurion Lounges. It has a good wine list, a few beers on tap, and a customized cocktail list – all complimentary, of course. Personally, I love the design of it – especially that ceiling.
The cocktail list definitely has some Colorado flair, including a few cocktails with Denver-based beers mixed in.
I tried out the Rocky Fence, a Colorado spin on an old fashioned with some sour apple liqueur. It was simple but tasty.
But my favorite part of Denver Centurion lounge was the dedicated craft beer bar. Located near the entrance where the games are, this is a well-designed bar pouring eight different brews from Denver-area breweries.
It had a good mixture of light-to-dark beers. To me, this bar is a signature touch that sets this lounge apart – not just from domestic lounges across the U.S., but from other Centurion lounges.
The Incredible Pedal IPA from Denver Brewing Co. I ordered was excellent. And as with every other lounge attendant, the bartender was warm and helpful.
In need of an afternoon pick-me-up, I headed for one of two self-serve coffee bars – located on opposite ends of the horseshoe-shaped lounge – for an espresso. It's a small touch, but these cup and saucer sets are just great.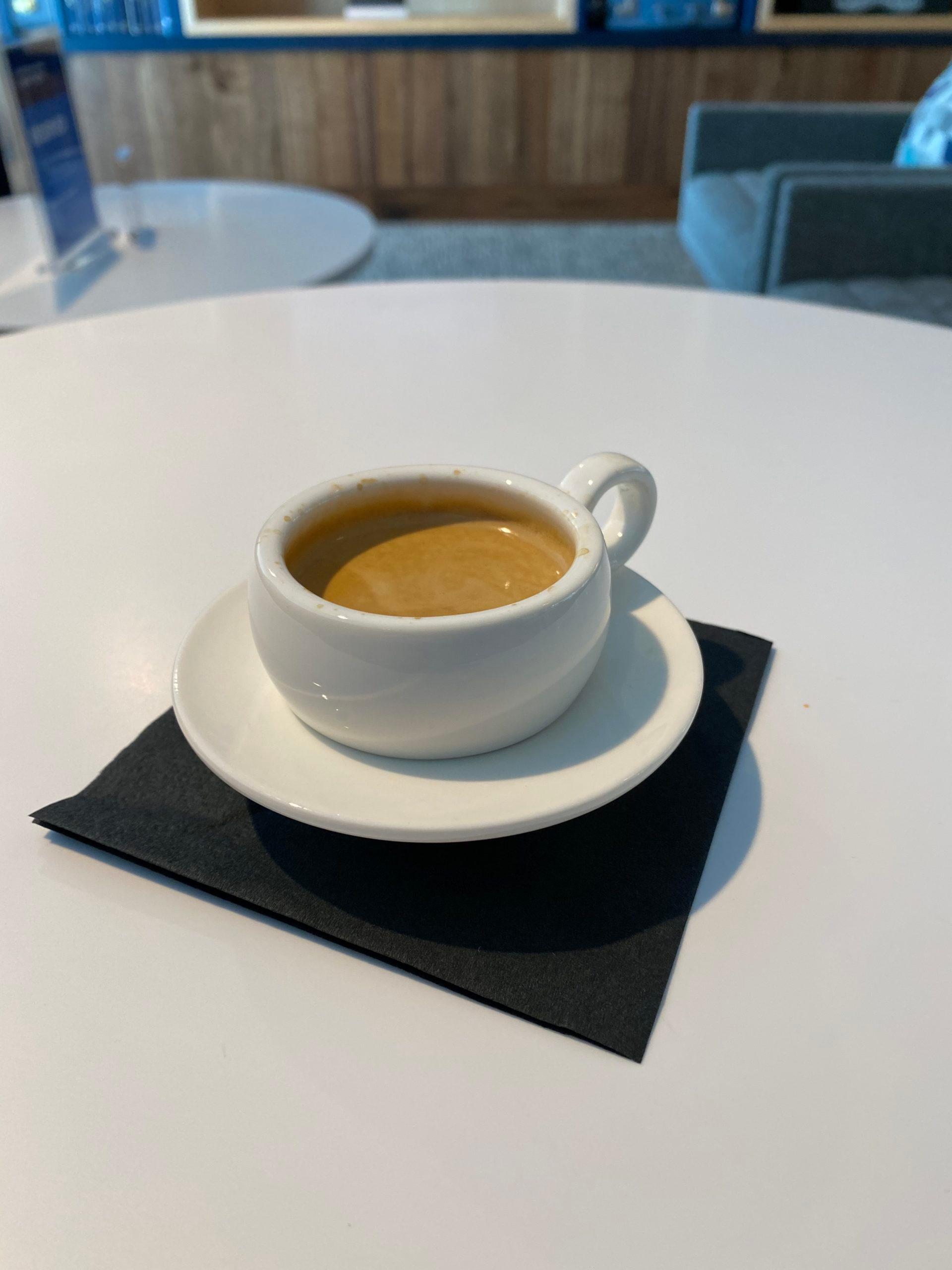 Dining with a New Twist
Maybe it was the first-day jitters. Maybe my expectations were unreasonably high. But if there's one area that was a letdown here, it was the food.
Don't get me wrong: It was all good – and maybe even great. But American Express built up its dining at the new Denver Centurion lounge as the pinnacle, with a James Beard award-winning chef and a new live cooking station serving made-to-order meals.
Amex itself set its already high bar for lounge dining even higher. And in some ways, it stumbled.
Buffet-style serving is out, and American Express has instead pivoted to a cafeteria-style approach for dining. Go through the line, tell an employee what you want, and they'll grab pre-portioned dishes and serve them up to you on a tray.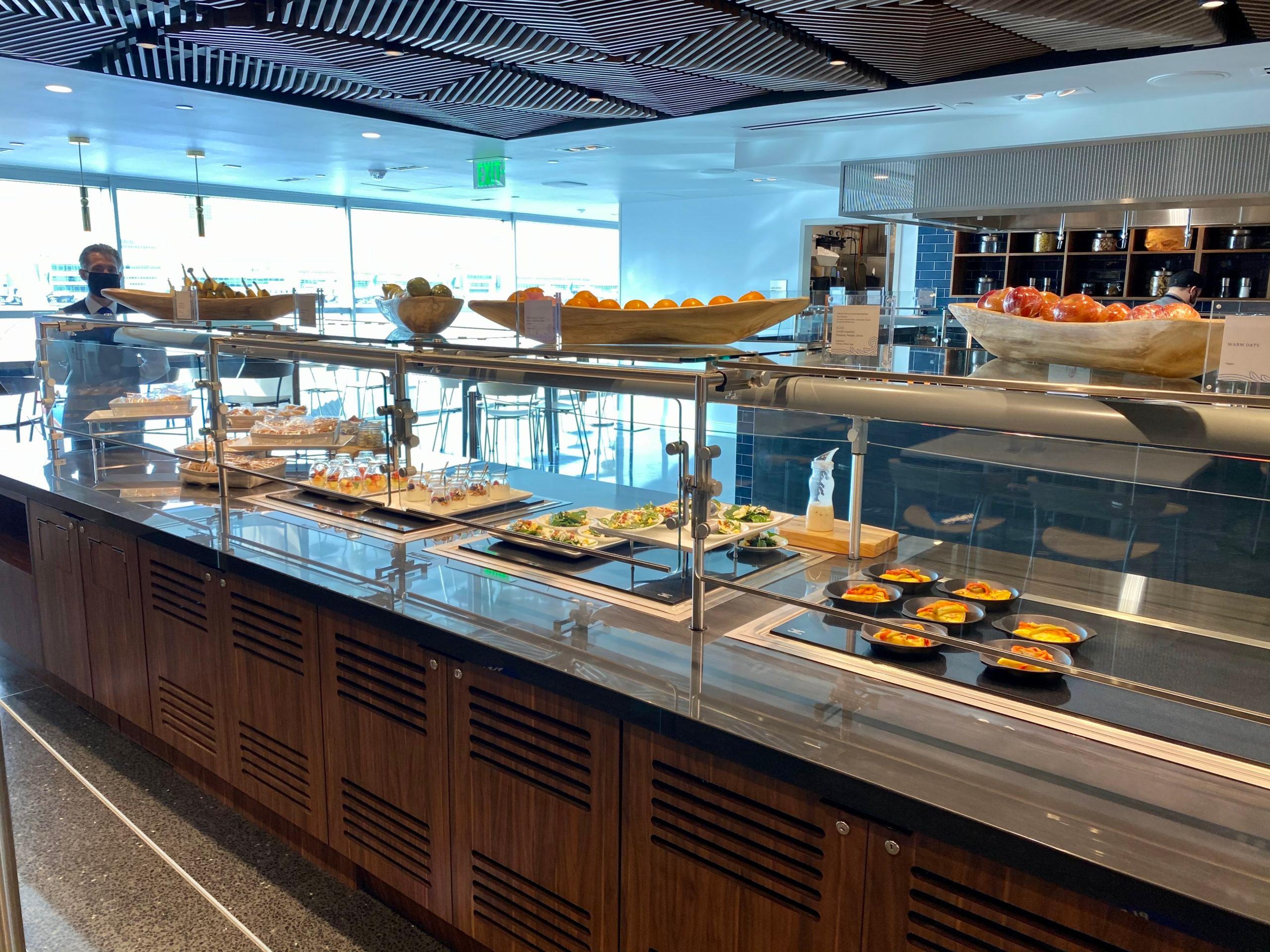 For breakfast, I tried the premade Spanish omelet as well as a small greek yogurt parfait from the standard food display. The parfait was excellent. And while the omelet was quite tasty, it was also quite cold.
For lunch, I made a beeline for the live cooking station hoping to get something freshly made and ordered the girini di pasta, a spelt pasta with prosciutto and zucchini. Instead, the chef behind the cooking station grabbed a dish from under a heatlamp.
While it was certainly tasty, it didn't live up to my expectations – and once again, it was quite cold. The tiramisu, however, was fantastic.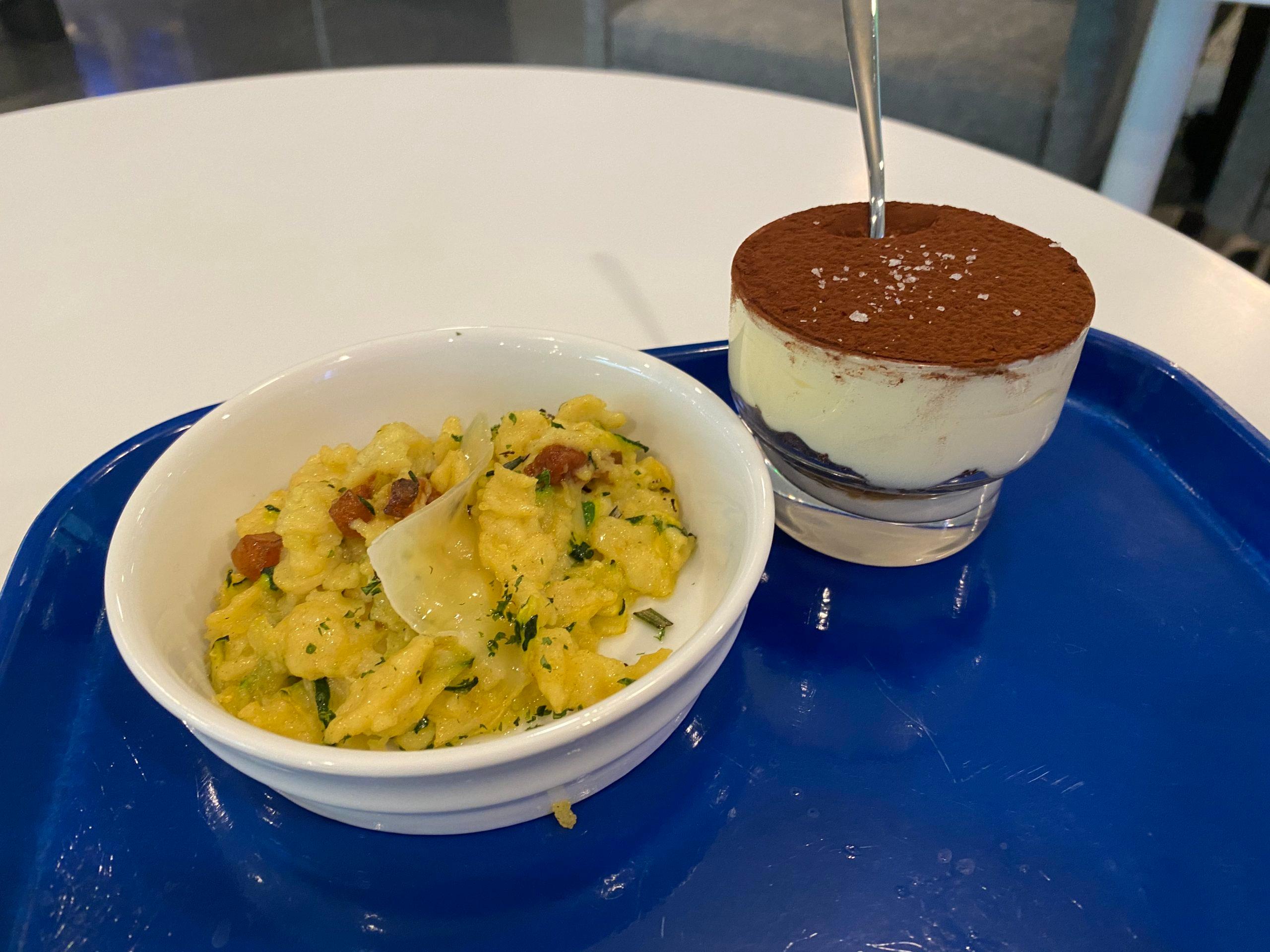 The service flow with this new dining concept also felt a bit off. Want something from both the live cooking station and the main food display? You'll have to make two trips, with two trays. That's likely a new protocol thanks to COVID-19 (and kudos to Amex for taking it seriously), but it could be smoothed out.
These are ultimately small quibbles. The food from the Denver Centurion lounge is still leagues better than the fare you can get from almost any airport lounge. Perhaps it's on me, but I was expecting even more.
COVID-19 Precautions at the Denver Centurion Lounge
After shutting down all its lounges last spring as COVID-19 spread, American Express has re-opened nearly all its lounges. And in the process, they've overhauled almost everything about the Centurion Lounge experience in the name of safety.
Lounge capacity is capped, and seats are blocked to enforce social distancing. Food is no longer self-serve, but served to you in pre-portioned dishes. Masks are required, and the cleaning is constant.
You'd be forgiven for wondering if, on Day 1, the Denver Centurion Lounge didn't have these precautions down. You'd also be wrong.
From check-in to check-out, it was clear how seriously the staff took this new commitment to safety. A lounge attendant escorted me to a seat as I entered, and blocked off seats on either side of me. At least two staff members were constantly circling the lounge, wiping down used surfaces.
I also lost track of how many times I heard a lounge employee ask guests to put their masks back on if they weren't actively eating or drinking.
American Express dubs all this "The Centurion Lounge Commitment." And even on the first day of a brand new lounge, they upheld that commitment.
Bottom Line
Most airlines cut their lounges back to the bone citing the pandemic, but Amex Centurion lounges show you can still deliver a top-notch experience while stepping up with additional safety measures.
At this new Denver Centurion lounge, Amex has taken the core of what sets Centurion lounges apart – great space and good food and drinks – and set them apart even further with signature touches like a craft beer bar and chic design. It wasn't quite perfect, but the new Denver lounge quickly became the best Centurion lounge I've visited – and it's not particularly close.
If you ask me, it was worth the wait.