At Thrifty Traveler, finding cheap flights is what we do … and just like you, nothing tickles our fancy quite like cheap flights to Europe. But with flight prices on the rise, does that mean you'll have to pay a small fortune to cross the pond – or just not go?
Not even close. While many travelers see eye-popping fares, we've been finding and sending Thrifty Traveler Premium subscribers cheap flight deals to Paris, London, Rome, the Fjords of Norway, Ireland, and many, many more over the last several weeks, often around $500 roundtrip. Sometimes, we're even seeing fares dip under $400 total.
So yes, cheap flights to Europe are still out there. Let's take a spin across the continent and see just how cheap flights to some of these destinations can be.
Where You Can Score Cheap Flights to Europe
We have a rule at Thrifty Traveler: It's called the Flight First Rule, and it's exactly what it sounds like.
Before you book your hotels, request time off from work, or start planning your trip, start by searching for flights. That gives you some critical flexibility to find cheap flights, as just shifting your travel dates by a day or two can save you hundreds of dollars. And it also gives you the freedom to capitalize on deals like this one.
That's right: A nonstop flight to Paris-Charles de Gaulle (CDG) for under $460 each.


This fare is gone now! Get the next deal in your inbox with Thrifty Traveler Premium!
This Chicago-O'Hare (ORD) to Paris fare is a perfect example of just how cheap Europe flights can be, even when flying popular routes and popular airlines. And France isn't alone. Let's head over on the Chunnel to the U.K., shall we?

Did anyone order nonstop flights to London this spring or in the fall? We served 'em up fresh to our subscribers just a few days ago, with nonstop fares from a half-dozen U.S. cities all under $600 roundtrip.
Speaking of good food, a cheap flight to Milan (MXP) would be a pretty good start to an Italian foodie adventure. And it doesn't get much cheaper than $479 total…
This Milan flight deal was chock full of sweet and savory fares from a dozen U.S. cities.

And while Norway's Fjords region isn't much like Italy, it's a bucket list-worthy trip in and of itself. But unlike many bucket list trips, it doesn't have to break the bank to get there.

This isn't a flight deal to Oslo (OSL) that requires a train ride to get to the Fjords. These cheap fares could put you straight into airports like Bergen (BGO), Stavanger (SVG), and Trondheim (TRD).
And finally, let's save even more cash and fly to Europe using a few points and miles. Recently, we've rounded up our favorite points and miles deals to Europe. It's possibly the best value across the pond right now.
Here's why.

If you live in or near Austin (AUS), you could have booked this Air France/KLM Flying Blue promo fare for just 15,000 points each way between Austin and Europe.
There was even summer availability to Amsterdam (AMS), Oslo (OSL), and Venice (VCE)!

The Best Airlines for Cheap Flights to Europe
If you want to fly American, Delta, or United to Europe this year, you might be in for some pain. The same mostly goes for other international legacy carriers like British Airways, Air France, Lufthansa, and SWISS, too.
Odds are, you'll find the biggest bargains on a select few European airlines. Some, like Norse Atlantic, are ultra-low-cost carriers that tack on fees for bags, seats, and meals. Others like Icelandair or Aer Lingus offer a mainstream flying experience at budget prices.
Flying one of these cheaper carriers over your go-to airline could mean saving $500 or more a ticket. Let's take a look, because Icelandair refuses to join the trend of rising airfare.

A flight to Denmark in early fall for under $400? Other carriers are charging at least $200 more apiece. And the savings don't stop in Copenhagen (CPH).

This Icelandair deal could land you in the center of the soccer universe in Manchester (MAN) right in the heart of the Premier League and Champions League seasons. And with airfare like these, you can afford to pick more than one game – or order one more pint at halftime.
Plus, when you fly Icelandair, you can book an Icelandair stopover … or, you can just spend your whole trip in Iceland.

This $377 flight to Reykjavik (KEF) might be less than the check for a nice dinner there, where the food is notoriously pricey.
But Icelandair isn't the only example of European carriers that are offering the best rates. Let's check in on Ireland's flag carrier, Aer Lingus.

Nonstop flights to Dublin are always sweet. When they're sub-$400, they're even sweeter.
Another major international carrier, ITA Airways of Italy, is also running a lot of great fares to Europe right now. That includes some flights straight into Rome (FCO) for a bargain this fall.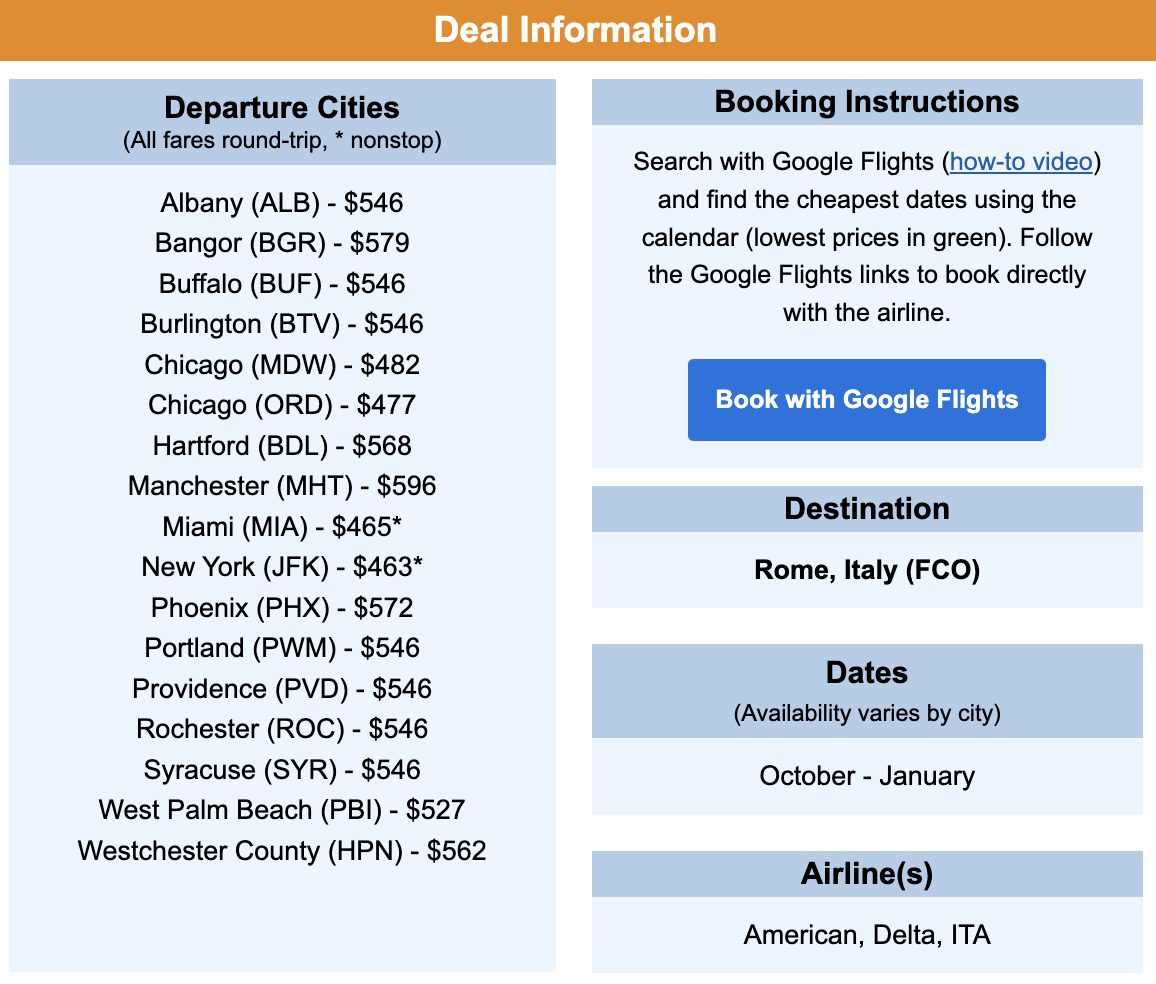 In this case, ITA wasn't the only airline slashing fares to Italy on this deal. That's likely because ITA forced two other carriers (Delta and American) to match low fares like this one, whether it's to Italy or beyond.

Paying just $464 for a quick, one-stop flight to Athens (ATH) from the Washington, D.C.-Dulles (IAD) is a stellar deal.
Let's look at one more flight deal flying a budget European carrier. It's called Norse Atlantic Airways, and it's a pretty bare-bones budget airline. But that doesn't mean it's bad: I flew Norse Atlantic last year and found it perfectly comfortable … especially at these prices.

Read next: What It's Like to Fly Norse Atlantic
They have a pretty robust (and growing) network of new routes at Norse Atlantic, which is great news for U.S. flyers. For one, you could book these fares and get on with your trip. But these routes are putting pressure on the other legacy airlines to lower their prices, too.
Premium Economy & Business Class Deals, Too!
If there's anything better than flying premium cabins to Europe, it's flying premium cabins to Europe for what you'd normally pay in regular economy. While cash prices are typically high for these routes and award availability can be tough, we keep finding great deals to fly to Europe up front.
In just the last few weeks, we've sent Thrifty Traveler Premium+ members a handful of business class and premium economy deals across the pond. Whether you're looking to pay cash or use some points and miles, there's a path to get to Europe in comfort.
Let's start with a great chance to fly United Polaris business class to London-Heathrow (LHR), including over the busy (and expensive) summer season. And you could book it for as low as 45,000 miles each way using Turkish Miles & Smiles, which you can transfer from a stash of Capital One Venture Miles or Citi ThankYou Points.

Only Thrifty Traveler Premium+ members get award alerts like this one!
If that doesn't pique your interest, a ride in the new JetBlue Mint business class suites to Paris-Charles de Gaulle (CDG) might … especially when it's a fraction of the normal cost.

We caught this stunner of a deal just as JetBlue finally put its new Paris route on sale. These same flights now cost close to $8,000!
But business class flights aren't for everyone. Not everyone has the cash to spend or miles to make it happen. Consider booking a premium economy seat, instead.
You're in luck: We've seen some exceptional premium economy fares lately, helping travelers get to Europe in more comfort for the price most people expect to pay for a standard economy seat.

This deal flying Finnair from Chicago-O'Hare (ORD) is a great opportunity for flyers to grab a last-minute spring flight in comfort and style! Whether you want to bicycle through Copenhagen under spring flowers, or want to adventure through Estonia, you could do it flying premium economy for less than $1,000 with this deal.
Let's check up on a very unlikely airline that could take you on your next Europe trip: Singapore Airlines.

Singapore Airlines runs two funky fifth-freedom routes to Europe: One between Houston-Intercontinental (IAH) and Manchester (MAN) and another connecting New York City (JFK) and Frankfurt (FRA). The premium economy fares on both of those routes occasionally go on sale for under $1,000 from time-to-time, including last week!
The best part: The deal included summer availability to Manchester and Oktoberfest availability from NYC.
Bottom Line
Forget what you've heard: There are still cheap flights to Europe right now … if you know where to look.
Our flight deal analysts at Thrifty Traveler are finding some of the cheapest Europe flights we've ever seen and send them straight to the inboxes of Thrifty Traveler Premium members. Make sure you're ready for the next one!