Your eyes don't deceive you: Flight prices are going up. But sky-high domestic airfare and some higher prices for transatlantic flights doesn't mean you should write off a trip to Europe. It's just the opposite: Cheap flights to Europe are still out there … if you know where (and when) to look!
In fact, our flight deal analysts are finding that international travel is where you'll find the best value in travel. The cheapest flights aren't to Los Angeles this year: they're to Lisbon!
Over the last few weeks alone, our team has dug up some fantastic fares to the best European destinations for a trip this year or next for $500 or less roundtrip – and sometimes just half that price! In June alone, we sent Thrifty Traveler Premium subscribers cheap flight deals to Mallorca, Dublin, Paris, London, Frankfurt, and more.
Plus, traveling to Europe (or anywhere abroad) just got much easier after the U.S. dropped its return testing requirement. So whether you're looking for something late this summer, this fall, or into next spring, there are plenty of options to get to Europe and take that long-awaited trip.
Where You Can Score Cheap Flights to Europe
We have a rule at Thrifty Traveler: It's called the Flight First Rule, and it's exactly what it sounds like.
Before you book your hotels, request time off from work, or start planning your trip, start by searching for flights. That gives you some critical flexibility to find cheap flights, as just shifting your travel dates by a day or two can save you hundreds of dollars. And it also gives you the freedom to capitalize on deals like these.

This Oslo (OSL) fare was mind-blowing. Even as prices on many flights seem to be hitting record highs, getting to Norway and back in 2022 for $231 set a record low.
But Norway isn't your only option if you've got Europe in mind. Take a look at these unbelievable fares to Italy this fall through next spring.

Whether you're heading for the Dolomites, one of the oldest cities in the world, or want to explore the canals of Venice, there's a cheap flight out there for you. Italy is the kind of sought-after destination that we love finding flight deals for, and this year is no different even though things appear more expensive.
Another super sought-after destination is London, and there are so many flights there every day from the U.S. to London-Heathrow (LHR) that flight deals pop up all the time. Bonus: These are all nonstop routes! No layovers or connections here.

Another destination we think is going to be super popular for travelers this summer is Iceland. It's wide-open, with no travel restrictions to get in anymore and fewer crowds than you might expect. We were in Iceland recently and outlined why it might be the best time ever to visit this magical island. Especially when you can get there for $450 or less roundtrip.

If a sunnier, beachier locale is more your speed, Greece is probably already on your radar. Greece is the kind of place that seems like it should be expensive, but it's actually pretty cheap there. Plus, the flight deals to get there for $500 or so just keep on coming.

Greece, London, Italy – these are all places you've already seen on your friends' Instagrams. If you are looking to get lost in a new place in Europe, give Scotland a go. As you can see, you can get to Scotland from all over the continental U.S. with a cheap flight. From Portland (PDX) to Miami (MIA), you can get coast-to-coast cheap flights to Scotland with a Premium subscription.

Word appears to be getting out about Lisbon, one of our favorite (and thriftiest) cities to travel to. It's a great place for a beach getaway, a destination to get immersed in history, and to eat some fabulous (cheap) seafood.
And as far as cheap flights, Lisbon is a surefire bet too. In fact, Portugal's capital stands out as one of the best destinations to find cheap flights right now. But Portugal is not a one-city nation.

Just north of Lisbon along the Atlantic coast is the similarly spectacular city of Porto, Portugal. Wouldn't you know it? We've found cheap flights there, too. It doesn't get much cheaper than a $385 nonstop fare to Portugal and back.
So far, you've seen all of these great examples on transatlantic flights on U.S. carriers like American, Delta, and United. But when it comes to finding a good deal to Europe, European carriers like Aer Lingus, Icelandair, SAS, and TAP Air Portugal can help you find incredible value.

If you're looking for flights to Dublin, Ireland, you'd be crazy not to consider flying Aer Lingus and its nonstop routes to the capital. That's doubly so when they run big sales like this!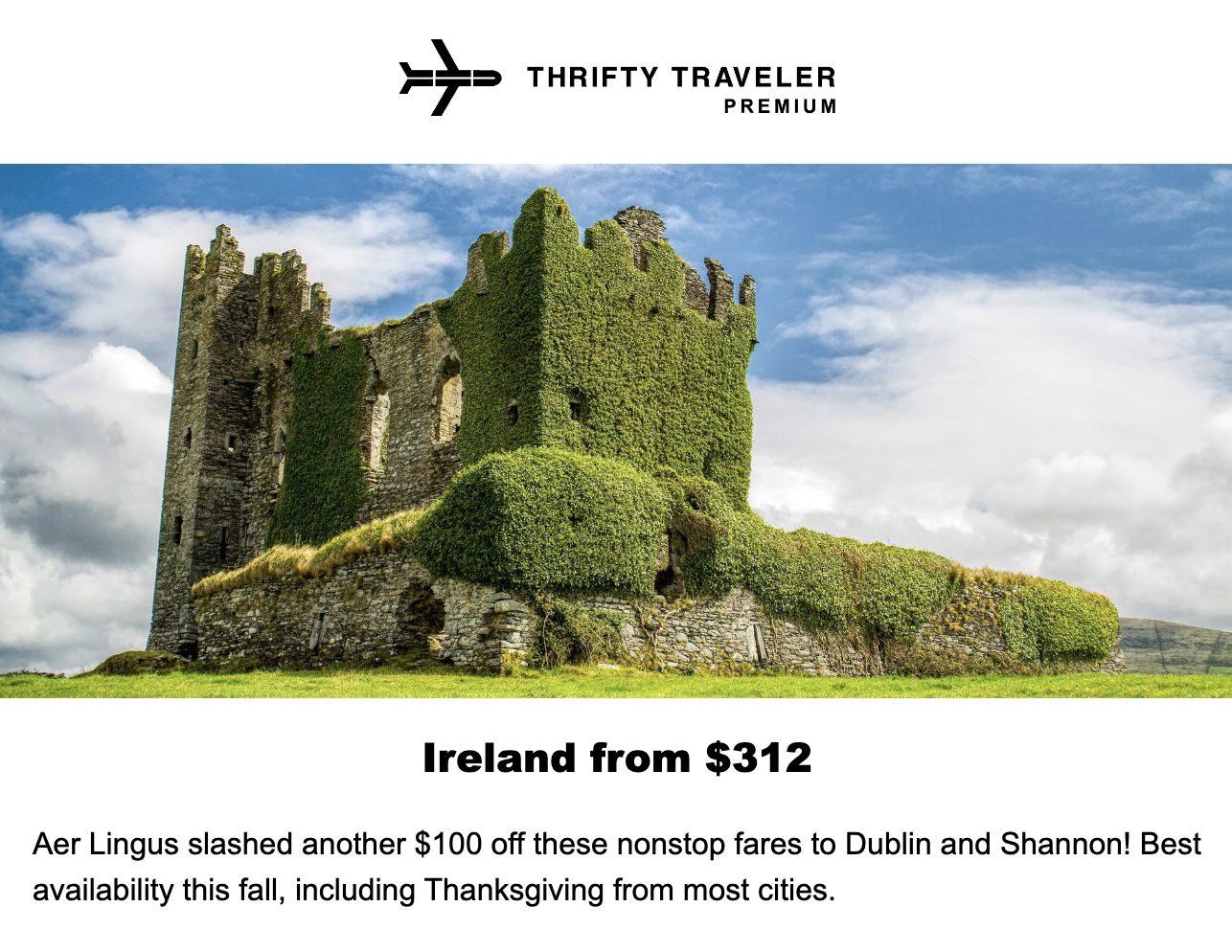 Business Class Flights to Europe, Too!
If there's anything better than flying lie-flat business class to Europe, it's flying lie-flat business class to Europe for what you'd normally pay in economy.
In just the last few weeks, we've sent Thrifty Traveler Premium members a really solid grouping of business class deals flying United Airlines, Aer Lingus, and even Singapore Airlines (yes, really).
Whether you're looking to pay cash or use some points and miles, there's a path to get to Europe in comfort. While cash prices are typically high for these routes and award availability has gotten tough, we keep finding great deals to fly to Europe up front.
How about flying Air France business class or KLM business class for fewer miles than what most airlines charge for economy?

Yes, Thrifty Traveler Premium members get award alerts to use their points and miles as well as cheap domestic and international cash fares!
Just 46,000 points apiece to fly business class to Europe? With wide-open availability for two or more passengers all the way through spring 2023? You can't beat that.
The same wide-open availability goes for these American and British Airways business class seats to Frankfurt! Imagine waking up in Germany after a hearty night's sleep in one of these pods? It would make all the difference.

United Airlines and its new Polaris business class seats is another fantastic way to get to Europe.
If England is on your mind, this is how you do it: Book for 60,000 miles one way … or use 88,000 miles to do it roundtrip using ANA Mileage Club miles!

Bear with me on this next one…Singapore Airlines business class to Europe. Singapore operates two awesome fifth-freedom routes from the U.S. to Europe: One to Manchester (MAN) and another straight to Frankfurt (FRA). And earlier this month, we found some incredible award space to fly both routes … including this summer!

This one is not business class, but it sure beats an economy seat. Premium Economy seats generally give flyers more legroom, much better service, and other perks like lounge access, better food, and more. Why not fly Premium Economy when you can do it for less than most travelers expect to pay for a coach seat?

Bottom Line
Yes, flight prices are going up overall. But savvy travelers can still find some amazingly cheap flights to Europe right now.
Our flight deal analysts at Thrifty Traveler are finding some of the cheapest Europe flights we've ever seen and send them straight to the inboxes of Thrifty Traveler Premium members. Make sure you're ready for the next one!