We've got bad news and great news. Summer is over and temperatures are falling … but so are flight prices to Europe!
That's right. Yes, travel demand to Europe exploded this summer, leading to sky-high airfare of $1,500 a ticket or more for many travelers. But now we're witnessing the return of cheap flights to Europe for trips this fall, through the winter, and into spring 2024. Flight prices haven't just dipped back to $500 roundtrip – we're finding transatlantic fares in the $300s again!
The trend is undeniable: We've seen it again and again – and so have our Thrifty Traveler Premium subscribers. There have been sub-$400 flights to Paris, nonstop fares to Dublin (DUB) as low as $367, and flights all over the continent including Scandinavia in the $400s … or even less. Even business class deals have made a comeback, whether you're looking to cash in some points for a lie-flat seat next summer or an unbelievable mistake fare to London as low as $899.
Let's take a spin across the continent and see just how cheap flights to Europe can get for a trip later this year or next.
When & Where You Can Score Cheap Flights to Europe
We have a mantra here at Thrifty Traveler: It's called the Flight First Rule. And it's exactly what it sounds like.
Before you book your hotels, request time off from work, or start planning your trip, start by searching for flights. That gives you some critical flexibility to find cheap flights, as just shifting your travel dates by a day or two can save you hundreds of dollars. And it also gives you the freedom to capitalize on deals to Europe, like this one.

This fare is gone now! Get the next deal in your inbox with Thrifty Traveler Premium!
From nonstops to Copenhagen (CPH) to quick one-stop itineraries to Amsterdam (AMS), London-Heathrow (LHR), Germany, and all over Eastern Europe, this deal could get you there for $450 or less total. That's less than half the price most travelers have been paying lately. Here's just a small glimpse at the long list of cities that benefitted from this Scandinavian Airlines (SAS) deal.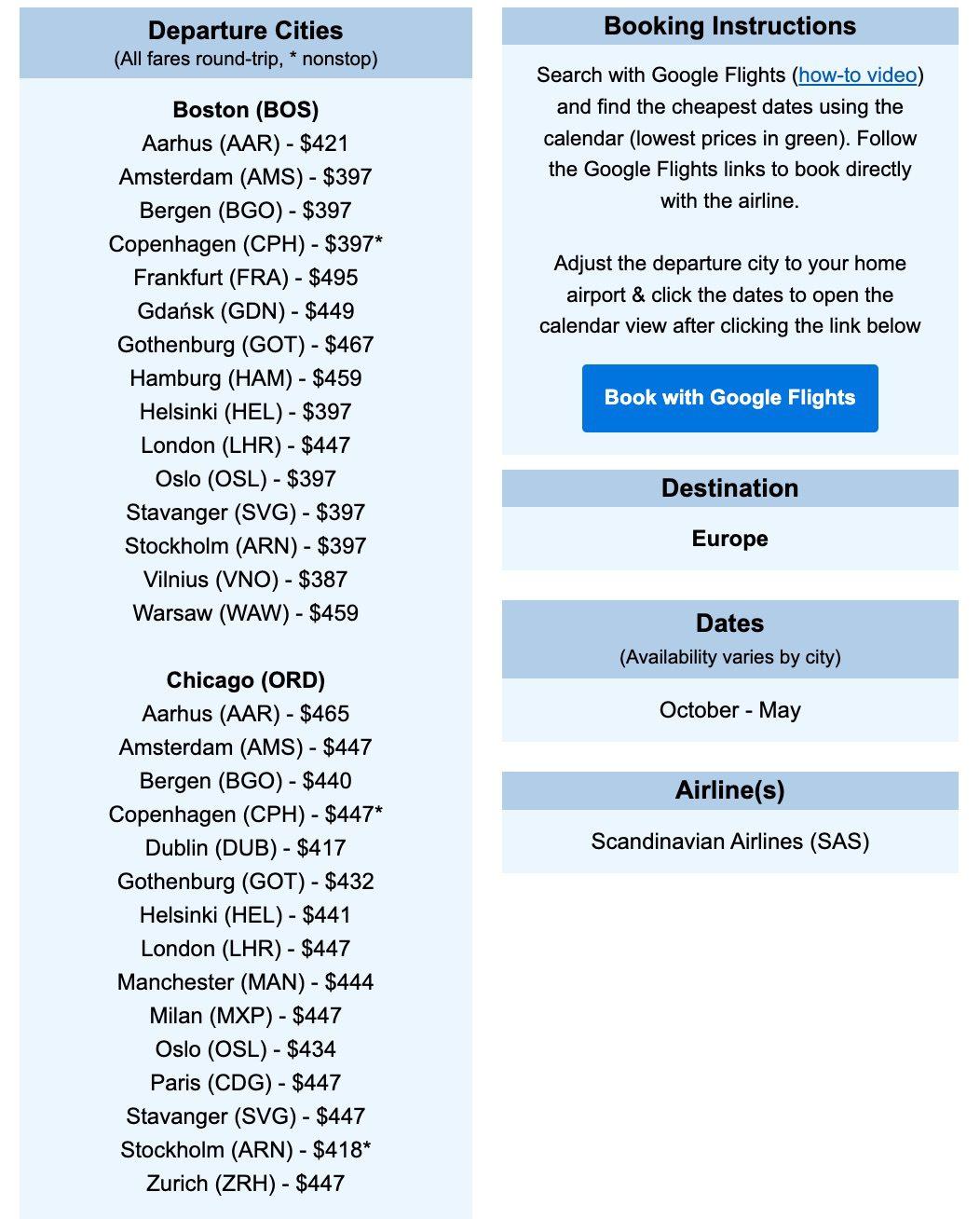 We find flight deals from 200+ airports in the U.S. and Canada!
Italy is popular any time of the year, but the fall and spring might just be the best time to head for Rome (FCO), Milan (MXP), or Venice (VCE). You'll find fewer crowds, pleasant temperatures, and best of all … lower prices like these.

This cheap fare from Philadelphia (PHL) to Milan next spring was the lowest in a list that included dozens of U.S. cities to some of Italy's hottest spots.
Paris never gets old, either … but paying $1,200 or more for flights sure does. Over the past few weeks, though, we've seen those eye-popping fares in and out of Paris-Charles de Gaulle (CDG) fall – not just down to average prices, but to prices like these.

Like others on this list, fall is a serious sweet spot for cheaper fares to France.
But there may be no better European city for cheap flights than Dublin (DUB). Case in point: Flights like this $356 roundtrip, nonstop fare from Miami (MIA) all the way to the Irish capital have become shockingly common lately.

At just over $350, that's a fraction of what many travelers were paying to get to the Emerald Isle this summer. But this deal extended far beyond the shores of Miami: From Akron (CAK) to Atlanta (ATL) and Wilmington (ILM) to Washington, D.C., you could get from more than 100 U.S. cities to Dublin this year or next for $500 total or less.
Premium Economy & Business Class Deals, Too!
What's better than a cheap flight to Europe? A cheap flight to Europe in a premium cabin – or maybe even (nearly free) booked using points and miles
In just the last few weeks, we've sent Thrifty Traveler Premium+ members a handful of business class and premium economy deals across the pond. And nothing beats a mistake fare flying business class for the price many travelers expect to pay for economy.

This unreal deal is long gone – get an instant alert for the next deal with Thrifty Traveler Premium+!
This unbelievably cheap fare to London-Heathrow (LHR) only lasted a few hours, but not before plenty of our subscribers who booked these dirt-cheap United Polaris business class fares to London this year or next.
Mistake fares are incredibly rare and fleeting, yet we keep finding stellar premium economy deals to Europe. Premium economy is a wonderful middle ground between business class and economy. And it can come at middle ground prices – or even less.

We've flown these Norse Atlantic Premium seats ourselves and can honestly say it's one of the best ways to get some extra comfort for the flight across the Atlantic Ocean on a budget.
But if you've got some points and miles to burn and a Thrifty Traveler Premium+ membership, you can do even better. How about this: A lie-flat seat in Iberia business class to Madrid (MAD) next summer for just 39,000 points each way?

Finding the award availability to actually book these seats can be a challenge, but we unearthed some rock-solid award space to make it a reality for a trip to Spain in summer 2024. Factor in a 30% transfer bonus, and you could book for just 39,000 points and $100 or so and taxes and fees. Not bad for business class seats that typically cost $4,000 or more, right?
How about Lisbon (LIS) or Porto (OPO) in Portugal? Or maybe even connect onward throughout western Europe – or head out to the islands like the Azores, Madeira, or even the Canary Islands? We unearthed some incredibly TAP Air Portugal business class award space to get you and a companion there early next year … for as low as 35,000 miles each way!

Flying Delta One Suites should be on anyone's bucket list, but there's a problem: Delta regularly charges 300,000 SkyMiles or more each way. No thank you.
One of our latest business class award alerts solved that problem for you.

That's right: You can book suites to London-Heathrow (LHR) that Delta is selling for 300,000-plus SkyMiles for just 95,000 miles each way by using another airline – in this case, Air France/KLM Flying Blue. All our Thrifty Traveler Premium+ give you everything you need to book: The best miles to use, helpful reviews, and even a date-by-date breakdown for which days actually work!
A fall trip not doing it for you? Want to head to the Swiss alps for some skiing instead? You got it. This deal we sent Thrifty Traveler Premium+ members a few weeks ago included availability for up to nine passengers during peak ski season in the Alps. That's excellent availability for a business class route this coveted.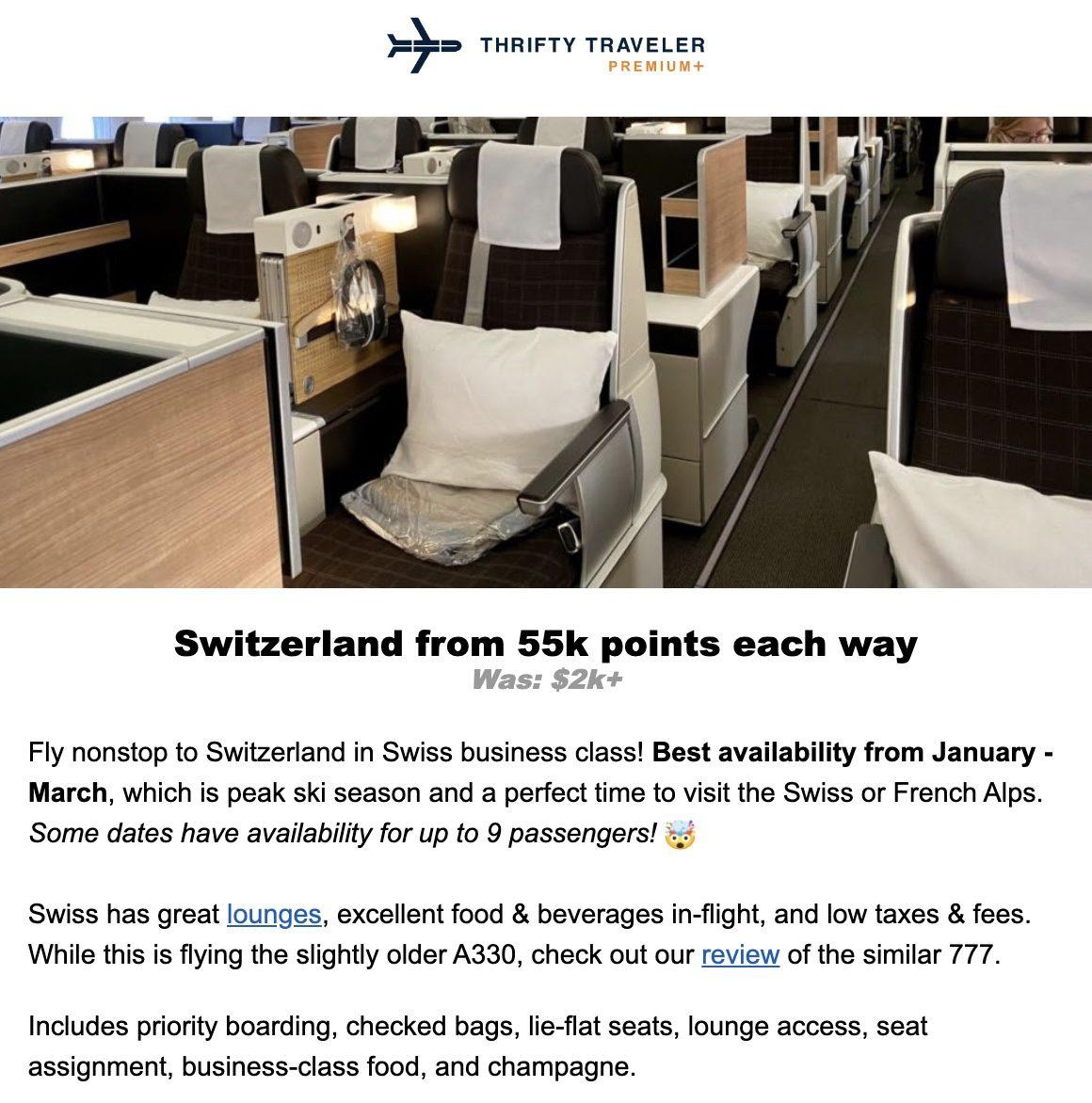 Bottom Line
It's the news travelers have been dying for.
After an incredibly expensive summer of transatlantic travel, we're seeing flight prices drop, giving rise to the return of cheap flights to Europe as well as points and miles deals, too. Start planning and booking – or get the next deal in your inbox with Thrifty Traveler Premium+!