What do you really get when paying as little as $110 for a one-way flight across the pond – and is it worth the savings?
That's the question I set out to answer on a recent Norse Atlantic Airways flight from Europe back to the states. Norse Atlantic is one of the newest airlines flying across the Atlantic to destinations like Norway and England, offering dirt-cheap fares in exchange for few (if any) bells and whistles.
While the Norse Atlantic flying experience might feel bare bones compared to flying full-service carriers like American, Delta, or United, there's an upside. The airline has a fleet of new Boeing 787-9 Dreamliners with seats just as comfortable and spacious as you'll find on most other airlines. Plus, those insanely low fares are impossible to beat.
Here's a look at what it's like flying Norse Atlantic economy from my flight earlier this month on one of its newest routes from London-Gatwick (LGW) back to New York City (JFK). What I found was a cheap fare, some logistical struggles at the airport, and a comfortable (though lean on amenities) transatlantic experience.
Related Reading: A Full Review of Norse Premium Economy on the Boeing 787-9, JFK to London
Introducing Norse Atlantic Airways
Goodbye, Norwegian Air. Hello, Norse Atlantic.
That's essentially what's happened here. Before the pandemic, Norwegian Air had become one of the best-known ultra-low-cost carriers connecting the U.S. and Europe. But much as other budget carriers like WOW Air and Primera Air faltered and closed up shop, Norwegian eventually decided to scrap all its long-haul flights.
Some of the executives behind that airline quickly launched Norse Atlantic to swoop in and take its place, launching cheap transatlantic service to Oslo (OSL) from several U.S. cities like New York, Fort Lauderdale (FLL), Orlando (MCO), and Los Angeles (LAX) this summer. More European destinations like Berlin (BER) and London-Gatwick (LGW) quickly followed.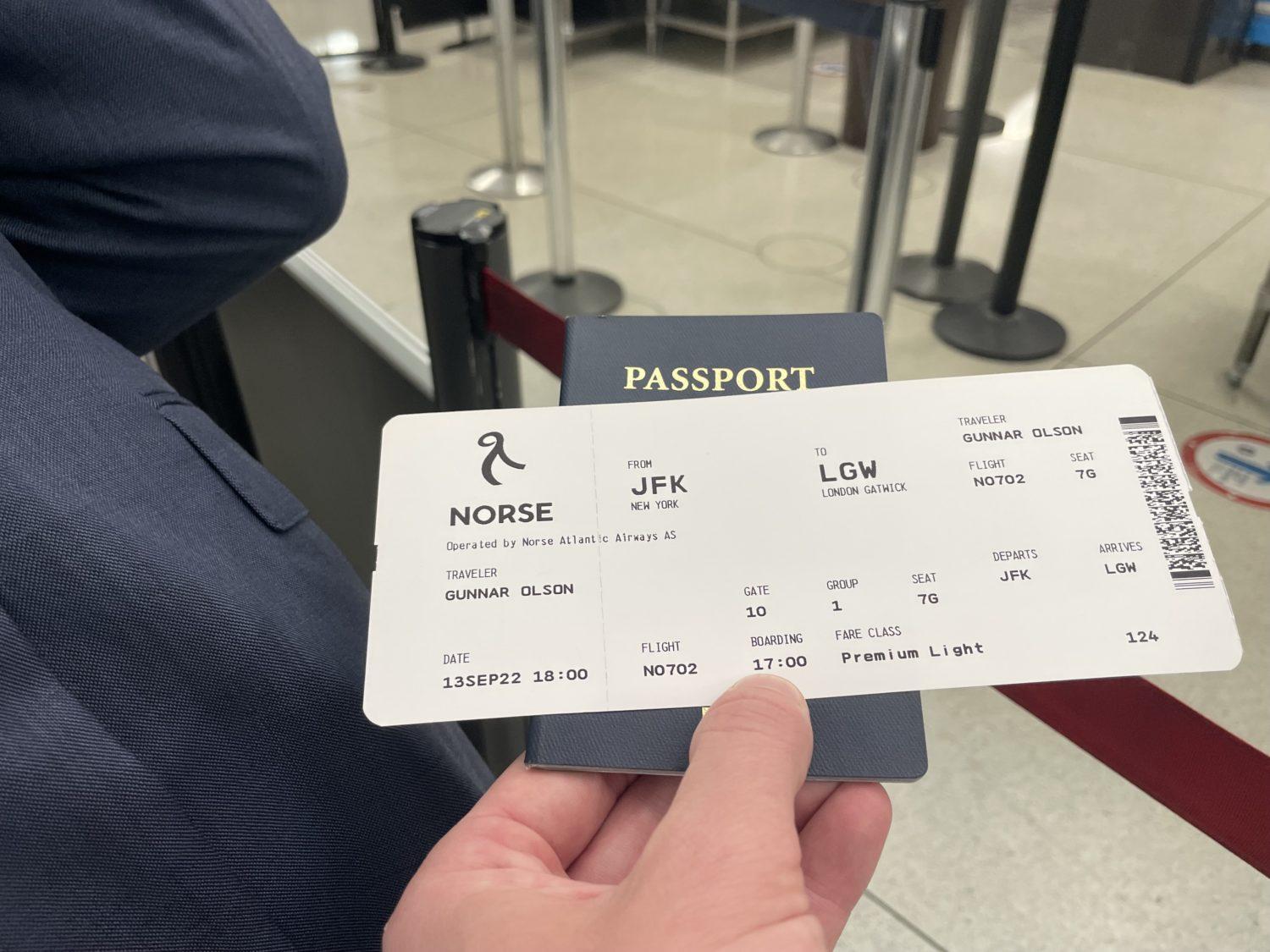 On each of its routes, Norse Atlantic operates a fleet of relatively new Boeing 787 Dreamliners that it calls its "Longships." My Longship on the way to Gatwick was just three years old, while the return flight was on a four-year-old aircraft.
Everything inside the plane reflects that. The planes are clean, bright, spacious, and sparkling new.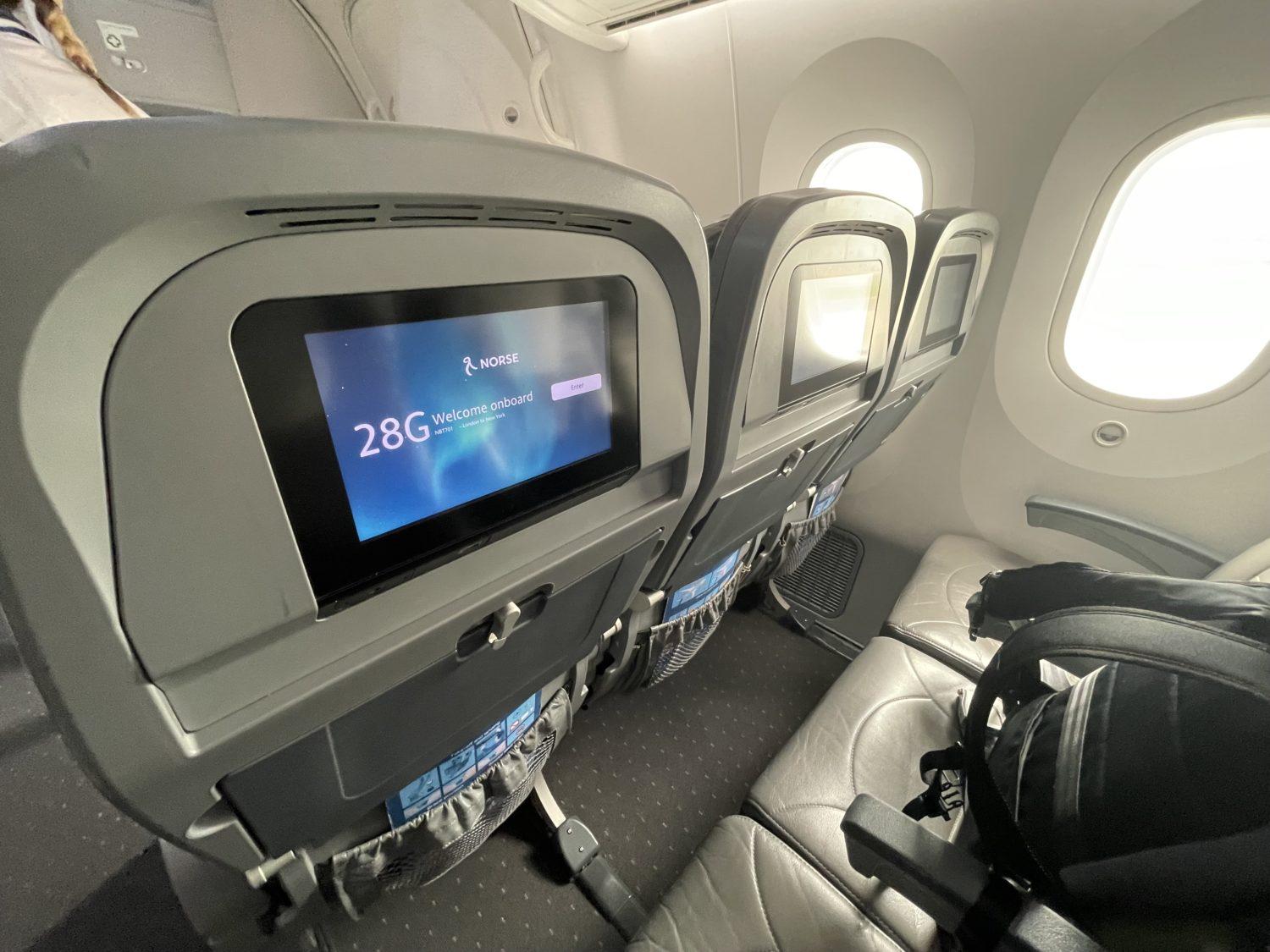 Norse is just the latest nordic-inspired low-cost carrier to join the transatlantic fray. PLAY Airlines was the latest budget option for U.S. flyers to get to Europe. PLAY's inaugural transatlantic flight was in April, starting service from Baltimore (BWI) to Reykjavik (KEF). PLAY will also offer flights from New York (Stewart-SWF), Boston (BOS), and, in 2023, Washington, D.C. (IAD).
Onboard Norse Atlantic
The 787s are simple but lovely inside, even way in the back of the plane.
On my Thursday afternoon flight from Gatwick to New York, the back of the plane was relatively full. But as you moved toward the front of the plane, the cabin got more and more sparse thanks to heftier seat selection fees.
The economy cabin, despite being a drab gray color, was pretty much identical to any economy cabin on a mainline carrier. Norse Atlantic's economy cabin is configured in a 3-3-3 fashion.
Each seat is about 17 inches wide, on par with other airlines big and small that fly the 787 Dreamliner.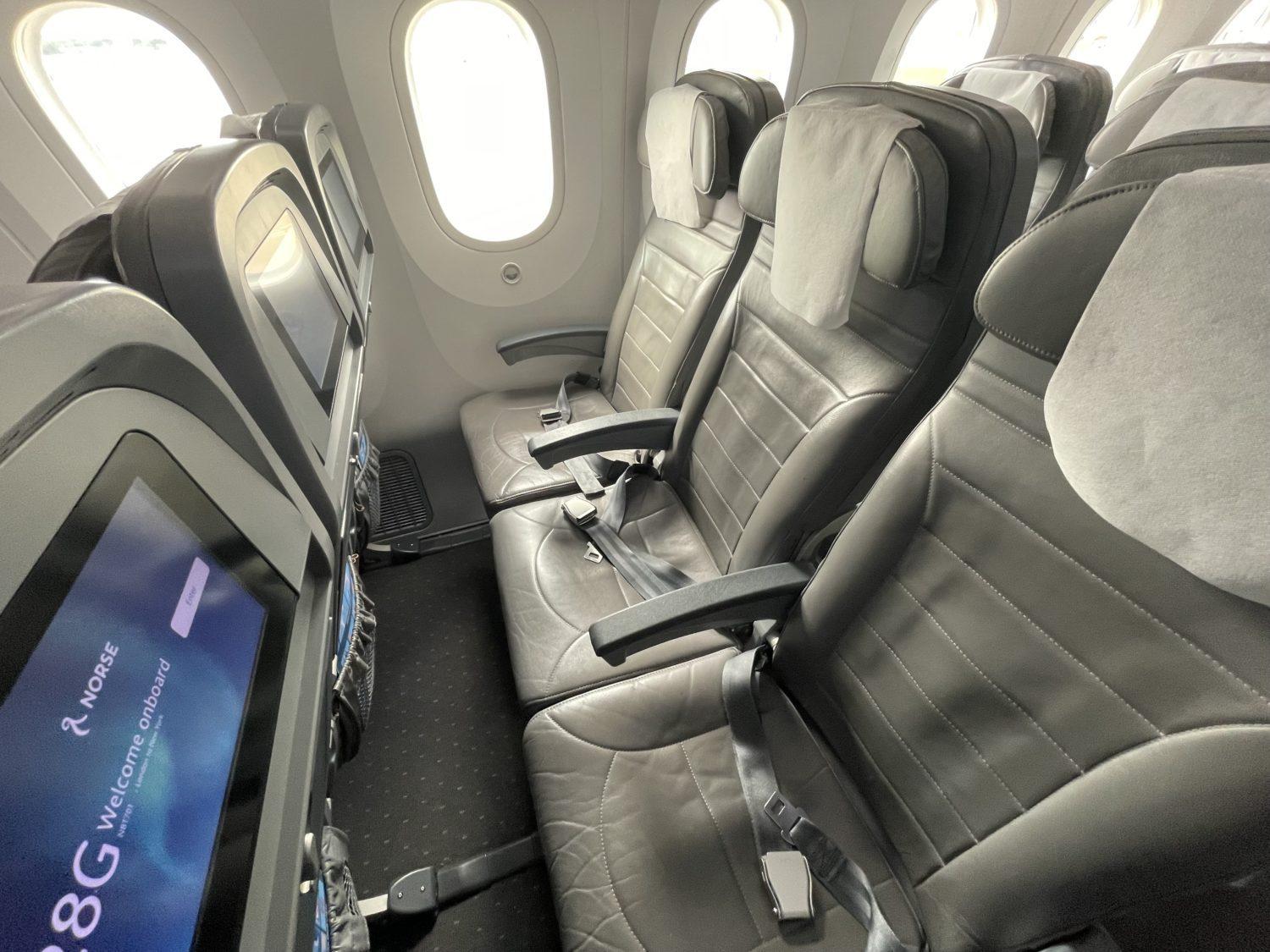 Almost every economy seat has 32 inches of legroom – though you can secure a special, extra legroom seat (with some special, extra legroom seat selection prices).
I thought the legroom was wholly adequate. Not good, not bad, but nothing special – a very typical economy seat.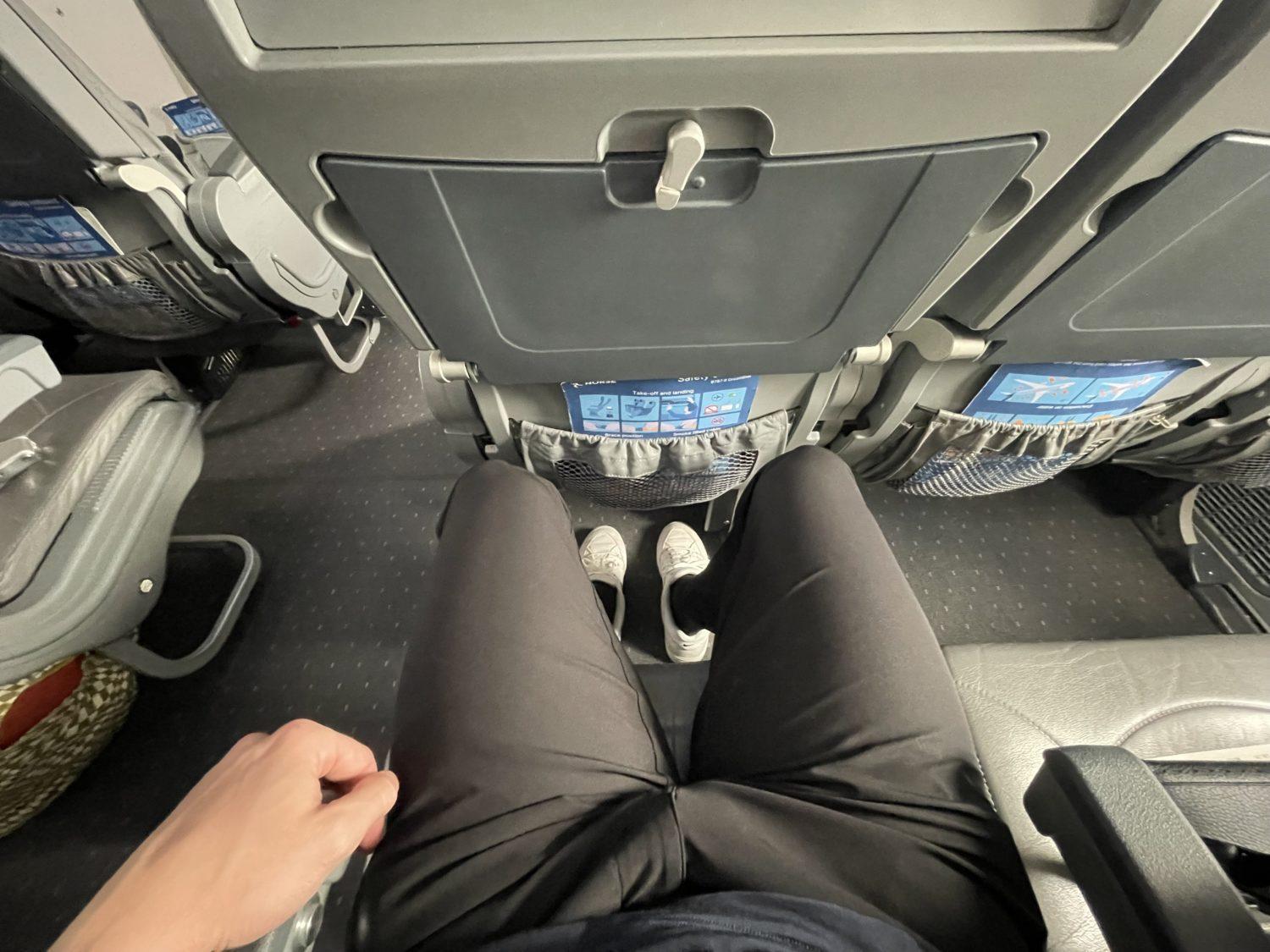 One of the nice features of the 787s are the enormous windows with a dimming button instead of the traditional shade. The extra natural light was very welcome during the seven-hour afternoon flight.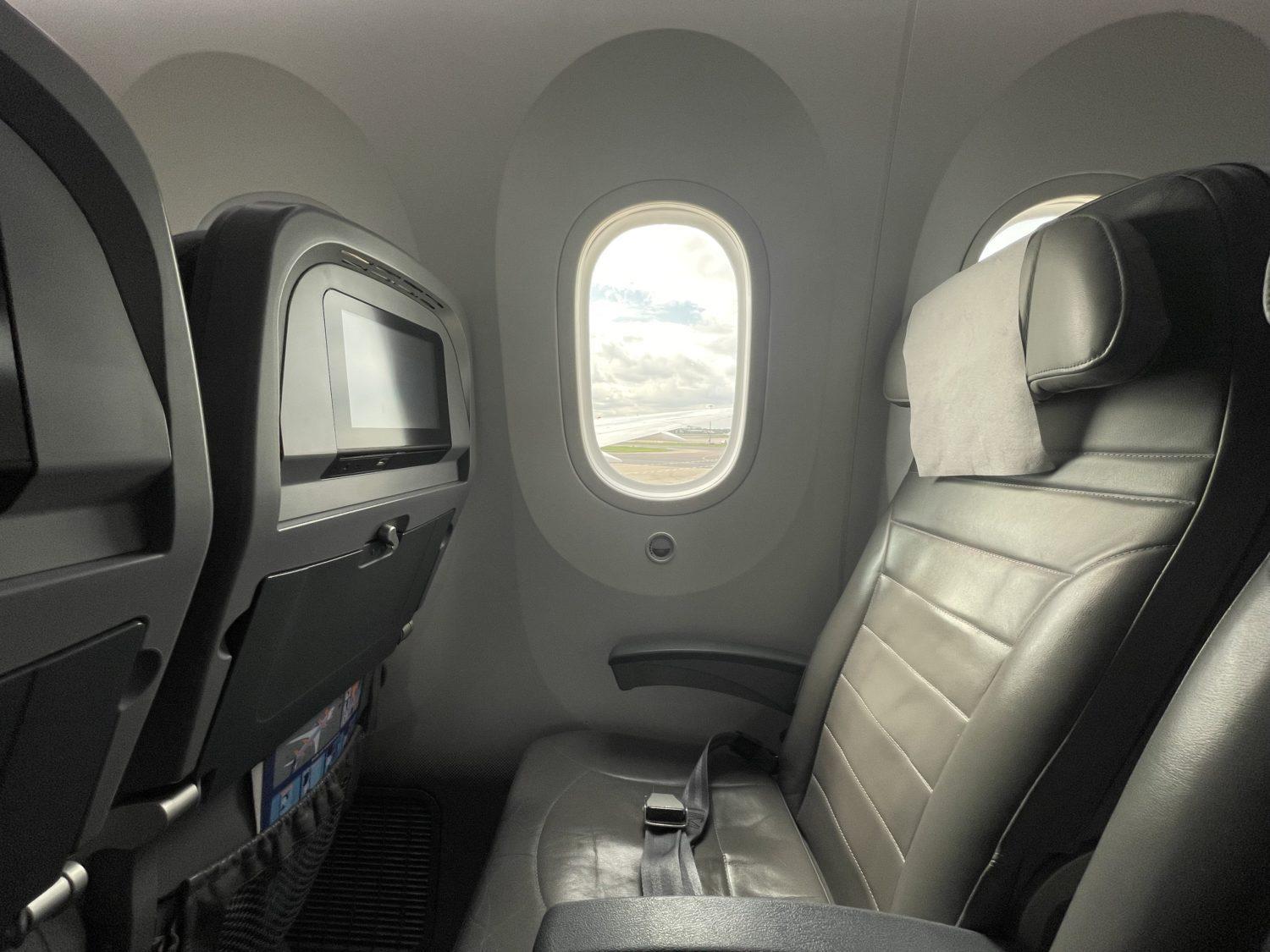 Fortunately, every single seat in Norse's fleet has an individual seatback screen. There's no moving map or navigation system that you'll find on other airlines – the flight information screen is the best you'll get here.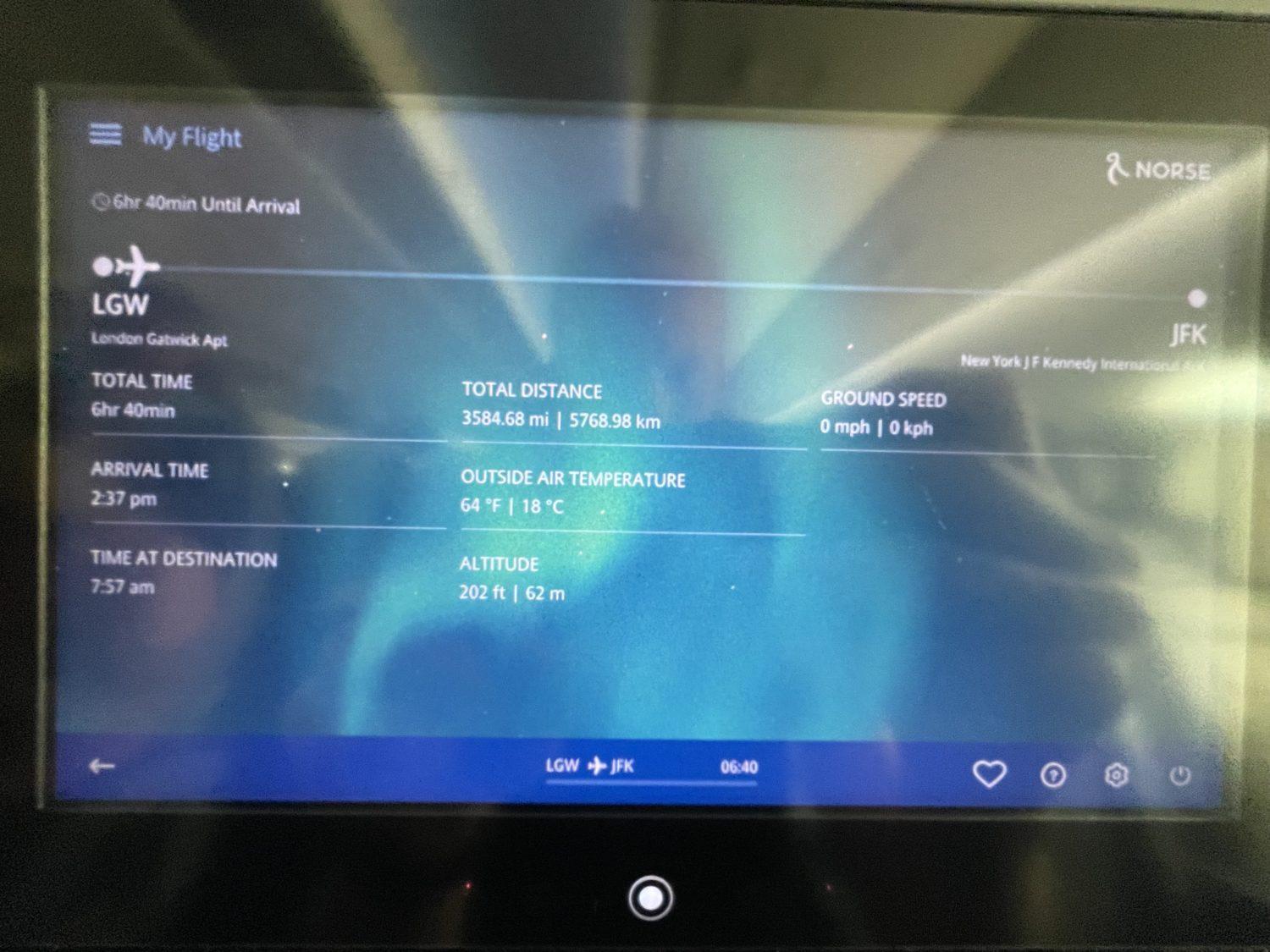 But the entertainment system itself is stocked with hundreds of movies and TV show titles, including many U.S. favorites to keep you entertained. There didn't seem to be much rhyme or reason to their selection, but I watched films like Let Them All Talk and King Richard. I also tacked on a few episodes of The Office.
Below each screen, there was a headphone jack as well as a USB port to help keep your devices charged.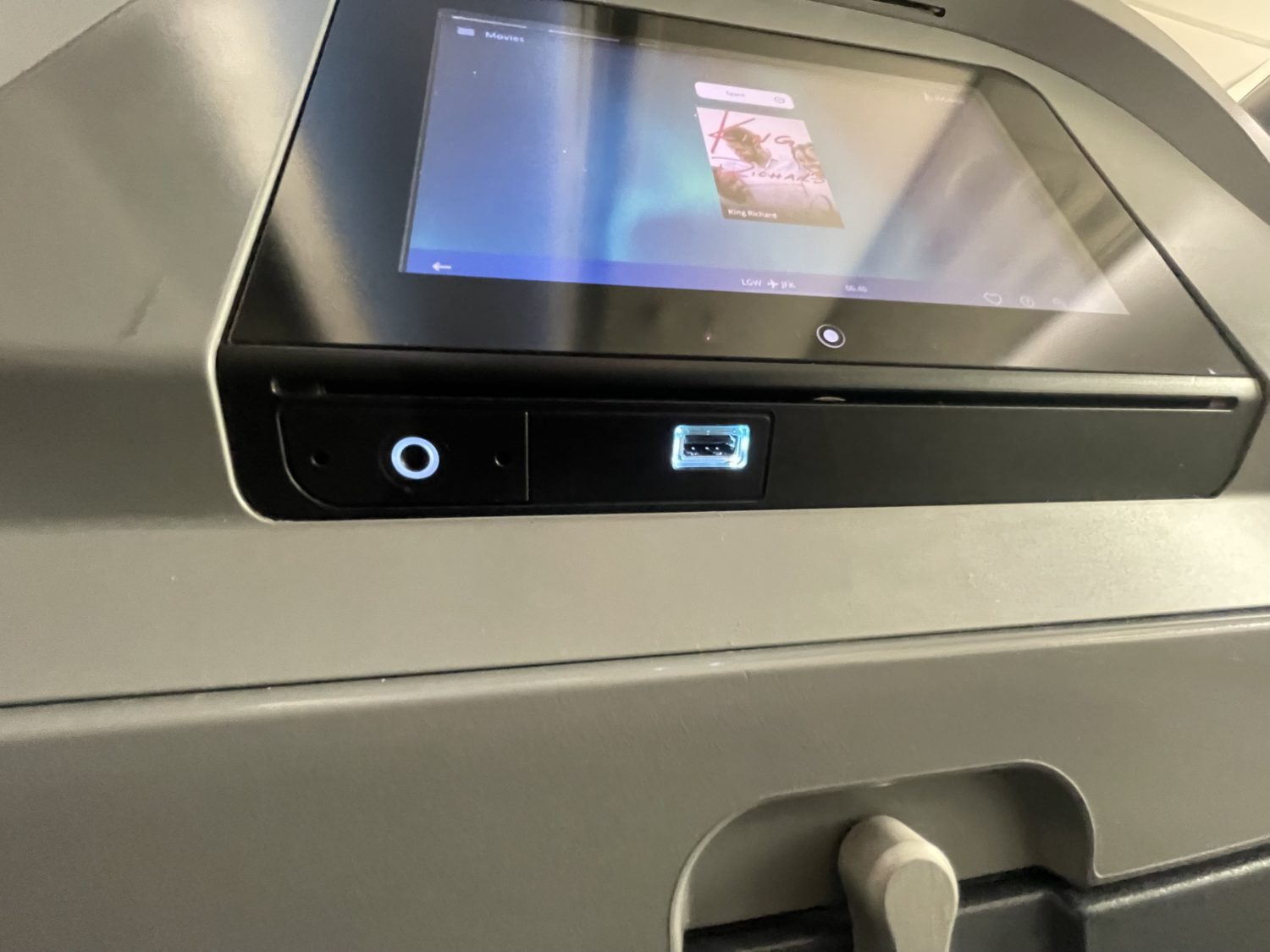 In addition to the USB port in front of you, there are two universal plug-ins in each three-seat section for passengers to share. The power itself seemed to vary throughout the journey: It worked most of the time, but there were a few hours with reduced or no power during the seven-hour flight. I had a similar experience in Norse Atlantic's Premium seats on the way to London.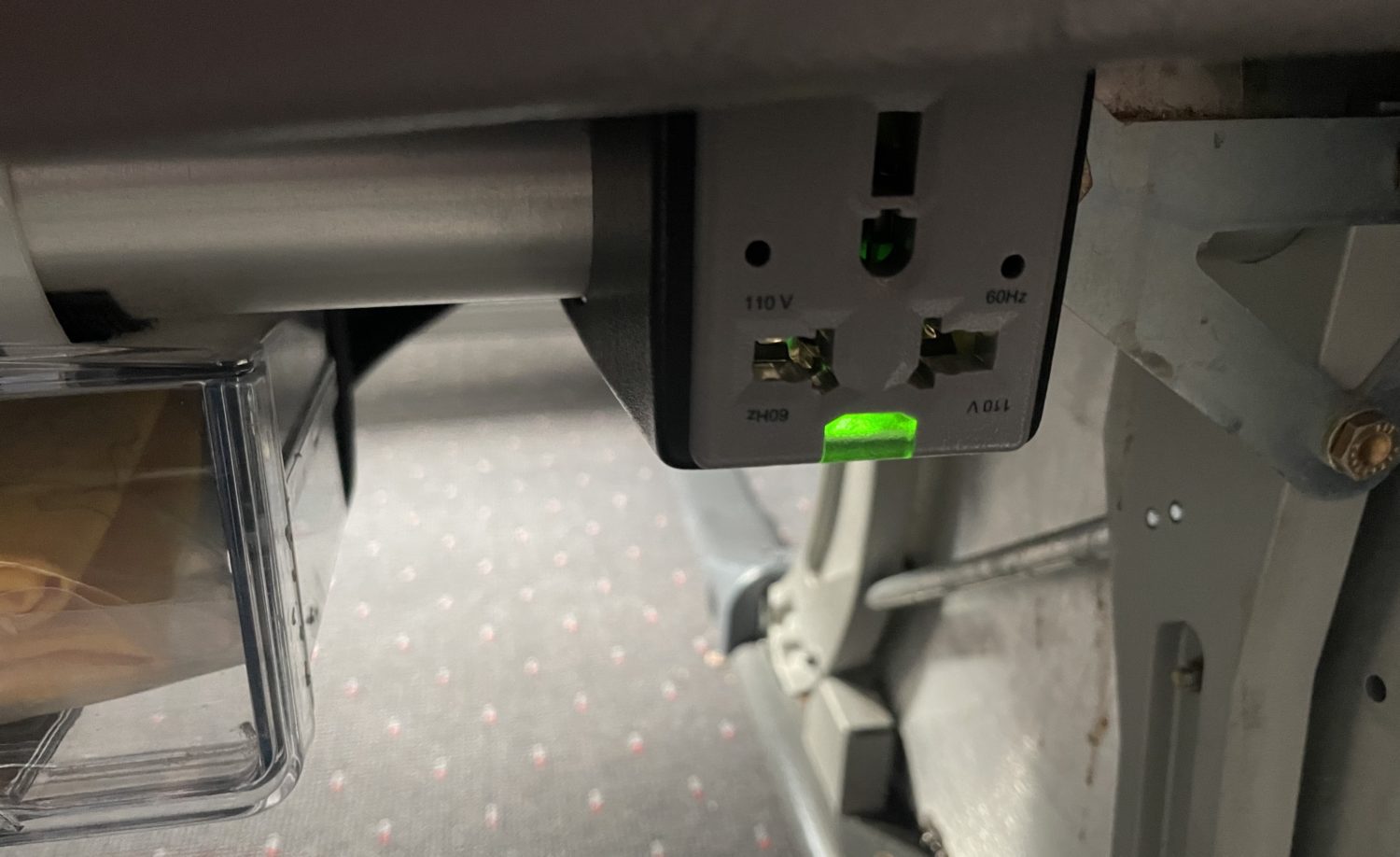 The tray table is small but standard. No fluff here: Just a simple, folding table with a small cupholder.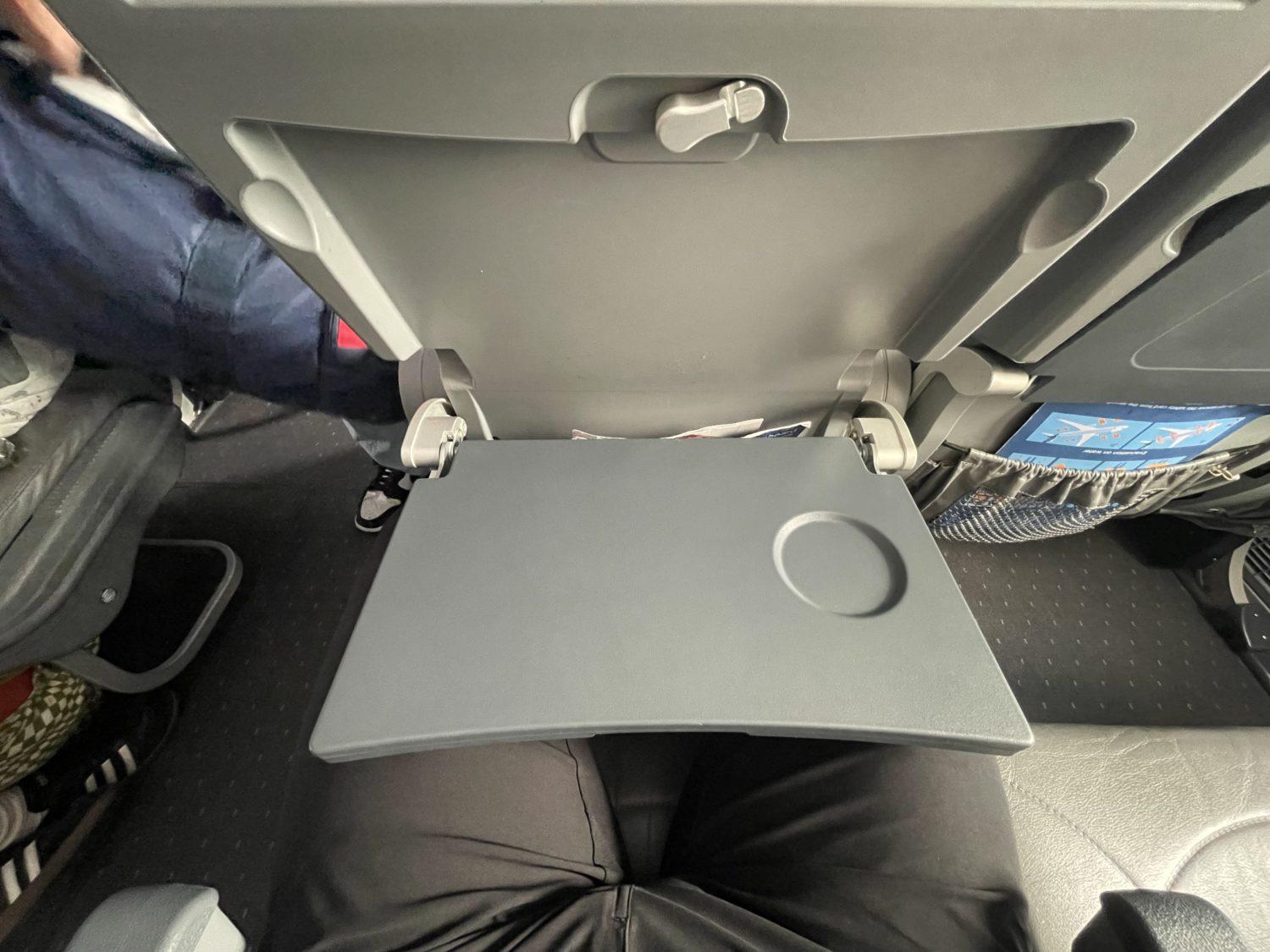 Above each seat there is another standard light and air vents, which are (puzzlingly) often missing from other widebody jets on long-haul flights.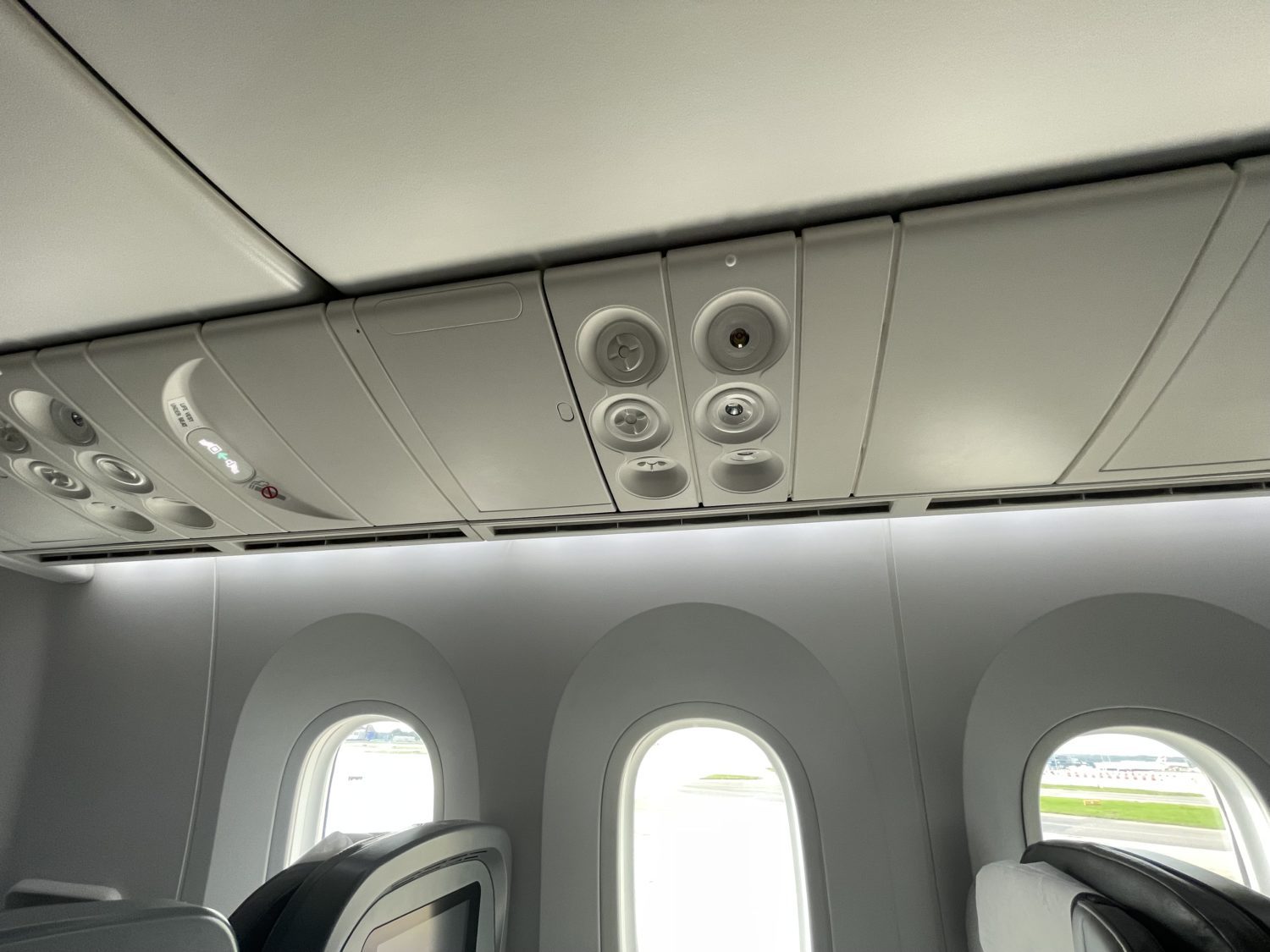 Each seat features an adjustable headrest that can be raised or lowered, along with two small wings that can be flipped in or out.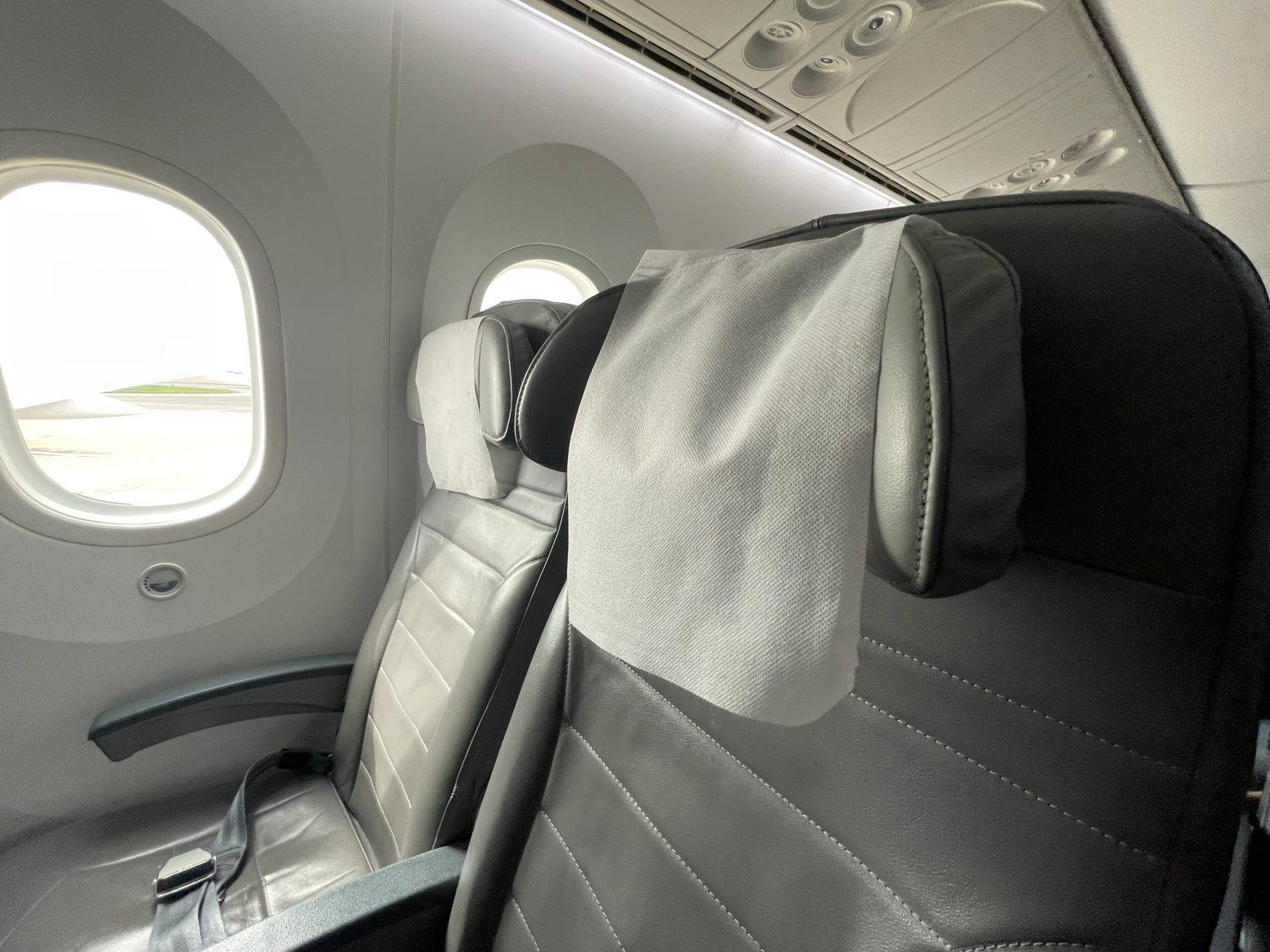 Norse Atlantic Premium seats at the very front of the plane are a significant upgrade from the economy cabin. It's far from a full-blown business class seat but akin to Premium Economy offerings on other airlines – at least for the seat itself.
Thanks to the more generous 2-3-2 arrangement, each seat is wider, more plush, and sports as much legroom as my 6-foot frame would ever need. It had larger tray tables and entertainment screens that came out of the other armrests.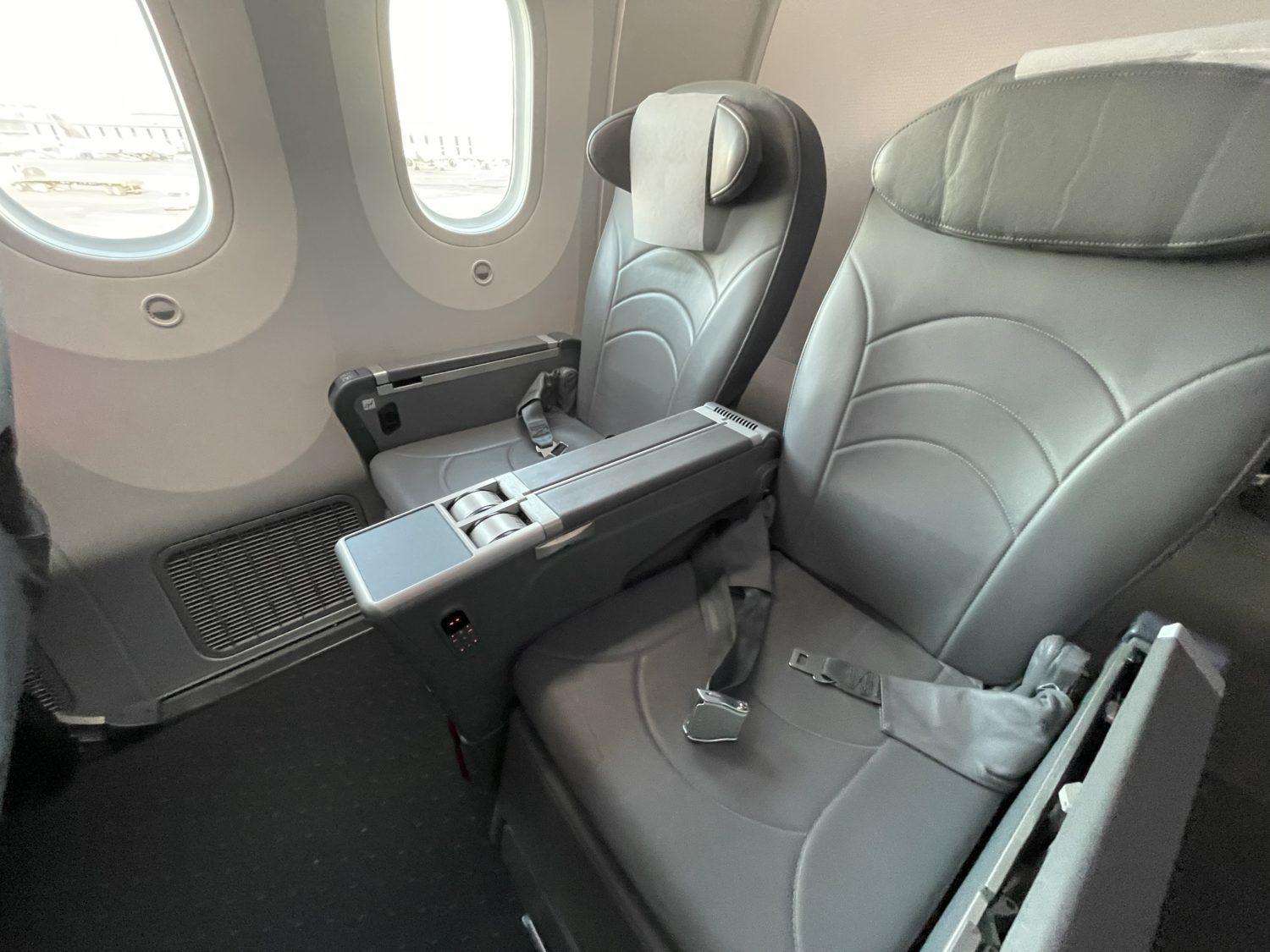 You'll pay quite a bit more to snag these seats over the typical Norse Atlantic economy seat, but it's still quite the bargain for a comfortable ride over to Europe or back.
All the Extras (Or Lack Thereof)
Norse Atlantic lures travelers with a cheap fare that gets you a seat with room for a backpack … and that's it. From additional bags to meals and drinks, there are plenty of extras available – you'll just have to pay for them.
When booking on the Norse Atlantic website, the airline lays out exactly what you get with your ticket and gives you an easy-to-read breakdown of what each fare includes – or doesn't. You can also forego these fare bundles and simply add what you need individually, from seat assignments to bags and meals.
For example, here's an upcoming flight from New York to London-Gatwick with several different packages available.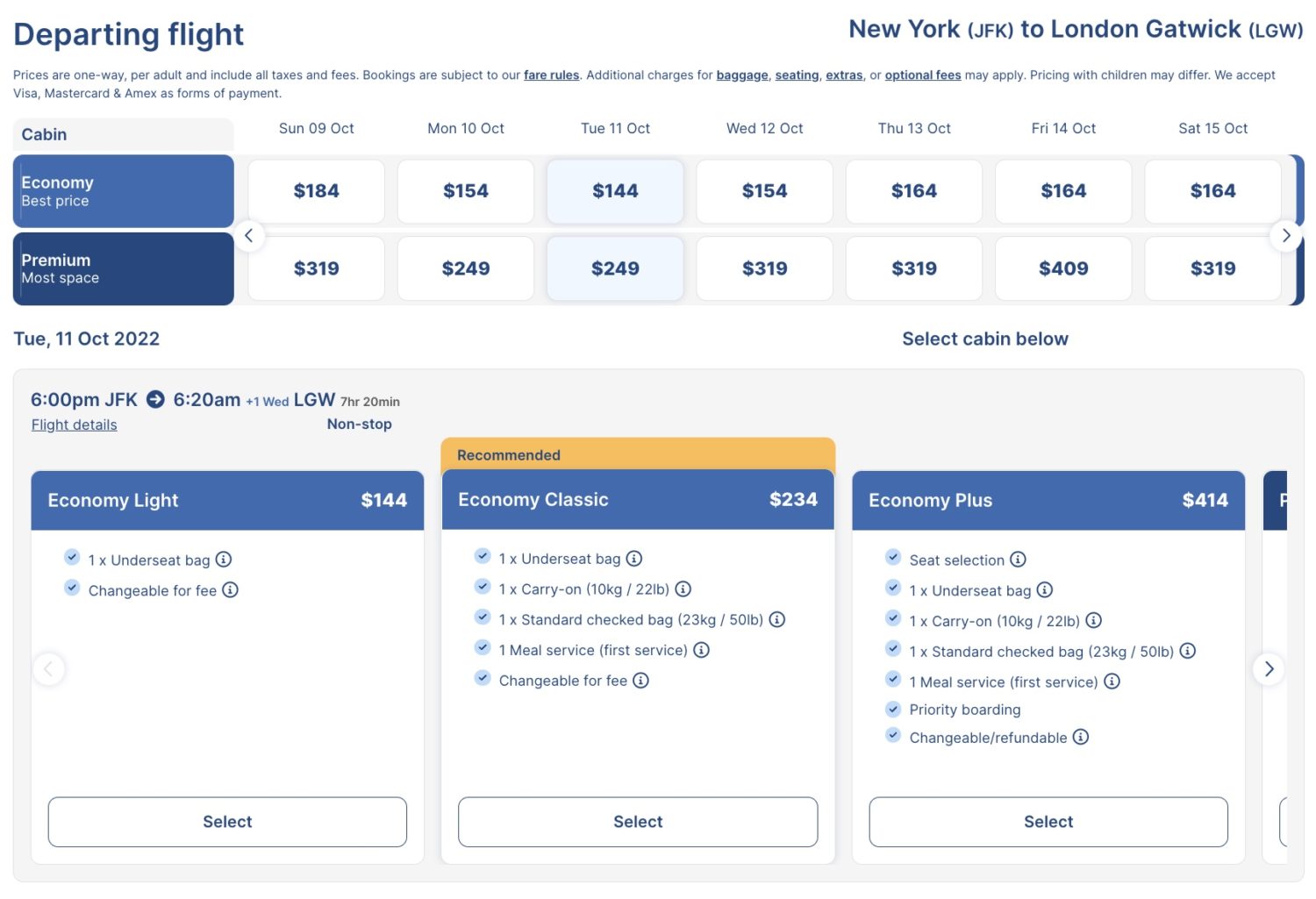 On my journey home in economy, I booked the Economy Classic fare (another $90 over the cheapest, Economy Light fare) so I could store my carry-on bag. I could have also brought a checked bag, but had no need.
The Economy Classic fare also included one meal service at the beginning of the flight. Looking around my section of the plane, about a third of us were on these Classic fares. Whether intentional or not, it seemed many travelers opted for the cheaper Economy Light option.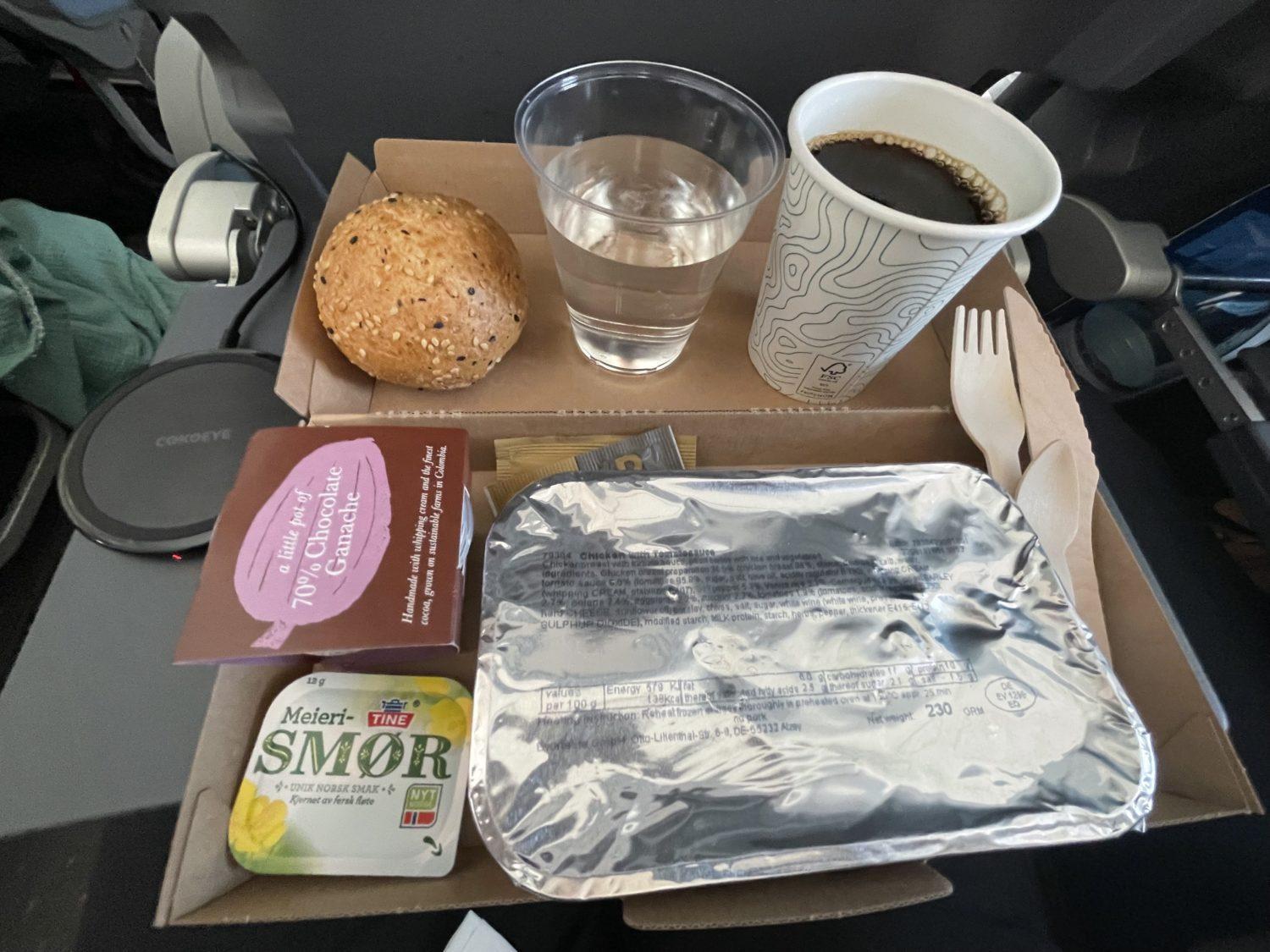 The meal was uninspiring, but plenty substantive to tide me over on the long ride. The chicken curry dish tasted better than it looked, though that's a low bar. It was, frankly, not a good meal … but you get what you pay for.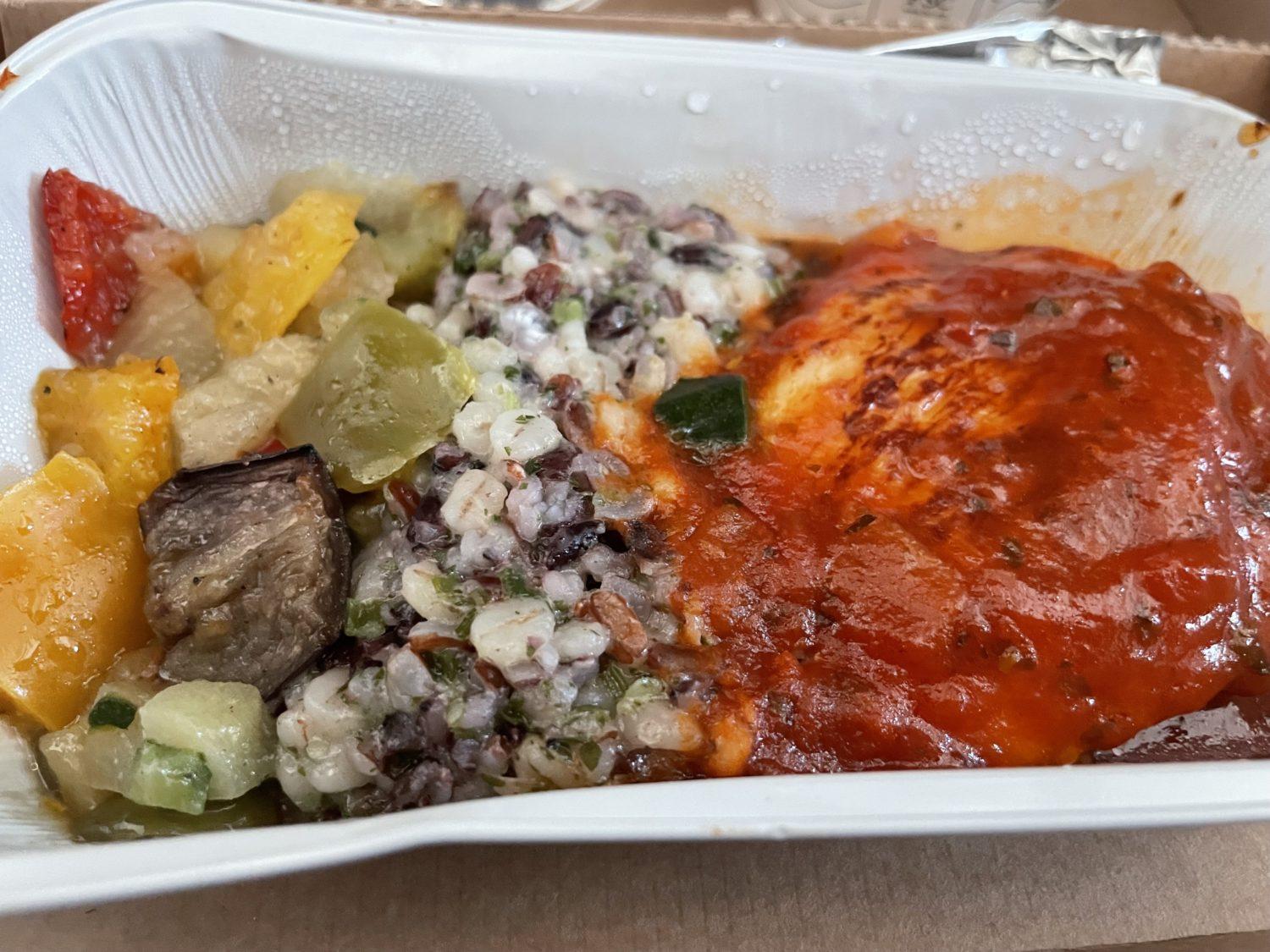 If I were to do it again, I'd just purchase the Economy Light fare, add a carry-on bag for $35, and purchase one of the light meals onboard or bring my own food.
Norse Atlantic is, at its core, an ultra-low-cost carrier – think a bigger version of Spirit or Frontier. And that means nothing comes free onboard. In the onboard menu are a comfort kit, earbuds, or a blanket – all available at a cost.
Beyond the warm meal included in my fare, additional food and drinks were available onboard. Again, they'll all cost you – unless you're flying in the Premium cabin, which comes with two complimentary drinks.
There's a modest selection of spirits, mixers, wine and beer on board.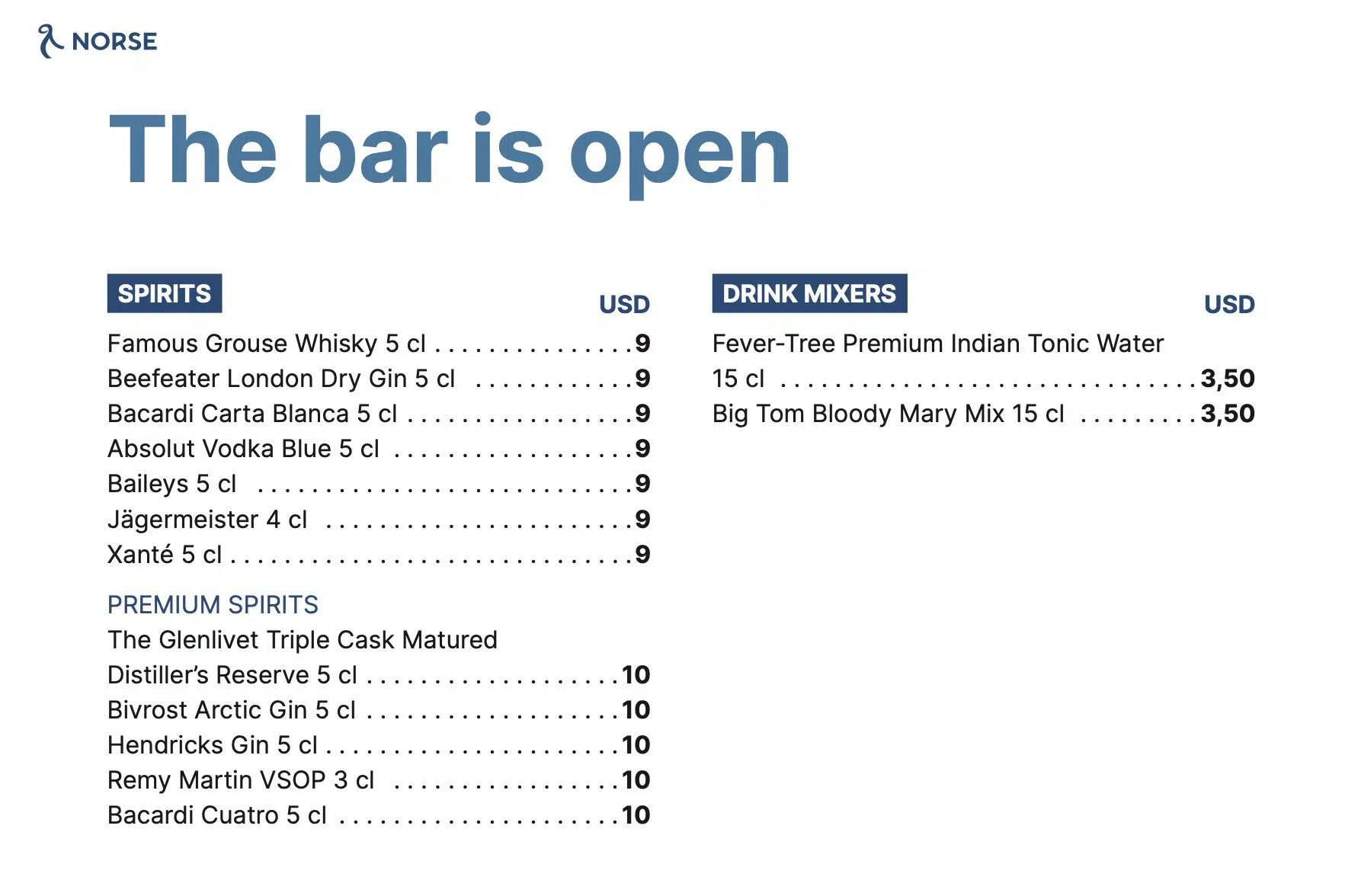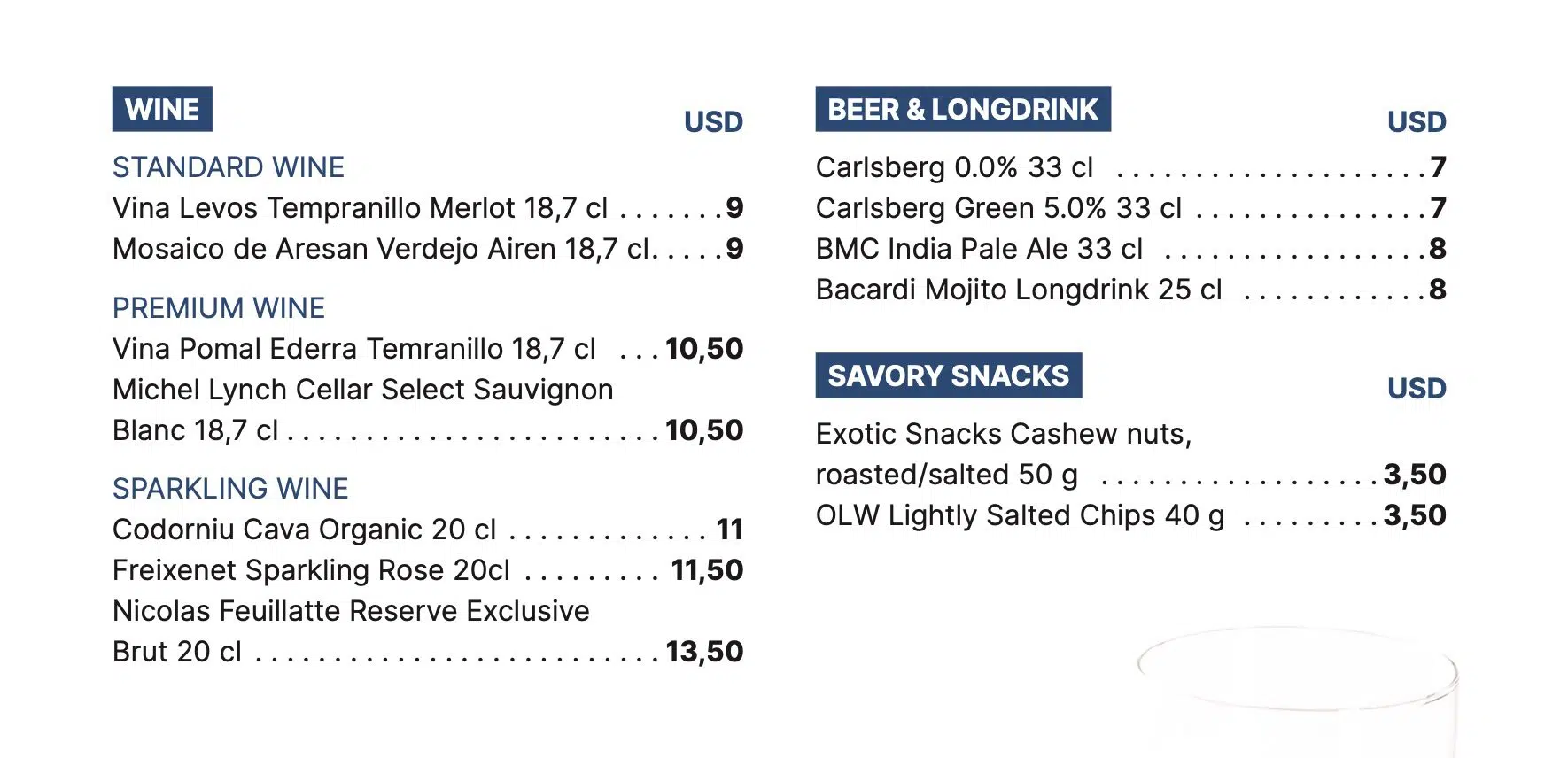 There are also light meals and snacks available for purchase at fairly cheap rates. Many people seated around me on Economy Light fares purchased some of the vegetable noodles or pasta fusilli from the light meals section.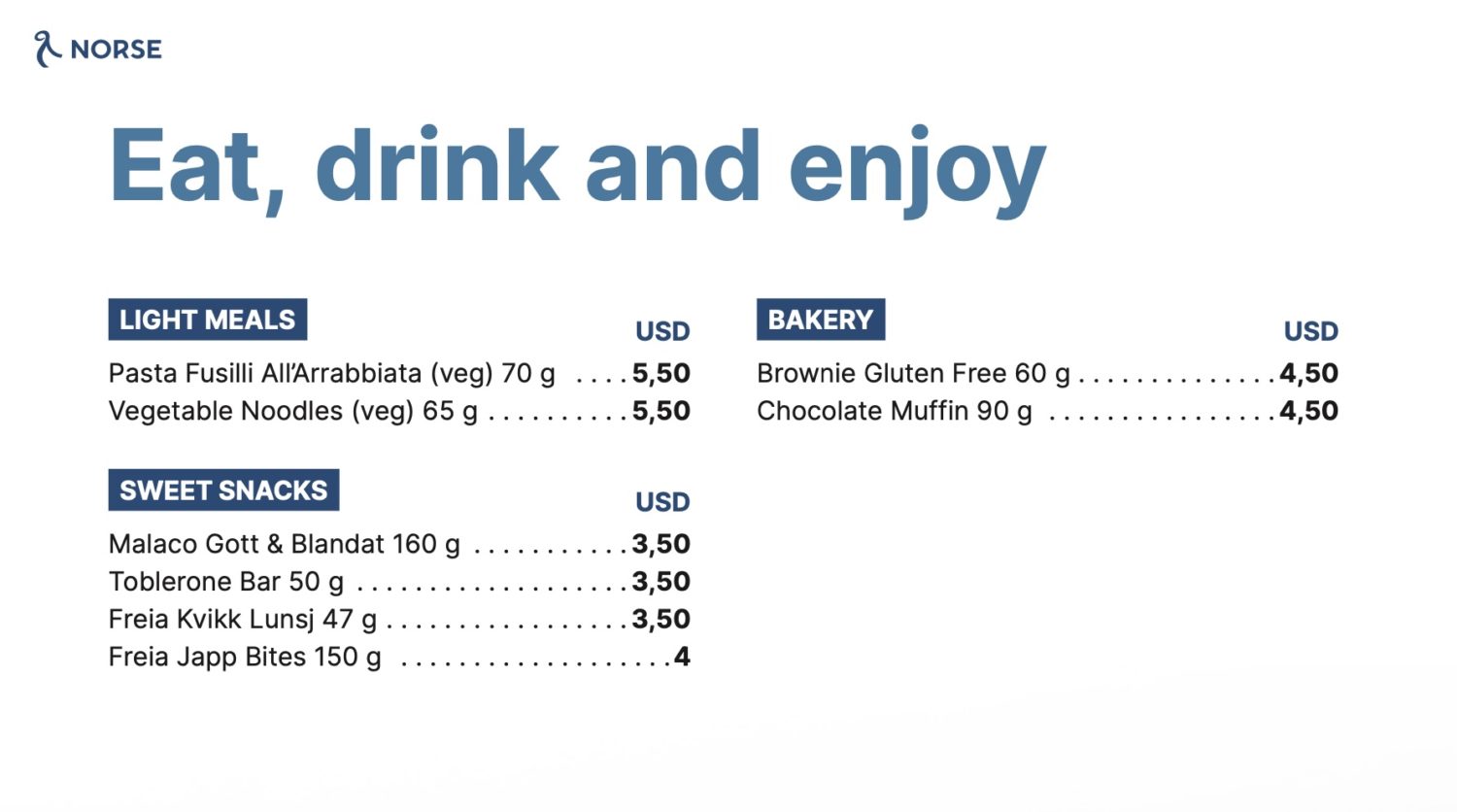 There are also soft drink options and extra coffee and tea for purchase onboard.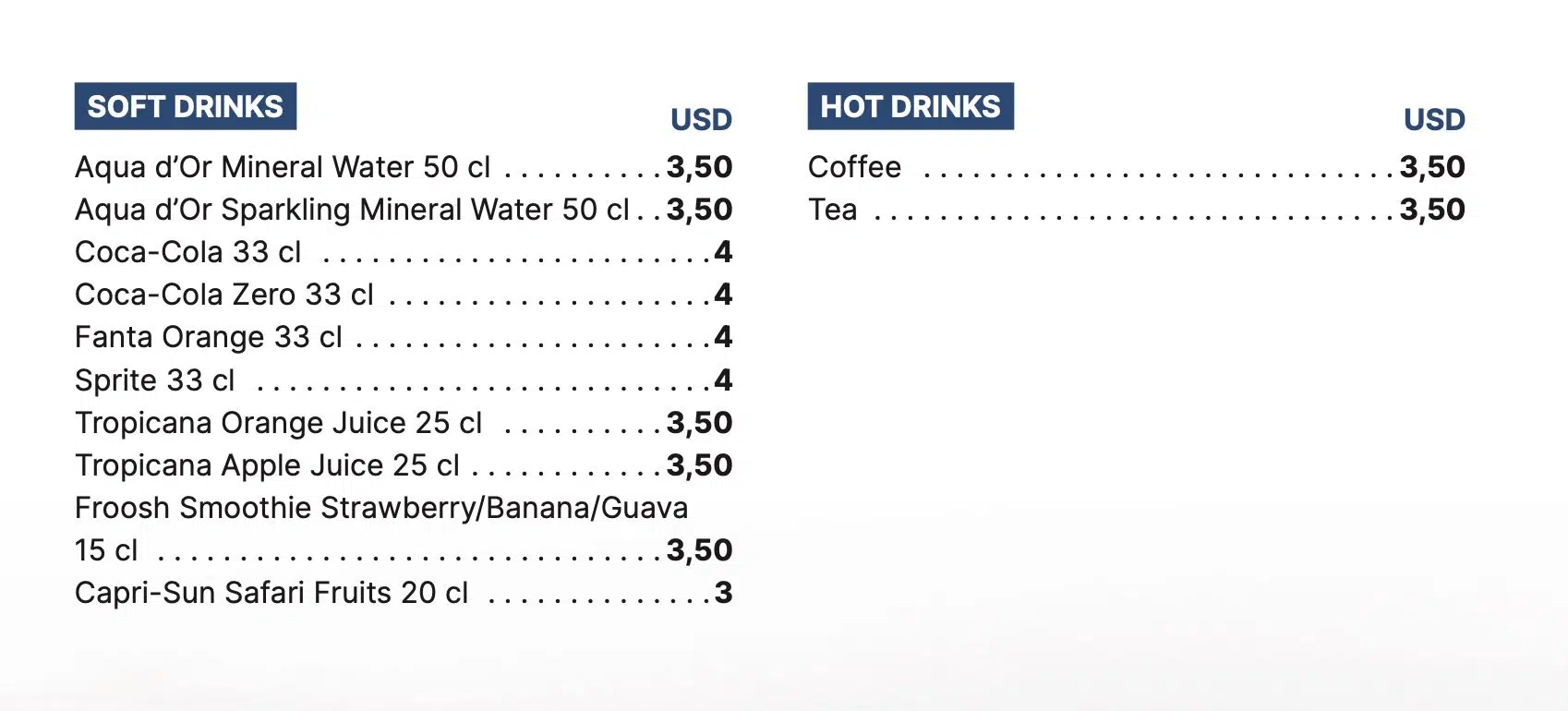 The food and drink offerings aren't what make Norse a good option for your travels, but there are adequate options for the budget-conscious traveler who gets hungry or thirsty.
The onboard purchasing process was very smooth. A simple tap transaction with a credit card and a printed receipt took all of 10 seconds for me to get a sparkling wine during my ride.
Seats and Baggage
Here's where you really need to pay attention if you're booking Norse Atlantic flights this year or next. Depending on the fare you purchase, everything costs a little bit. Make sure you know exactly what you're getting when you book.
The bare bones fares are insanely low. A $144 transatlantic flight is incredible – and we've seen even cheaper. Paying just $249 to fly premium economy is even better. It's a crazy value, but what are you getting with that price?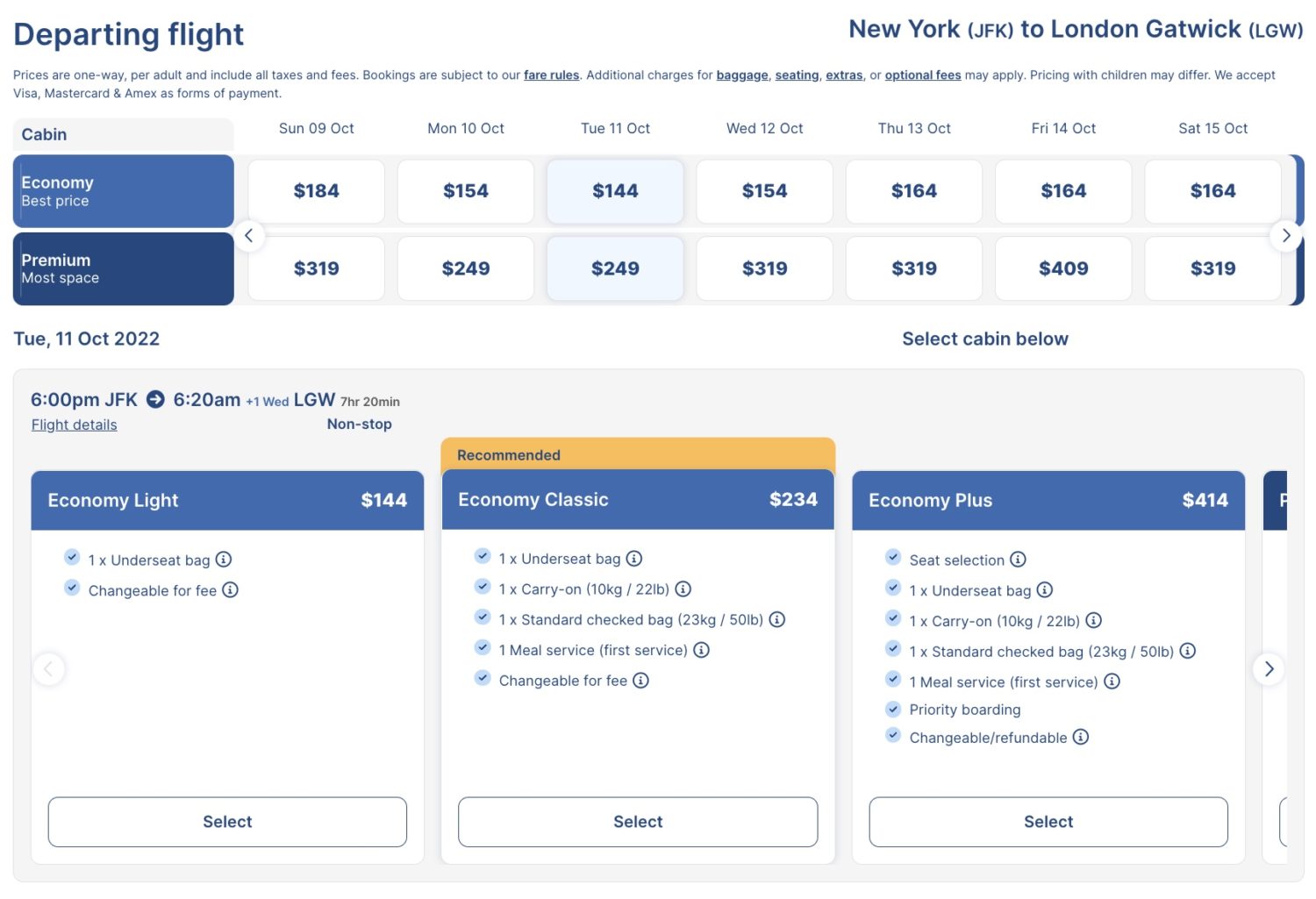 If you choose the Classic or Plus economy fares, you'll get bags included, for instance. But if you choose a light fare, watch out for these additional baggage fees!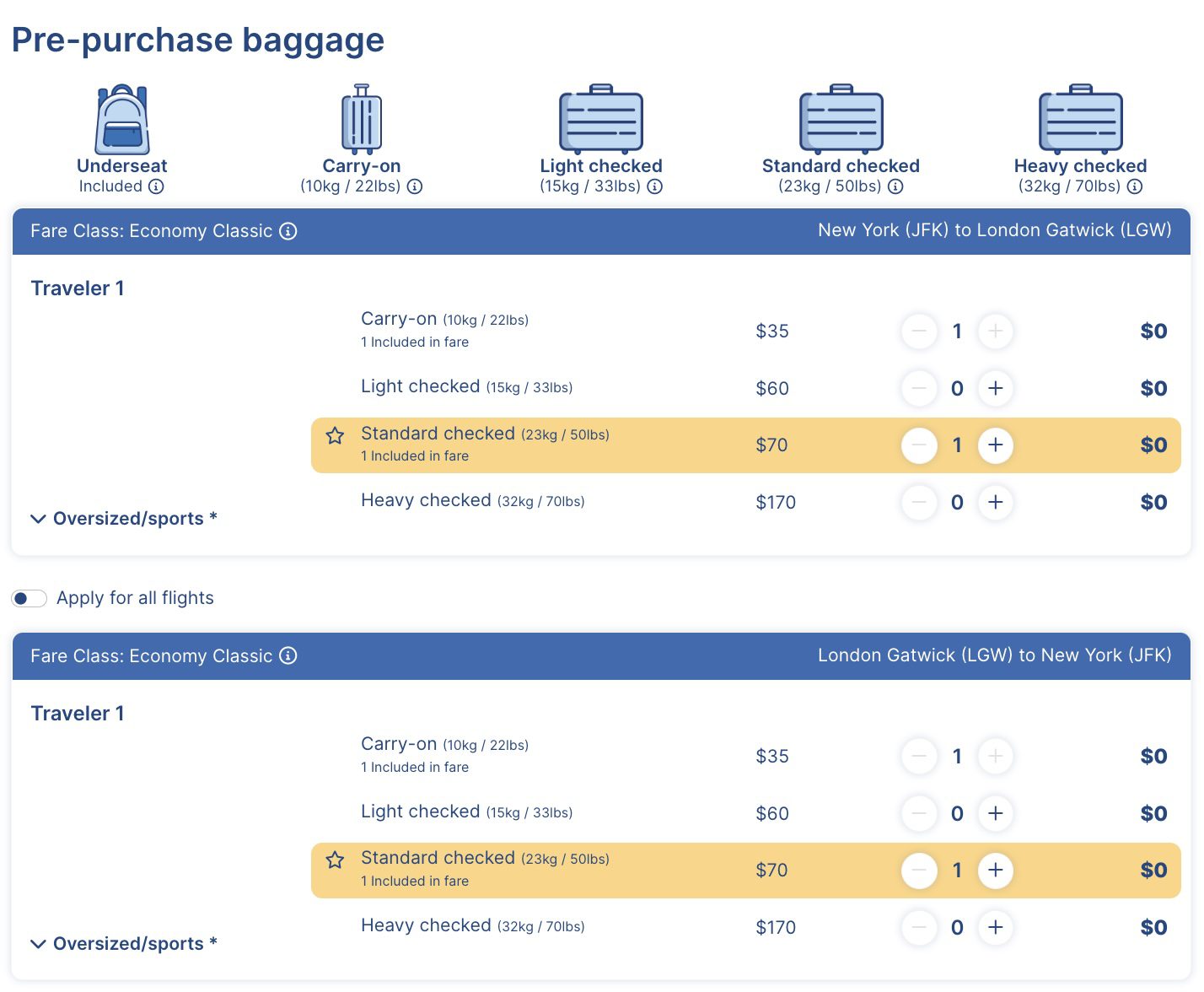 Paying $70 for a checked bag and $35 for a carry-on is no walk in the park. So do some napkin math before you book that Economy Light fare with bags in tow. Like I mentioned above, if I had to do it again, I would have purchased an Economy Light fare and just paid for the carry-on.
Of course, seat selection will also cost you on Norse, with seats starting around $20 for a middle seat at the back to as much as $100 a pop!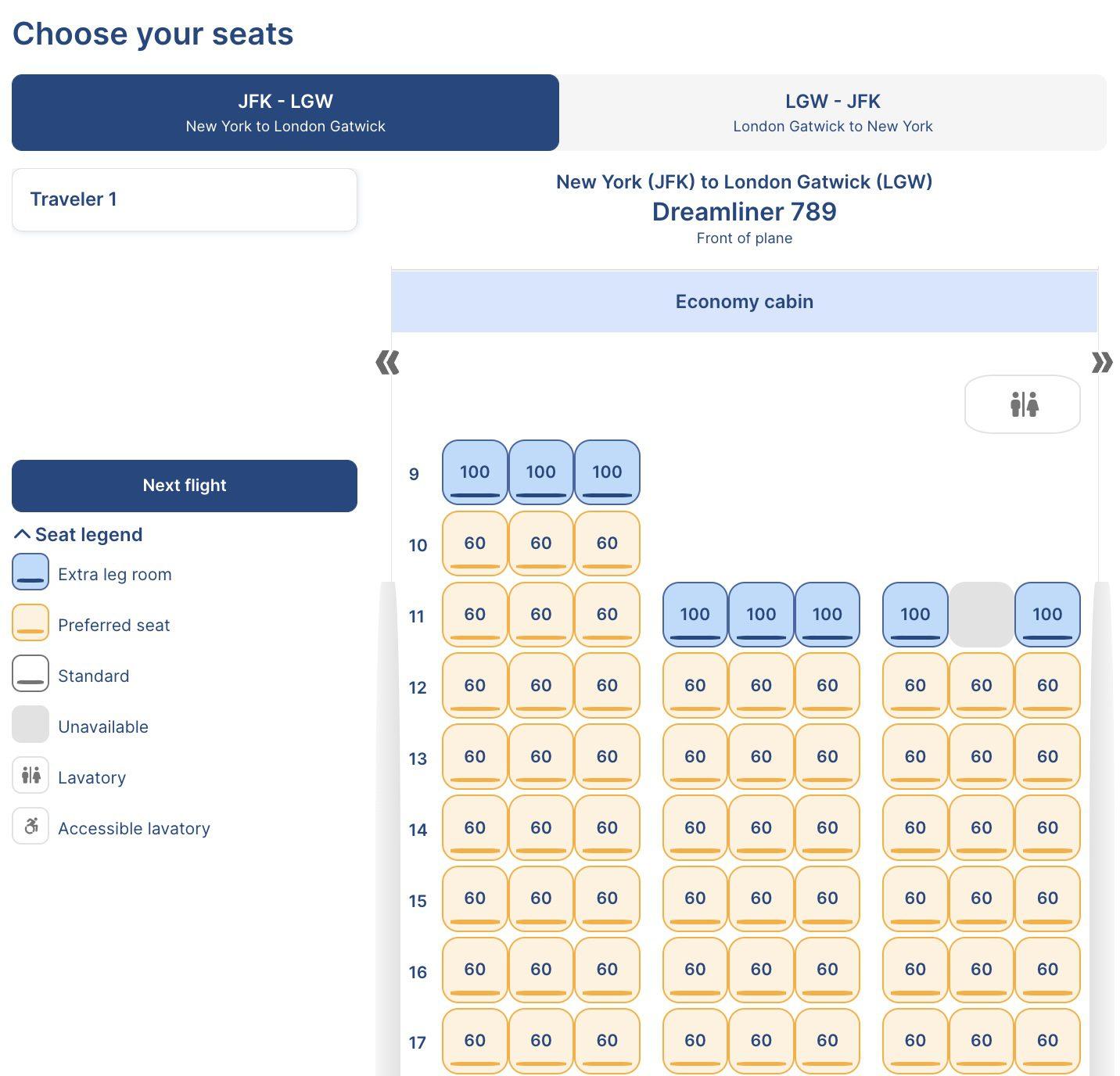 Luckily, the seat selection is also pretty slick and easy on Norse Atlantic. It shows you rows from the $60 middle section of the plane all the way to the $20 seats in the very back of the bus.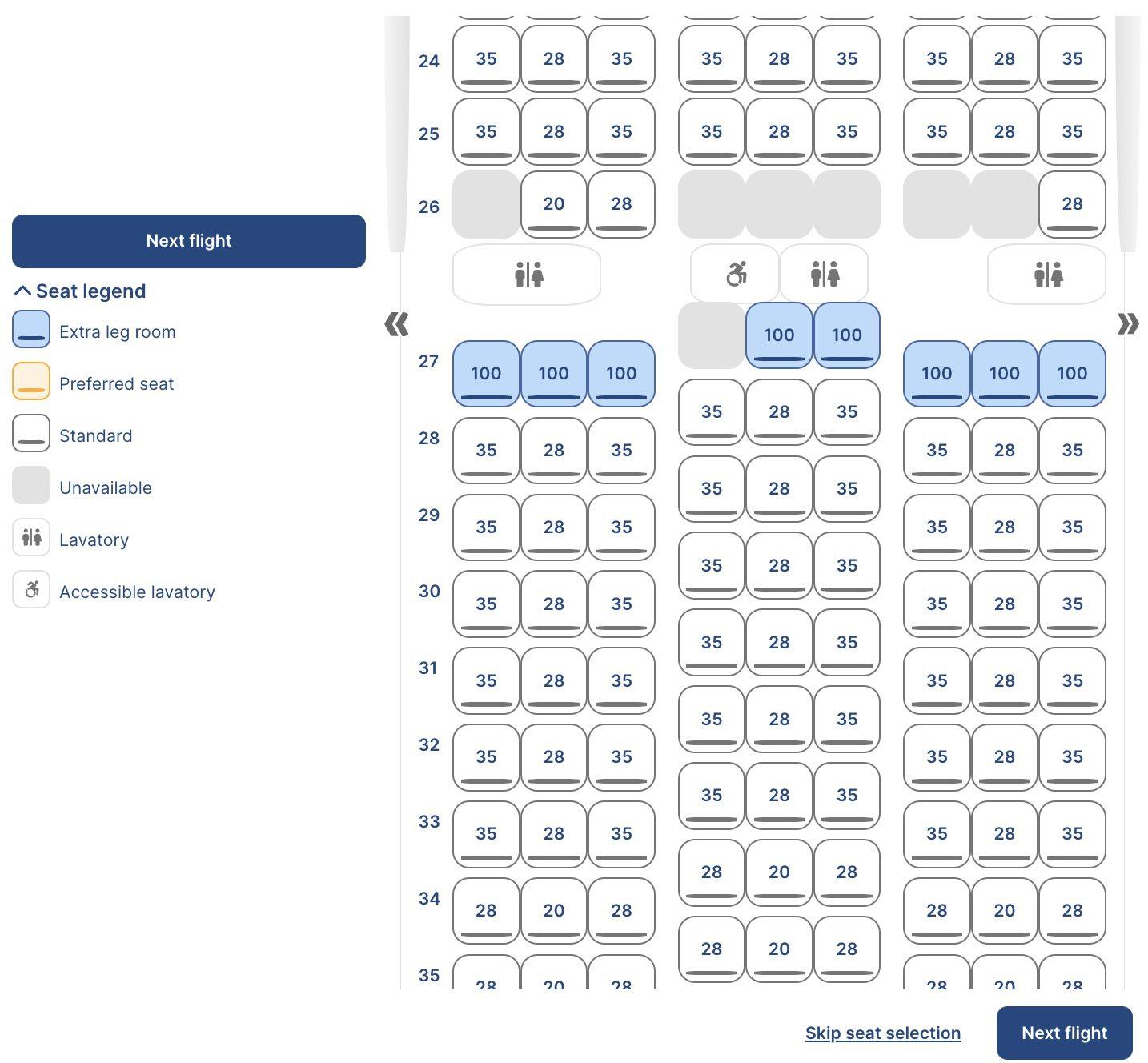 For my flight, I booked row 28, just behind the second section of extra-legroom seats going for $100. I booked an aisle seat for $35, while someone grabbed the seat in the middle for $28. Almost the entire section was full except for the $100 seats that went out empty ..until a few travelers upgraded to those seats after takeoff.
As always, make sure you are doing the math on what fare class (and add-ons) are best for you.
Growing Pains at JFK
It was a tough summer of aviation logistics for most airlines, and Norse was not spared from some of those same issues at New York City (JFK).
Upon arrival at JFK for my flight over to London, I found the Norse Atlantic check-in line wrapping around one of the Terminal 1 check-in counters. Hundreds of confused travelers waited in long, long lines – my wait was about an hour. My seat neighbor on the flight to Gatwick said she arrived three hours before the flight and waited for nearly two hours to check in.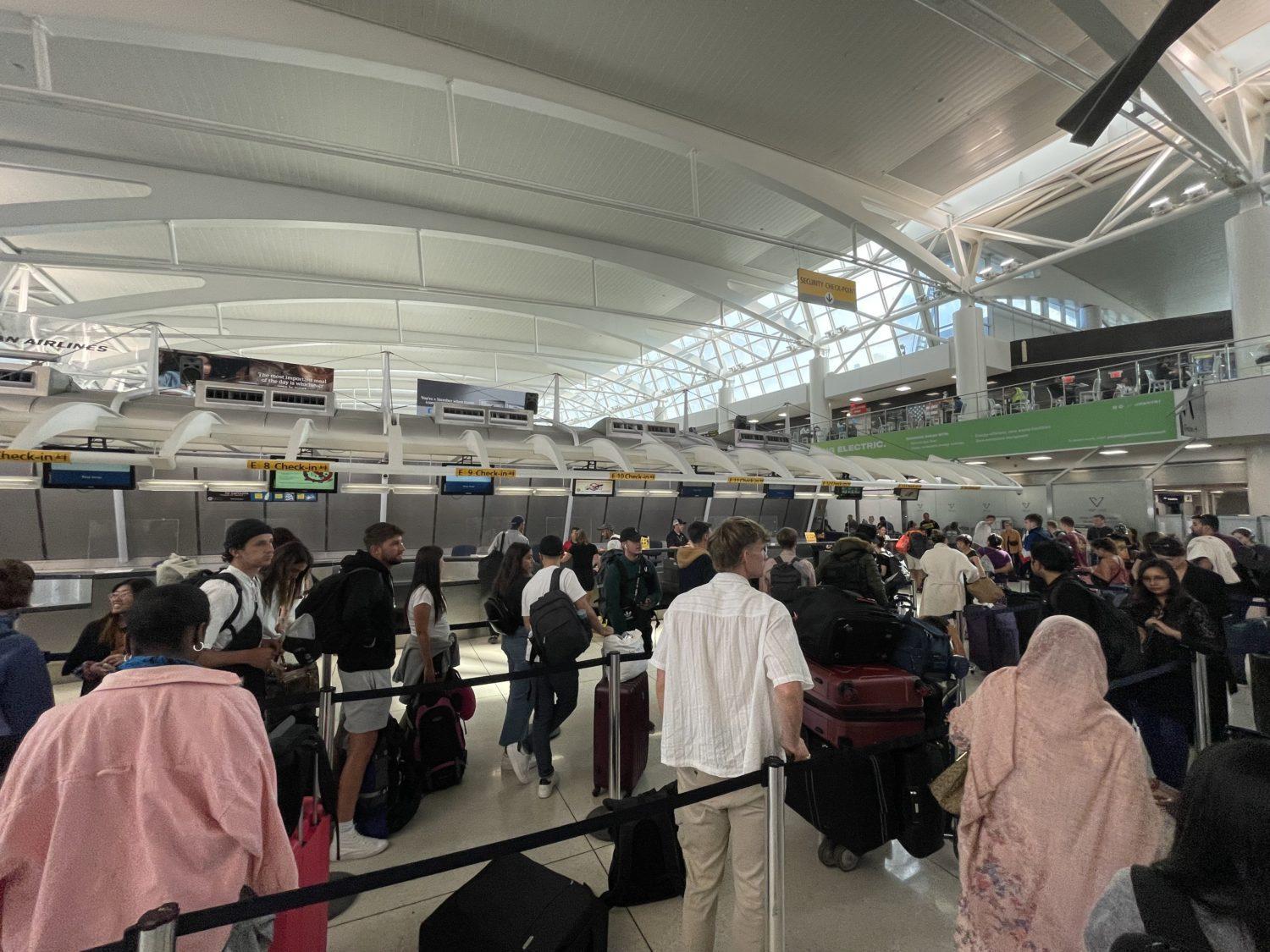 There was also no rhyme or reason to the lineup. Despite being in the Premium cabin for my flight across the pond, I was told to stand in the regular line with everyone. Most people weren't checking bags, but just needed a printed boarding pass. Despite checking in online beforehand, I was told by TSA my mobile boarding pass wouldn't do – I needed to join the line and get a printed copy. Devastating.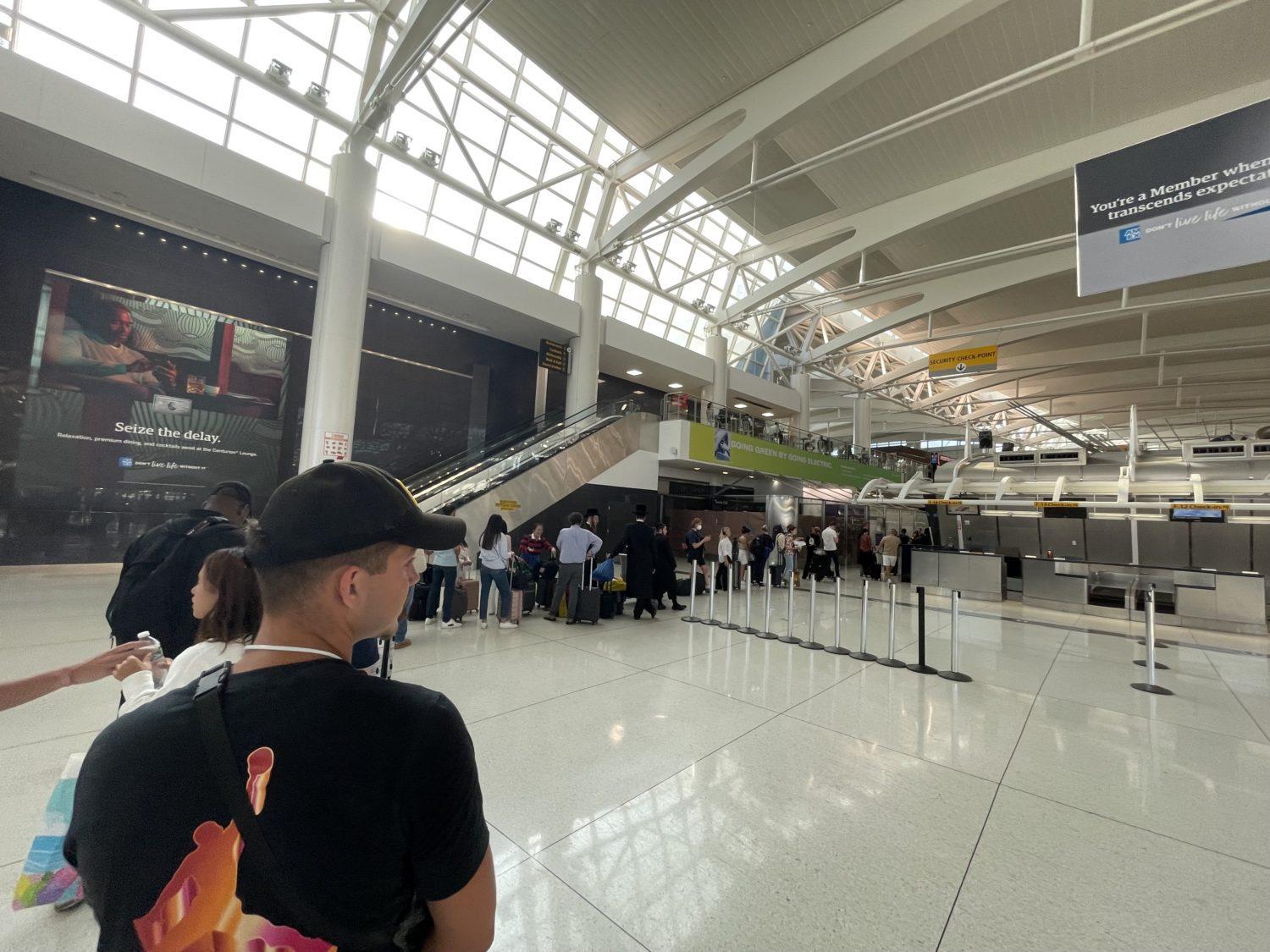 There were only four agents working the counters to check in both the Oslo (OSL) flight and the Gatwick (LGW) flight that afternoon, which led to the delays. All the while, confused travelers were making their own lines and trying to ask staff members how to organize people with checked bags and those without.
To make matters worse, Norse Atlantic does not have an agreement with TSA PreCheck yet, meaning there is no expedited security line available even if you're all signed up for PreCheck (or Global Entry). So it was shoes off, laptops out, everything. It's a small thing, but it makes a big difference when you're packing for a PreCheck airport experience.
As a result of the chaos at check-in, the flight was slightly delayed. By the time I got to the gate, there was no formal boarding process announcements. We all just walked onto the plane in whatever order we arrived.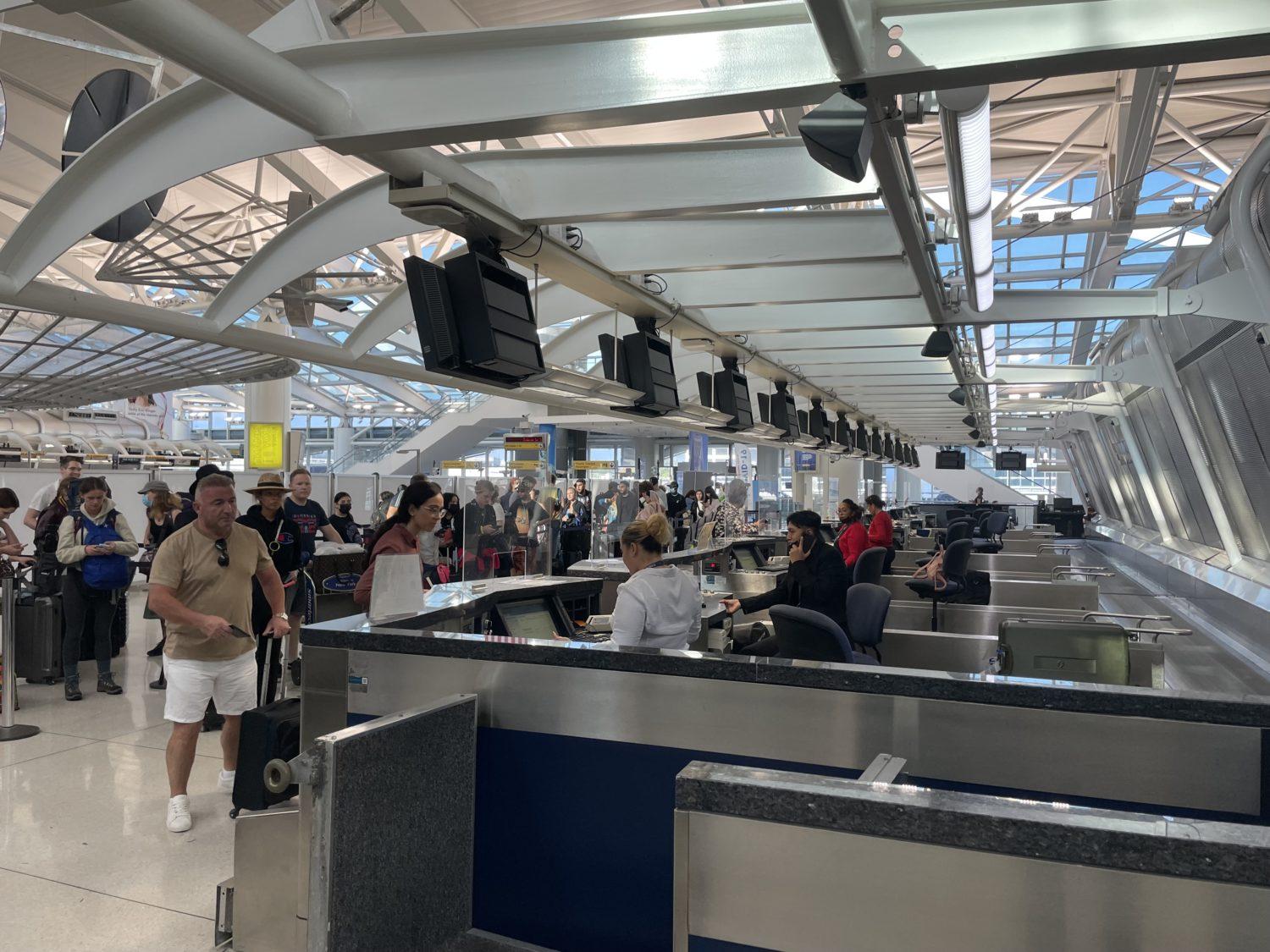 This was not the case in Gatwick, however. The check-in process at London-Gatwick was civilized with very short lines. The line was orderly and there was a dedicated priority check-in line.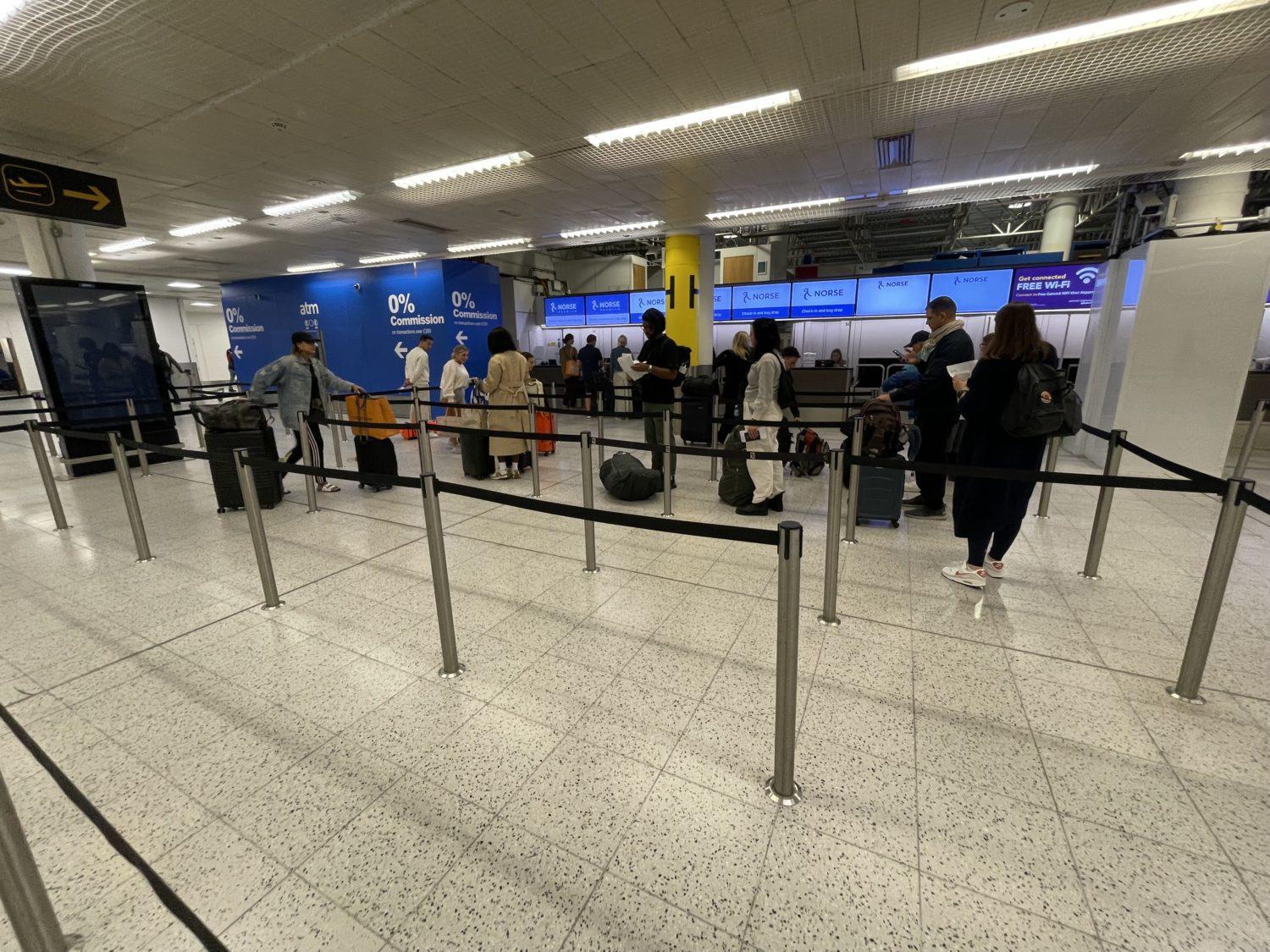 With the same number of agents and departures, the Gatwick staff was able to handle what JFK could not just a few days prior.
Similarly, the Gatwick boarding process was super organized and fast. We boarded at the very last gate at the end of the South Terminal at Gatwick, where there were no other flights to be seen. It made for a spacious and clean process.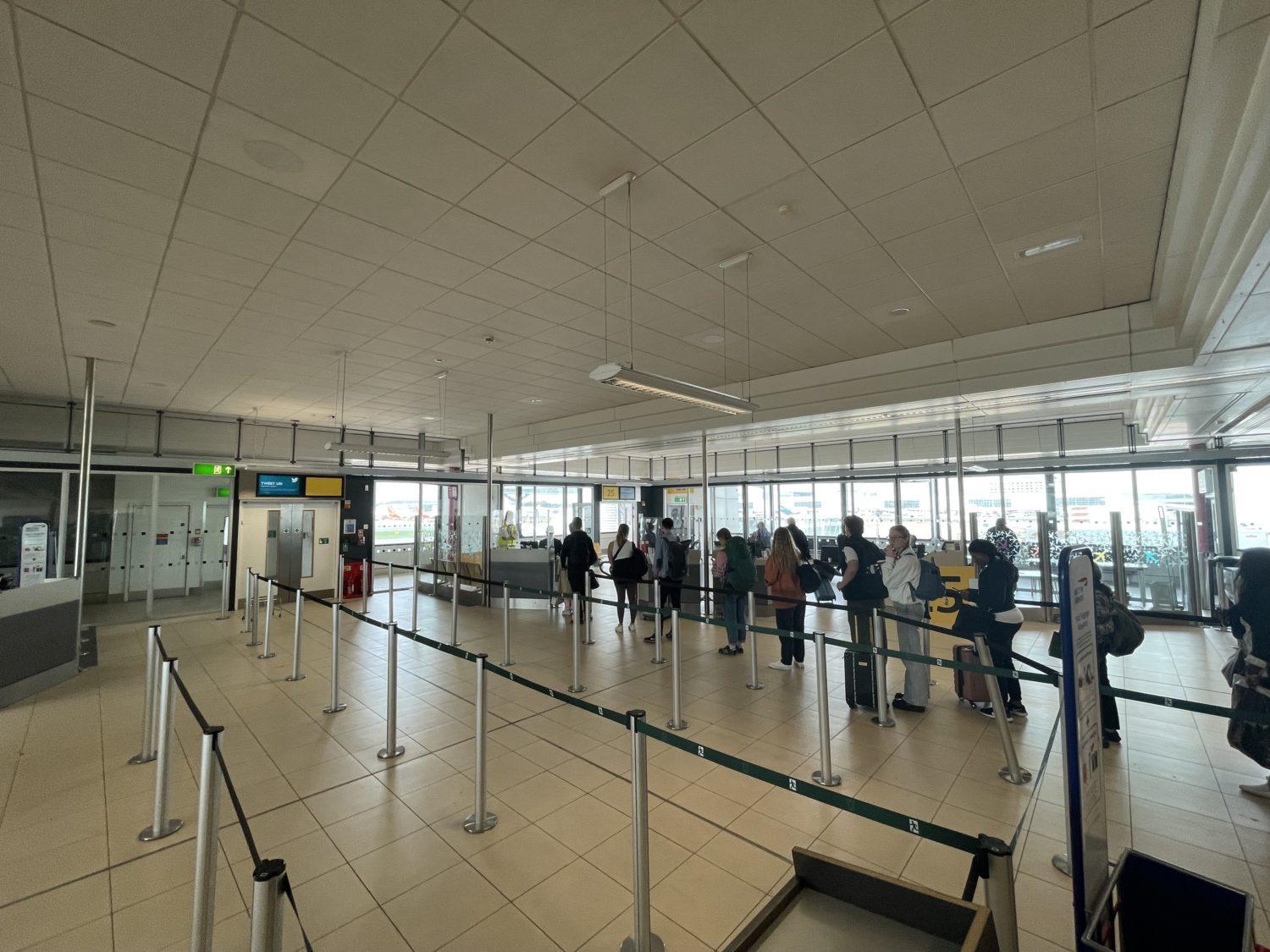 Overall, the Norse Atlantic experience at JFK was not good. It was a confusing process that could be easily remedied by allowing digital boarding passes. Having each passenger require a physical boarding pass snarled the check-in lines and caused massive delays.
Hopefully this process is more smooth as the summer travel season slows and as the airline grows its staff.
How to Book Norse Atlantic Flights
Ultra-cheap fares to Europe just got even easier to find.
After initially only being available directly through the FlyNorse.com site, the airline recently began loading all its fares into Google Flights. That means you can search for Norse fares alongside nearly every other airline before you book.
After finding the dates and fares you want on Google Flights, click the "continue" button next to the "Book with Norse Atlantic" fare. From there, the brunt of your booking will take place at FlyNorse.com.
Note that the price of your flight will go up during the course of booking because of baggage and seat selection fees. The Norse fare listed on Google Flights is its barebones fare.

Once you put in some dates and your desired cities, you can look at the lowest available fares for each date in each cabin.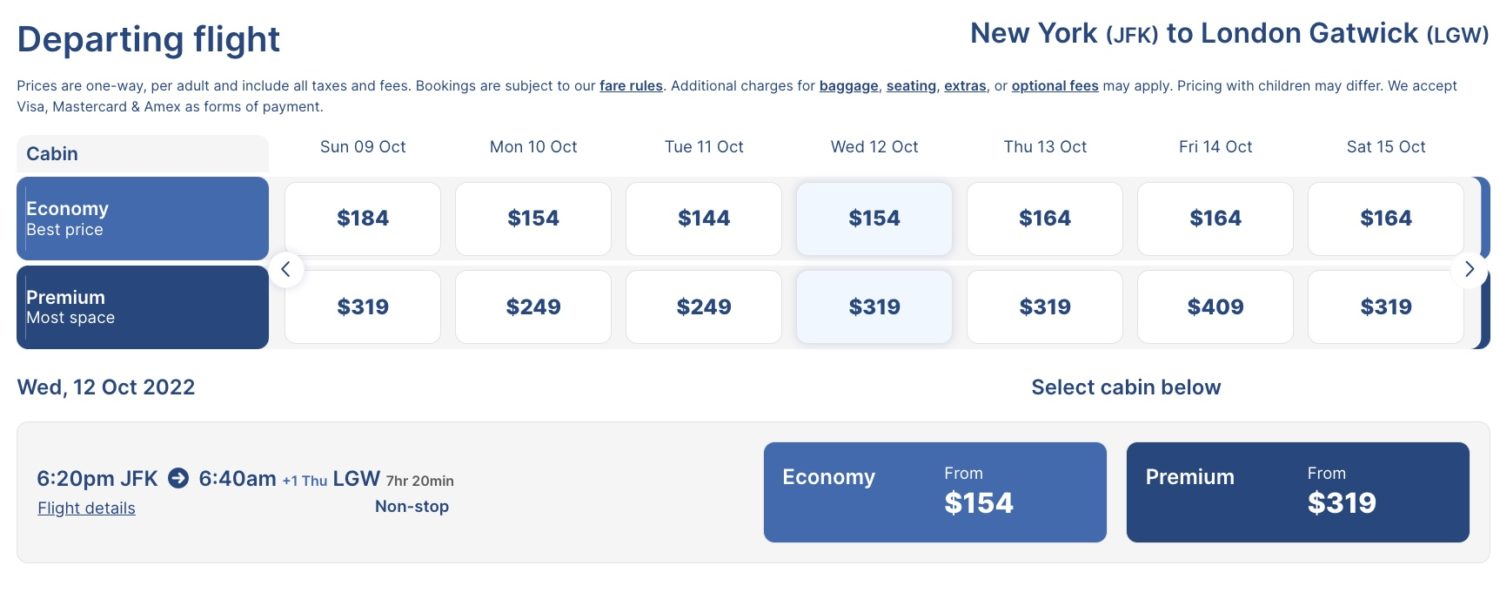 It's a pretty clean search process, though it can be slow to scroll through the dates. If you click on either of the blue fare buttons, you'll get a pop-down description of what is included in each fare.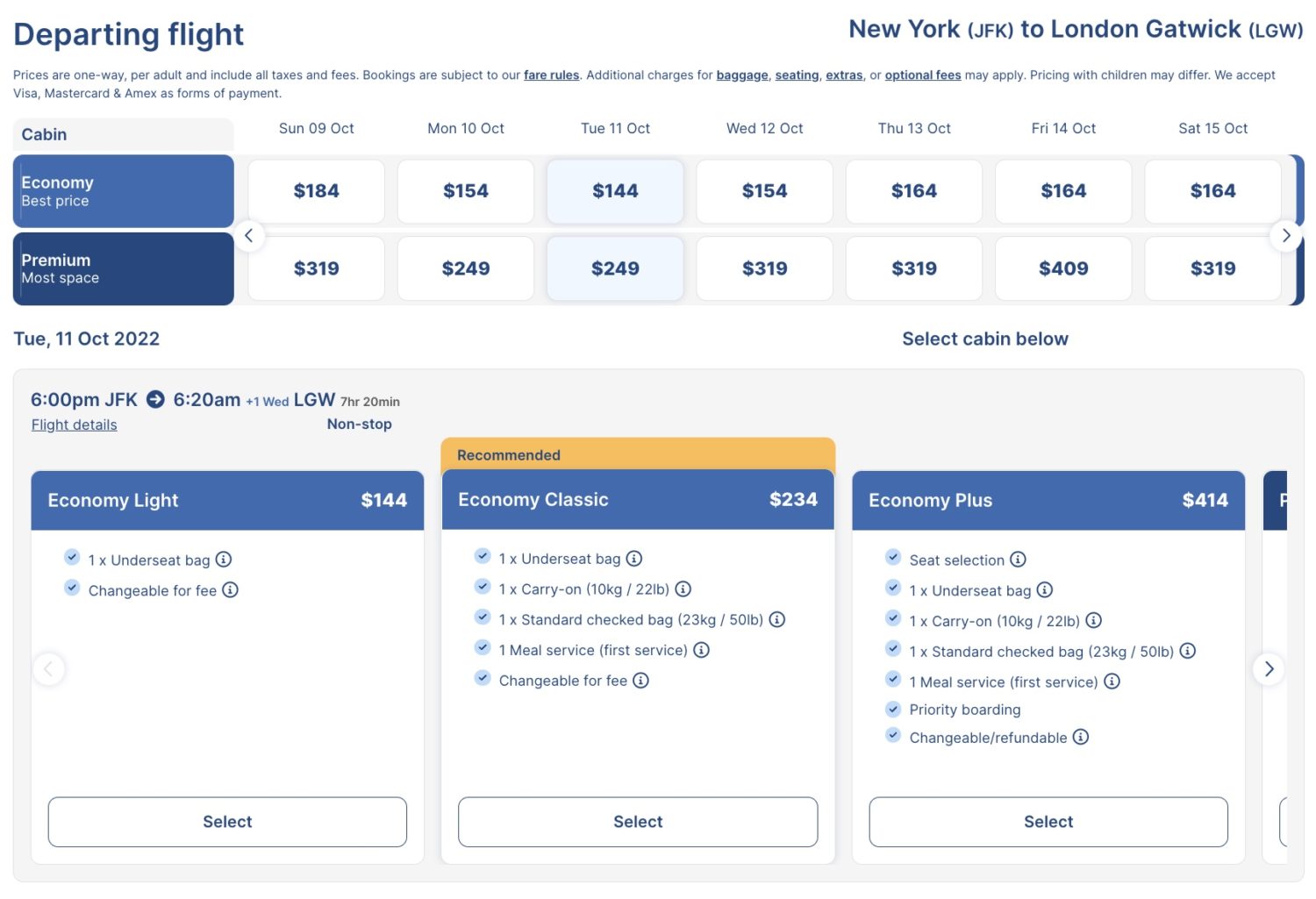 After choosing your fare class, you'll be prompted to go through a baggage selection page, a seat selection page, and then an extras page. Depending on the fare class you choose, all of these extras could cost you much more. Seat selection starts at $20 one-way, for instance.
There's one more new option with Norse: Connecting flights on partner airlines! In this case, you can book a Norse transatlantic hop and connect within Europe on Norwegian – or hop on a connection in the U.S. with Spirit Airlines.
Just be warned: These connecting itineraries are not always competitive. Check out this Norse-Spirit fare from Oslo to Fort Lauderdale to Chicago-O'Hare (ORD), for example.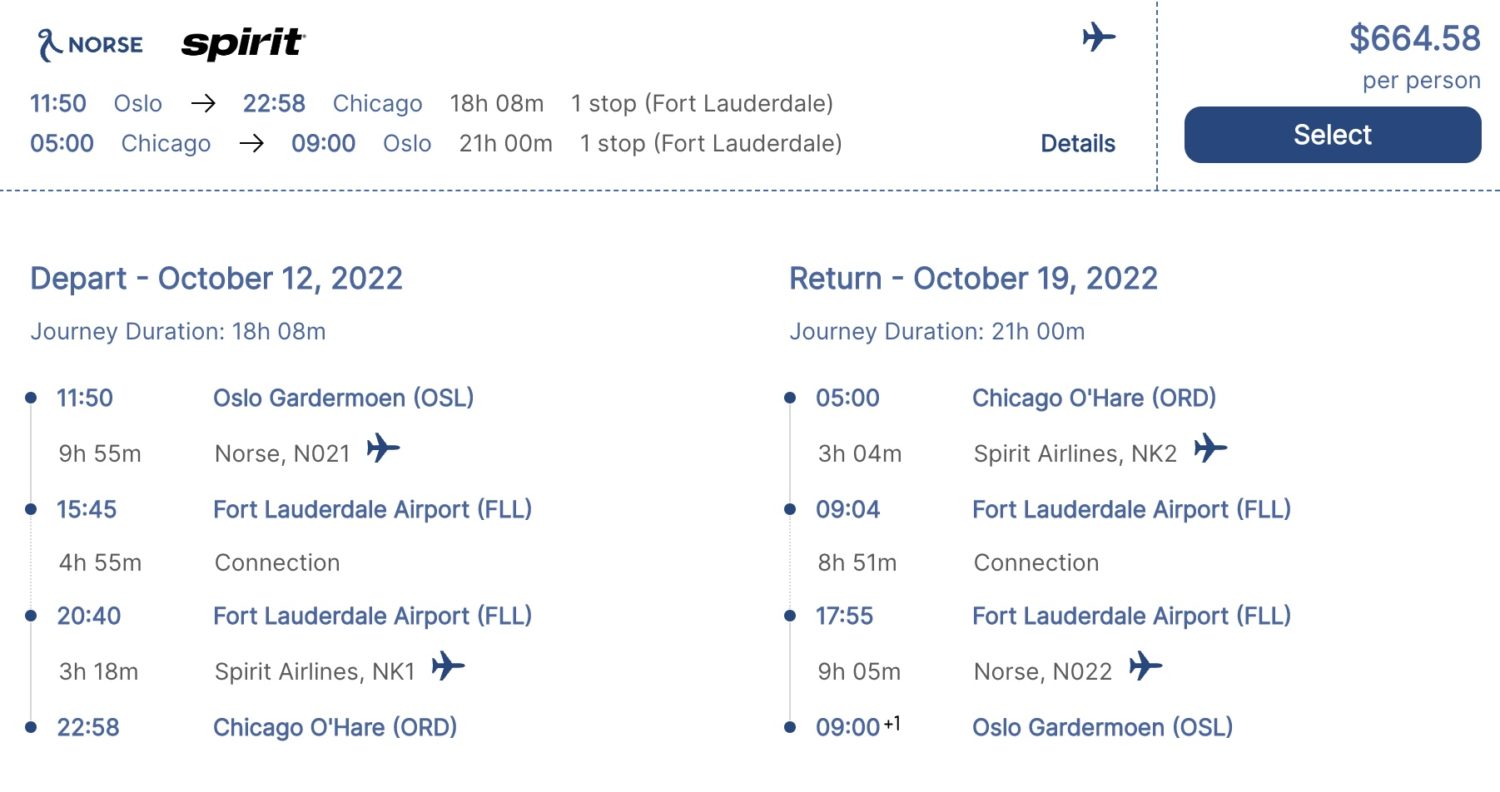 Within seconds of booking, I received a confirmation email with everything I need.
Managing your reservation was similarly clean and easy. I changed my assigned seat a few times to move to less-crowded parts of the cabin or move toward the front of the plane. Each time, it was painless.
Bottom Line
Norse Atlantic Airlines is now flying across the Atlantic and the onboard experience is nice enough … for what you're paying.
You won't find many cheaper fares to or from Europe than the $129 (or less) Norse Atlantic economy tickets. If you're OK with skipping amenities and do the math with additional bag and seat fees, it can be a fantastic deal.