Airlines have been loud and proud about travel to Europe booming back come summer 2022. But if you look at the slew of new transatlantic routes airlines are planning for next summer, it's clear they're walking the walk, too.
When the pandemic first struck in March 2020, carriers on both sides of the ocean cut all but the most essential routes. And despite much of Europe reopening to Americans earlier this year, the normal summer travel surge was mostly lost – the U.S. didn't open its borders to European travelers until just this week.
But airline CEOs are betting big that 2022 is going to be a different story. Delta said it will operate 90% more transatlantic flights in summer 2022 than this year. United CEO Scott Kirby proclaimed that next summer will be "the busiest over the Atlantic ever" earlier this year.
To meet that explosion in demand to fly to Europe and back, airlines are launching a nearly unprecedented amount of new routes to cities big and small, resumed routes that the pandemic put on ice, and adding even more flights a day between major hubs.

United Goes Big on London, Fun Routes to Europe
Kirby's comments about summer 2022 being the biggest ever rang just a tad overly optimistic.
But just weeks later, United unveiled a major expansion into Europe for next summer – including four intriguing new nonstop routes to off-the-beaten path destinations like Bergen (BGO) in Norway, the isles of Tenerife (TFE) and Palma de Mallorca (PMI) in Spain, and even Ponta Delgada (PDL) in the Azores.


The routes to the Spanish islands are tantalizing, putting nonstop flights from the U.S. to popular tourist destinations for Europeans on the map for the first time. And, while different, Bergen is a perfect jumping-off point to explore the Norwegian fjords.
These new cities with nonstop service may not stick around forever. But if more typical European destinations are still burning a hole in your bucket list, United also added new nonstop flights from around the country to several popular destinations.

United's mega-hub in Newark (EWR) is getting a second daily flight to Dublin (DUB) and Rome (FCO). Meanwhile, the airline is launching new routes from Denver (DEN) straight to Munich (MUC), a nonstop option from Washington, D.C.-Dulles (IAD) to Berlin (BER), and Chicago-area flyers can hop on a flight from Chicago-O'Hare (ORD) right to Milan (MXP) in northern Italy.
But that wasn't all. Just two weeks later, United announced a truly massive expansion of its flights into London-Heathrow (LHR). By next spring, the airline will operate 22 flights a day from the U.S. to London.
That includes a brand-new nonstop flight between Boston (BOS) and the U.K. capital, going head-to-head with Delta, Virgin Atlantic, and British Airways. But they're also restoring nonstop flights from Denver to London, eventually ramping up to twice-a-day flights.
In all, United's expansion signals that the company is ready for a surge in European travelers next summer. And they're not alone.
Delta Expands Transatlantic Operations
Delta is already the largest airline flying to Europe from both New York (JFK) and Boston (BOS), but its summer 2022 schedule will add 90% more capacity to Europe than it offered this year.
Delta announced last week it plans to operate up to 73 daily flights to 25 destinations from 10 U.S. cities next summer. Add in flights from partner carriers like Air France, KLM, and Virgin Atlantic, and the team will serve 21 U.S. cities total.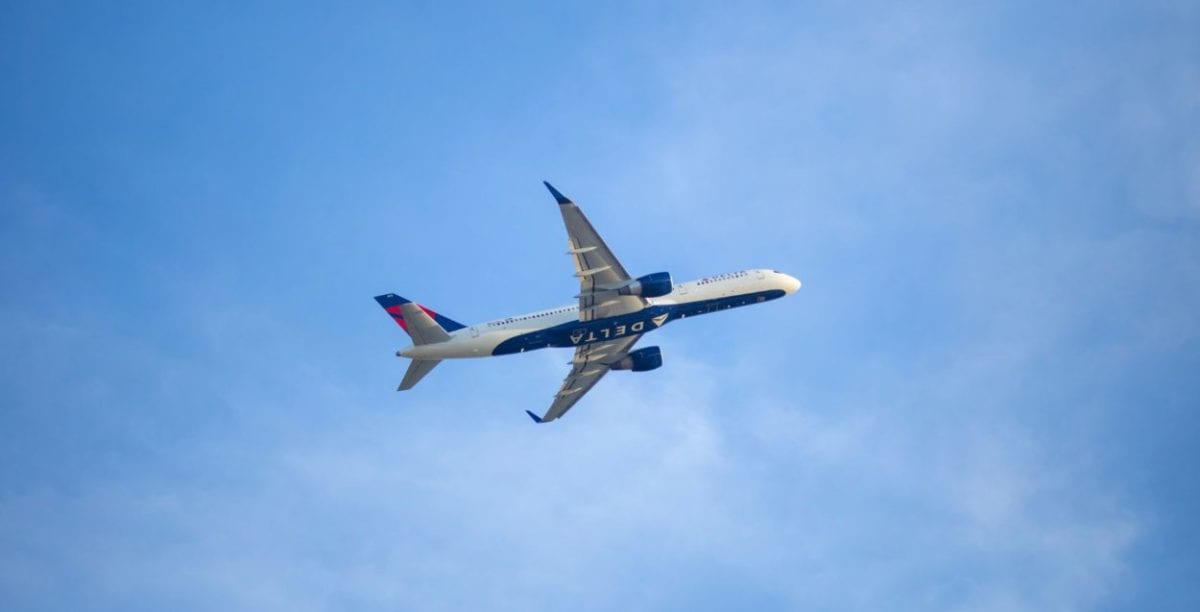 That includes brand new or resuming routes to cities like:
Brussels (BRU)
Copenhagen (CPH)
Edinburgh (EDI)
Munich (MUC)
Prague (PRG)
Zurich (ZRH)
After a long pause, Delta plans to bring back its nonstop flights from Portland (PDX) to Amsterdam (AMS) and from Cincinnati (CVG) and Raleigh-Durham (RDU) to Paris-Charles de Gaulle (CDG). Those routes were shelved from the very start of the pandemic as Delta focused on shuffling passengers through bigger hubs.
Iberia Adds, Revives U.S. Routes to Spain
Say hello to Dallas (DFW) and Washington, D.C.-Dulles (IAD) and welcome back San Francisco (SFO) to Iberia's route map into Madrid (MAD) next summer.
The Spanish carrier recently announced four weekly flights from Dallas and Washington, D.C. into its Madrid hub. Service from Dallas was news – but not exactly unexpected, as the American Airlines megahub will help connect travelers from across the U.S. onward to Spain. Iberia had initially planned to launch service to Washington, D.C. in spring 2020 but those plans were halted by COVID-19.

Plus, Iberia is resuming its three-times-a-week service to San Francisco (SFO) next summer to connect northern California to Europe.
These additions are on top of the 10 weekly flights from New York (JFK), another 10 from Miami (MIA), five from Chicago (ORD), and three flights a week from both Boston (BOS) and Los Angeles (LAX) on Iberia. Additionally, Iberia runs four nonstop flights a week to San Juan, Puerto Rico, giving travelers in the U.S. territory a direct route to Europe.
Finnair Messes With Texas
American partner Finnair already connects Chicago (ORD), Los Angeles (LAX), and New York (JFK) to Europe via its hub in Helsinki, Finland. This summer, Finnair will add another dot in Dallas (DFW) with four-times-a-week service to Helsinki (HEL) starting Feb. 7, 2022.

Just like Iberia's expansion into Dallas, it's a logical choice with so many travelers on partner carrier American Airlines connecting through Dallas. That makes it much easier to fill flights to Helsinki next summer.
Turkish Adds Routes Across U.S.
Turkish Airlines has more international routes than almost any airline in the world. It's already got 10 nonstop flights to the states, including the likes of Atlanta (ATL), Chicago (ORD), Houston (IAH), Los Angeles (LAX), Miami (MIA), New York (JFK), and Washington, D.C. (IAD). But even more are about to join the fold.
After adding flights between its Istanbul (IST) hub and Dallas this summer, Turkish is adding flights to Detroit (DTW) and Seattle (SEA) next summer. The airline is also expected to launch nonstop service to Denver (DEN) later this year or early next.
Here's a look at all 14 U.S. destinations Turkish is planning to fly to by next summer.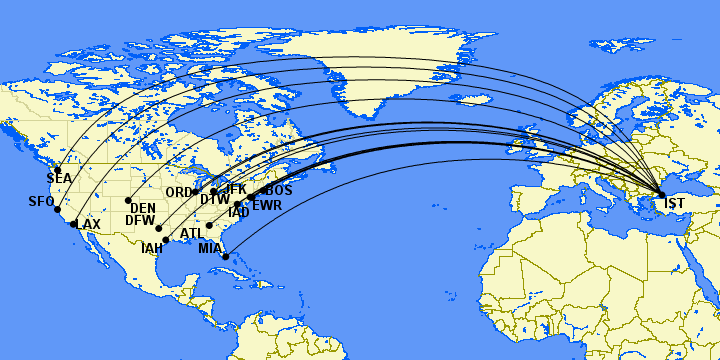 Budget Airlines Return With New Names
Iceland's WOW air collapsed in 2019. Norwegian stopped flying across the pond after the pandemic hit, with no plans to return. But those budget transatlantic carriers are making a comeback to the U.S. … kind of.
PLAY is taking the Place of WOW air, while old Norwegian executives started Norse Atlantic. But the ideas are the same: bare-bones, low fares across the Atlantic Ocean.
PLAY is expected to have transatlantic service to Iceland in place by summer 2022, although their U.S. routes have not been announced yet. Norse Atlantic has announced it will fly to Oslo (OSL) from smaller U.S. airports outside of major cities – a key part of its penny-pinching ways – starting in 2022.
Rather than fly to Miami (MIA), Norse Atlantic is going to Fort Lauderdale (FLL). Forget JFK or Newark, the airline is aiming for Stewart International Airport (SWF), situated 60 miles north of Manhattan. And rather than fly into Los Angeles (LAX), they'll fly to the suburb of Ontario (ONT).

While Norse won't boast fancy amenities, it will have a few fancy planes as it expects to fly Boeing 787 Dreamliners to and from Oslo when its service resumes next year.
Where's American?
American Airlines is one of the only major carriers that has not made any pronouncements about summer 2022, but it's not too late for them. The airline is expected to lay out its 2022 plans in the coming weeks.
Plus, its partners Iberia and Finnair did announce expansions to Dallas (DFW), which will connect American travelers from its hub to the European continent. American partner jetBlue also recently launched flights from New York City (JFK) and Boston (BOS) to London – though the competition on that route even between friends will remain fierce.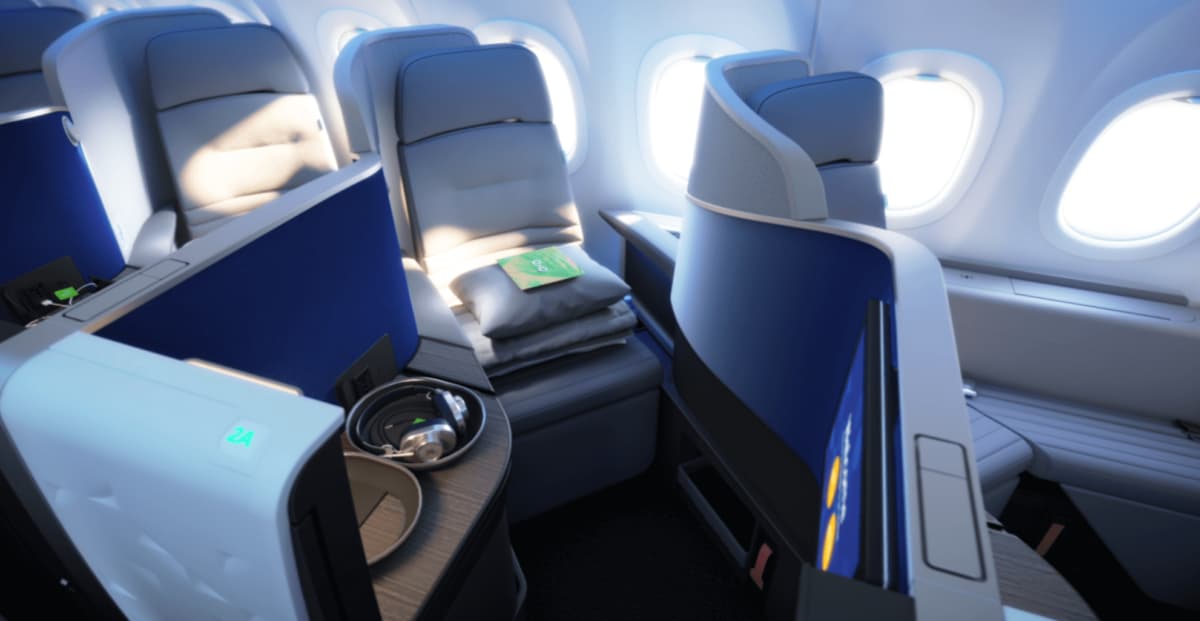 Bottom Line
The pandemic brought international travel to a screeching halt in 2020. As we near the close of 2021, it's clear things aren't quite back to normal. But 2022 is shaping up to be a year unlike any other as airlines chart ambitious plans, banking on an explosion of travelers heading across the Atlantic Ocean.
U.S. travelers have great new options to get to Europe without connecting on the East Coast first as American's partners and other carriers targeted locations like Dallas (DFW), Denver (DEN), and Seattle (SEA) among others. Meanwhile, almost every major airline is planning to carry even more passengers to and from its major hubs across the country – especially on the East Coast.