In the U.S., there are United Polaris Lounges … and then everything else. But where does the United Polaris Lounge Chicago-O'Hare (ORD) fit in compared to bigger hubs like the Newark Polaris Lounge, Houston's Polaris Lounge, or the one in San Francisco?
After being closed for a good chunk of the pandemic, Polaris Lounges across the country have all reopened, and business class flyers with tickets on United or other Star Alliance carriers are flooding back into these exclusive lounges as international travel ramps back up. United's Chicago hub might not be as big as the likes of Newark (EWR), but it's still got 20-plus departures a day heading somewhere abroad.
So as I found out firsthand ahead of my first-ever United Polaris business class flight over to London-Heathrow (LHR), when this lounge gets busy … it gets really busy. Does that mean the features and amenities that set United Polaris lounges above the rest shine less bright?
Read on for our full review.

United Polaris Lounge Chicago Access Rules & Location
Delta has its Delta Sky Clubs, which almost anyone can get into. American has its excellent Flagship Lounges like the Dallas Flagship Lounge, another step up from your standard airline club. But United Polaris Lounges are just another caliber … and that means they're even harder to get into.
Forget top travel credit cards or even status – they'll do you no good here. There's no way to pay your way (or pay a bit more) to get in, either.
No, all Polaris lounges across the country are reserved specifically for flyers in long-haul international business or first class on United or their Star Alliance partners like Lufthansa, SWISS, Turkish, TAP, and more. Not even a transcontinental flight in United's fancy new Polaris business class seats will cut it.
But flying United itself can get you a bit of an edge with more Polaris lounge access:
Travelers with a United business class flight can get into Polaris lounges with a same-day ticket departing, arriving at, or connecting through the airport.
Travelers with a Star Alliance business or first class flight can only get into Polaris lounges at their point of departure – not upon arrival.
Whether you're flying Lufthansa, SWISS, Turkish, ANA, or United itself, you've got a ticket into the Polaris lounge. But getting there could be a bit more complicated depending on which airline you're flying.
If you're departing on a United long-haul flight (or departing on another United flight after landing from a Polaris long-haul journey) – you're in luck: The United Polaris Lounge Chicago is located in United's Terminal 1. Specifically, it's in Concourse C of Terminal 1 at O'Hare, located near gate C18. As of publication, it's open from 6 a.m. to 9 a.m. daily.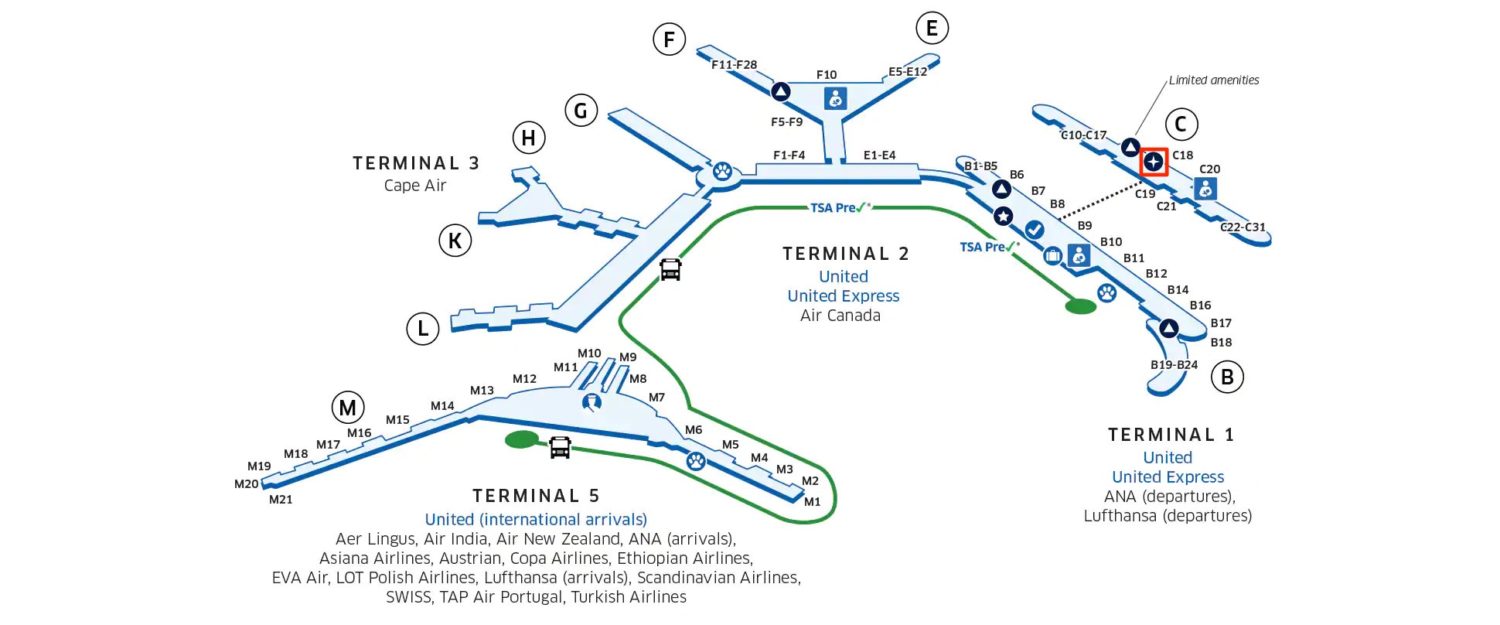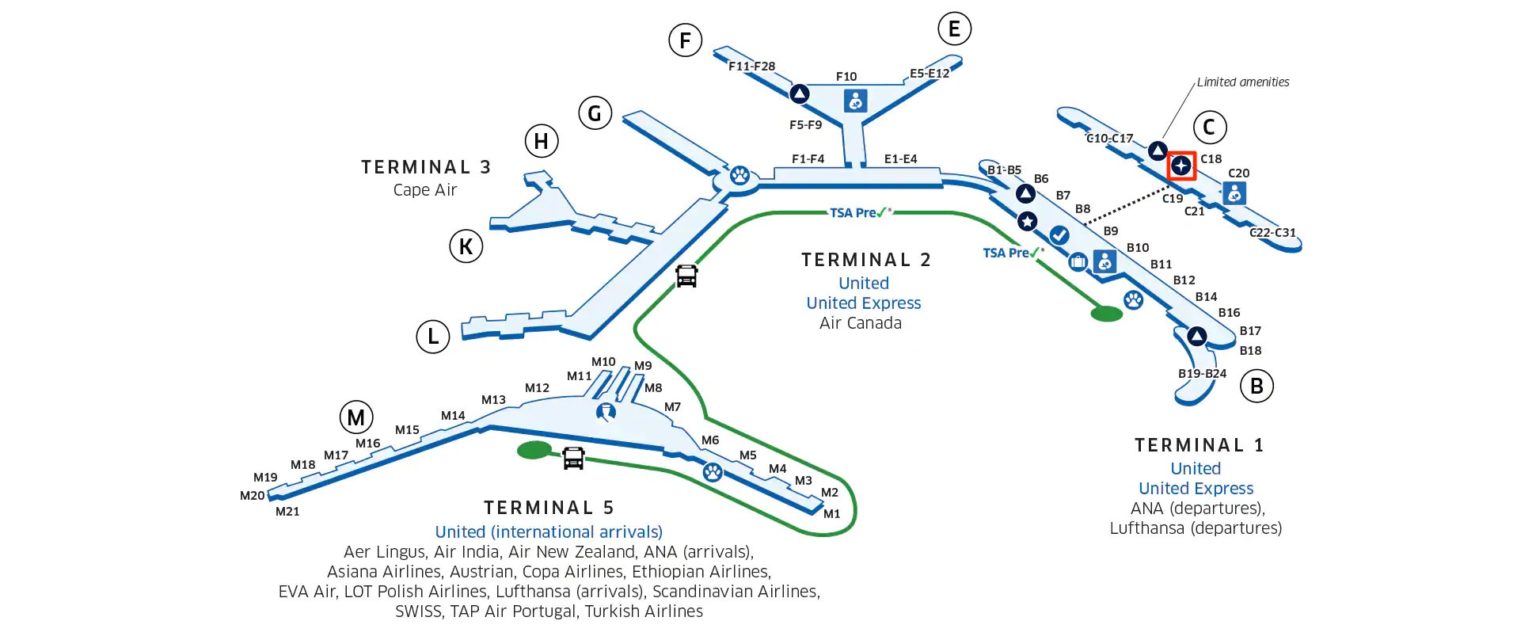 That means it's easy to get to if you're departing on a United Polaris business class flight, as that's where most of United's international departures depart from. ANA and Lufthansa also depart from Terminal 1, so getting into this lounge is a cinch if you're flying Lufthansa business class or up front with ANA.
But for the rest of the Star Alliance bunch, it's a different story. Airlines like Swiss, SAS, LOT Polish, EVA Air, and others all depart from Terminal 5 … which requires a tram ride and re-clearing security … at Terminal 1 and then again at Terminal 5. So while you could get into the Polaris Lounge if you've got a Turkish Airlines business class ticket or flying TAP Air Portugal business class, it's a major headache.
On the bright side, Terminals 1-3 at O'Hare are connected airside. That means you can easily walk over to Concourse C in Terminal 1 to visit the Polaris Lounge Chicago no matter which airline you're arriving on without worrying about clearing security. Just follow the signage for Terminal 1, then take the underground tunnel from Terminal B over to Terminal C.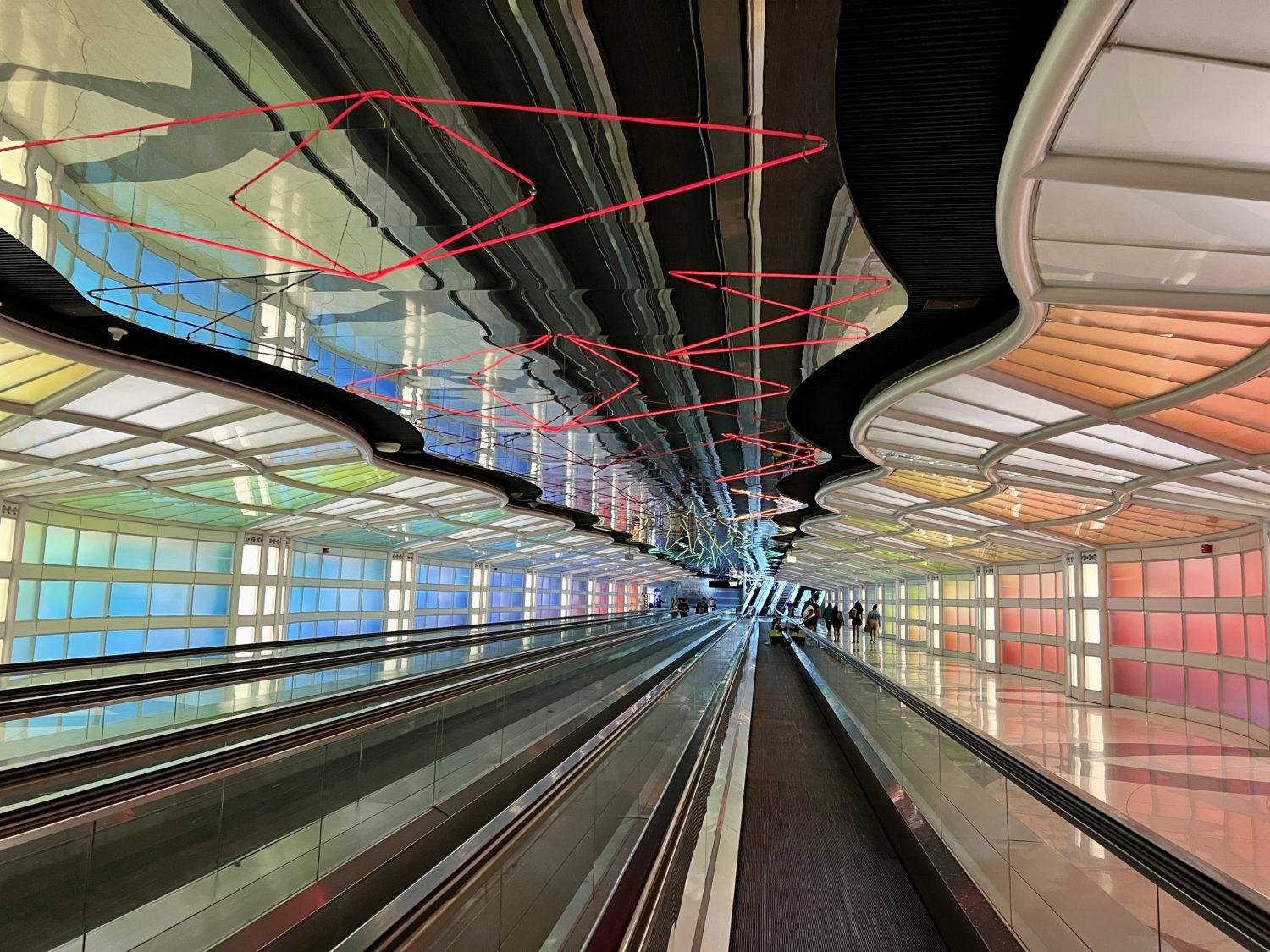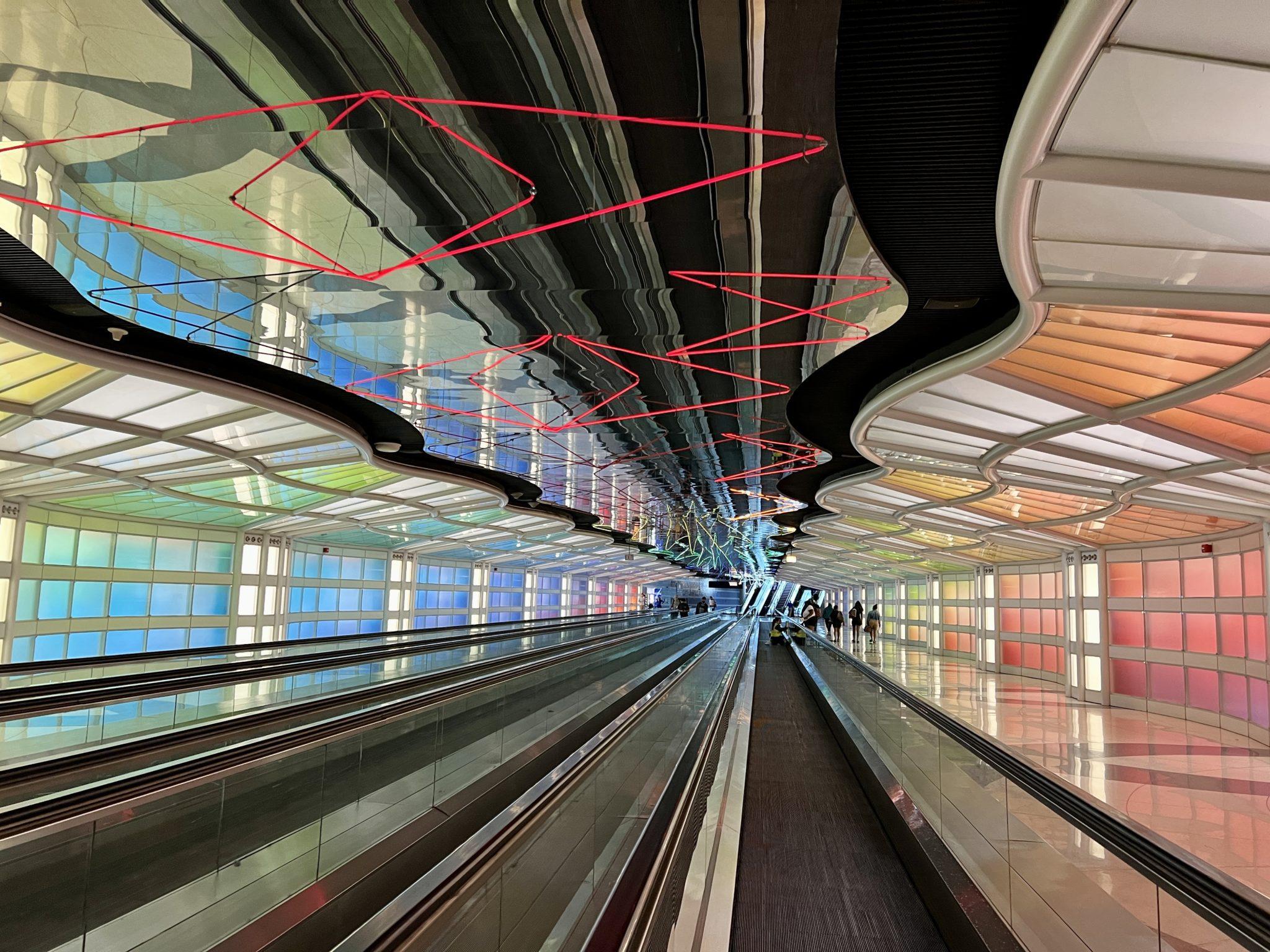 Head down the disco walkway, head up the escalators, and you'll find the Chicago Polaris Lounge almost straight ahead, right in the middle of Concourse C. You can't miss the entrance.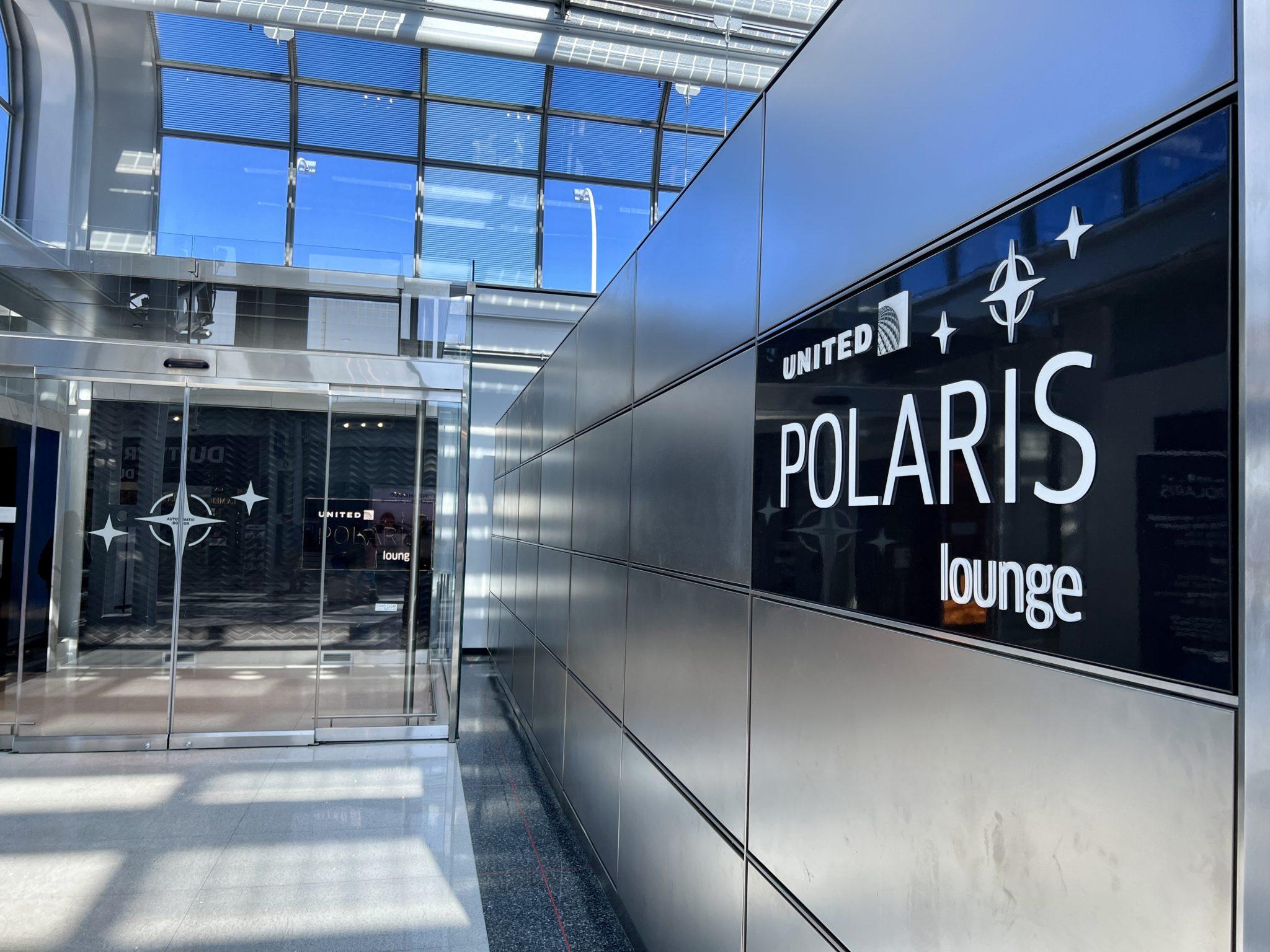 Walk in with your boarding pass ready, chat up an agent at the check-in desk, and you'll be inside in no time.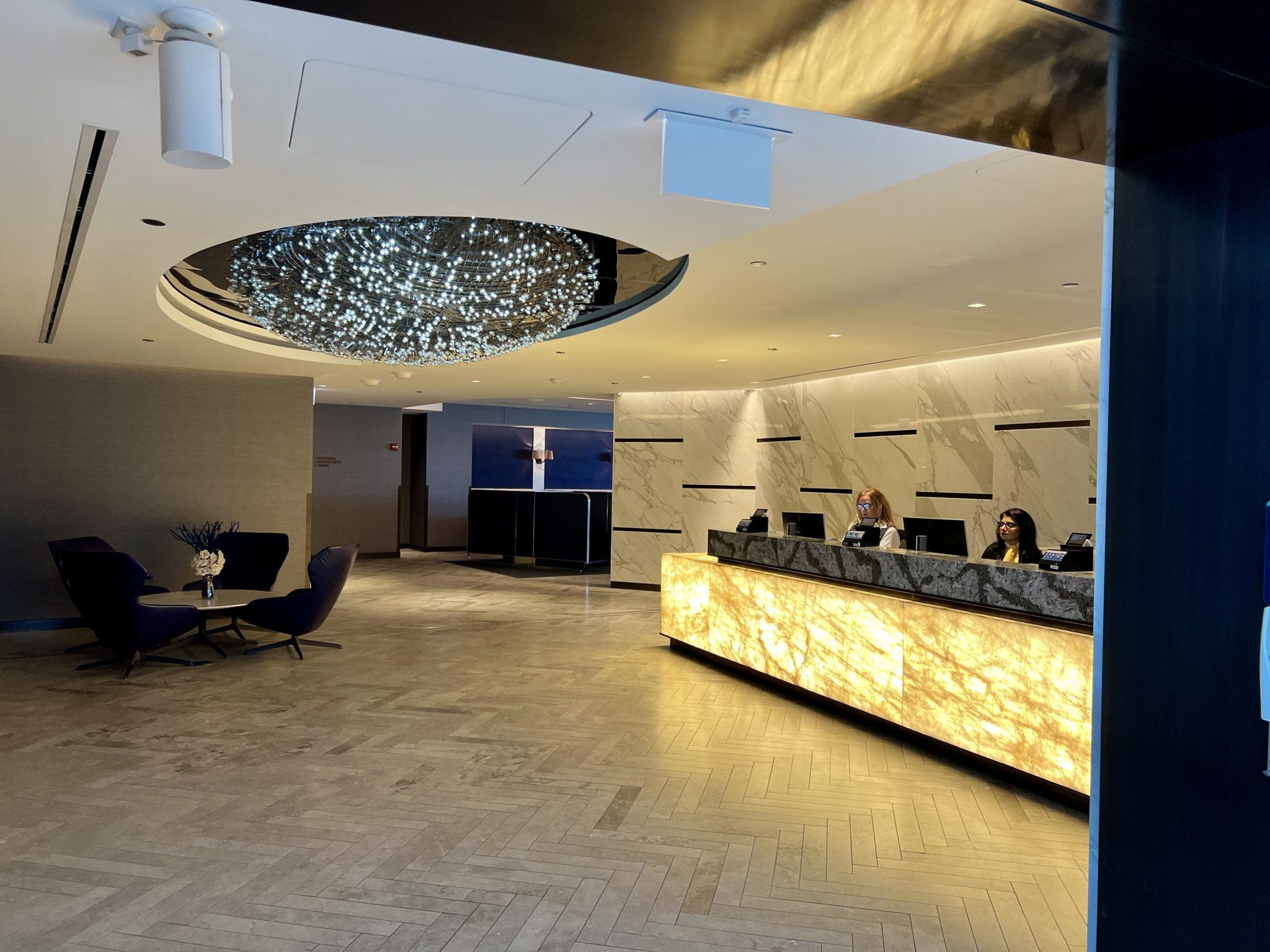 The Lounge
Let's get straight to it: Like all of United's top-tier lounges, the United Polaris Lounge Chicago is an impressive space. But even with a footprint of 16,000 square feet and change, it may not be big enough to handle the influx of travelers heading somewhere abroad.
When I walked into the lounge around 9 a.m. on a weekday, there was hardly a soul in sight. By 11 a.m. or noon, things started to fill up. And by 3 p.m. or so, as many international departures drew near, it was difficult to find an open seat, period.
But when it's not so busy, this lounge is a real treat. From the space itself to the amenities to dining facilities and high-end finishes, it blows every other airport lounge at Chicago-O'Hare (ORD) out of the water … and it's not even close. The soft white marble tiling, elegant lighting, and crisp blues make it a snazzy lounge with plenty of seating throughout.
There's a small concierge desk after walking into the lounge, which is staffed from mid-day onward for travelers who need some help. Isn't that underlighting at each desk classy?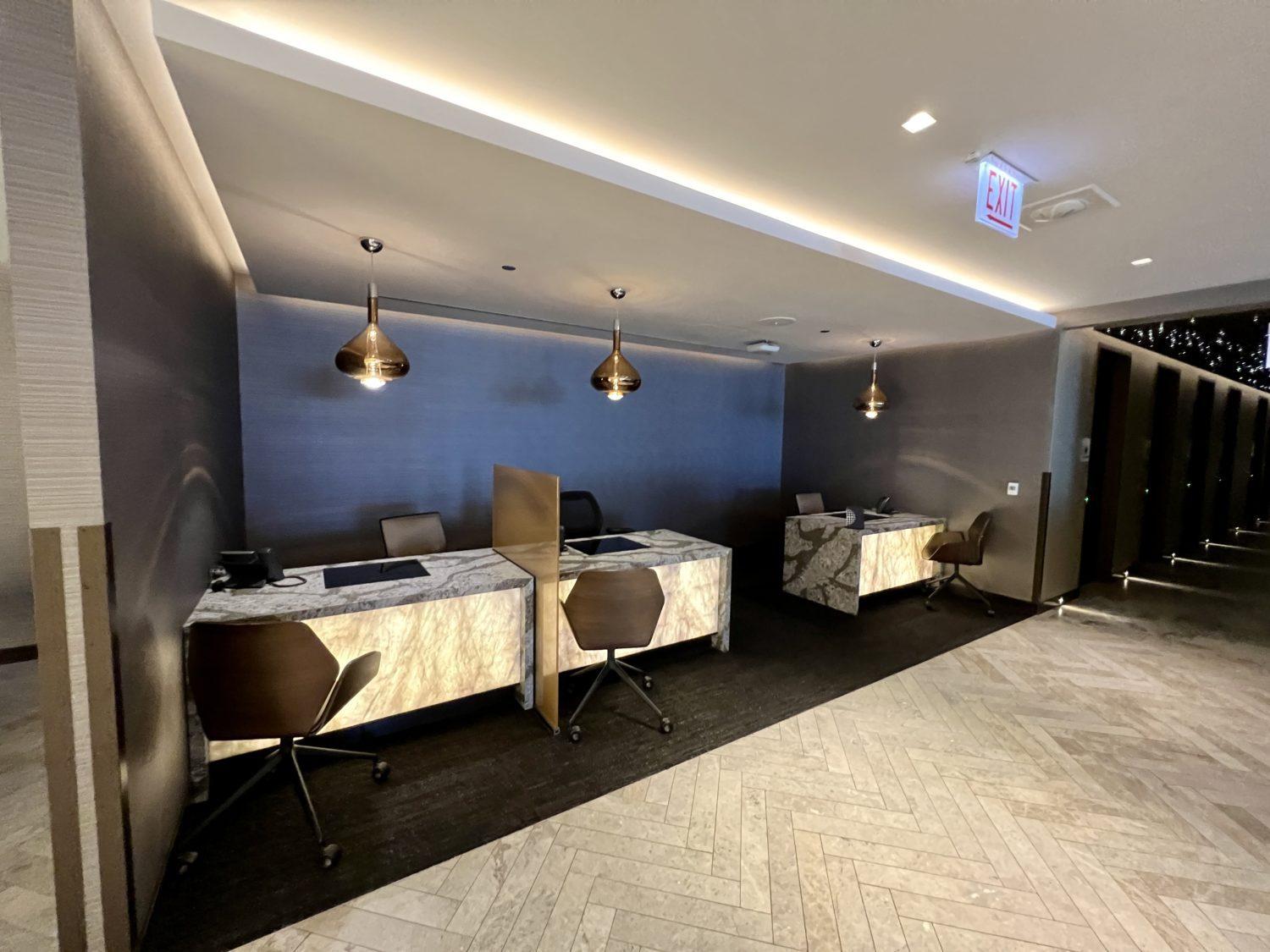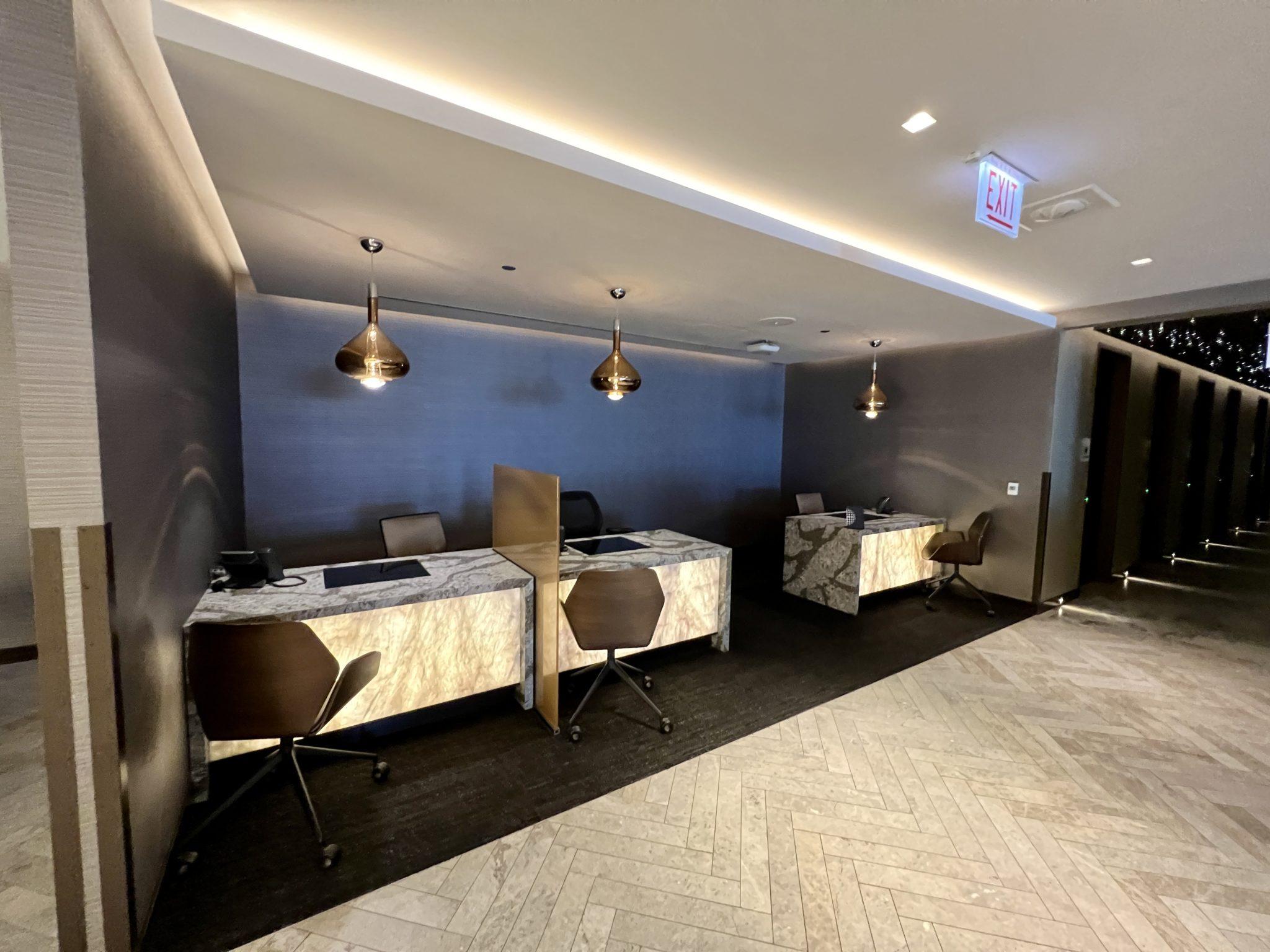 From there, the lounge opens into something of a massive horseshoe, with seating on either side and a long string of clever, cozy work pods positioned at the center. I love the lighting overhead, too.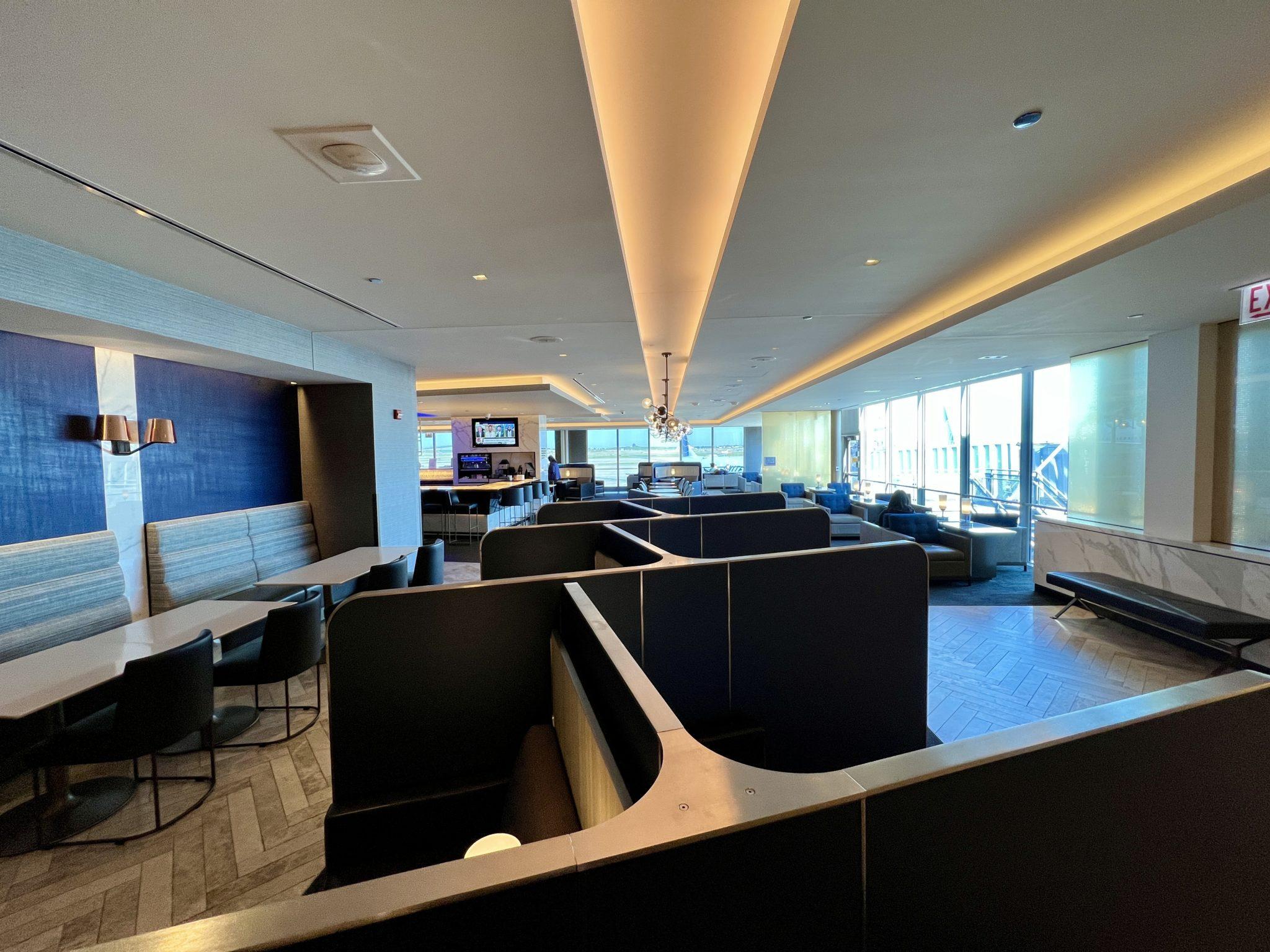 As you make your way around that horseshoe, you'll notice the floor-to-ceiling windows, flooding row after row of armchairs and cafe seating with natural light – and some great plane watching.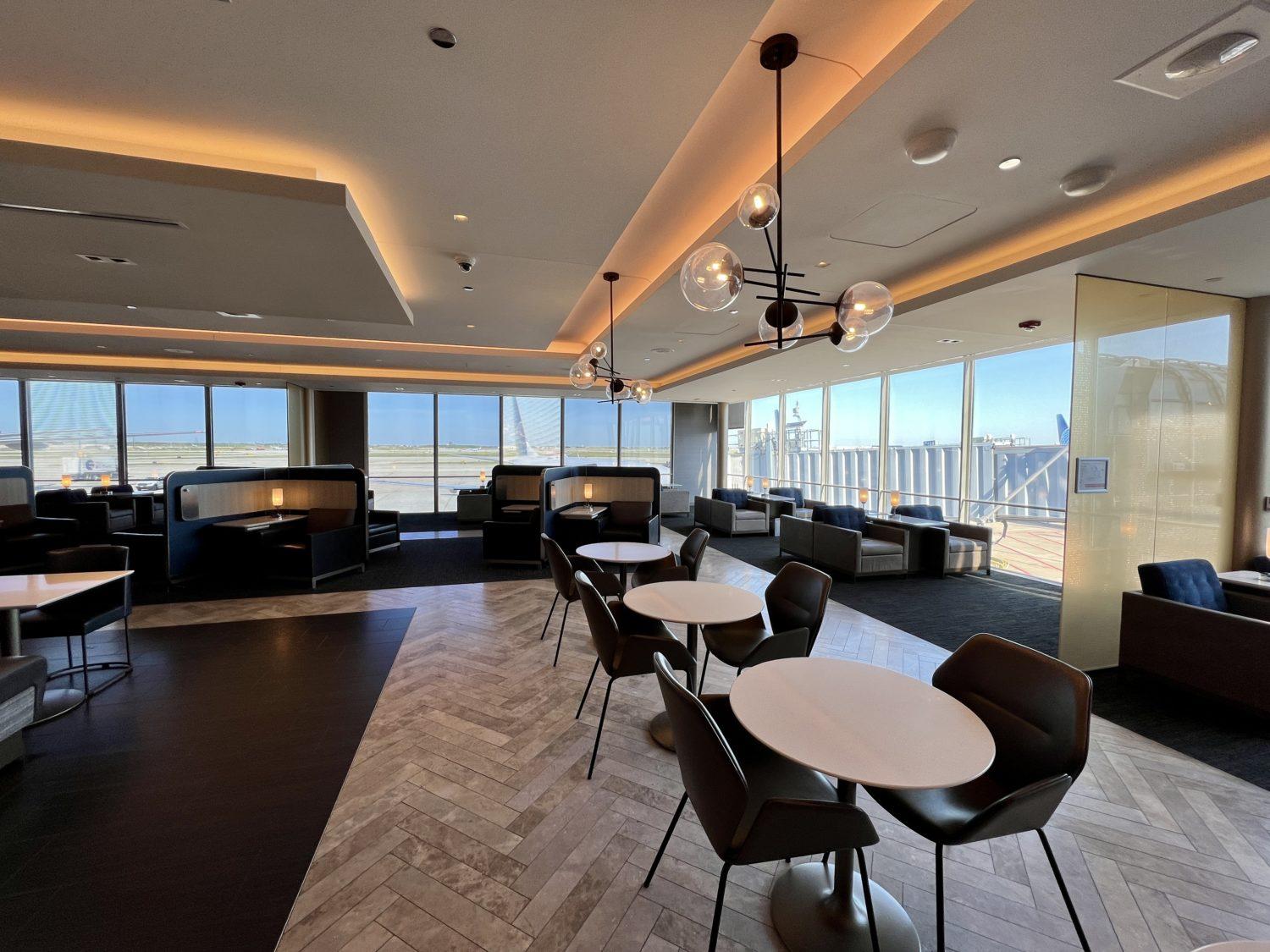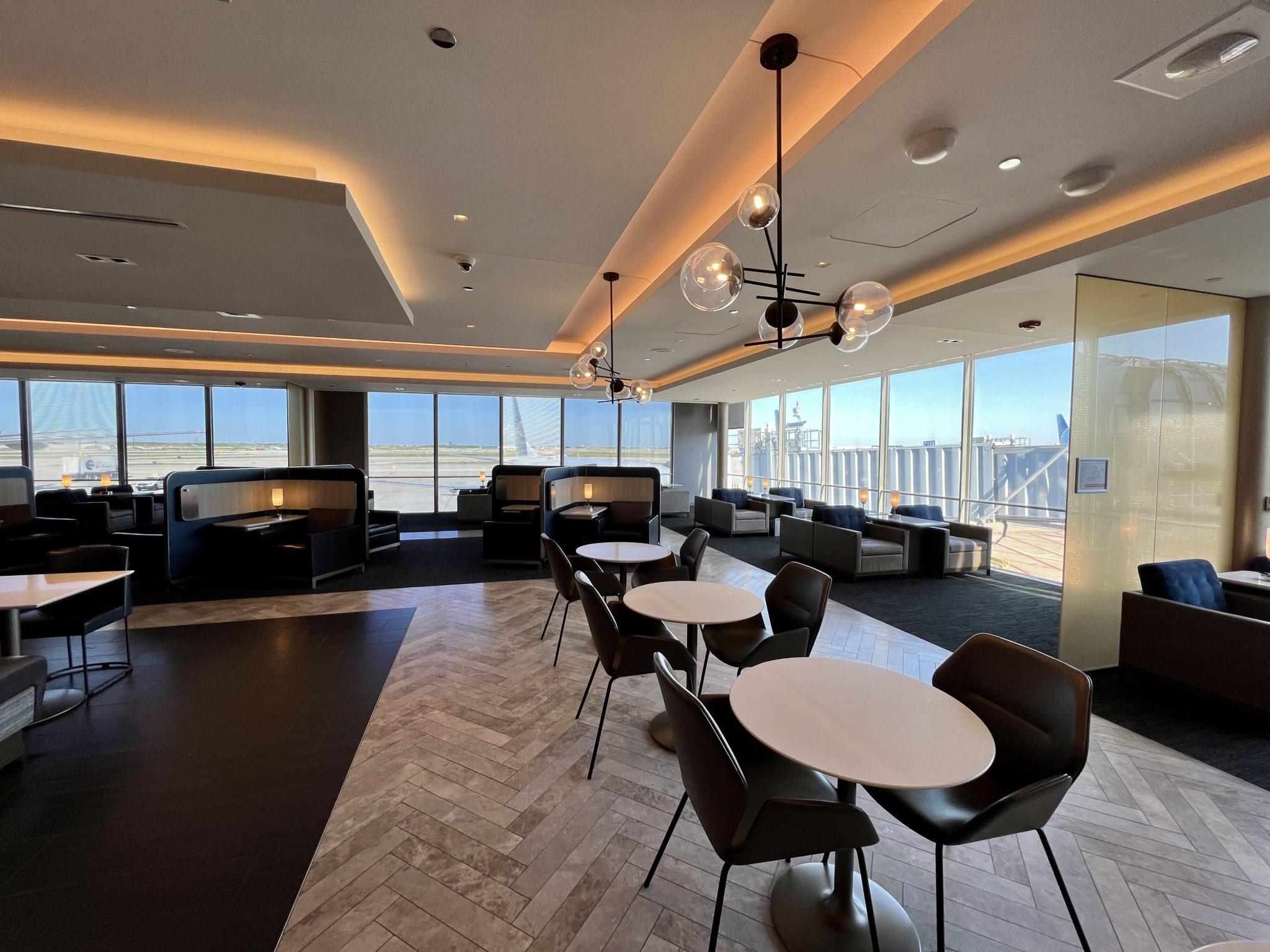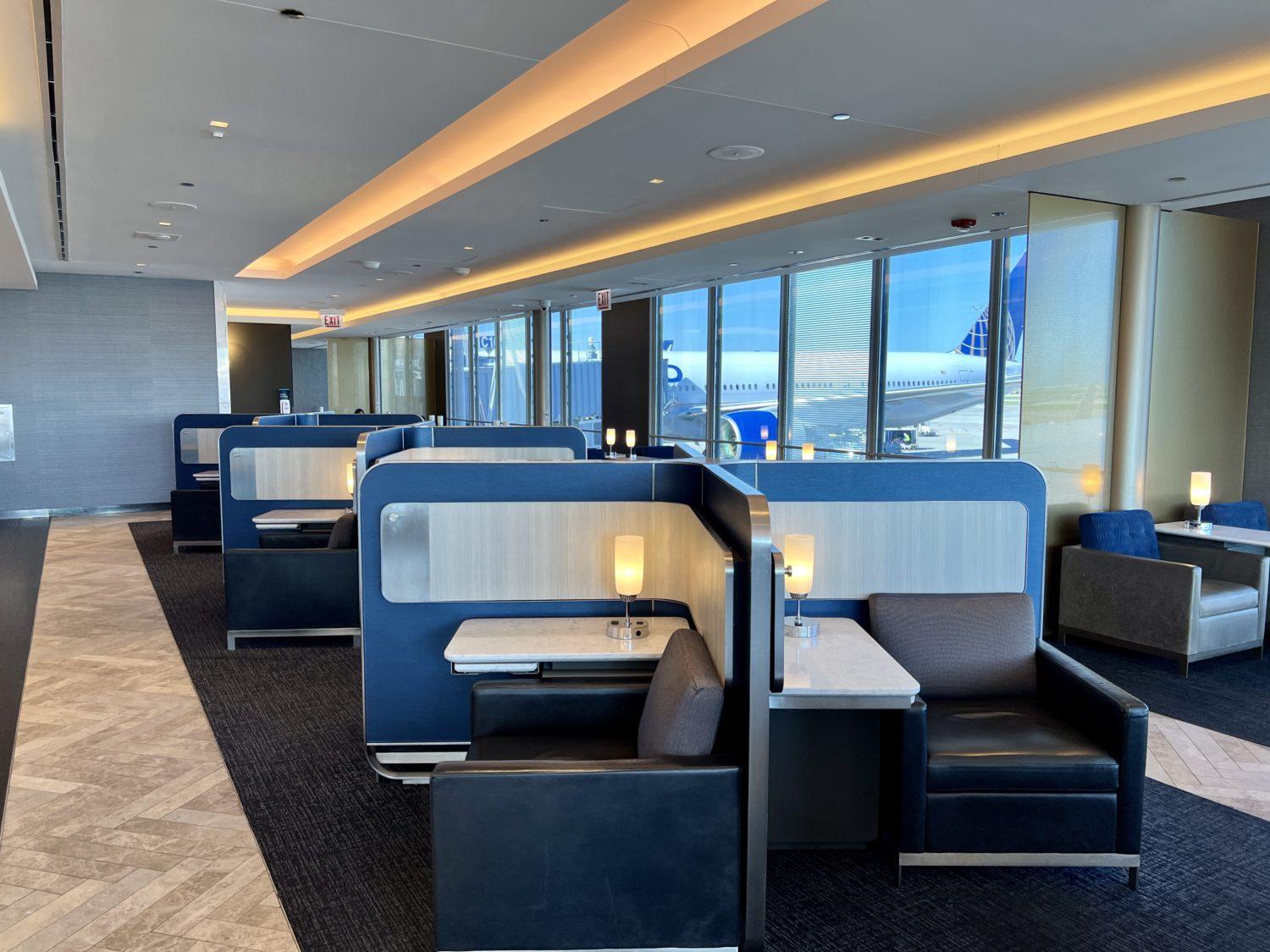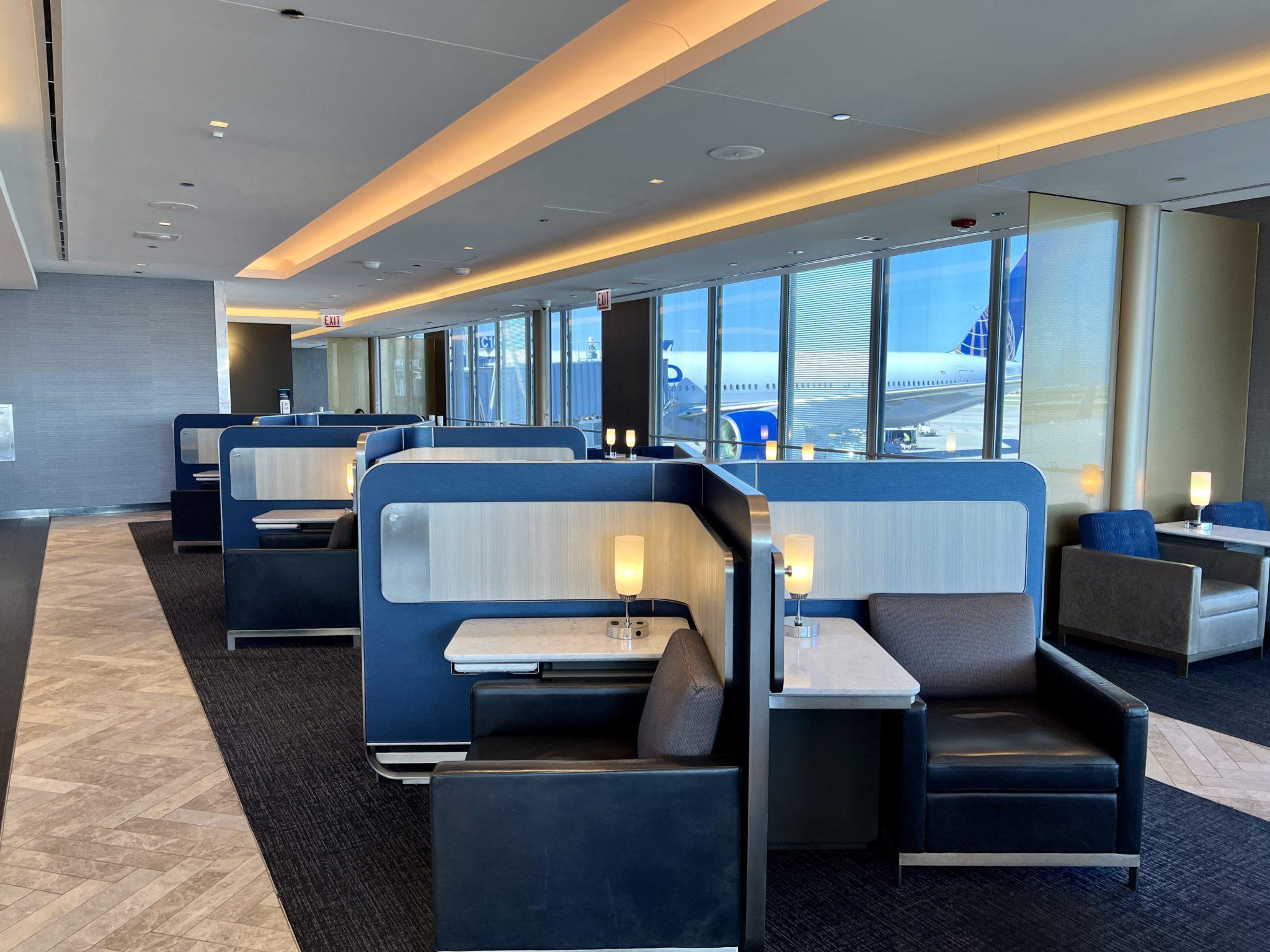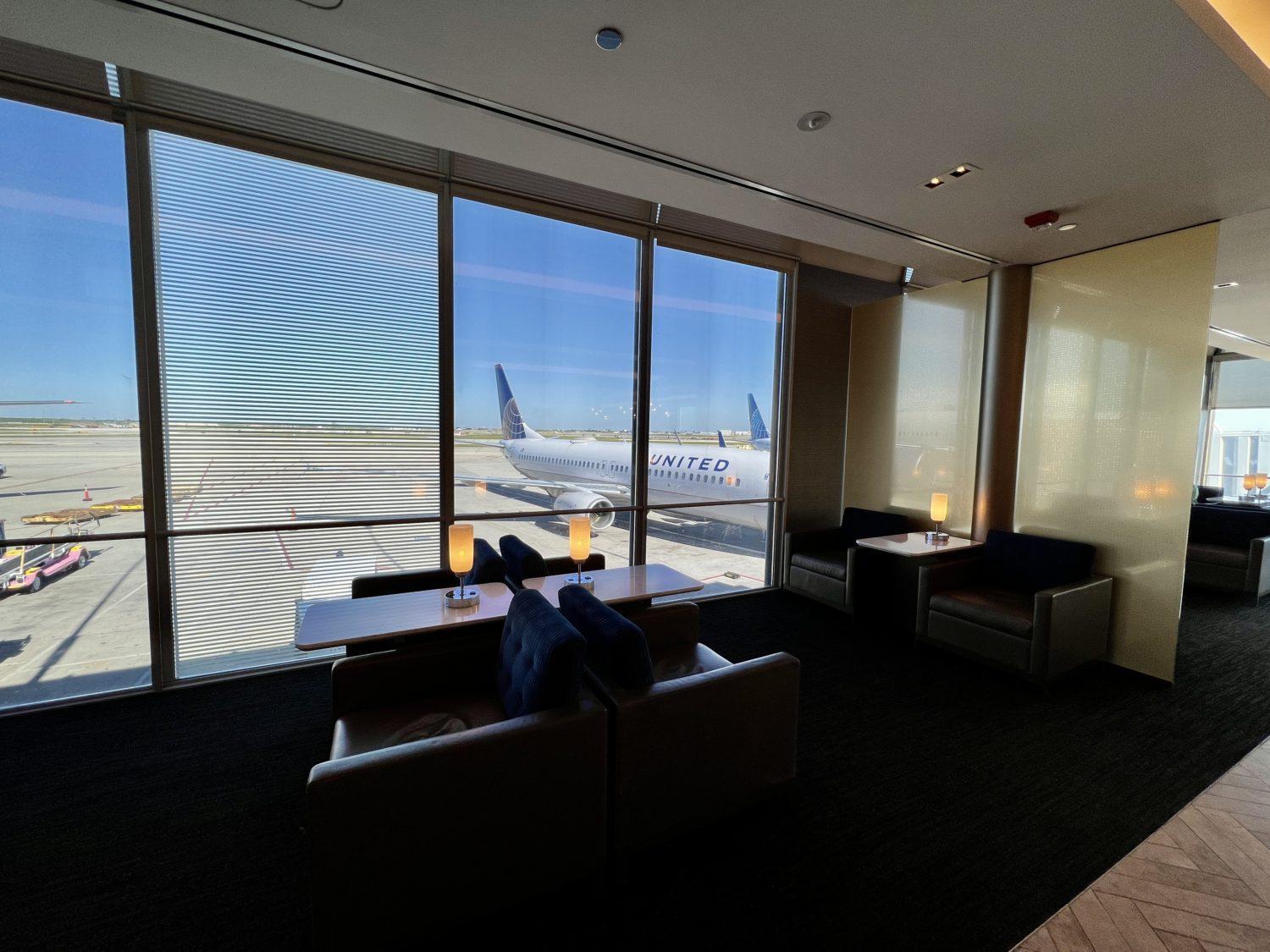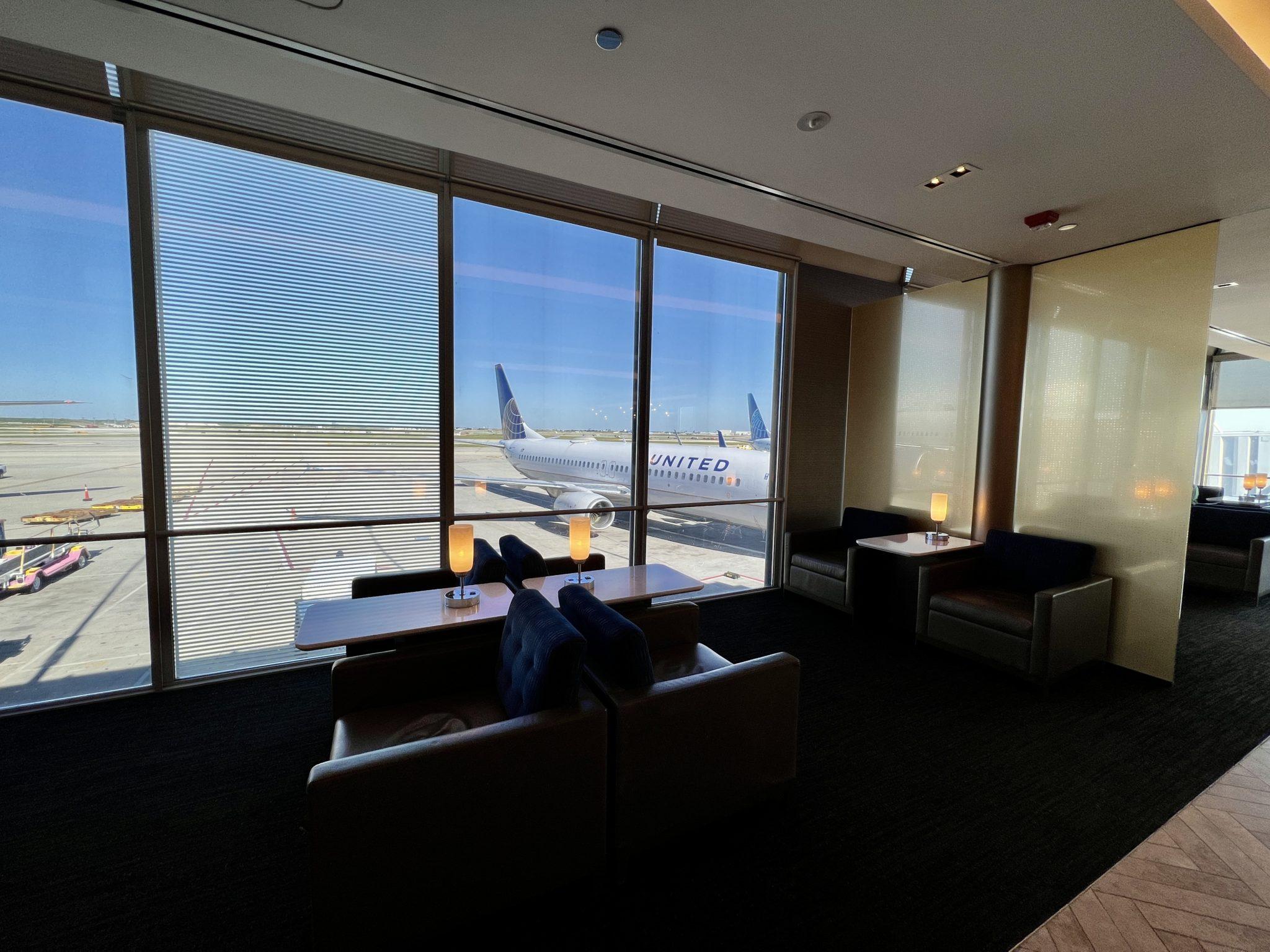 At the back of the lounge you'll find – you guessed it – even more seating, like this long bench with tables.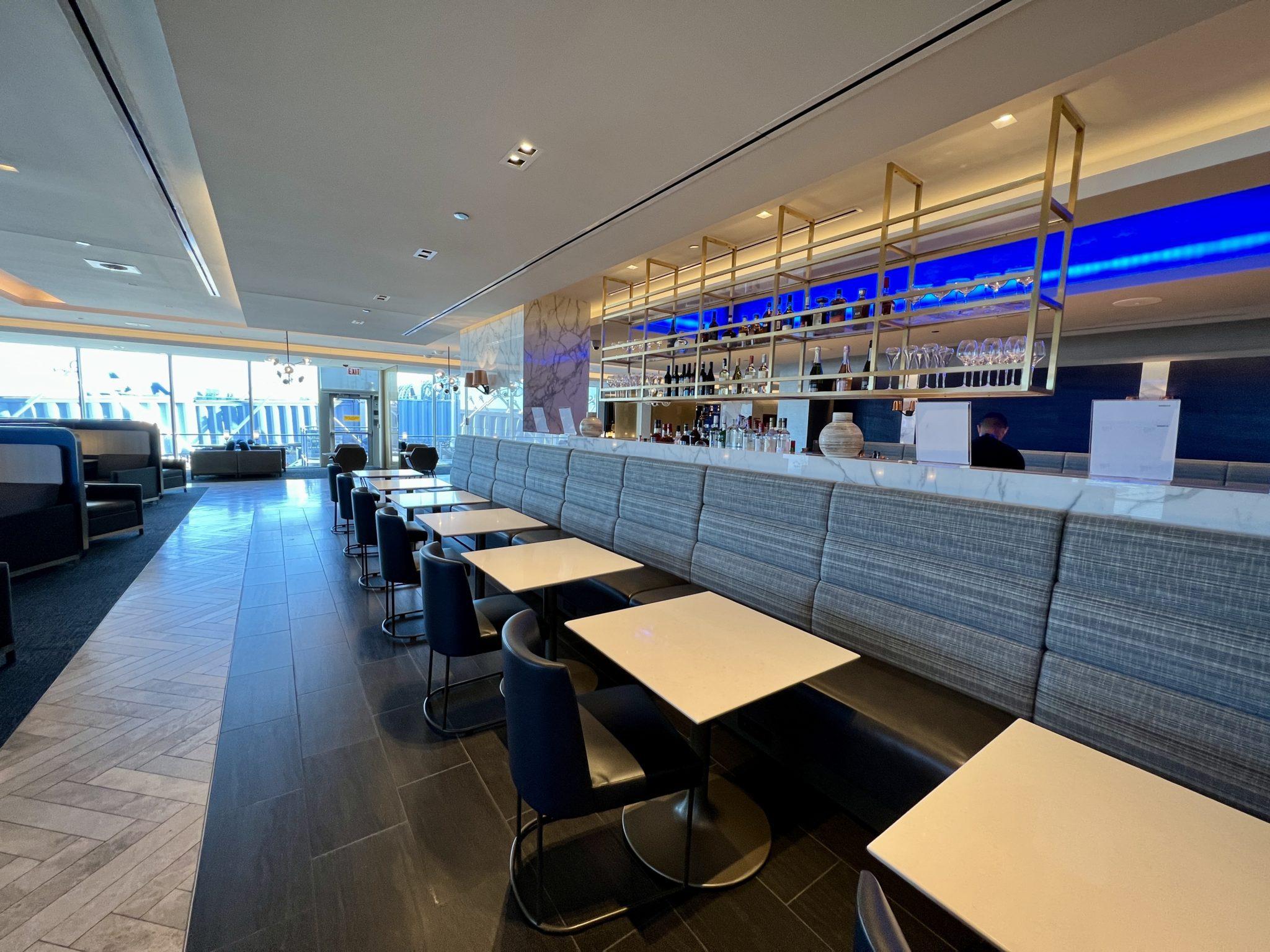 Finally, in the back corner (and past the lounge's Dining Room) you'll find a large, quiet area with a few dozen armchairs. As is the case at nearly every spot scattered across the lounge, there's charging and lights available at every seat.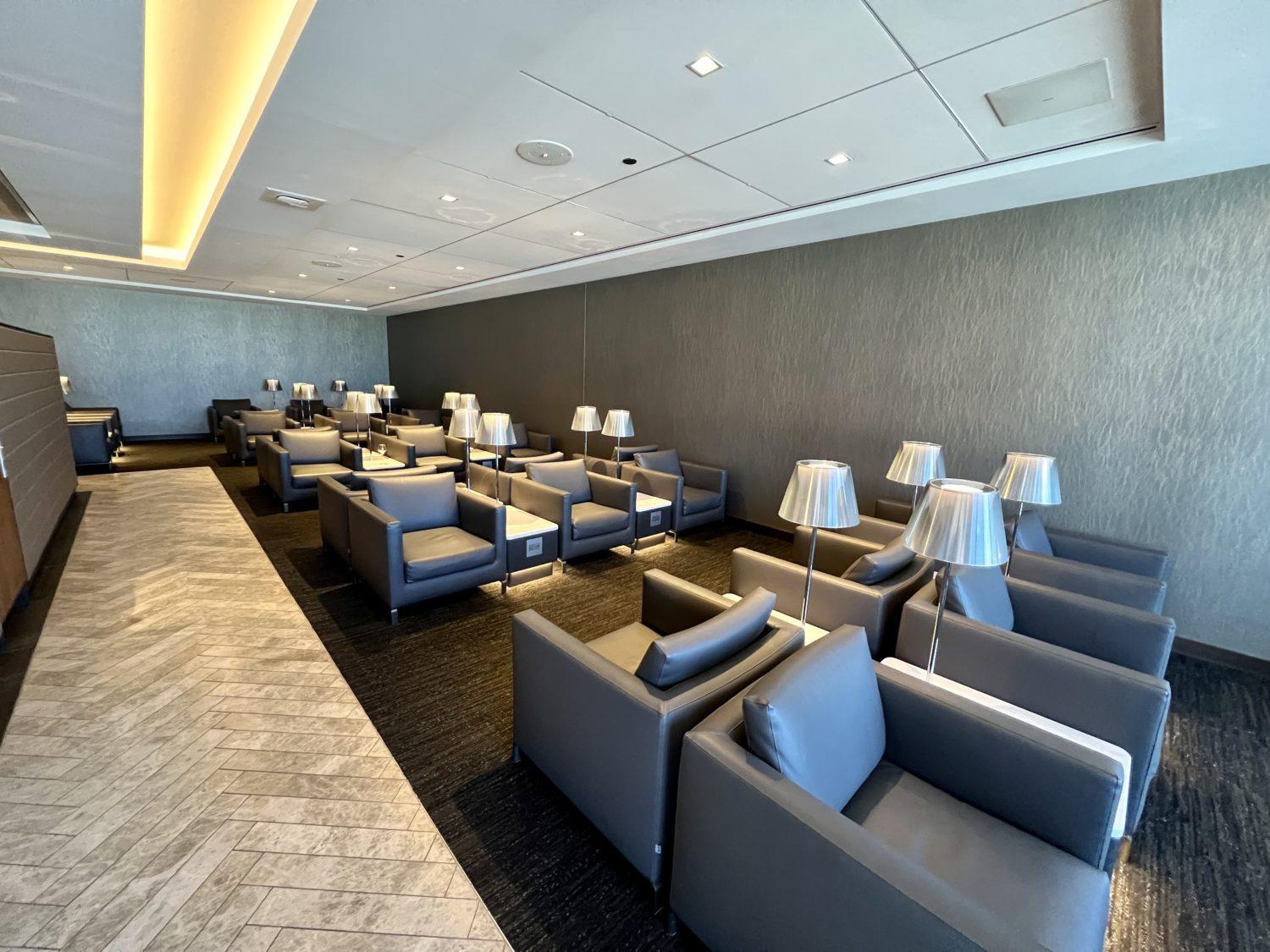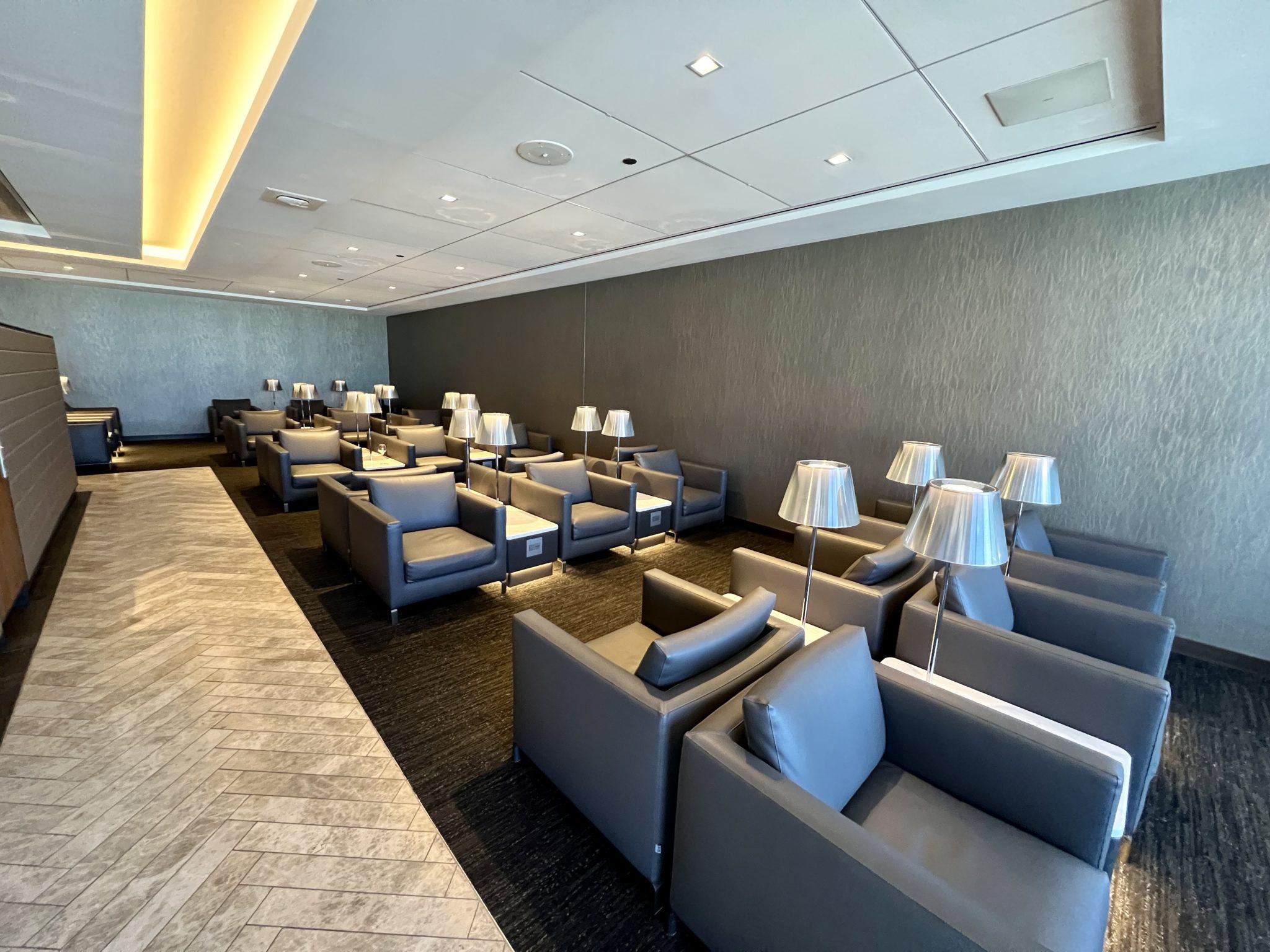 I'm a big fan of the single work pods that run all the way through the center of the main lounge area. These are a great spot to get some work done, with a slide-out surface, lamp, and charging available at each and every spot. The high walls make them fairly private, too.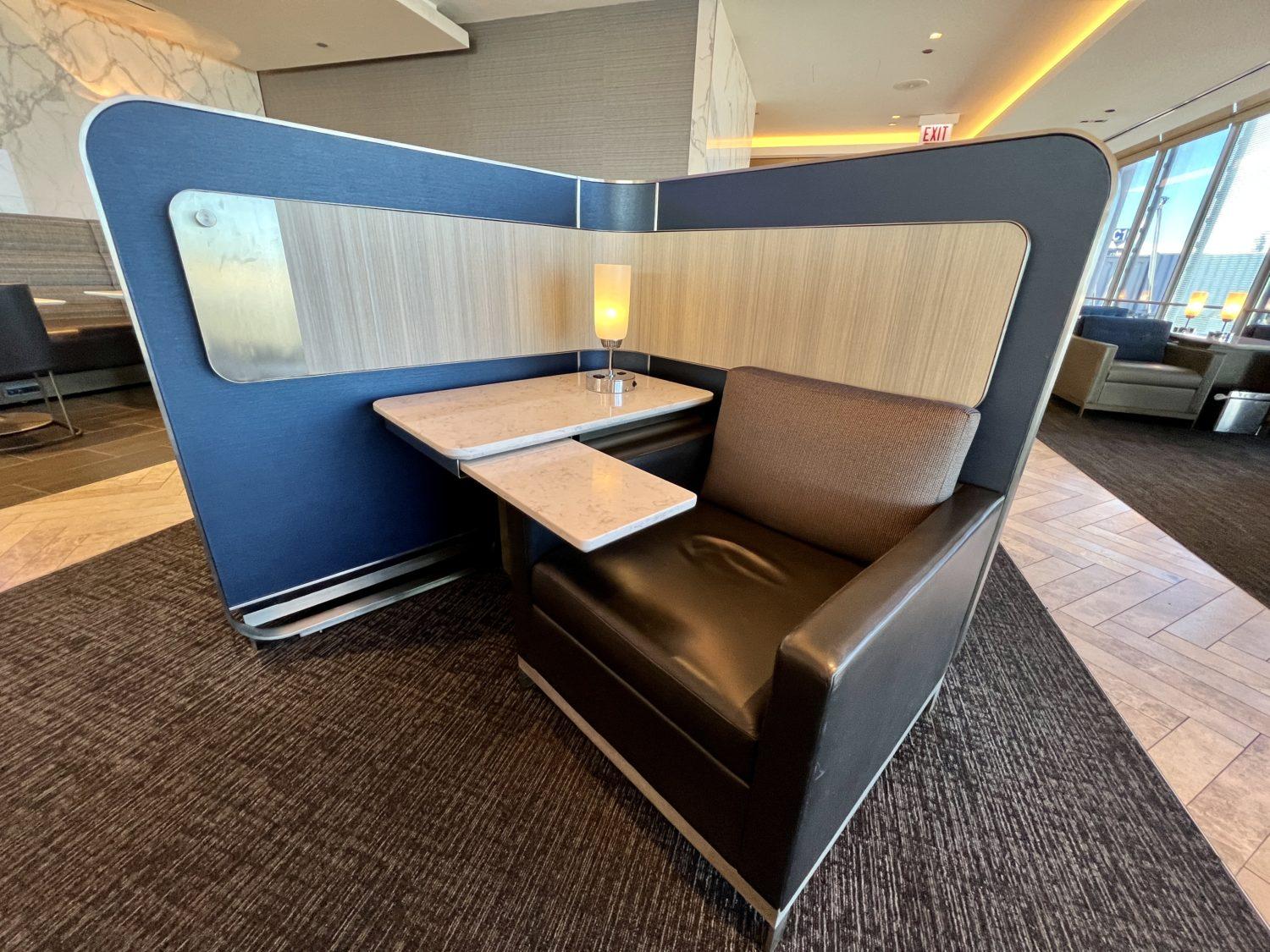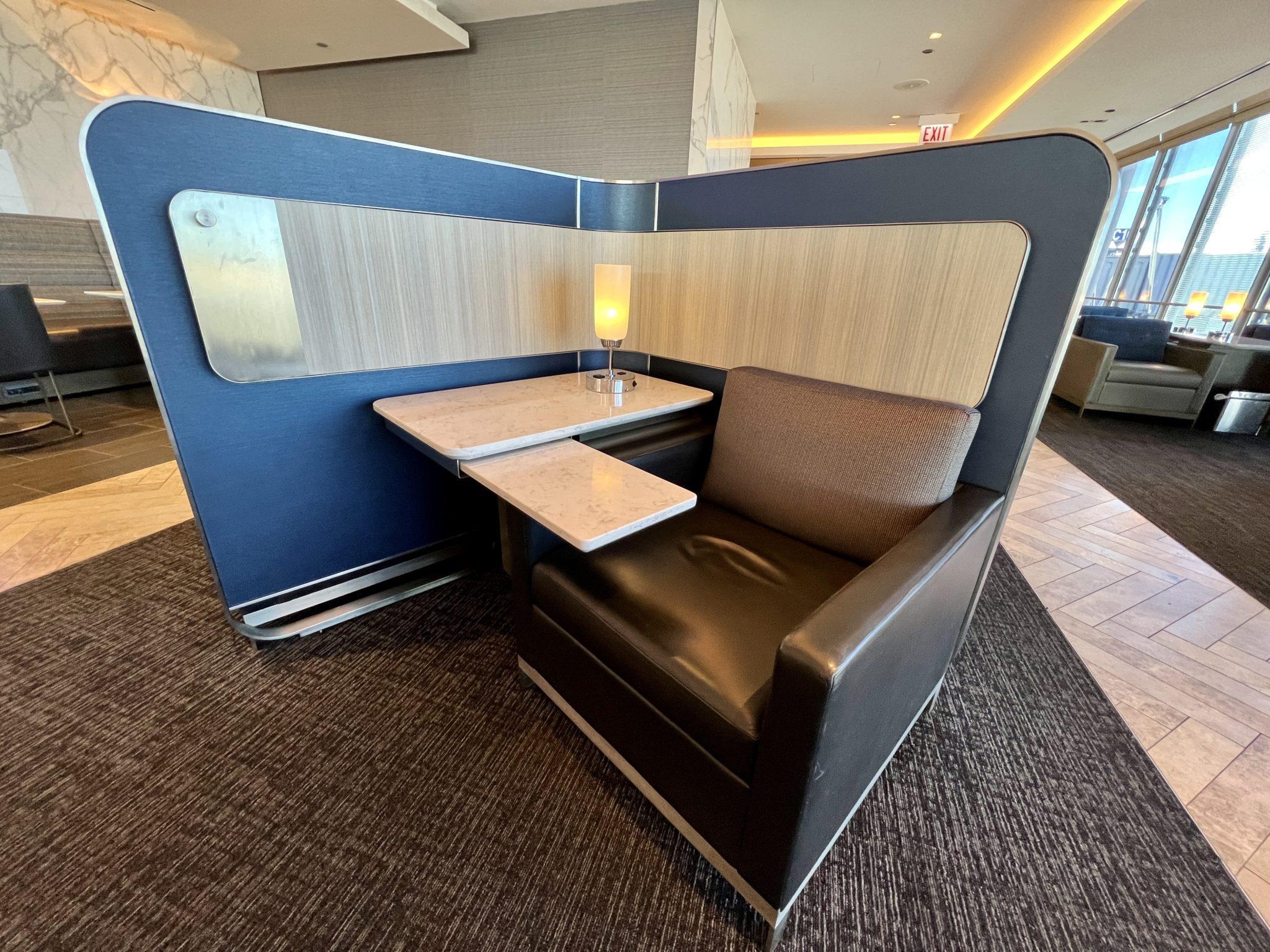 Back toward the entrance, you'll find the long – like, really long – corridor of single-stall restrooms, with about a dozen available. It's great that these restrooms have lights to show whether they're open (green) or occupied (red). And the starry sky lighting overhead is a nice touch. It's yet another example of how United Polaris lounges blend both fashion and function together.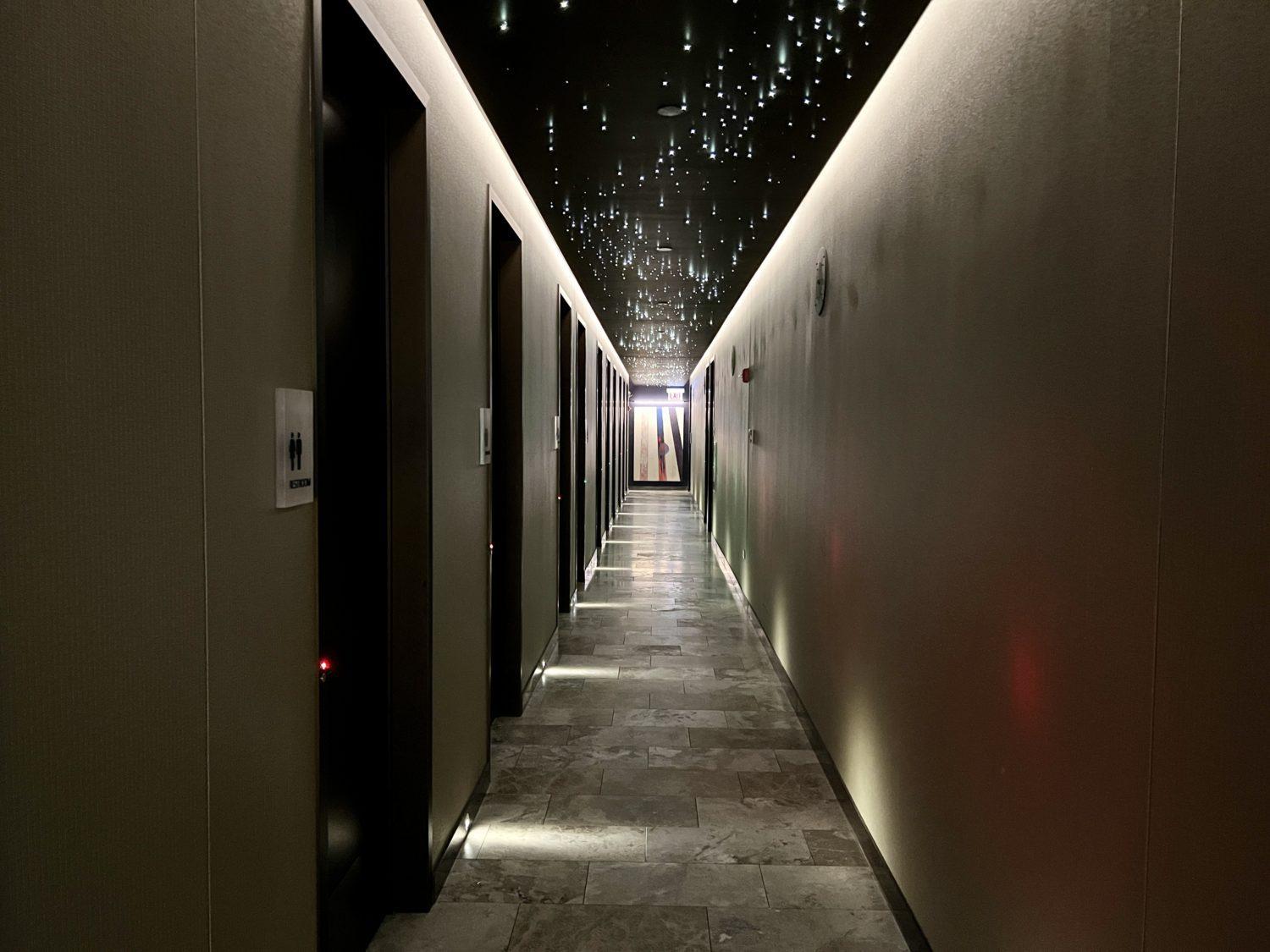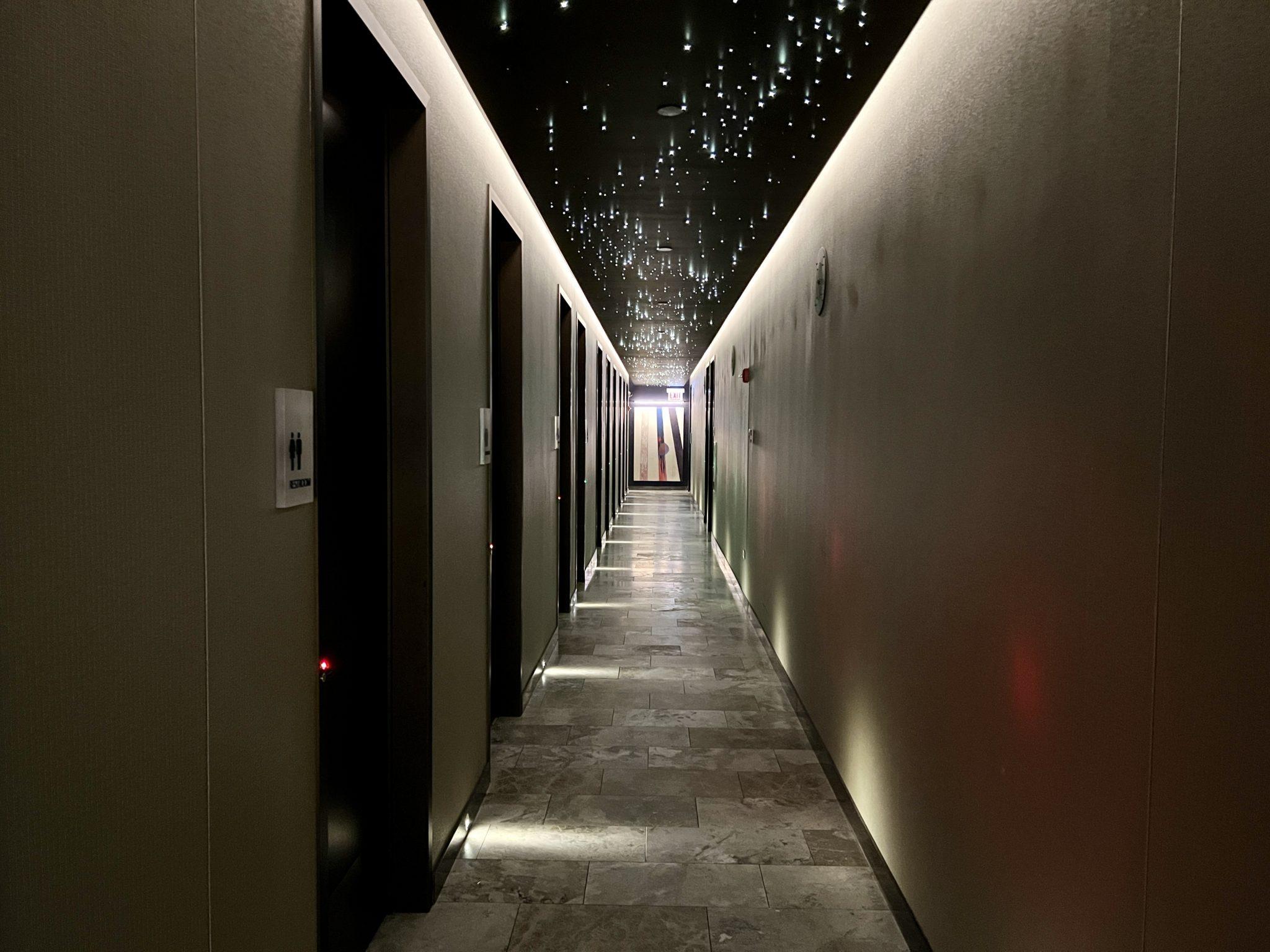 The bathrooms themselves are nice, fairly large, and private. They're stocked with Sunday Riley toiletries, which are pretty high quality for an airport lounge.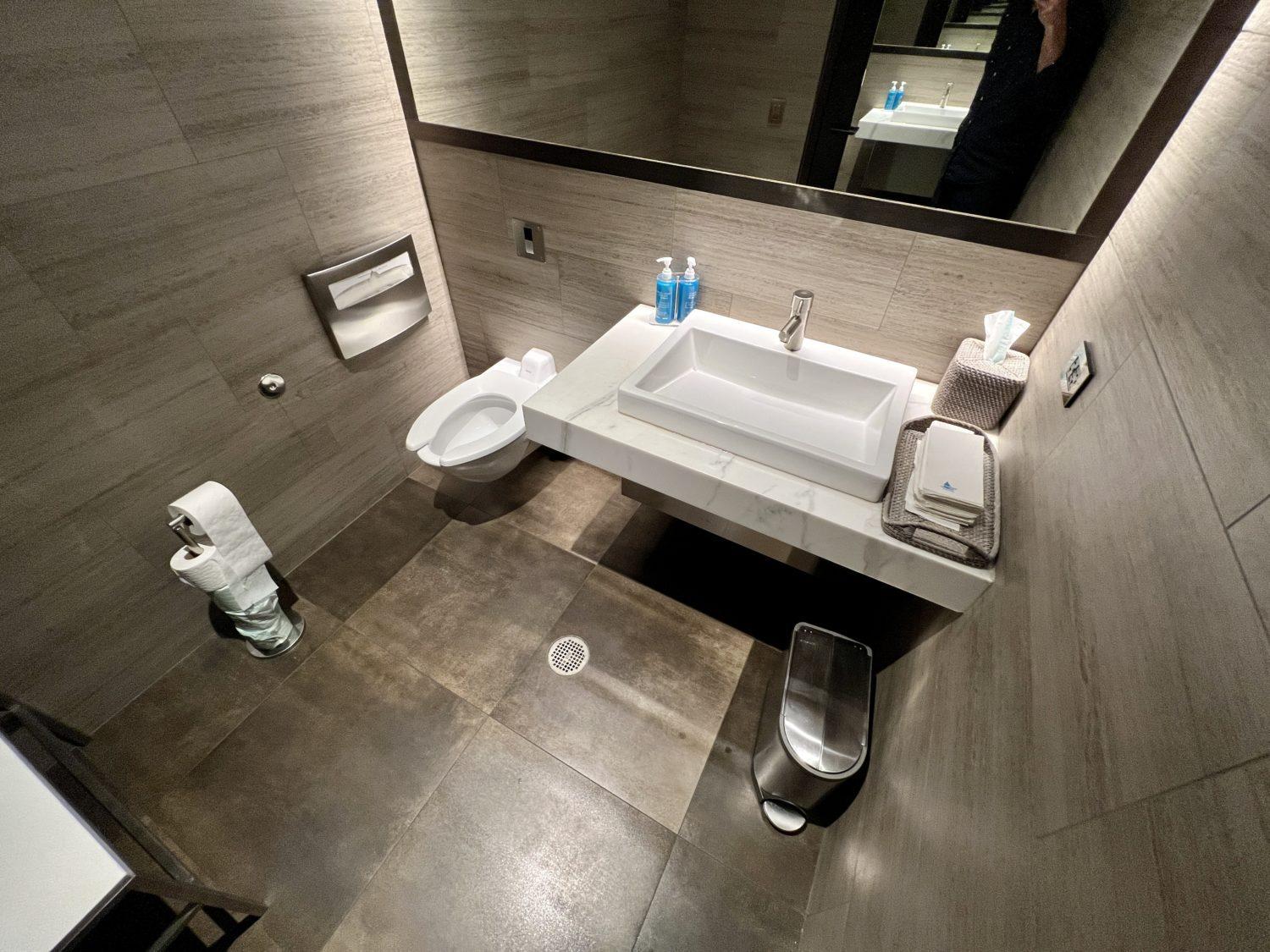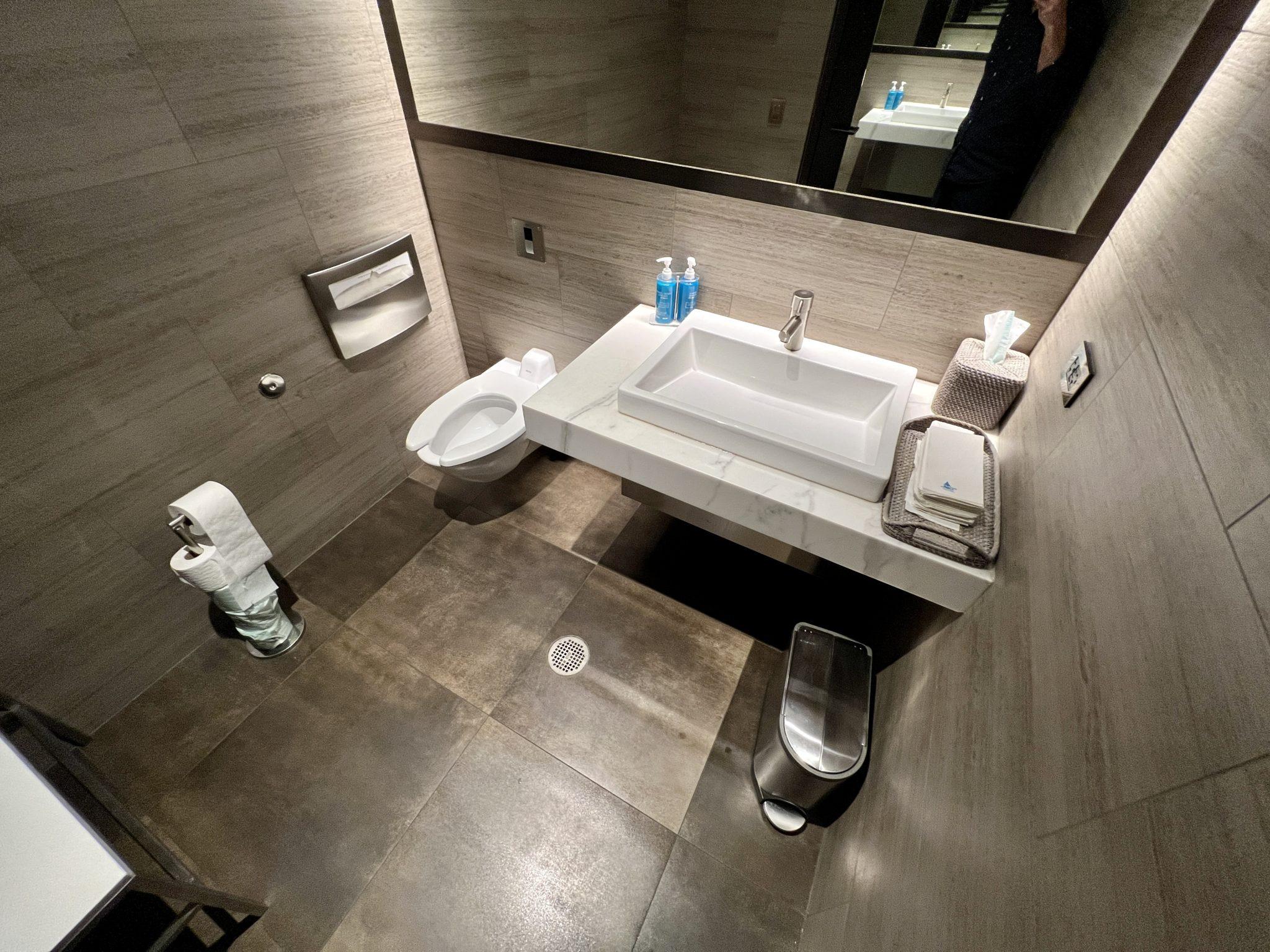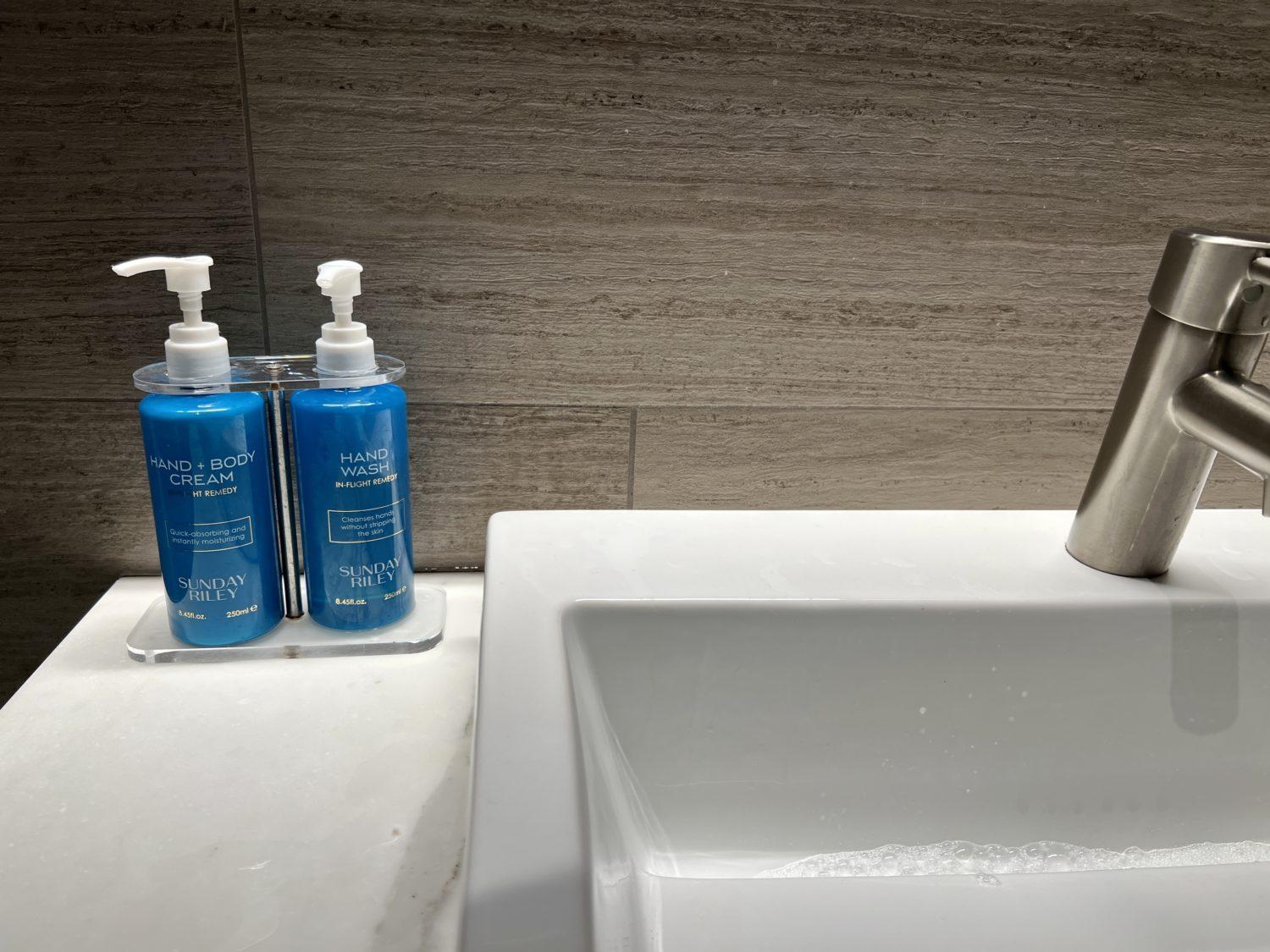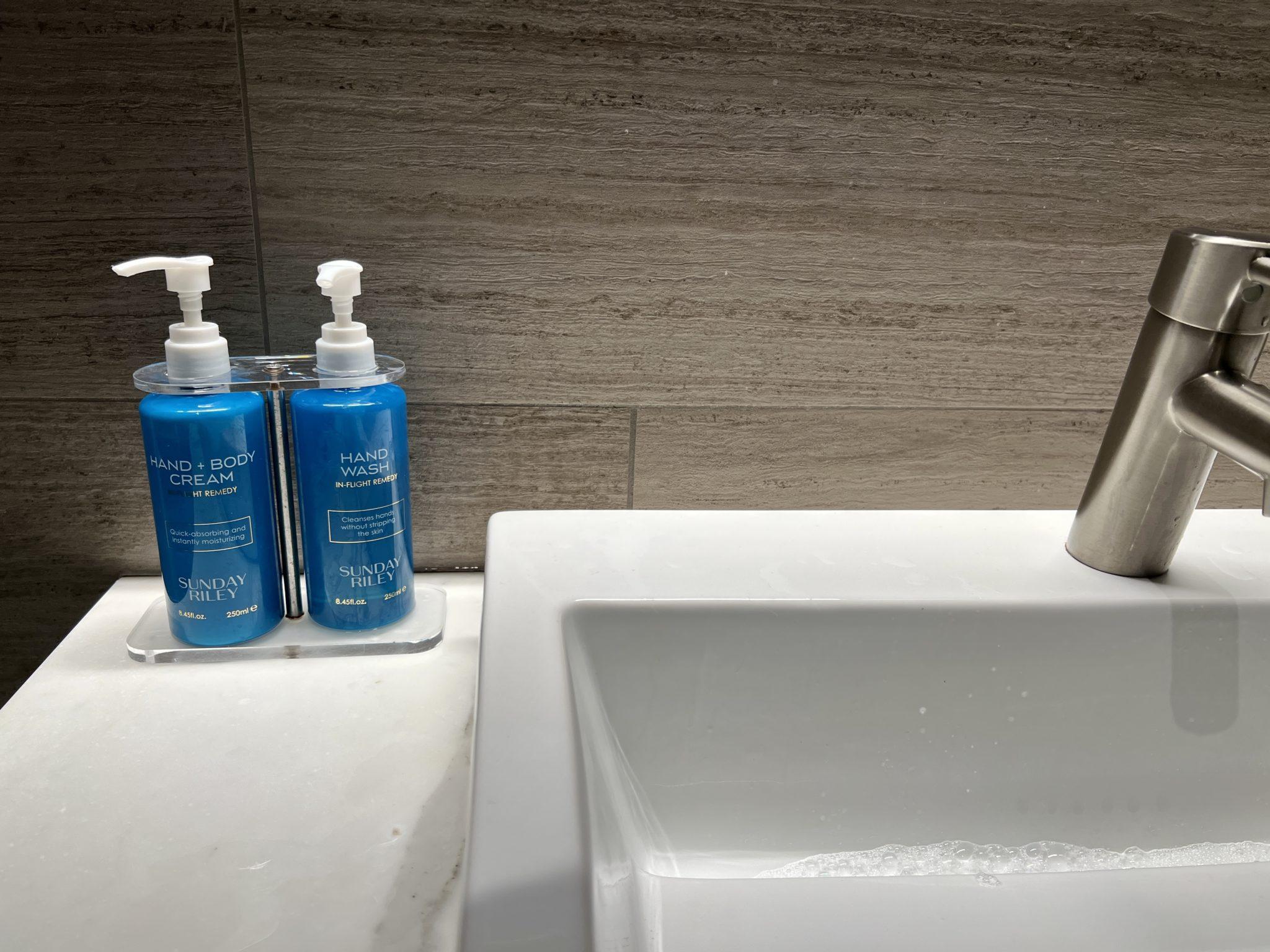 If there's one glaring absence at the United Polaris Lounge Chicago, it's that there's no private work rooms or phone booths. Then again, seeing how busy it got as my visit wrapped up, I'm not sure they could afford to sacrifice the square footage …
As I walked out of the lounge ahead of my 3:45 p.m. boarding time, the lounge was clearly near capacity.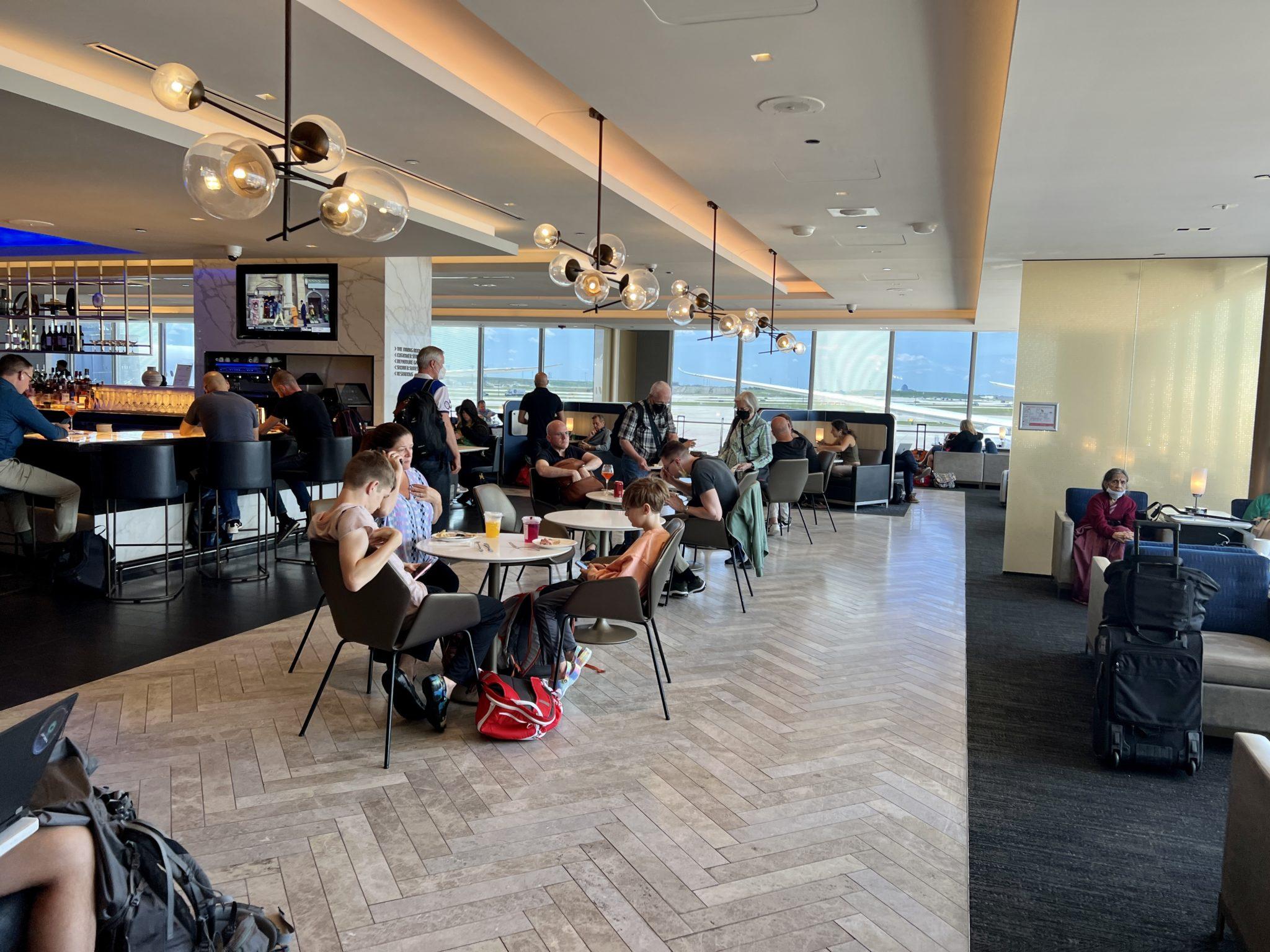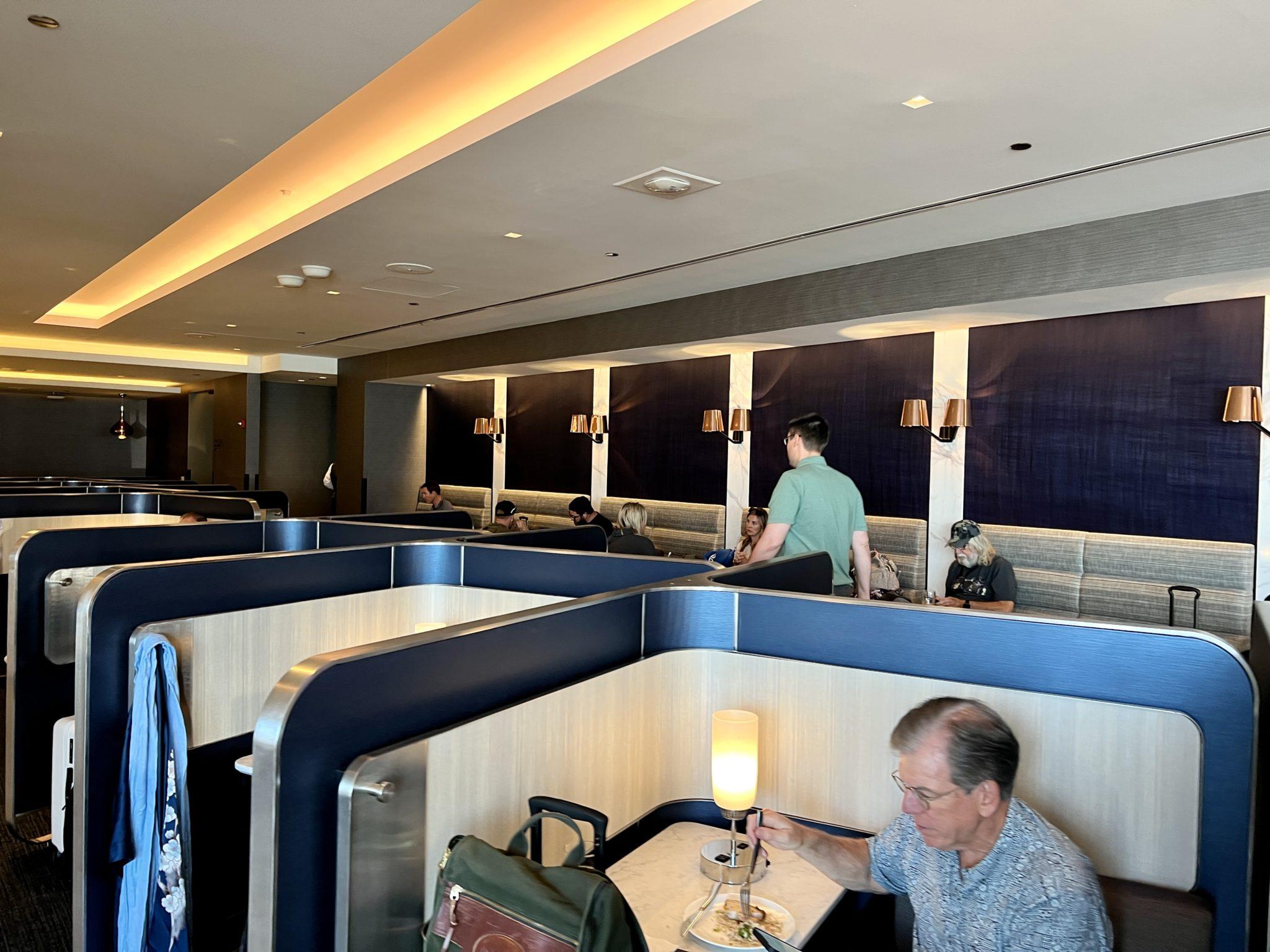 With so many United international flights taking off from Chicago around 6 p.m., I imagine this lounge starts to empty out by 5 p.m. or so. But if you're there beforehand, prepare to bump some elbows.

Dining & Drinks at the United Polaris Lounge Chicago
At the end of the day, what really sets United Polaris Lounges apart from other airlines is dining. No other carrier does business class lounge food better.
Sure, there's the standard buffet where you can graze through and fill a plate with whatever you'd like. And if this was it at the United Polaris Lounge, it would still be better than even some of the top airport lounges in the country.
The space itself is beautiful, and it was well-stocked with tasty food: fresh fruit, baked goods, eggs, bacon, ham, and oatmeal for breakfast until 11 a.m. or so, at which point servers brought out a whole new spread of tasty sandwiches, salads, charcuterie, soups, and more substantial entrees.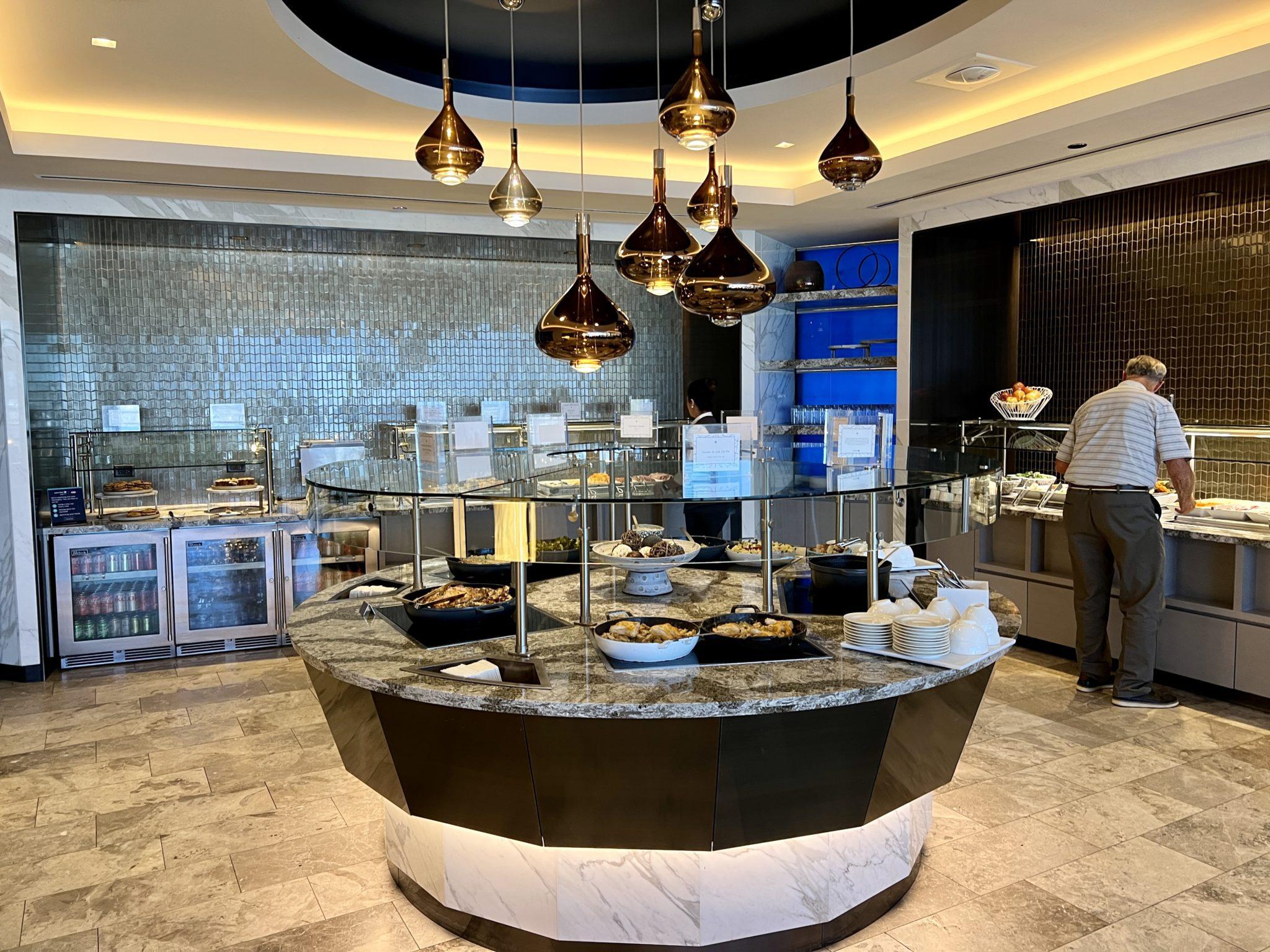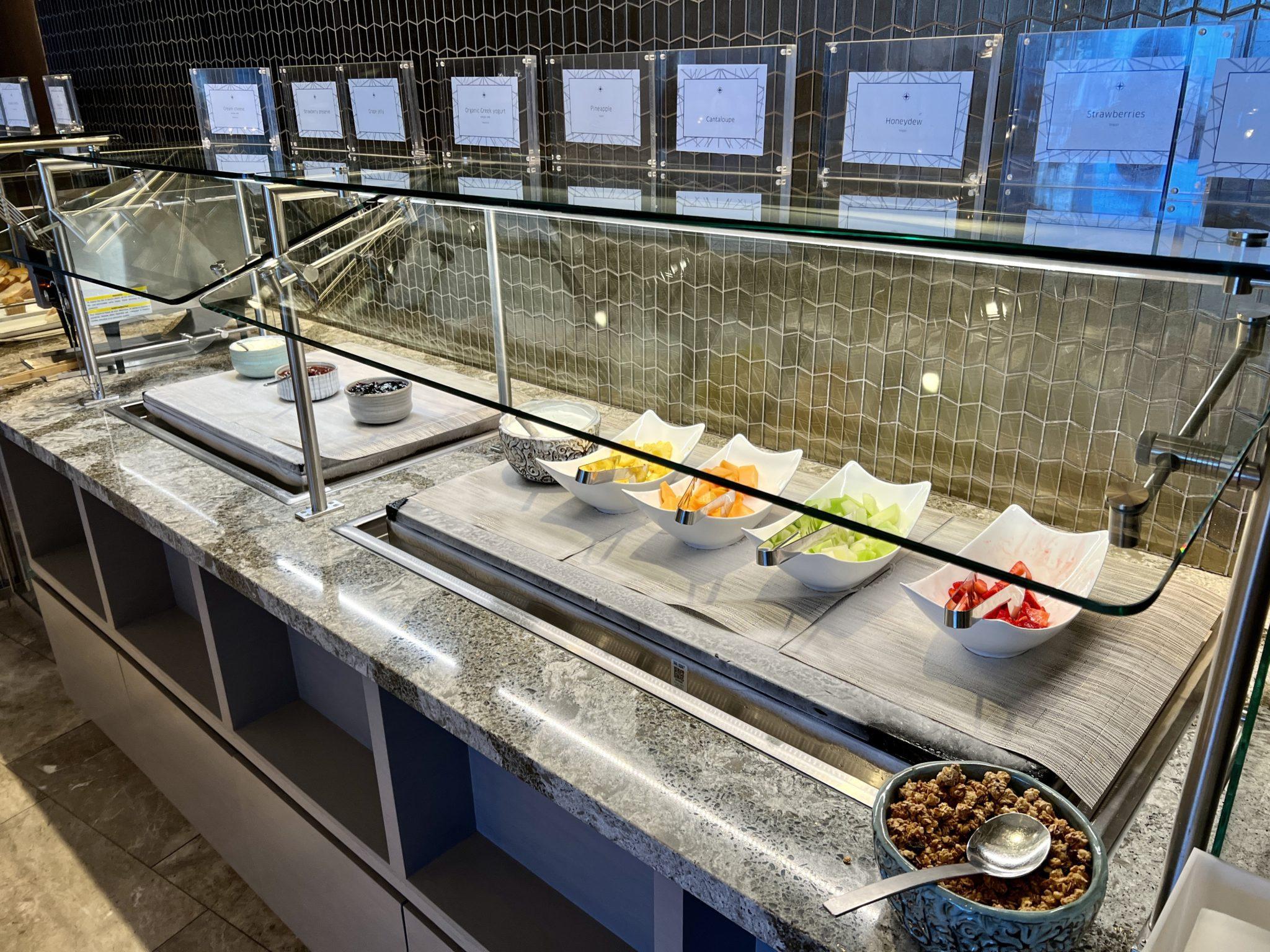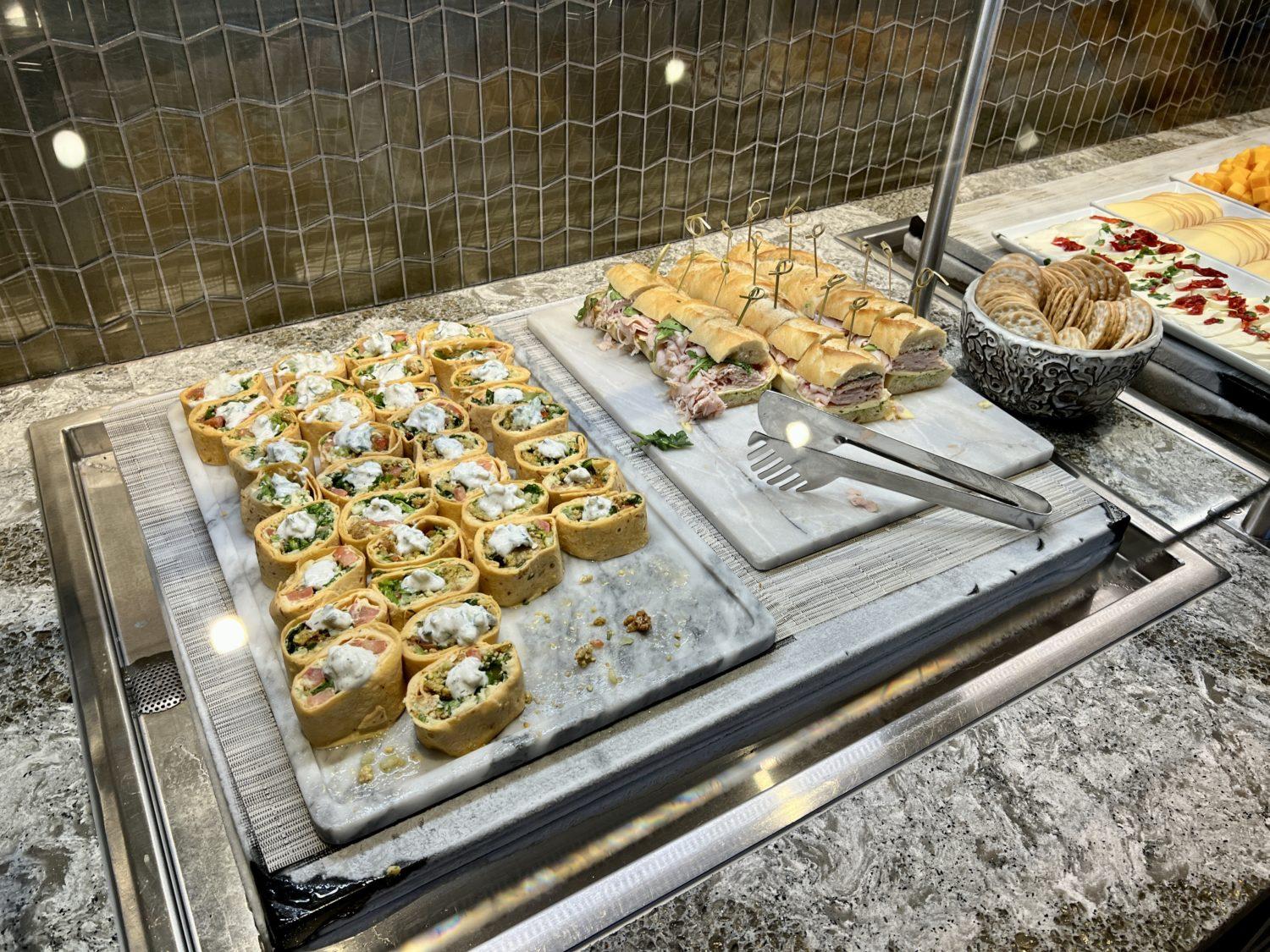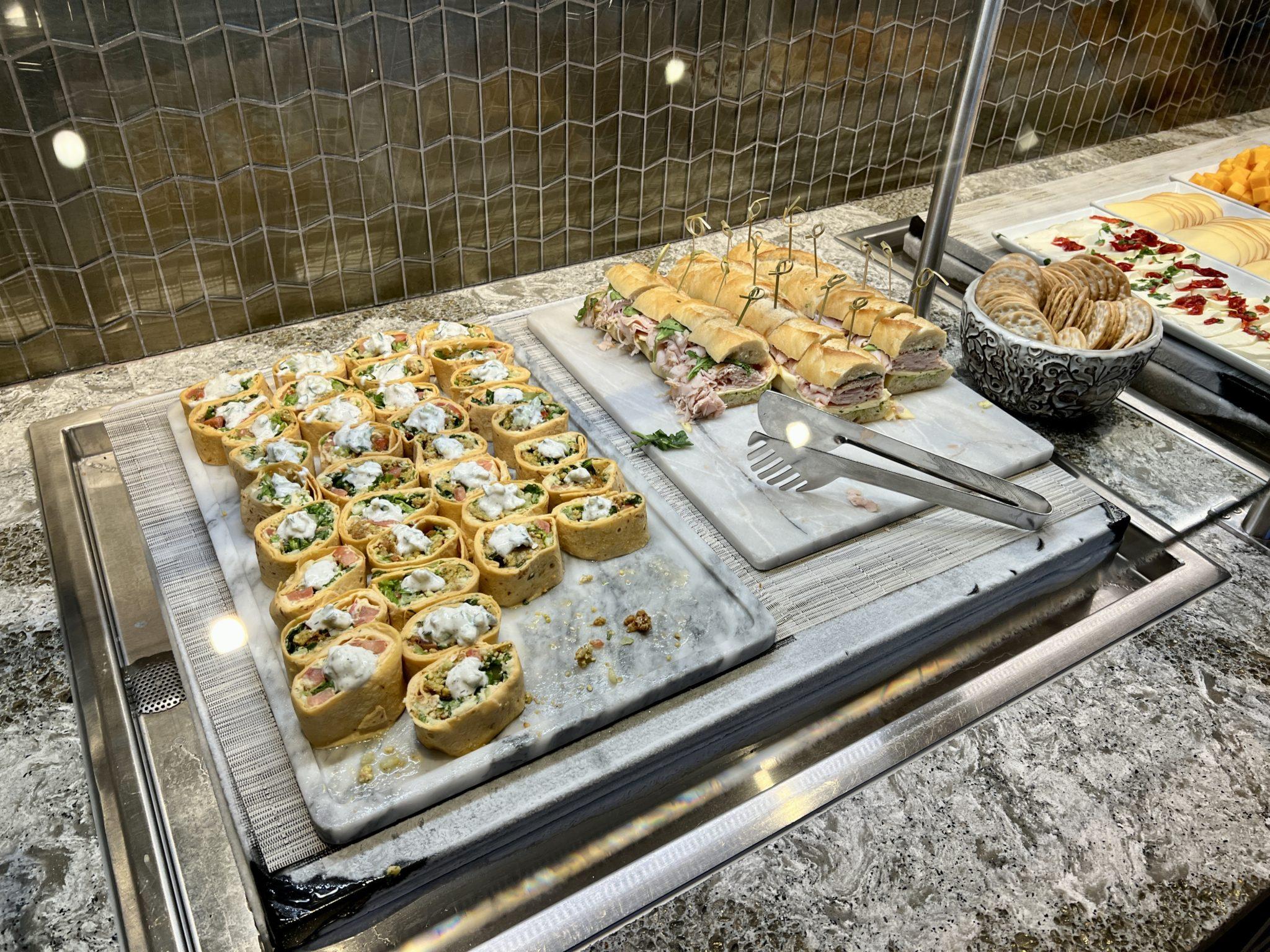 But depending on when you arrive – and how hungry you are – you'll want to beeline it straight to the back corner of the line and queue up for The Dining Room. This is a full-on restaurant inside of the United Polaris Chicago Lounge … and no that's not hyperbole. Like all Polaris Lounges across the country, this is restaurant-quality a la carte dining, and at no extra cost. That's right: Your dinner (or lunch, breakfast, or all three) is complimentary.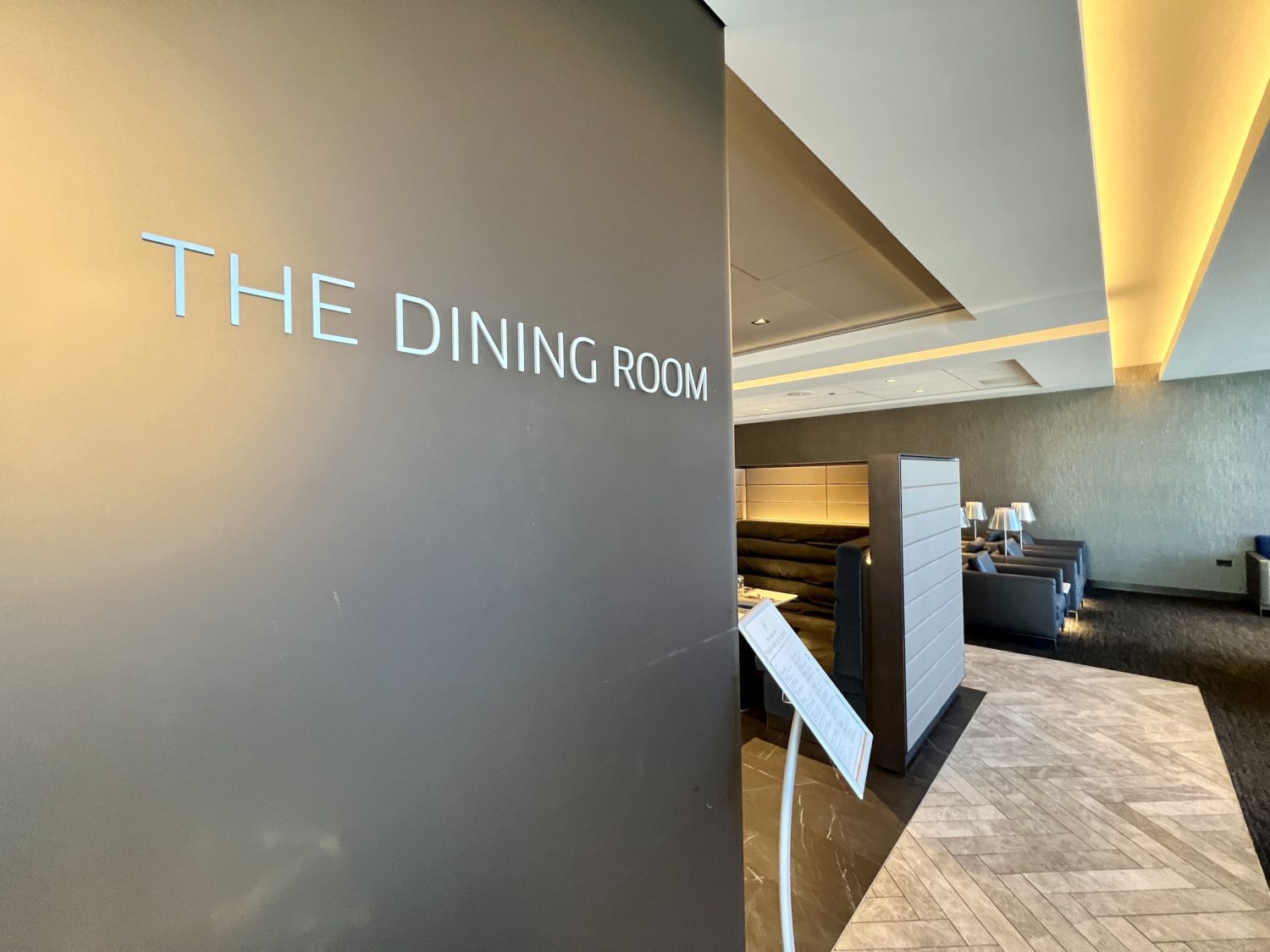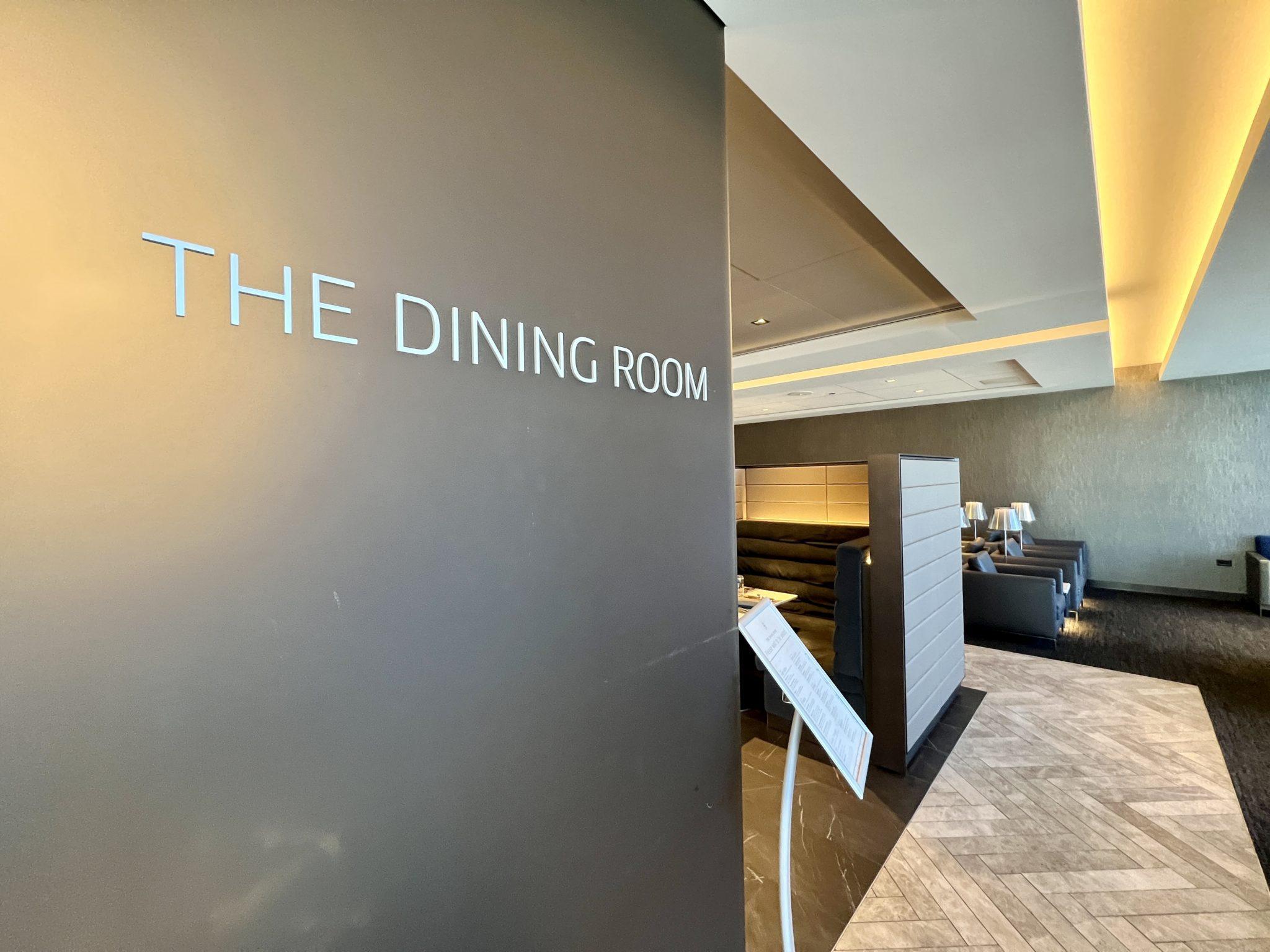 But like the United Polaris Lounge here as a whole, there's a problem: It's just not big enough. There are just 10 tables total inside this undersized dining room, with room for about 20 people total – maybe 25, if you really pack in a few families. So when the lounge starts buzzing, getting a table can be a serious challenge.
The dining room uses a waiting list to put your name down for a table as soon as it opens up, but that wait can be long depending on when you arrive.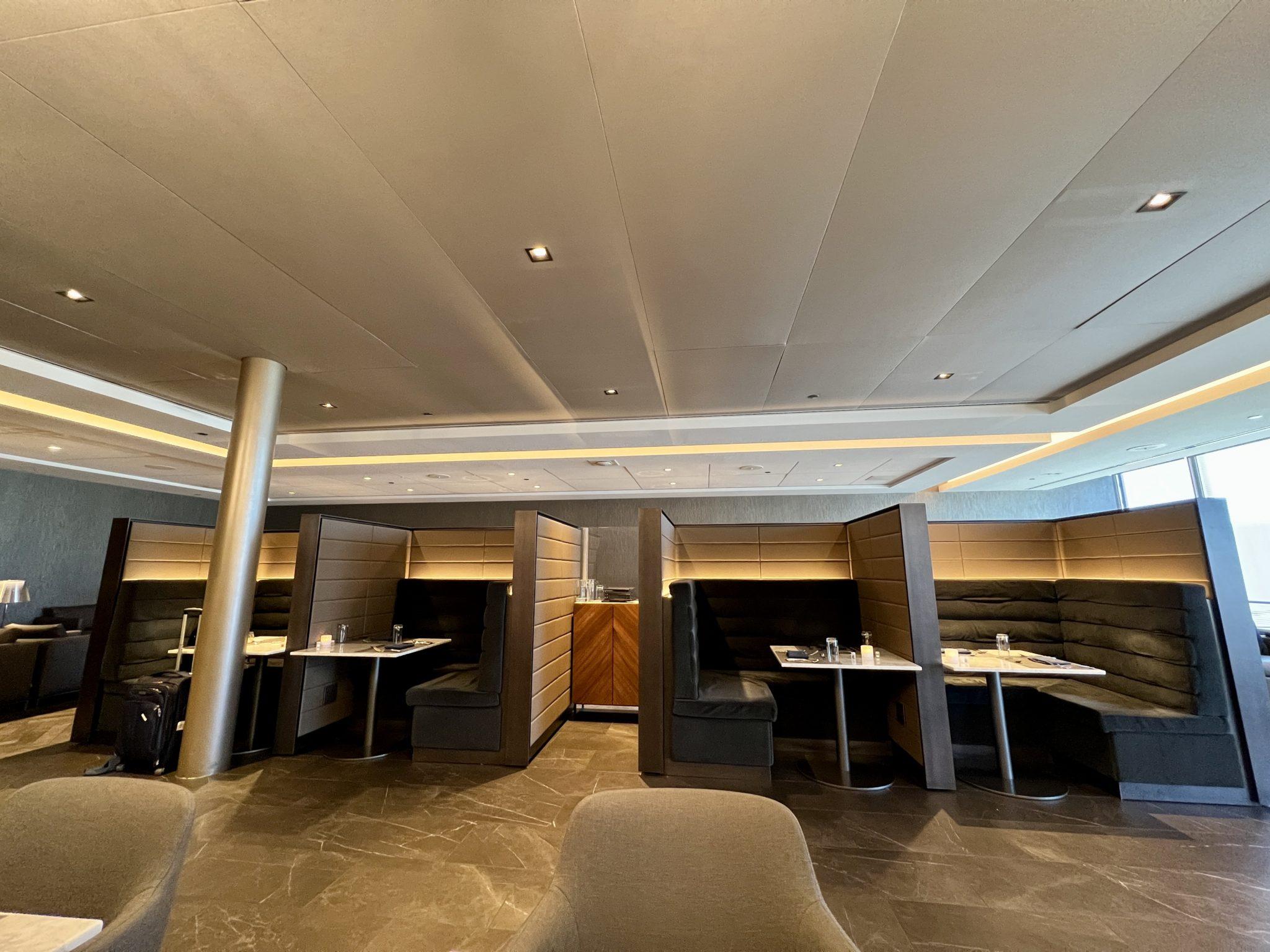 But once you're in, you're in luck. It's almost unbelievable that United can offer an experience of this caliber inside of a business class lounge. Though small in size, the setting is still great.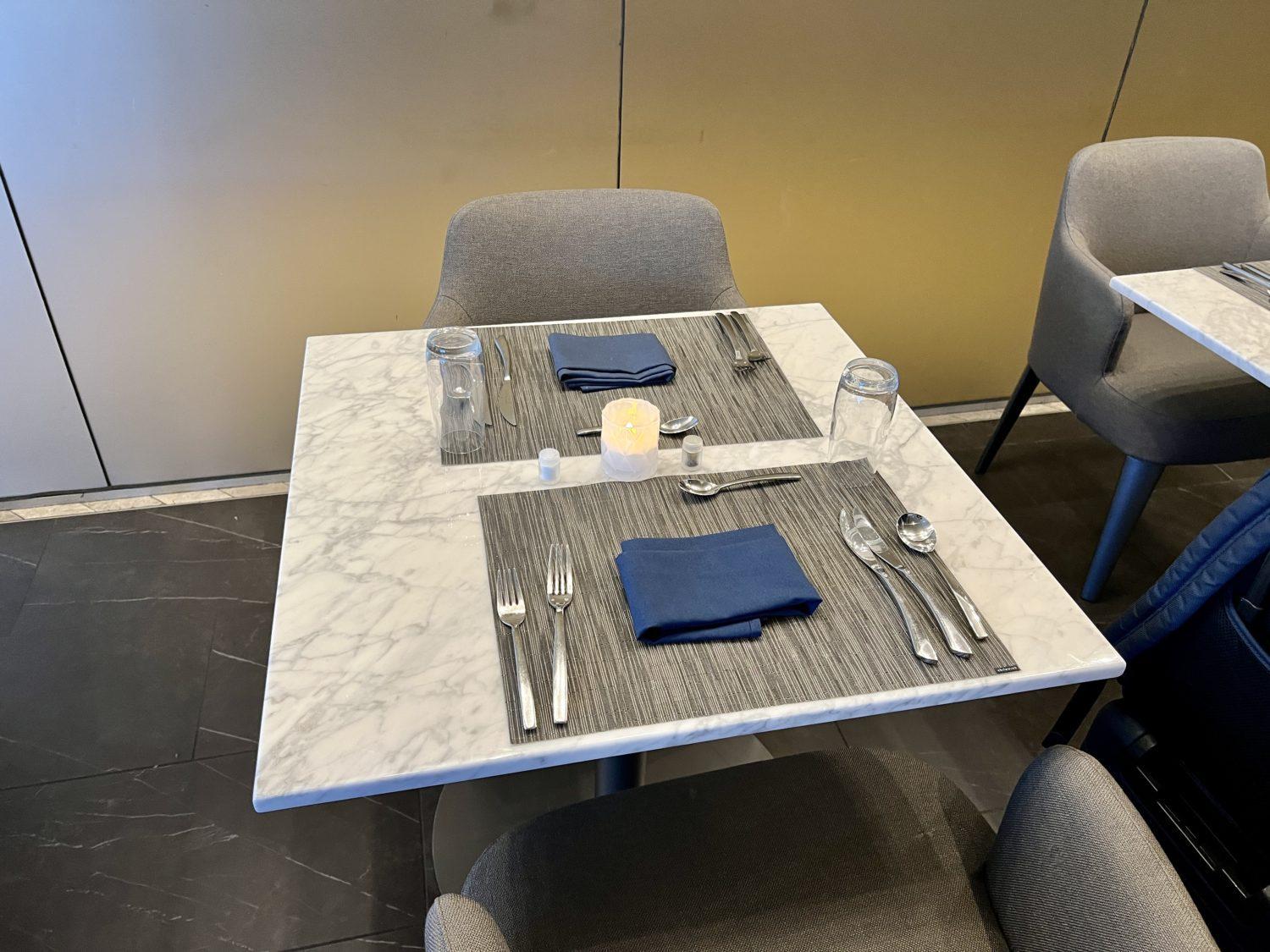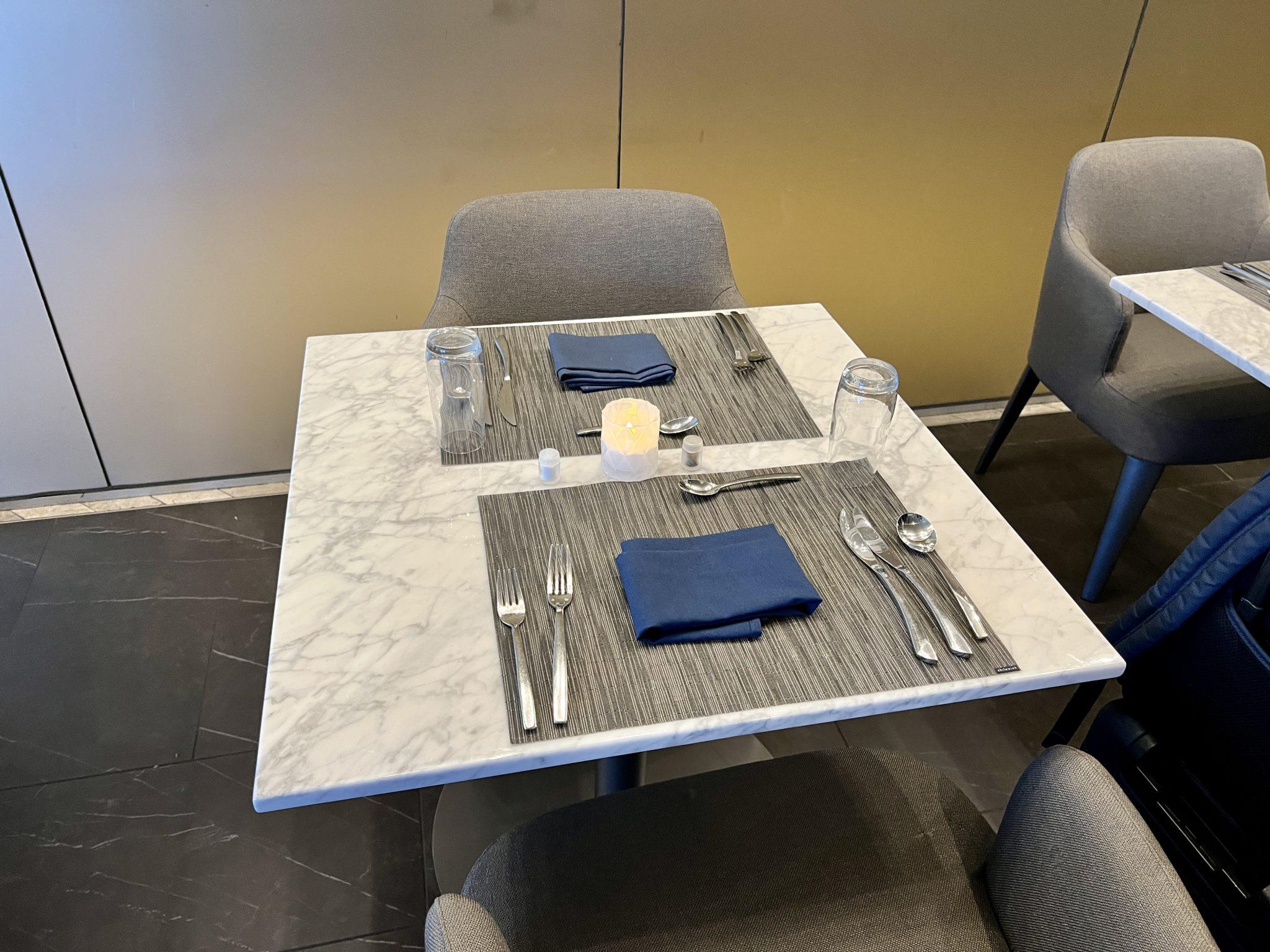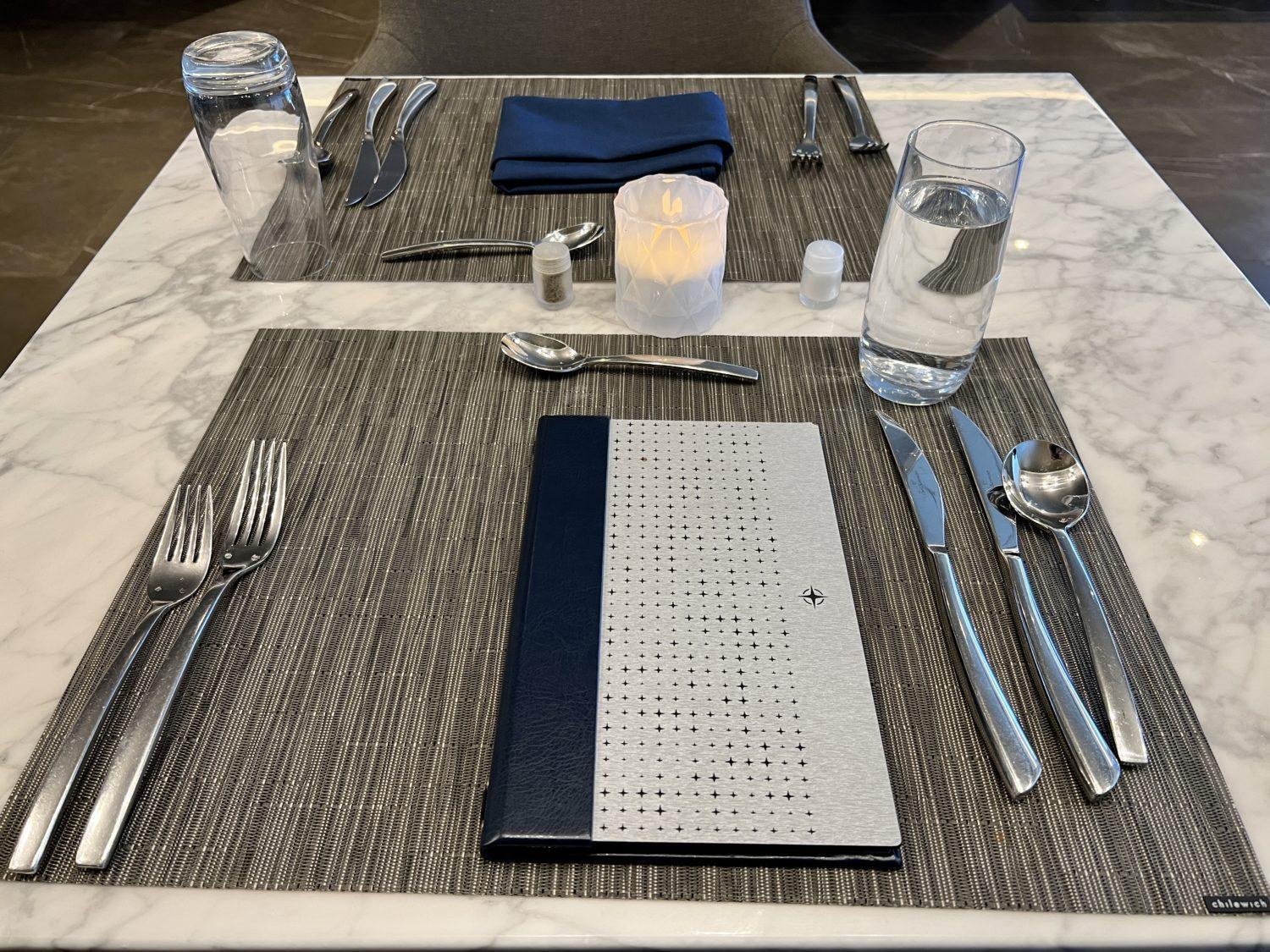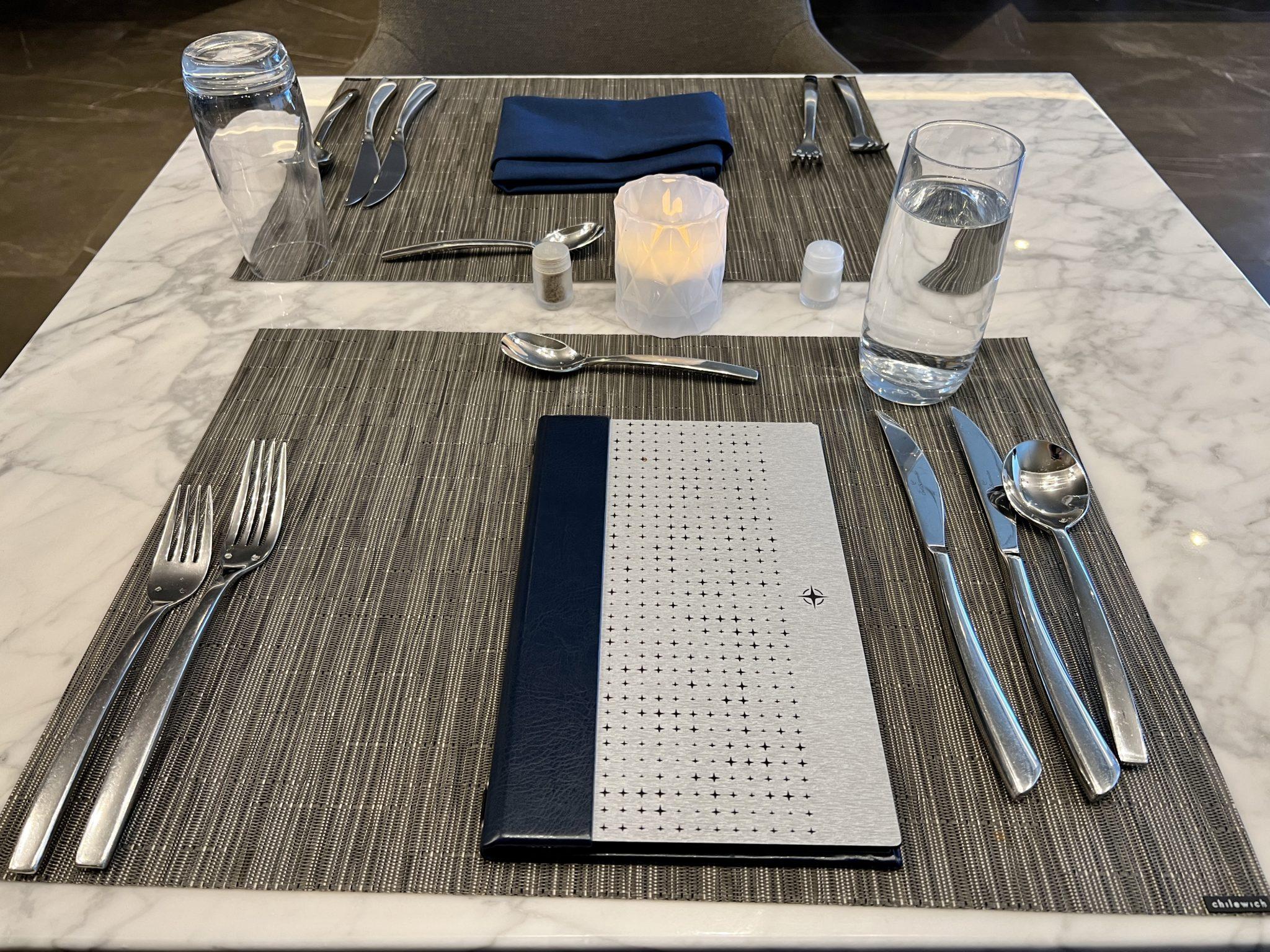 The Dining Room serves breakfast until 11 a.m., at which point the menu switches over to lunch and dinner. There are a handful of small plates and entrees to pick from during either meal time – click each image below for a larger version.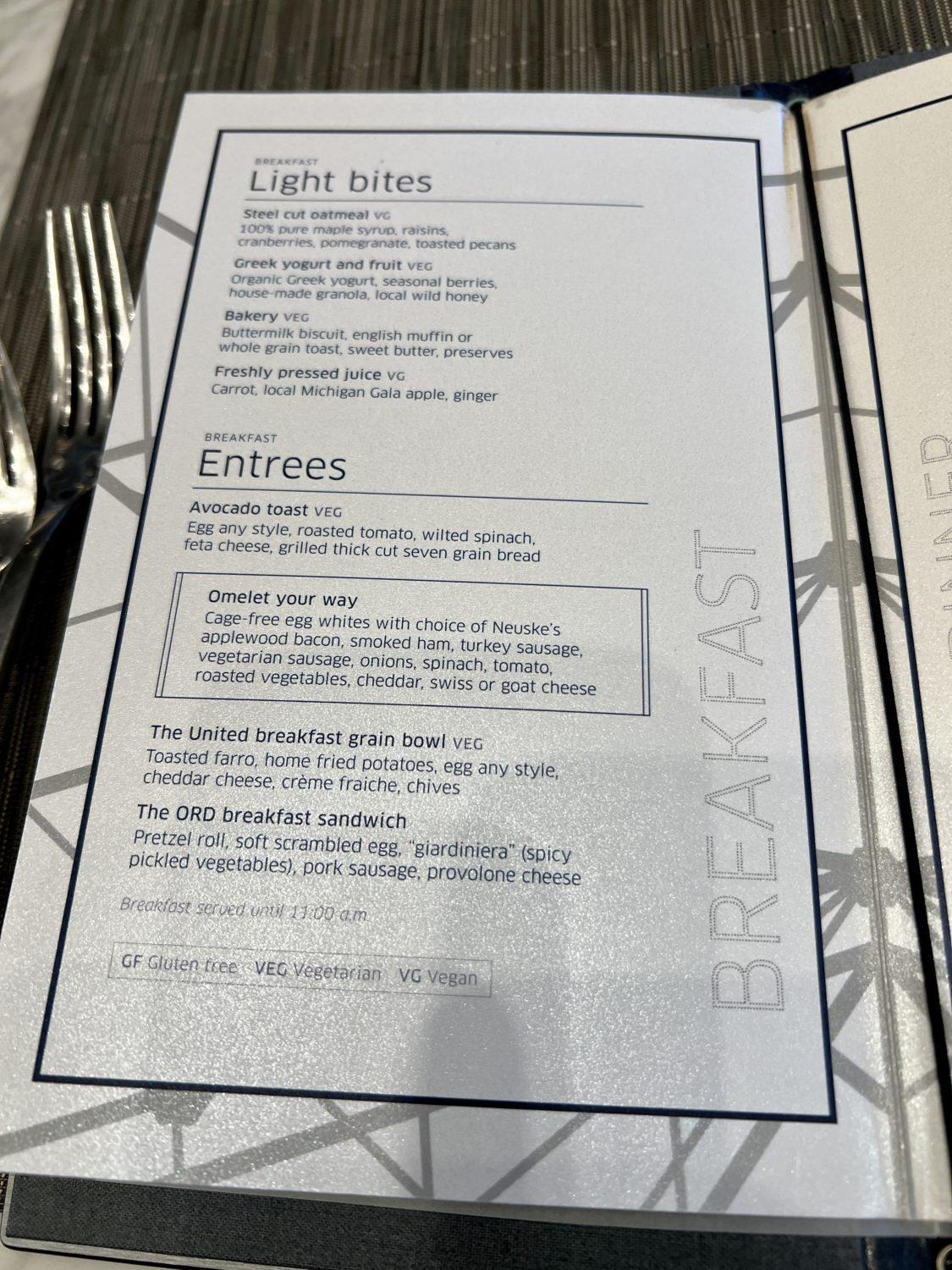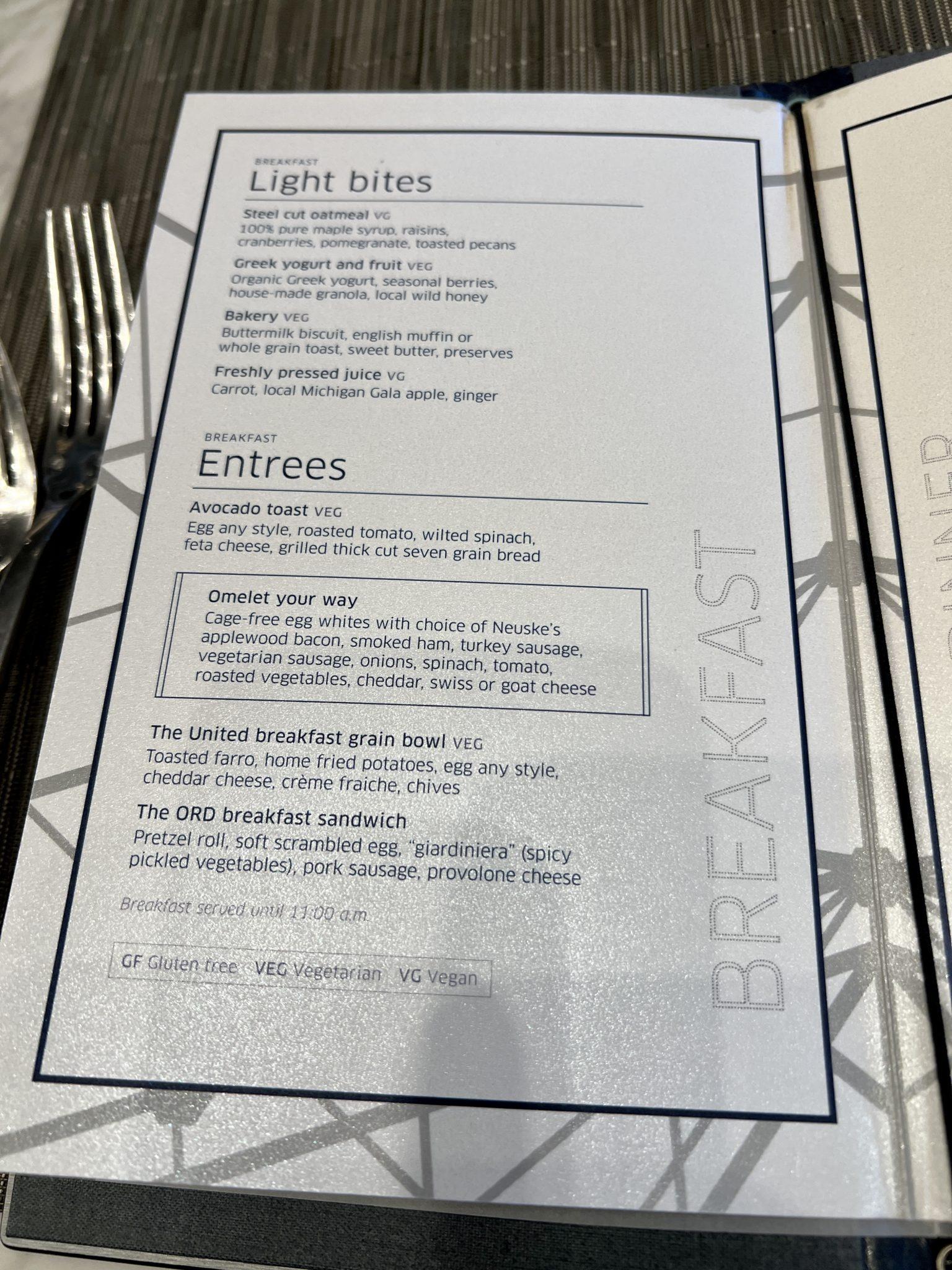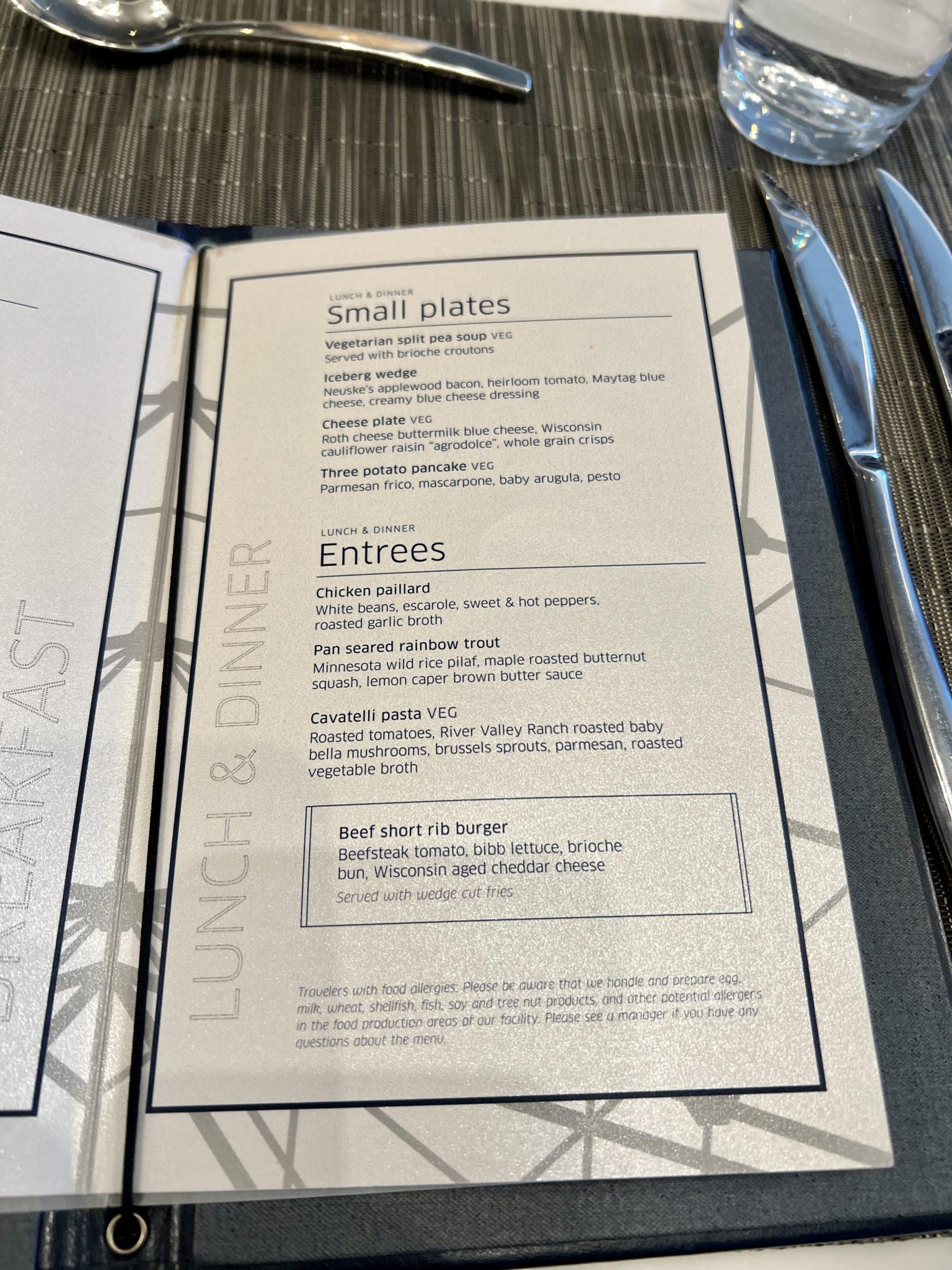 There's also dedicated drink and dessert menus available in the dining room, though I forgot to snap a picture of those.
After skipping the buffet earlier to save room, I headed to the Dining Room around mid-day for a quick lunch. At that time, there were just a few tables taken so getting in was a cinch. Service was speedy and friendly to start – everything you'd expect at a restaurant, really. But as the day wore on and more travelers sat down for a meal, the staff struggled to keep up with taking orders and seating new visitors.
I started lunch off with the Iceberg wedge salad, which was wonderfully crisp – though I wish the bacon was a bit heartier.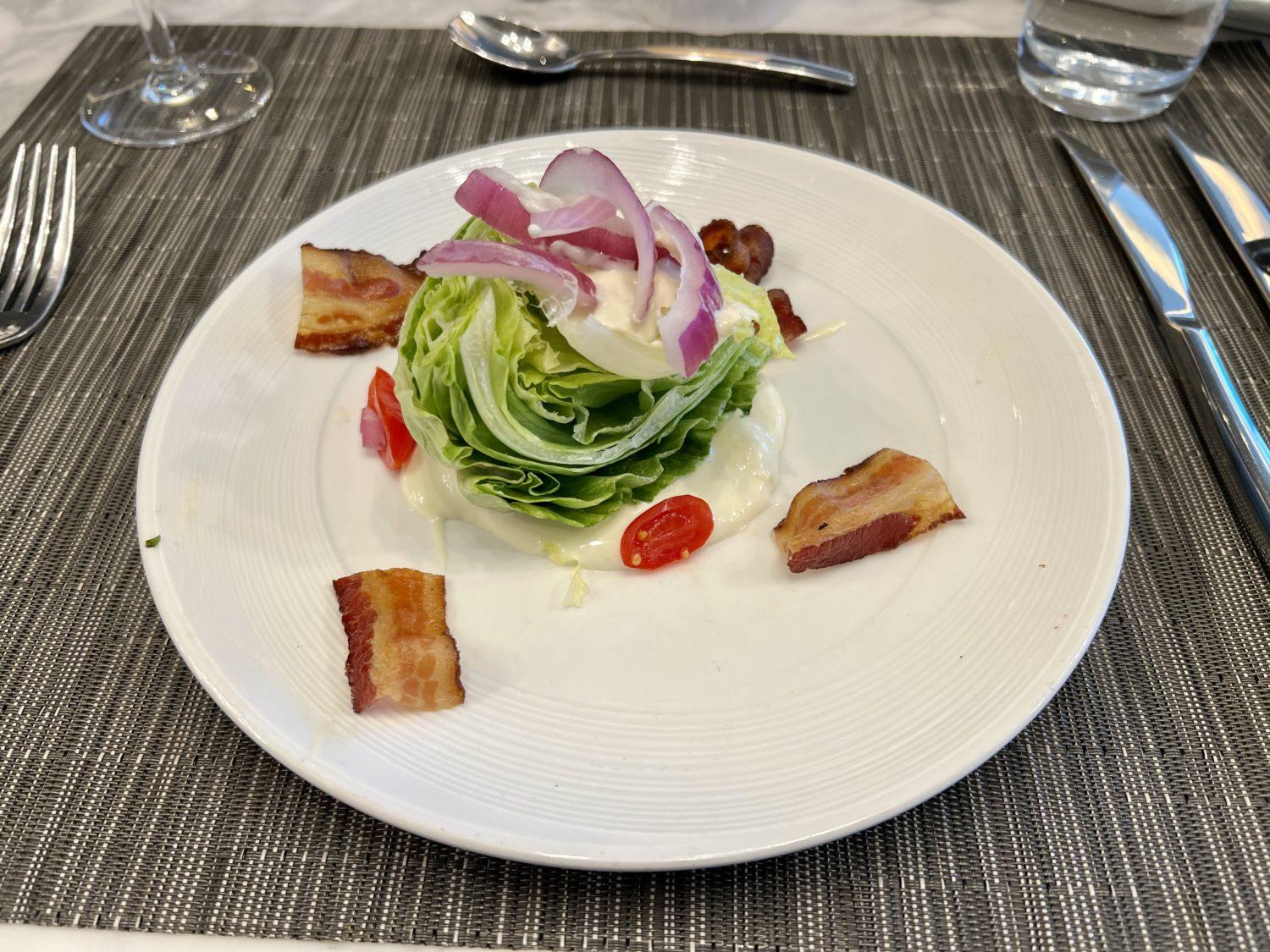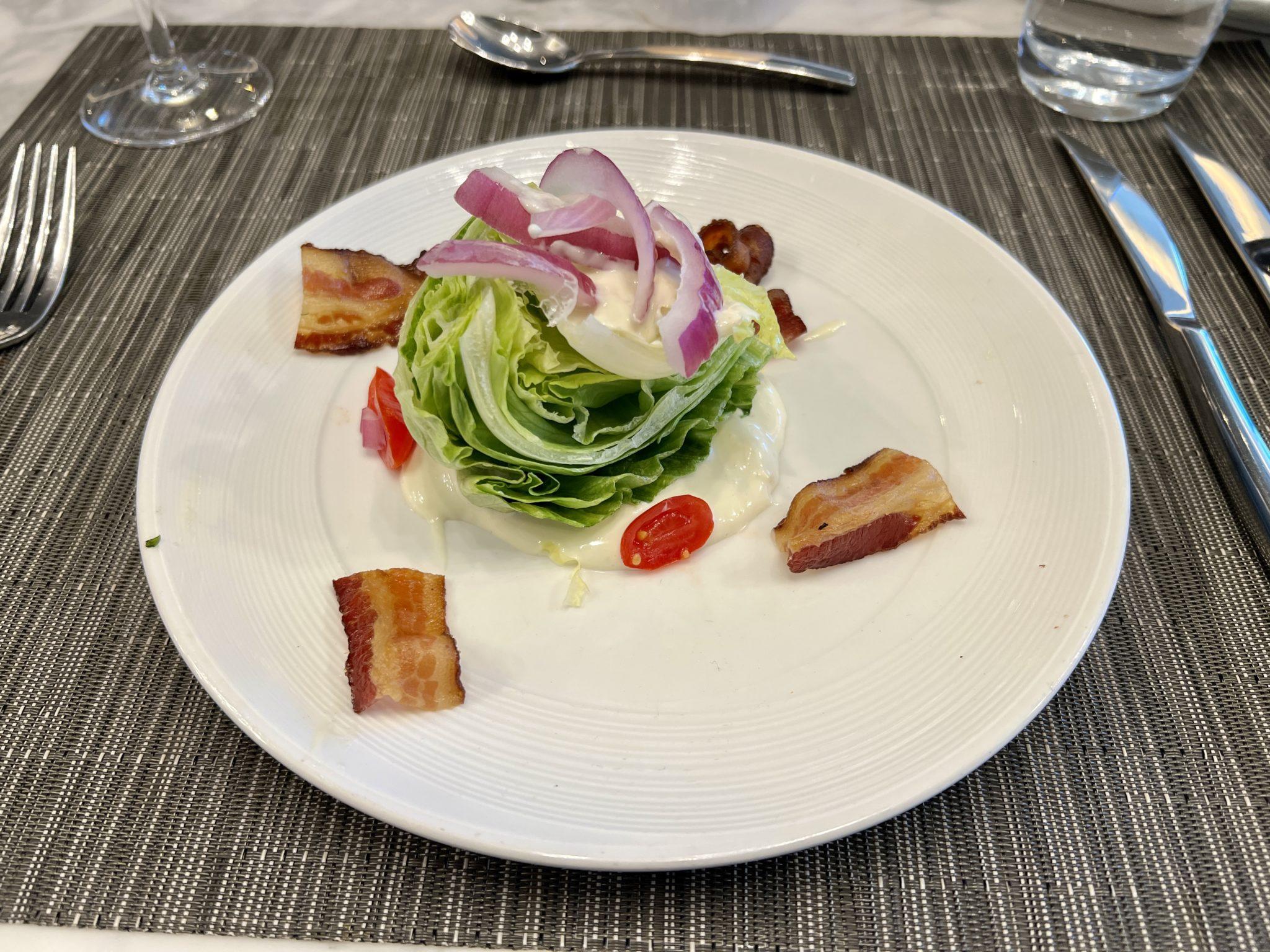 The pan-seared rainbow trout with wild rice pilaf, however, was flawless. It was perfectly cooked, topped with a simple but elegant garnish, and drizzled with a tangy lemon caper butter sauce that really tied the whole dish together. I'd much rather eat this than the subpar food United serves on its long-haul international flights.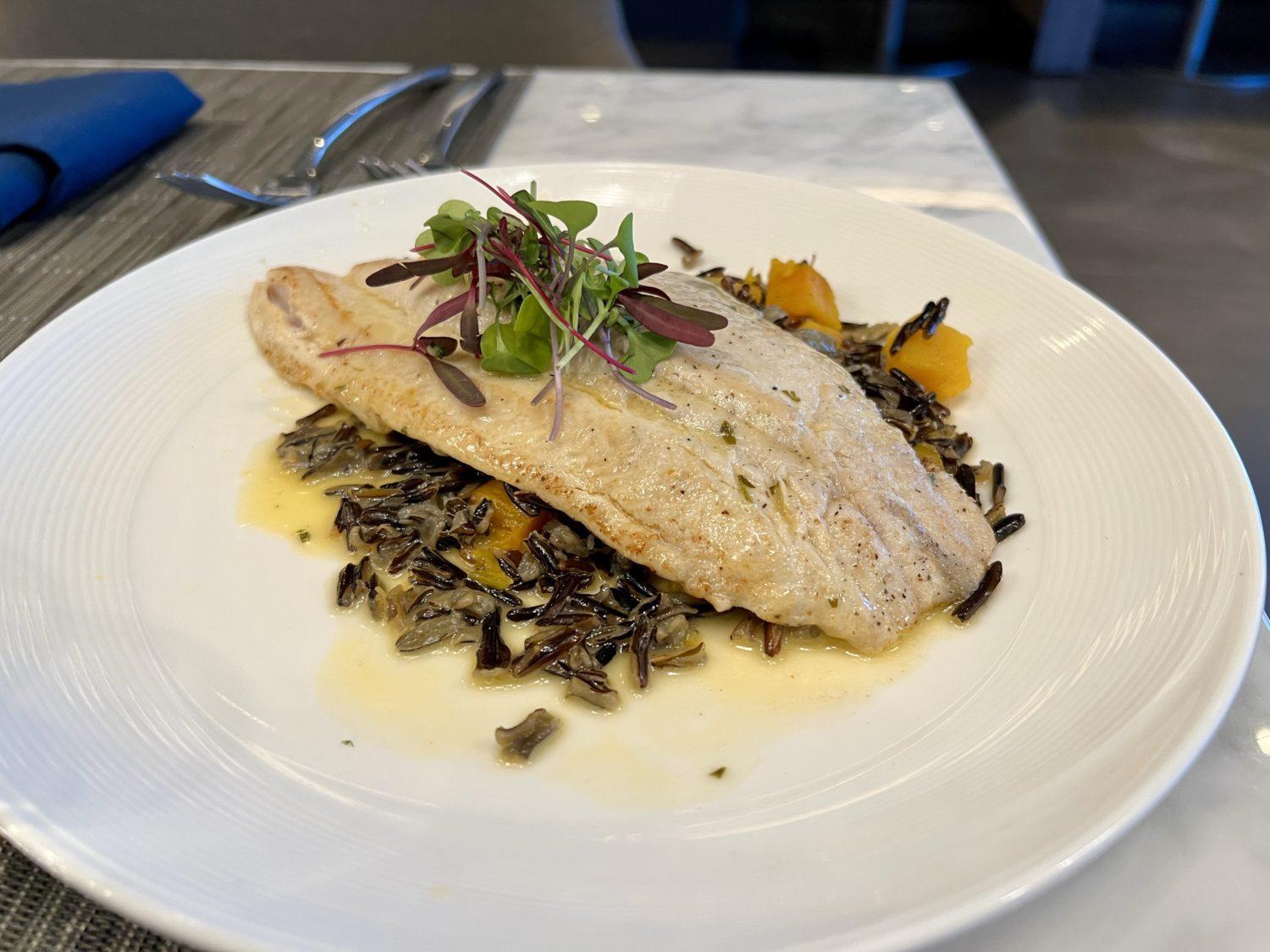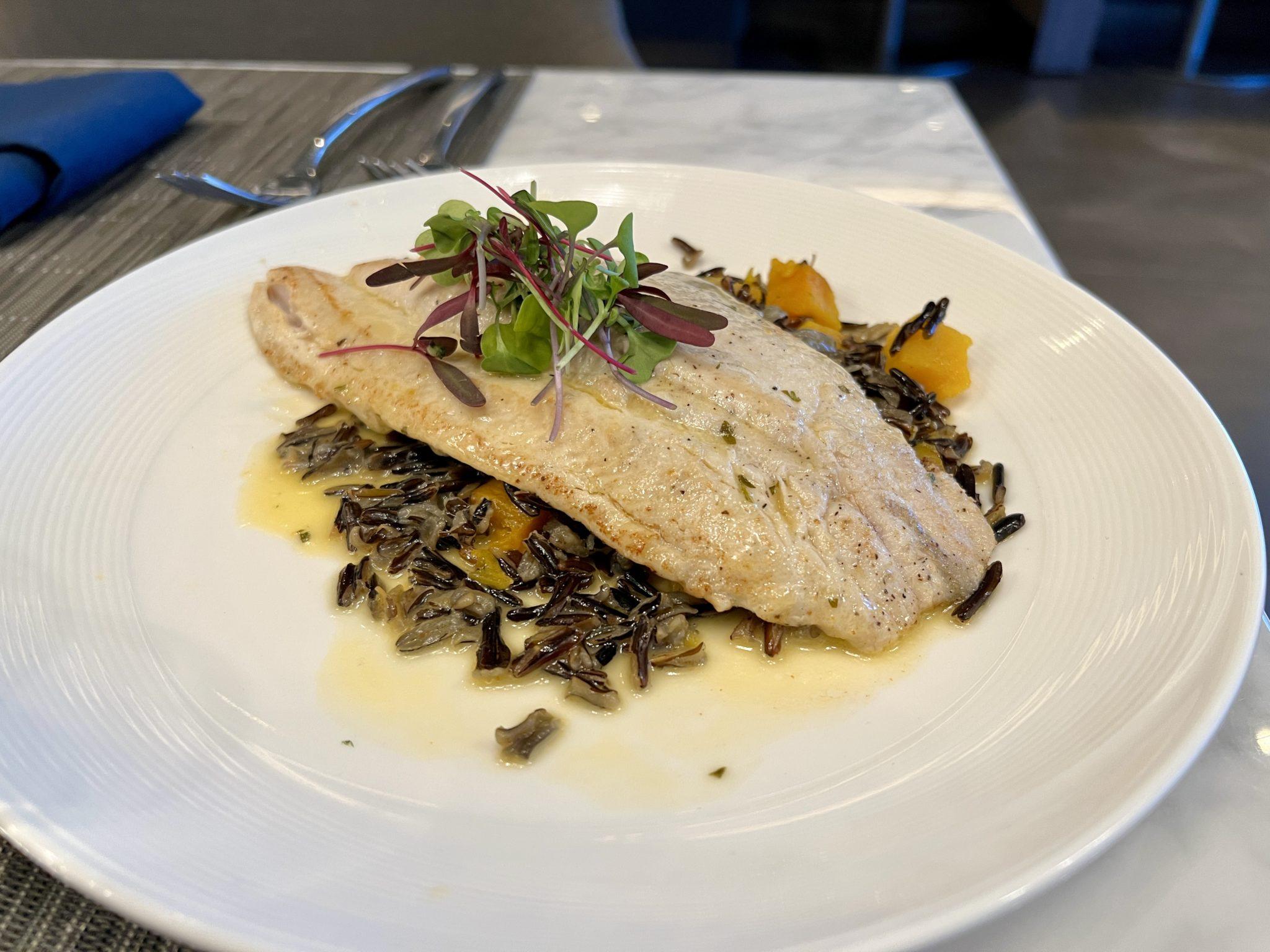 It took a few minutes to get a dessert order in as the Dining Room filled up, but I eventually got a salted caramel budino – think custard. It was light but delicious, topped with whipped cream and chocolate cookie crumble.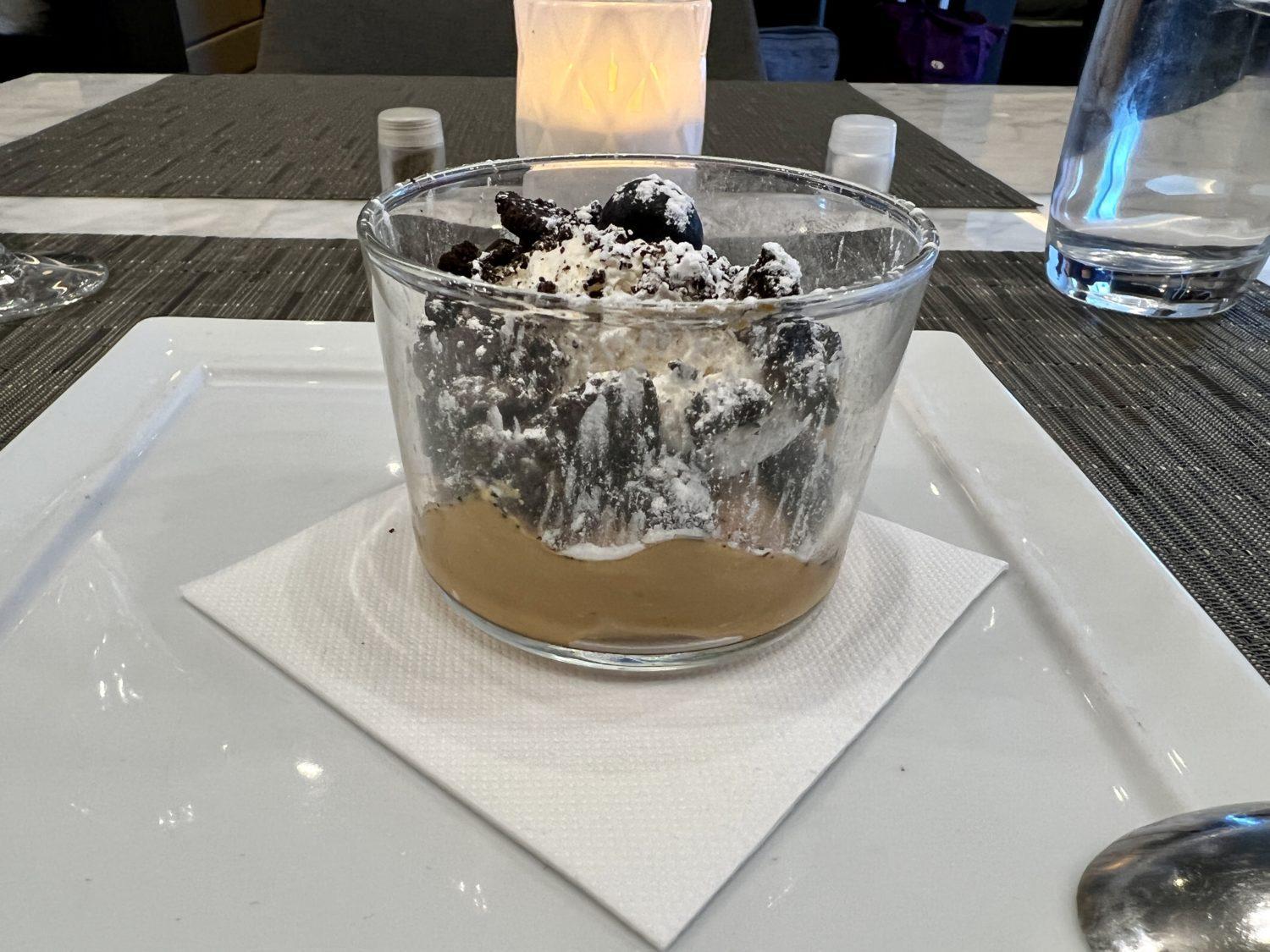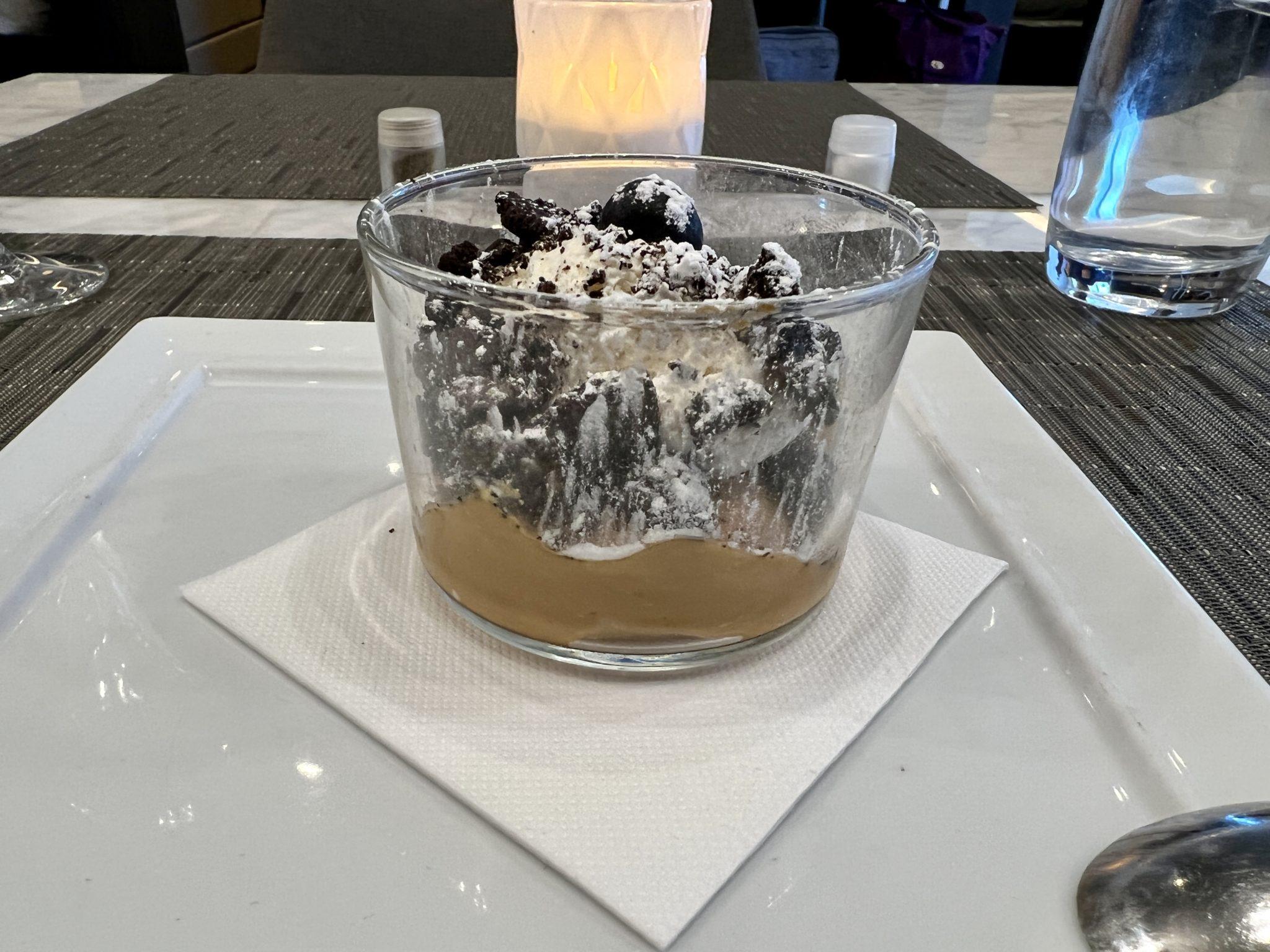 If you're just looking for a drink, there's a beautiful bar at the center of the lounge, which offers alcoholic drinks as well as barista-made coffee beverages. I love the look of these bars with the underlighting and black leather stools. But I just wish the bar had a dedicated cocktail and wine menu. The fact that they don't is puzzling.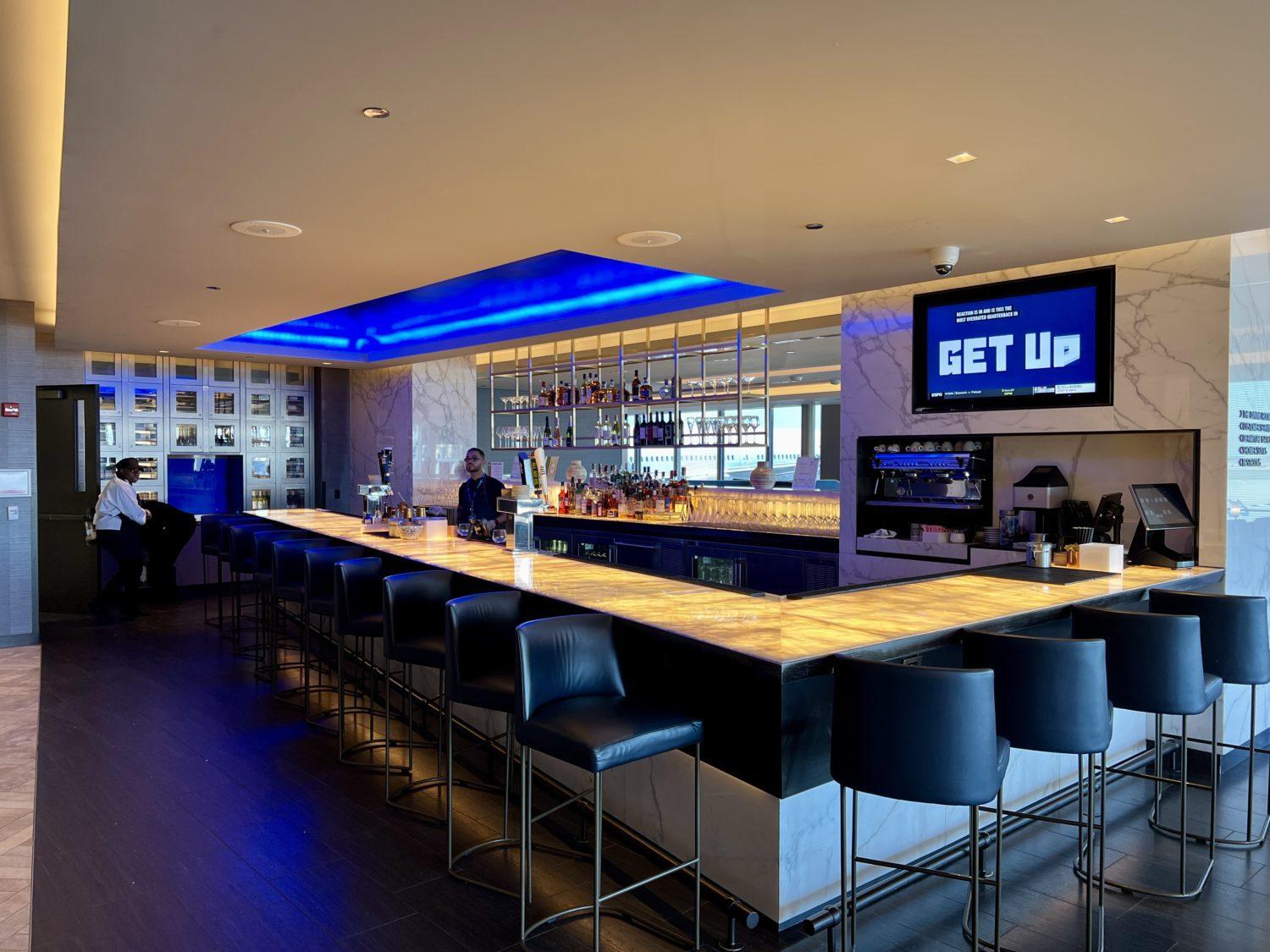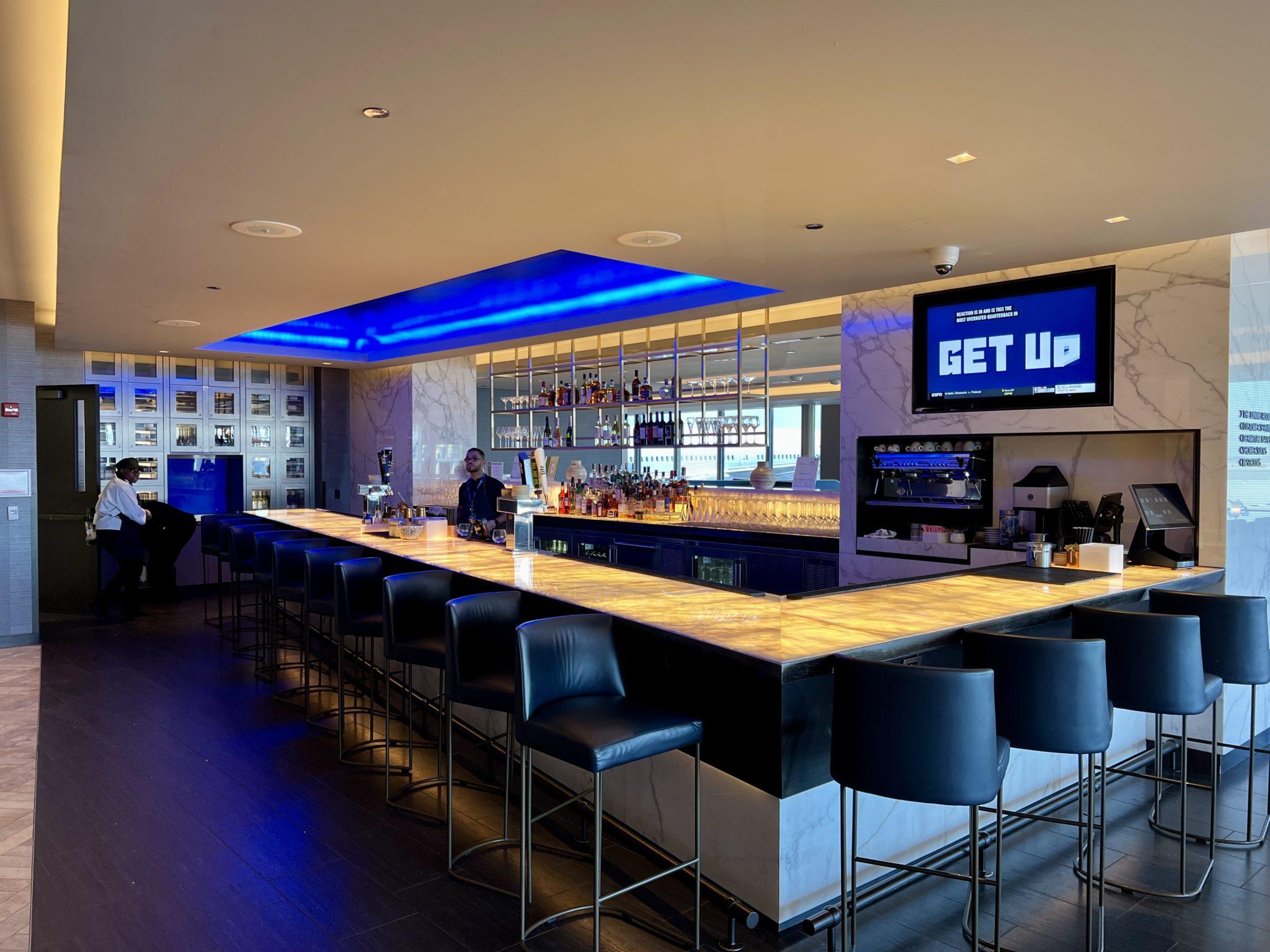 If you want something softer, you can find two dedicated beverage stations on either end of the lounge. One near the entrance has coolers full of soft drinks, water, and drip coffee…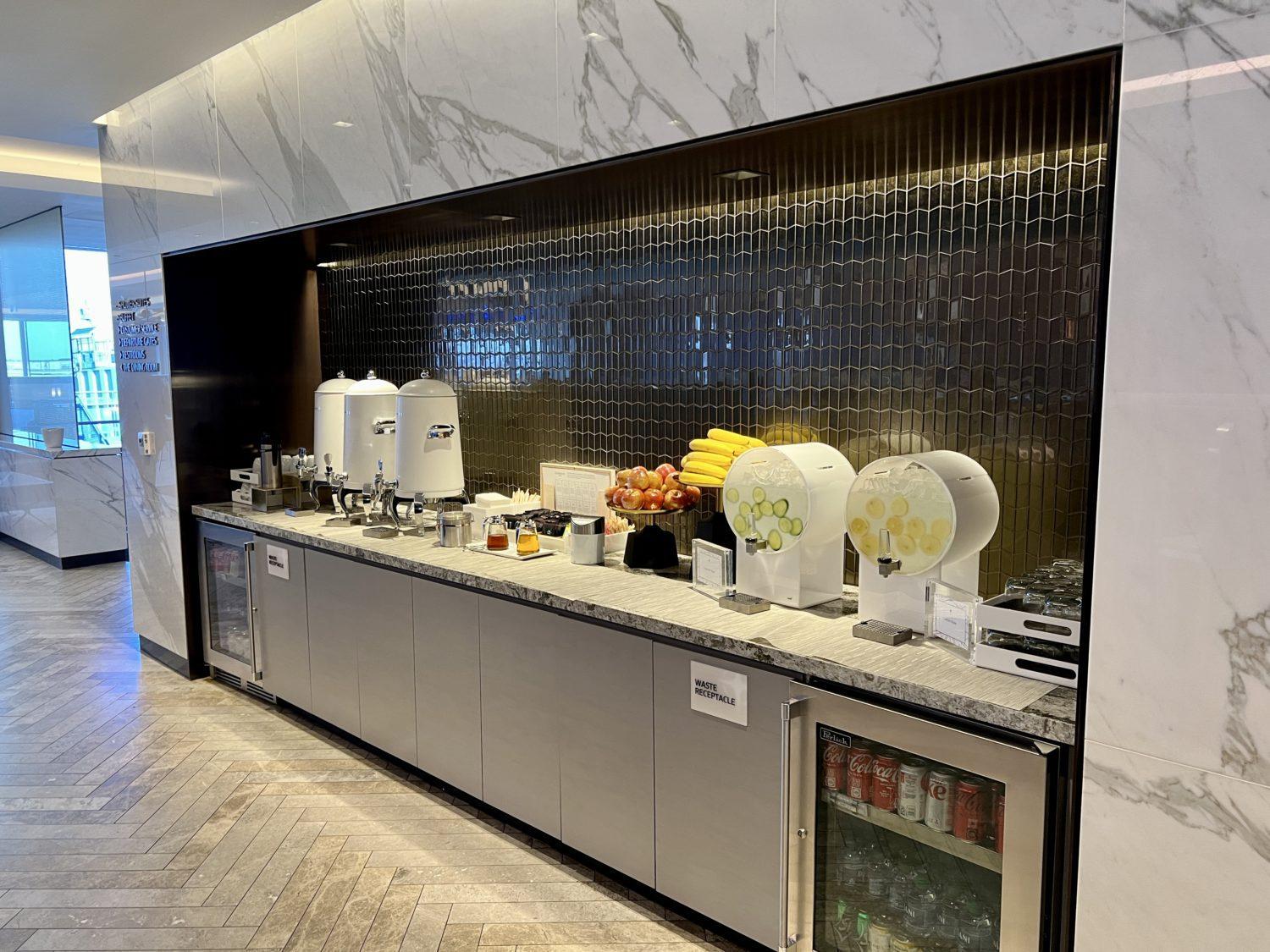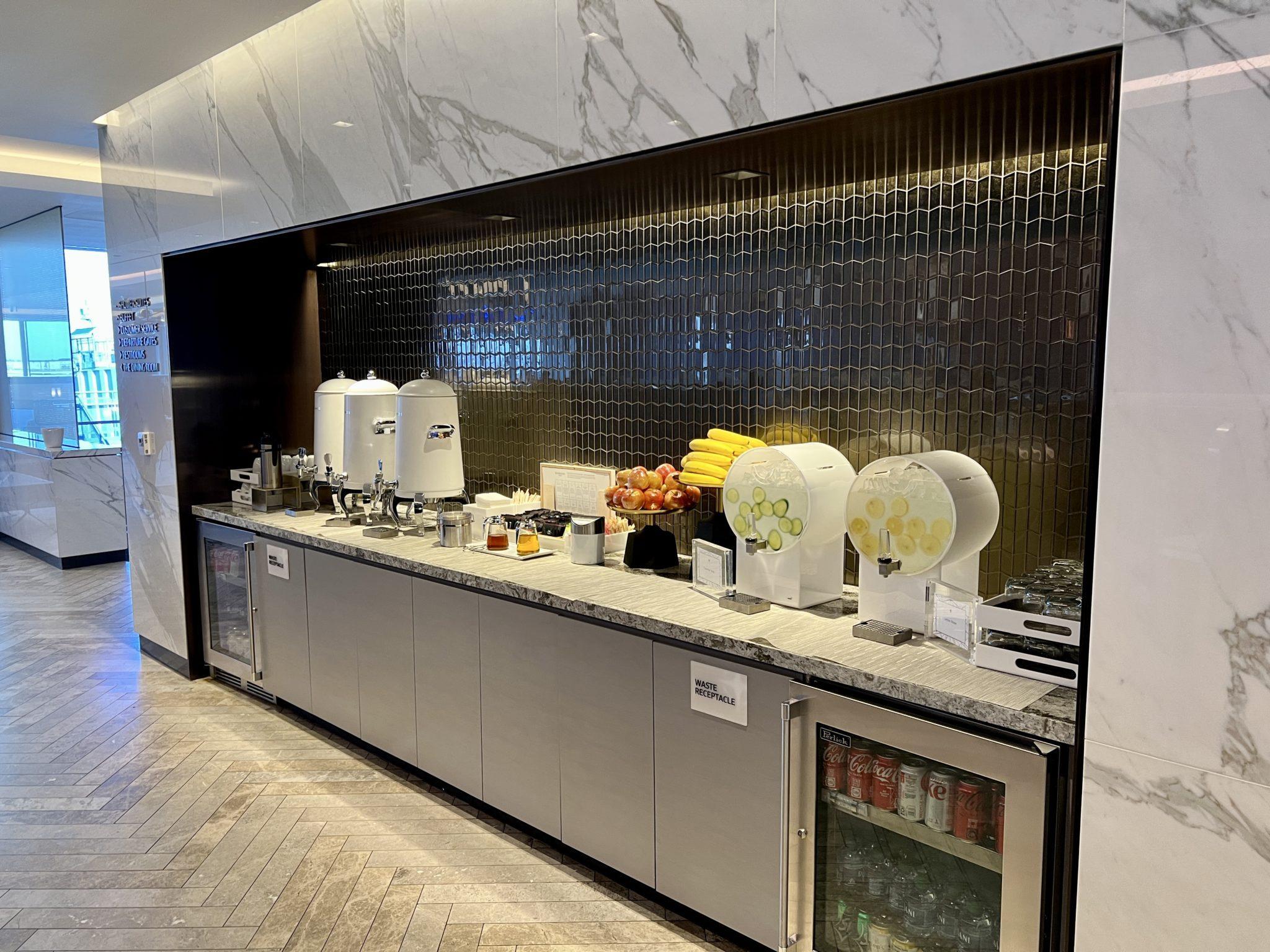 …while the second drink station near the back of the lounge has Illy espresso machines, if you want a cappucino or Americano with just a few taps, as well as some other beverages.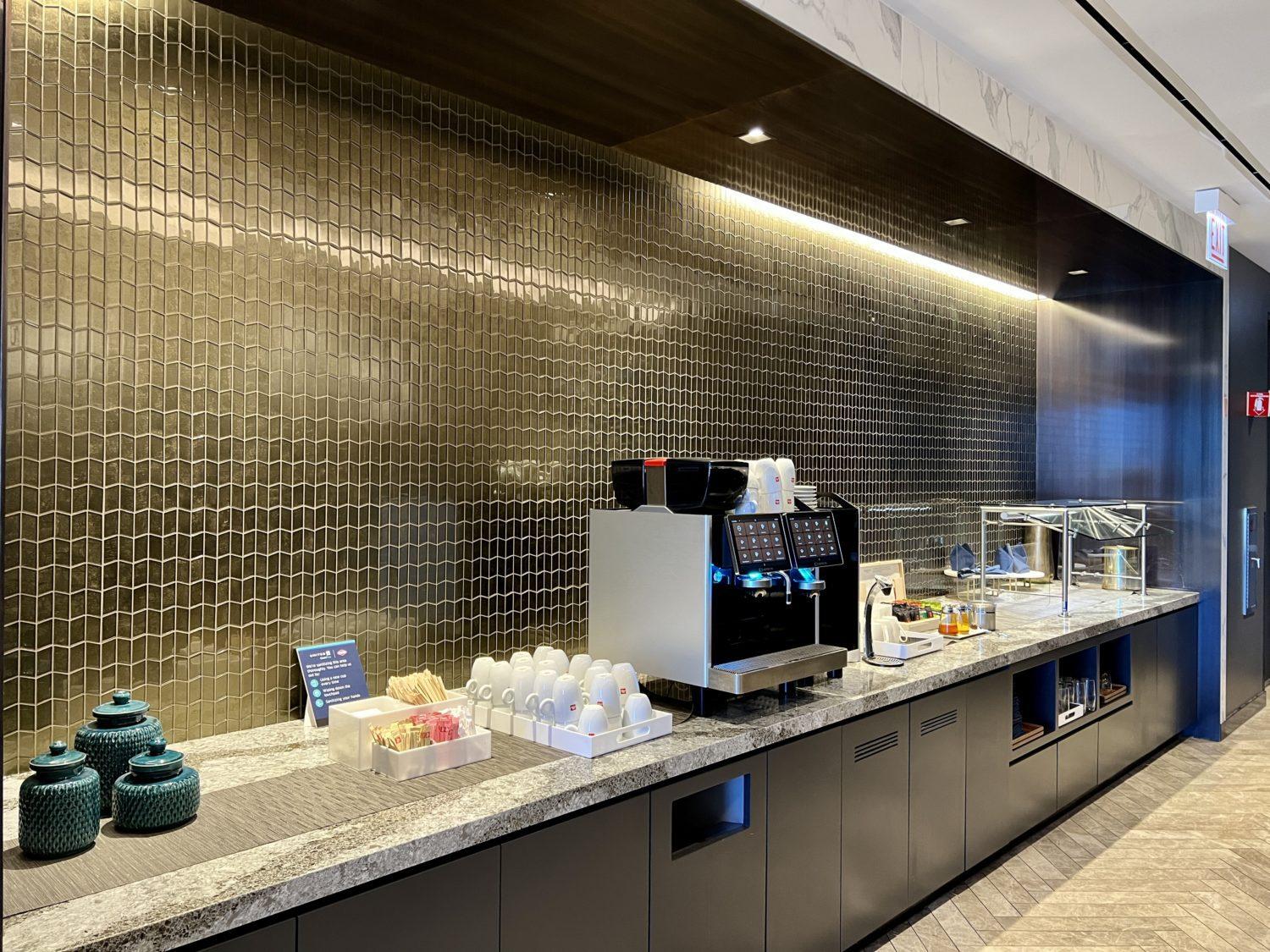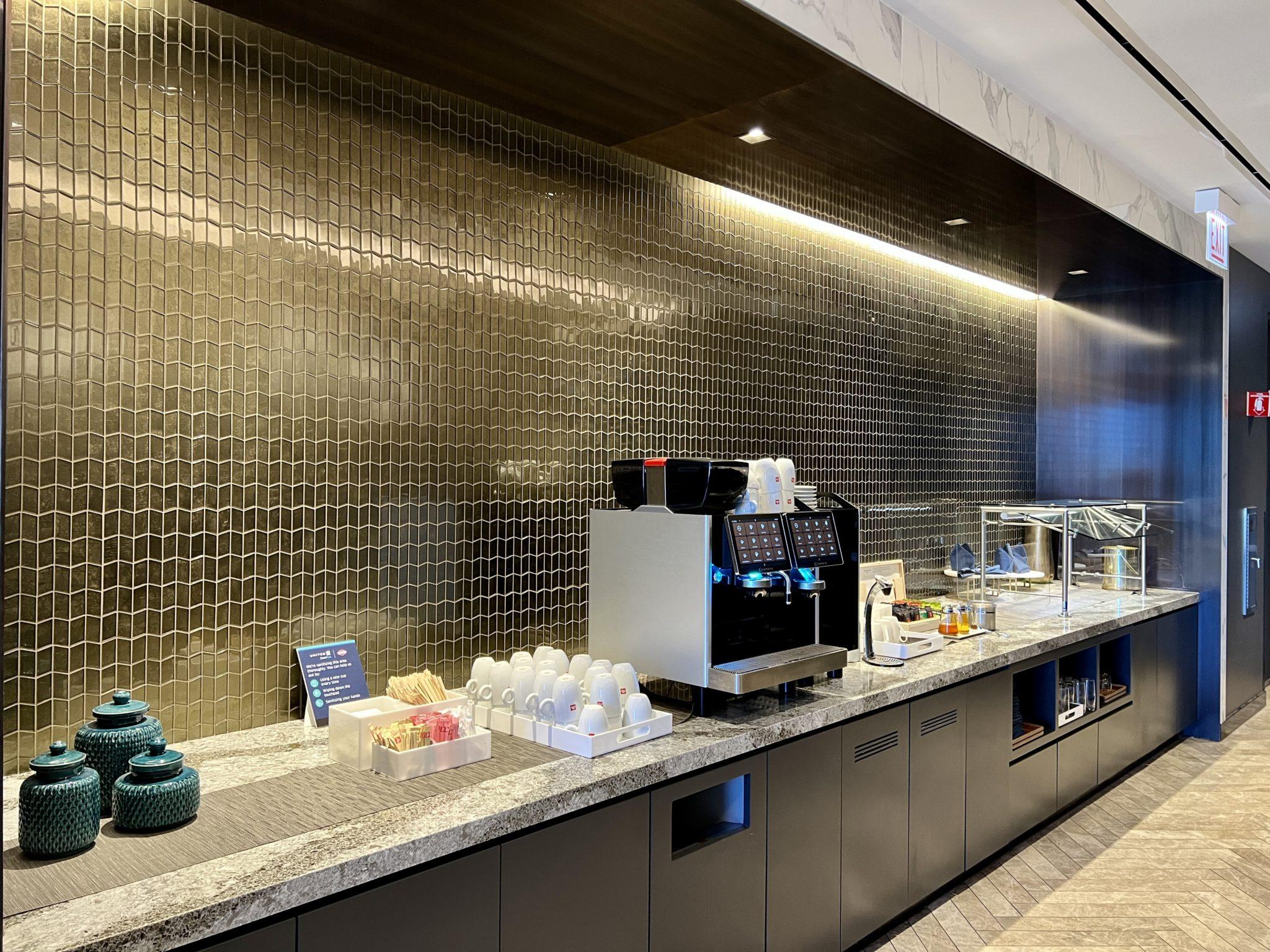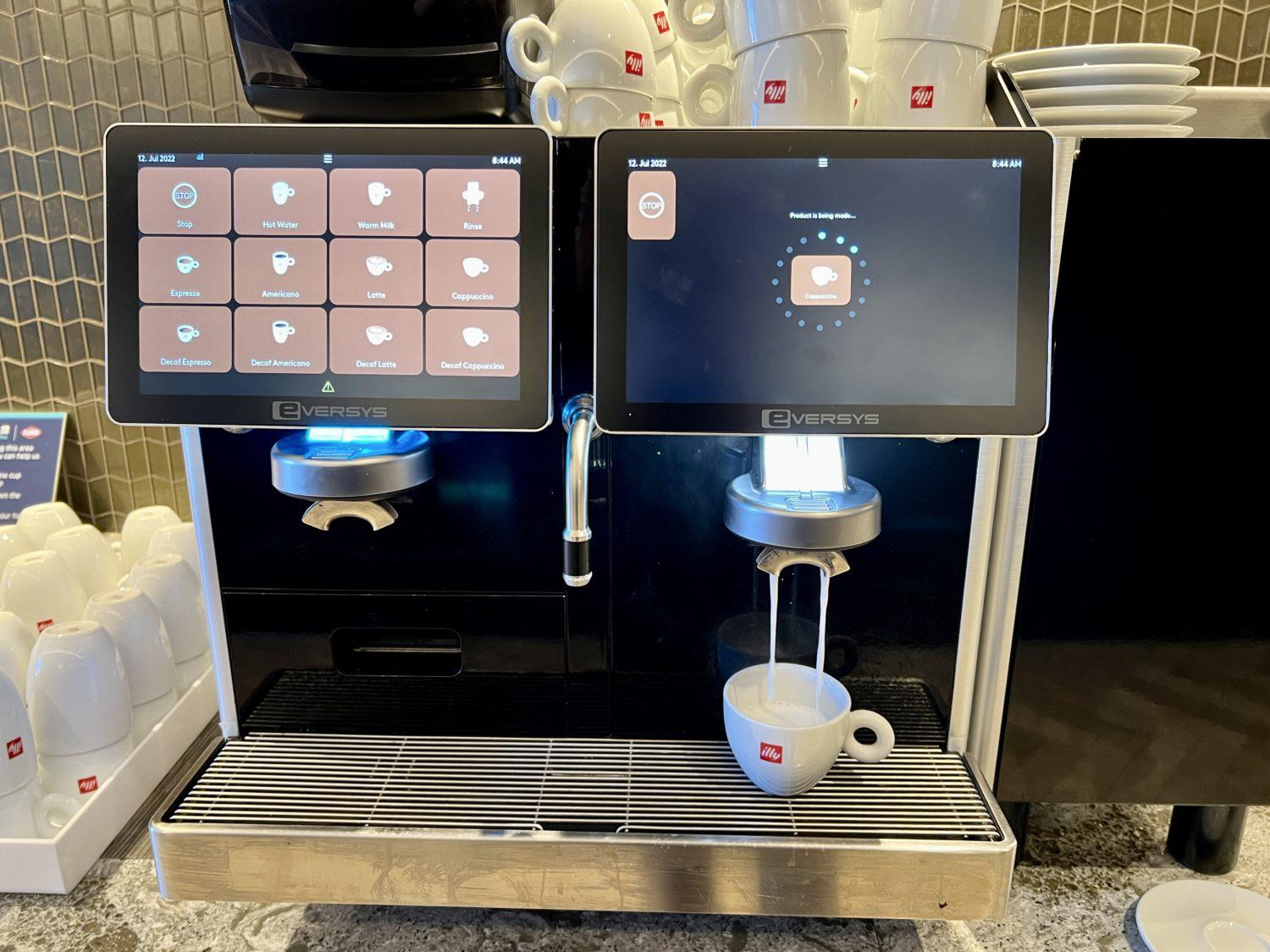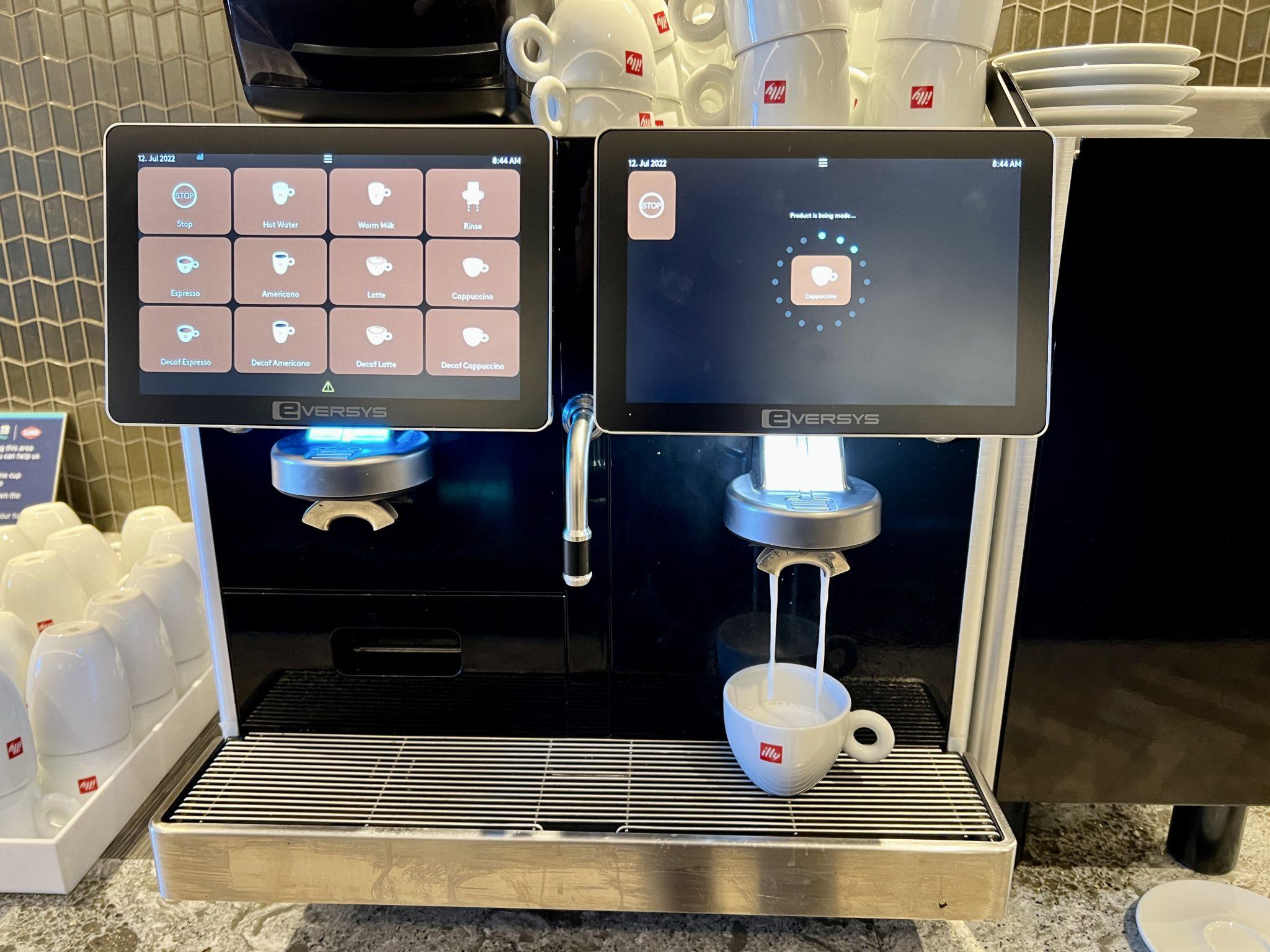 Extra Amenities
Like all Polaris Lounges around the country, the Polaris Lounge in Chicago has a few standout amenities you can count on.
For starters, if you're looking to freshen up before or after a flight, you're in luck: This lounge has some of the nicest shower suites you'll find in an airport, bar none. No matter what amenity you're looking for, head through the buffet and dining room and straight into the amenity check-in area. Everything here is first come, first served – there's no way to reserve a shower in advance.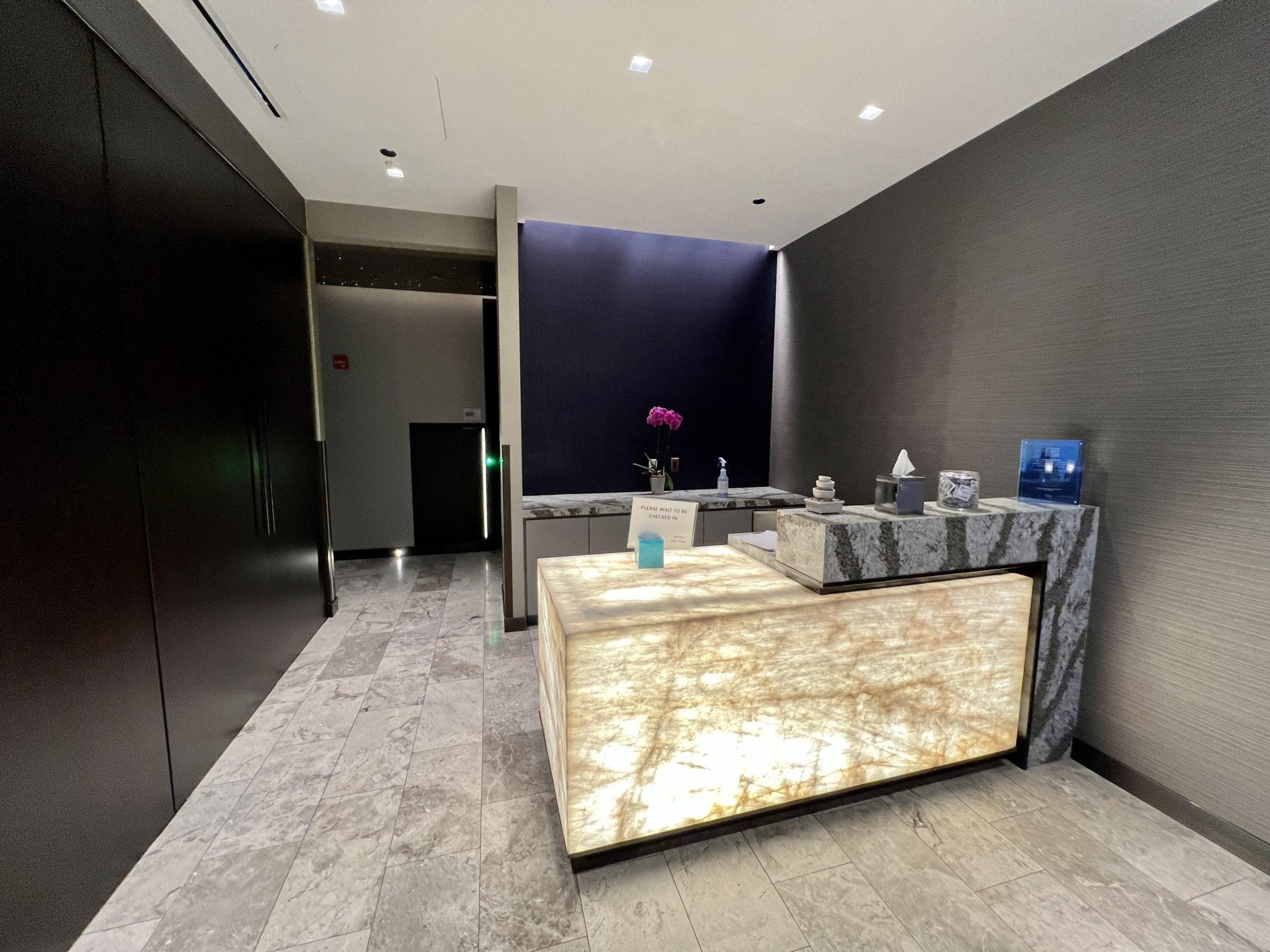 After a brief wait and then a quick scan of my boarding pass, I was quickly escorted back to one of seven shower suites. And they are truly excellent.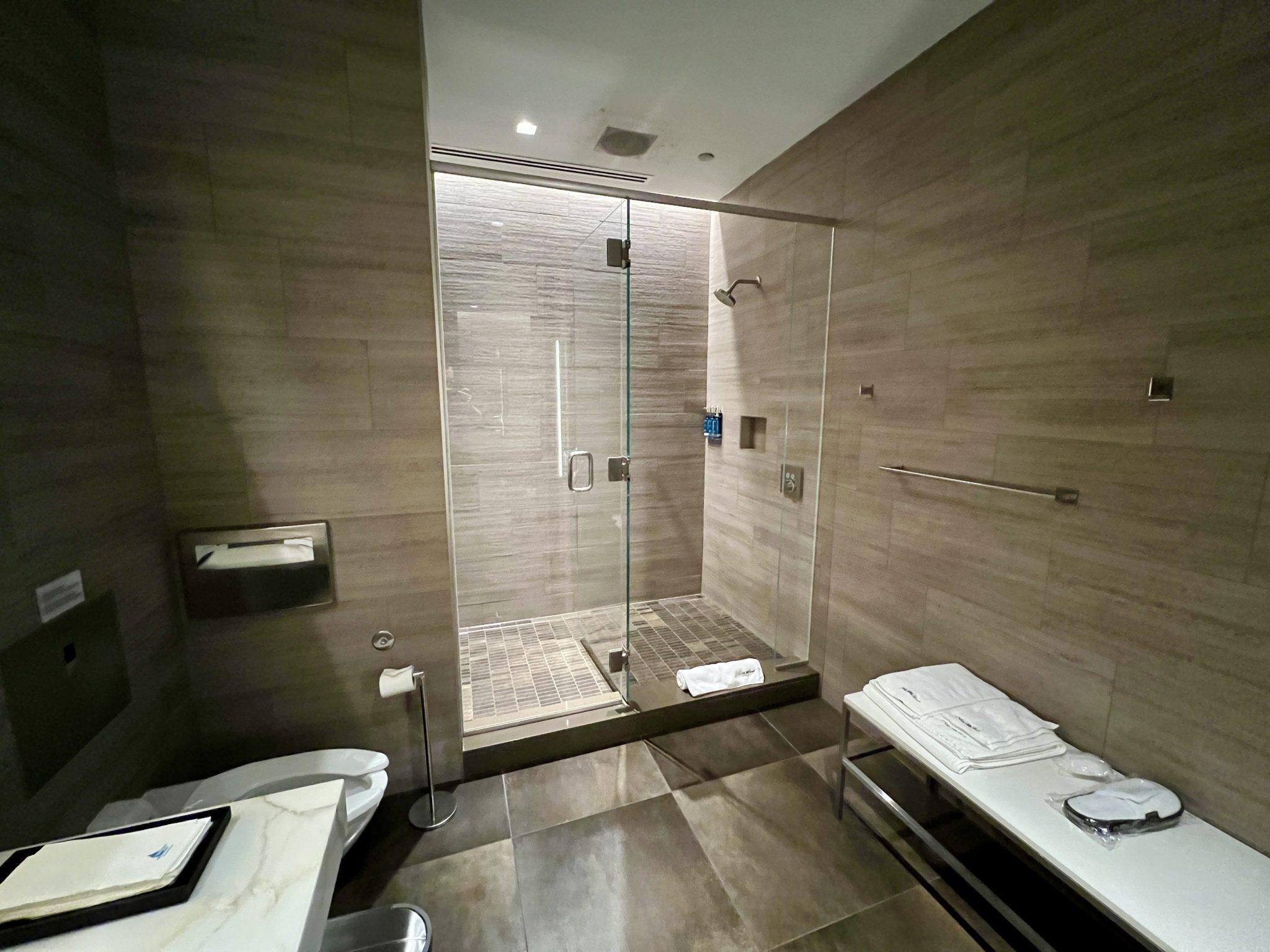 For starters, these suites are massive, with more than enough space for a bench to lay out your luggage and get changed … heck, you can even walk around. Many shower suites inside airport lounges can feel quite cramped, but that's not the case here. The shower itself is huge, too, with both a wall-mounted showerhead and a rainfall setting, too.
Most importantly, the water pressure was excellent. You could see some of the ceiling paint clearly peeling, but otherwise these shower suites were in perfect shape.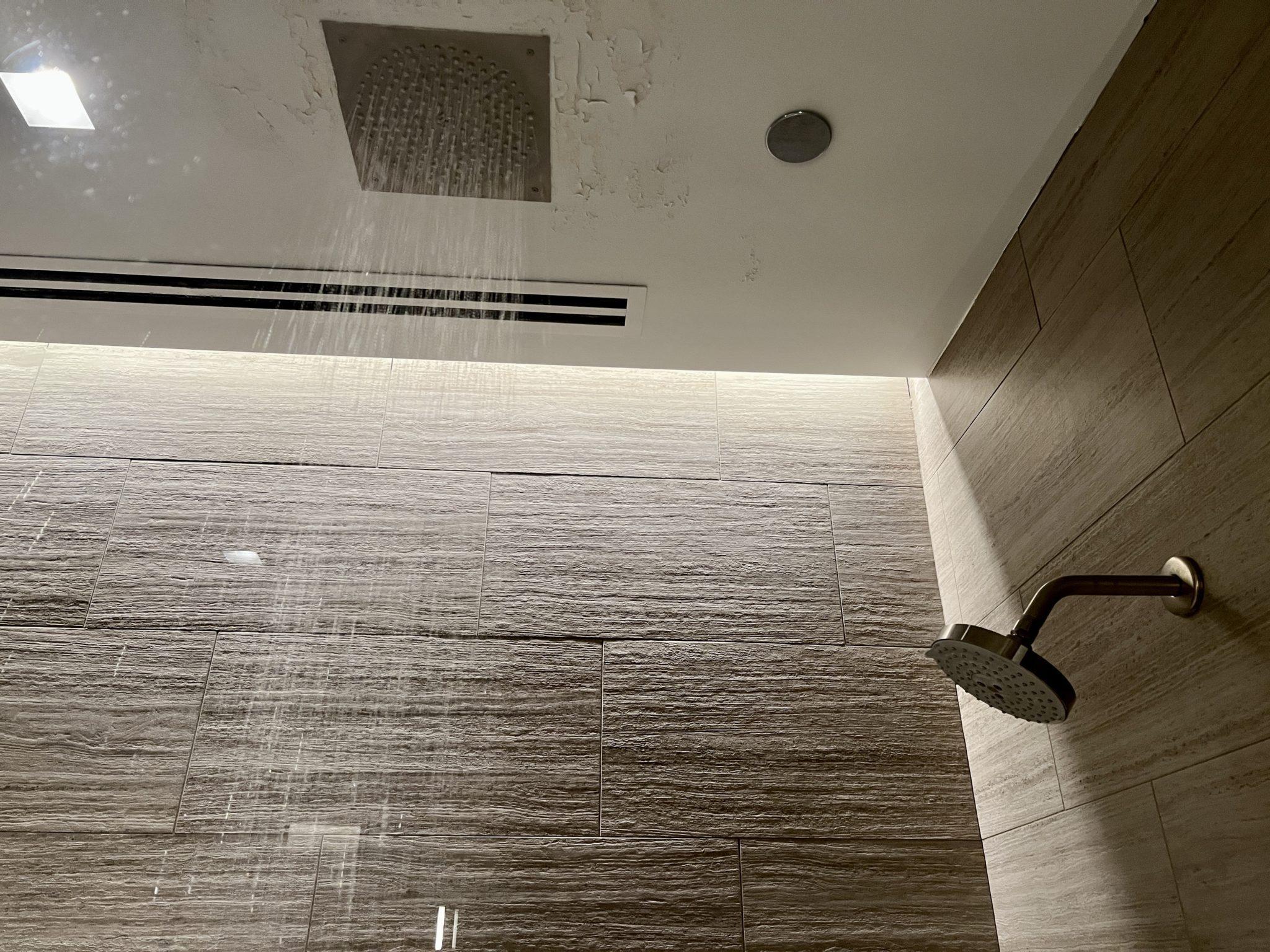 Just like the bathrooms, each shower suite was stocked with wall-mounted Sunday Riley toiletries, with some additional goodies available upon request.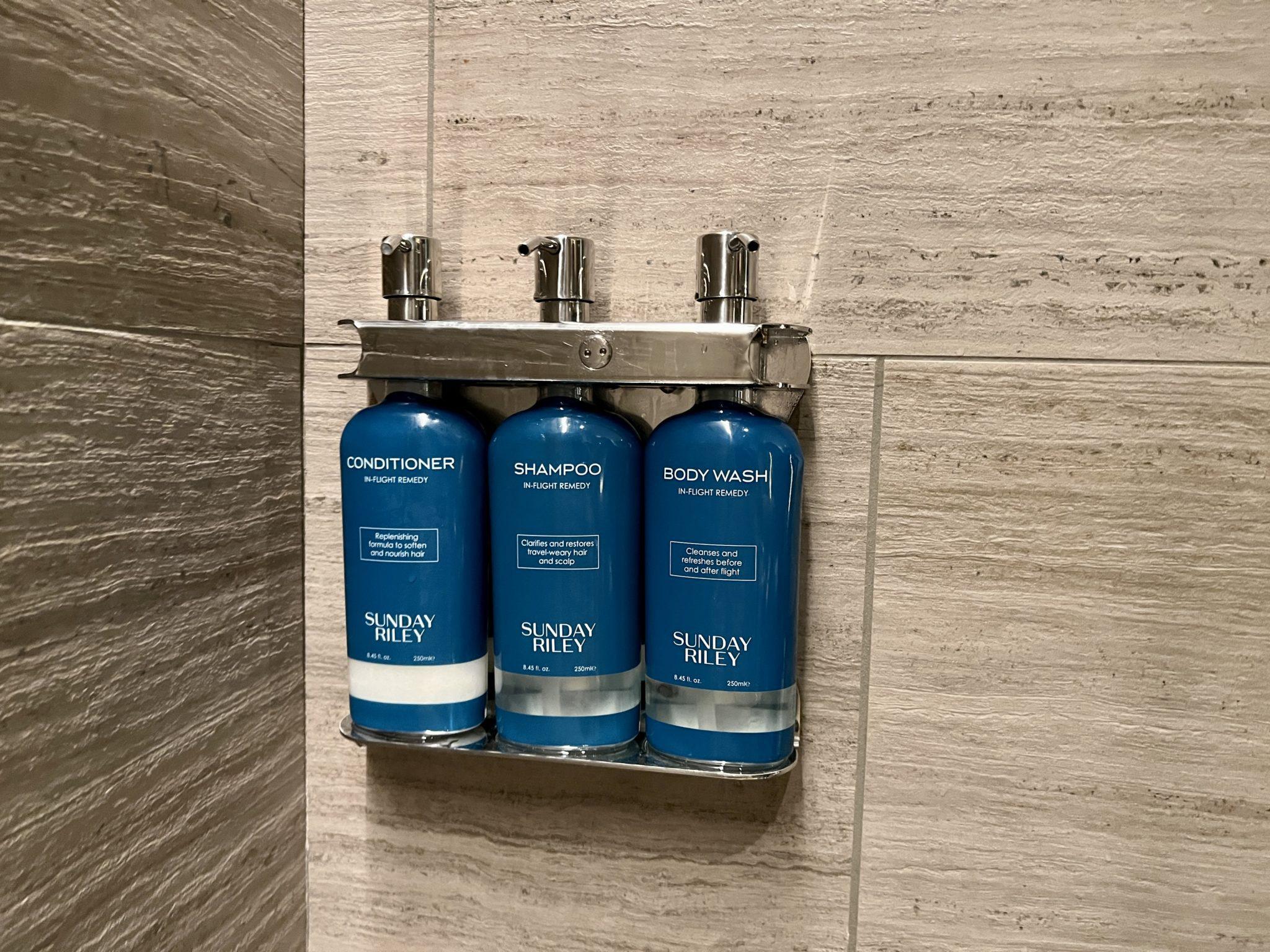 Beyond the shower itself, there are plenty of fluffy, Saks Fifth Avenue-branded towels ready for you, along with an excellent pair of slippers.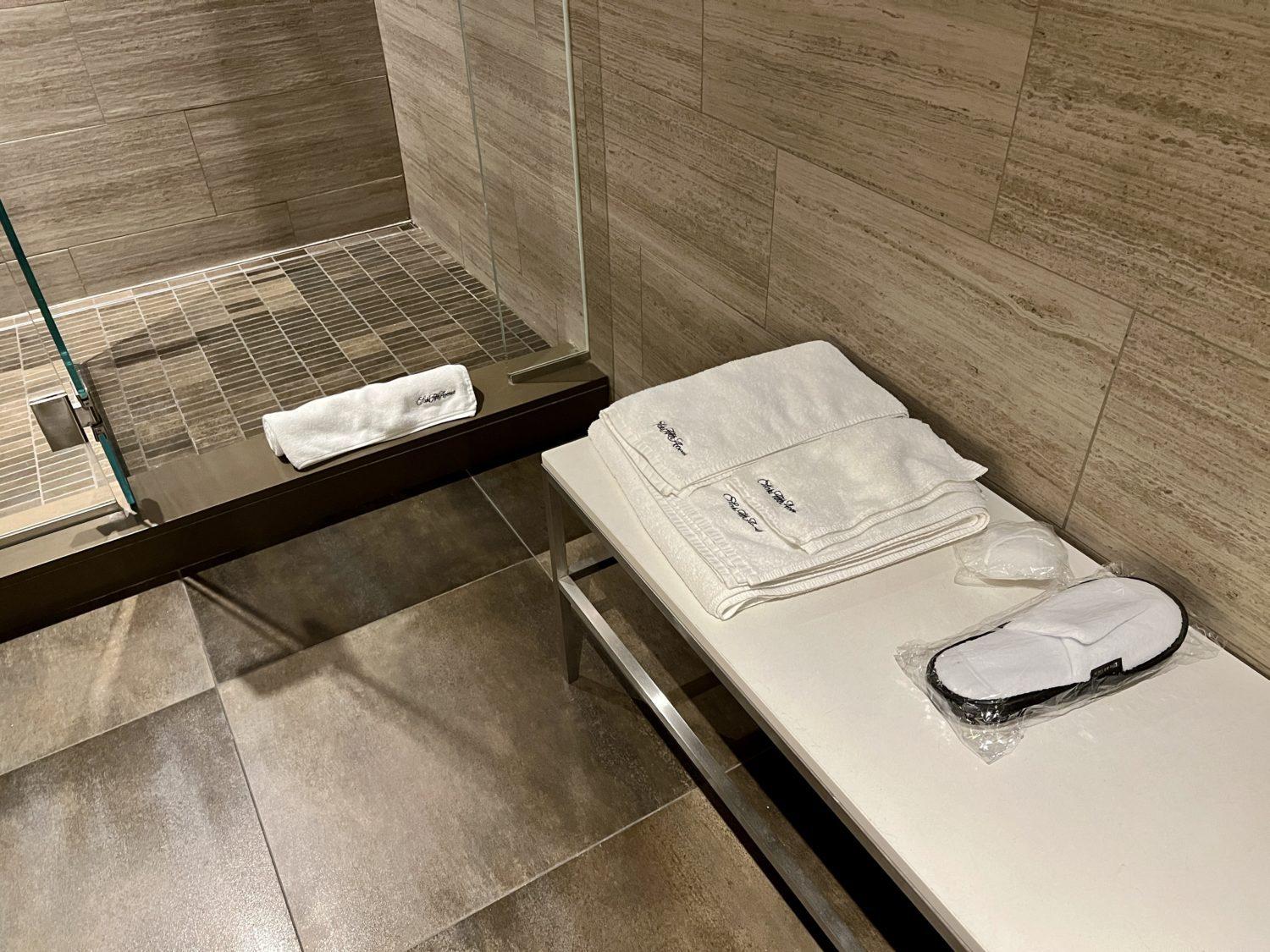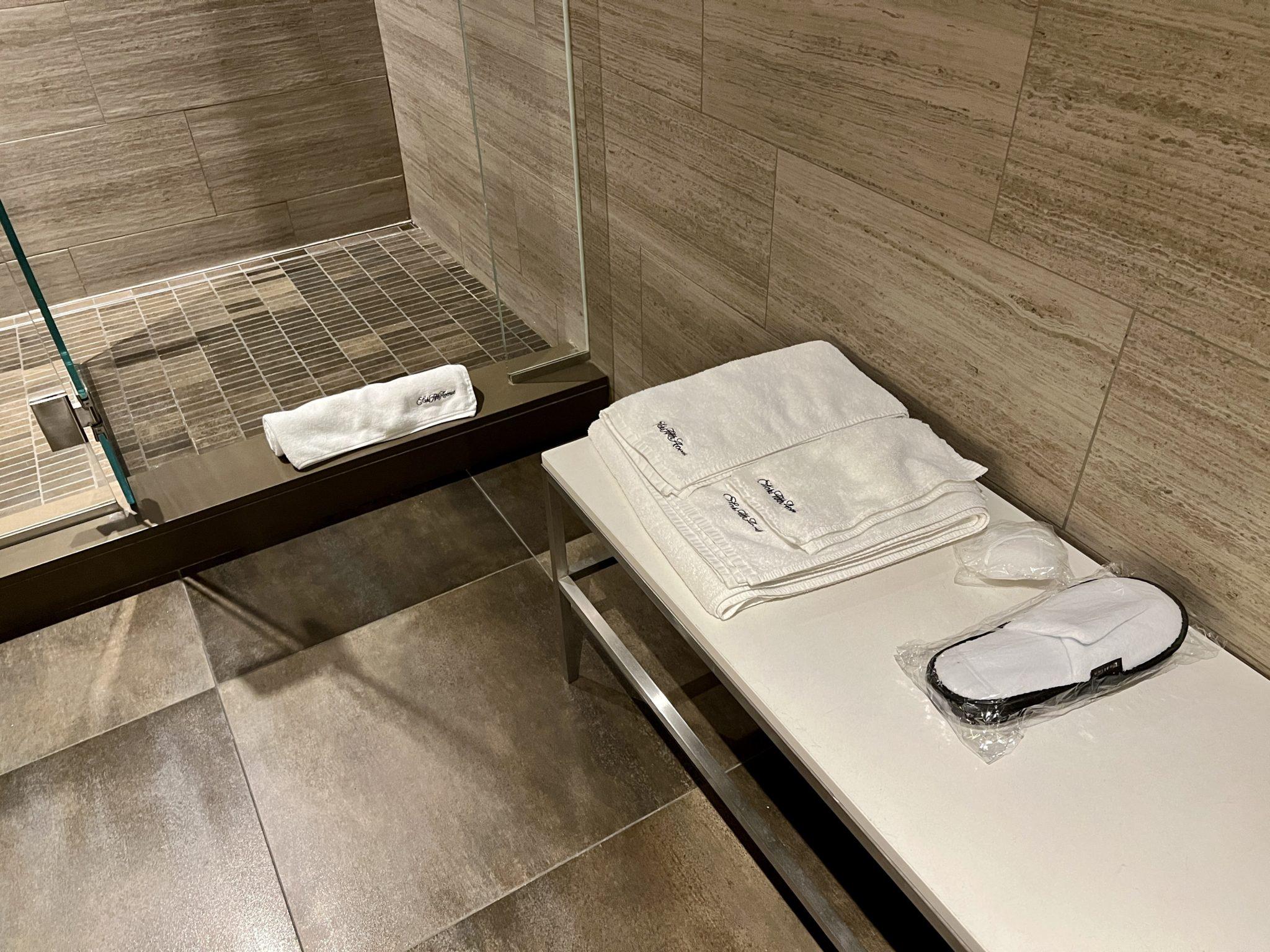 When it's time to get ready after freshening up, there's a sizable vanity with mirrors as well as a blowdryer available. And there's also a toilet inside each suite.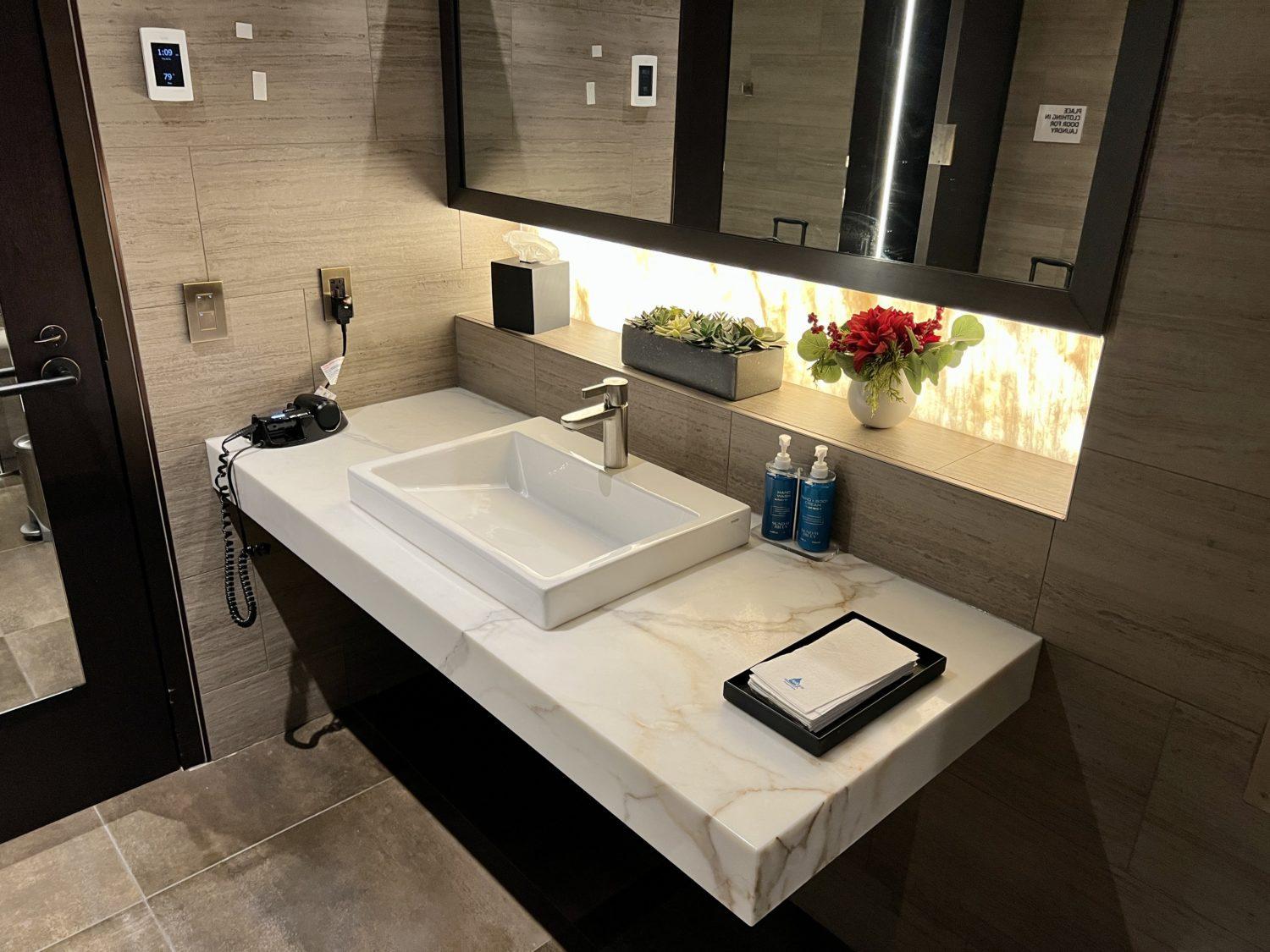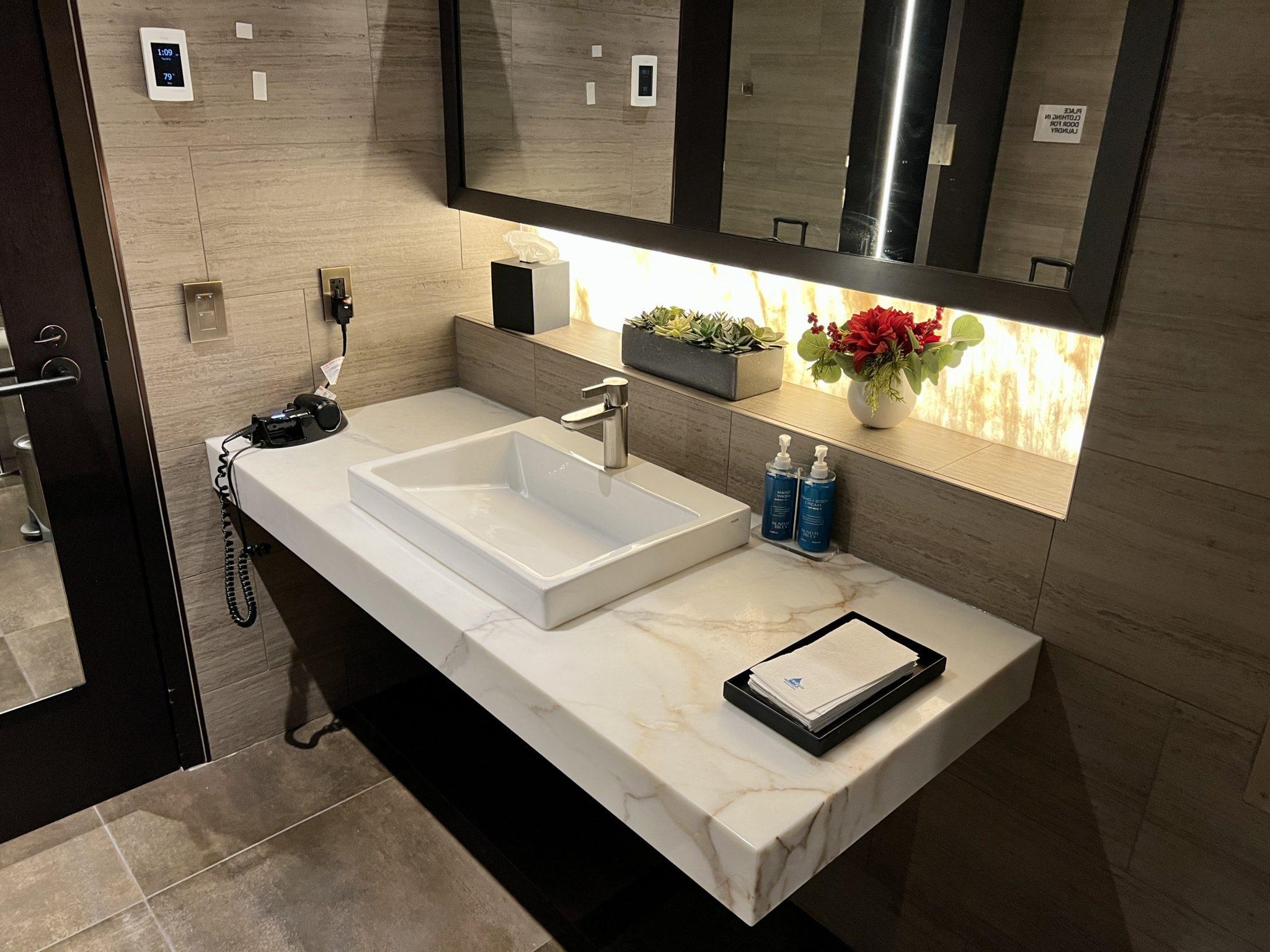 There are also individual day beds available upon request in this amenity wing of the United Polaris Lounge Chicago if you want to rest a bit, though I didn't have enough time on this visit. They're very similar to the day beds at the United Polaris Lounge Newark: Not quite a bed, but a nice, quiet spot to relax for a bit.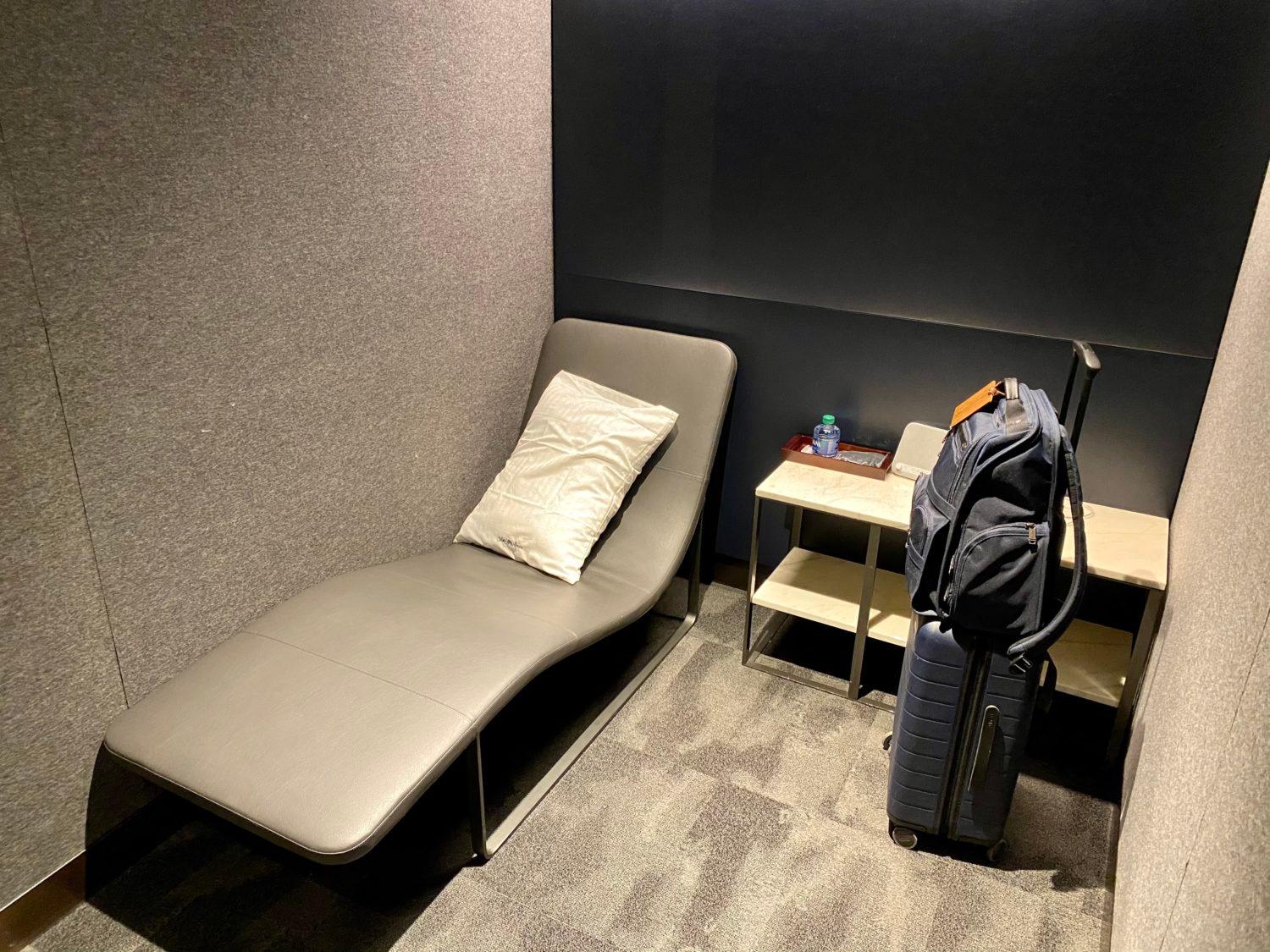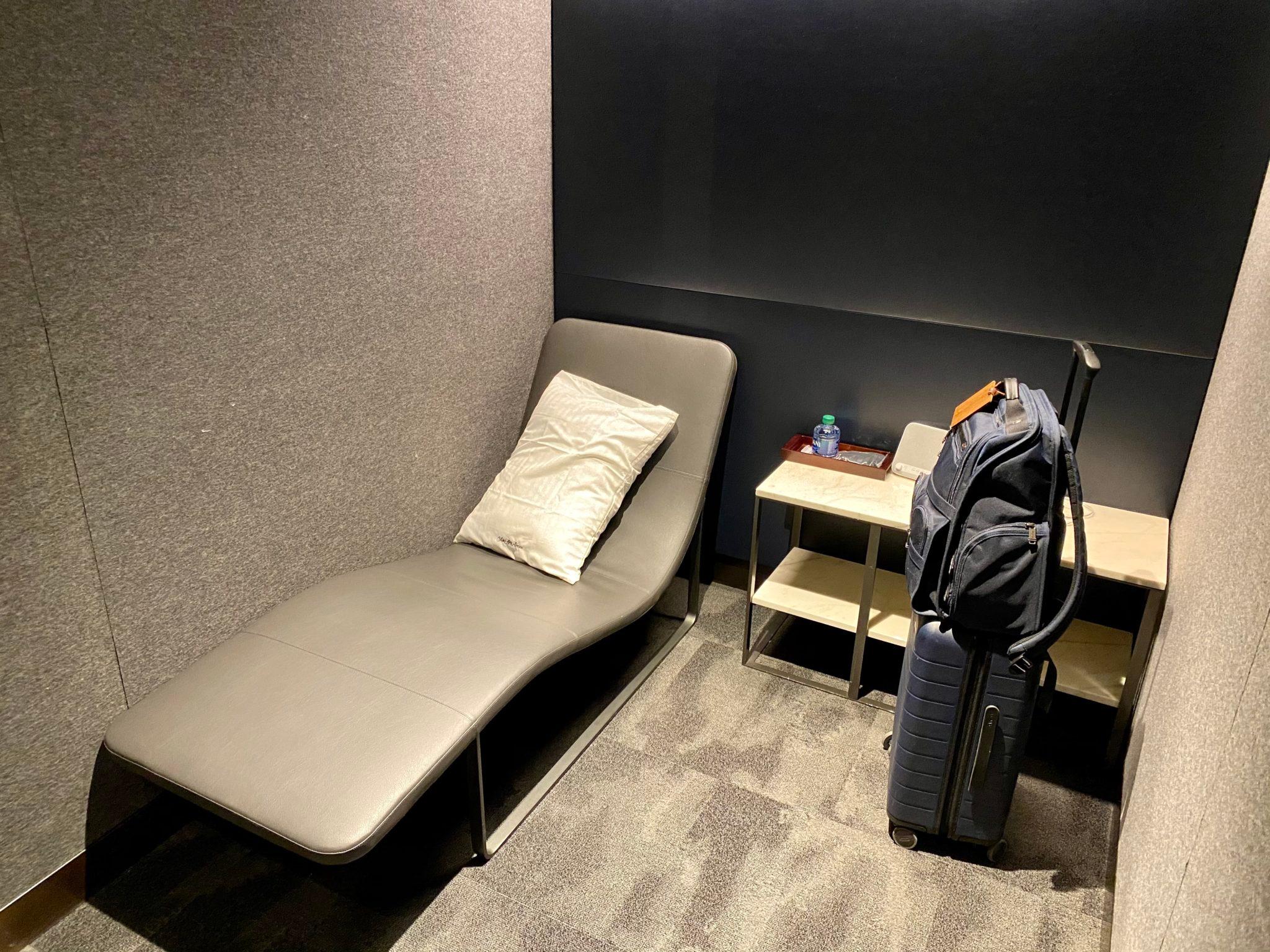 Bottom Line
Bigger is almost always better when it comes to airport lounges. And if the United Polaris Lounge Chicago were bigger, it would certainly be better – much better.
Despite strict access rules and how difficult it is for most business class flyers who aren't flying United to get here, this lounge is getting packed by mid-day as international travel demand has picked up. From the dedicated Dining Room to the excellent shower suites to the lush seating throughout, this is a lovely space.
Just don't count on getting much of it to yourself anytime soon.