There's first class, and then there is Emirates First Class. And once you experience flying up front with Emirates, it's hard to go back to anything else.
Emirates is known across the world for it's luxuriously blinged-out First Class cabins on the massive Airbus A380, complete with a bar and even a shower onboard. It's truly one of the best ways to fly, earning its spot on many travelers' bucket lists.
Add in the exceptional service and it truly made for a memorable flight on my first time flying with the airline. It's something you must experience for yourself. And the best part? You can book the incredible Emirates First Class suites with Alaska Airlines miles.
Read our full review of the 16-hour flight from Los Angeles (LAX) to Dubai (DXB) from earlier this year.

Booking Emirates First Class
First things first: you need to find award availability to fly in Emirates' A380 first class – the only plane in their fleet that has an onboard shower and a bar. Luckily, that's not an impossible task, as Emirates flies these massive planes to many U.S. cities – at least during normal times. Once travel returns from the COVID- 19 pandemic, the routes Emirates flies to the U.S. on the A380 may look very different.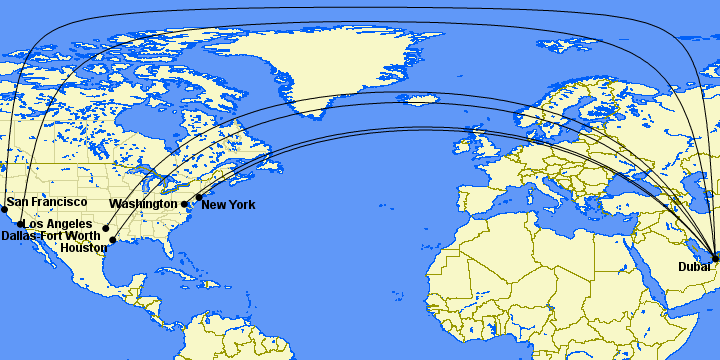 Use AlaskaAir.com to search for award availability on any of the routes above.
Once you find award space, there are a few ways to book Emirates first class – including using Emirates' own Skywards Miles or even Japan Airlines Mileage Bank. For years, using Alaska Airlines Mileage Plan has been the most cost-effective option. But that has changed.
Booking with Emirates' Skywards miles was a hard no thanks to $800 or more in fees in first class award tickets. But in May 2020, Emirates drastically reduced these fees. And that makes it the best option to book these first class seats by far. 
Now, you can book Emirates First Class Flights starting at roughly 135,000 miles and just $160 or so in fees.


But the real beauty of booking with Emirates Skywards is how easy they are to earn. You can transfer points to Emirates from Chase, American Express, Capital One, and Citi.
But in my case, I booked with a stash of Alaska miles – which is no longer an option, sadly. After searching the Alaska Airlines website and finding Emirates award availability, I was able to book my flight for 150,000 Alaska Airlines miles and $19.50 of taxes and fees.


On the day I booked my flight, the cash price was almost $16,000 for the same one-way flight. Needless to say, I was pleased with this redemption of my Alaska Airlines miles.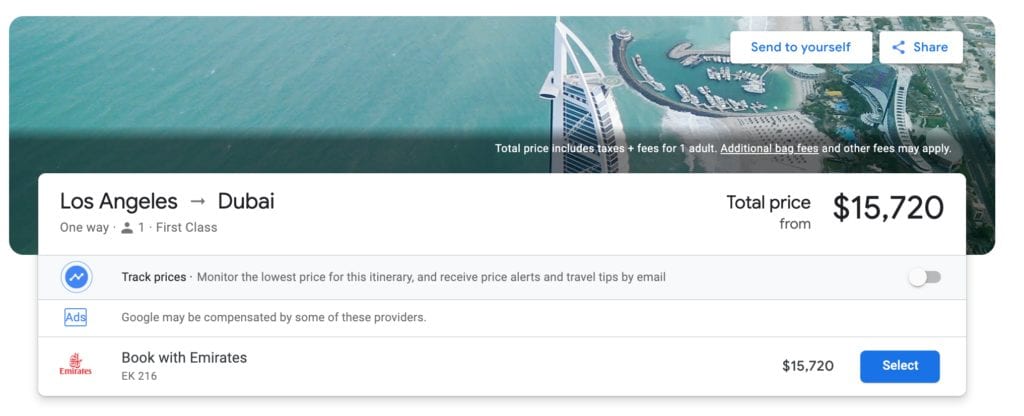 Emirates First Class Lounge at LAX
I took a positioning flight from my home airport of Minneapolis-St. Paul (MSP) to catch my Emirates first class flight from Los Angeles (LAX) to Dubai (DXB). After arriving at  LAX, I took a transfer from Terminal 2 to the Tom Bradley International Terminal (TBIT) – the terminal where Emirates departs.
Emirates operates a satellite lounge for both business and first-class passengers which is also located in TBIT. It is located on level six – two levels up from the main concourse. We had a fair amount of time to kill before boarding so we headed straight for the lounge.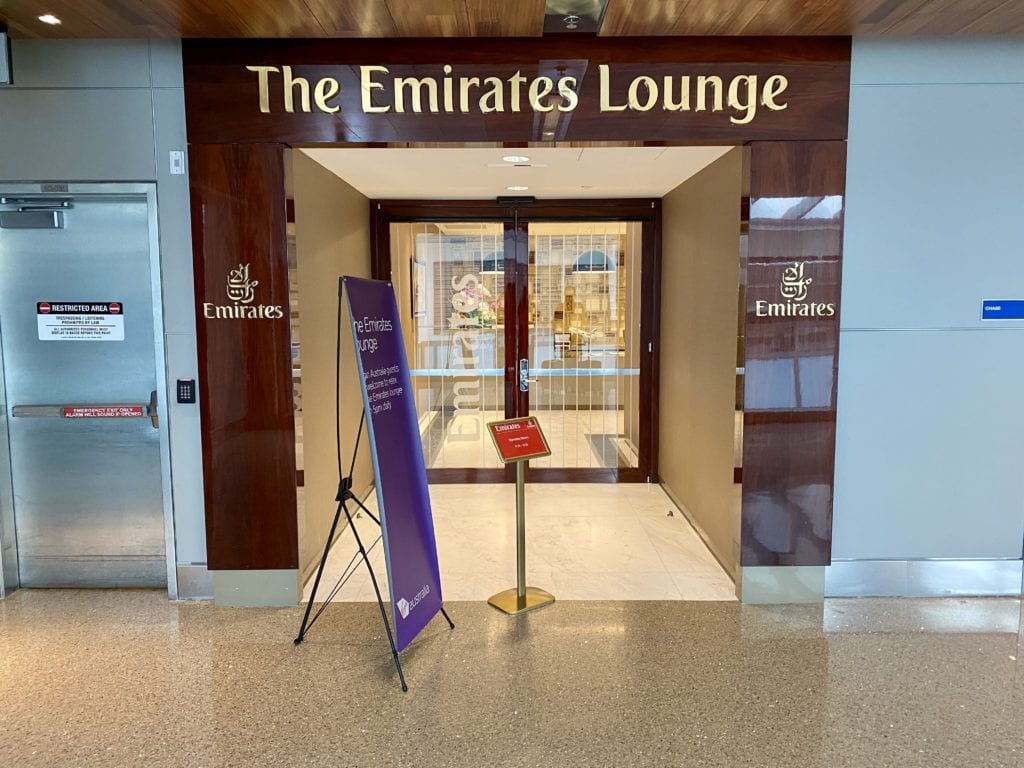 The lounge is nowhere near as nice as their lounges in the airline's home airport of Dubai (DXB) but it was certainly nice.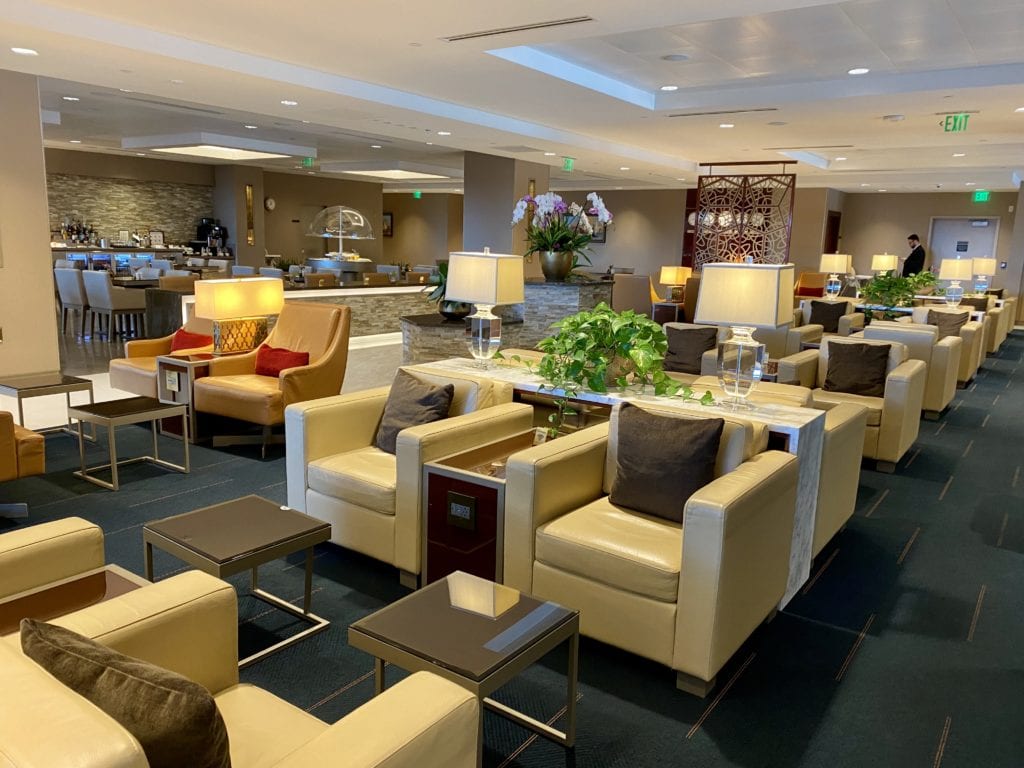 There was plenty of space to relax with an ample amount of plugins, a full dining room, solid food, and even a terrace that overlooked the TBIT which was very nice.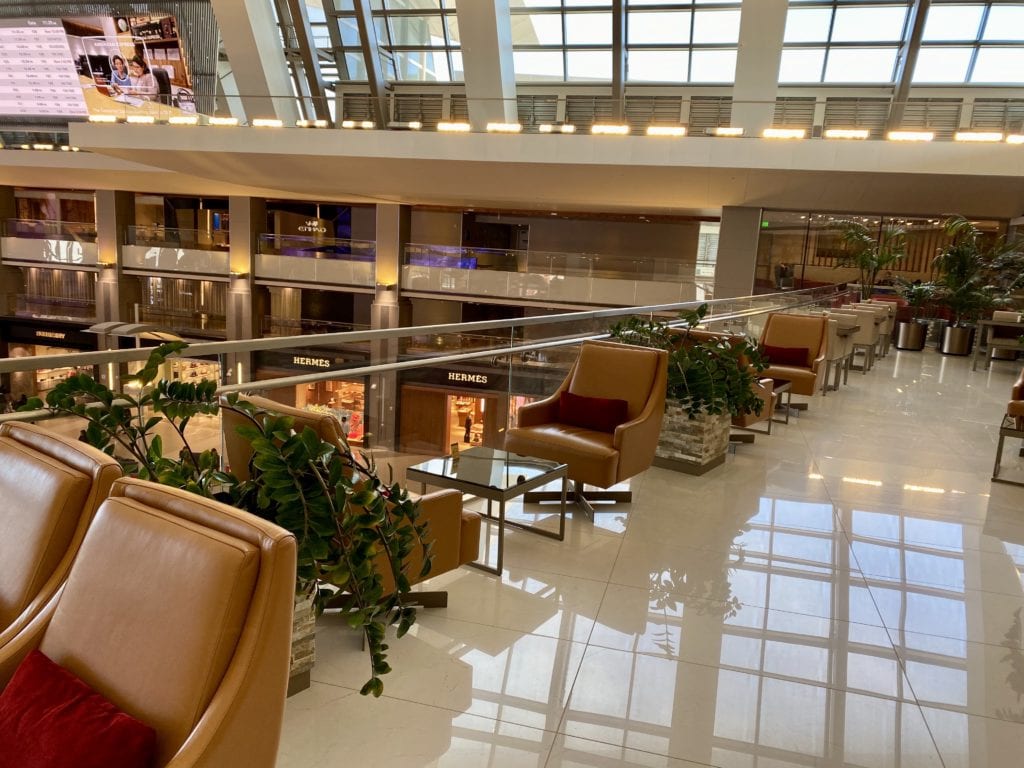 The lounge had an expansive food offering. There was a cold bar with fruit, juices, a few different salads – including the tuna nicoise salad pictured below.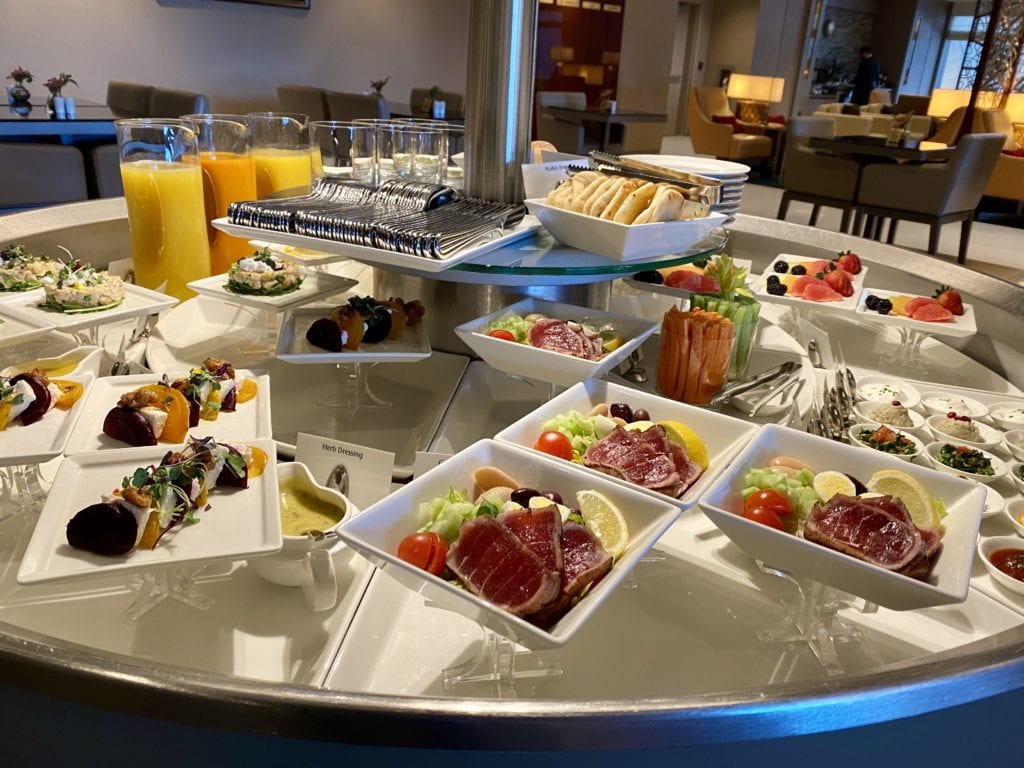 There was also a hot food bar with a number of different offerings. While not quite on par with a la carte dining you find in some premier lounges, I found the food to be very good.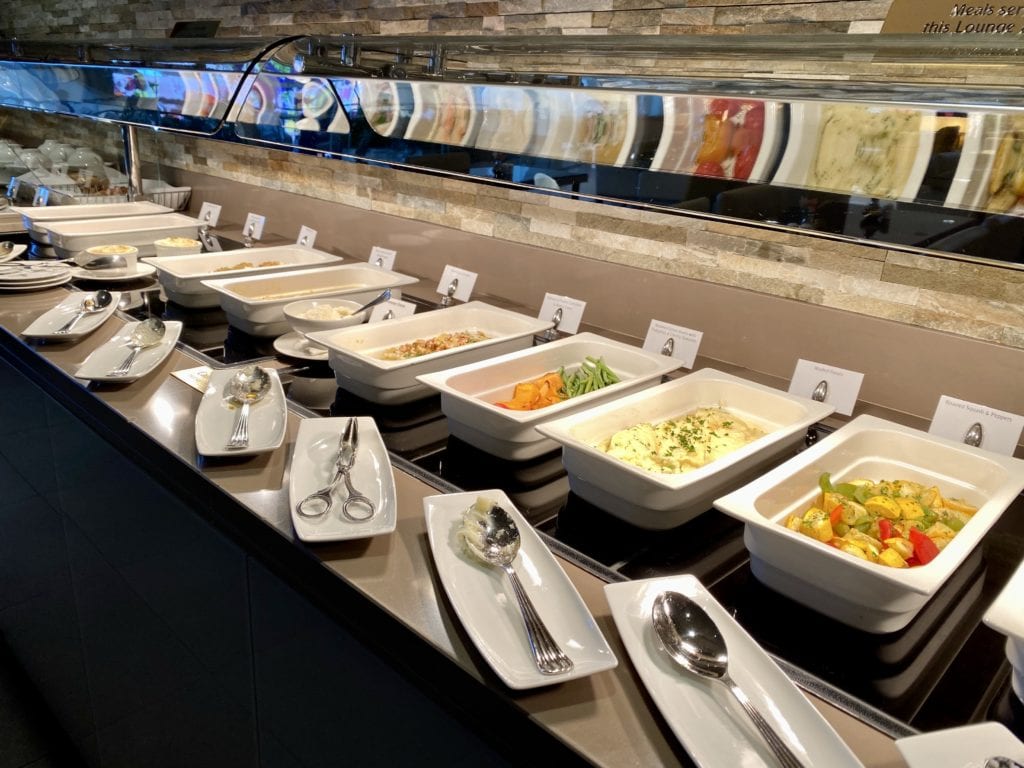 There was also a self-serve liquor and wine area. All of the food and beverage options in the lounge were complimentary.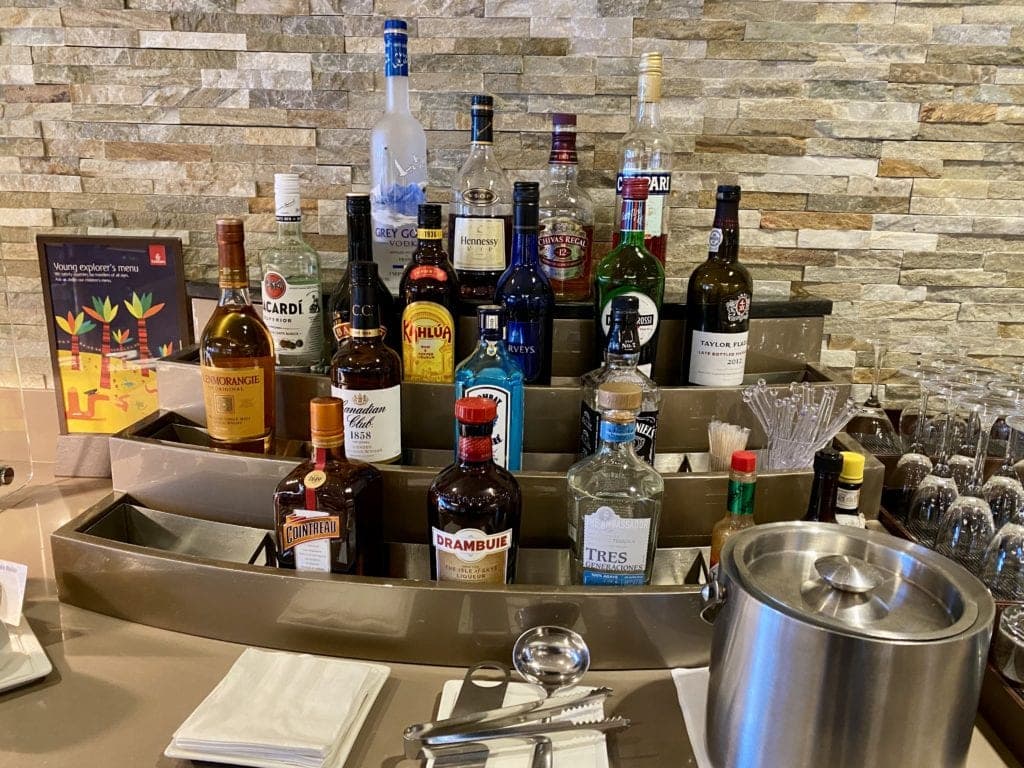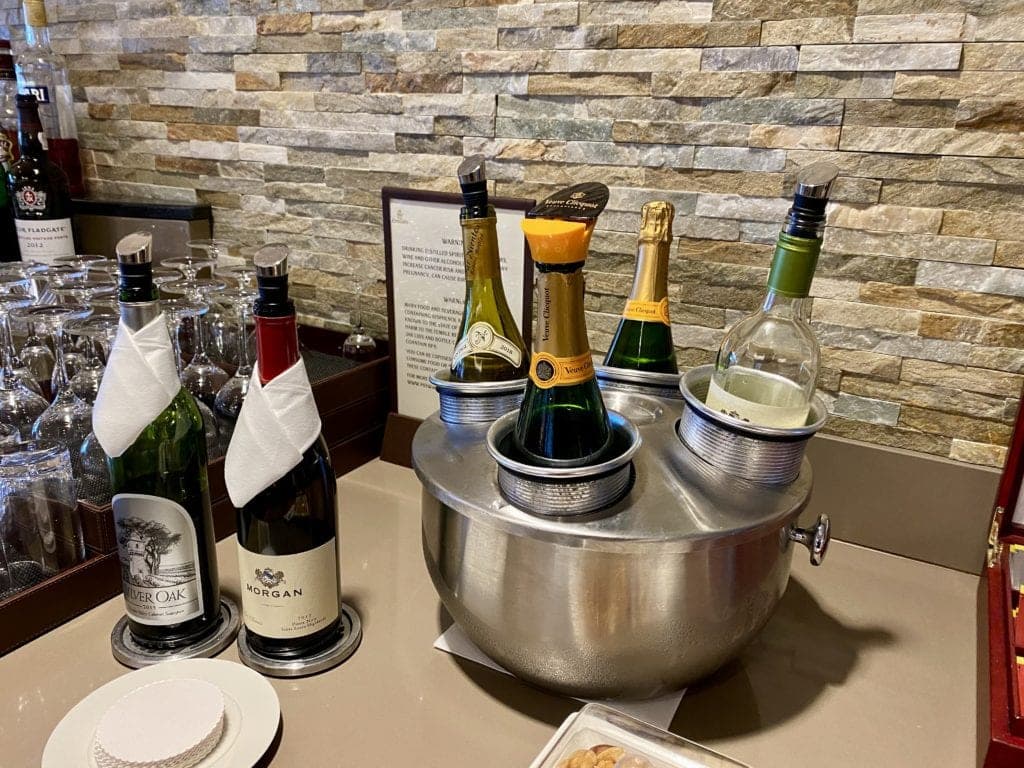 And of course, I had to have a few of Emirates' signature Arabic dates.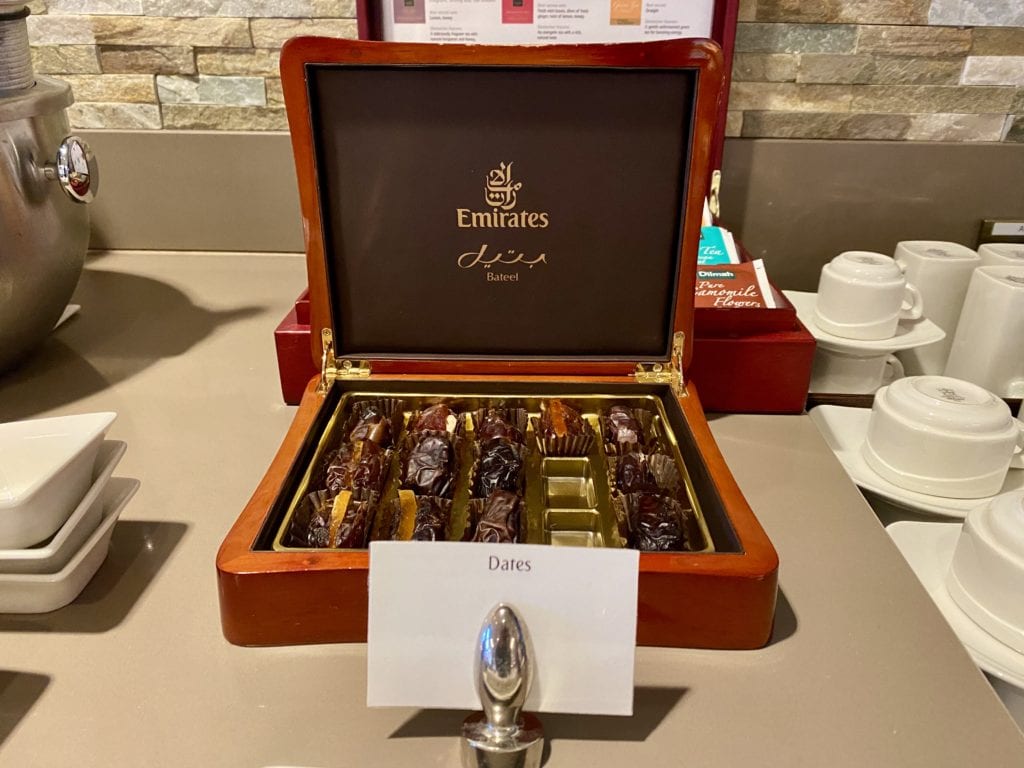 After relaxing, having lunch and few drinks, it was time to head to the gate to board our flight to Dubai.
Boarding & Cabin
The Airbus A380 is a double-decker aircraft. Of course, first and business class passengers can board directly onto the plane's second level through their own boarding door.
Emirates First Class passengers were ushered to the front of this line so they would be the first to board.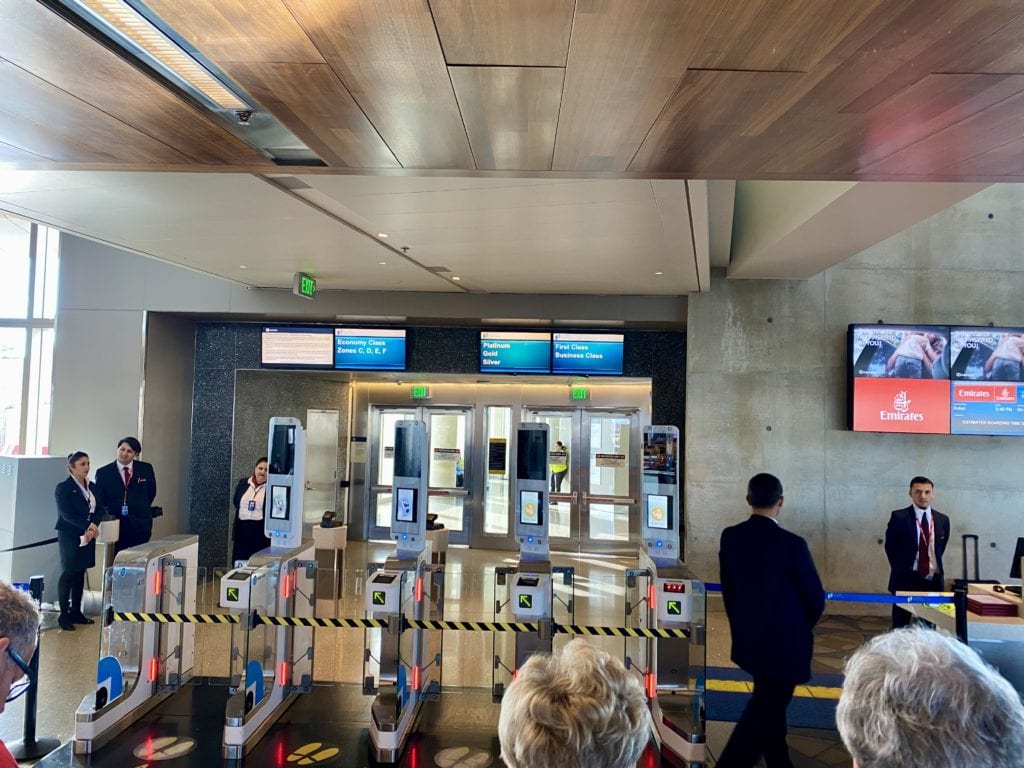 The Emirates First Class cabin has a total of 14 seats – a fairly crowded cabin by first class standards. These suites are arranged in a 1-2-1 fashion, giving every passenger direct access to the aisle. I was seated in suite 2K for my flight to Dubai.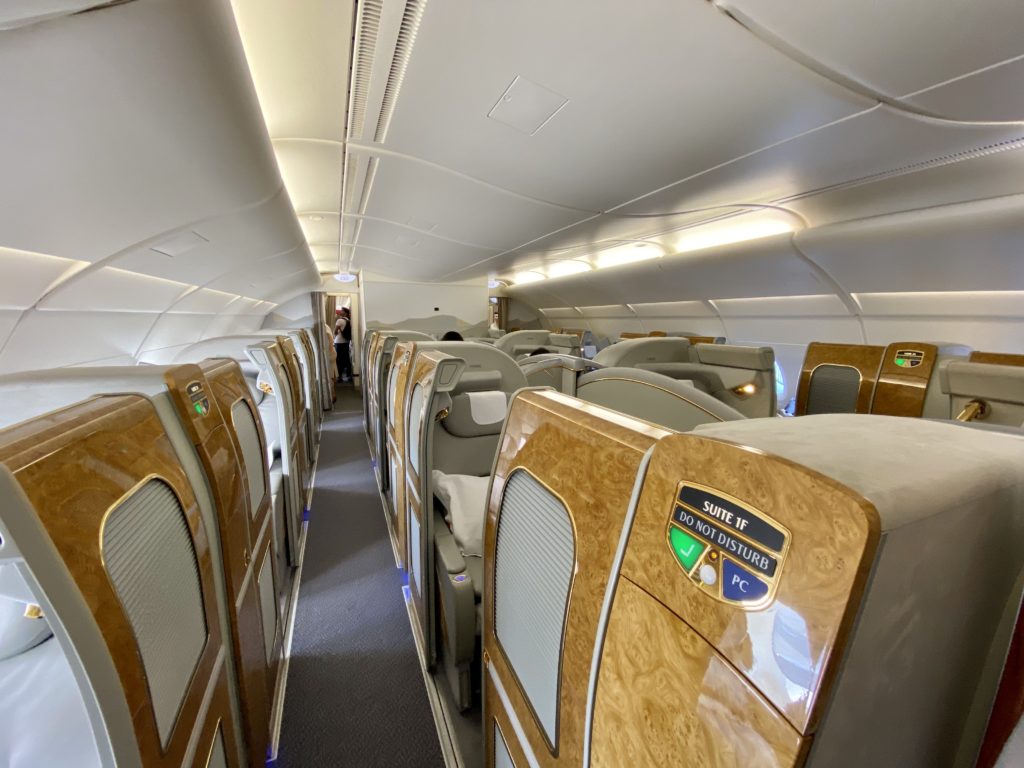 Read How to Find the Best Seat on the Plane Using SeatGuru.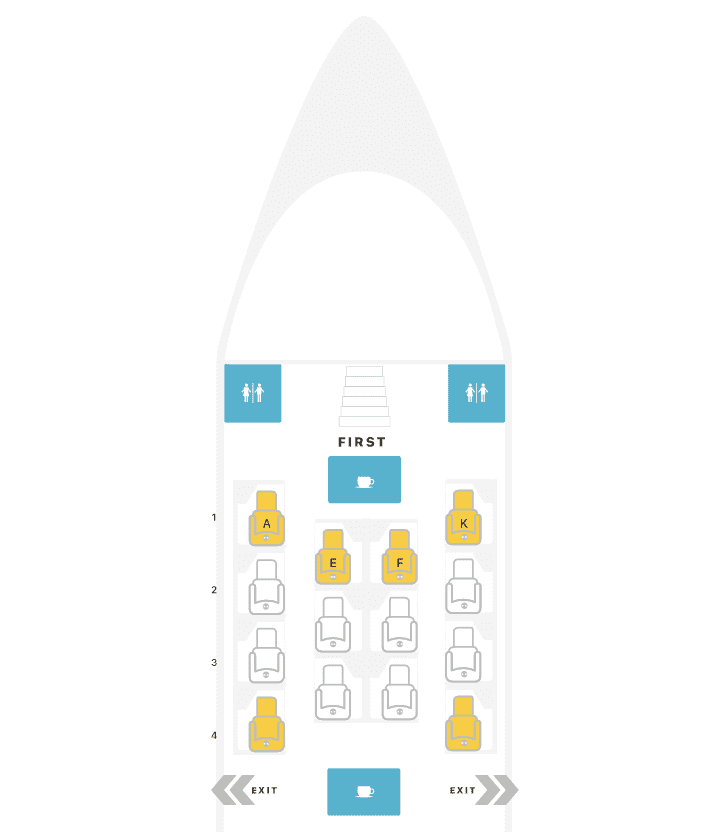 Upon boarding, the head purser Stefanie greeted me by name and ushered me to my seat. She asked if I had ever flown with Emirates or in their First Class cabin. I told her that it was my first time flying with Emirates – she seemed genuinely excited to welcome me and make sure my experience was top notch.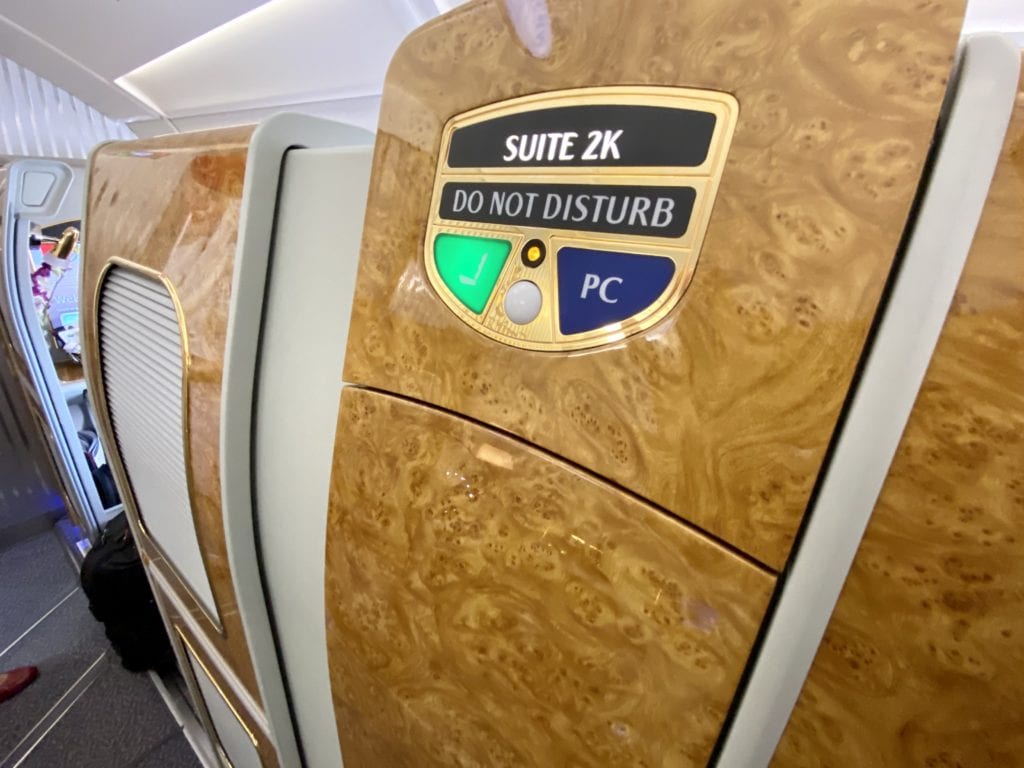 Emirates First Class Seats
It's a first world problem, but let's get this out of the way: The first class seats onboard the Emirates A380 are not top-of-class. Not anymore.
With less space and much less privacy, they aren't nearly as impressive as the new first class on some of their Boeing 777s. And I would certainly give the Etihad Apartments the edge in this category as well.
That said, there is absolutely no way to be underwhelmed by a lie-flat seat with an enclosed door. And while it may be lacking in the looks department compared to its competitors, I found it to be incredibly comfortable.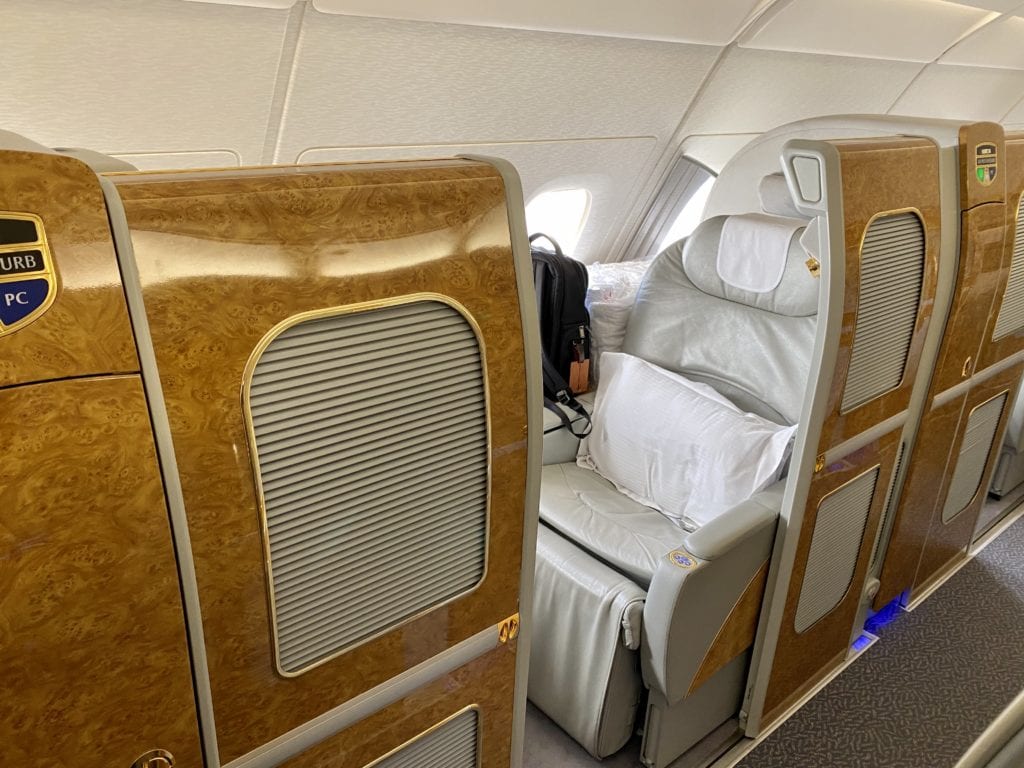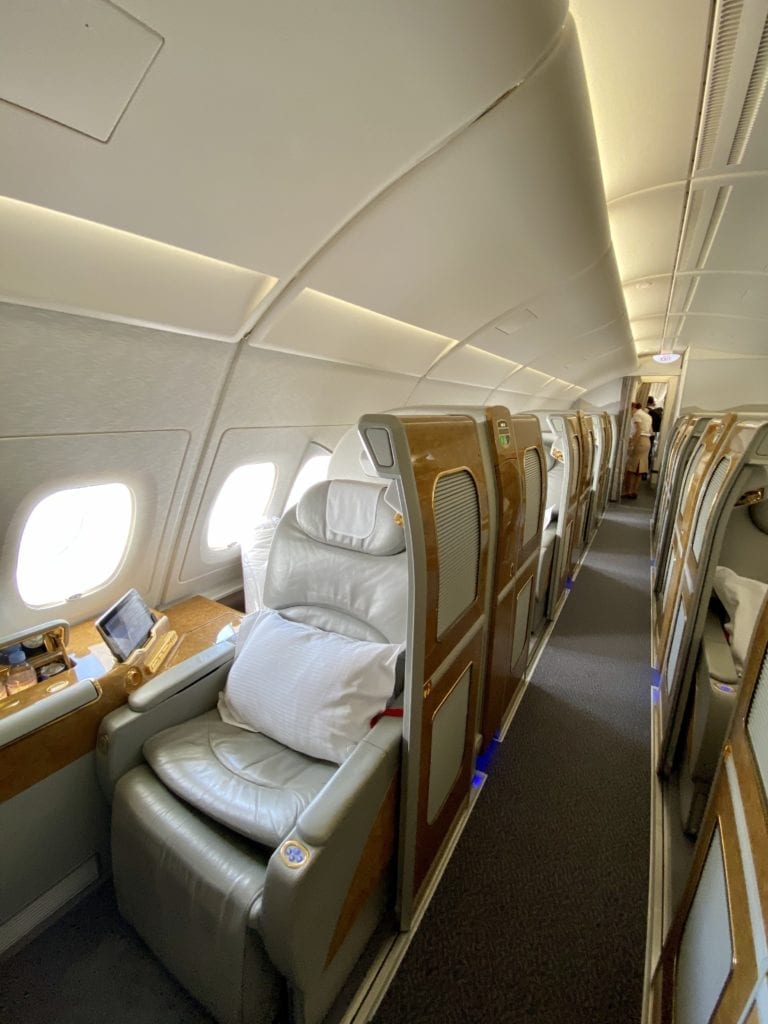 My suite was outfitted with all the bougie amenities that make the Emirates experience what it is. And when you are actually sitting in the seat – even with the doors open – I found it to be very private.
Underneath the table holding the in-flight entertainment screen, there was plenty of legroom and space for my carry-on suitcase. And on the left-hand side of my suite, there was a basket of snacks and skincare products along with fresh cut flowers hanging from the wall.
In fact, there is so much room in the Emirates First Class suites that there is no need for overhead bins. The lack of bins overhead really opens up the space and makes it feel larger than it is.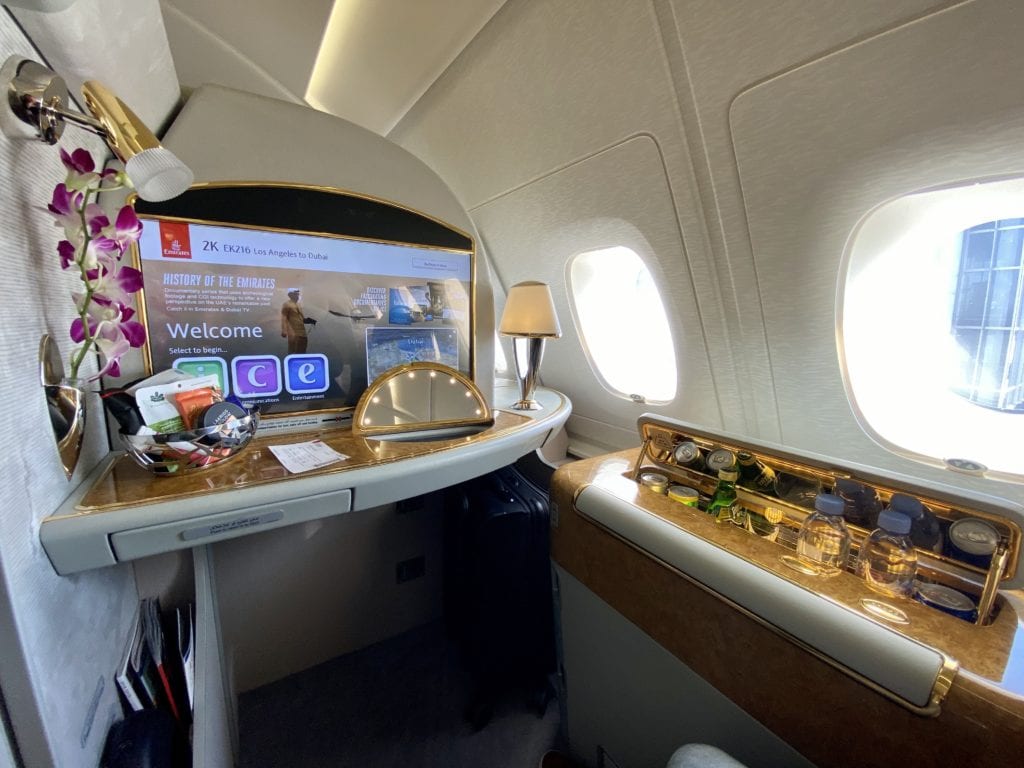 Adjacent to the seat is a minibar with a few different soda options, and both water and sparkling water. It simply opened and closed at the push of a button.

There was even a leatherbound notebook and pen that pulled out of the area in front of the in-flight entertainment system. The head purser Stefanie made sure to inform me that this was mine to keep if I wanted.

Since the suites are so spacious and it isn't actually possible to touch the screen while you are sitting in your seat, each seat comes equipped with touchpad tablet that you can use to control everything from the position of your seat, calling the flight attendant, the volume for your noise-canceling headphones, and everything on screen.
This was handy once it was time to sleep and my seat was in the lie-flat position.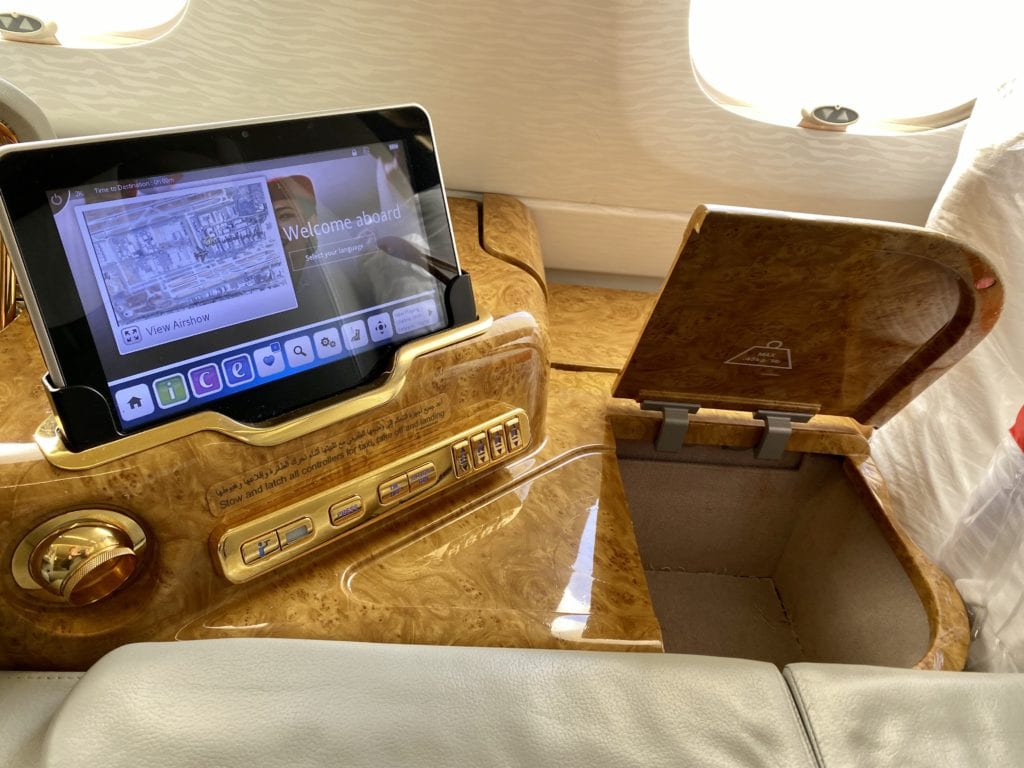 Come bedtime, I found Emirates first class suites to be incredibly private. With the doors shut, the only way somebody could see into your suite would be if they were peering over the top of it. After dinner and some time enjoying the onboard bar, I decided to change into my pajamas. As I went to change, the flight attendant working my aisle had made up my bed.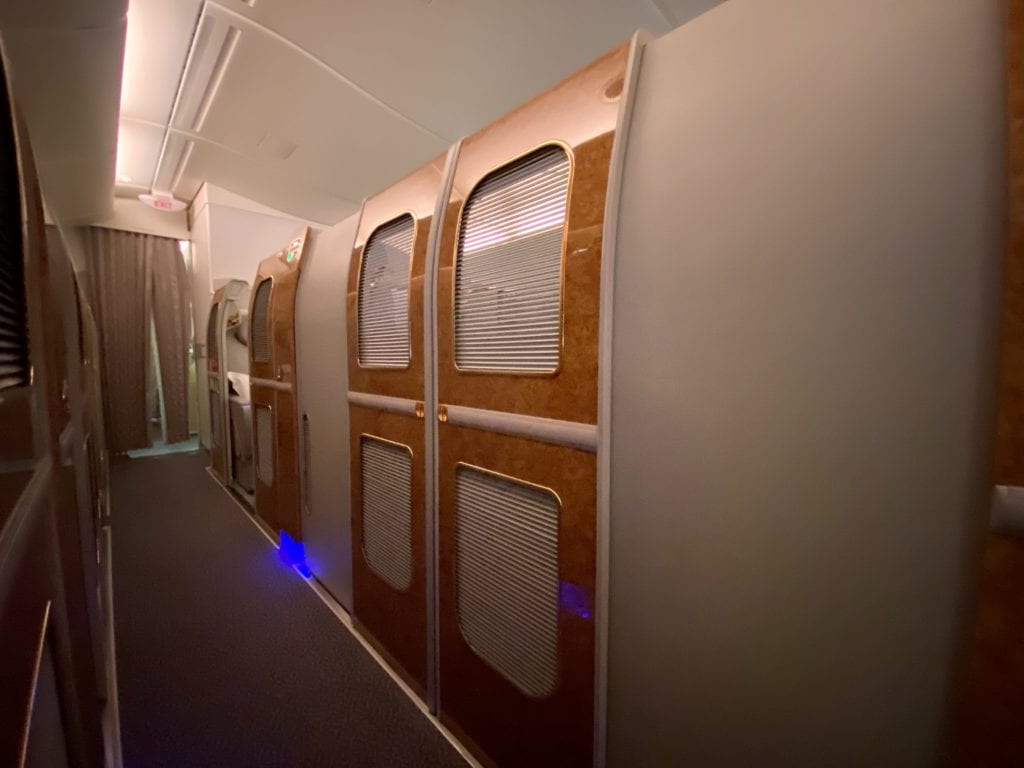 Service and Dining onboard Emirates First Class
Like other Middle East carriers like Qatar and Etihad, the service and dining in Emirates first is top-notch.
As soon as I got settled before take-off, the flight attendant working my row brought over a glass of champagne, an Arabic coffee, and food and beverage menus for the flight. The flight attendant walked me through the entire menu and informed me that First Class passengers had dine-on-demand service. This meant that I wasn't tied to a meal schedule: Whenever I wanted to eat, all I needed to do was alert one of them and they would prepare it.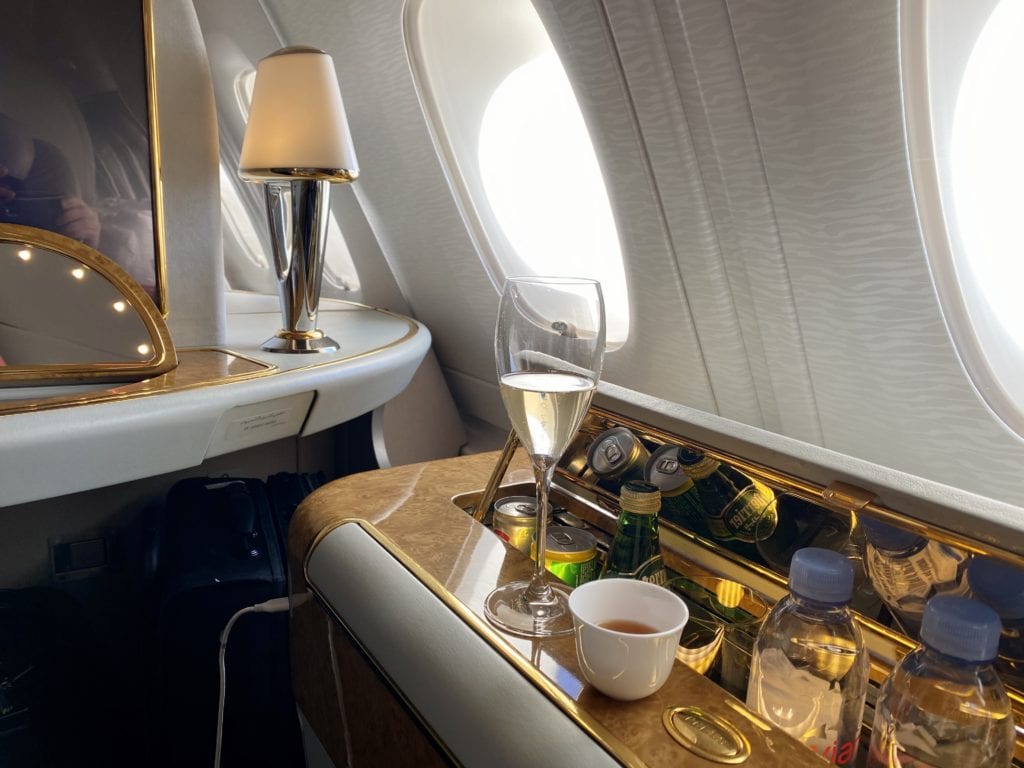 After we were airborne, I fired up an order for another glass of champagne. Once you're in the air, the champagne gets better: Emirates was pouring Dom Pérignon 2008, which retails for around $189 a bottle. And the flight attendants did a great job of making sure my glass didn't get empty.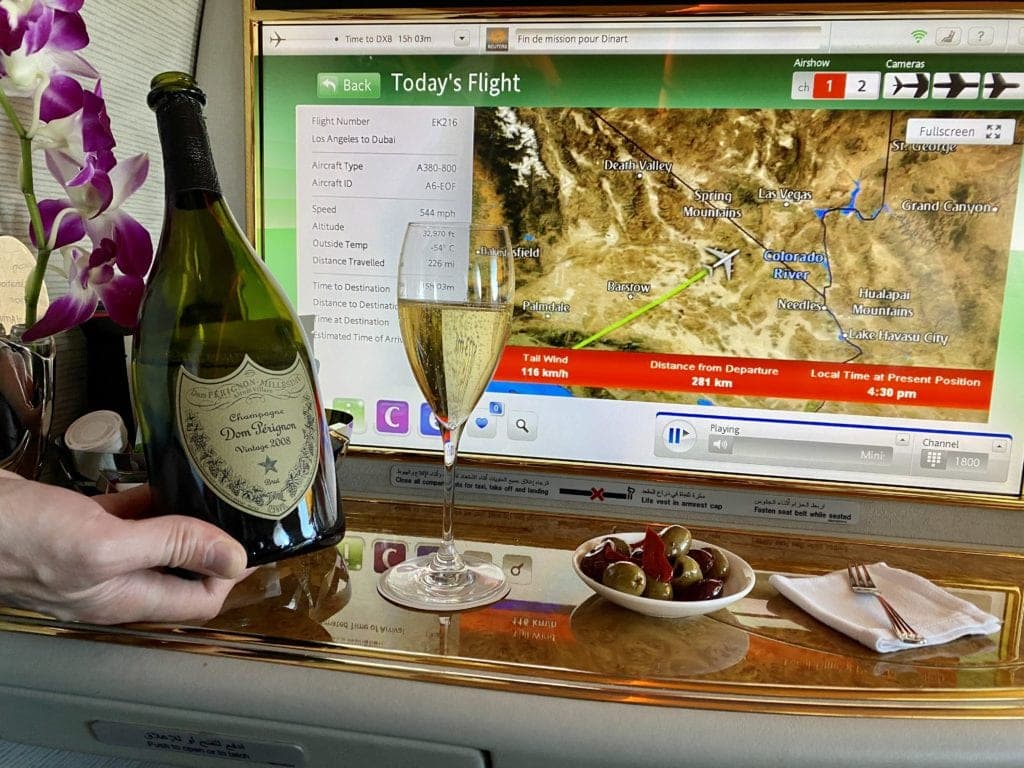 To go along with it, I ordered a cheese board, which was delicious.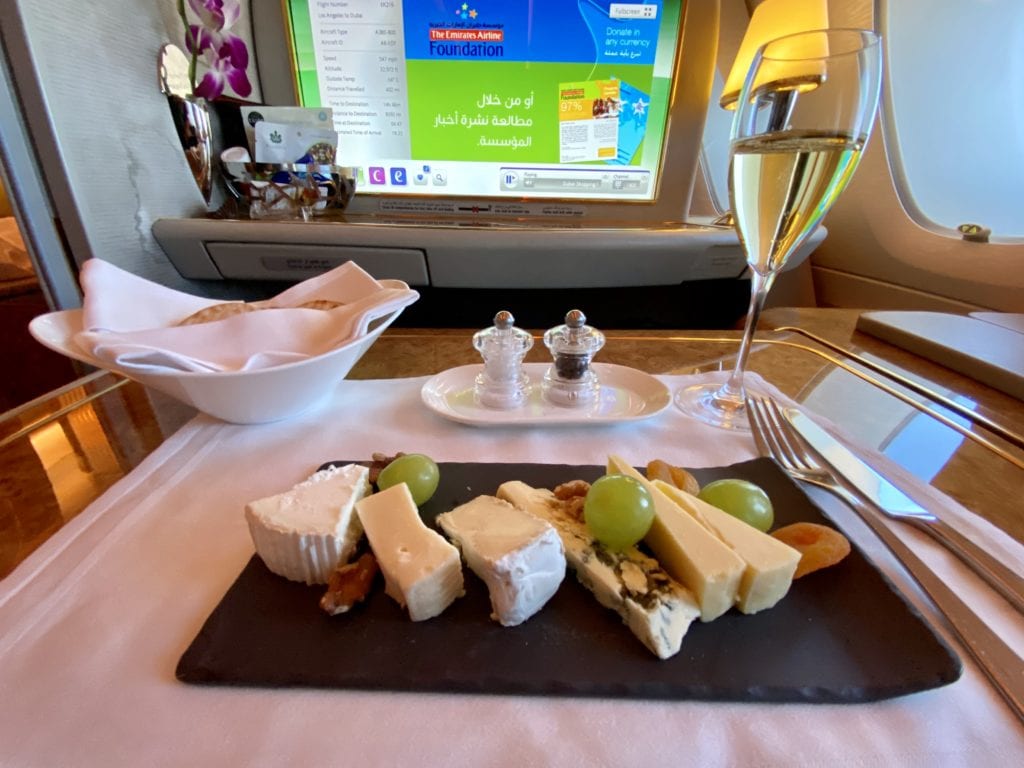 A few hours later, I ordered the rest of my meal which started with traditional caviar service and a glass of 2009 Château Beychevelle Bordeaux. Both were incredible.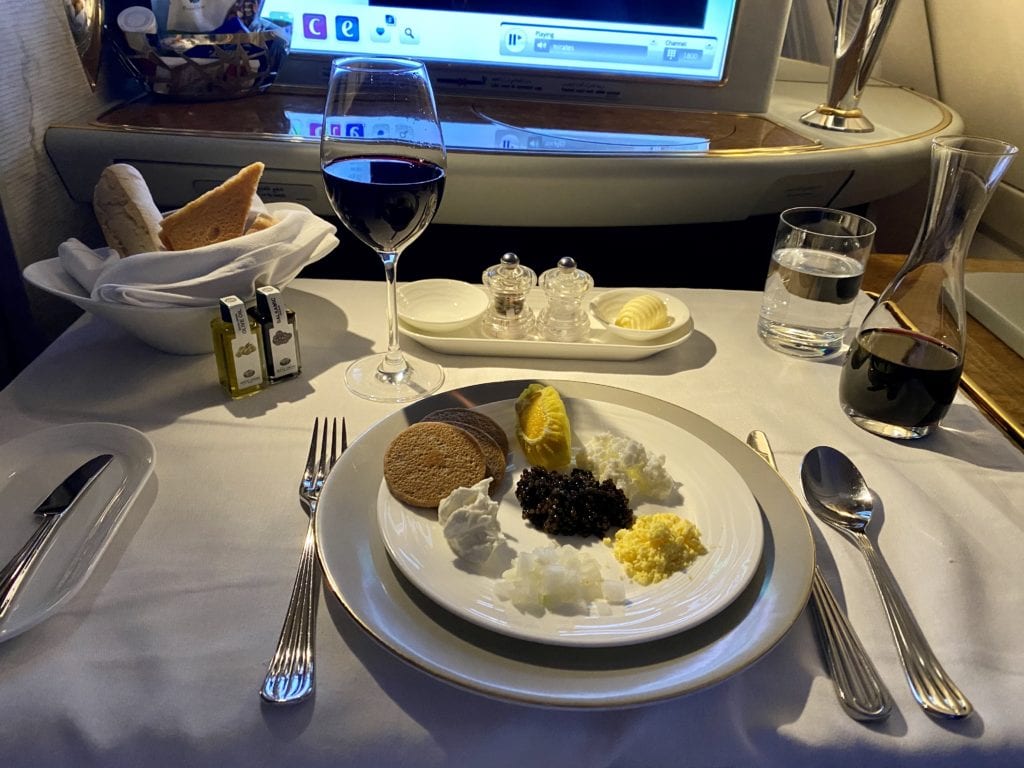 Shortly after my caviar course, my main dish arrived: A filet mignon that was a perfect medium rare – tough to pull off on a plane – and delicious.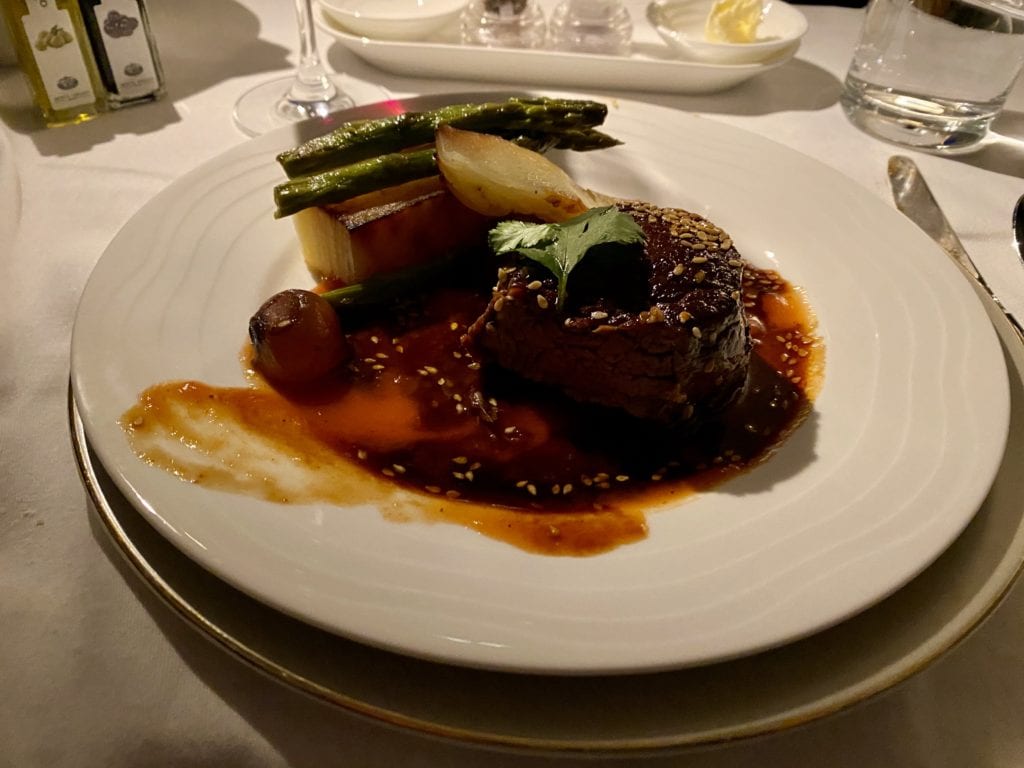 After sleeping for six hours or so, I decided to order breakfast, about an hour and a half before we landed in Dubai. There were a handful of options including oatmeal, omelets, and waffles. However, I went with a basic fruit plate with yogurt. It wasn't anything special but it was exactly what I was looking for.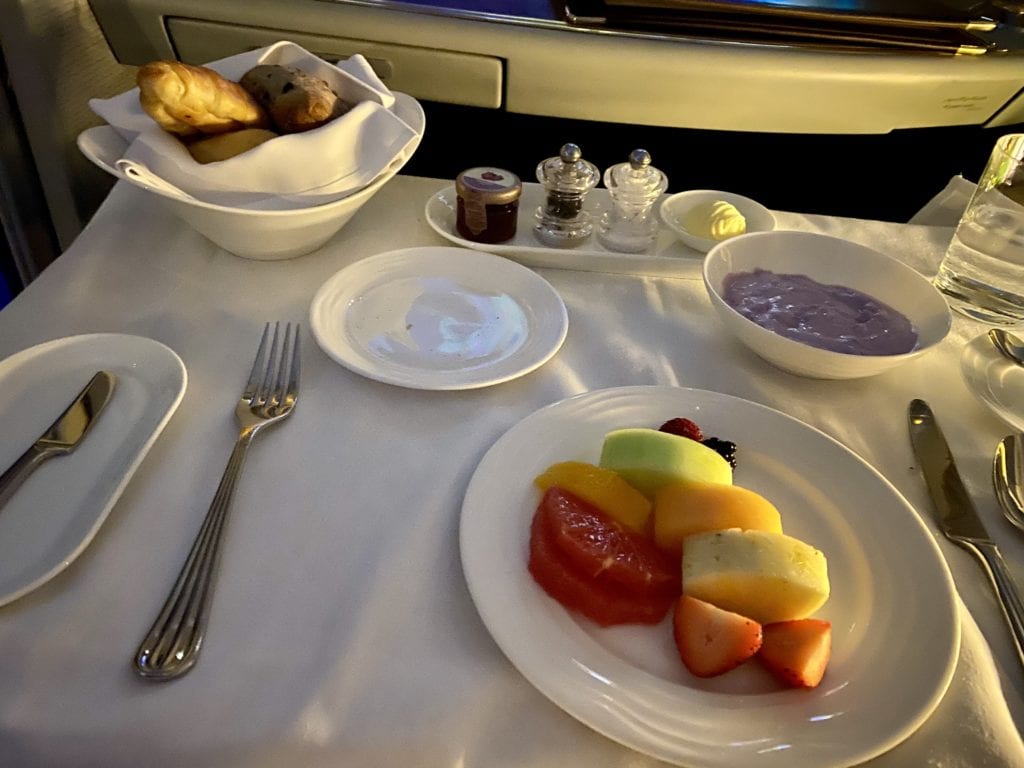 Overall, the Emirates food was very good, and up there with the best I've had on a plane. However, I still think the award goes to Qatar for having the best food in the sky. But ranking the food on the major Middle Eastern airlines (Emirates, Qatar, and Etihad) is like splitting hairs.
The service on my flight shined. I always had what I needed and the flight attendants seemed genuinely excited to show off the airline and more specifically the First Class cabin on my first Emirates flight.
Amenities (A Shower?!)
Let's just get right to it. Emirates is one of two commercial airlines with an onboard shower for First Class passengers (the other being the Etihad First Class Apartments).
Comparing the showers on these two carriers isn't particularly close. Emirates blows Etihad out of the water.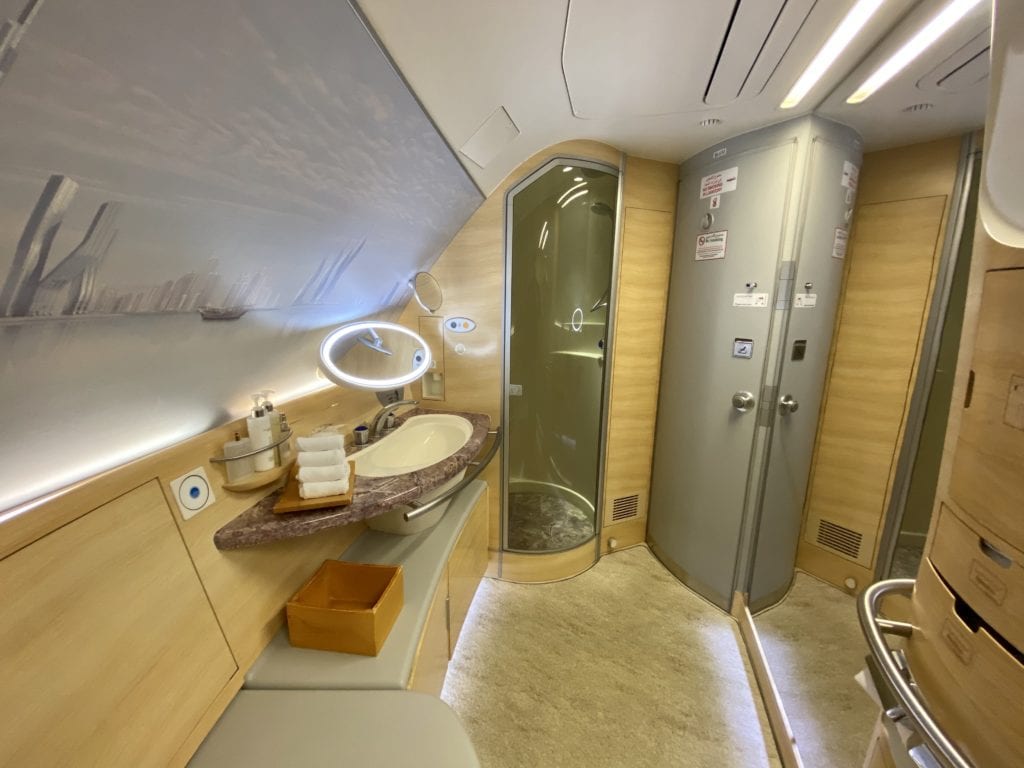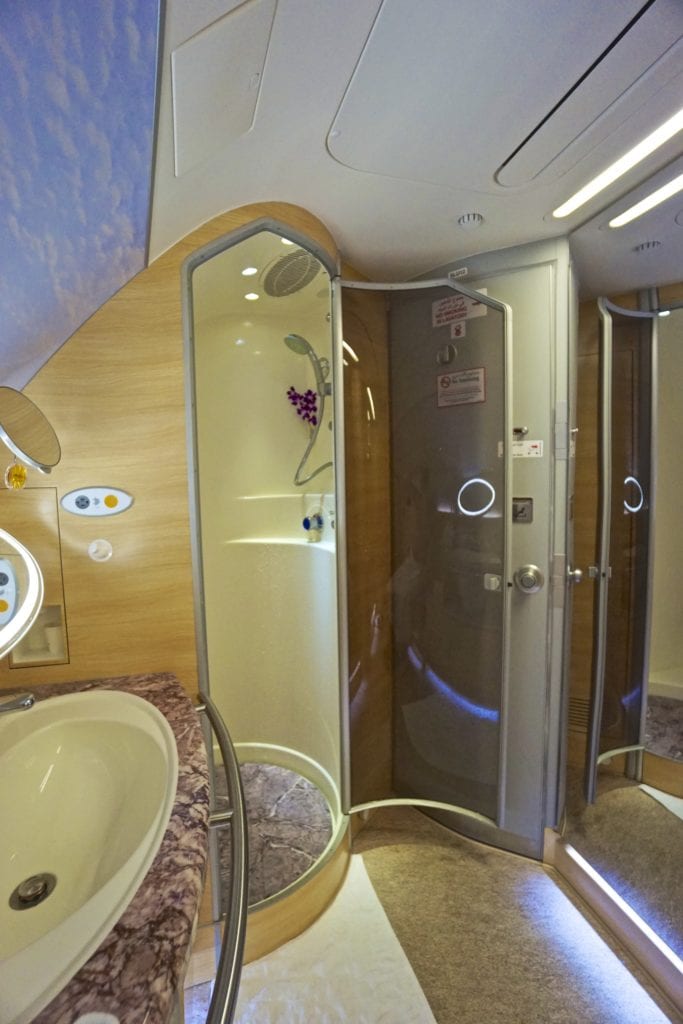 It is the biggest bathroom you'll find on a plane. With a shower and heated floors, it truly feels like an oasis at 36,000 feet. Each Emirates First Class passenger gets five minutes of running water for the shower. But you can easily stop and start the water flow, so it does last for quite a while.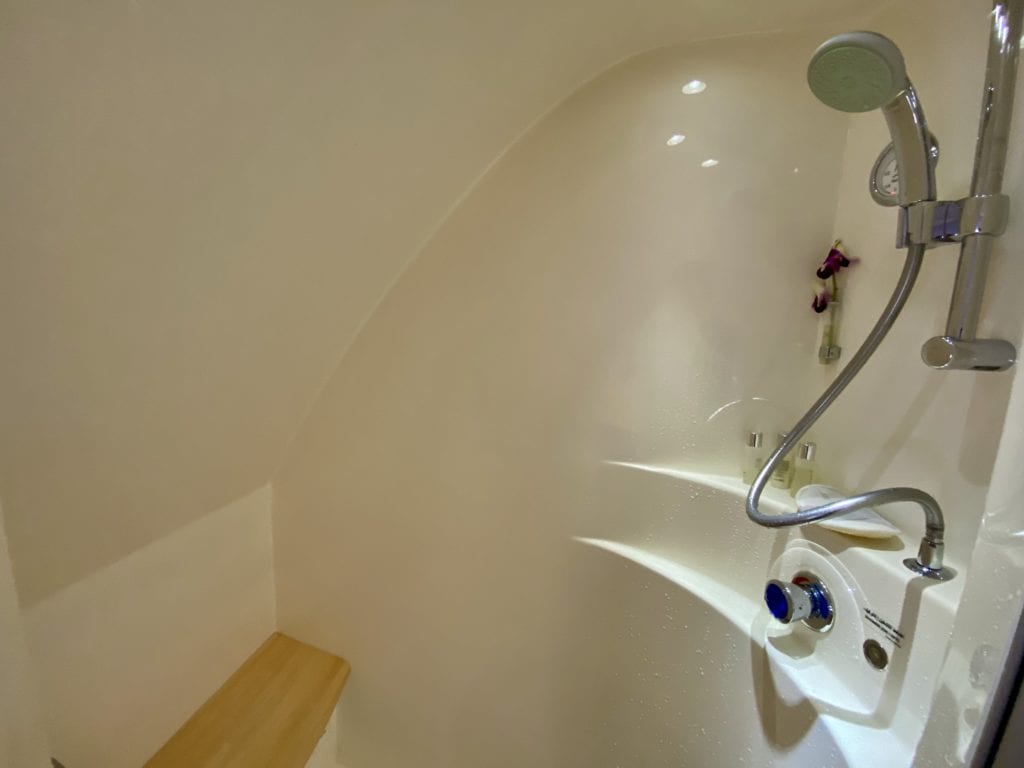 There are few things more satisfying than showering on an airplane. It was hard not to just laugh at the absurdity of what I was doing, but at the same time, it felt absolutely amazing to be able to refresh after 14 hours of flying. I found the shower to be spacious – much more so than I would have expected on an airplane, and there was even a bench inside.
Another amazing amenity of Emirates First Class is the onboard bar available to both first and business class passengers.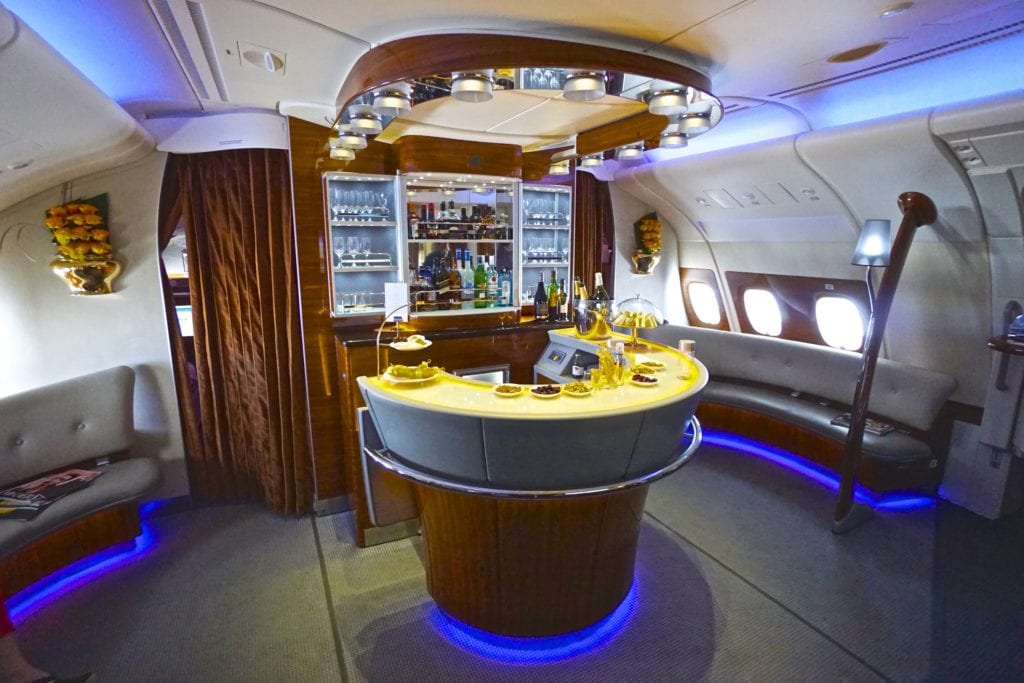 It is located on the second level of the airline's A380 aircraft just behind the business class cabin towards the back of the plane. There are benches on either side of the bar for passengers to hang out and enjoy themselves.
Here's where first class gets ridiculous. The alcohol you'll find at the bar is what's standard for business class passengers. So I was instructed to let a flight attendant know if I wanted to head back to the bar so they could let the bartender know to serve me first class alcohol. After finishing more Dom, I ordered a glass of Dow's single harvest tawny port wine from 1978.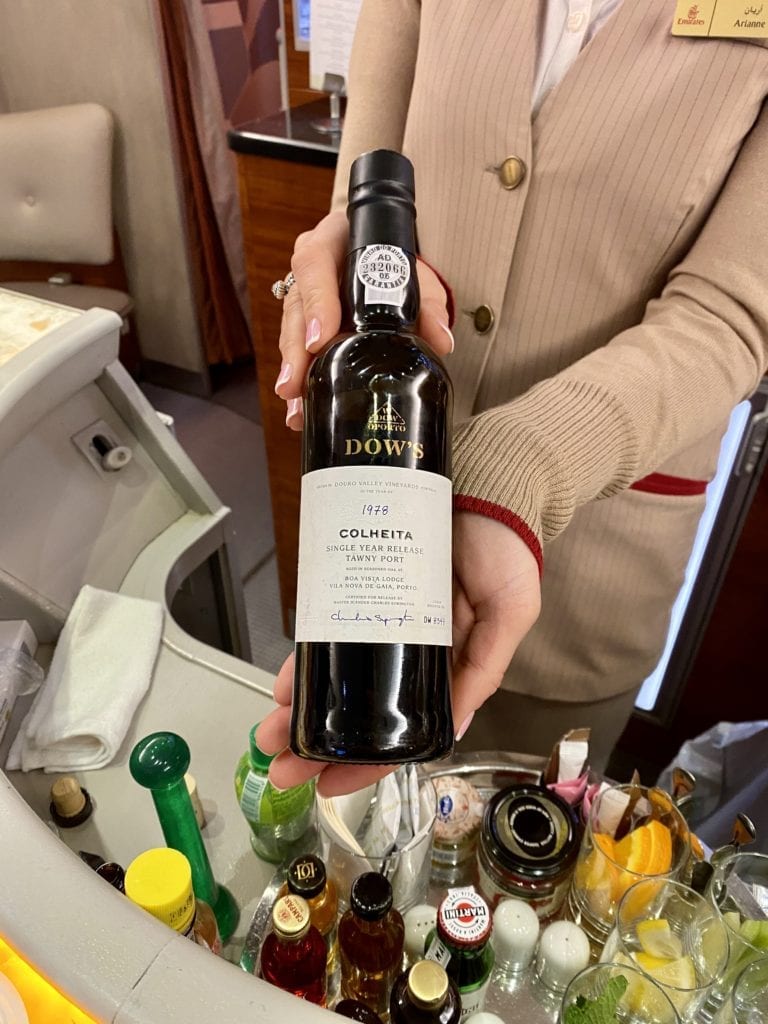 In addition to wine and beer, there is also a full cocktail list that you can order from. As far as onboard bars go, Emirates' bar is fantastic – but I still think I prefer the bar onboard the Qatar Airways A380s. I think the layout is better and allows for more people to be at the bar and interacting with the bartender.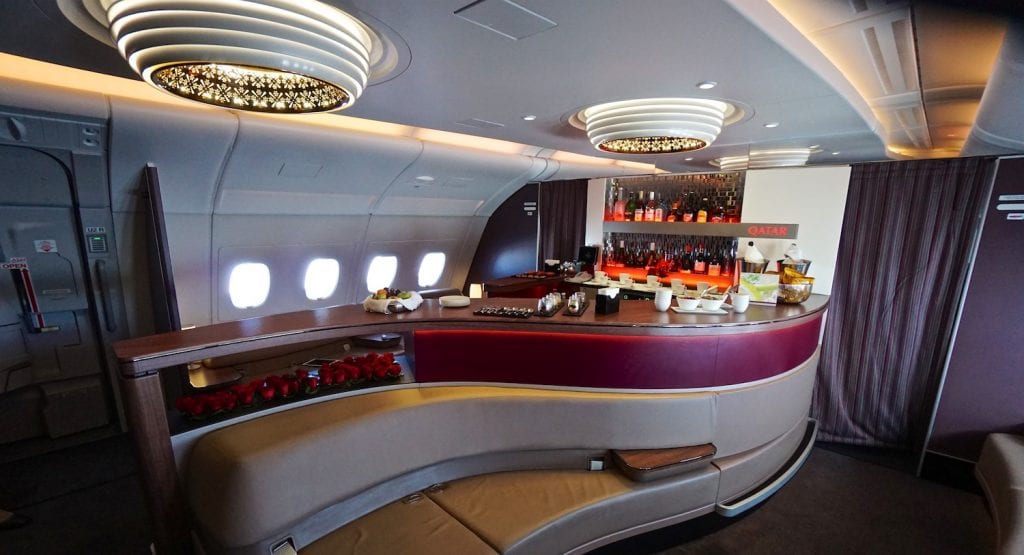 The Emirates amenity kits are from Bvlgari and honestly were not anything special. They included deodorant, a toothbrush, shaving cream, and a few different balms. That said, everything else was available within the bathroom – including soaps, shampoo, etc.
It was perfectly adequate and done in a way to minimize waste. Some items were only available for passengers who wanted to utilize the onboard shower.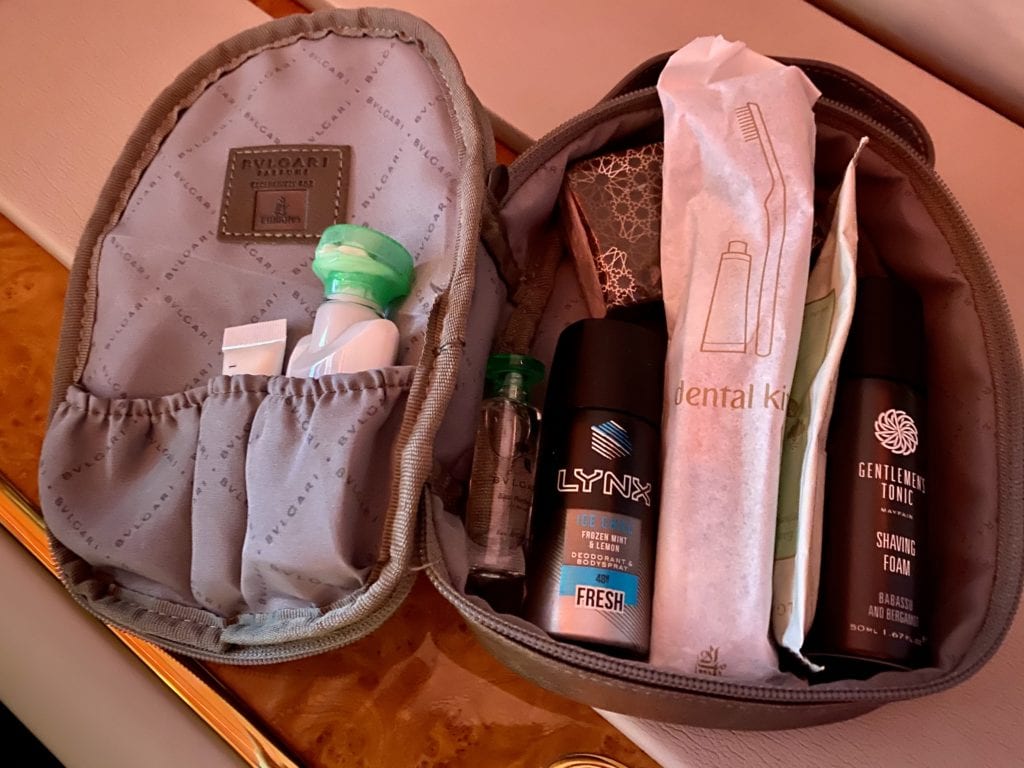 Entertainment
Each suite comes equipped with a 27″ entertainment screen which can be controlled from the tablet docked in the armrest of the seat. As with most of the top airlines, there was no lack of entertainment onboard. There were hundreds of movies and TV shows to choose from. Emirates ICE system may be the best in the sky.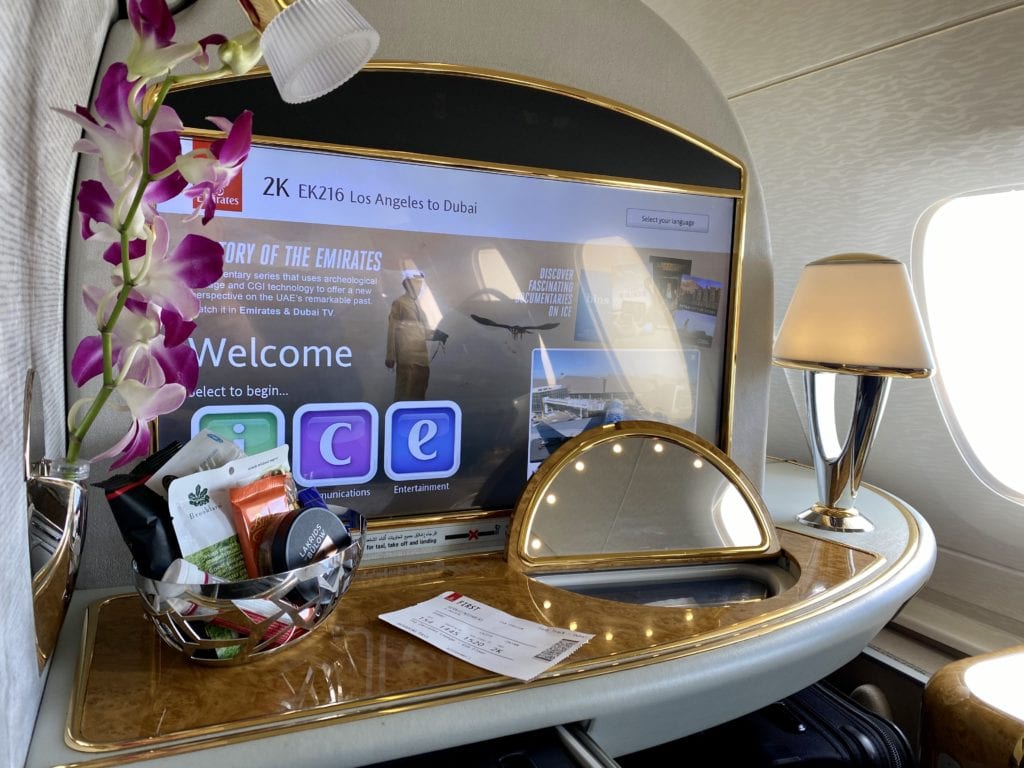 The Wi-Fi in Emirates first class is complimentary. However, I connected a few different times throughout the flight and it was mostly useless. Throughout the flight, the Wi-Fi was much too slow to do anything productive – so I enjoyed being unplugged for the duration of my flight.
If you are departing from the U.S., I wouldn't count on having reliable internet access.
Bottom Line
Flying Emirates first class has been on my bucket list since I started collecting points and miles back in 2009. It's an experience unlike any other, and it will make flying anything else difficult.
There is nothing quite like showering on a plane. Add it to your list: It won't disappoint.