Over the past few years, Emirates' own Skywards mileage program has emerged as the best way to book many Emirates flights using miles – especially first and business class. Thanks to transfer partnerships with all the major credit card companies, Emirates miles are incredibly easy to earn. And back in 2020, Emirates drastically slashed the amount of taxes and fees you'd pay on award tickets – by as much as 80%.
But ever since, the hits just keep coming. For starters, Emirates has repeatedly raised award rates whether you're flying to Dubai (DXB) and beyond or between the U.S. and Europe. But here's what's arguably worse: Fees on award tickets have been hiked several times, too. You can now expect to pay roughly $840 in taxes and fees – plus all those miles – for most premium cabin redemptions on Emirates… for just a one-way flight.
Last year, you could book a one-way flight in Emirates business class from Los Angeles (LAX) to Dubai (DXB) for 131,250 miles and $181 and change. While a $181 tax bill is nothing to sneeze at, it was manageable.


Today, that same flight will cost you 157,500 Emirates miles … and more than $837 in taxes and fees, too. That's astounding. You'll see a similar amount of taxes on awards flying Emirates first class, too – on almost every route in their network. Ouch.

Why such an increase? Blame fuel prices.
When gas prices go up, airlines don't hesitate to pass some of that cost onto travelers in the form of higher fuel surcharges: YQ charges, in the industry lingo. And when fuel prices eventually drop … well, these surcharges often stay high.
You can see that in this nifty fare breakdown from ITA Matrix. Some airlines decide not to pass these charges onto flyers redeeming their miles. Unfortunately, Emirates isn't one of them.

Read our guide on the best ways to avoid hefty fees when using your miles!
If there's one silver lining here, it's that Emirates' fun fifth-freedom routes from the U.S. to Europe aren't getting hit nearly as hard with these fee hikes. Emirates flies from Newark (EWR) to Athens (ATH) as well as New York City (JFK) to Milan (MXP) – a route operated on Emirates' excellent Airbus A380. While flying Emirates business class roundtrip to Dubai would cost you nearly $1,800 in taxes and fees, you'll still pay under $250 on these European routes – plus 108,000 miles or more.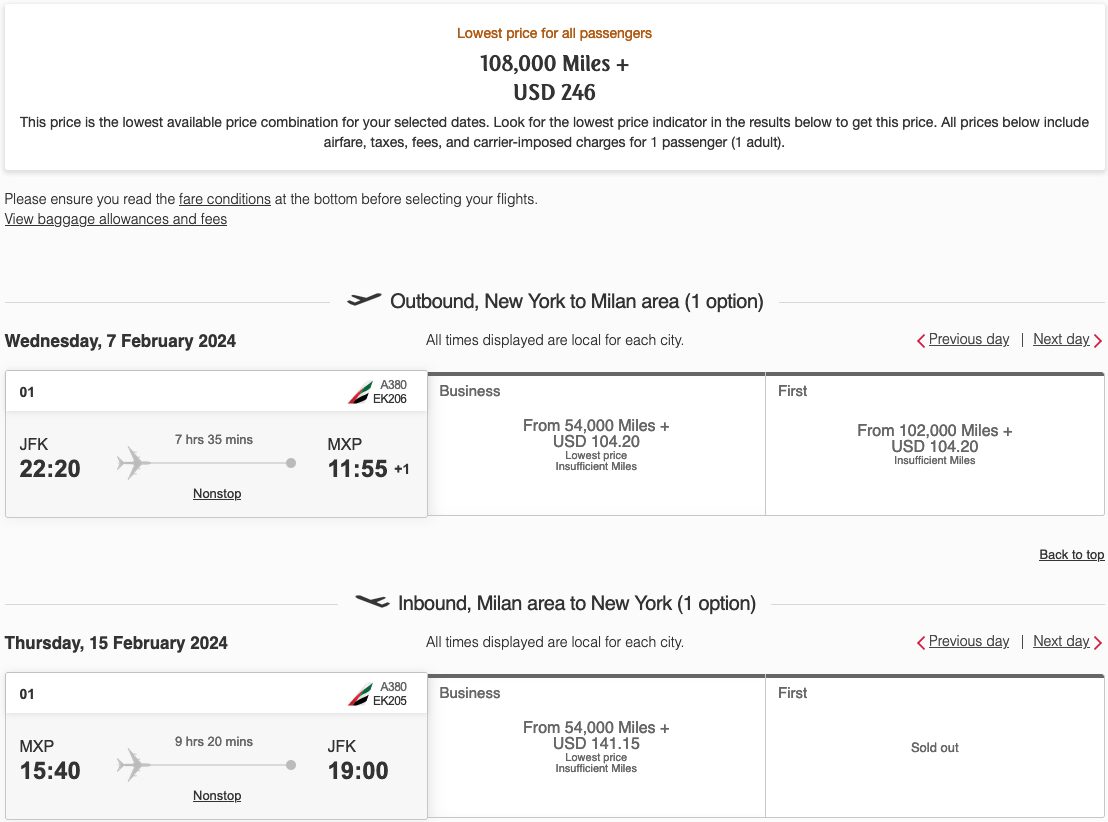 Whether it's $5.60 on a one-way domestic flight or $1,000-plus on a British Airways first class redemption to London-Heathrow (LHR), paying some cash is an unavoidable part of the points and miles world. One of the biggest battles in using points and miles wisely is all about limiting those cash costs, using airline programs that don't pass on such substantial taxes and fees.
Unfortunately, Emirates has made that much, much harder. And seeing as the airline has limited the ability to book its flights through partner airlines by ending its partnership with Alaska Airlines, which was once the go-to way to book Emirates First Class – you might just have to stomach these higher cash costs if you're set on flying up front with the Dubai-based airline.
Thrifty Tip: Try booking Emirates through Air Canada Aeroplan to save your cash!
Bottom Line
This hurts, Emirates. This really hurts.
Emirates Skywards have emerged as far and away the best way to book Emirates business and first class flights. But now taxes on these award tickets have increased to practically laughable levels.