Few travel credit cards pack a bigger punch than The Platinum® Card from American Express – especially if you're looking for a big welcome bonus along with awesome travel benefits. But ensuring you're getting the most points possible when applying? That's a chore.
American Express has moved the goalpost time and time again: 60,000 points was the standard for years before Amex bumped it up to 75,000 points, then up to 100,000 points. Now, grabbing the Platinum Card through a site like ours will net you 80,000 points after spending $6,000 in the first six months of membership.
You can do much, much better. You'll still need to spend a few thousand dollars in the span of several months, and that's no small matter – credit cards are serious business. No matter if you're poised to earn 150,000 points or more, you should never charge more to any credit card than you can afford to pay off immediately.
But if you're ready to grab the Platinum Card, here are a few ways you can ensure you get the biggest Amex Platinum bonus you can – and don't leave points on the table.
Check out our favorite ways to use a big Amex bonus!

Check with CardMatch for 150K
This could be the easiest way to get nearly double the points on the Platinum Card.
After raising the annual fee, adding new benefits, and increasing the bonus on the Platinum Card® from American Express last summer, more and more consumers have been targeted for an even better offer: 150,000 points via CardMatch after spending $6,000 in the first six months.
Not everyone will be targeted for this massive welcome offer, but no hard credit pull is necessary to see if you qualify. Just enter your details at CardMatch and see what comes up! Your credit score will not be impacted to see what offers are available.

If you've never heard of CardMatch, it's a tool run by Creditcards.com that helps prospective cardholders find targeted credit card offers. Every person will likely have different offers presented to them based on what cards they hold in their wallet. The best part is there is no hard credit pull to see what you're targeted for.
New to American Express cards? That seems to be your best bet to qualify for this 150,000-point offer through CardMatch. Though recently, Amex appears to be targeting more users with excellent credit scores regardless of your history with American Express.
That said, there's still no guarantee you'll see a 150,000-point offer. Some may be targeted for lower offers like 125,000 or 100,000 points, while others may not see anything through CardMatch at all.
Not seeing what you want? Move on.
Try a Personal Referral Link
Not pulling up the 150,000 point welcome bonus offer on the Amex Platinum Card through CardMatch? Don't give up hope yet. You may be able to find an offer to earn 150,000 points after spending $6,000 in the first six months of card membership by using a personal referral link for the Platinum Card from a friend or family member.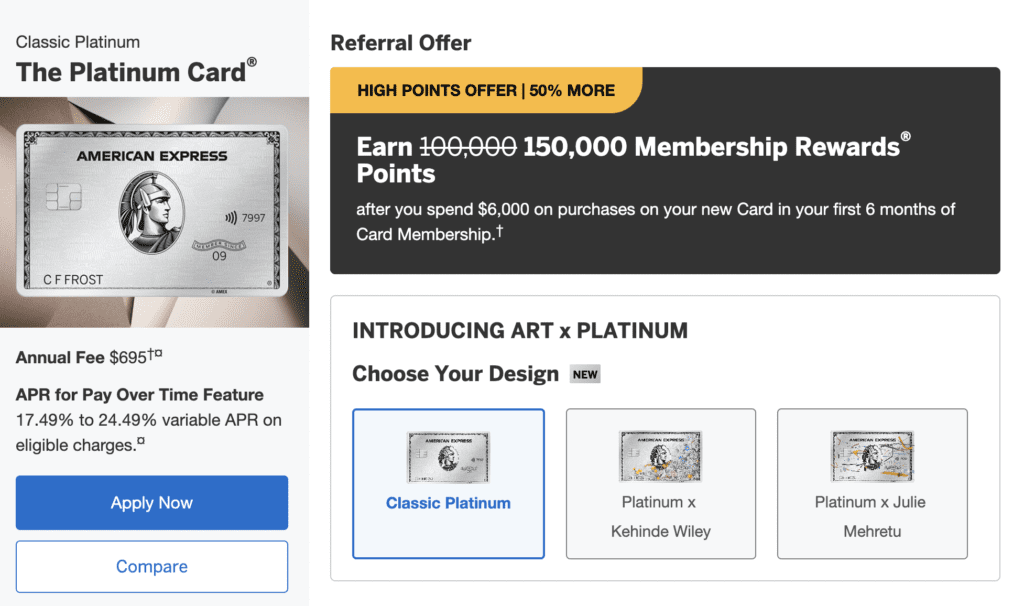 Click here to apply for this targeted referral offer. It's unclear how long this 150,000-point referral offer will stick around, so we'd encourage any traveler who's been considering the Amex Platinum Card to apply sooner rather than later. You might need to open it in an incognito window in order to pull up the 150,000-point offer. 
Unfortunately, these referral offers are targeted so not every current cardholder will have this 150,000-point offer to send to new applicants – some may have a 100,000-point or 125,000-point bonus available. If you or someone you know already has the Amex Platinum Card and want to check what's available, you can head to the American Express Refer a Friend homepage to see if you have the offer.
But we've seen these eye-popping 150,000-point bonus via referrals a few times over the last several months on the Platinum Card. It follows suit with some 90,000-point targeted referral offers that come and go on the Amex Gold Card. But again, there's no telling how long this massive, 150,000-point bonus will last.
And there's something in it for the person referring the card, too. By using a personal referral link, the current cardholder will typically get 30,000 Membership Rewards points as well. These personal referral bonuses through Amex are capped at 55,000 bonus points a year. That means someone could max out this bonus with only two referrals to friends or family members.
Read More: Easy Way to Get a 150K Bonus on Amex Platinum Card via Referrals (Targeted)
Open an Incognito Browser for a Bigger Amex Platinum Bonus
American Express is all over the map when it comes to offering bonuses on its top cards. You could open the same product page on three different devices and see three different bonuses.
But sometimes, the key to getting the best bonus is simple: Just open an incognito window on your web browser, search for "Amex Platinum Card," and open the page – or just try opening this link in an incognito window. That's what I did this morning, and here's what I found:

It's a bit silly, isn't it? Try to open an Amex Platinum Card in a normal browser window and you'd get an 80,000-point bonus after spending $6,000 in six months. Open that same page in an incognito browser and you could earn nearly double the points.
Those are the games that Amex plays. And still, it's not a sure thing that you'll see a 150,000-point bonus this way: Some of my co-workers still saw 80,000 points or 100,000 points using this same method.
But it's easy to check and easily worth a shot!

All About the Amex Platinum Card
The American Express Platinum Card has long been a favorite of the Thrifty Traveler team and travelers across the globe.
Besides getting an unbeatable 150,000-point welcome offer, it gets you in the door to more airport lounges worldwide than any other credit card. That includes Delta Sky Clubs, 1,200-plus Priority Pass Lounges, Escape Lounges (also known as Centurion Studios) like the one at Minneapolis-St. Paul (MSP) and the exclusive Amex Centurion Lounges, which are popping up at a growing list of airports around the U.S. and the world.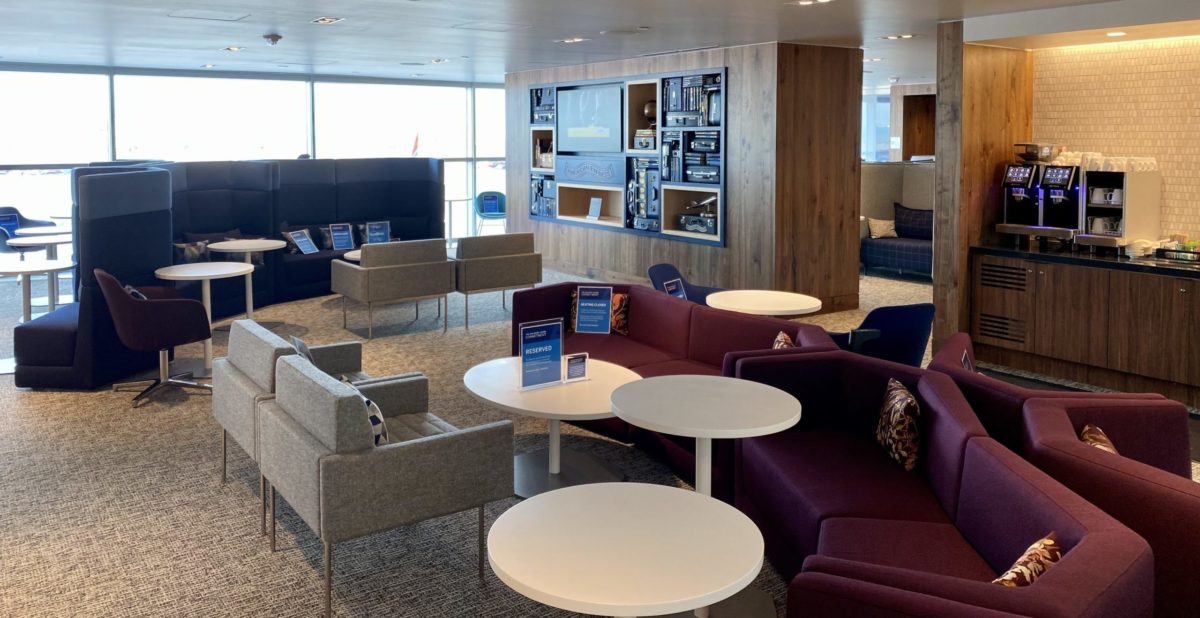 It gets better with annual credits that can help offset the otherwise steep $695 annual fee (see rates & fees). That includes up to $200 a year for Uber rides (split up into monthly installments), up to $200 for airline fees each year, up to a $200 annual hotel credit, up to a $240 digital entertainment credit, up to $189 annually for CLEAR® membership, up to $300 a year for an Equinox gym membership, and $100 toward purchases at Saks Fifth Avenue (split in two $50 credits twice a year).
You also earn 5x points when purchasing airfare directly through airlines (on up to $500,000 per calendar year), making it the best card for booking flights. In our opinion, it is the best card for Delta flyers – even better than the co-branded Delta cards.
Here's a full look at the Amex Platinum Card's benefits:
Earn 5x Points on Airfare: Spent directly with any airline or through the American Express travel portal at amextravel.com – capped at $500,000 spent in this category in a calendar year. It's the best card for booking airfare.
Earn 5x points on hotels, though only on prepaid hotel rates booked via amextravel.com
The Best Lounge Access Offered From Any Credit Card: Get complimentary lounge access to the Amex Centurion Lounges, Delta Sky Clubs (when flying Delta), Priority Pass Lounges, and other Lounge networks like the Escape lounge.
$100 Application Fee Credit for Global Entry or TSA PreCheck: If you apply for either Global Entry or TSA PreCheck and pay with the Platinum Card, the application cost will be reimbursed ($100 for Global Entry and $85 for TSA PreCheck). You can use this credit once every four years, and membership in either program is good for five years.
A $189 Credit for CLEAR®: Platinum cardholders now get a $189 annual credit for CLEAR, the privately run security program. It's the first credit card that will cover the entire cost of CLEAR, as memberships start at $189 a year.
Hilton Honors & Marriott Bonvoy Gold Elite Status: Get automatic Marriott Bonvoy and Hilton Honors Gold Elite status without having to meet any stay requirements.
$240 Digital Entertainment Credit: Cardholders will receive up to $240 in annual statement credits for select entertainment services in monthly installments of $20. It's currently available for Audible, SiriusXM, Peacock, the New York Times, Disney+, Hulu, and ESPN+.
Walmart+ Membership: Cardholders get up to $12.95 a month to cover the entire cost of a Walmart+ membership, which comes with benefits like free next-day shipping, free local delivery of groceries and other items ($35 order minimum), and more.
$300 Equinox Gym Credit: Receive up to a $300 credit annually to use for Equinox gym memberships or a digital subscription to Equinox+. The credit will be doled out in $25 increments each month until Jan. 1, 2023, when it switches to an upfront annual credit.
$200 Annual Uber Credit: Each year you hold the Platinum Card, you will receive up to $200 toward Uber rides or Uber Eats orders. You get $15 each month, and $35 in the month of December for $200 total). You'll also get a complimentary Uber Eats Pass membership.
$200 Airline Incidental Fee Credit: Each year you hold the Platinum Card, you also receive a $200 credit to use with one selected airline. The credit is intended to be used for things like checked bags, change or cancelation fees, seat assignments, lounge access, and more.
$200 Hotel Credit: Get a $200 annual statement credit for prepaid hotel bookings through the Amex Travel booking portal. This new credit only applies to Fine Hotels + Resorts® or Hotel Collection properties, which includes some great resorts and hotels around the globe. Stays at Hotel Collection properties require a minimum stay of two consecutive nights.
$100 Annual Credit for Saks Fifth Avenue: Each year of card membership, you will receive two $50 credits to be used at Saks Fifth Avenue stores. One $50 credit is available from January through June, with another available from July through December. Read our post on 7 ways to use your Saks Fifth Avenue credit!
Trip Delay & Cancellation Coverage: If you pay for your round-trip flight with the Platinum Card – or put the taxes and fees from an award flight on it – you will be eligible for trip cancellation and trip delay coverage. Read more about Amex's travel coverage here.
Annual Fee: $695, which is not waived for the first year of card membership.
Check out our full review of the Amex Platinum Card! 
Bottom Line
Don't settle for an 80,000-point bonus when applying for The Platinum Card from American Express. You can do so much better.
But be warned: Any (or all) of these workarounds to get a bigger bonus on the Platinum Card could disappear at a moment's notice. If you've been hovering over the apply button, it's time to strike.