This honestly almost seems too good to be true. But it's real.
Late last month, Qatar Airways announced it would ditch its little-known Qmiles frequent flyer mile program and instead adopt Avios – under the same umbrella as partner airlines British Airways and Iberia. That move raised the question: Would you be able to transfer Avios from British Airways over to Qatar, as is the case between BA and Iberia? Would it change British Airways' own award rates different for Qatar redemptions? And what about taxes and fees? British Airways is known for sky-high cash costs on award tickets.
The answer to all of the above is a resounding yes – and it's a massive win for travelers who want to fly Qsuites. Overnight, British Airways' Executive Club added the ability to instantly combine Avios between BA and Qatar and opening an incredibly lucrative option to book Qatar using credit card points. But there's more news: At the same time, British Airways appears to have adjusted its own award pricing for Qatar redemptions … with far lower award pricing and lower taxes and fees, too!
Using British Airways Avios, you can currently book flights from New York City (JFK) or even Los Angeles (LAX) to Doha (DOH) in Qsuites business class for just 70,000 Avios and $101 in taxes.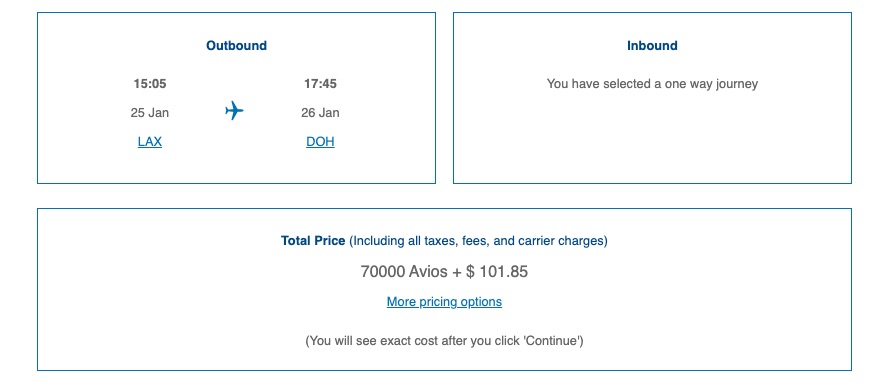 That is huge. It makes it almost laughably easy to book Qsuites at reasonable rates with points from cards like the Capital One Venture X Rewards Credit Card, the Chase Sapphire Preferred® Card, or the Platinum Card® from American Express.
We've tested it out ourselves and these lower priced awards are bookable. Consider this: Just last week, these same flights from the West Coast would have cost more than double the miles and nearly $500 in fees! Here's a screenshot of what these flights looked like previously.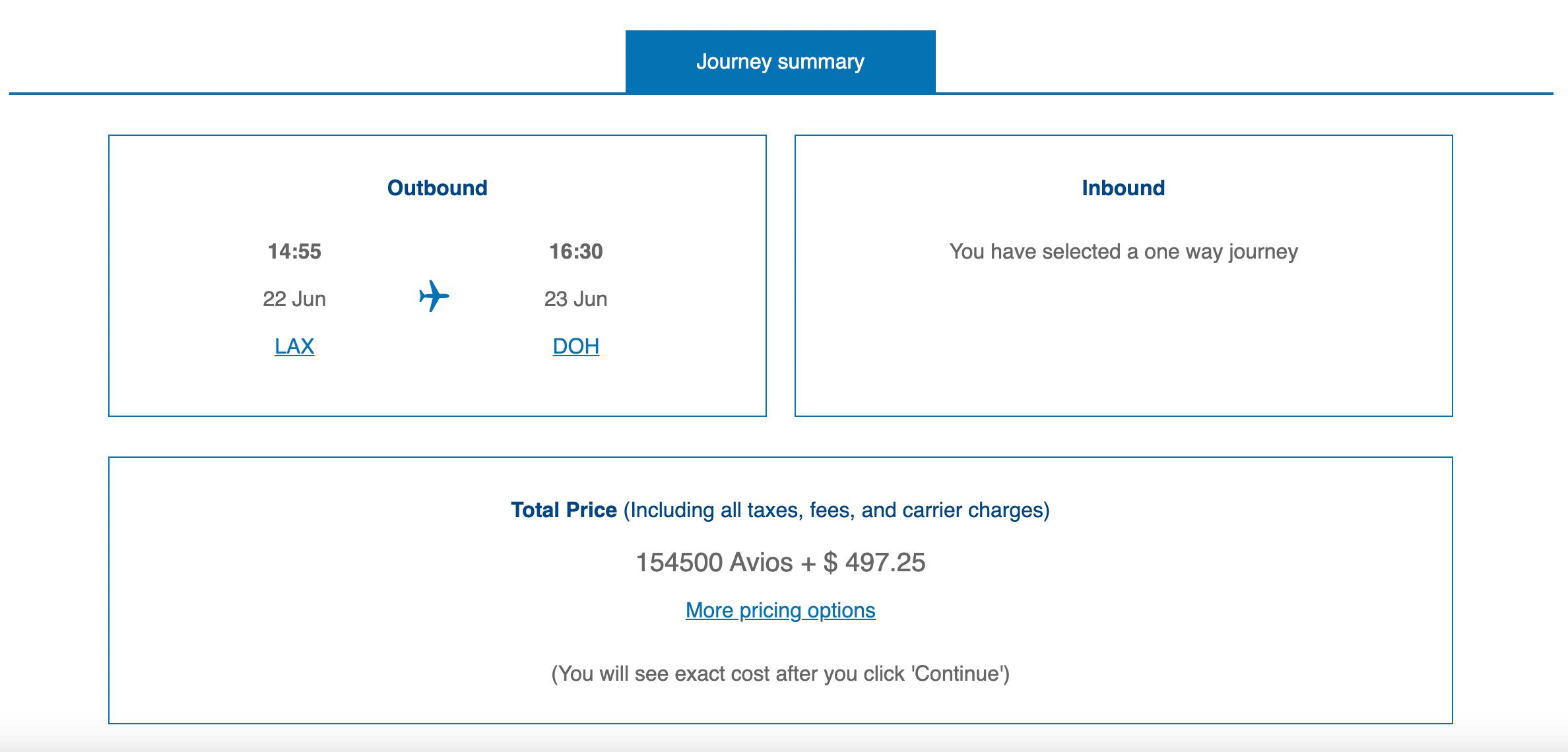 Oddly, British Airways has ditched its normal distance-based award pricing – where the longer the flight, the more miles it costs – for these partner bookings to match what Qatar itself charges. It's a flat 70,000 Avios for a one-way in Qsuites from the U.S. to Doha. On some other routes with connections onward to the Middle East or the Maldives, British Airways is charging a bit more because it prices out on a per-segment basis.
We can't rule out the the possibility that this might get changed for the worse over time. But for now, it's real. With a reasonable cash surcharge, this is easily one of the best ways to book Qatar Qsuites, considering British Airways Avios are incredibly easy to earn as a transfer partner of Chase, Amex, and Capital One.
Using American AAdvantage miles has been the go-to way to book Qatar Qsuites for years. But without a pile of AAdvantage miles at your disposal – and no easy path to transfer them from credit card points – options were limited. If you had Citi ThankYou points from a card like the Citi Premier® Card, you could transfer them directly to Qatar and book. Alaska Mileage Plan is a relatively new and affordable option starting at 85,000 miles each way to the Middle East – but those miles can be fairly hard for many travelers to earn, too.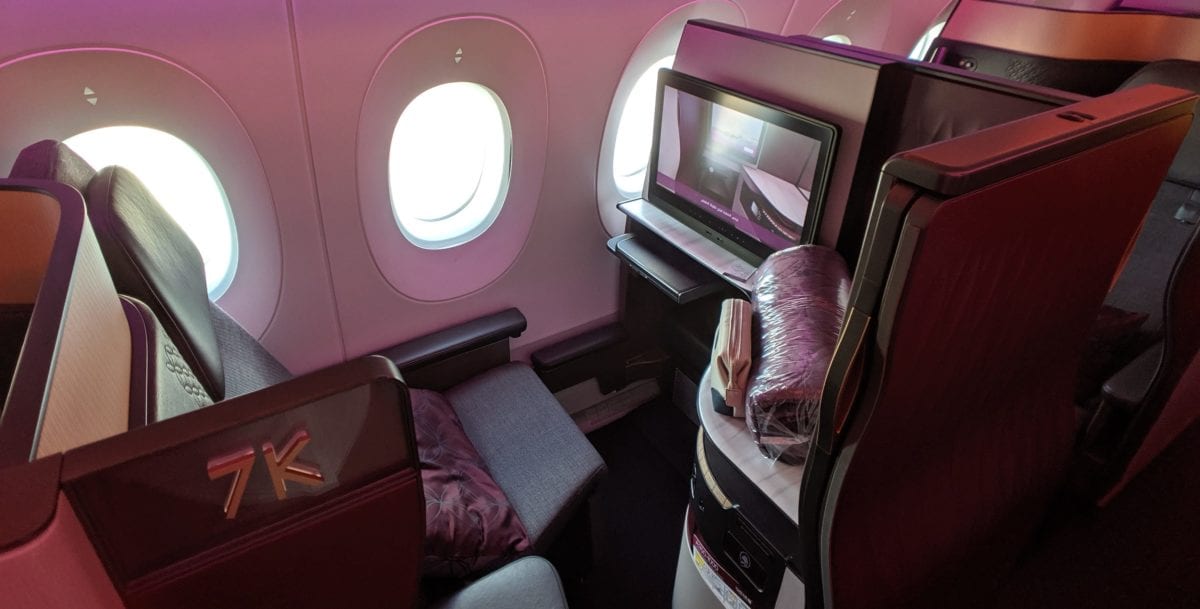 Read our full review of Qatar Airways Qsuites!
But now, points from almost every major flexible credit card can get you a seat in Qsuites.
You can also now transfer British Airways miles instantly over to Qatar Avios, which charges the same 70,000 miles plus about $97 in taxes is all you need for a one-way ticket from the U.S. to Doha (DOH) in Qsuites. Qatar often offers better pricing on awards with a connection.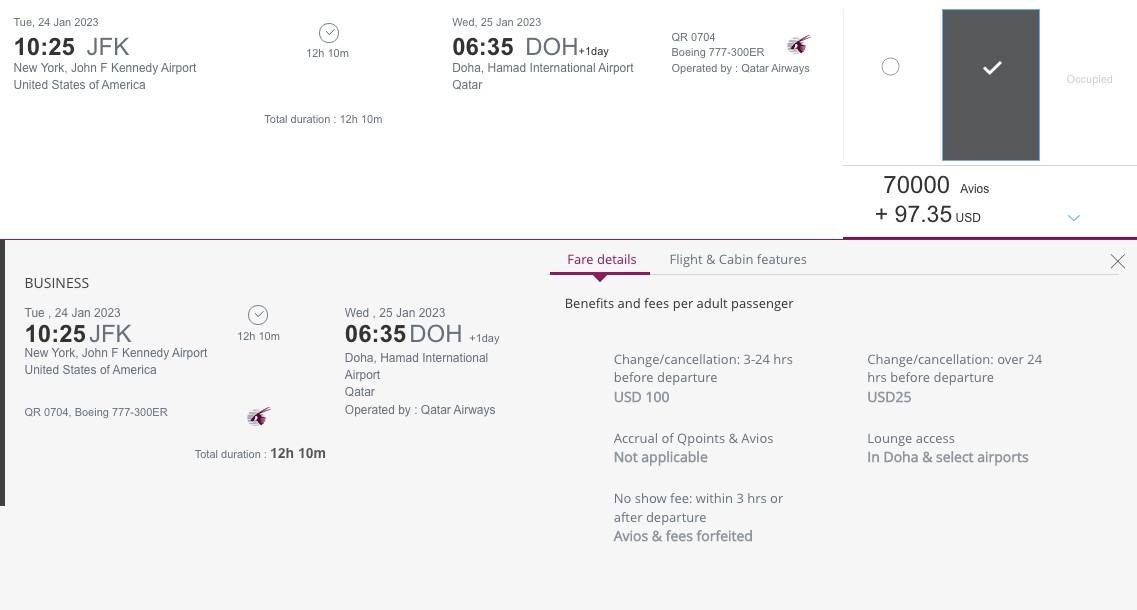 Award space on Qatar Qsuites can be hit or miss, with waves of availability getting released. You might want to search through AA.com for nonstop availability from Qatar Airways' U.S. outposts like Chicago-O'Hare (ORD), Dallas-Fort Worth (DFW), New York City (JFK), Miami (MIA), and eight other cities for the cheapest award space, available at 70,000 miles each way.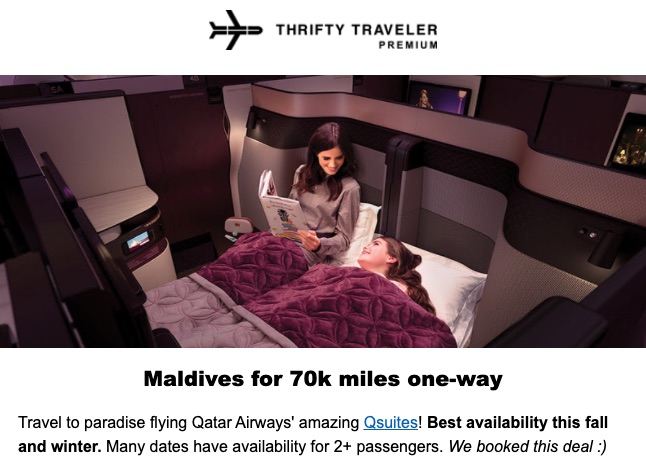 We sent our Thrifty Traveler Premium members an award alert with an opportunity to book Qsuites to the Middle East or Maldives early next year!
The opportunities go beyond Doha here, too. You can book flights from the U.S. to the Maldives (MLE) for as low as 85,000 Qatar Avios, plus about $200 in taxes and fees – British Airways charges per segment, so that same route comes out to 105,000 Avios with a similar tax bill.
How to Book Qsuites Through BA
British Airways' award search is among the most reliable. And with identical award rates and just a few bucks more in cash surcharges, there's virtually no reason to book instead with Qatar Avios.
British Airways charges a reasonable 70,000 miles (the same amount you'll pay through American Airlines) for a one-way business class award from the U.S. to Doha and reasonable fees under $100 for a one-way flight from the U.S. to Doha. Those taxes and fees are substantially lower than just a few days ago – and the award rates are, too.
To connect elsewhere in the Middle East like Dubai (DXB) it'll cost a bit more. Flights to the Maldives, meanwhile, should come in at 85,000 miles each way when using Qatar Avios.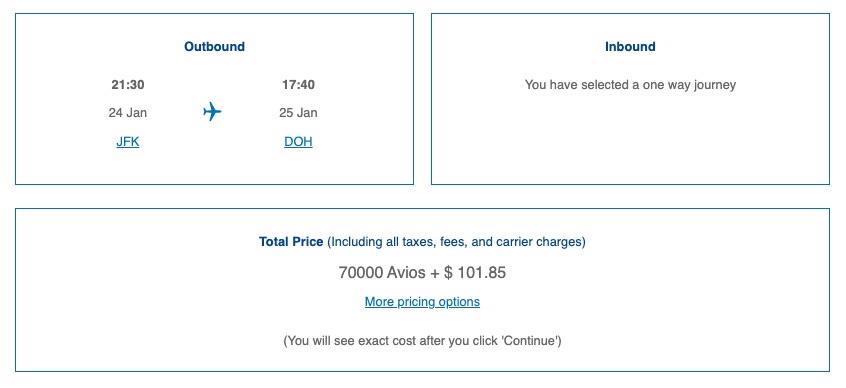 That is an incredible deal. While paying $100 in taxes is never fun, the ability to easily earn British Airways Avios to book this flight easily negates that.
You may want to start your search for award space by looking through AA.com, which you allows you to quickly filter for nonstops to Doha on Qatar and get a monthlong view at award availability. It seems that most saver award seats bookable through American at 70,000 miles should price out the same through British Airways, though that may not always be the case.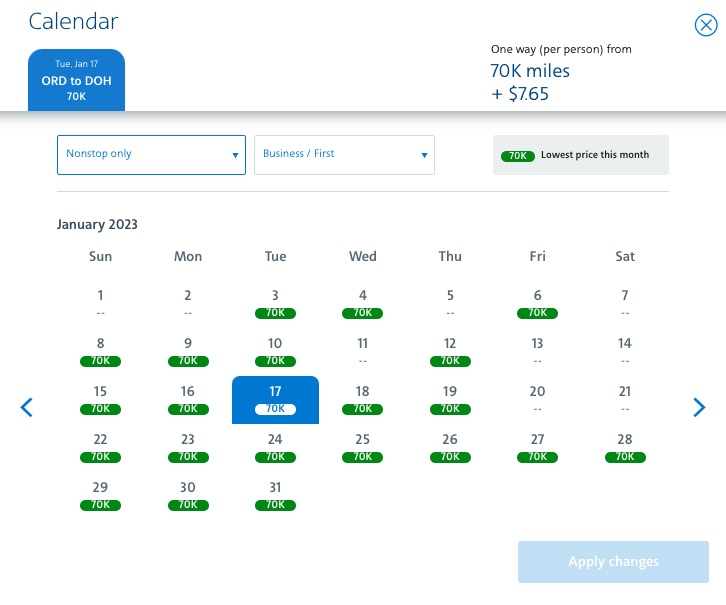 From there, head to BA.com, log in, click to book a flight with Avios, and plug in your routes and dates.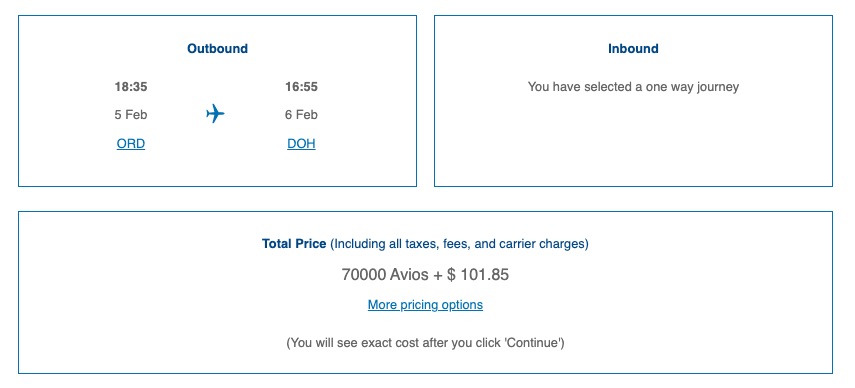 You can also book these flights through Qatar itself by combining Avios from BA over to Qatar. Award rates are mostly identical, though Qatar has access to some higher-priced awards that it doesn't give to most other airline partners and seems to have slightly lower rates on connecting itineraries.
How to Combine BA Avios with Qatar
The general rule of thumb with airline miles is that you can't transfer them from one airline to another. British Airways and its sister airlines break that rule.
British Airways is owned by IAG, which also owns Iberia and Aer Lingus. That opens the door to transferring Avios between all three airlines. And now Qatar is the fourth.
It's easy and nearly instant. Head over to BA.com, log into your Executive Club account, then manage your profile and click "Combine my Avios."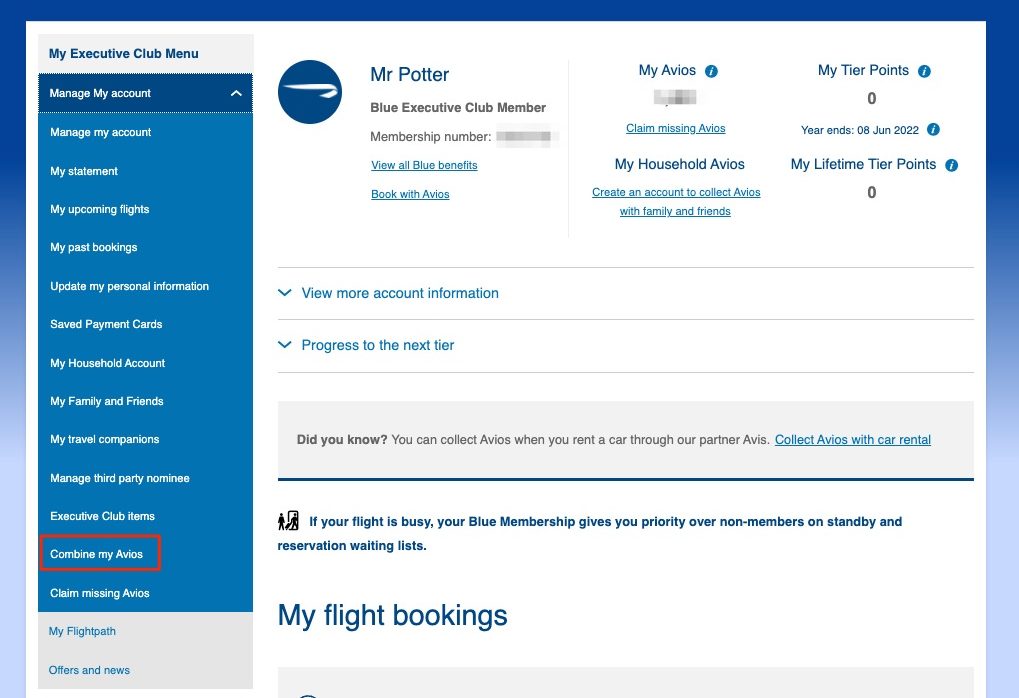 From there, scroll down and select the brand new option to combine Avios with Qatar. So far as we can tell, there are no limitations on how long both accounts need to be open in order to transfer miles between the programs – as is the case with combining miles between BA and Iberia. And you can move as many (or as few) Avios as you'd like between accounts.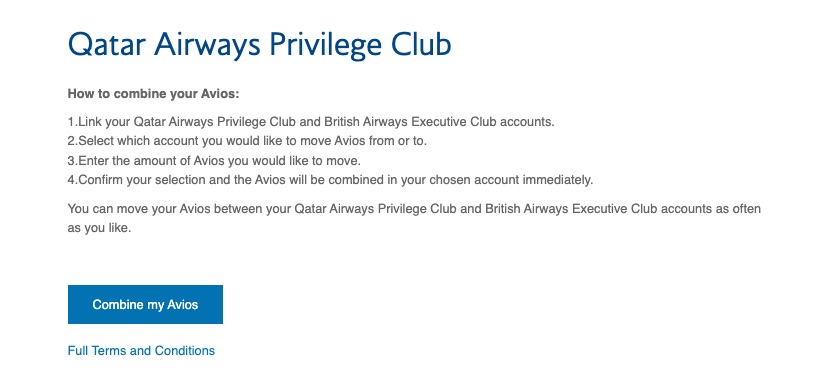 After attempting to link the accounts, British Airways will prompt you to log in to your Qatar Airways Privilege Club account.
Once that's successful, you'll be able to transfer Avios from your British Airways balance over to Qatar.
In our experience, these transfers are instant.
Bottom Line
This is massive. It's rare in the world of points and miles that an airline program changes for the better. We're all too used to increasing fuel surcharges and devaluations.
But you can currently book a one-way flight from the U.S. to Doha (DOH) for just 70,000 British Airways Avios and $100 – less than half what these awards once cost. With the easy ability to earn Avios through credit card transfer partnerships, this instantly opens the door to booking Qsuites more easily whether you use British Airways or Qatar Avios.