Even with rising flight prices, 2022 was an amazing year for cheap flight deals.
We've sent Thrifty Traveler Premium members more than 1,100 flight deals in the last year: We find cheap domestic and international fares and even award alerts bookable with points and miles.
Over 1,000 alerts is a lot of cheap flights … but some stand out. From business class seats to London for $900, to flights to Rome in the $300s, to an incredible first class suite to Japan for 43k points, and trips to Maui for 17k Delta SkyMiles roundtrip. The last year was one for the record books, and we're betting 2023 will be even better.
Here's a look at the absolute best of the best in cheap flights from the last year.
Business Class Mistake Fare to London for $900 Roundtrip
Mistake fares are the holy grail of flight deals: the key to saving hundreds, if not thousands, of dollars when airlines screw up. But they're rare – and mistake fares on pricey business class tickets are rarer still.
But that's just what we found and sent to members this past spring: Record-low pricing to fly Virgin Atlantic business class from New York City (JFK) to London-Heathrow in April and May. How low? We could barely believe our eyes…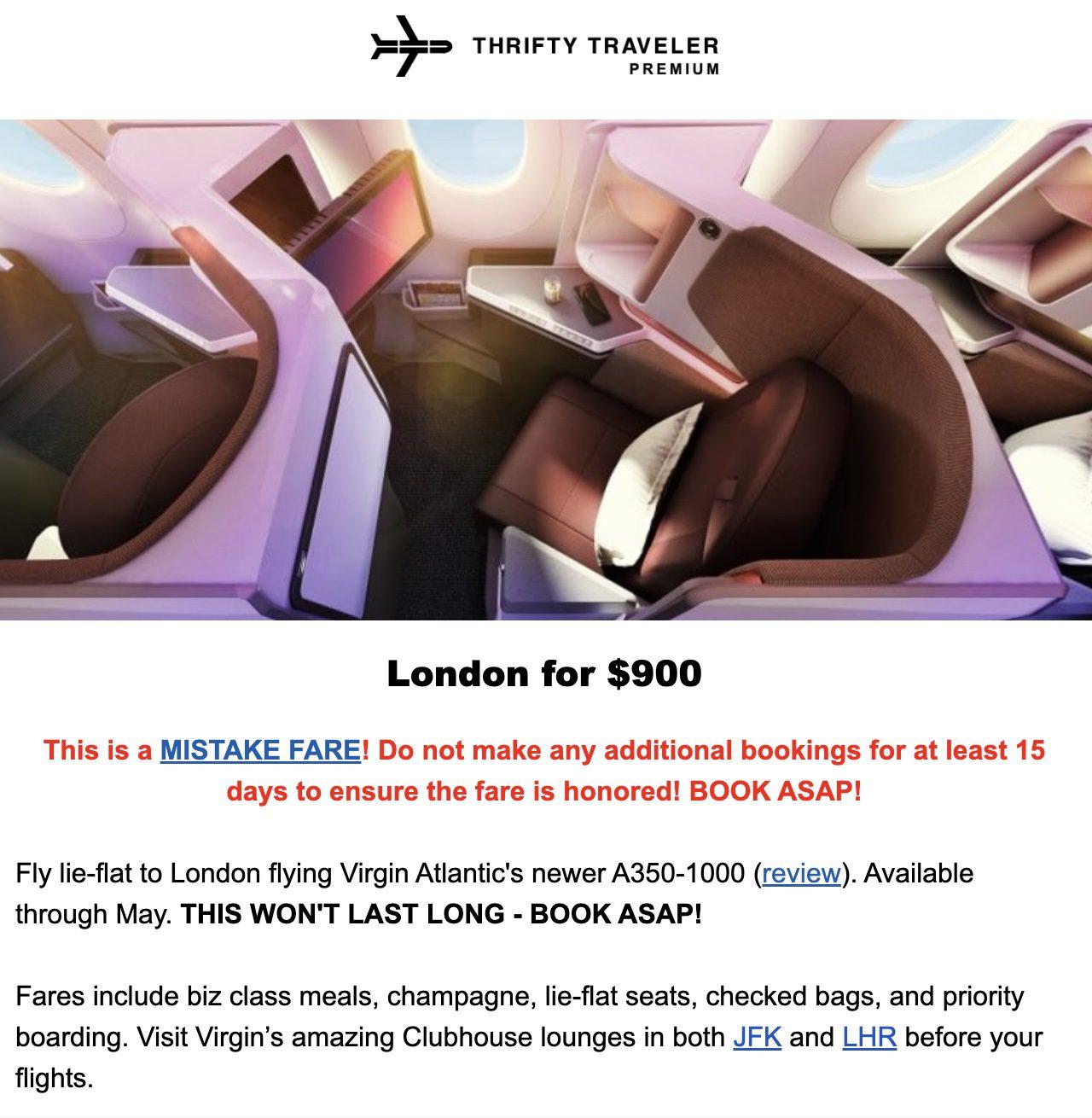 Only our Thrifty Traveler Premium+ members get ultra-rare business class mistake fares like this one!
That's right: Just $900 for a business class flight to London and back – a flight that typically costs $3,000 or more roundtrip. Heck, $900 is what most travelers expect to pay for the same flight in economy.
We had to double-check to make sure we weren't seeing things, but it was all there…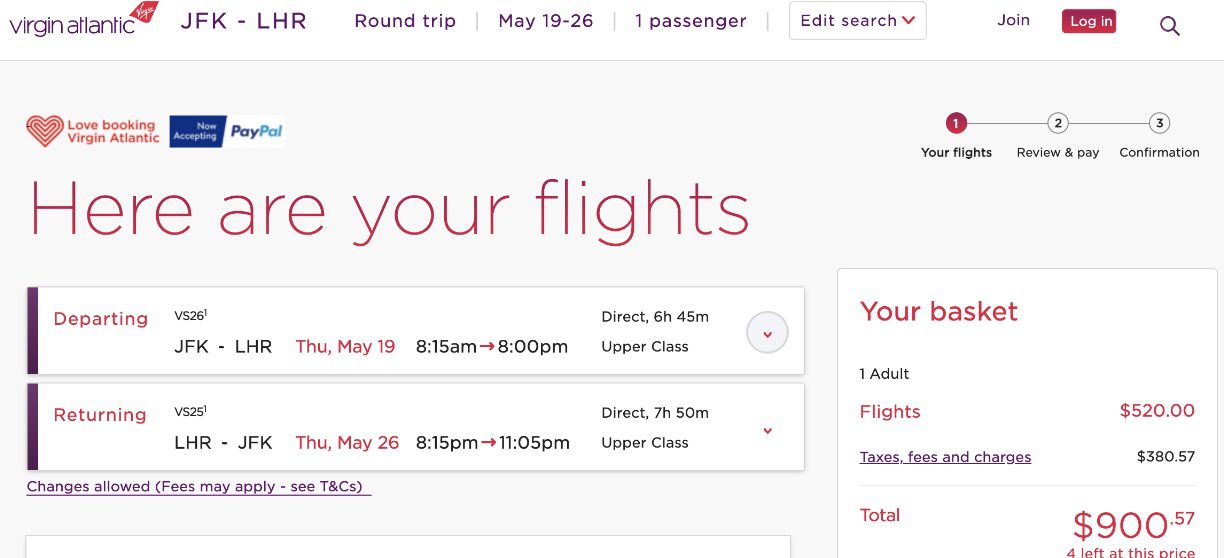 At that price, it's easy to call this one of the best flight deals of the year. It's probably one of the best mistake fares of all time: Deals this good on business class flights don't come around often.
Norway from $230 Roundtrip
Whether you took a trip this year or booked something for 2023, it has been a stellar year for cheap flights to Europe. Case in point: Flights all the way to Norway are typically expensive, yet we found fares to Norway and elsewhere in Scandinavia from just $230 roundtrip.
No, that's not a typo. Here's the proof.
Get cheap flights like this sent to your inbox with Thrifty Traveler Premium! Prices start at just $59.99 a year!
A flight to see the stunning and dramatic fjords of Norway for less than your typical flight to Chicago or Las Vegas (LAS)? You can't beat that, and that's why it's on the list.
This amazing deal flying Delta and its SkyTeam partner carriers came about soon after an upstart airline called Norse Atlantic entered the transatlantic market with flights from the U.S. to Europe. Delta didn't respond kindly to that budget carrier's dirt-cheap fares, leading Delta and its partner carriers to slash prices themselves.
This deal was smoking hot, but it was just one of many sizzlers we unearthed throughout the year.
Roundtrip to Maui from 17K Delta SkyMiles
Travelers love few things more than a cheap flight to Hawaii. We can do you one better – a nearly free flight to Hawaii.
Like I said before, we're the only flight deal service that finds both cheap cash tickets and deals to use your points and miles. And that includes Delta SkyMiles flash sales, when Delta slashes award rates on flights to get you somewhere for far, far less. And it doesn't get much better than this: Just 17,000 SkyMiles to Maui (OGG) and back.
Only Thrifty Traveler Premium+ members get award alerts like these – sign up today to get the next one!
This SkyMiles flash sale we dug up featured some enormous value for subscribers from Los Angeles (LAX), Minneapolis-St. Paul (MSP), and many cities in between. Tons of cities with Delta service across the country got in on the action, all with flights to Maui (OGG) from less than 29,000 Delta SkyMiles roundtrip!
Take all that in! This was one of our favorite Hawaii deals ever, and it was led by a truly befuddling fare from LAX. This was a Hawaii deal to remember for our subscribers with SkyMiles and truly one of the best deals of the year.

Nonstop to Europe from $331 Roundtrip
Every now and then, airlines take a look at the empty seats in their schedules, and decide to drop prices. Then another airline will match. Then the first carrier cuts prices again. And then…
Well, you get where I'm going with this. It's a fare war, and it leads to amazing deals like $330 nonstop, roundtrip flights to Europe.
It all started in early 2022, when United and American airlines both ran incredible sales on flights to Europe for the spring. American started it with record-low pricing on nonstop flights to Rome (FCO).
By the end of it, two of the biggest U.S. carriers were running massive sales on their nonstop routes to Europe. Who won, you ask? We all did – especially Thrifty Traveler Premium members who booked these fares. Here's a small taste.
And another look at what United put up for sale…
Remember: Airlines never advertise their best sales like these … but we find them anyway for our Thrifty Traveler Premium members. And that's how we got a week of nonstop flights to Europe for $400 or less in 2022.
South Africa from $591 Roundtrip
Like many of the deals on this best of 2022 list, some fares we found to South Africa this year broke records. Just how cheap can a flight that far get, really?
Let me show you.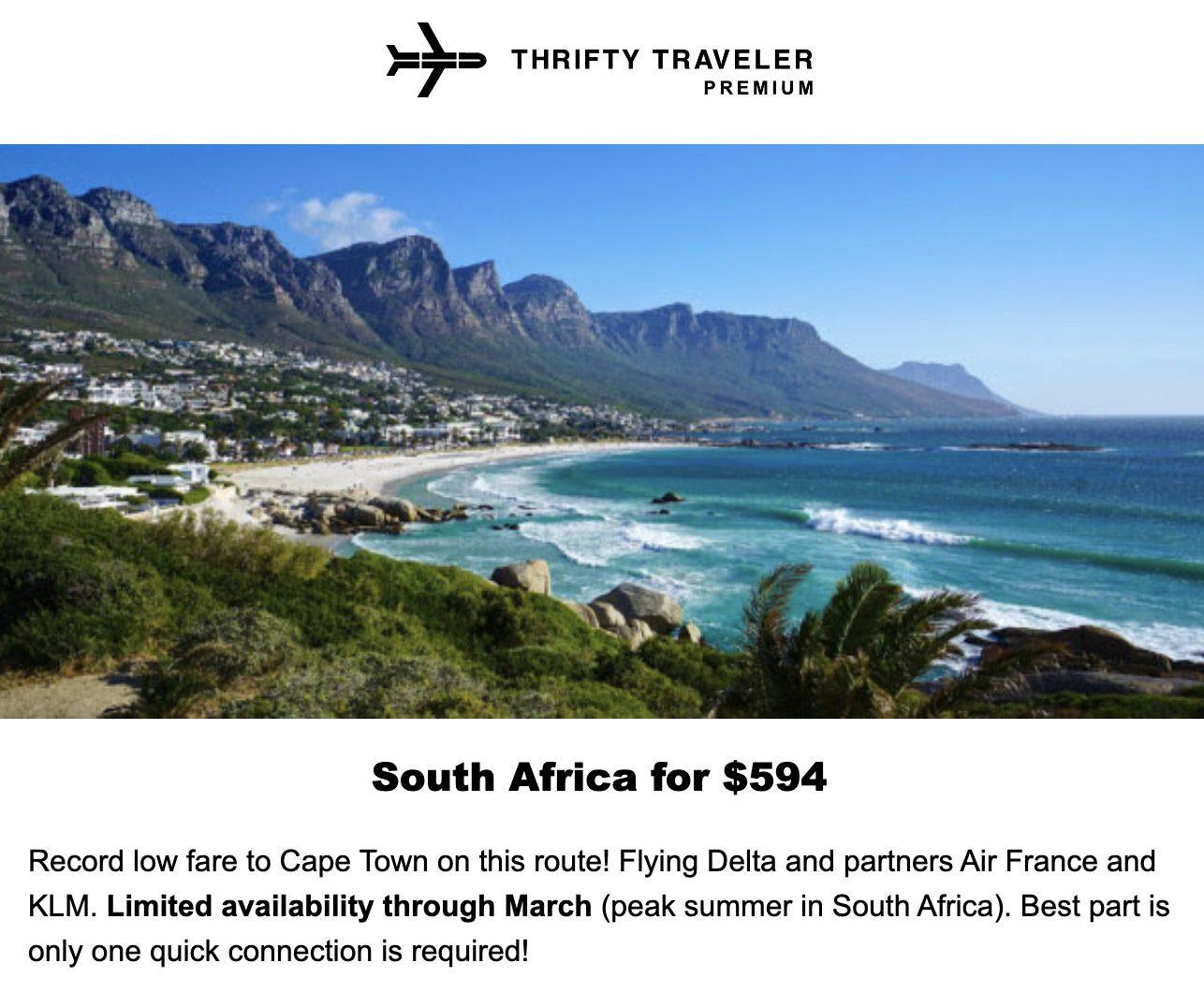 Delta, Air France, and KLM of the SkyTeam alliance all went hard in the spring of 2022 on selling ultra-low fares to Cape Town (CPT) and Johannesburg (JNB). Travelers based in both Minneapolis-St. Paul (MSP) and Detroit (DTW) benefitted from record-setting fares.
Sub-$600 flights to South Africa are unbelievable, when you really think about it. That's about 24 hours of travel from almost anywhere in the U.S. to one of the coolest destinations in the world. We couldn't believe our eyes.
But it wasn't just Minneapolis and Detroit. Travelers in Baltimore (BWI), Chicago-Midway (MDW), and Washington, D.C.-Dulles (IAD) all received fares to Johannesburg (JNB) under $606 as well.
It was a strange sale, for sure, but it put South Africa in reach for almost any traveler thanks to a truly incredible flurry of deals.
Business Class to Europe from $1,059 Roundtrip
Unless you catch a mistake fare, business class flights to Europe are almost always best booked using points and miles. It's rare that a good, cheap cash rate on lie-flat seats presents itself…
… but it's not impossible.
This deal on lie-flat business class fares across the pond could have gotten you almost anywhere in Europe, from Stockholm (ARN) down to Lisbon (LIS) and seemingly everywhere in between – including even Marrakesh (RAK) in Morocco.
And it wasn't just the big U.S. cities that got in on the cheap business class fare action. Check this out.
We find flight deals from more than 200 cities in the U.S. and Canada, and many of them got these ultra-low business class fares across the pond. From Brainerd (BRD) in Minnesota to Evansville, Indiana (EVV), everyone across the country with Delta service at their airport benefitted.
Plus, because these were cash fares, these deals went a long, long way toward helping our subscribers earn their Delta Medallion Status for 2023 and beyond.
ANA First Class to Tokyo from 43K Points
No matter if you've got 1 million points or more, some award redemptions are harder to pull off than others. We found an absolute unicorn in 2022 to help travelers get back to Japan in serious style in 2023.
Finding one seat flying ANA First Class to Tokyo is a tall order? But seats for two? Bookable for just 43,000 points apiece each way? That's exactly what our Thrifty Traveler Premium+ members got this fall. Talk about an amazing award alert!
The deal was bookable using 55,000 Virgin Atlantic points. But thanks to a 30% transfer bonus from Chase to Virgin at the time, 43,000 points plus a few hundred bucks in taxes and fees was all you needed to book these seats.
The deal didn't last long: Our members gratefully gobbled up all the limited availability in just a few hours.
Considering these flights typically cost $20,000 roundtrip, we can't blame them.
U.S. Virgin Islands for $183 Roundtrip
Airline fare wars are a recipe for great deals for U.S. travelers, when airlines offer crazy cheap flights from the hubs of their competitors in the hopes of luring away customers. Travelers looking to get to the U.S. Virgin Islands got a doozy of a fare war in 2022: Flights to this Caribbean island for under $200 roundtrip.
This deal on flights to St. Thomas (STT) of the U.S. Virgin Islands is a classic example of American waging a fare war against Delta at its hub cities in Atlanta (ATL), Detroit (DTW), and Minneapolis-St. Paul (MSP), resulting in some of the cheapest fares to the Virgin Islands we've ever seen.
That's right! This deal featured Main Cabin fares on American Airlines flying to St. Thomas in fall 2022. It was a sizzling deal to one of our favorite, passport-free U.S. destinations.
All of these fares were priced exactly the same to help American lure some loyal, hub-captive travelers away from their hometown airline, and with a fare that low, I bet they were successful!
Europe for 32K Delta SkyMiles Roundtrip
Every day we search for points and miles deals across the Atlantic. But in early August, we found one of our favorites of all time.
Delta put nearly all of its transatlantic flights on sale to destinations across Western Europe when you booked using your Delta SkyMiles. From Des Moines (DSM) to Greensboro (GSO), about 200 different cities got in on this deal with flights to Europe for 32,000 Delta SkyMiles.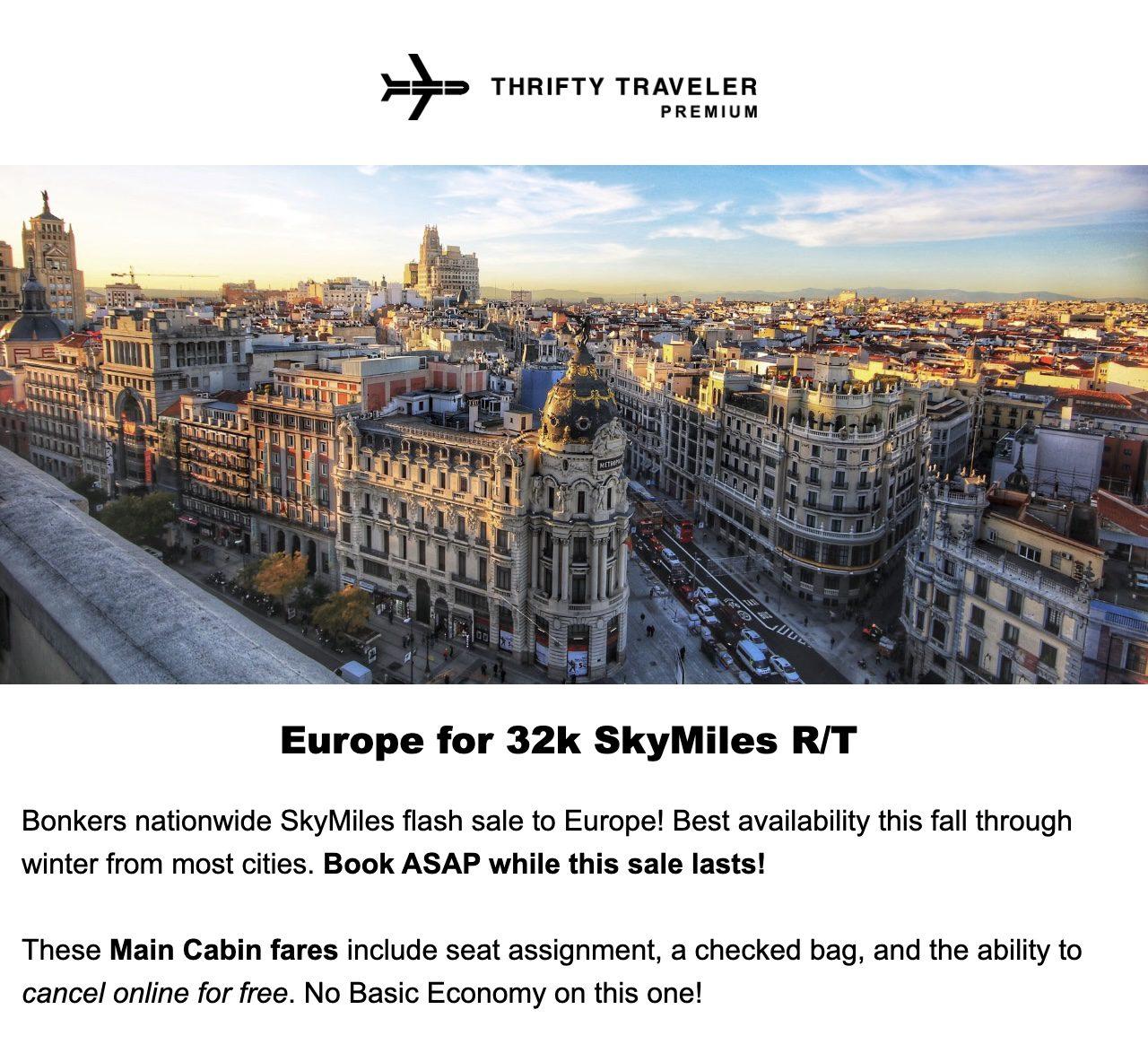 The fares included a checked bag, free seat assignment, and they were bookable as "open-jaw" itineraries, allowing you to fly into one European city and back from another at the same rate. It's one of our favorite travel tactics to help you see more of Europe for less.
Taxes and fees clocked in as low as just $57 on these fares, too. Making a trip from Minneapolis-St. Paul (MSP) to Madrid (MAD) a breeze.

Business Class to Australia from 55K Miles
Getting to Australia in lie-flat business class is a tough one. Airlines know travelers will pay a small fortune for those seats, so they rarely release them to book using miles.
But then, just when Australia had finally reopened to international travel, it happened: One of the best points and miles deals of the year.
Qantas, Australia's flag carrier, quietly released a bunch of business class award seats to fly from the U.S. to the land down under in late 2022 and early 2023. And because we're always looking for great points and miles deals, we spotted it and tipped off our Thrifty Traveler Premium+ subscribers, giving them the exclusive heads up to book for as low as 55,000 miles each way.
Whether Melbourne (MEL) or Sydney (SYD) was your preference, a lie-flat seat was suddenly within reach. It was clearly one of our best deals of the year, and helped a lot of travelers knock Australia off their bucket lists in incredible style.
Premium Economy to Europe from $516 Roundtrip
There's a sweet spot between spendy lie-flat business class and economy at the back of the plane when flying long-haul: it's called premium economy. It's a wider, plush seat with more legroom with additional amenities, better service, and often better food and drink, too.
Premium economy also usually comes at a lower price point than business class … but rarely this cheap.
If you thought that was an economy fare, I don't blame you! That's a pretty good fare for economy, but an insanely good fare for Air France Premium Economy. In fact, it was a record-low price to fly premium economy to Europe, the best among a crop of cheap fares from all over the country.
Would you pay around $650 (or less!) for this seat? I know I would.
Business Class to New Zealand for 60K United Miles
The best way to illustrate how good of a deal we found to Wellington, New Zealand (WLG) this year is to just show you what it cost to book the business class seats compared to economy on the same flight.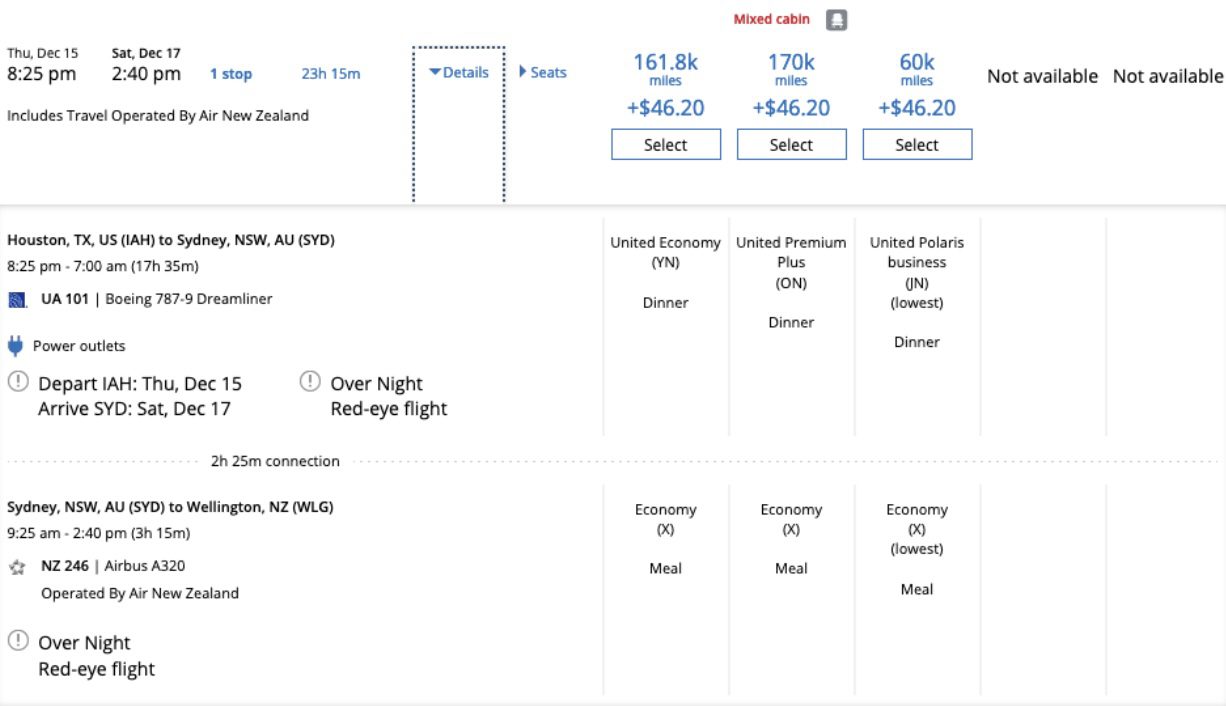 Would you rather use 162,000 United Miles to fly to New Zealand in economy? Or would you rather save 100,000 miles each way and take that flight in United Polaris business class.
That's not a trick question. We still have no clue exactly what happened here – it was unparalleled. And that meant we had to pass it onto our Thrifty Traveler Premium+ members immediately.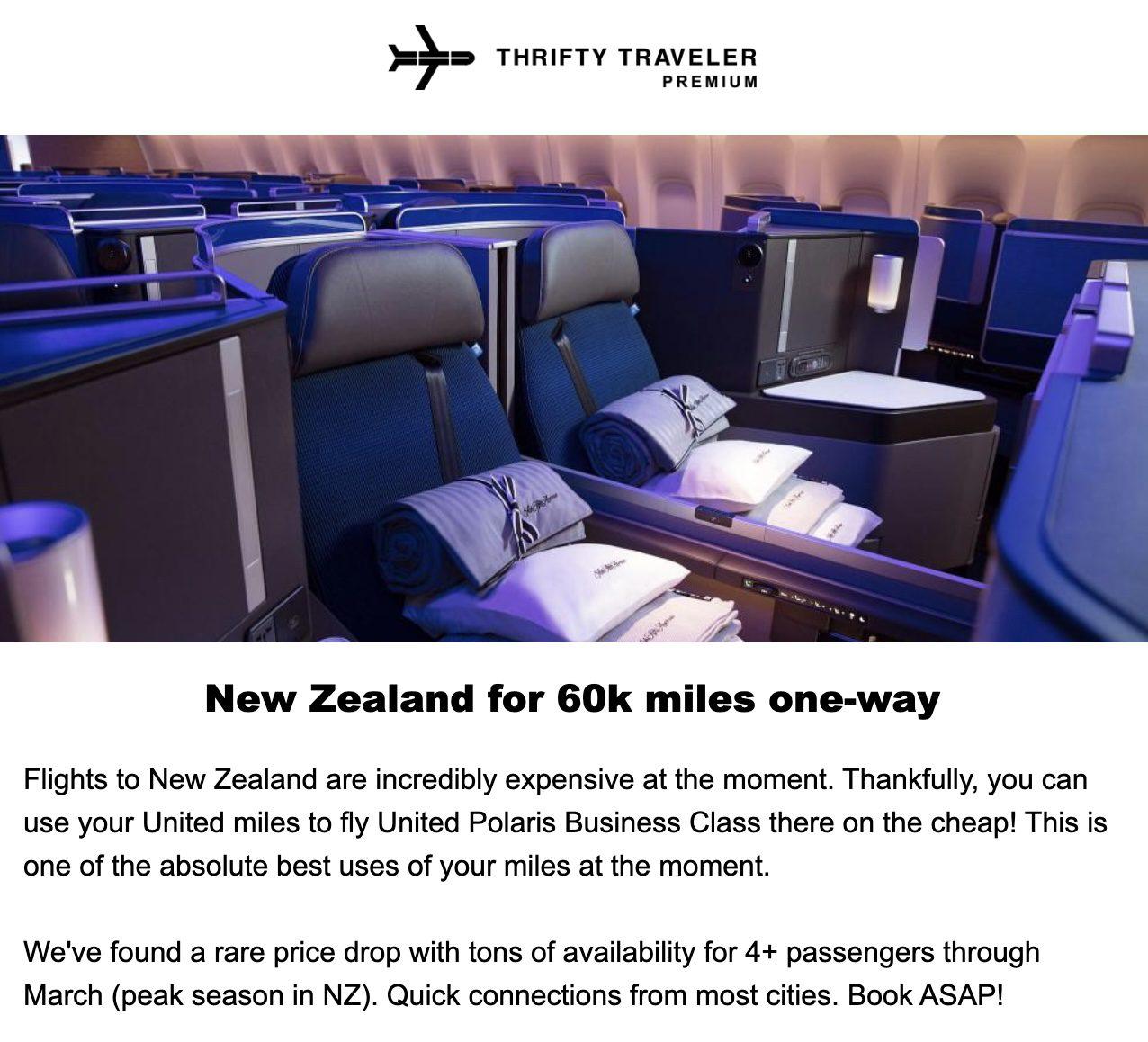 Could this deal get any better? Oh yeah, the deal was available from across the country, too. Travelers from nearly every airport with United service in North America could have jumped on this sale to New Zealand. It's a steal of epic proportions, solidifying it as a surefire top 12 for us.
Bottom Line
Whittling down more than 1,100 Thrifty Traveler Premium deals into the 12 best was no small task. Every deal we sent members in 2022 was great, but these were the top 1% – the cream of the crop.
Whether you wanted to fly to Norway and back for $230, fly premium economy to Europe for $516, fly business class to Australia for 55,000 points, or fly first class to Tokyo for 43,000 points, 2022 was a year of flight deals to remember.
Make sure you're signed up for Thrifty Traveler Premium in 2023 so you can travel more for less!