With long lines regularly forming outside busy Delta Sky Clubs around the country, the Atlanta-based airline on Wednesday unveiled its latest round of policy changes meant to crack down on overcrowding starting next year. At the same time, Delta shed more light on plans for five brand new Sky Clubs and three expansions on tap for 2023.
Come early February, the cost of bringing a guest into a Sky Club will jump from $39 to $50 – the second increase since 2020. Annual lounge memberships will be harder and more expensive to purchase. And flyers with Delta Gold Medallion Status or higher will no longer be able to get into the lounge when flying internationally in economy or Delta Comfort Plus.
Along with a few others, those are sizable changes … that still may not move the needle compared to the primary culprit behind packed Delta Sky Clubs: unparalleled access for Amex credit cardholders. No other airline has opened up more avenues for complimentary lounge access than Delta, which grants cardholders with the Delta SkyMiles® Reserve American Express Card as well as The Platinum Card® from American Express free entry when flying Delta that day. If that's how you get into the Sky Club, little is changing.
That has made Delta the poster child for overcrowded airport lounges in 2022. An attempted crackdown this past spring with new three-hour limits did little, especially after the airline backtracked on banning access upon arrival. Heading into the hectic holiday season, the airline began rolling out priority entry lanes for VIPs and even asked top employees to skip the Sky Club until the New Year.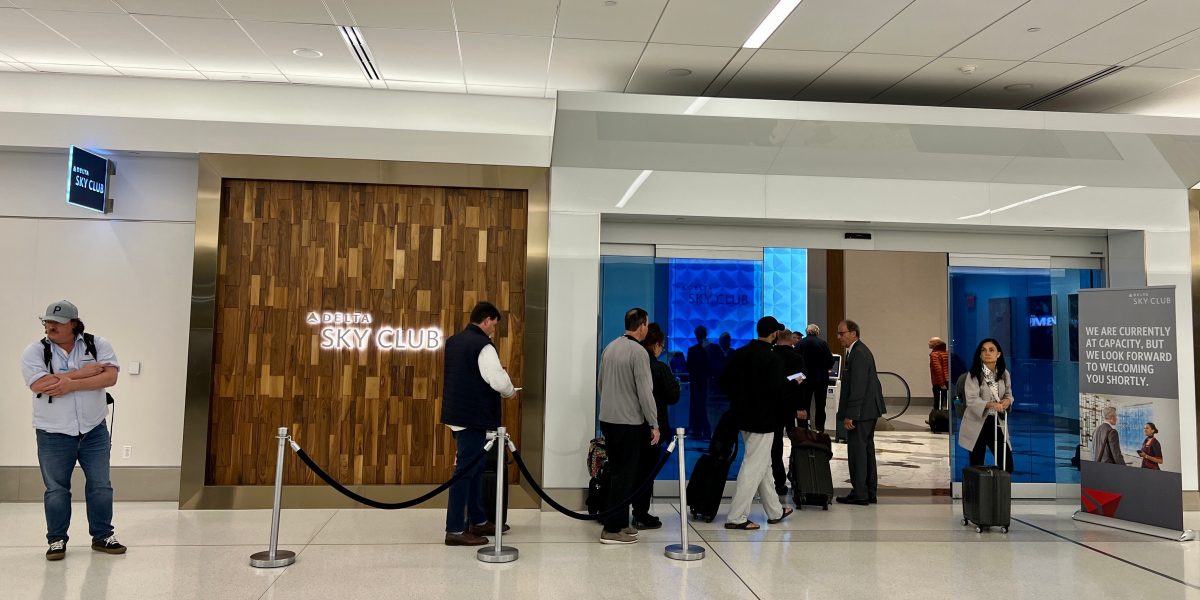 Read more: Why Are Delta Sky Clubs So Crowded These Days?
But clearly, none of those moves have been enough.
"It's incredibly important to us that Delta Sky Clubs continue to deliver an industry-leading experience for our guests," Dwight James, Delta's senior vice president of customer engagement and the CEO of Delta Vacations, said in a statement announcing the changes. "While we're thrilled to see so many customers enjoy the fruits of our teams' hard work, our goal now is to balance the popularity of the Clubs with the premium service and atmosphere for which they were designed – and that our guests deserve."
Here's a look at what's in store for 2023 at Delta Sky Clubs.

Got Access via Credit Cards? Little is Changing
This is really what it boils down to. If you've got a Delta SkyMiles® Reserve American Express Card or The Platinum Card® from American Express, your lounge access is safe.
Delta's relationship with American Express is a cash cow, bringing in billions of dollars a year for the airline. The two sides inked a major contract extension into 2030. Even with lounges filling up and longtime loyal Delta flyers upset, the airline is clearly either unwilling (or unable) to tweak lounge benefits on the credit cards that are almost single-handedly responsible for overflowing Delta lounges.
In the ongoing battle between credit cards and elite airline status, credit cards are winning. This cements these two credit cards as the best, most cost-effective way to secure your ticket into the Delta Sky Club – so long as you're flying Delta that day, of course.
That said, there's one change to keep in mind that could cost you more when visiting a Delta lounge with a companion…

Day Passes & Guests Will Cost More
Whether you've got The Platinum Card® from American Express, Delta's top Reserve Card, or purchase an annual Individual Sky Club membership, bringing a guest with you is going to cost more. And if you've got the Delta SkyMiles® Platinum American Express Card, your entry to the Sky Club will cost more too.
Starting Feb. 2, 2023, Delta is raising the cost per guest from $39 to $50. You can still purchase a single visit pass if you hold the Delta SkyMiles Platinum Card, but it will soon cost $50 each visit. Delta nixed the ability to buy a day pass with the Delta SkyMiles® Gold American Express Card way back in early 2020.
The two-guest limit per eligible customer seems to remain in place. It seems that Delta SkyMiles® Reserve American Express Card will still get two free guest passes a year.
While it's unclear how much this change will limit crowding in the end, it's likely to affect many Delta flyers – especially those traveling with children who get lounge access through credit cards. There's no discount on that $50 guest fee for younger children, though some (but not all) cardholders can bring children under 2 years old for free.
That will make adding an authorized user to an Amex Platinum Card even more powerful. While it costs another $175 a year – on top of the card's already hefty $695 annual fee (see rates & fees) – each authorized user could use their card to enter the Sky Club when flying Delta. Plus, Amex charges $175 total for up to three authorized users – not each.
Status May Not Cut It
One of the best, little-known ways to get into Delta lounges is on the chopping block.
For many years, Delta has allowed flyers with Delta Gold Medallion Status or higher to use the Sky Club when flying internationally … whether they're flying in a Delta One suite, first class down to Mexico, or any old economy seat anywhere abroad. No more. 
Effective Feb. 2, only travelers with status flying internationally in Delta Premium Select or Delta One can use the Sky Club before their flight. That change was first reported earlier this by Brian Sumers in his newsletter, The Airline Observer.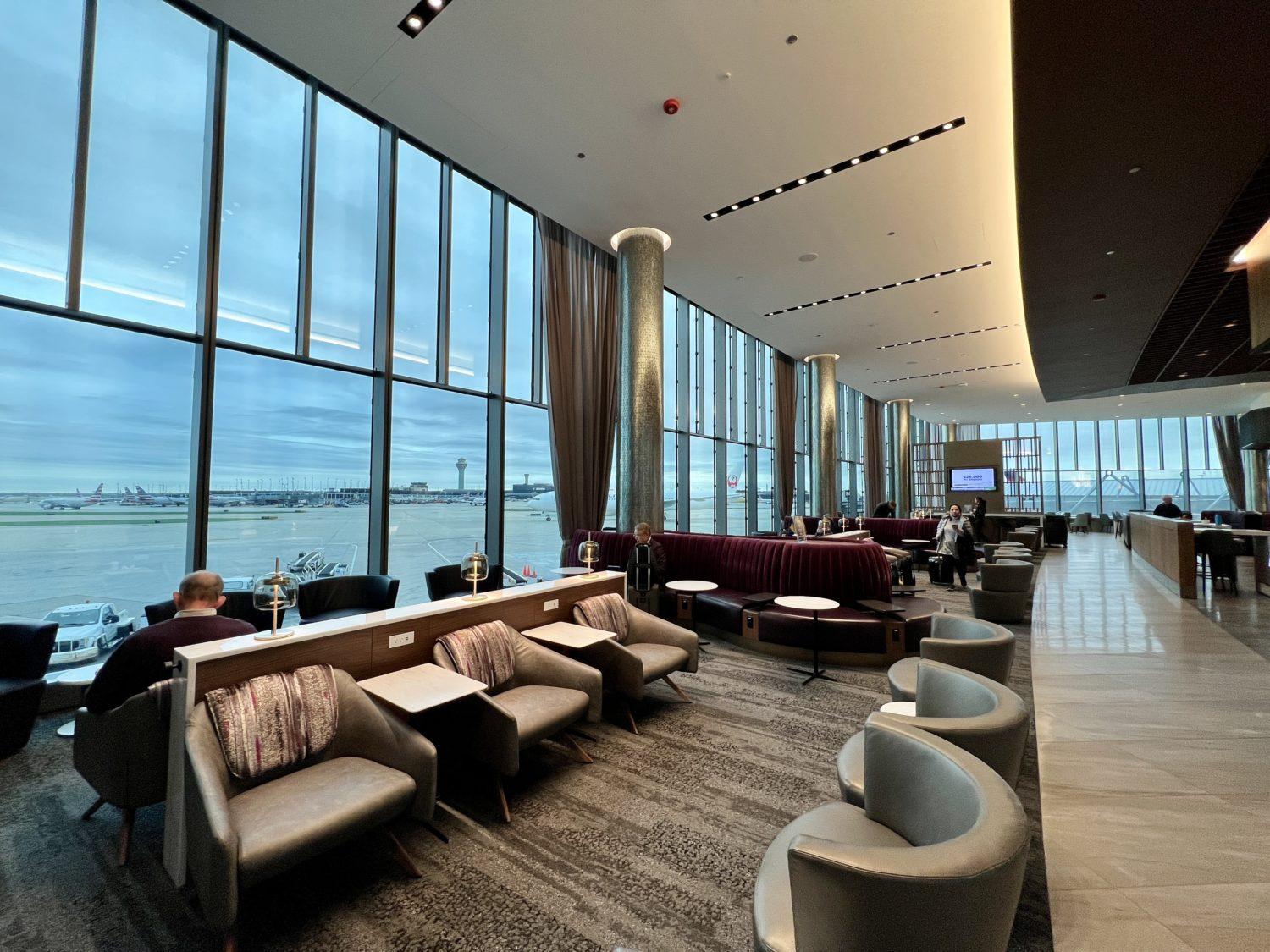 Check out our review of the brand new Delta Sky Club in Chicago-O'Hare (ORD)!
It's a relatively small change, especially since travelers with elite status from other carriers that unlock Sky Team Elite status can still use the Sky Club. Still, it's likely to upset many loyal Delta flyers who have come to rely on a lounge visit even when flying economy.
But even Delta's highest-flying elite members weren't spared from this latest round of changes…
Even Top Diamond Elites Feel the Sting
Travelers with the top tier of Delta Medallion Status, Diamond, get to pick a handful of choice benefits every year, including a few Sky Club membership options. Those are taking a hit.
As of Feb. 1, Delta is eliminating two choice benefits for Diamond Medallion members for the 2024 status year:
Individual Sky Club memberships, meaning top elites can no longer select this as one of their choice benefits for their own Sky Club access
Delta Sky Club guest pass access, which allowed flyers with Sky Club access through credit cards to bring a free guest on every visit.
Ouch. That's a tough blow for some of Delta's highest-paying customers who want to visit the Sky Club with a guest … and it gets worse. Come February, Diamond elites who want an Executive Sky Club membership (unlocking complimentary lounge access with two free guests) will have to use all three of their annual choice benefits to pick that perk. 
It's a double whammy for Diamond Medallions, who will soon have to spend an even larger fortune with Delta to keep that status next year. With the ranks of SkyMiles Medallion flyers larger than ever after years of automatic extensions and special promos, Delta raised the requirements to earn status earlier this year. That means earning or requalifying for Diamond status in 2023 will require a whopping $20,000 in Medallion Qualifying Dollars (MQDs), up from $15,000.
Sky Club Membership Gets More Expensive & Harder to Buy
Want to buy a Sky Club membership outright? That's about to get more expensive, if you can buy one at all…
Starting Jan. 1, you can't buy (or renew) a Sky Club Individual or Executive Membership unless you've got Delta Medallion Status. That begs the question: How many flyers without status were buying pricey lounge memberships in the first place? Our guess is "not many" – and that's an understatement.
But for those with status who are buying lounge memberships, prices are going up.
Delta Sky Club Individual Memberships will cost $695 a year, up from $545
Delta Sky Club Executive Memberships will increase to a whopping $1495, up from the current $845 price tag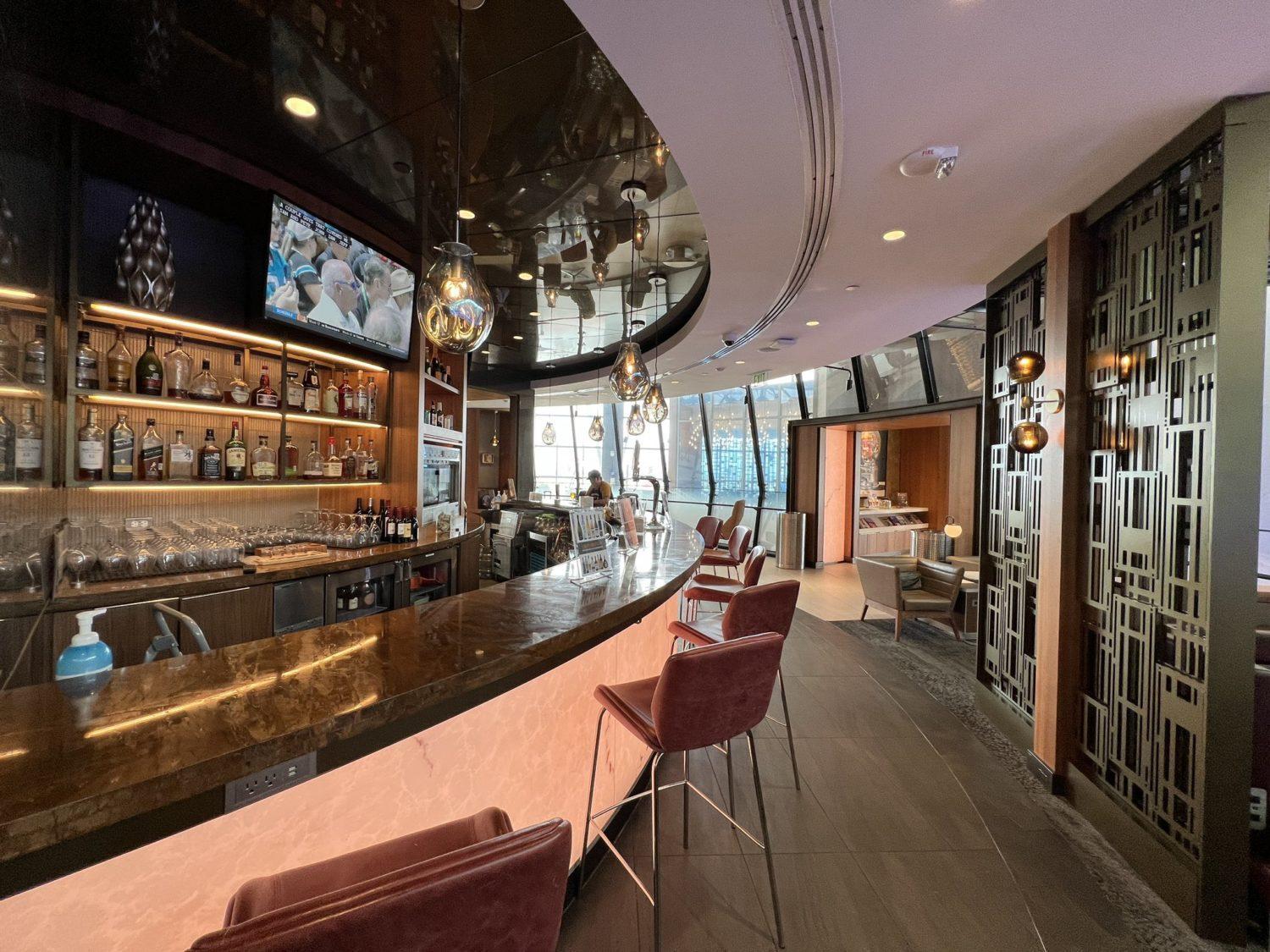 Whether you're using cash or SkyMiles – and at a penny a pop, you shouldn't be – this takes a bad deal and makes it even worse. There are far, far better ways to get Delta Sky Club access than one of these memberships.
This change likely only hits corporate travelers who expense their Sky Club memberships to the boss. And considering those flyers almost certainly have some level of Delta status, it's hard to see this change moving the needle much.
No Sky Club Access for Basic Economy, Unless…
Now this is just strange.
Starting Feb. 2, flyers who buy a Delta basic economy ticket cannot use the Sky Club … with one huge exception: Access through a credit card like the Delta SkyMiles® Reserve American Express Card as well as The Platinum Card® from American Express is still good to go.
That means this change really only affects flyers with a basic economy ticket who have purchased a Sky Club membership. Considering Delta basic economy no longer earns SkyMiles nor credits toward elite status, we're guessing this change effects … well, virtually no one.
New Capacity Indicators
Want to know if there's plenty of empty seats or a line outside your go-to Delta Sky Club? Delta is working on it.
Delta plans to roll out "real-time capacity club occupancy trackers" in the Delta app. It's starting next month with Sky Clubs in Atlanta (ATL) and Detroit (DTW), with five-plus lounges that are some of the busiest in the airline's network, before expanding systemwide sometime in the first half of 2023.
Just open your Delta app, pick the Sky Club option, and the app will show you how busy each lounge is at the time. Delta says it will display a range of four options, from "not busy" to "extremely busy."
"Empowering Delta Sky Club customers with greater visibility via the app is a small change that we believe will make a big difference," said Claude Roussel, Delta's managing director of Sky Clubs. "With a digital window into Club occupancy levels, we can give customers more control over their airport journeys and better set expectations when the airport is busy."
But to be useful, it'll have to be accurate – and that's easier said than done. American Express rolled out a similar feature last year, but it's often wildly off-base.
New & Expanded Sky Clubs on the Way
American Express is the elephant in the room when it comes to crowded Delta Sky Clubs. With an insanely lucrative contract that runs into 2030, Delta is apparently unwilling (or unable) to truly cut down on lounge access through those Amex cards.
So they're focusing on the second-most expensive endeavor: Building out bigger, better Sky Clubs. In 2022 alone, Delta has opened stunning new lounges in Chicago-O'Hare (ORD) as well as Los Angeles (LAX), a massive new Sky Club in New York City-LaGuardia (LGA), its only overseas location in Tokyo-Haneda (HND), and several more.

Earlier this year, Delta unveiled plans for a few new Sky Clubs across the country, including exclusive Delta One lounges for business class customers. Now, even more new lounges and expansions are on the way.
A Flagship Lounge for Minneapolis-St. Paul (MSP)
Delta reaffirmed its commitment to build a third lounge at its Minneapolis-St. Paul (MSP).
We've already reported on this lounge, as it's close to home for the Thrifty Traveler team. The new Sky Club down MSP's G Concourse is set to open in April 2023, clocking in at 21,000 square feet – nearly twice the size of Delta's current primary lounge in Minneapolis. While it'll be Delta's third lounge at the airport, it will be the first to feature an indoor/outdoor bar and Sky Deck, which will reportedly be open year-round despite Minnesota's less-than-habitable winter climate.
Renderings show sharp, high-quality finishes that should match recent Sky Club openings – a big step up from Delta's current lounge offerings in Minneapolis.

See more of this upcoming lounge!
A New Lounge in Boston (BOS)
Up in Boston (BOS), Delta has plans for a brand new lounge near its international gates in the E Concourse.
The 21,000 square-foot lounge will seat more than 400 guests and will replace the temporary Delta Sky Club Express location that is currently in use there. That modern-looking space is planning on opening late summer 2023.

Another Lounge in New York City (JFK)
To round out its hub additions and expansions, Delta will also add a Sky Club to the busy Terminal 4 at New York (JFK).
According to the release from Delta, the new 14,000-square foot club will be able to seat more than 200 guests at a time. The lounge is currently expected to open in June 2023.
It's much needed in New York, where long lines regularly form outside the current sole Sky Club there. While the new Terminal 4 Sky Club is being constructed, a Delta Sky Club Express location will open in January 2023 until the new lounge opens in June.
The airline is also planning an exclusive Delta One lounge at JFK, though that won't open its doors until sometime in 2024.
A New Space in Newark (EWR)
Across the river in New Jersey, the Delta Sky Club at Newark International Airport (EWR) is set to be relocated from Terminal B to Terminal A as Delta moves its operations at the airport.
Details are sparse, but the new Terminal A Sky Club is expected to open next fall or winter, Delta says.
Bigger Lounges for Atlanta (ATL), Miami (MIA) & Fort Lauderdale (FLL)
In Atlanta (ATL), Delta's largest hub and home to Delta's Flagship Sky Club location, the airline will renovate its E Concourse club.
The revised space will hold 353 guests and clock in at over 18,000 square feet. Delta says this lounge, like some others, will have self-serve check-in kiosks. It's currently scheduled to open in winter 2023.
Two Florida airports will get bigger Sky Clubs, too.
That includes the relatively new but undersized Sky Club in Fort Lauderdale (FLL). Opened just last year, its 8,000-square-foot space is regularly full. Delta says it's adding 2,200 additional square feet, opening up another 90 seats in the lounge. That work is scheduled to be done in September 2023.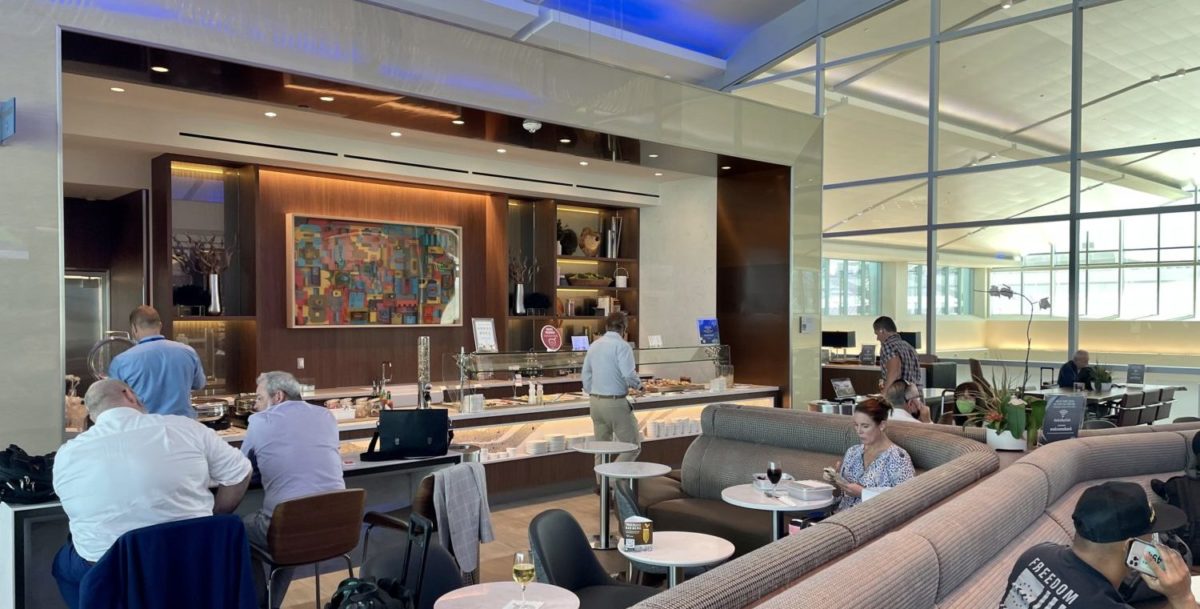 Just down the road, the Delta Sky Club at Miami (MIA) is also ready for an expansion that will make the club more than 12,000 square feet with seating for 320 guests. That work is scheduled to be done in December 2023.
Bottom Line
After trying and failing to combat crowding earlier this year, Delta is at it again.
It's clear now that Delta believes the long lines and at-capacity lounges are a serious problem. By making guest passes and annual memberships more expensive, it will almost certainly make a difference. Other changes seem minimal at best.
Still, these changes are likely a drop in the bucket compared to the core issue: Too many travelers have easy access into Sky Clubs with American Express credit cards. And for now, Delta appears unwilling to tackle that issue.

Thrifty Traveler reporter Gunnar Olson contributed to this story