The federal mask mandate on planes and in airports officially ended Monday after a U.S. District Court judge struck down the requirement just weeks ahead of its expiration date, allowing travelers to go maskless on planes for the first time in more than two years.
Florida U.S. District Court Judge Kathryn Kimball Mizelle's ruling on Monday threw out the year-old federal mask mandate for planes, airports and other public transportation, finding that the Centers for Disease Control and Prevention (CDC) exceeded its regulatory authority. That decision spawned hours of confusion over mask rules as the Biden administration and airlines reviewed the case and its implications.
But by Monday evening, Biden administration officials told airlines and reporters that the Transportation Security Administration (TSA) would no longer enforce the mandate, signaling the end of masking requirements for air travel. Airlines quickly responded by announcing they would no longer require masks onboard, as did many major airports nationwide.
"Effective immediately, masks are no longer required at United on domestic flights, select international flights (dependent upon the arrival country's mask requirements) or at U.S. airports," United said in a statement. "While this means that our employees are no longer required to wear a mask – and no longer have to enforce a mask requirement for most of the flying public – they will be able to wear masks if they choose to do so, as the CDC continues to strongly recommend wearing a mask on public transit."
Delta, American, Southwest, and Alaska Airlines also announced they would make masks optional onboard effective immediately. Spirit, Sun Country and other budget carriers quickly followed suit.
It's a sea change for travel rules in the United States. Masks have been a fixture in air travel for more than two years, with airlines requiring them long before President Biden set that requirement into federal law soon after taking office in January 2021.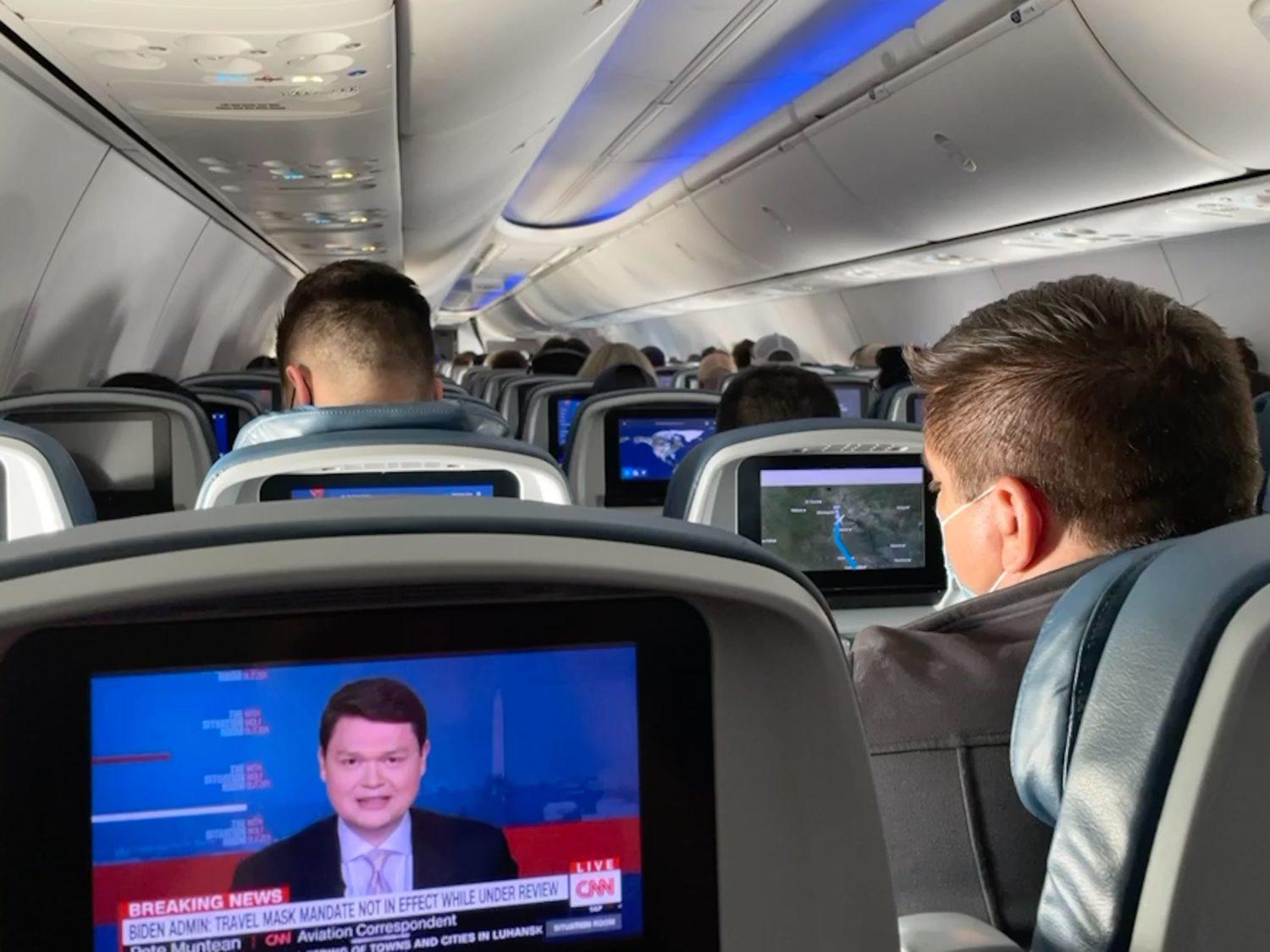 As word of the mask mandate ending spread, videos lit up social media of pilots and flight attendants informing passengers mid-flight they could remove their masks – often prompting applause. But not everyone is happy, as Americans remain divided over whether masking should continue on airplanes – especially parents of young children who still cannot get vaccinated or immunocompromised travelers.
A survey performed earlier this month by the travel planning app TripIt found that while 54% of app users wanted the mask mandate to end, 30% wanted it to be extended. And still, 39% of respondents said they'd continue wearing a mask onboard planes and other forms of public transit regardless of masking requirements.
Pressure had been mounting for weeks to lift the mask mandates, including a vocal push from top airline CEOs calling to end masking requirements. Just last week, the mandate was extended by two weeks out to May 4 – the most recent extension since it was put in place in early 2021, but also the shortest extension.
A group called the Health Freedom Defense Fund filed the lawsuit against the CDC for the mask mandate many months ago along with challenging other mask policies around the country. The court's ruling nullified the mask mandate, ordering it back to the CDC to be reworked.
While the TSA will stop enforcing the mandate, the Biden administration said it was still reviewing the decision and weighing potential next steps. The White House said it would stop requiring masks "in the meantime" while keeping the door open to renewing the mandate.
But with two weeks to go, will the federal government want to spend precious time and political capital fighting over a rule that could end in a matter of days?
Many countries and some overseas airlines have dropped their mask mandates in recent weeks, including British Airways and Virgin Atlantic. Even as the U.S. joins that list, Americans may still be required to wear masks onboard international flights to countries with those requirements still in place like France or Germany.
Hours after the ruling, White House Press Secretary Jen Psaki called it "disappointing" and recommended that Americans still wear a mask onboard flights.