Holiday travel season is officially here, and that means travelers across the country are understandably asking themselves the same question: Will my flight home get delayed and canceled again this year?
It's smart to be concerned about the latest round of travel chaos. While airlines are performing much better these days than last year, record-breaking numbers of travelers will push them to their limits. And weather is the X-factor: A bad storm in one pocket of the country can quickly cause mass disruptions all over.
Plus, the memories of Southwest's historic collapse late last year still loom large. No matter how things look, it's best to hope for the best … and prepare for the worst.
But this isn't a story about what to do once an airline has canceled your flight – we've covered that already. With gray skies or blue, you need to be proactive. Here are some simple ways you can try to save yourself from the stress of potential flight disruptions.
Read our op-ed calling for greater passenger rights and compensation in the event of delays and cancellations!

Fly Early in the Day
Flight disruptions can be unpredictable. When an airline is in full-scale meltdown, there's no telling which flights might be canceled or delayed.
But there is a general rule of thumb: The earlier the flight, the better. 
It makes sense when you think it through, right? Barring major weather issues or other problems, an airline can typically get its first flights of the day off the ground on time. But as the day goes on, delays and cancellations leave planes and crews alike in the wrong place, unable to catch up and get the next flights out on schedule. It's a snowball effect.
Here's the proof, thanks to data on August 2023 flight delays at the nation's 30 largest airports logged by the Department of Transportation. Those numbers show that while nearly 86% of flights nationwide depart on time when scheduled to leave before 8 a.m., that percentage dropped below 73% for flights departing after 2 p.m. – and by 4 p.m., under 70%. Those percentages are even worse at airports like Denver (DEN), Chicago-Midway (MDW), Las Vegas (LAS), and New York City (JFK).

It might not always be the best for your schedule or your beauty sleep. But for peace of mind, it can be worth paying a bit extra for an earlier departure to increase your odds of getting in and out on time – maybe even changing your flights to an earlier departure, paying the fare difference but no additional change fees.
Luckily, Google Flights lets you quickly sort your options by departure time.

Here's the other problem: Flights are full these days – like, full to the brim. In fact, data from Airlines for America show that domestic flights in the U.S. are more full, on average, than they were prior to the pandemic.
Sure, that means you're all but guaranteed to have someone next to you on your flight. But that also means the next flight to your destination is likely full, too – and the next one, and the one after that. That makes it even harder to get a seat on the next available flight if your first flight gets canceled, stretching what could be a delay of just an hour or two into many hours … if not days.
This is by no means a silver bullet. But if you've got a choice between a morning departure and the afternoon, take the morning flight. In good times and bad, it's the best bet you can make right now.
Avoid Connections If You Can
Booking a flight with a connection can be the key to saving over paying extra for nonstop options. But taking an extra stop on your way to your final destination also doubles the chances of something going wrong. 
If a one-stop flight is unavoidable, give yourself more time than usual to make sure you make it. In an era where flights are getting delayed left and right, the once-reliable connection of one hour or less could suddenly be thrown into doubt. Yes, your airline is almost always responsible for getting you on the next available flight if you miss your connection … but if there's not a seat open on that next departure, "next available" could be many hours – or even days – away.

Personally, I'm sticking with connections of two-plus hours these days. Heading abroad? It's probably safer to round up to three hours or more, depending on where you're heading.
This is even more important if you're utilizing positioning flights. It's one of our favorite-money saving strategies for cheap international flights. Instead of searching for flights to Rome (FCO) from your home airport of Minneapolis-St. Paul (MSP), you book a cheaper fare out of New York City (JFK) or another east coast hub, then separately book a cheap fare to get there for the transatlantic trip. Do it right, and the savings can be substantial.
But the stakes are far higher with these kinds of connections these days. If your flight to New York gets delayed and you miss your connection, you're out of luck – the airline is under no obligation to put you on its next flight to Rome.
With the risk of delays and cancellations seeming high, it may not be worth trying. If you do, give yourself as much buffer room between flights as humanly possible to make sure you don't miss a connection … five-plus hours minimum, I'd say – or maybe even fly in a day early. Wouldn't you rather sit in the airport for a few extra hours rather than buy another last-minute ticket to replace the flight you just missed due to a delay?
Take Advantage of Weather Waivers to Reschedule
When storms bear down, many travelers have a chance to get out of dodge early – or later. And airlines often give them a free pass to do so.
Major airlines regularly issue weather waivers ahead of bad storms, allowing travelers with travel scheduled over the next few days to move flights up (or back) without paying change fees or hefty fare differences. If that happens, you've got a window to get out of town (or return home) early, otherwise you might consider changing to a flight later this week after the worst has passed.
And you may want to do so sooner rather than later. With flights regularly full to the brim these days, open seats on those later flights may be scarce … and could disappear fast.
Here are some quick links to each major U.S. airlines' currently published travel waivers:
There's no telling if bad weather will strike over the holidays. But if it does, using these waivers is one of the best choices you can make.
Get to the Airport Earlier, Too
I don't care who you are or what you normally do: This is not the time to cut it close with when you arrive at the airport.
It's not just the airlines that are struggling. From check-in desk agents to TSA security lanes, seemingly everyone throughout the air travel industry has been caught flat-footed by the explosion in travel demand these last few years, unable to staff back up quickly in today's tight labor market.
Unless you're flying mid-day or during other off-peak times, you might want to add another hour to your usual airport routine. Better safe than sorry, right?

Services like TSA PreCheck and CLEAR – or heck, maybe both in tandem – can help you speed through the security lines quicker. But even that's not a guarantee these days. As travel has taken off, photos of long lines even at expedited CLEAR lanes are lighting up the internet.
Yet there's one area of the airport that could make arriving earlier than normal even more critical…
Don't Check a Bag
If ever there was a time to join team carry-on, it's now.
The lines to check in for flights in-person and drop off a checked bag can be the stuff of nightmares. There are only so many kiosks and airline agents available, staffing remains an ongoing problem at airlines' big hubs, and more and more of the travelers that are flying are checking a bag or two.
During busy periods, it can lead to lines like this one at Minneapolis-St. Paul (MSP), where travelers stretched from end-to-end waiting to drop off a bag with Delta.

Then there's the wait to get your bag after arriving – and that might be the worst part. Even airlines like Alaska and Delta that guarantee your bags will arrive within 20 minutes of arrival are falling short, shelling out 2,500 SkyMiles at a time for being late.
But there's an easy way to avoid it all: Pack in just a carry-on bag – trust us, it's easier than you think. That means no long lines to drop off bags, no stress about a lost or delayed bag, and you can complete your entire check-in process online or via a smartphone app.
Yes, we know: You love your checked bag. For traveling families with children, it can be an absolute necessity. But think long and hard about whether you need that big checked bag … and then consider joining us on team carry-on.
Watch Your Airline & Your Reservations
These days, it pays to be vigilant.
Just because you booked a flight a few months (or even just weeks) ago doesn't mean that's exactly what your flight will look like when your trip finally comes. We've seen airlines big and small adjusting their schedules, hoping to stave off even worse snafus by condensing schedules and eliminating some flights to buy themselves some breathing room.
But airlines don't always do the best job of letting customers know when they've made a change. That means you need to watch your reservations like a hawk. As your trip draws near, you should check, double-check, then triple-check your flights to make sure they haven't been changed.
Apps like Flighty and TripIt often do a much better job of catching these changes. Whether it was a flight change days in advance or a day-of delay, I can't count the number of times that Flighty alerted me at least 30-plus minutes – if not hours – before the airline itself. Tools like these are indispensable these days.

Read our full review of the Flighty Pro app and why we consider it a must-have for frequent flyers!
But there's one more tool that can help you prepare for potential issues: FlightAware.com's cancellations dashboards. This handy tool tracks all the day's delays and cancellations from airline to airline, and airport to airport.
As you're getting ready for your trip, scope out your airline in the days leading up to departure for potential warning signs. If you're flying on a Friday and your airline has canceled hundreds of flights on both Monday and Thursday … well, prepare for ongoing issues on Wednesday. It's a fairly safe bet that those disruptions are going to continue.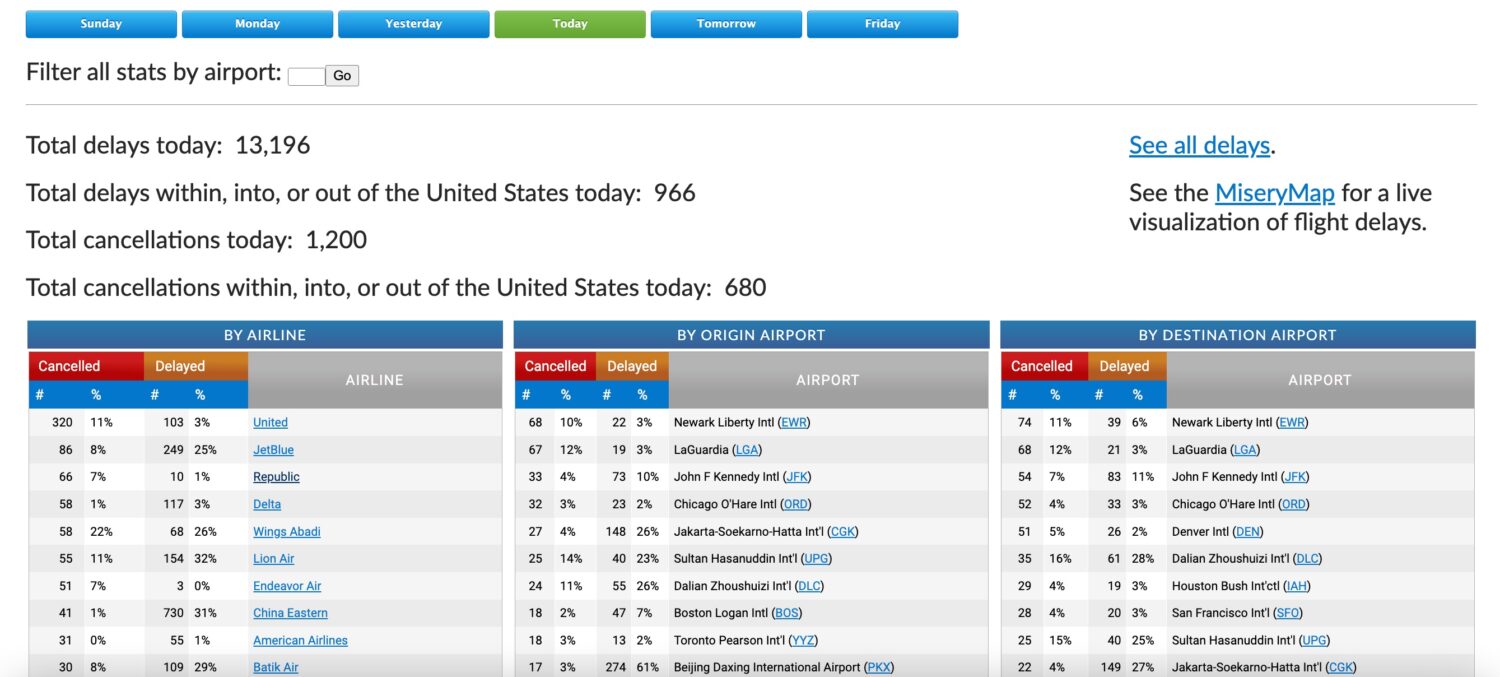 Book Your Flights with a Good Credit Card
Preparing for the worst all starts from the time you buy your tickets.
Sure, you could buy a travel insurance policy that'll help cover some of your additional costs if plans change. But if you've got the right travel credit card, you may not need to. Just book your flight with a card that comes with travel protection and you're set – plus you'll earn some extra points, too.
Few are better than the *chase sapphire preferred* or the *venture x*, as they have some unbeatable travel insurance coverage on any ticket purchased with the card. On the Preferred Card, for example, you get:
Up to $500 in reimbursements for expenses like airfare, hotels, meals, etc. in the event of a delay of 12 or more hours.
Up to $100 a day for five days if your checked baggage is delayed more than six hours.
Unbeatable coverage for rental cars
And more…
Read more on the best credit cards for travel insurance!
When it comes to accommodations from hotels to resorts to Airbnbs, there's one simple solution: Make sure you're booking fully refundable listings. That's one of the best pieces of advice we can give for traveling these days, whether you're worried about flights getting canceled or not.
Fortunately, it's much easier these days. Major hotel chains always offer fully refundable bookings – often at a small premium over a nonrefundable rate, but that's worth it. Meanwhile, Airbnb has made it much easier to find properties with flexible cancellation policies.
Bottom Line
The busy holiday travel season is right around the corner. Like it or not, that means the odds of delays and cancellations are growing.
There's no way to know for sure whether your next flight will get delayed or canceled. Even on an airline's worst day, 60% or more of flights will get on and off the ground on time. But that's still no guarantee, and the risks of disruptions are still out there.
For now, the best you can do is follow some of these tips and hope for a smooth flight heading home for the holidays.