In the U.S., there are airport lounges … and then there are Amex Centurion Lounges. It's really that simple.
American Express's signature collection of airport lounges scattered across the U.S. (and increasingly abroad) put most other lounges to shame. With 12 U.S. locations (and one abroad) and counting, these lounges have set the bar high.
Each and every Centurion Lounge offers food curated by local celebrity chefs; free beer, high-end wine, and cocktails; and even spa services in some locations. There's comfortable seating, power outlets, quiet spaces to work, and more. Best of all? The right credit cards can get you (and friends!) in for free.
But what are these lounges like? Where can you find them? And how can you get in? Let's take a look.
Curious which Amex Centurion lounges have reopened during the pandemic, and what they're like? Read our guide!
Current Amex Centurion Lounge Locations
In all, there are currently 13 Amex Centurion lounges that have opened: 12 in the U.S., and one in Hong Kong (HKG).
Here's a quick rundown of where you can find Centurion lounges today. As of publication, all but the New York City-LaGuardia (LGA) and Hong Kong (HKG) location have reopened after shutting during COVID-19.
Hong Kong (HKG)
Houston-Intercontinental (IAH)
New York City-LaGuardia (LGA)
Philadelphia (PHL)
San Francisco (SFO)
Seattle (SEA)
In 2020 alone, American Express opened up four brand-new Centurion locations in Charlotte (CLT), Los Angeles (LAX), New York City-JFK (JFK), and Phoenix (PHX).
And they're not done yet…
Upcoming Amex Centurion Lounges
The credit card company has at least two more Amex Centurion lounge locations in the works – one in the U.S. and another location abroad.
And while they had initially planned to open both of these lounges in 2020, American Express has since said they won't open up until sometime in 2021.
How To Get Amex Centurion Lounge Access
These are premium airport lounges. To get in, you'll need a premium travel credit card in your wallet.
In order to access an Amex Centurion Lounge, you need to hold The Platinum Card® from American Express, or The Business Platinum® Card from American Express.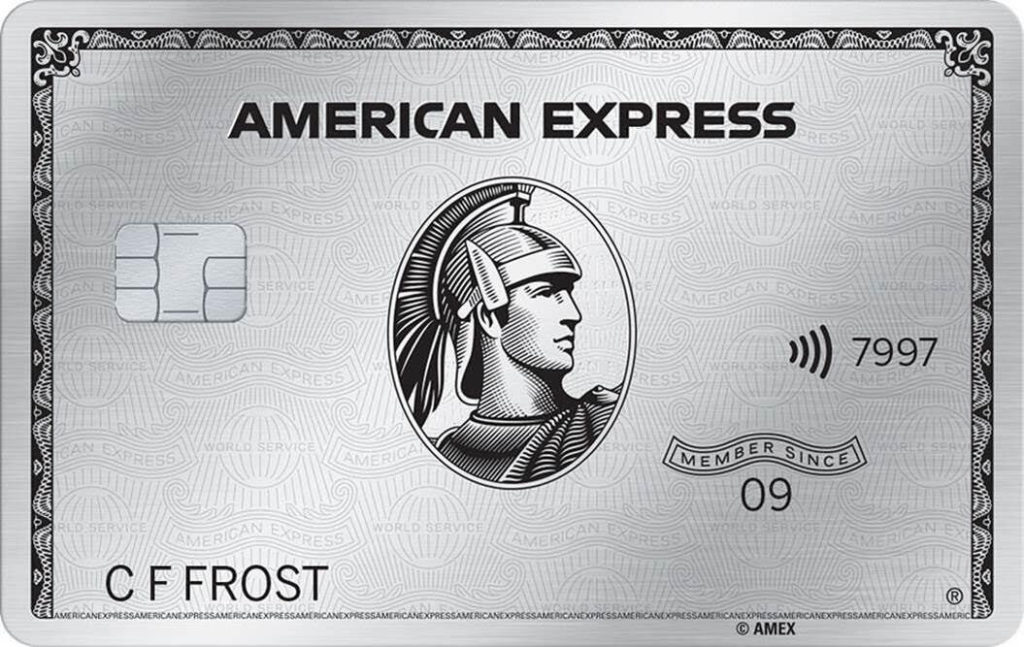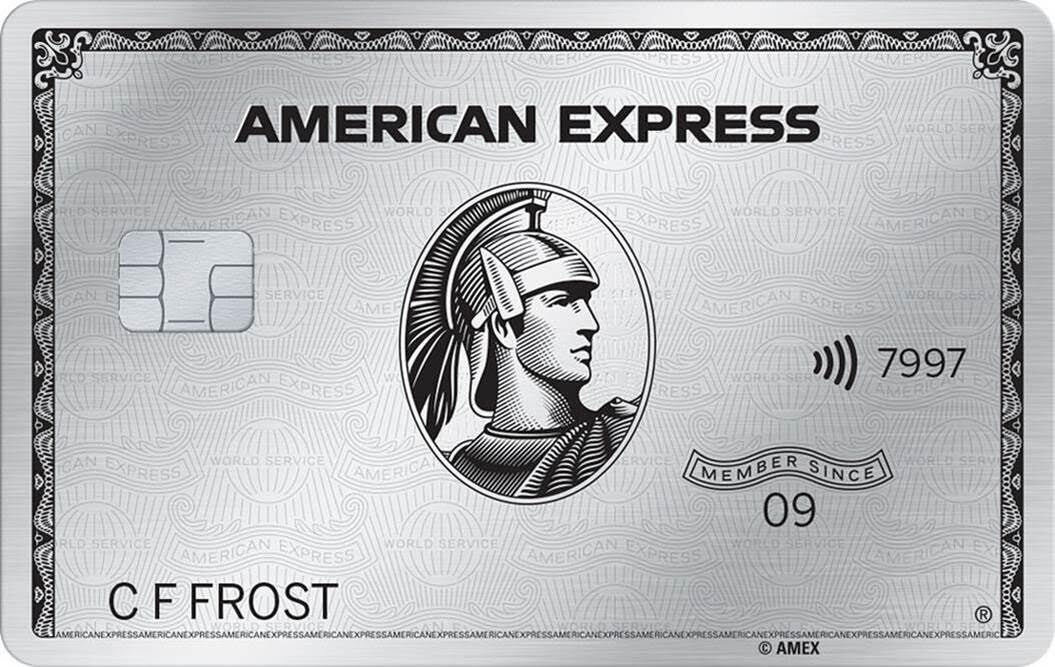 Click Here to learn more about the Platinum Card from American Express. 
Click Here to learn more about the Business Platinum Card from American Express. 
You can also get in with the Delta SkyMiles® Reserve American Express Card, Delta's top-tier card. But there's a hitch: You have to be flying Delta that day, and you must have paid for your ticket with your Reserve card.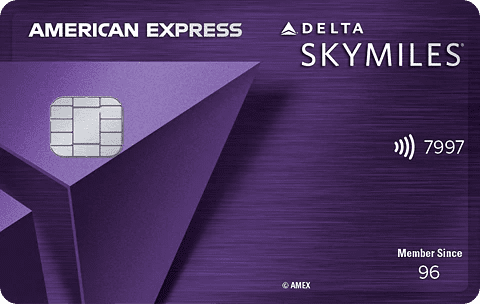 Click Here to learn more about the Delta Reserve Card from American Express.
Finally, you can get in with the American Express Centurion Card, which is an invite-only credit card reserved for Amex's top spenders.
Head to the lounge and simply present your Platinum, Reserve, or Centurion card along with a same-day boarding pass on any airline. There is no requirement that you purchased the flight with your Amex Platinum card.
Amex has tightened up on when you can get into Centurion lounges to combat crowding. As of March 2019, you can only get into a Centurion Lounge within three hours of your originally scheduled flight departure. Luckily, this policy doesn't apply if you're at the airport during a layover.
And you can no longer get into the lounge upon arrival – only departing flights will qualify for a visit.
What About Guests?
Want to bring a friend or family member? You may be in luck – at least with the right card.
Each Amex Platinum cardholder can bring two guests into the lounge for free. Children under two will be admitted free of charge, and won't count towards the two complimentary guest count as long as they are accompanied by a parent or guardian with a "lap infant" boarding pass, birth certificate or any other proof of age.
If you wish to bring in more than two guests, each additional guest costs $50 per person. 
Unfortunately, Delta Reserve cardholders will not receive any complimentary guests.
Amex Centurion Lounge Amenities & Food
Wondering what you'll find at your next Centurion Lounge? It depends on which location you visit.
But all Centurion Lounges offer complimentary drinks and food, Wi-Fi, private workspaces, and comfortable furniture to unwind before your flight. And in nearly every regard, it's all a step above what you'll get in standard airport lounges – at least in the U.S.
Keep in mind that some of the food and services available may have changed due to COVID-19.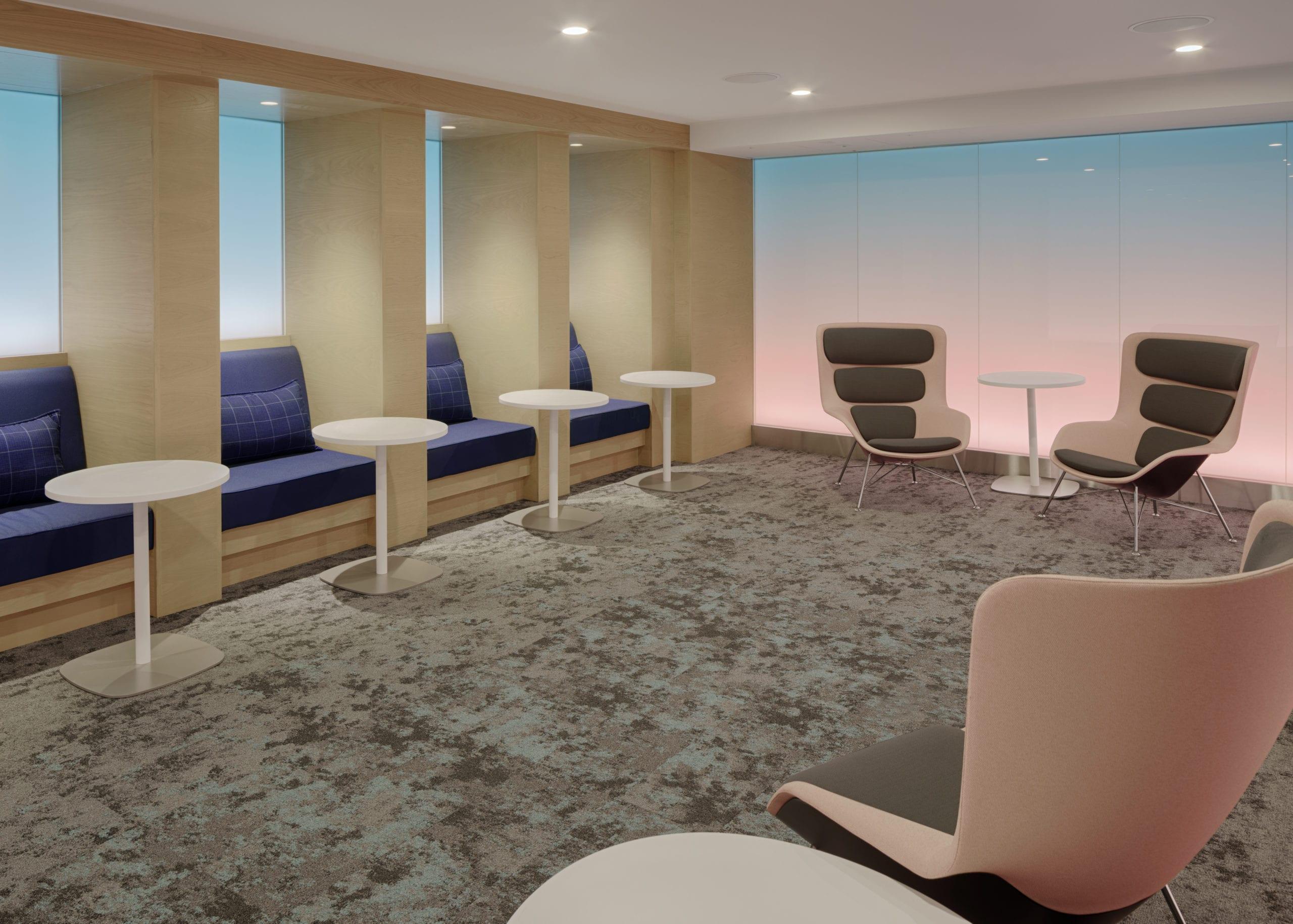 Much of the cuisine is designed by James Beard award-winning chefs with a local connection to the city you're in. Food is served buffet-style, with different selections during breakfast, lunchtime, and dinner. Some lounges – like the Philadelphia (PHL) Centurion Lounge – are known for their top-notch food. But in general, you can usually count on a tasty meal – not just finger food.
The same is true for cocktail lists, as Amex works with some of the nation's top mixologists to curate the selections. For example, check out this outstanding cocktail list from the Las Vegas (LAS) Centurion Lounge.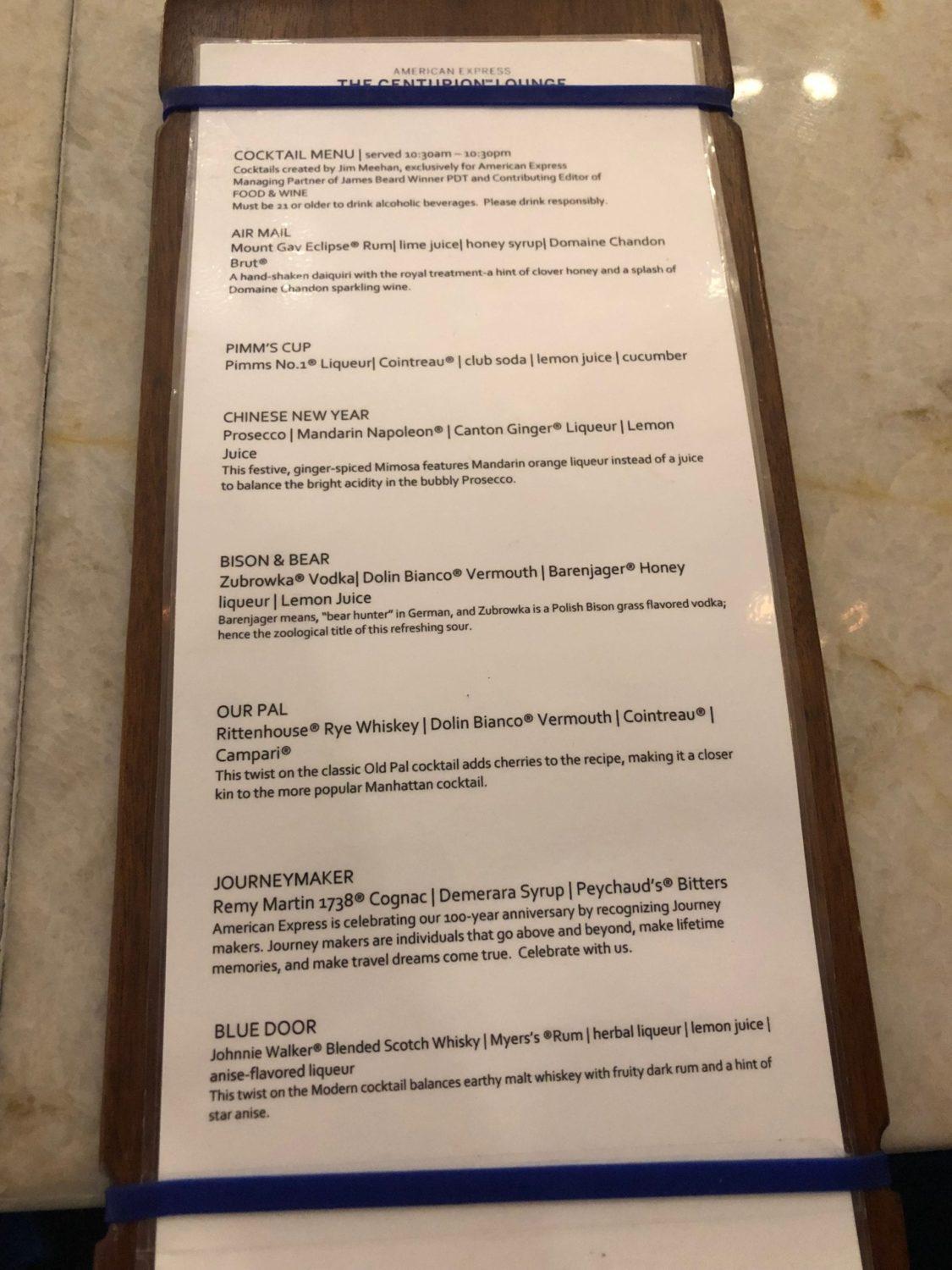 Some of the lounges like Dallas-Fort Worth (DFW) are even equipped with spa services and private shower suites. If you have enough time, you can take advantage of a complimentary massage.
Thrifty Tip: Download the LoungeBuddy mobile app. This is a great way to navigate the benefits available at each of the individual Amex Centurion Lounges.
A Glimpse at Each Amex Centurion Lounge
While each Amex Centurion lounge is fantastic, they're all a bit different. Here's a quick glimpse at all the current Centurion lounges.
Charlotte International Airport (CLT)
Opened in early 2020, the Charlotte Centurion lounge is one of the newest locations in Amex's portfolio.The new space in Charlotte clocks in at 13,000 square feet, located on the top floor between Concourses D and E above "The Plaza," the airport's new space.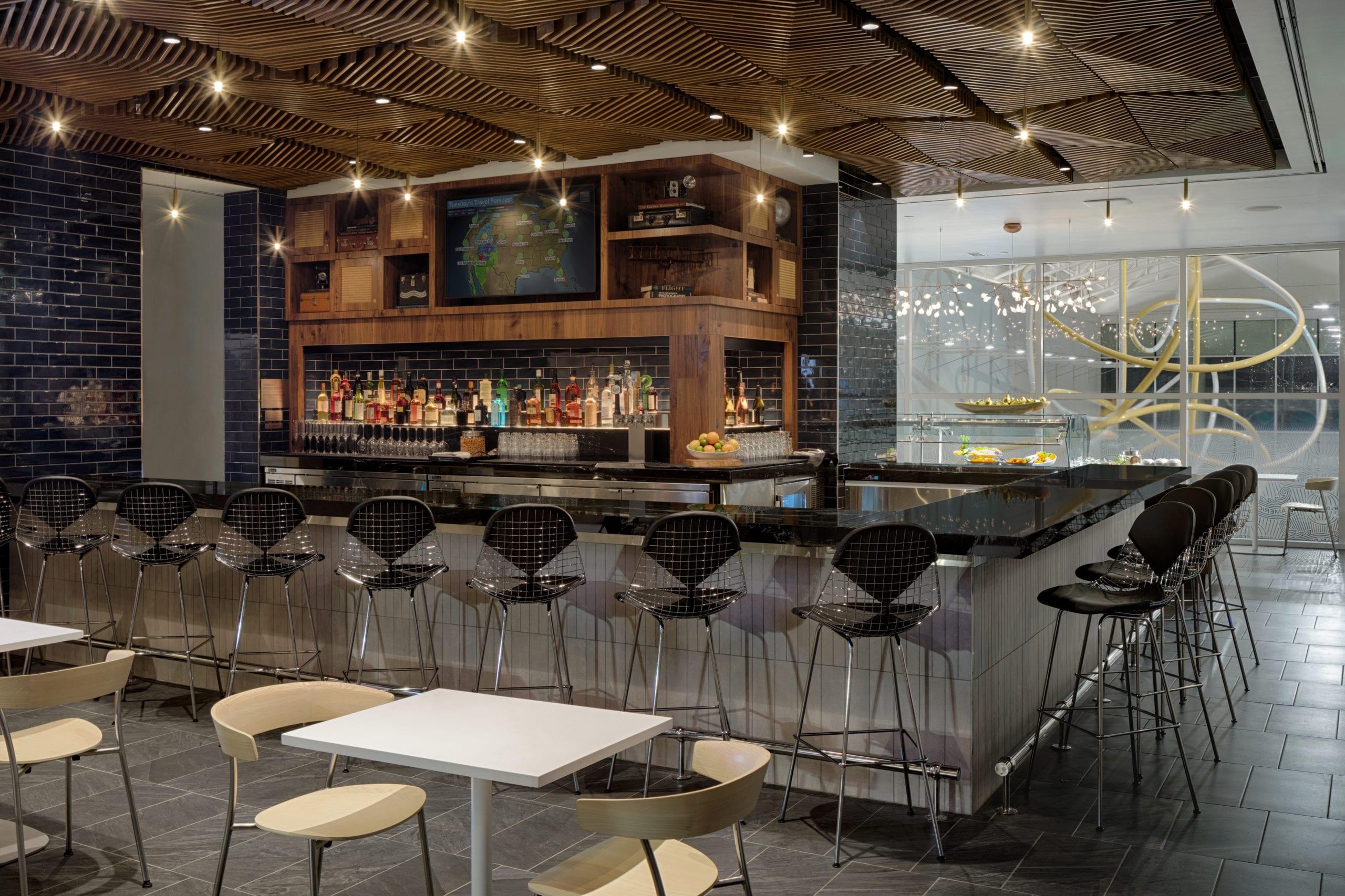 The lounge has two shower suites for travelers who need to freshen up. It has a dedicated room for families with children. And acclaimed local chef Joe Kindred is behind the wheel, serving up dishes like buttermilk fried chicken, grilled cauliflower steak, and milk bread french toast.
Dallas-Fort Worth (DFW)
The Dallas Centurion Lounge is located in Terminal D, across from Gate 12 on the mezzanine. After moving to a new location in 2018, it now clocks in at 12,000 square feet, making it one of the biggest Amex Centurion Lounges.
Still, the lounge can be very busy.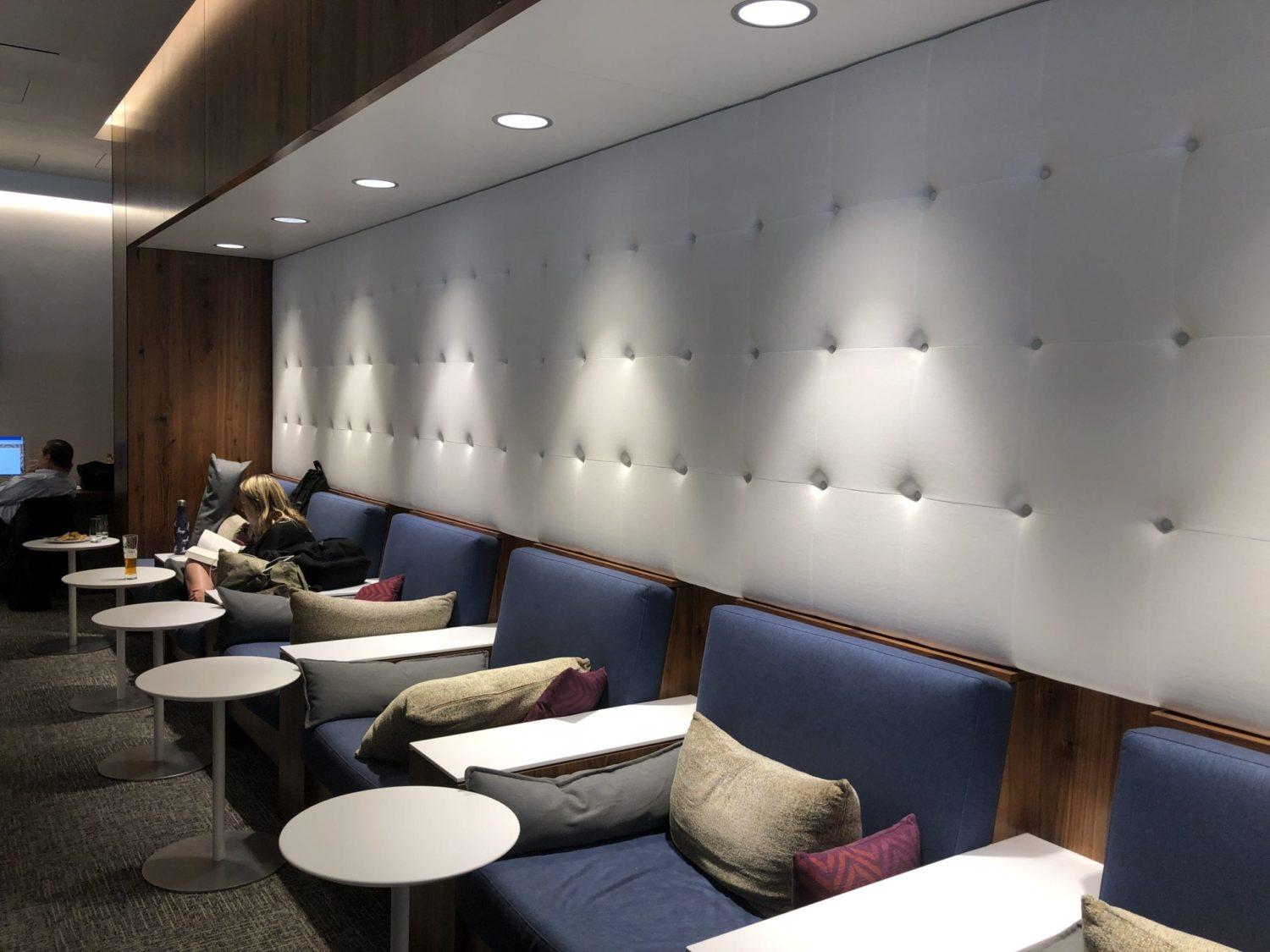 Read our full review of the Dallas-Fort Worth (DFW) Centurion Lounge!
Hong Kong (HKG)
Hong Kong airport is full of great lounges, and the Hong Kong Centurion Lounge is no exception. The lounge is located in Terminal 1, just up an escalator or elevator around Gate 60. The lounge is perched over the terminal, with great views of the tarmac.
That said, the Hong Kong Centurion lounge is certainly on the small side. And in our experience, the food offerings aren't on par with what you can get from U.S. Centurion lounges. It's a great spot to stop for a cocktail or glass of wine between flights, though.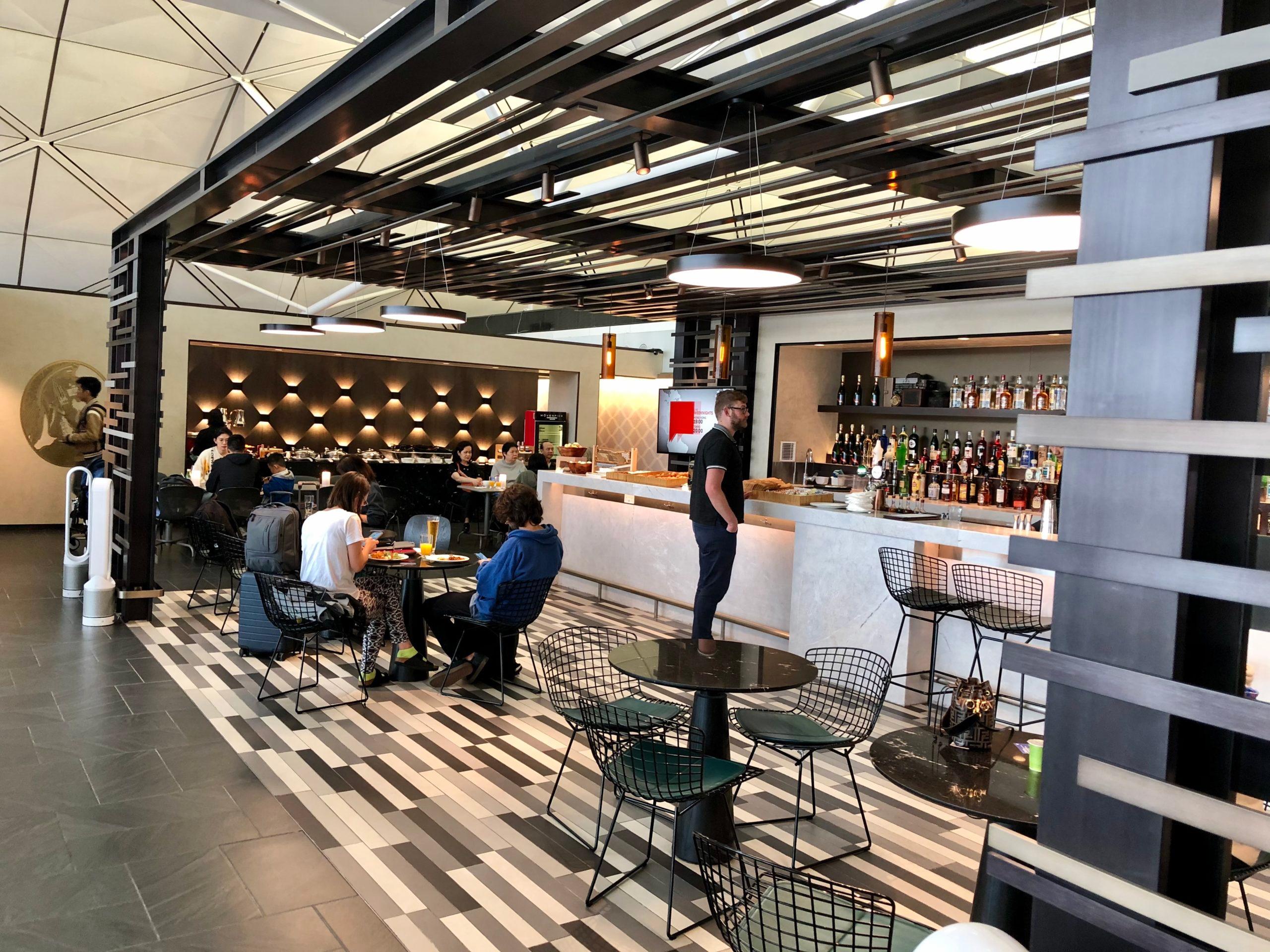 Houston-Intercontinental (IAH)
The Houston Centurion Lounge is located in Terminal D. It is accessible via the elevator located in the duty-free shop near Gate D6. You can access Terminal D from other terminals without going through security via the SKYWAY (upper level) train. The Subway (lower, basement level) train connects all terminals outside of security.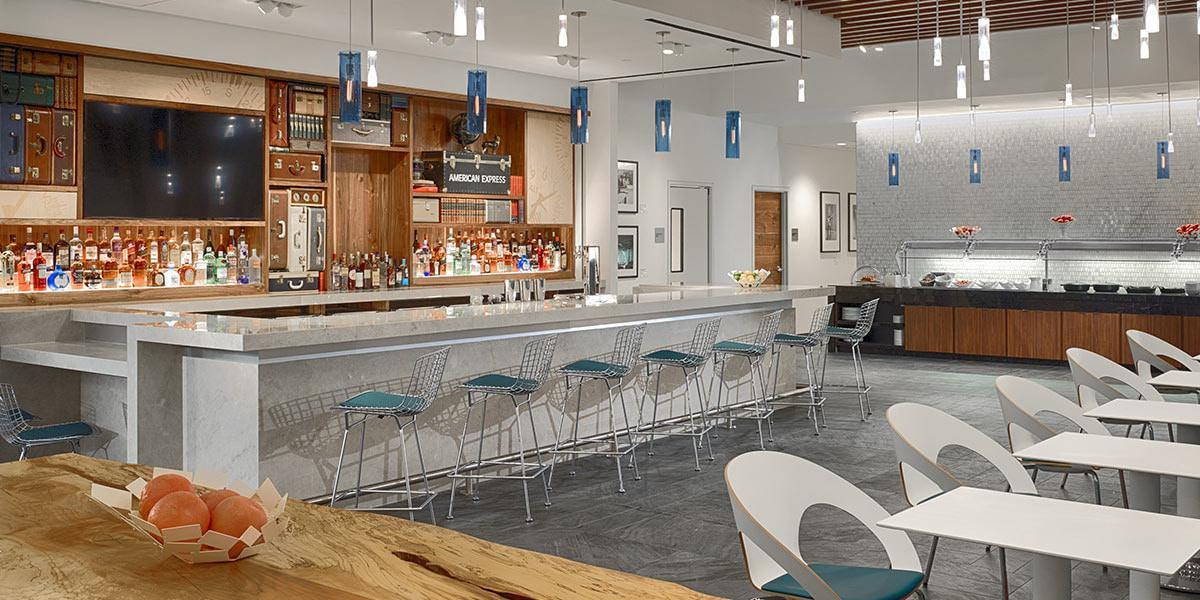 The kitchen is run by local chef Justin Yu, the brains behind Houston restaurant Theodore Rex.
New York City-JFK (JFK)
The newest Centurion Lounge is one of the biggest and best yet.
Opened in October 2020 in Terminal 4, the JFK Centurion lounge clocks in at 15,000 square feet, spanning two floors. It's located just past security.
The JFK Centurion has tons of seating space, special fitness and yoga rooms, shower suites, and even a speakeasy dubbed "1850."
Las Vegas (LAS)
The Las Vegas Centurion Lounge is located in Concourse D, opposite Gate D1. Concourse D is accessible from Terminal 1 or Terminal 3 via the airport's transit system.
The Las Vegas Centurion Lounge has all the usual amenities … but American Express is thinking bigger. Amex is expanding the space from its 9,000-square-foot footprint to more than 13,000 square feet. It's adding multi-purpose areas, new private telephone rooms, a newly designed reception area, and new workspace areas.
The new and improved space is expected to be done sometime in 2021. The lounge will remain open during renovation, with some periodic closures.
Read our full review of the Centurion Lounge Las Vegas!
Los Angeles (LAX)
Opened in early 2020, the Los Angeles (LAX) Centurion lounge is located in Tom Bradley International Terminal.
At 14,000 square feet, it's one of the biggest Centurion lounges to date – all built around a stunning centerpiece bar. But you can also find unique amenities like an onsite spa, nap rooms, and relaxation rooms.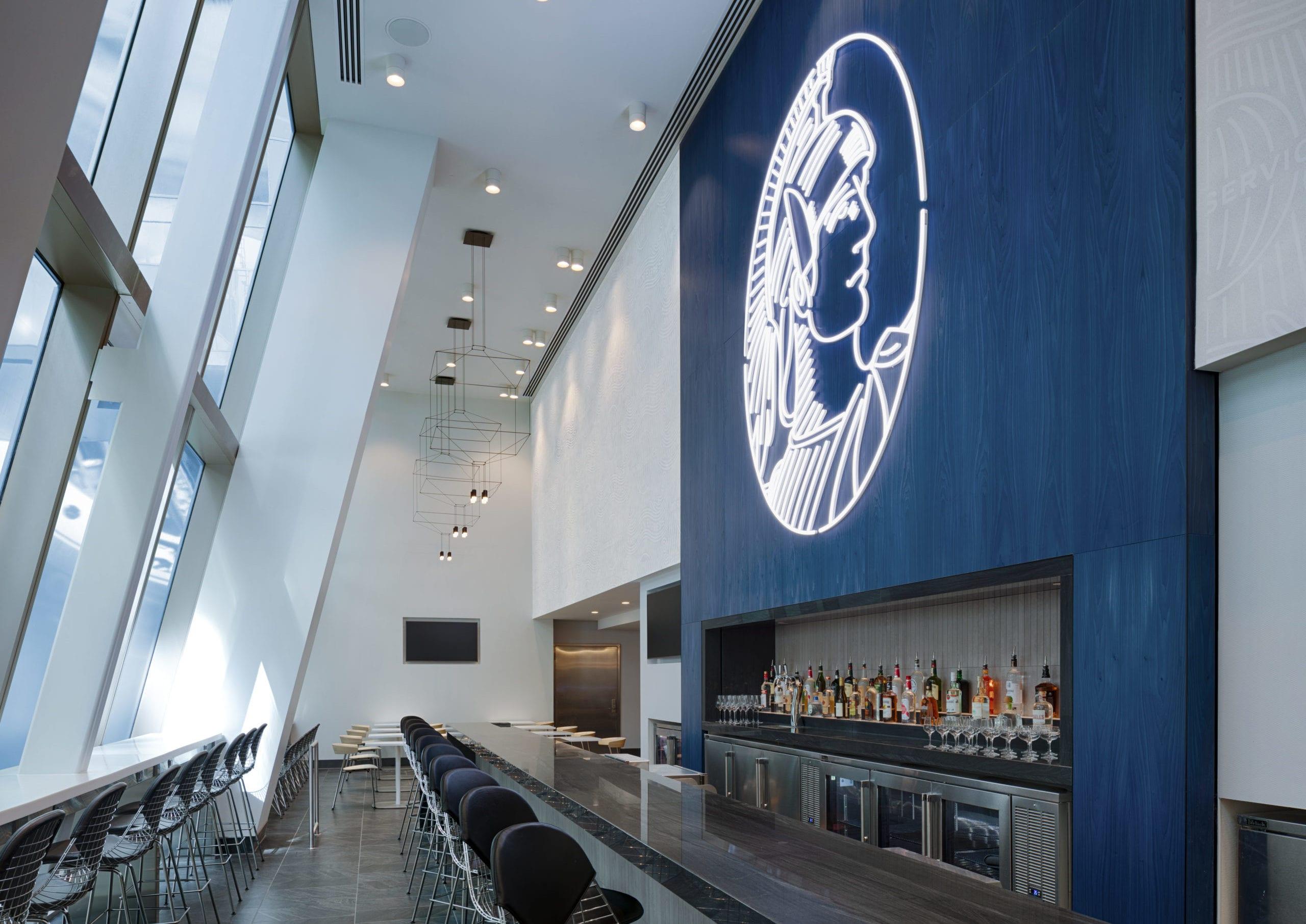 Amex tapped local chef Nancy Silverton to cook up some signature meals for the lounge like mozzarella meatballs, farro salad with herbs and feta, and roasted beets in a horseradish vinaigrette.
New York City – LaGuardia (LGA)
The New York City-LaGuardia (LGA) Centurion lounge is in flux.
One of the oldest Centurion lounges in the country, American Express is changing spaces. The LaGuardia location is relocating to a larger space in Terminal B that's more than twice the size and, critically, located behind security. It will have a dedicated family room, more workspace and phone rooms, all with views of the New York City skyline.
Miami (MIA)
The Miami Centurion Lounge is located in Concourse D near Gate D12 on the fourth floor.  If you are coming from another terminal, you must re-enter through security with either a connecting or onward boarding pass.
The lounge's standout feature is a spa with complimentary massages and manicures. but James Beard award-winning chef Michelle Bernstein also whips up some delicious food.
Read our review of the Miami Centurion Lounge.
Philadelphia (PHL) 
The Philadelphia Centurion Lounge is located in Terminal A West, near Gate A14. It can be reached from any other terminal by walking or via shuttle bus.
While fairly small at 6,300 square feet, the Philadelphia Centurion Lounge is renowned for its food thanks to local chef Michael Solomonov, who has designed a special Israeli menu for the lounge.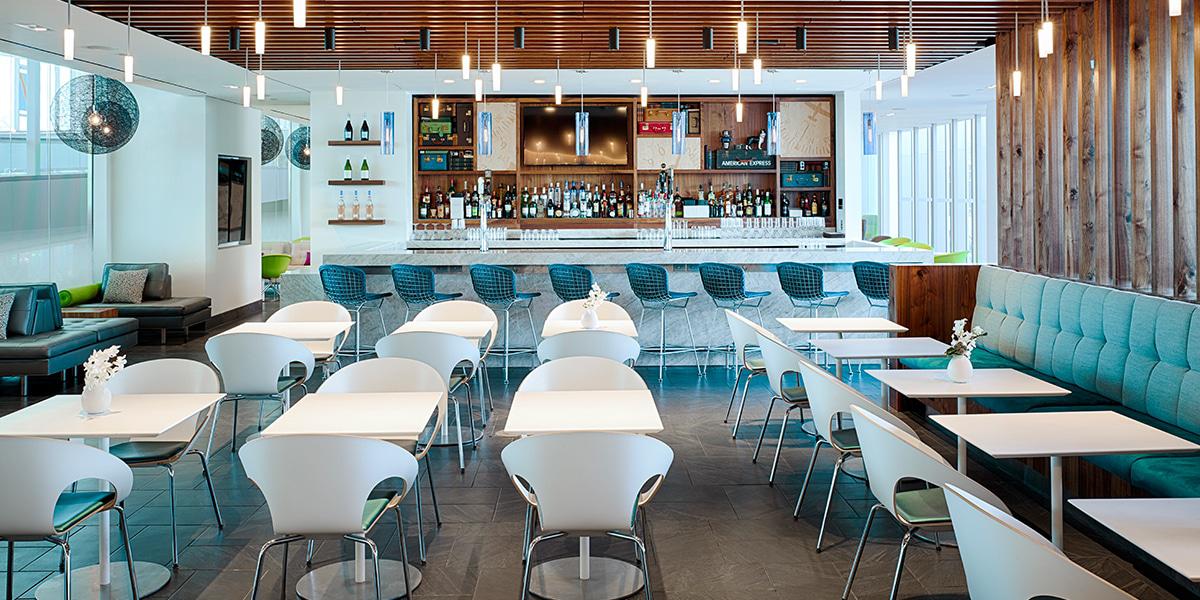 Phoenix (PHX)
Another addition in early 2020, the new Phoenix Centurion Lounge is one of the smallest, period – it clocks in under 5,000 square feet.
You can find it in Terminal 4 across from Gate 22 on the upper level, where it shares an entrace with the new Escape Lounge.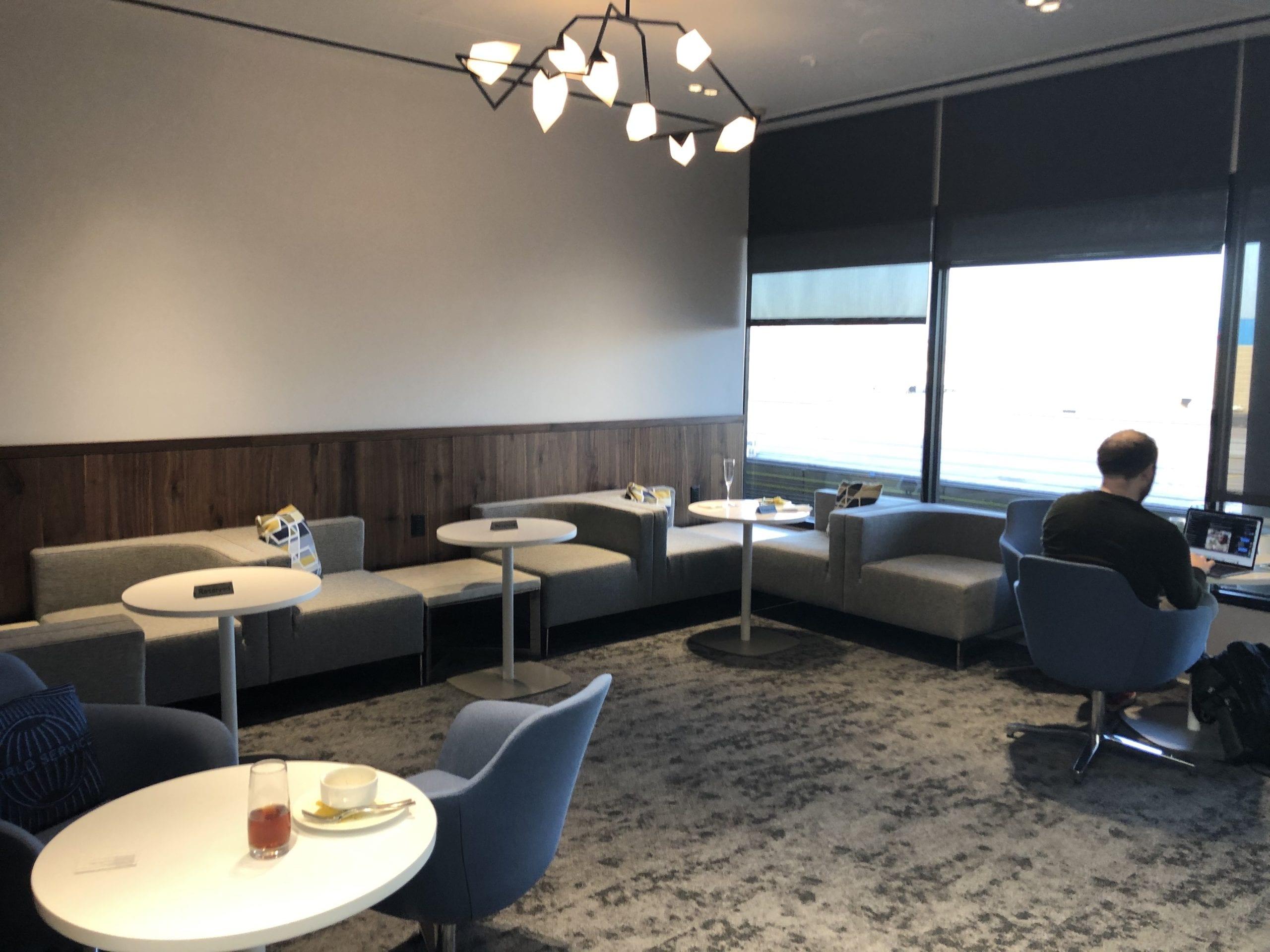 Read our review of the Phoenix Centurion Lounge.
San Francisco (SFO)
The San Francisco Centurion Lounge is located in Terminal 3, Near Gate 74 past security. The terminals at SFO are not connected airside, which could make getting into this lounge a challenge if you're not departing from Terminal 3 or Terminal G.
The menu is designed by local chef Ravi Kapur, with a focus on California flair.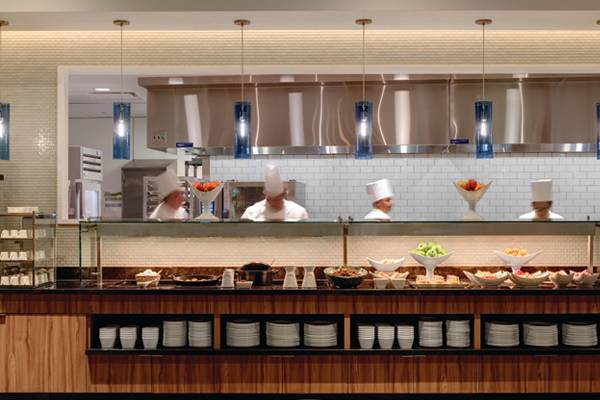 Seattle (SEA) 
The Seattle Centurion Lounge is located in Concourse B, opposite Gate B3. Because all terminals are connected airside, the lounge is accessible from any security checkpoint.
Long one of the smallest lounges in American Express's network, it's just 4,500 square feet. And the food and drink offerings aren't on par with what you find elsewhere. But American Express is aiming to build a brand new space, at more than 13,700 square feet.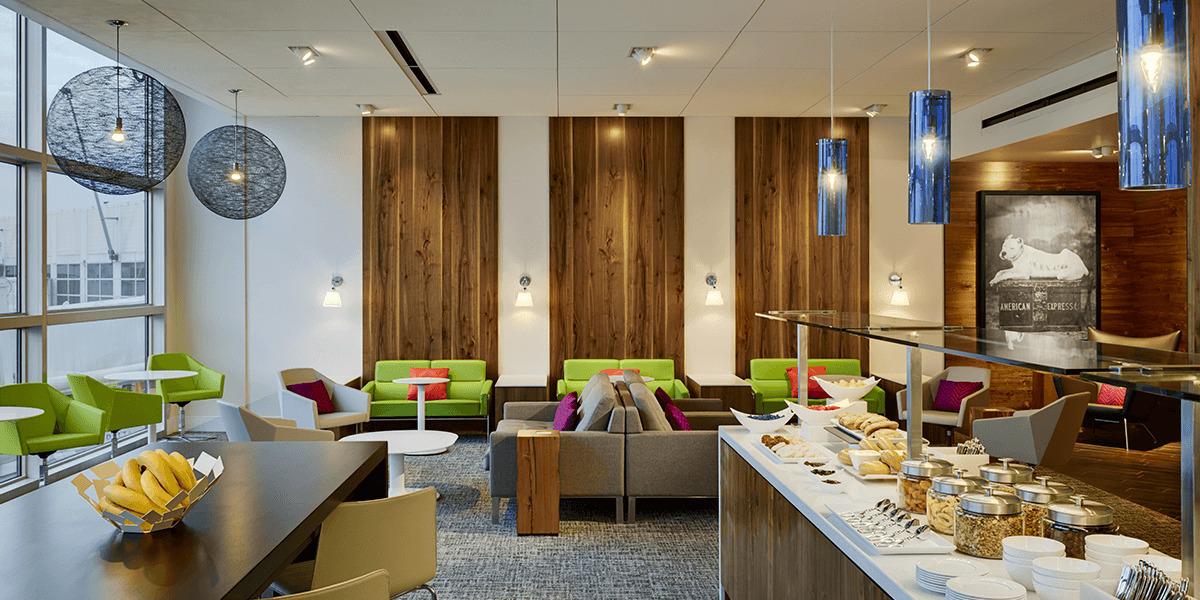 Other International Amex Lounge Locations
On top of the Centurion lounges scattered throughout airports across the United States, they also have ten lounges exclusively for Platinum cardholders across the globe.
These lounges won't be quite as impressive as the Centurion Lounges you are used to in the U.S., but they are still a quiet oasis away from your departure gate. And you can get in with the same card you use to access Centurion Lounges.
Buenos Aires, Argentina (EZE) – The Centurion Lounge in Buenos Aires is located in Terminal C on level 2 near gate 15. The Lounge is open daily from 5 a.m. to 12 a.m.
Mexico City, Mexico (MEX) – The Centurion Club in Mexico City is located in International Terminal 1 by the entrance of the international security filters. The Lounge is open daily from 5 a.m. to 12 a.m. There is also another Centurion Club located in the International area past security on floor 2 by Gate K.
Monterrey, Mexico (MTY) – The Centurion Club in Monterrey is located in Terminal A on the departure level near gate 4. There is a second Centurion Club located in Terminal B on the departure level in front of door 4. The hours at these lounges vary.
Toluca, Mexico (TLC) – The Centurion Club in Toluca, Mexico is in Terminal 1, before security in front of doors 3 and 4. The lounge is open daily from 5:00 a.m. to 7:30 p.m., and closes at 3:00 p.m. on Saturday.
Bottom Line
There is no better way to improve your airport experience than by having access to a lounge network. And when it comes to the airport lounges you can get into with a credit card, none are better than Amex Centurion lounges.