Qatar Airways changed the game with Qsuites, the first business class in the sky with a fully-closing door that made a true "first class" seem irrelevant. These business class seats – and the airline itself – have piled up accolades and constant praise as the best business class in the world.
But come on. Can the Qatar Airways Qsuite really be that good?
Yes, it really is.
Qsuites are truly that good, leaps and bounds better than almost every single business class flying today. After a flight from Dallas-Fort Worth (DFW) to Doha (DOH) on Qatar's A350-1000 to kickstart a trip around the world in six days, we can confidently say it's truly one of the best ways to fly.
Booking Qatar Airways Qsuites
There are a handful of ways to book your own Qsuite. But this could be the absolute best use of American AAdvantage miles.
Flying from the U.S. to Doha? It will cost you 70,000 AAdvantage miles to get your own Qsuite – and there are plenty of U.S. gateways from which Qatar flies its Qsuite.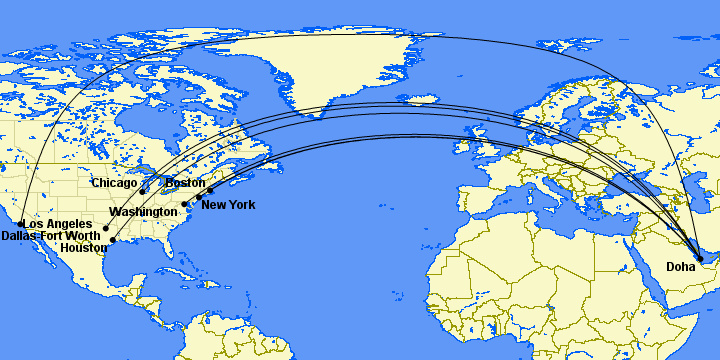 Better yet, you can connect from Qatar Airways' Doha (DOH) hub and fly onward within the Middle East – think Muscat, Oman (MCT) or Amman, Jordan (AMM) and, oddly, even Egypt! – and still pay just 70,000 miles for the entire itinerary. This ability to book a longer itinerary without paying more miles is a great advantage of earning AAdvantage miles.
Want to go even farther? You can continue on anywhere in Africa – including all the way down to Johannesburg (JNB) or Cape Town (CPT) in South Africa – and pay just 75,000 AAdvantage miles for the one-way flight.
The trick is finding award availability to fly Qsuites – and that can be difficult, as Qatar Airways can be incredibly stingy with these seats. When you find a flight, don't hesitate to book – it may not last long. Luckily, American now lets you book these flights online via AA.com.
Check out the latest Qatar Airways Qsuites availability we've found and sent to Thrifty Traveler Premium members!
Safe to say, there's no more cost-effective way to book Qatar Qsuites than with American miles. So that's exactly what we did to kick off our trip around the world in six days, spending 70,000 AAdvantage miles each for the flights from Minneapolis-St. Paul (MSP) to Dallas-Fort Worth (DFW) to Doha (DOH) and onto Muscat (MCT).
Just to underscore what a great deal that is, these tickets normally would cost at least $4,000 – and often much more.
Related Reading: The Best Ways to Book Qatar Qsuites with Points & Miles

Lounge Access
Flying Qatar Airways business class out of Dallas-Fort Worth will get you into a handful of lounges at the Texas megahub airport, including a small contract lounge for Qatar.
Skip it and head straight for the American Airlines Flagship Lounge – your Qatar Airways business class ticket will get you in. It's located up the elevator near gate D21 in Terminal D, and it's among the best lounges American Airlines offers in the country. It's also massive.
American's Flagship Lounge at DFW clocks in at more than 23,000 square feet, which is pretty large. For comparison, the Flagship Lounge at Chicago-O'Hare (ORD) is under 17,000 square feet. More importantly, there are tons of seats scattered throughout the long, rectangular lounge. You'll find armchairs, workstations, and even places to lounge and take a nap – most with easy access to power and USB sockets.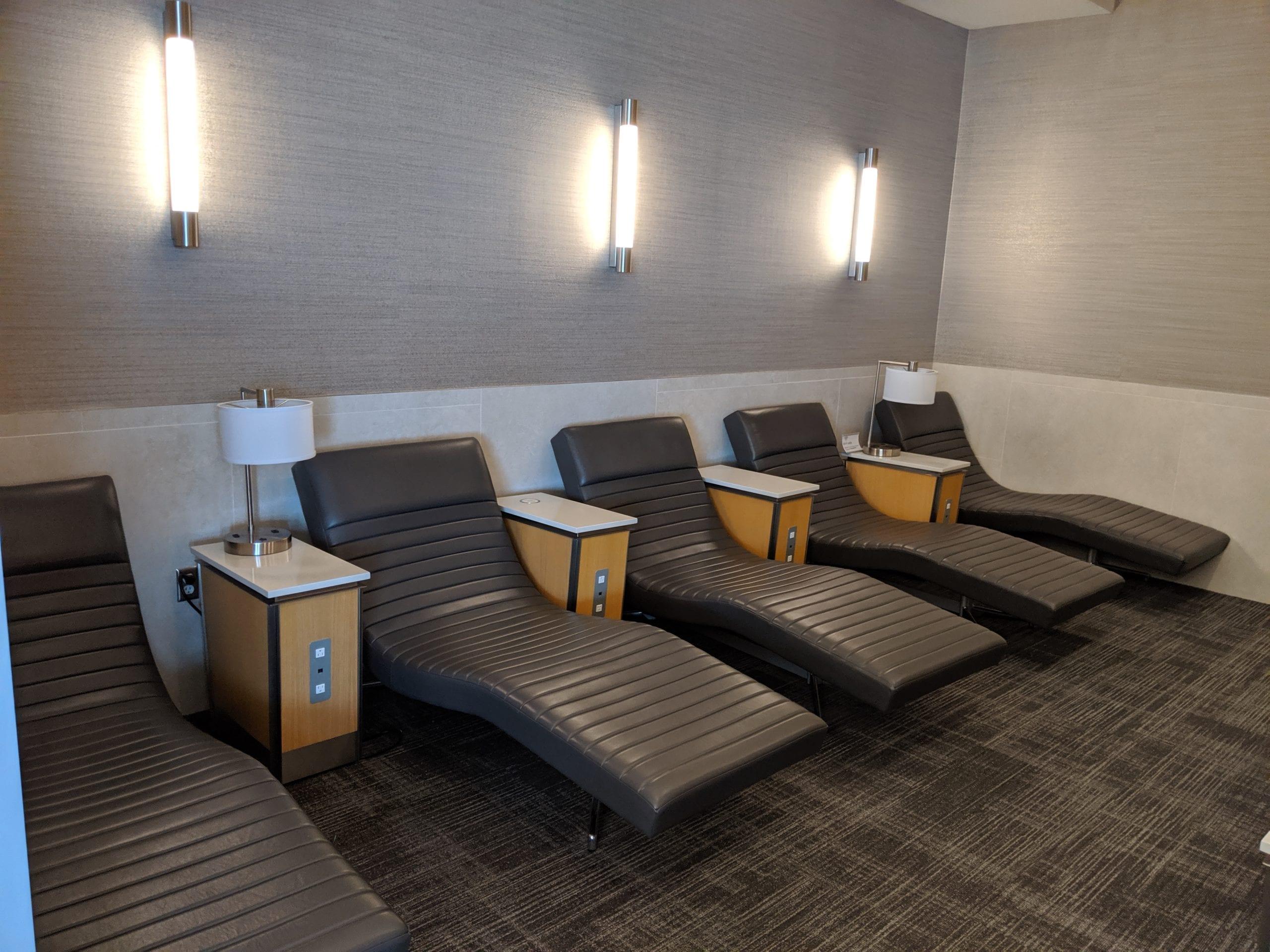 The lounge is flanked by a long wall of nearly floor-to-ceiling windows, which gives you a great view of planes pulling in and plenty of natural light – at least until they lower the shades when it gets too bright and hot.
This lounge is equipped with a Flagship First Dining facility, with a la carte dining and top-notch drinks. Unfortunately, you can't get in unless you're departing in American (or British Airways) international first class.
For the rest of us in business class, there is plenty of food in a buffet-style setup – along with a chef-made pick-your-own bruschetta station during our visit, which was a nice touch. On the whole, the food was just OK – nothing spectacular but certainly good. But service throughout our stay was great, as lounge attendants regularly circled through to pick up plates and glasses.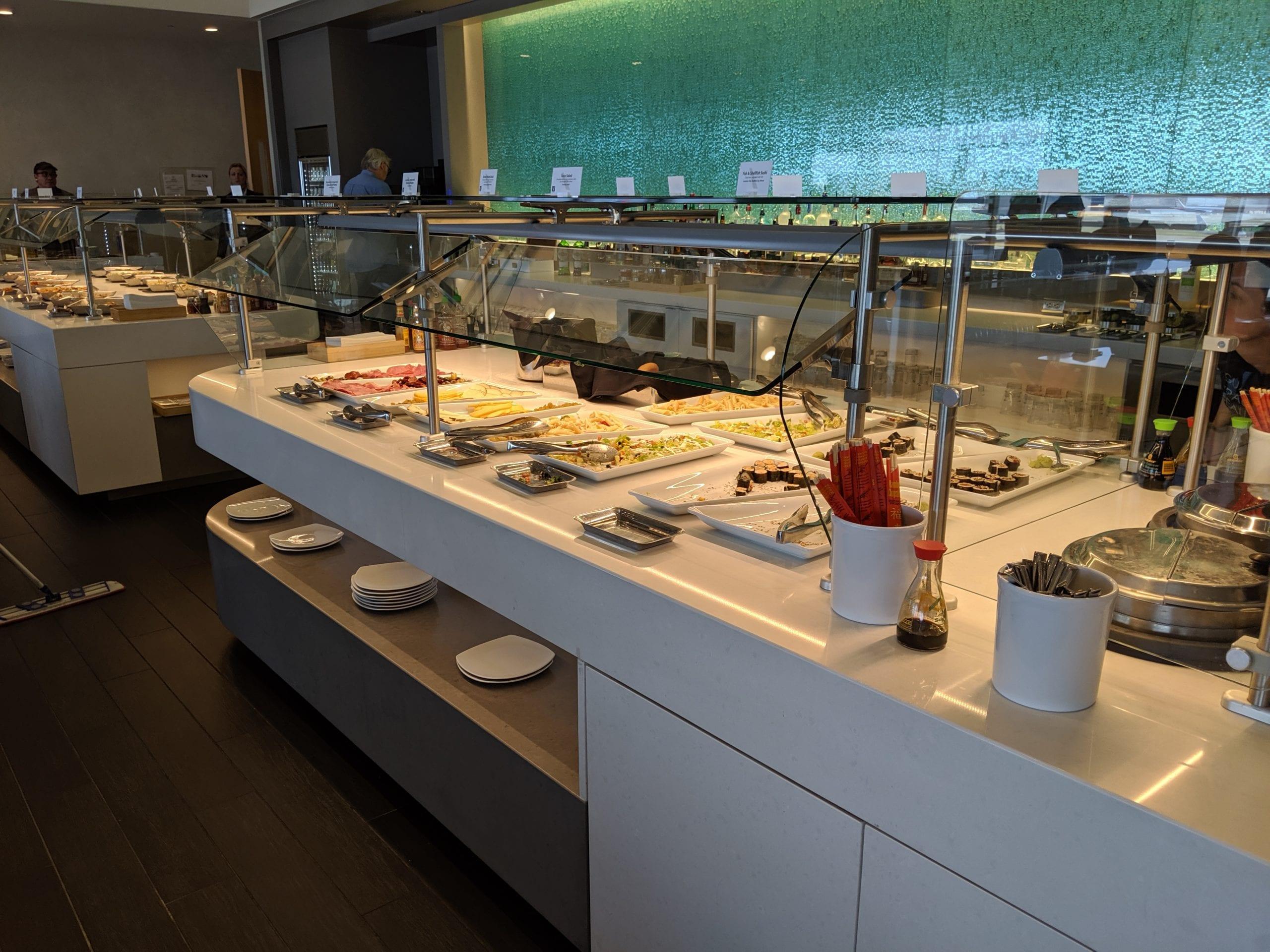 After killing a few hours in the Flagship Lounge during our layover, it was finally time to board the long flight to Doha. It's Qatar Airways Qsuite time.
The Qsuite Cabin
There's nothing quite like stepping inside a Qsuite-equipped plane for the first time. Qatar Airways did this right.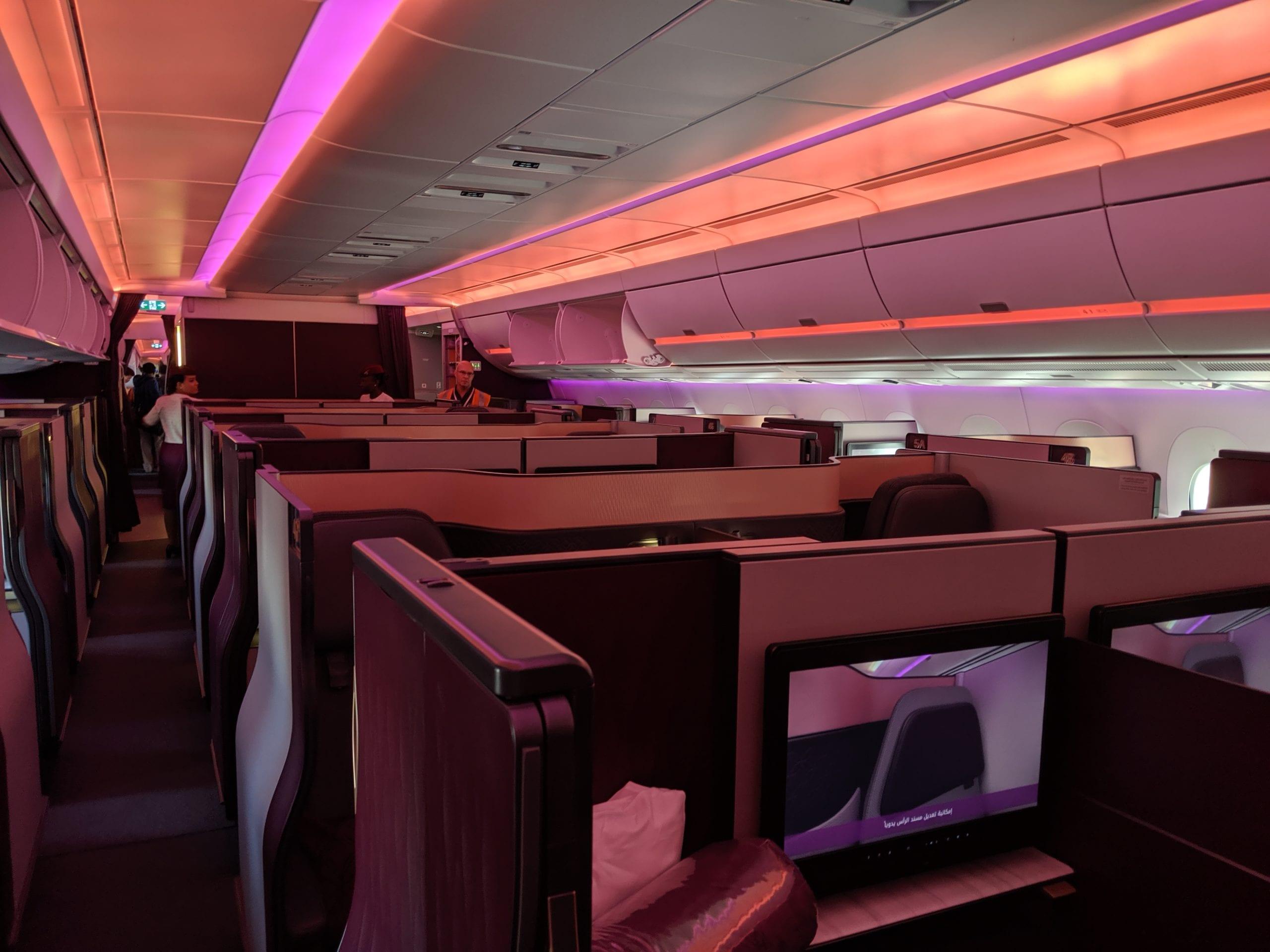 The entire cabin was bathed in Qatar Airways' signature purple and red hues. Combined with the tans and blacks of the suites themselves, it's just pure elegance, if you ask me.
Almost everything about Qatar Qsuites is different than its competitors, and it starts with the layout. Rather than slapping row after row of identical seats throughout the business class cabin, Qsuites are staggered. Some seats along the wings are closer to the aisle, while others are closer to the windows.
More importantly, each row alternates: Some seats face forward, while the next row of seats faces backward. It may sound like an odd setup, but it's revolutionary. It creates an open and airy cabin that gives every passenger more room than they'd have in a traditional business class cabin, where every seat points toward the nose of the plane.
The cabin feels even more open because there are no overhead bins in the center of the plane. Even on our nearly full flight, that wasn't an issue.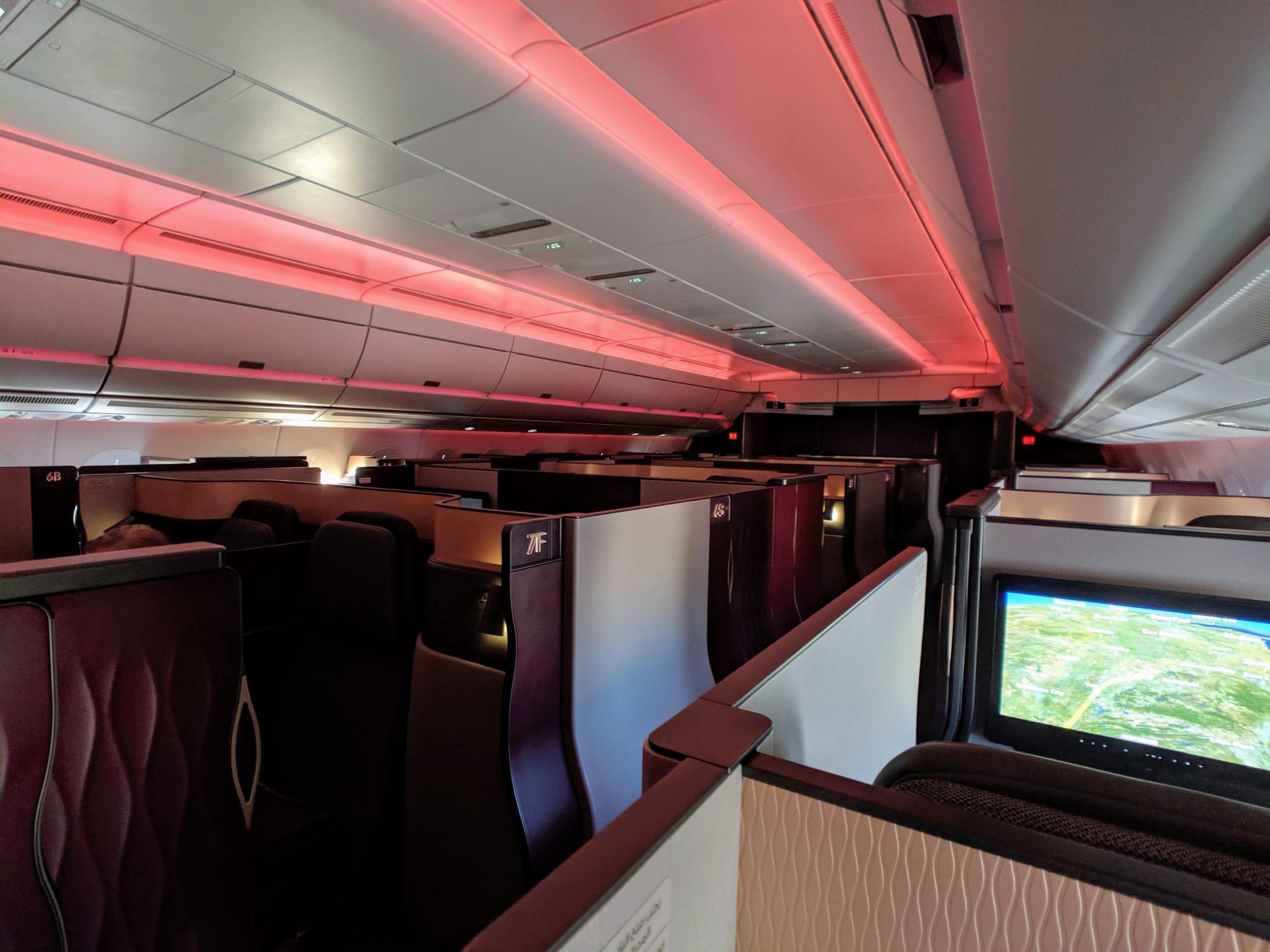 There are 46 Qsuites on this nearly brand new Airbus A350-1000, split between a main cabin with 38 suites and a mini-cabin behind the galley with the final eight suites. Every row of Qsuites is arranged 1-2-1, which means you can easily walk into the aisle from each suite.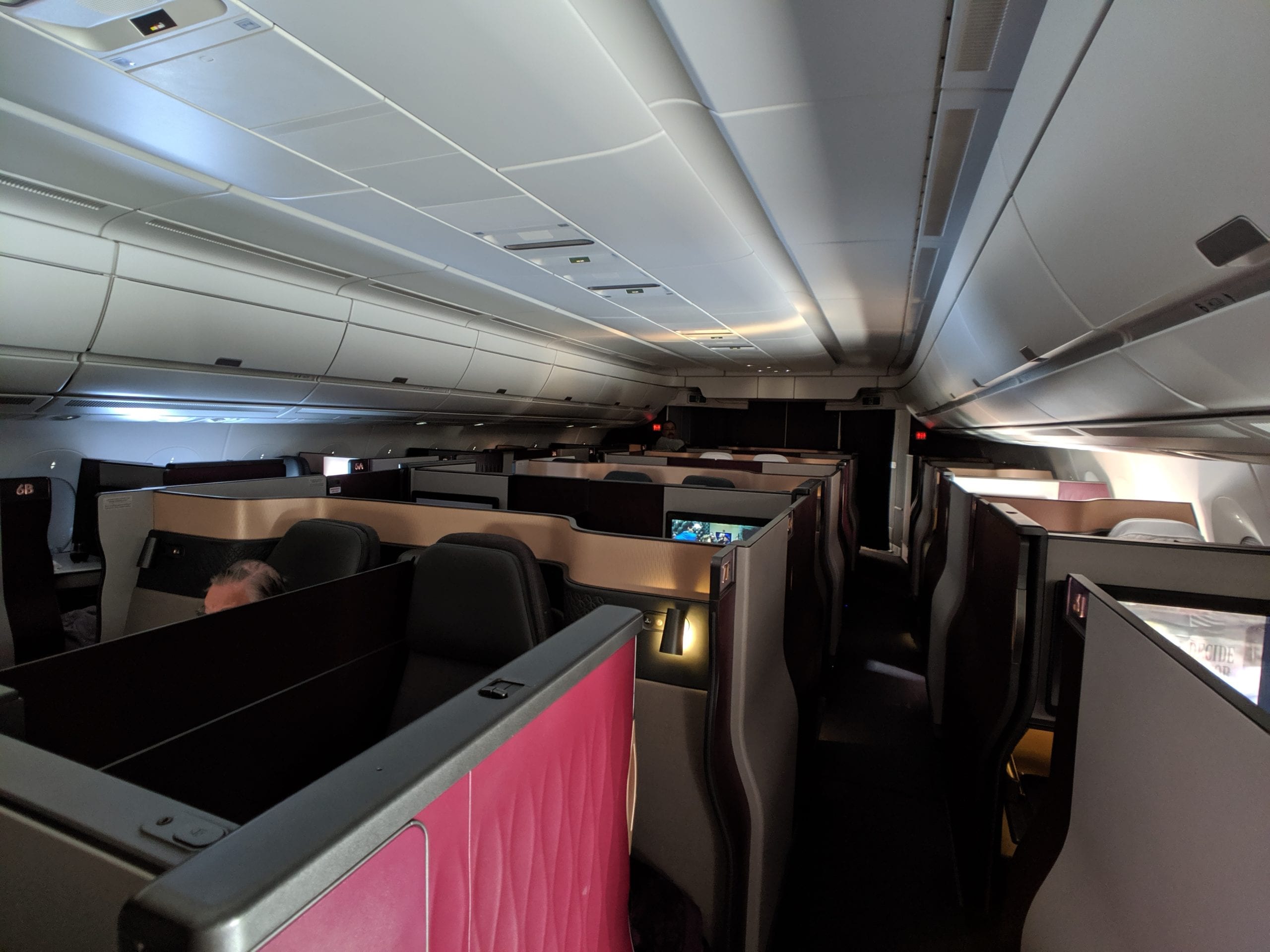 The unique layout opens some great options to pick your seat based on whether you're traveling solo, with a companion, or with a group.
Flying solo? You'll likely want one of the seats along the windows, as these give you the most privacy. On this A350-1000, even-numbered seats along the window face forward and are closer to the aisle, while odd-numbered seats are positioned closer to the window and face backward.
Then there are the honeymoon seats: backward-facing suites right next to each other. These are the perfect choice if you're traveling with a companion – they're so close that you can create a double bed.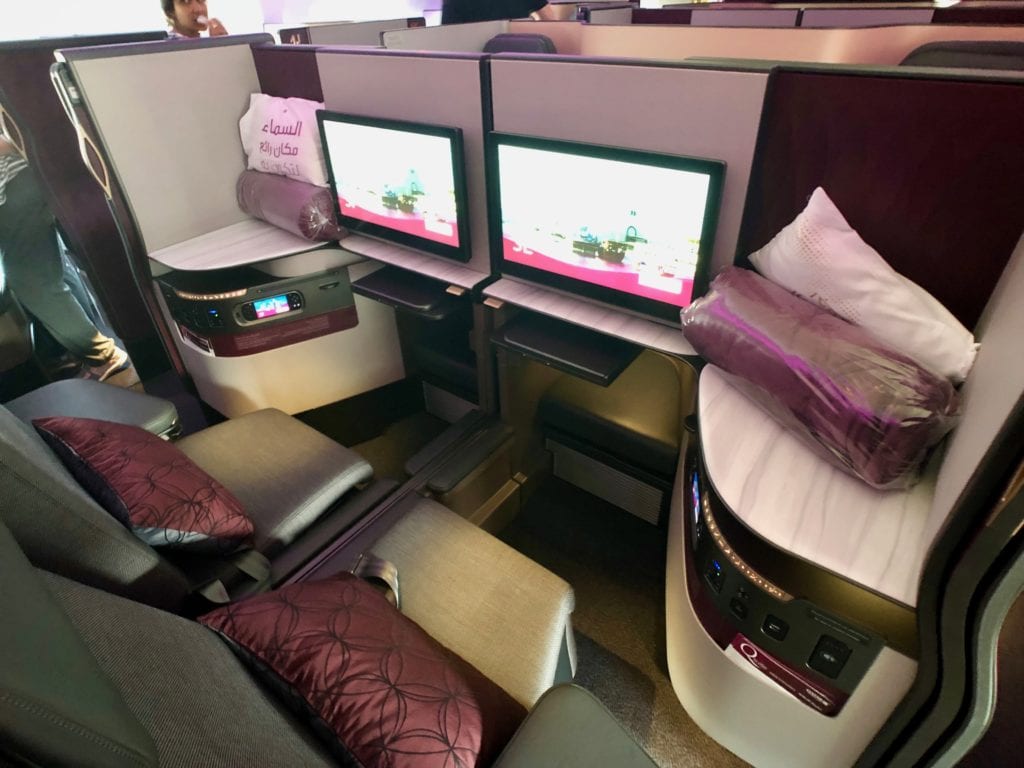 If you don't want to play footsie with your neighbor, there's a raisable partition between the suites.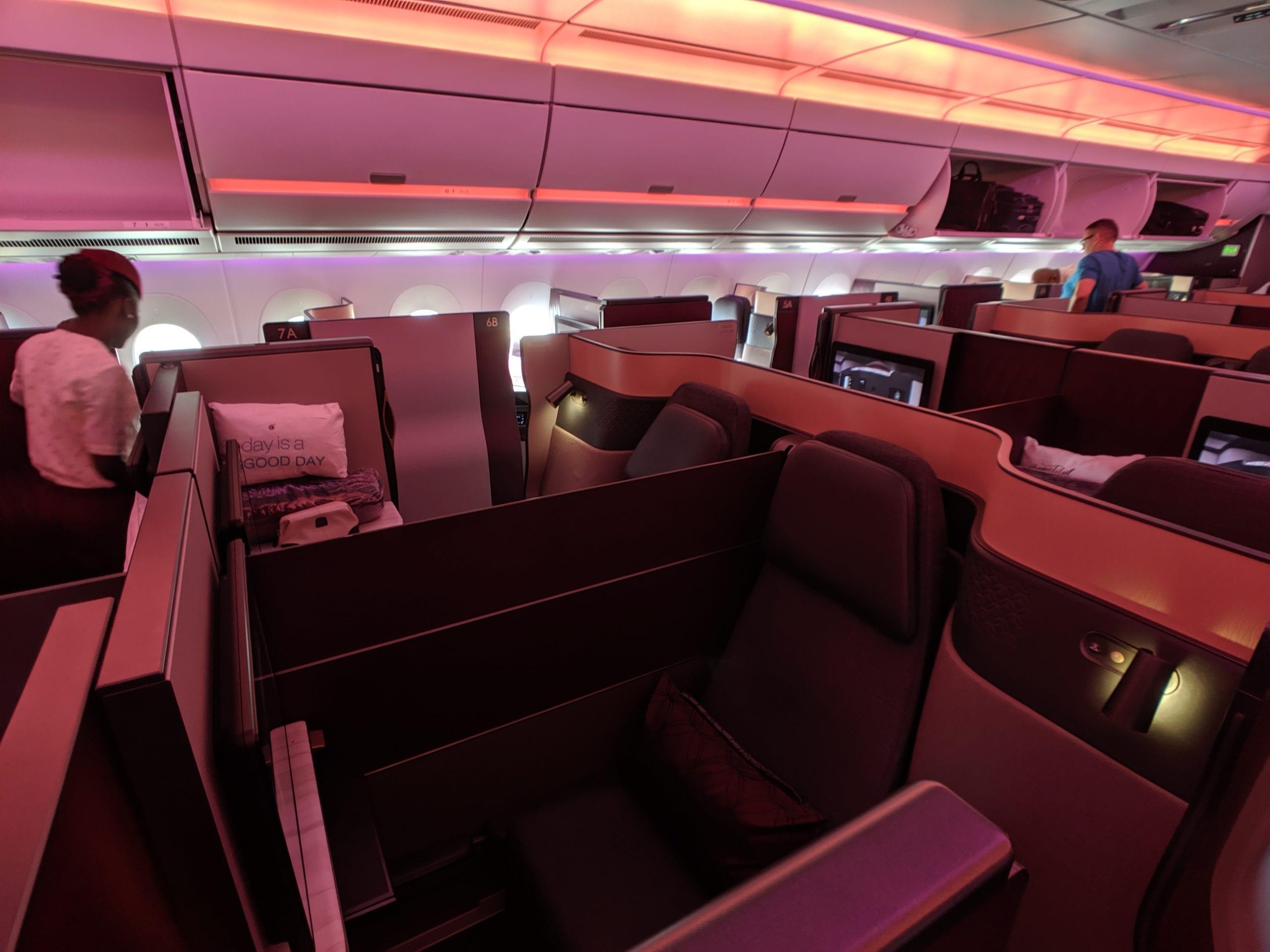 Then there are forward-facing center sections, whose suites are farther away from each other but closer to the aisle. Again, there's a divider here in case you don't know your neighbor.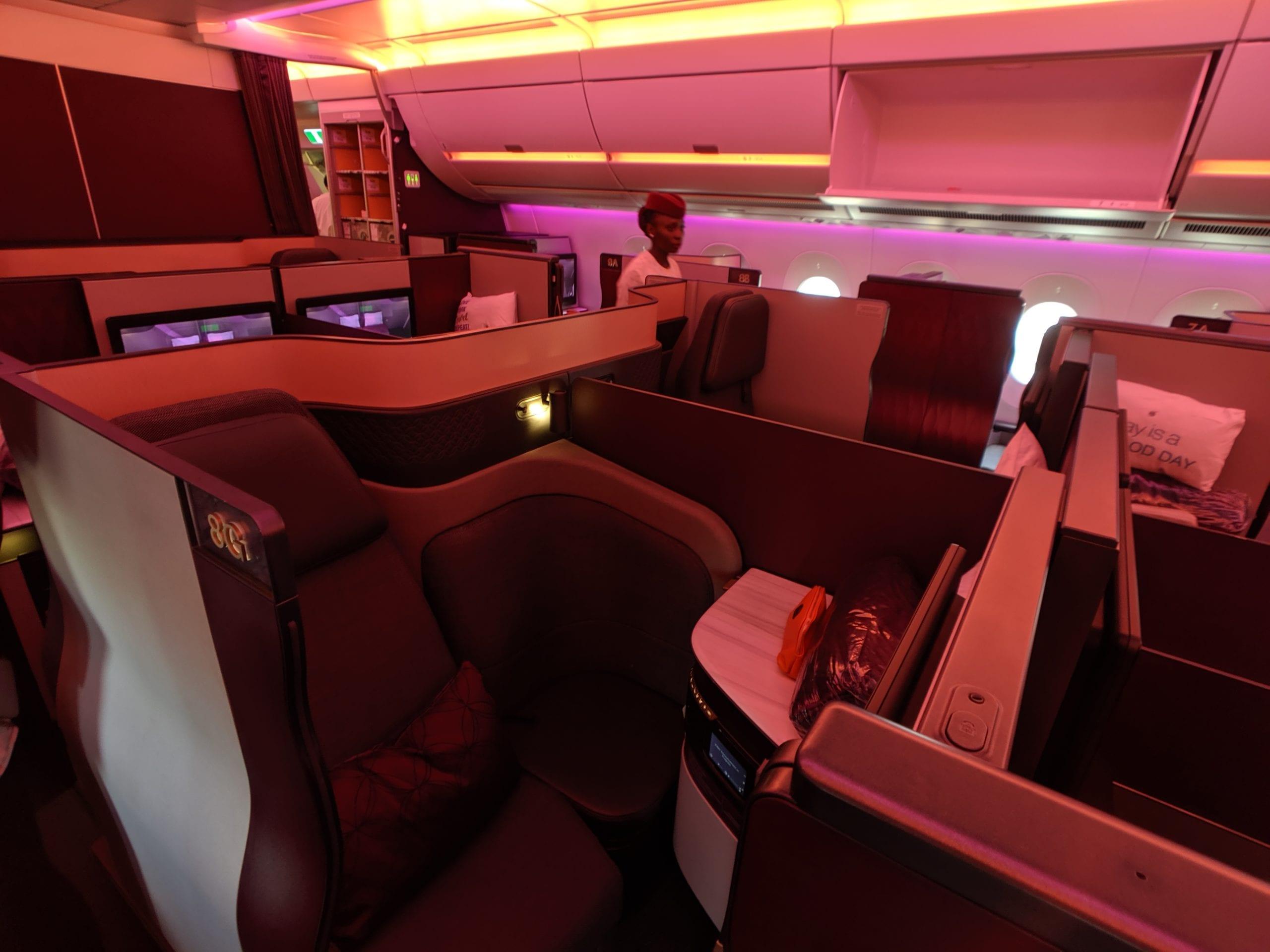 But the most unique feature of the QSuites cabin is that you can combine these center section seats into a pod of four suites, all facing each other. We didn't see this crazy setup in use throughout our flight, unfortunately. It'd be a sight to see a whole family or group of coworkers flying together like this.
There are three bathrooms for business class passengers – two at the front of the plane and one in the galley. They're all spectacular, complete with a window – something you don't see every day in a plane lavatory.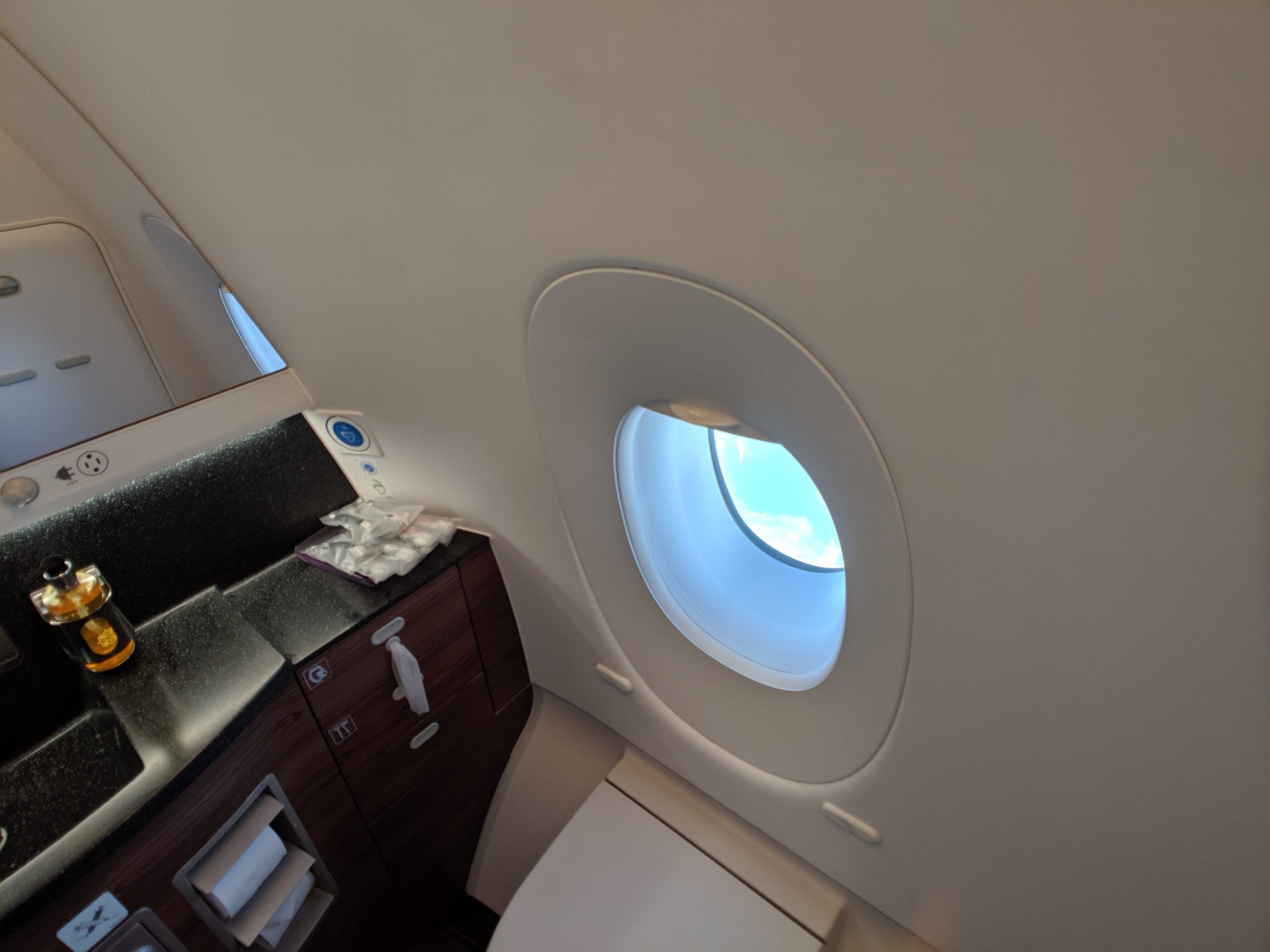 Each lavatory was kept nearly spotless throughout the flight, and they were stocked with plenty of amenities including dental and shaving kits.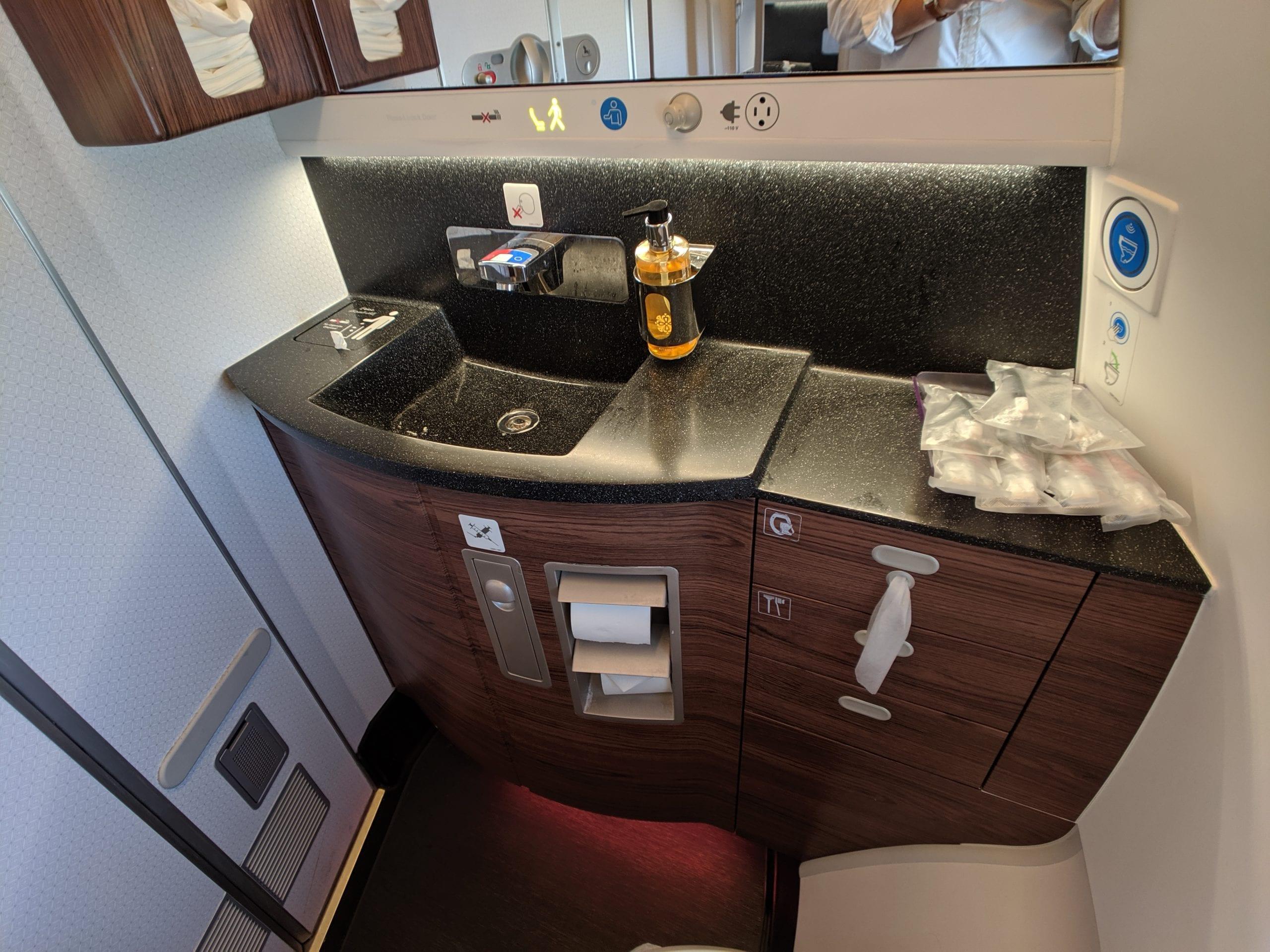 The Main Event: Qsuites
These aren't seats. They're suites. And boy, do they live up to the hype.
I assigned myself suite 7K, a backward-facing suite that's positioned slightly farther away from the aisle.
A storage compartment and console table between your seat and the aisle in these odd-numbered suites gives you a bit more privacy.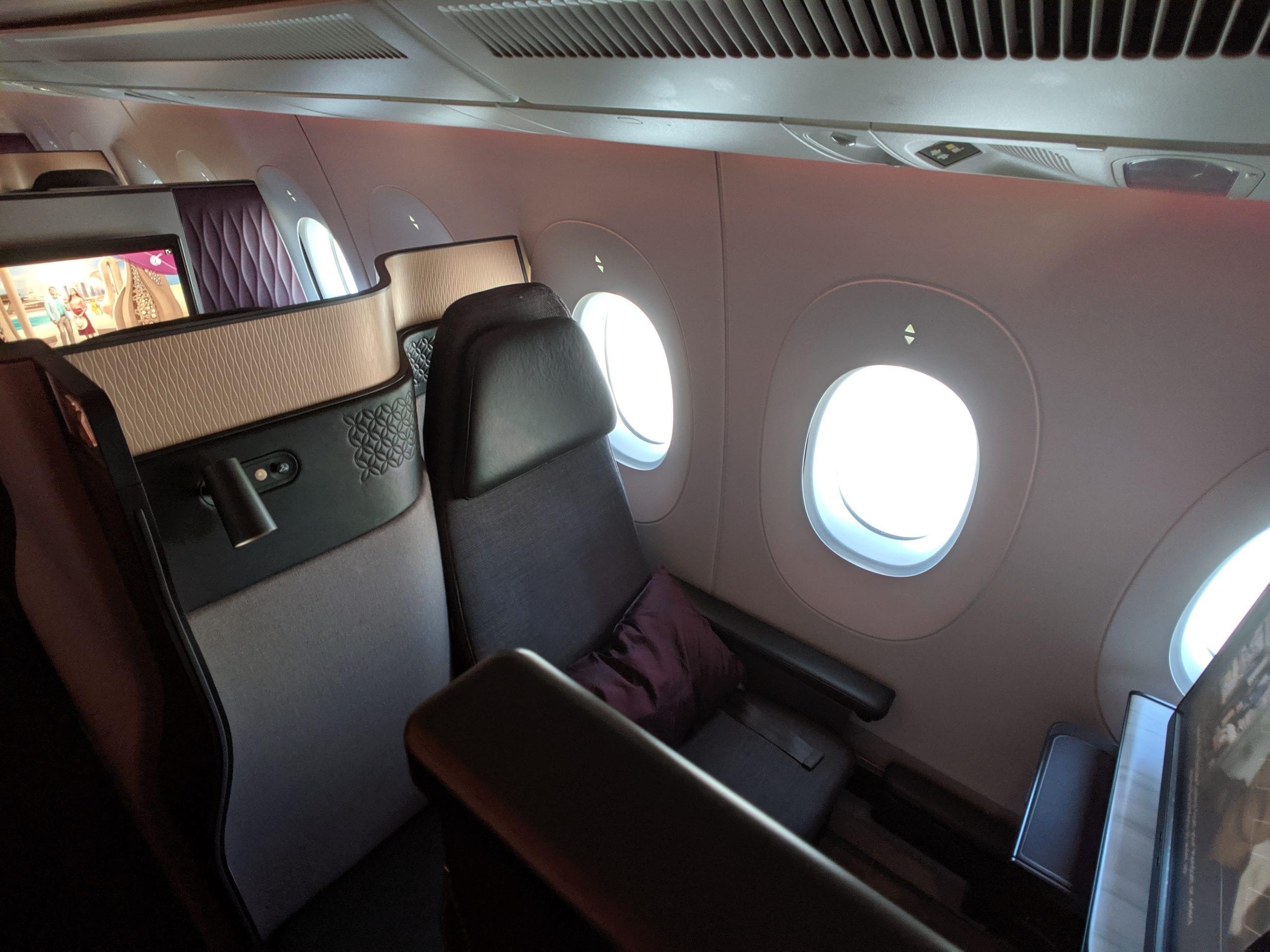 Meanwhile, even-numbered suites are slightly closer to the aisle – but still plenty private.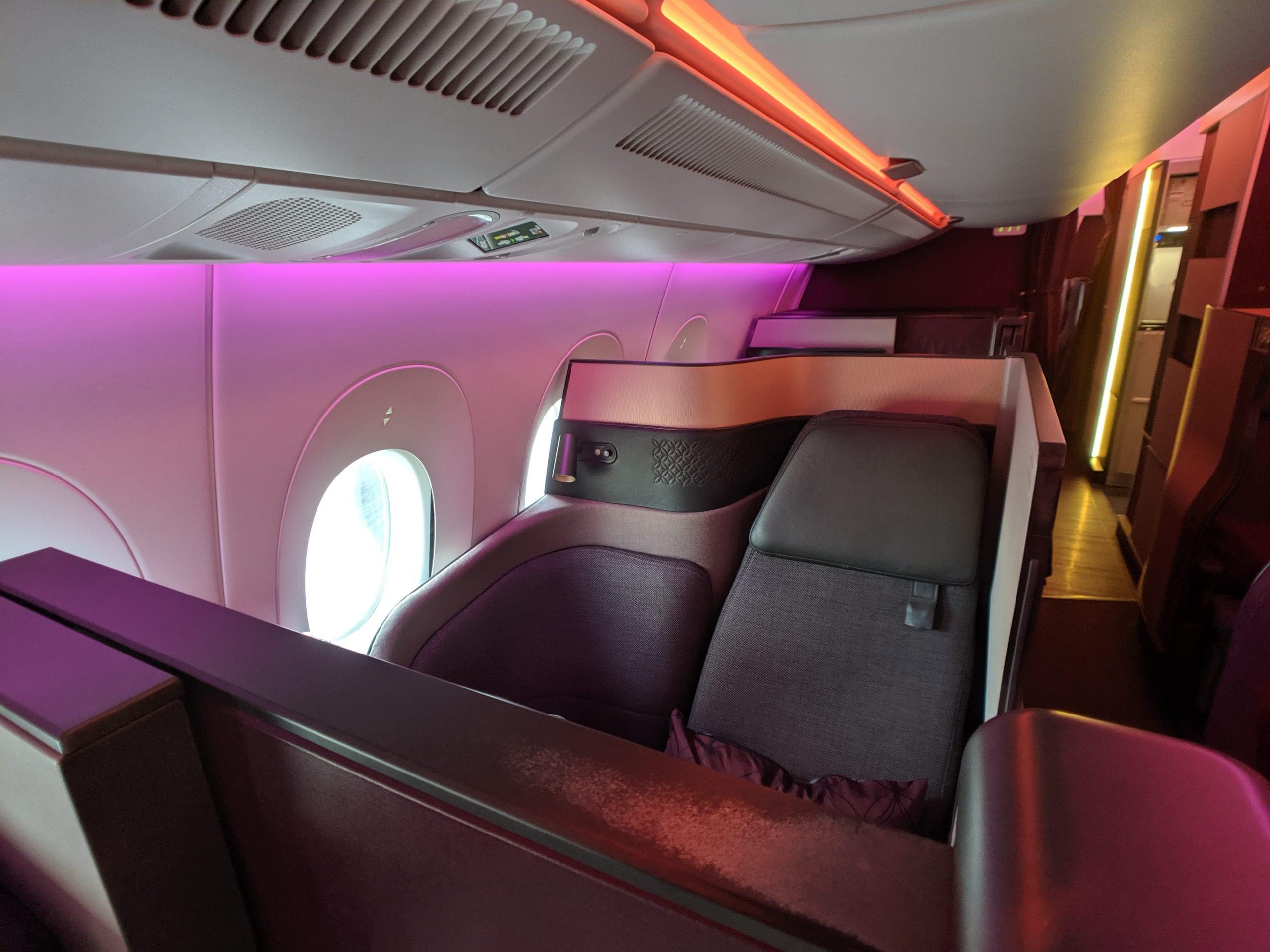 No matter where you sit, you'll have plenty of space and privacy. Every seat is nearly 22 inches wide, with more than 70 inches of legroom – and more than 100 when reclined into bed mode. And then there's the door – every Qsuite is equipped with a closing door. Flight attendants lock these in place shortly before take-off, then come back through to unlock them for use throughout the flight. It's the signature touch of these Qsuites, and it does the trick – and then some. The high suite walls and doors make it one of the most private ways to fly.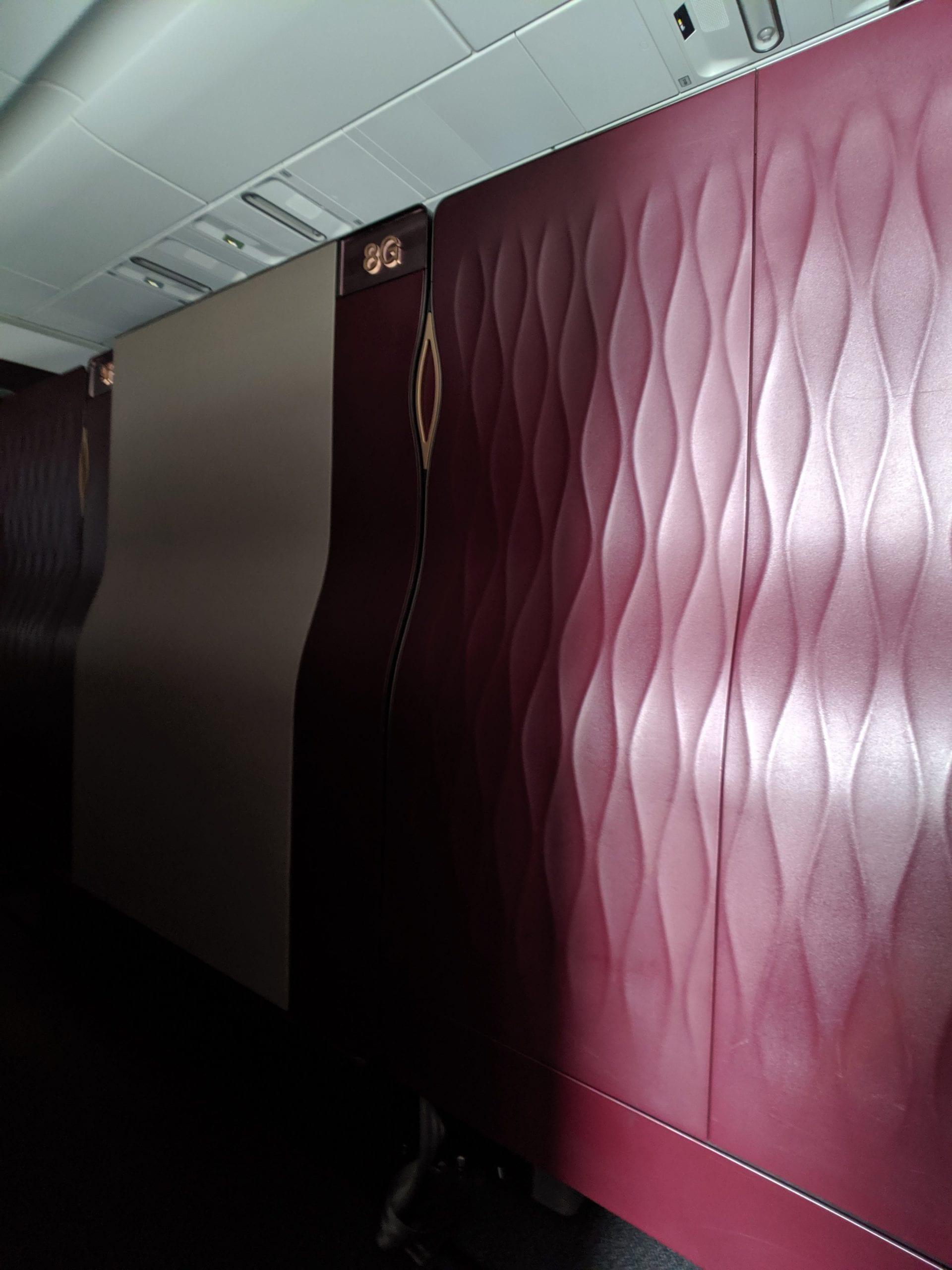 After spending 15 hours in one of these Qsuites, it's difficult to find any fault or flaw. Qatar Airways seemingly thought of everything. It's not just the door, but the near-perfect balance of privacy while still giving you plenty of room to stretch out.
While people taller than 6 feet may feel differently, I never once felt constrained in the Qsuite – door open or closed. Even some of the world's other top business class seats, like Delta One Suites or Japan Airlines SkySuites, start to look a bit cramped in comparison.
The layout of the tray, seat controls, storage … it all works perfect. The design is great, with high-quality features like splashes of leather with the upholstery to the pattern on the doors. Where its competitors can be gaudy, Qatar and its Qsuites are more understated.
I'm not sure I would change a thing – Qsuites are truly that good.
Getting settled back in Suite 7K, it's easy to get lost in all the space, bells, and whistles. At the front of the suite there's your TV, a pull-out tray, and a large console table.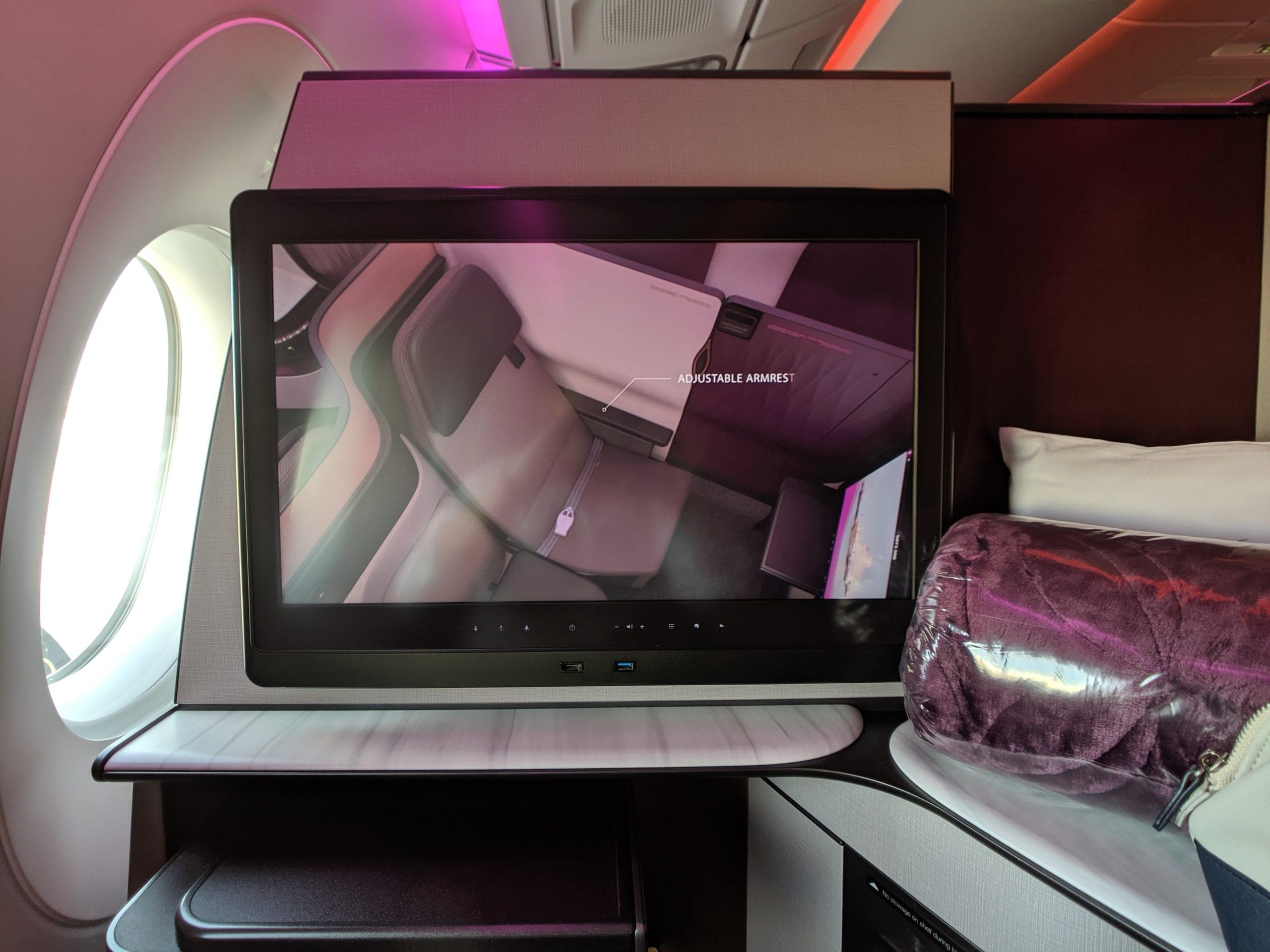 You'll see there's a USB socket along with even an HDMI input on your monitor, should you need it.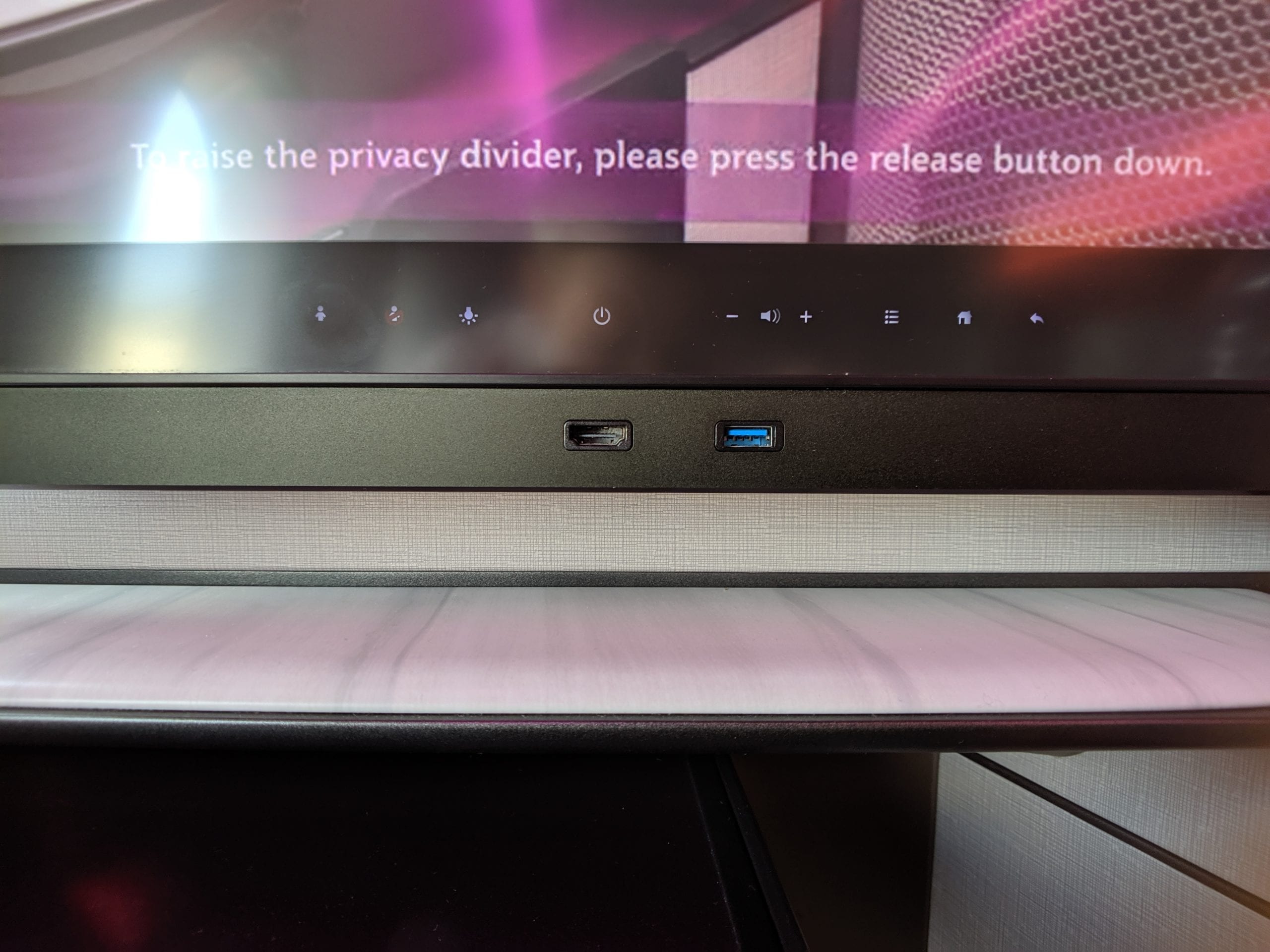 The design of the tray table is ingenious. Rather than simply folding out or down, you pull and slide it from underneath the ledge, then fold it out to expand into a truly massive working (or eating) surface).
Underneath your tray is the ottoman, which is large enough that room for your feet should almost never be an issue. The one downside is that there's not room to store a bag here, so you'll have to store that in an overhead bin. Still, that leaves plenty of room to stretch out throughout the flight.
These state-of-the-art Airbus A350s are equipped with some great windows, which you can either dim with a shade or close altogether electronically.
Sitting backward along the windows has sure has its perks when this is your view.
What's that above you? Air vents! While many first and business class cabins skip them, that's not the case with these Qsuites. It's a small but appreciated touch to cool off or just keep air moving.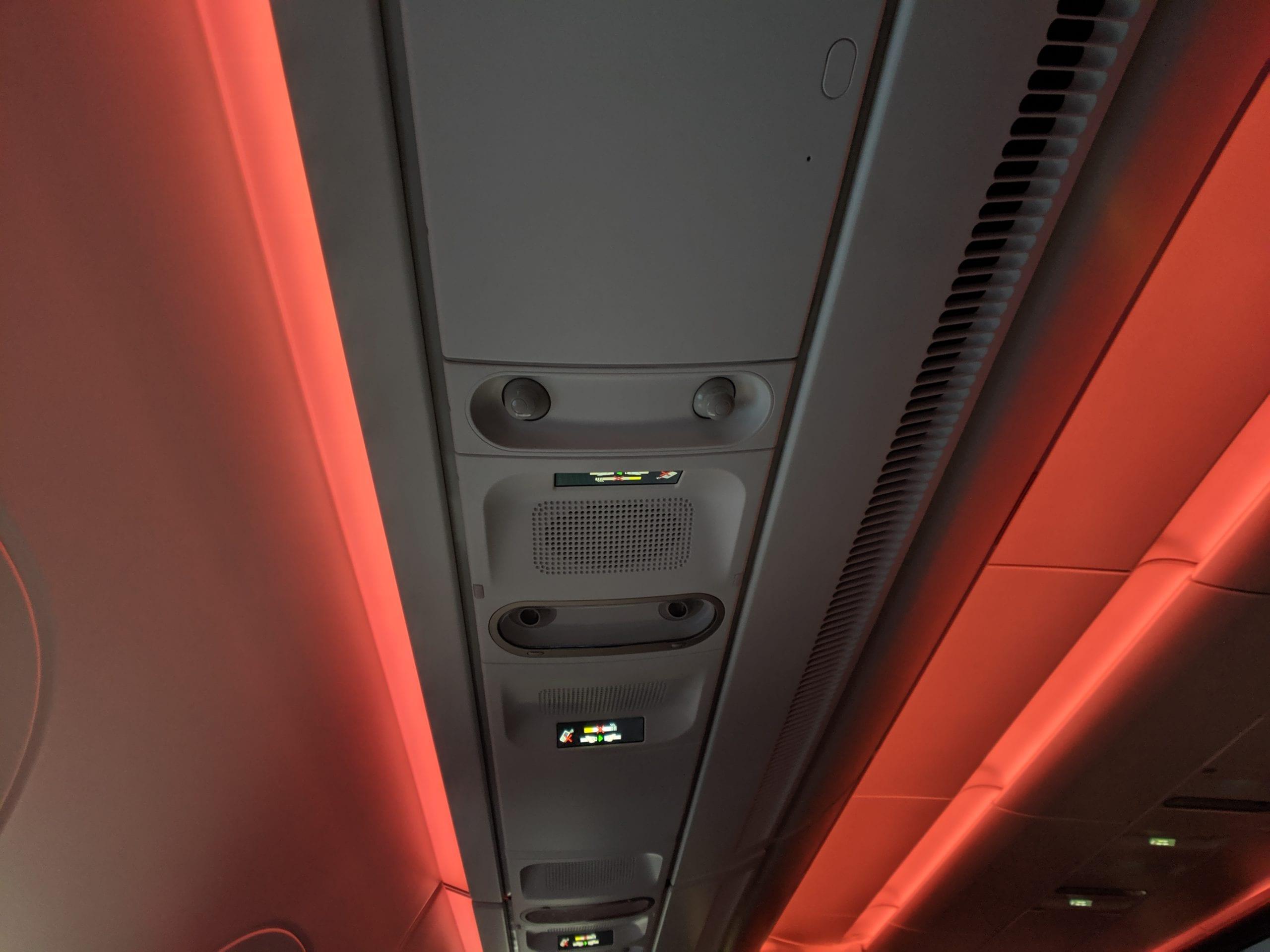 Back at the front of each suite is where you'll find the large console table, which has plenty of space to store a laptop – or even more precious cargo, like a glass of champagne.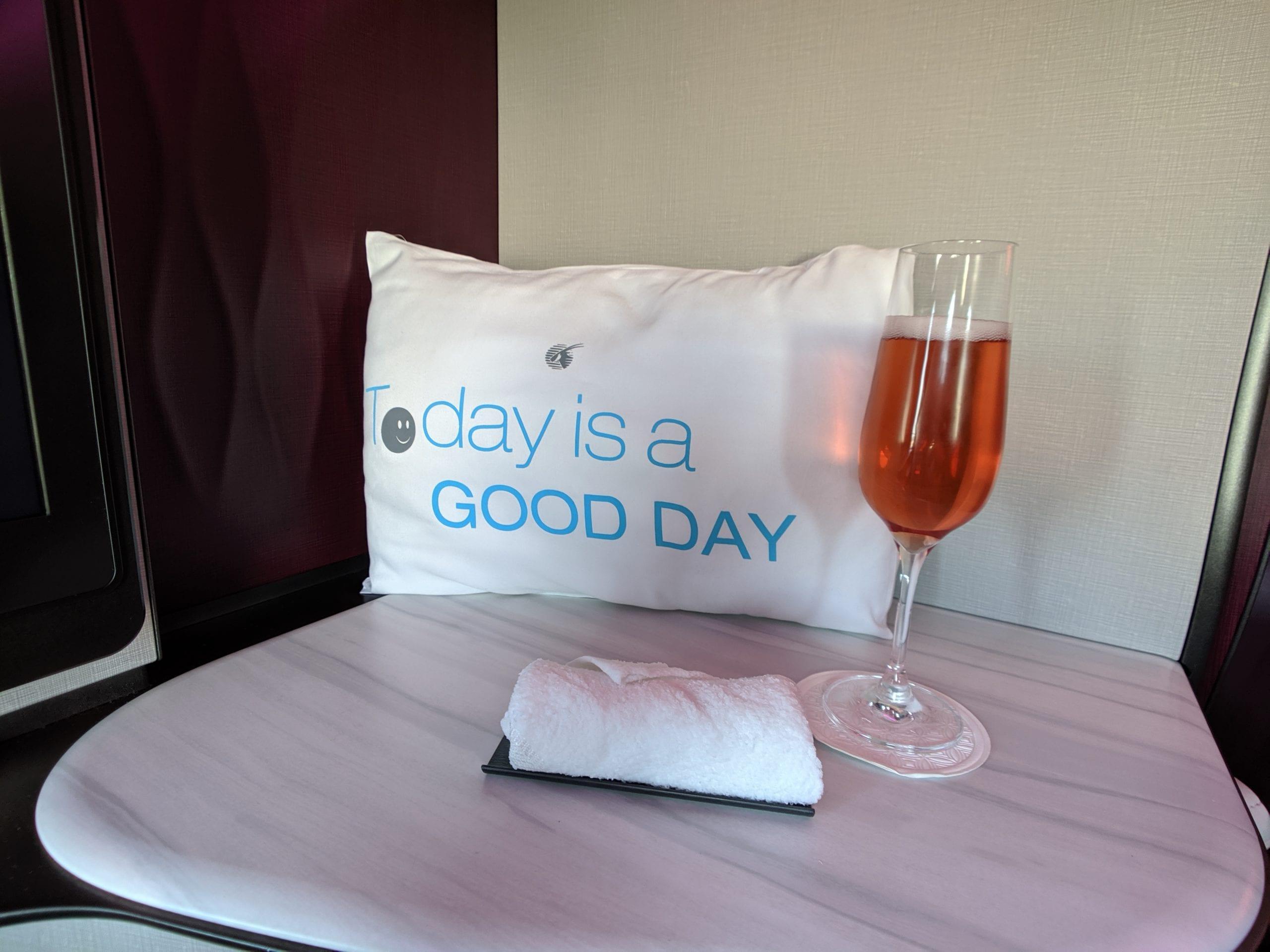 There's even more room underneath that counter space, along with all the controls you need to adjust your seat and lighting throughout the suite – including the "Do Not Disturb" function. This is also where you'll find additional USB and power outlets, a wired entertainment remote, and the headphone jack.
The seat itself is really comfortable, with plenty of padding. And whether you want to sit up straight, lounge, or recline all the way back, controlling it is easy. You can even adjust the headrest, which is fairly plush. And just take a second to appreciate the chic look of it all.
Near your head, you'll find an adjustable reading light, which swivels easily. And there's also a spot to hang a coat or shirt.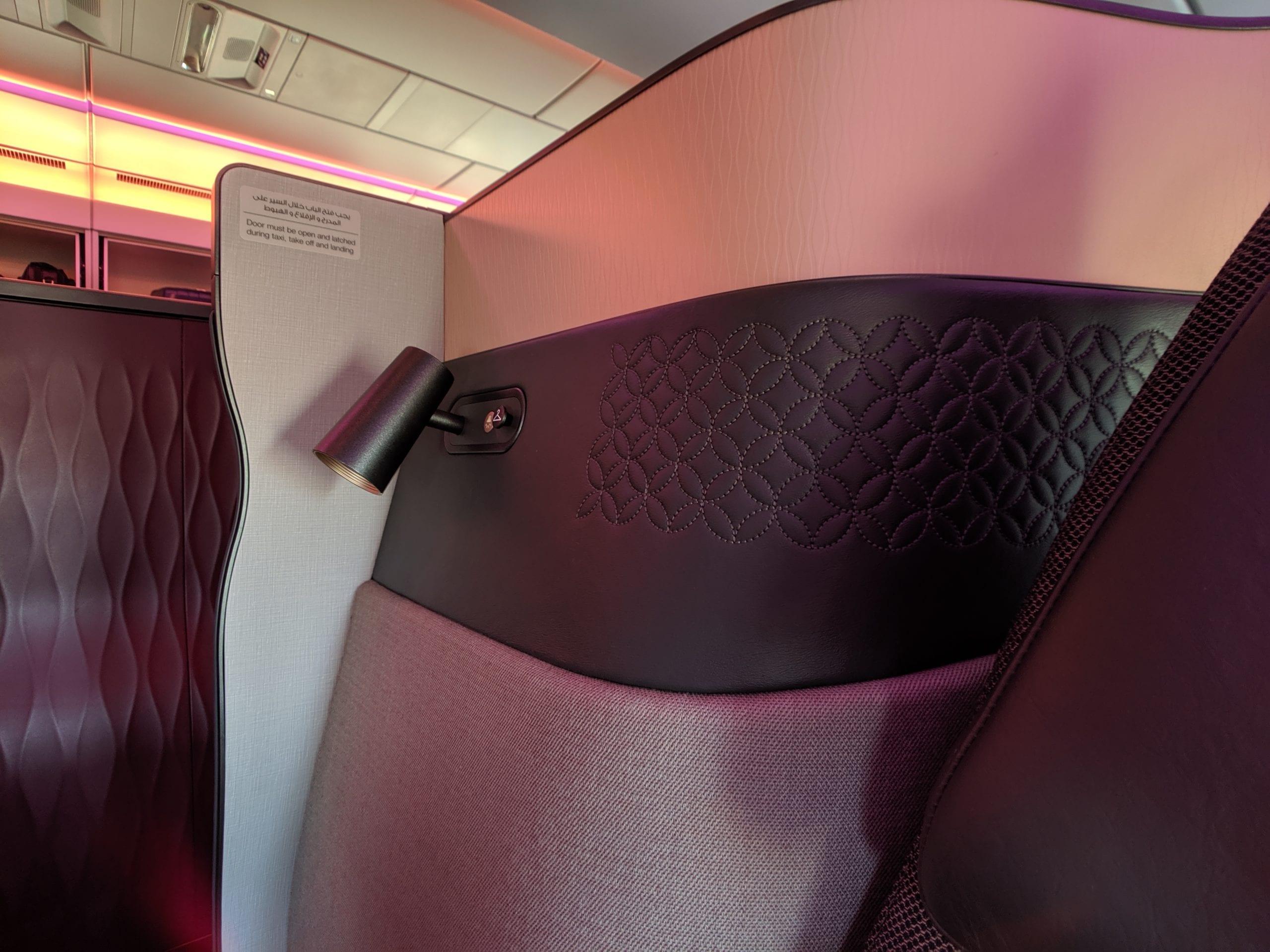 Below that, there's a large storage compartment that doubles as an armrest. You can raise it while working or eating or lower it to increase your sleeping surface area when it's time for bed.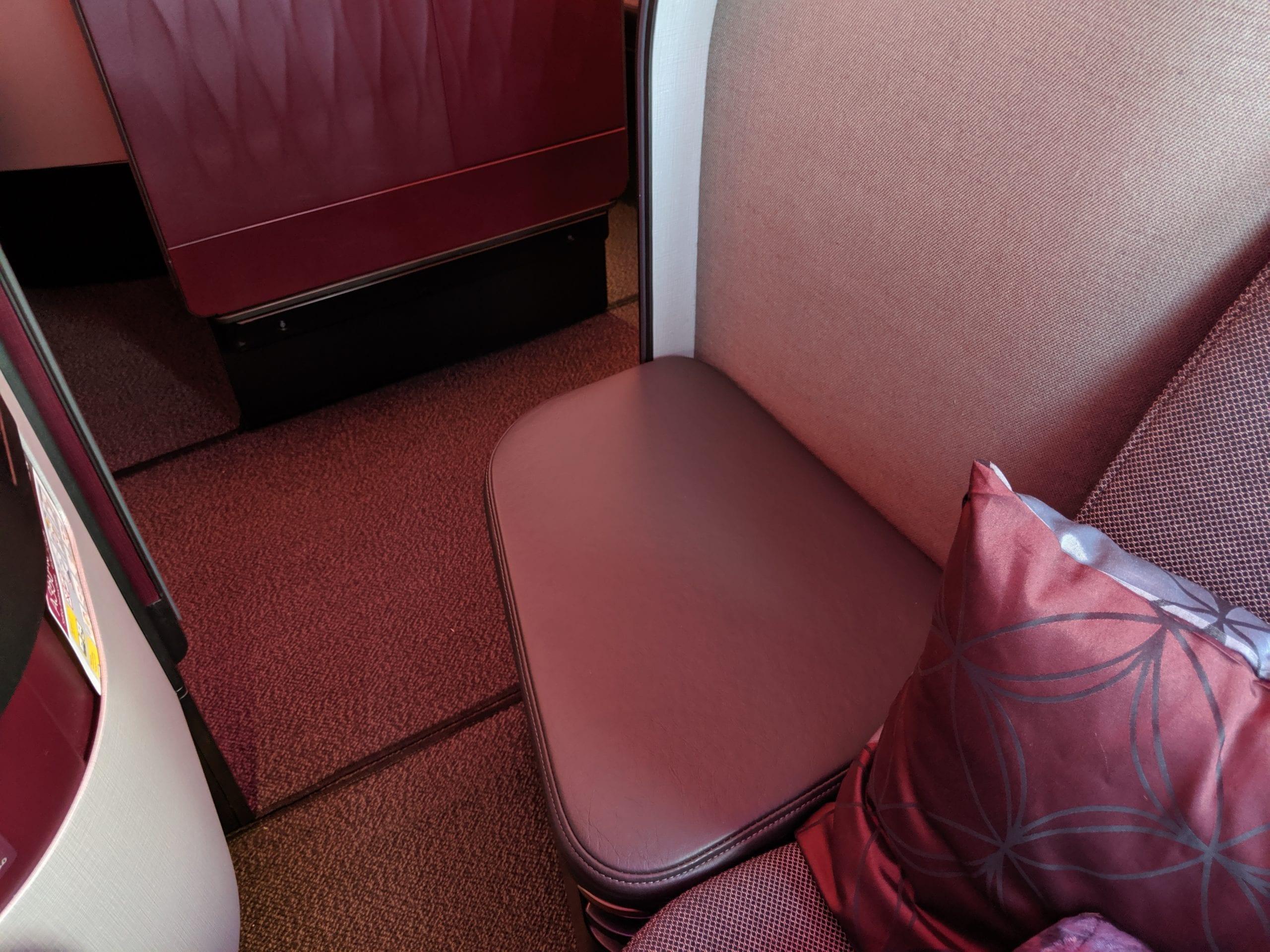 And I'm not kidding when I say this compartment is massive. Lift up the flap, and you'll find there's enough space for a water bottle, pair of headphones, amenity kit, and even a 13″ laptop. Combined with the counter space, there's more storage space here than you'll find in most business class seats.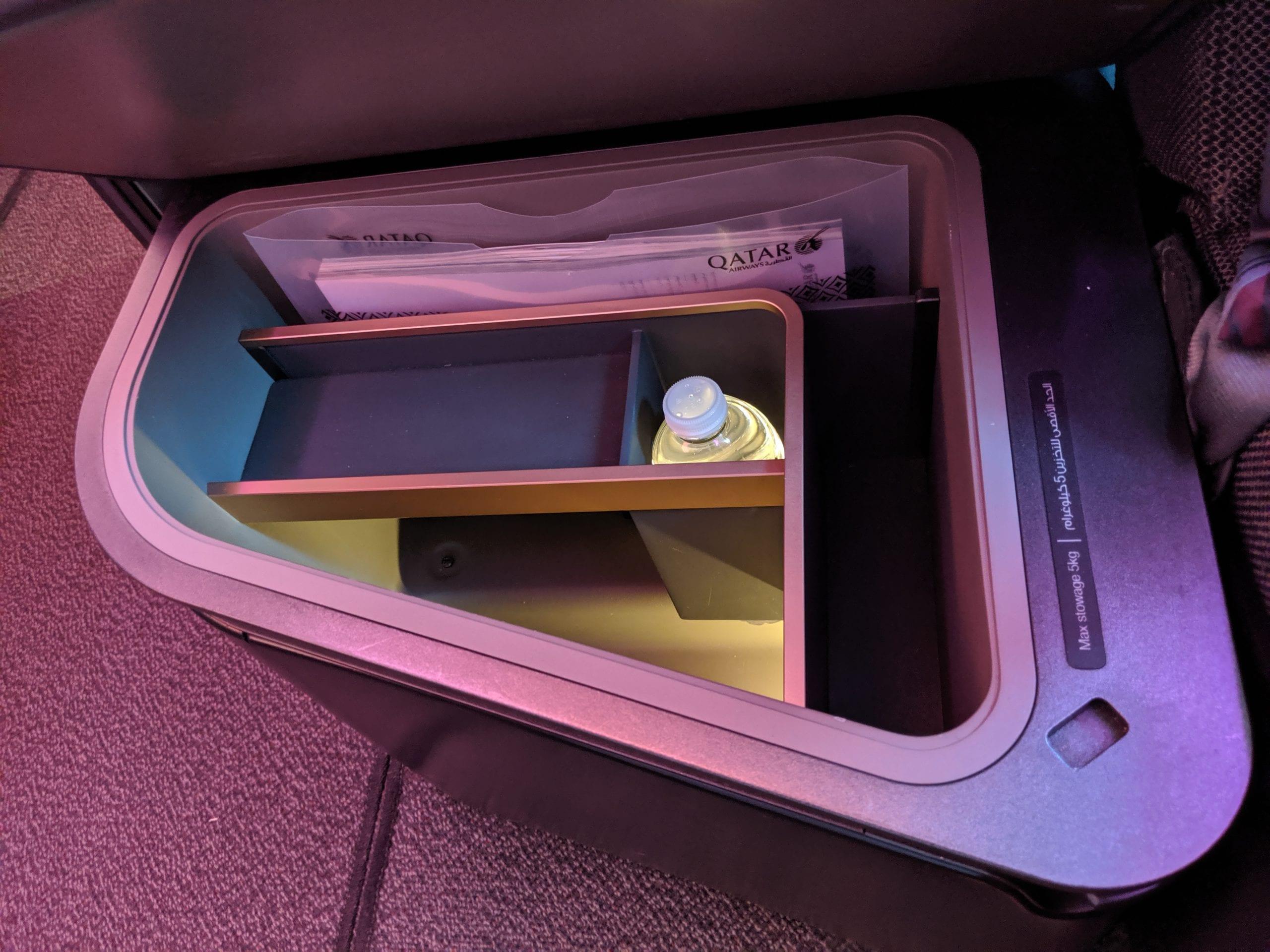 Once a flight attendant unlocks your door, they glide easily to open and close. Even with the door closed, there's plenty of room to stretch out.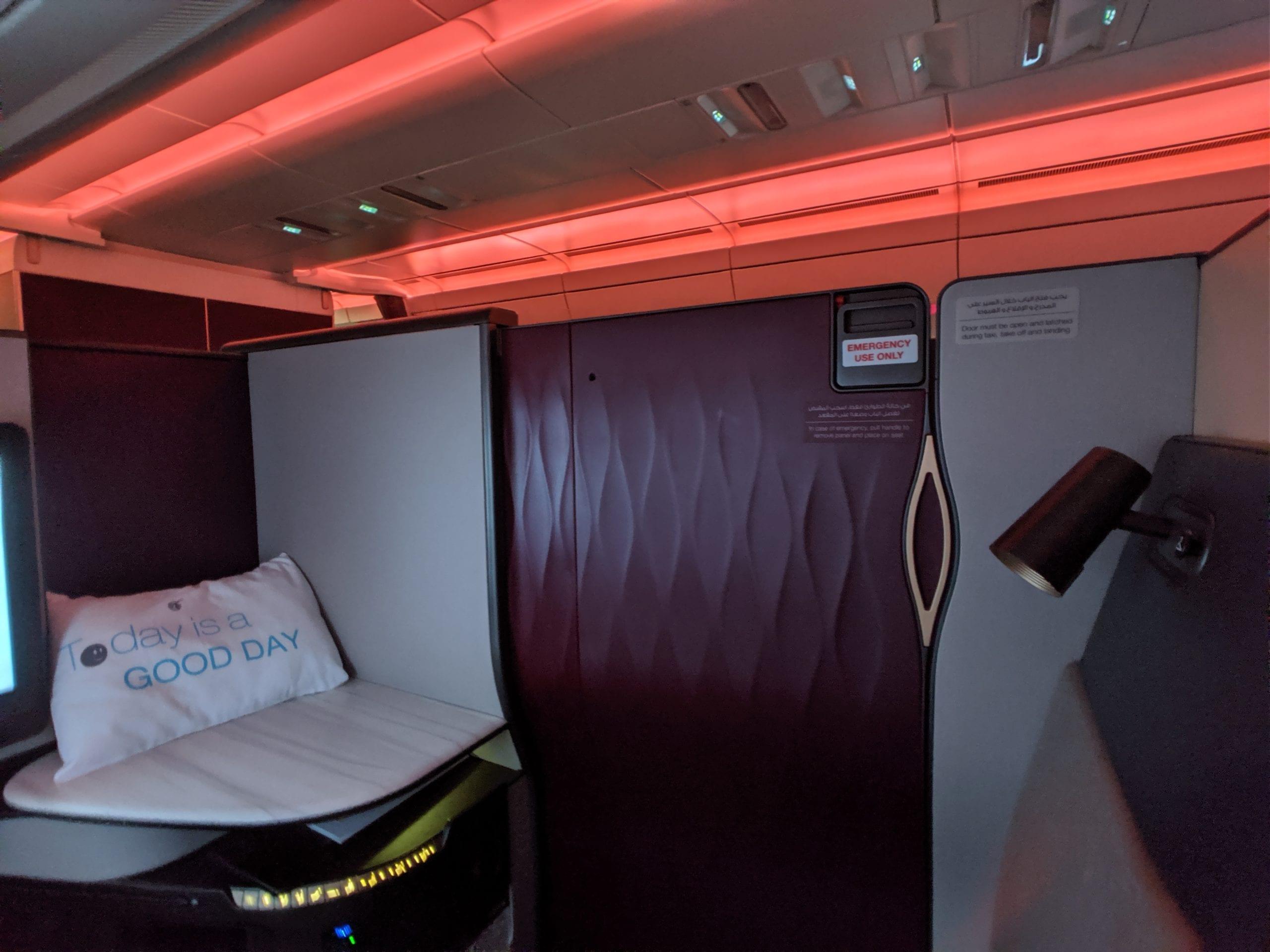 When it's time to catch some sleep, your seat reclines into a large sleeping surface, thanks in part to the padded lid of the storage compartment lid that makes it even wider. A flight attendant gladly put a thin (but cozy) mattress pad and got everything ready for bed as I went to change. I slept for a blissful seven hours – an eternity for me.
Amenities
A bevy of goodies await you in your Qsuite.
For starters, there's the bedding, which I loved. The duvet is perfect – high-quality, but not too thick and certainly not too flimsy. There's a decorative pillow, and Qatar flight attendants bring through another pillow for bedtime.
And then there's the amenity kit, in a large, pleathery pouch from Bric's.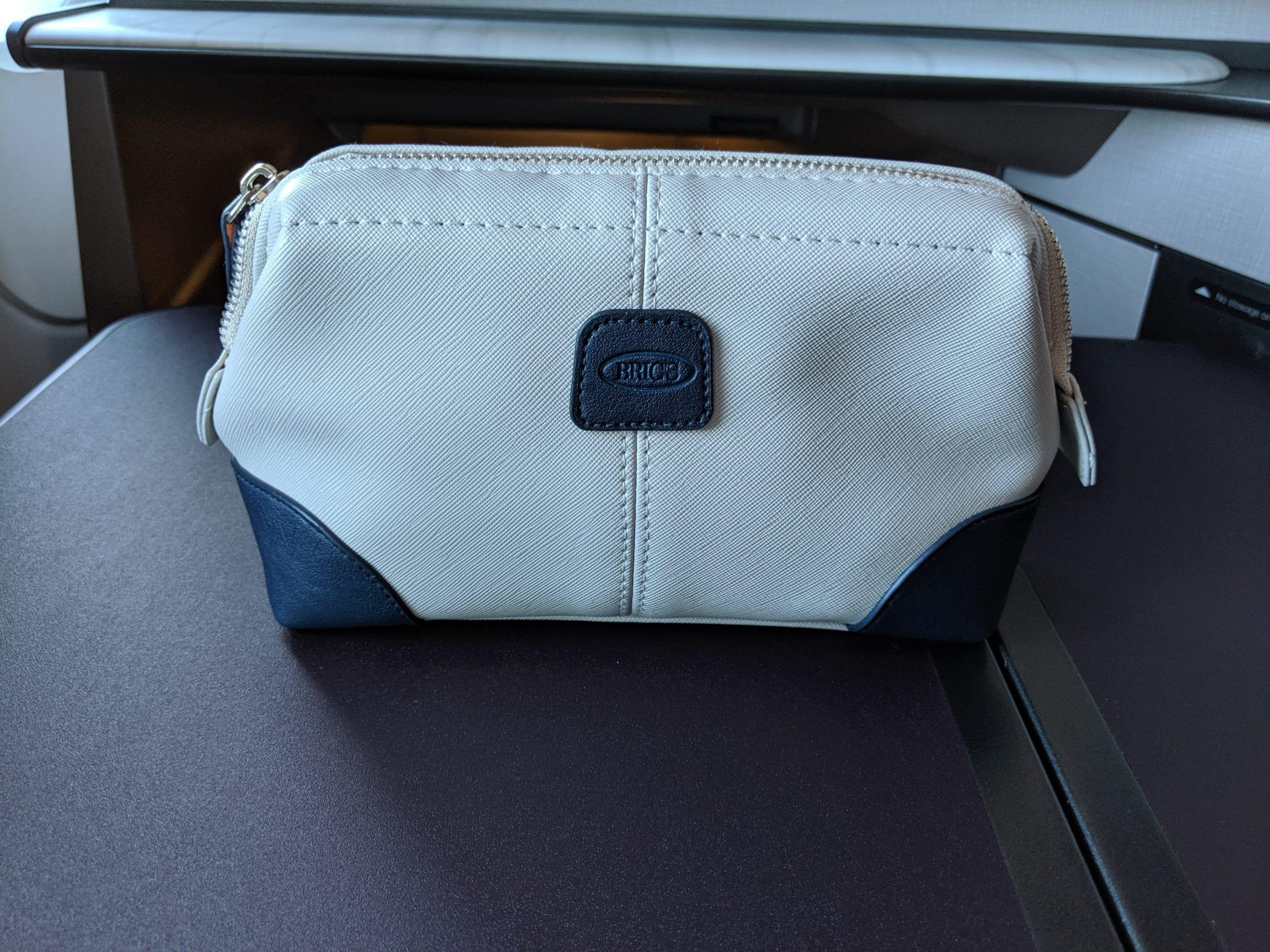 There's not a ton inside these kits, but it's all high-quality. You'll find an eyeshade, some earplugs, a pair of socks, and some skincare products from Castello Monte Vibiano Vecchio – anti-aging moisturizer, facial skin mist, and some lip balm.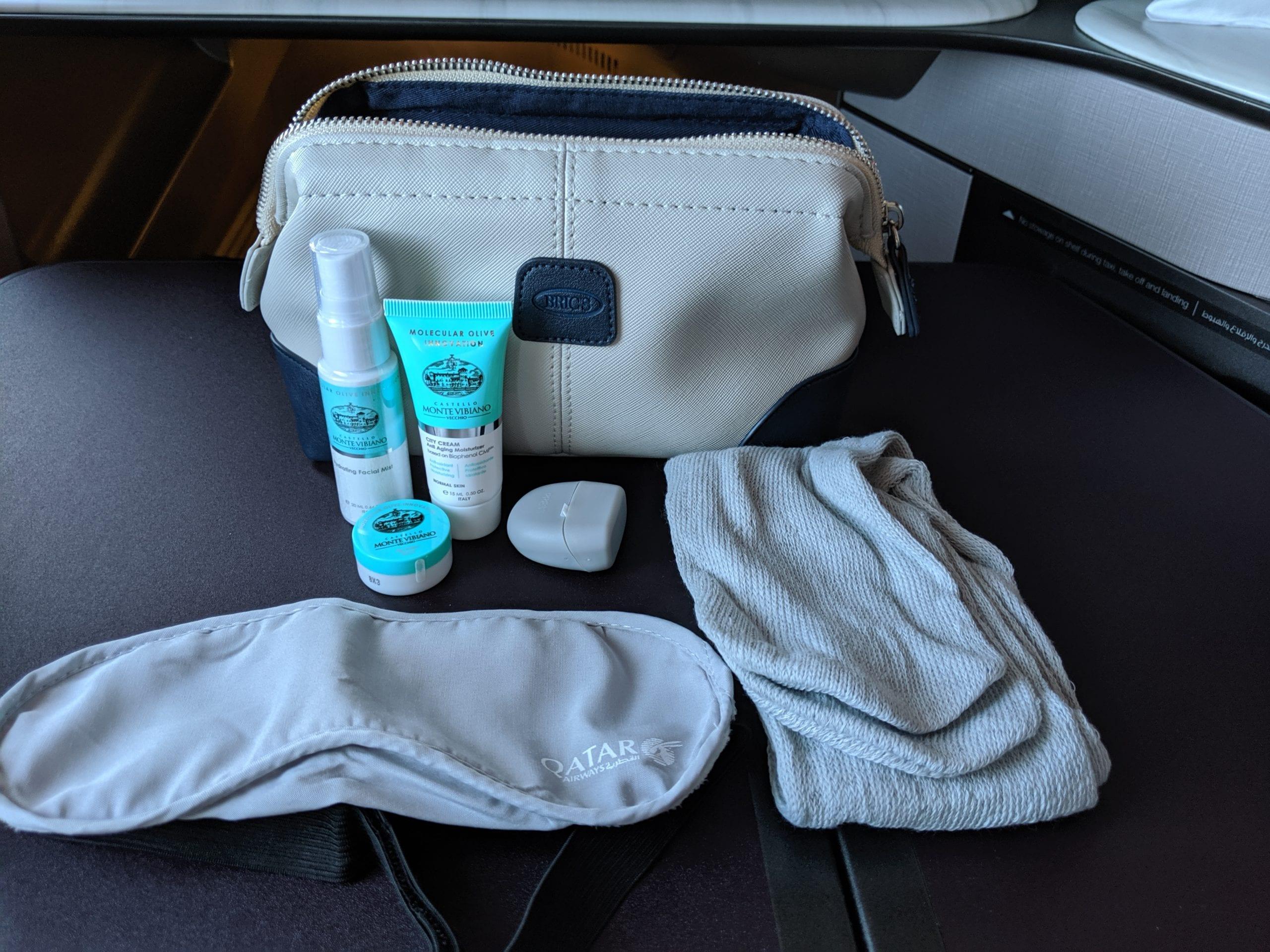 Shortly after boarding, a flight attendant dropped off a pair of pajamas – special Qatar-branded PJs from The White Company.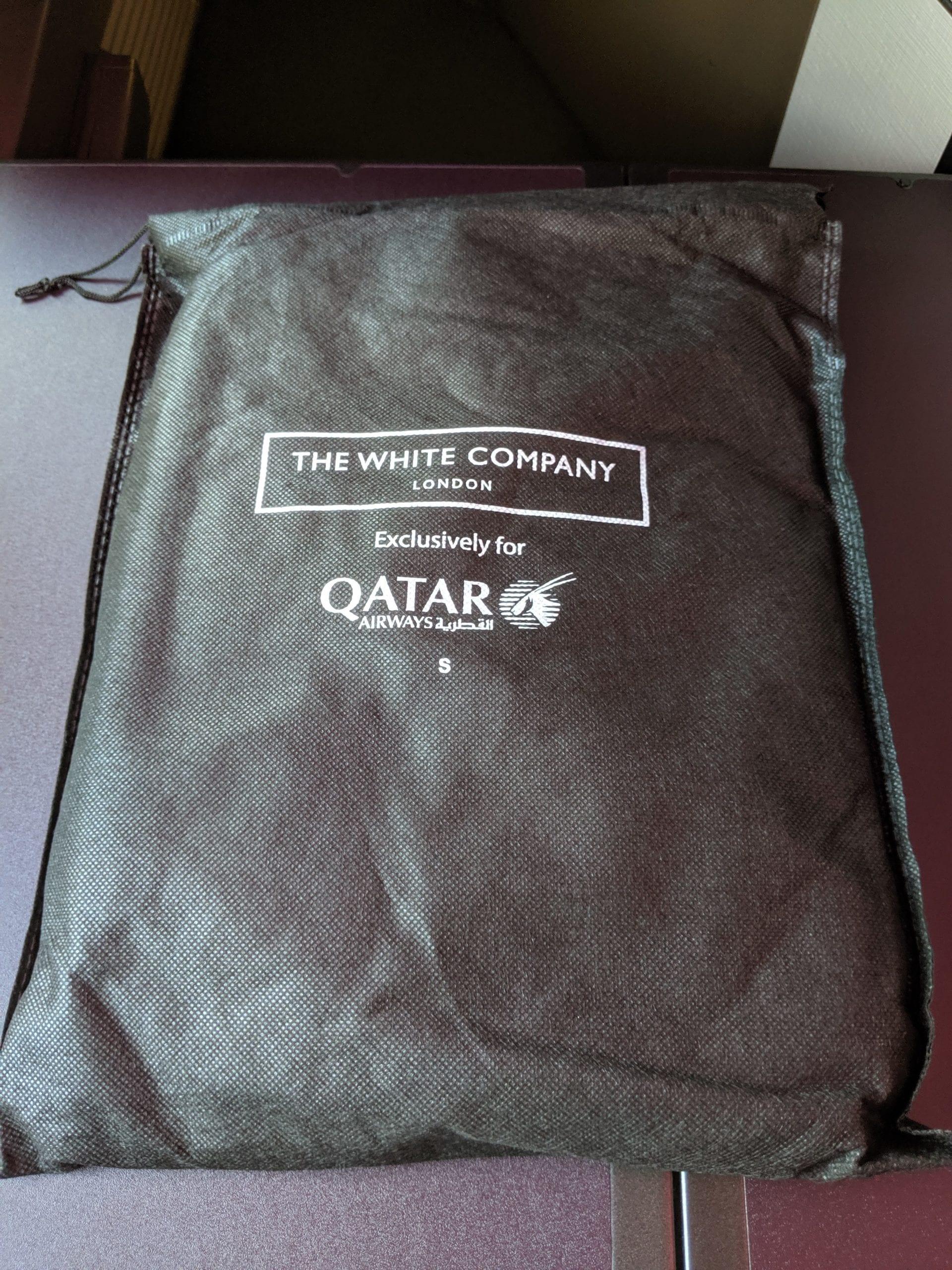 The pajamas themselves are quite nice, and not too thick. But considering how few airlines give out pajamas in business class, it's a great touch. There's a pair of fairly sturdy slippers inside, too.
Finally, lift up your storage compartment on the side of your seat to find a pair of headphones. In my case, they were nowhere to be found – so I snagged a pair from an empty suite nearby. While not the highest-end headphones, they're fairly comfortable with some decent noise cancellation.
Service and Dining
The problem with being the best is that expectations only get higher and higher. Even the slightest flaw or slip-up sticks out.
Qatar's service is famously hit or miss. And on this flight, it was a mixture of the two.
The flight attendants working my aisle were all attentive and friendly but somewhat distant, without much of the rapport that separates a great crew from a good one. Drinks were refilled with a smile and a nod, and everyone was unfailingly courteous. It was on par with what you'd expect on most great airlines. But when you've set the bar this high with the Qsuite, the bar raises for everything.
Service started great, as a flight attendant came by to show me around the suite and made a joke about my last name (check my byline and take a guess) – which I appreciated. It showed a lightness and humor that too many flight attendants are wary of showing. A glass of rose champagne in my suite got things going.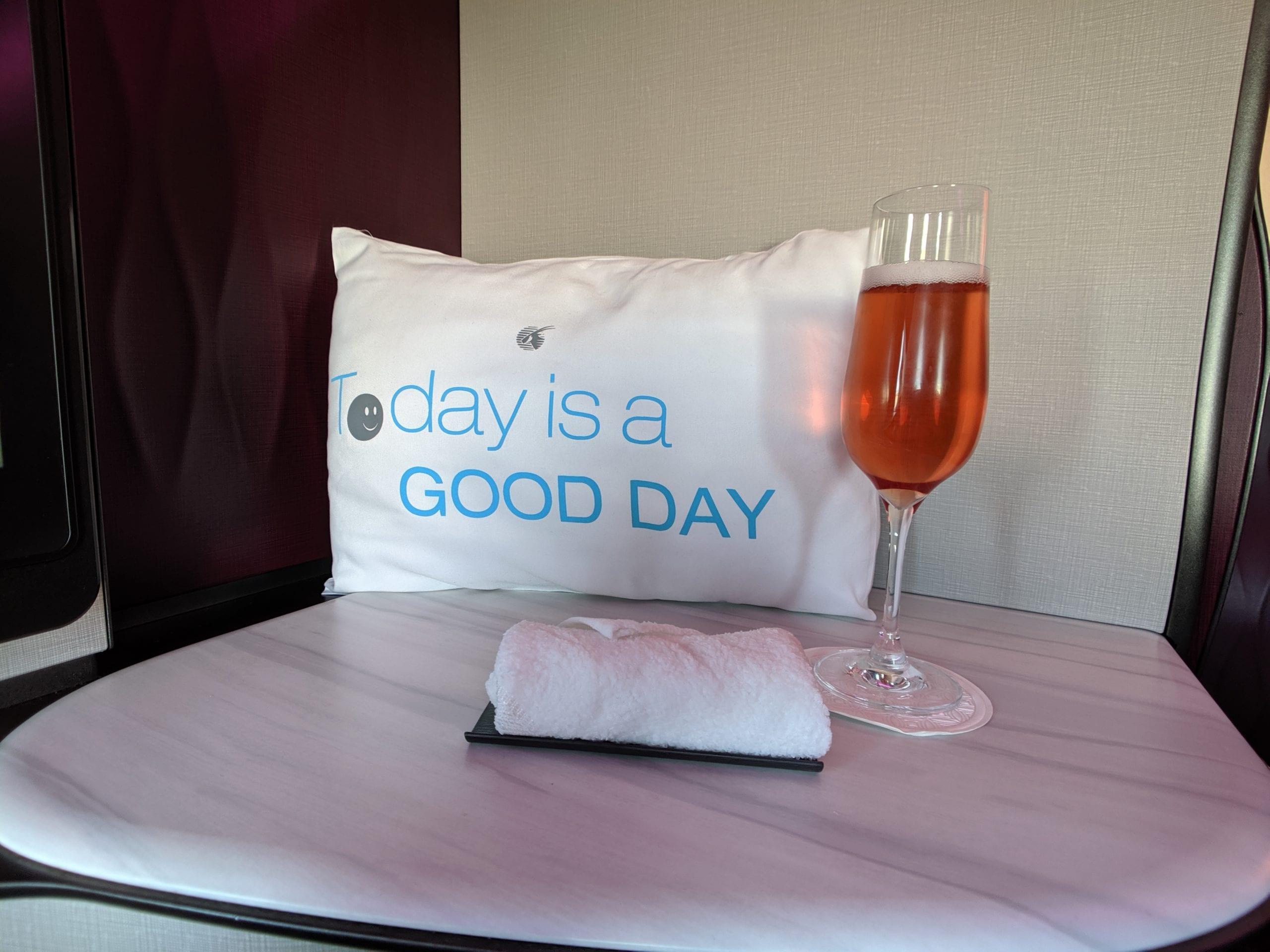 Qatar Airways does dining a bit differently than most airlines in business class. Rather than serving meals at set times after departure and before landing, Qatar offers dine on demand. You can order anything you want from the menu at any time throughout the course of your flight. And the menu is expansive.
Oddly, my flight attendant took both my dinner order and breakfast order shortly after takeoff. But it was no matter, because it was all delicious.
Dinner service started with a ramekin of warm nuts and another glass of champagne.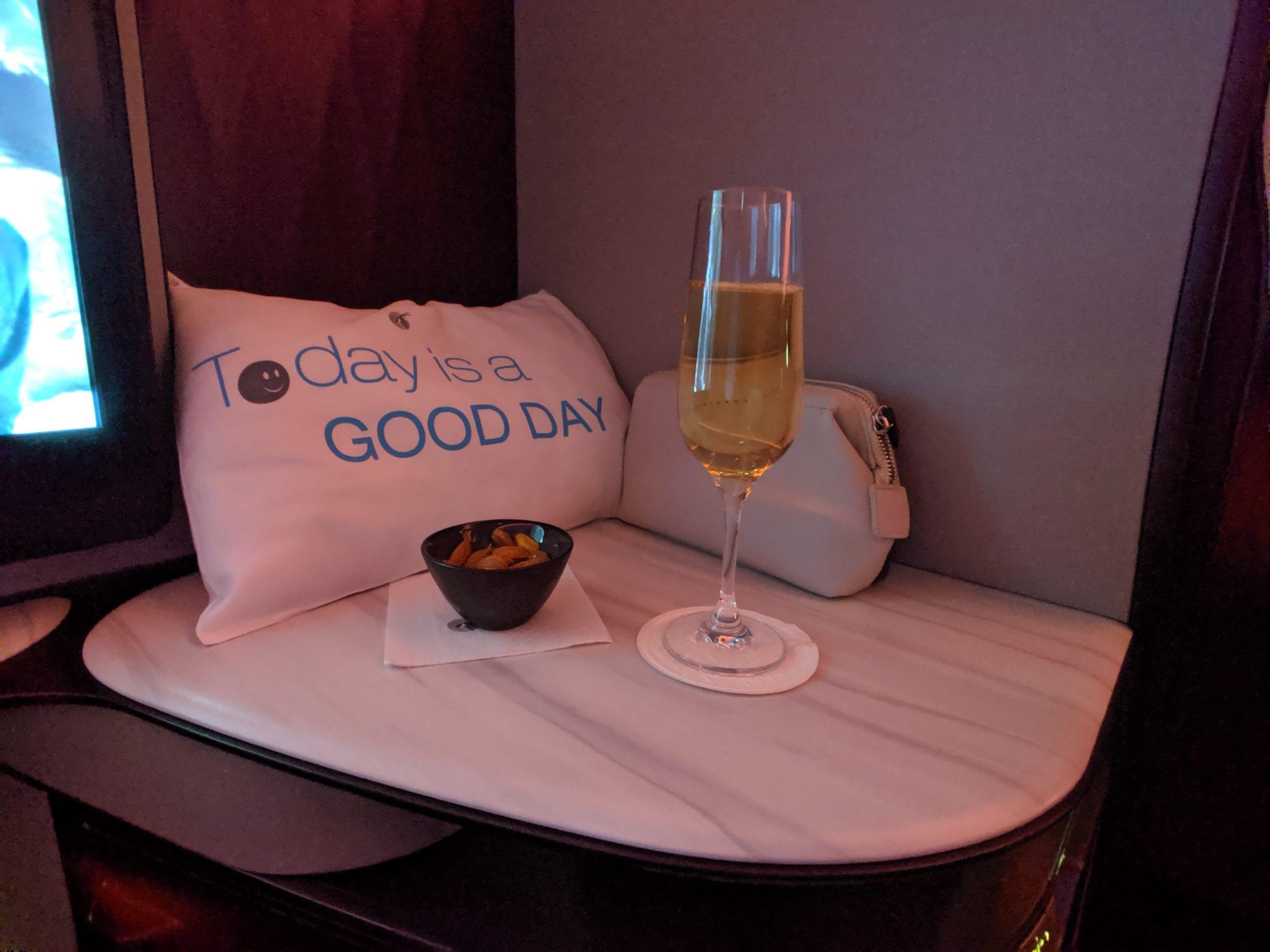 About 20 minutes later, a flight attendant came by to meticulously lay out my table for dinner, including a piping hot bread basket, butter, salt, oil and vinegar, and a cute little "candle."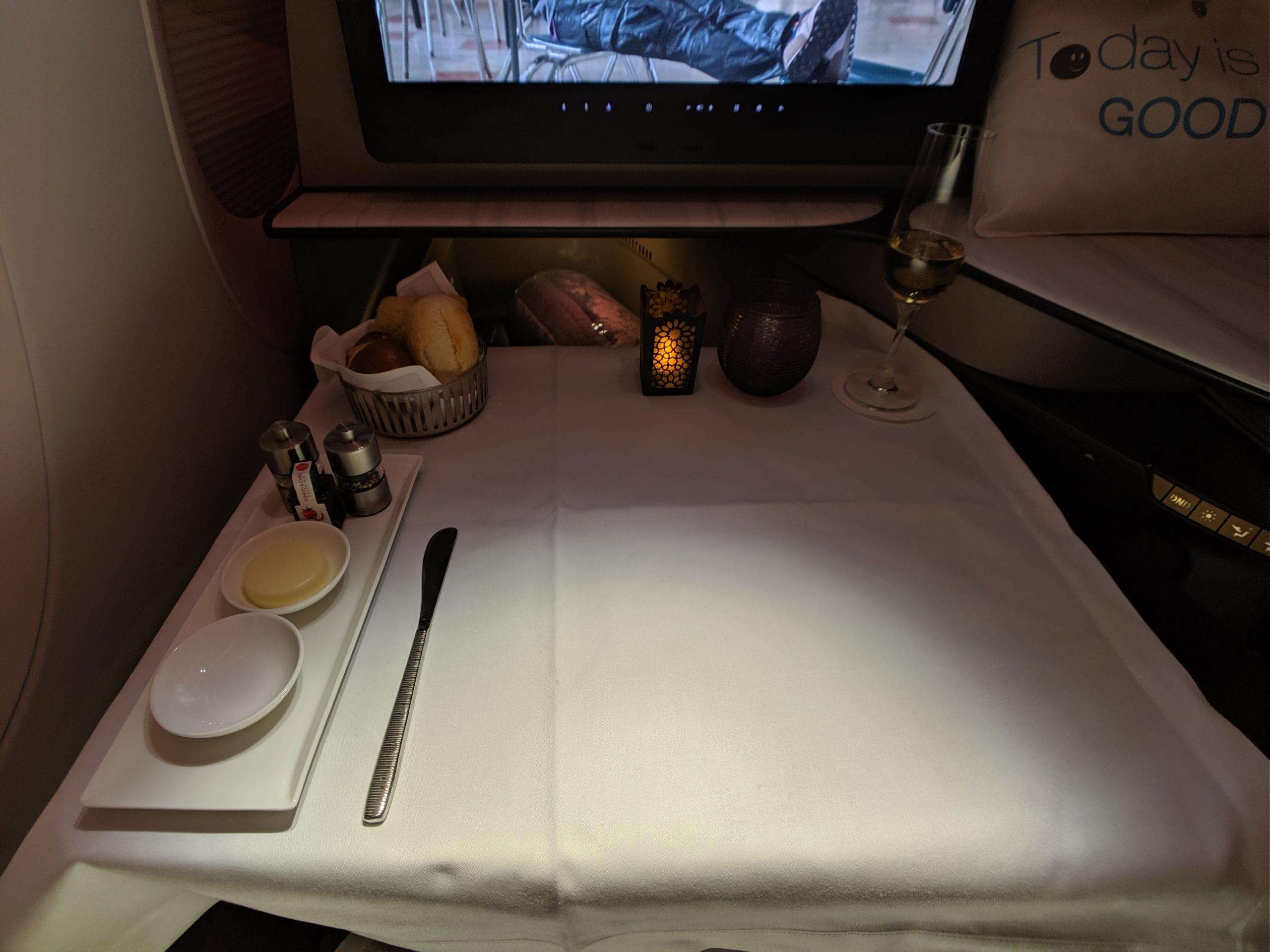 Then there was the simple but delicious scallop ceviche for an amuse bouche.
Next up, a bowl of corn bisque that was absolutely outstanding. Air or ground, it's one of the best bowls of soup I've had – and I just love Qatar Airway's dinnerware.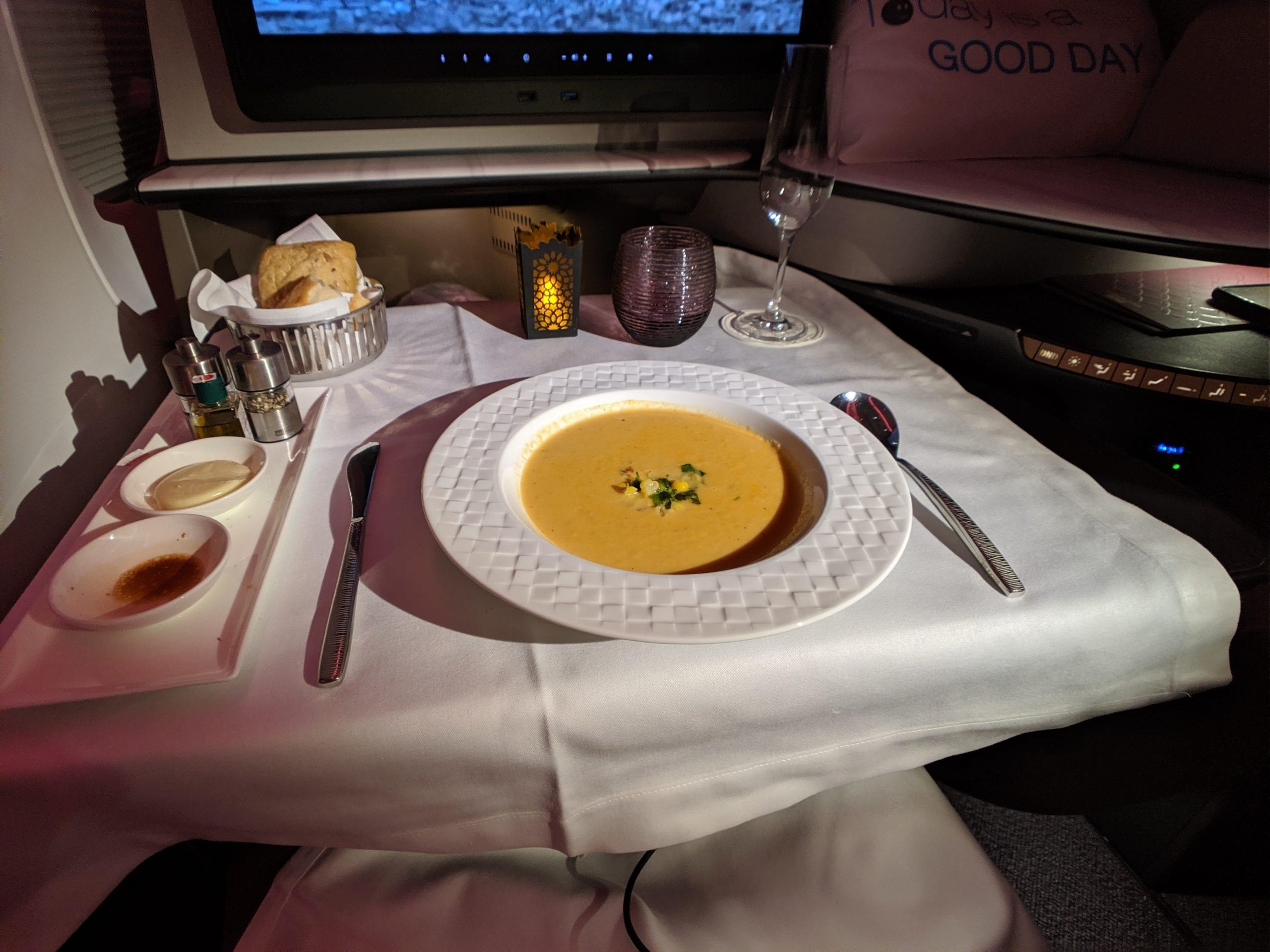 Qatar Airways is known for some killer biryani, so I ordered the prawn biryani for the main course. And it was a home run.
This dish was light yet packed with flavor, perfectly cooked prawns and a side of yogurt sauce. It was one of the best entrees I've ever had in first or business class.
I wrapped up dinner with a delicious apple tarte for dessert.
Start-to-finish, every single bite of dinner was delicious. Qatar Airways' food surpassed even my lofty expectations.
I was so full from dinner that I slept through much of the rest of the flight after a few hours of working and skipped my chance at ordering a few snacks. Instead, I had breakfast about two and a half hours before landing, starting with a latte and a little more work.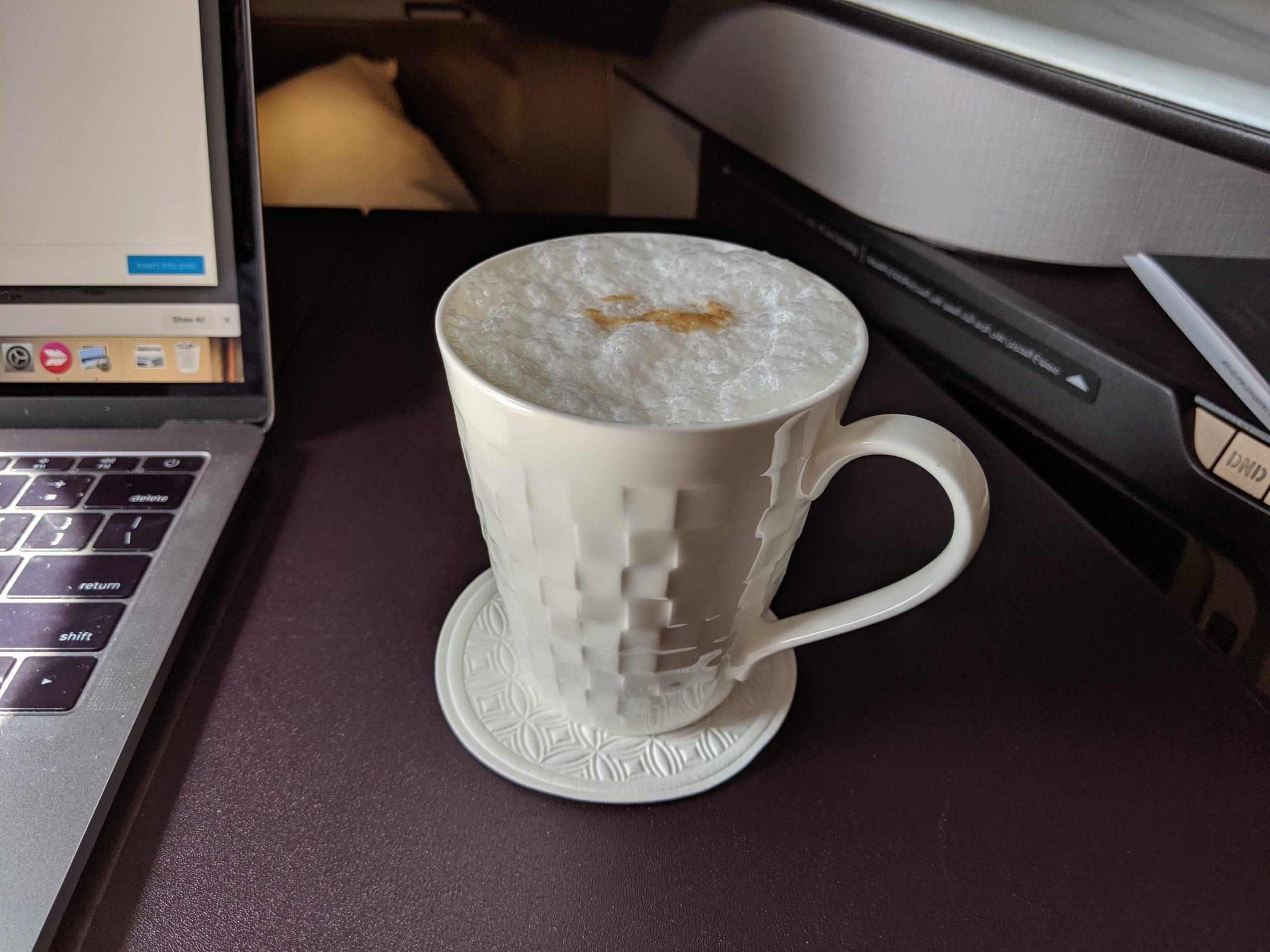 Once again, the flight attendant came by to lay out the table perfectly and soon dropped off my order – Arabic breakfast.
What a treat. The centerpiece is foul (pronounced fool), a kind of zesty bean stew accompanied by fresh feta, tomatoes, some olives, and Arabic bread. Once again, it was outstanding.
While the service wasn't quite perfect, my food couldn't have been any better.
Entertainment
It's not hard to stay entertained in your Qsuite.
For starters, every suite is equipped with an extremely crisp, 22-inch monitor. And Qatar's in-flight entertainment system is nearly unparalleled, with more movie and TV options than I've seen on most airlines. For example, you could watch every single Spider-Man movie, from Tobey Maguire to Tom Holland. Not that you would…
These planes are also equipped with one of my favorite features: tail and landing gear cams. What a fun way to pass some time in your Qsuite!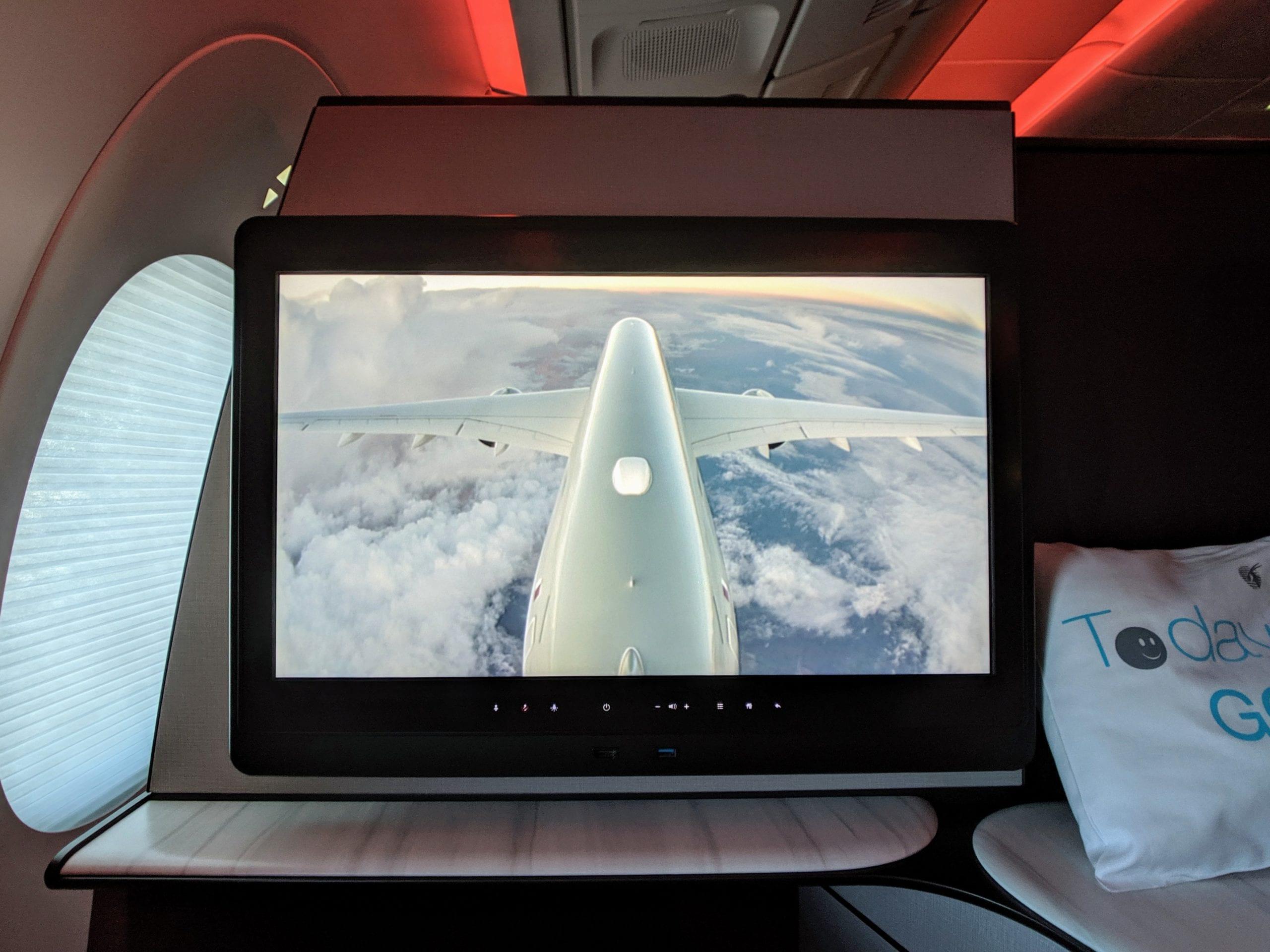 But perhaps the most standout feature was the Wi-Fi. Most airlines charge at least $20 for a full flight of connectivity, while some still charge by the megabyte. Yet Qatar offers its Super Wi-Fi on these planes.
To start, every passenger onboard can get one hour of free Wi-Fi. From there, you can pay just $10 for the full flight. More importantly, I found that the Wi-Fi was great, with great speeds throughout the entire flight.
Bottom Line
Weeks later, I'm still blown away by this flight and Qatar Airways Qsuites as a whole.
The suites themselves are nearly – if not certainly – perfect, with more space and privacy than you'll get on almost any other business class. The food was absolutely outstanding. And while the service wasn't quite perfect, Qatar is merely a victim of its own impossibly high standards.
Flying business class, you cannot beat this. Period.