One of the newest (and cheapest) airlines flying across the Atlantic Ocean has a spacious premium seat that deserves your attention … but won't break the bank.
Norse Atlantic has quickly made a splash since launching transatlantic flights this spring, taking up the mantle from long-time budget carrier Norwegian Air after its exit from long-haul flying. With one-way fares as low as $110 each way, Norse Atlantic economy is about as cheap as it gets.
But at the front of the plane, you can pay a bit more for a lot more comfort. You won't confuse Norse Atlantic Premium with fancy lie-flat business class – it's much closer to a Premium Economy seat. But for the same price (or less) you'd pay for most cramped economy seats on other airlines, you can get a much wider seat with tons of legroom for a flight between the U.S. and Europe.
I put Norse Atlantic Premium to the test last month, flying from New York City (JFK) to London-Gatwick (LGW) and found paying just over $300 one way was an incredible value for a comfortable, spacious seat, despite a few hiccups on the journey.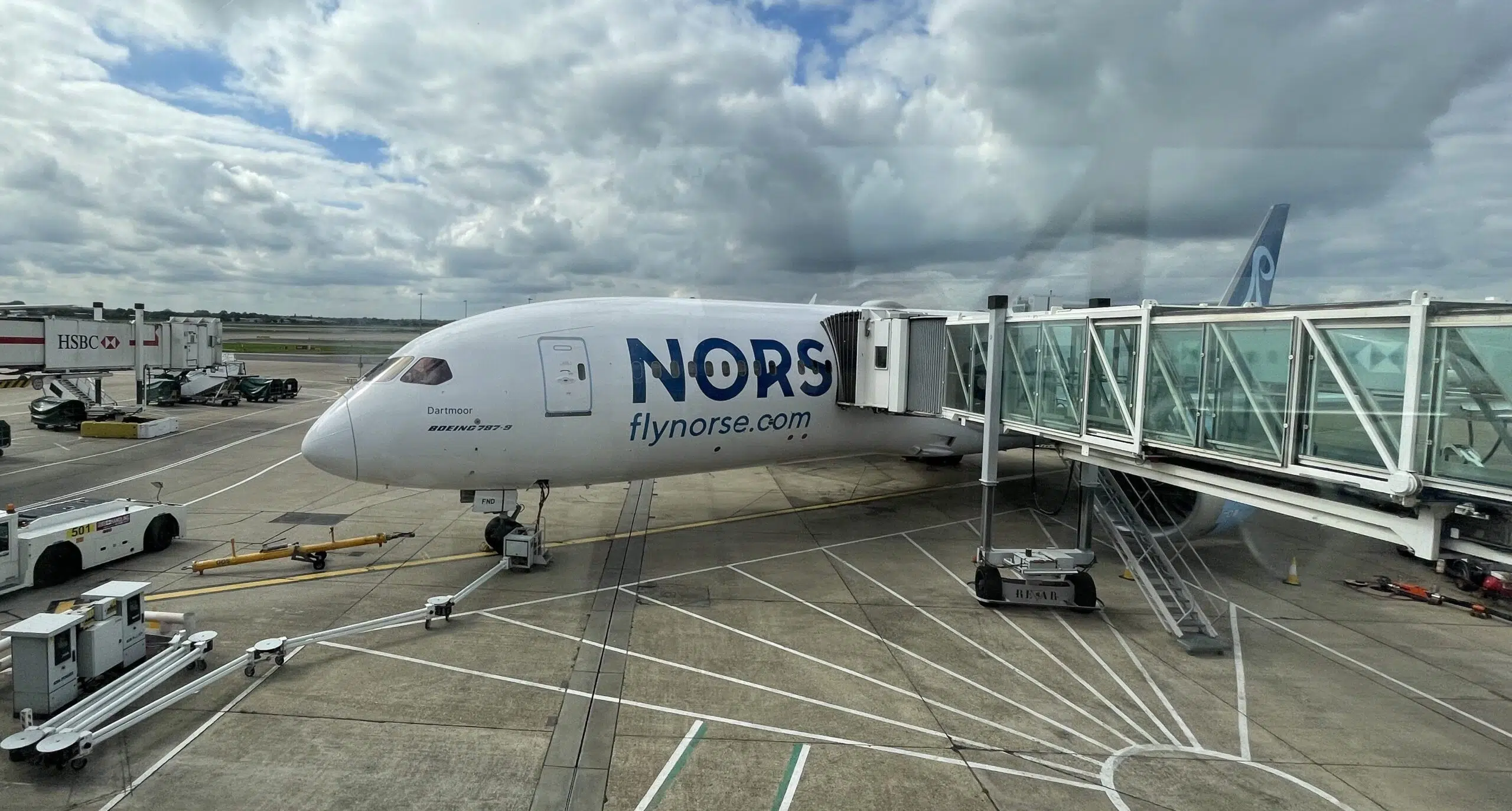 How to Book Norse Atlantic Premium
It's easy and it's cheaper than you might expect.
That's what it really boils down to. We've been tracking Norse Atlantic Premium fares since the airline launched transatlantic service earlier this year, and it seems that prices just keep getting better.
For example, when Norse launched its New York City (JFK) to Berlin (BER), we saw Premium fares as low as $238 each way (before seat assignment.)

Norse has rapidly expanded its network to and from the U.S., with current nonstop service from Fort Lauderdale (FLL), New York City (JFK), Los Angeles (LAX), and Orlando (MCO) to Oslo (OSL) as well as routes direct from New York to London and Berlin. But the airline has recently been cutting back flights heading into the winter, including chopping direct service to Los Angeles through at least the winter.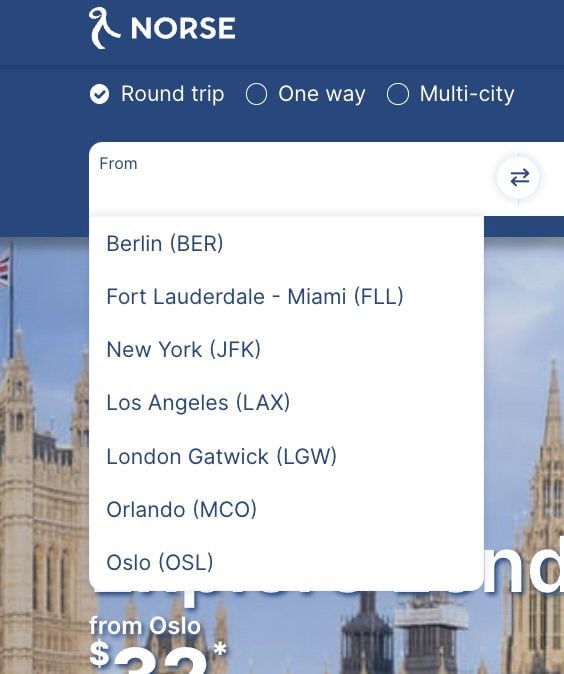 Whether you're fine in economy or aiming for Premium seats, finding Norse Atlantic fares just got much easier. The airline is now available on Google Flights, which makes finding Norse Atlantic premium economy fares like this $622 roundtrip ticket to London a cinch.


Once you find the fare you want on Google Flights, click to "Book with Norse" fare and continue on to the Norse Atlantic website. That brings up a weeklong calendar on Norse's site, which is pretty easy to use. It also lets you see the Premium and Economy fares side-by-side, so you can choose which is better for you.
Plus, Norse is fairly transparent about what you get (and what you don't) using the comparison boxes below each fare type.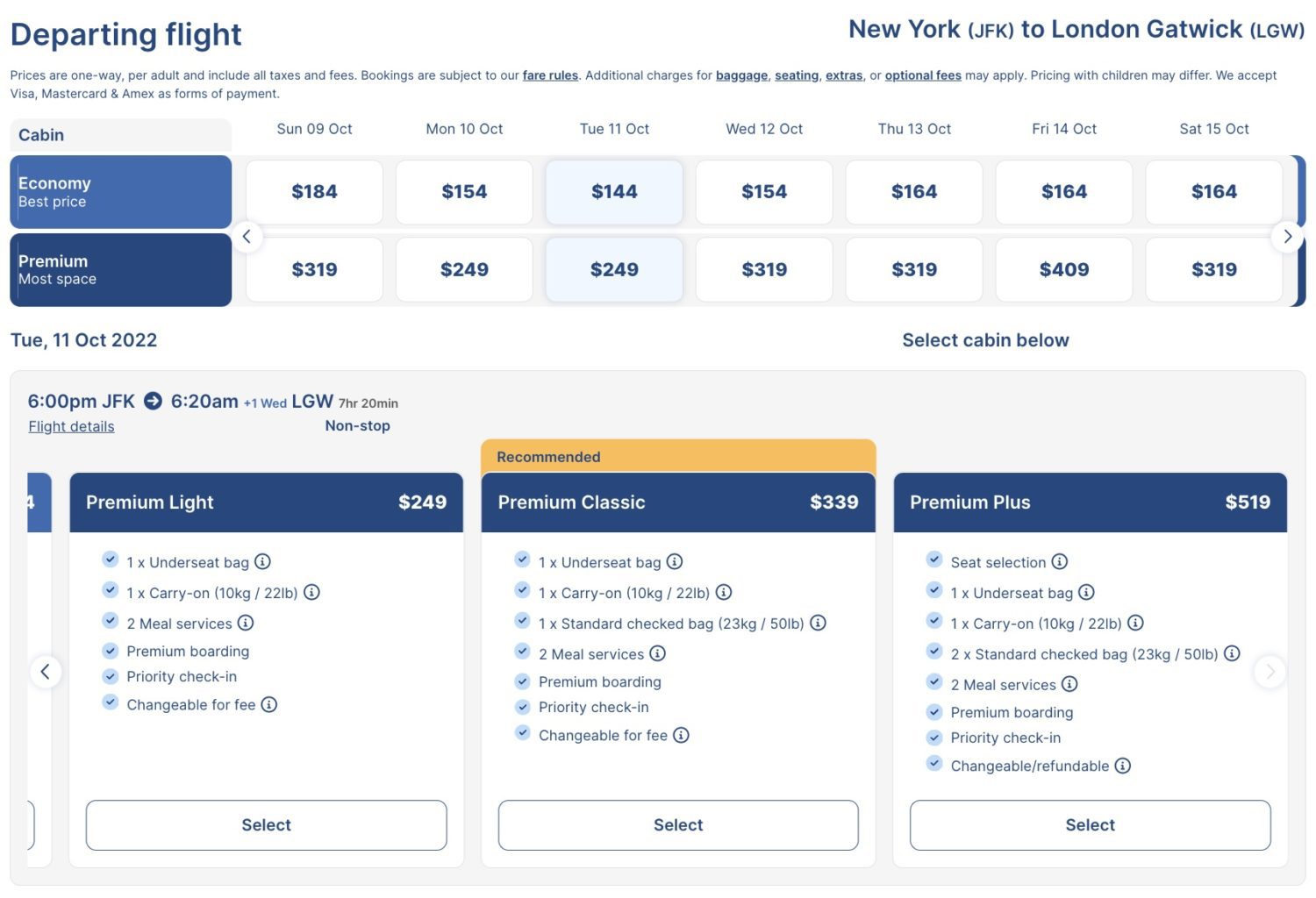 After you choose your fare, it's time to pick your baggage – and as you can see, baggage fees can really add up on Norse. Do the math and maybe just purchase the fare that includes what you need. Fortunately, carry-on bags are free with a Premium fare.
While carry-on bags are only supposed to weigh 22 pounds, nobody checked or weighed my bags at any point throughout the journey.

Once you get through baggage, it's time to pick your seats … and pay again. Even with Premium fares, there is a seat selection fee with Norse Atlantic. Most seats are $60 each way except for the extra legroom front row seats, which will run you $100.
If you're OK sitting between strangers in the very middle of the plane, you can pay just $35 for a seat assignment.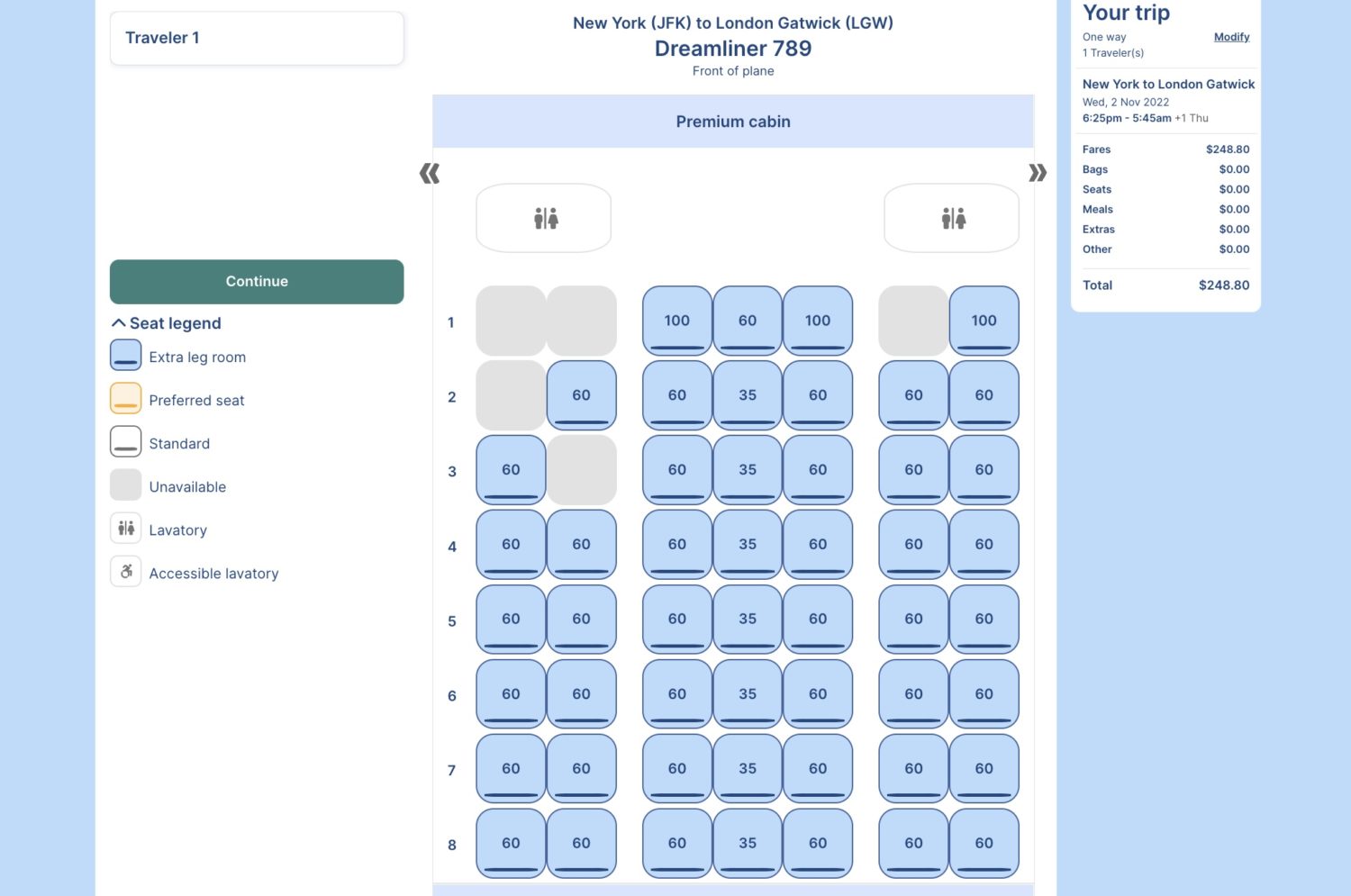 After that, you'll be directed to the meals page. All Norse Atlantic Premium fares include two meals, though you can choose between some dietary-specific meals, if necessary.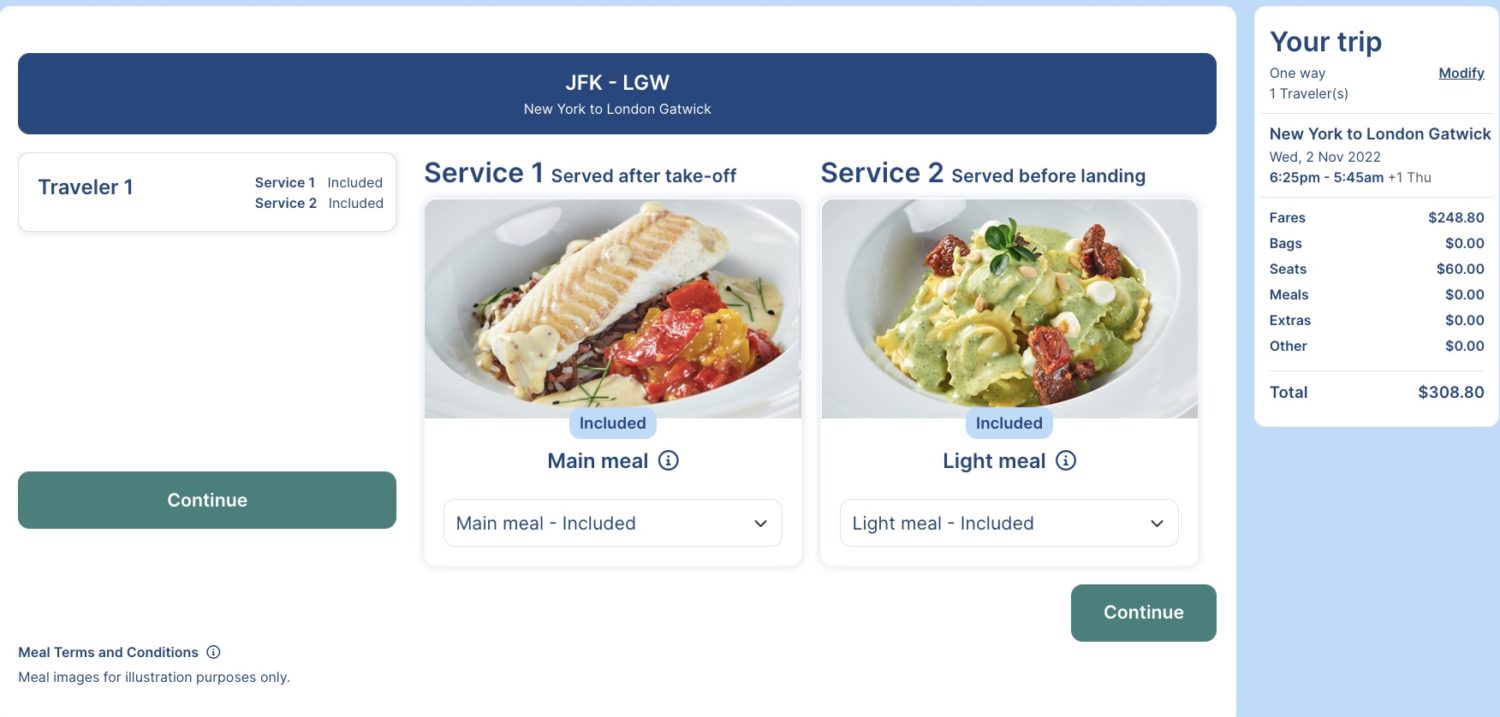 Then you'll be taken to your final booking page. My sample booking for a one-way ticket from New York to London came out to $308 total, including seat selection.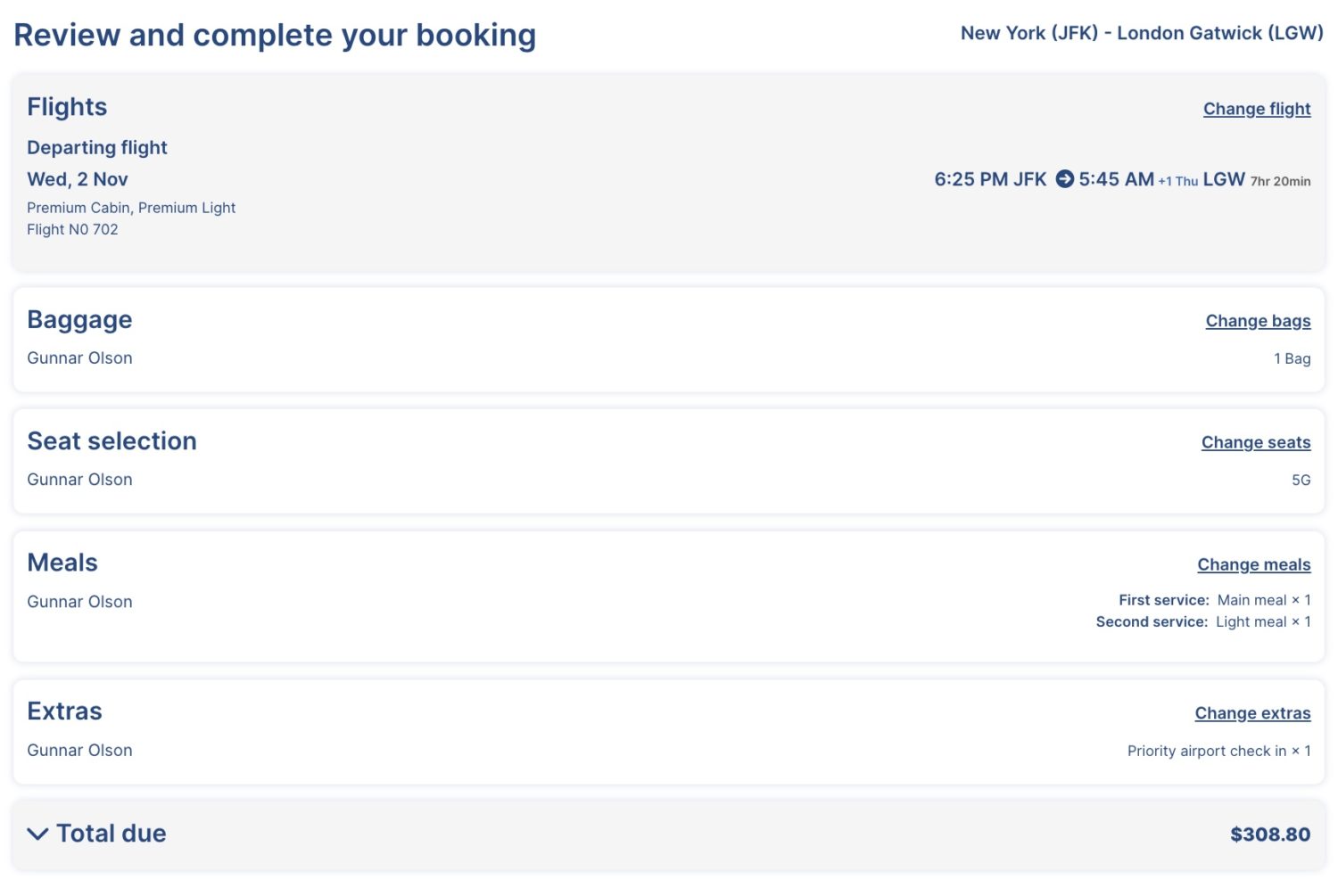 While additional fees are unavoidable even when flying in a premium seat on budget airlines, Norse makes it fairly transparent and easy to understand. There should be no surprises or extra headaches.
And above all, the fares can be astoundingly cheap.
Trouble at Check-In
Booking was easy. Checking in and boarding the plane, less so.
The most frustrating part of the entire Norse Atlantic Premium experience was trying to depart from New York City (JFK), which was a total mess – and that's putting it kindly. And there was no reprieve or special treatment for Premium passengers.
Norse Atlantic departs from Terminal 1 at JFK, where I found this insane lineup. One fellow passenger in line had been there for more than an hour.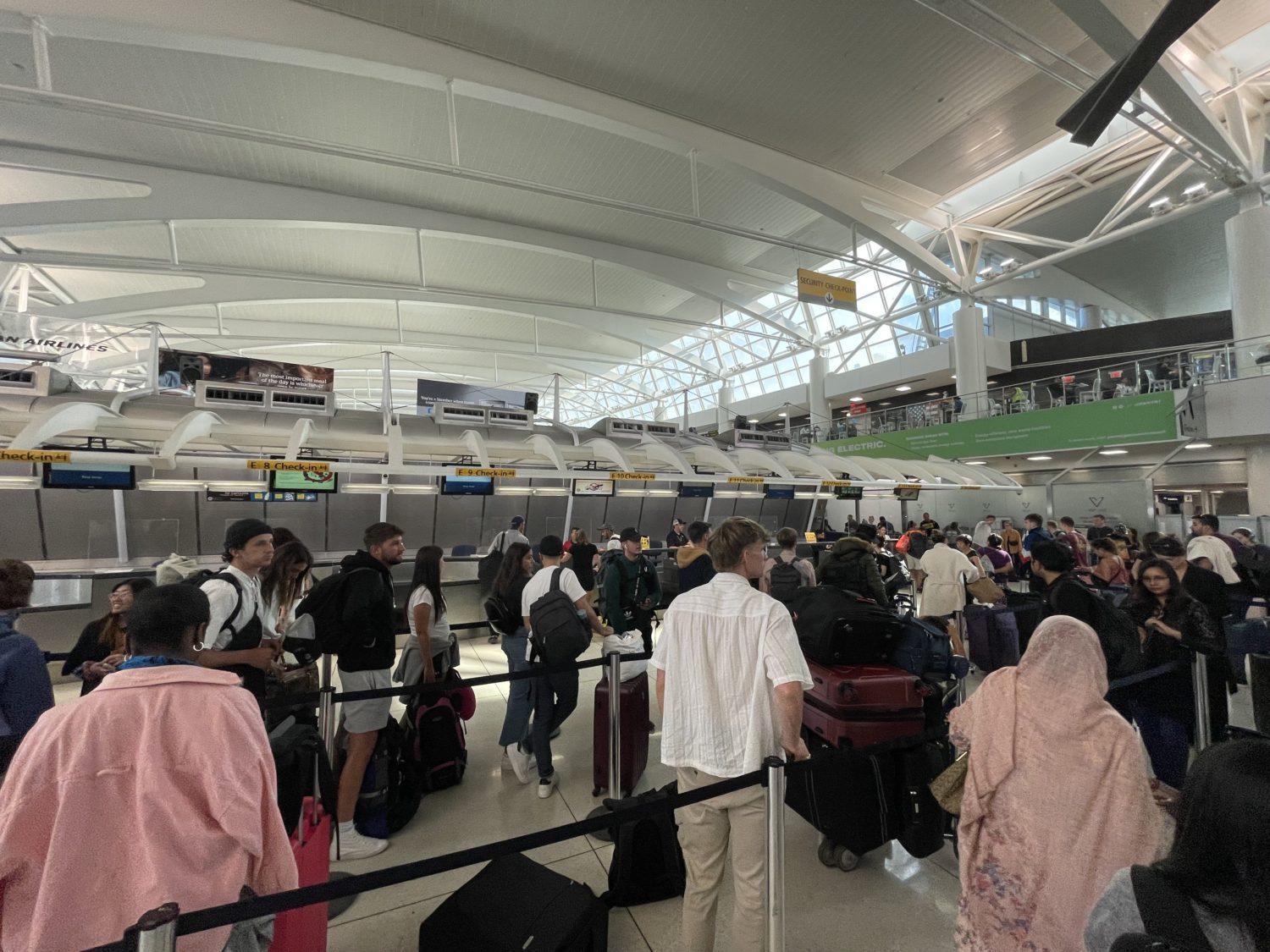 Despite having already checked in online with a mobile boarding pass in hand, I was turned away from the security line and told that I needed a physical boarding pass. What's the point of allowing online check-in and issuing boarding passes, then?
By the time I made it back to the check-in queue, it wound all the way back toward another airline's check-in desk, full of confused travelers – many of whom didn't need to check a bag and would have gladly skipped the queue had they been allowed. And while one desk was labeled "Priority Check-In," a single line funneled every single passenger to the same point.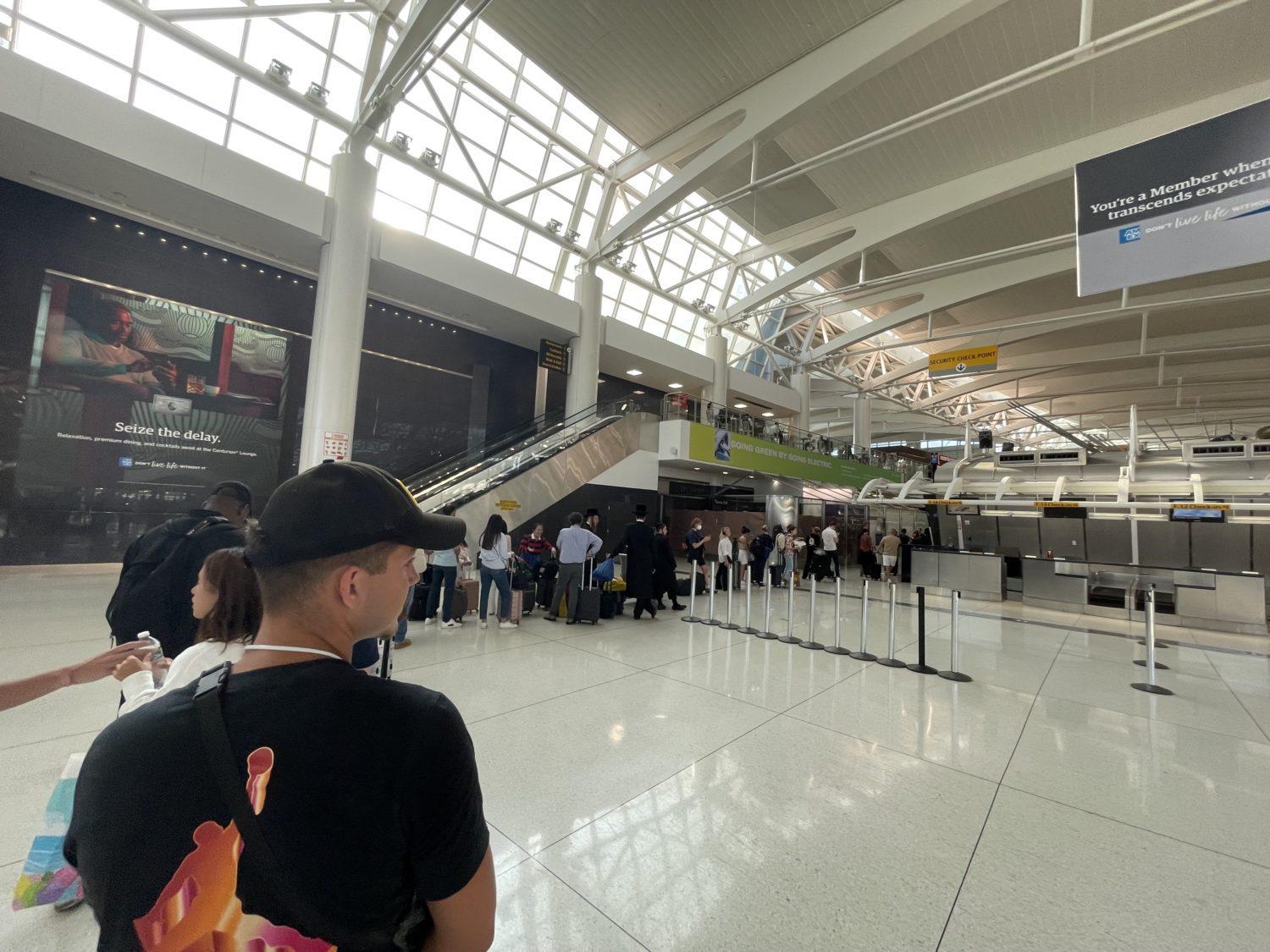 Ultimately, I spent about 50 minutes in line waiting to get my boarding pass, while another woman in the Premium cabin later told me she was there for about 90 minutes. Sorting out online check-in and creating a designated check-in line for Premium passengers is a must-fix for Norse Atlantic, if you ask me.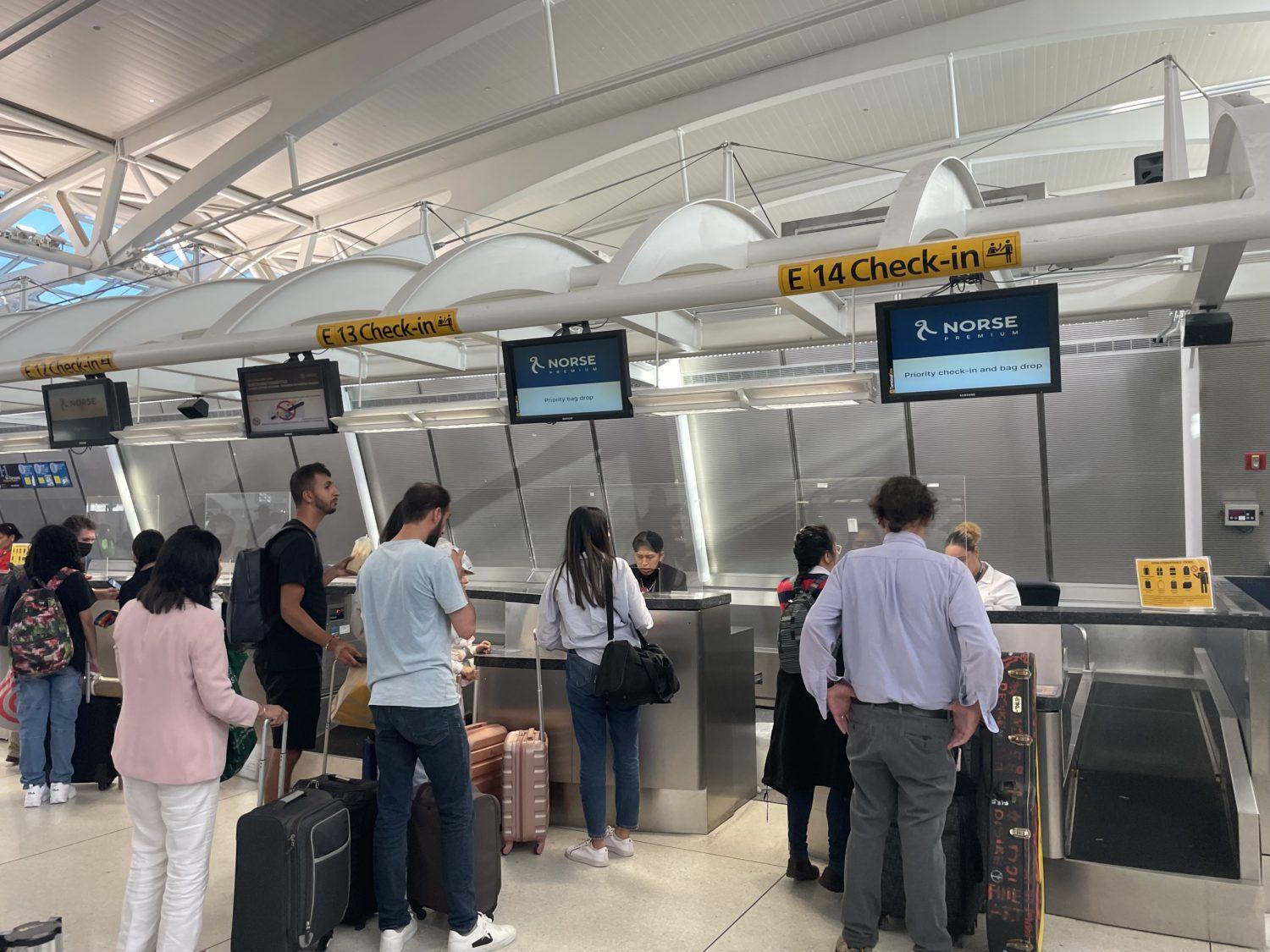 After finally getting my paper boarding pass, the security line at JFK was pretty smooth, as I was allowed access to the "First Class" priority line with my Premium ticket.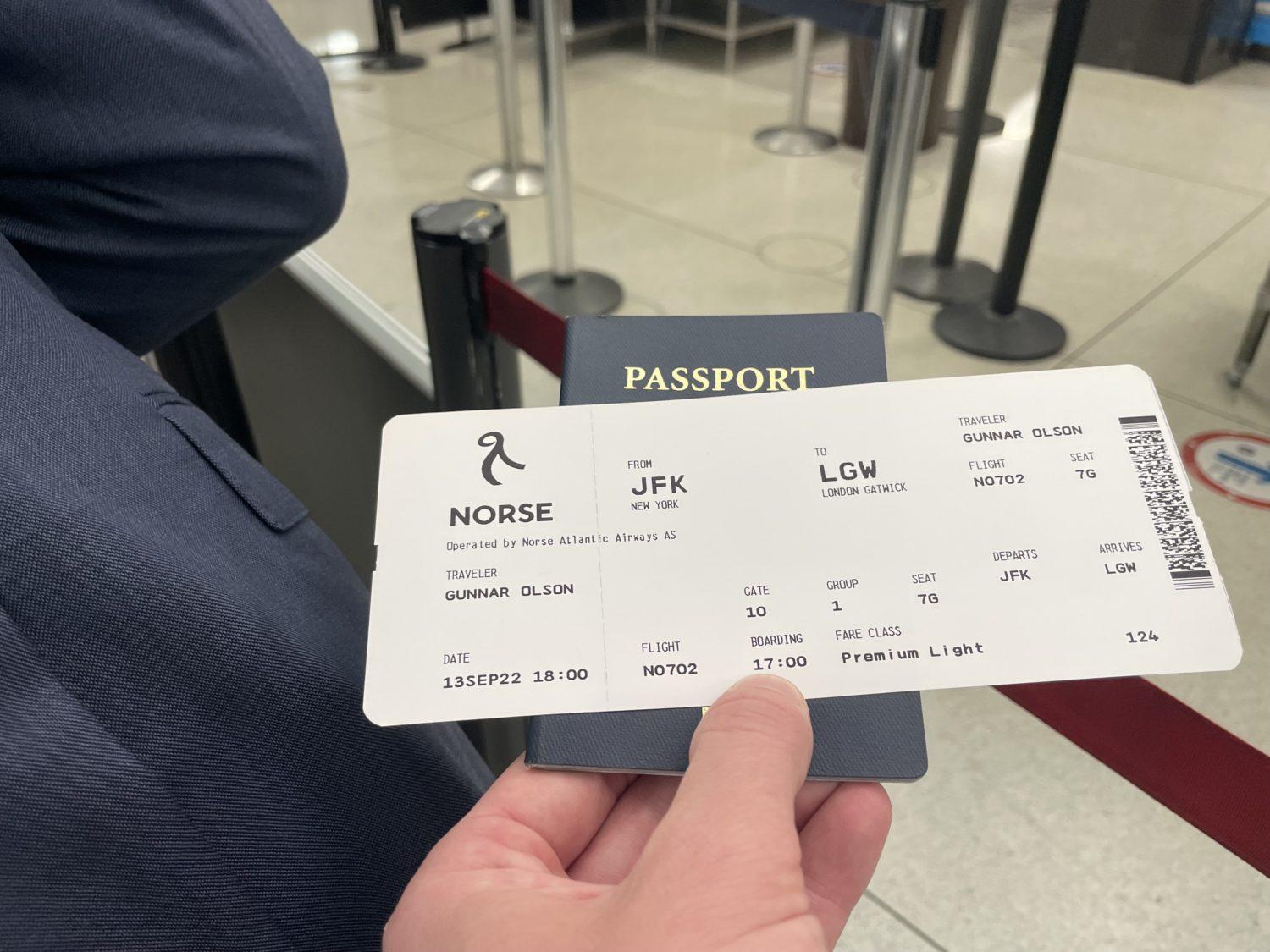 The flight from JFK was delayed, most likely due to the very slow check-in process. I arrived at the gate about 20 minutes before our scheduled departure time thanks to the check-in snafu, and they were letting everyone board as they arrived regardless of boarding group. I assume I missed all of the boarding announcements, so I can't speak to how they boarded the Premium cabin.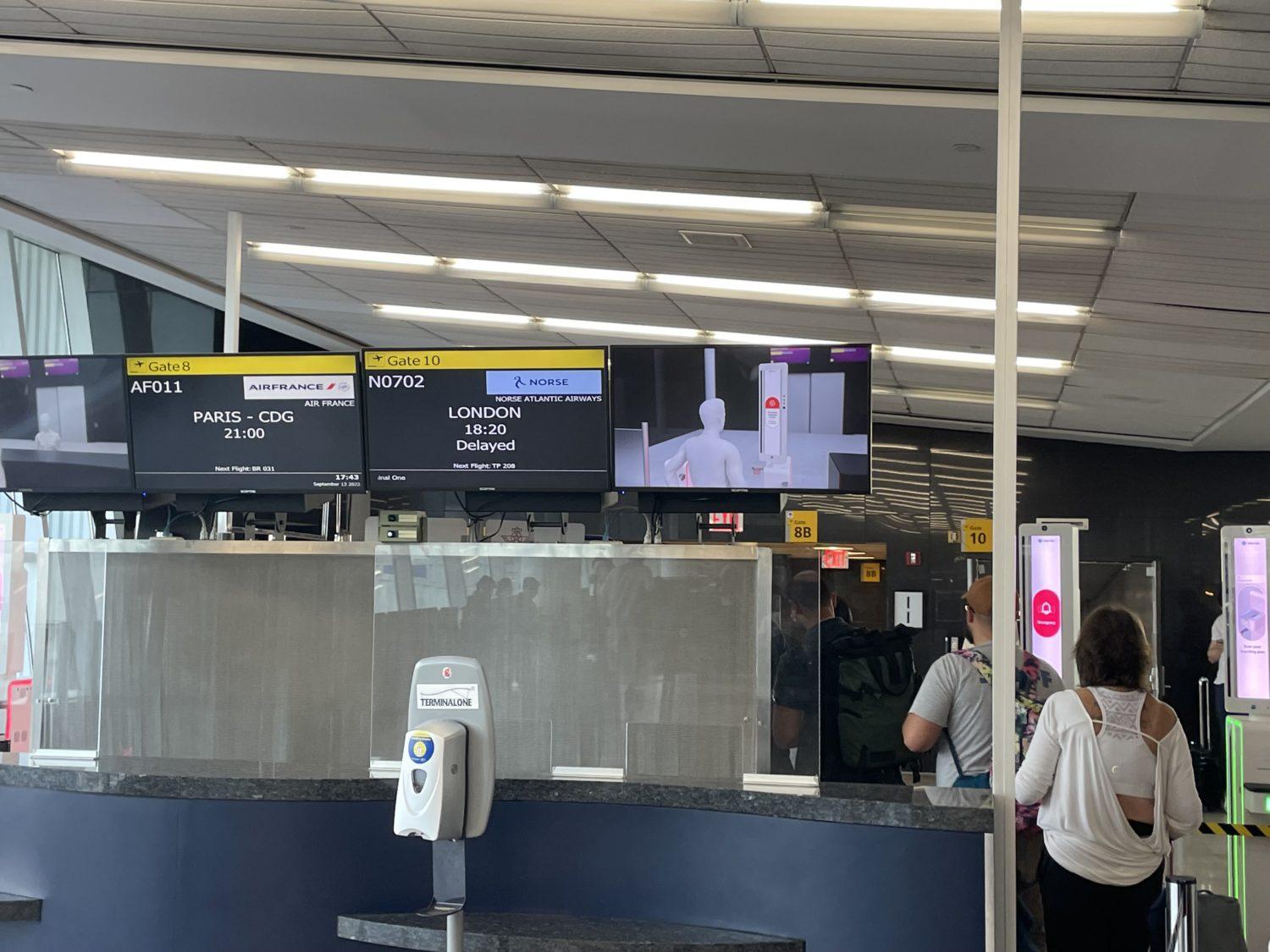 It was a bad start, but how was the rest of the experience?
Norse Atlantic Premium Seat
Despite an almost comically drab color scheme onboard, the Norse Atlantic Airways Boeing 787 is actually very nice inside.
The planes all look and feel very new, with some just two or three years old. And while these boring-looking gray seats are not Instagram worthy, they are spacious and comfortable for these relatively short transatlantic voyages.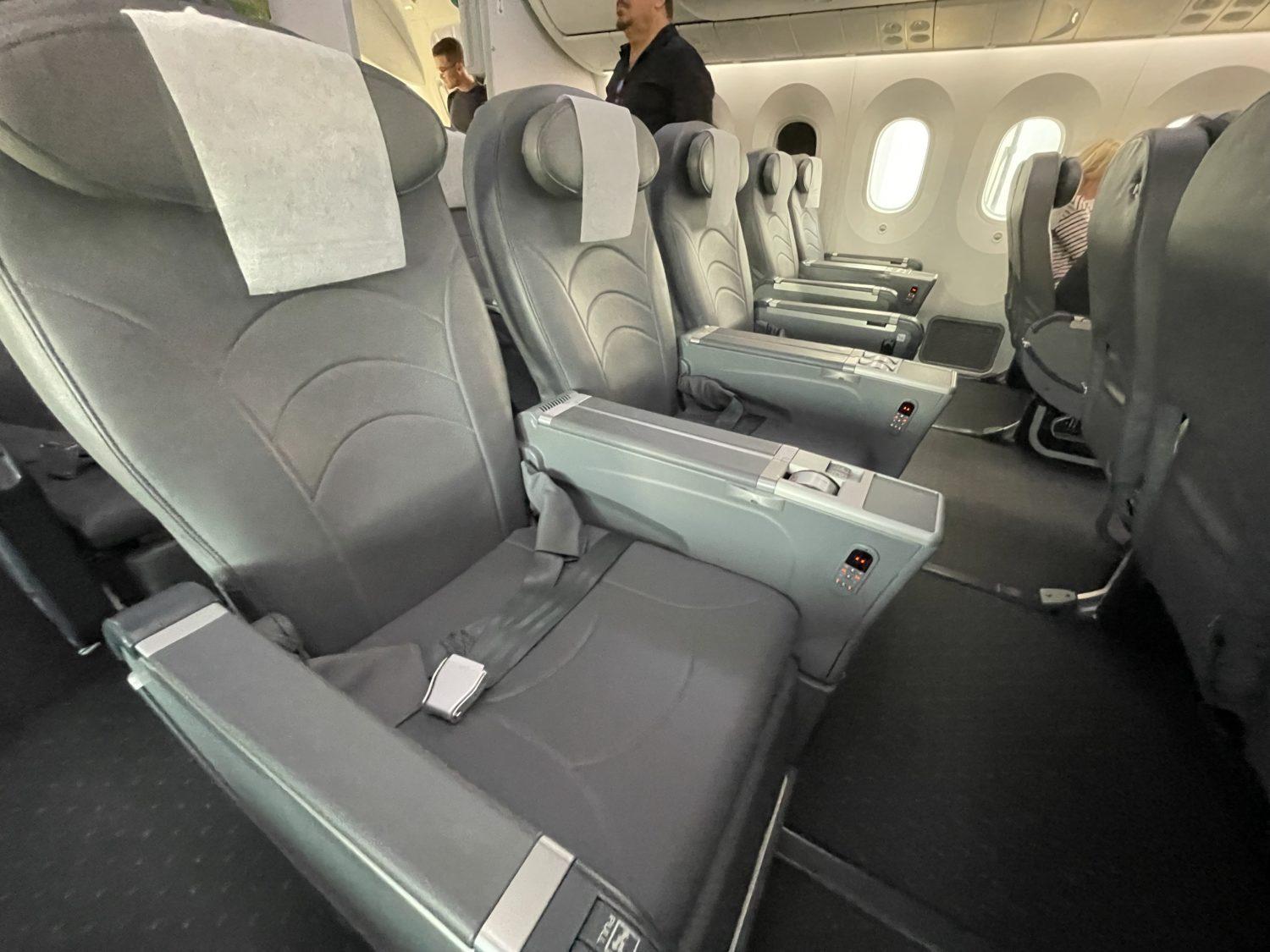 The Norse Atlantic Premium cabin has eight rows of seats at the front of each Boeing 787, each row with seven seats for a grand total of 56 seats in the cabin.
Each row of seats is laid out in a 2-3-2 configuration – fewer than you'll find back in economy, which means these seats are much wider. On my flight, the Premium cabin was only about two-thirds full.
But the star of the show is the legroom. These seats have tons of it, with 43 inches of pitch at every seat. That's far more legroom than you'll get flying Premium Economy on major U.S. and foreign carriers. I'm six feet tall and never felt cramped.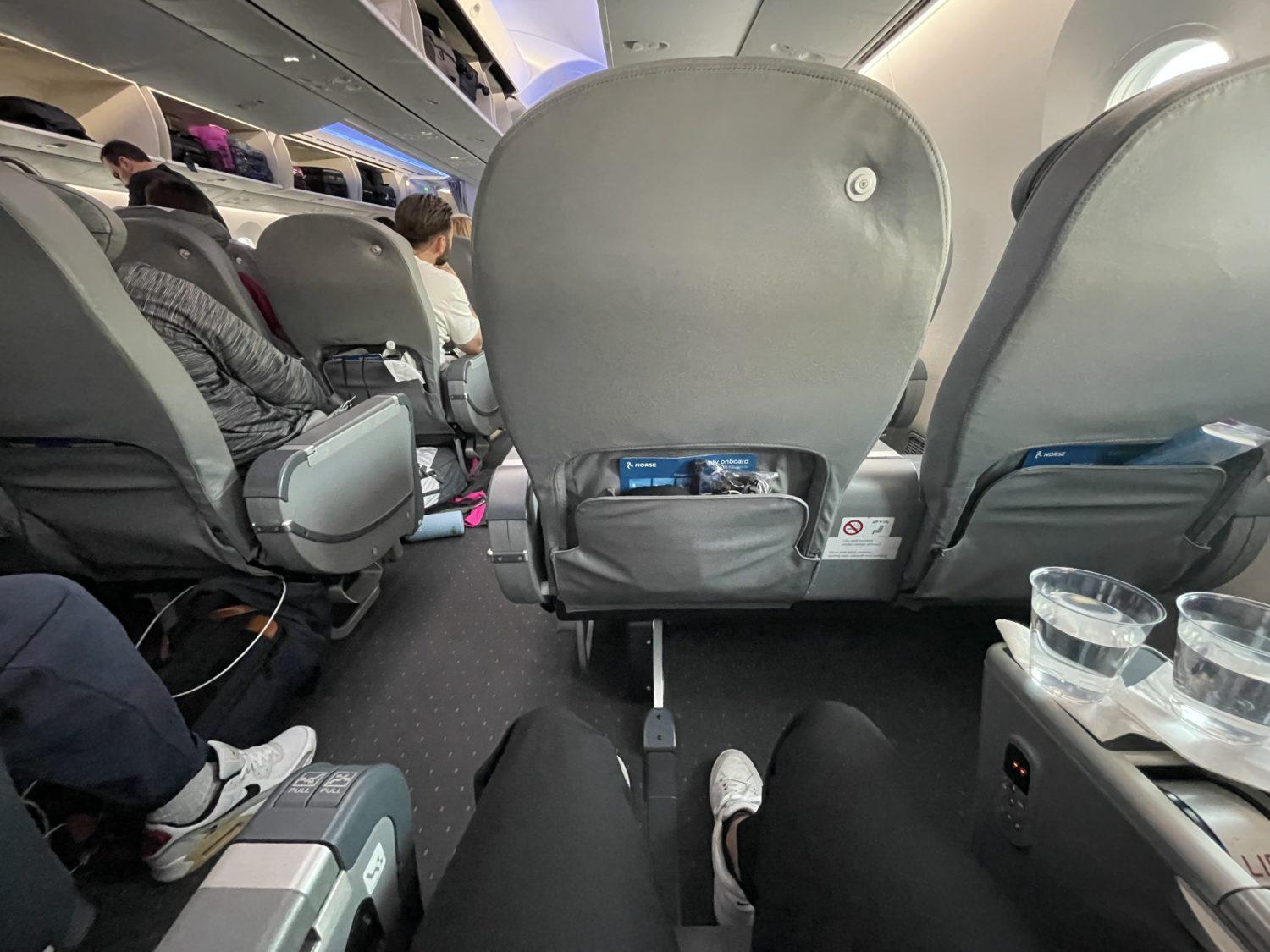 Another nice feature was the leg and foot rests underneath each seat. When extended, the footrest is a lovely reprieve. The leg rests also make for much comfier sleeping.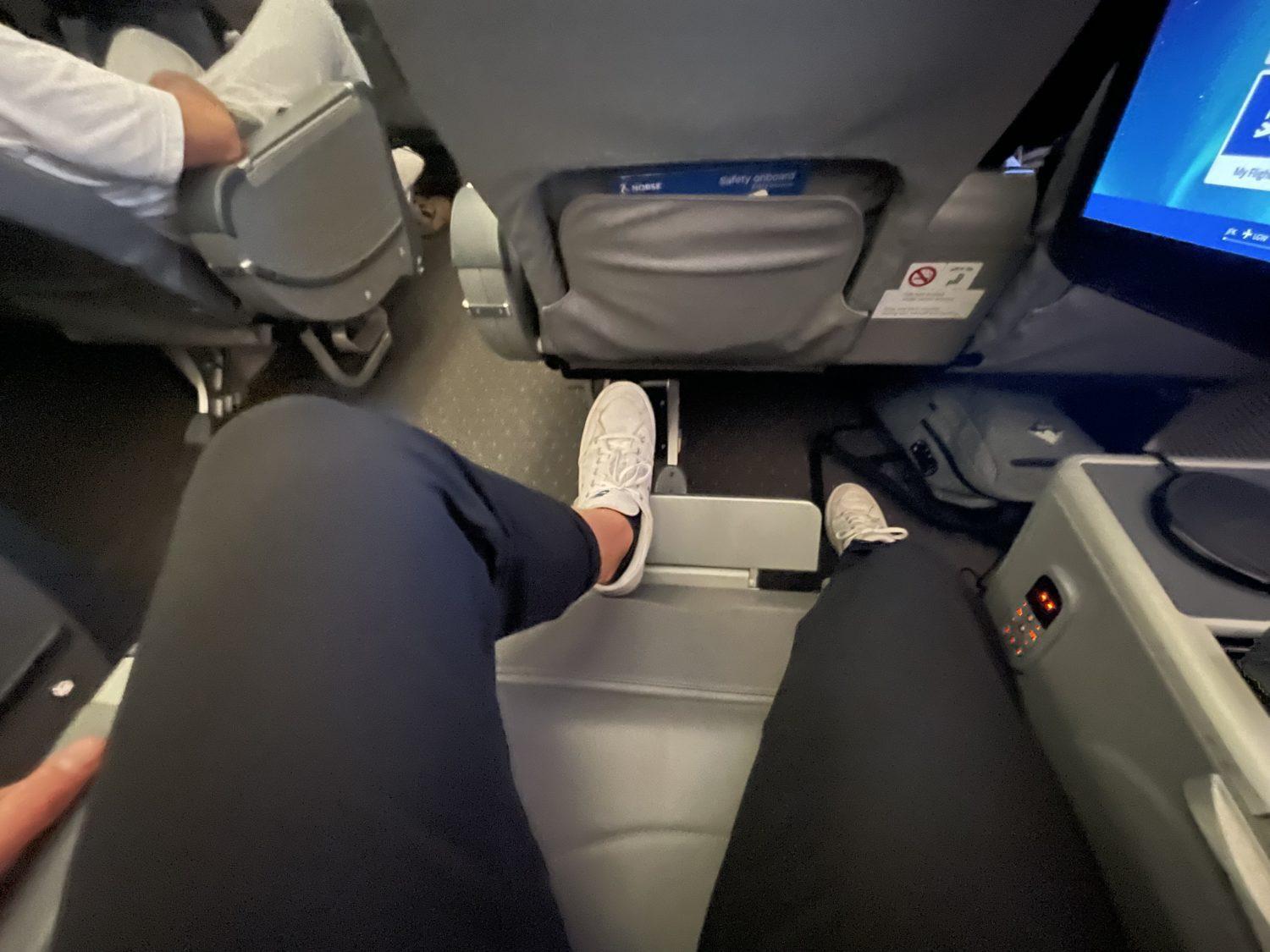 Beyond all the extra space, these seats also have an incredible amount of recline. When the seat is fully reclined and the leg rest is extended, you get what starts to feel like a La-Z-Boy amount of comfort. This seat is no lie-flat, don't get me wrong. But it was just horizontal enough for me to grab a few solid hours of shuteye on the way to Gatwick.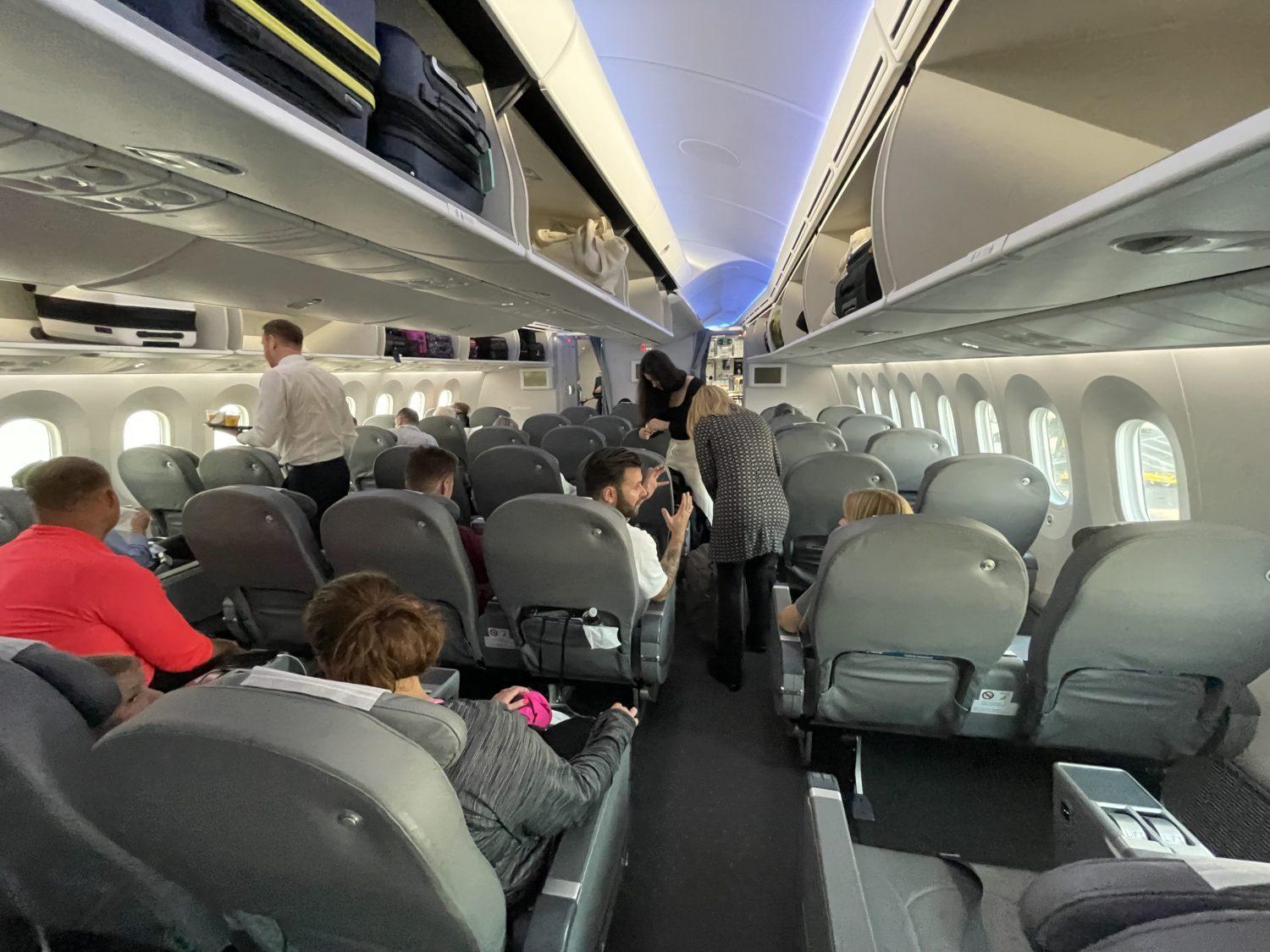 The Norse Atlantic Premium cabin is not massive by any means, but Norse does pack a good number of customers into these seats – especially with that three-seater section in the center. But even with the seat in front of you reclined, there's still ample room to move around. My neighbor was able to scoot past me without needing me to get up. I did offer, just so you don't think I'm rude.
If the seatbacks looked empty to you, it's because they are. Everything you need on this flight comes out of your armrests on each side. On one side is your tray table, which swivels out into a half tray, then folds out into the full surface.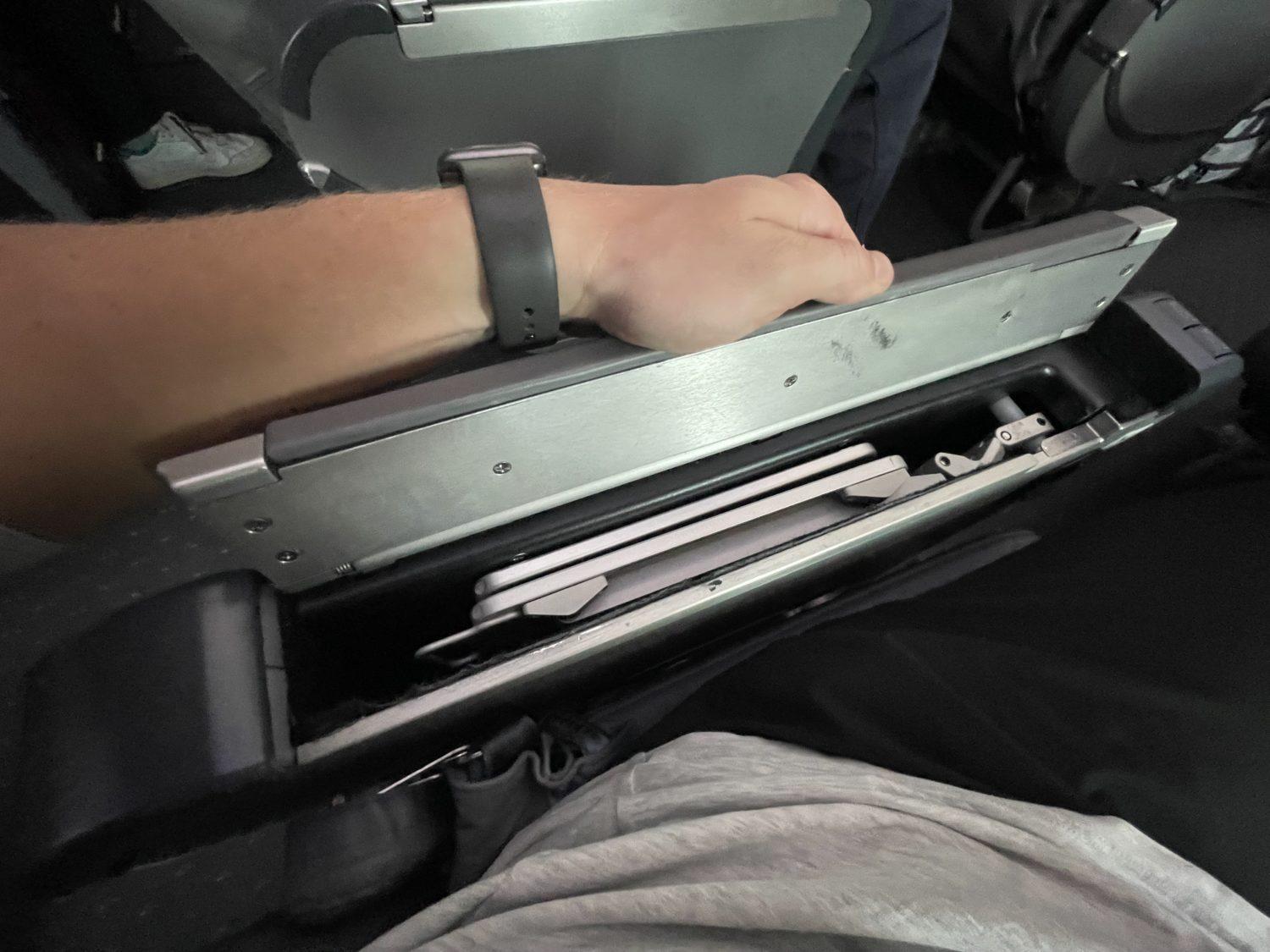 On the other side is your entertainment screen, which folds out and extends over a small shared middle console – a good spot for resting a drink.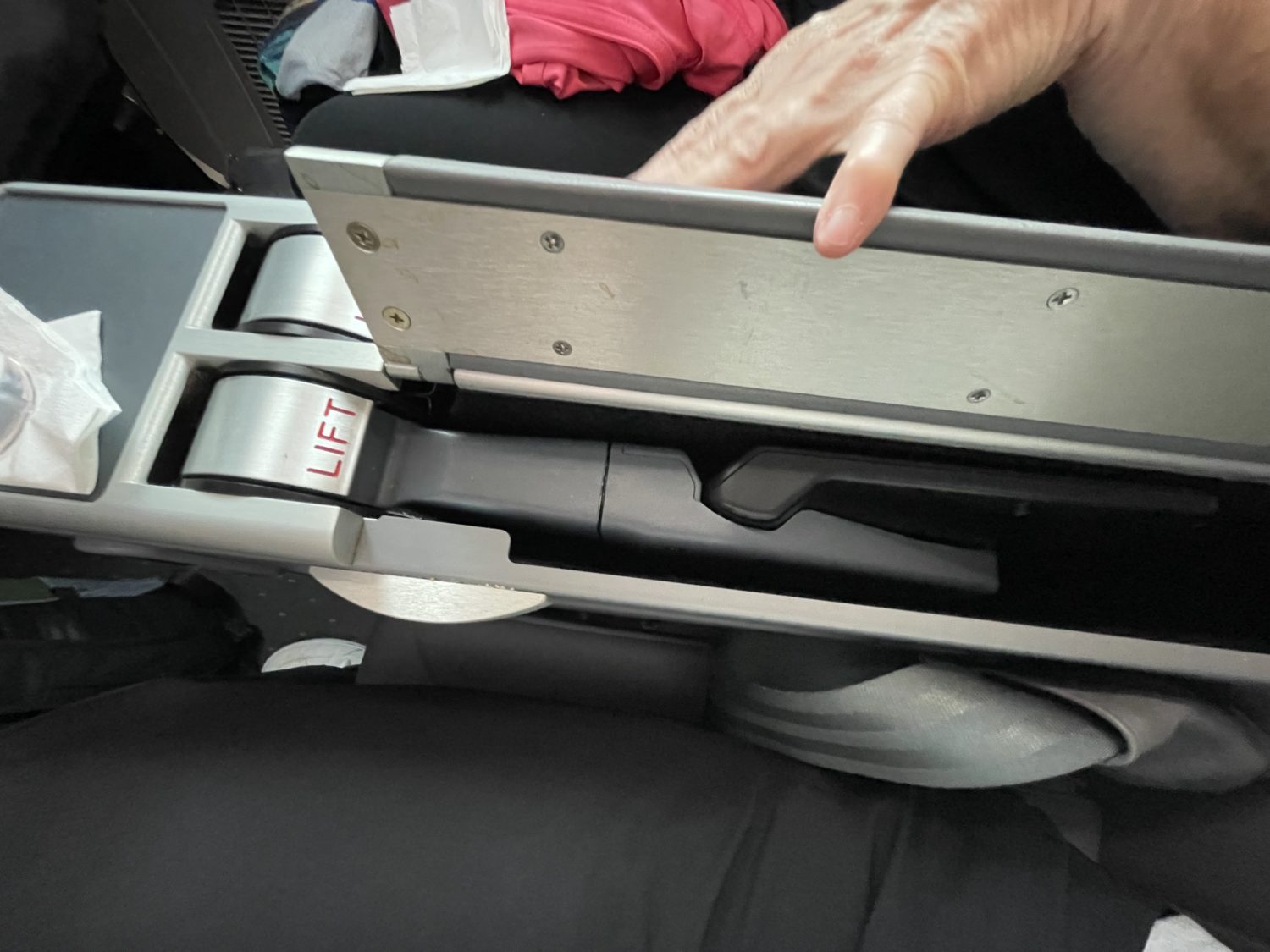 The entertainment screen coming from the armrest makes for a pretty comfortable viewing experience. At about 9 inches, it's still plenty large without taking up too much of your space. Plus, you can swivel it away from you if you need to stand up or readjust during the flight.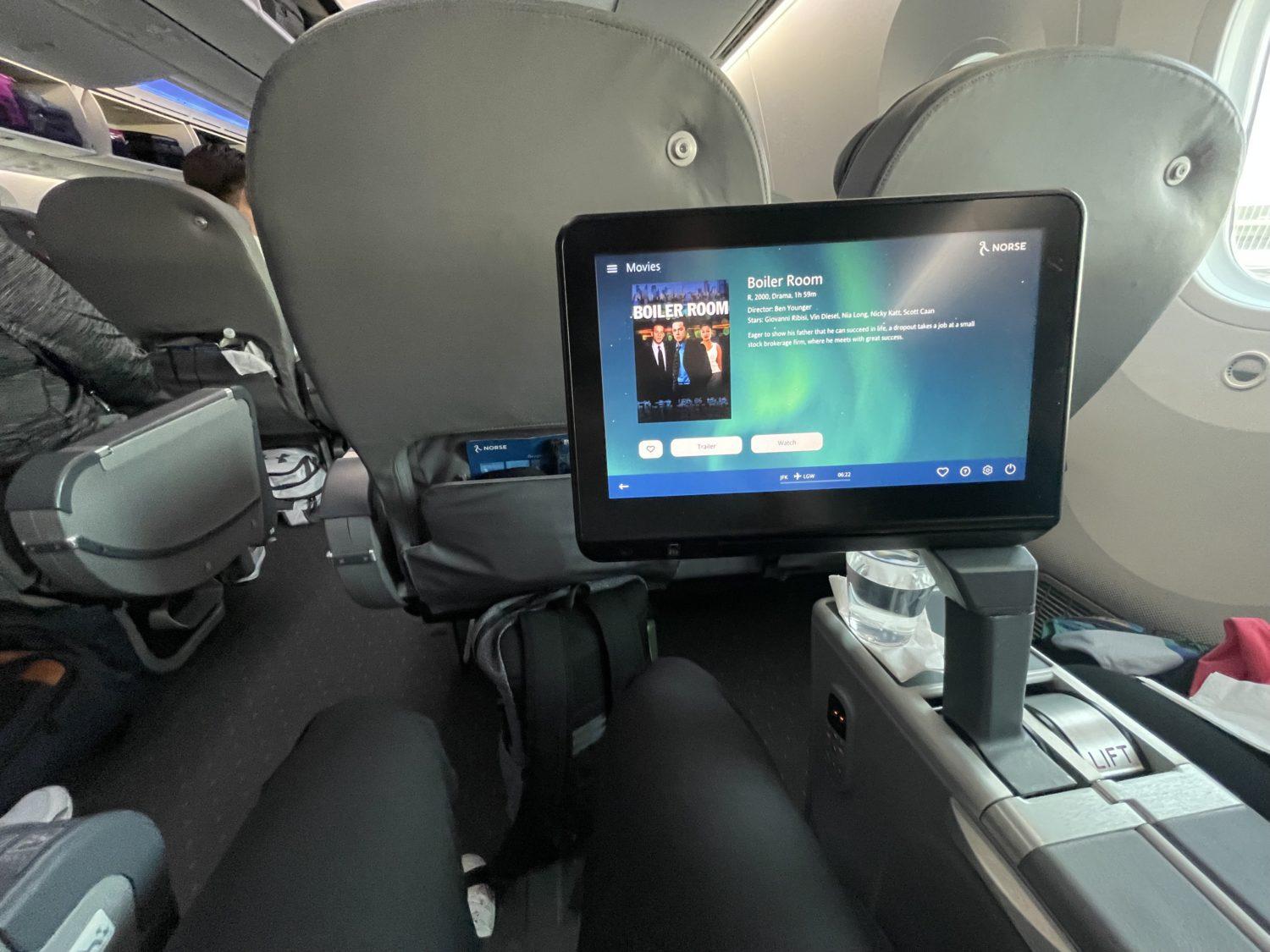 When you unfold your tray table into the half tray, everything still fits neatly in your space.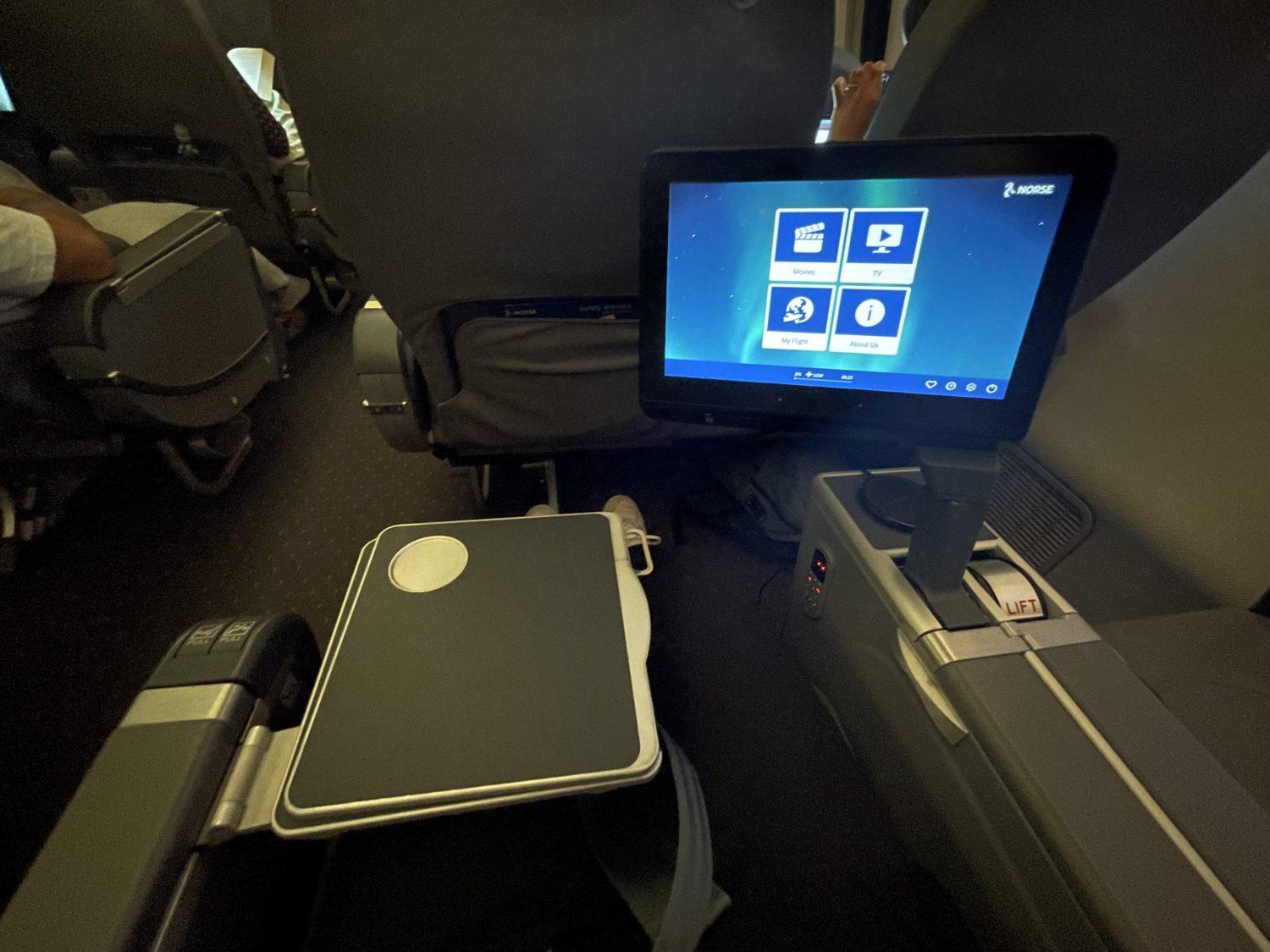 Same goes for the full tray, which takes up the width of the seat and would be plenty big enough to get some work done if it weren't an overnight flight.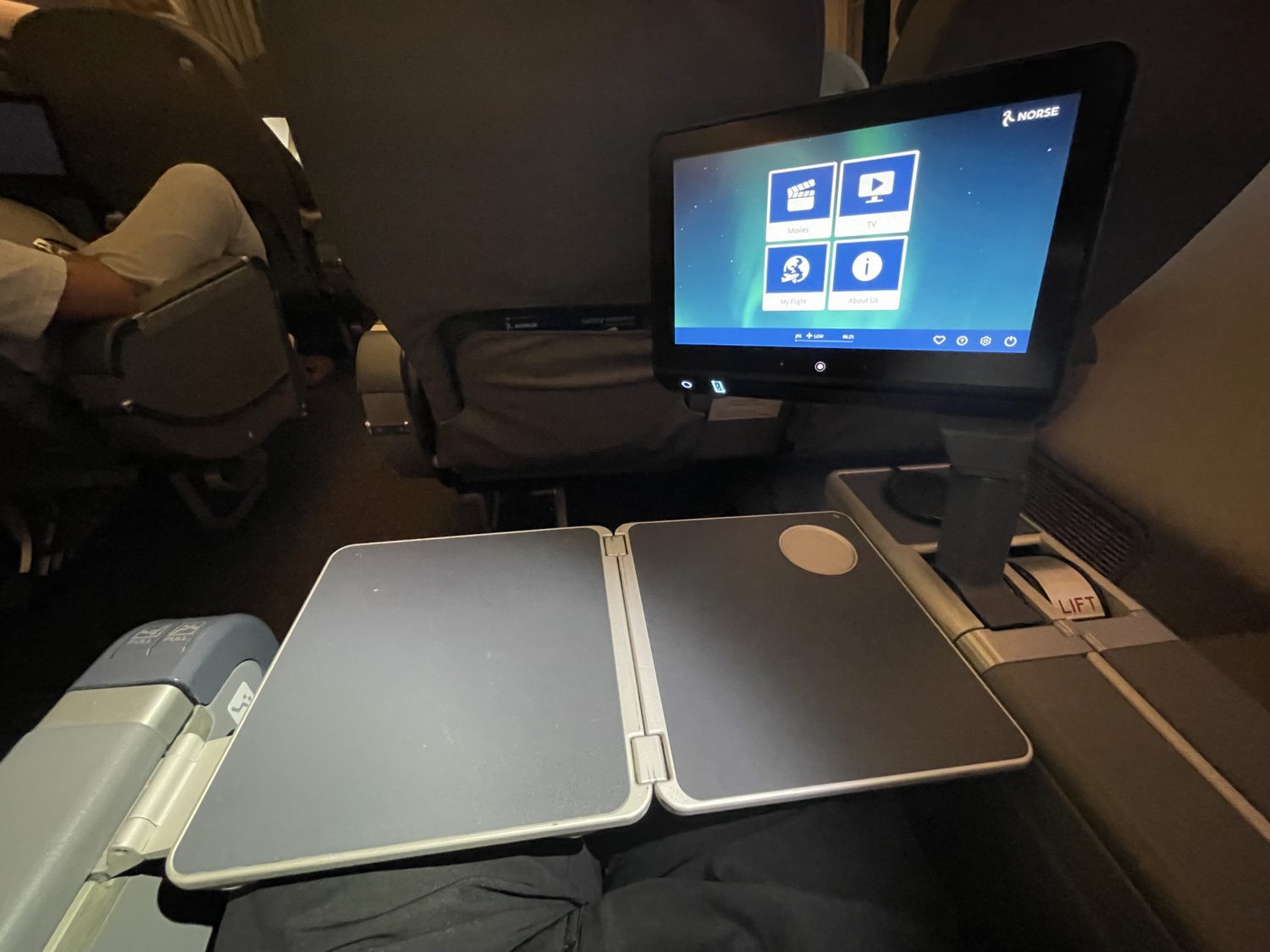 The entertainment screen itself was nice, responsive, and functional. Map lovers might be disappointed, as there is no flight tracking other than this progress bar. The progress bar also jumped all the way to the end of the flight about an hour in, making it not much of a progress bar at all.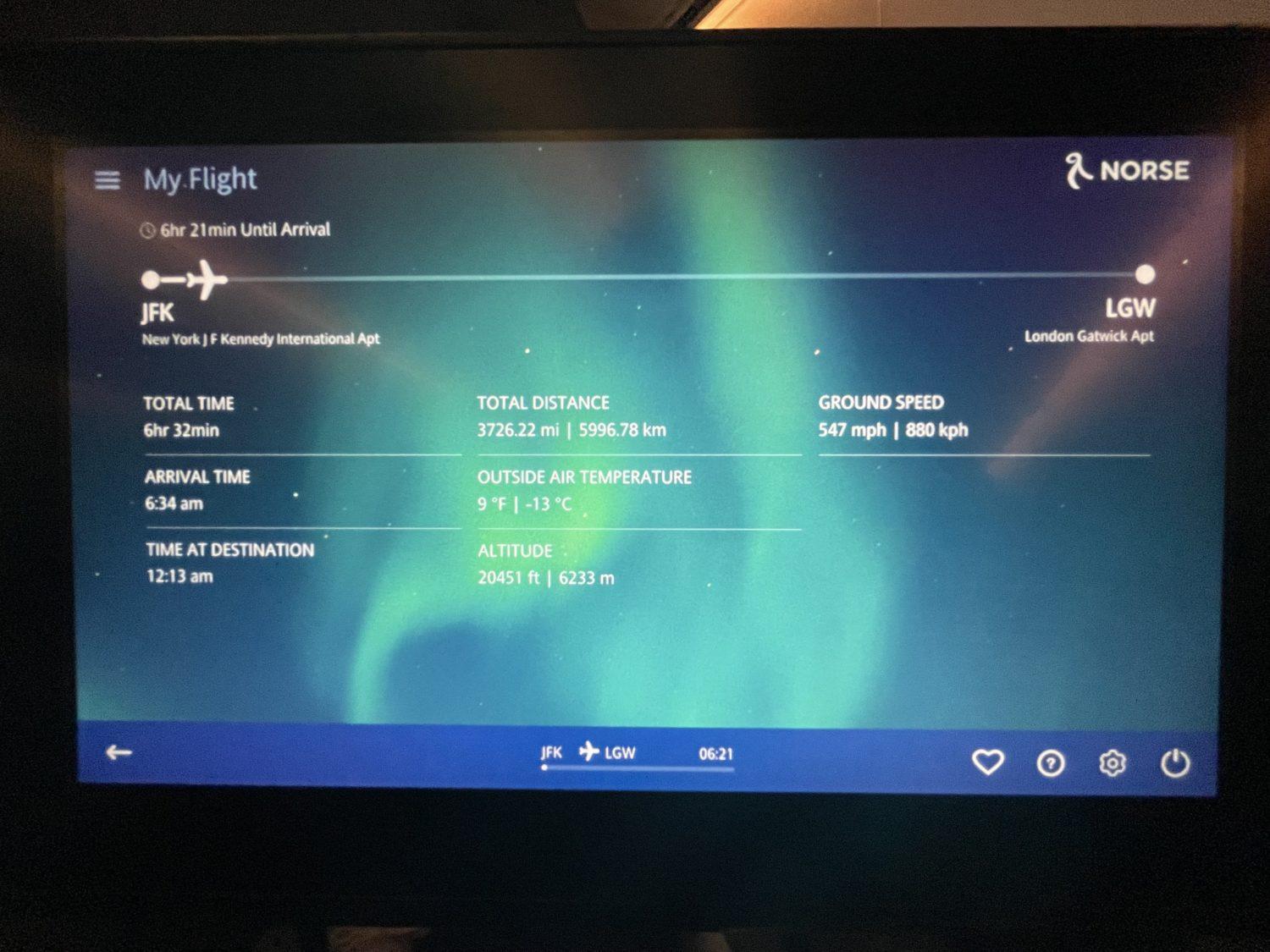 The entertainment offerings on Norse Atlantic were pretty solid. There were 18 different categories of movies and TV shows available with tons of Hollywood and international films to choose from. I expected a leaner sampling of titles, but I was impressed.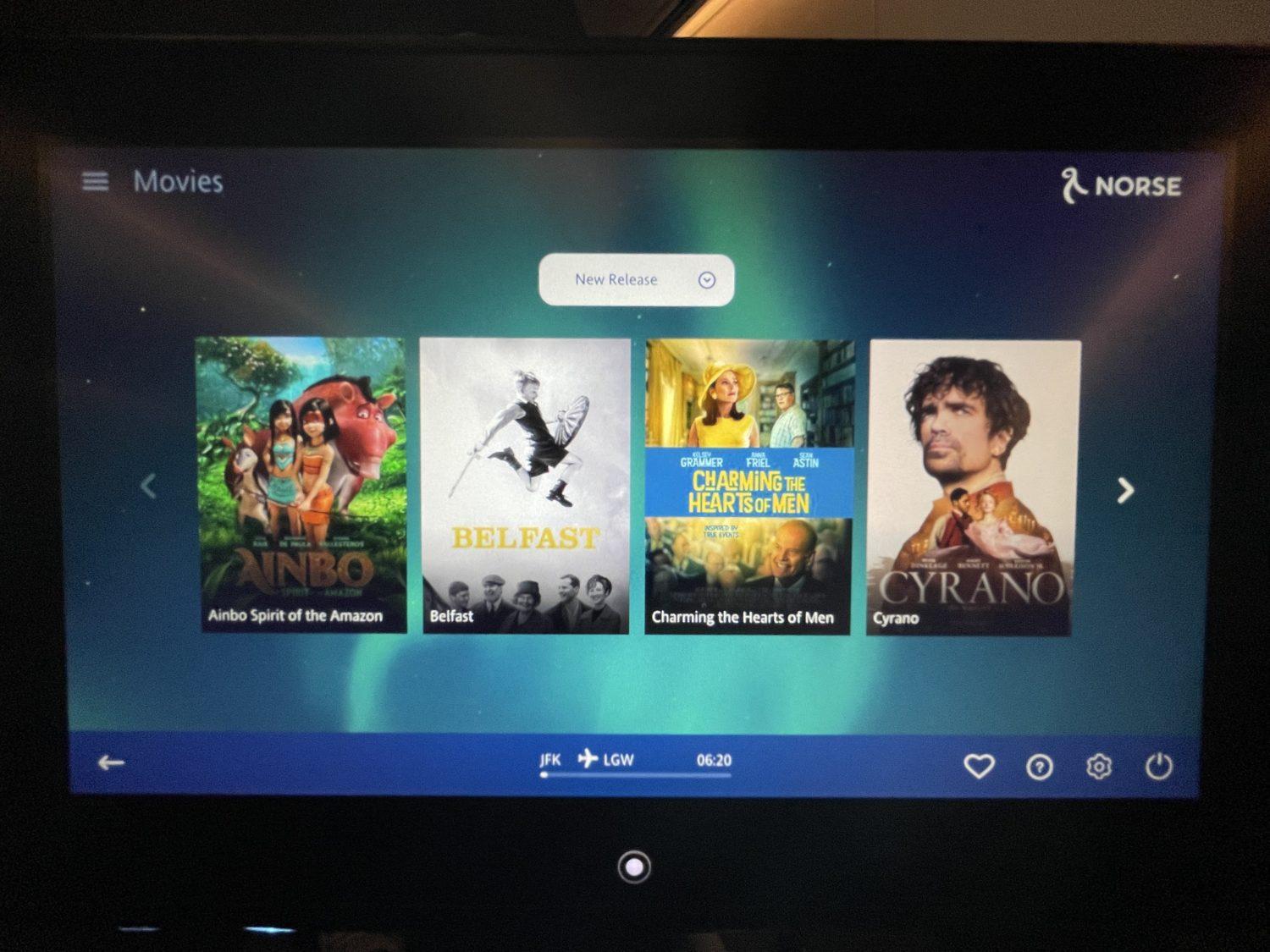 The functionality of the video player was also smooth. You can pause, rewind, turn on closed captions and zoom your screen in slightly all with the touch of a button. You also get a pop-up flight progress bar on the bottom of the screen when you touch it.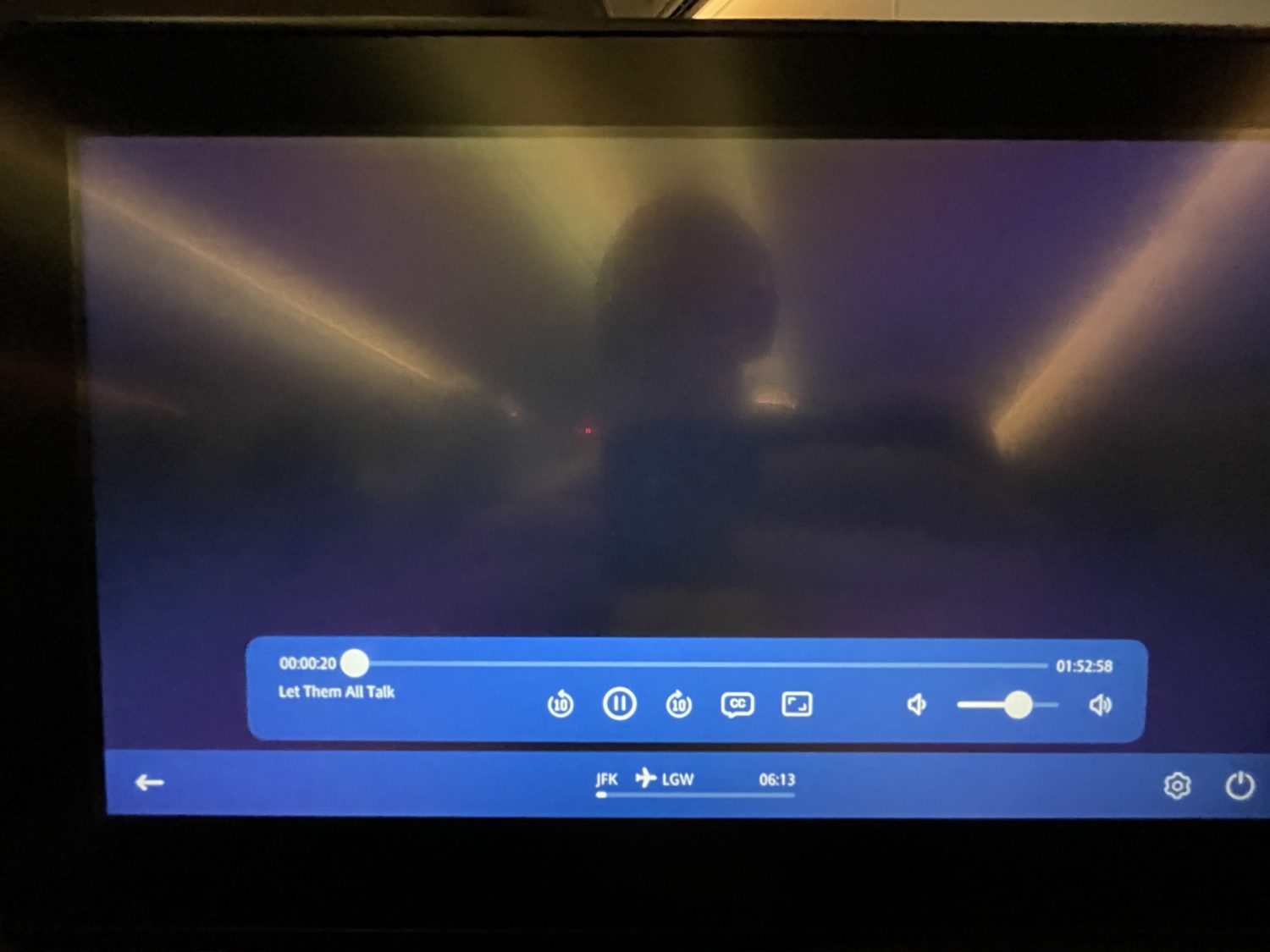 The controls for the overhead lighting, the fan, and the flight attendant call button were all on this remote control on the side of the seat.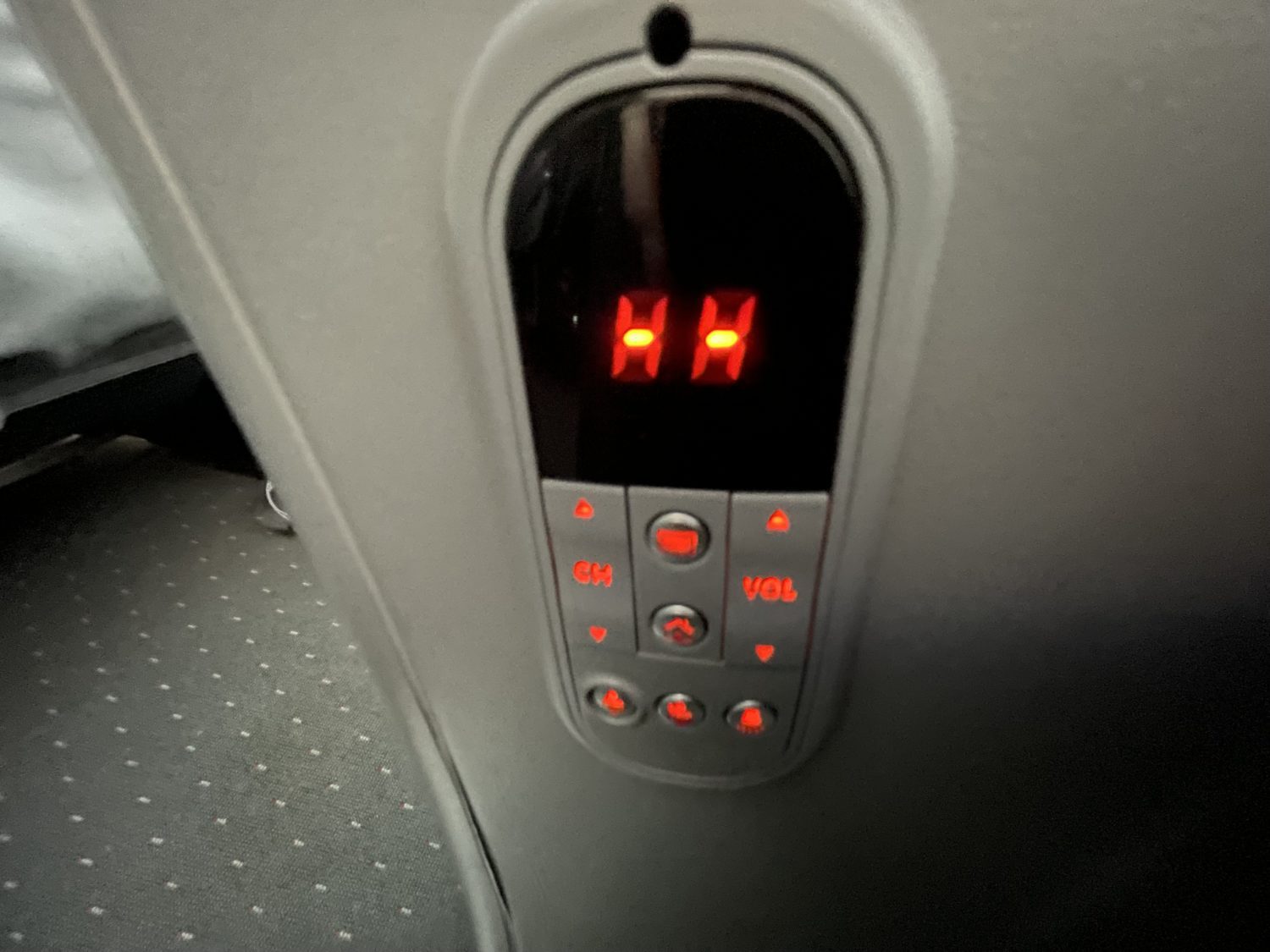 In between the seats were two universal plug-ins – one for each seat. Unfortunately, the power was not consistent during the flight: I lost power for an hour or two.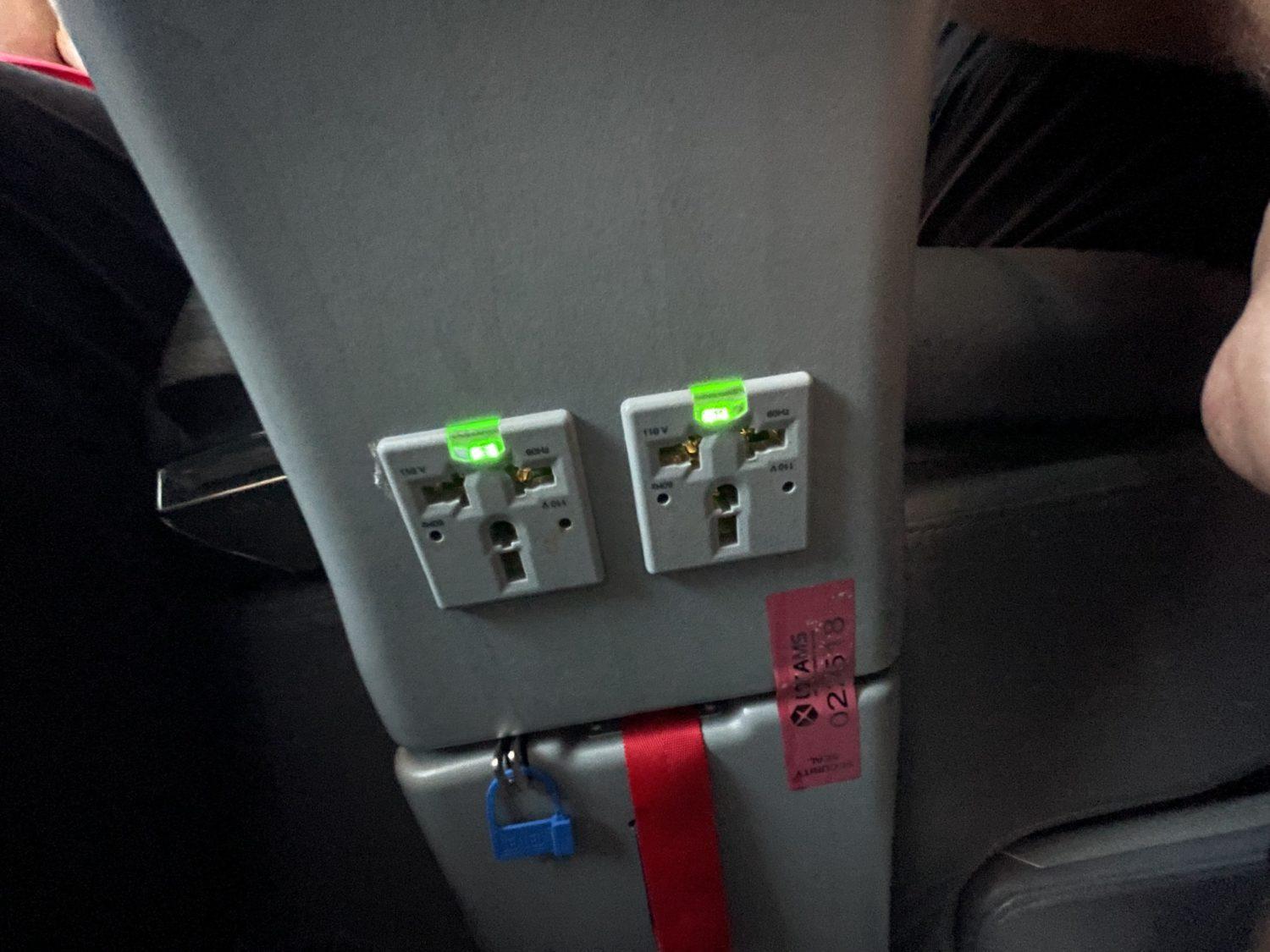 These Boeing 787s feature signature enormous windows throughout the plane, allowing you to fine tune how much light you want to let in rather than the standard pull-down shade.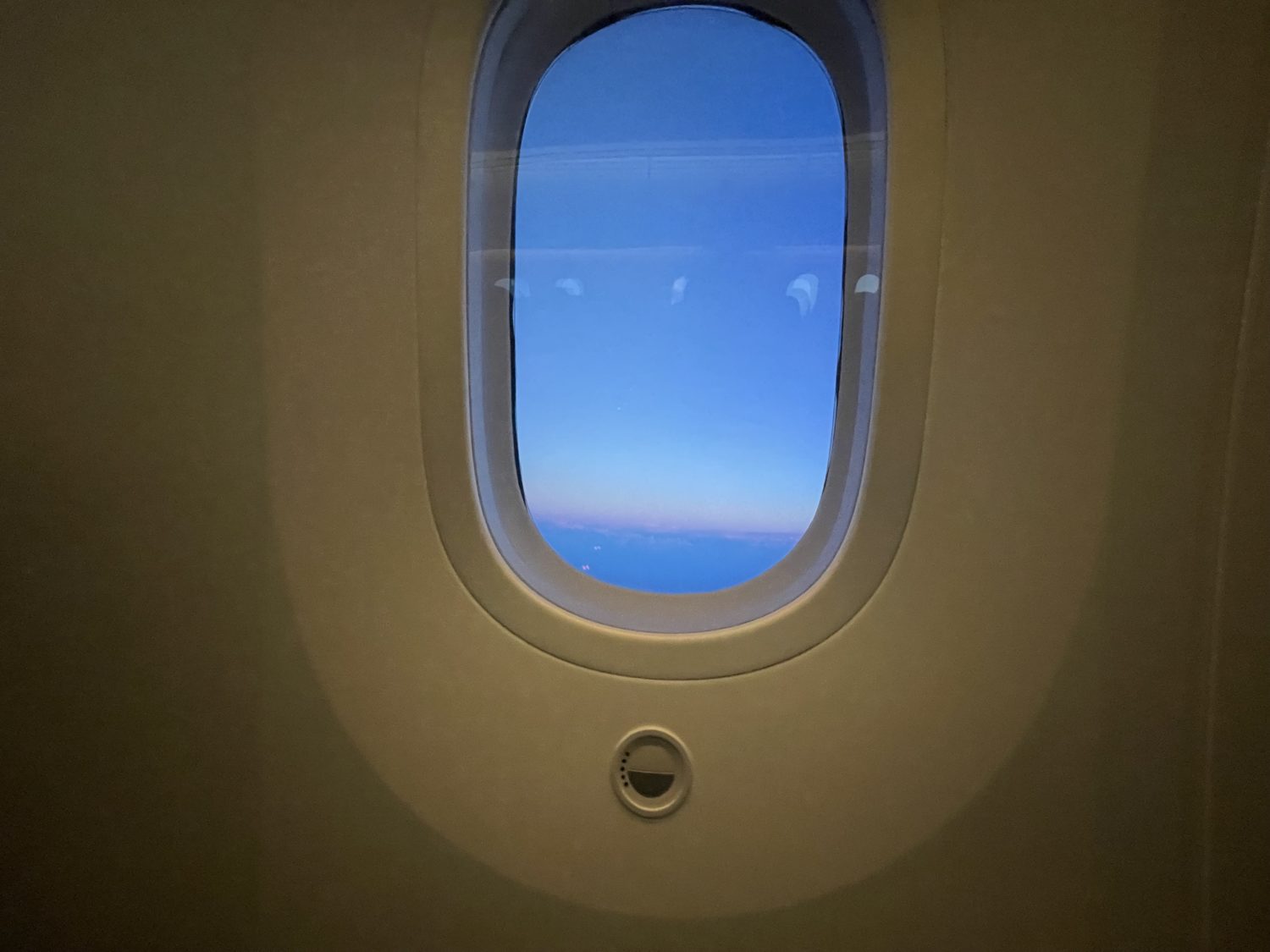 Unlike many flights, amenities weren't waiting at each seat as we boarded. But each Norse Atlantic Premium passenger is given a complimentary blanket after boarding. These were nothing more than the typical flimsy and small airplane blankets.
But aside from that, there were no pillows or other amenities offered to flyers on Norse Atlantic – in either cabin. You can purchase a neck pillow and some ear plugs for $5 onboard, but otherwise, you're on your own.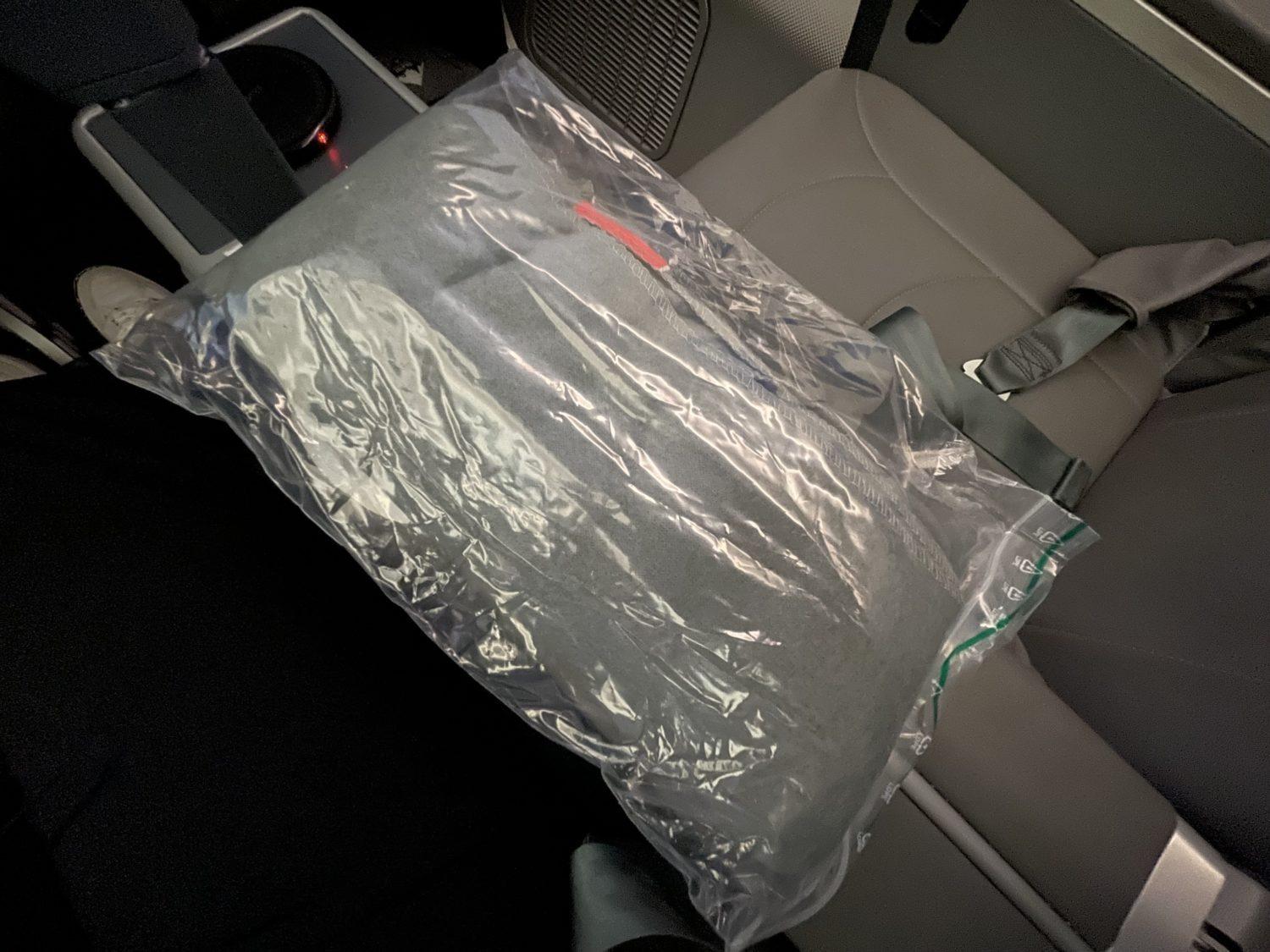 Finally, the lavatory was as basic an airplane lavatory as you could imagine. And you get to see this extremely strange angle of me inside one. No frills here, not even for Premium passengers.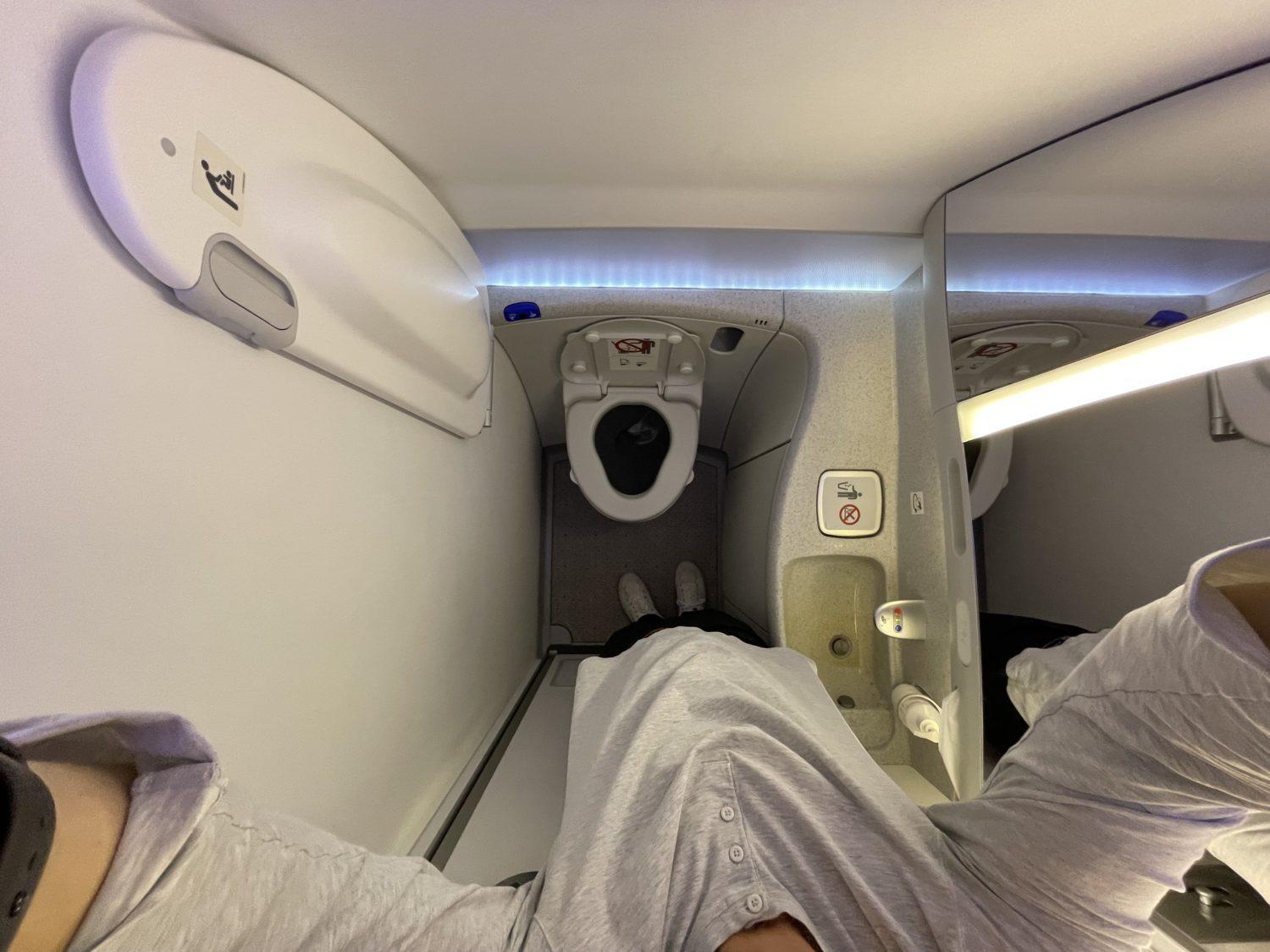 Norse Atlantic Premium Food & Drink Service
Forgettable. Uninspired. Basic. There are a few tactful ways to describe the food on Norse Atlantic, where even in the Premium cabin it … just wasn't very good.
And that's OK! That's really not why you fly a budget carrier like Norse, right? Go fly Turkish Airlines business class or Qatar Qsuites if you want some fine dining in the skies. You're just not going to find $250 Turkish or Qatar fares.
Norse Atlantic doesn't roll out the white tablecloth and bring you a multi-course meal. It's a very simple, pre-packaged dinner and then a grab-and-go-style breakfast before landing. No frills. 
In Premium, the meal service starts with a drink of your choice.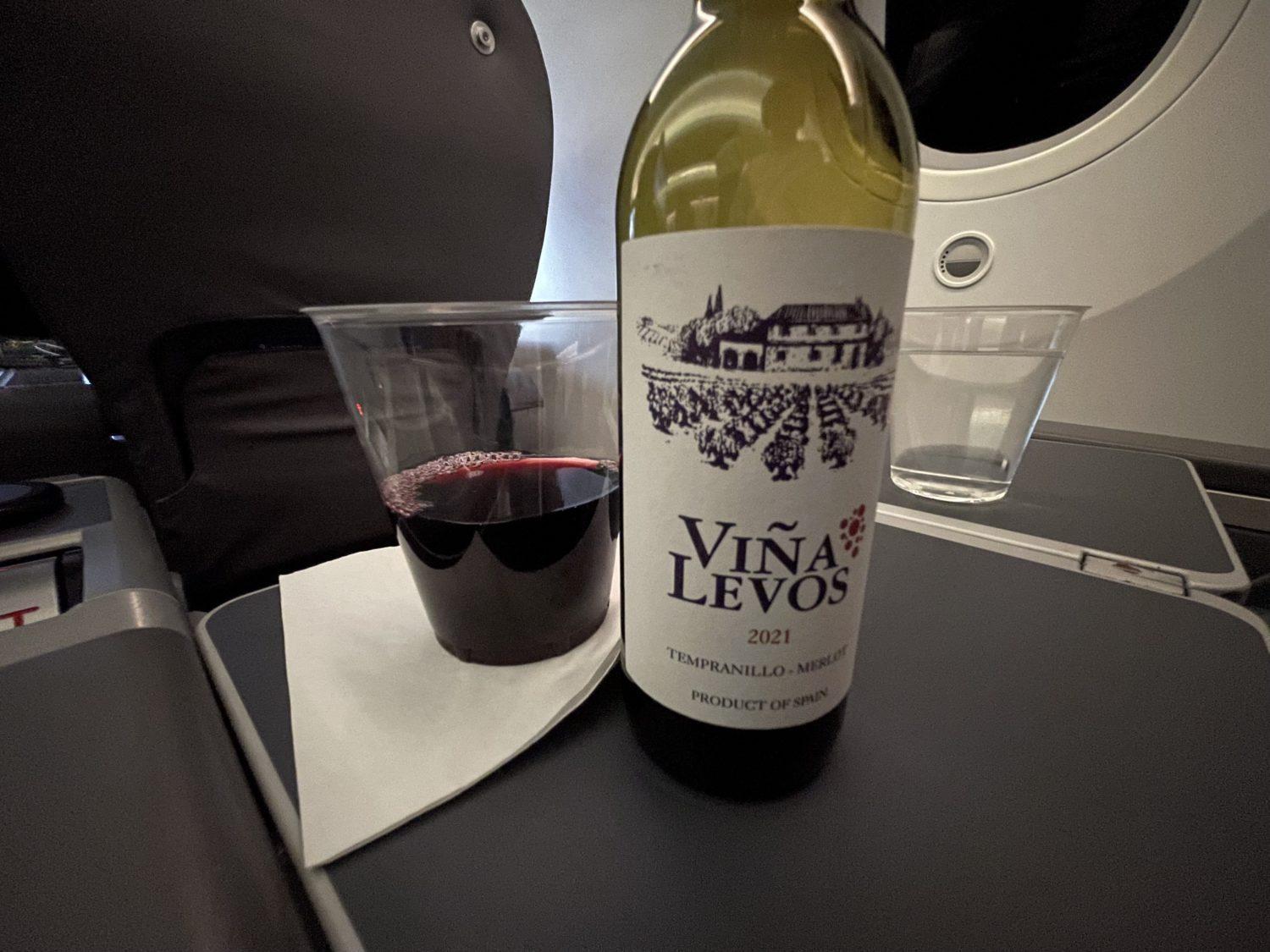 I was under the impression that we only got one free drink with a Premium fare, but my flight attendant brought me a bonus red wine after my dinner, too. Whether this was the norm or I got lucky, I'm not sure … but it's worth asking for seconds if you so desire.
Soon after, the flight attendant brought by a pre-packaged box.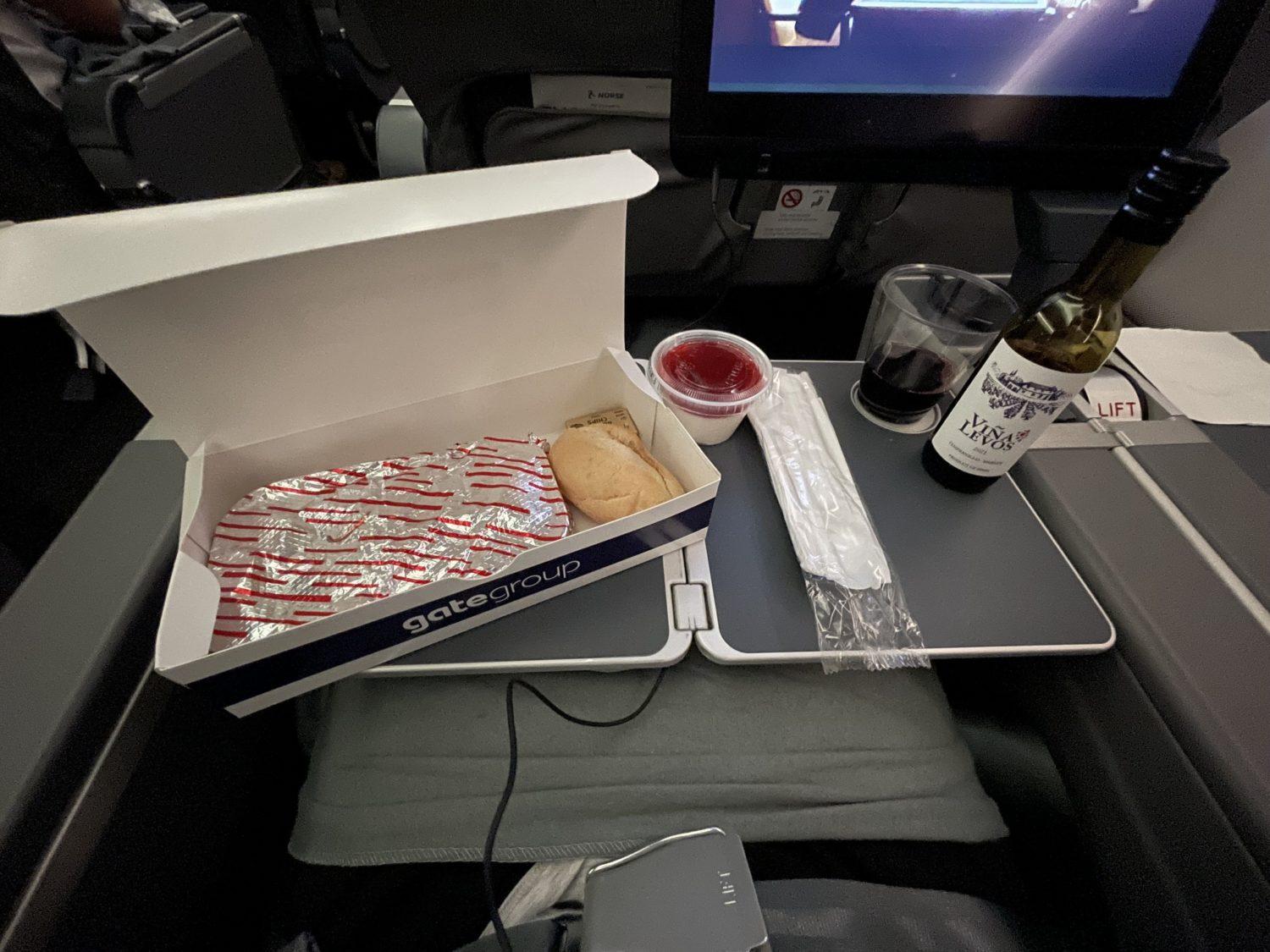 Inside was silverware, a creamy dessert, a dinner roll and butter, and an entree stuffed into this dish. The food – which I still struggle to identify – was completely adequate, but not awe-inspiring. It was a warm meal and it filled me up. Nothing more, nothing less.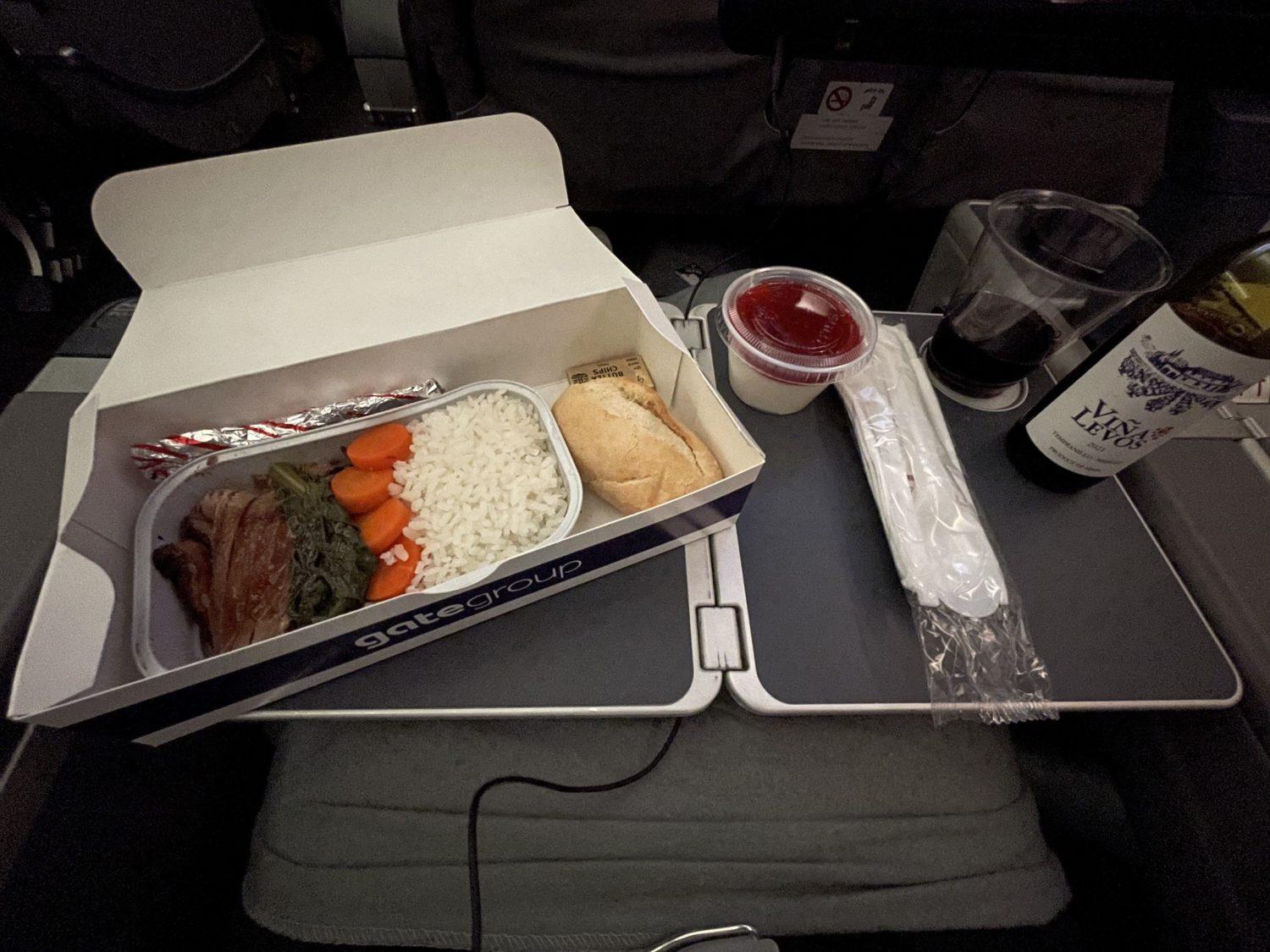 While the dinner fell firmly into the category of "just fine," the breakfast…did not. A cold, stale bagel, a muffin, and a coffee were all we got in the morning before landing.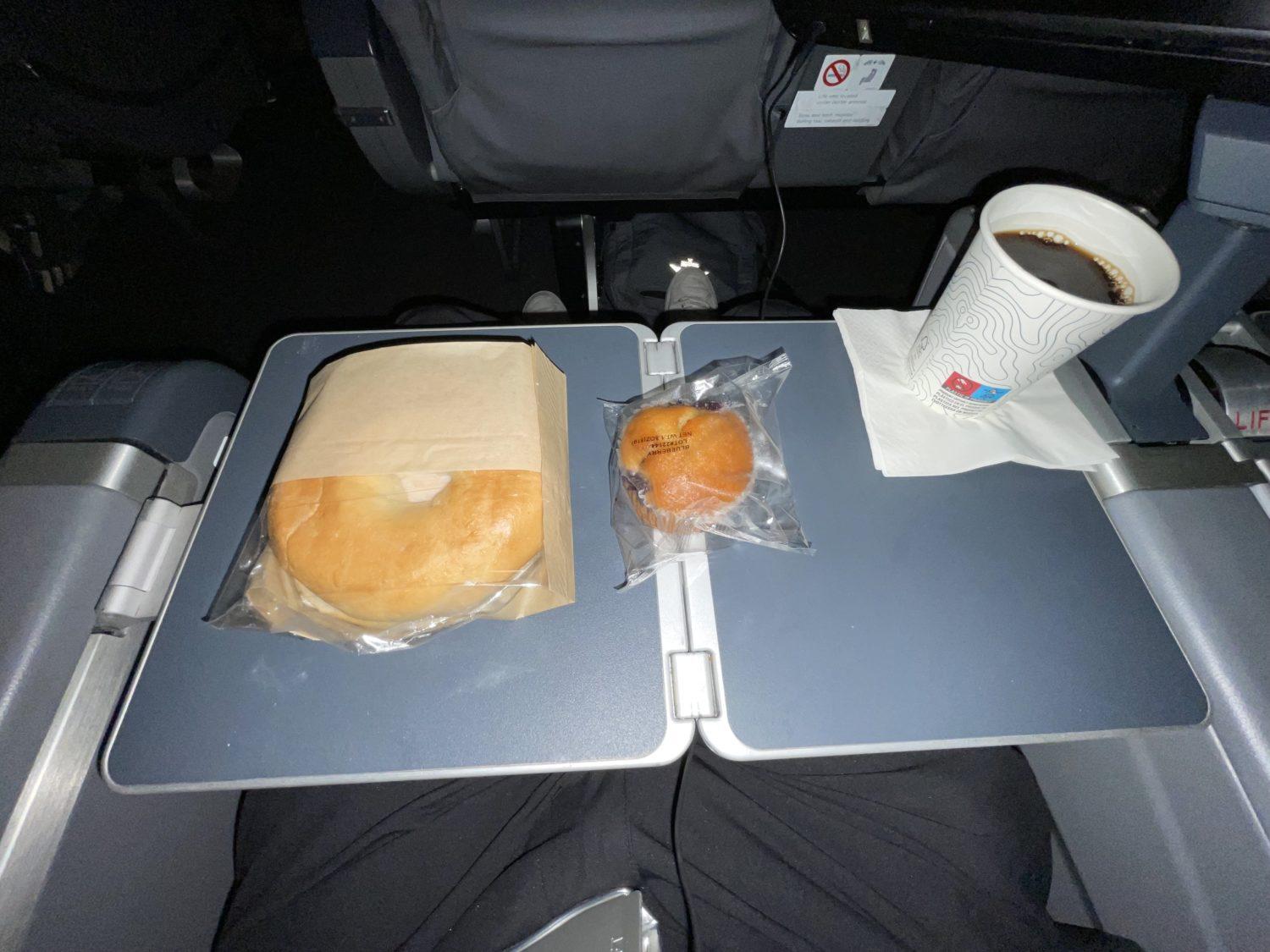 If you want anything else to eat or drink flying Norse Atlantic Premium, you'll have to take to the menu – and take out your wallet. Norse offers solid prices on all of these food and drink items, which you can order at any time.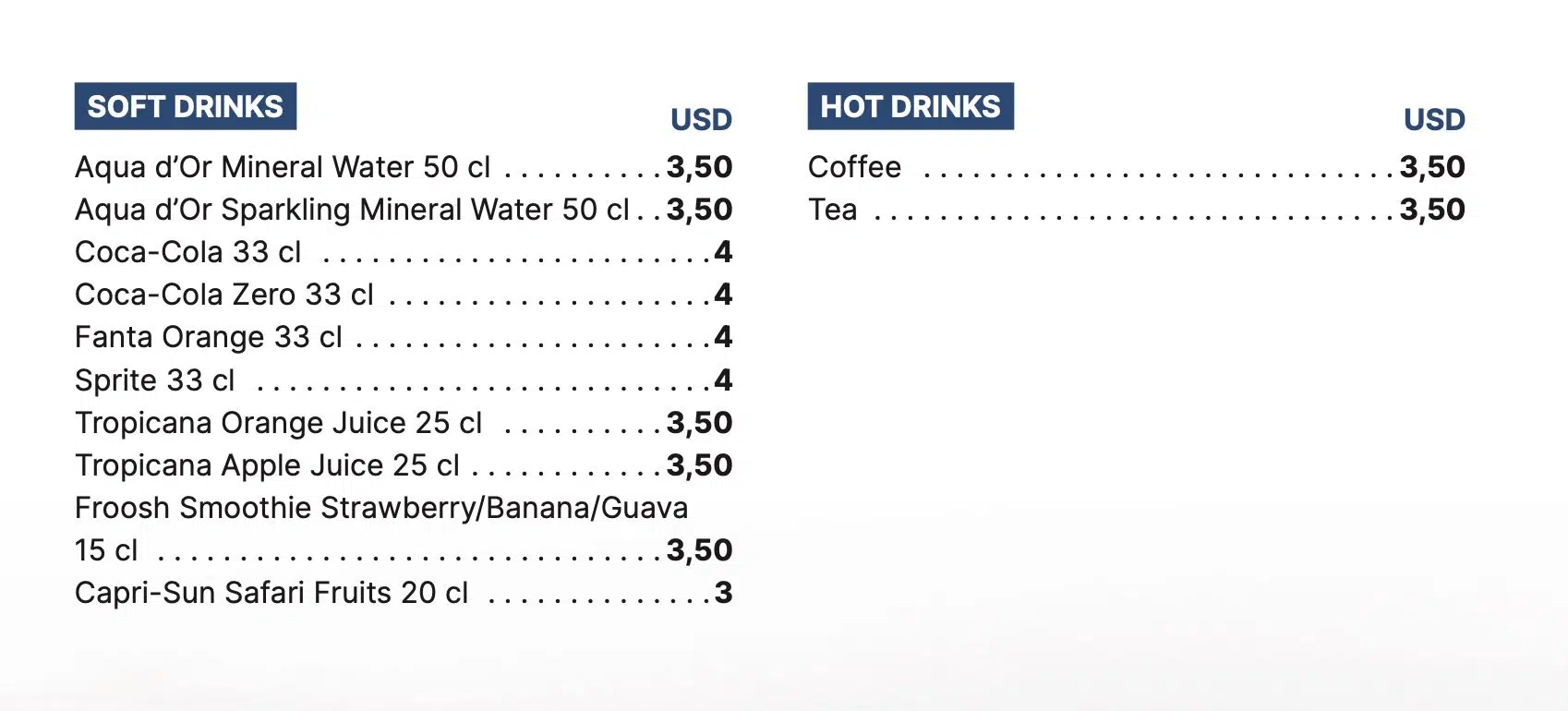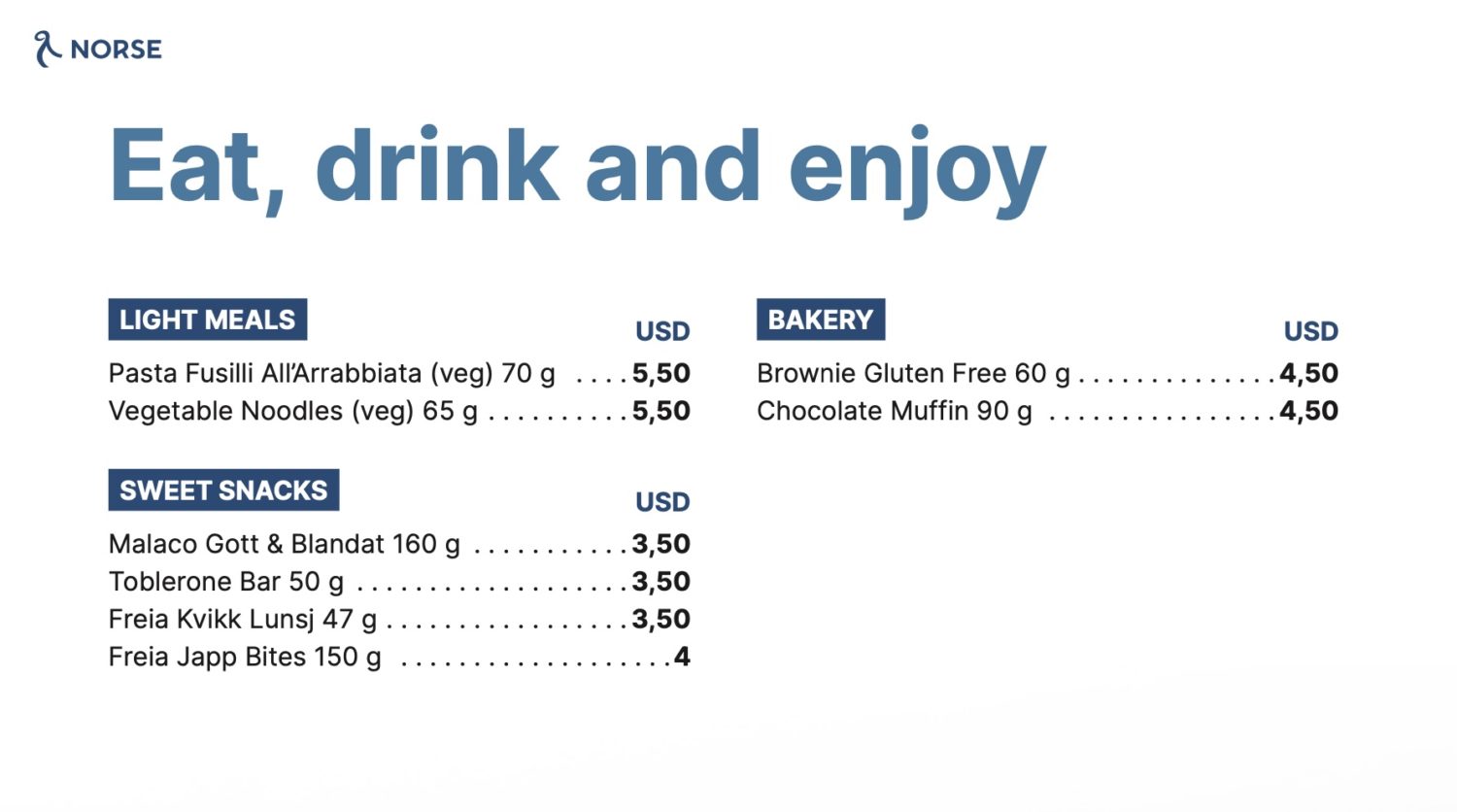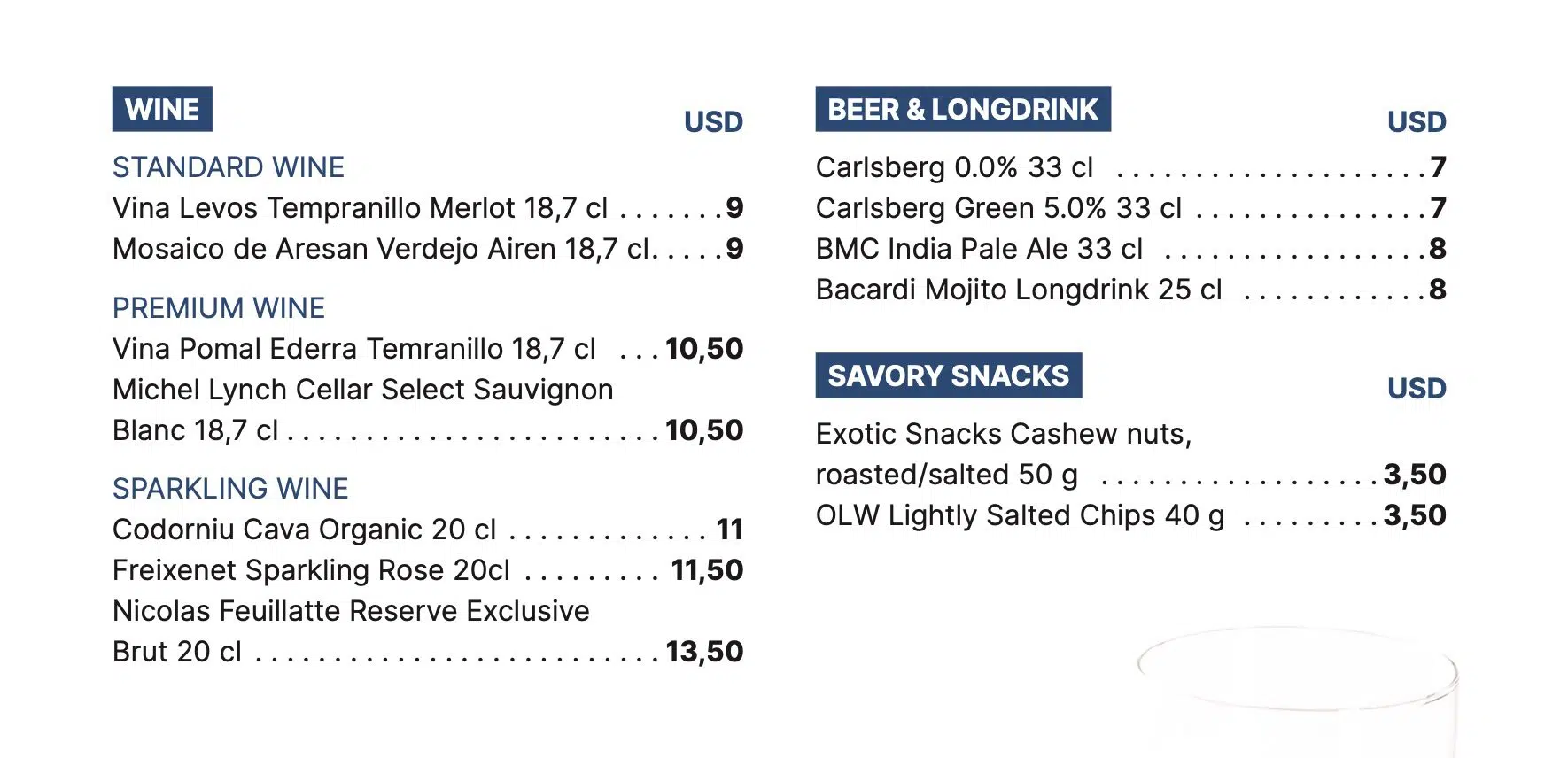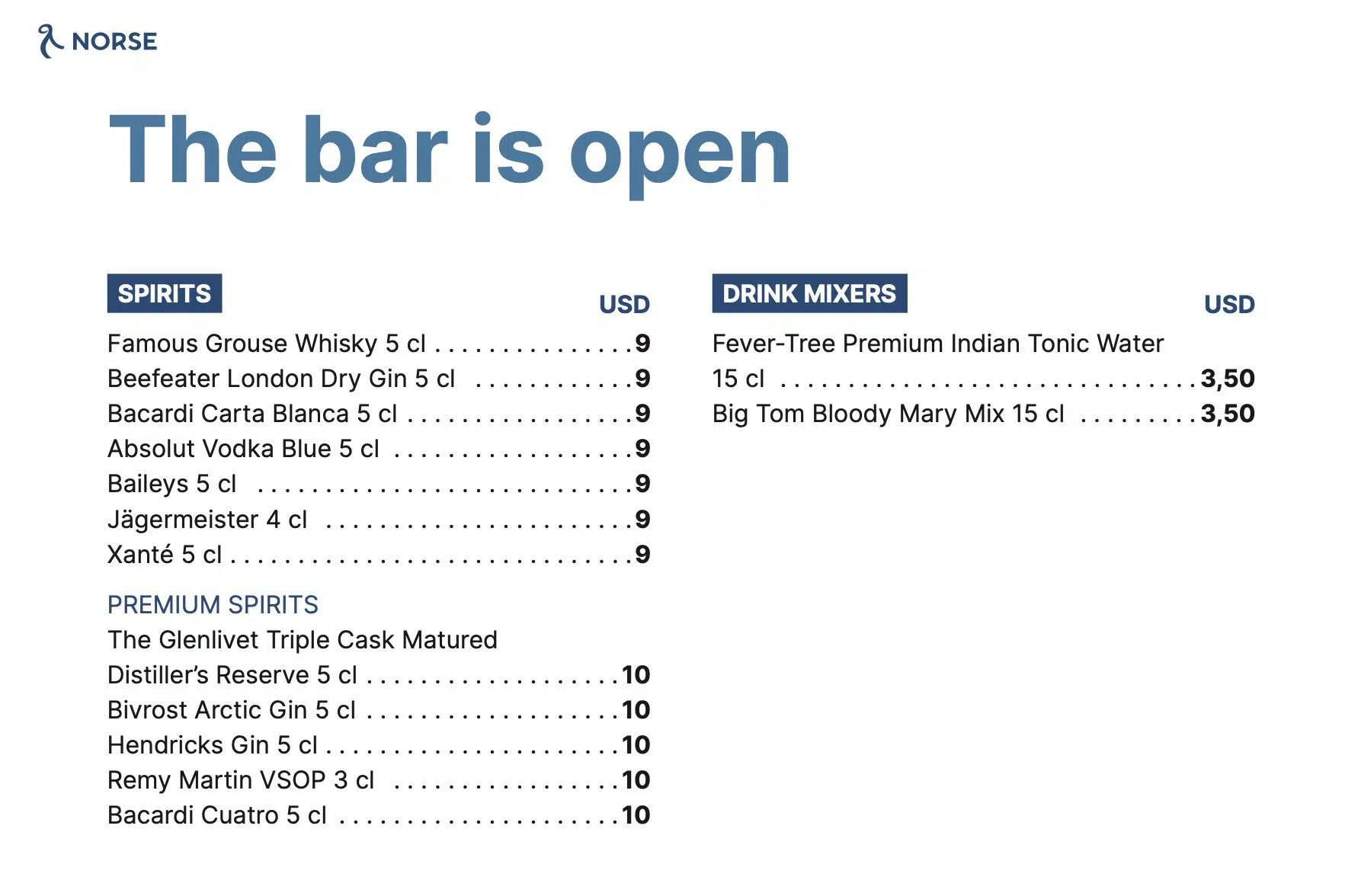 I wouldn't board the plane looking for a culinary experience. Even in Norse's fanciest seats, it's economy food. Keep your expectations low. You're really getting what you paid for here … and you might be wise to bring some food onboard with you.
Bottom Line
When you book a Norse Atlantic Premium ticket, you get a comfier-than-normal seat for a ride across the ocean at a great price. And that's it.
Don't expect a luxurious journey, gourmet cuisine, or a seamless premium travel experience overall. But these fares are easy-to-book, extremely cheap, and a comfortable ride.
There might not be a better bang for your buck to cross the Atlantic Ocean.