Which airlines fly to Iceland? PLAY Airlines is the newest low-cost airline running flights across the Atlantic Ocean, and we wrote a review about our mostly positive experience.
That's right – ultra-low-cost carriers selling ultra-low fares to Europe are back, and we jumped on their very first flight from the U.S. to Iceland to see what PLAY is all about.
So, is PLAY worth it for the low cost?
Take a look at our airline review of the budget carrier, which was more positive than we expected. Here's why.
Introducing PLAY Airlines – Iceland's Budget Airline
Months after setting its sights on the U.S., PLAY Airlines and its big red planes became the newest carrier flying transatlantic with its very first flight between the United States to Iceland with service from Baltimore (BWI) to Reykjavik (KEF), with more flights to come to New York-Stewart (SWF), Boston (BOS), and Orlando (MCO).
It's a familiar business model: PLAY is the successor to WOW Air, another low-cost carrier that fizzled out in 2019.
I took the inaugural flight and the PLAY experience mirrored what we've come to expect from these budget airlines: A budget-friendly ride between the U.S. to Europe with zero frills. But what I didn't expect after getting through the gate was a comfier-than-expected seat with ample legroom and a nice headrest.
Here's what the PLAY Airlines experience was like on its very first long-haul flight from the U.S. to Iceland earlier this week. We've prepared a concise review of the positive experiences for this airline.
A Few Surprises – Legroom Review
An inaugural flight is never ordinary. The Baltimore Airport and PLAY spent months drumming up excitement for this first trip across the pond with some special touches like a water cannon salute as PLAY's first plane pulled up to the gate. And it's clear PLAY made some special moves to make a good first impression.
Still, there's plenty to glean from my experience – and it all starts with the seat. PLAY's Airbus A321neo plane and its seats were comparable to any domestic economy class seat you'd find on an American, Delta, or United flight in the U.S. There was plenty of space onboard.
But there was even more legroom than you'd get on most domestic airlines on this PLAY flight: 34 inches! For reference, 34 inches of legroom is what you'll get in most Delta Comfort Plus seats. Extra legroom at every seat on a budget carrier? That's unheard of.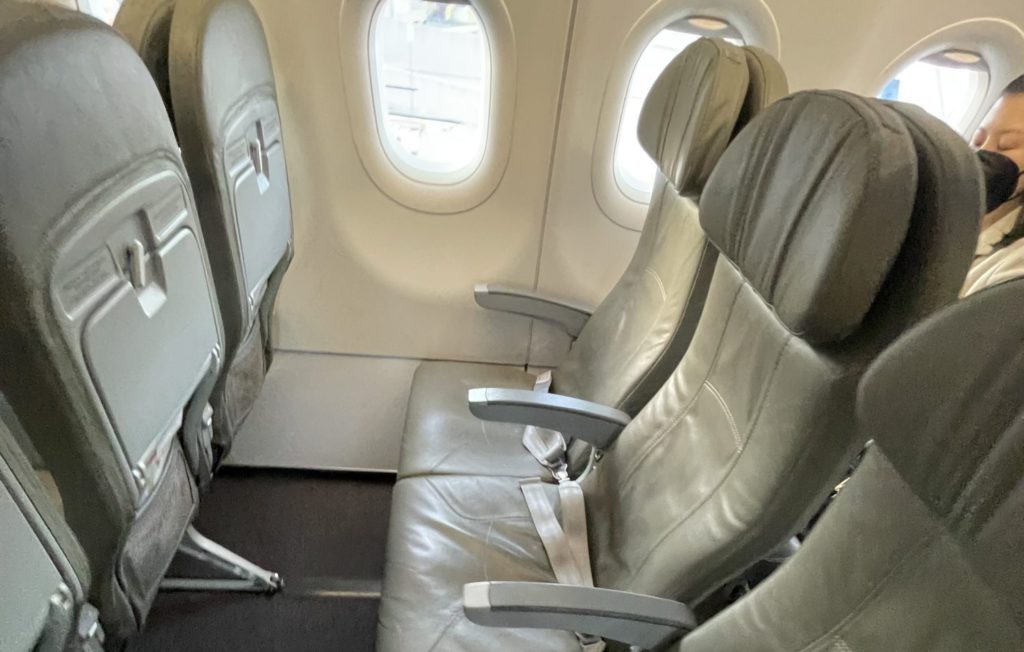 But this is where PLAY's special touch for this first-ever flight may have come in. Seats on many of its other planes crossing the Atlantic may have as little as 28 inches of legroom – more in the neighborhood of what you can expect flying Spirit Airlines. Just how cramped you'll be is a mixed bag: As of publication, flight data shows multiple upcoming dates on the Baltimore to Reykjavik route on flights with 34 inches of legroom, but many others with a knee-crunching 28 inches of pitch at each seat.
Make sure you know what you're getting when you book by searching via Google Flights and using the handy Legrooms extension – and keep in mind that it could change from the time you book. The experience could be that much worse without that wiggle room.
But I got lucky with this roomy configuration. My window seat, 21F, was a perfectly fine economy seat with a little bit of recline and plenty of legroom for my 6-foot frame.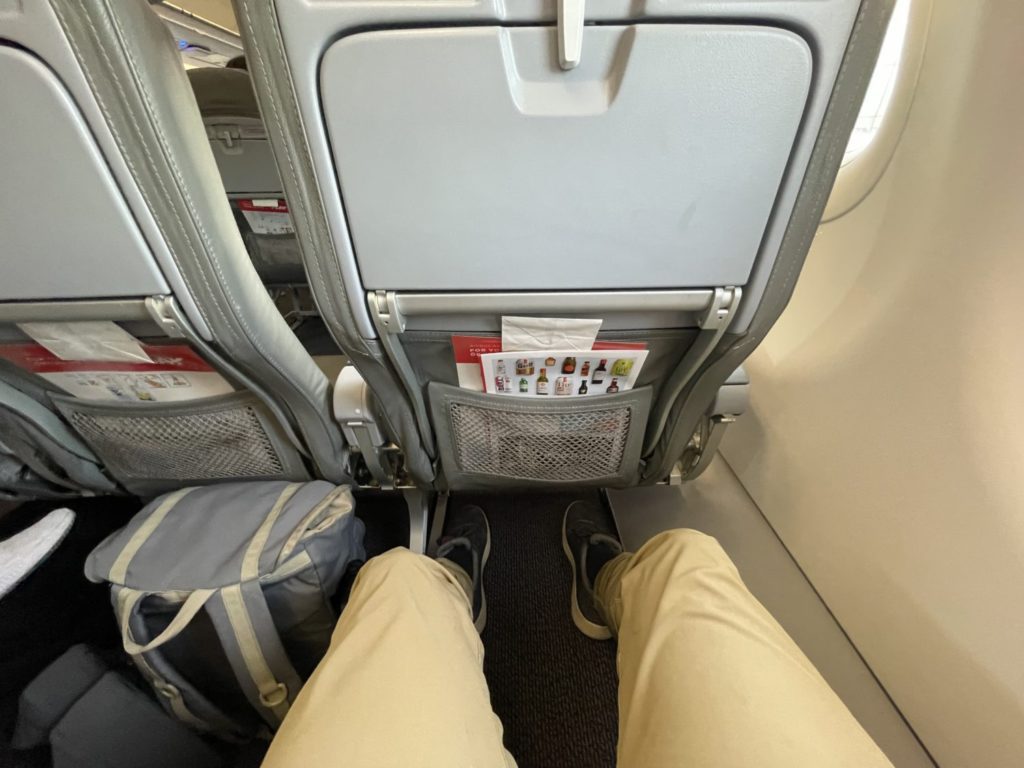 A Plenty Comfortable Seat
The extra room made putting the tray table in place easy. There was plenty of room to operate with it down.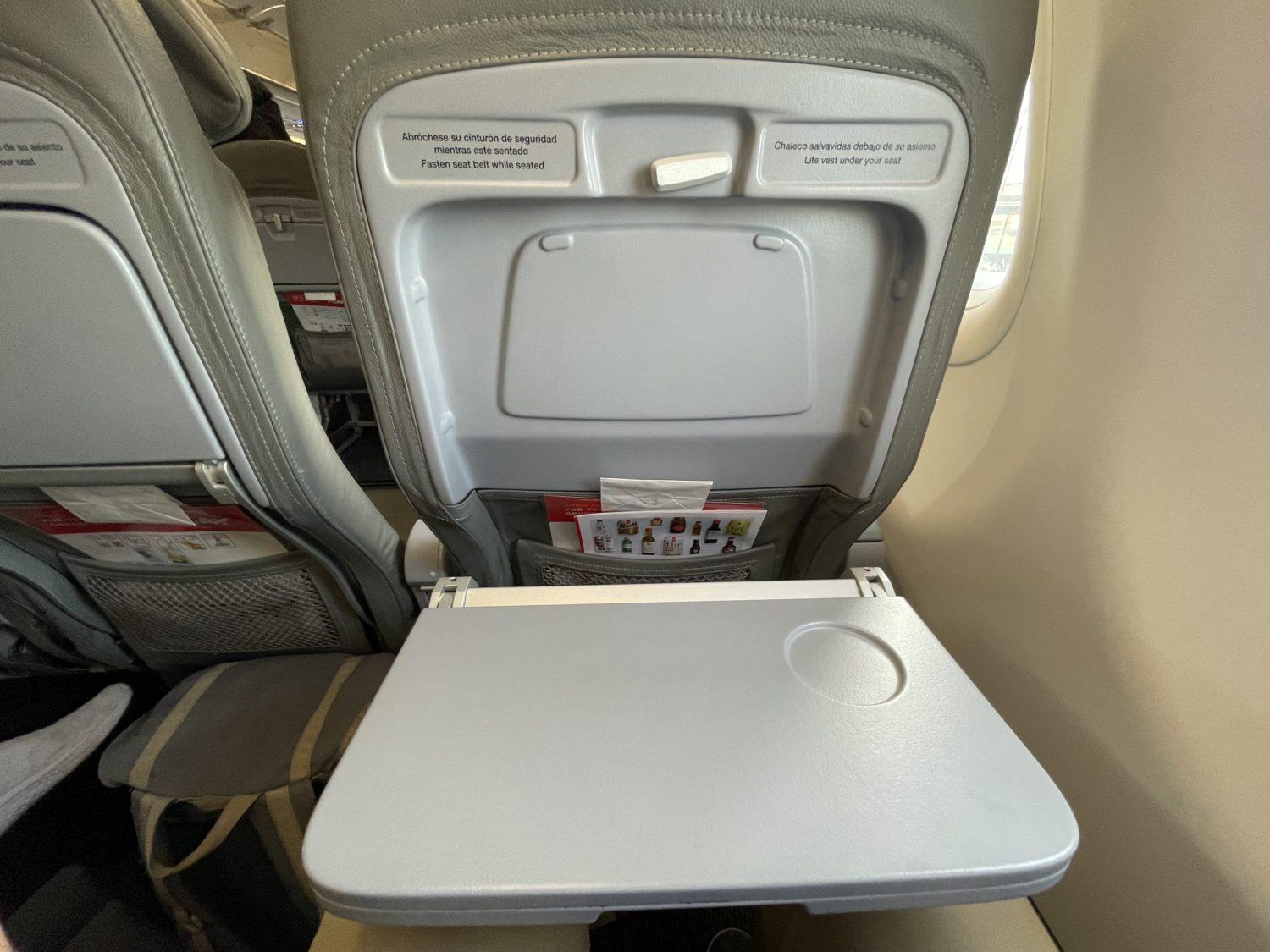 One of the most surprising parts were the headrests on this A321neo. They were the extra padded headrests with the adjustable wings, which made finding a comfortable sleeping position slightly easier.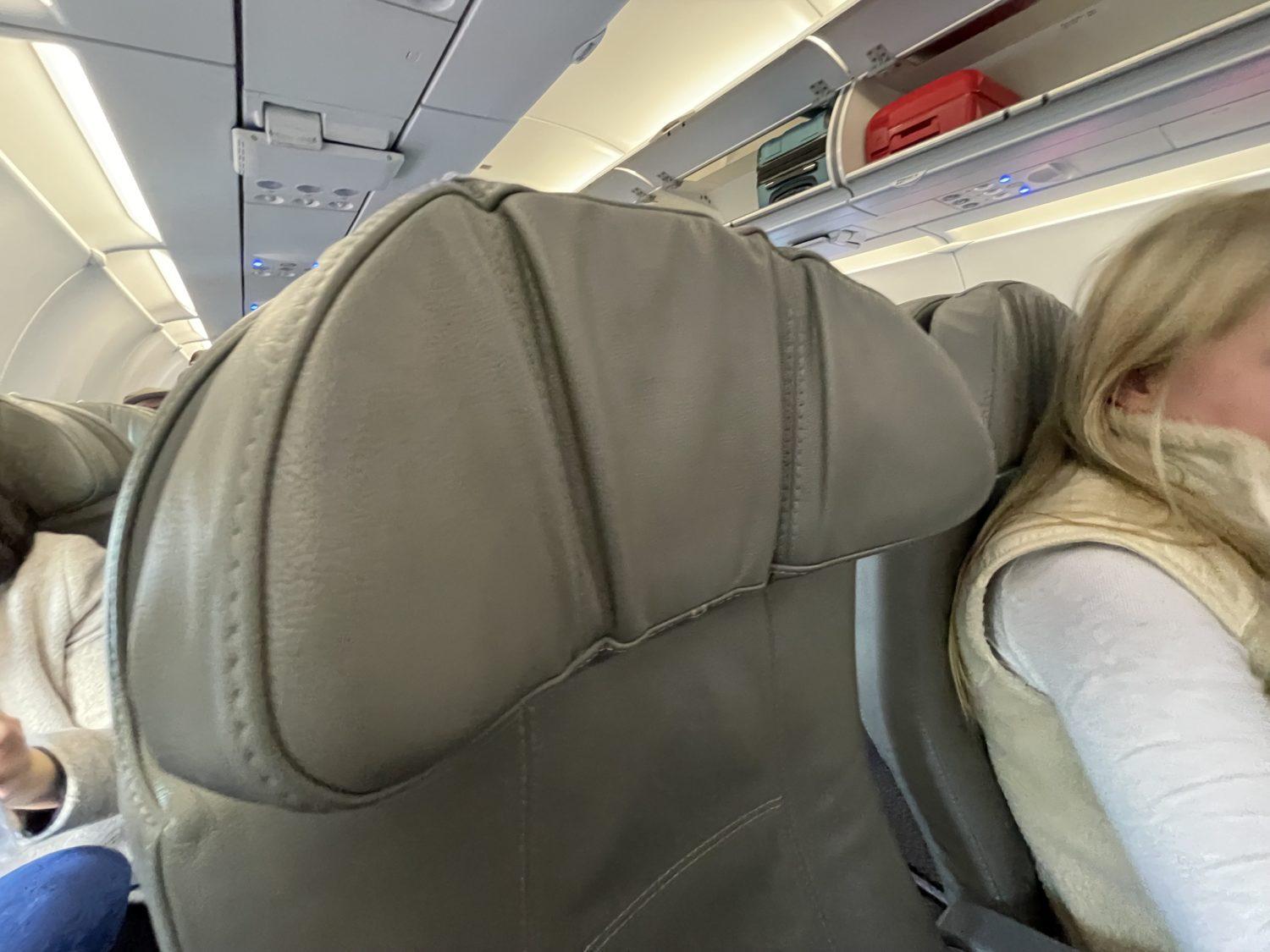 Each seat included its own dedicated air vents and lights.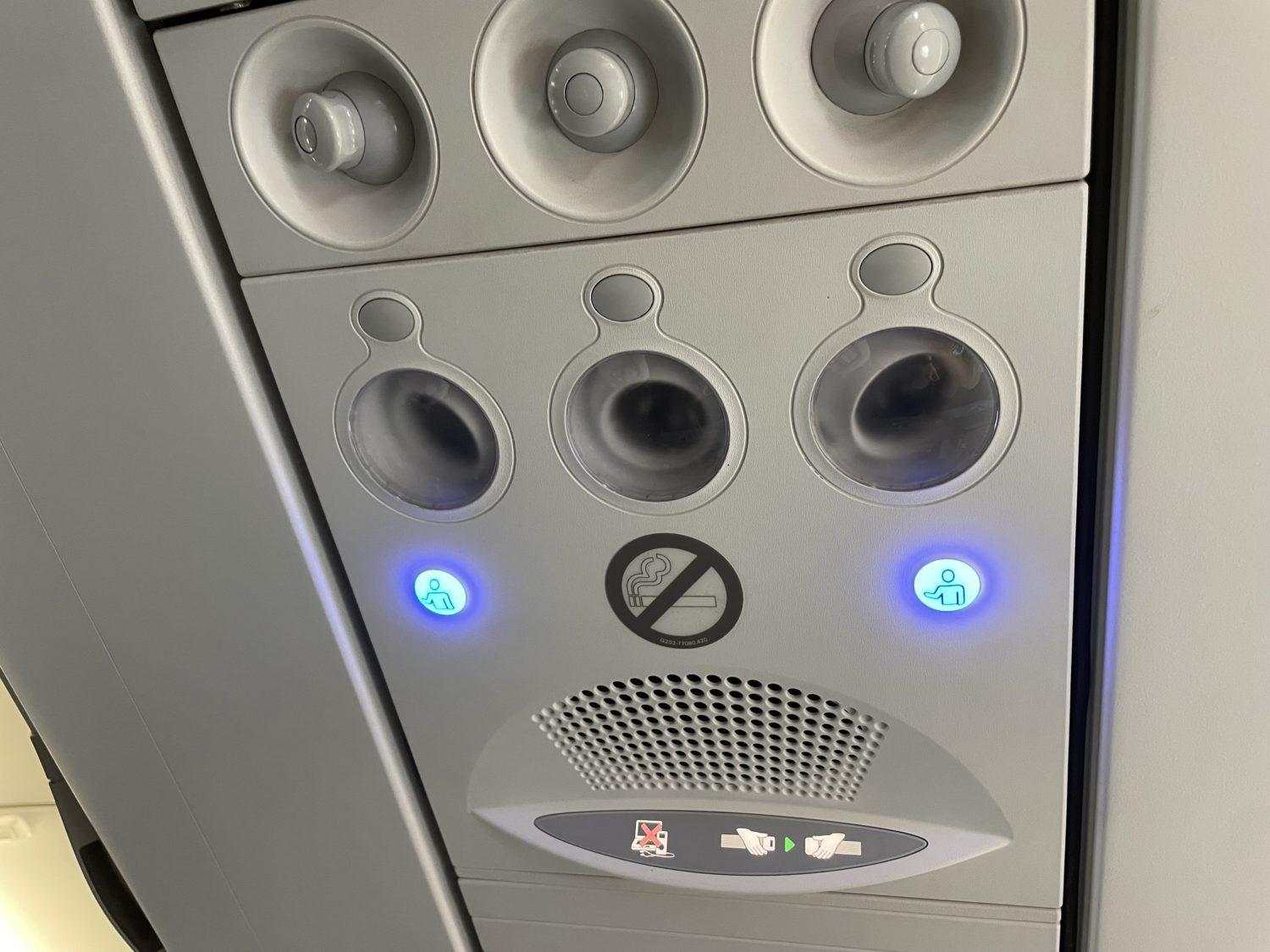 Happy and Helpful Crew
The flight crew onboard this PLAY flight were wonderful. Interactions with crew can make or break a flight and all of the crew were excited to be a part of the inaugural flight.
Whether it was helping some passengers with their luggage to snappy service to waking us up for a glimpse of the Northern Lights in the middle of the night, it was a memorable flight.
One Bad Surprise: No Power
What was noticeably absent from the seats was any power at all. The spots where U.S. airlines and other transatlantic carriers normally put their plug-ins were empty on this PLAY ride.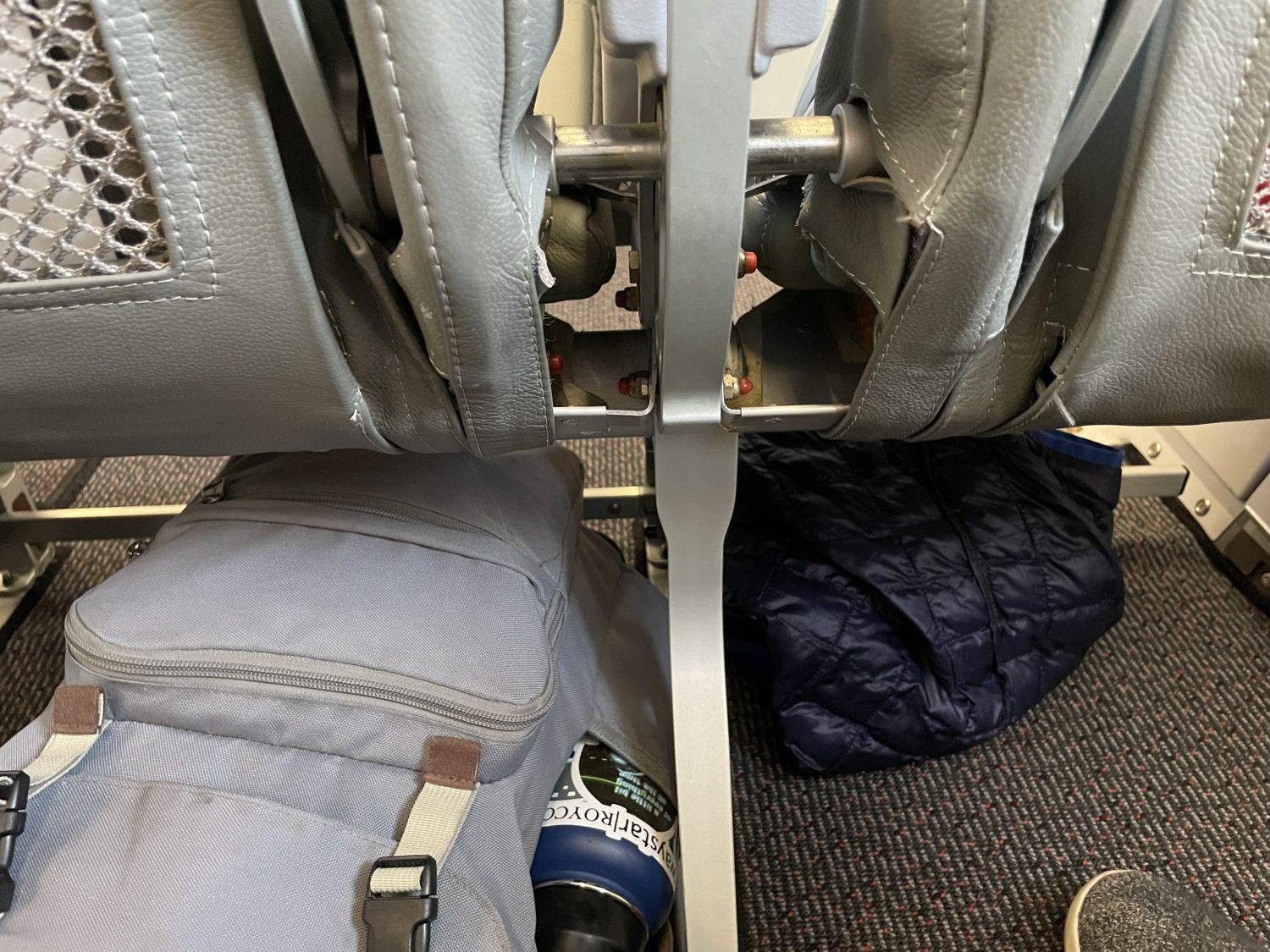 Overall, the seat exceeded my expectations for what a budget ride to Iceland would be like. At just five-and-a-half hours, I never got too uncomfortable on the plane. Plus, the inaugural flight was only about a quarter full, which meant everyone got to stretch out once we were up in the air.
Oh, and a special shoutout to the crew on this inaugural flight who woke us up mid-flight … to see the Northern Lights dancing over the skies of Greenland! I can't guarantee you'll get a glimpse of the Northern Lights on your own PLAY flight, but it was a special moment.
All the Extras – Food and Snacks Review (or Lack Thereof)
PLAY airlines offers cheap one-way flights as low as $174 to cross the Atlantic. To keep fares that low, something's gotta give.
If you want to save a few bucks and book with PLAY, there are some flight expectations you will need to shed and one you'll need to accept: Everything will cost you.
For starters, there is zero free water or food service on the flight at all. Food and drink service were offered three different times during the flight, twice at the outset and once again early in the morning before landing. But everything on the menu will cost you, including water at 1 euro for a small water bottle.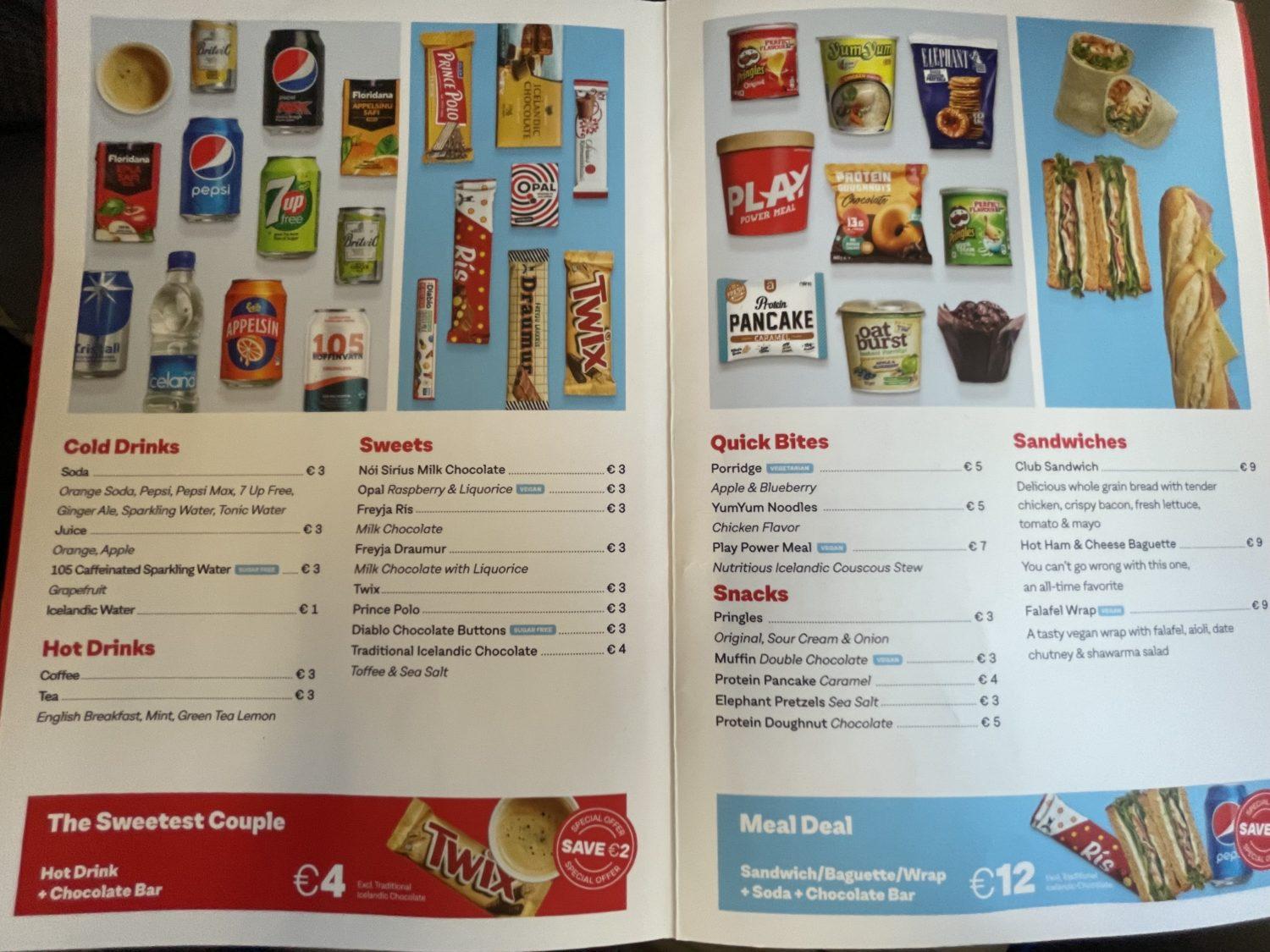 They have a decent selection, as you can see. But anything you want will require a swipe of your Visa or Mastercard – PLAY does not currently accept American Express for its inflight purchases or booking airfare, either. The alcoholic drink menu had more options, too.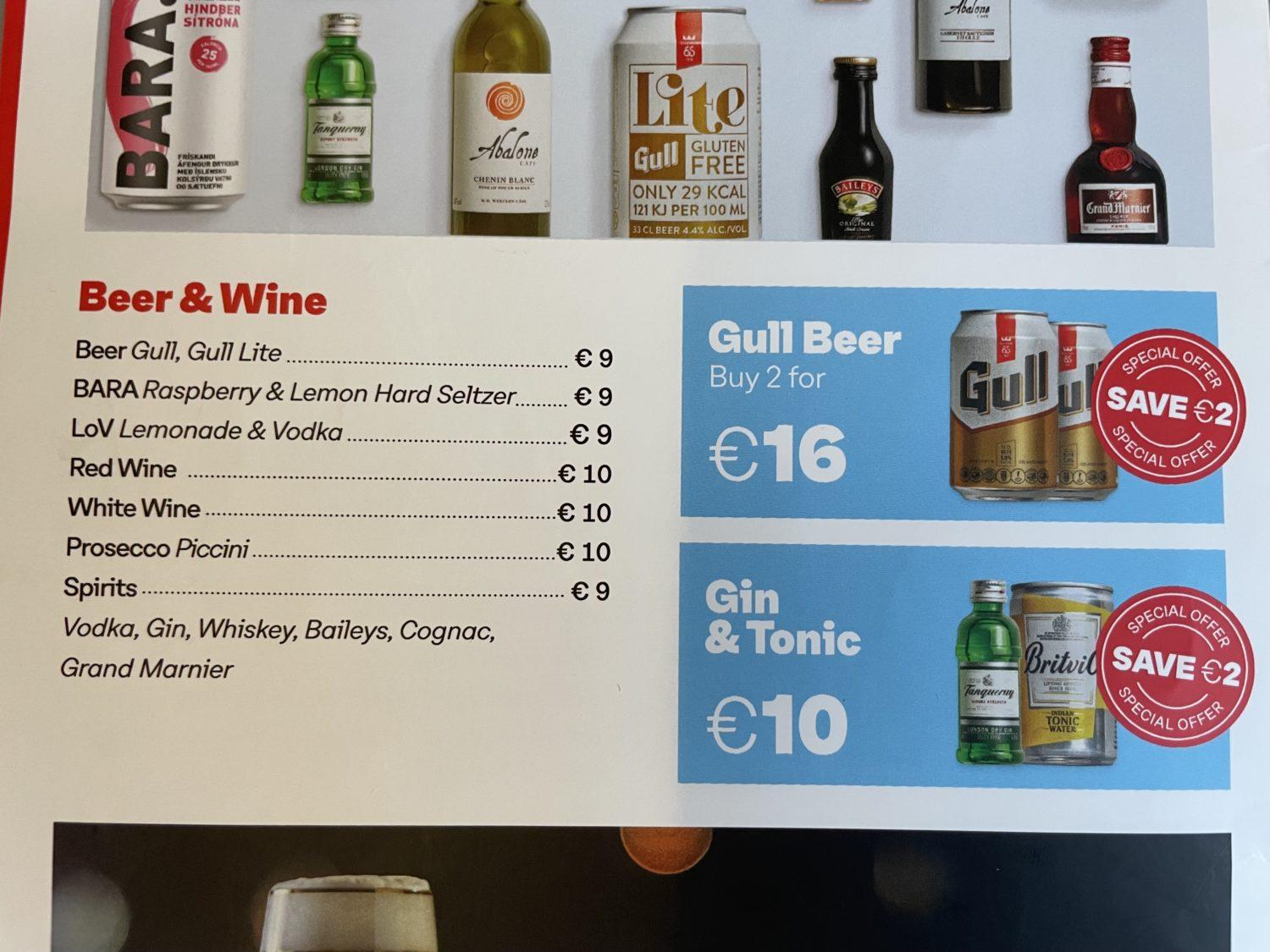 I was traveling with my sister, and we were hoping for a nightcap on our journey, so we opted for a couple of whiskeys and a bottled water, you know, for journalism…
The whole order cost us 19 euro, or about $20. We opted against ordering food as we arrived for the 7 p.m. flight after a big dinner. If you need a meal, I could see how eating onboard PLAY could add up quickly.
Outside of the food and beverage service, another noticeable absence on the flight was any sort of connectivity. There was no Wi-Fi, entertainment options, or any way to access messaging at all. Don't expect a screen at your seat to watch anything, either.
TV screens positioned every four or five rows lowered from the ceiling of the Airbus and broadcast the underview camera of the aircraft during the ascent and descent. Throughout the flight, these screens broadcast the rotating flight tracker slides.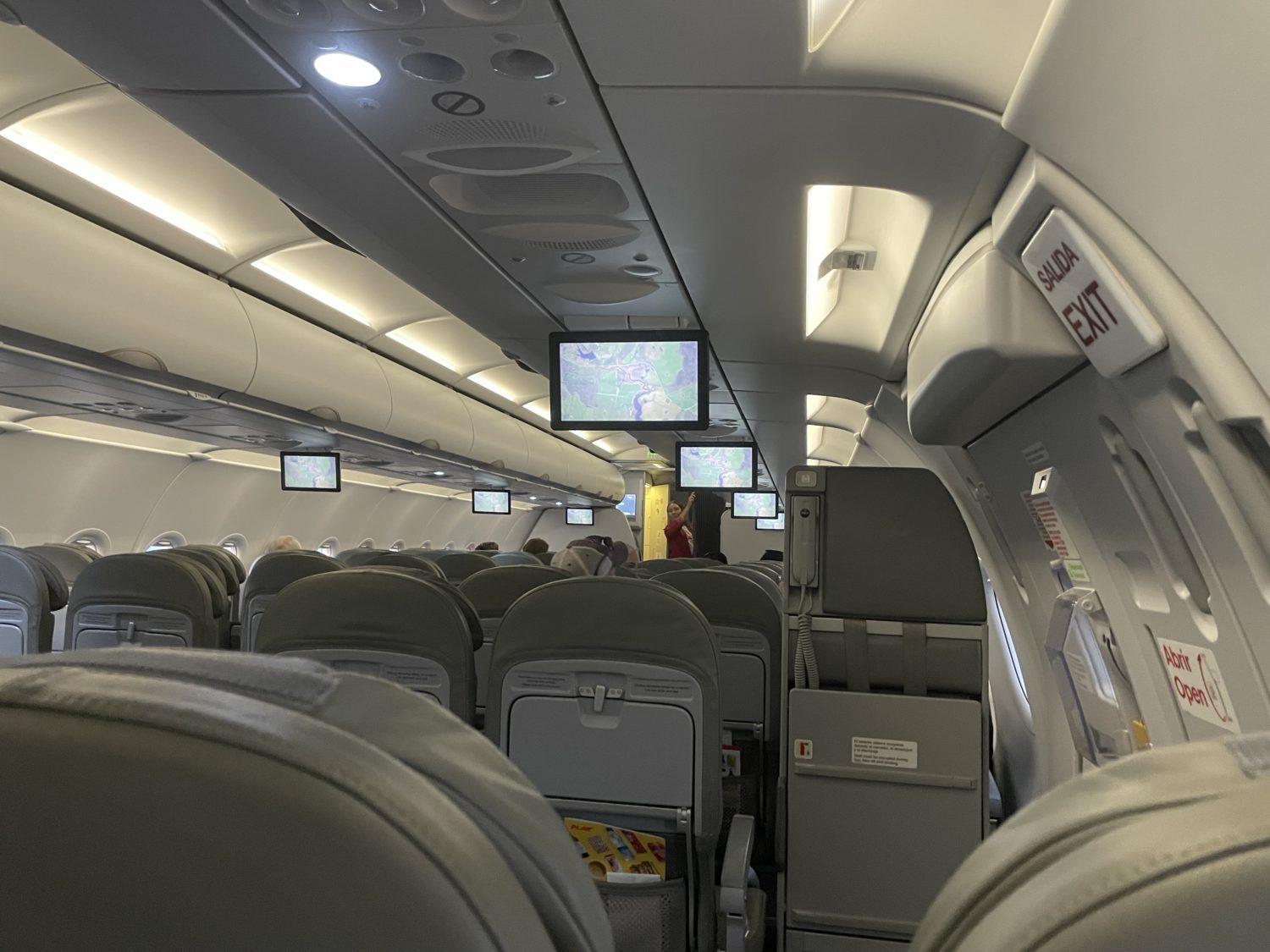 Finally, the lavatories were about as standard as an airplane lavatory gets. No special frills here, either: Toilet, sink, soap, towels, tissues, door. Pretty basic.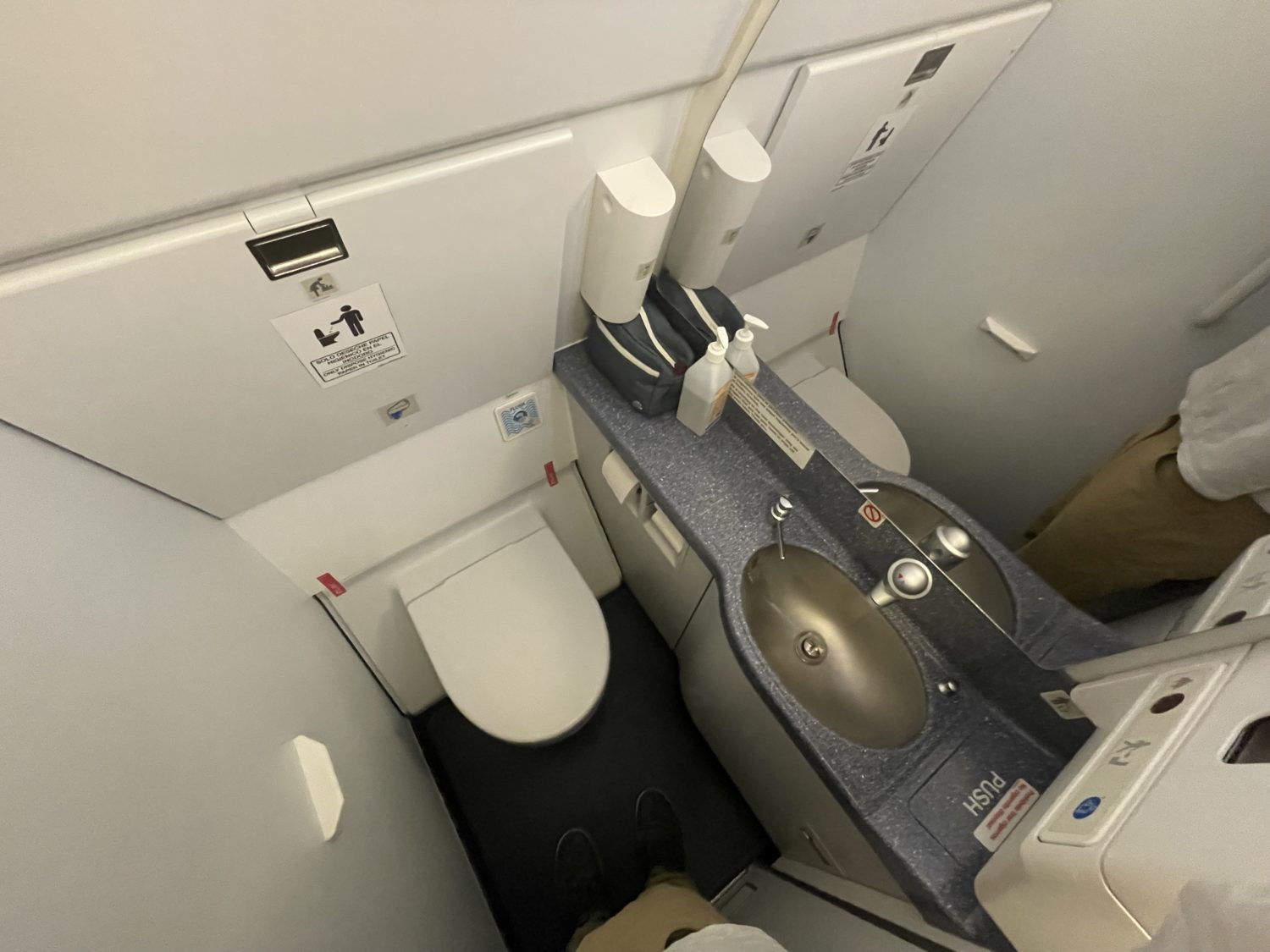 PLAY Airline In-Flight Entertainment Review
There was no Wi-Fi, entertainment options, or any way to access messaging at all on the PLAY Airlines flight. This, among other things, is where the airline cuts corners to keep fares as low as they are.
Don't expect a screen at your seat to watch anything. Instead, TV screens positioned every four or five rows lowered from the ceiling of the plane. The screens featured the flight tracker, but no entertainment.
When it comes to entertainment on PLAY, you're on your own. Make sure you have plenty of movies and TV shows downloaded or you have a good book.
Seats, Legroom and Baggage Review
Like any low-cost carrier, you'll have to pay separately for seats and baggage too.
PLAY is a 100% economy operation – you won't find anything like Spirit's Big Front Seat or Icelandair Saga business class onboard. There are some extra legroom seats at the front of the plane as well as in exit rows, however – and as you might expect, those will cost you more.
The prices vary from flight to flight, but you can generally expect to pay more for a seat at the front of the plane than something in the back. Prices on flights typically range from as low $5 USD for a seat at the back to about $30 for something closer to the front. Extra legroom seats will run you $30 to $40.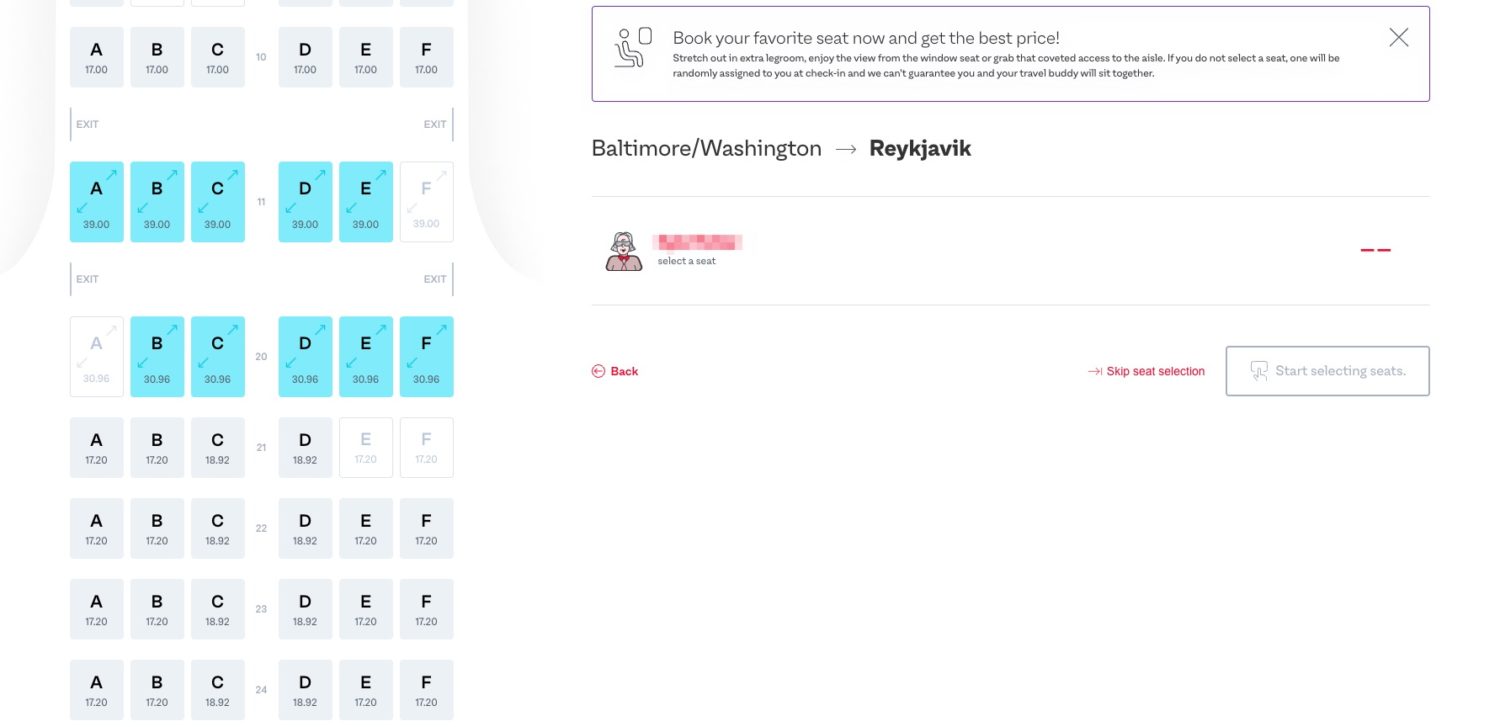 You'll get the lowest prices on seats by paying during the booking process. Don't want to pay? You'll get automatically assigned a seat during check-in.
Like we mentioned above, the legroom on our PLAY flight was surprisingly good. If you want to guarantee yourself a good legroom seat, you'll want to book one of those seats highlighted in blue, which are exit rows or bulkhead seats.
Baggage will cost you, too – all you get for free flying PLAY is a personal item like a backpack that goes under your seat. Once again, the fees vary from flight to flight – and your best bet to get a better deal is by adding a bag during the check-in process.
On flights from the U.S. to Europe, a bundle with a carry-on bag and priority boarding costs $26 to $37 USD, while checking a bag (of up to 44 pounds) costs $32 to $46 USD.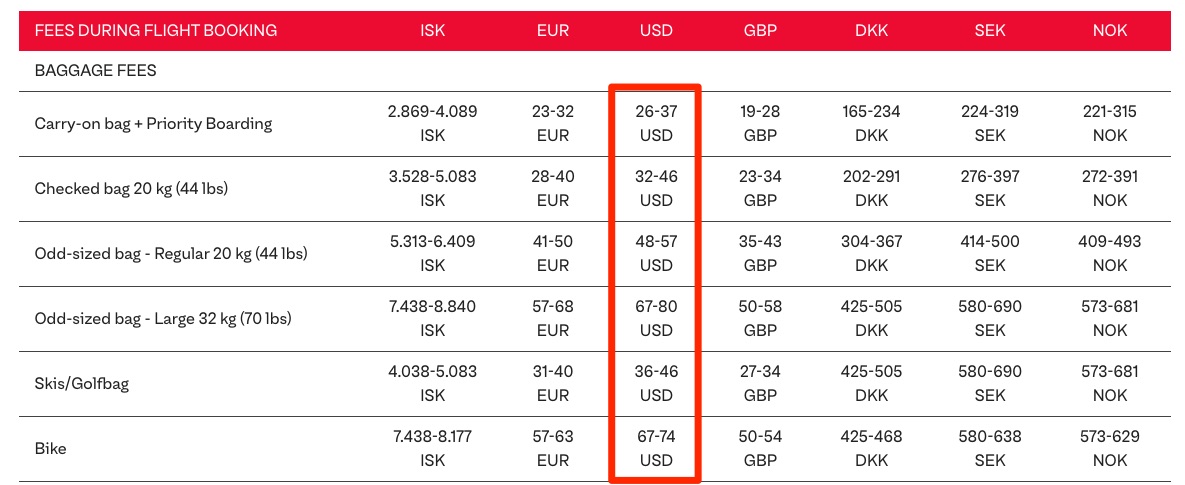 Checking In Snafus and Solid Service Review
As there weren't many people on the inaugural flight Wednesday night, the check-in and boarding process with PLAY was pretty smooth in-person.
But there were some technological bumps in the road as I readied to fly with PLAY in April. Three days before the flight, I discovered that my birth date was incorrect on my reservation. My birthday, April 1, was listed as March 31. I reviewed my sister's reservation, too, which also showed her birth date listed one day earlier than what we initially entered. It was clear this wasn't a user error, so what gives?
I emailed, tweeted, and WhatsApp messaged PLAY support – I couldn't find a dedicated phone line. Within about seven minutes, they messaged me back via WhatsApp. Their responses were in Icelandic, so I had to employ Google Translate to figure out what they were saying for the first few messages, but they were able to fix both mine and my sister's birthdates for me in about 30 total minutes.
The airline said there's a system-wide error for birthdates: Apparently, the PLAY system didn't properly account for timezone changes for U.S. customers entering information on their Iceland-based network. Whoops.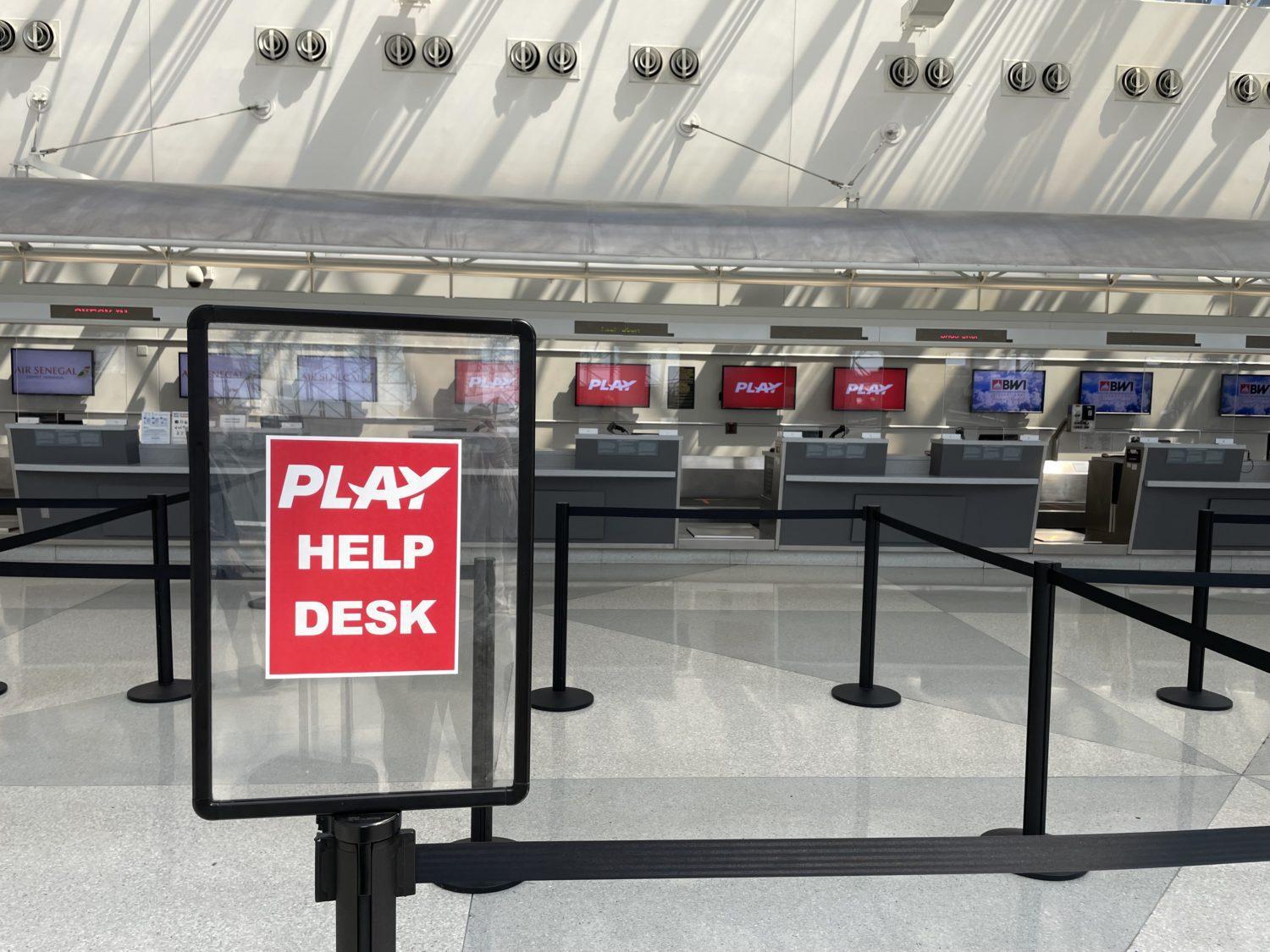 Then, 24 hours before the flight, PLAY urged customers to check-in online to save time at the airport. But the PLAY website wouldn't allow us to check in due to "technical difficulties. We later found out were related to our TSA PreCheck Known Traveler Numbers, so we went to the check-in counter at Baltimore's big, beautiful, but sparse international check-in area to do so.
The in-person check-in was smooth. A cheerful PLAY rep worked with a large team of other PLAY agents probably there to ensure a smooth day one at BWI were able to check us in at the counter.
Sadly, PLAY had not yet set up its relationship with TSA PreCheck, so no travelers on the PLAY flight were able to use PreCheck – every customer had to take shoes off and pull laptops out for the flight.
From there, the rest of the process was easy. There were speeches from the airport's CEO and the PLAY Airlines CEO, followed by a ribbon-cutting ceremony. That slightly delayed the boarding process, but another small army of gate agents were able to board everyone pretty quickly.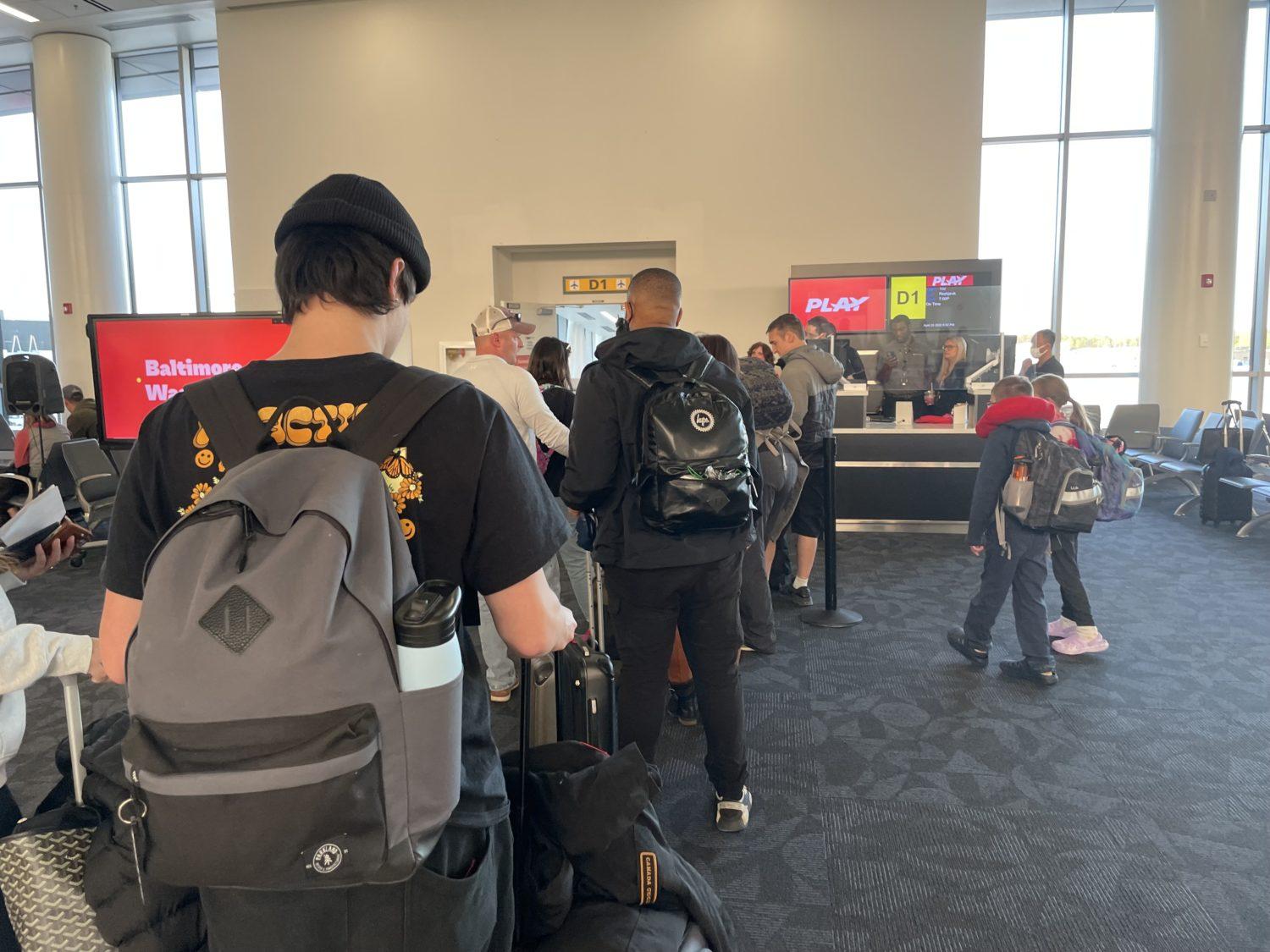 On the ground in Iceland, it was business as usual. Like all arriving flights in Reykjavik, we disembarked onto the ground and were swept away to immigration by bus, giving us one last look back at the big red plane that brought us there.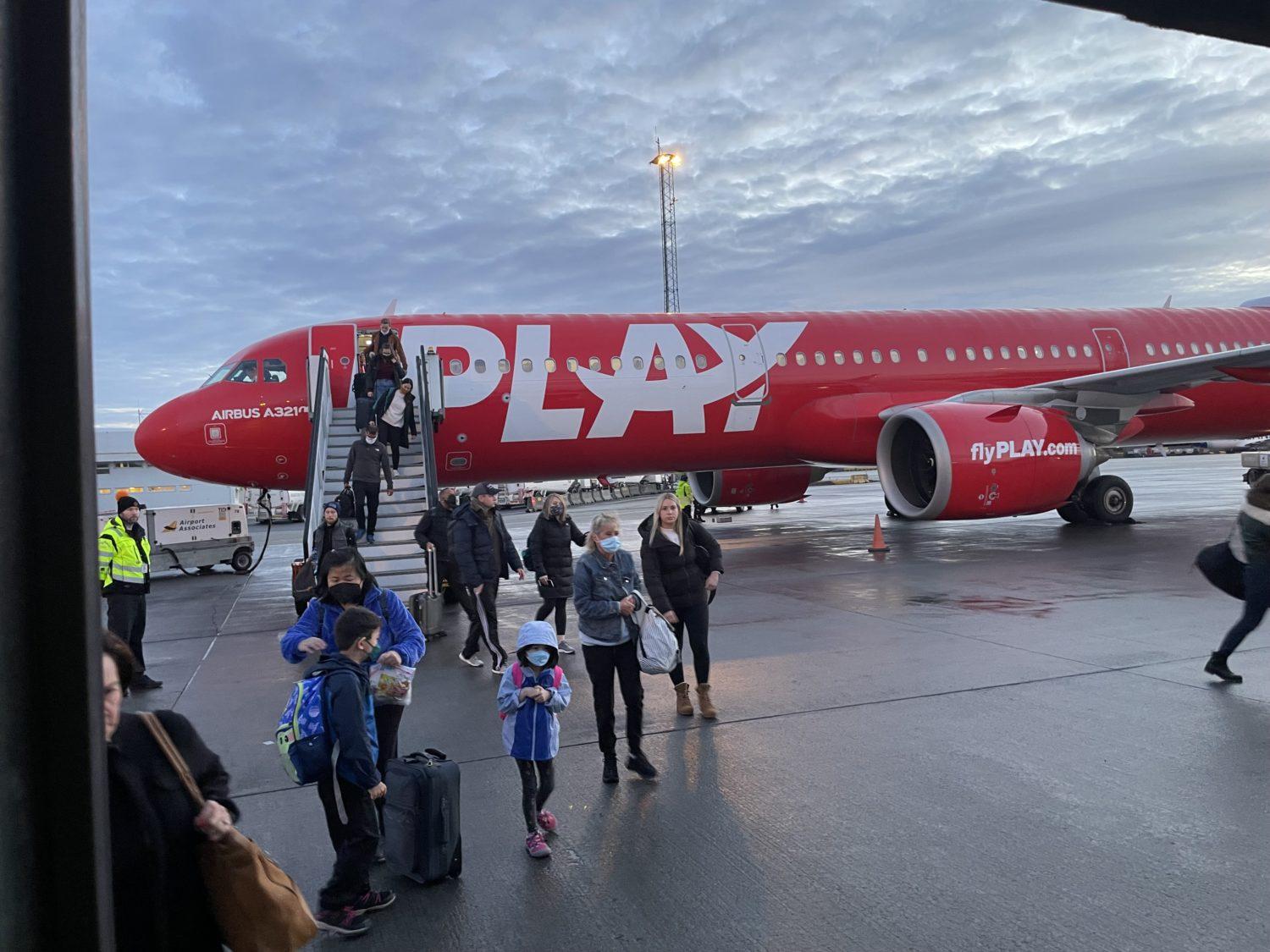 How to Book PLAY Airlines
Looking to fly on a budget? PLAY Airlines is a great way to do just that.
PLAY Airlines fares are best booked at the airline's website: flyplay.com.
The site's flashy, silly (you could say playful…) design puts a sheen on its barebones fares you can find with the airline. But like any flight, the best place to start your search for a good deal is by searching with Google Flights.
At Thrifty Traveler, we don't accept freebies. We use points & miles or our own cash to pay for every single flight or hotel you see reviewed here – including this one.
Google Flights and its calendar tool allow you to zero in on the dates with the very lowest rates for your travels on the airline to Iceland or onward to Europe. By the end of 2022, when it completes its expansion into the United States by adding Boston (BOS), Orlando (MCO), and New York-Stewart (SWF), PLAY will be connecting the following cities through its Iceland hub.
What do you think of PLAY Airlines launching flights to New York? We think it's exciting, and the airline's presence in the NYC metro area is a great way to help keep other airfare down, too.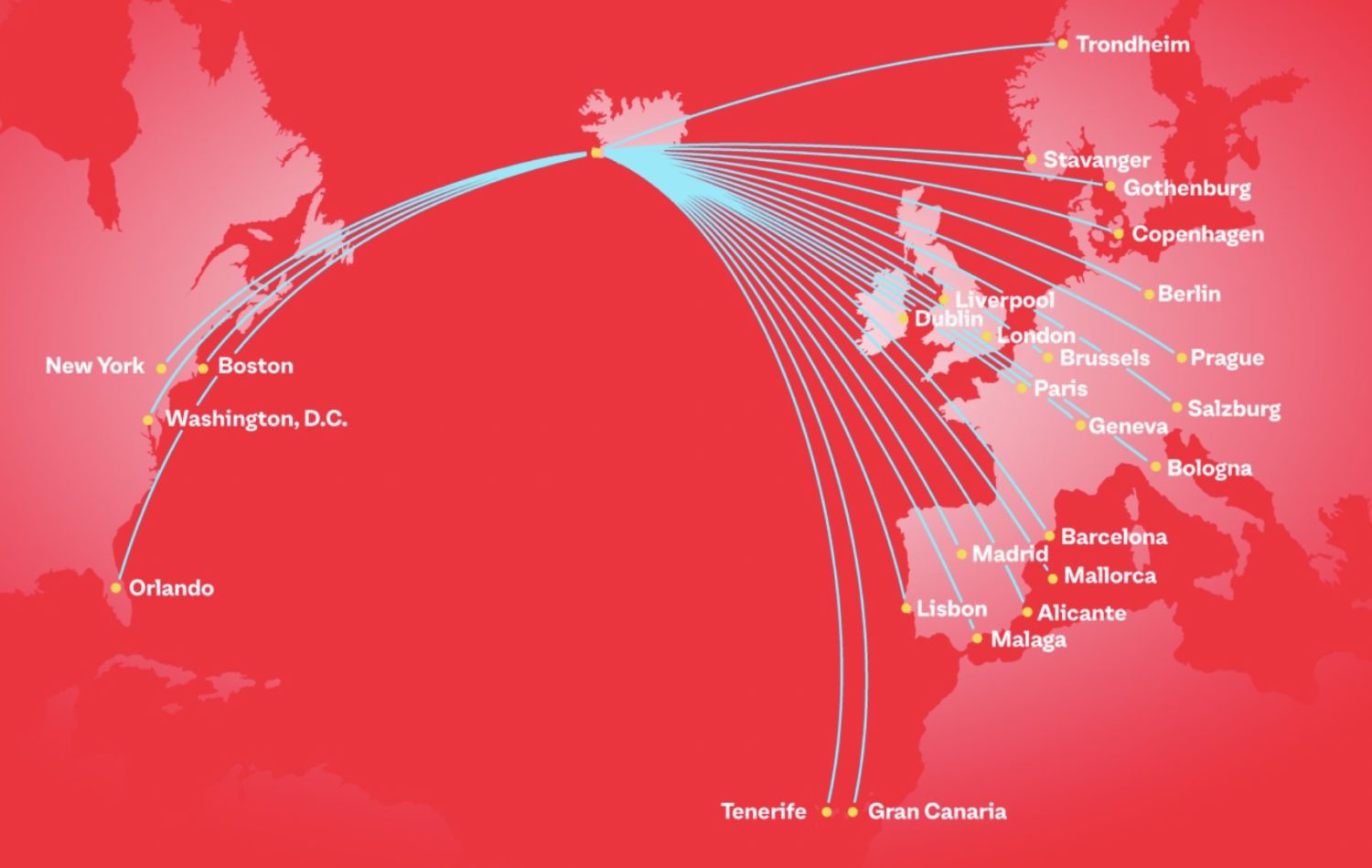 At FlyPlay.com, the airline asks you to put in your origin airport and desired destination on the home page, and then asks how many travelers will be with you. For our example, we'll use a similar BWI-KEF search.
Then, you select your dates of travel using the airline's flight calendar, similar to Google Flights.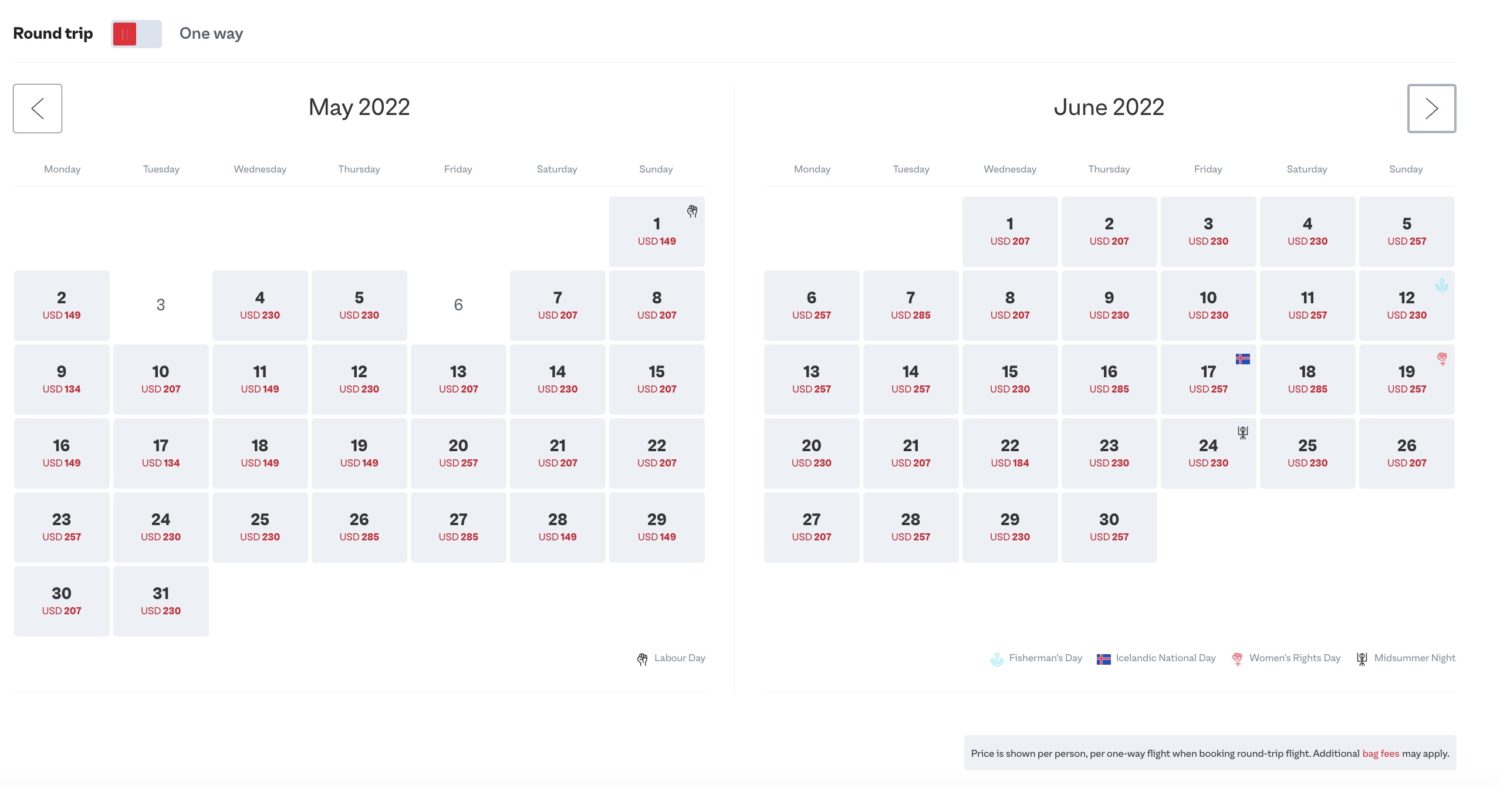 After selecting the dates, you choose your flights. If you're flying to or from the U.S., there's usually only one daily option, so this part is relatively easy. Then come all the add-ons and fees we've come to expect from ultra-low-cost-carriers.
The airline is pretty good about being up front about its fees, listing them right out in the open on this page. Every passenger gets a personal item, but carry-ons and checked bags will cost you more. Then, you move on to seat assignment. After choosing your seats on both legs of your flight, you will be sent to the checkout page where you can review your booking info and pay.
Notably, PLAY Airlines does not accept American Express cards, so make sure you have a Visa or Mastercard you can use to make the transaction.
Read more: Why You Should Always Book Flights with A Credit Card
After booking, you'll get an email confirmation with a PDF containing all of your booking information. You can manage your booking at any time at PLAY's website.
But are PLAY Airlines tickets refundable? The answer is usually no. The lowest, most attractive fares can be changeable for a fee, but most are not refundable, unless you upgrade to the highest PLAY fares.
Did you find this Play Airlines Review helpful?
PLAY Airlines joined the transatlantic tussle in a big way this year with a fanfare-filled, budget-friendly inaugural flight from Baltimore (BWI) to Reykjavik (KEF) in April.
The no-frills airline does not offer inflight amenities like snacks, drinks, Wi-Fi, seatback screens, or in-seat power, which it skips in order to bring consumers cheap flights to Europe. Some technological woes made the check-in process glitchy and not having a relationship with TSA PreCheck was a small bother to travelers on the inaugural journey from the U.S. to Europe.
However, we were surprised at the space and comfort level of the seats on PLAY's A321neo and were pleased with PLAY's customer service through WhatsApp to address our issues in the days leading up to the flight.
We were surprised by many parts of the experience flying PLAY, and I would fly the airline again for the right price. Would you fly this new Icelandic budget airline?
PLAY airlines FAQs
Is PLAY airlines real or a scam?
PLAY is a legitimate, new Icelandic low-cost airline offering affordable flights between North America and Europe.
What planes does PLAY airlines use?
PLAY airlines operates a fleet of Airbus A320neo family aircraft with a hub at Keflavík International Airport (KEF) in Iceland.
How many planes does PLAY have?
Currently, PLAY airlines has a fleet size of 5 aircraft under its operations: two A320neos and three A321neos.
How long has PLAY airlines been around?
PLAY airlines was founded back in July of 2019, but went under a different name before officially rebranding to PLAY airlines in November of the same year.
Which airlines fly to Iceland?
Delta, Icelandair, United, and now PLAY airlines all fly the most frequently from the U.S. to Iceland.
How long does it take to get flight compensation from PLAY airlines?
It depends. We recommend promptly requesting refunds for canceled flights from PLAY and following up routinely to make sure your refund goes through.
Can you book a baby car seat on PLAY airlines?
Yes, you can.
What if PLAY airlines cancels your flight?
If PLAY Airlines cancels your flight, you are due a refund by law. Here's what you should do when an airline cancels your flight.
How to contact PLAY airlines customer service?
The best way to contact PLAY Airlines is virtually. The airline does not have a customer service phone number. It does have an Instagram, Facebook, WhatsApp, and Twitter and through a chat bot called Playfin.
Find all of those contact methods on PLAY's contact page.
How to cancel a PLAY airline flight online?
The best way to cancel your PLAY Airlines flight online is to contact a customer service representative through PLAY's contact page.