With 2,500-plus cancellations for a third consecutive day and millions of Americans left stranded by their unprecedented meltdown, Southwest's top executive says the airline should be running more smoothly by the end of the week – maybe.
"We're optimistic to be back on track before next week," CEO Bob Jordan said in a video released by the airline Tuesday evening, his first public comments since the mass cancellations began last week. "We're doing everything we can to return to a normal operation. And please also know that I am truly sorry."
But with more than two-thirds of the airline's flights scrapped on Wednesday and the same already on tap for Thursday, there's no guarantee Southwest will be getting more planes off the ground before the week is over. By canceling flights en masse this week, Southwest is hoping to buy time to get its crews and planes in place to restart operations.
After a year marked by mass disruptions as airlines struggled to keep up with surging travel demand, Southwest's year-end meltdown is the biggest yet, dominating the national news cycle for days. Consider this: In the four-day stretch from Sunday through Wednesday, Southwest is on track to cancel at least 9,700 flights – more than the roughly 8,700 flights it canceled over a six-month span from July through December 2019, according to Bureau of Transportation Statistics data … and also more than Delta and United combined canceled in the entirety of 2019.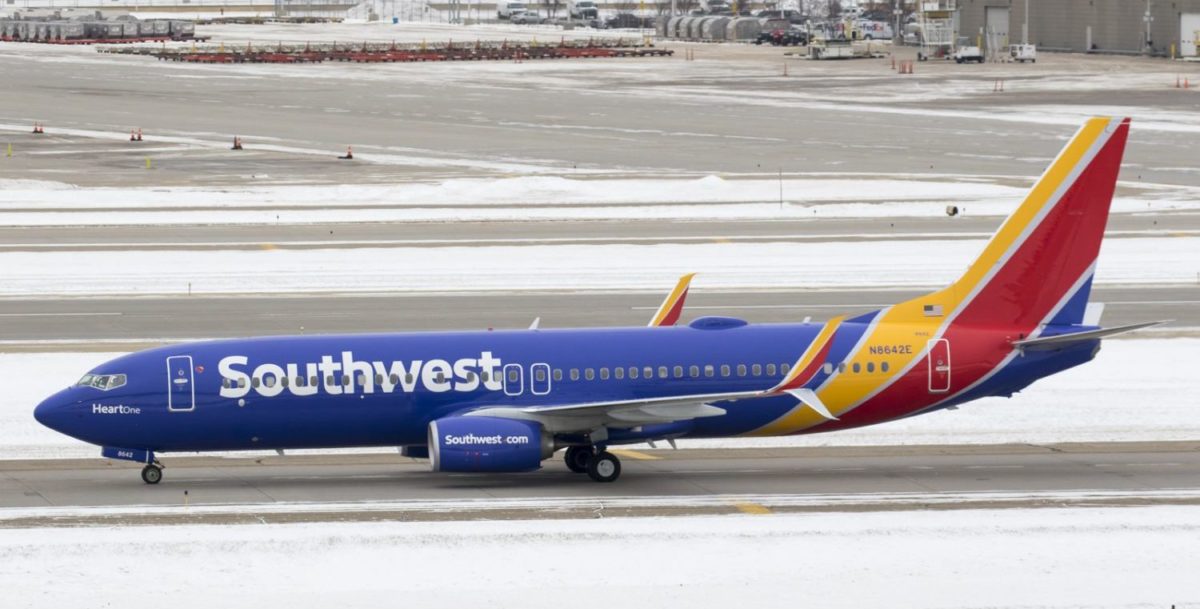 While a historic winter storm last week pushed other U.S. airlines to their limits, it's clear now that it simply broke Southwest, leading to another week's worth of problems even as other carriers resumed flying smoothly. There are more than a few reasons why Southwest may have fallen apart, including:
Last week's snow and subzero temperatures hammered some of its important airports like Denver (DEN), Chicago-Midway (MDW), Baltimore (BWI), and others, some of which aren't as well-equipped to handle severe winter weather
Unlike other major carriers that fly out of their hub airports and back again, Southwest's network is structured differently: Their planes fan out across the nation, flying from point to point to point. It works well when skies are clear, but that model can make it more difficult to catch up when things start to go wrong
Most importantly, an antiquated crew scheduling software essentially broke under the pressure, forcing Southwest to try to manually assign pilots and other crew to thousands of flights, according to a memo obtained by aviation watchdog xJonNYC
After initially blaming only the bad weather for the spate of cancellations, Southwest executives have since admitted that their own technology has been a major culprit.
"Clearly we need to double down on our already-existing plans to upgrade systems for these extreme circumstances so that we never again face what's happening right now," Jordan said in his video.
All the while, millions of Americans booked to fly with Southwest this week are trying to salvage their trips … with no guarantee of when Southwest would get up-and-running again. Social media is filled with photos and footage of long lines at gates and Southwest help desks and hundreds of bags piled up waiting to be claimed.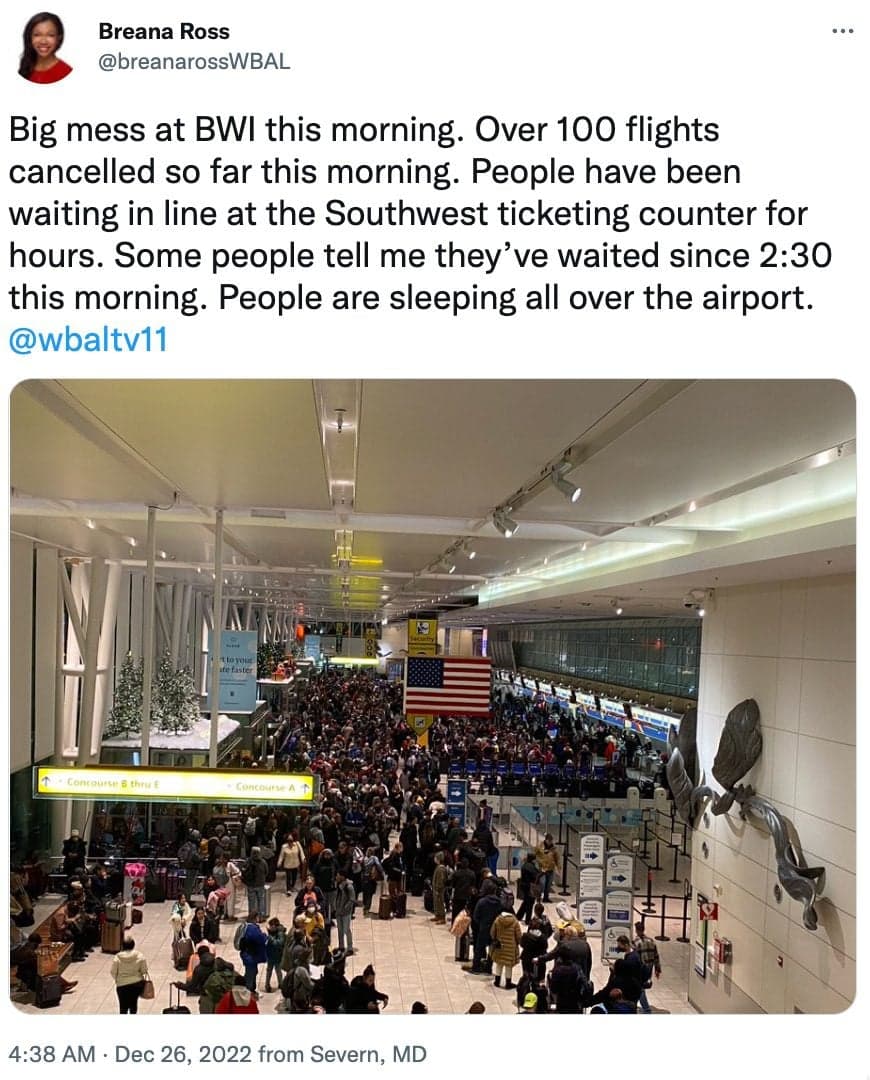 Read next: I'm Supposed to Fly Southwest Tomorrow – Here's What I'm Doing About It
On Tuesday, Southwest opened a dedicated page for affected customers to claim a refund for their canceled flights – one of the few rights enshrined in U.S. law for travelers when airlines delay or cancel flights. But there's also guidance for customers to submit claims for "reasonable requests for reimbursement for meals, hotel, and alternate transportation."
A Southwest spokesman confirmed to Thrifty Traveler on Tuesday that "alternate transportation" would include flights booked on another airline. But what's considered reasonable? That's solely up to Southwest: There's no legal requirement for airlines to compensate travelers for these massive disruptions – or even to feed customers or put them up in a hotel when they get stranded overnight.

Read our op-ed calling for greater rights & protections for passengers when airlines cancel flights!
Southwest hasn't said what it will consider reasonable. A spokesman declined to put a dollar figure on it, saying only that requests for reimbursement "will be reviewed on a case-by-case basis."
Booking a last-minute flight after your first airline cancels is almost always expensive – especially during a busy holiday travel season, when many flights are sold-out or close to it. After canceling all their flights from New York City-LaGuardia (LGA) to Denver (DEN) today, will Southwest consider a $1,392 (or more) one-way United fare reasonable? Will they cover some, none, or all of that expense? The airline won't say.
But Southwest will be under pressure to deliver, as both the Department of Transportation and lawmakers in Congress call for swift refunds and reimbursements for passengers.
"For those travelers whose holidays have been ruined, there is no real way for Southwest to make this right," Democratic Sens. Edward Markey and Richard Blumenthal said in a joint statement on Tuesday. "But the company can start by fairly compensating passengers whose flights were canceled, including not only rebooked tickets, ticket refunds, and hotel, meal, and transportation reimbursement, but significant monetary compensation for the disruption to their holiday plans."
Department of Transportation Secretary Pete Buttigieg has been pushing airlines for more all year, asking airlines to commit to covering additional costs during disruptions and setting up a public dashboard for travelers to track what they may be owed. In interviews on Tuesday, he stopped far short of calling for greater passenger protections in law, instead making clear he'll keep up the pressure to ensure travelers get reimbursed for their additional costs.
"We're going to be holding them accountable to those commitments and expect them to go above and beyond," Buttigieg told PBS News Hour Tuesday evening. "I'll be watching very closely to make sure that they follow through."
"Anyone whose flight is canceled is entitled to a cash refund," he added. "That should be a prompt refund."