Looking to put your SkyMiles to good use? Look no further than Delta SkyMiles flash sales.
Using SkyMiles for big value has gotten harder over the years, thanks to its unpredictable and ever-changing award prices. But these frequent flash sales are the big exception. Delta frequently sells award flights within the U.S., to Europe, Asia, the Caribbean, and elsewhere at huge discounts. Sometimes these sales are advertised; other times they're secret – but we find them anyway and send them to Thrifty Traveler Premium members.
After devaluations and eliminating other sweet spots, these Delta SkyMiles flash sales are easily the best way to use your SkyMiles. And even during the pandemic, these steep sales have made a massive resurgence. What other airline program will get you to Puerto Rico or Hawaii for just 10,000 miles roundtrip? Or roundtrip in business class to Europe or Asia for under 100,000 miles?
But what's going on here? How do these SkyMiles flash sales work? What's Delta up to? How can you find them? 
All About Delta SkyMiles Flash Sales
Big-time bloggers and so-called "experts." love to bash Delta for its dynamic award pricing, sky-high rates to fly business class, and unpredictability. And while that's frustrating, these insane deals are the upside.
A quick lesson:
Years ago, Delta got rid of its award chart – the cheat sheet most airlines use that governs how many miles you need to fly from Point A to Point B. These days, that rate changes based on demand, time of year, cash price, and other factors. That means the amount of SkyMiles you need to book a flight can vary wildly.
And while that comes with a big downside – unpredictable rates that can swing drastically day by day, and often 250,000 SkyMiles or more to fly business class – there's a major upside for travelers. Delta is now untethered.
That gives Delta the freedom to cut award rates however it sees fit. Call them SkyMiles flash sales or SkyMiles deals – call them whatever you want. They can be amazing. Sometimes it's an easy way to save a few thousand SkyMiles on a trip. Other times, you'll save 50% of your miles or more, making it easily the cheapest way to travel with miles. Like SkyMiles themselves, the deals vary greatly.

If you're flexible, willing to go wherever you can for a good price, these deals are unbeatable. There's no telling when Delta will cut award rates on flights to the Caribbean islands. Or Mexico resort towns. Or top spots all across Europe or Asia.
Sometimes Delta posts these publicly on its ongoing list of SkyMiles Deals page. But we find even better, unadvertised deals and send them to our Thrifty Traveler Premium subscribers instantly.
American has started flirting with sales like these through what it calls "web special" fares, as has United. But neither airline has gone nearly as far as Delta – both a good and bad thing.
A Slew of Recent SkyMiles Flash Sales
As travel collapsed over the spring and summer of 2020, these Delta SkyMiles flash sales all but disappeared. But now they're back with a vengeance.
Recently, we've found some of the best-ever SkyMiles flash sales with deeply discounted rates to Hawaii, Alaska, Mexico, Europe, Puerto Rico, Costa Rica, and beyond. Here's a small sample of the best recent deals we've found.
Thrifty Tip: SkyMiles are one of the best ways to book your future travel, as you can easily cancel any award booking and get your SkyMiles (plus any taxes and fees) back for free.
Want the next crazy SkyMiles flash sale like this? We find unpublished sales and send them to Thrifty Traveler Premium members, along with cheap domestic and international cash fares.
All of these Delta SkyMiles flash sales have popped up within the last handful of months, for travel into 2022. In almost every case, these dirt-cheap rates disappeared within just a few days, so many of these sales are no longer available.
But unlike the SkyMiles deals from years ago, Delta is rarely advertising these sales. You have to dig to find these unpublished deals – or get them straight to your inbox with Thrifty Traveler Premium.
The Best-Ever SkyMiles Flash Sales
Over the years, we've seen some truly incredible Delta SkyMiles flash sales. Combined with the recent stretch of equally incredible deals gives us confidence they'll continue, giving SkyMiles a much-needed boost.
And yes, that includes fares flying Delta One Suites. Delta may normally charge 200,000 SkyMiles or more each way to Europe or Asia, but these flash sales can help you snag a serious bargain.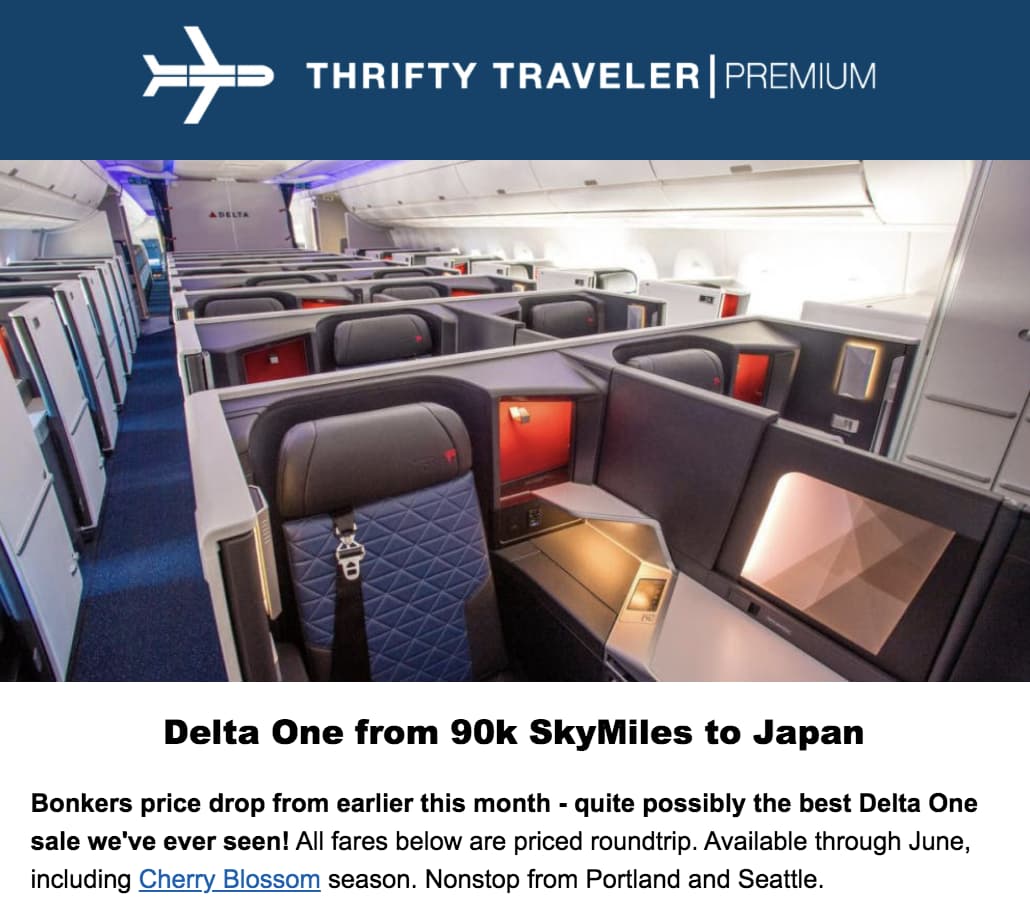 Here are just a few of the absolute best SkyMiles flash sales we've seen over the last two or so years:
90,000 SkyMiles to fly Delta One to Japan and back!
Or 98,000 SkyMiles to fly almost anywhere to Europe in business class roundtrip
A nationwide flash sale to Paris-Charles de Gaulle (CDG) from just 20,000 SkyMiles total
Fly to London-Heathrow (LHR) and back for only 14,000 SkyMiles!
Roundtrip flights to China for just 30,000 SkyMiles!
Get to Lima (LIM), Bogota (BOG), or Quito (UIO) for as low as 12,000 SkyMiles roundtrip!
Many of these flash sales are deeply, deeply discounted – and not just compared to Delta's normal rates, but what you'll pay using other airline miles like American AAdvantage miles or United Mileage Plus.
For example, American would typically charge at least 70,000 AAdvantage miles for a roundtrip flight to China. One of these Delta SkyMiles flash sales could get you there and back for less than half the miles.
Limitations of SkyMiles Flash Sales
Let's be clear: While these Delta SkyMiles flash sales can be amazing, they're far from perfect.
Many of the same basic rules that govern how Delta sets SkyMiles award pricing apply to these great flash sales. Most importantly: You'll need to be flexible. 
If you've got travel plans set in stone, the odds that a SkyMiles flash sale will get you to London or Tokyo next summer on the dates you've decided on are slim. But if you're nimble and have some SkyMiles to book a trip to wherever the next great flash sale can take you, SkyMiles and these flash sales are close to unbeatable.
While steep business class flash sales do exist, they're rare and unpredictable. There's no question that SkyMiles have lost almost all their luster when it comes to booking premium cabin awards, especially after a pair of massive devaluations for partner awards on airlines like KLM, Virgin Atlantic, and China Airlines.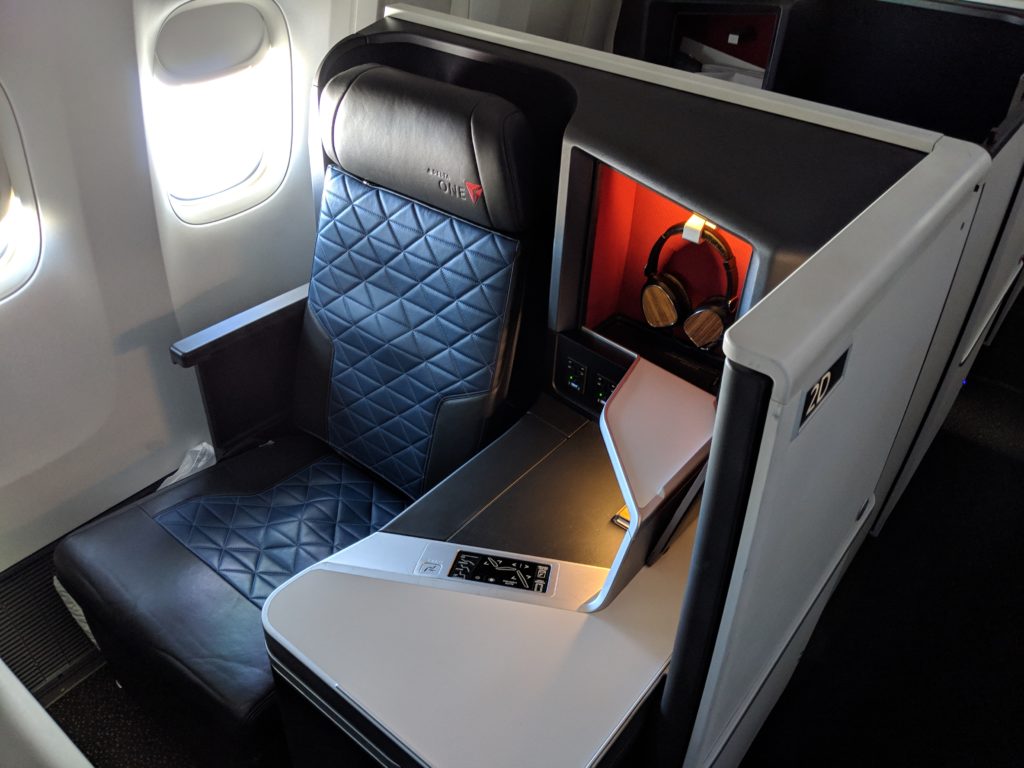 And unfortunately for flyers in Delta's hubs, the biggest savings rarely extend there. We call it the SkyMiles Hub Penalty. Delta hubs like Atlanta (ATL), Minneapolis-St. Paul (MSP), Salt Lake City (SLC), and more will still find some discounts when these flash sales pop up. But in many cases, you'll find the lowest award rates from other airports where Delta isn't as strong. 
Delta Holds All the Cards
Despite some of the amazing deals you can get through these flash sales, it's important to point out: Delta is at the wheel.
Delta decides what routes it will slash rates on, and when. In that way, it's not much different than how airlines handle cash prices. It's another reminder that Delta is increasingly treating SkyMiles flights like cash fares.
SkyMiles are just getting more unpredictable. The upside, of course, are some incredible award flights at prices you'll never find on competitors. But Delta holds all the cards here. The airline is using these fares to boost SkyMiles' reputation, all while steering you and I toward the flights it wants us to take.
Typically, that means fewer redemptions where you get outsized value from burning your miles versus using your cash. But there's still no question these are the best way to use your SkyMiles.
Read up on our tips to maximize your Delta SkyMiles in 2021 and beyond!
Earn SkyMiles for the Next Great Sale
Want to hop on the next great Delta SkyMiles flash sale? Or a few of them? You're in luck.
Delta and American Express are out with offers to earn up to 50,000 SkyMiles from a single credit card. That makes it easy to earn a big stash of SkyMiles and wait for the perfect – especially since SkyMiles never expire.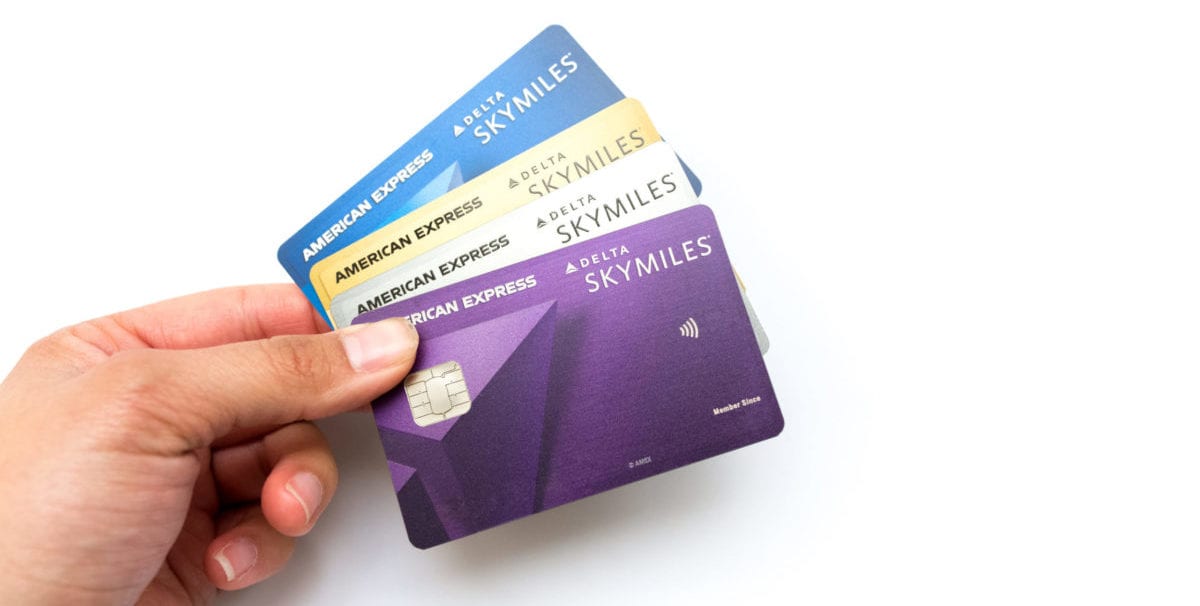 You can earn 40,000 SkyMiles on the Delta SkyMiles® Gold American Express Card after spending just $1,000 within the first three months. Plus, earn up to $50 back in statement credits for purchases at U.S. restaurants with your card in the first 3 months of card membership.
You'll get a free bag on every Delta flight you take, plus priority boarding and other benefits. Best of all, the card has a $0 introductory annual fee and then just $99 each year after that (see rates & fees).
It gets even bigger with the Delta SkyMiles® Platinum American Express Card: You can earn 50,000 SkyMiles and 5,000 MQMs after spending $2,000 in the first three months. Plus, earn up to $100 back in statement credits for purchases at U.S. restaurants in the first 3 months of card membership.
You'll get the same baggage and boarding benefits, plus a free companion certificate to use on almost any domestic ticket starting in your second year with the card.
Want SkyMiles and Delta Medallion Status? Check out the Delta SkyMiles® Reserve American Express Card, which comes with a welcome bonus of 50,000 SkyMiles after spending $3,000 within three months – plus a 10,000 Medallion Qualifying Miles (MQMs) boost! Plus, earn up to $100 back in statement credits for purchases at U.S. restaurants in the first 3 months of card membership.
On top of baggage benefits and a companion certificate, you get lounge access at Delta Sky Clubs and American Express Centurion Lounges. And you can keep building your Delta status with boosts of 15,000 more MQMs for each $30,000 you put on your Reserve card (up to four times a year.)
Otherwise, look at the American Express® Gold Card. It's one of the best credit cards, period, thanks to the 4x points it earns at both restaurants worldwide and U.S. supermarkets (on up to $25,000 each year). You can get a 60,000-point welcome bonus after spending $4,000 within six months – but check to see if you qualify for a massive 75,000-point bonus via CardMatch!
Then just wait for the next great SkyMiles flash sale that works for you and transfer your Amex points straight to your Delta account!
Bottom Line
It requires some flexibility, but these Delta SkyMiles flash sales are the best way to use Delta miles – and it's not even close. 
Delta is offering pricing on hundreds of routes that other airlines simply cannot compete with. So keep your eyes peeled for the next deal.