Travelers looking for flights for a trip this spring, summer, and beyond are confronting the same problem: Flights can be really expensive right now – in some cases, we're seeing some of the highest airfare in years. But, that's not the full story…
It's been a rude awakening for travelers after two-plus years of unbelievable pandemic bargains: Think sub-$50 domestic flights on major carriers, $200 roundtrip flights to Europe, and even a $63 flight to Chile and back. But what's gone around has come back around as travelers face skyrocketing fares for many domestic flights and international trips, too.
Those eye-popping prices bring up a slew of questions. Why are flights so expensive right now? Can travelers expect flight prices to rise more this year? When will flight prices go down? Or will they at all?
Struggling to find a better deal on flights? Check out our quick tips on how to score a bargain right now!
Let's dig into what's happening with sky-high flight prices and see if we can find that light at the end of the tunnel, too.
Are Flight Prices Going Up?
Yes. That's undeniable. You've no doubt seen some eye-popping prices on flights lately.
It's not just you. Data released by the U.S. Bureau of Labor Statistics' Consumer Price Index shows a 25.6% increase in airfare from last January to January 2023. That means right now, on average, Americans are paying a quarter more for flights than they did a year ago. And, that year-over-year number has been even higher in previous months.
But hold up: That doesn't mean every single flight is more expensive. "Average airfare" is made up of millions of individual fares. Some are no doubt higher … but there are still many great deals out there for cheap flights. The trick is knowing how, when, and where to find them.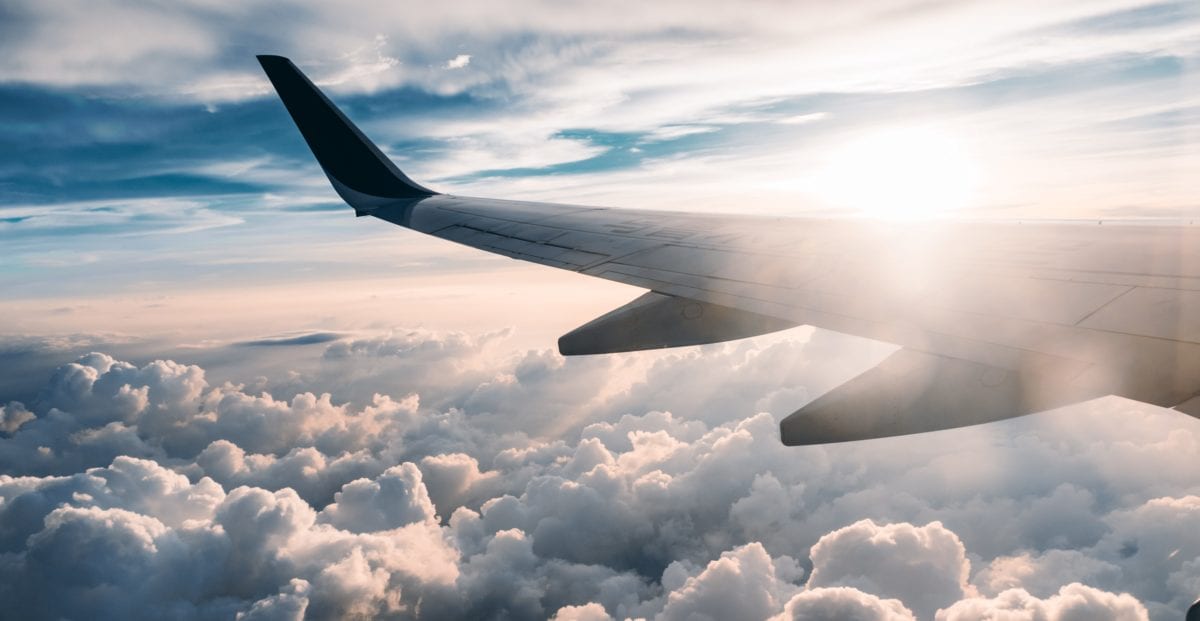 That's what we specialize in here at Thrifty Traveler. Our team of flight deal experts spends all day, every day searching for the lowest airfares and ticket prices around the world and sends them straight to the inbox of our Thrifty Traveler Premium subscribers.
We're proof that cheap flight deals are still out there – and they aren't going anywhere. It may just be a bit harder to find them than in years past.
Why Are Flights So Expensive Right Now?
So why are flight prices so high right now? It's a concept you're already familiar with: Supply and demand.
After it nearly evaporated in 2020, demand for travel is fully back in 2023 and isn't going anywhere. In fact, it might be higher than ever. That's good and bad news.
As with all things, one of the biggest factors behind flight prices is the simple law of supply and demand. When demand disappeared at the start of the pandemic a few years ago, it forced airlines to cut the supply of flights until it returned. Airlines downsized their staff, dropped routes, and reduced flight frequencies, running just 20% of their normal operations or less.
With next to no appetite for travel, they slashed fares to unthinkable lows to generate whatever sales they could, like this: A flight from Atlanta (ATL) to Santiago (SCL) that normally costs $900 or more … for just $63 roundtrip.


Want to see some more deals like this? Sign up to get our alerts for cheap flights … for free!
However, things have changed, Travel demand has steadily climbed back to levels we haven't seen since before the pandemic, outpacing airlines' ability to carry all those passengers.
Planes are regularly going out completely full now, especially within the U.S. After putting planes in the desert, retiring jets, and downsizing staff to survive the downturn, airlines have been unable to grow back to 100% fast enough to cope with this surge in demand.

As you can see, airline staffing dipped to unthinkable lows in 2020 and 2021 and airlines have gone on an unprecedented hiring tear over the last year to try to meet that rising demand. But with all the training required and a younger, more inexperienced workforce, a higher headcount isn't enough for them to do so.
Combined with ongoing pilot shortages and difficulty replacing the planes they retired, that staffing mismatch has been a major factor in rising airfare. The supply of flights has been unable to keep up with the demand to fly.
Finally, there's one critical number that will help you understand why flight prices seem to be so high right now: The cost of jet fuel is very high. 

After labor, fuel is airlines' second-biggest cost. And that's not a great trend line for airlines. Over and over again, we've heard major airline CEOs promising to pass along the cost of jet fuel to the consumer. Translation? Fares have to go up.
"Higher jet fuel prices lead to higher ticket prices," United CEO Scott Kirby told CNBC's Squawk on the Street in 2021. "Ultimately, we'll pass that through."
At the end of the day, supply and demand ultimately win out in these situations. But the high ticket prices you're seeing might also have something to do with how expensive it is for airlines to fuel planes right now.
When Will Flight Prices Go Down?
If prices are up 25% compared to last year, are they going to come back down to earth? Or will flight prices just keep rising by a quarter every year until we invent teleportation and stop flying altogether?
Although it's hard to accurately predict if prices will drop, recent data trends actually show that we're heading in the right direction.
Airfare in January 2023 was actually down 1.4% compared to the previous month. That month, December 2022, was actually 2.1% cheaper on average than November. And November was 1.6% cheaper than October on average, too. So we might be heading incrementally in the right direction, even if it doesn't always feel like it.
Plus, according to data from the lobbying group Airlines for America, when compared to pre-pandemic fares in 2019, it appears flight prices peaked in May 2022.

So was May 2022 the worst of it? Or are we heading back into even higher airfare as 2023 marches on? The next few months will be telling.
But there's one reason we're optimistic about flight prices going down in 2023: Competition. If supply and demand is the principle behind airfare, competition between airlines is the game changer.
The airline industry is cutthroat. Every year, we see new players enter and exit the game and all of those airlines – old and new – are constantly targeting their competitors, offering dirt-cheap prices to undercut each other in hopes of winning more customers.
And undercut they do. Take a look at this example from late last year.


The connection between competition and price here is undeniable. This unthinkably cheap fare to Greece from Delta was targeting American Airlines' territory in Miami (MIA), offering its competitors' customers a bonkers fare in exchange for making a connection in New York City (JFK).
It's a classic example of "fare wars" and how they always mean savings for you, the traveler.
But more importantly, the major carriers like Delta, American, and United aren't just fighting with each other anymore. With business travel not back to 100% and leisure travel roaring, even the biggest airlines have to compete with low-cost budget carriers like Spirit, Frontier, Sun Country, and new entrants like Avelo and Breeze. That's a recipe for some lower fares for the foreseeable future.
Overseas, budget carriers like PLAY Airlines and Norse Atlantic have helped spur some amazingly cheap flights to Europe – as low as $300 round-trip (or even less.)
For instance, when Norse Atlantic launched, it was offering crazy low fares flying to Oslo (OSL). So what did Delta and its partner airlines, Air France and KLM, do? They matched it.


Sure, you can snag a cheap flight on one of these barebones airlines. But they also routinely force major airlines like Delta, American, United, and their international partners to compete on price, too. And that's a win for consumers.
Read our reviews of what It's Like Flying PLAY and Norse Atlantic Airlines!
For now, we're still finding some dirt-cheap fares to Europe, though there's no question it's gotten a bit harder. The future of cheap flights hinges on that competition staying strong.
The bottom line: Average flight prices are going down, albeit slightly, and unbelievably cheap flights are still out there. You might be seeing some far-more expensive fares on the specific flights you're searching for, but healthy competition means we're heading in the right direction overall.
Where Can You Find Cheap Flights Right Now?
Seeing sky-high airfare almost everywhere you look? You're not alone. But trust us: Cheap flight deals are still out there.
Finding cheap flights is what we do here at Thrifty Traveler. We scour the globe for the lowest prices, weeding out the exorbitant fares and sending our Thrifty Traveler Premium (and Thrifty Traveler Premium+) members the best of the best deals. Here's a small sample.
While a quick domestic hop might cost you $500 or more, we've seen fares out to Hawaii from across the nation drop as low as $309 roundtrip – or under $200 from the West Coast!

Want flight deals like this one from your home airport? Try Thrifty Traveler Premium!
Seeing flights to Europe for $1,200 or more seems like the norm … but it's not. If you time it right, you can get to Paris for $476 roundtrip, Ireland this summer or fall for less than $400, or even out to Croatia for as low as $465 total.

Even somewhere dreamy like Tahiti is within reach in 2023. And with fares as low as $499 roundtrip – flying major carriers, not budget airlines – scratching it off your bucket list won't cost much.

Still not sold that you can find cheap flights? Follow these tips:
Bottom Line
Trying to predict when airfare prices will go up or down is more art than science. It can be unpredictable, given the puzzling sales we see from airlines day after day, year after year. Cash grabs, mistake fares, flash sales, and fare wars can spring up at any moment.
There are still bargains to be had now for future travel. You might be seeing sky-high flight prices right now, but with airlines increasing operations and competition heating up, we're feeling optimistic about the future of cheap flights as we all take to the skies in 2023.