Looking to fly Swiss business class to Europe? How about a lie-flat seat on United Polaris down to Brazil? Or maybe you'd like to try Lufthansa First Class? Odds are, the best way to book these flights with points and miles is using Avianca LifeMiles.
It's not quite perfect, but the LifeMiles program from Colombian airline Avianca is one of the best airline mileage programs on the planet if you're looking to fly up front … no matter where you want to go. It charges fewer miles to book first and business class on Star Alliance carriers than almost any other airline. And unlike some others, you'll never pay hundreds of dollars in additional fees when redeeming miles – in fact, it's often just $50 or less.
But the true beauty of LifeMiles is just how easy they are to earn, even if you never fly Avianca around South America. That's because you can transfer points to LifeMiles from cards like the American Express® Gold Card, Capital One Venture X Rewards Card, or the Citi Premier® Card. Frequent transfer bonuses make those credit card points go even further. And if you need more in a pinch, LifeMiles often go on sale at steep discounts.
As with any great deal, there are some tradeoffs. From a wonky website to lackluster customer service, there are also a few things you should keep in mind when considering using LifeMiles to book your flight.
But let's have a look at the award chart and some of the best sweet spots when redeeming Avianca LifeMiles and you may see that it's easily worth those drawbacks.

Avianca LifeMiles Award Chart
If you've never laid eyes on an award chart before, it can be a bit daunting – especially the Avianca LifeMiles Star Alliance award chart.
Think of it as a cheat sheet to know how many miles it should cost between two destinations. Just follow the grid in your row over to the column of your destination (or vice-versa) and you'll have the answer.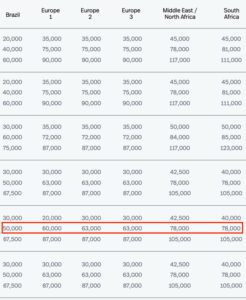 The best deals from the U.S. are on long-haul international flights in business class. On its chart, Avianca just lists the letter code for a saver level award in each cabin: X for economy, I for business, and O is first. And this award chart hasn't been updated since Avianca increased many of its award rates to Asia, so you may see some discrepancies for certain regions.
To make matters (a bit) worse, Avianca has three separate zones within the U.S. It lays out which states and countries fall within each zone below the chart.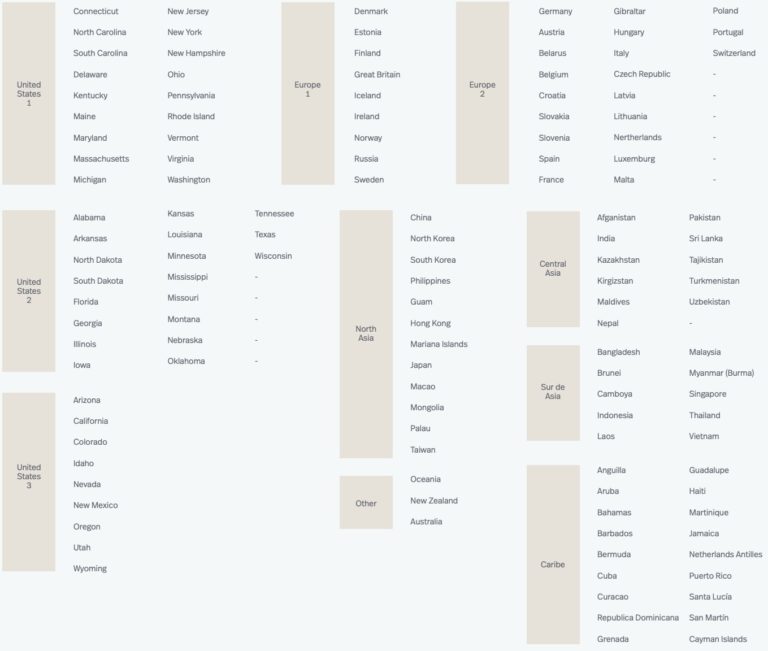 Some Routes May Be Lower Than Advertised
On most airlines, award charts are law: The price you see on the award chart are the prices you'll pay. But not with LifeMiles.
An interesting (and fruitful) quirk with LifeMiles is that you can sometimes find lower rates than Avianca advertises in its award chart. For instance…
Domestic U.S. flights are sometimes priced at 6,500 miles one-way even when they should be 7,500.
Economy flights to Europe that should cost 30,000 miles one-way are priced at 22,500 miles for certain routes like Denver (DEN) to Zurich (ZRH).
And, the best pricing quirk of all: A business class flight from New York City (JFK) to Lisbon (LIS) on TAP Air Portugal is only 35,000 miles one-way … when it should be 63,000 miles according to the chart.

Mixed-Cabin Awards
OK flying economy on one leg and business class on another? Or business class and then first class instead of first all the way? That's the key to additional savings with LifeMiles.
These are called mixed-cabin awards, and on most airlines, you'll simply pay the award rates of the highest service class. But not with LifeMiles: Avianca prices these mixed-cabin awards based on the percentage of your total trip you'll be spending in each cabin.
So let's say you want a business class seat for the long-haul flight over to Europe, but don't care to spend the extra miles for most airlines' half-hazard "business class" – economy with the middle seat blocked off, basically – on flights within Europe. If you choose to fly that short-haul flight in economy, it will save you some miles.
For example, a flight from Boston (BOS) to Athens (ATH) with a connection in Lisbon should cost 63,000 miles if you do it all in business class. But if you take the overnight transatlantic flight in business class and pick an economy award for the daytime hop from Lisbon to Greece, it would cost you just 50,750 miles. Saving over 12,000 miles could be well worth it in this case.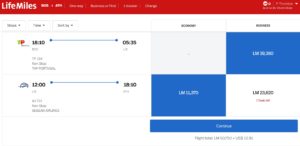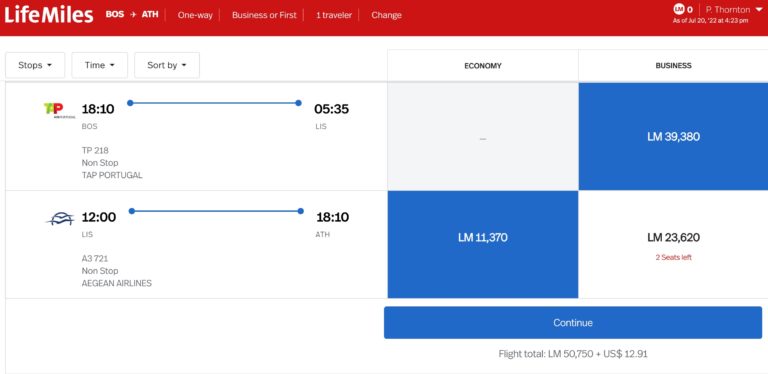 Award Sales
Avianca occasionally has short-lived award sales, which discount the standard award rates by a certain percentage. For example, last December LifeMiles had a sale with up to 40% off the regular award rates on 50+ routes to Asia.

Of course, these also hinge on award availability, which means you may not actually find the prices they advertise available – especially for business class. But you shouldn't have too much trouble finding economy awards for a discount when Avianca has these sales. Check out the dedicated deals page to see if there are any current LifeMiles award sales.
Sweet Spots Using LifeMiles
Now that you know some of the positive quirks of the LifeMiles program, let's get straight to the sweet spots. If you're flying to any of these destinations, you'll want to have LifeMiles on your radar.
Business Class to Europe for 63K Miles (Or 20K in Economy … Or Less!)
Whether you're flying nonstop from the East Coast or on a connecting flight from the West Coast, you'll never pay more than 63,000 miles one-way for a business class award to Europe with Avianca LifeMiles.
Even with another stellar Star Alliance option like Air Canada Aeroplan, you may wind up using far more miles since it's based on the distance flown – but not with LifeMiles. Best of all, you can fly Austrian Airlines, Brussels Airlines, Lufthansa, and Swiss and not get hit with the exorbitantly high cash fees that you'd pay using other Star Alliance Programs like ANA Mileage Club or Turkish Airlines Miles & Smiles.
That means you can book a nonstop flight from San Francisco (SFO) to Zurich (ZRH) flying fancy in Swiss business class for just 63,000 miles one-way and just $50 or so in taxes and fees, once you add in the additional booking fee of $25 to $35 on the final booking screen.



Read our full review of Swiss business class!
United would charge 88,000 miles for this same flight and it'd be 70,000 points if you booked with Aeroplan. Turkish may charge a lower mileage rate of 45,000 miles one-way, but the taxes and fees would total around $800 one-way – or $1,700 roundtrip. You don't want to do that. Instead, stick to LifeMiles for the best all-around rate plus cash fees if you want to book a Swiss Air flight from the West Coast to Europe.
If you happen to be flying from the Northeast U.S. to northwestern Europe, it's even less. This is because flights between the "United States 1" and "Europe 1" zones are just 60,000 miles one-way for business class or 20,000 one-way for economy, like this nonstop Scandinavian Airlines flight from Newark (EWR) to Copenhagen (CPH).

New York to Lisbon for 35K Miles One-Way in Business
This is perhaps the best sweet spot of all.
Nonstop flights from New York City (JFK) to Lisbon (LIS) for just 35,000 miles one-way in business class. That's just 5,000 miles more than it would be to fly economy! We're not sure why it prices this way, but we're not complaining. If you want to fly to Portugal, this is the cheapest way to get there in lie-flat seats.



Read our full review of TAP Air Portugal business class!
Unfortunately, it costs the normal 63,000 miles on the return flight from Lisbon to New York – and the same goes if you depart from just 30 miles away flying Newark (EWR) to Lisbon. Still, it's an incredible deal, and one that can easily be worth using a positioning flight to take advantage.
The Thrifty Traveler team loves what Portugal has to offer and it's one of the cheapest places to visit in Europe. Couple that with a cheap flight and you've got an affordable European vacation.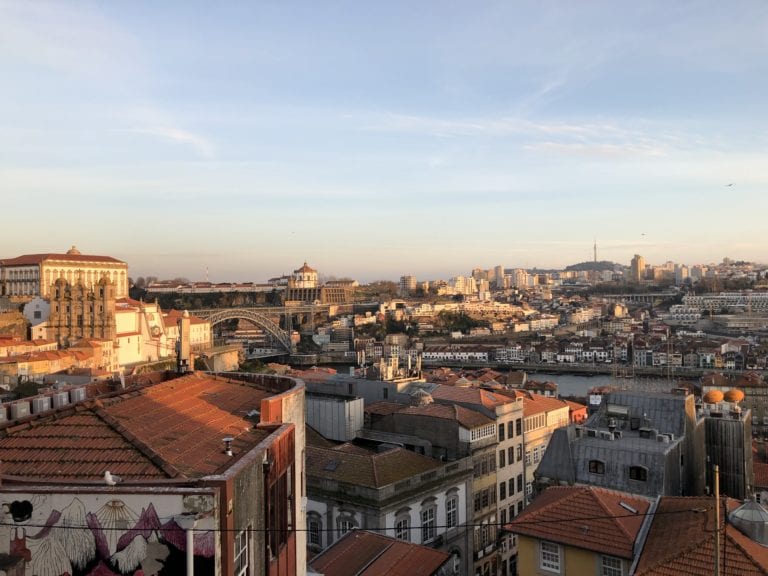 Brazil for 50K Miles Each Way in Business Class
Looking for a comfortable way to fly down to Brazil? Look no further than using LifeMiles to fly United Polaris business class for just 50,000 miles one-way.

Avianca LifeMiles is unique in that it separates Brazil from the rest of South America. While you'll typically pay 60,000 miles with other Star Alliance programs, you can save 10,000 miles if you book with LifeMiles.
Finding the award availability could prove difficult, but if a seat opens up, you'll be flying in style down to Copacabana for less.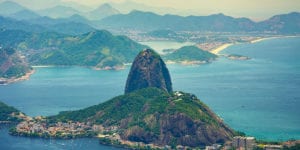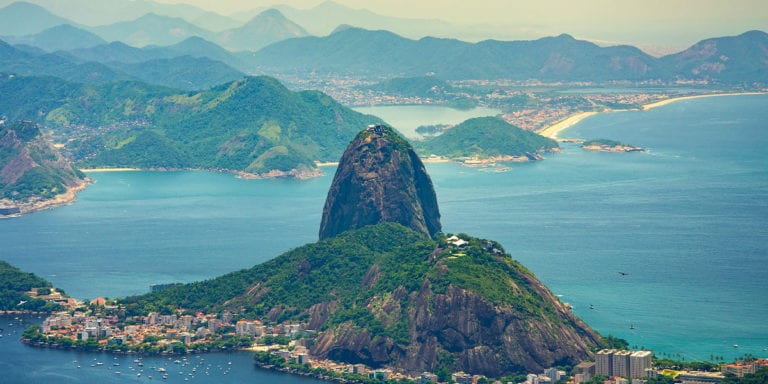 Africa for 78K Miles Each Way in Business Class
Whether you're flying to North Africa or South Africa, it's still just 78,000 LifeMiles one-way for business class.
Compared to other programs which may split the continent into different regions or charge based on the distance flown, LifeMiles keeps it simple and charges a flat rate of 78,000 miles one-way.
While it may not win awards for the fanciest business class seats, Ethiopian Airlines is often the quickest way to fly to Africa from its North American gateways. For instance, you could fly from Toronto (YYZ) to Cape Town (CPT) with a stop in Addis Ababa (ADD) for 78,000 miles one-way in lie-flat business class.


United would typically charge 88,000 miles to take the same flights. You can also fly airlines like Lufthansa or United, but you may have a harder time finding the available award space.
Hawaii to Japan for 48K Miles Each Way in Business
Even after a massive devaluation for awards from the mainland U.S. to Asia, LifeMiles kept its stellar rates between Hawaii and North Asia intact.
While it can be fewer miles to book a roundtrip flight to Japan with ANA Mileage Club, using Avianca LifeMiles allows you to book a one way. But the best part is that you won't get hit with the high fuel surcharges that ANA imposes if you were to book via ANA.
Using LifeMiles, you could book a nonstop flight from Honolulu (HNL) to Tokyo (NRT) for just 48,000 miles one-way plus ~$25 in taxes and fees. That's half what United now charges to book the same exact flights.

And if you can find the space, you can fly ANA First Class for just 66,000 miles one-way. You can also book one-way flights on ANA for fewer miles via Virgin but you'll get hit with fuel surcharges there as well.
This can be a fun way to visit both Hawaii and Japan on one trip. Just book a cheap flight to Hawaii and then use your miles to fly ANA business class from Hawaii to Japan.
Lufthansa First Class for 87K Miles Each Way
Finally, if you want to fly Lufthansa First Class, there isn't a cheaper way to do it than redeeming 87,000 LifeMiles for a one-way flight.
The catch, of course, is that Lufthansa doesn't release any first class award space to partner airlines unless it's within just two weeks or so of departure – and most often, you won't see any award space at all until just a few days before the flight. This means you'll have to be a spontaneous traveler to take advantage of this deal.
If you're able to take off with little notice, you can book Lufthansa First Class for just 87,000 miles one-way plus minimal taxes and fees.

And you'll be in for a treat. Take a look at that the exclusive Lufthansa First Class cabin …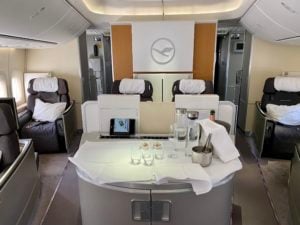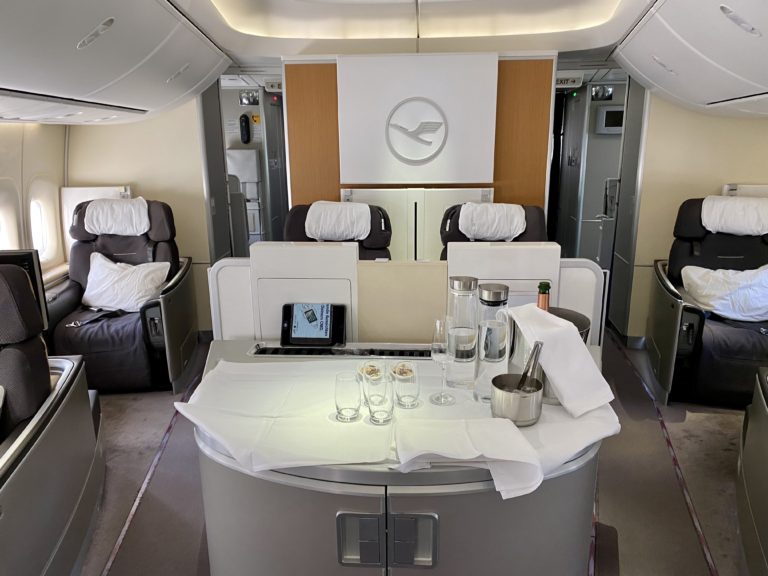 Read our full review of Lufthansa First Class!
Want to connect elsewhere in Europe? It gets even cheaper, thanks to LifeMiles' mixed-cabin award pricing and the fact that Lufthansa doesn't operate first class within Europe. Even with a relatively short flight within the U.S. or in Europe, award rates often drop to around just 82,000 LifeMiles or less.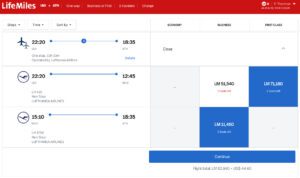 Cons When Booking with LifeMiles
As you can see, you can book some incredible deals with Avianca LifeMiles. The flip side of that is that the LifeMiles program can be one of the most infuriating frequent flyer programs when it comes to a functioning website and customer service.
Here are the main points to keep in mind if you are considering booking with LifeMiles:
Wonky website/IT issues: You need to create an account and log in to search for awards with LifeMiles. And once you do, you may encounter several errors while searching for flights. The website often times out and you'll need to reload or sign out completely and sign back in. You'll need to pack your patience when booking with LifeMiles.
Less availability than other Star Alliance programs: If you're searching United's site to find award availability, you'll regularly see that it does not match what is actually available when booking with LifeMiles. This means you may have to turn to another program that can actually book the award space if you can't find it bookable with Avianca LifeMiles.
Poor customer service: If things go wrong or you want to make any changes to your trip, there is no way to do this online … and trying to work with an Avianca agent over the phone can be a painful experience. Expect to wait on hold and explain yourself several times if you need to speak to an agent over the phone.
Change/Cancellation fees: While many other frequent flyer programs are now allowing free changes or the ability to cancel your trip for a full refund of your miles, Avianca still charges a $150 change fee and $200 cancellation fee for award tickets.
Can't book stopovers: Many other Star Alliance programs allow you to include stopovers when booking an award flight. This is not allowed when booking flights with LifeMiles.
Miles expire: One of the most important things to keep in mind is that your Avianca LifeMiles have an expiration date. You'll need to accrue some miles at least once every 12 months to keep your miles active. Officially, transferring points from a credit card doesn't satisfy this requirement, but it's worked for some travelers in the past. As a general rule, you shouldn't hoard any miles and only transfer when you're ready to book. However, if you need to cancel a trip and you're stuck with a balance of LifeMiles, you'll want to keep the expiration date in mind.
How to Book Flights with LifeMiles
It's fairly straightforward to book a flight online with LifeMiles but there are a few quirks you may want to know.
First things first, you'll likely want to seek out award availability using Star Alliance partner United's award search first. Then, plug in the exact dates you found on United's website into LifeMiles' search engine to book.
Once you're ready to book, you can use this link to take you directly to the LifeMiles booking page or navigate there by clicking "Travel" at the top of the page after logging in to your LifeMiles account.

Just enter your route, the total number of passengers traveling, and which class of travel you're looking to book. Then, click the blue arrow on the right. You'll choose your dates during the following step.
Avianca's calendar doesn't show any fares so it's just there to choose your dates. It sometimes highlights certain dates in blue but this isn't an accurate way to determine availability. Instead, choose dates where you found availability on United's website and you'll have better luck.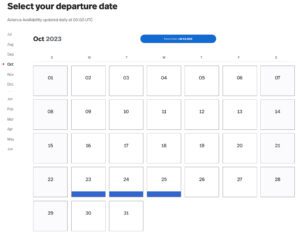 After you select a date, you can then filter the results by airline, number of stops, time of day, and sort by a number of parameters. If you see the flights you want to book, transfer points to your LifeMiles account and continue the booking process.

If you don't see the flights you're looking for from the default "Smart Search" tool, you may want to try choosing the specific airline you're trying to book from the dropdown menu before you start your initial search. This can sometimes unearth award availability that the so-called "Smart Search" misses.

How to Earn Avianca LifeMiles
While you can earn LifeMiles by flying Avianca or Star Alliance partners, you don't need to in order to obtain a ton of miles. Since you can transfer points earned with credit cards or simply buy miles for a great rate during a promotion, it's super easy to earn enough LifeMiles for your next trip.
We can't say enough good things about the Capital One Venture X Rewards Credit Card. It's the bank's very first premium card and it is loaded with benefits such access to Capital One Lounges and Priority Pass lounges, a $300 annual travel credit, a credit for Global Entry or TSA PreCheck, great travel and rental car insurance protection, and more. The annual fee clocks in at $395 a year, but the benefits can easily outweigh that.
The best part is that you can currently earn 75,000 Venture Miles after spending $4,000 in the first three months. Considering you earn at least 2x for every dollar you spend on the Venture X Card, you'll earn a total of at least 83,000 Venture Miles, which can be transferred instantly to 83,000 LifeMiles. That alone is nearly enough to fly Lufthansa First Class to Europe.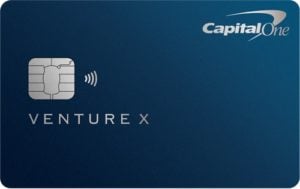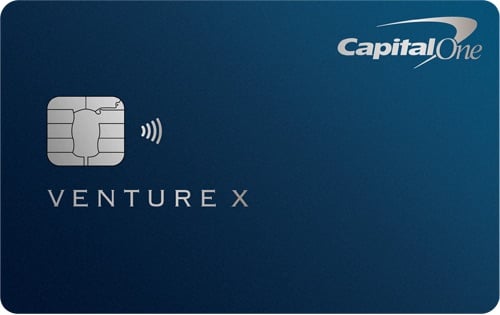 Click Here to learn more about the Capital One Venture X Rewards Credit Card.

The American Express® Gold Card is currently offering a 60,000-point welcome bonus after spending $4,000 in the first six months. And you may be able to qualify for a whopping 75,000-point welcome bonus using CardMatch.
Beyond that bonus, this card is easily one of the best all-around travel cards on the market thanks largely to an unbeatable 4x return on an unlimited amount of spending at restaurants and 4x points on up to $25,000 a year spent at U.S. supermarkets – and 1x points after that.

Click Here to learn more about the American Express Gold Card.

The Citi Premier® Card is another great way to earn points that can be transferred to LifeMiles. You'll earn 3x points at restaurants, supermarkets, gas stations, and for travel booked with the card. Plus, there is a 60,000-point bonus after spending $4,000 within the first three months.

Click Here to learn more about the Citi Premier Card.
Buying LifeMiles During Promos
Many airlines allow you to buy miles, though it's rarely a good deal. Avianca LifeMiles is one of a few notable exceptions.
While the standard rate to buy miles is not favorable, Avianca is constantly running promotions to earn bonus miles when you purchase miles – sometimes up to 175%. These are often tiered bonuses where you'll receive a higher bonus the more miles you buy. For instance, this previous bonus of up to 145%.


So in order to get the 126,000 miles required for a roundtrip business class award to Europe, it would only cost you $1,716.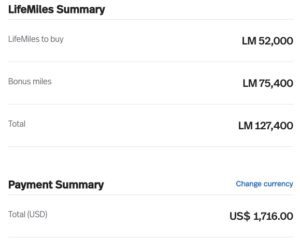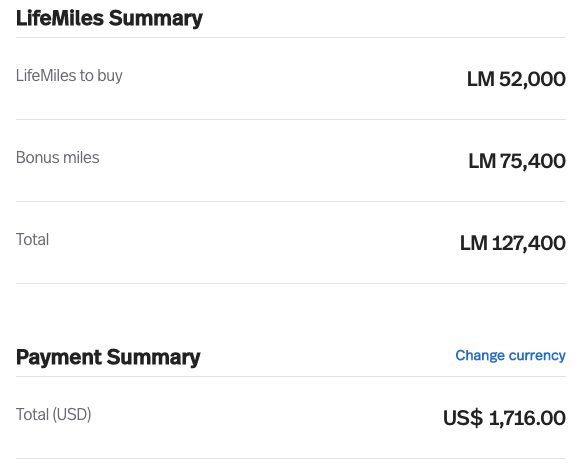 Even with huge bonuses, buying miles doesn't always make sense. But there's no question that's a bargain compared to what it would cost to book a business class flight with cash. And you can do it without any points to your name. Just buy the LifeMiles you need and book the award.



Bottom Line
There's some incredible value with LifeMiles. Whether you want to fly business class to Europe, Africa, or Brazil, you'll find a deal when booking the flight with LifeMiles – especially since you won't be subjected to high cash fees on top of your miles.
But it does come with some drawbacks to consider if you think you'll need to make any changes or cancel your trip. Nonetheless, with several transfer partners and frequent possibilities to get even more through transfer bonuses or deals on purchasing miles, don't forget about this rather obscure program when booking your next award flight.