Capital One is the newest entrant in the airport lounge wars. And their first location in Dallas-Fort Worth (DFW) is an incredible opening salvo – dare I say among the best lounges you'll find in the U.S.
More than two years after first unveiling its plans to operate its own airport lounges, Capital One opened the new location to travelers in November 2021. Our team got a sneak peek of the space this fall and we were blown away – but there's a difference between a curated media tour and a random visit as a traveler. So I headed to the new Capital One Dallas lounge a few weeks after opening to see how it's holding up for everyday travelers.
It lives up to the hype and then some. Honestly, it's so good that I wonder how long Capital One can keep this up before crowding becomes an issue or having to make cutbacks. But for now, travelers with the new Capital One Venture X Rewards Credit Card who can get in for free are in for a treat. And thankfully, even more Capital One lounges are on the way.

Getting into the Capital One Dallas Lounge
Capital One's lounge at Dallas-Fort Worth (DFW) is located in Terminal D near Gate D22. The lounge shares an elevator with American's Flagship Lounge, as it's perched just over the concourse. American Express's Dallas Centurion Lounge isn't far away, either.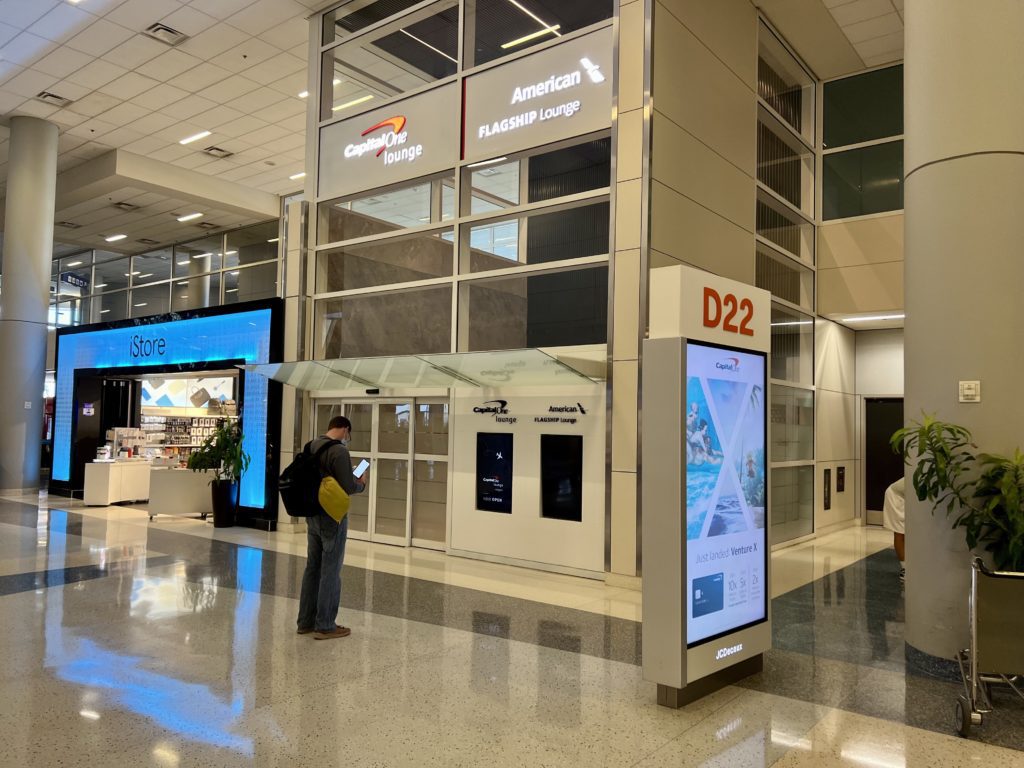 Once you walk through the sliding doors towards the elevator to both lounges, you already get a vibe that they didn't cut costs when constructing this space. Even if you don't have lounge access, there is a quiet meeting space with several chairs available to the public.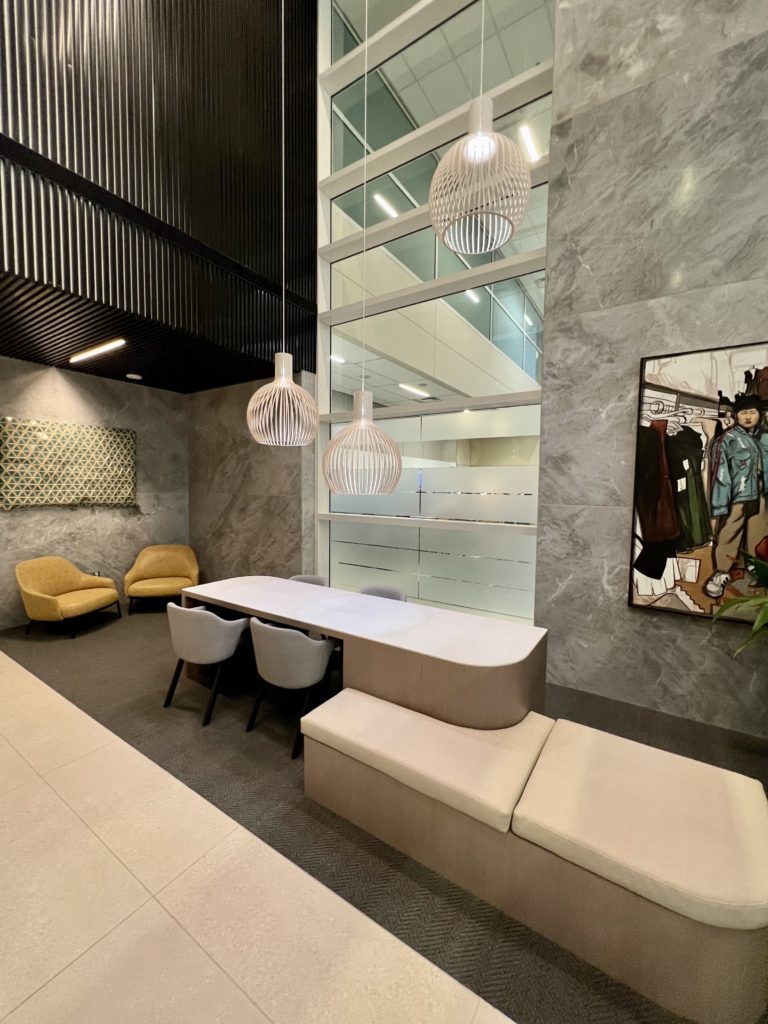 Take the elevator up and you'll find the Capital One lounge. There are a few ways to get in, but only one card will get you access for free.
It's the brand new Capital One Venture X Rewards Credit Card, which launched just last month as the first Capital One card with lounge access. It gets you and two guests into the Capital One lounge for free. And while there's just one Capital One lounge location so far (with more on the way next year), it'll also get you into 1,300-plus Priority Pass lounges for free, too.
There are a ton of other great benefits on this card like a $300 annual travel credit for purchases through the Capital One travel portal, a credit that will cover Global Entry or TSA PreCheck enrollment, 10,000 bonus miles every year you re-up your card, and more. It carries a $395 annual fee, but you can easily recoup that – especially with how great this new lounge is.
Read more about the new Capital One Venture X Card!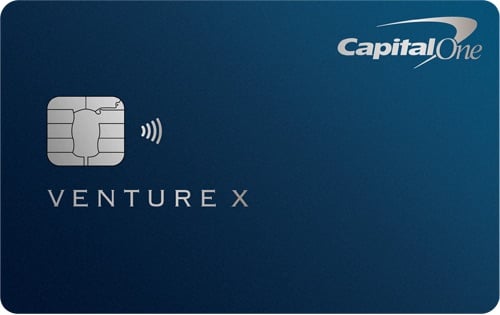 Click Here to learn more about the Capital One Venture X Rewards Credit Card

Beyond that, Capital One Venture X cardholders can add up to four authorized users to their accounts for free. Each authorized user will get their own lounge access – including another two free guests! That's the most lucrative benefit you'll find on any premium travel credit card if you're hoping to share lounge access.
Read more about adding Capital One Venture X authorized users!
Otherwise, cardholders with the trusty Capital One Venture Rewards Credit Card get two free annual passes to use at these lounges each year. After that, you can get in for a reduced rate of $45. And guests always cost $45. Capital One Spark Miles cardholders will also get two free passes and discounted entry rates.
Don't have either card? Anyone can pay $65 for a day pass to get into the lounge. 
Read up on how to get Capital One Lounge access!
I was approved for the Capital One Venture X card the day it opened for application, so I handed it over to the friendly agent behind the desk who scanned it along with my boarding pass. I arrived to the lounge four hours before my flight, just over the three-hour limit Capital One sets for entry.
Thankfully, the agent didn't turn me away – likely because there were only a handful of people in the lounge at the time. If (and when) crowding becomes a concern, I'm sure they will start strictly enforcing the three-hour rule.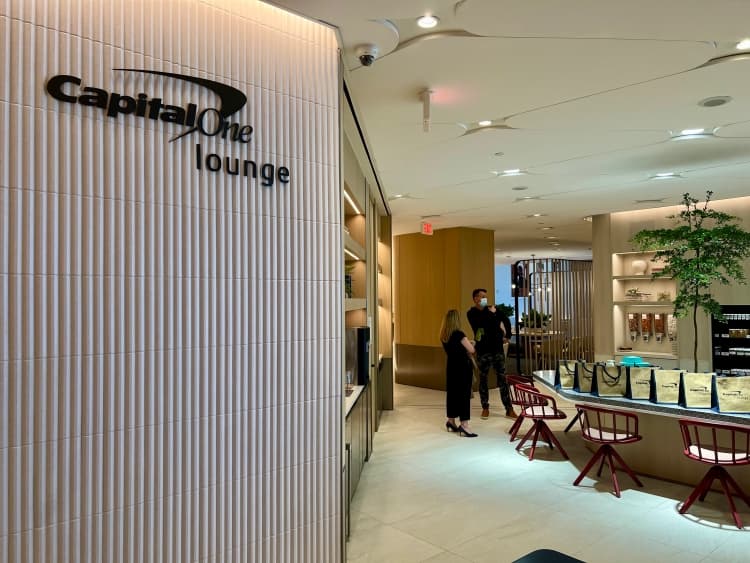 Capital One Dallas Lounge Layout & Seating
The lounge itself clocks in around 10,000 square feet, but it feels much bigger than that. There's an open and airy design, with floor-to-ceiling windows and views of the tarmac below. Everything feels bright, fresh, and new.
Best of all: It was practically empty. Throughout my stay, there were never more than a half-dozen or so fellow guests milling about. It felt like we were outnumbered by lounge staff.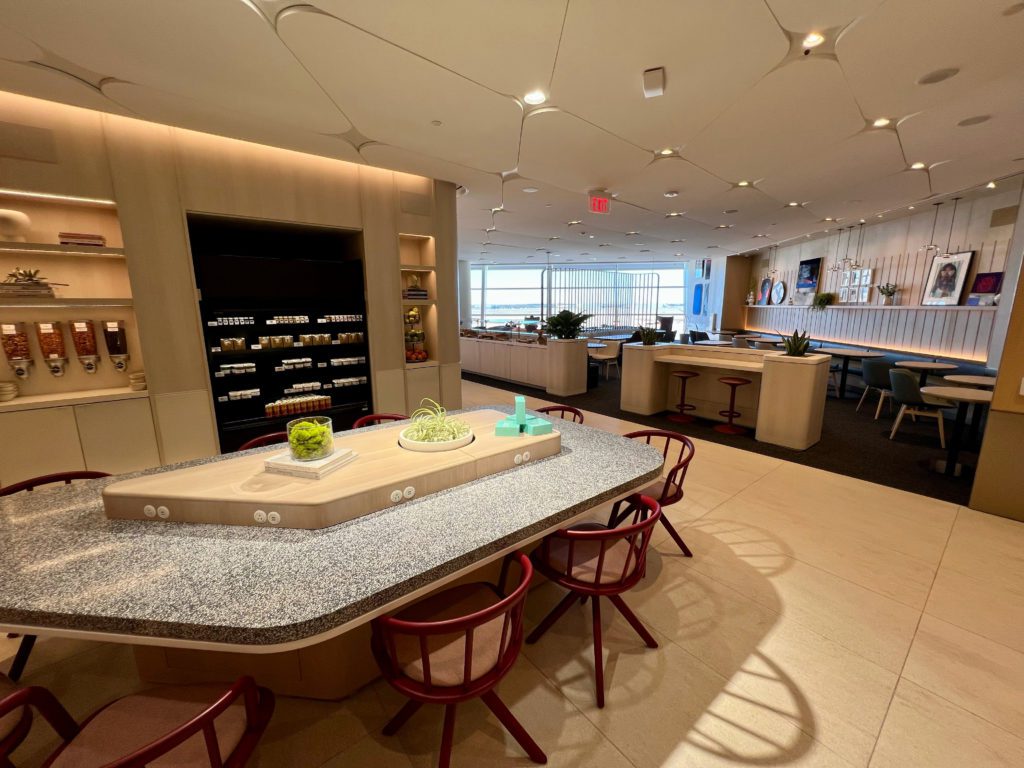 The color palette is fantastic throughout, with soft woodgrains, grays and pastel-colored furniture punctuated by artwork from Dallas-area artists. And the layout is great too, with an assortment of distinct seating areas all circling around a massive food and beverage station in the center of the lounge.

Once you enter the lounge, there's plenty of seating, with armchairs, cafe-style tables, and long sofas.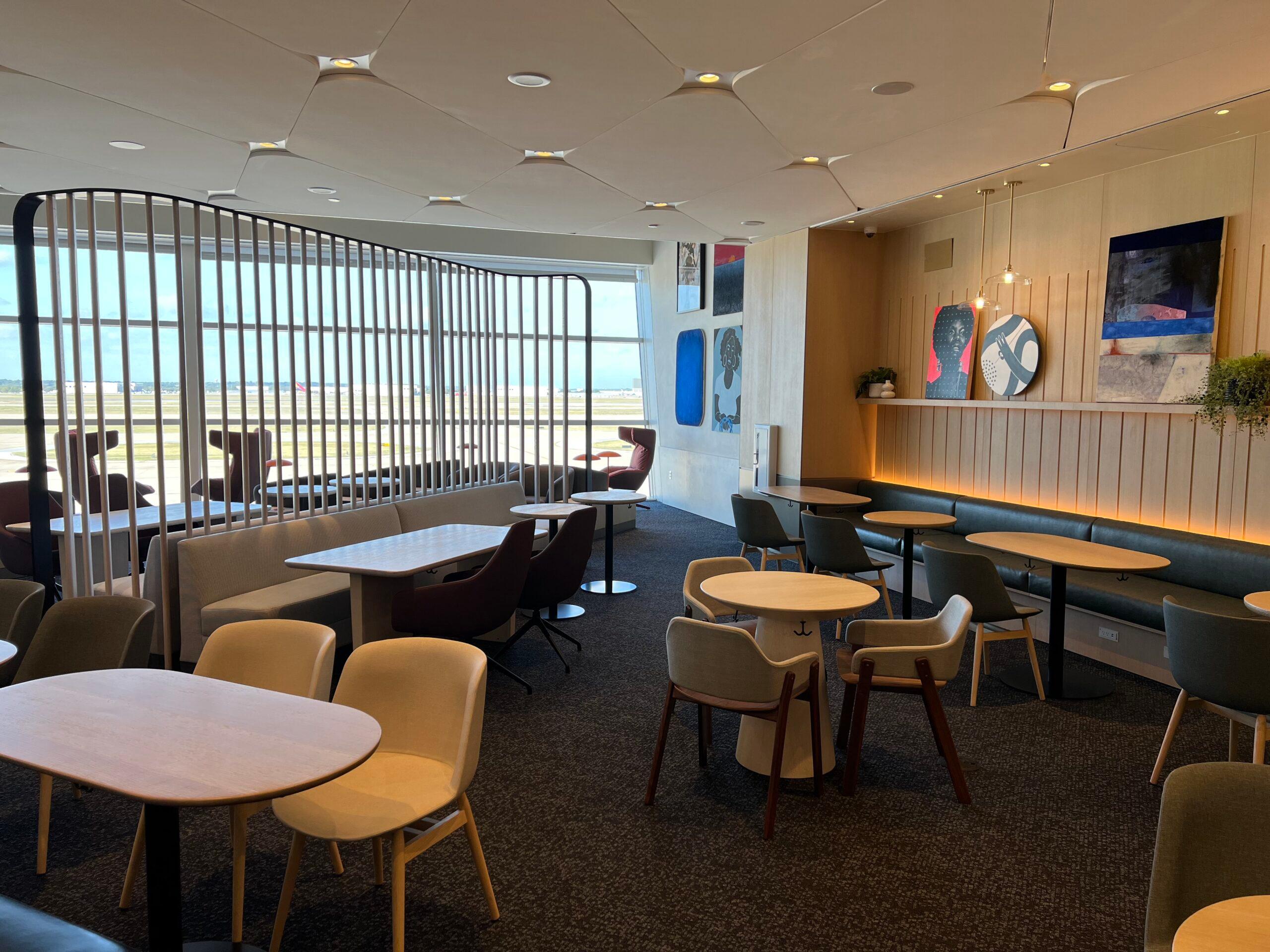 There's a great seating area alongside the windows that overlook the runway, with comfortable armchairs where you can soak in the view.

And then there's another, cozier seating area. It feels much more walled off and private, despite being exposed to the rest of the lounge. During my trip this is where I sat down for lunch, while another group was having a three-person meeting.

Finally, there's a great bar area with high ceilings, more seating, and yes … a bar. More on that later.

One shortcoming of many airport lounges is finding a place to stay charged, but that's not the case here. Whether you're at the bar, a hightop table, or lounging somewhere else, there are power outlets and USB ports seemingly everywhere. Not having a power outlet is a constant issue I run into – especially at Amex Centurion lounges. Thankfully, it wasn't an issue here.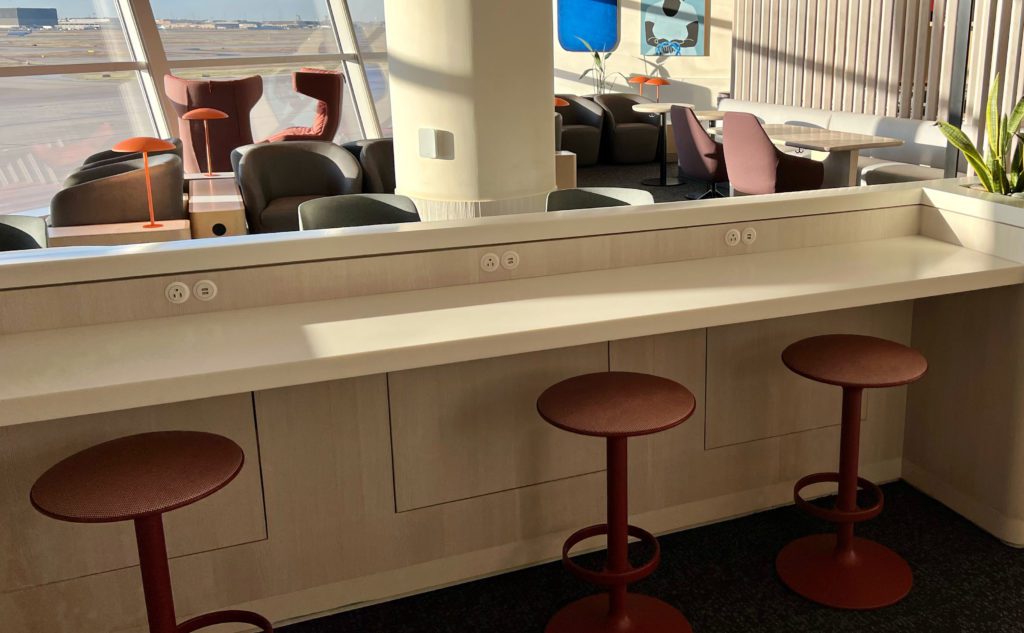 If there's one concern with the Dallas lounge, it's the bathroom situation. The lounge capacity tops out at 180, yet there are only four bathrooms – each a single room. But there's no question that the bathrooms themselves are chic and private. In the long run, Capital One may need to just add more of them – or rethink the setup altogether and pivot to larger shared bathrooms.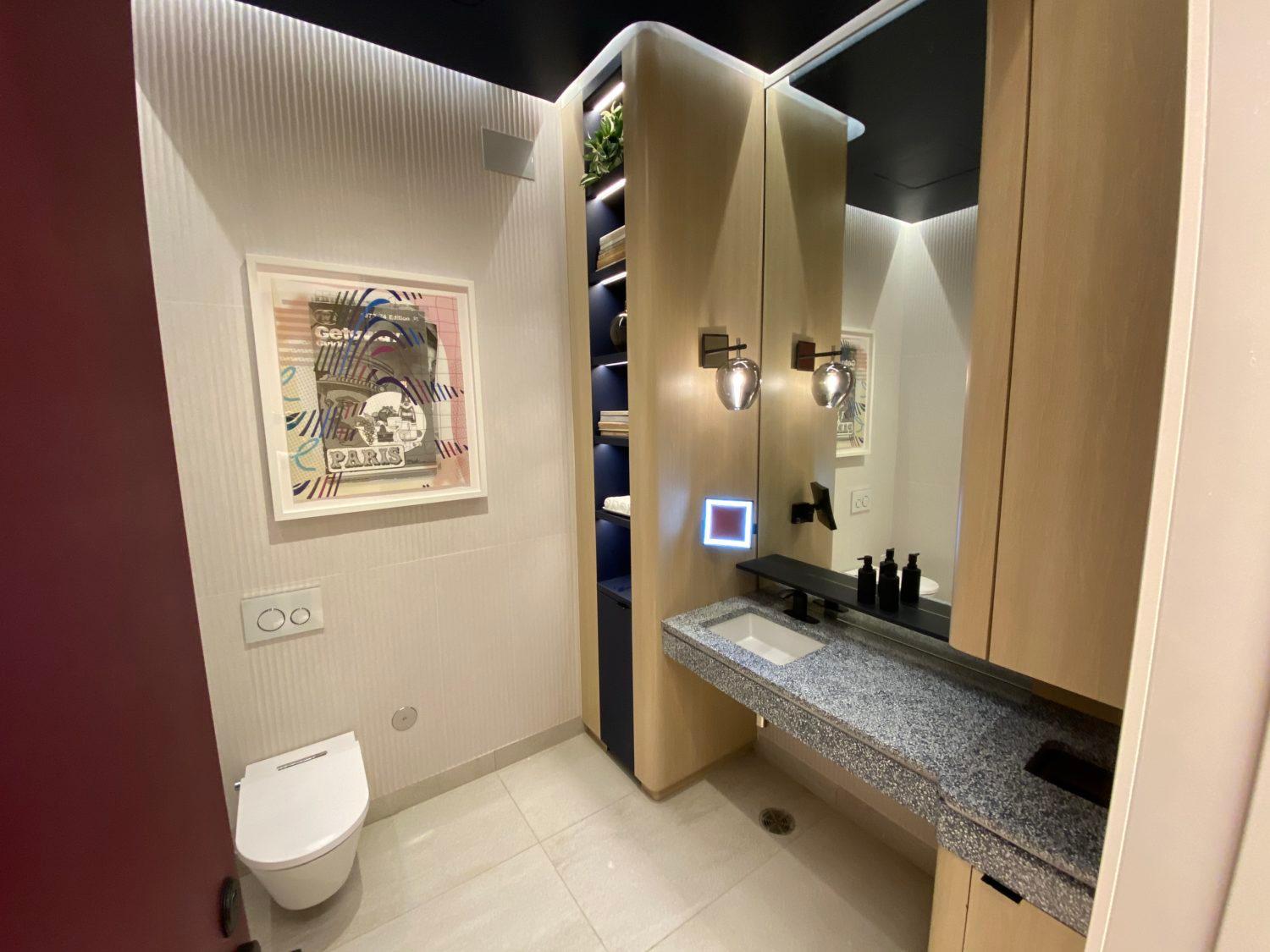 Best of all, every single one is equipped with a bidet seat. Hello, heated toilet seats!

Food and Drink
Capital One put a big emphasis on offering excellent food and drinks in this lounge. That holds up for every visitor. And once you're in the door, it's all free.
It starts before you even walk 15 feet past the check-in desk with a grab-and-go selection of sandwiches, salads, and drinks as well as a counter full of pastries. That's a glaring gap with even the world's best lounges, including Amex Centurion Lounges. This way, you can grab something to bring on the plane if you've only got a few minutes to spare.
Here is a photo of the offerings at the media event. A reduced selection was available on my second visit. The lounge agent recommended I take a few items with me as I was departing the lounge and even offered a to-go bag. I only took a sandwich and juice for my flight home as I had a great lunch while I was in the lounge.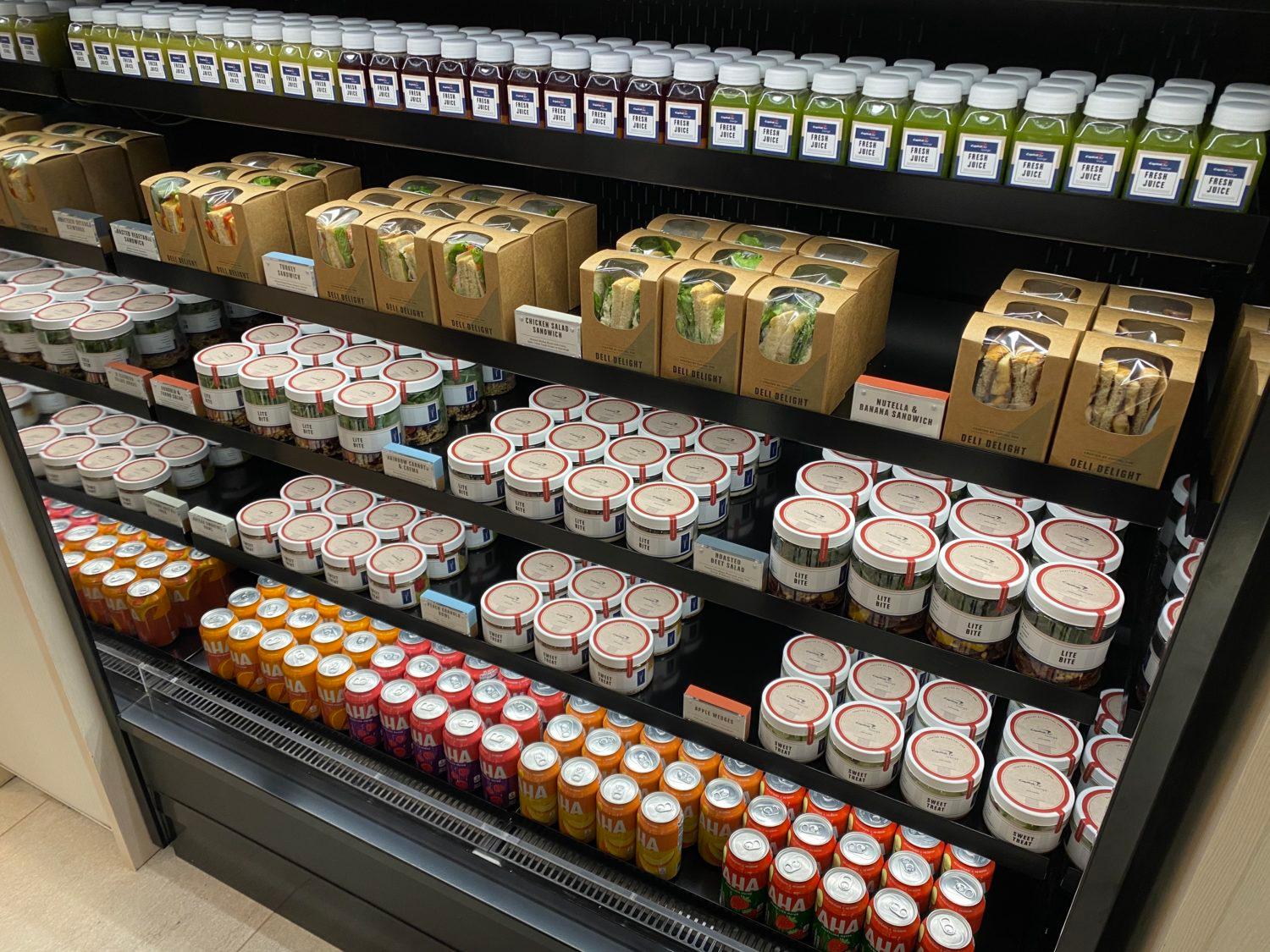 There is also a solid selection of pastries laid out, depending on the time of day.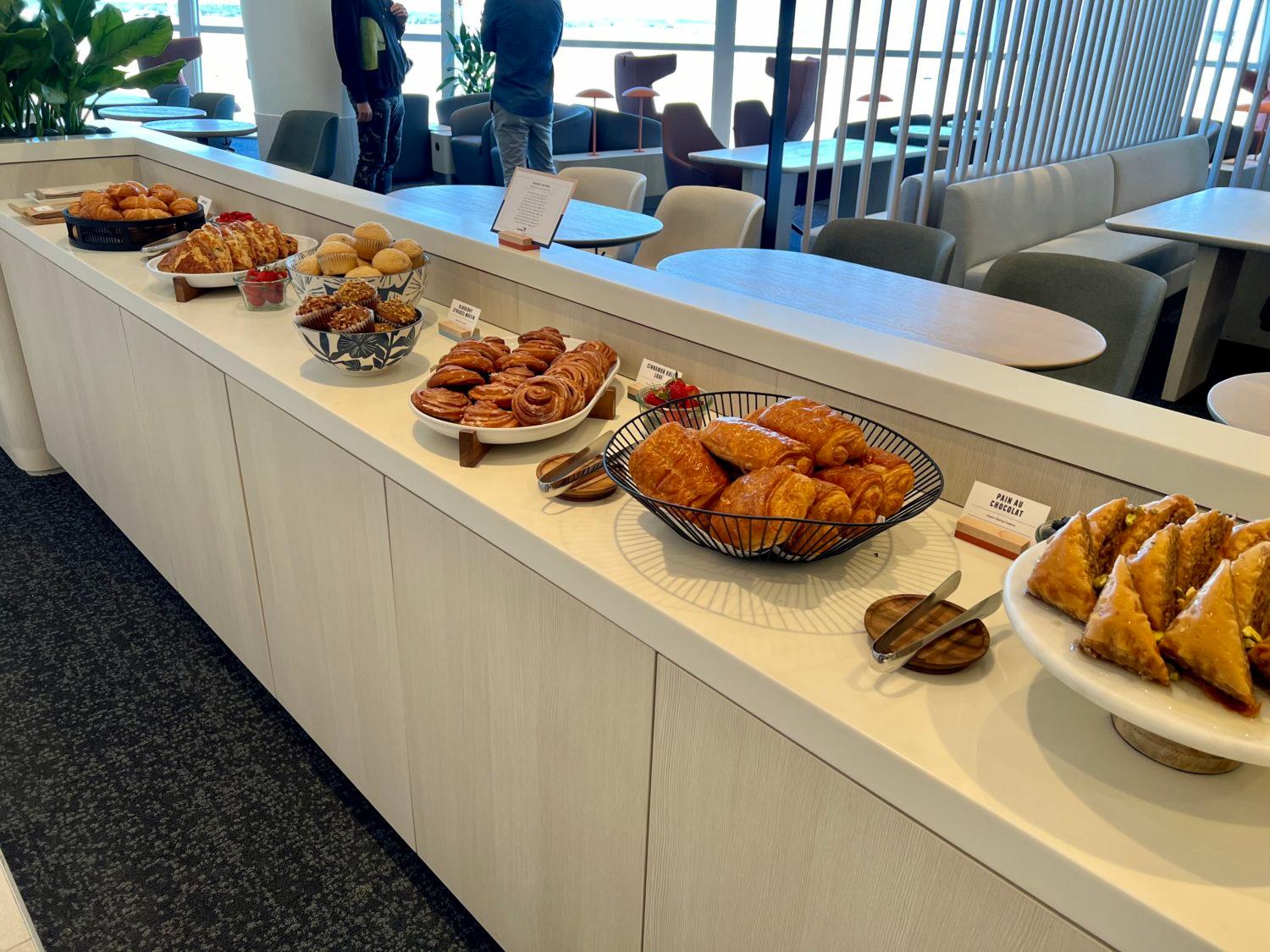 But if you've got more time, it gets better. Capital One has set the bar high. Every complimentary dish I tried was restaurant quality, served in small-yet-reasonable portions.
All the food is located at the center of the lounge and is located in trendy built-in warmers. Above that display, they had a selection of cookbooks. My wife loves to cook, so I noticed several of the books displayed in the lounge were the same as the ones at home. If you're a cook yourself, check out the awesome Ottolenghi Flavor cookbook.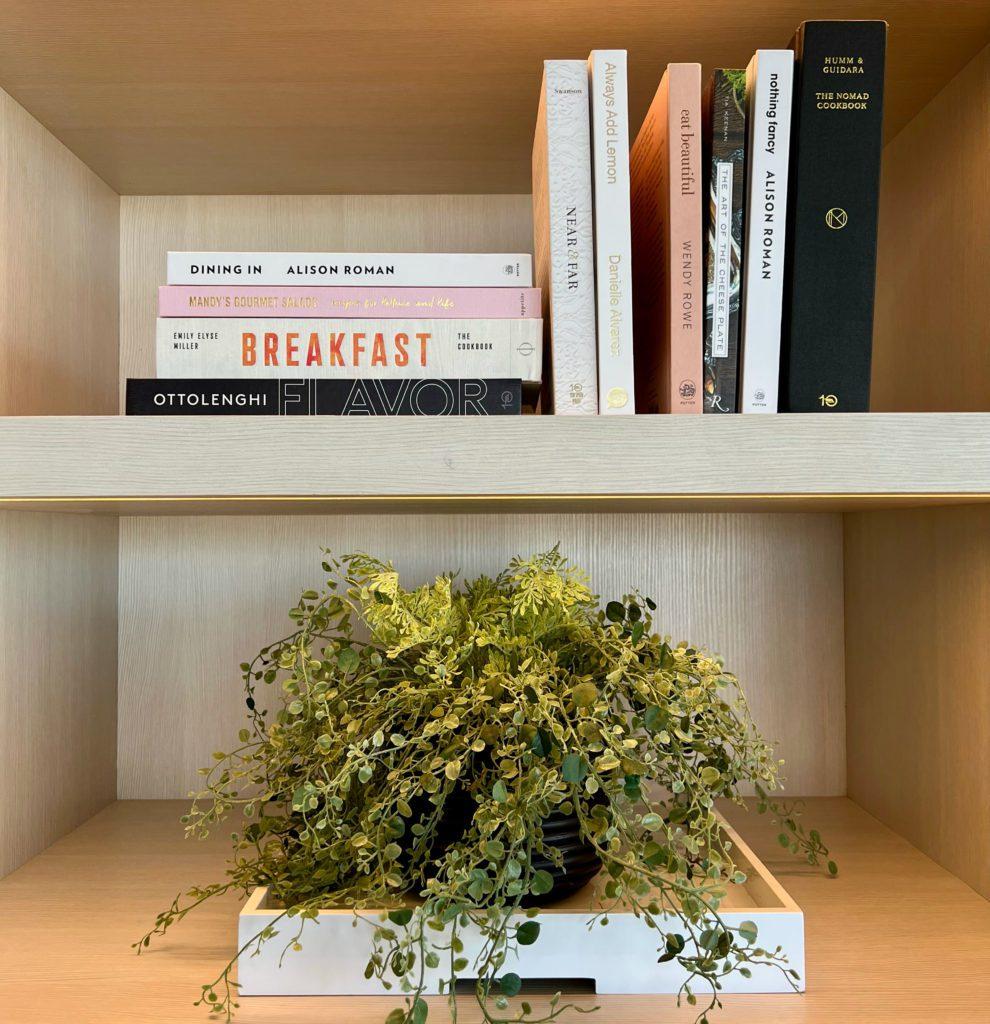 But the food was even better than the reading material.
The hummus with pita bread was top-notch. A bowl of bibimbap – a mix of Korean barbecued beef, vegetables, and rice – was also delicious. The charcuterie cone was also fresh. Just be careful with the chocolate-covered raisin dispenser: You may end up a full bowl, like I did.

The drink options are also plentiful – maybe even a bit overwhelming. Soon after walking in, you'll find a coffee counter where you can pour your own cold brew or oat milk latte, as well as a standard mug of drip coffee.

Further back in the lounge, there's another self-serve drink station with sparkling water and soft drinks – including unique options like root beer, lemonade, and iced tea.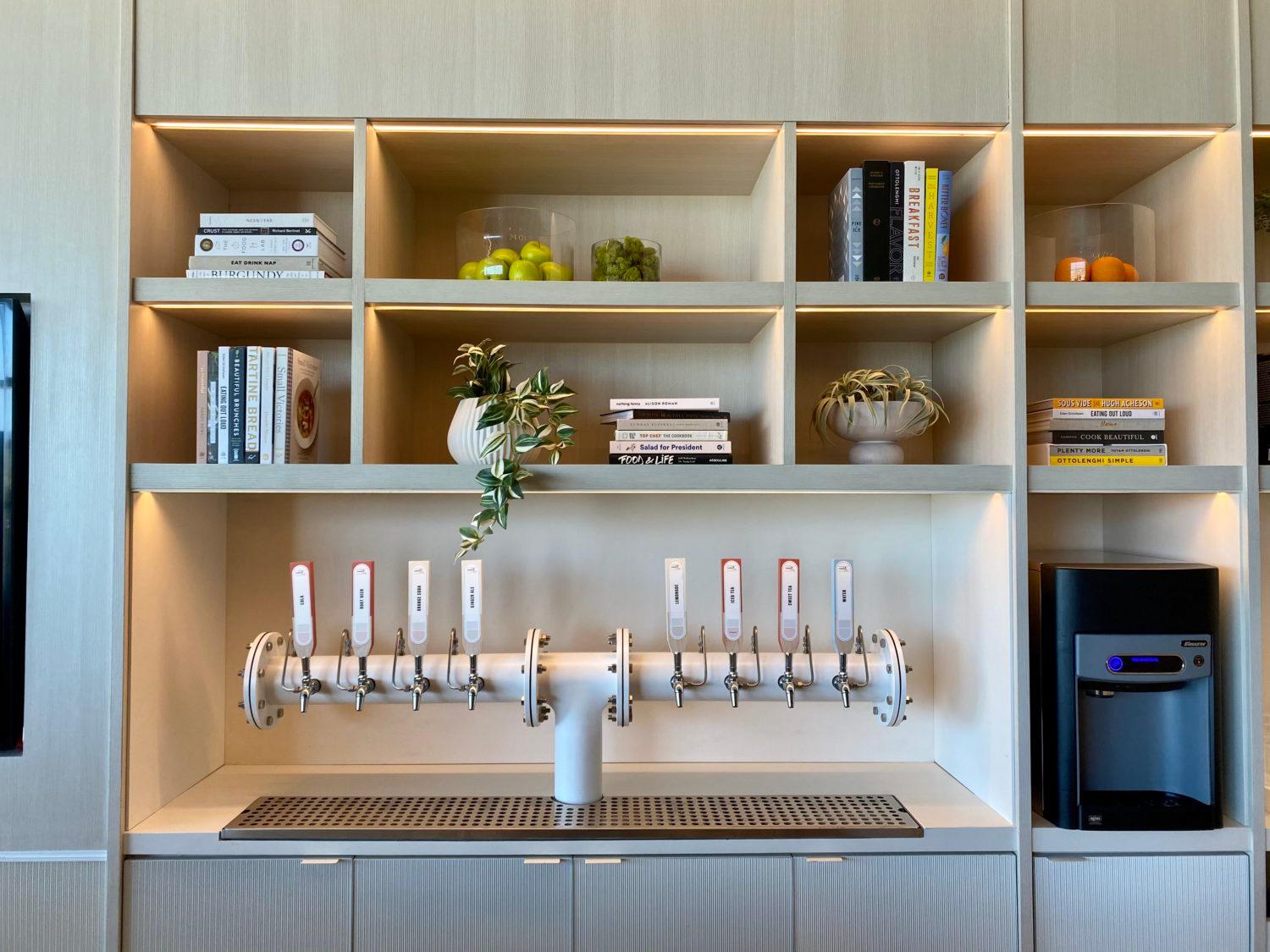 There's also a full-service bar in the back, too, where you can order a barista-made beverage, non-alcoholic cocktails, beer, wine, and cocktails – all complimentary.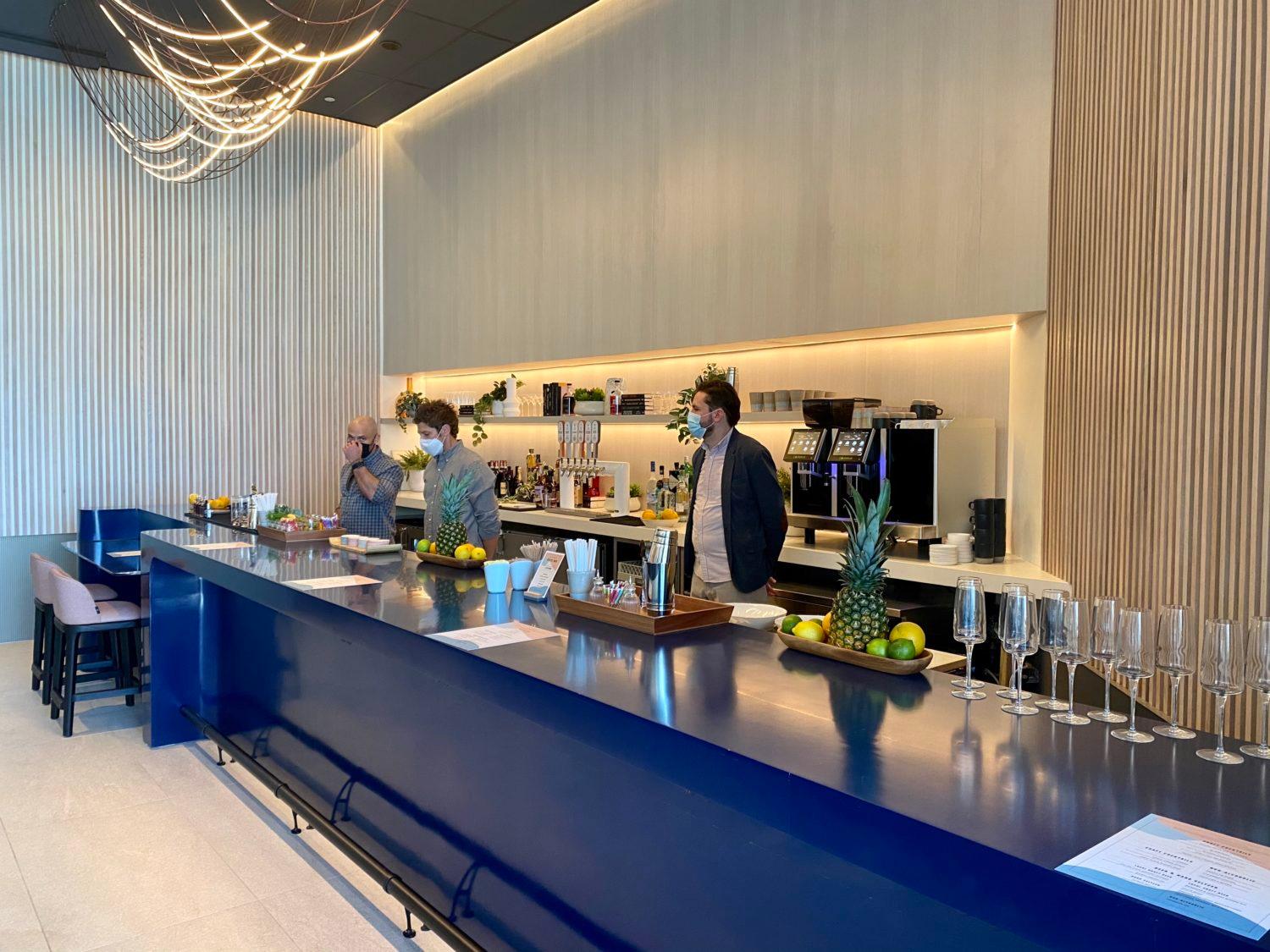 The cocktail program is outstanding, with a mix of pre-made cocktails on tap as well as craft drinks made on the spot. Here's the full menu (click it for a closer look).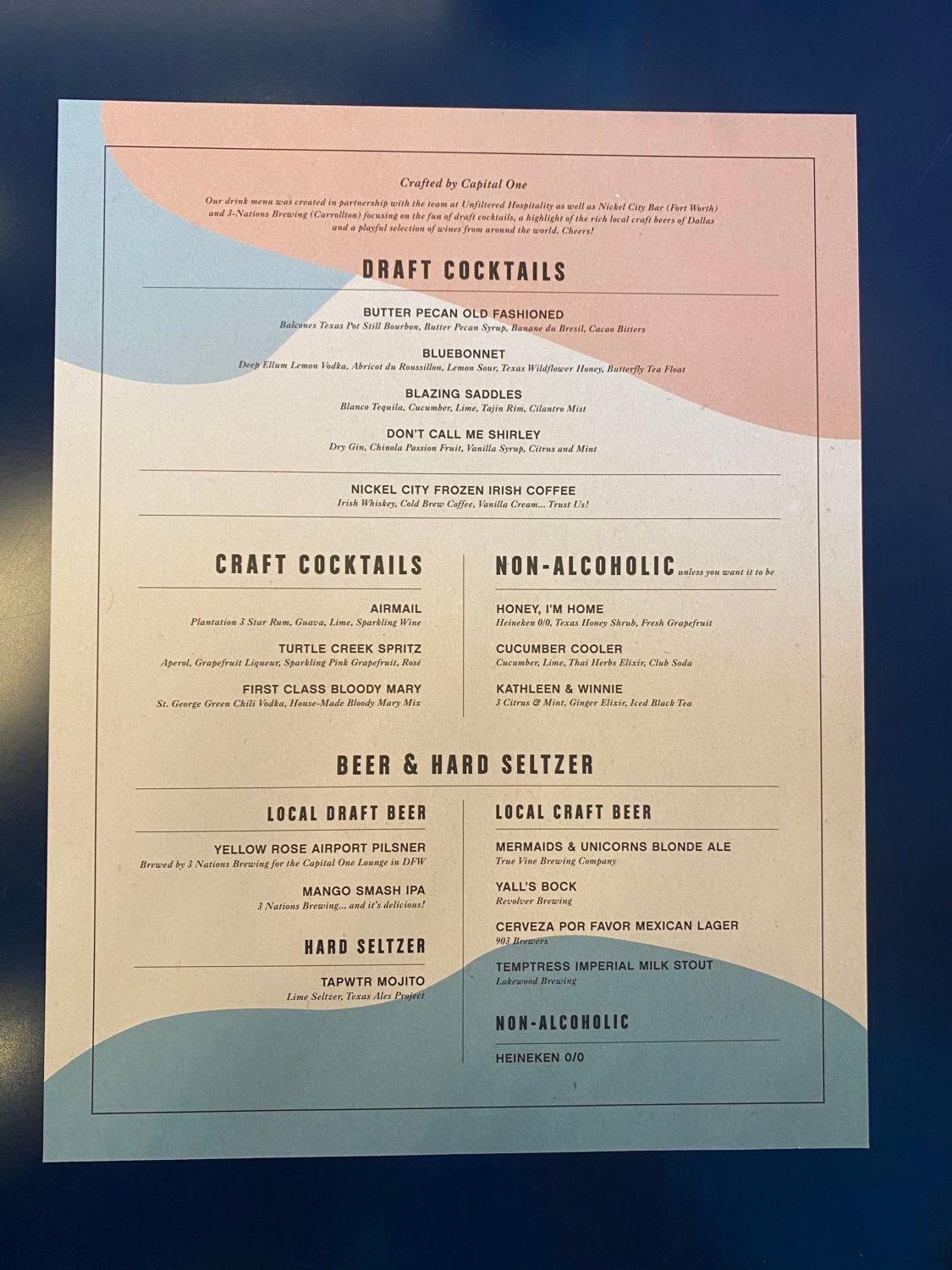 Here's the Butter Pecan Old Fashioned.


One of the fun small touches is the matching coasters for many of the cocktails. The Turtle Creek Spritz was tasty and even had edible glitter as one of the ingredients. You'd expect this cocktail to cost at least $12 or more in an airport, but at this lounge it's complimentary. Even though it's free, I still left a tip on what it would have cost.

Extra Amenities
There's another entire wing of the lounge I haven't gotten to yet, where you'll find many amenities that you don't see in many other airport lounges.
Capital One calls it the "Wellness Corridor." It starts with a single shower suite. Like all amenities, this is available on a first-come, first-serve basis. Capital One hopes to eventually add the ability to reserve them online or through the Capital One app, but that wasn't yet available during my visit.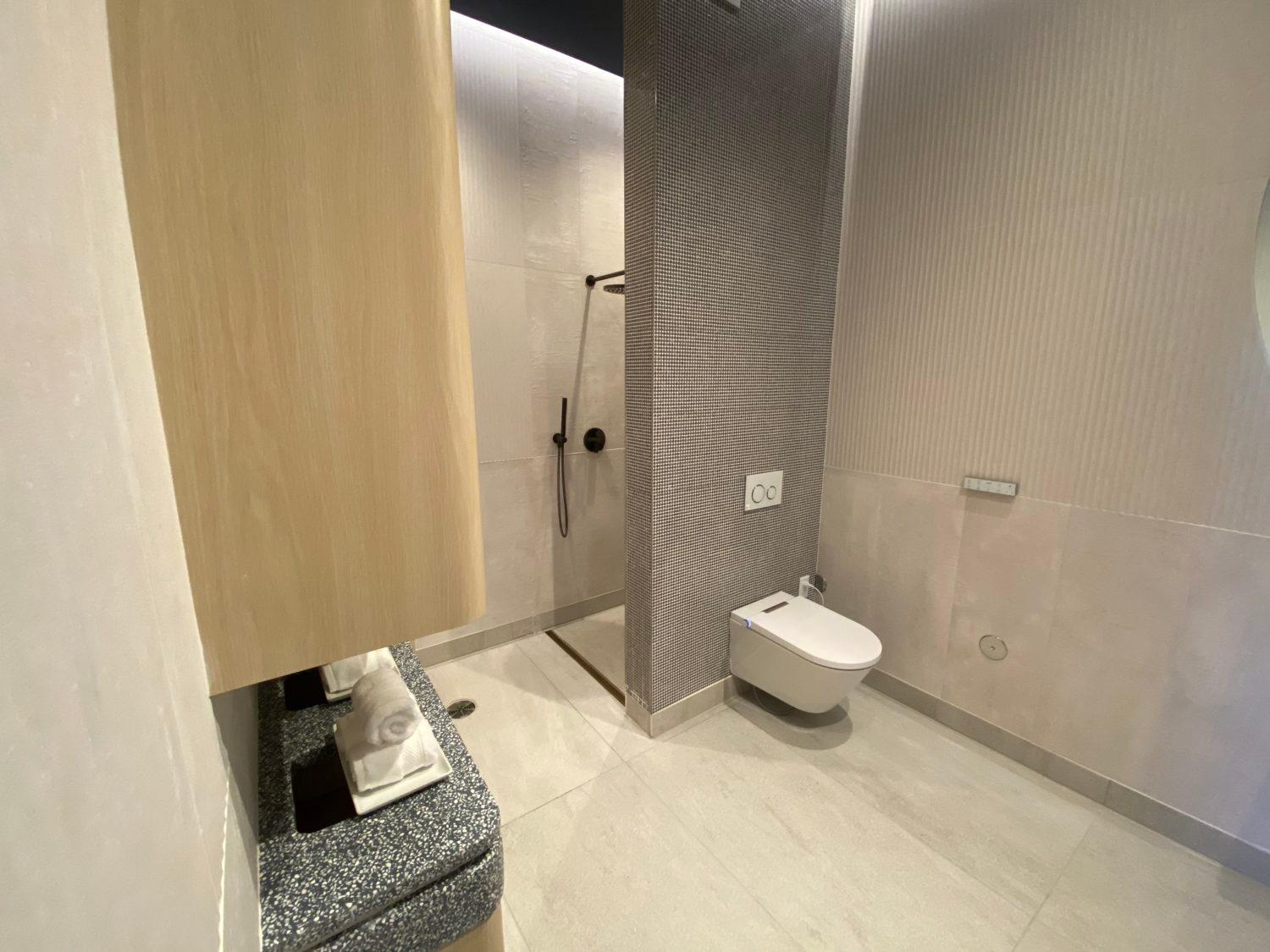 You can currently reserve any of the "Wellness Corridor" amenities at the front desk. There was no one using any of the amenities on my visit so it was pretty easy to quickly secure access.

Across the hallway from the shower, there's a workout and yoga studio equipped with two Peloton exercise bikes. The view out to the tarmac sure doesn't hurt. At first, I was like "Who wants to get sweaty on a Peloton on a travel day?" Then I remembered the shower is right across the hall. It's definitely a cool concept.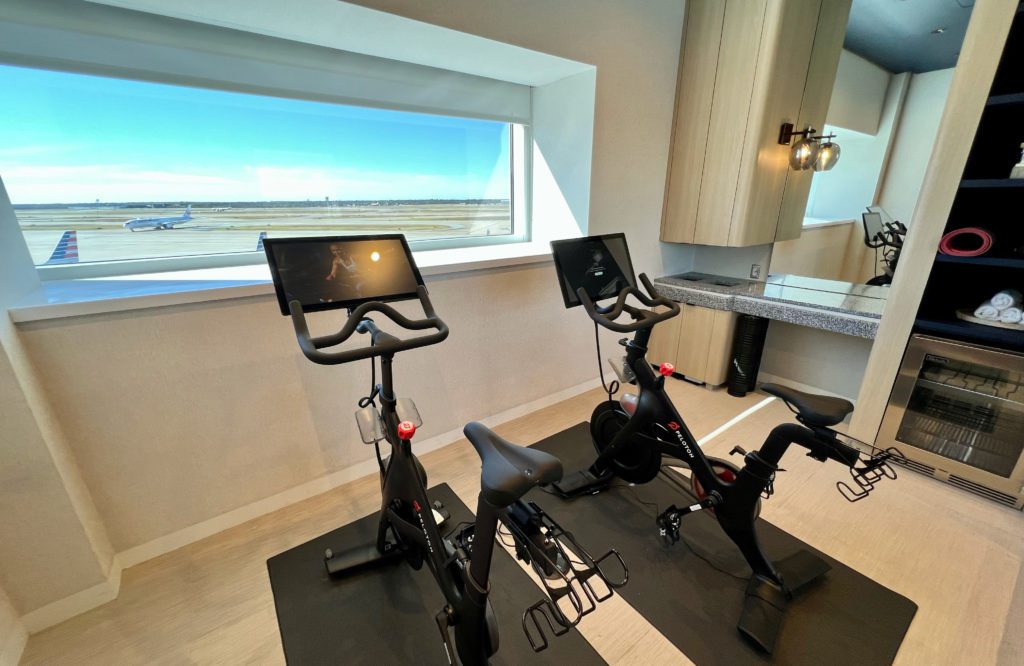 Then there are two private relaxation rooms, where you can grab a snooze in these strange-yet-fun enclosed loungers. You can close it and make it a private cocoon to rest, plus it has a massage and features relaxation music. These rooms also feature views of the tarmac. I didn't notice the star-lit ceiling at first, but it's another reminder that Capital One went all out on high-end touches to really make this entire space impressive.

At the end of the wellness corridor, there's also a nursing room for families as well as two multi-faith rooms where you can pray or meditate.
Leaving the Lounge
As I was leaving the lounge, the friendly front desk agent offered me a big cookie from Cookie Society as well as a cake pop. I already had grabbed a small juice and sandwich from the to-go selection in the lounge for my flight home, so I left the lounge with way more than I had anticipated.
Capital One is really trying to dazzle first-time visitors to the lounge. And it's working. It will be interesting to see how long they will be offering amenities like this.

Bottom Line
Capital One may be late to the airport lounge game, but they've done it better than anyone else. I can't think of another, easily accessible lounge in the U.S. that comes close to this one. And yes, that includes Centurion Lounges.
This is so good, in fact, that I'm concerned. While foot traffic is light right now, that's bound to grow as more travelers get the Venture X Card and learn about its incredible benefits. Can this lounge keep up the sky-high standards it has set over time? My hope is it won't end up like the Amex Centurion lounges, which have become painfully full over the last several years.
Until then, enjoy it. You probably won't find a better airport lounge experience anywhere. And watch for the second and third locations opening in Denver (DEN) and Washington, D.C.-Dulles (IAD) sometime in 2022.
We've included photos from this visit as well as a few from our media tour in October in this review.