Back in August, James Brawner from Journey Instruments reached out to Mr. TT and I about a new guitar they had developed specifically for travelers. James and his business partner are fans of the blog, and are frequent business travelers. Being musicians, they would often get frustrated while spending long hours in airports and hotels without a nice acoustic instrument to play.
After researching and purchasing a few guitars, they realized that they all had travel faults. They couldn't easily be carried on a plane, required the player to change their technique or they just simply sounded like a toy.
They ended up spending over 300 hours on acoustic guitar forums, visiting trade shows and talking to musicians about what would make the ultimate travel guitar. The result was the Journey Overhead. They started with the dimensions of the overhead compartment of an airplane (22″ X 14″ X 9″) and reverse engineered the best sounding and feeling guitar that could fit into that space.
James sent us a guitar to try out, and we asked contributor, Casey Pavek, who plays in The Wailing Loons, a local Minneapolis band, to spend some time with it and give it his honest review which can be found below.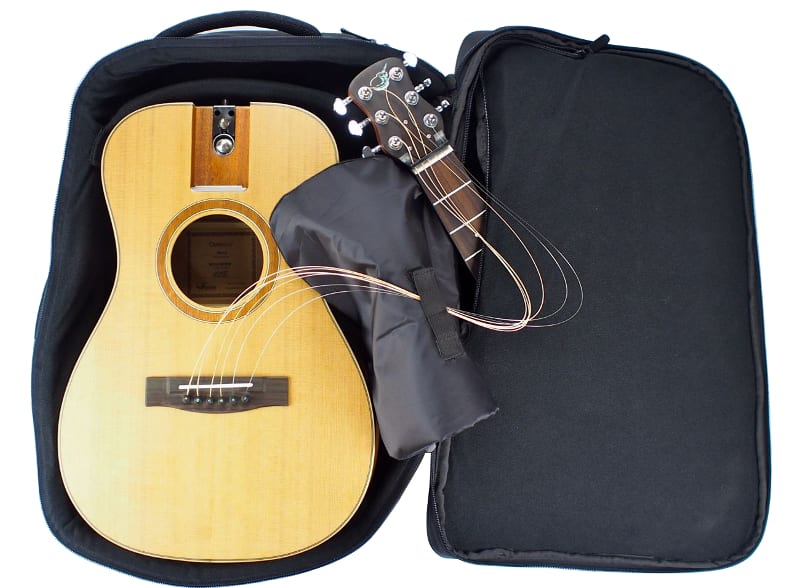 Guitar: Journey OF410 Overhead Guitar
Soundboard: Solid Sitka Spruce satin finish
Back & Sides: Sapele satin finish
Case: Custom-designed travel guitar backpack engineered to fit in airline carry-on compartment (see specs here)
Pickup: Proprietary under-bridge transducer pickup system
"I've been playing guitars for nearly twenty years. I started by playing punk rock songs on a nylon stringed classical guitar until I broke a tuning peg. I then purchased a Yamaha Acoustic guitar from a garage sale and worked on my calluses. I've played a host of different venues including coffee shops, open mics, house parties, run down bars to beautiful sounding theaters and outdoor music festivals like Bonnaroo!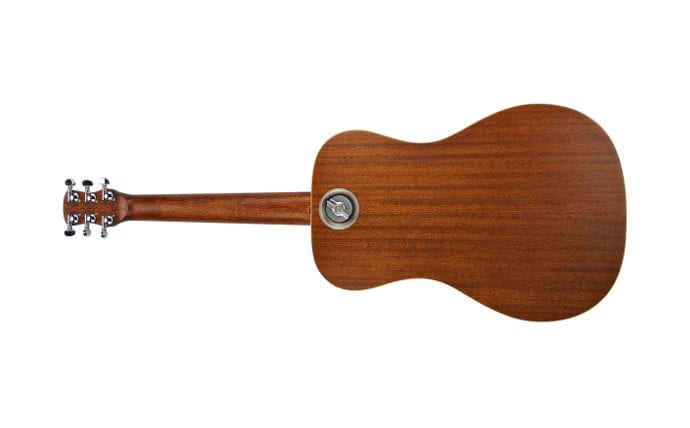 Being self-taught, there's something about the instrument one plays that guides the songwriting process. It's part creativity and part archaeology. You dig into the instrument and play it to it's limits to find out what it can do. Spend some time with an instrument and something is bound to happen.
I don't buy an instrument if I don't think there's a song in it. Every real guitar I've owned since I started, I purchased because it called to me. You pick up a new guitar, usually not even shopping for one, and you have to have it. A certain timbre, feel, texture, action, neck feel, or depth of tone grabs you and doesn't let go.
But here's the catch: it's got to fit in the collection. Having overlap in instruments that sound or play the same is no fun for me. I teach bicycle repair for a living, so I'm naturally obsessed with bikes. I own 9 bikes, but each bike has a specific niche and riding style. To me, a guitar should be the same way.
The Journey OF410 will fit nicely in your quiver. This guitar's function is to accompany a traveler. Bring it along on a business trip and busk at night! The neck is attached by pivot point and a very robust mechanical faster that packs away into a standard size carry-on bag.
Reassembly is very simple, but of course, you've got to tune it afterward. The guitar held it's tune pretty well with normal fall humidity conditions. The headstock is small, but the neck is full length, or close enough to not feel claustrophobic. It plays in tune all the way up the neck and the octave is right on. Overall construction on this instrument is precise. The body of the guitar is thinner at the top if you're right handed. Journey has really thought out how to get the biggest sound out of a limited volume for travel purposes.
The solid top spruce model is a lively instrument! Hammer on and off with crispness. The action was just where I like it, and only buzzed under some hard cowboy strumming with a pick. I play a modified finger style, and for that it's perfect. This nimbleness is great for working out different chord voicing, and would be great for hotel room practice too. It's got decent low end, but the mids and highs are nice. Laminate back and sides should hold up well to the travel lifestyle. Would I take it on stage? For an open mic, sure! For a concert hall performance, maybe not.
It's not always practical to bring my guitar or banjo everywhere I'm going. I once bought a Ukulele in Hawaii out of musical starvation, and barely play it now. Now my hunger for playing is satisfied by a simple, yet a well-engineered solution. This guitar has many songs to give, and I've just scratched the surface."