Imagine putting a coffee shop and a traditional, stuffy bank branch in a blender. Out comes Capital One Cafés.
Whether you're a current Capital One cardholder, thinking about a credit card or bank account, or just need a coffee break or a spot to work, these spaces are worth a visit. It's a relaxing spot to work, do your banking, and sip on a handcrafted drink. And with half-off discounts available when you pay with any Capital One card like the *venture x*, there's all the more reason for current cardholders to duck inside.
In total, there are over 50 locations spread across 18 states and Washington, D.C. Never been to a Capital One Café? You're not alone.
Let's go over what these spaces offer, where you can find them, what lies beyond their doors, and why you might want to seek one out soon.

Getting Into the Capital One Café
Don't be shy. Just walk in.
These are not like the airport lounges that require you to hold one of their premium credit cards like the *venture x* for entry into the Capital One Lounges. Simply open the door, take a seat, or order from the barista on duty.
There are no requirements for entry and no pressure to make any purchases to be able to sit down. Think of them more as a coffee shop than a bank branch. That's exactly the vibe Capital One is going for.
In fact, Capital One has stated that the Capital One Cafés were a big part of the design inspiration for its new airport lounges in Dallas (DFW), Washington D.C. (IAD), and Denver (DEN).

Capital One Cafés Layout & Amenities
Often located in metropolitan areas, you'll enter a space that bears hardly any resemblance to a bank.
This is a café, so it really looks more like a nice, modern coffee shop. Here's a look inside the Bellevue location in Washington, just outside of Seattle.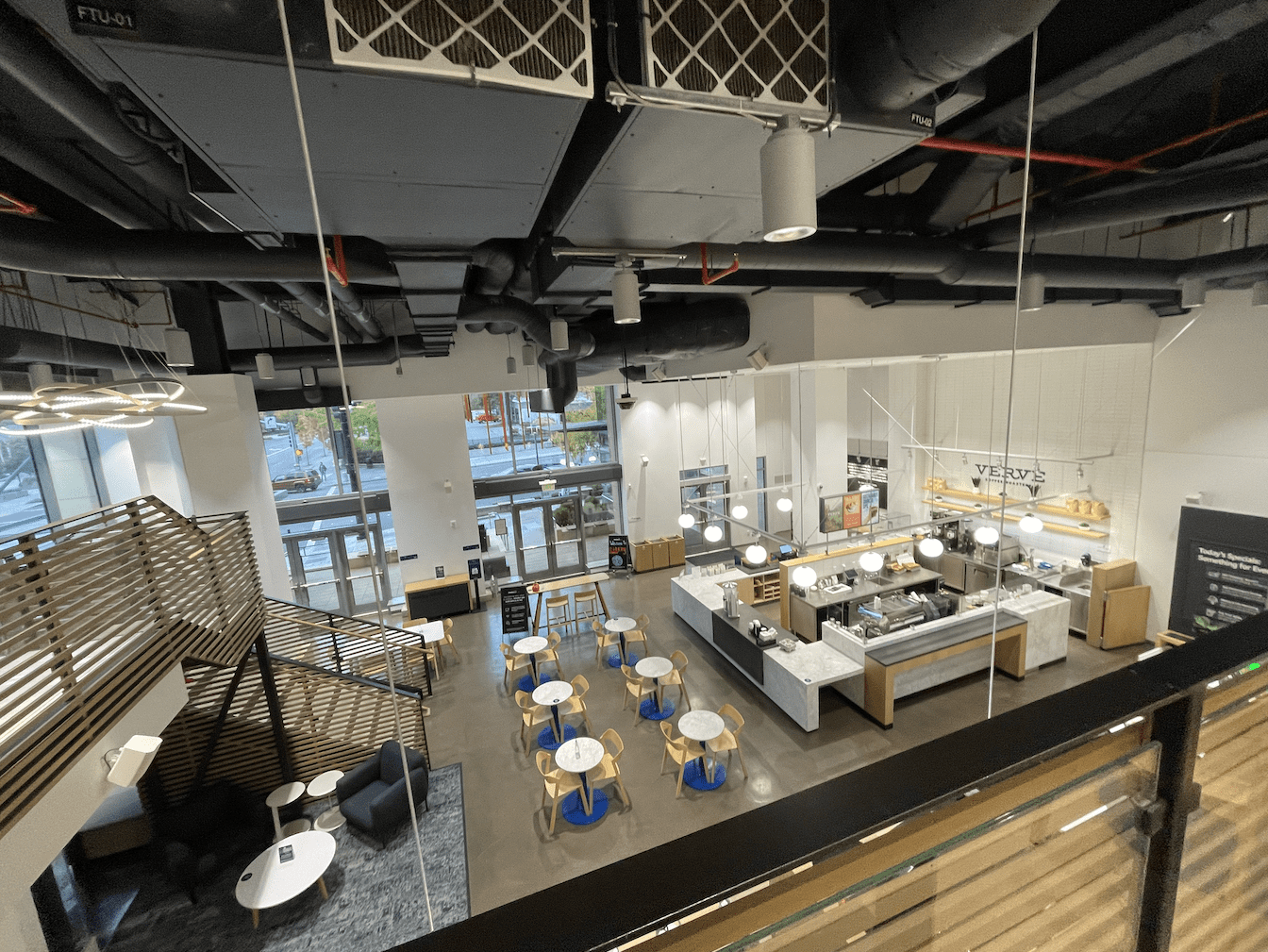 No matter which Capital One Café you go to, you'll typically find plentiful seating with a mix of sofas, café tables, and chairs. There's even free high-speed Wi-Fi available.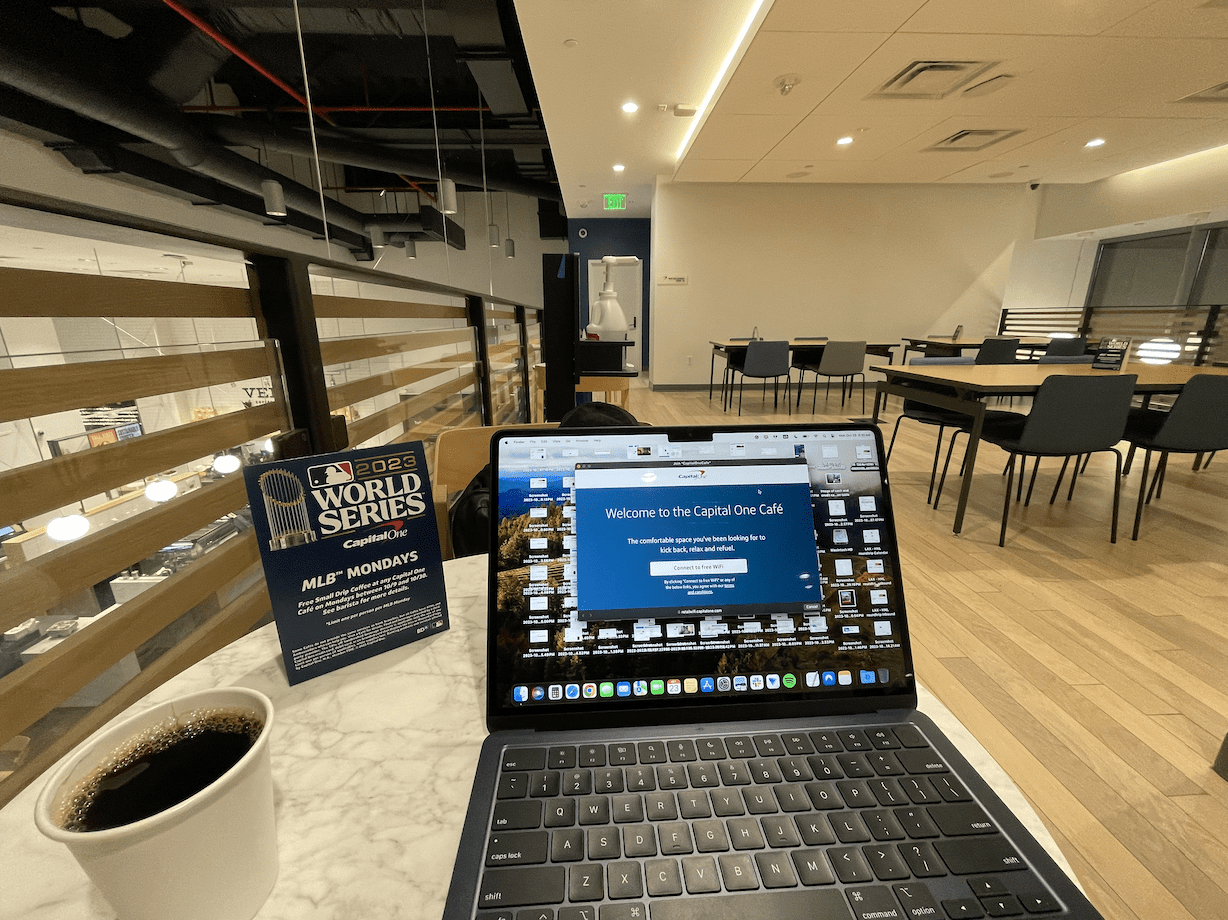 Need more privacy? Check out these meeting rooms at the Bellevue branch. Just help yourself to them when you need to break away for a phone or video call.

Of course, let's not forget the purpose of these spaces: It's still a bank, and you can do your banking here. There are staff members known as "Ambassadors" and "Money Mentors" who stand in for the typical teller and financial advisors you'll find at a traditional bank branch.
If you are interested in opening a new account with Capital One – whether that be a credit card, a checking account, or an auto loan – there are staff on-site to advise you. Just don't worry about anyone pressuring you to open an account during your visit if you're not interested.
You'll also find ATMs available if you want to make a cash deposit or withdrawal. This is free for Capital One customers, with a small fee charged for those without a Capital One bank account.

Food & Drink in Capital One Cafés
On my first visit to the café, I got a free dark roast coffee after quickly signing up to receive a free beverage for providing Capital One with my phone number.
But each and every time you visit, Capital One provides a little extra incentive for its current customers to visit the cafés. So long as you pay with any Capital One credit or debit card, you'll get 50% off handcrafted drinks. If you bring your own mug, you'll get an extra 25 cents off of your beverage.
That means travelers with cards like a *venture x*, the standard *capital one venture card*, or others have all the more reason to swing into these locations.
One tip? Follow their Instagram (@capitalonecafe) to get the heads up on when there are free drinks, events, and other promotions for current Capital One customers.
On my most recent visit, I didn't have a mug handy, but I did get 50% off my cappuccino, which was served in a paper cup. The drink, which typically costs $5 for non-cardholders ended up being about $2 and some change when I paid with my *venture x*.
Not big on coffee? There's also a solid selection of teas and other beverages – notably, a matcha lemonade and turmeric ginger latte.
You're getting good value on traditional beverages like mochas and drip coffees but the discounts for Capital One cardholders also extend to special drinks like their signature honey lavender latte, an espresso tonic, and more. All Capital One Cafés serve Verve coffee.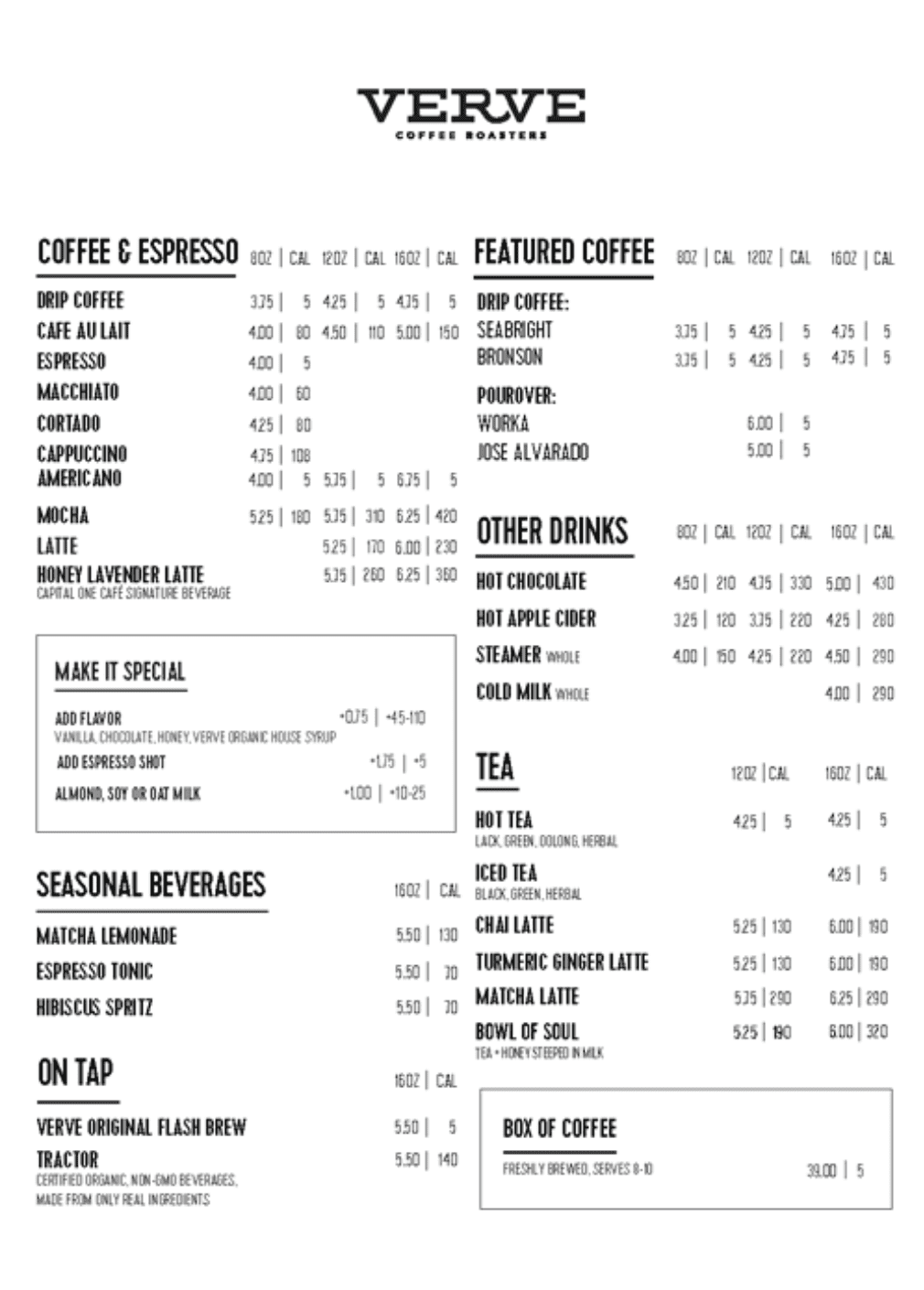 There's also food available, though the options are far more limited – think standard coffee shop fare. But remember: Your 50% discount with a Capital One card does not apply to food orders.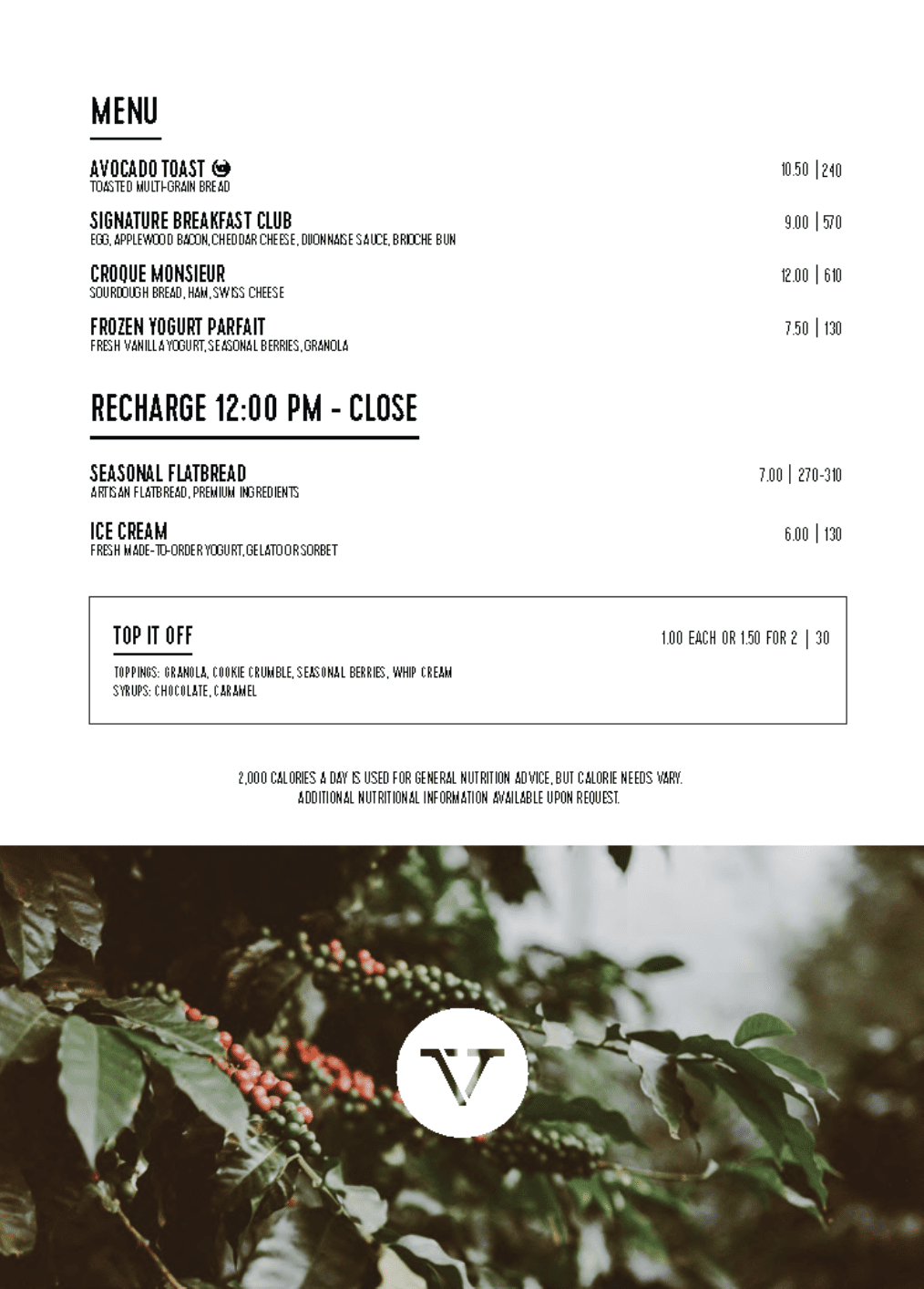 Still, I tried out the avocado toast, which cost $10.50. It was fine … but mostly forgettable. While it's nice that Capital One does have a limited food offering, my suggestion would be to skip the food and take advantage of the discounted drinks – assuming you have a Capital One credit or debit card.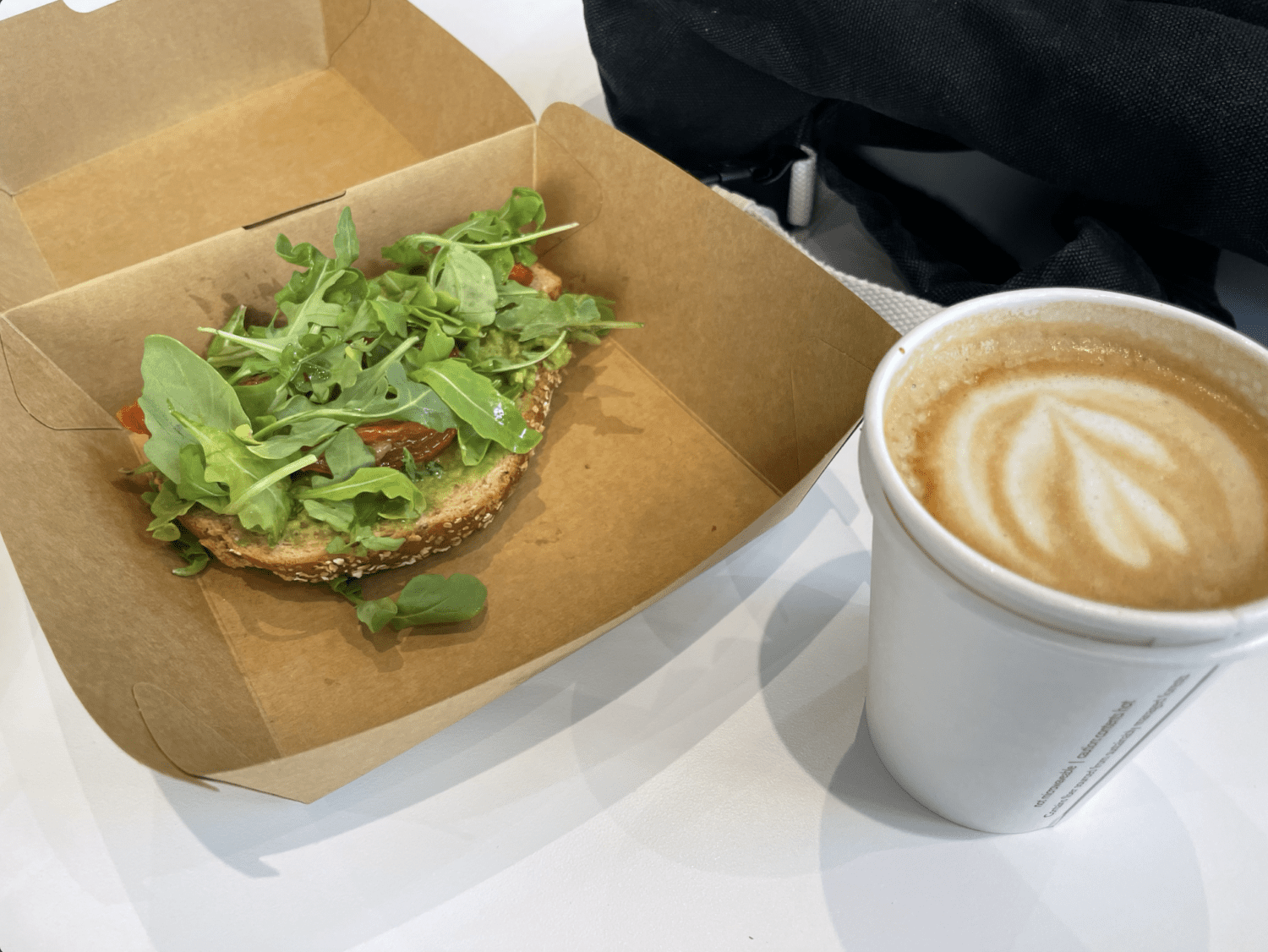 Where are Capital One Cafés Located?
Capital One has over 50 Capital One Cafés across 18 states and Washington, D.C. Here is where you'll find them, state-by-state as of publication.
Arizona
California
Colorado
District of Columbia (Washington D.C.)
Florida
Georgia
Illinois
Massachusetts
Michigan
Minnesota
Missouri
Nevada
New York
Ohio
Oregon
Pennsylvania
Texas
Virginia
Washington
Our Favorite Capital One Cards
While it's not required to be a Capital One customer to visit a Capital One Café, having any Capital One credit or debit card gets you 50% off drinks on each and every visit.
Capital One has many different credit card options, but some are better than others – especially if travel is your goal. Here are some of the best options.
The Capital One Venture X Card
The *venture x* is the bank's very first premium travel card. Think of it as a souped-up version of the ever-popular *capital one venture card* that's chock full of extra benefits: Access to Capital One Lounges and Priority Pass lounges, a $300 annual travel credit, a credit for Global Entry or TSA PreCheck, great travel and rental car insurance protection, and more. The annual fee clocks in at $395 a year, but the benefits can easily outweigh that.
Read more: A Full Review of the Capital One Venture X Card

Learn more about the *venture x*
The Capital One Venture Rewards Credit Card
The *capital one venture card* has been a fan favorite among travelers for years – and for good reason. It's truly one of the best travel credit cards for beginners with its low annual fee of only $95.
You earn 2x points on every purchase and even get a credit that covers the cost of Global Entry or TSA PreCheck once every four year (membership in both programs is good for five years).
Read More: A Full Review of the Capital One Venture Rewards Credit Card

Learn more about the *capital one venture card*
Capital One VentureOne Card
Think of the *capital one ventureone* as the littlest sibling to the Venture X and Venture Cards.
It's a no-annual-fee card that will earn you 1.25x miles per dollar you spend. You won't get much in terms of benefits, but you also won't pay an annual fee either.
Read More: A Full Review of the Capital One VentureOne Rewards Credit Card

Learn more about the *Cap One VentureOne*
Bottom Line
The Capital One Cafés should satisfy your morning coffee needs and give you a place to work or relax – oh yeah, and bank. Unlike Capital One's new airport lounges, you don't need to hold a specific credit card or even be a Capital One customer to duck into one of these cafés, though Capital One cardholders do get a 50% discount on all drinks.
If you've never visited, make sure to sign up for a free beverage on the house before your first visit!