Going into my Qatar Airways economy flight from Dallas-Fort Worth (DFW) to Doha (DOH) last month, I was a little on edge.
A 14-hour flight is economy is never fun – especially after I flew this exact same route in Qatar's Qsuites business class a few years back. At 6 feet 3 inches tall, these long-haul journeys are not always the most comfortable in economy seats that seem to shrink every year.
But somewhere over the Atlantic Ocean, it hit me: On the right airline, a 14-hour trek in economy is not bad … not bad at all, actually. In fact, flying Qatar Airways economy was likely the best ultra-long-haul flight I've ever taken – leagues better than similar flights I've taken on U.S. airlines. From unbeatable business class to a comfortable ride in economy, it's no wonder why Qatar Airways wins award after award as "the best airline in the world." 
Read on for a review of the entire Qatar Airways experience, from booking to arrival.
Best Ways to Book Qatar Airways Economy
Qatar Airways flies to Doha, Qatar (DOH) from 12 U.S. cities and Montreal (YUL) north of the border. Their hub may be in Doha, but that doesn't mean you can only visit Qatar.
Few airlines operate flights to more countries than Qatar Airways. From the U.S., Qatar is a great choice to get you almost anywhere in the Middle East, Africa, and even parts of Asia. If there's a decent-sized airport, there's a good chance Qatar Airways flies there.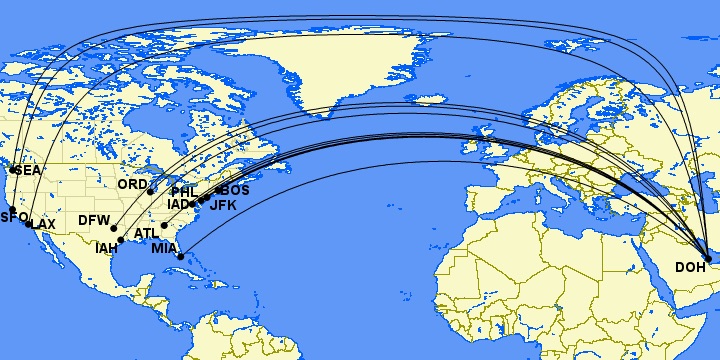 There are several strong ways to book Qatar Airways economy flights, including if you're just looking to buy a ticket. Unlike fellow Middle Eastern carriers Etihad and Emirates, we regularly find cheap Qatar Airways fares to many destinations and send them to our Thrifty Traveler Premium members. It doesn't get much cheaper than this $509 alert we sent last month to get to Egypt and back.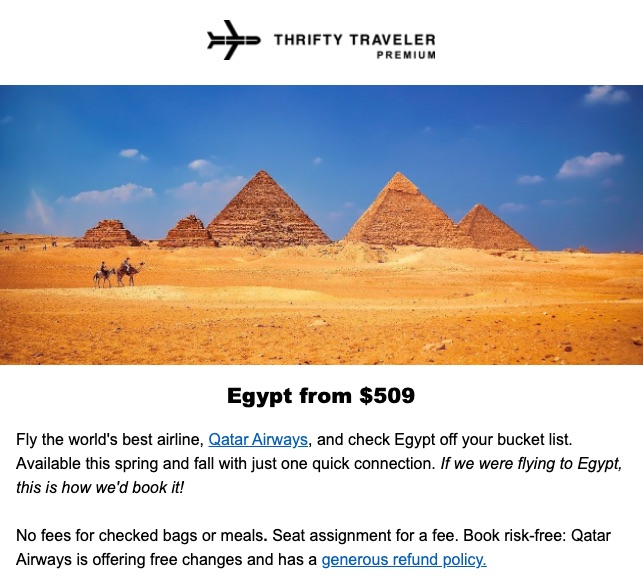 Need help getting a cheap flight on Qatar Airways? Check out Thrifty Traveler Premium, our flight deal alert service that finds deals flying Qatar Airways with savings of $500 or more! 
If you're searching on your own, make sure you're you using Google Flights to start the hunt for a deal flying Qatar Airways economy – just filter your results to only display Qatar-operated flights. Plus, no airline has gone further in giving travelers flexibility to change plans than Qatar: You can get a full refund (not just a voucher) if you cancel a Qatar flight scheduled through Sept. 30, 2022. That's unparalleled.
Once you've booked, the best spot to finalize your purchase is direct on Qatar Airways' website. Navigating through this process on Qatar Airways is quite simple. You'll have the option to select your seat during this process, though unfortunately it's typically not free: It starts at about $25 per seat, per flight. If you skip seat selection, you'll be able to pick the best of what's left when you check in starting 24 hours before departure.
If you're set on booking a flight using points and miles, one of the easiest ways to book these flights is by using American Airlines AAdvantage miles. AAdvantage miles are fairly easy to earn using the best American Airlines credit cards – including a quick way to earn 100,000 AA miles. Best of all, American charges just 40,000 miles each way whether you're flying nonstop to Doha, connecting onward to the Middle East, or even continuing down all the way to South Africa!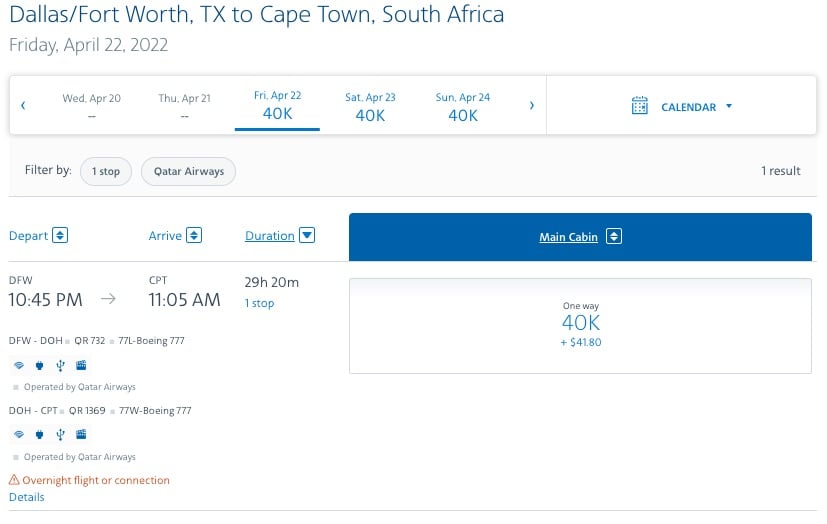 But as of this week, there are two brand new options that might be even easier: British Airways Avios or Qatar Airways Avios. Thanks to a new partnership between the two companies, you can now book one-way economy flights from the U.S. to Doha for just 35,000 miles – albeit with some slightly higher fees than what you'd pay using American miles. Still, it's a solid deal.


Those award rates will climb a bit as you connect onward, especially using British Airways miles. But these miles are incredibly easy to earn because you can transfer points directly to British Airways from Chase, American Express, and Capital One. And you can now immediately transfer Avios between British Airways and Qatar.
All Qatar flights include one carry-on bag, one checked bag, and a personal item. Meals and drinks (including alcohol) are also included on these flights. 
Qatar Airways flies Airbus A350s or Boeing 777s on nearly all its routes to and from the U.S. Find a flight on the Airbus A350, if you can – these jets pump more moisture into the cabin, keeping you better hydrated throughout the flight and helping you arrive with a bit less jet lag.
Either way, you'll be in for a great ride. 
Check-In & Boarding
Just as with almost any other airline, you can check-in to your Qatar Airways flight within 24 hours of departure. At this point, you'll be able to select your seats if you did not already pay to do this at the original booking time. But with all the restrictions and paperwork required for international travel these days, you may need to finalize your check-in at the airport desk – like me.
My flight departed from Dallas-Fort Worth (DFW) from Terminal D, the major hub for many Oneworld international departures and also home to the excellent new Capital One Lounge in Dallas. After a quick flight down to Dallas, I headed to the check-in desk where I was greeted by a Qatar Airways employee who would not allow travelers to get in line until they provided the required paperwork needed for their final destination.
I was headed to Dubai (DXB) in the United Arab Emirates, which at the time was requiring a negative COVID-19 PCR test taken no more than 48 hours before departure. The UAE has since dropped that requirement for fully vaccinated travelers – but you need a vaccine certificate with a scannable QR code.
After clearing my document check, I quickly got my boarding pass from a friendly Qatar Airways agent, headed through security in a few minutes thanks to TSA PreCheck, and was on my way to the gate. 
Like other airlines, Qatar Airways began boarding with business class passengers and those who need extra assistance to board first. After that, Qatar Airways agents began lining up economy passengers like me to board, with several lines based upon main cabin boarding grtoup numbers. Be prepared to show your passport and boarding pass to get passed the gate agents. You'll need to show your boarding pass again to the flight crew, who will then point you in the right direction to your seats. 
Cabin & Seats
The Qatar Airways A350-1000 on this route had 281 seats in economy. It's laid out in a 3-3-3 configuration, split up into two cabins divided by a galley in the middle.
Many times, economy flights on Middle Eastern carriers go out with 50% of seats filled. I wasn't so lucky: My flight from Dallas to Doha was completely full. Go figure, overhead bin space quickly filled up. Getting in line early at boarding will pay off – especially if you are traveling with both a carry-on and personal item.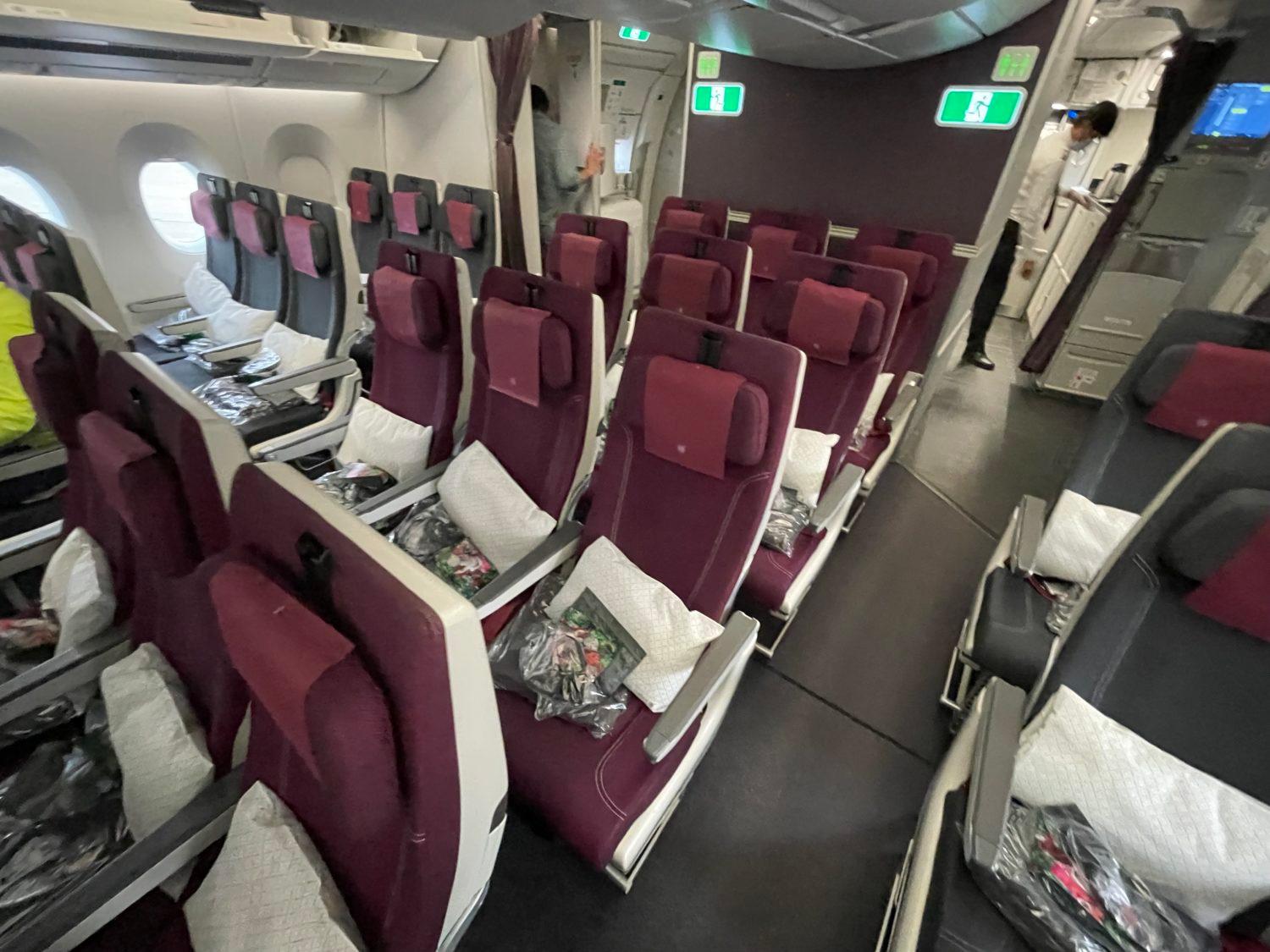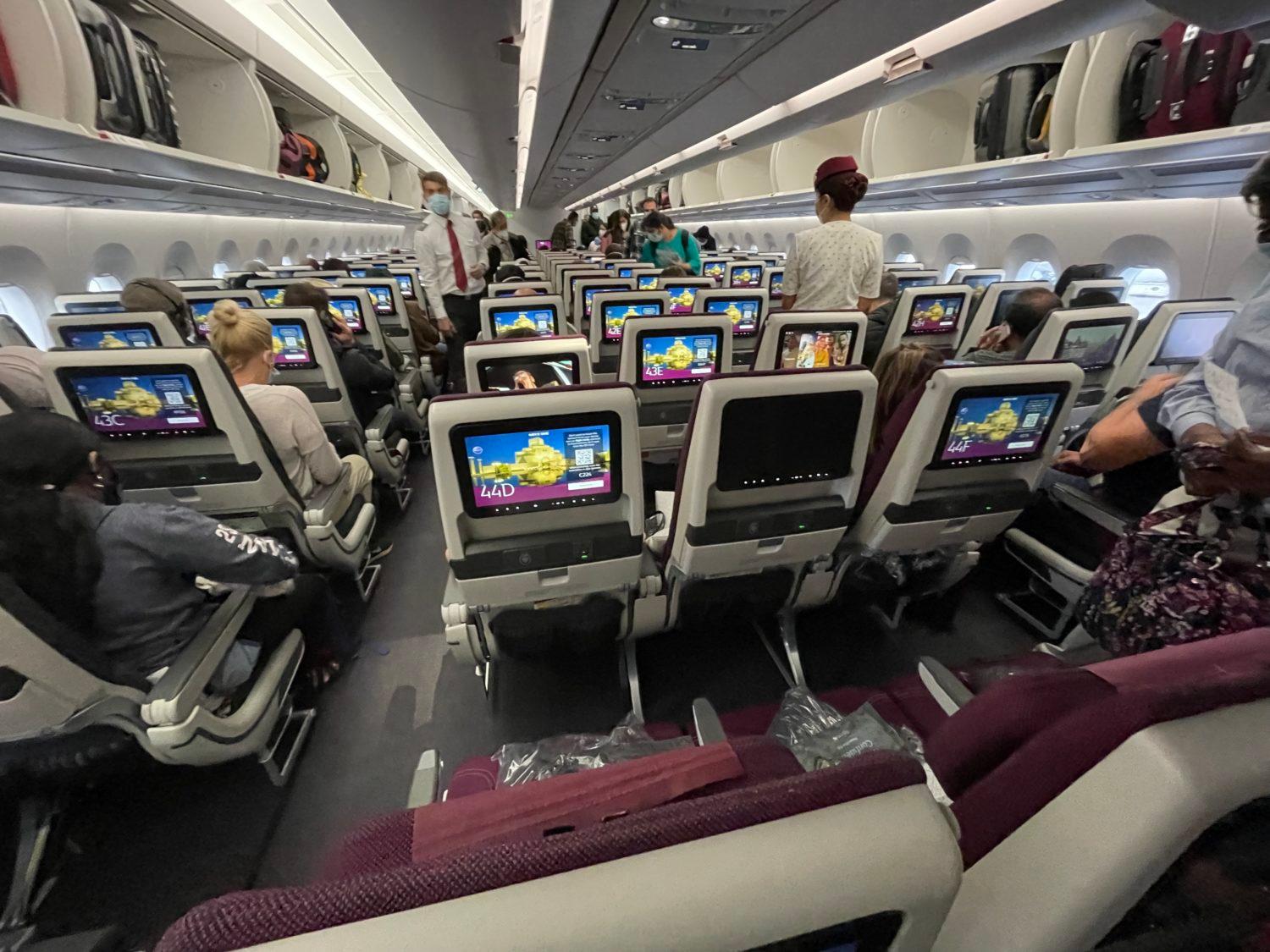 Each seat in Qatar Airways economy on this flight was about 17 1/2 inches wide. While that's not the widest seat you'll find in economy, I found it to be plenty comfortable. And with 32 inches of legroom, I thought it was spacious enough for my legs, too – even as a taller guy, I did just fine on the 14-hour flight.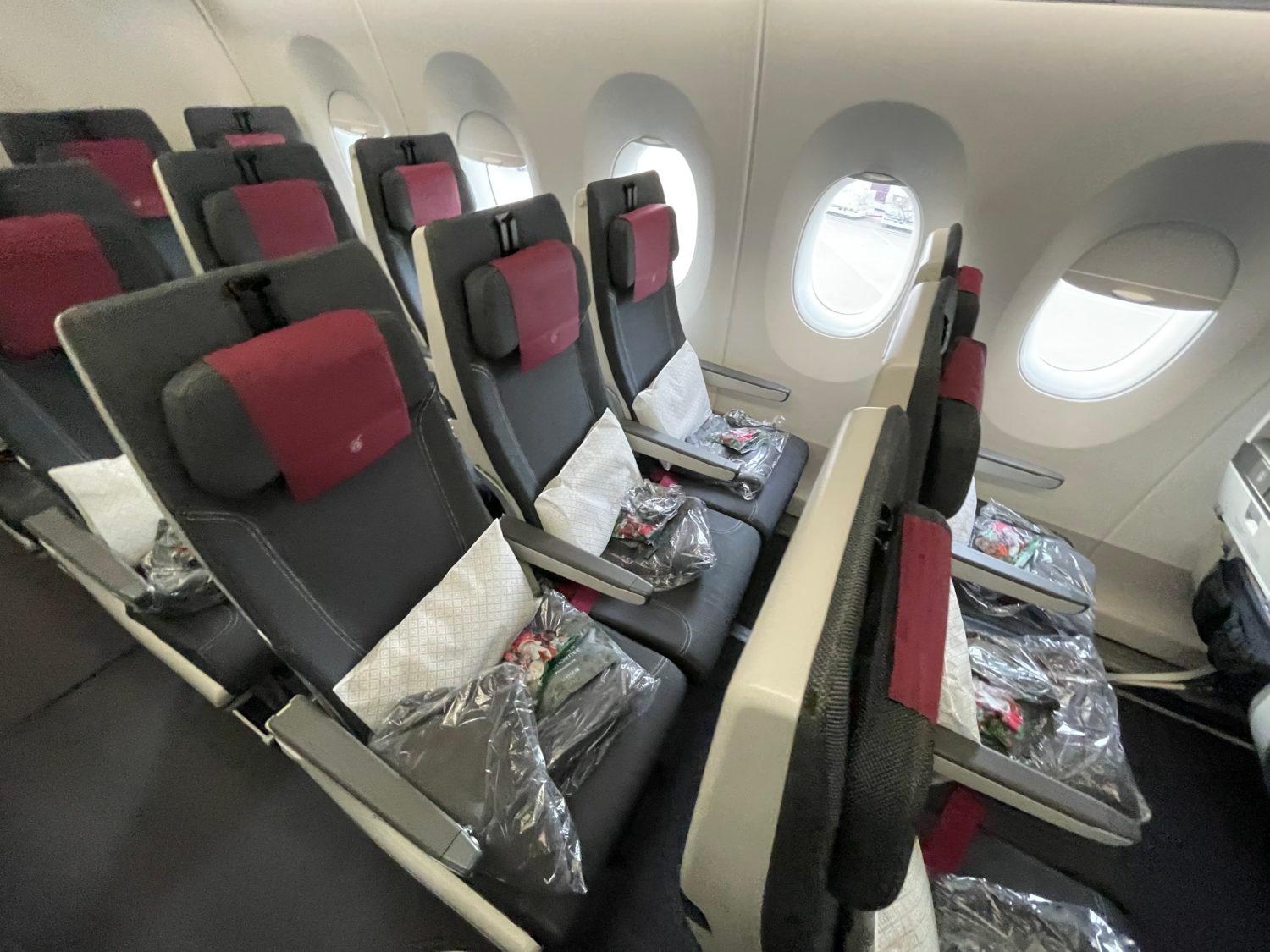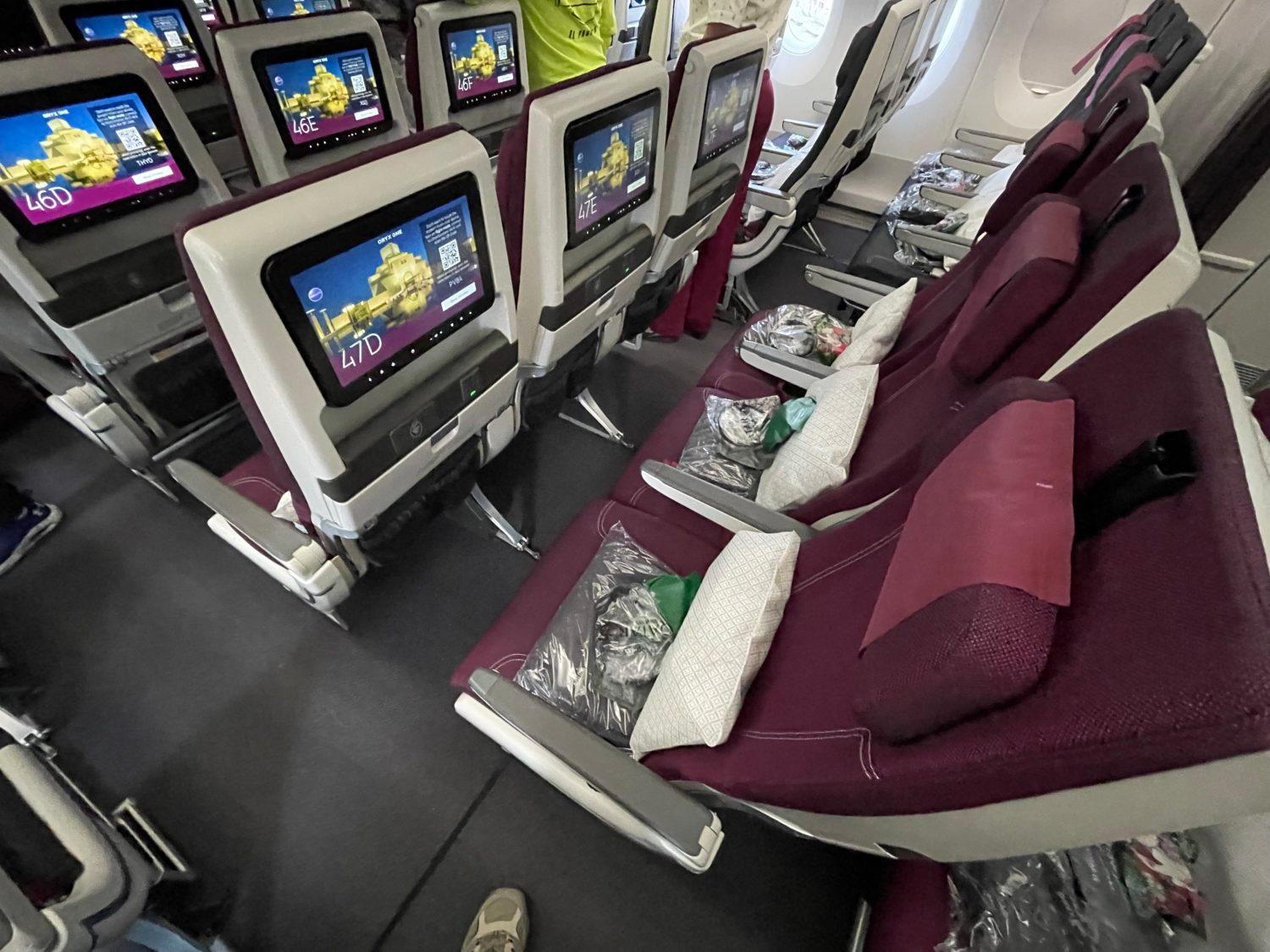 I assigned myself seat 45D, a seat alongside the aisle in the middle section of the plane. I always make a point to pick an aisle seat to get even more room for my legs, but I also stored everything I didn't immediately need in the overhead bin in hopes of getting even more legroom. Combined with a well-padded seat and an easily adjustable headrest, it was one one of my best long-haul economy flights. I'd say it was even up there with Japan Airlines economy, which has wider seats with more legroom.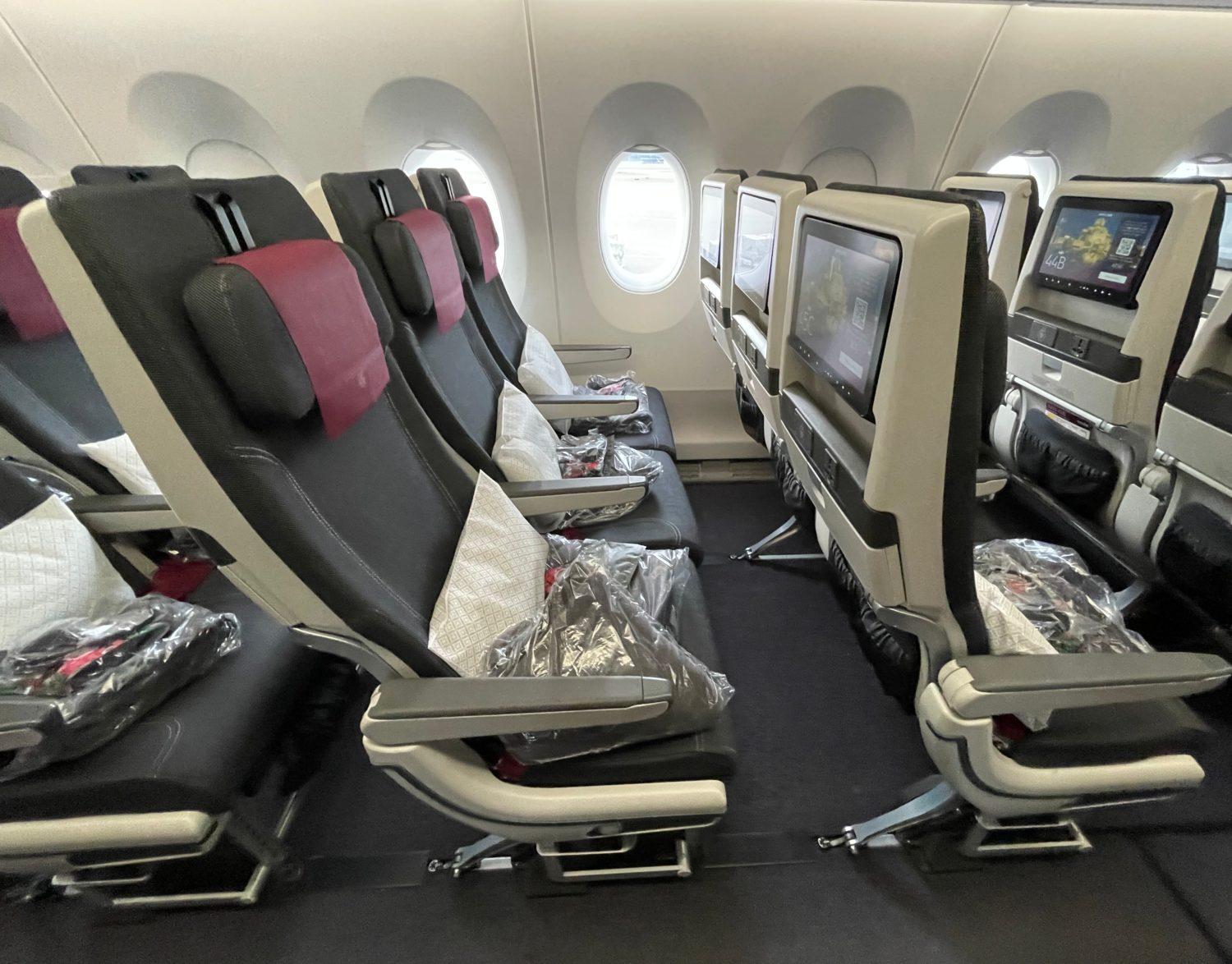 Each seat was waiting with an amenity kit, blankets, pillow, and headphones all neatly organized on top. I only used a portion of these giveaways, but it still is a nice touch by Qatar Airways to have these available for all passengers as you settle in – it's not something you get from every airline when flying economy.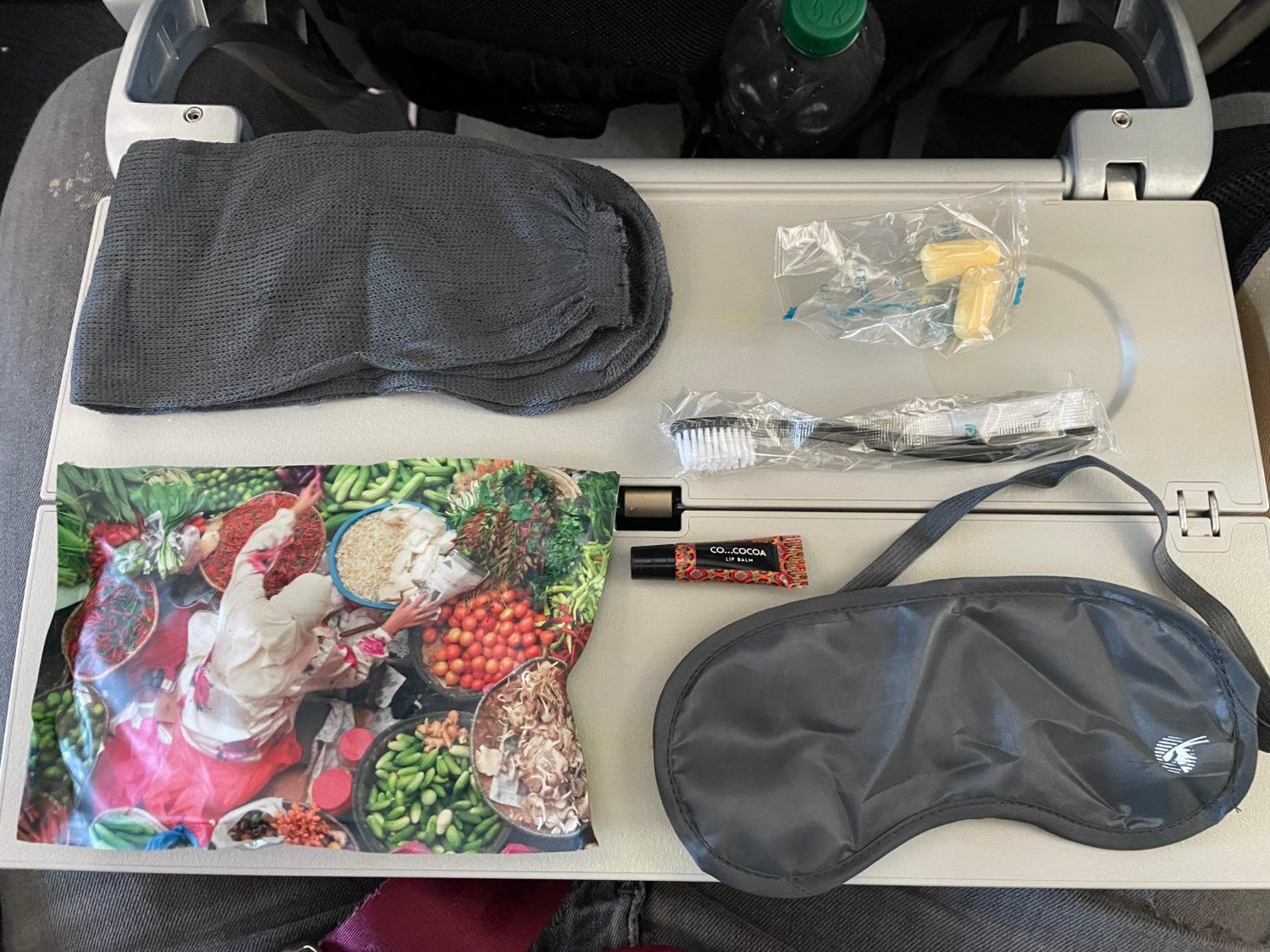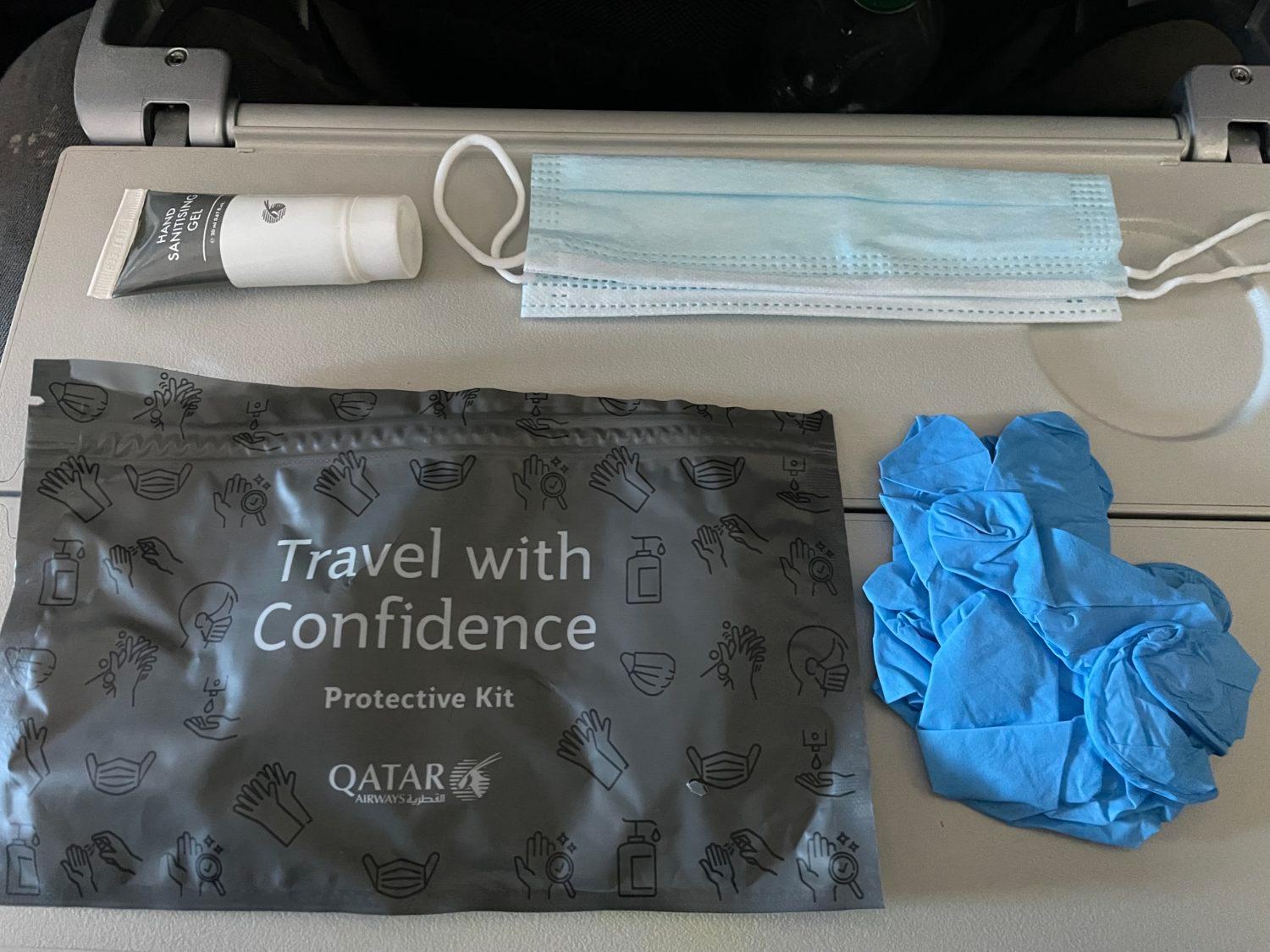 The overall design and feel in the economy cabin felt great, too. There were soothing neon overhead lights that dimmed and brightened at appropriate times during the flight.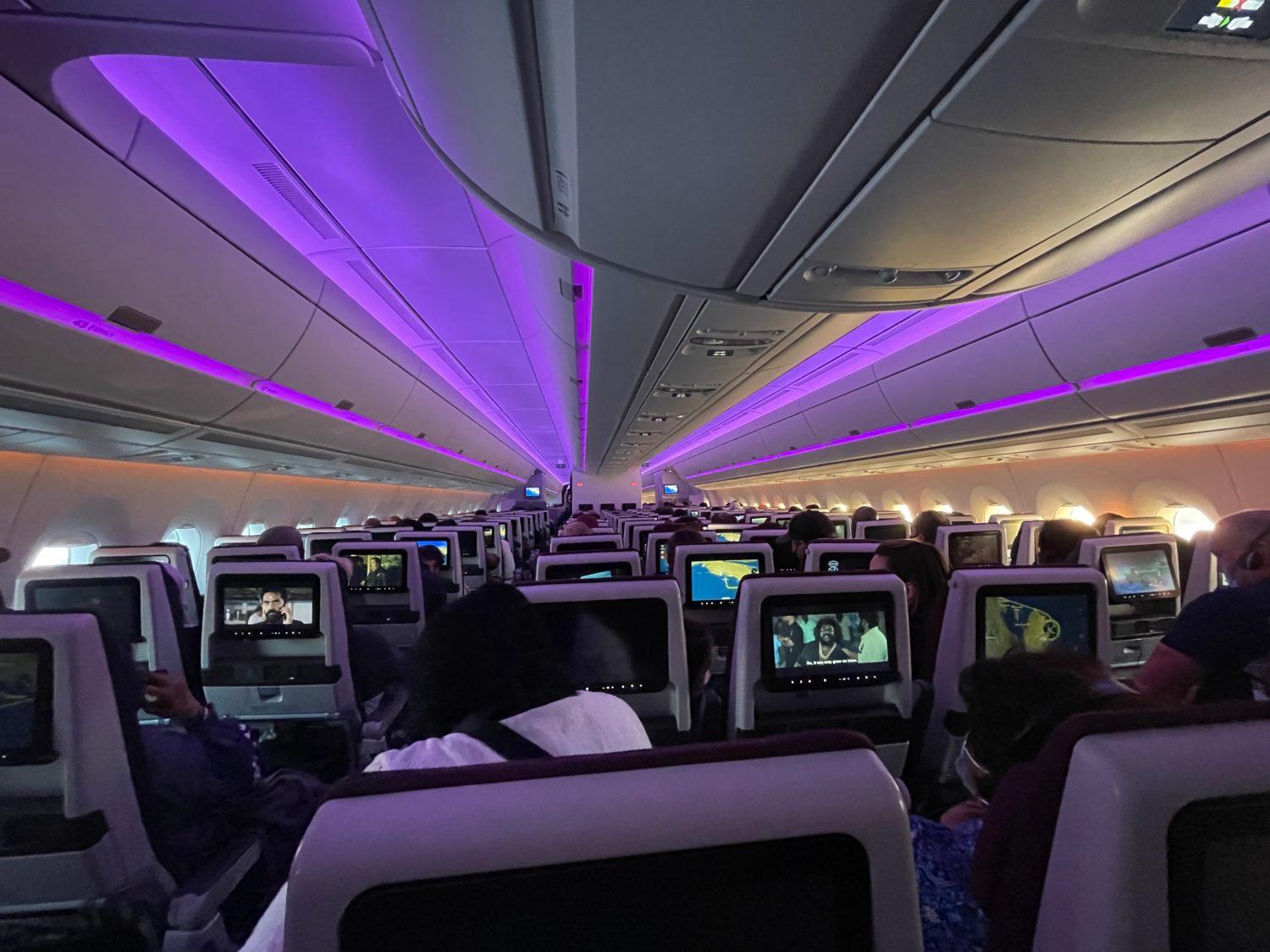 Food, Drinks & Service in Qatar Airways Economy
The service on this Qatar Airways flight was exceptional.
Everyone was welcomed with a warm greeting as the flight attendants directed each passenger to their seats. Every flight attendant I saw throughout the journey was extremely attentive, far more proactive in offering refills or asking if there was anything else they could do for passengers than most other economy flights I've taken. And they hustled throughout the cabin throughout the flight.
Qatar Airways Economy passengers received free drinks, including alcohol, along with two meals on this long flight to Doha (DOH). Qatar boasts about its "Quisine" program for economy passengers, with elevated meals using better ingredients. That checks out, if you ask me.
The first meal was served about two hours after departure, right as I neared the end of my first inflight movie. Due to COVID-19 precautions, all the food was served in sealed packages. I picked chicken and rice for dinner, which was great with a side of bread, a small container of crisp vegetables, and a nice chocolate mousse for dessert. One touch you won't find elsewhere: The silverware back in economy was actually metal, a nice touch compared to the plastic or wood utensils you get flying many other carriers.
A decent glass of white also did the trick to wash down the tasty meal.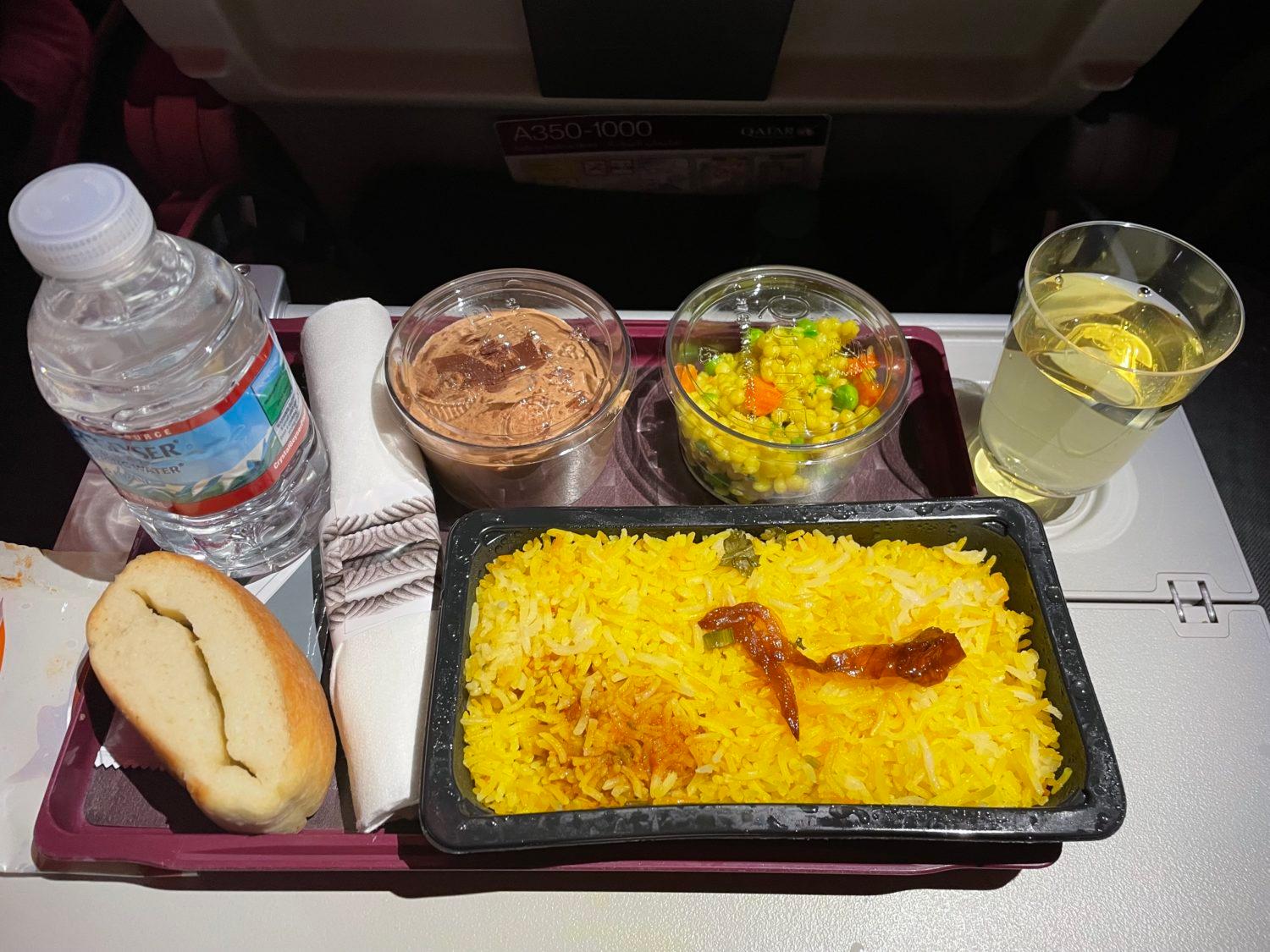 After dinner service, flight attendants made it a point to walk around the cabin frequently to refill waters or any other drink orders. And unlike many other airlines, there was no problem when ringing the flight attendant call button.
During the flight, passengers always had the option to contact a flight attendant who would promptly serve them anything else they needed. They made it a point to walk around frequently to refill waters and fulfill any other drink orders the passengers had.
As we neared our destination, breakfast meals were served with a couple of hours remaining until arrival. Again, I was pleased with what landed on my tray: A well-done egg bake nestled alongside some fresh grilled vegetables along with some fresh fruit, yogurt, bread, and juice. It did not disappoint.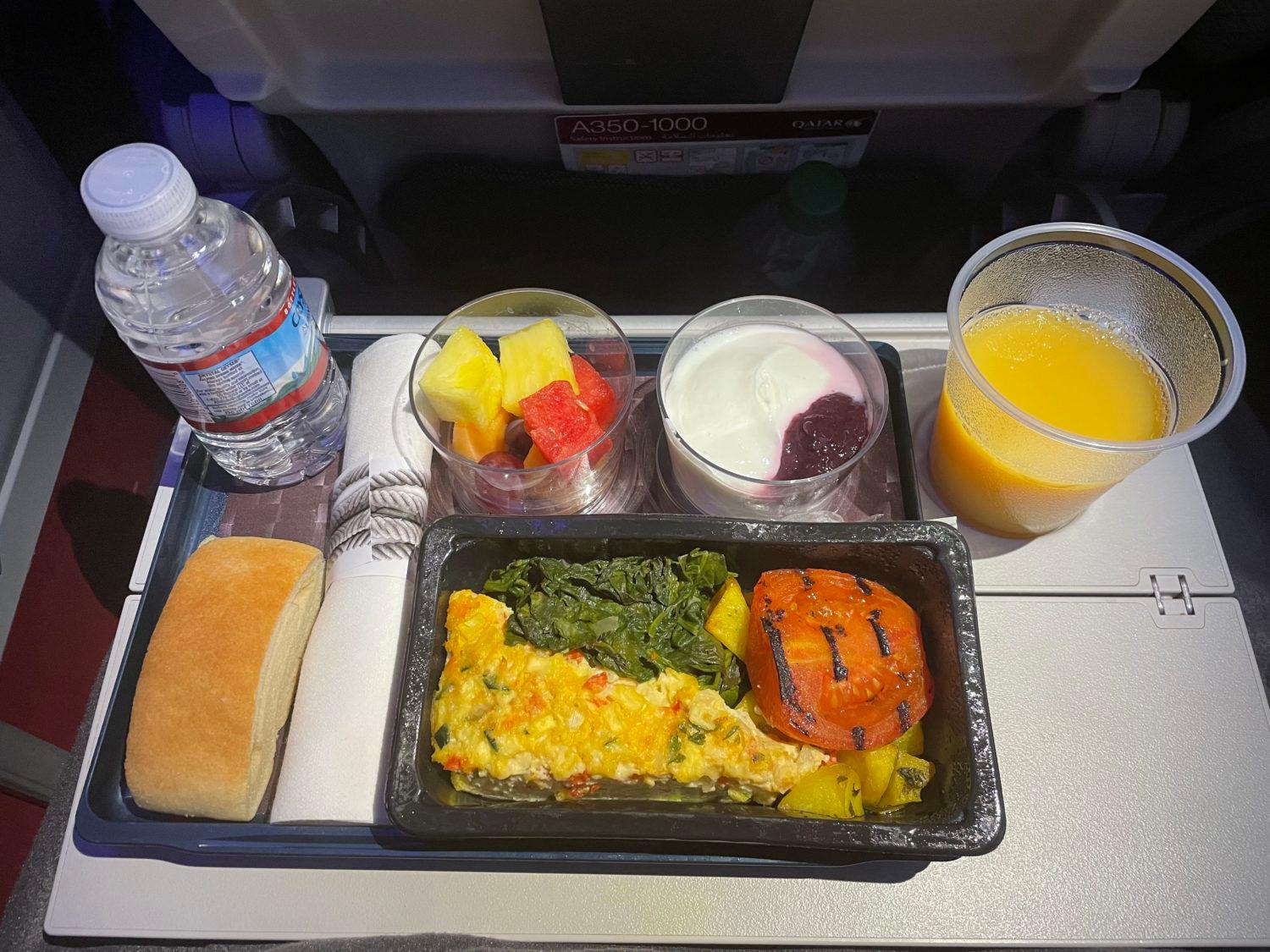 Overall, the dining department in Qatar Airways economy gets high marks from me. The quality, quantity, and variety of food worked out very well for me. Plus, the flight attendants' attention to serving and clearing these meals was also much appreciated.
Entertainment
Qatar has put a lot of emphasis on its in-flight entertainment, and it shows.
Every seat is equipped with 10.6-inch touch screen – and a very crisp monitor, at that. But the options felt endless, with more than 4,000 movies, shows, and other bits of entertainment to pick from whether you're flying in economy or business class.
This state-of-the-art Oryx entertainment system is extremely easy to operate on a touch screen.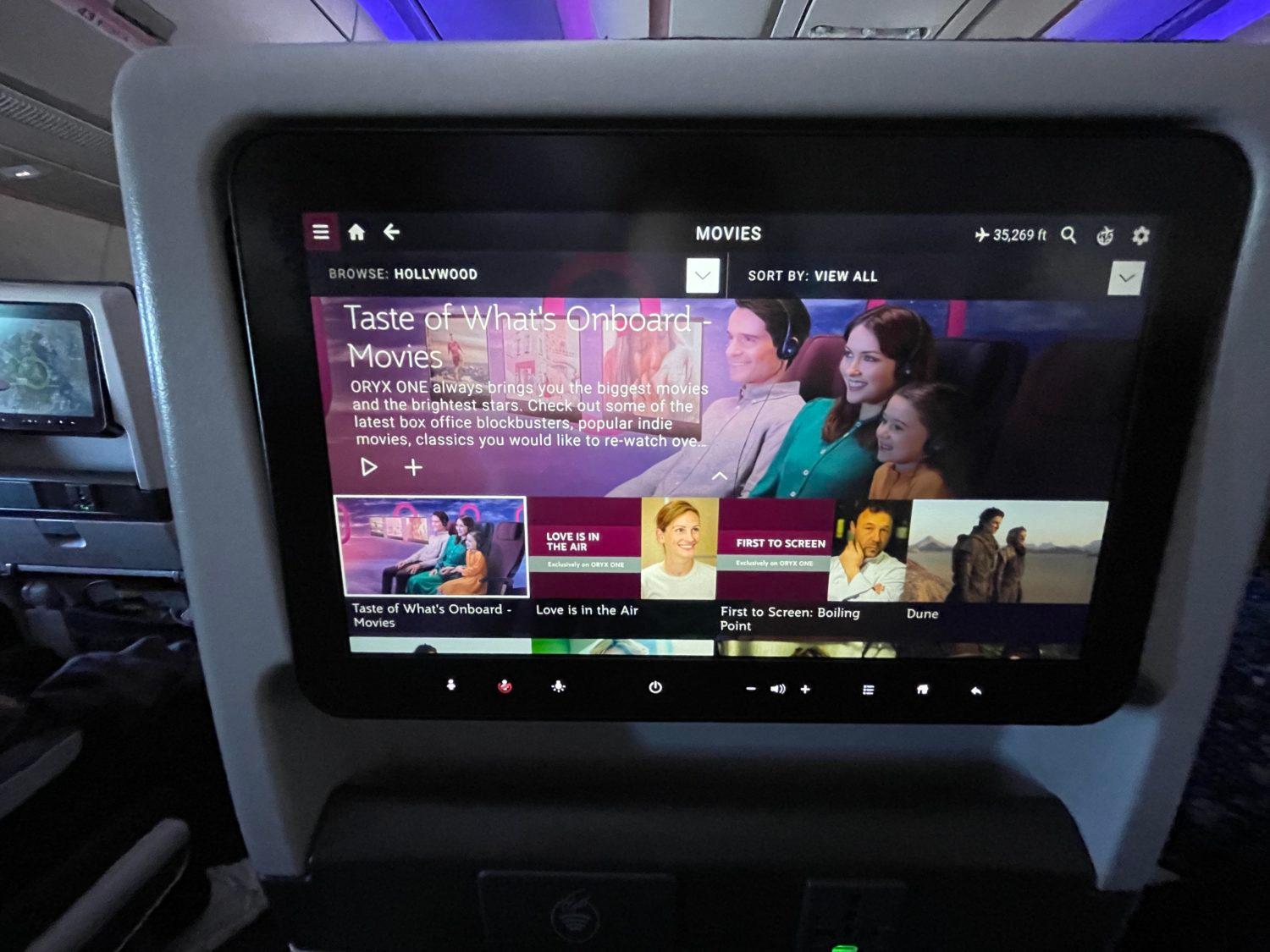 I quickly pinpointed a few movies that I had not seen and dove in. If you are looking for some other ideas, the entertainment system also has a surplus of video games, TV shows, and music. If you're more interested in using your own devices to pass the time, there are also USB and power outlets at every seat to keep your devices fully charged during your journey. 
Bottom Line
Even in economy, Qatar Airways lives up to the hype as "the best airline in the world," if you ask me.
The combination of top-notch service, delicious cuisine, comfortable seats, a clean beautiful cabin, with a smooth ride all added up to one of the best experiences I've had flying in economy.
I would never hesitate to travel in coach on Qatar Airways if given the opportunity again.