The dingy, old New York City-LaGuardia (LGA) airport you remember is gone – it has had a genuine glow-up. And if you ask Delta, the airline's new Sky Club to replace its cramped, outdated lounges is the crown jewel.
At more than 30,000 square feet, Delta's Sky Club at LaGuardia is its biggest lounge, period. Delta even has plans to expand further by adding a wraparound outdoor deck and a second bar to the space. In all, the LaGuardia Sky Club has all the ingredients of an excellent airline lounge: A mammoth amount of square footage, tons of seating, beautiful furnishing, fast Wi-Fi, and fun food options.
But the overwhelming ingredient is people … and a lot of them. Despite its size, this lounge can still get really crowded, leading to the long lines out the door that have become something of an unfortunate trademark for Delta lately.
Here's a look inside.

Getting into the Delta Sky Club LaGuardia
LaGuardia was once a bleak place. Lucky for you, Delta flyers, that has changed.
Along with other airlines and their home terminals, Delta and New York's Port Authority practically rebuilt Terminal C at LaGuardia during the pandemic to the tune of $4 billion. There's a state-of-the-art consolidated check-in area, vastly improved security checkpoints, brand-new gates, and more.
The new Delta LaGuardia Sky Club is located at the center of the action in the so-called "Delta Sky Way," one level up from the check-in area and a short (or, in some cases, not so short) walk to all of Delta's gates down Terminal C's various piers. As of publication, it's open from 5 a.m. to 9:30. p.m. every day. The beautiful, wood-paneled entrance is hard to miss.
To get into the new Delta Sky Club at LGA, you'll need to have access. And like all Delta Sky Clubs, there are a few ways to get into this new lounge. No matter which route you take, you need to be flying Delta that day to get in. 
The easiest way is by simply holding The Platinum Card® from American Express – and not the co-branded Delta version.
This card opens more lounge doors than any other travel credit card on the market. So long as you're flying Delta that day, you can just show your Platinum card and your boarding pass, and gain access. You can bring up to two additional guests, but it will cost you: As of Feb. 2, 2023, each guest now costs $50.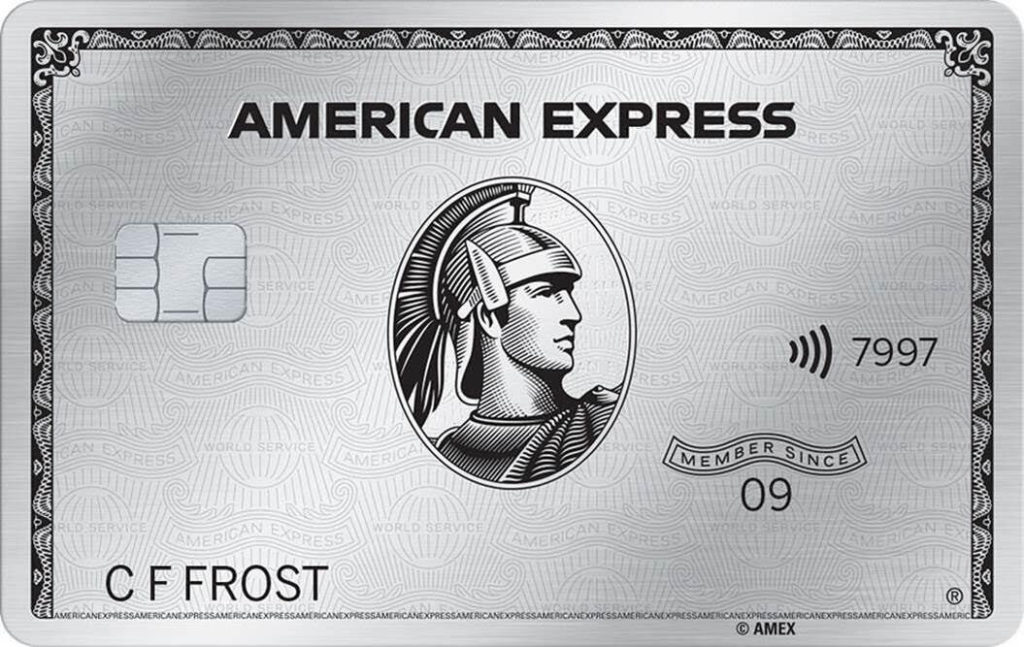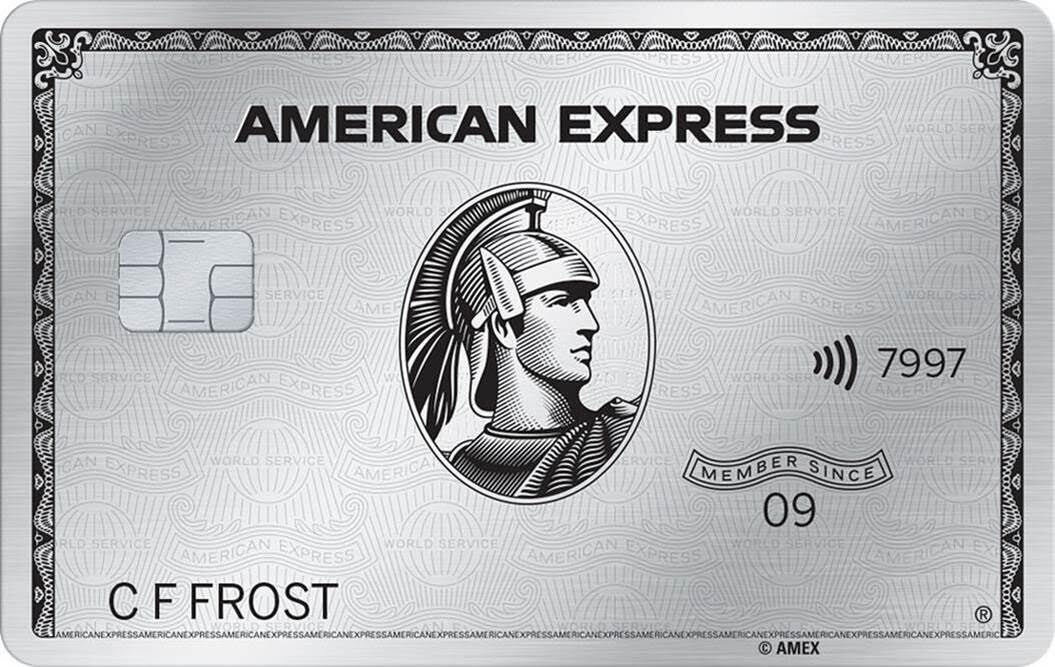 Click Here to learn more about the Platinum Card® from American Express.

You can also get into the Sky Club for free if you've got Delta's top co-branded credit card, the Delta SkyMiles® Reserve American Express Card. Much like the Platinum card, you can enter any Sky Club for free so long as you're flying Delta that day. Reserve cardholders also get two, one-time guest passes each year. After that, you'll have to pay $50 per guest, too.

Click Here to learn more about the Delta SkyMiles® Reserve American Express Card. 

And even cardholders with one of Delta's lesser co-branded cards can get in – for a fee. If you've got the Delta SkyMiles® Platinum American Express Card, you can enter any Delta Sky Club when you're flying Delta that day by paying $50.
Unfortunately, flyers with the Delta SkyMiles® Gold American Express Card will not have access to the Delta Sky Club, even for an extra fee.
Finally, you may need to watch the clock. In a bid to battle lounge overcrowding, Delta now limits lounge access to three hours before departure. However, flyers still have the ability to get into the lounge upon arrival from a flight after the airline scrapped its plans to eliminate that option.
Read our full guide to getting Delta Sky Club access!
Just be warned: Depending on when you visit, you may see a long line to get in. This is among the busiest Sky Clubs in Delta's network.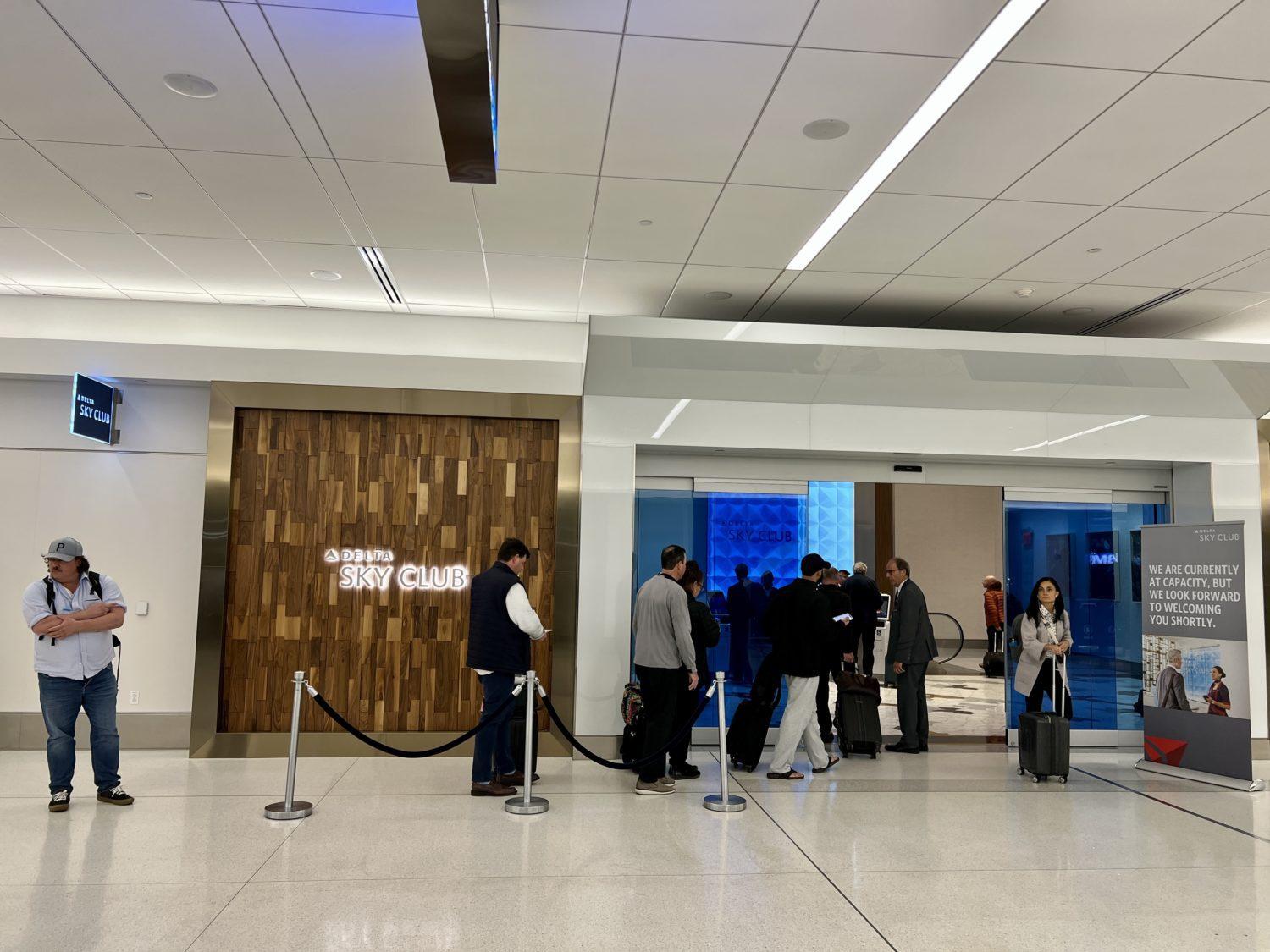 Once you're in, scan your boarding pass with an agent or scan your own at a self-serve kiosk and you're set.

A gleaming escalator or set of stairs will take you up one last level and into the LaGuardia Sky Club.

The Massive Delta Sky Club LaGuardia
Opened in June 2022, the new Delta Sky Club at LaGuardia currently clocks in at more than 30,000 square feet … but it's not done yet.
After expanding to add an outdoor deck, second bar, and more seating, the lounge will measure in at just shy of 35,000 square feet, Delta has said. That makes it the biggest Sky Club in Delta's portfolio – and it's not particularly close.
So does it feel massive? Yes … and no. The influx of Delta flights throughout the day (especially in the early evening) combined with all the easy ways to get into Delta Sky Clubs can make this lounge feel packed, despite its size. There are hundreds of seats, but it can be a challenge to find one during the busiest periods. Long lines at the buffets and bar are common.
Still, there's no question this lounge is a big step above your average Sky Club with high-quality finishes and a distinctly New York flair throughout. The lounge sets the tone early with this chic seating area near the entryway, complete with a beautiful glass light fixture above.

The 30,000-plus square foot lounge is basically laid out in a massive H shape. I like to think of the left side being devoted to relaxing and the right side for working, with the bar and main buffet at the center connecting the two.
Let's start on the left side, which extends so long it feels like it should be called "The Great Hall." It's full of different seating options, with a truly awesome span of floor-to-ceiling windows that flood this space with light during the day, treating travelers to views of planes taking off not far away.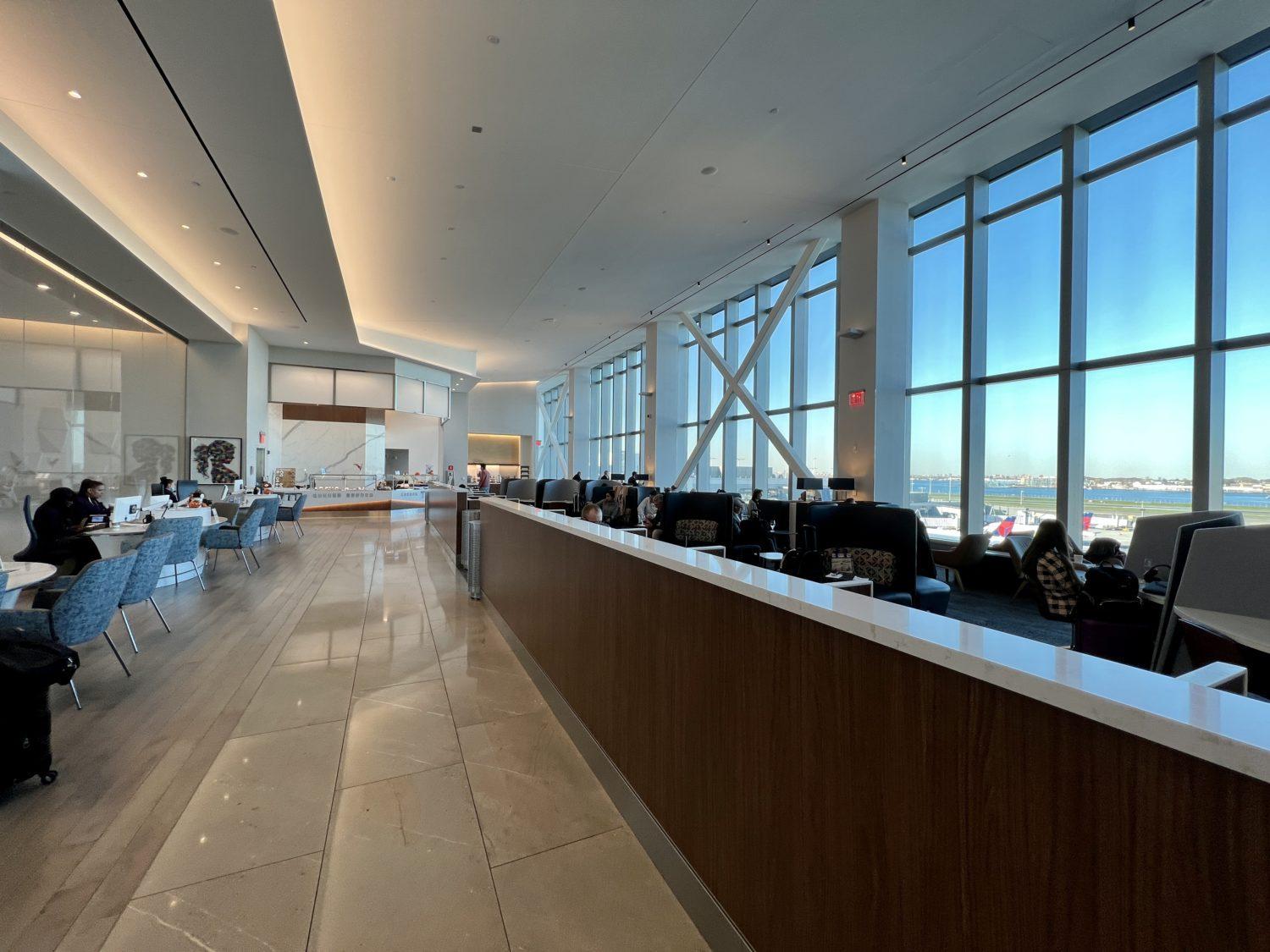 There are some great seating options here, including high-backed armchairs for some additional privacy as well as small, clever workspaces. No matter where you sit, it's always equipped with charging space at the ready – including some wireless chargers! The variety of comfortable seating is definitely a highlight.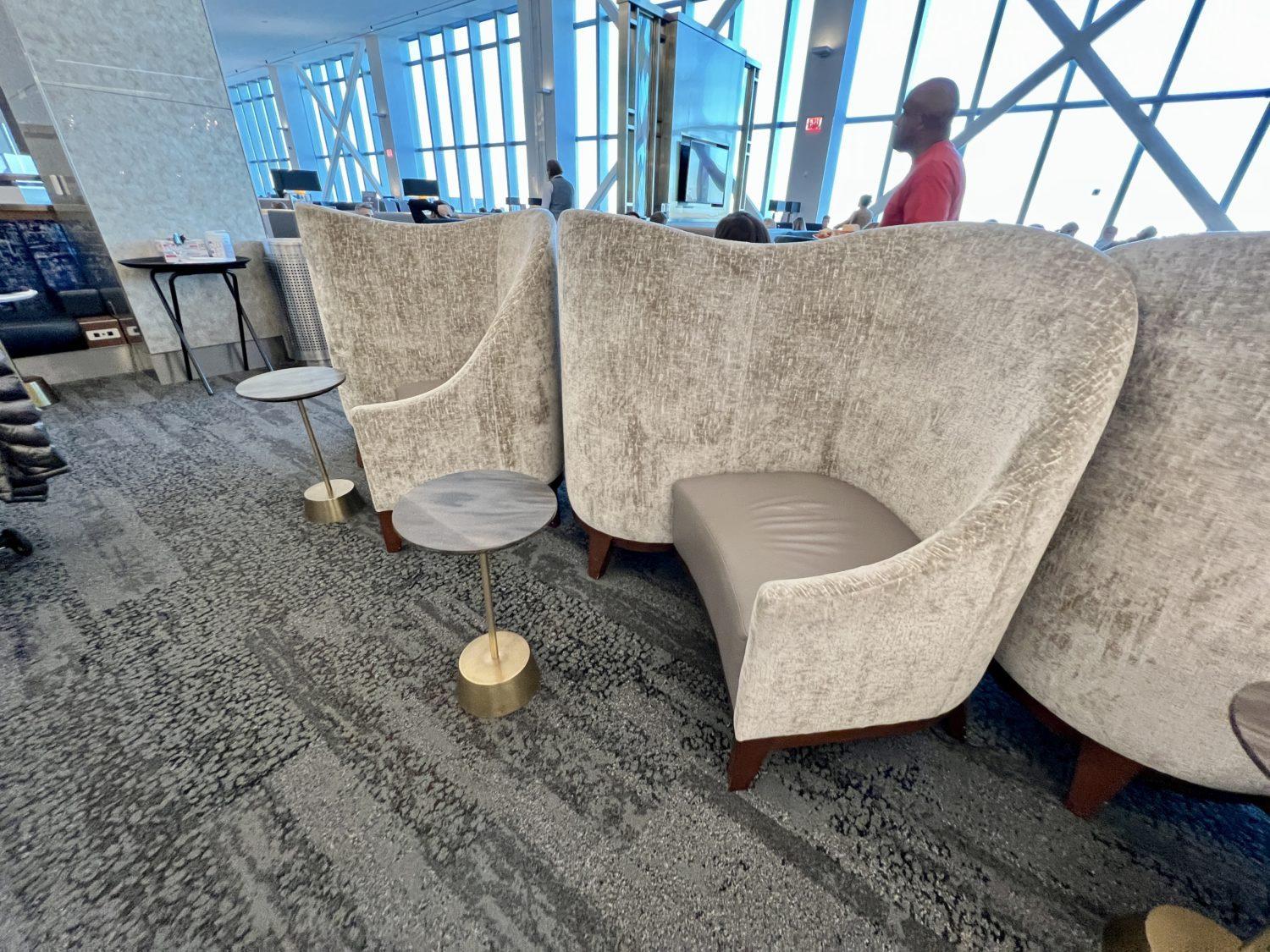 But all the cozy seats in the world don't mean a thing if there still aren't enough of them … and when this space starts to fill up, you really feel it. And while the open and airy feel of the lounge is great during off-peak times, it makes it feel even busier when things start to pick up.

If you want a semblance of peace and quiet, I'd beeline for the back of the left side of the lounge, where you'll find a train station-themed room with a big work table and – you guessed it – even more seats. While still busy, it seemed like fewer travelers made it back to this corner of the Delta Sky Club LaGuardia.

Walk over to the other side of the lounge and you'll find a massive media wall at the center, with an array of seats and side tables.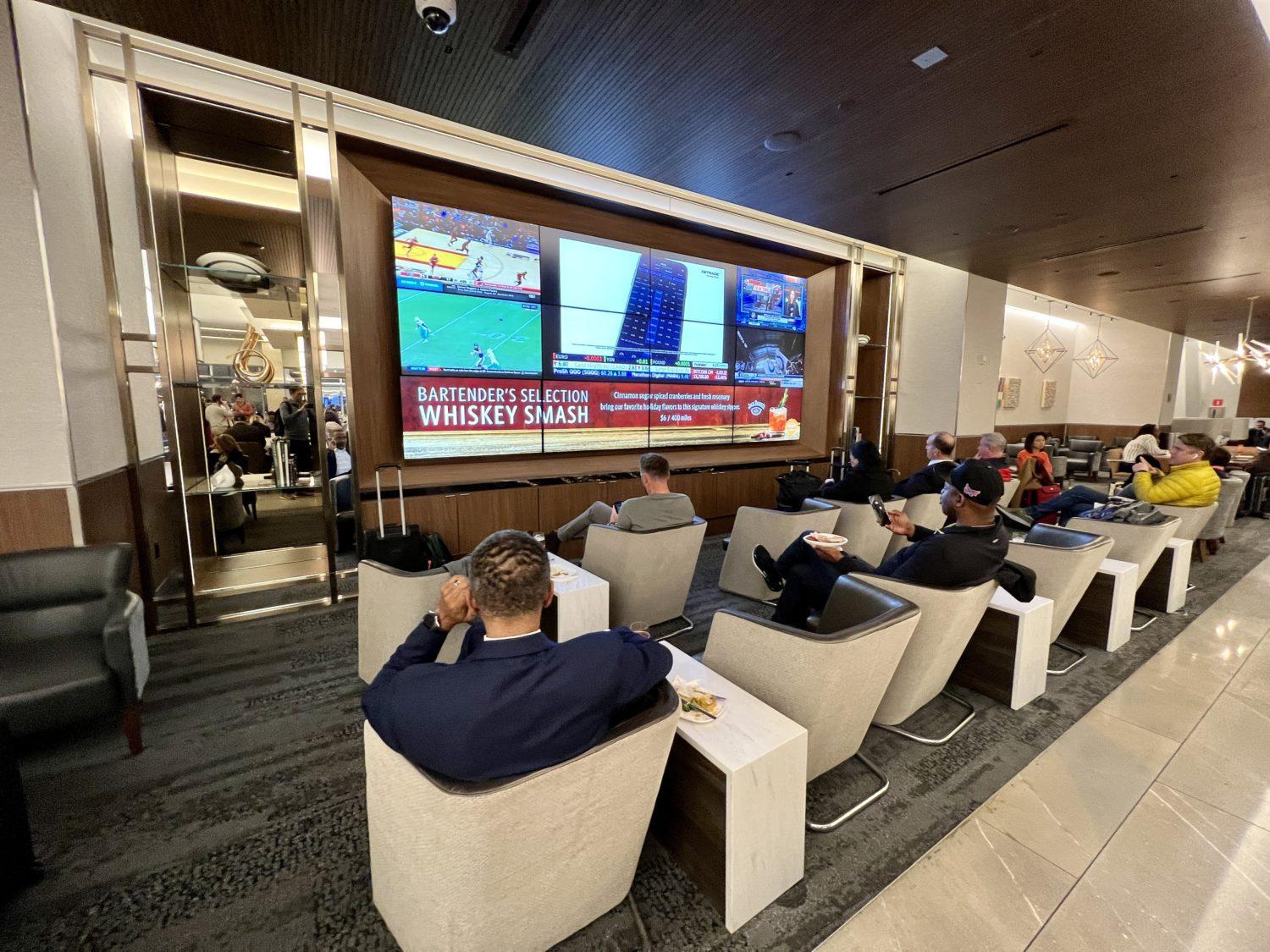 But the rest of this area is really dedicated to places for travelers to work. For starters, there are more of these clever, single workspaces with wireless (and normal) charging.

If you really need to focus, try to snag one of these high-walled cubicles, which are really comfortable and ideal to get some work done.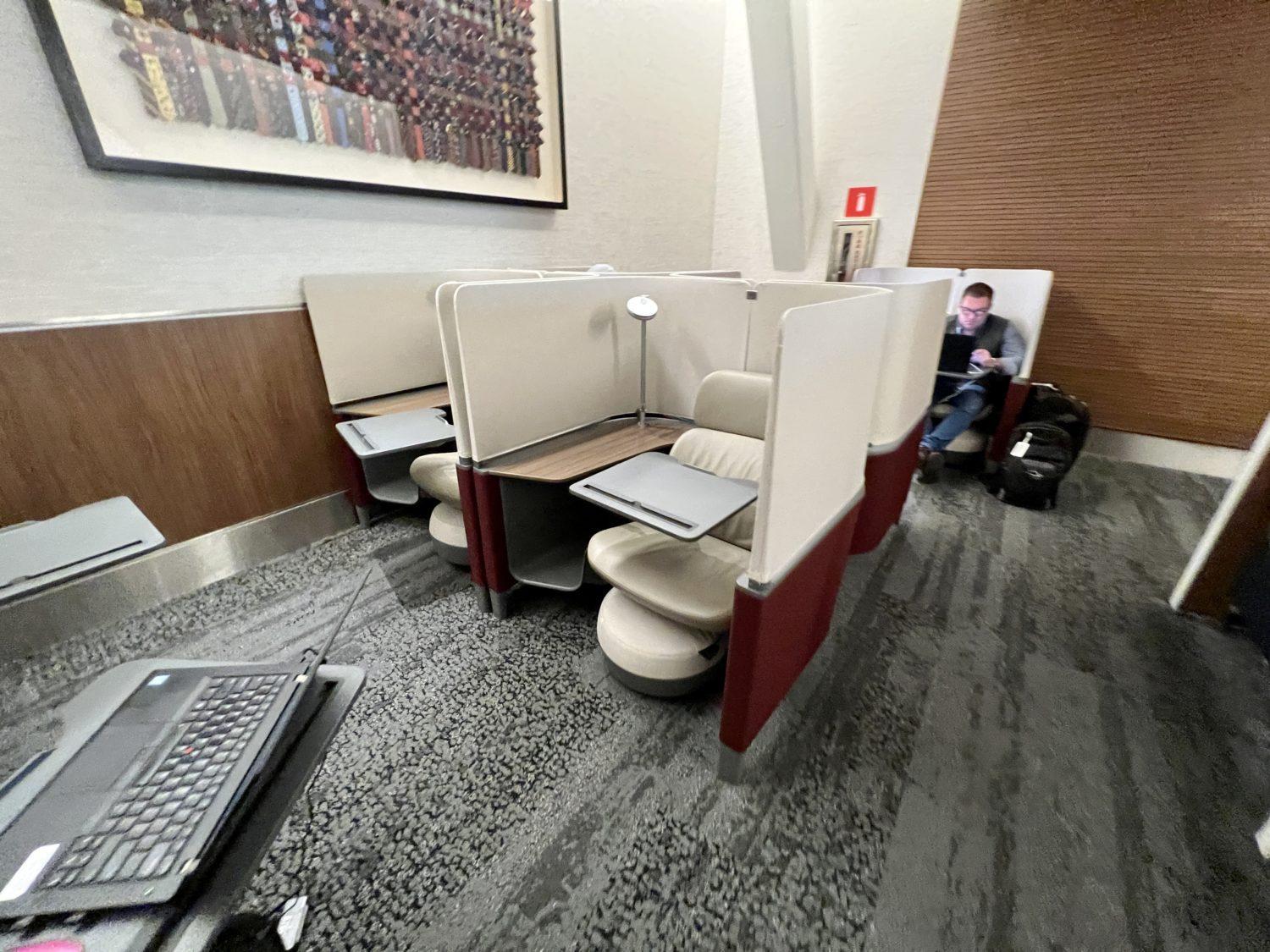 There are plenty of other small armchairs on this side of the lounge.

There's also another one of those beautiful, long wooden work tables with a classy light fixture overhead.

At the far end of this wing of the lounge, you'll find some additional work surfaces along with a bay of seven private phone booths, a fixture at some of Delta's latest and greatest lounges. There's also a printing station, should you need it.

A lounge this big needs more than one set of bathrooms, and Delta knew it. There are two corridors with restrooms: One near the entrance and another toward the back left corner of the lounge. In my experience, the entryway restroom was always busy while the bathroom in the back was close to empty.
I can only speak to what the men's restrooms are like, but both are incredibly well-designed spaces.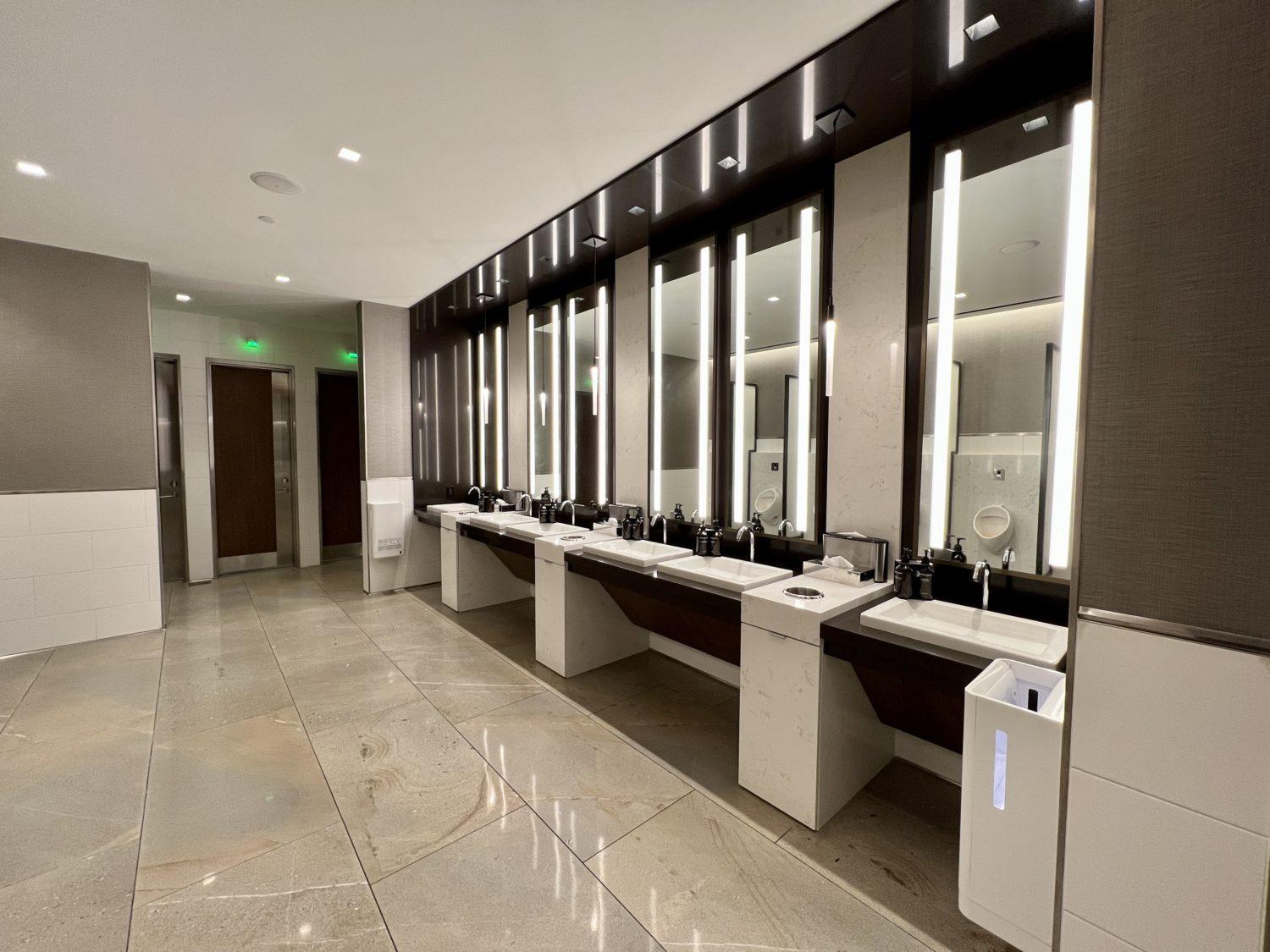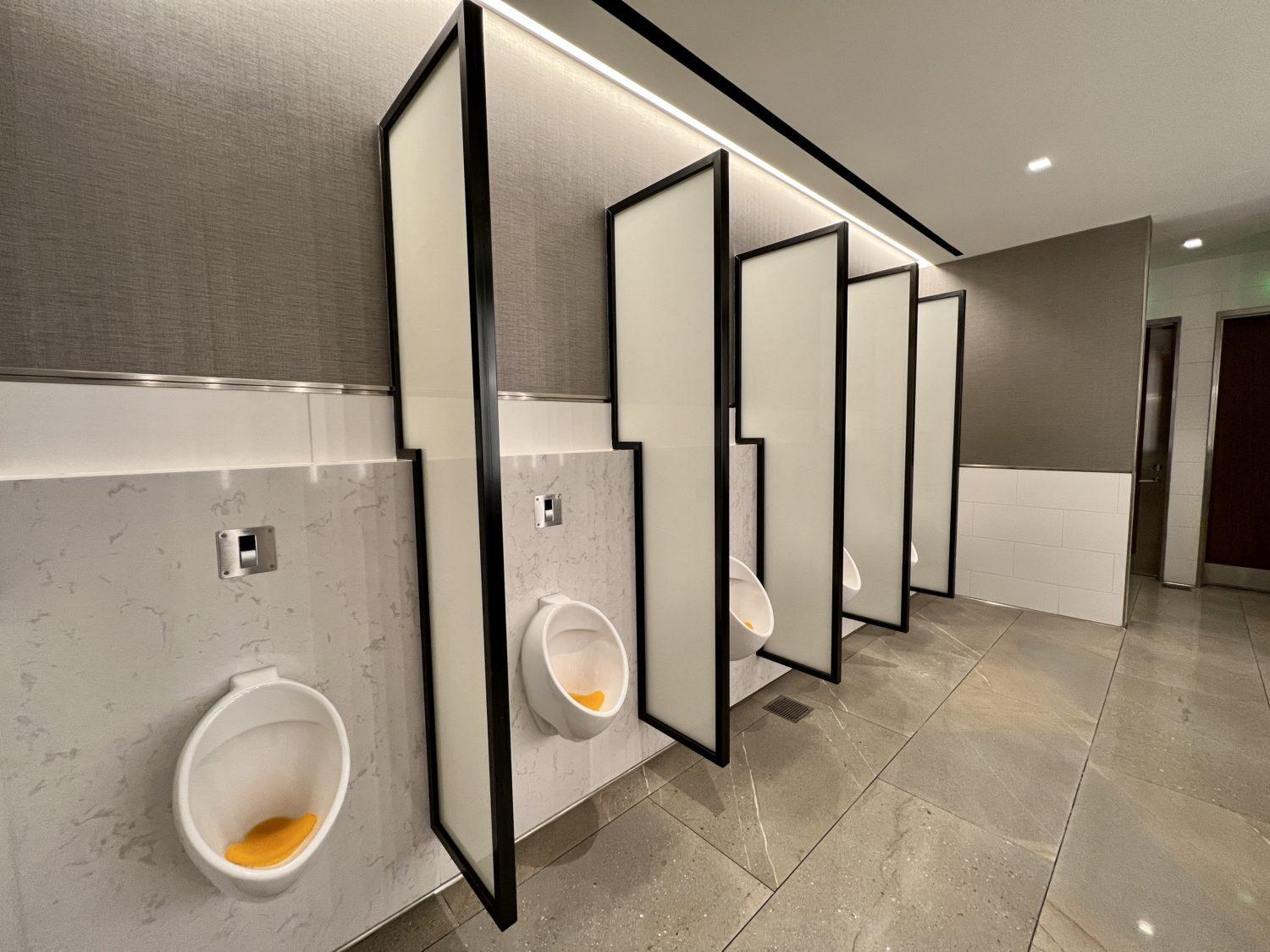 There are even fully-enclosed individual toilet stalls, with green and red lights overhead to indicate whether it's occupied. That's a nice touch.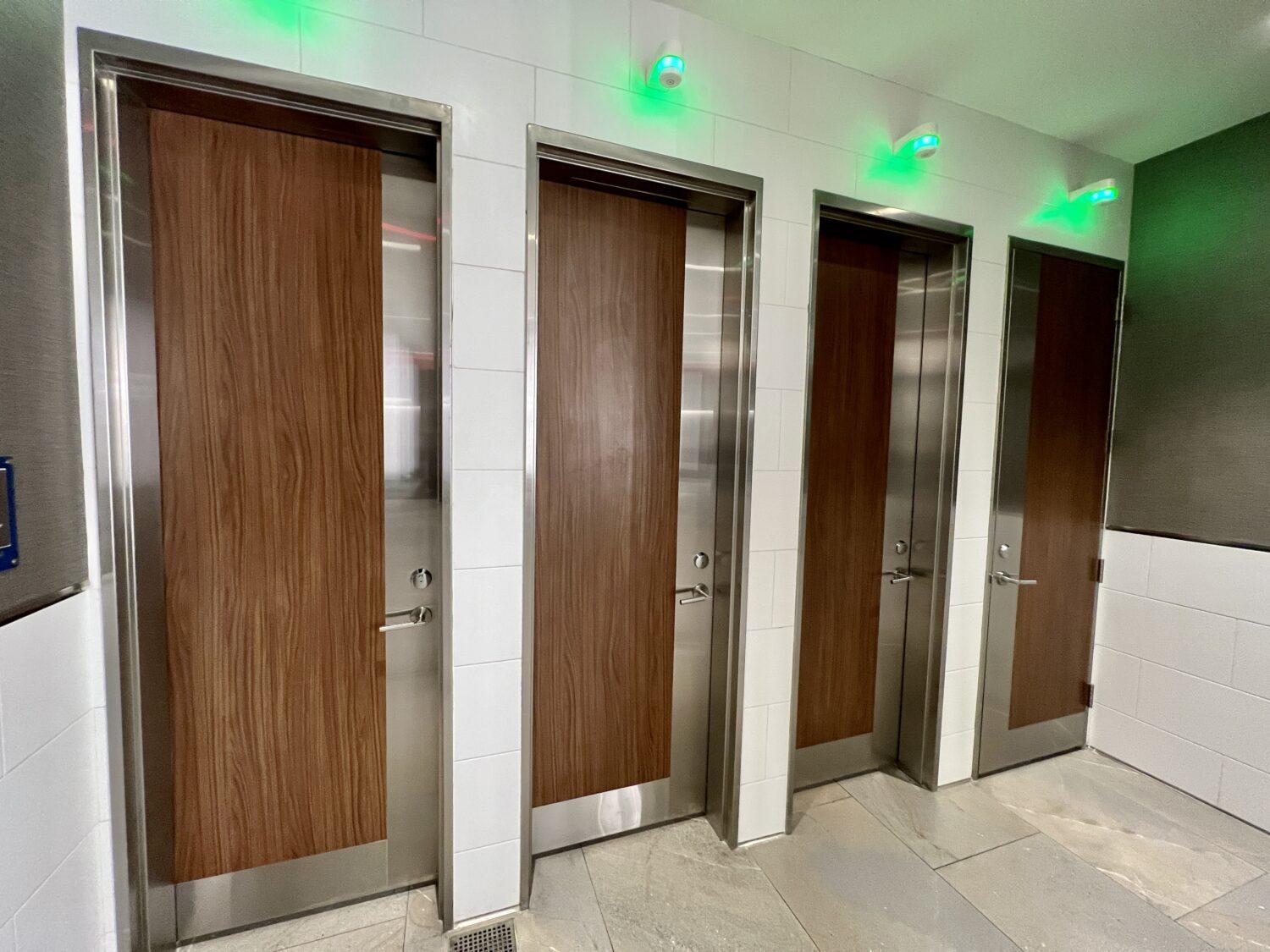 Food & Drink at the Delta Sky Club LaGuardia
As the biggest Sky Club in Delta's current network, the airline went all-out when it comes to dining and drinks with some features you won't see at many other Sky Clubs – or at other airline lounges, period.
Dead-center of the Sky Club LaGuardia, you'll find the main bar and buffet area. Despite its large footprint, it gets packed, with long lines forming for drinks, to grab a plate at the buffet, or even to sit down and eat.

Let's start with the bar. Busy though it may be, there's no question it's a sharp-looking spot. Fortunately, there are not one but two queues to line up and order a drink, with stools to grab a spot to sit along the rest of it. Delta is apparently planning to build out a second bar to this LaGuardia Sky Club as it continues expanding.
This central bar has all the complimentary drinks you'd expect at any Delta Sky Club – plus premium cocktails and bottles of champagne that you can purchase with SkyMiles (or cash).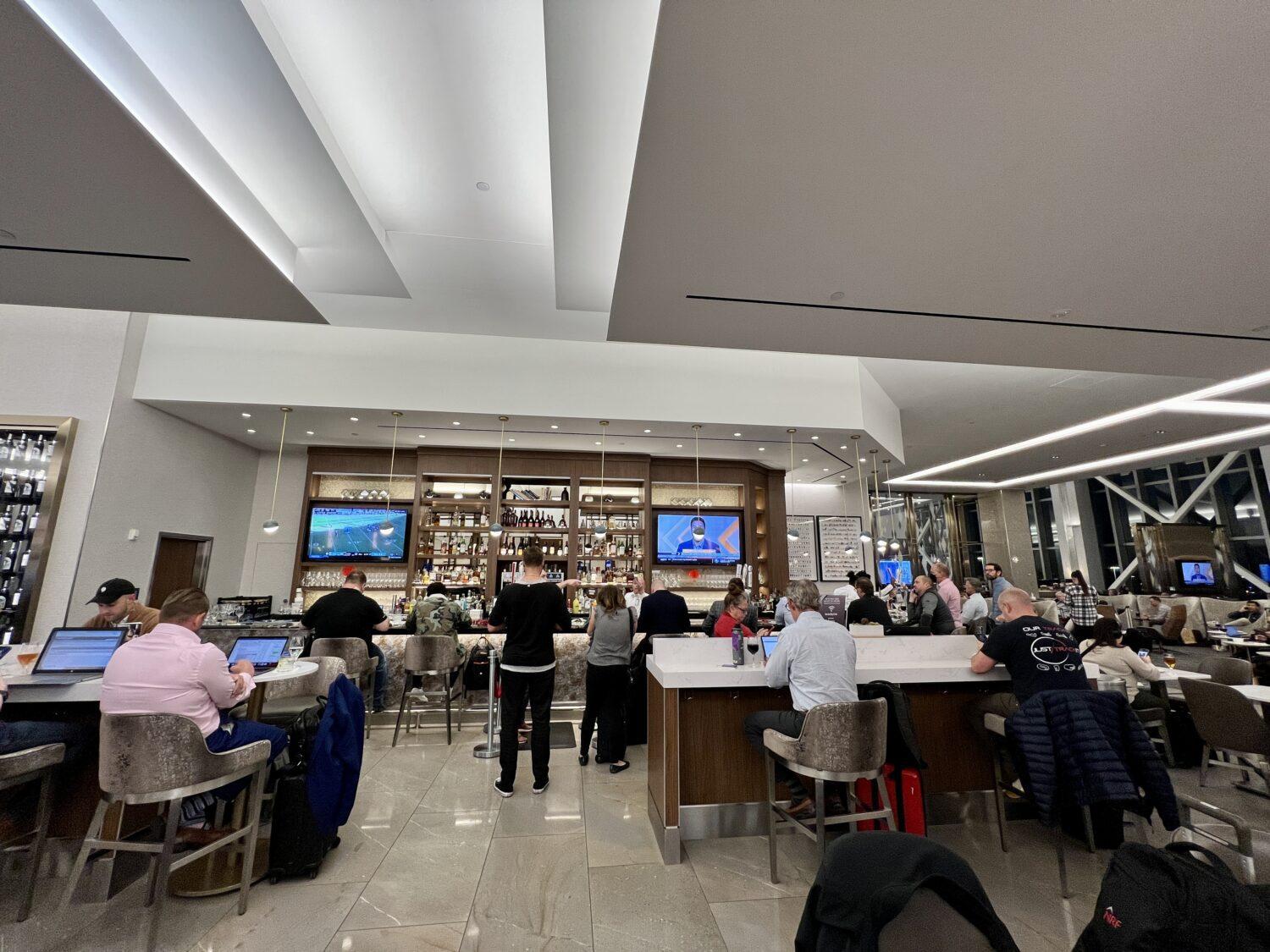 The buffet is equally massive and well-designed. More important, though, it has more options (and higher-quality fare, too) than you'll find in your typical Sky Club. Of course, there was your usual assortment of fruit, vegetables, and hummus along with plenty of salads to choose from.

There was also an excellent charcuterie display with plenty of meats, cheeses, crackers, rolls, and even honey and other dips to drizzle. With food this hearty, paper plates and plastic forks won't cut it – and luckily, Delta knows that. Real plates and cutlery are available.

Delta upped the ante during my early evening visit with chicken banh mi. Don't mind if I do…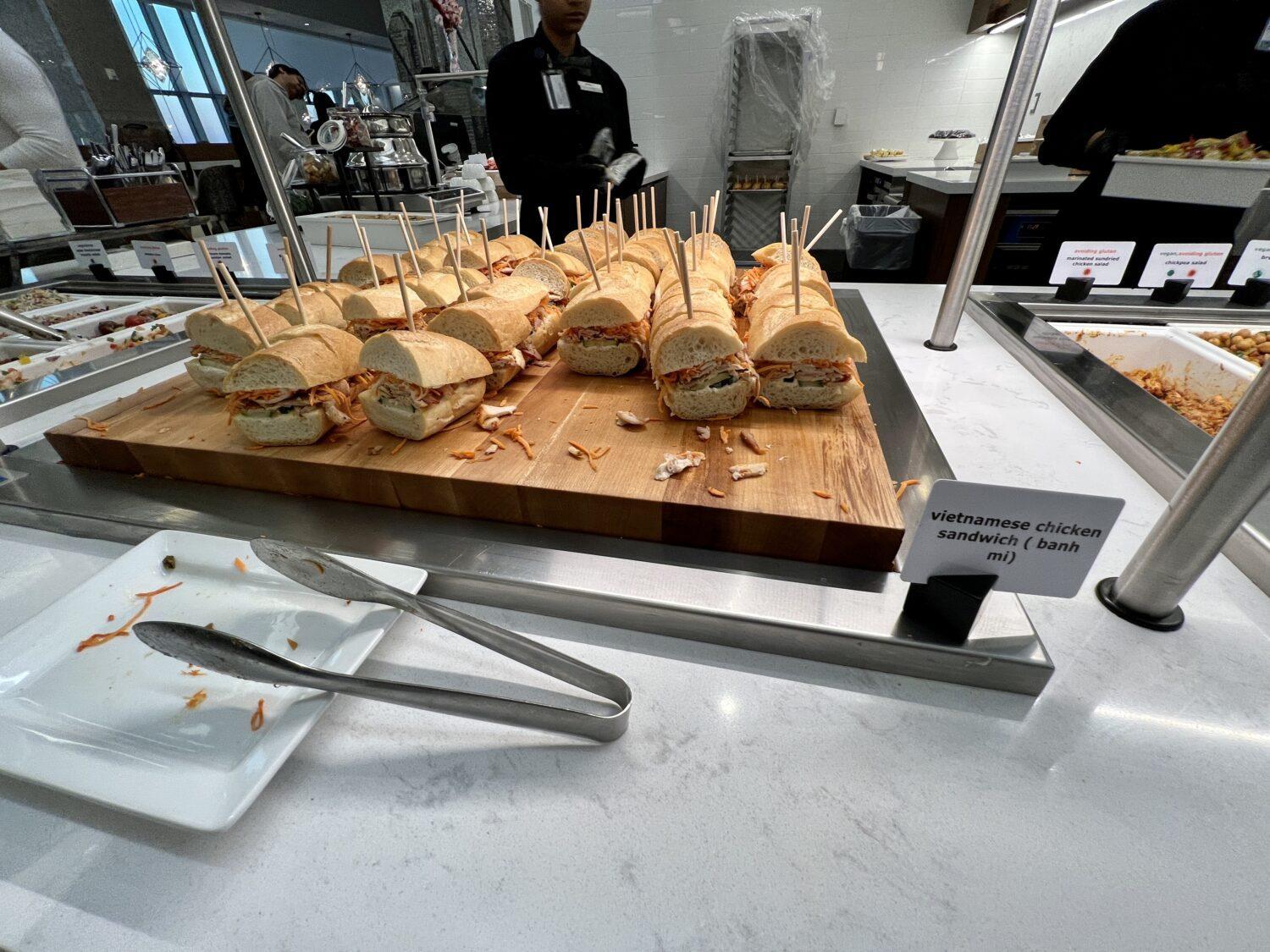 There were also several skillets of hot entrees including zesty chicken, rice, fish, and pasta. It may not be made-to-order restaurant quality, but these were all leagues better than what you can expect in your average airport lounge.

But the Delta Sky Club at LaGuardia kicks it up yet another notch with an entirely separate food station at the back of the lounge's left side. As I understand it, the lounge regularly rotates different dishes at this spot. During my visit, there was a build-your-own ramen bar – though that's a bit of a misnomer as a friendly lounge attendant would build a bowl from whatever you picked out.
Still, it's a great option. While I'd like a more flavorful (read: spicier) broth, the novelty of eating a bowl of ramen that didn't come out of a styrofoam cup in a lounge is just fun.

More fun: A donut board! But to no surprise, these donuts disappeared fast.

While you'll need to go to the main bar for something harder, there's a large beverage station back here to fill up your own glass with water, iced tea, lemonade, coffee, espresso, and soda.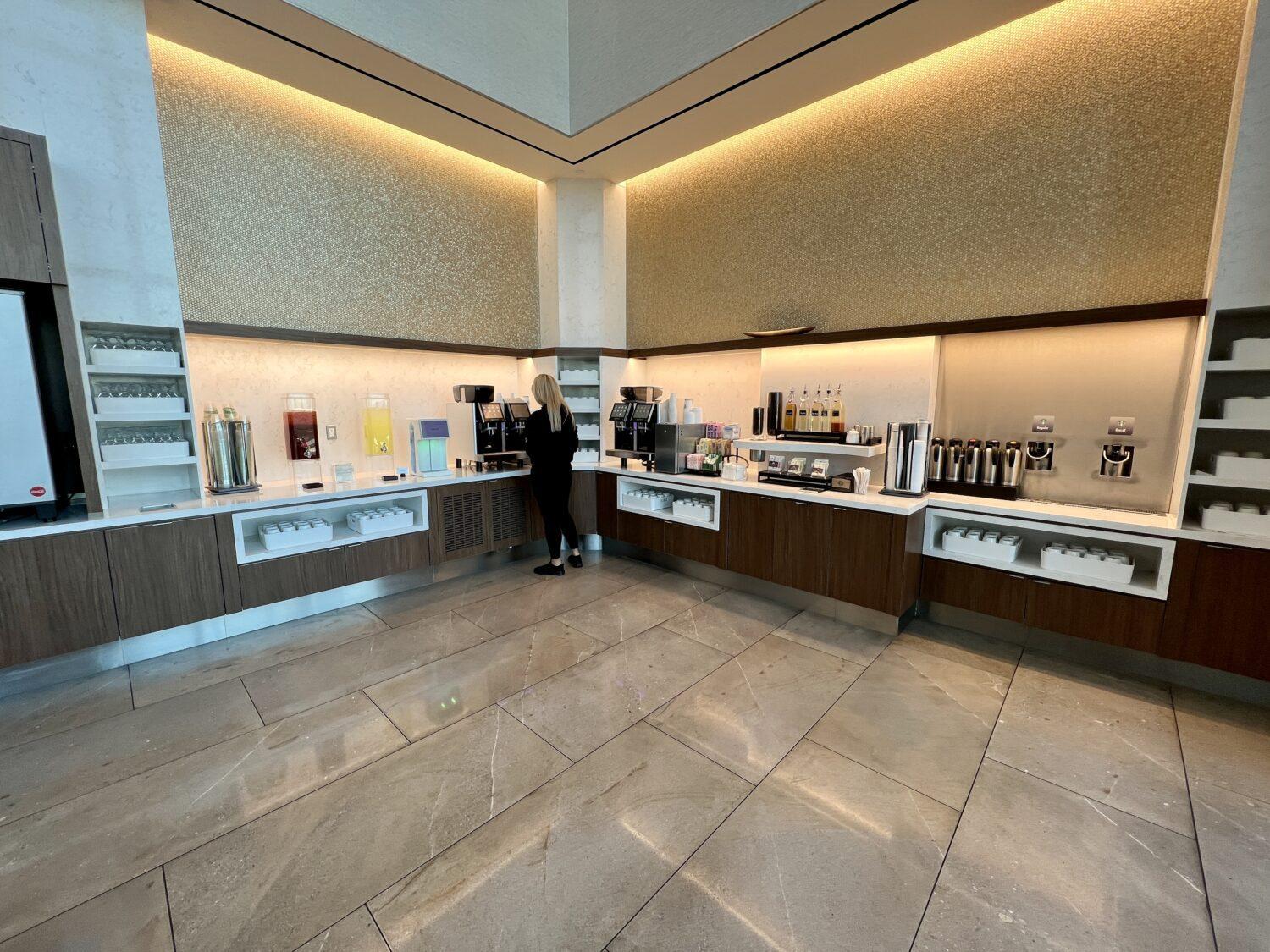 Bottom Line
From its sheer size to the finishes to the food, the Delta Sky Club LaGuardia has a lot going for it. It's inarguably the biggest Sky Club to date – and arguably among the best.
But just how much you enjoy this lounge could hinge entirely on how many fellow travelers are trying to do the same. Until Delta gets a better handle on overcrowding at its Sky Clubs across the country, expect this lounge to be packed.