If you've bought Delta fares or walked down the aisle of a Delta plane, you've probably seen the seats a few rows back. They're not first class, but it's not economy, either. It's called Delta Comfort Plus. But what is it, and what do you get with Delta Comfort Plus tickets?
When you think Delta Comfort Plus, think "extra legroom." These seats are a slight step above Delta economy seats thanks to a few extra inches of room to stretch your legs – plus, you get a few extra perks like priority boarding, dedicated overhead bin space, and free snacks and drinks. Delta marks these seats with red around the headrests and the "Comfort +" branding.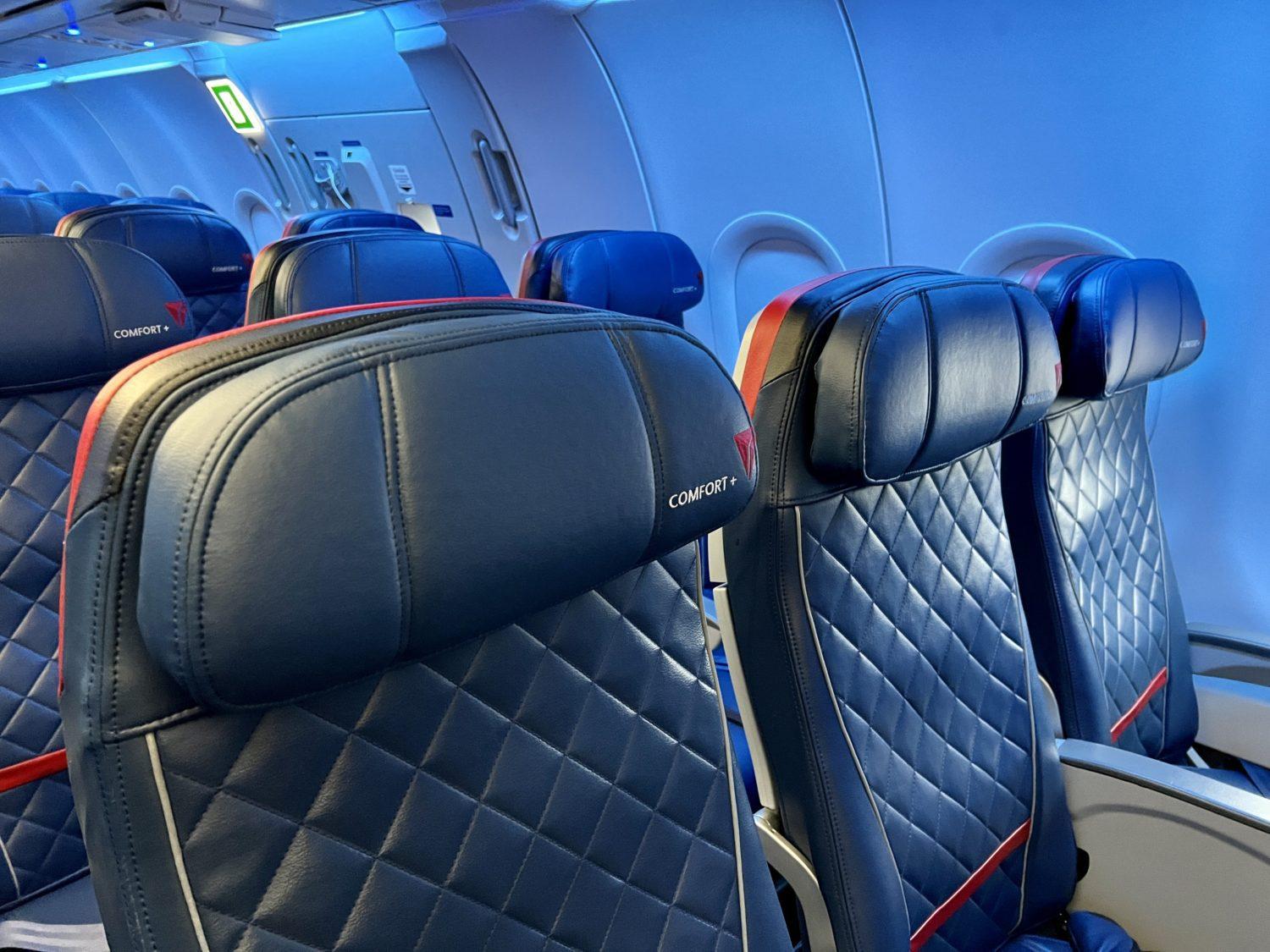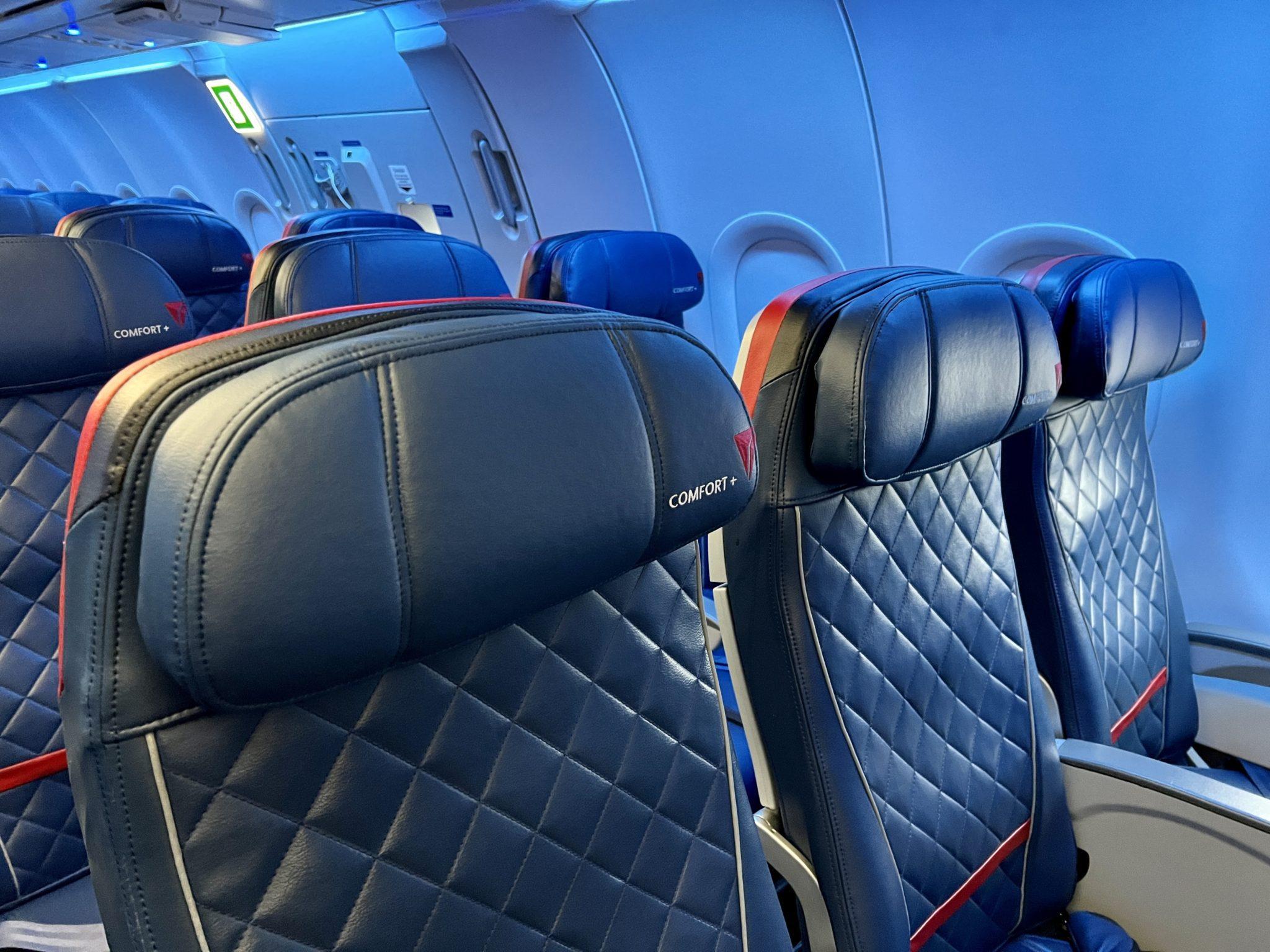 Almost every airline offers some extra legroom seating option on their planes, but few have gone as far as Delta – especially in offering them on more and more long-haul international flights. Sure, it's an upgrade over the standard economy seats a few rows back … but how much of an upgrade? And whether you're paying more or getting moved up for free, is it worth it?
Read our Delta Comfort Plus review for everything you need to know about Delta Comfort Plus perks, how to upgrade, and what kind of amenities you get on Delta Comfort Plus fares.

What is Delta Comfort Plus?
Delta Comfort Plus is a fare class available on all Delta and Delta Connection two-cabin aircraft across Delta's entire network, giving travelers a seat with slightly more legroom and some other perks.
Here's what Delta Comfort+ passengers can expect: 
Seat location towards the front of the plane on domestic flights

Extra recline and greater legroom on longer flights

Premium snacks and complimentary coffee, beer, wine, and spirits on most flights
On most domestic flights, Comfort Plus seats are sandwiched between the regular economy rows and the first class cabin. On nearly all long-haul routes, Delta also has a Premium Select cabin with slightly larger and more comfortable seats. On those flights, Comfort Plus is between that cabin and the economy section.
Exactly how much extra legroom you get in these seats varies from plane to plane. But in most cases, you can expect an additional 2 inches to 4 inches of space to stretch your legs compared to standard economy seats.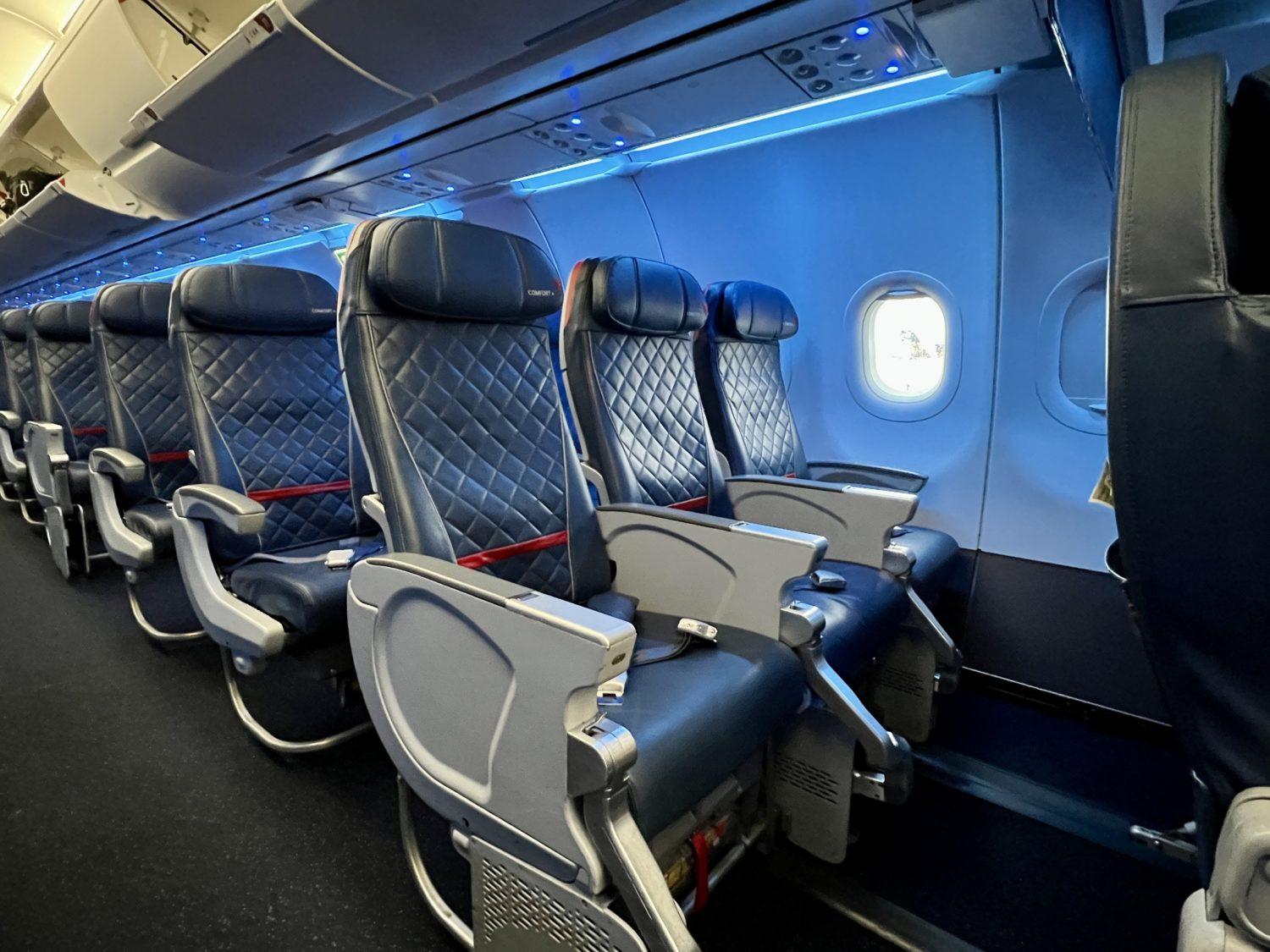 You can purchase Delta Comfort+ tickets on their own when you purchase your fare on Delta's website.
Comfort Plus fares are available at checkout, as shown on this search from Minneapolis-St. Paul (MSP) to Las Vegas (LAS) fares this September.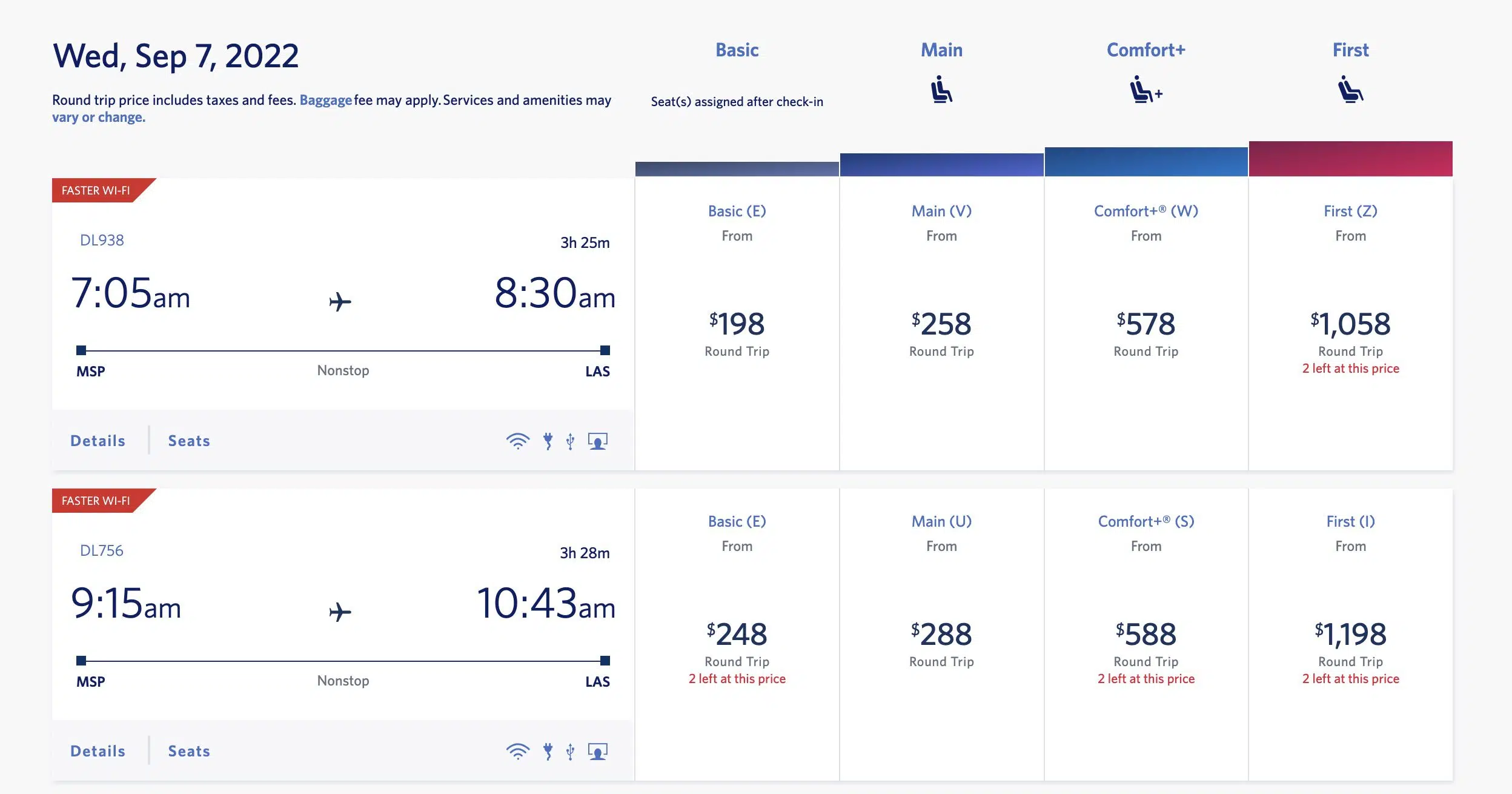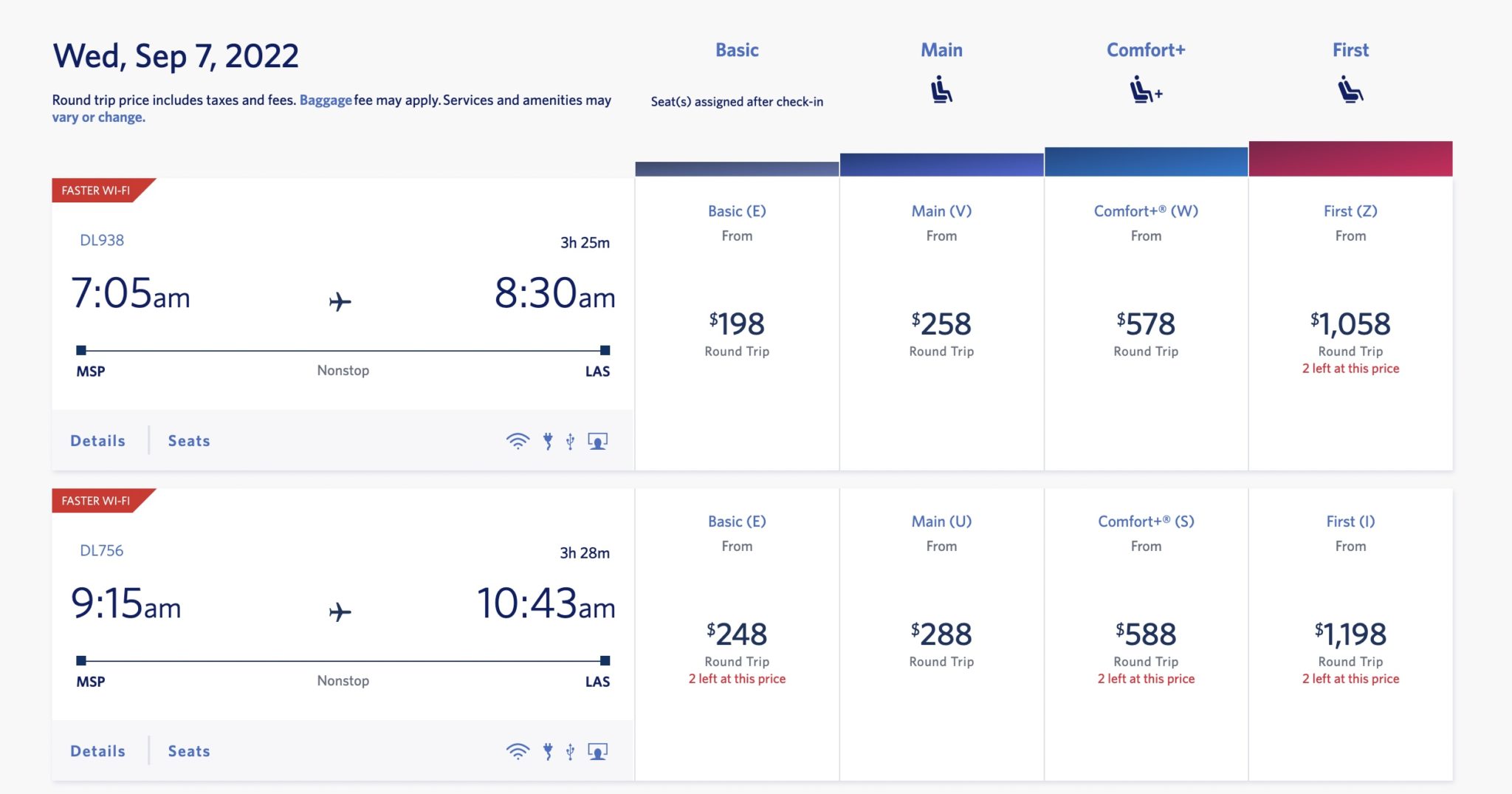 You can also purchase a Main Cabin fare and upgrade to Comfort Plus if there are seats available. Comfort Plus fares can be upgraded from Main Cabin for as little as $10 on some short-hop Delta routes … but could cost you hundreds of dollars on others.
Loyal Delta flyers who have earned Medallion Status can get upgraded to Comfort Plus for free. Delta Diamond and Platinum members are regularly upgraded to Comfort Plus seats immediately after booking. For the rest, your odds of getting upgraded to the extra legroom seats depends on your level of status and the route.
Delta Comfort Plus vs Delta Main Cabin & Basic Economy
When you pit Delta Comfort vs Main Cabin fares, what do you get in each?
When you purchase a Main Cabin or Basic Economy ticket, you are seated behind the first class and Comfort Plus sections in one of the many rows reaching all the way to the back of the plane.
Delta Comfort Plus seats are towards the front of the plane, typically offering an extra 3 inches of legroom more than Delta's standard Main Cabin seat – it includes at least 34 inches of legroom, compared to just 31 or 32 inches of legroom in most economy seats on Delta planes.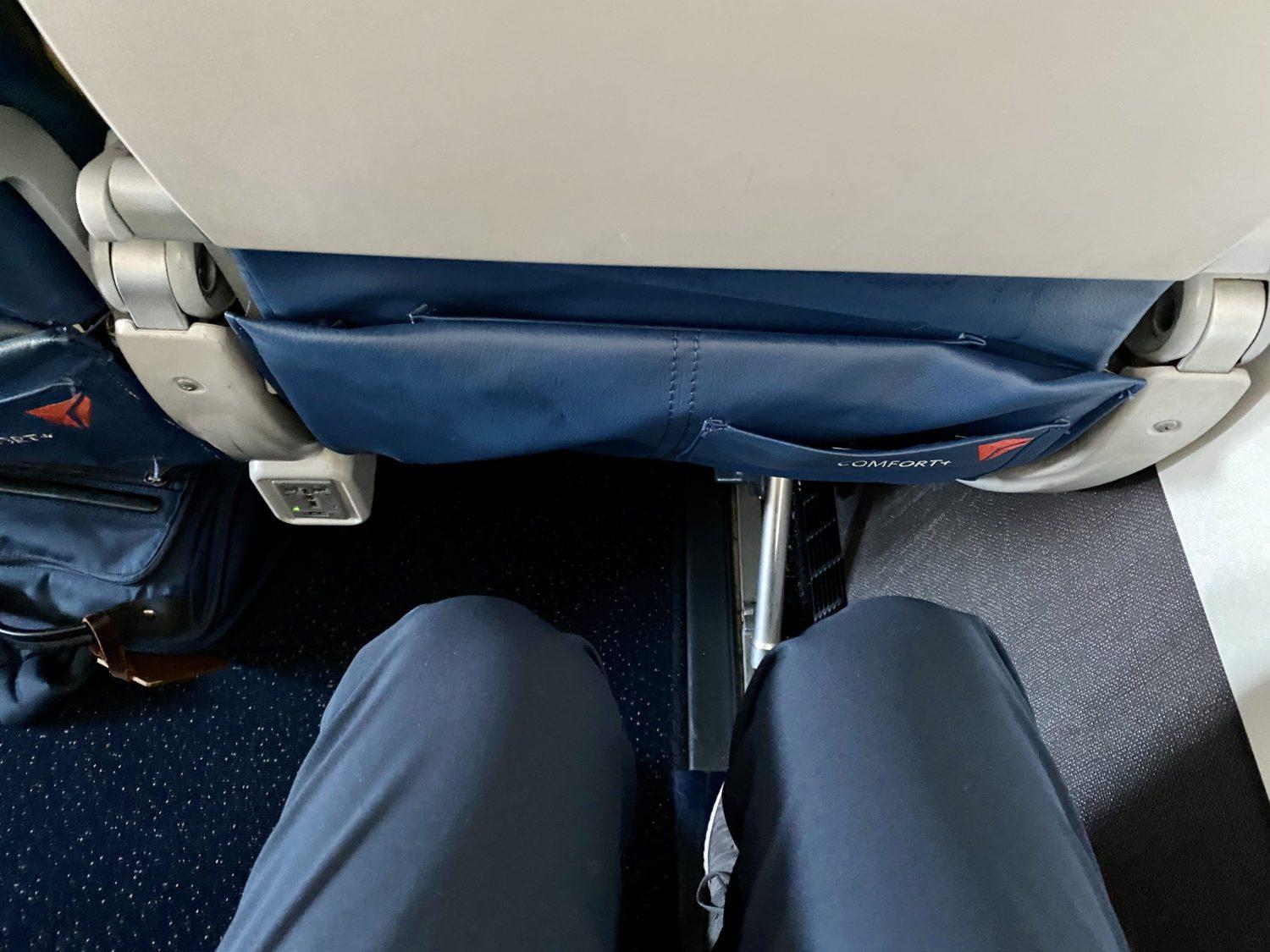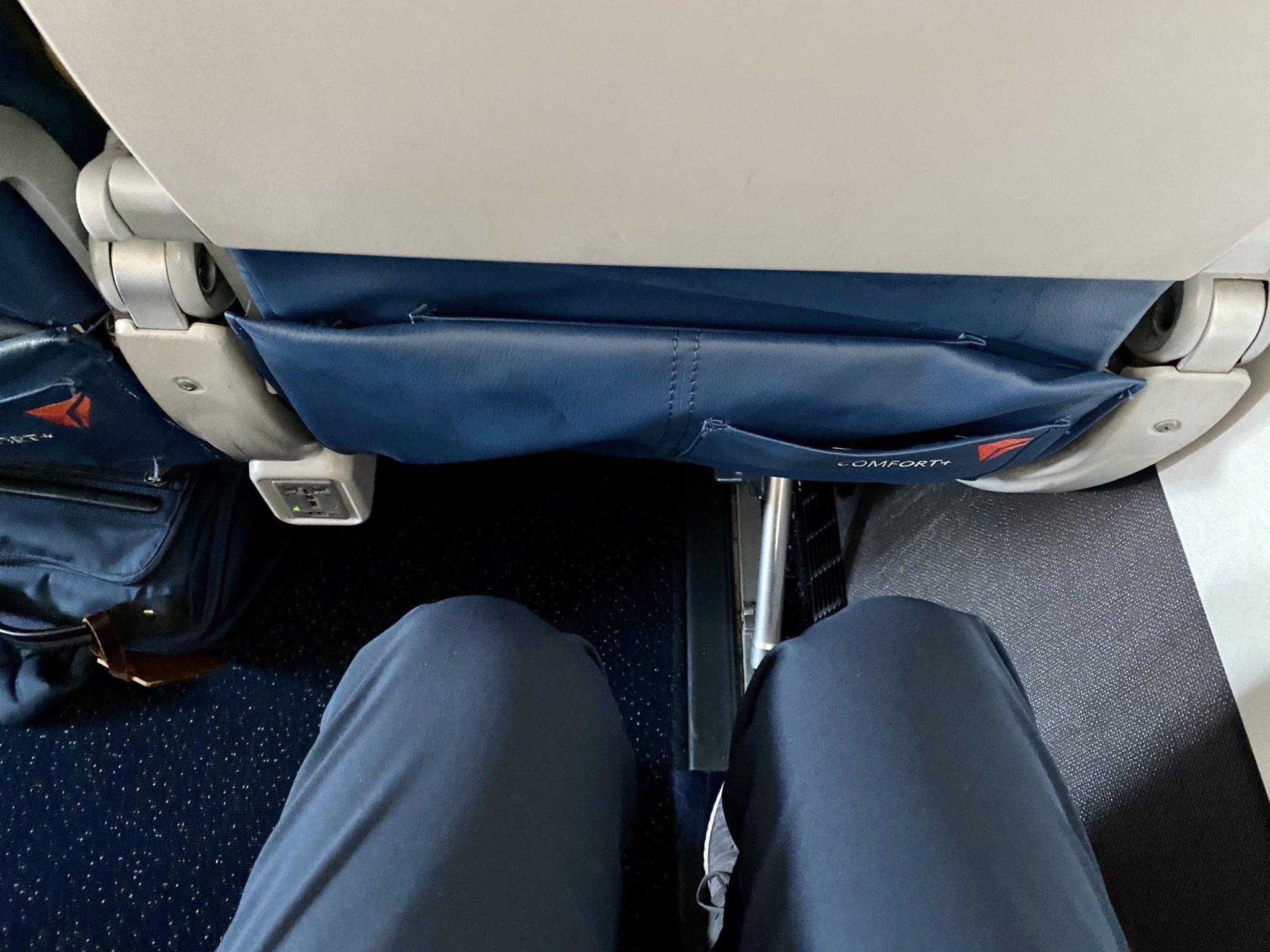 A tiny feature I love in Comfort Plus is the small front pocket on the seatback pocket. It's a very little thing, I know, but having a place to place your phone, wallet, or headphones inflight is convenient.
But when it comes to legroom, Delta Comfort Plus isn't always a step above what you can get in economy. On some planes, you'll get even more legroom in what Delta calls its "Preferred Seats" in economy – especially exit rows. You typically have to pay extra for these seat assignments unless you have Delta Medallion Status, in which case you can select them for free.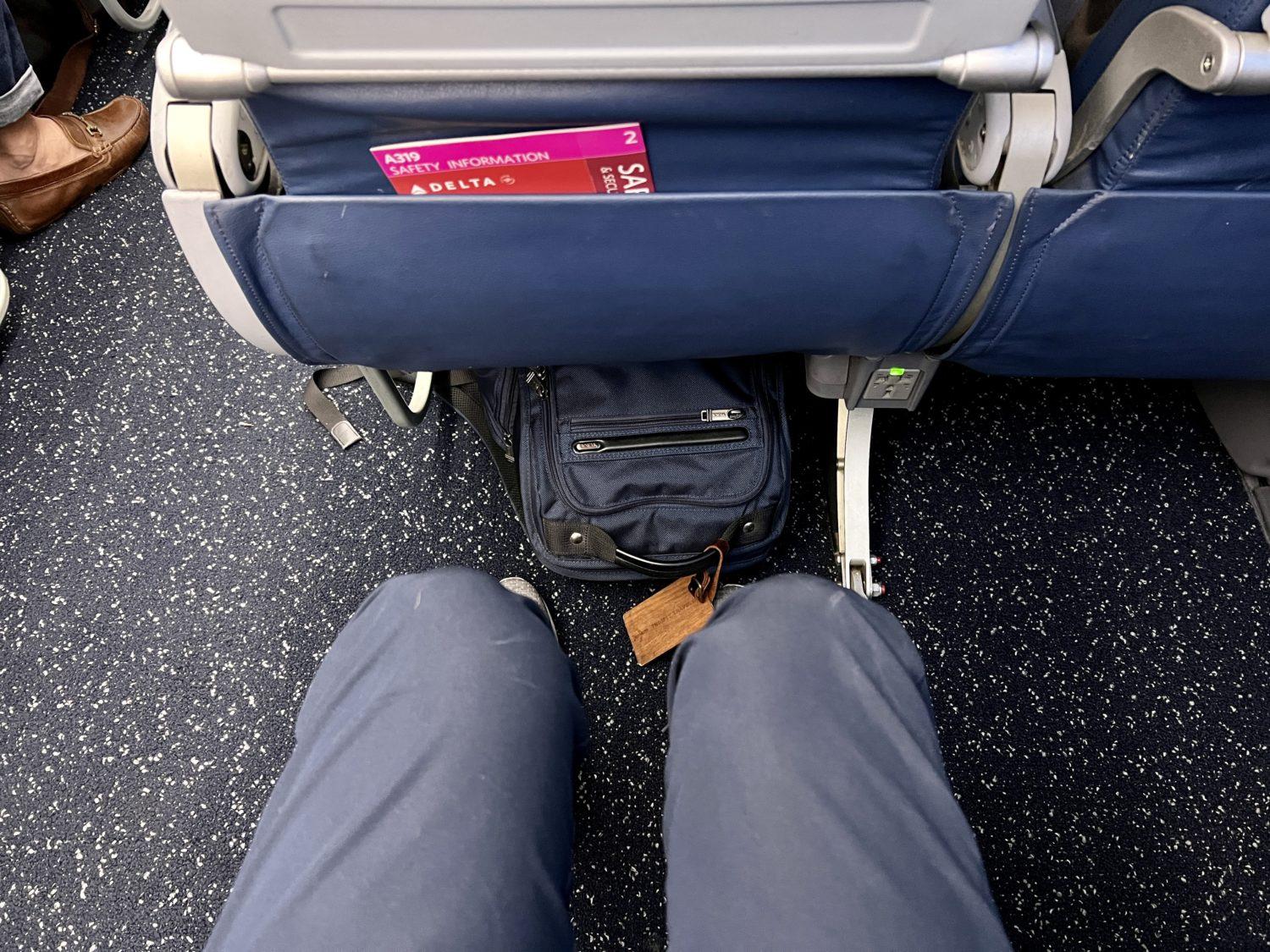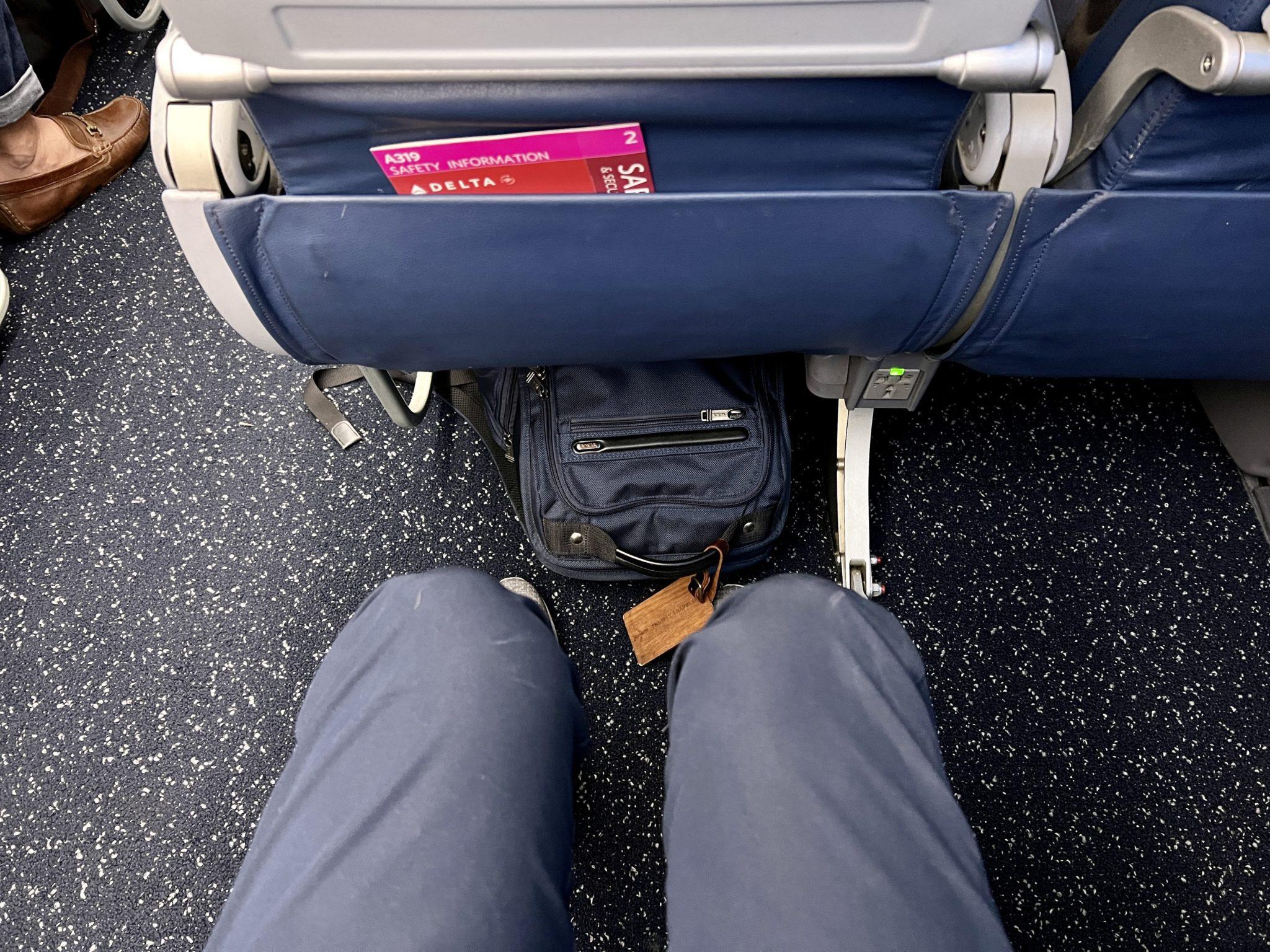 On long-haul international flights, Comfort Plus travelers also get a pillow, blanket, earbuds, and an amenity kit for the journey. In economy, comfort can be hard to find, but it's a little easier with Comfort Plus Delta fares. Just how much easier likely depends on how tall you are.
Unless you have a Delta SkyMiles American Express card that lets you board early, your boarding group will depend on your fare class and where you are seated on the plane. In Comfort Plus, however, you get to board after the first class cabin and before anyone in Main Cabin, giving you some extra time to find your seat.
Comfort+ Delta passengers also have dedicated overhead baggage space in their section, meaning there is more likely to be room for your carry-on bag once onboard.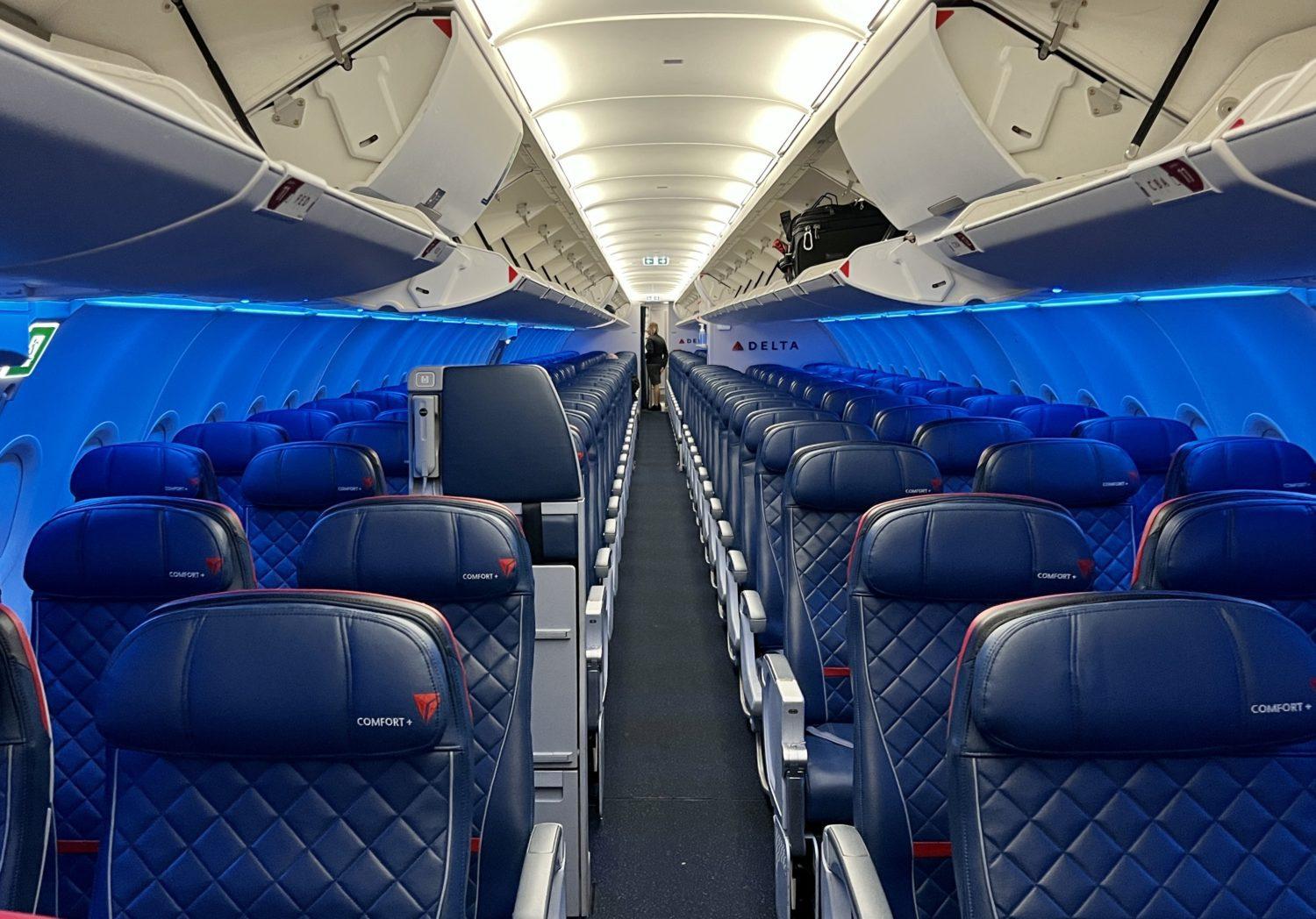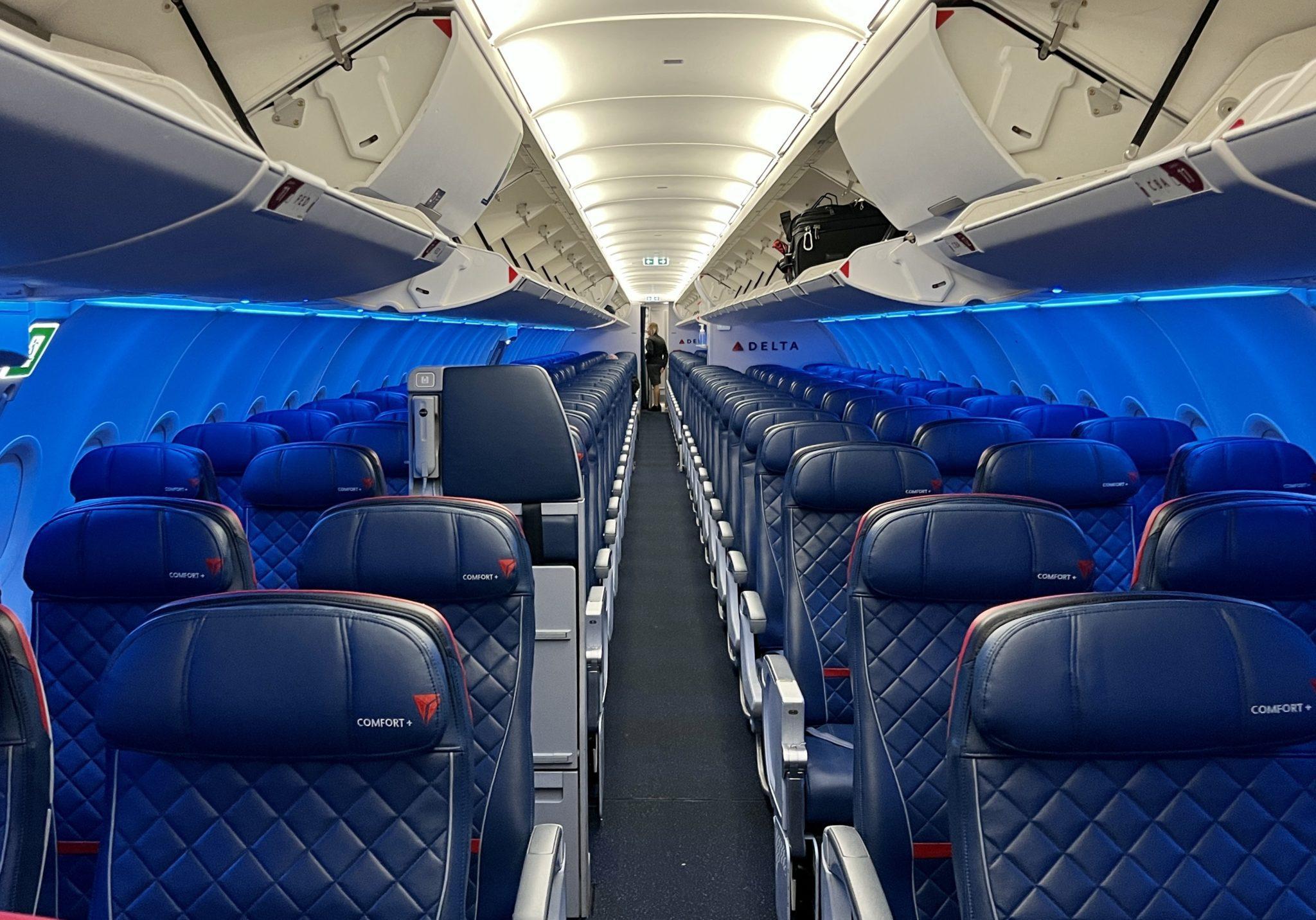 Comfort Plus passengers also get access to extra snacks like bags of chips, granola bars, and several sweets. In the economy cabin, normally only almonds, pretzels, or cookies are available to passengers.
No matter where you're flying, free alcoholic drinks are one of the most valuable perks of sitting in Comfort Plus, which is not something that is afforded to economy passengers on domestic Delta flights. Free beer and wine are available to Comfort Plus passengers on flights over 250 miles and free spirits are available for flights over 500 miles.
Delta Comfort Plus vs Delta First Class
Make no mistake: Delta Comfort Plus is not anything close to Delta First Class.
First-class seats provide far more legroom than Delta Comfort Plus, with as much as 5 inches more legroom compared to Delta Comfort Plus. This means that Delta Comfort Plus is much closer to what you'll find in economy than what you'll find in the front of the plane. First Class passengers get priority check-in, priority boarding, a much, much comfier and roomier seat, and the best service on the plane. Comfort Plus is only a slight upgrade from economy in terms of legroom and service.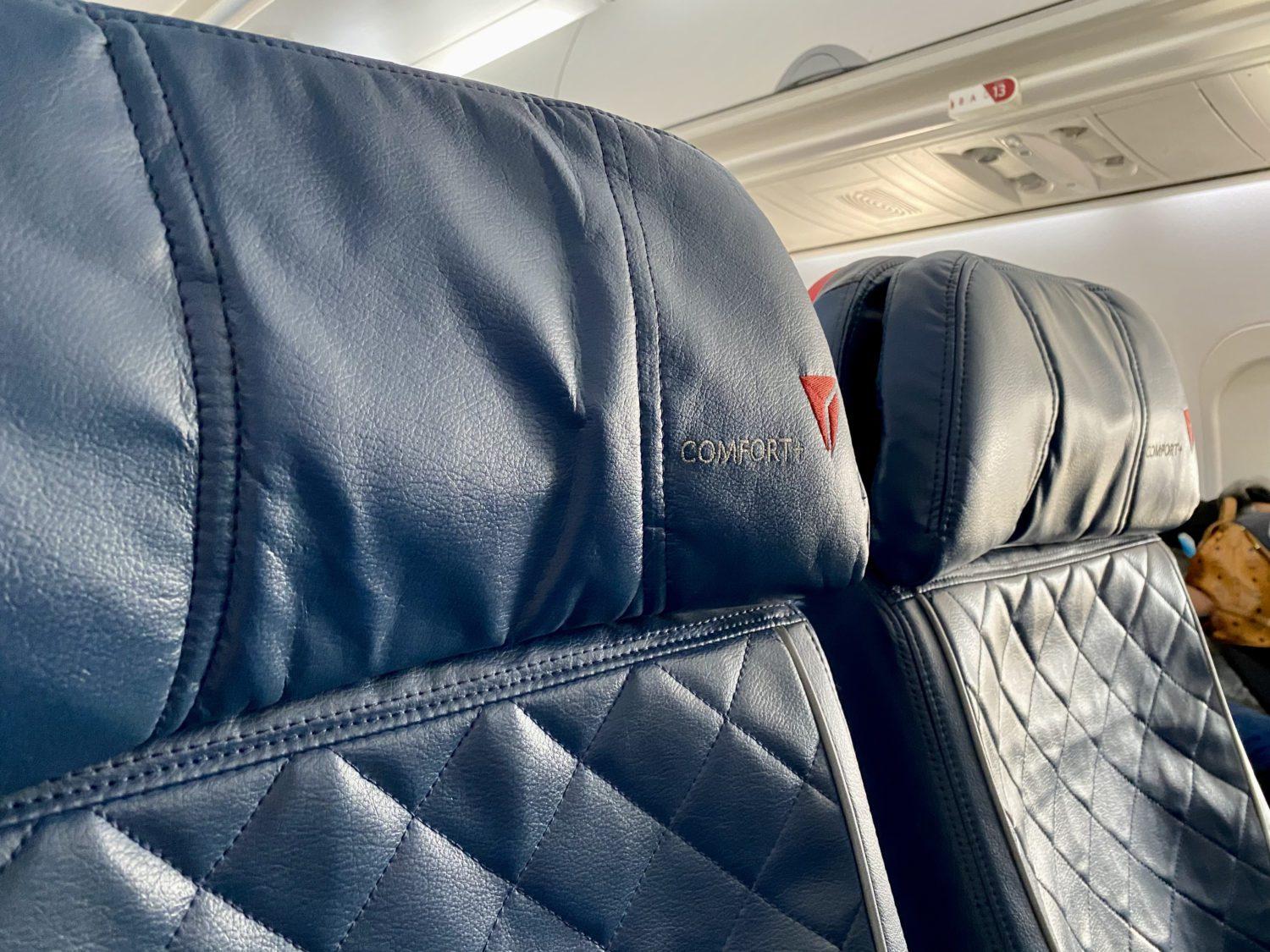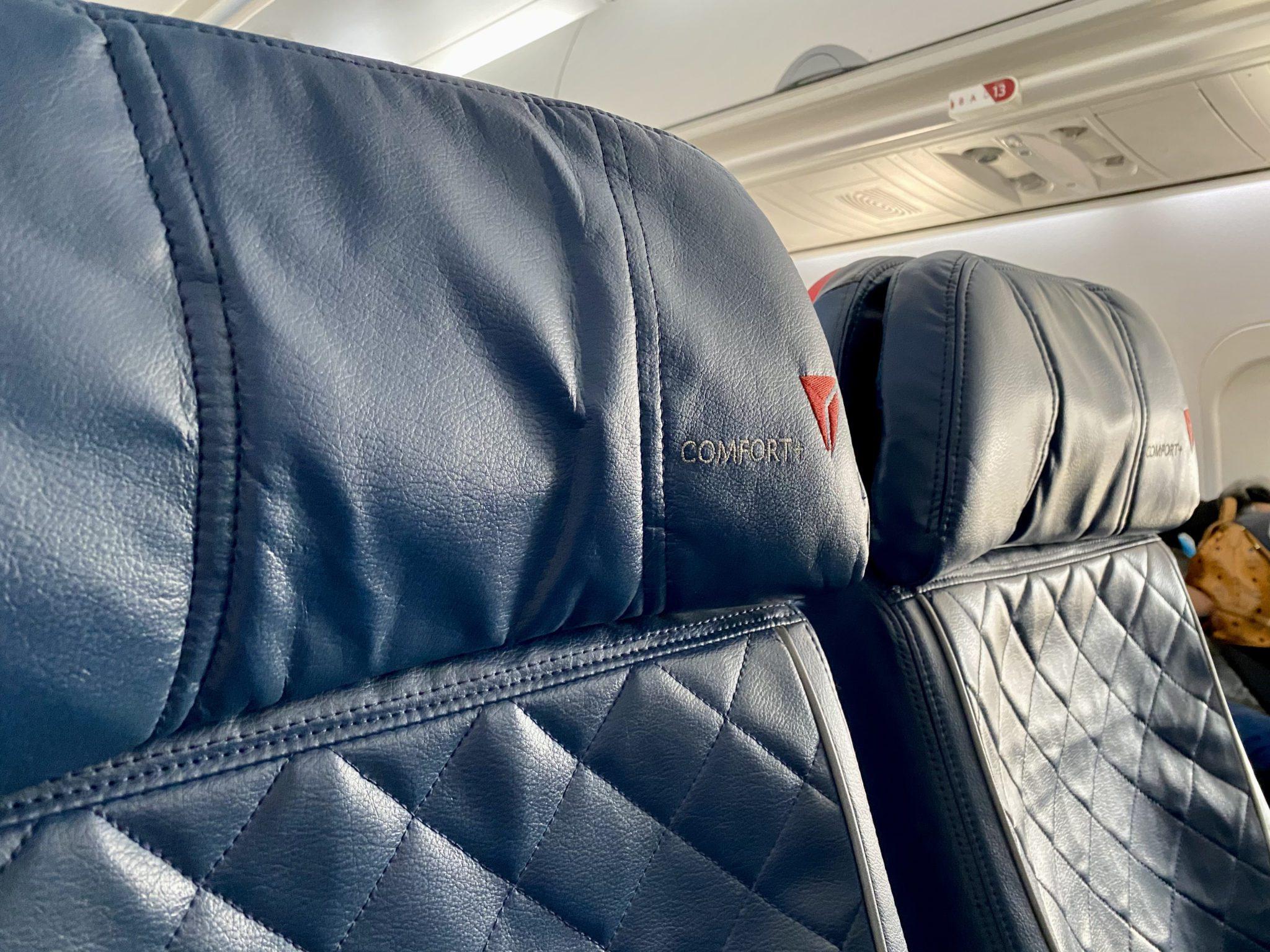 Delta First Class seats on domestic flights are wider recliner seats with up to 40 inches of legroom in most cases. Delta One suites on international flights are even more luxurious with lie-flat beds, doors that close for additional privacy, storage space, high-quality chef-curated meals, and more.
On First Class flights around the U.S. and closer to home, passengers also receive hot meals on longer flights, larger seatback screens, and service from a flight attendant solely dedicated to the first class cabin.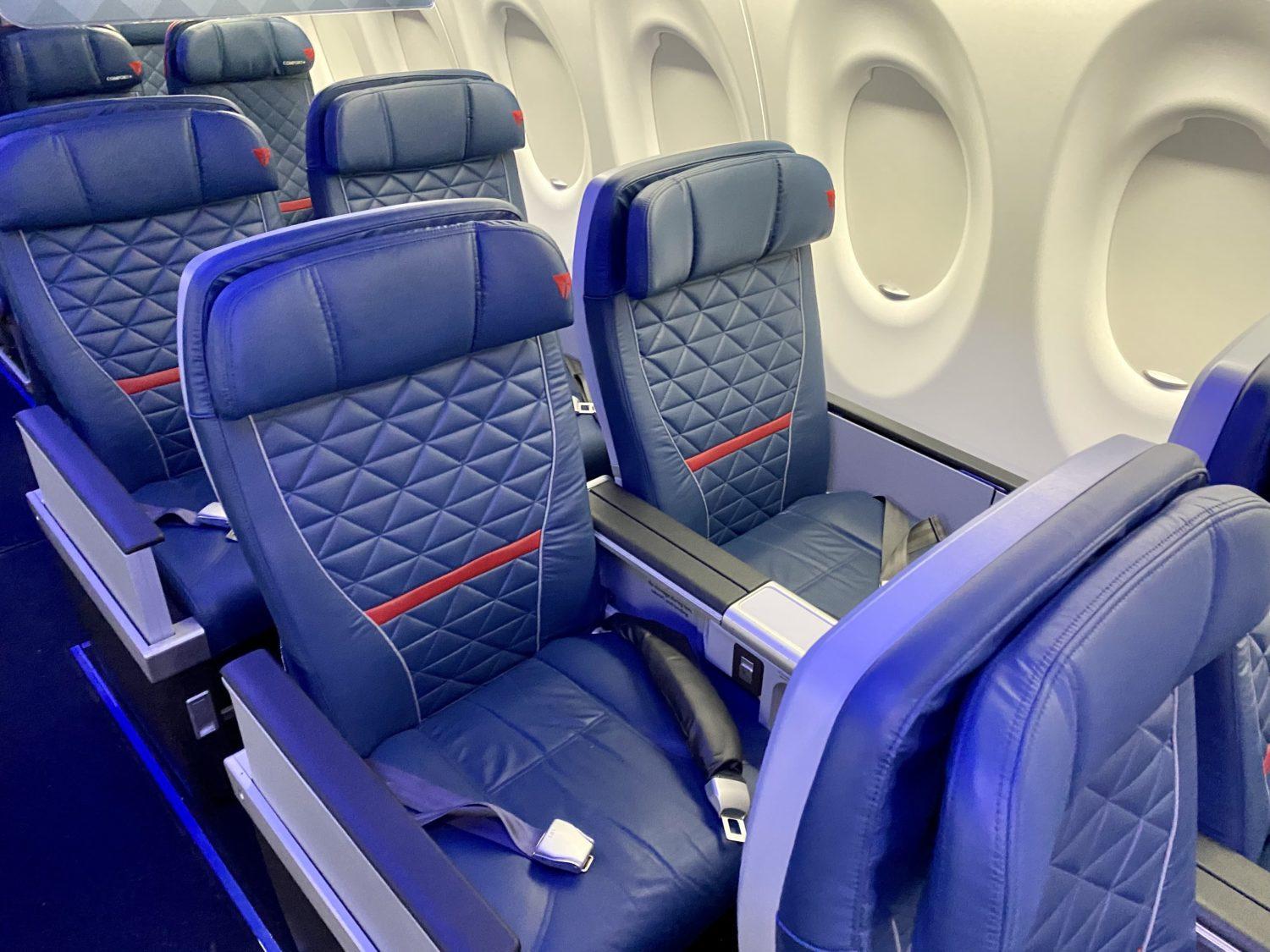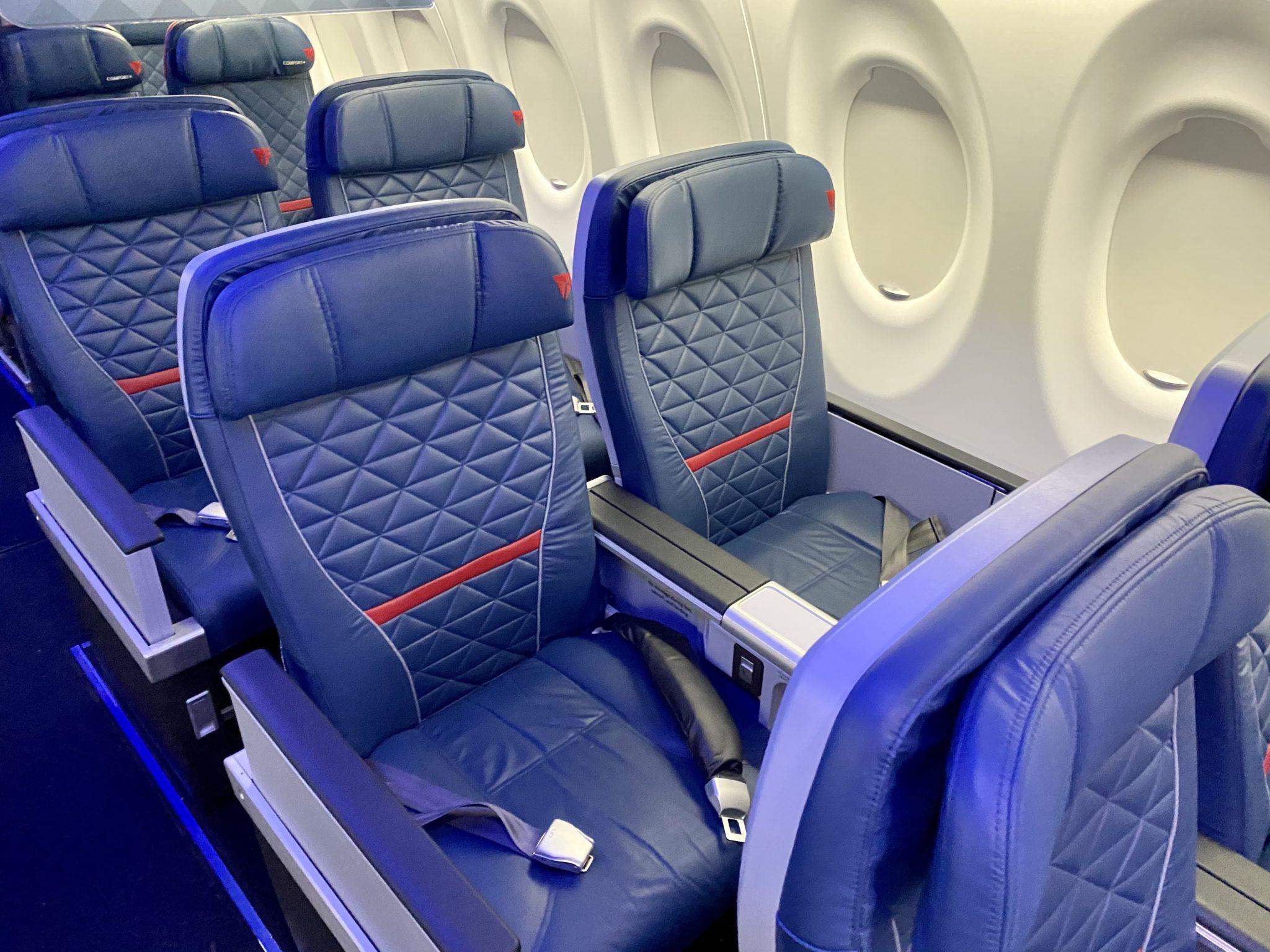 The Comfort Plus cabin does not receive special status like SkyPriority check-in or boarding and the seats aren't nearly as wide or as plush as the first class cabin.
Delta Comfort Plus vs Premium Select
While not quite First Class or Delta One, Delta Premium Select offers a better experience on nearly all long-haul international flights. It's a big step above the comfort and amenities in Delta Comfort+.
Delta Premium Select seats are much wider with more recline, adjustable leg and headrests, and even more legroom. Compared to Delta Comfort Plus, this cabin also includes offers elevated dining options, premium snacks and beverages, and an amenity kit. Overall, you're in for a more luxurious and comfortable travel experience on long-haul flights.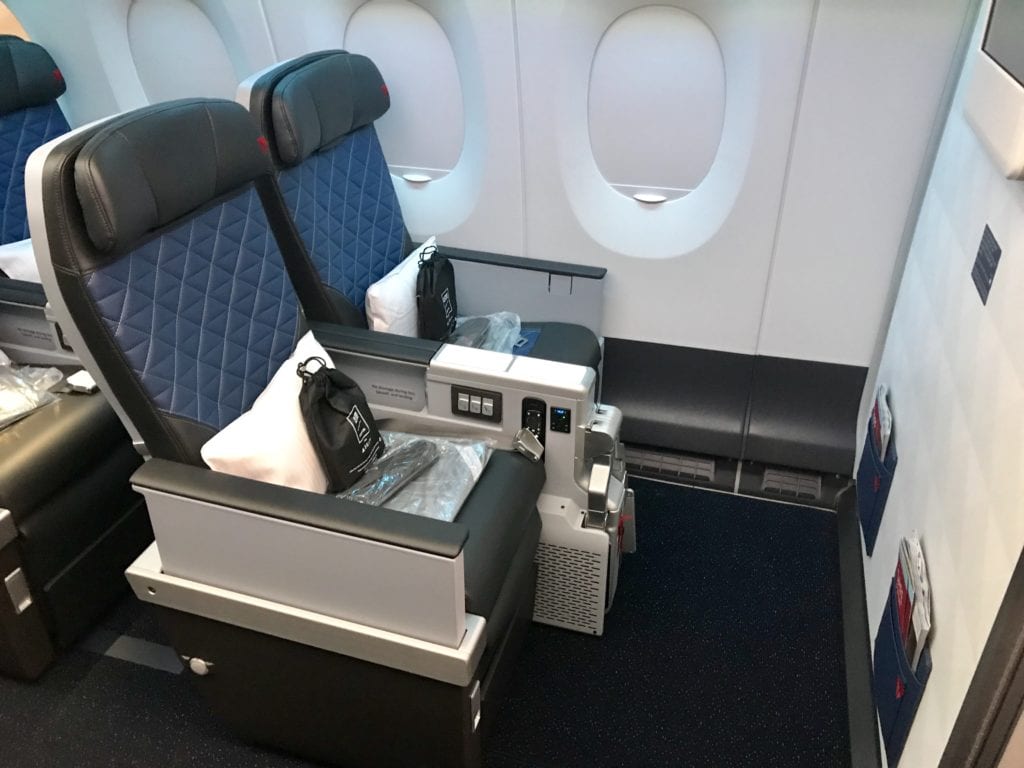 Delta Comfort Plus Perks: What Do You Get with Delta Comfort Plus?
Delta Comfort Plus seats come with some special perks that may (or may not) make it worth the upgrade for you. Here are some of the main benefits of Delta Comfort Plus.
Priority Boarding
Comfort Plus passengers get to board the plane after the First Class cabin, but before everyone else for all Delta flights. This gives travelers a first crack at the overhead bins and a little extra time to get settled in before their journey.
More Legroom
Delta Comfort seats have three inches more legroom than the regular economy seats behind them do.
At 34 inches, you can stretch your legs even with a bag under the seat in front of you in Comfort Plus. It doesn't seem like much, but those three inches can make a difference, especially on longer flights or if you're taller.
Dedicated Overhead Bin Space
Concerned about finding a spot for your carry-on bag? Not only will you have up to 3" of extra legroom, a Delta Comfort+ seat provides dedicated overhead bin space just for your baggage and items. That, combined with the priority boarding, means you're almost guaranteed to get your carry-on onboard when you fly Comfort Plus.
Amenity Kit
Amenity kits are also offered to Comfort Plus passengers on long-haul international flights … but don't expect to see them on your next trip to Chicago. Domestic Comfort Plus passengers do not receive the amenity kits that travelers get when they fly in premium cabins internationally.
Extra Snacks and Free Drinks
Delta Comfort+ customers get complimentary beer and wine service on flights longer than 250 miles (on flights over 500 miles, that includes free spirits, too), along with free extra snacks on all flights. These Delta Comfort Plus benefits include heartier snacks like bags of chips and granola bars as well as more sweets.

Inflight Entertainment
The inflight entertainment offerings in Comfort Plus are the same as you'll find on the rest of the plane.
How to Book a Comfort Plus Seat on Delta?
Comfort Plus fares are available for purchase at booking on the Delta app or Delta.com just like any other fare … but there are other ways to get yourself into that cabin, too.


For instance, you can upgrade to Comfort Plus at any point after purchasing your ticket. Just keep in mind that Delta Basic Economy fares are not upgradeable.
On the Delta app or at Delta.com, you'll be given an upgrade offer to the Comfort Plus and First Class cabins if seats are available. Those offers can be as low as $9 for a one-way trip, like for my short flight from Minneapolis-St. Paul (MSP) to Chicago-O'Hare (ORD).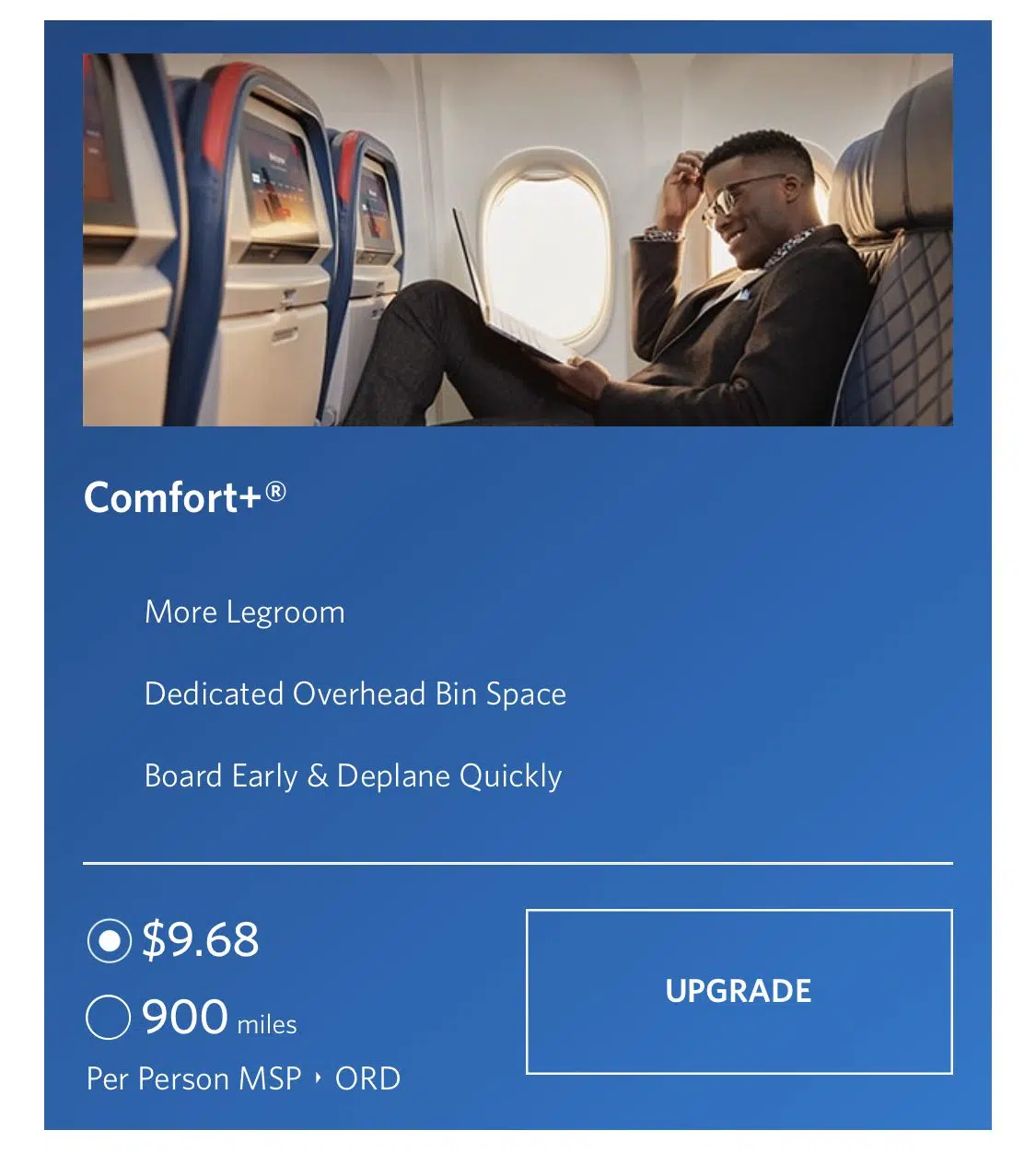 Sometimes, those upgrade offers can be hundreds of dollars, as is the case for my upcoming trip to Cancún (CUN) in September.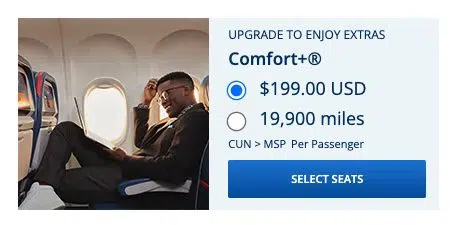 In my experience, those offers tend to get better and better the closer you get to travel. The $9 offer for the Chicago flight was offered to me within 4 days of the flight. The Cancún flight is still two months away, meaning Delta hopes it can still sell that seat at a premium to a better-paying customer.
There is a better way to get yourself to Comfort Plus for no money at all: complimentary upgrades.
Complimentary Comfort Plus Upgrades
All Delta Medallion status holders get unlimited free upgrades when space exists. It's one of the best perks of earning status with Delta.
Diamond Medallion members get first dibs, then Platinum Medallion, then Gold, and then Silver. And when you request an upgrade on your ticket, you are put into a ranked list based on, among other things, your status with the airline.
In fact, if you hold either Delta Platinum or Delta Diamond Medallion status, you'll be upgraded to a Comfort Plus seat almost immediately after booking – assuming that there is space available. Because of that, you'll be in at least Comfort Plus on most flights you book.
Read more: How Does Delta Determine its Medallion Upgrade Order?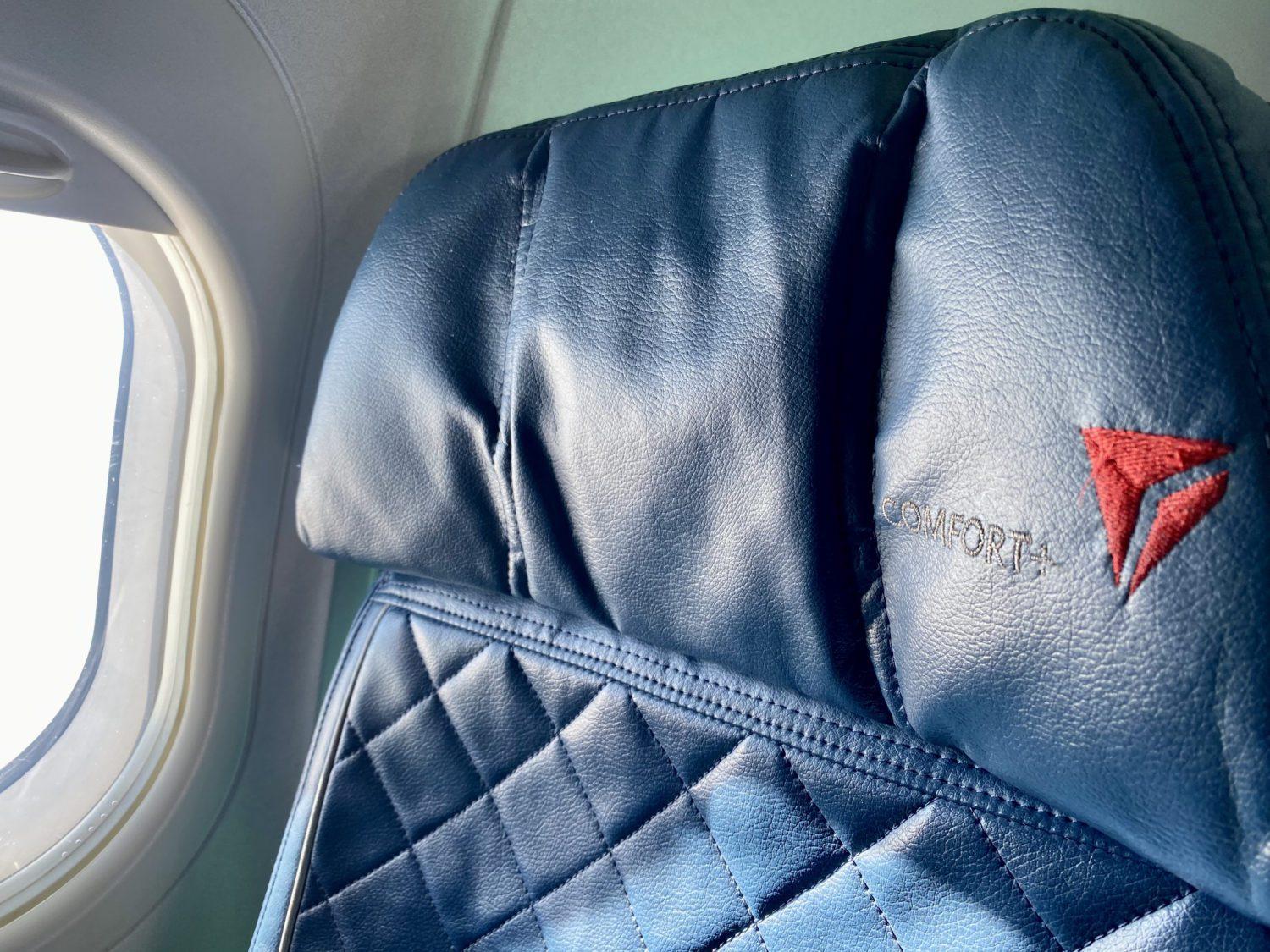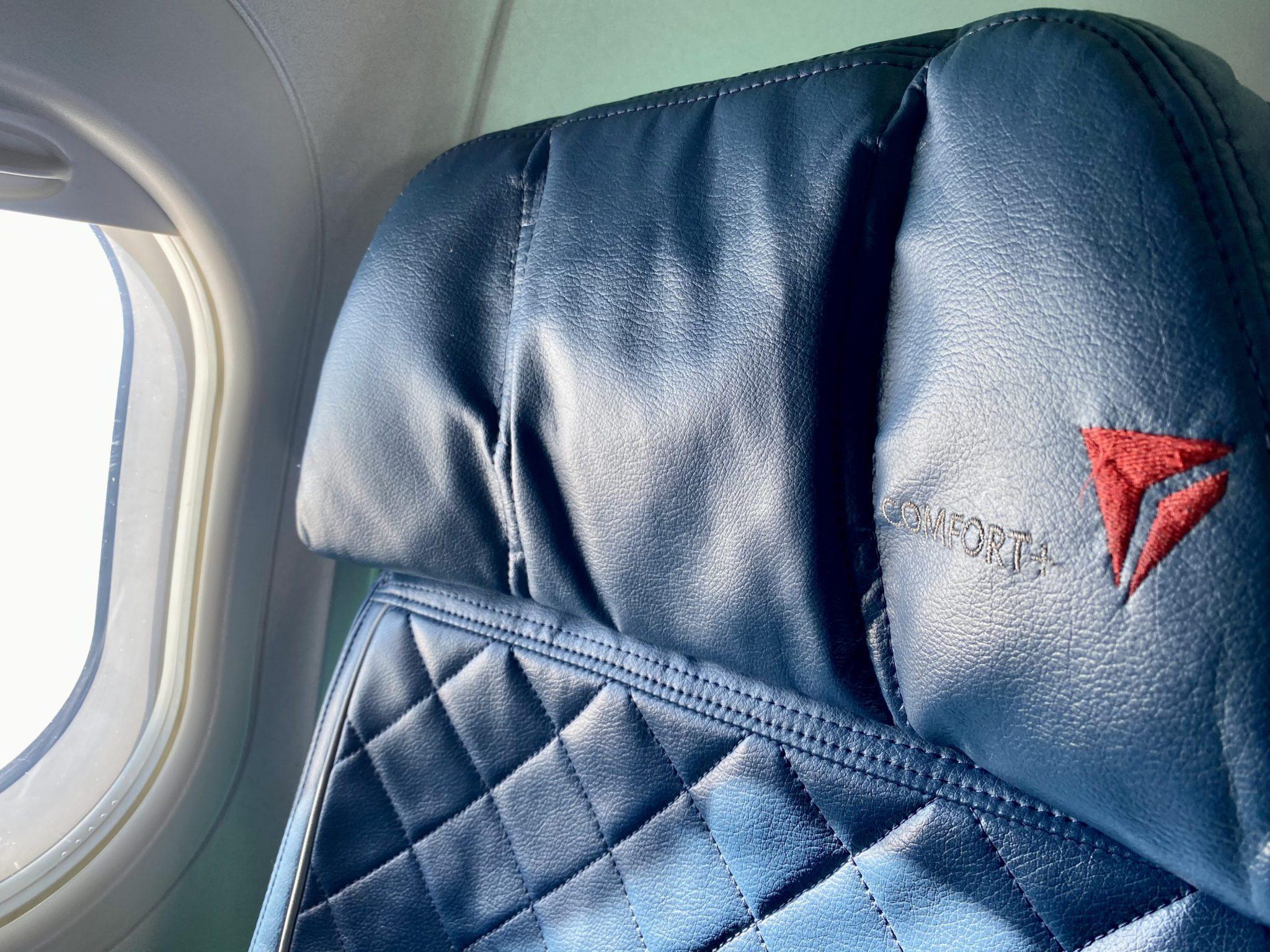 With Delta Gold Medallion status, Comfort Plus upgrades start to clear 72 hours prior to the flight – based on availability. And finally, if you hold Silver Medallion status, Comfort Plus seat upgrades will start to clear 24 hours prior to the flight – assuming there are seats available.
Even with the lowest Silver Medallion status, upgrades are very possible. I've earned a complimentary Comfort Plus upgrade on about half of my flights over the last year, but none in the last four months as more and more travelers re-take to the skies.
Still, if you have Medallion status, make sure to request that upgrade! It's worth a shot at a total cost of $0.
Related reading: Why Free Upgrades on Delta are Getting Harder & Harder
Bottom Line
Delta Comfort Plus offers an economy seat with slightly more legroom, and a few other perks like priority boarding, dedicated overhead bin space, and free extra snacks and drinks on domestic flights. On long-haul international flights, that includes amenity kits similar to what you'd find in the other premium cabins.
While Comfort Plus isn't anywhere close to the comfort and service you'd find in first class or other premium cabins, it is a better flying experience than economy – especially if you can upgrade for free or for a small upcharge.
Is Delta Comfort Plus Worth It?
Delta Comfort Plus can be worth it. If the extra three inches of legroom, priority boarding, or priority overhead bin space is important to you, Comfort Plus can be a much more enjoyable experience. In most cases, it's probably not worth spending hundreds of more dollars for only a slightly better seat.
Comfort Plus is certainly worth it if you get upgraded for free – a possibility for travelers with Delta Medallion status – or see the option to upgrade for cheap.