Editor's note: Appointment Scanner gave Thrifty Traveler a free trial to give its service a whirl without any promise or expectation of coverage. We were so impressed that we decided we had to write this story, without any additional input or review from Appointment Scanner.
Global Entry can be an absolute godsend … at least if you can get signed up. But with a huge backlog of applications and travelers stuck in purgatory for months awaiting conditional approval, that's not a sure thing these days. The final step – securing an in-person interview – seems harder than ever.
You can scroll through months worth of availability at the nation's largest airports, day in and day out, without finding a single appointment. So while struggling to snag an interview to renew my Global Entry last week, I turned to a paid service that scans schedules 24/7/365 and notifies travelers whenever it finds a new opening.
I signed up for Appointment Scanner at 9:35 a.m. on Friday. At 9:39 a.m. on Friday, I received a text alerting me to a new appointment available at my home airport of Minneapolis-St. Paul (MSP).
That's right: Just four minutes after signing up, I had a Global Entry interview scheduled. Here are the receipts.
At a time when the interview calendar was otherwise blank, I was able to book an appointment just a week later.
Now let's be clear: That's an extreme example – not every traveler will be so lucky. But even as federal officials are practically begging travelers to choose TSA PreCheck over Global Entry due to long delays, my story showcases just how useful this service can be.
Appointment Scanner costs $29 for a month's worth of automated Global Entry interview alerts (it's not a recurring subscription). And while that may seem steep, I know many travelers would gladly pay it for the sake of speeding up the grueling process of finding an interview.
How Appointment Scanner Works
Finding a Global Entry interview appointment feels like winning the lottery lately.
You can pull up the interview schedules at big airports like Phoenix (PHX), New York City (JFK), Newark (EWR) Chicago-O'Hare (ORD), or San Francisco (SFO) and not see an appointment for many months – if any are available, period. You could take a road trip and schedule something at a little-used rural location or hammer out your interview when returning from abroad via Enrollment on Arrival. Both options can feel like a hassle compared to heading to your home airport.
Read all our other tips for snagging a Global Entry interview!
But appointments are added to the calendar seemingly at random (then gobbled up quickly) and other travelers cancel or reschedule, so one of the best ways to get an interview on the schedule is to hop on one of these additions … quickly. You could check back a few times a day, of course, but Appointment Scanner automates that process for you. That's really where this service excels.
After signing up for Appointment Scanner and paying the one-time $29 fee, you can pick up to three airports for which you'll get alerts. I'd recommend picking your home airport as well as any airports you might fly through frequently.
In addition to email, Appointment Scanner also allows you to opt-in for text alerts – and I'd urge you to do so. In my experience, sometimes you'll get a text a minute or two before an email comes through. In the cutthroat race for these appointments, every second counts.
The alerts themselves are fairly simple: You'll see the location, date, and time that an interview slot is available. From there, just quickly head to the Global Entry interview portal, pick your airport, find that date, and book your appointment. Let me repeat: Do it fast.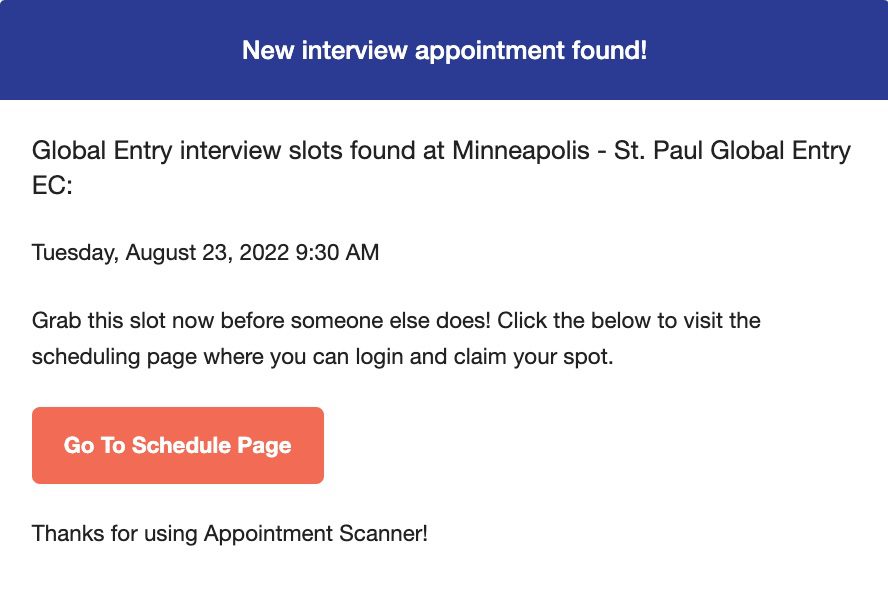 Of course, just how many alerts you'll get will vary from airport to airport. For my home airport of Minneapolis-St. Paul (MSP), for instance, I've received 15 appointment alerts in just the last five days. All but one of them was for an interview I could schedule within the next two weeks.
Just to scope out the service further, I also added New York City (JFK) to my list. The volume of alerts was almost overwhelming: Appointment Scanner gave me the heads up on more than 70 appointments over the course of less than two days – many for an opening within the next month or so. This is just a small fraction of what I received.
But you can really fine-tune your alerts to ensure they work with your schedule. Trying to wrap up your Global Entry enrollment before heading off on a big trip? Already got an appointment booked but want to snag an earlier one? You can set an end date for your alerts – though keep in mind that may limit how many alerts you'll get. Only available on certain weekdays? You can factor that in, too.
There's also an upside for travelers (like me) who are just trying to renew Global Entry. Processing times are generally much faster, though it might still require an in-person interview. But Global Entry has eased the process by giving some travelers the option to interview remotely via Zoom. Just like the in-person interviews, finding availability remains a challenge. I checked the schedule daily for a remote appointment for a few weeks and couldn't find a single slot.
Appointment Scanner has you covered there, too – you can also sign up for Zoom interview alerts. You'll currently have to select specific field offices offering these remote interviews, though Appointment Scanner Founder Derek Feehrer told Thrifty Traveler an upcoming update will allow travelers to receive alerts for all Zoom interviews nationwide.
One important thing to note is that Appointment Scanner isn't a subscription: You pay $29, you get a month of alerts, and then you're done. It won't renew.
Based on my experience over just a few days, I think most travelers should be able to lock in an interview appointment long before the month is up.
Bottom Line
It doesn't solve every single pain point in getting signed up for Global Entry, but Appointment Scanner is hands-down one of the best ways to snag an interview appointment in a hurry. Especially if you've been struggling to find a slot, it could be worth every penny.
Lead photo courtesy of Appointment Scanner