Hell hath no fury like a Minnesotan scorned by Sun Country's transition to a budget airline. Trust me: As a Minnesotan myself, I hear it all the time.
After struggling financially for years, the Minnesota-based airline ripped out first class in favor of slimmer seats, scaled back in-flight service, and began charging fees for everything from bags to seat assignments to snacks. That was five-plus years ago, and the transformation is now complete: It's now a growing low-cost carrier, in the vein of Spirit or Frontier.
Or is it? Again and again throughout my recent Sun Country flight from Denver (DEN) to Minneapolis-St. Paul (MSP), there were signs and reminders that Sun Country is more than just your run-of-the-mill, bare-bones budget airline.
Read on for the full review.
Booking Sun Country Airlines Flights
Let's address this from the very outset: Exactly how cheap – or expensive – your Sun Country flight will be all hinges on what extras you need.
From carry-ons to checked bags to seat selection, the airline's a la carte pricing model means you get what you pay for on Sun Country: The base fare gets you a small personal item to stow under the seat in front of you … and nothing else. Fortunately, Sun Country's additional fees are generally milder than you'll find with other budget carriers like Spirit and Frontier, in our experience.
In my case, it started with a $76.90 one-way fare from Denver (DEN) to Minneapolis-St. Paul (MSP). Right off the bat, Sun Country tries to upsell you on bundles with seat assignments, bags, and other perks that can instantly double the price of your ticket – or more.
If you skip that option, it's time to add your extras individually, starting with bags – and that's likely the best route unless you need a lot of extras.
Like many budget carriers, you'll get the lowest price by adding a bag to your reservation when you purchase your flight. Going back and adding a bag later will cost you an extra $10 or more, especially if you wait to do so at the airport on the day of your flight.
Checked bags and carry-on bags typically cost the same amount with Sun Country.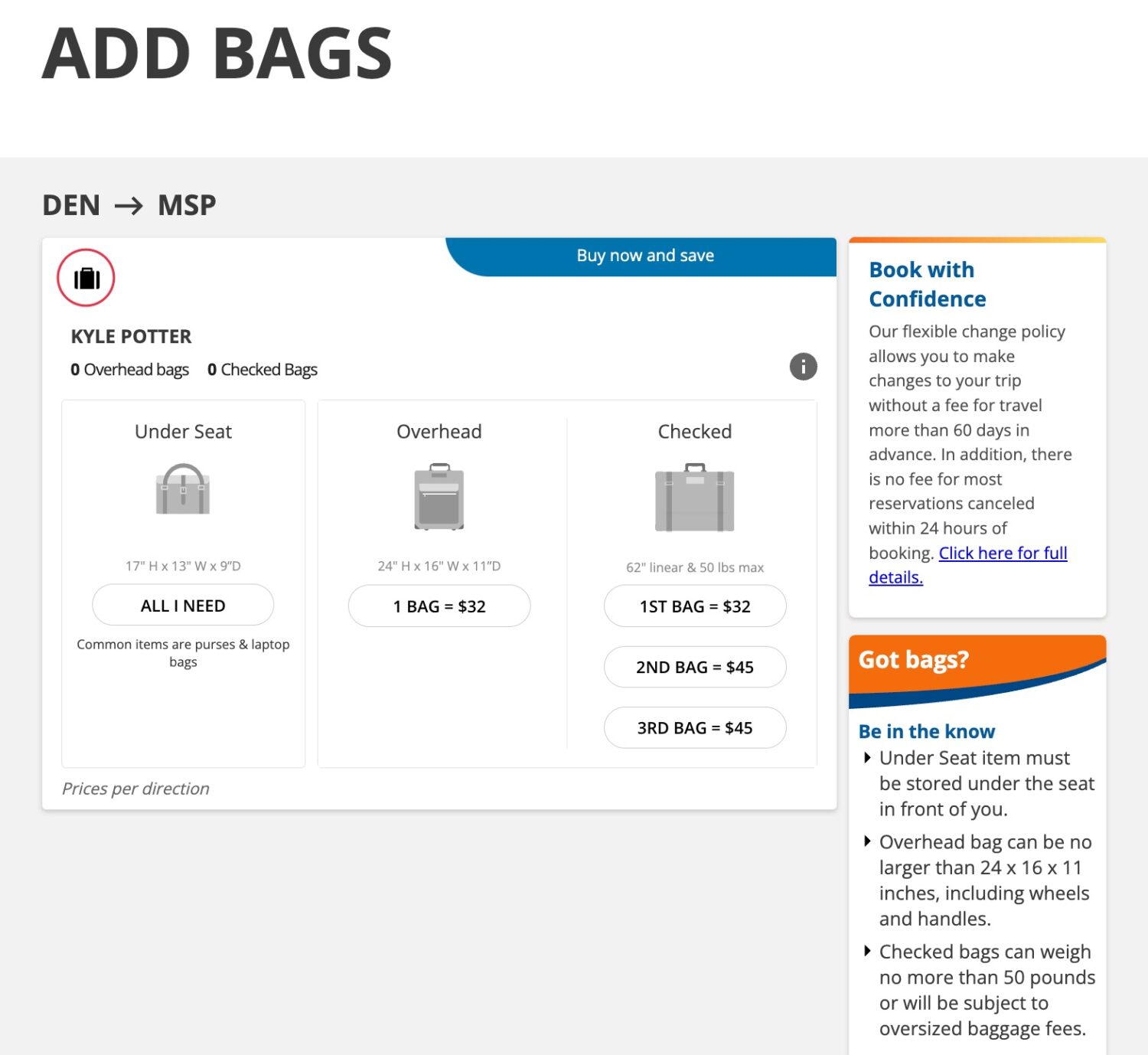 Read more about Sun Country baggage fees! 
Then it's time to pick seats – and yet again, the fees were far more reasonable with Sun Country than many other budget carriers. For example, Frontier Airlines was charging $25 to $55 for a seat assignment on my flight from Minneapolis to Denver earlier that day.
With Sun Country, picking a seat was as cheap as just $9 … for a middle seat at the back of the plane. Still, paying an extra $13 for an aisle seat in row 18 struck me as a decent deal. If you decide not to pay, you'll get randomly assigned a seat at check-in.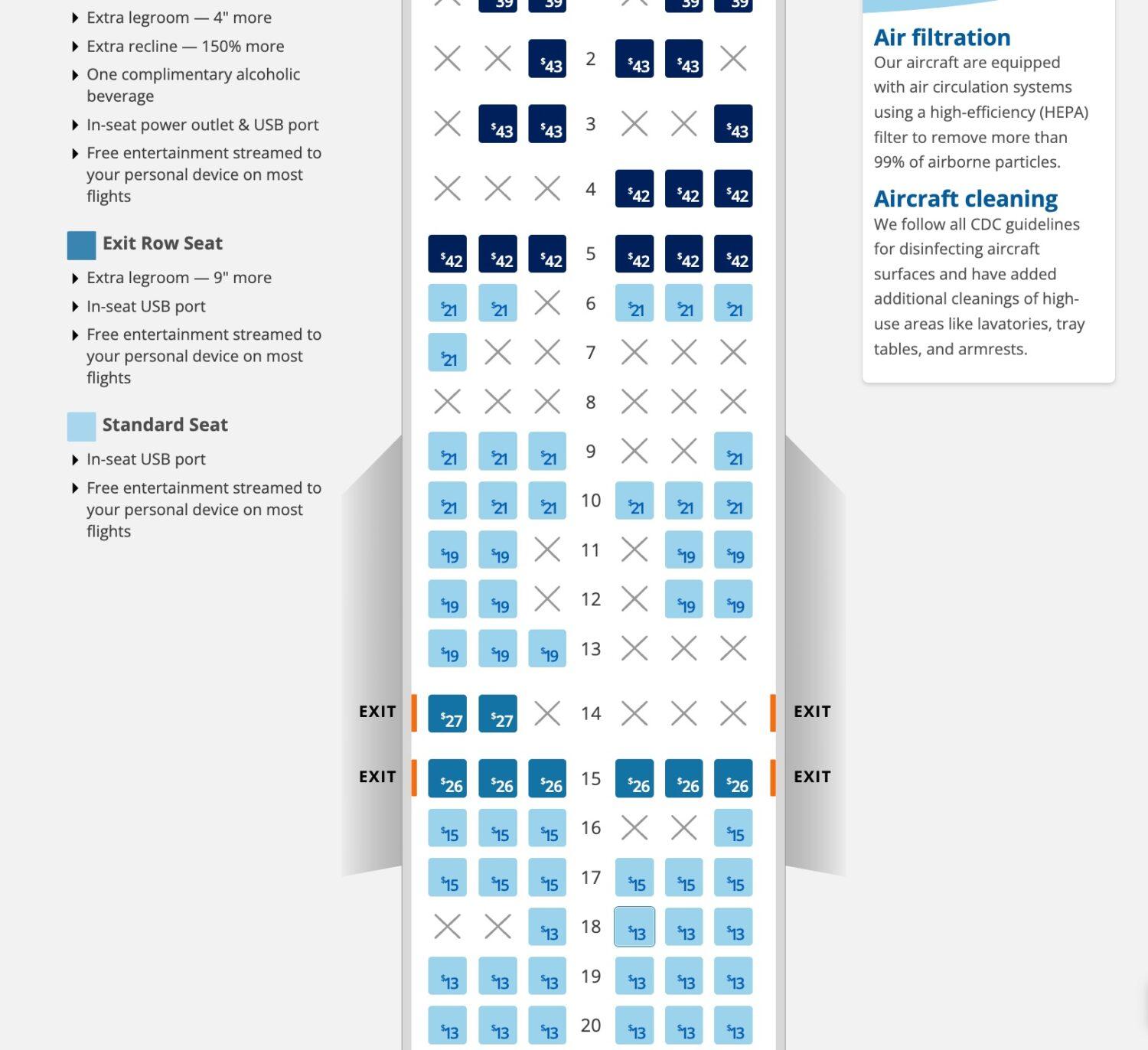 The upsell effort continues even after picking seats, like the option to tack on a rental car with your flight. Sun Country also offered me the option to add a one-time change fee waiver for $19. Unless you're booking a flight fairly last-minute and expect you'll need to change it, it's probably worth skipping this option: Sun Country allows free changes to flights so long as it's 60-plus days in advance. And either way, you'll still be on the hook for a fare difference.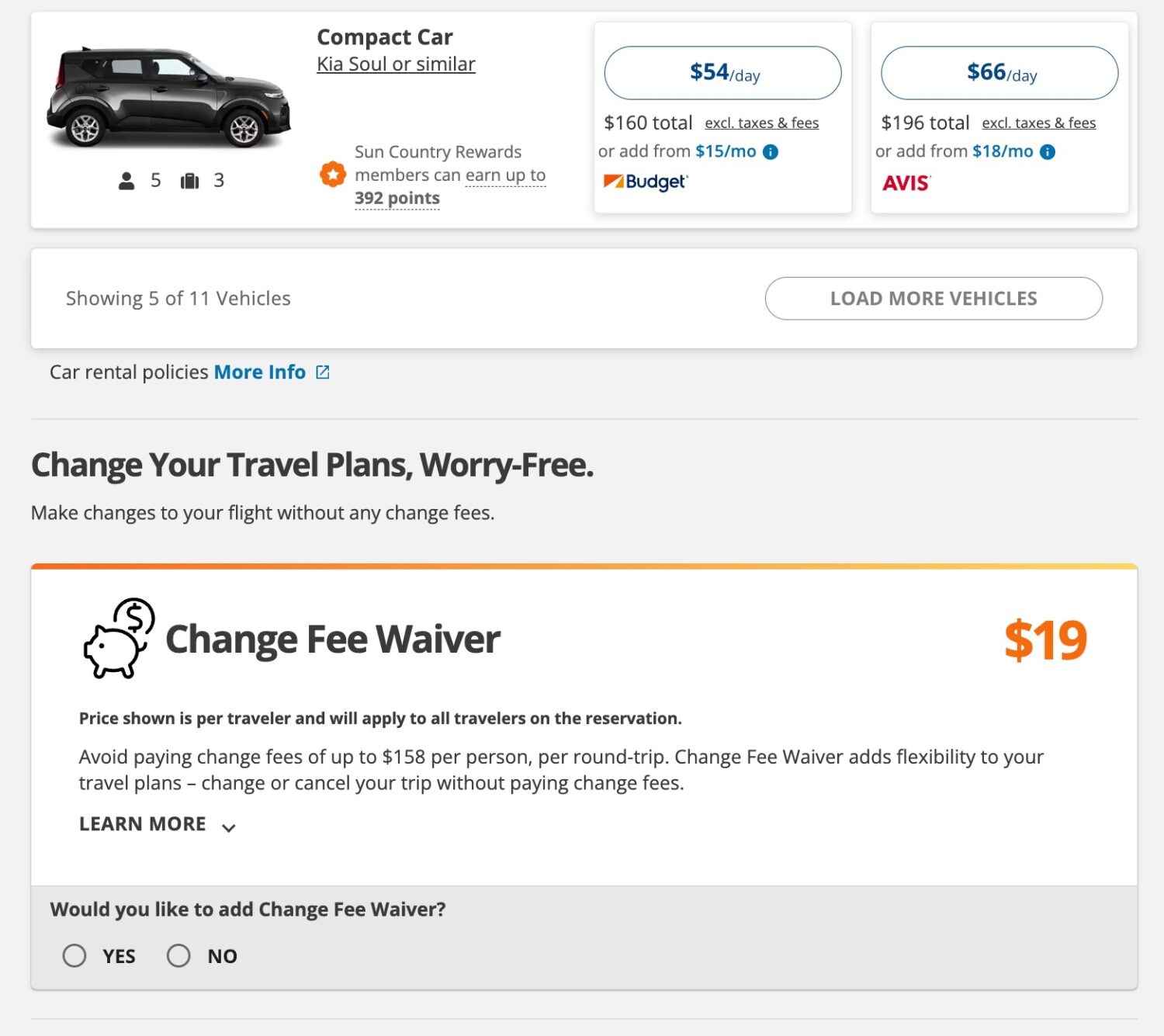 Then it's time to pay. But beware: Sun Country does not accept American Express. The airline hasn't accepted Amex since way back in 2017.
In the end, I wound up paying $89.90 for my one-way flight with a seat assignment back home to Minneapolis.
At Thrifty Traveler, we don't accept freebies. We use our own points, miles, or cash to pay for every single flight or hotel you see reviewed here – including this one!
Checking in & Boarding
In the year 2023, Sun Country does not have a smartphone app.
Yes, really. From the major legacy carriers to the newest budget airlines like Breeze Airways and Avelo, having a smartphone app available for travelers to book travel, manage reservations, and check in for flights seems like the bare minimum. But not Sun Country: The airline sunset its app years ago.
The Star Tribune reported earlier this year a new Sun Country app is coming, with the airline saying it'll go live sometime later this year or in early 2024. For now, Sun Country customers are still able to check in online, then open a boarding pass on their phones, including using Apple Wallet.
Luckily, Sun Country participates in TSA PreCheck so you'll have no problem getting into those shorter, dedicated lanes so long as you enter your Known Traveler Number with the airline.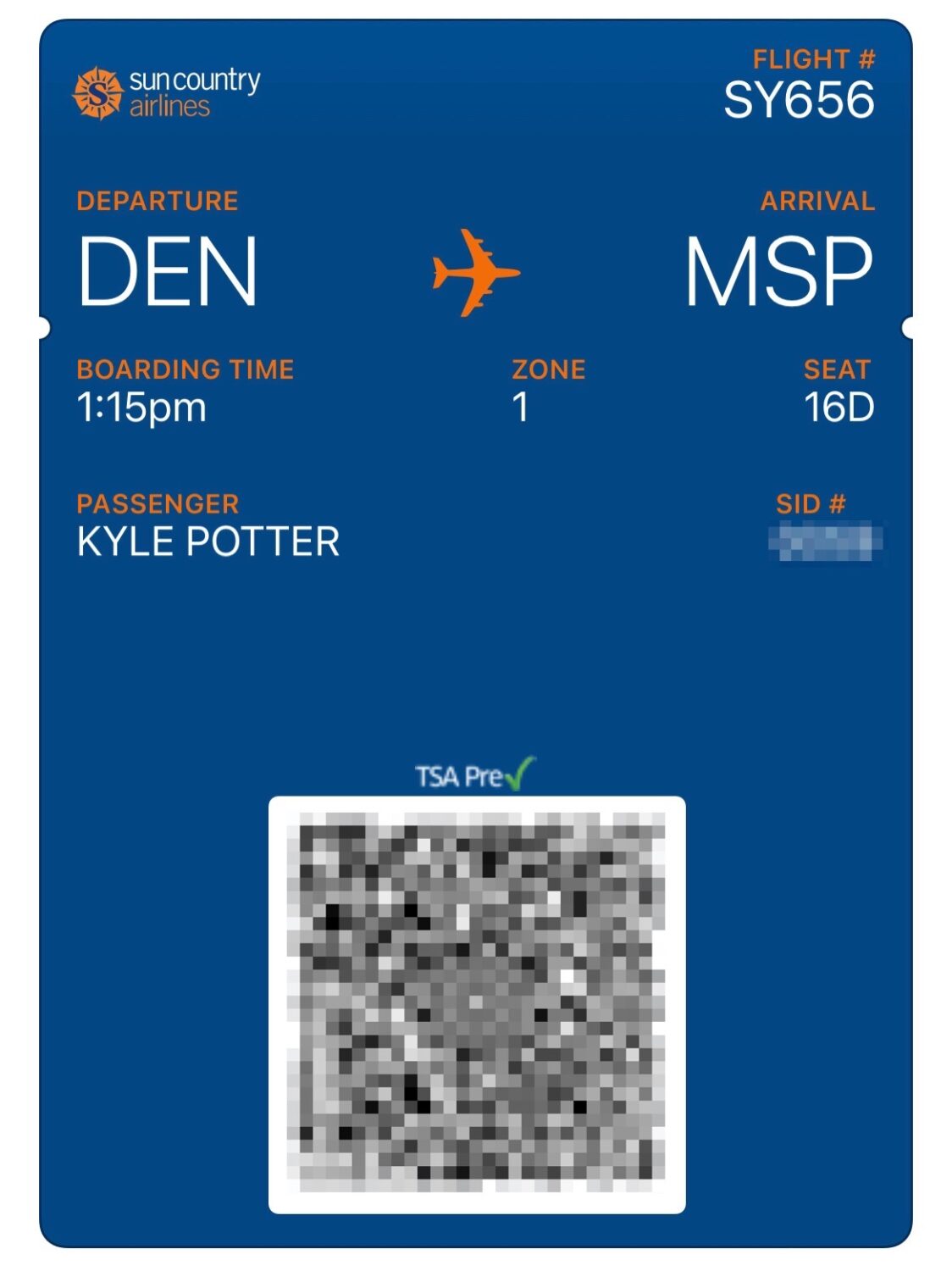 Despite some ambitious goals for the future, Sun Country flies a growing fleet of all Boeing 737s. Ours was waiting at the gate to begin boarding right as scheduled, still sporting the airline's older paint job – Sun Country plans to continue outfitting its planes with its new livery as they come in for scheduled repainting.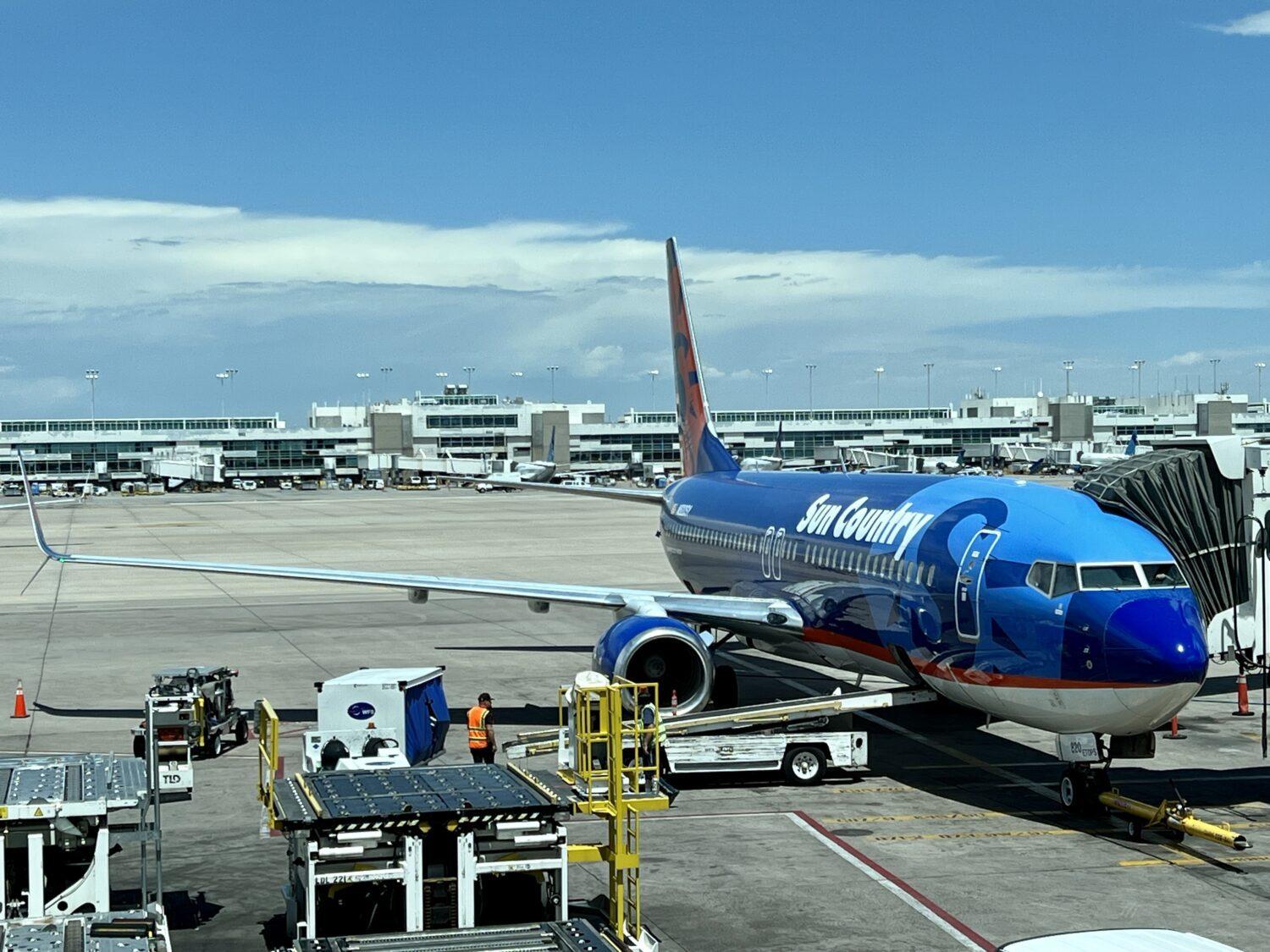 Sun Country Airlines Cabin & Seats
There's no mistaking it when walking onboard a Sun Country plane: This is a budget airline. First class seats are long gone, replaced with slimmer seats with less legroom.
But there's also no question in my mind that the in-flight experience on Sun Country is a step above that on Spirit, Frontier, and Allegiant. Here's why:
In addition to standard economy seats, the airline offers "Better" seating with a few extra inches of legroom and a few rows of "Best" seats with an adjustable headrest, additional recline, and the most legroom at the front of the plane
Most budget airlines have disabled reclining on their seats, but not Sun Country
No matter what row you're in, Sun Country's seats have far superior padding than the ultra-slimline seats that Frontier and Spirit use on their planes
Minnesotans have bemoaned Sun Country's transition from the once-beloved hometown carrier to a budget airline with higher fees for … just about everything. But from the moment you step on the plane, it's clear Sun Country has charted a middle ground: It may not be a full-service airline anymore, but it's not a full-fledged budget carrier, either.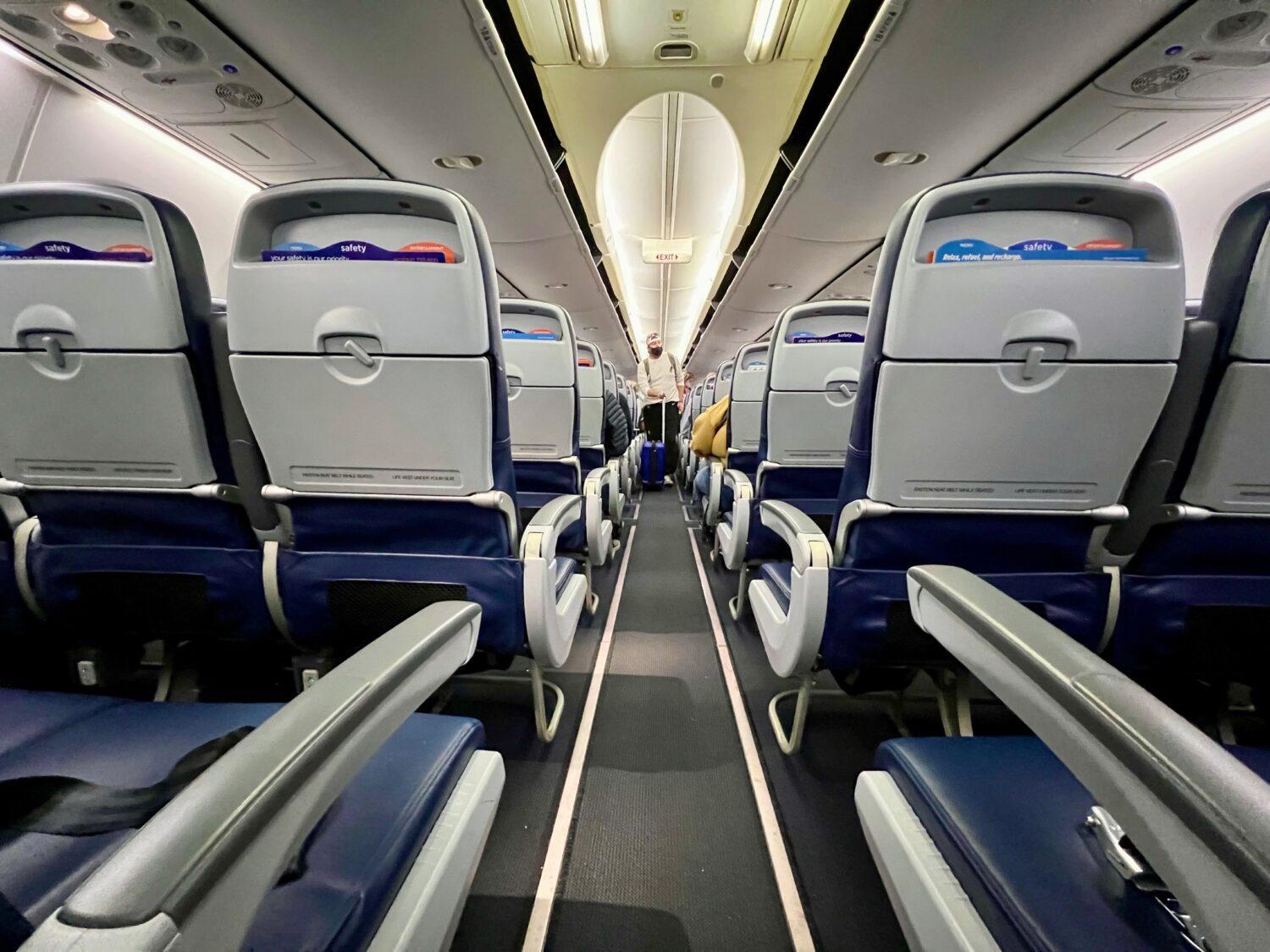 Over the years, Sun Country has retrofitted its entire fleet of 737s with this new, low-cost look. Each plane has 186 seats onboard, all laid out in a 3-3 configuration much like any airline flying domestically these days.
They're certainly not first class seats, but the cabin starts with a few rows of Sun Country's "Best" seating, which sport 34 inches of pitch (the aviation industry parlance for "legroom") – a few inches more than the 29 inches you'll find in standard seats. These seats also each have a padded and adjustable headrest and dedicated universal power sockets as well as USB-A ports.
On my flight, these seats at the front of the plane were available for an extra $42 – $29 more than I paid for a standard seat.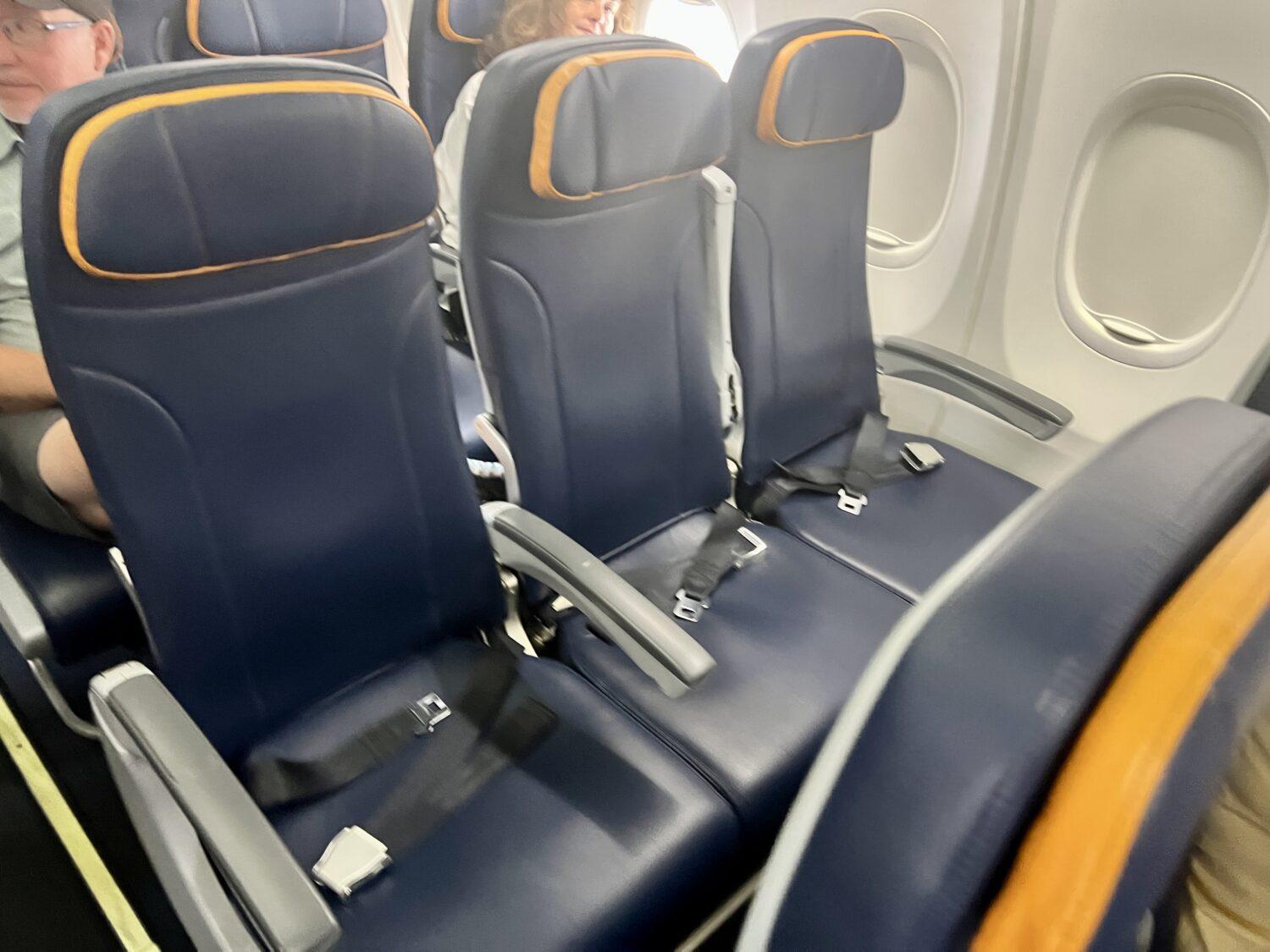 But if more legroom is what you're after, you can do even better. Exit row seats in rows 14 and 15 come with a whopping 38 inches of pitch. While they don't have a headrest and the other bells and whistles you get in the "Best" section, these exit row seats are also cheaper: They were $26 or $27 on my flight.
The seats throughout the rest of the cabin are more or less identical: a nice, flat navy with some simple stitching.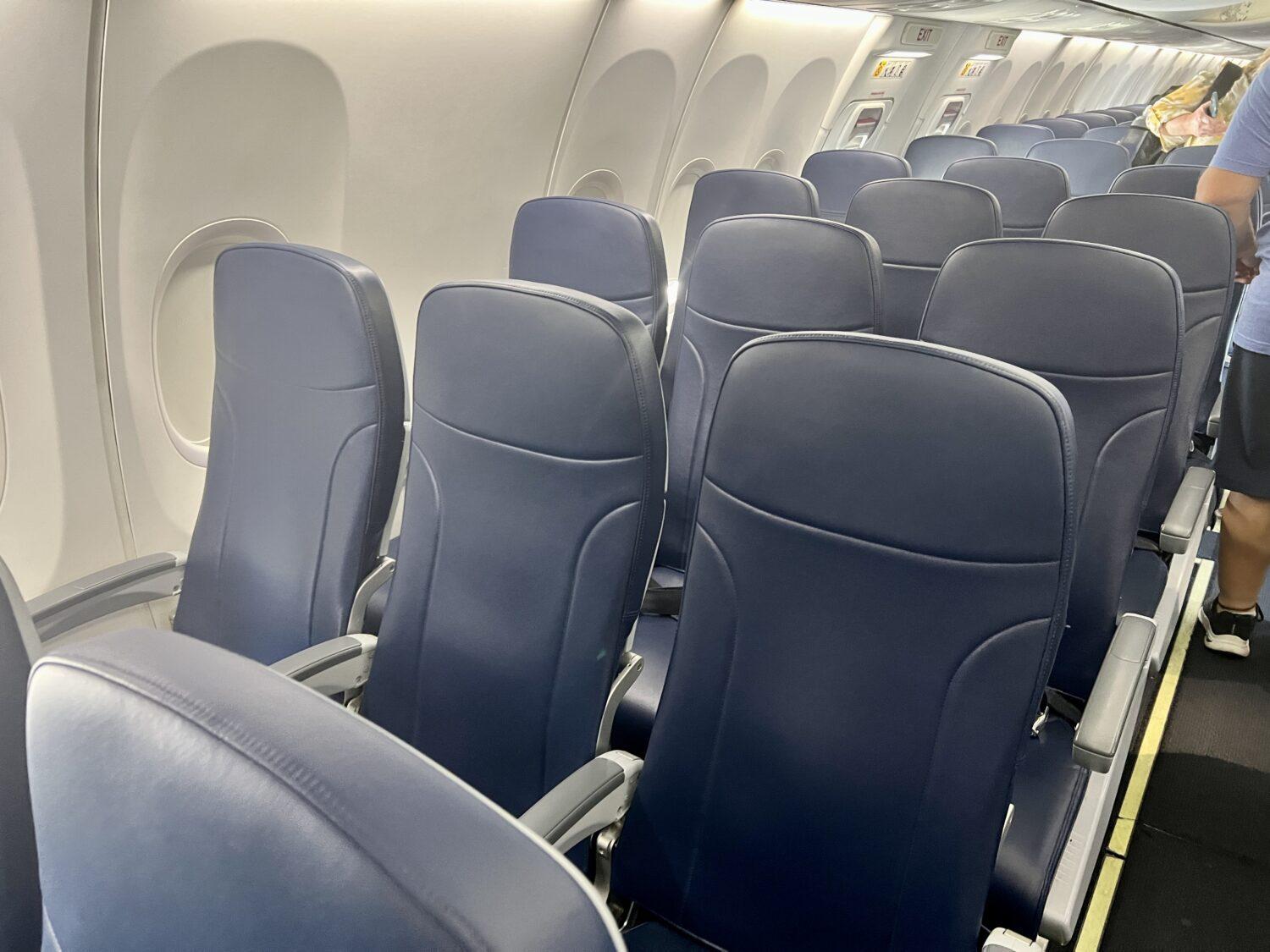 While these newer Sun Country seats are certainly on the slimmer side, they're far more forgiving than the stiff seats you'll find flying on the likes of Frontier and Spirit. Sitting down, the padding was noticeable – and appreciated. Here's a look from the side.
Sure, it lacks a headrest – at least if you're not sitting up in the "Best" seats at the front of the plane. But these are a far cry from the plywood-and-leather seats on ultra-low-cost carriers. Comfort-wise, they're far closer to Delta Air Lines than they are to a carrier like Spirit, if you ask me. Heck, I've had worse seats flying with American Airlines.
In Sun Country's standard seats, the legroom was tight but manageable. On paper, these seats have 29 inches of pitch. In practice, the slimline seats Sun Country uses means those 29 inches get you something closer to the 31 inches of pitch you'll find on many Delta or United flights, since those seats simply take up more space.
At 5 feet 10 inches, I felt like I had plenty of legroom. And there was more than enough room to slide a backpack underneath the seat in front of me without sacrificing that valuable space.
Don't expect to find seatback screens flying Sun Country. Instead, there's a handy storage compartment for inflight menus and other literature. There are also plenty of air vents and reading lights available overhead.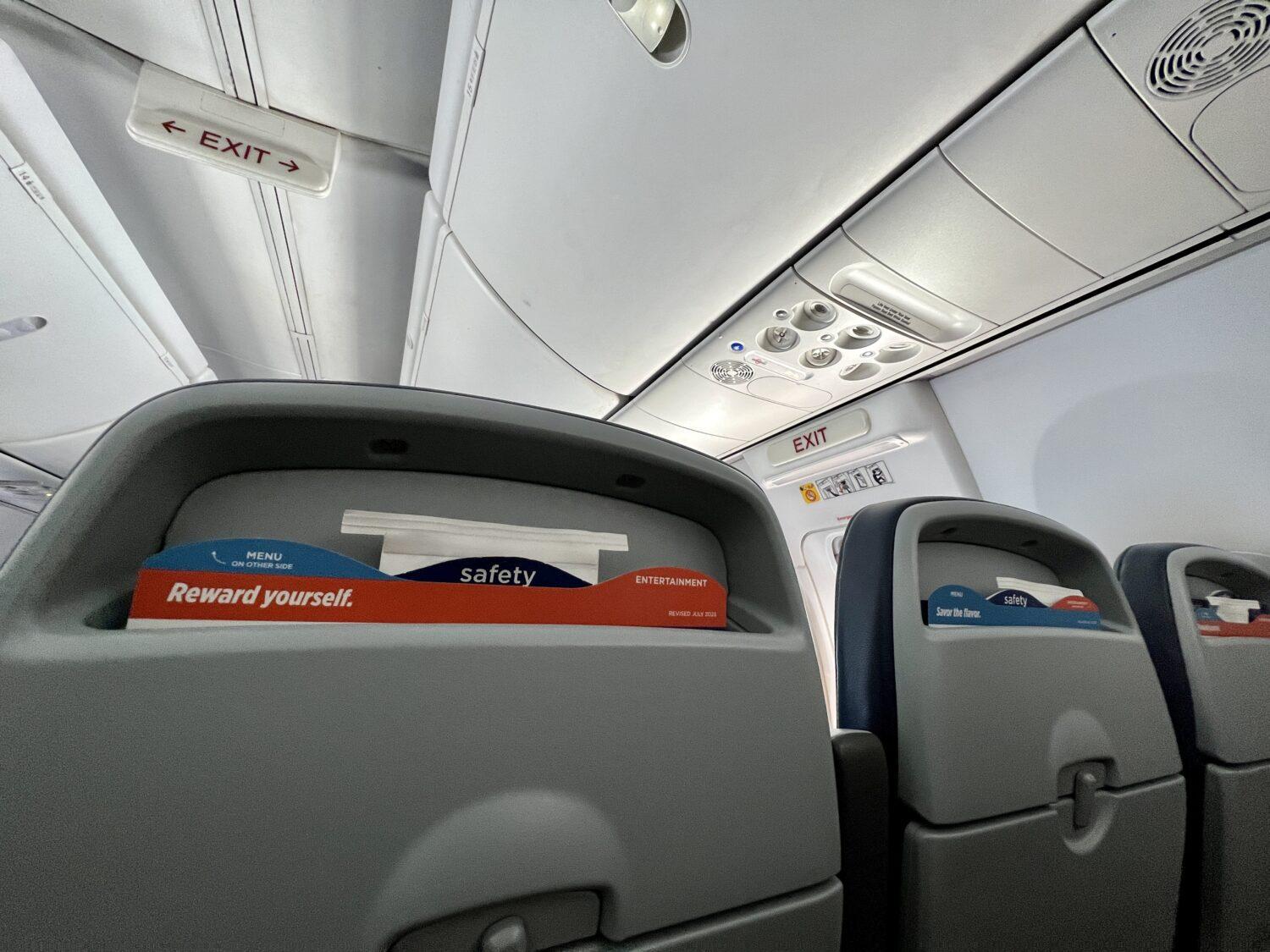 But even the normal seats have a feature you won't find on many budget airlines: USB-A sockets to keep your smartphones and other devices charged. There are two of these power boxes in each three-seat section. That's something that even Southwest has only recently begun to offer on its planes, but it's standard with Sun Country.
There are also substantial mesh pockets to store your belongings at every seat.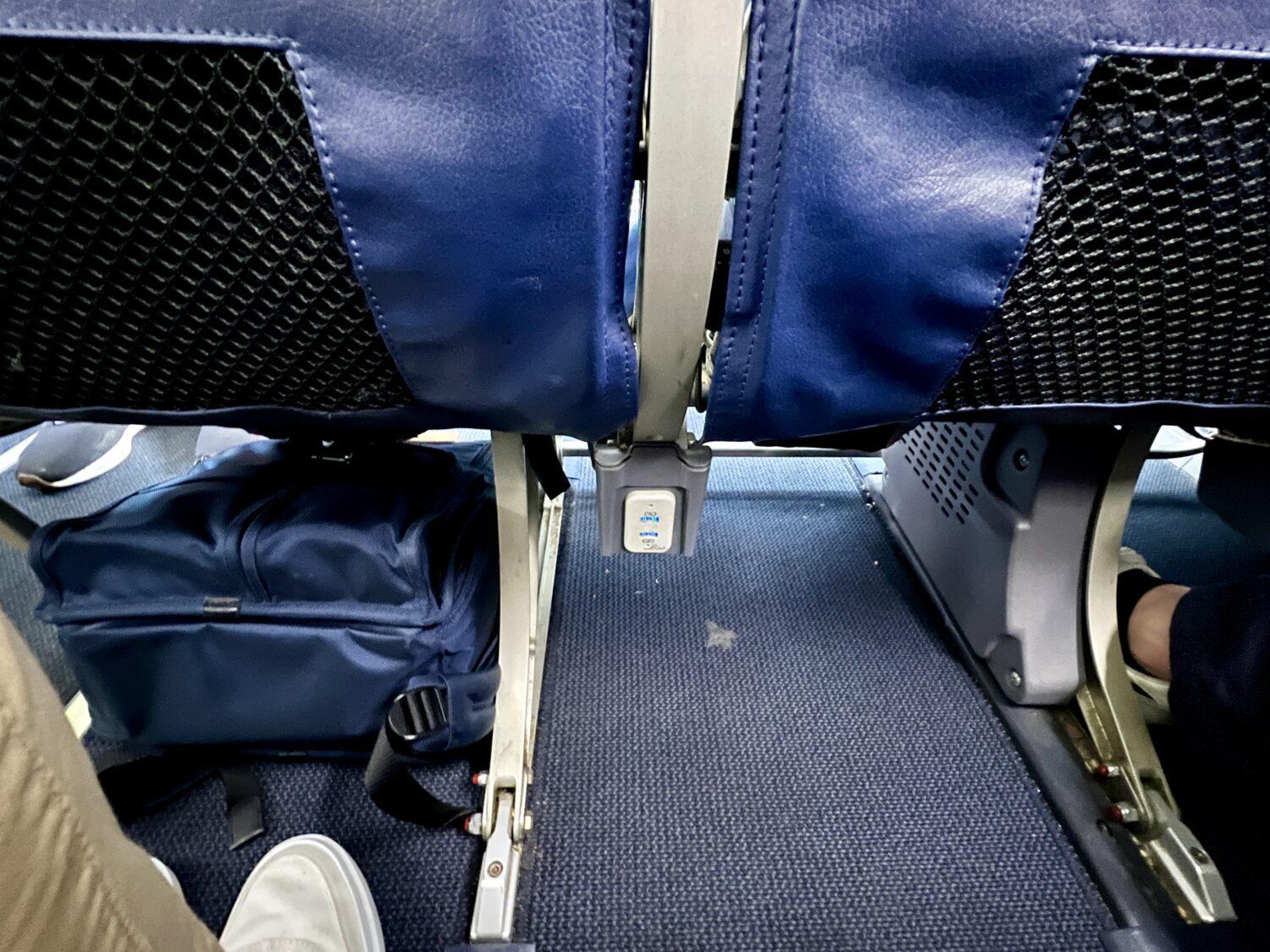 The theme of Sun Country outdoing its fellow budget carriers continues: Each seat also has a full-size tray that folds down – not the tiny shelves that you'll find on Frontier and the like. There's more than enough space here for a full-size laptop if you need to get some work done.
You can even recline your seat! Standard economy seats get a meager 2 inches of recline, but every inch helps.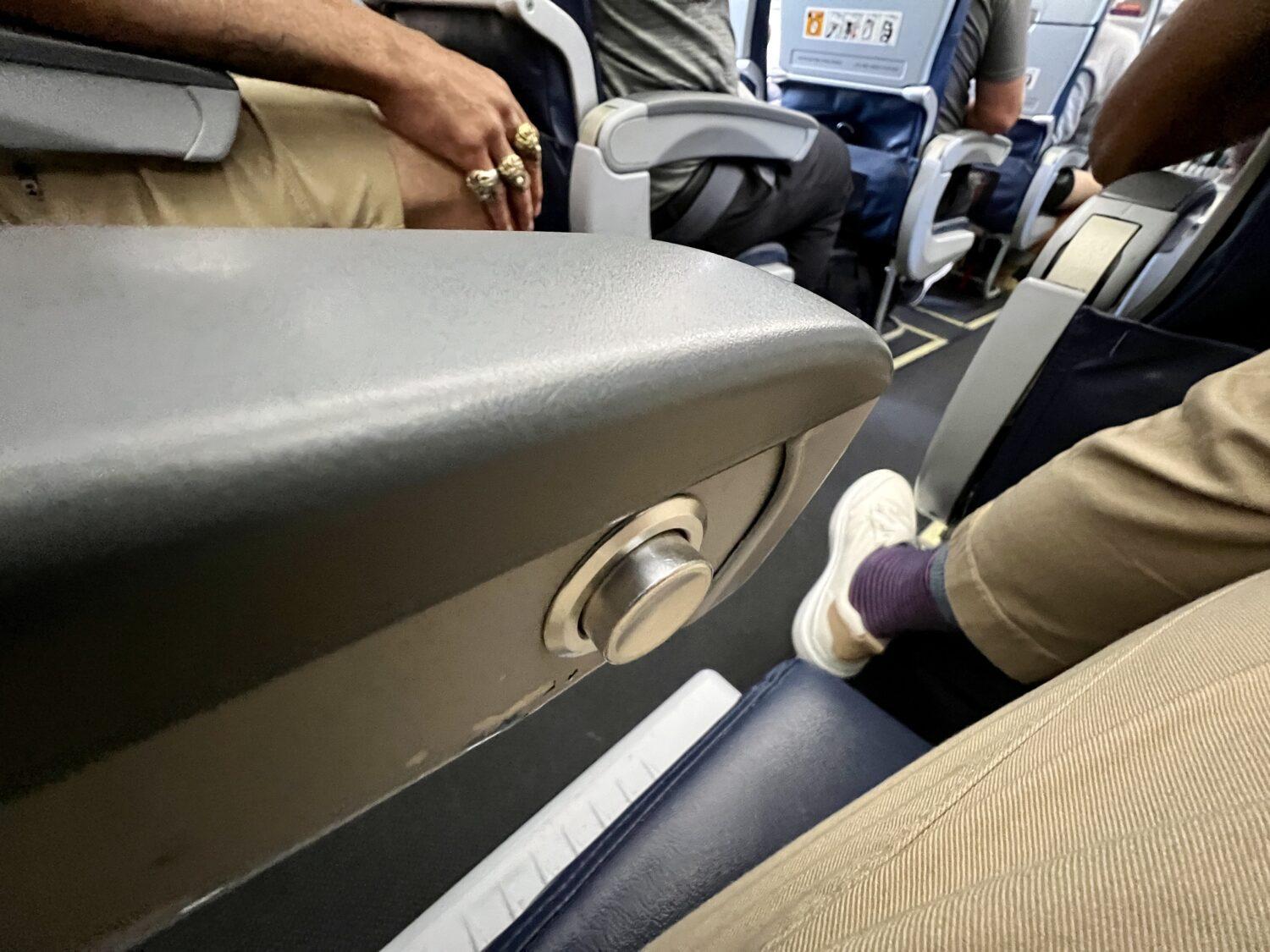 If you're trying to work or text friends, there's no full-fledged Wi-Fi onboard Sun Country Airlines. Instead, Sun Country offers what it calls "AirFi," allowing travelers to connect with their personal devices to stream movies and TV shows or play games, all for free. Yet again, that sets Sun Country apart from most of its low-cost competitors: Only Spirit offers bonafide Wi-Fi onboard.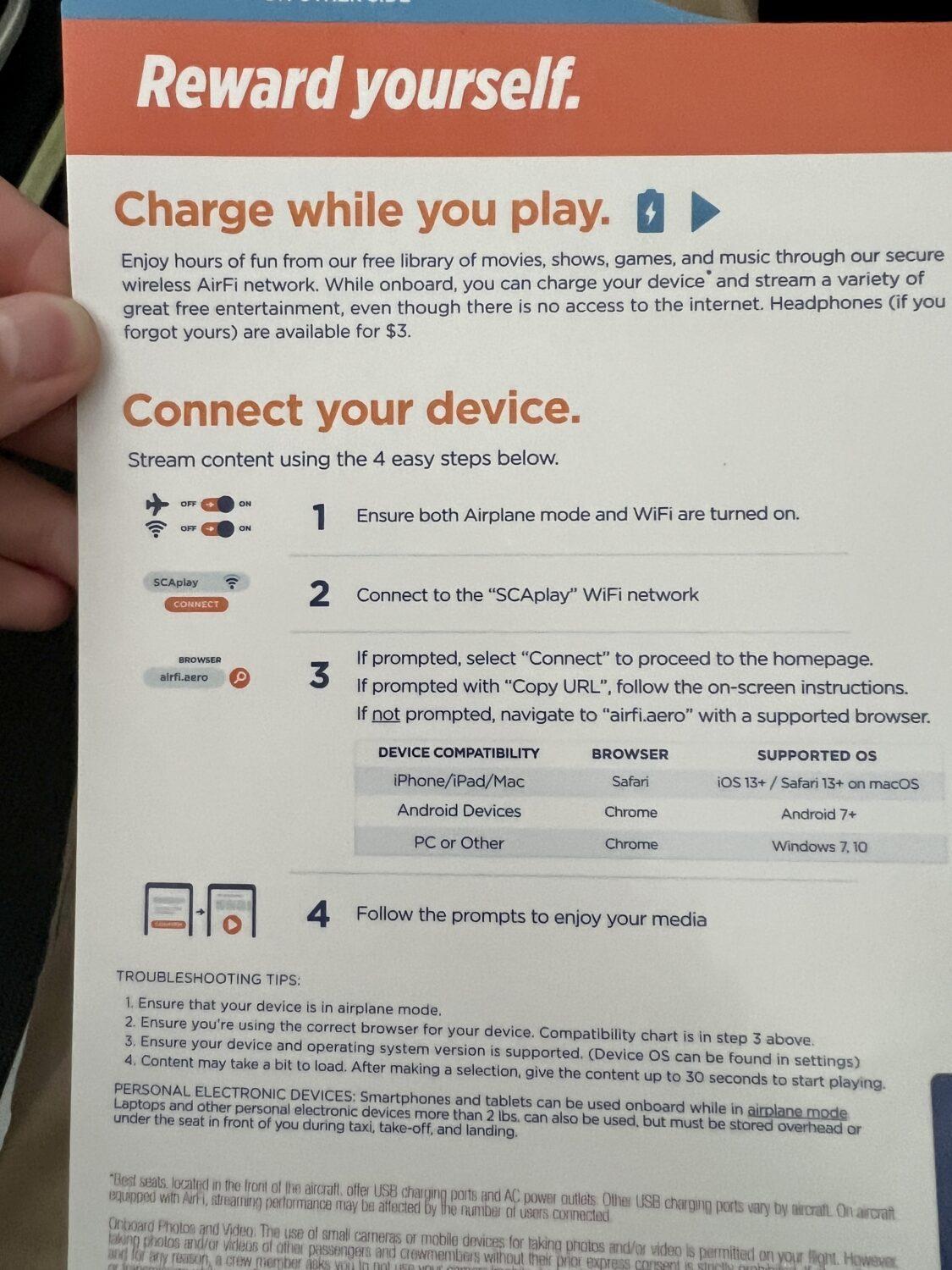 It took me a while to get connected but once I did, I was pleasantly surprised at the selection, which even included a few recent blockbusters. While there aren't any seatback screens, at least there's some inflight entertainment, provided you bring your own device.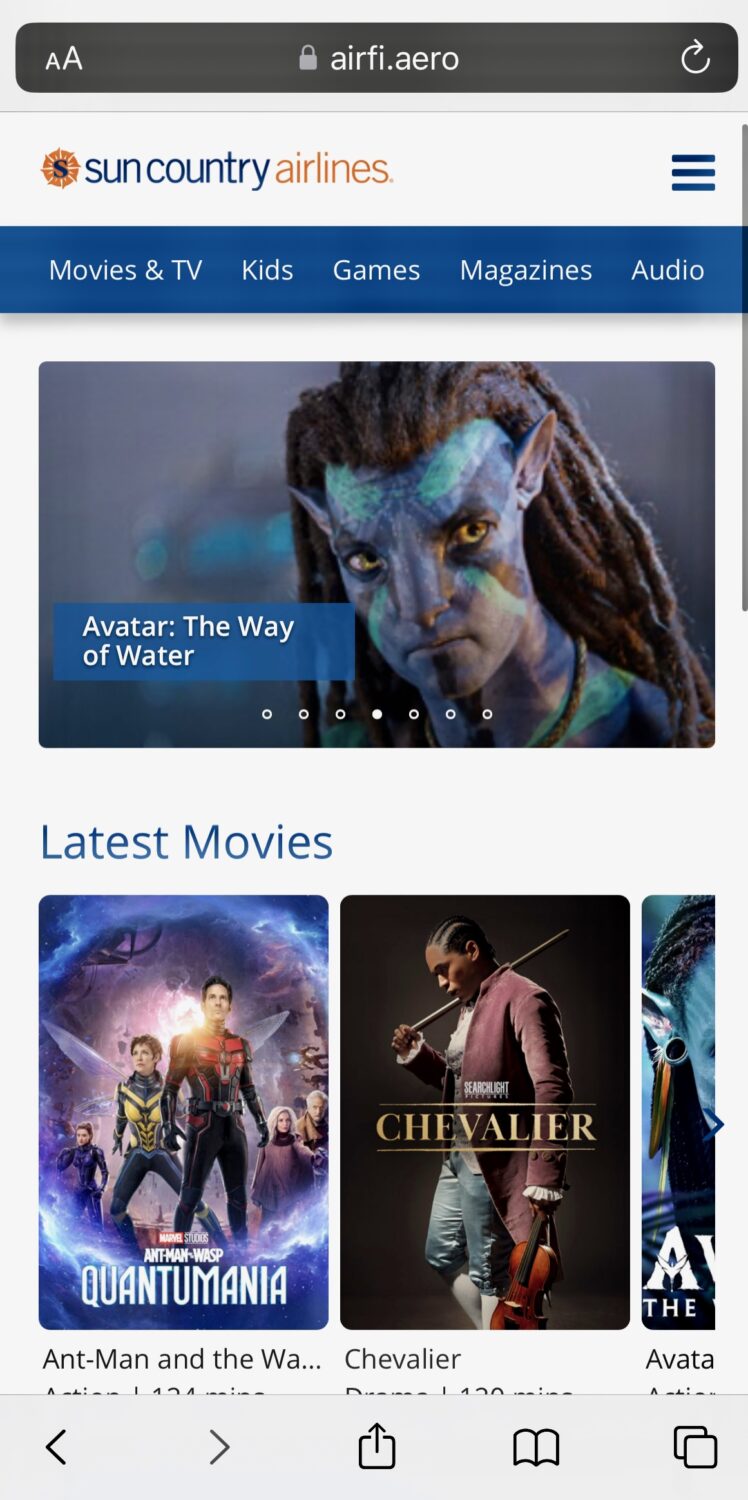 There are three lavatories onboard each Sun Country 737: One at the front of the plane and two all the way at the rear. While certainly basic, they were in good shape and kept clean throughout the flight.
Service, Food & Drinks Flying Sun Country
Again and again, Sun Country finds ways big and small to set itself apart from the flock of budget airlines. And that might just be clearest with in-flight service.
Flying Spirit or Frontier, you may not even be able to get a cup of water for free. And forget the drink service with a free soda or juice – that'll cost you $4 or more.
Yet Sun Country still provides complimentary drink service on its flights, with coffee, tea, juice, and soft drinks available to anyone. Even on a relatively short flight, flight attendants even came back through the cabin to offer refills.
There aren't any complimentary snacks available, though the airline has plenty available for purchase. And much like the major full-service airlines, you can also pay for a stiffer drink – though travelers who spring for a "Best" seat at the front of the plane get one free alcoholic drink with their upgrade.
While it may not be the same beloved hometown airline brand from a decade ago, but Sun Country still leans hard into its Minnesota roots with its inflight menu. There are Minnesota-made Fulton beers available to purchase as well as Prairie Organic gins and vodka and a pre-mixed Old Fashioned from local distillery Crooked Water Spirits. The local flair extends to the snack selection with Dot's Pretzels, Wiley Wallaby licorice, and We Are Nuts Trail Mix. Sun Country even offers what it calls a "Hometown Flavor Bundle" – a $1 discount if you purchase a Minnesota-made drink and snack together.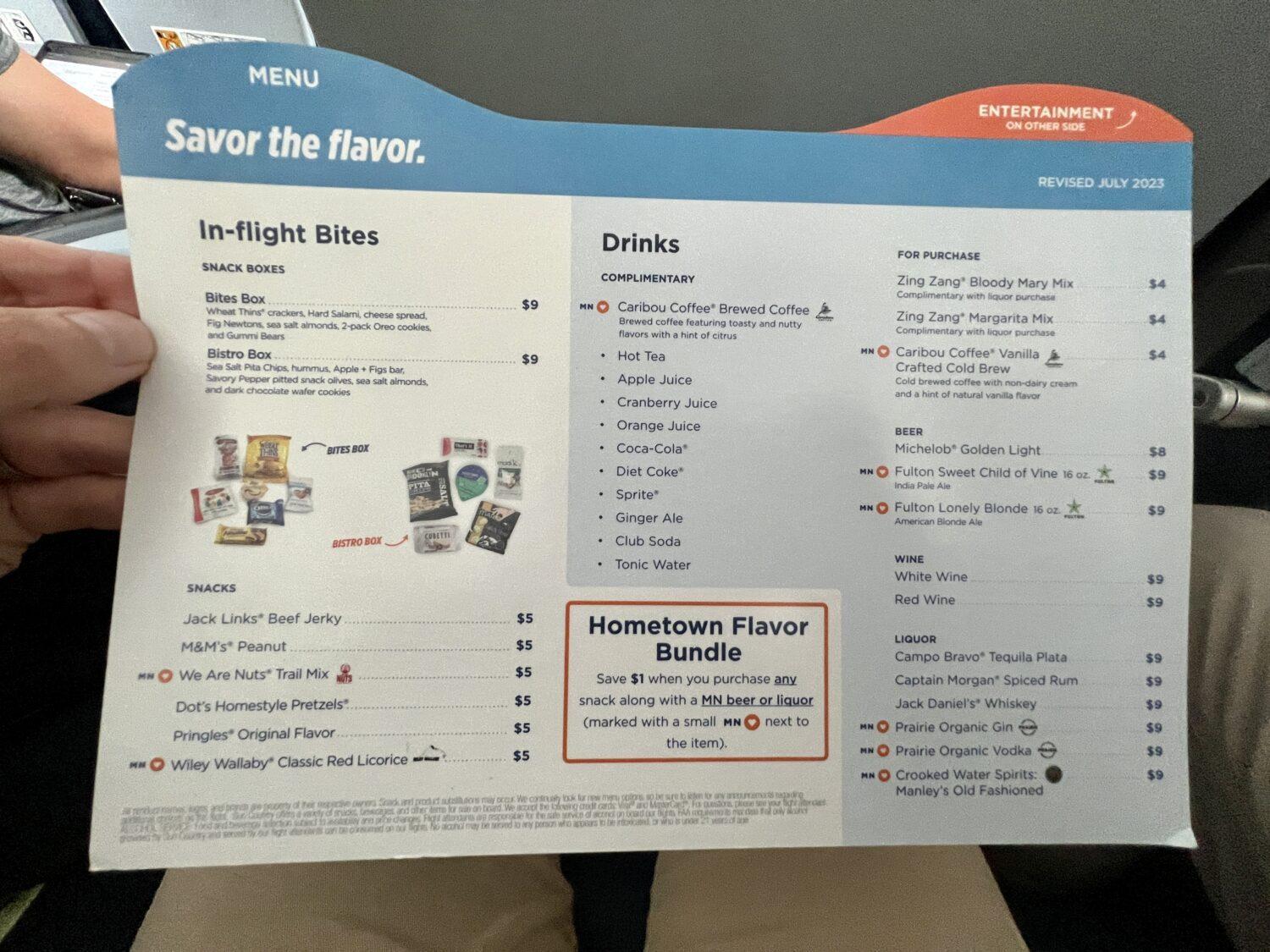 Prices are reasonable, too: $9 for a craft beer or liquor, and you get a free bottle of Bloody Mary or margarita mix when purchasing a bottle of booze. If you need more than a nibble, Sun Country also sells more substantial "Bites Box" and "Bistro Box" with a bundle of different snacks for $9.
How Does Sun Country Compare with Other Low-Cost Carriers?
Sun Country has tried to chart a middle ground between the full-service carrier it once was and bare-bones airlines like Spirit and Frontier. If you ask me, they've succeeded.
Fees may be high and the legroom on its refurbished planes is tight, but the airline went with better-padded seats than the stiff, ultra-slimline seating you'll find on its low-cost competitors. It also offers in-flight streaming to personal devices, something you won't find on many other budget airlines.
You need only compare the seats on Sun Country …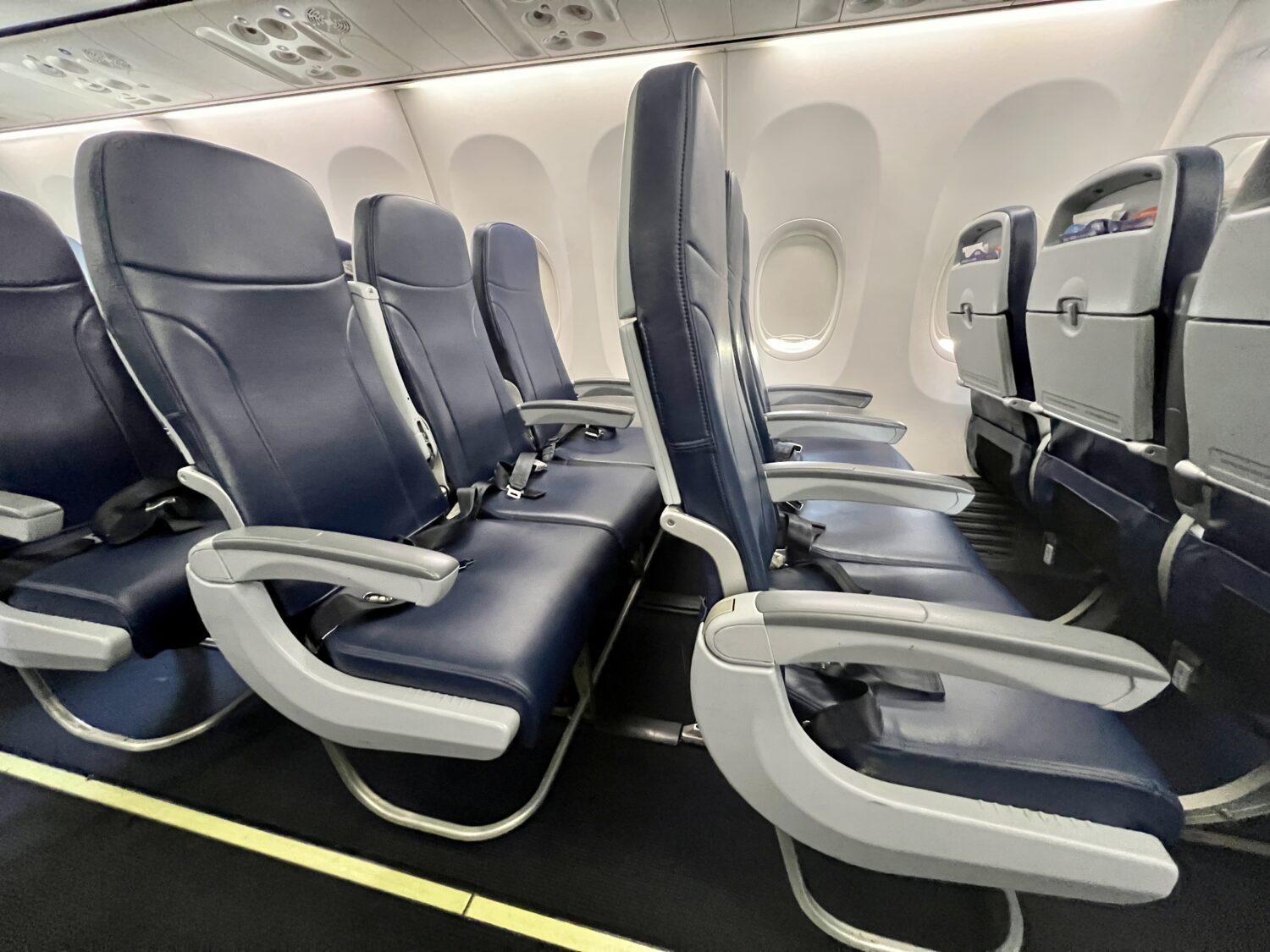 to Frontier …
… to see that Sun Country is a different breed of airline. I'd rather put my butt in a Sun Country plane than fly Frontier 100 times out of 100.
No airline is immune from delays, cancellations, long lines, or lost baggage – and that includes Sun Country. Sometimes, things just go wrong.
But when things do go wrong, that's when the pain of flying a low-cost carrier is sharpest: Customer service is a big area budget airlines cut back compared to major carriers. There may be fewer agents at the gate, fewer employees working the phones, and less of the infrastructure to recover when things fall apart.
In my mind, it's worse on other budget carriers than with Sun Country for one major reason: Scheduling. While many low-cost carriers may fly just once a day (or a few times a week) to your destination, Sun Country generally operates a fuller schedule with more daily departures – at least in and out of its Minneapolis-St. Paul (MSP) hub.
For example, it flies three times a day from Minneapolis to Phoenix (PHX) in the winter, while Spirit flies the same route just once.
If your 7 a.m. departure with Sun Country gets delayed or canceled, at least you've got options. Book that same flight with Spirit only to see it gets canceled, and you're likely stuck until at least the following day.
But one episode still looms large over Sun Country's reputation: April 2018, when it stranded hundreds of travelers in Mexico as a winter storm hammered its Minneapolis hub. Five-plus years later, every subsequent computer outage and scheduling snafu still triggers comments tying back to that meltdown. The airline has said it's learned from that saga, but it's clear that many travelers view it as proof that Sun Country's transformation was the wrong move.
Sun Country may not be the beloved hometown airline that it once was, with first class seats and serving cheeseburgers onboard. But it's also not a bare-bones budget airline, either.
Bottom Line
Sun Country is undeniably a budget airline in name and in business model. Coupled with operational snafus over the years, that transformation alone has been enough for many would-be Sun Country flyers to swear off the airline.
But inside the plane, it's something different. Legroom is certainly tight but manageable, with far more comfortable and decently padded seats than its competitors sell at similar prices. And the in-flight service with free drinks is much closer to Delta or American than to Spirit and Allegiant, where you pay for absolutely everything.
When the price is right – and it often is – I'll gladly continue flying with Sun Country.