Aboard its new fleet of Airbus planes, TAP Air Portugal exceeded expectations with its business class product across the Atlantic when I got the chance to fly it earlier this year.
Called "Executive Class", TAP's lie-flat product offers a more-than-comfortable way to cross the Atlantic at a great value – especially if you are booking with points and miles.
The easy and cheap-to-book seats are plush and private. I also found the service and the Portuguese-style food options onboard to be solid.
Many travelers have shied away from TAP because of its past reputation as a low-budget airline and because of its failure to issue refunds to some 5,000 travelers after the pandemic first hit in 2020. While they certainly deserve all of the criticism and negative publicity they have received from that, my experience in 2022 was completely different, and we hope it signals a new direction for the Portuguese carrier.
The business class on the brand new A330-900neo was updated, clean, and comfortable. Overall, we were left with a positive impression of TAP's offerings in 2022.
Read on for a full review of Tap Air Portugal Business Class onboard the Airbus A330-900neo.
How to Book TAP Air Portugal Business Class
Part of the allure of TAP's Executive Class product is how cheap you can book it using points and miles. There is a single best way to book this product and it's definitely not using cash.
We'll use this Oct. 5 flight from New York (JFK) to Lisbon (LIS) on an A330neo as an example in this section. The A330-900neo has the same business class setup as the flight we are reviewing here and TAP has some award availability for these seats in October 2022.
Here is how much you can expect to pay  for a one way flight if you want to pay for this seat with cash:
You can book that same seat with points and miles, however, which can come at a much better value.
When you search for that same flight on TAP Air Portugal's website, you get the following returns, including the JFK-LIS flight we are focusing on here for 100,000 miles from TAP's Miles and Go program.
TAP, a Capital One transfer partner, isn't always the best use of those hard-earned points, however. To book TAP Air Portugal flights, you are almost always better off booking through one of TAP's Star Alliance partners.
We recommend starting your search with United Airlines, whose website is the easiest to navigate. If the award availability exists on other Star Alliance platforms, it will pop up on United as it did here.

As you can see, the same 100,000-point TAP award is just 77,000 miles on United's website.
So, now that we've found this business class award availability for this New York (JFK) to Lisbon (LIS) TAP Air Portugal flight, we can take a look at the cheapest way to book Star Alliance award fares: Avianca LifeMiles.
While Avianca LifeMiles typically charges 63,000 miles each way for business class awards from the United States to Europe, there's one exception: Flying from New York City (JFK) to Lisbon (LIS) on TAP, it's just 35,000 miles! 

While Avianca isn't our favorite airline to work with due to its somewhat clumsy website and some less-than-stellar customer service, it's worth it for this price. Consider this: Flying economy on this same flight costs 30,000 miles. For 5,000 miles, you can get a great meal and a lie-flat seat!
Keep in mind that this pricing of 35,000 miles is only available on the flight from New York (JFK) to Lisbon (LIS). Flying from Lisbon to New York will price at at 63,000 LifeMiles.
The best part about this is that it's incredibly easy to earn the Avianca LifeMiles you need to book with credit card points. LifeMiles is an American Express transfer partner, Capital One transfer partner, and a Citi ThankYou points partner, too. That means transferring 35,000 points from the Capital One Venture X Rewards Credit Card, American Express® Gold Card, or the Citi Premier® Card is all you need to book.
While the JFK-LIS route is the best way to book this seat for cheap, TAP flies its modern Airbus fleet from 10 different North American cities including:
Boston (BOS)
Cancún (CUN)
Chicago (ORD)
Miami (MIA)
Montreal (YUL)
New York (JFK)
Newark (EWR)
San Francisco (SFO)
Toronto (YYZ)
Washington, D.C.-Dulles (IAD)
It's important to note that the narrow-body A321LRneo has a different configuration and a smaller business class cabin than the A330neo flight from JFK, so be sure to check which plane you are flying on before booking.
TAP Air Portugal Business Class Cabin
There are two different Executive Class configurations in TAP Air Portugal's transatlantic fleet. The JFK-LIS route on the A330neo is set up in a 1-2-1 configuration as pictured below.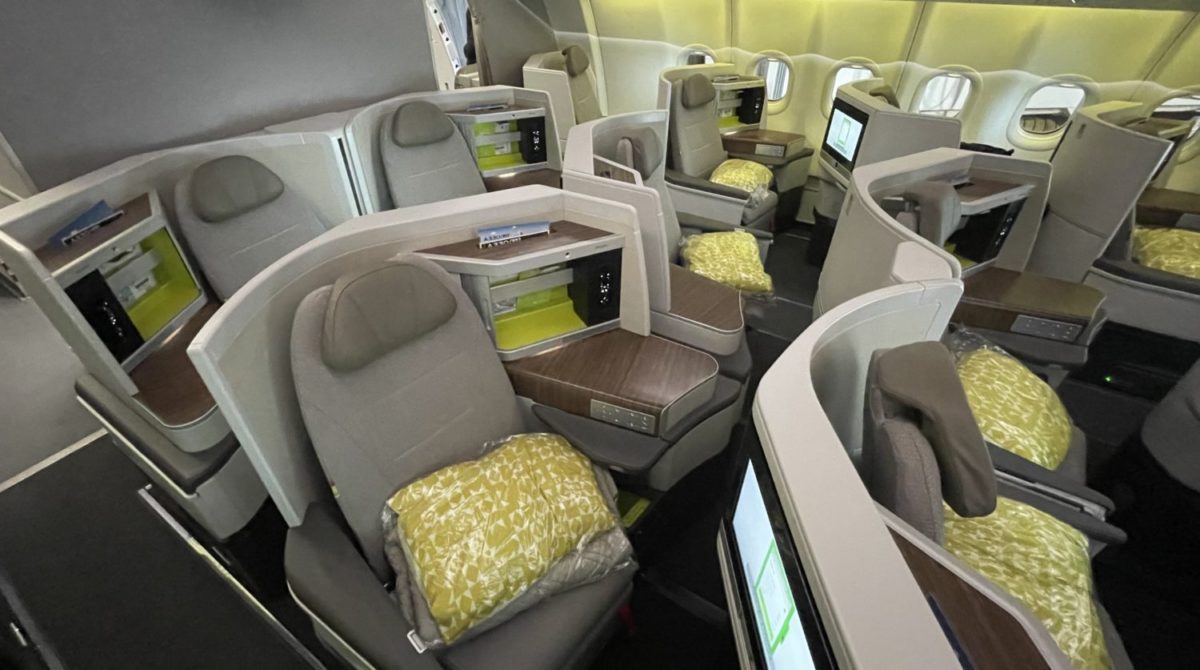 There are nine rows of business class seats in the A330, each with aisle access. The seats are staggered, with some facing the aisle and some facing the windows.
The A321LRneo, a narrow-body plane, is set up in a more predictable, forward-facing, 2-2 configuration. The narrow-body seats appear to have all the same bells and whistles as the A330 seats, but with less room. Plus, the window seats don't have direct aisle access.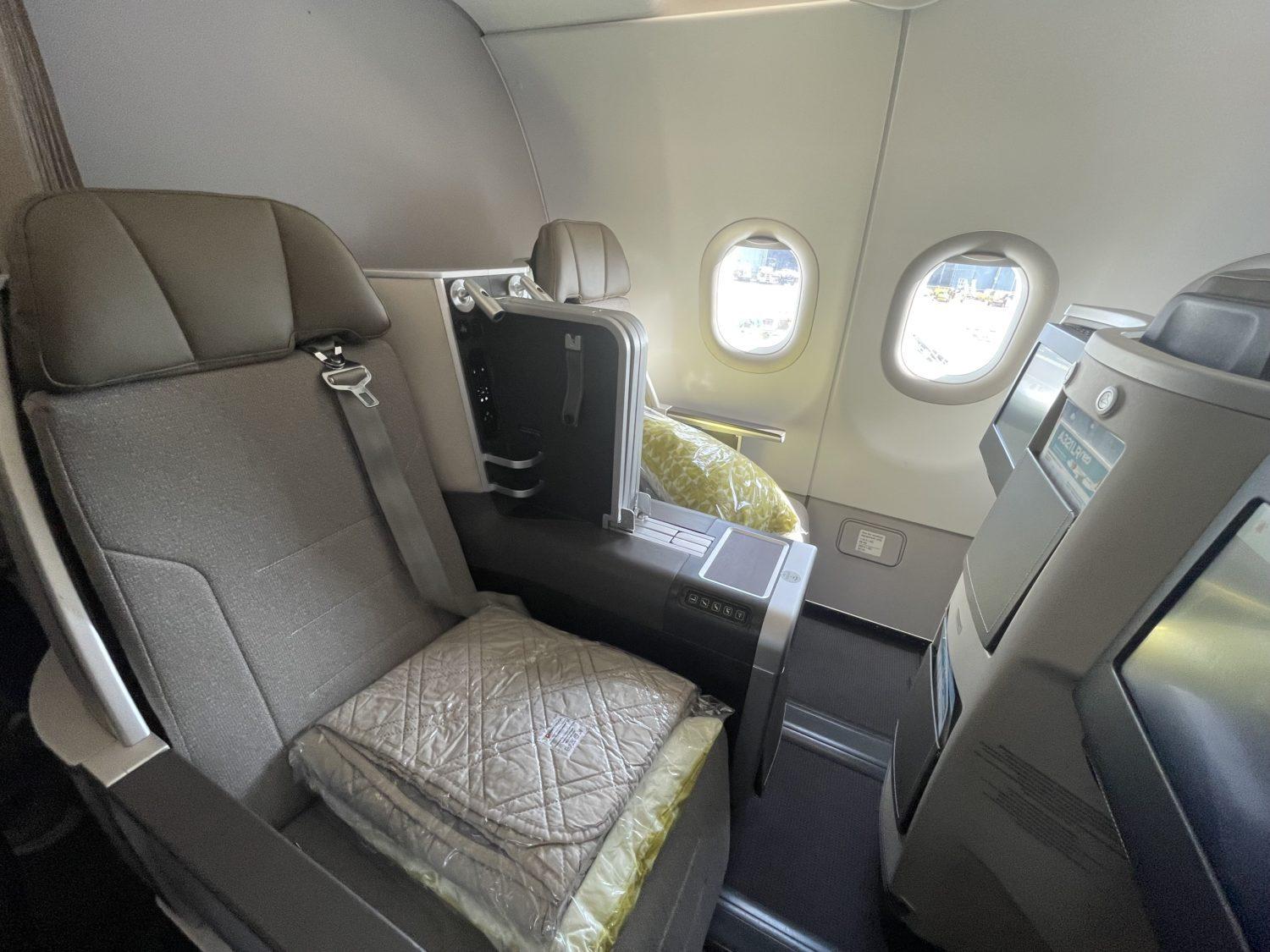 The Seat
This spacious and comfortable lie-flat seat was the best part of this JFK-LIS Executive Class fare.
My seat, 7K, was angled toward the window and had a suite-like quality because of how the side table was positioned on the aisle side. Being my seat was closer to the window, it felt more private and I would recommend booking one of these seats if you want to be on the window.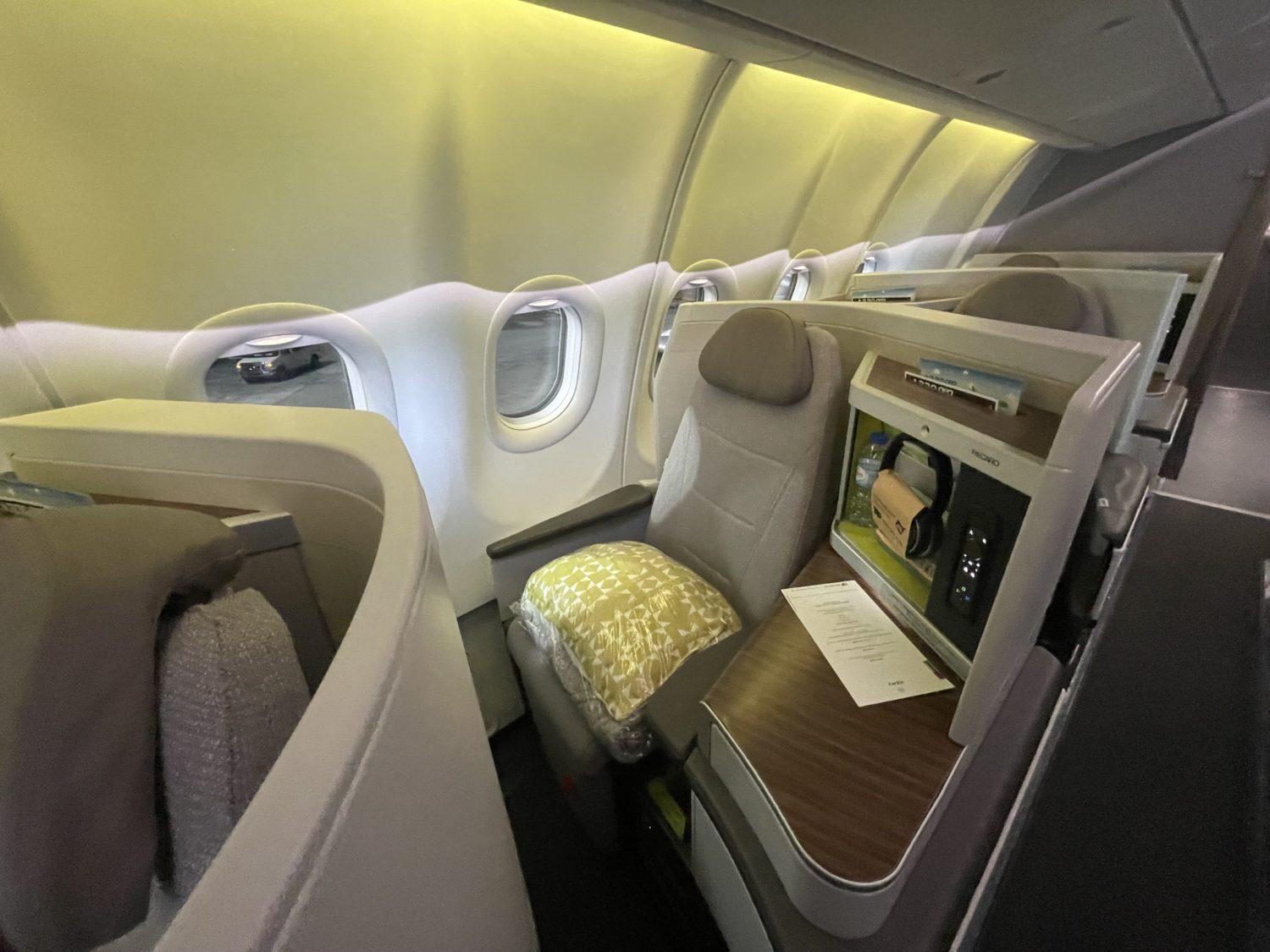 The overhead angle shows the small aisle I used to get in and out of my seat, as well as the side table with a food menu, my ticket, and some wipes handed to us upon boarding.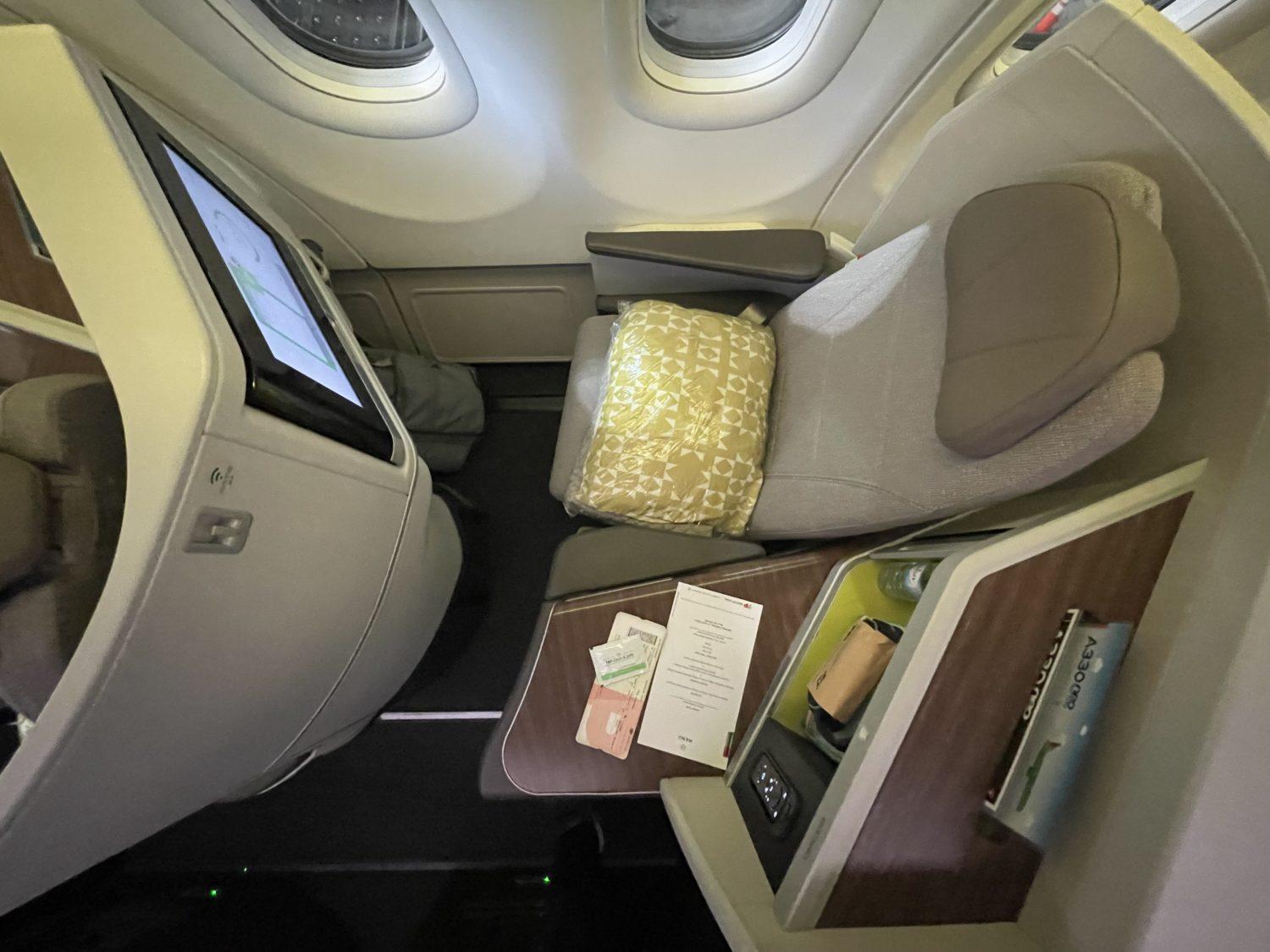 On the side table is a small area where I found a bottle of water, some TAP headphones, and my amenity kit. To the right of that is the remote control attached to a retractable wire that I used to control the overhead lights, the flight attendant call button, and the TV screen if needed. (The TV screen was also a touch screen.)
Below the table are the seat settings and some more light controls. I was able to adjust the lumbar of the seat to my preferences, move the seat up and back (if the footwell is too far away), and the recline functions. The midway recline was the most comfortable setting I used once we were at cruising altitude.
Underneath the screen is the footwell, which offers plenty of room, too.
When you get into your seat, the TV screen is slightly angled away from you, but the latch at the base of the screen unlocks it so you can swivel it around to face you.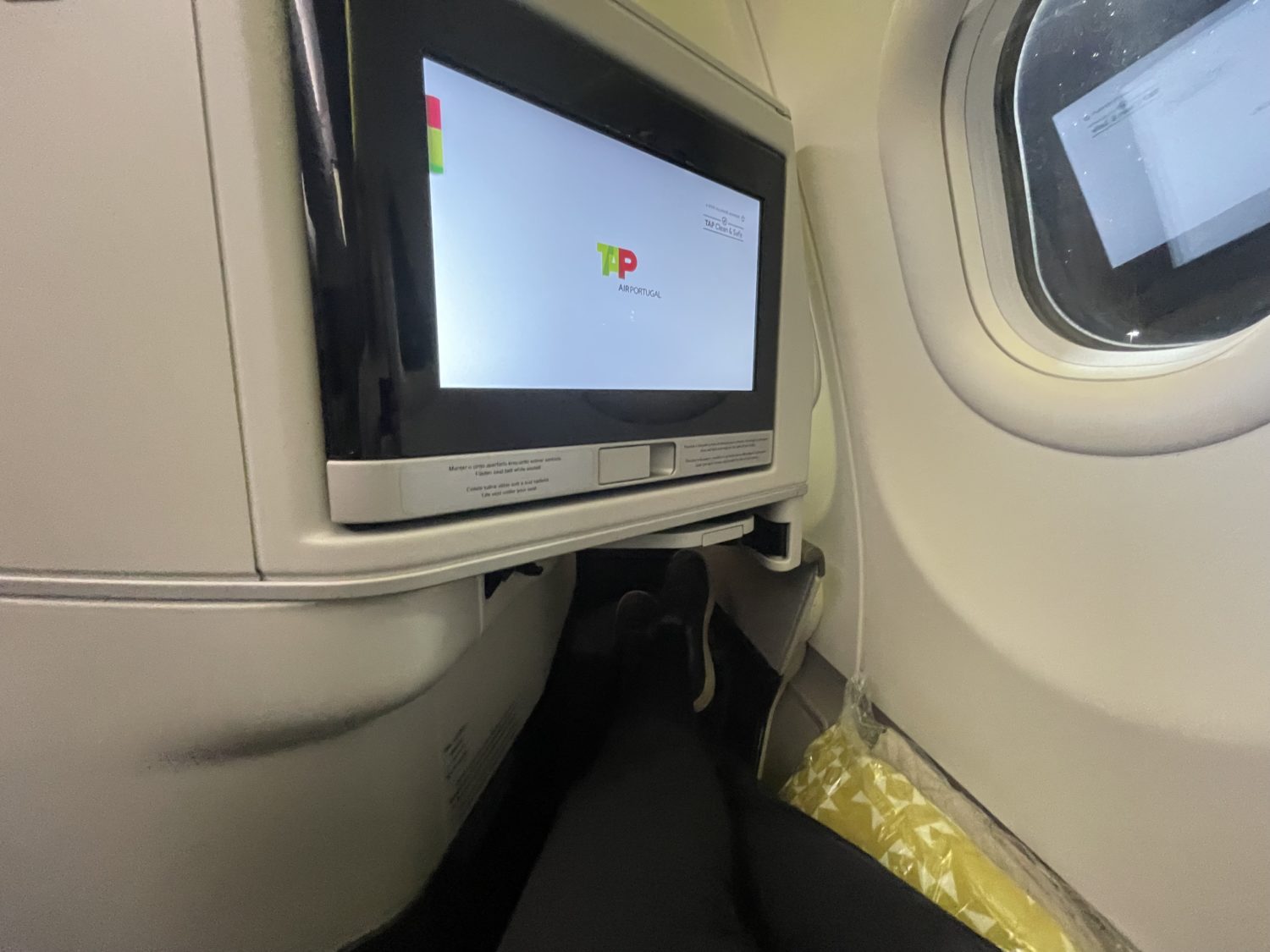 When shifted out, the TV screen appears larger, but still leaves enough room for the tray table to be fully out in front of it.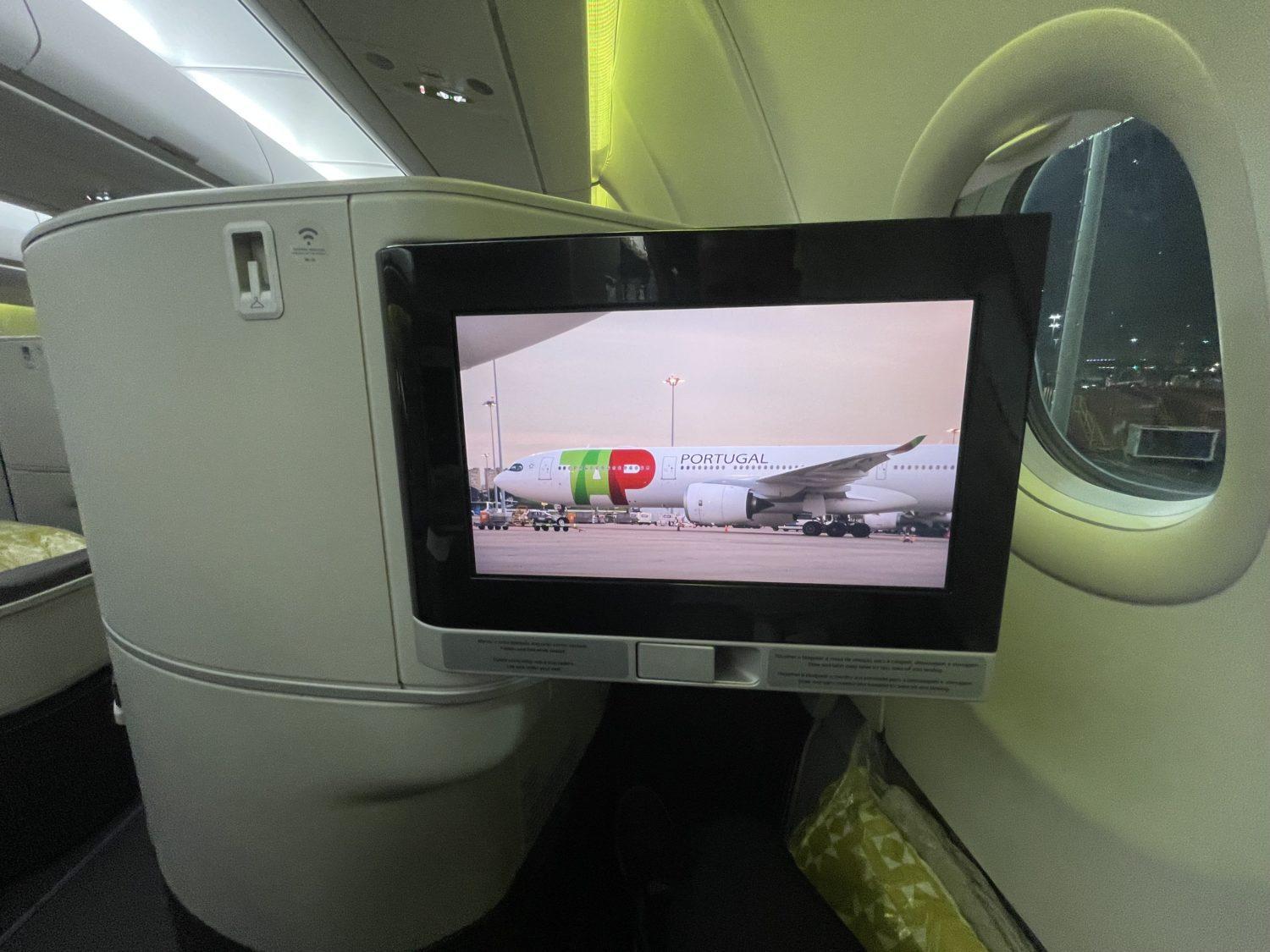 The seat's bed mode is very comfortable, too. Including the entire length of the footwell, I am six feet tall and found it to be plenty spacious. I was able to stretch all the way out and enjoy a few hours of real sleep in this setup. The seatbelt has a big, plush cover over it so you can sleep comfortably with it fastened during the flight.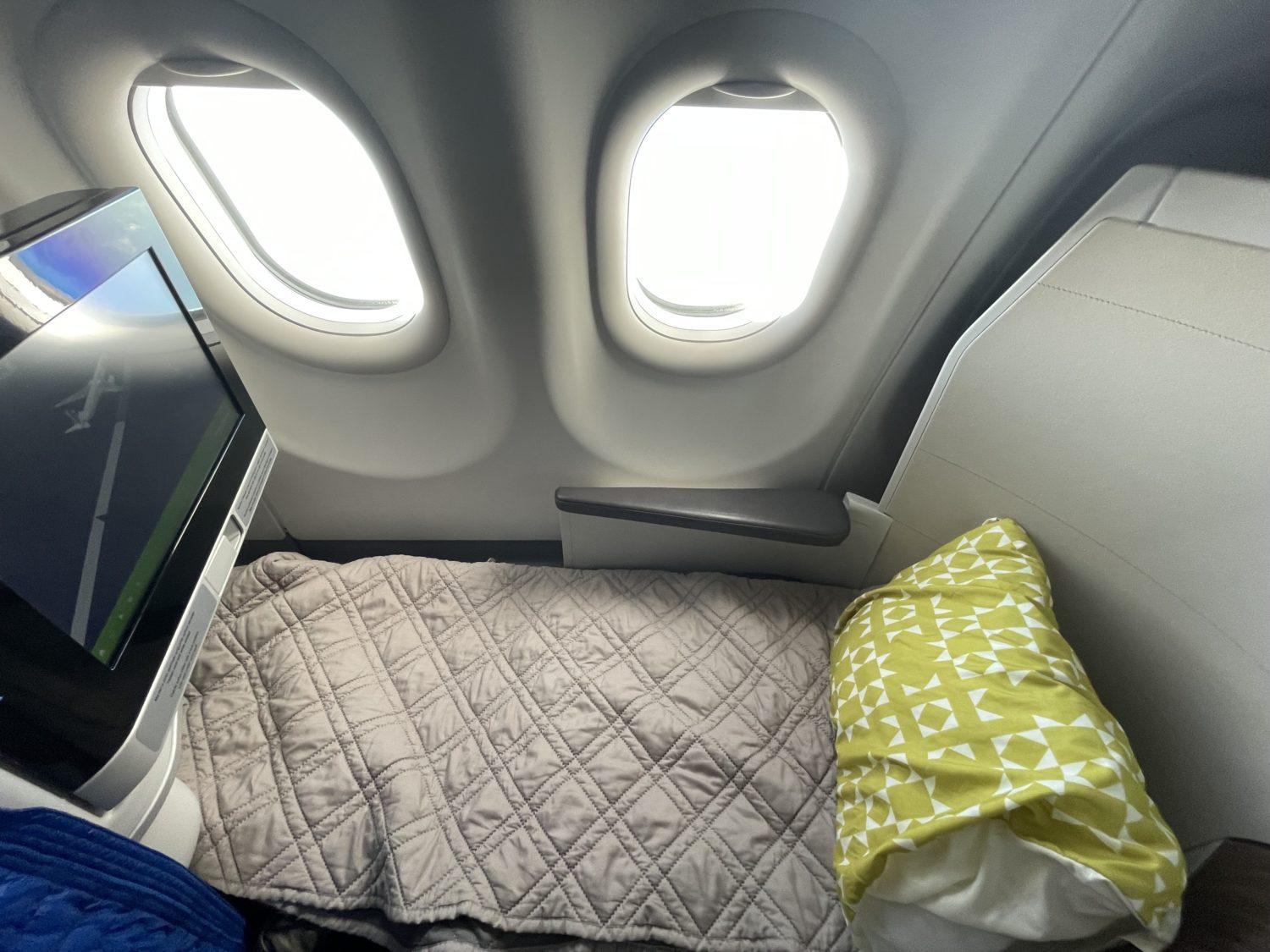 This business class seat on the A330neo is a great option to cross the Atlantic overnight. It has tons of space, a surprising amount of privacy, and a number of details that make it extremely comfortable.
Amenities
Sometimes, the little things that come with your premium cabin ticket are what make the experience worth it. In this case, TAP might not have all of the bells and whistles of the most luxurious airlines, but it offers Executive Class customers some perks I enjoyed.
The first is pretty standard, but there was a designated check-in area for "Premium" cabin fliers. This check-in area at JFK was very limited considering there is only one flight a day out of the airport. In Lisbon, before the flight home, a Premium ticket would have saved me a lot of time as many more customers checked in for flights at the TAP hub.
After boarding, this amenities kit from TAP was waiting at my seat, which featured tons of helpful items for my flight.
The lovely little carrying case had a pair of TAP-colored compression socks, a sleep mask, a bag-freshener, some earplugs, a comb, a pen, a toothbrush and toothpaste set, lip balm, a bookmark, and some lotion.
The design on the bag itself was a nice touch as well.
In addition, every seat came with some noise-canceling TAP headphones with a long cord so you could move around your seat without having to unplug or take the headphones off.
They weren't the nicest noise-canceling headphones I have ever used, but they were more than adequate.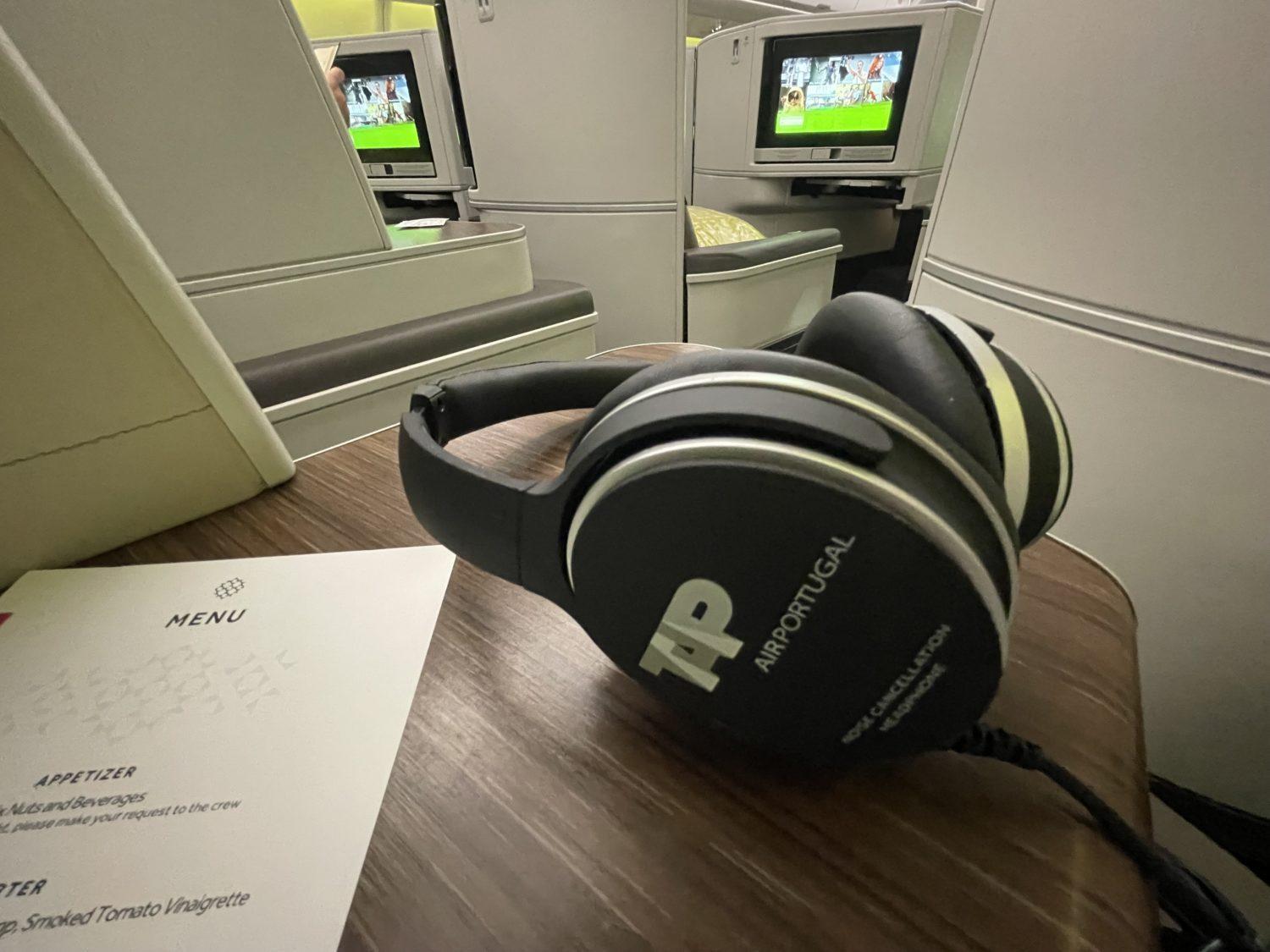 While a small touch, each seat came with a coat hook so I could hang up my vest I wore during a chilly January day in the U.S. during the flight.
The side table was plenty big and featured electric outlets of all shapes and sizes on the front side of it, meaning I could plug my devices in and then place them neatly on the tabletop for the flight.
The details of this seat exceeded my expectations and made me comfortable for my short flight to Lisbon.
Service and Dining
Once on board the flight, we were not offered a pre-departure drink – a typical offering of many airlines' business class service. I'm not sure if this was a pandemic cut or something that TAP just doesn't offer business class passengers.
Just shy of one hour into the flight, the flight attendant came by to begin the food and drink service. First, they asked for my drink order and handed me a tiny bowl of mixed nuts.
I ordered a glass of sparkling wine, which was refilled upon my request.
The flight attendant also asked me to review the menu and make my selections. The menu is used for all dinner service flights originating in the U.S., including EWR, IAD, MIA, ORD, SFO, and JFK.
The starter consisted of sweet corn flan, herb-marinated shrimp, and a smoked tomato vinaigrette.
For the main course, we had a selection of the following three items:
Beef with herb butter, rajas con crema and rice, sautéed snap peas, carrots
Cod with Thai mushroom sauce, purple potato, roasted potato, radish and snow peas julienne
Mushroom ravioli with wild mushroom sauce
Devastatingly, (and entirely my own fault I later realized) I had checked a box in the TAP app asking for a "low-fat" meal, meaning I had to miss out on a few pieces like the butter, shrimp, and potatoes.
Still, my vegetable-heavy dishes were tasty and left me more than full. The cod was cooked perfectly.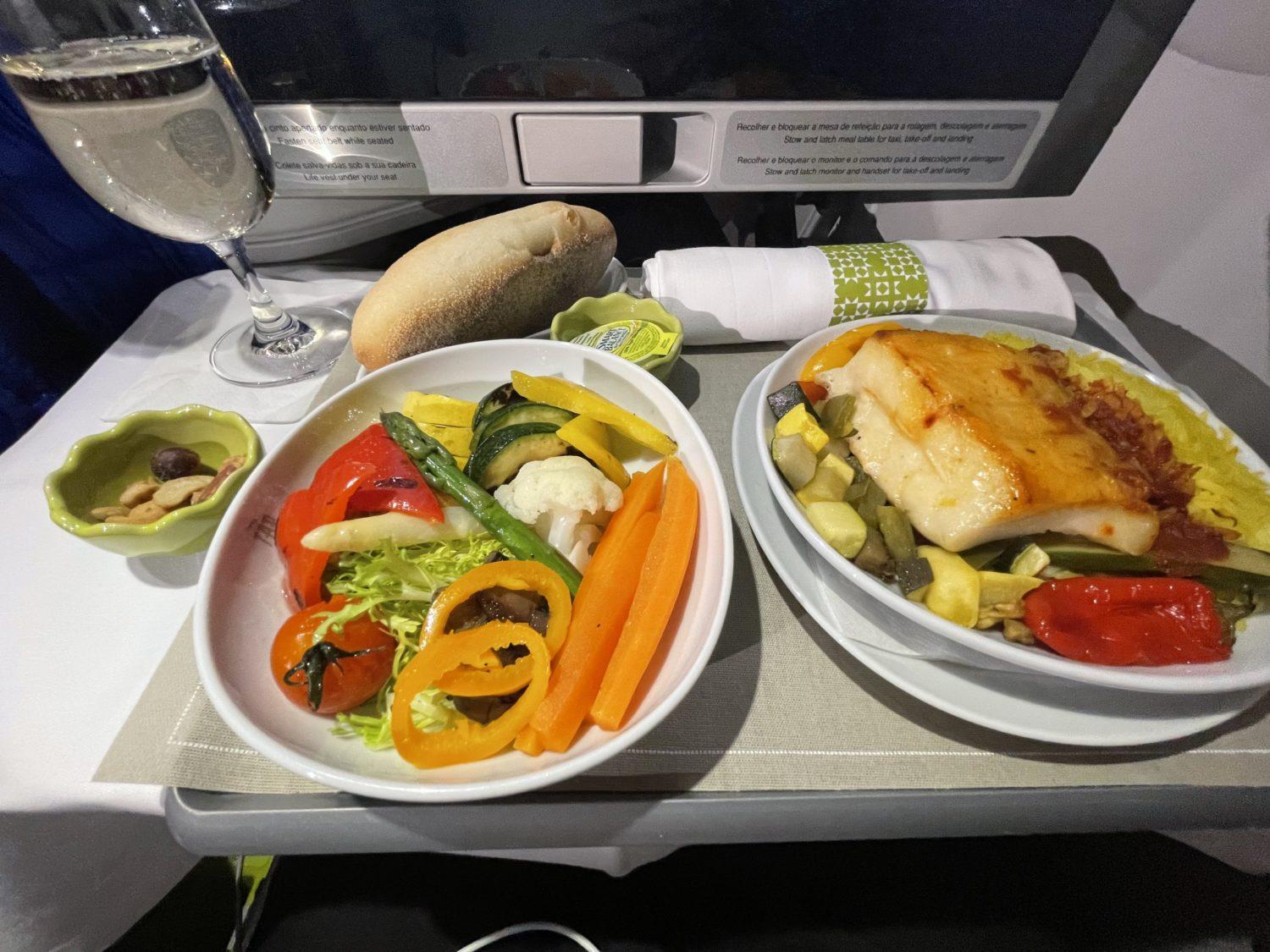 After my white table-clothed dinner, the flight attendant asked me if I wanted any Port wine, which, of course, I did. When en route to Portugal! Plus, they brought me a low-fat version of dessert, which included raisins, fresh fruit, and nuts.
The dessert "trilogy" as they call it on the menu would normally have been ice cream, fresh fruit, and cheese.
After dessert, the flight attendant asked if I wanted any coffee, tea, or more wine. Needing some sleep, I declined.
Before setting up the bed, they asked if I wanted to be woken up for breakfast, which I definitely did.
The breakfast was another hearty spread of fresh fruit and vegetables, a croissant roll, and some assorted breakfast ham slices to boot.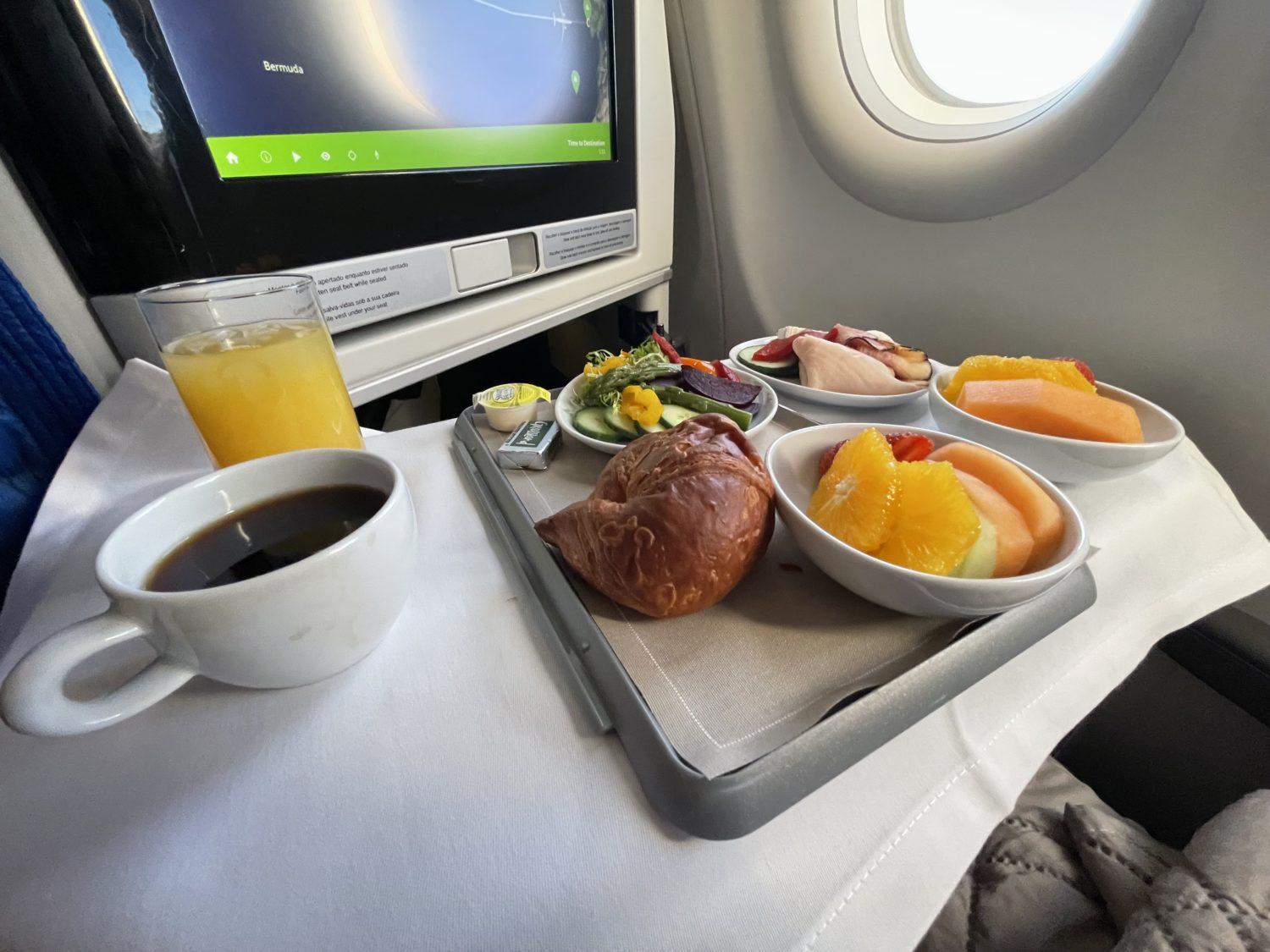 Ultimately, despite my regrettable error of choosing a low-fat meal on the TAP Air Portugal app by mistake, the food was good, but not great onboard my flight. The sparkling wine and port wine were both phenomenal and clearly the best part of the food and drink service.
The service itself was quick and responsive after it started just about an hour after takeoff. The flight attendants were kind, helpful, and super accommodating.
Entertainment
The seatback entertainment system is consistent with what you are likely to find on any airplane nowadays, but TAP's has a particularly Portuguese flavor.
The map has a number of 3D views including perspectives from the cockpit, both sides of the plane, overhead, and behind the aircraft. Otherwise, it's a pretty typical map system that you can manipulate right on the touchscreen.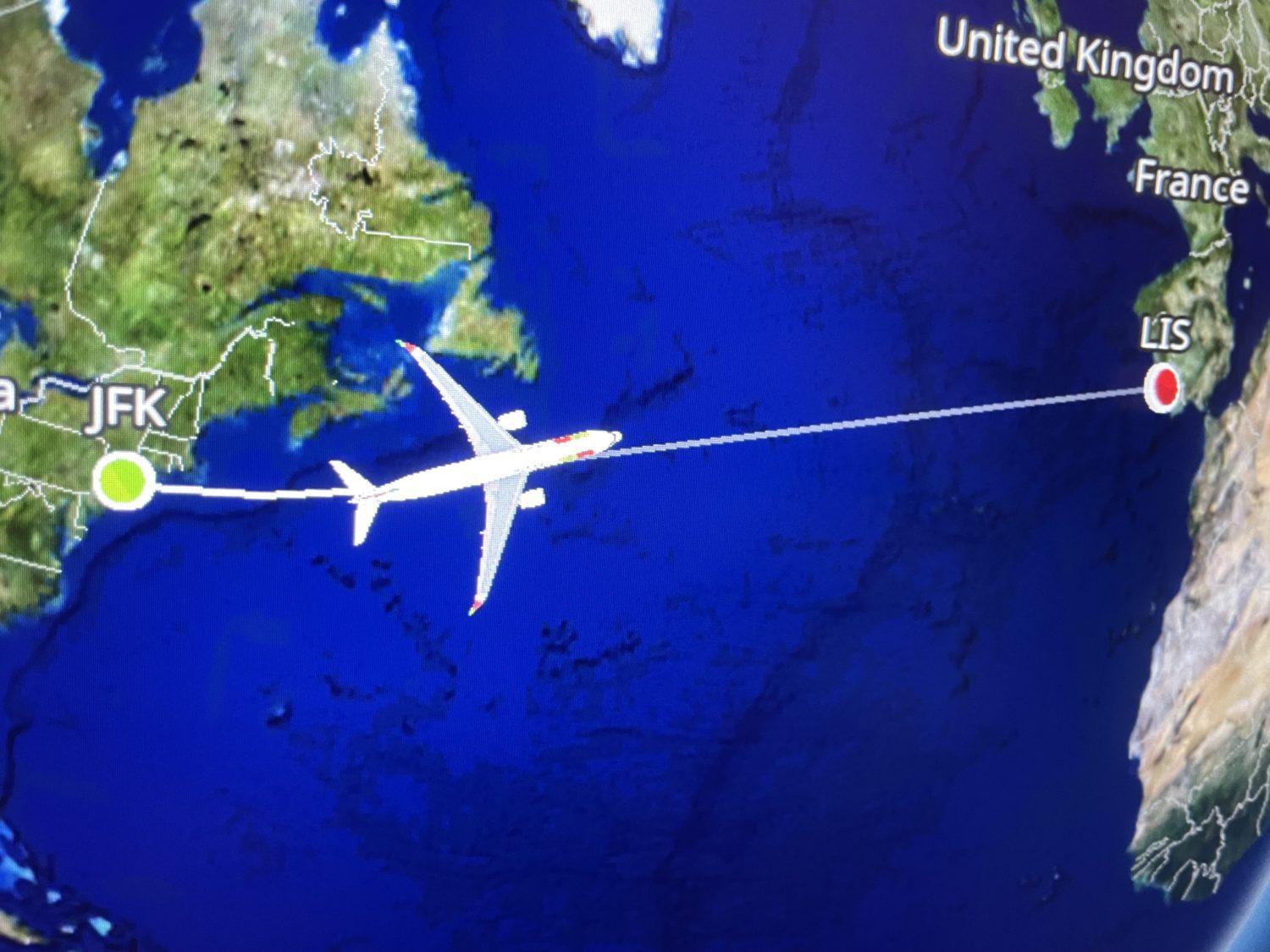 The home screen of the entertainment system gives you options to see said map, see the weather (although the data was not available on my flight), connect to wifi, or take in some content.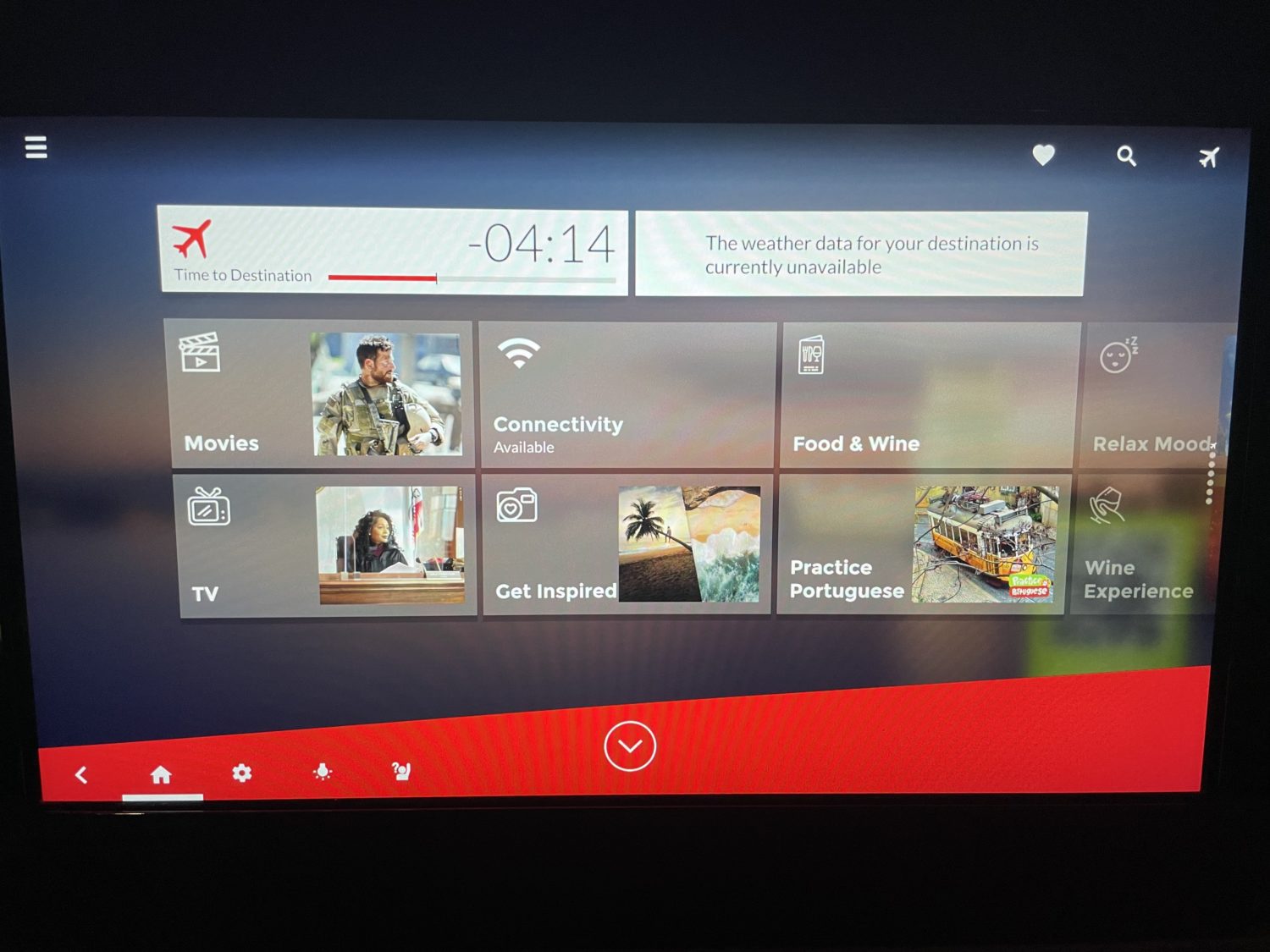 The content offerings include tons of Portugal travel destination guides, some screensaver-like mood videos, and even a curated wine tasting experience while onboard.
The wine-and-food-specific content offerings were plentiful onboard, showcasing Portugal's pride in its culinary reputation.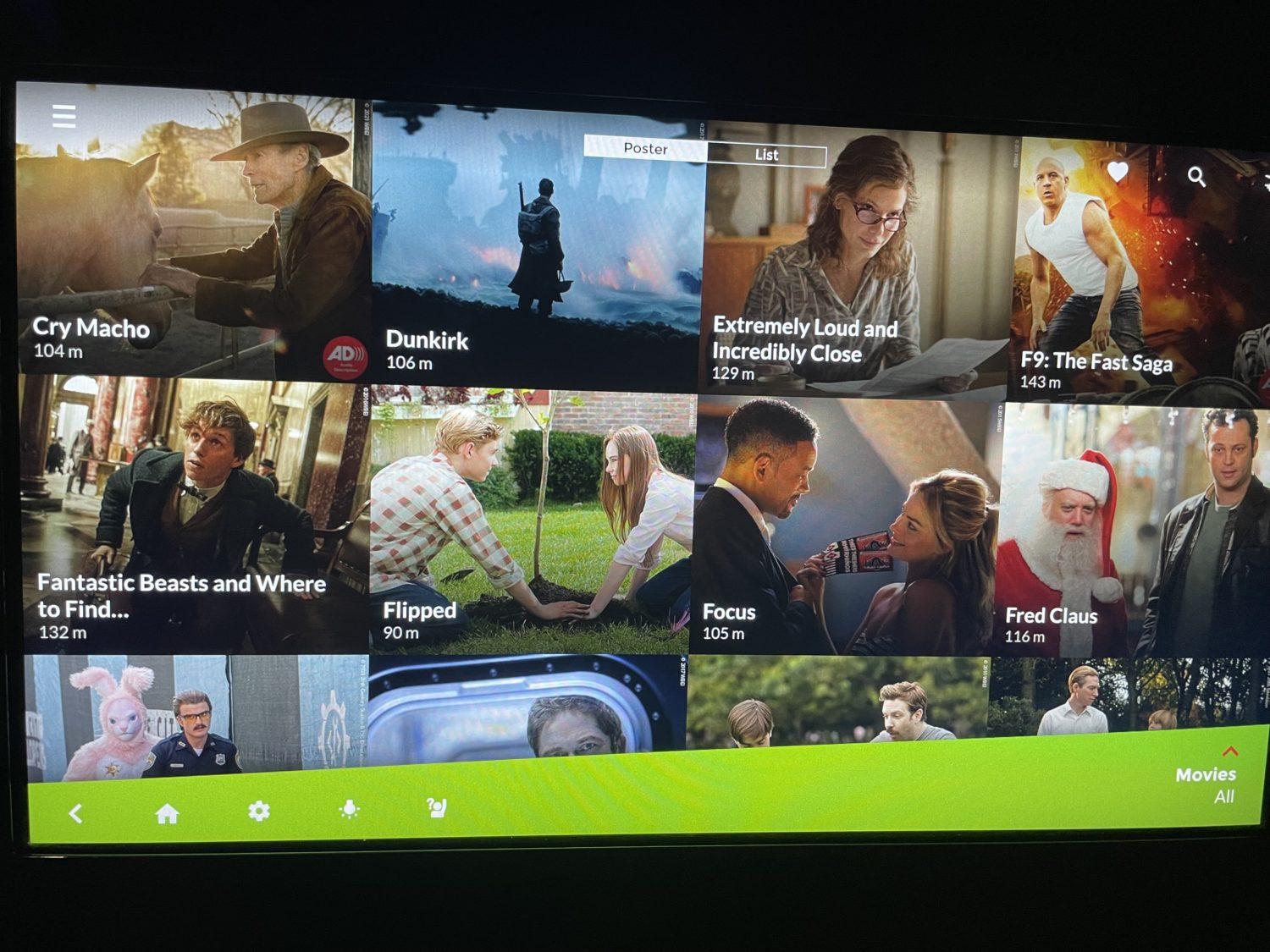 Planes remain one of the best places to watch new releases and old releases you missed, and TAP has you covered here. From the 9th Fast and Furious movie to the Anthony Bourdain documentary "Roadrunner", TAP has a bevy of content that will keep you entertained no matter how long your flight.
There are some European favorites on the list, but the content offerings are heavily U.S.-focused and you can choose your own language.
I didn't attempt to connect to the wifi during my flight to Lisbon, but notably, wifi was not working and completely unavailable on my flight from Lisbon back to the U.S.
Bottom Line
TAP Air Portugal business class is a more-than-comfortable way to cross the Atlantic with a spacious, lie-flat seat, fun and helpful amenities, and good food offerings. It was the right blend of service and style on board the brand new airplane, with all of the little comforts you would expect, but at a great value if you know where to book.
And while TAP has rightfully received a lot of heat for its handling of passenger refunds during the pandemic, I didn't need to interact with TAP's customer service for any part of my itinerary. If I did, my experience may have been very different.