The best way to fly business class to Italy might just be an airline whose hub is nearly 3,000 miles away in the Middle East.
Yes, it's Emirates business class. The world-famous airline based in Dubai (DXB) operates a few random nonstop routes connecting the U.S. directly with Europe, including from New York City (JFK) to Milan (MXP). Best of all, they're on its signature Airbus A380 jets decked out with an onboard bar. It doesn't get much cooler than that, right?
Oh, I'll do you one better: You can book these flights to Europe from just 90,000 miles roundtrip – a fraction of what most other airlines charge and what Emirates itself charges for these same lie-flat seats flying to Dubai. Thanks to that enormous sweet spot, I put Emirates business class to the test last month. Read on for the full review of a not-quite-perfect but still excellent flight.

Booking Emirates Business Class
You don't just book Emirates business class for the slightly strange experience of flying a Middle Eastern airline to and from Europe. You book it because it's a great deal.
Time it right, and you can book a lie-flat business class seat on Emirates to Europe and back for just 90,000 miles … total. That's true for both of Emirates' transatlantic fifth-freedom routes: Between New York and Milan as well as the flight from Newark (EWR) all the way to Athens (ATH).
Earning all those Emirates miles is a cinch: You can transfer them from Chase, Amex, Capital One, Citi, and even Bilt Rewards. That means a stash of 90,000 points on cards like the Capital One Venture X Rewards Credit Card, American Express® Gold Card, Chase Sapphire Preferred® Card, or the Citi Premier® Card is all you need, as all those points transfer to Emirates on a 1:1 basis instantly.
And best of all, these European routes haven't been hit with huge fee increases like almost all of Emirates' other flights, including those in and out of its Dubai (DXB) hub. That means you can book these seats for 90,000 miles and under $250 total.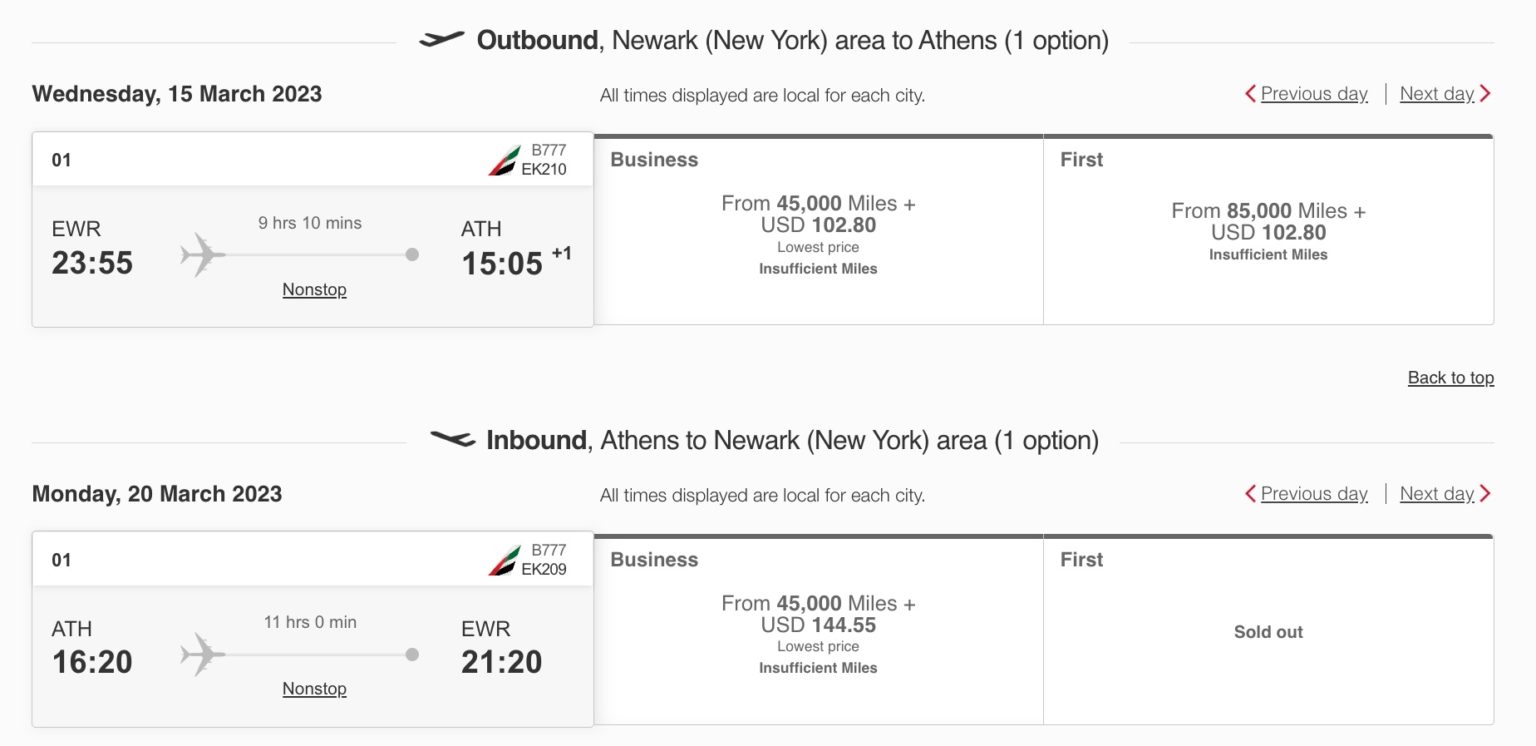 The problem is that it can be difficult to find dates that price out that low. It hinges on finding the cheapest saver award space on these roundtrip bookings. So when it's not there, you'll see award rates of 145,000 miles (and sometimes even more, ouch) instead. And you can only get this stellar deal booking roundtrip – one-way awards price out at 72,500 miles or more each way.
Read more: How to Book Emirates Business Class to Europe for 90K Roundtrip!
But we're always looking for you, too. We've sent Thrifty Traveler Premium+ members a handful of award alerts in the last year with wide-open award space bookable at 90,000 Emirates miles flying to both Milan as well as Athens.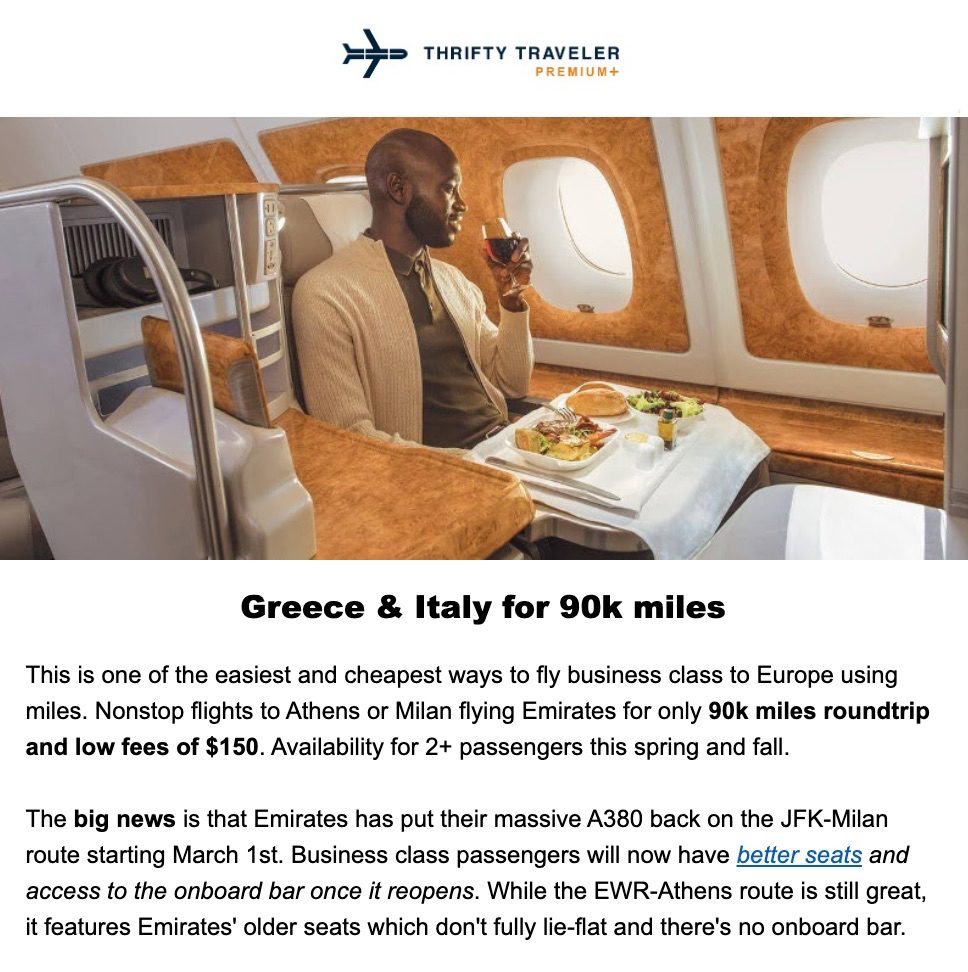 Get award alerts to fly business & first class using your miles with Thrifty Traveler Premium+!
Remember that you'll need to book roundtrip in order to fly Emirates business class for 45,000 miles each way … and that means you'll also have to search roundtrip, too. That can make finding this deal a challenge, with lots of patience and trial and error.
Head to Emirates.com and start searching for Classic Rewards from the homepage. Be sure to select "My dates are flexible (-/+ 3 days)" before you search. Look for results that come up at 117,500 miles: That means one way is pricing at the best, 45,000-mile rate – in this case, the return flight from Milan back to New York.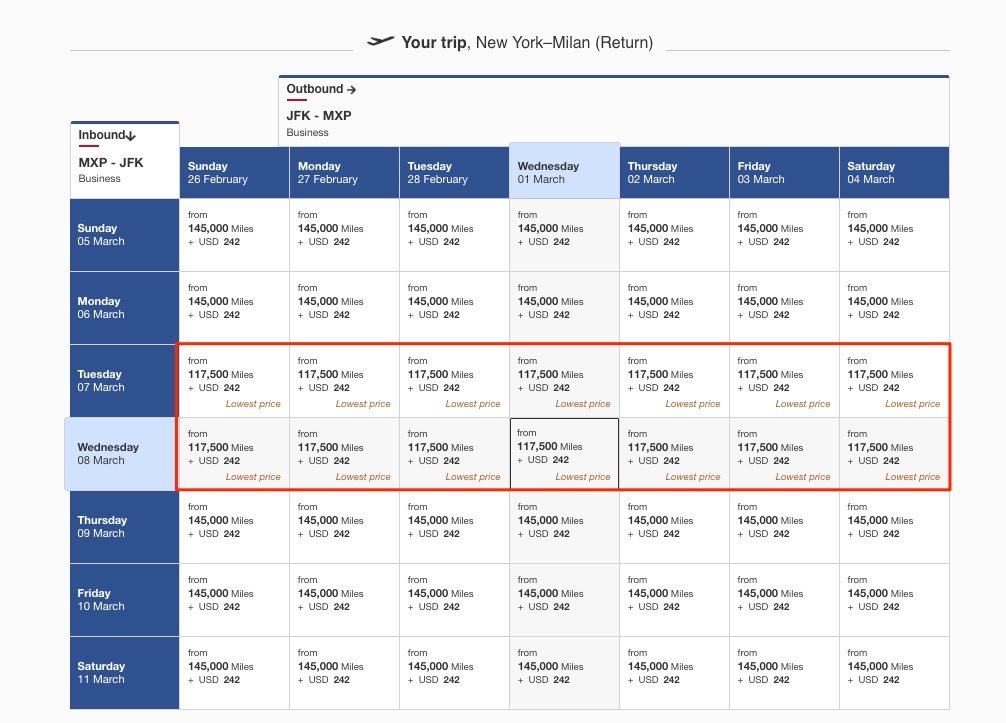 From there, just adjust the other segment week-by-week until you can find something that works at 90,000 miles roundtrip! Once again, with emphasis: It can require a lot of trial and error to make it work. Don't count on scoring a roundtrip to Italy in Emirates business class in the middle of July or August.
Don't want to fly business both ways? Do what I did: Book a mixed cabin ticket and fly business class one way and first class the other for 130,000 miles roundtrip. That's 45,000 miles for the business class segment and the standard 85,000 miles for a one-way in first. Or you could roll the dice on upgrading from Emirates business to first class … on the day of departure!
Oh, and here's a tip: Save Emirates First Class for the trip home from Italy – it's a longer flight and departs in the afternoon, giving you more daylight time to soak up the experience than the short overnight flight from New York to Italy.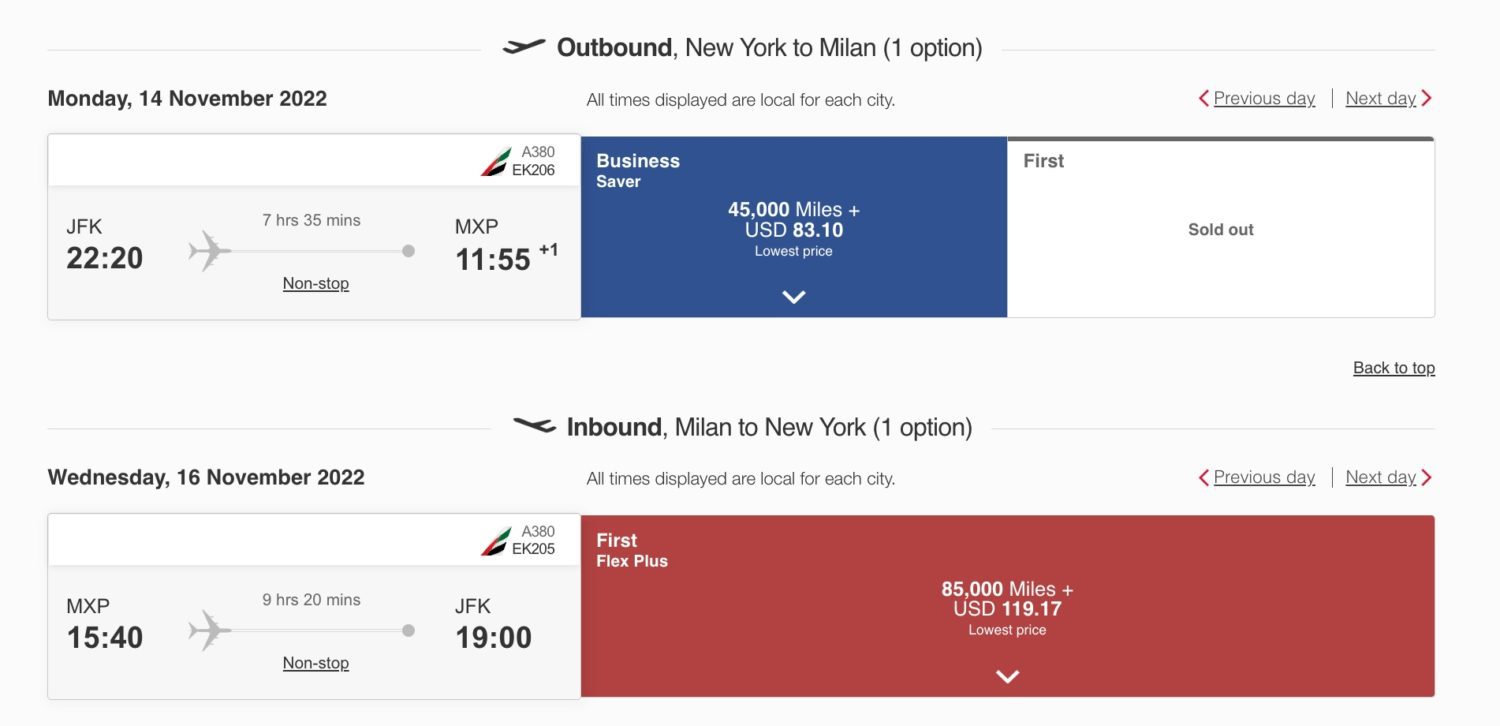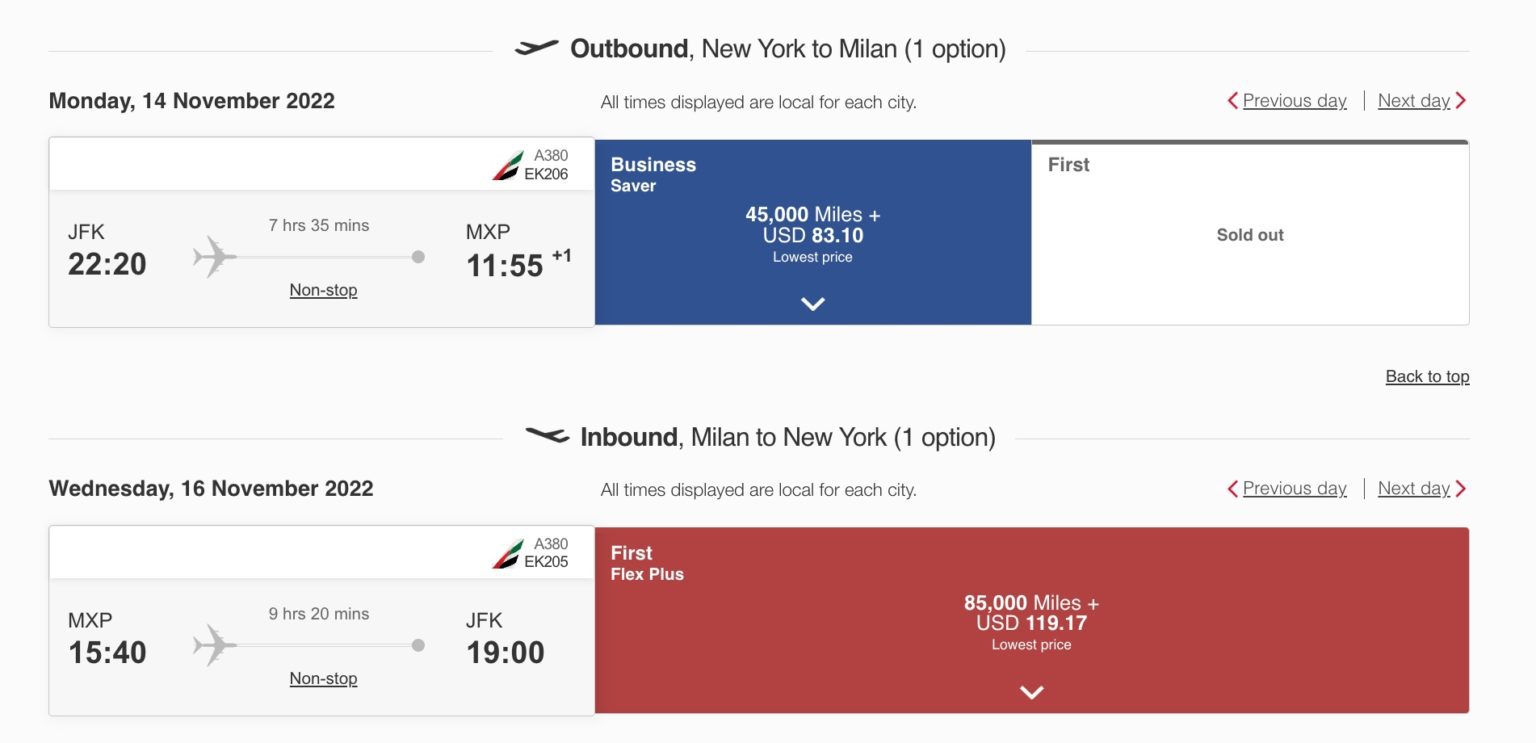 At Thrifty Traveler, we don't accept freebies. We use our own points, miles, or cash to pay for every single flight or hotel you see reviewed here – including this one!
The Emirates Lounge at JFK & Boarding
Whether you're flying to Milan or Dubai (DXB), all of Emirates' flights out of New York City (JFK) depart from Terminal 4. And fortunately, the days of extra document checks for vaccination records or recent negative COVID-19 tests are long gone – Europe is wide-open like it's 2019 again – so check-in was a breeze. There was a dedicated counter for travelers with business and first class tickets.
From there, it's a quick trip through security (made quicker thanks to having both TSA PreCheck and CLEAR) and down toward the A gates, where Emirates has its own, dedicated lounge for all business and first class passengers as well as other travelers with Emirates status. The lounge is currently open from 6:40 a.m. to 10:40 a.m. ahead of Emirates' first departure for Dubai and again from about 6 p.m. until 11 p.m. for its other flights, including the route to Milan.
It's convenient to head here before your flight but otherwise the Emirates Lounge at JFK is … pretty unremarkable. It's essentially one big room with a series of armchairs. Comfortable, yes. Extraordinary, not quite. But still, lounge access is lounge access.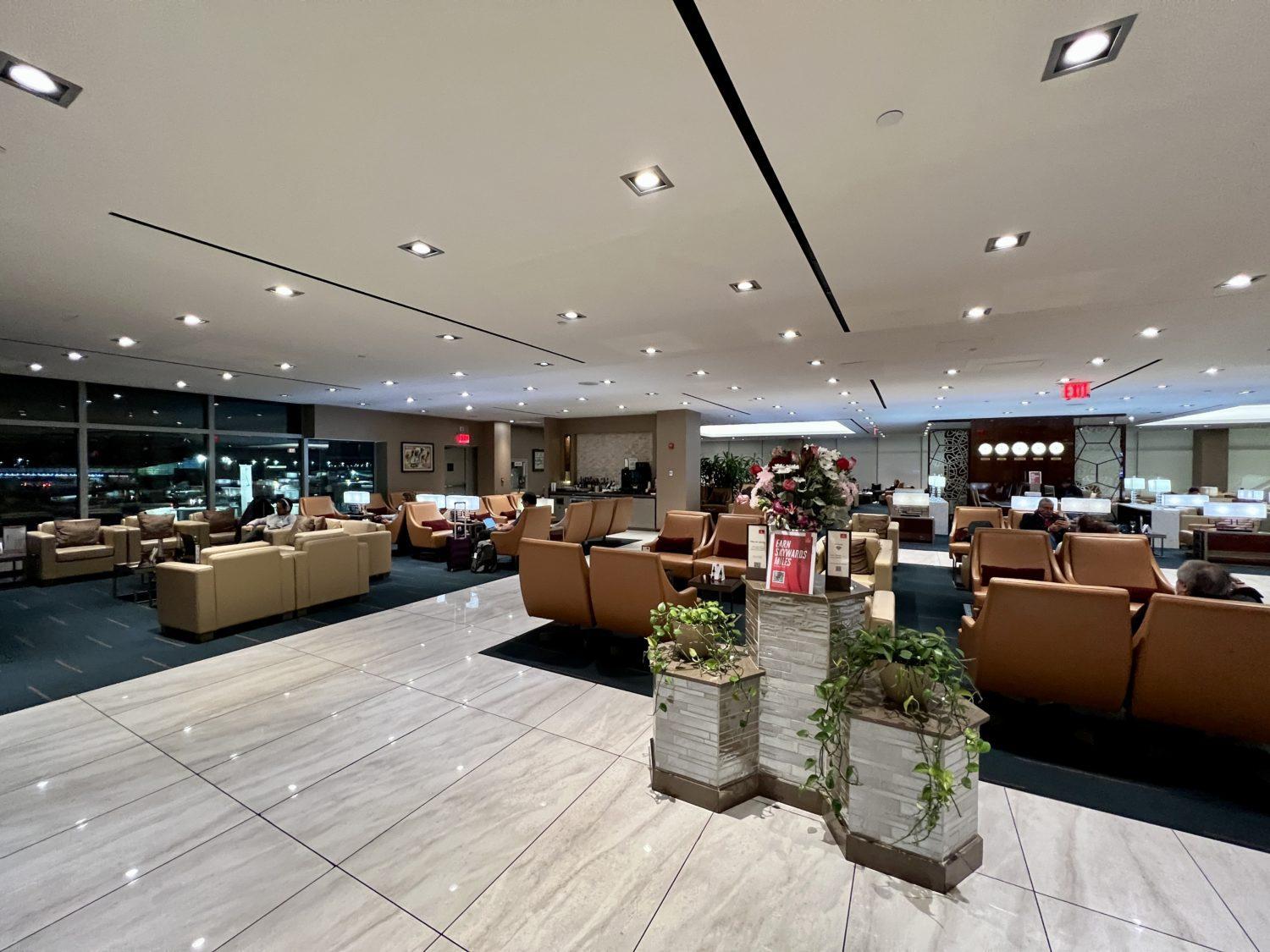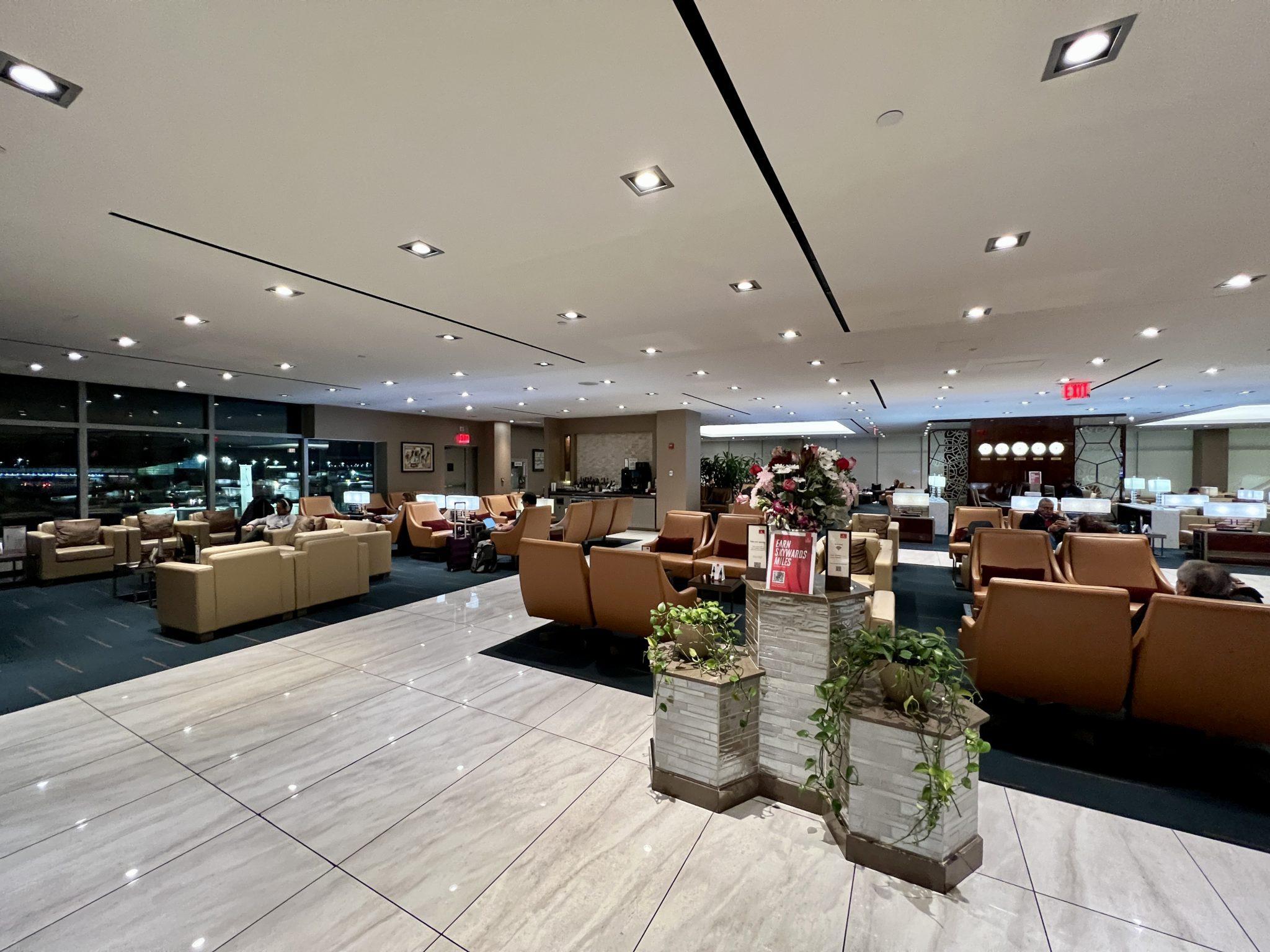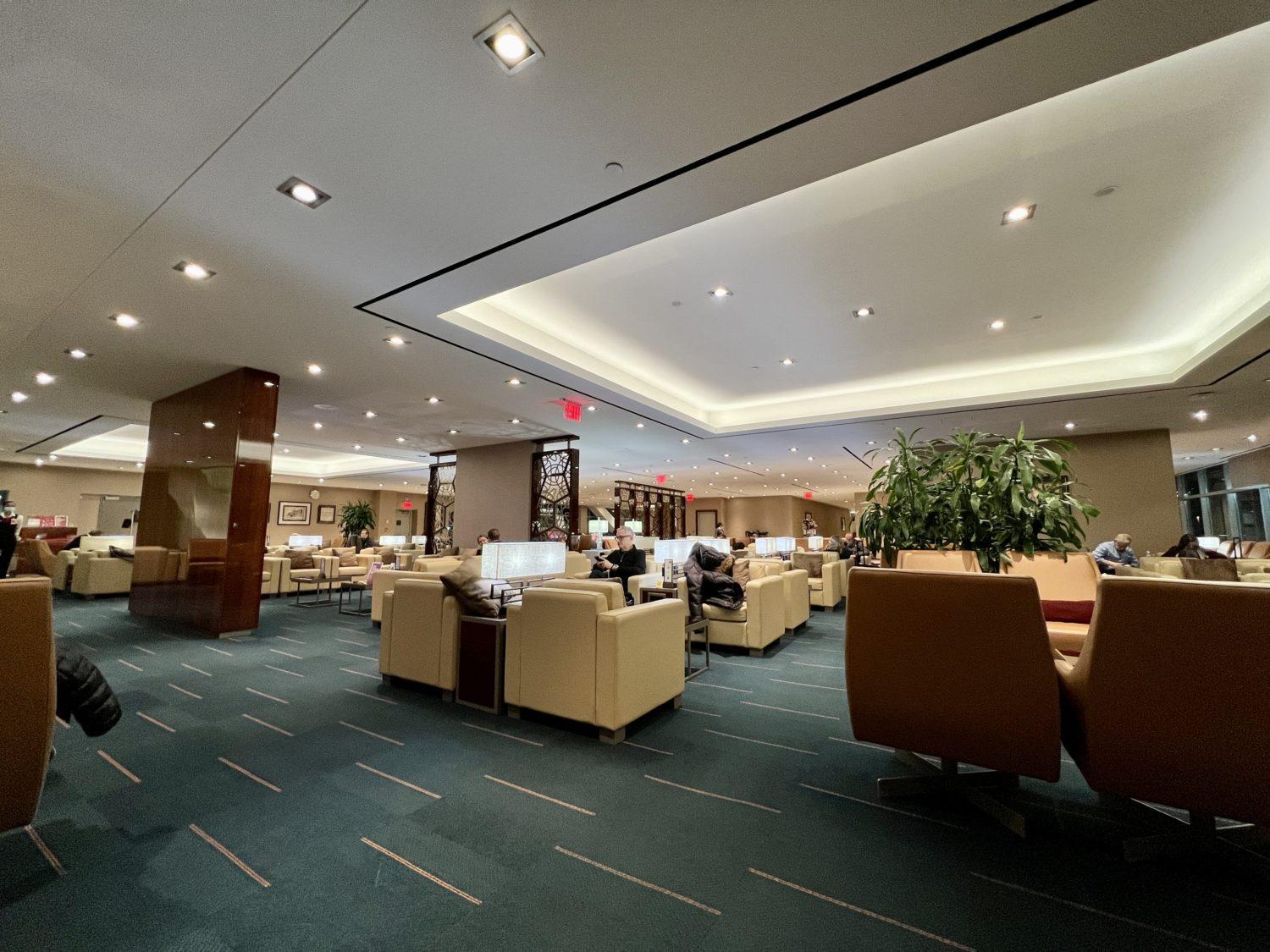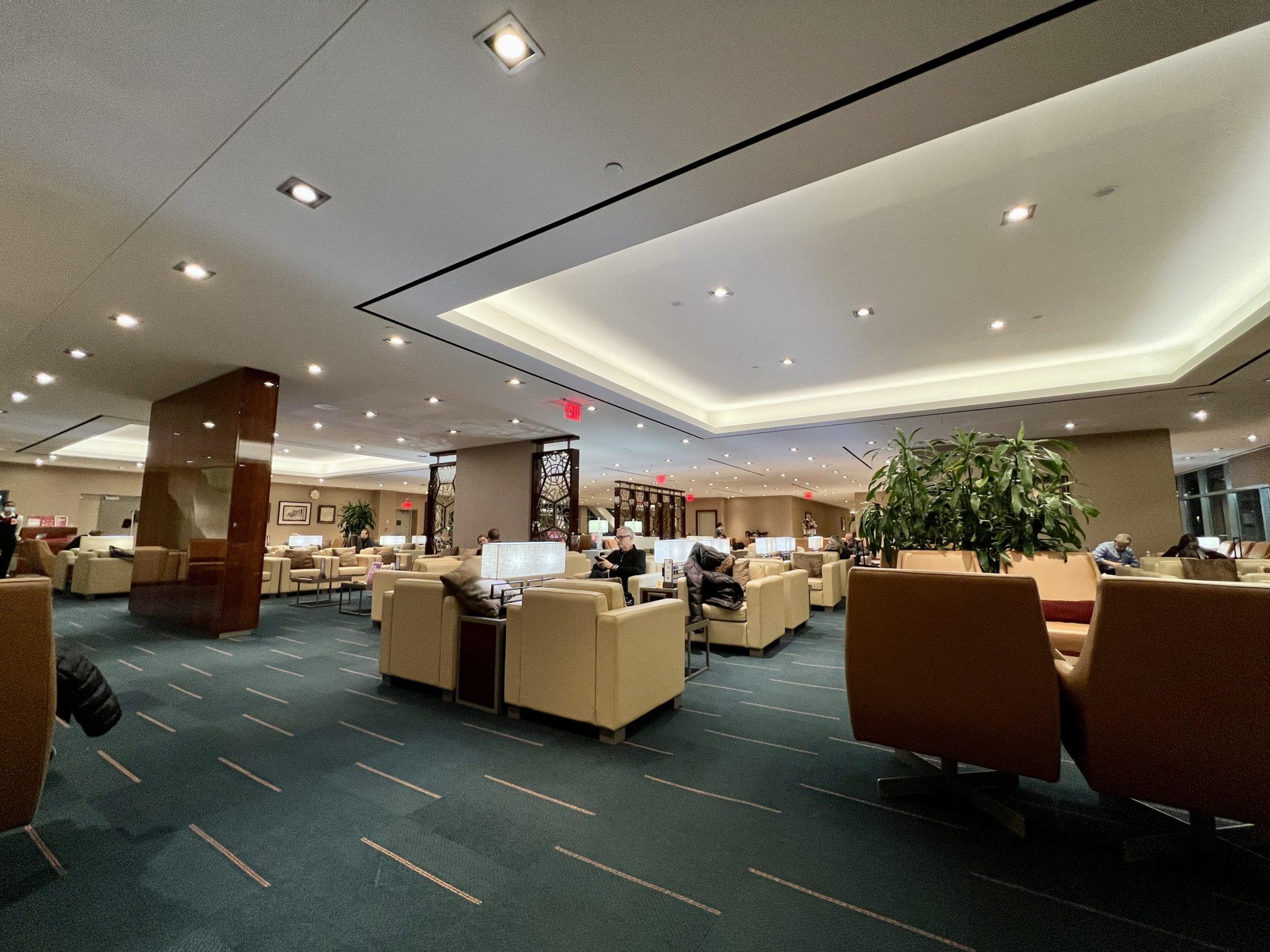 There's a decent spread of snacks as well as a small buffet of hot dishes available. Unless you're just looking for a small bite or a make-your-own mezze plate, I'd recommend grabbing dinner at the Virgin Atlantic Clubhouse JFK just across the hall or over at the JFK Centurion Lounge. You can get into both with The Platinum Card® from American Express while the Capital One Venture X Rewards Credit Card will get you into Virgin's lounge thanks to Plaza Premium lounge access.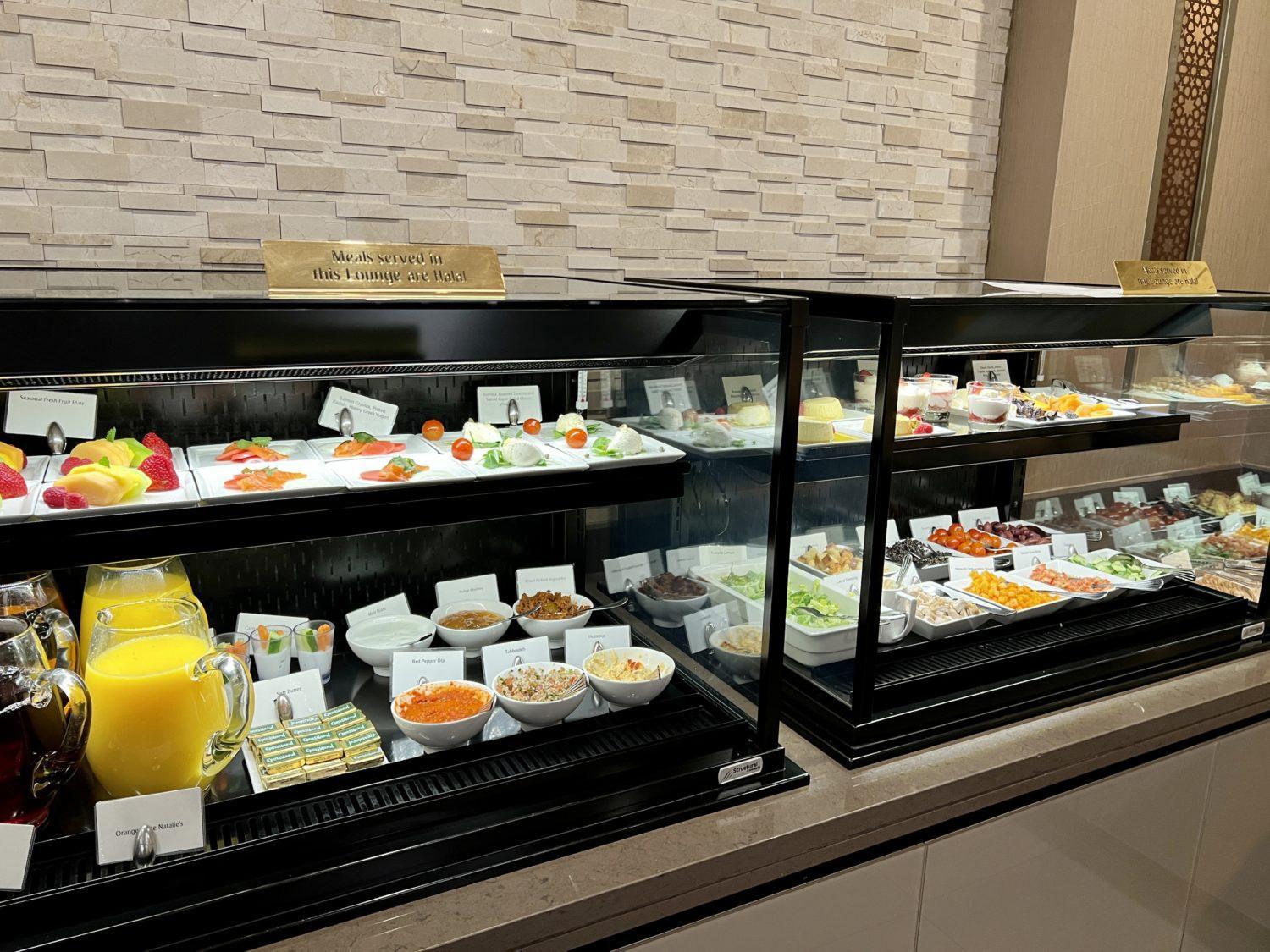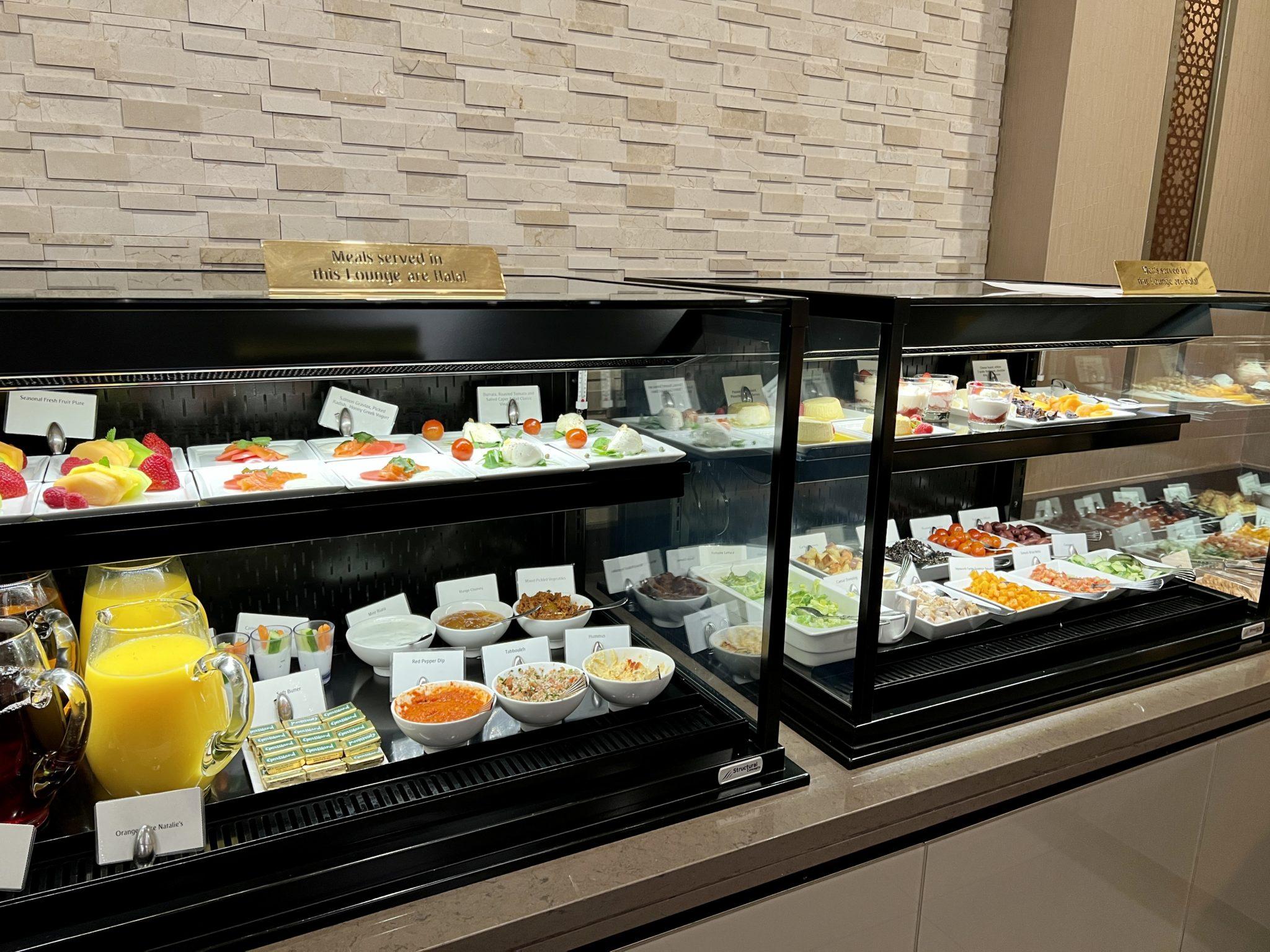 There are also two substantial beverage stations in the lounge, where you can fix your own cocktail, grab a water or soft drink, make a cappuccino or latte, or pour yourself a glass of wine from a chilled bottle. Emirates had both Veuve Clicquot and Moet & Chandon sitting around for champagne, which is a nice dilemma to have.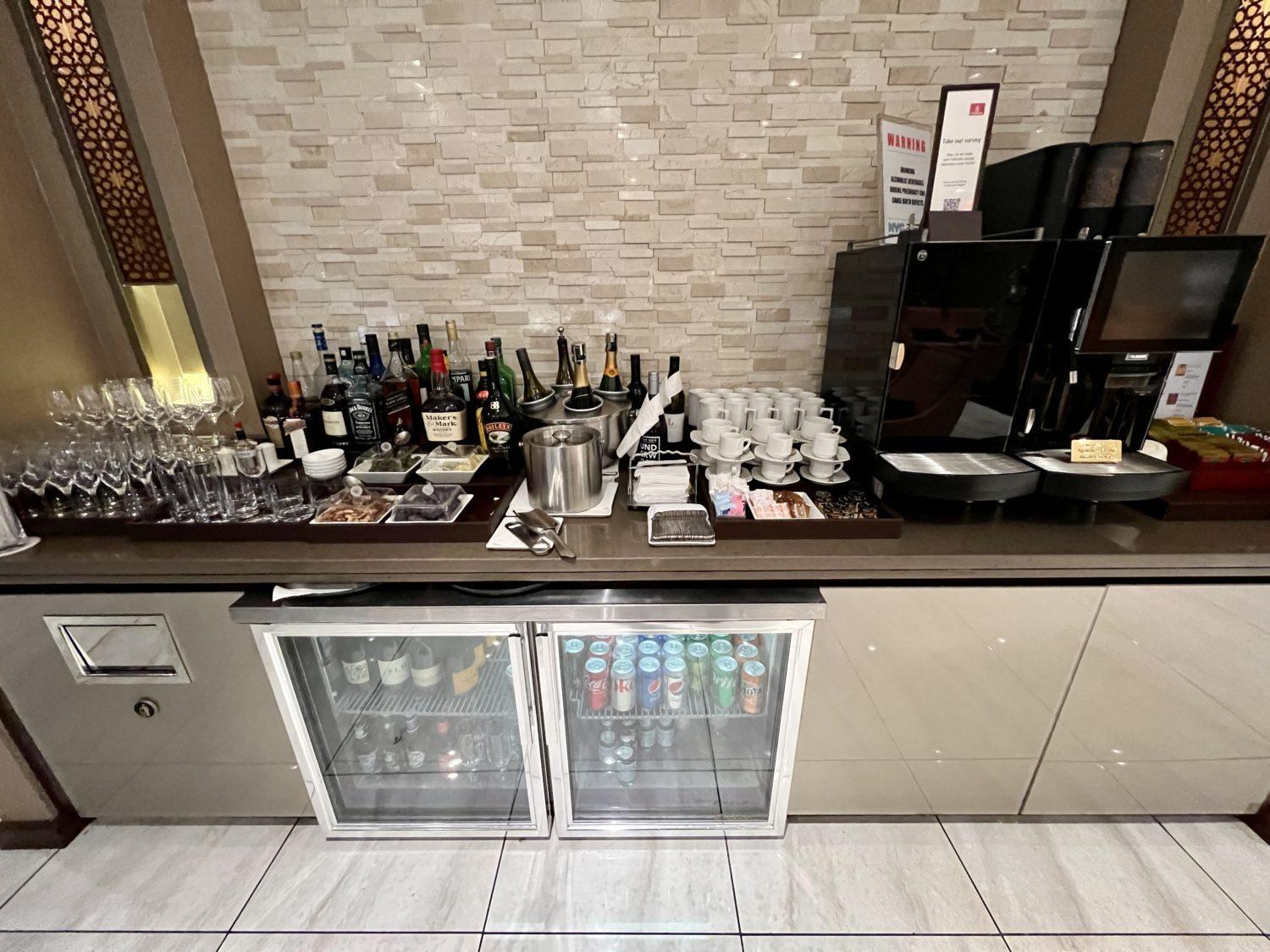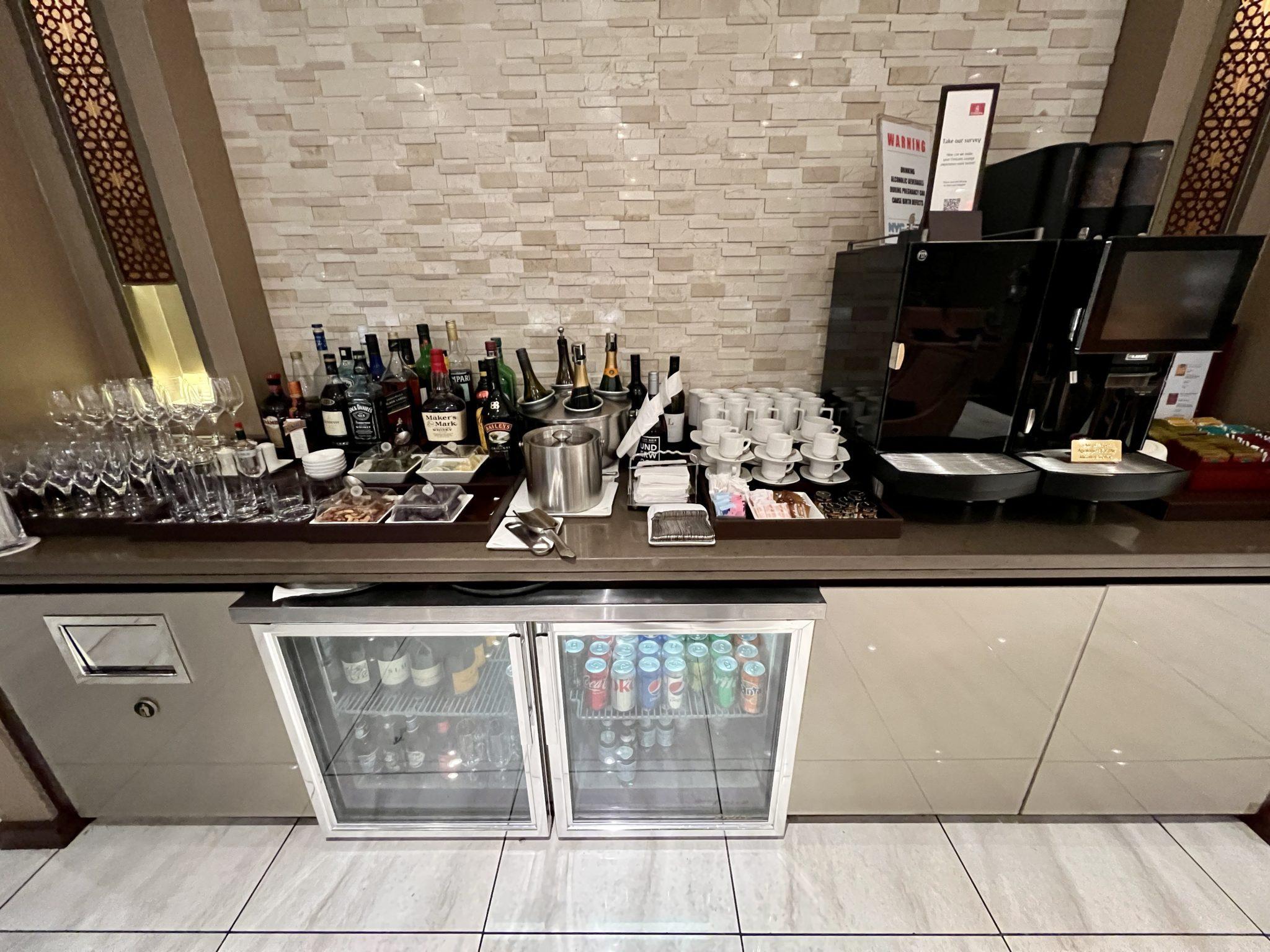 The lounge itself might be fairly forgettable, but there's one main reason above all else to head here before the flight: You can board straight from the lounge … at least if you're departing from gate A6, anyways. Boarding from a lounge is a novelty you won't find at many airports, and I lucked out: the flight to Milan was using gate A6 that night.
Lounge staff made overhead announcements as boarding time drew closer and closer until welcoming passengers heading to Milan to board in the corner of the lounge.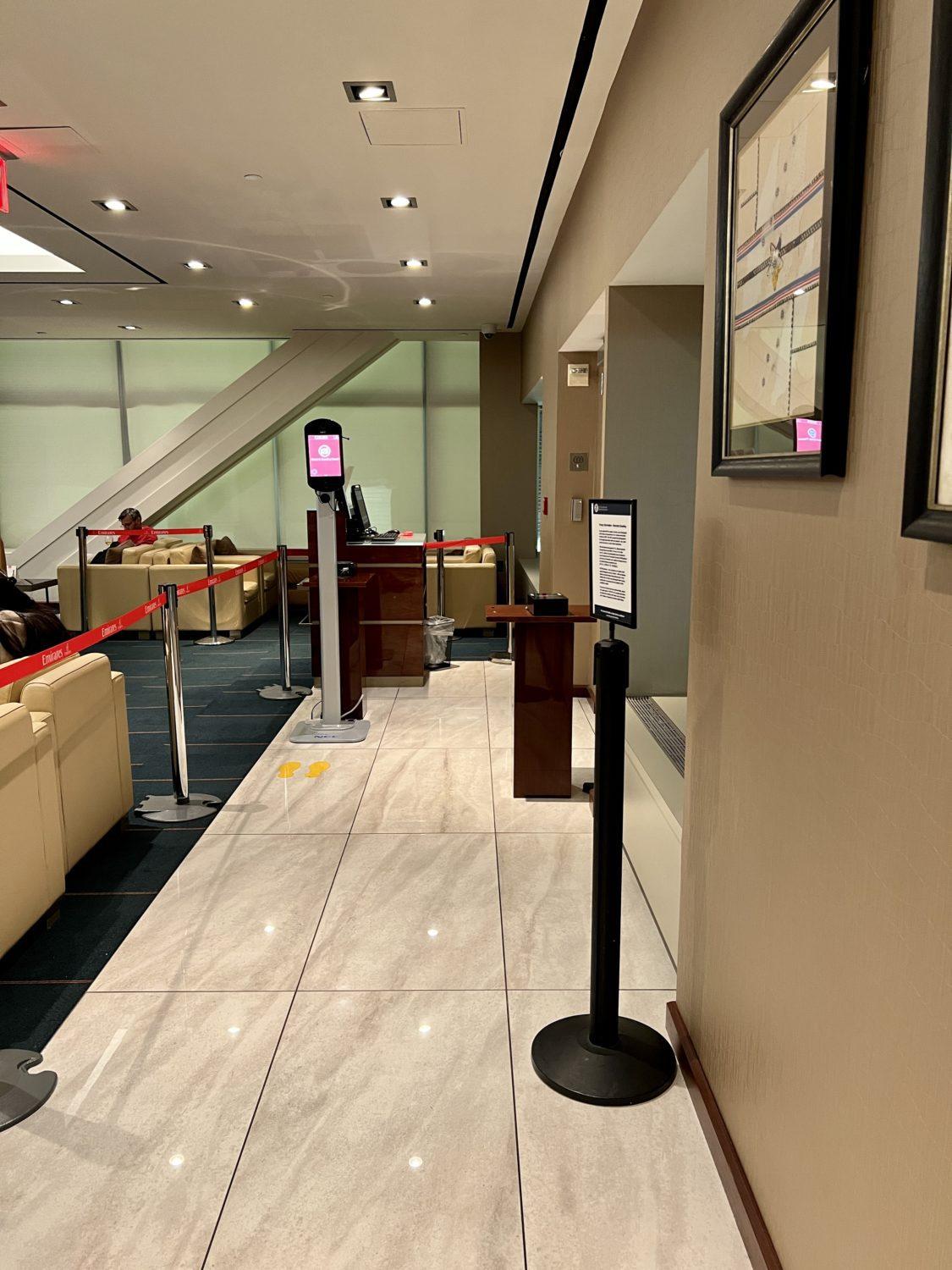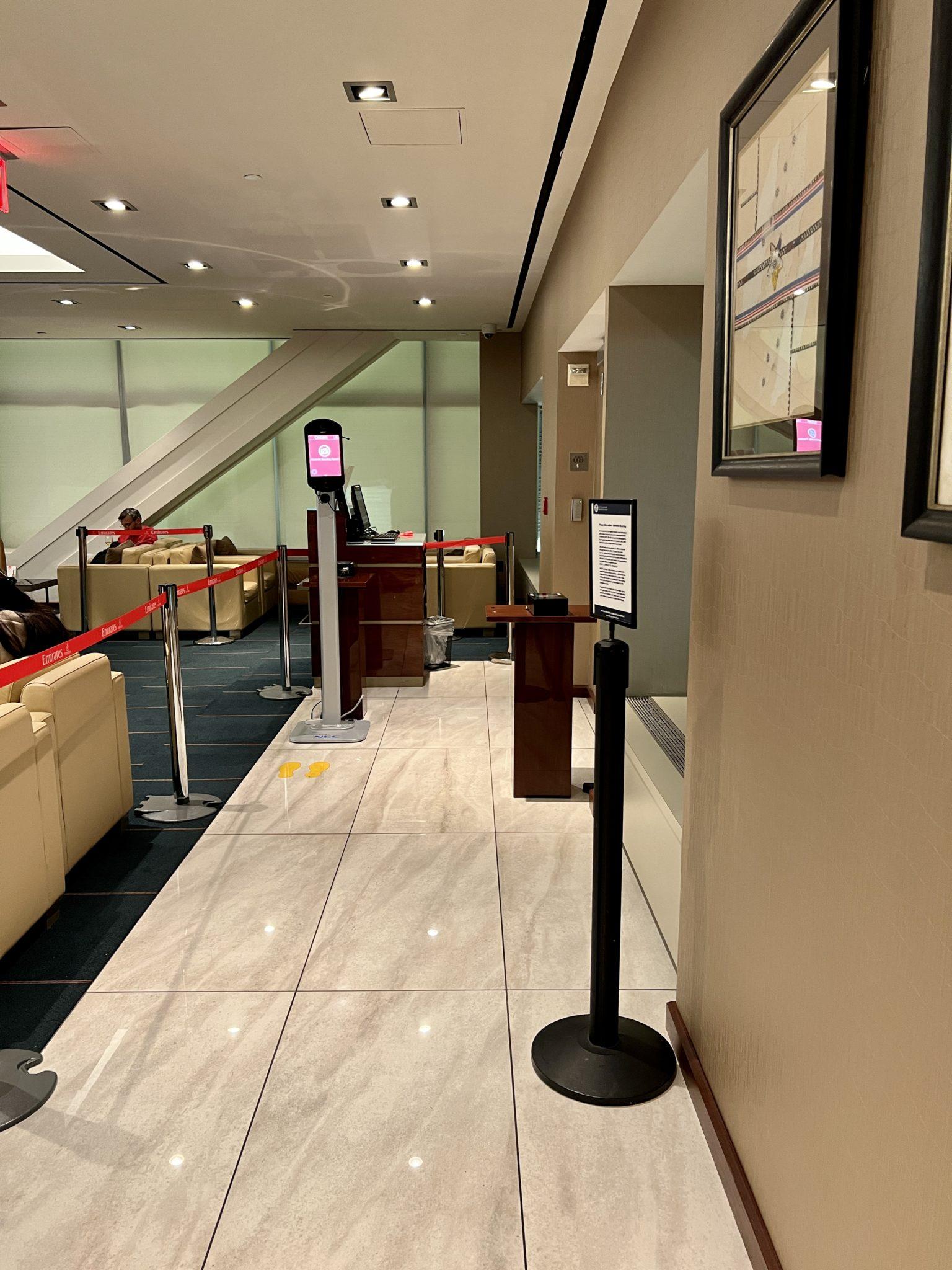 It's a cool experience to skip the gate and walk from the lounge straight onto a jet bridge … especially when that jet bridge leads to the upper deck of an Airbus A380. After a pandemic absence, Emirates resumed flying its signature double-decker A380s on this flight to Milan last year. The flight from Newark (EWR) to Athens (ATH), meanwhile, is still operated on an older Boeing 777.
If you're booking Emirates business class, this is the flight you want to be on. Here's why…
The Business Class Cabin
A massive cabin? Yes. Spacious seats? Yes. Direct access into the aisle? Check. An onboard bar to mingle with fellow travelers? Sure is! A little bit over the top, even gaudy? Yep, that too.
Literally and figuratively, Emirates business class on the Airbus A380 contains multitudes.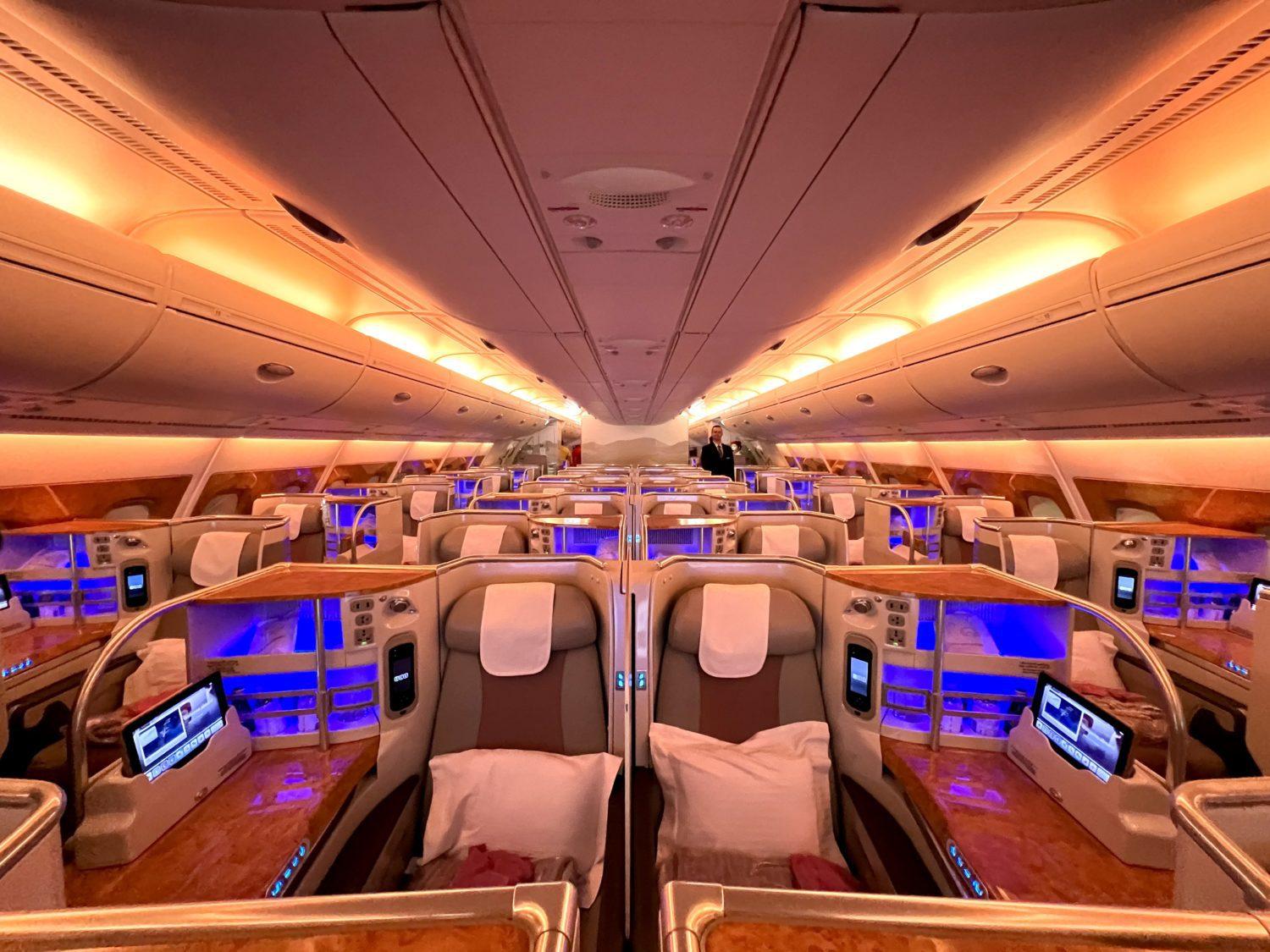 Aside from Emirates First Class (with those showers) at the front, the Emirates business class cabin takes up nearly the whole upper deck of the A380. It's split into two cabins – a longer cabin in front and a smaller one behind it – for a grand total of 76 business class seats. That is a lot of seats.
The sheer volume of seats combined with all the bling, woodgrain, and gold overhead lighting combines to make walking onboard a bit … let's call it strange. Don't get me wrong, it's very nice! But even Emirates knows this look needs a facelift. The airline recently began a fleet-wide refresh, subbing out the blinged-out (and outdated) look with more understated finishes: soft white leathers, tamed-down woodgrain, and the occasional pop of gold. That refurbishment of the A380 is expected to run into 2024, at which point Emirates will give its older Boeing 777s some much-needed love.
But for now, this is what you're bound to get flying Emirates business class. And that's not a bad thing.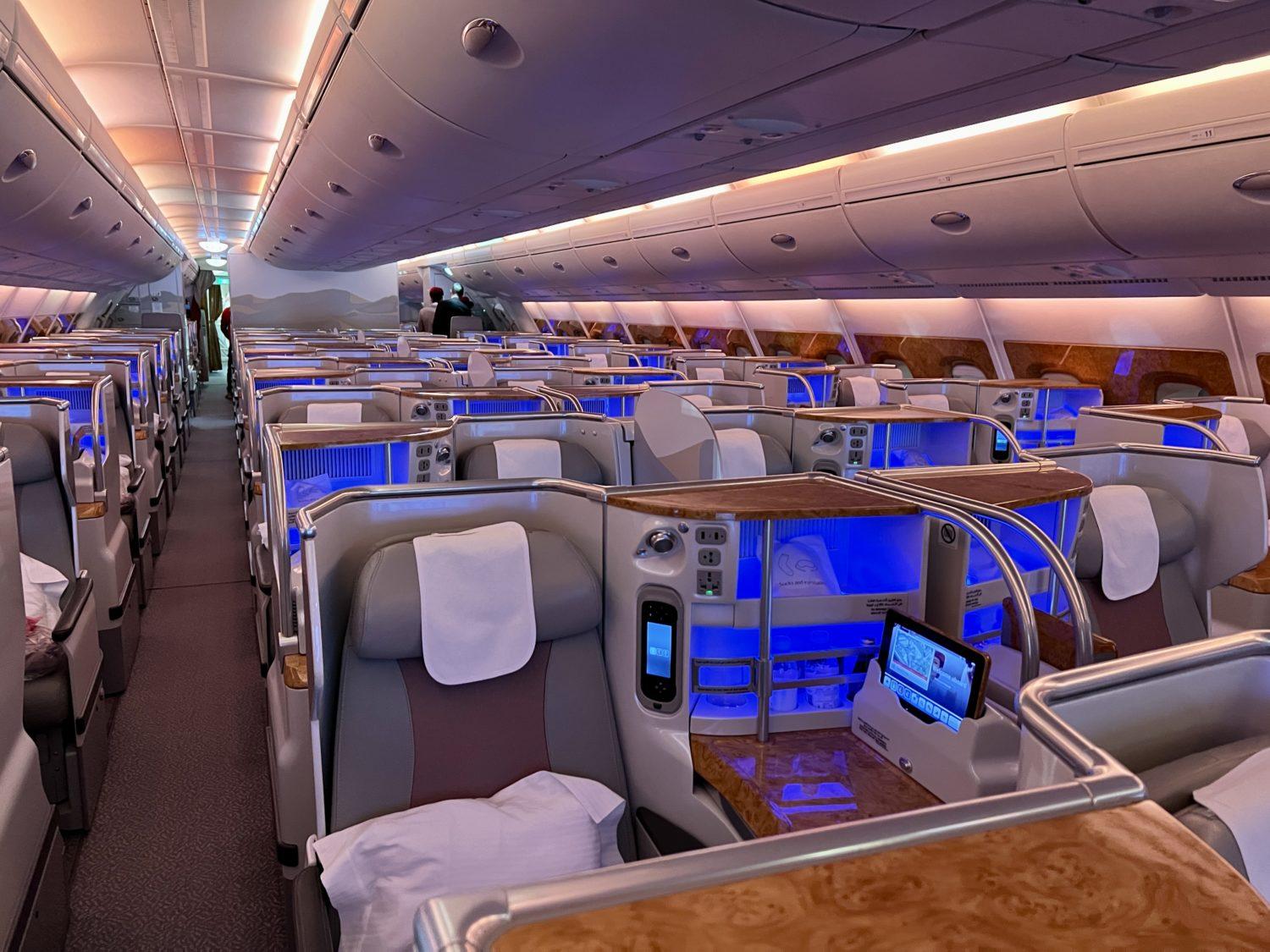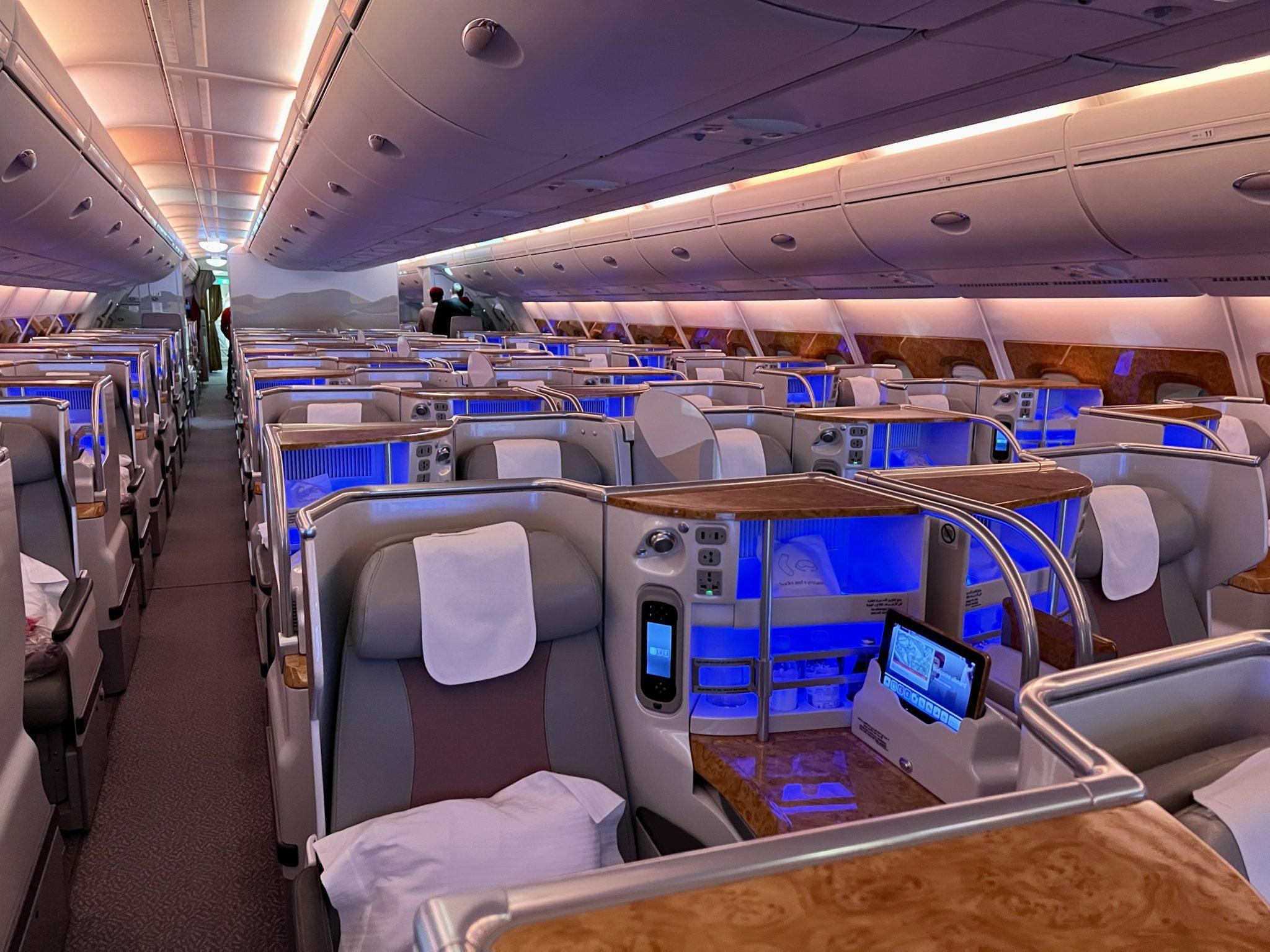 Most importantly, the entire cabin is laid out in 1-2-1 fashion ensuring every Emirates business class passenger can walk straight into aisle without stepping over a fellow traveler. That might seem like the bare minimum in 2022, but it's not a guarantee with Emirates: Even the airline's newest 777s equipped with game-changing first class suites don't have direct aisle access back in business class. Above all else, that makes the A380 the jet to pick when flying business class with Emirates.
From front to back, the seats are staggered: Some are positioned closer to the aisle while others are further away for more privacy. You'll find single seats along the windows, where solo travelers should gravitate. But because Emirates skips row 13, there's no standard for the arrangement between even- and odd-numbered seats for which are positioned near the windows and which are closer to the aisle.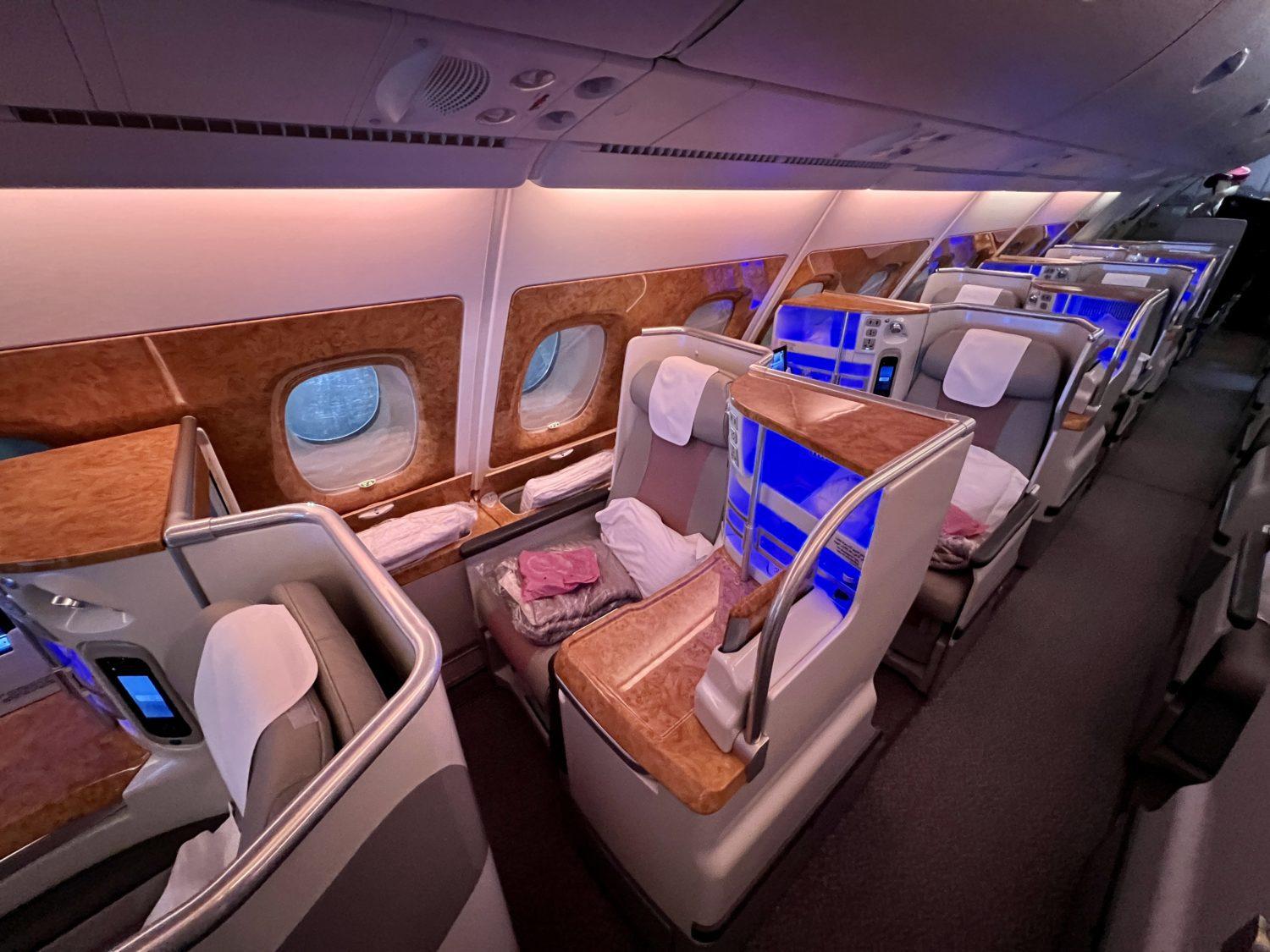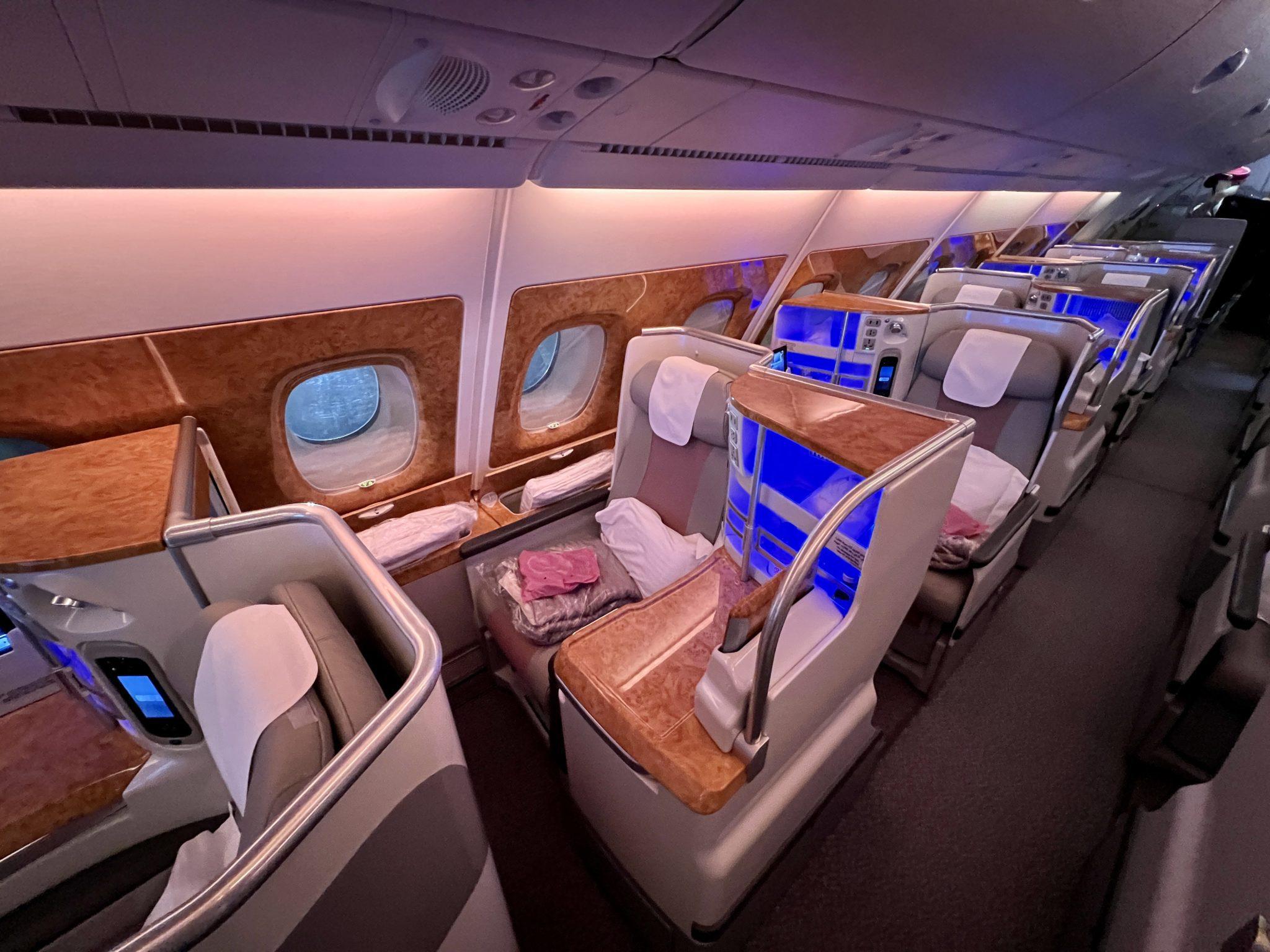 Fortunately, Emirates' seat maps (as well as sites like AeroLopa) make it easy to zero in on the seat you want. Single seats closer to the window are the pick for solo travelers, as the console gives you a good bit of additional privacy.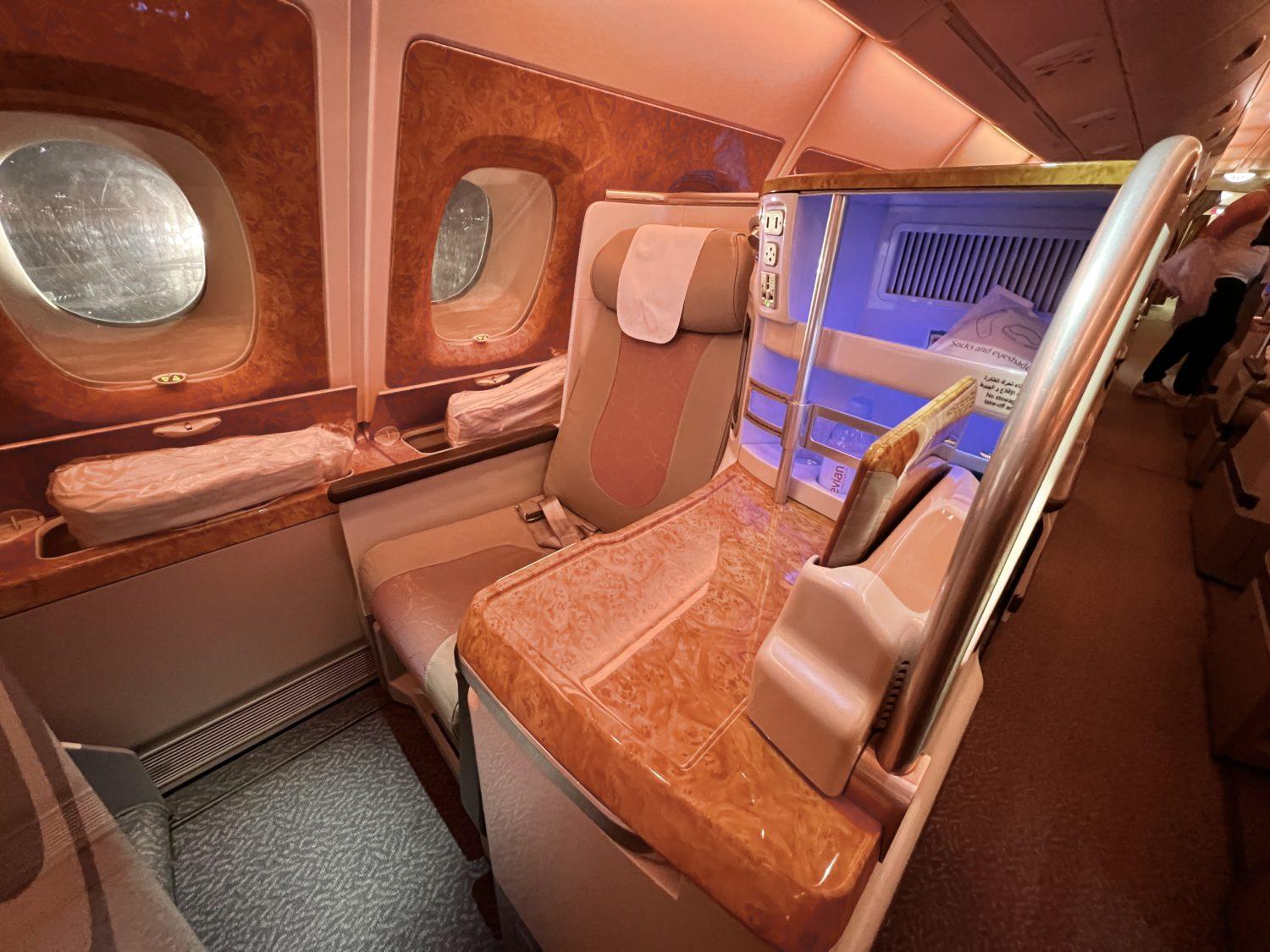 The other solo seats along the windows are still quite nice, though certainly more exposed to the aisle and passengers walking by.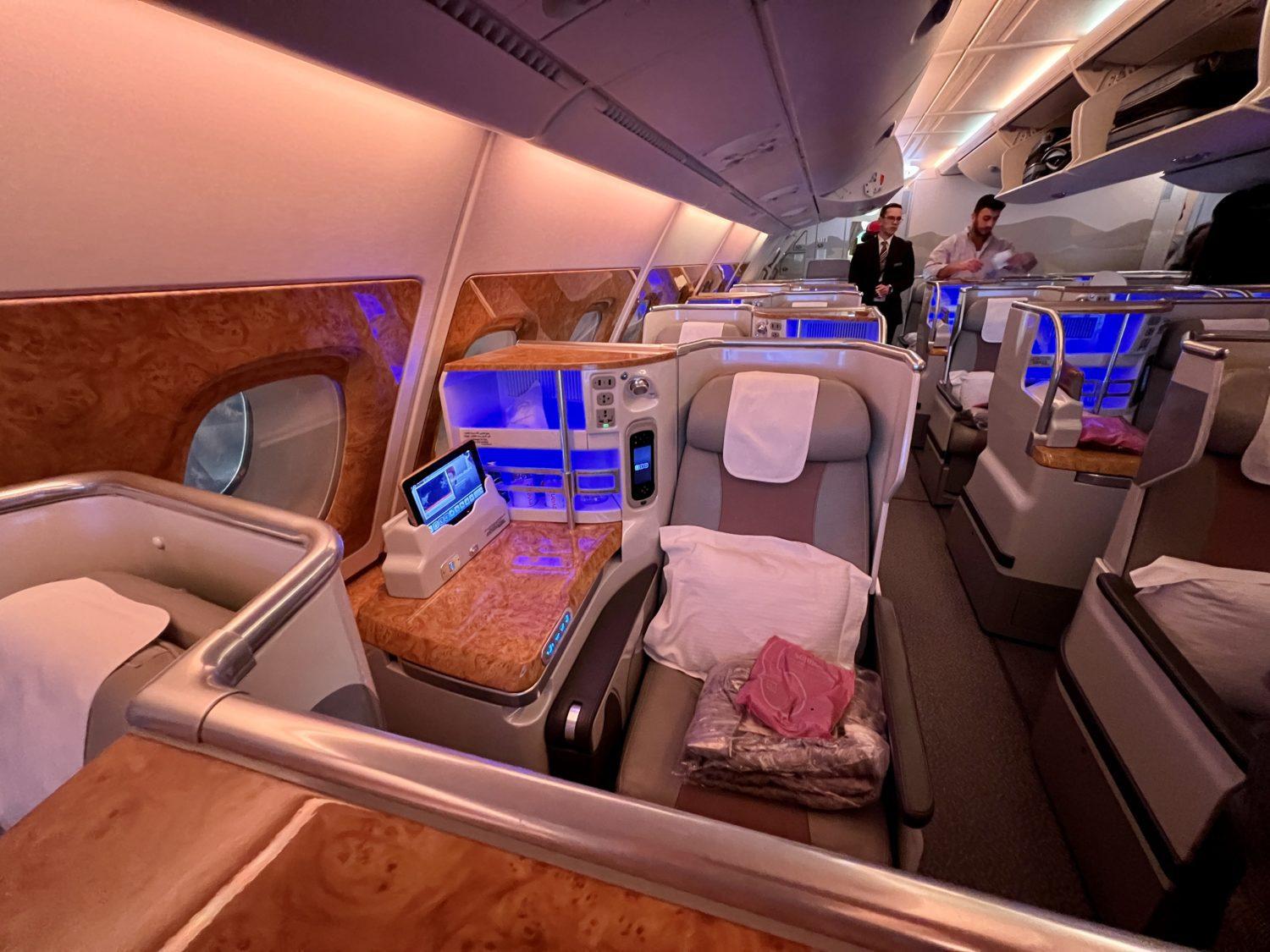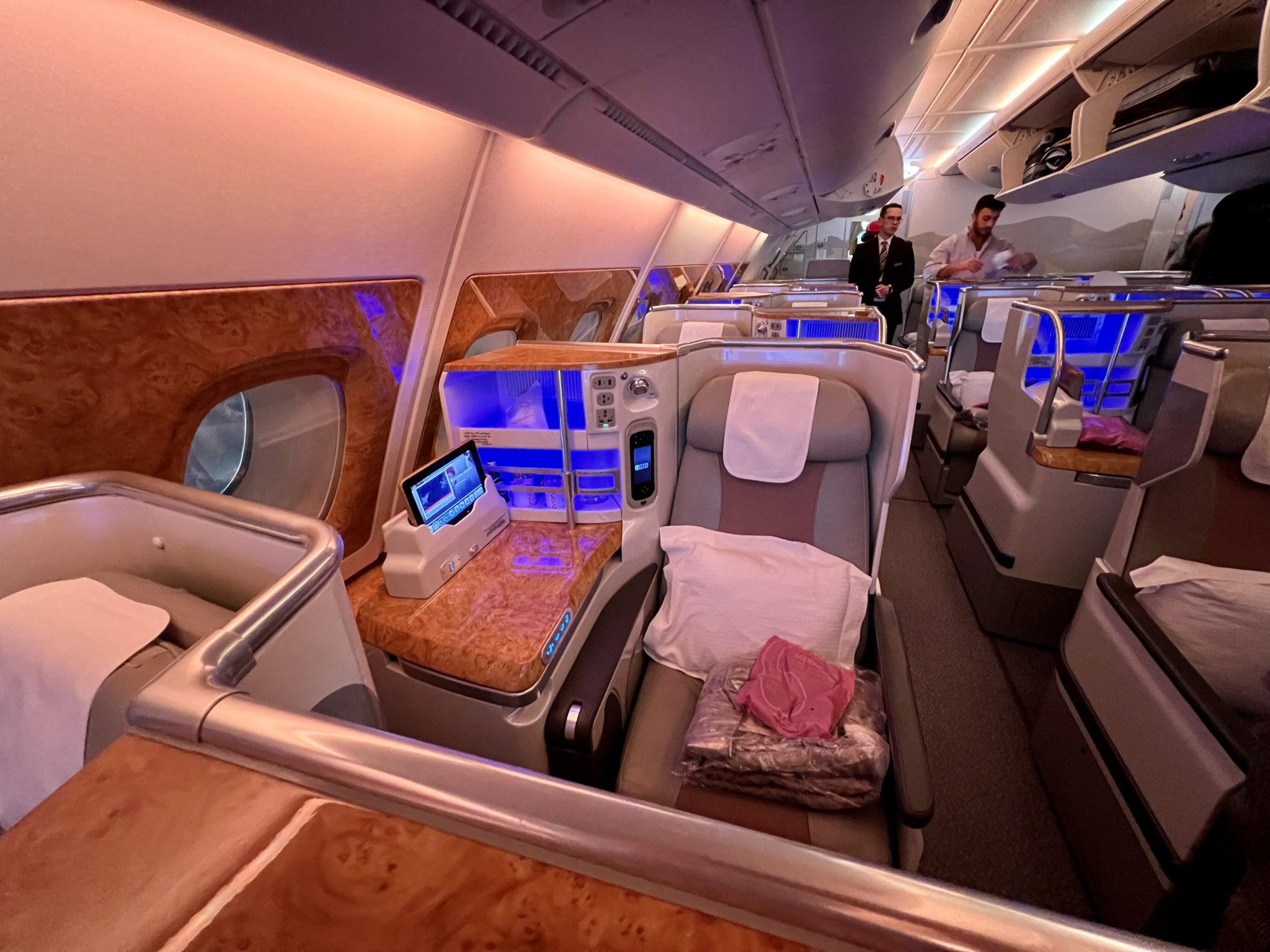 In the center of the cabin you'll find seats in pairs, and some are far better than others if you're traveling with a companion. You'll want to snag the so-called honeymoon seats, which are positioned closer to one another and separated from the aisle on either side by a storage console. There's a partition you can extend with the push of some buttons, in case you don't know your neighbor.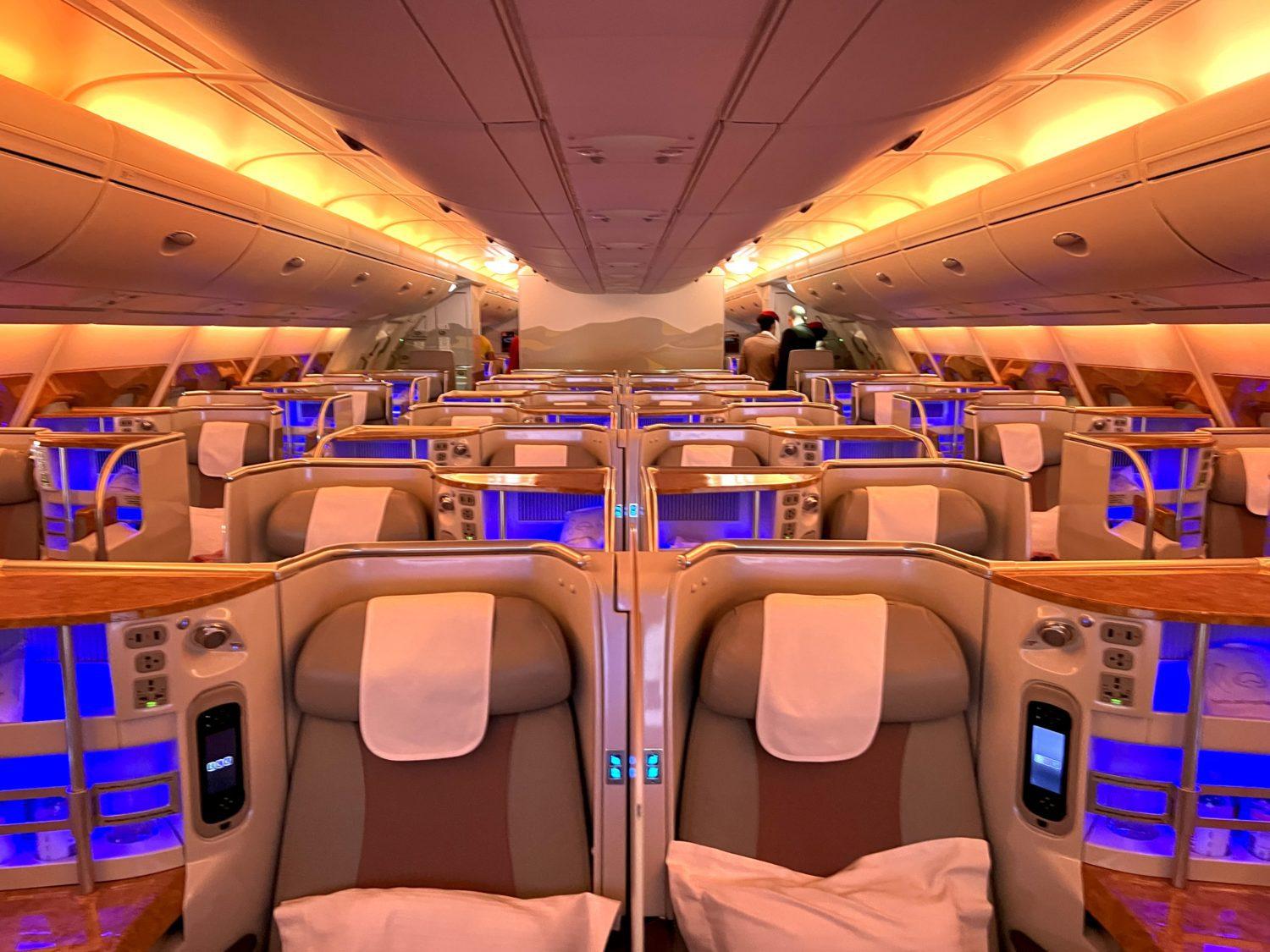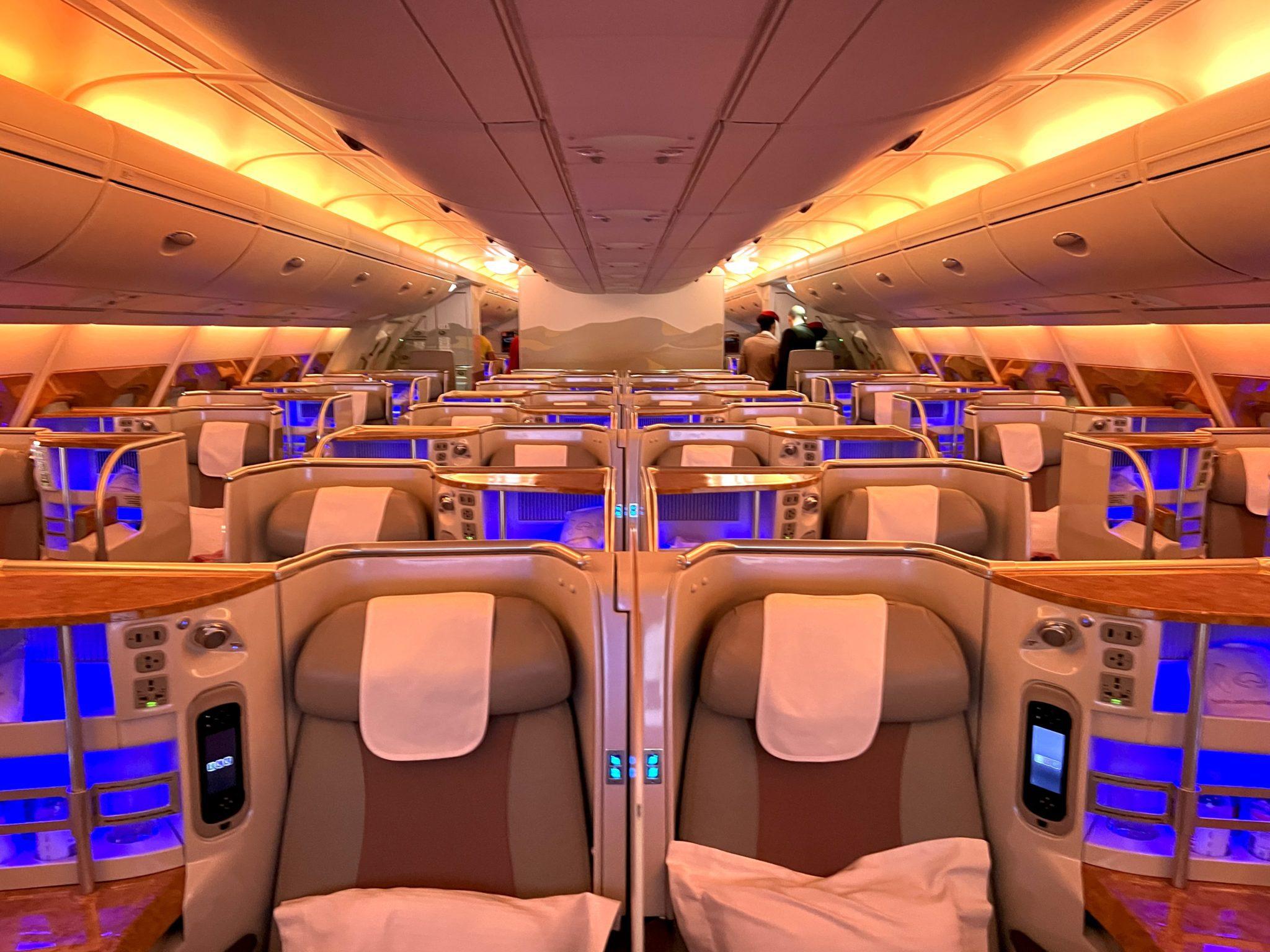 Behind each set of honeymoon seats you'll find two seats positioned farther apart from one another and much closer to the aisle. These would probably be my last pick of the bunch unless I was traveling alone and all the seats along the windows were taken.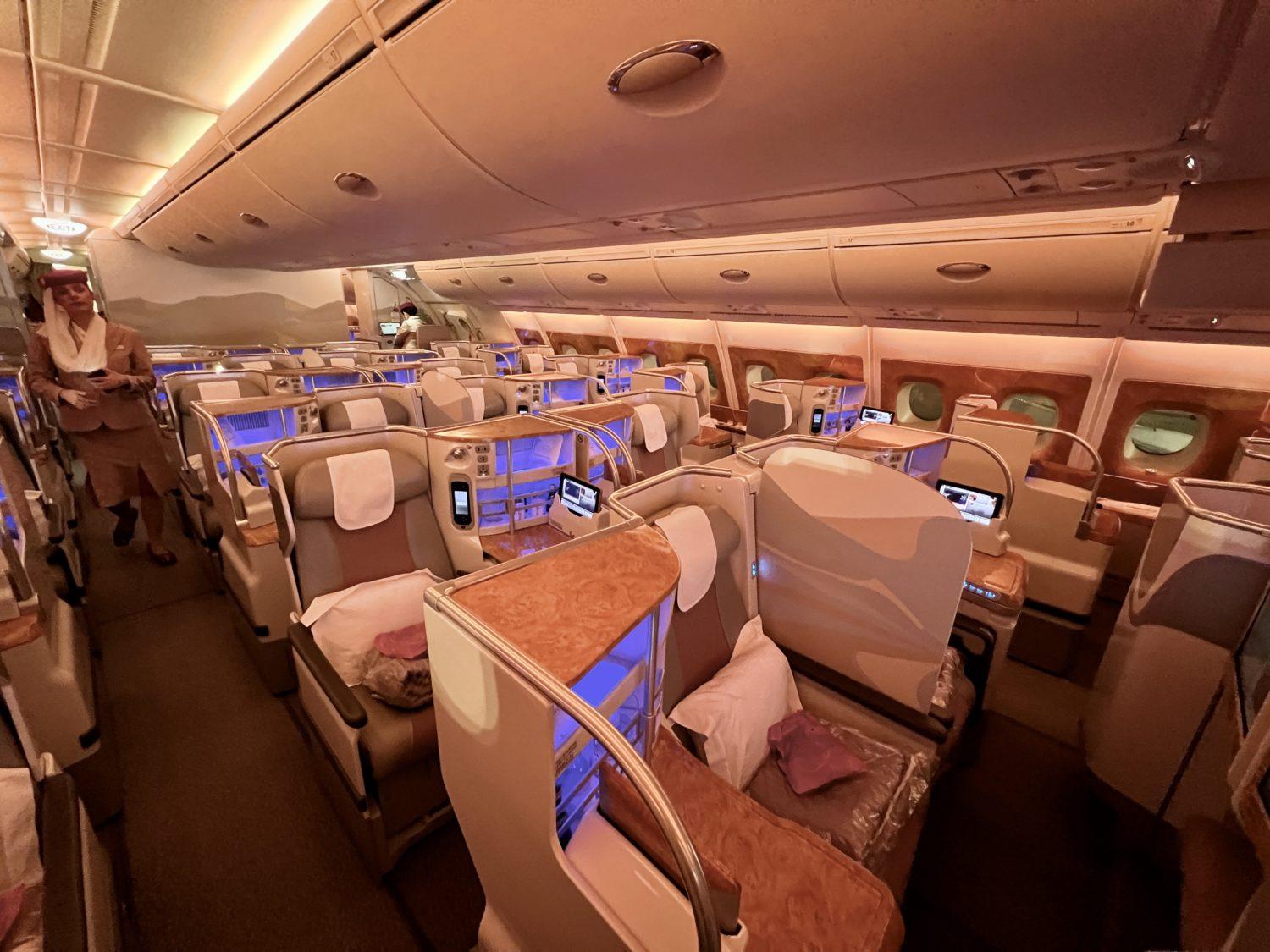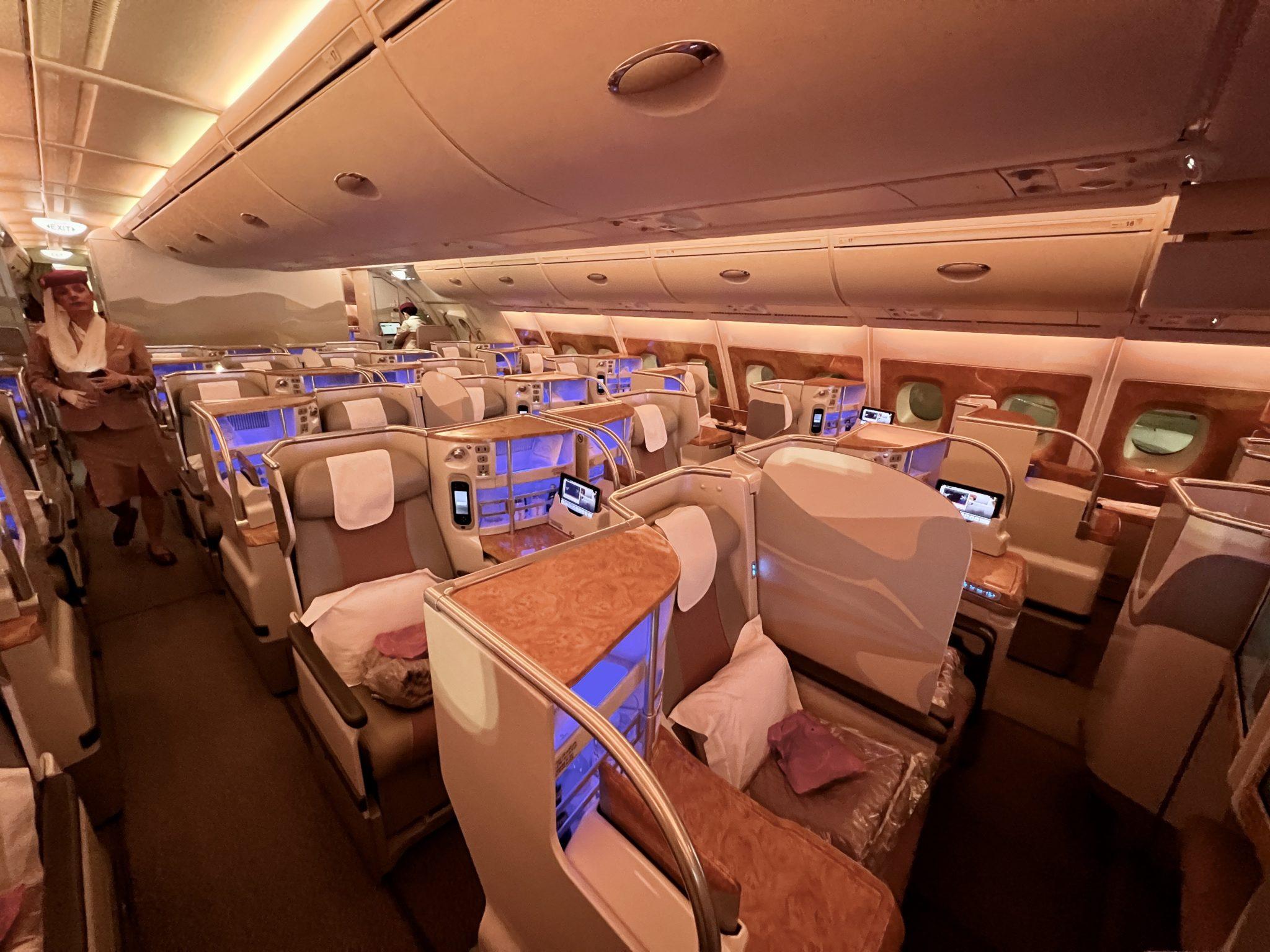 A business class cabin this big requires a lot of bathrooms, and Emirates delivers. It varies from flight to flight based upon which specific Emirates A380 you're flying, but you may find as many as six lavatories: One or two at the front, and four all the way at the back. With that many restrooms onboard and the business class cabin just over half full, there was never a wait to step in and use the lavatory.
The business class lavatories are all more or less identical and included a few nice touches: cloth handtowels to use after washing your hands and a rose mounted in the vanity. There's also a pullout drawer with dental kits to brush your teeth, which every airline should offer.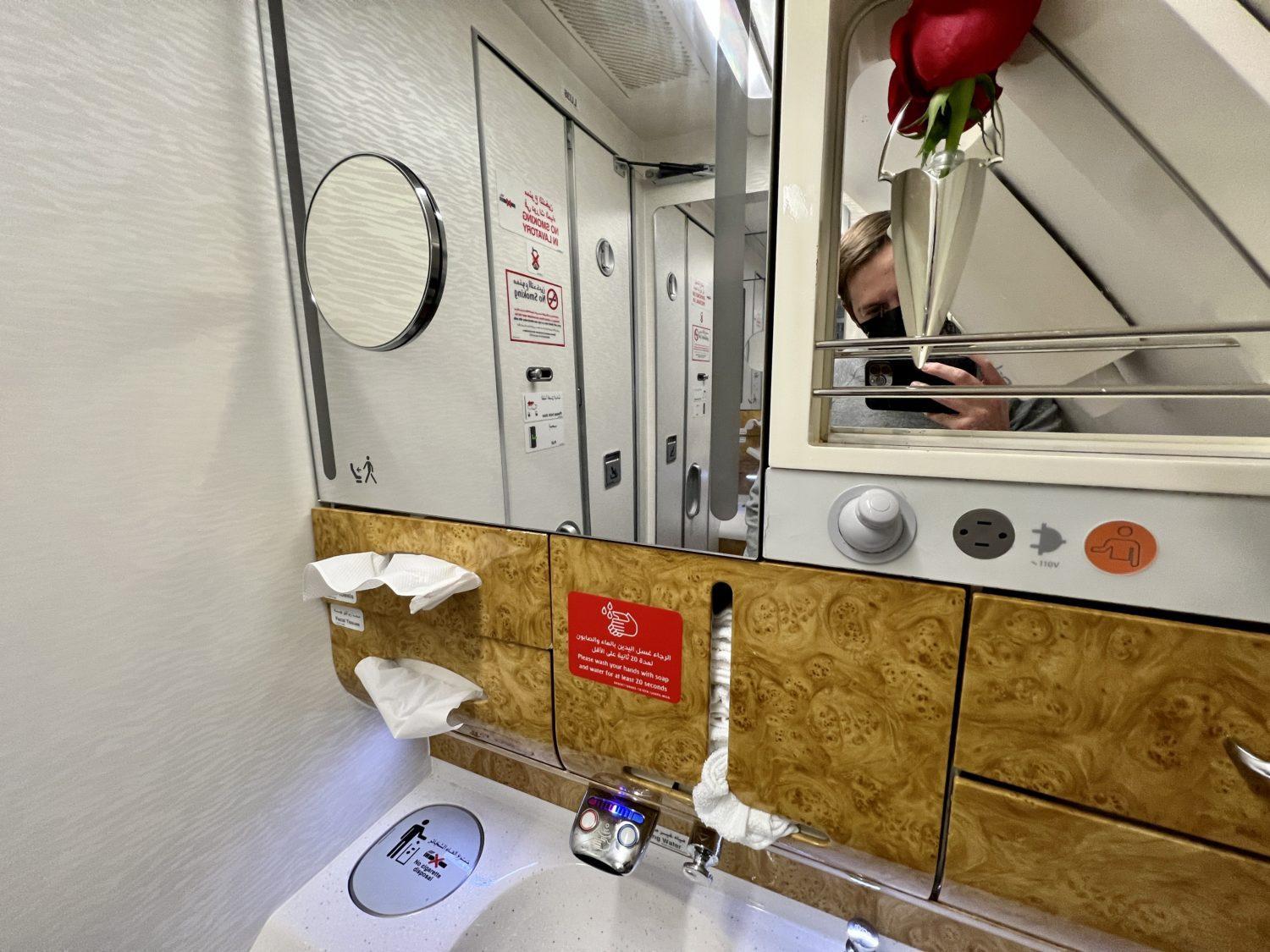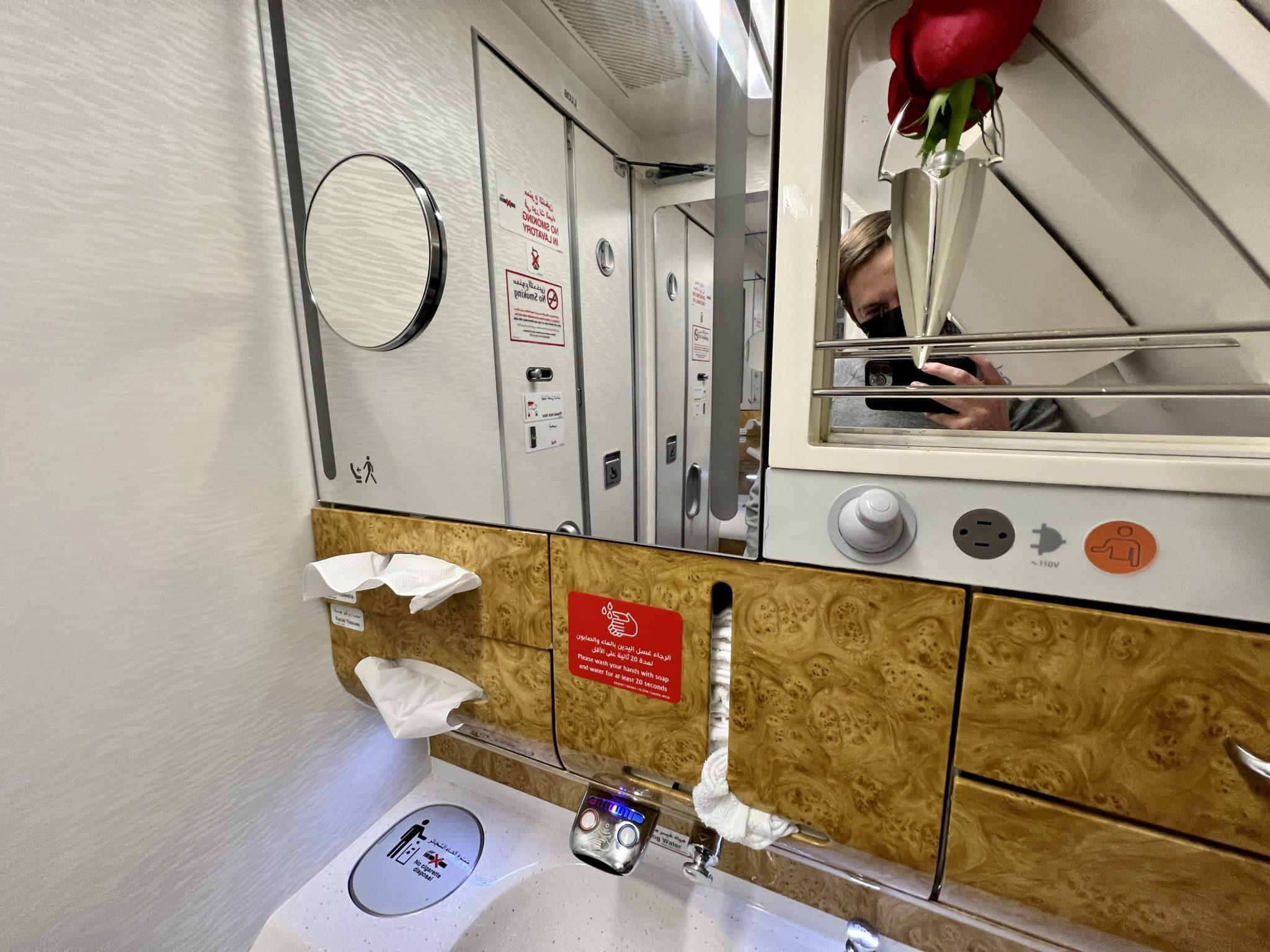 Oh, and a full-length mirror: another amenity you won't find in many airplane bathrooms.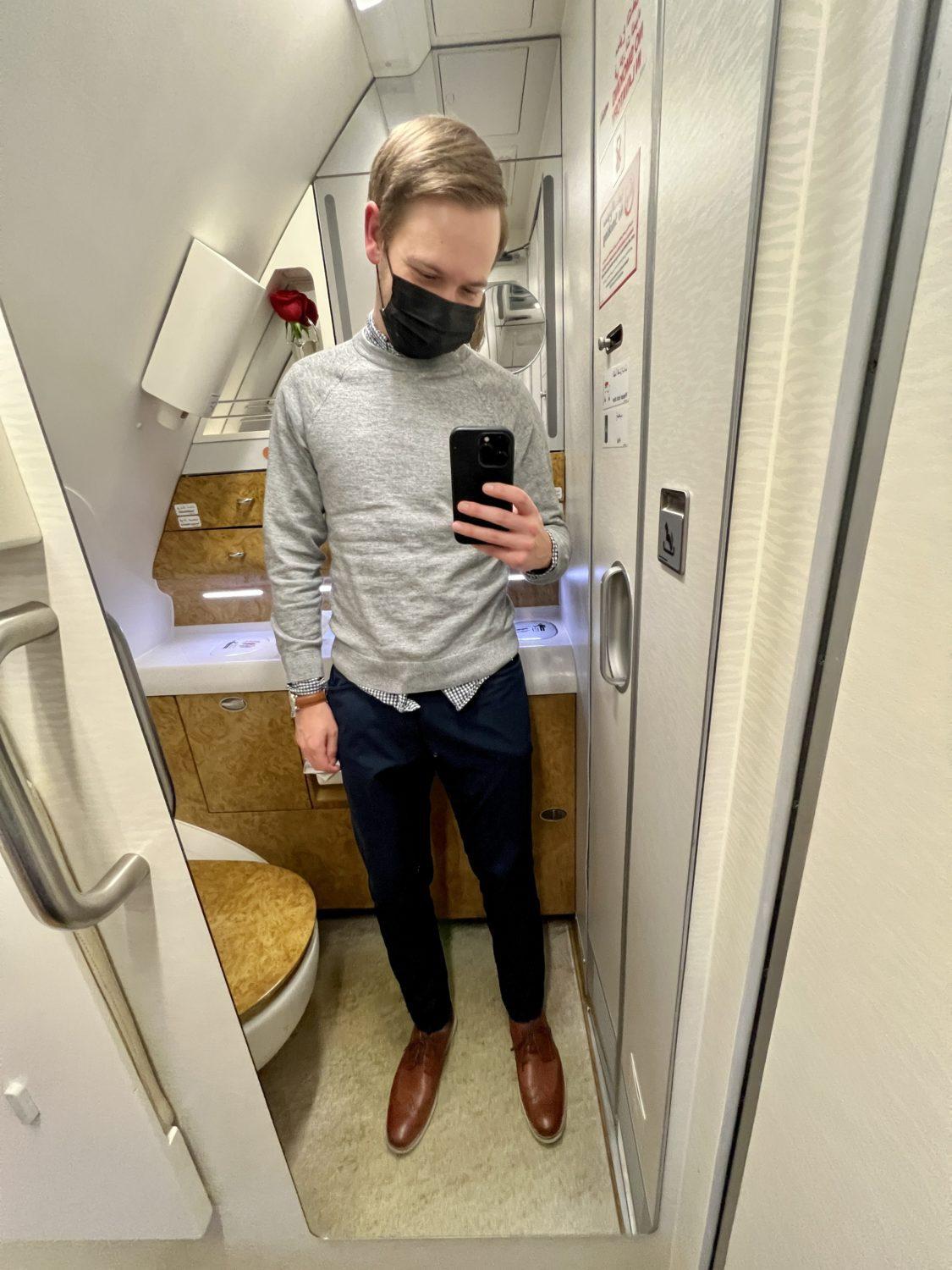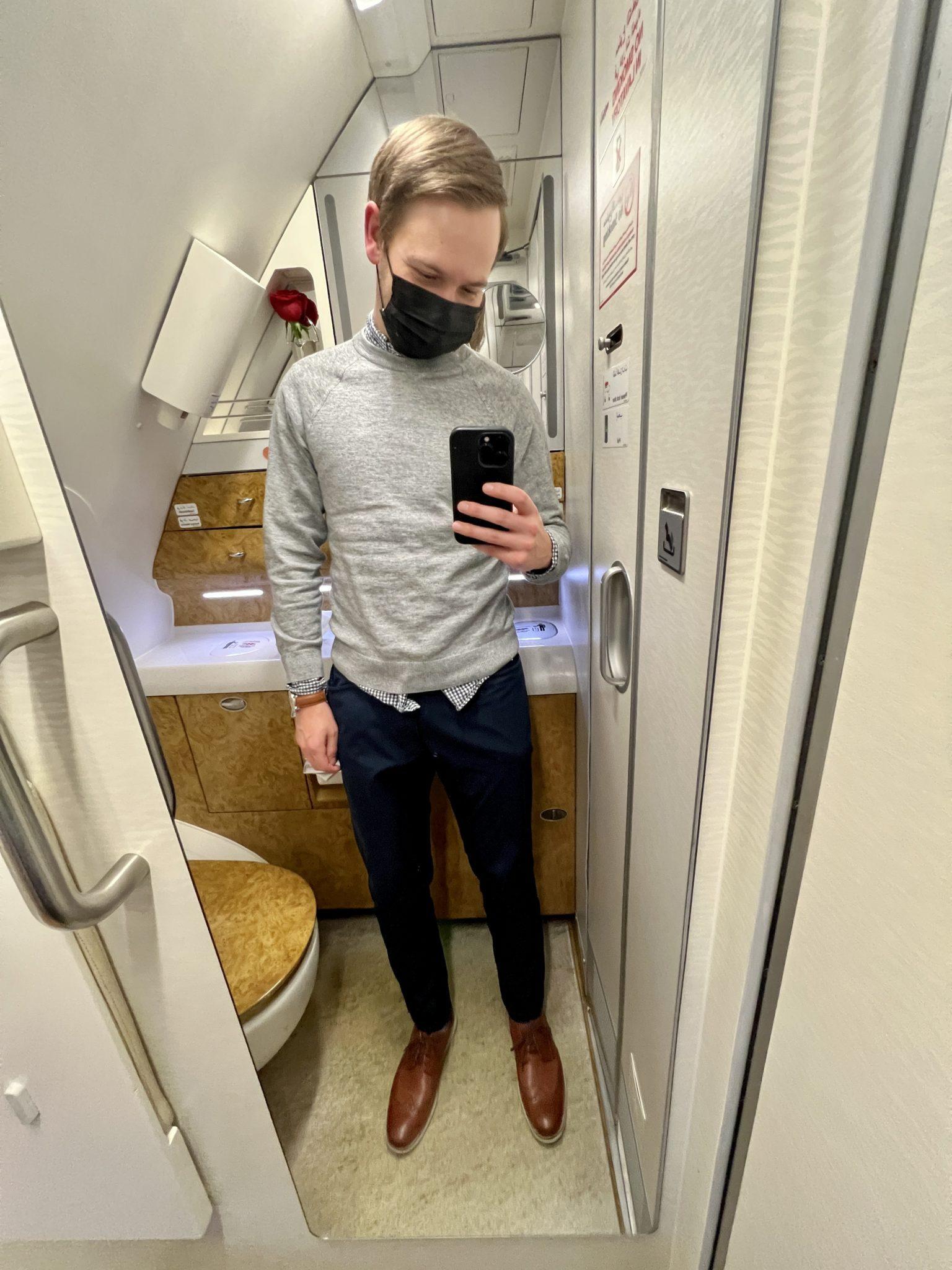 But there's one unusual feature when flying Emirates business class that stands out much, much more…
The Emirates Business Class Bar
Yes, that's right. A bar at 40,000 feet.
Emirates is one of just a handful of airlines in the world that offer a dedicated lounge onboard where passengers can mull around, sip, and snack while cruising at altitude. You'll only find it on Emirates' A380s, giving you yet another reason to pick this jet over a Boeing 777.
It's located all the way at the back of the upper deck, behind the final row of Emirates business class. Emirates business class and first class passengers alike can visit here to grab a drink or a small snack.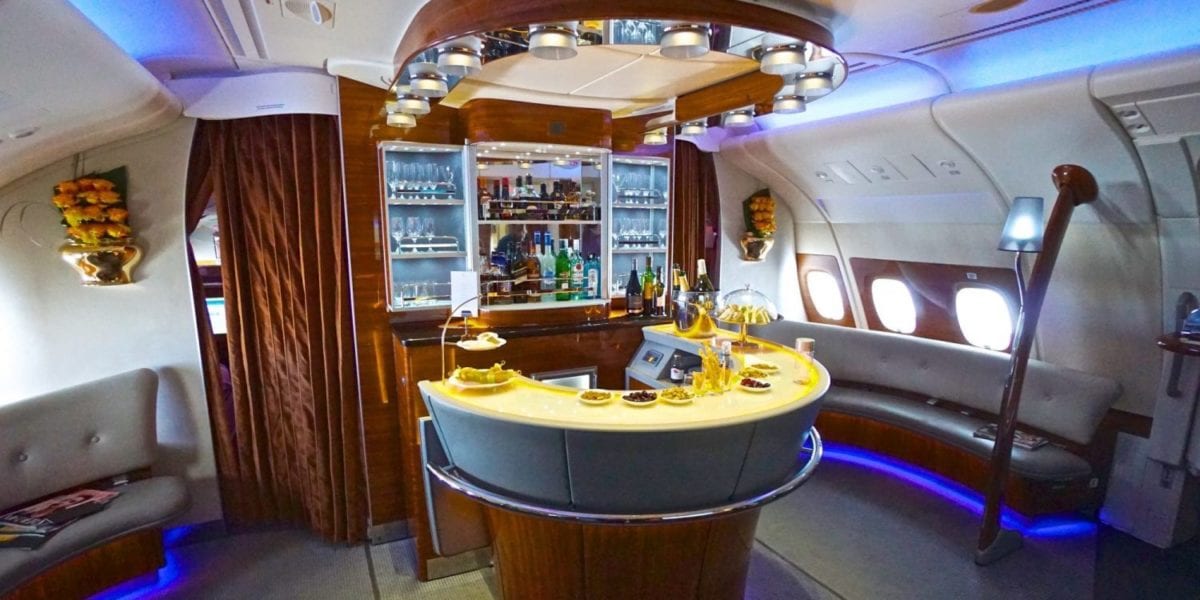 Tip: Be sure to ask for your photo behind the bar, if you want one! The Emirates crew will even snap a polaroid of you.
It's certainly a nice space. But really, it's all about the novelty. A bar in the sky! On a plane! Seriously, how cool is that?
The answer is … it depends. On 14-plus hour flights to or from Dubai, that leaves plenty of time to head back for a drink or two throughout the course of the flight. But on a sub-seven-hour flight to Milan … that lifts off around 11 p.m. or later? Not so much.
So I skipped a trip to the bar on my Emirates business class flight in favor of getting as much sleep as possible after dinner. Instead, I popped back here on the flight back home from Milan to New York – a longer flight in the daytime. Within 30 minutes or so of takeoff, the dedicated bartender was getting the space set up with drinks, snacks, and treats.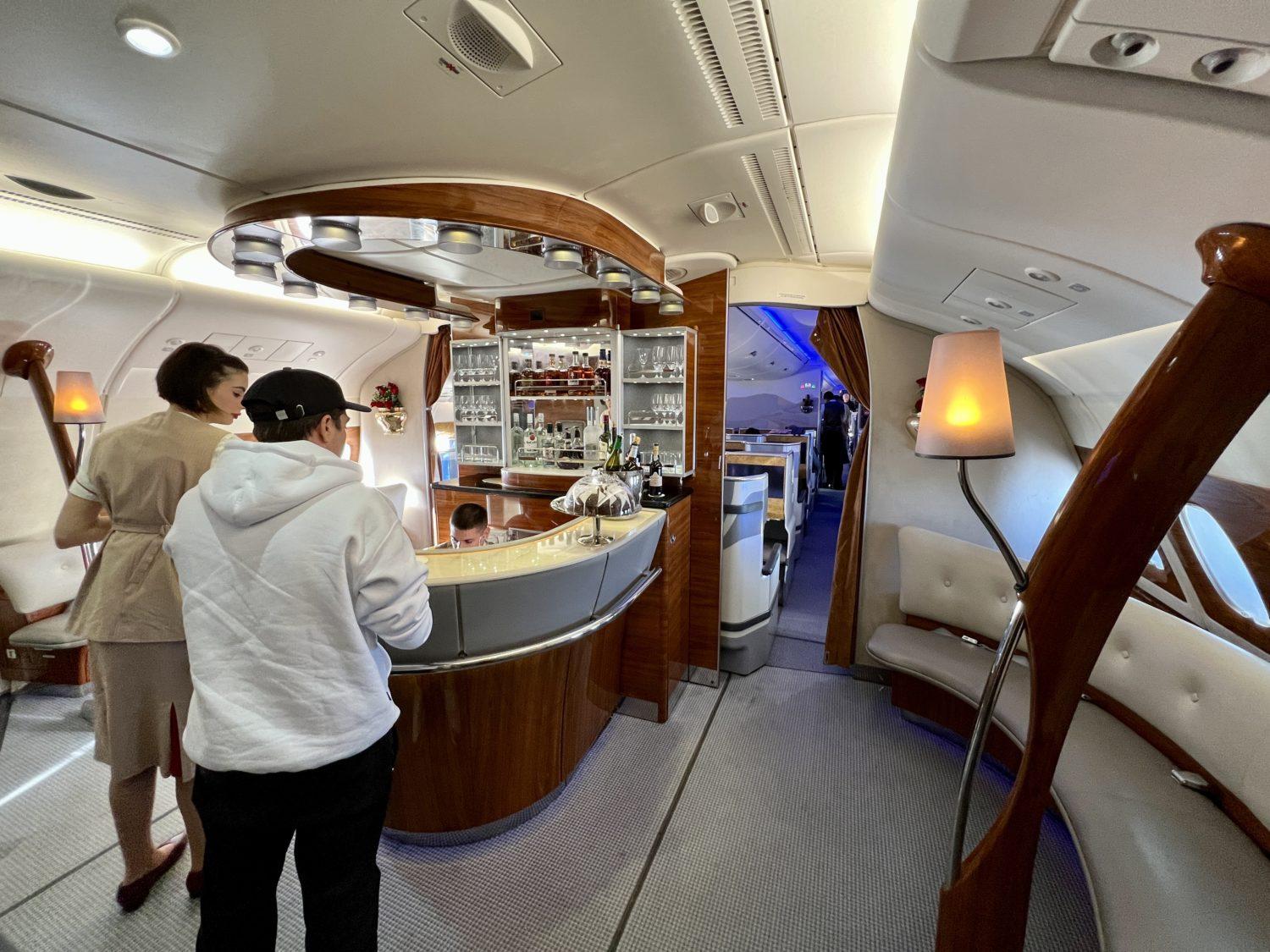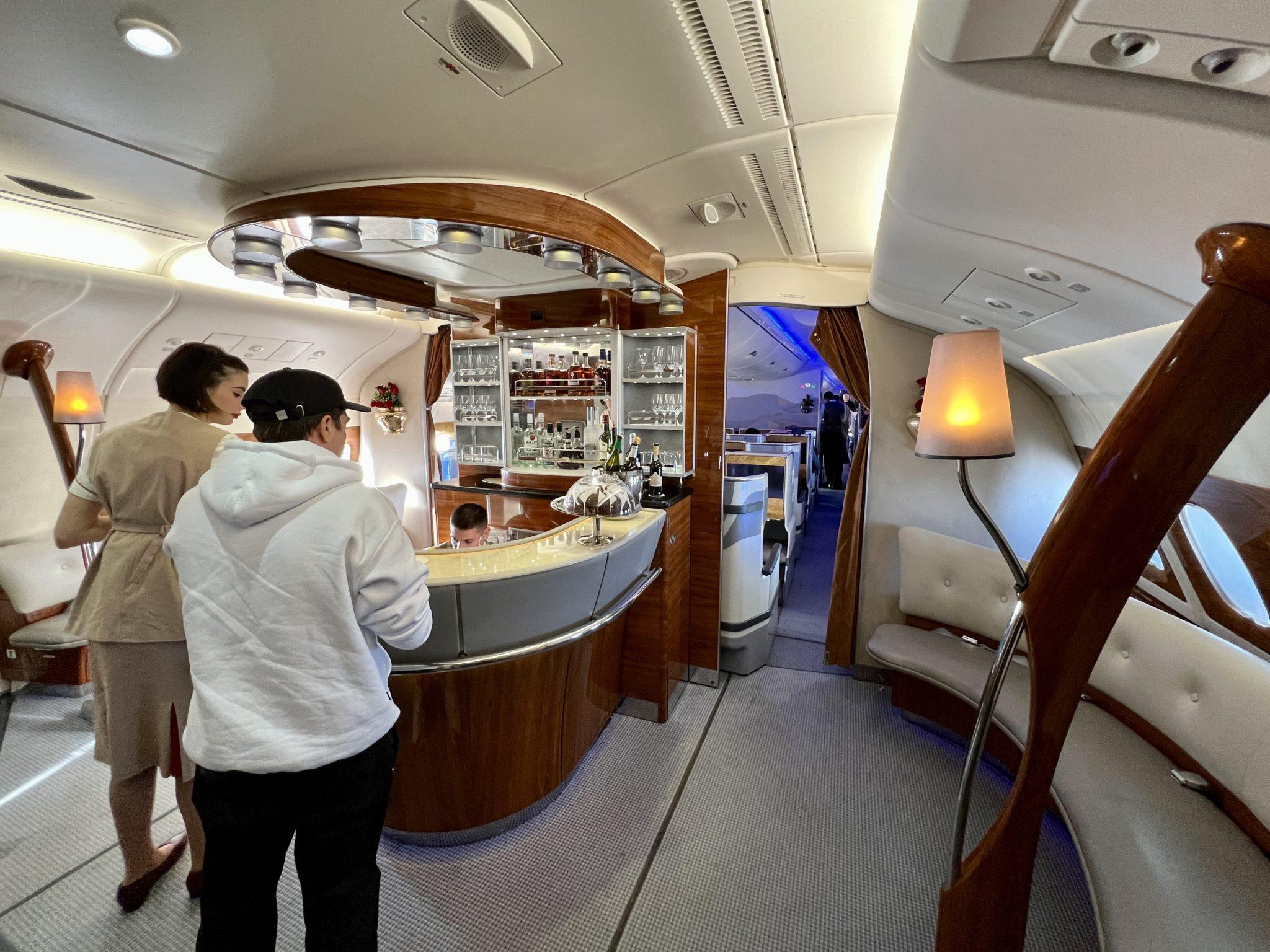 In addition to the circular bar at the center of the lounge, there are two sofas on either side along the windows with room for three – maybe four, if you really squeeze in.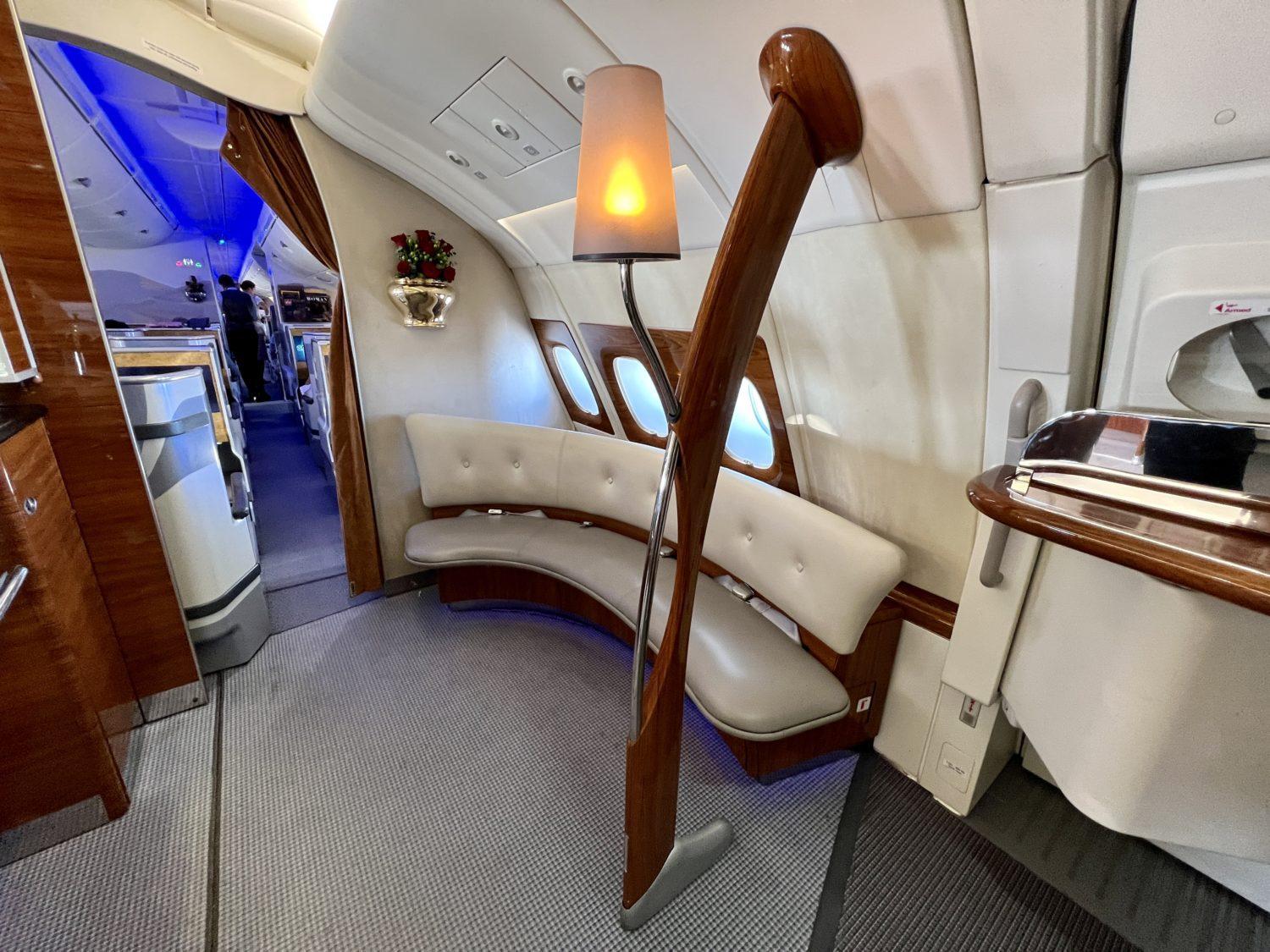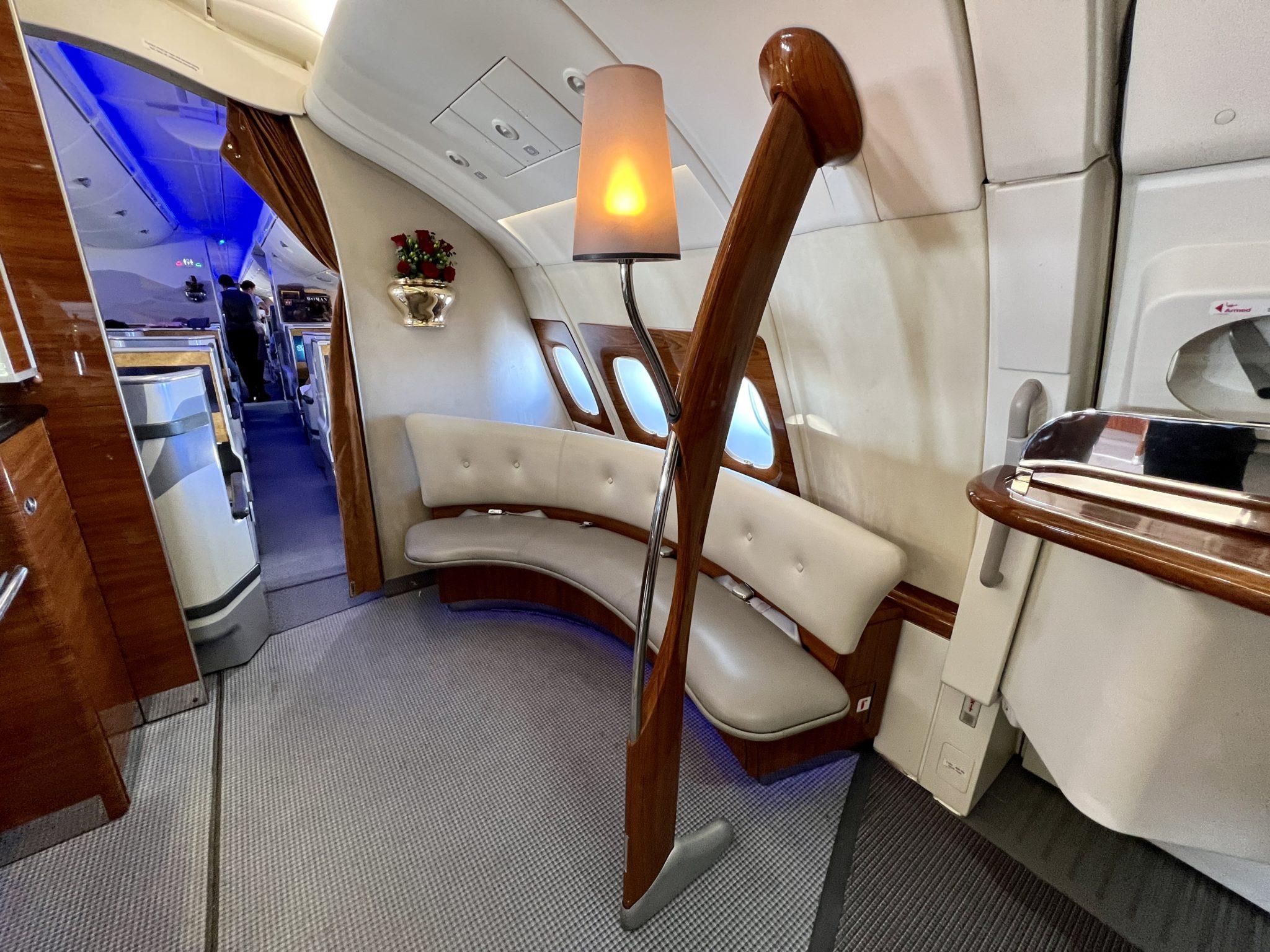 The crew also sets out some snacks like wrapped sandwiches, fruit, crackers, and chips on a small ledge at the back of the lounge area.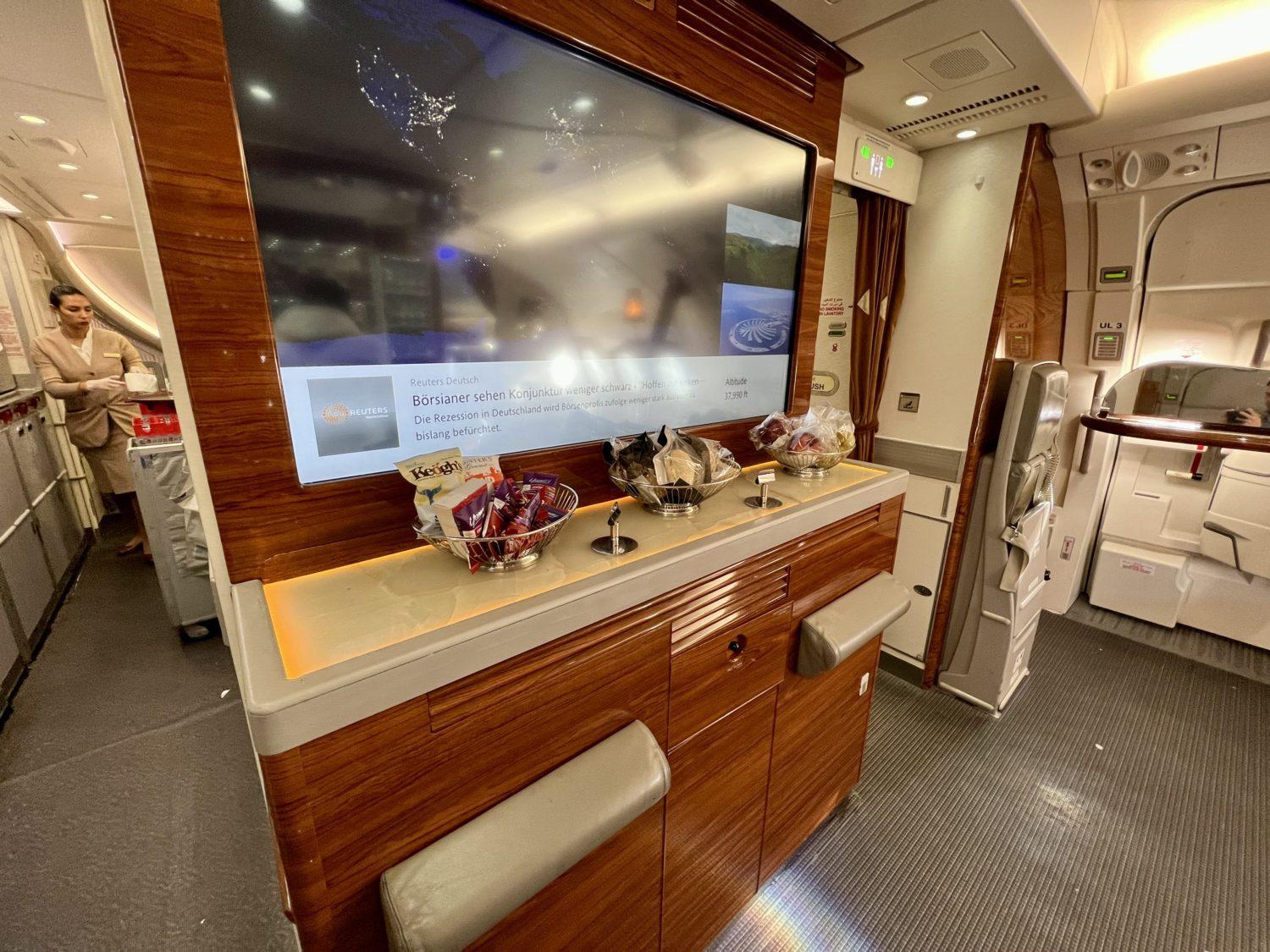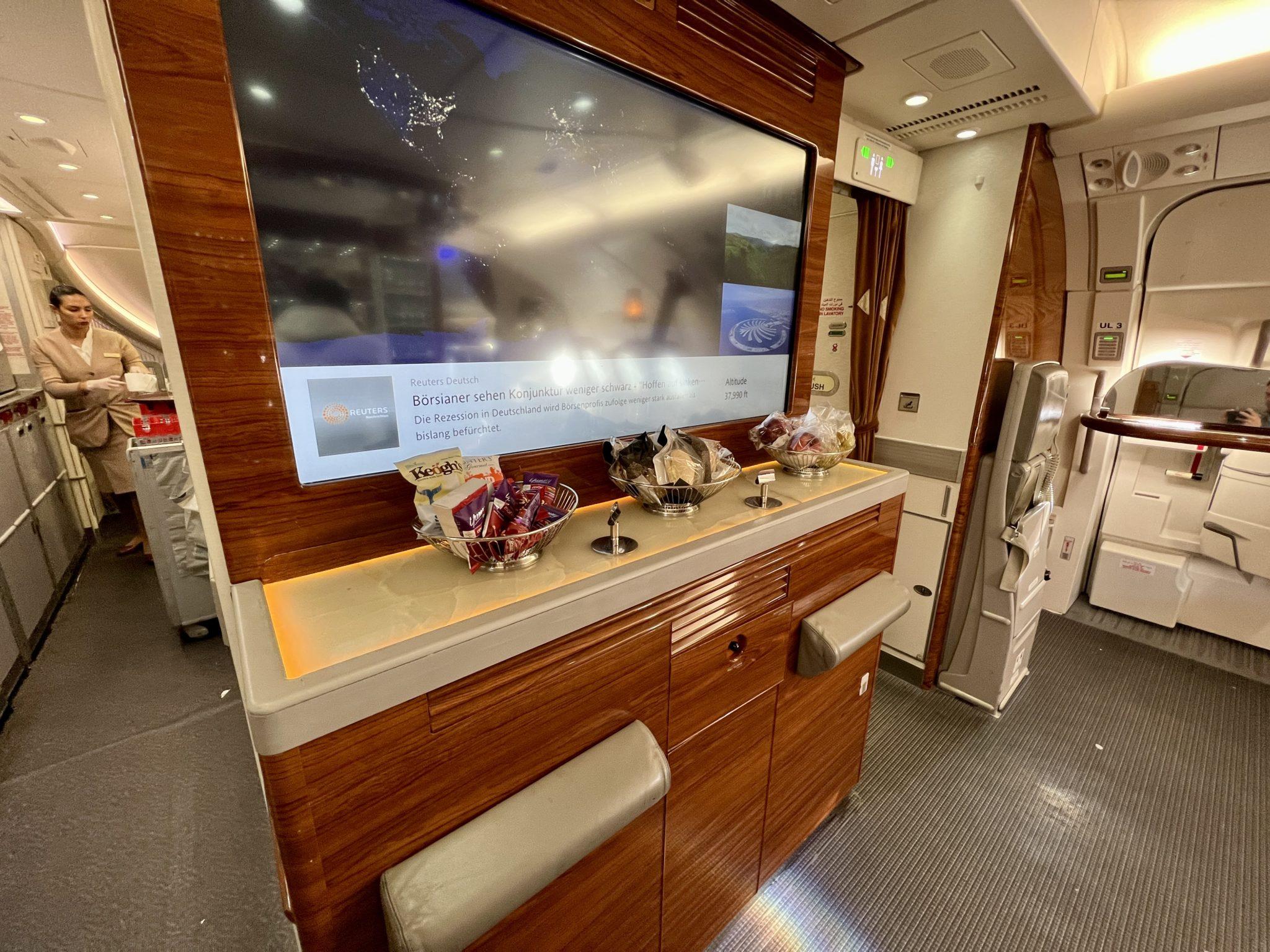 But the bar is the main attraction. Step up and order almost anything you want: A cocktail, wine, beer, or champagne. If you're flying up in Emirates First Class, a flight attendant will gladly offer to bring back a bottle of something more exclusive.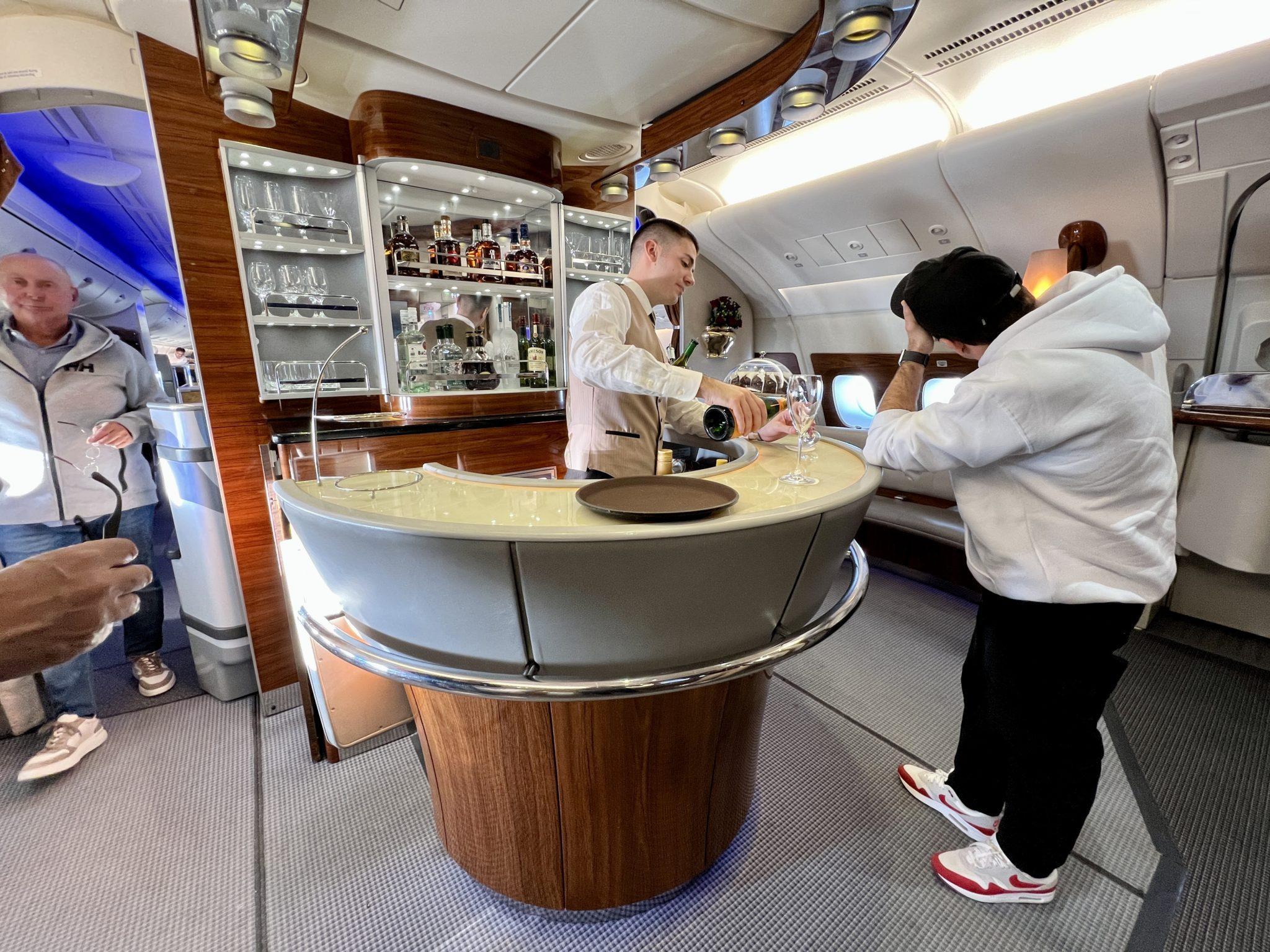 In addition to the small shelf of packaged snacks, you can grab something a bit more substantial to eat while relaxing in the lounge, which has its own menu.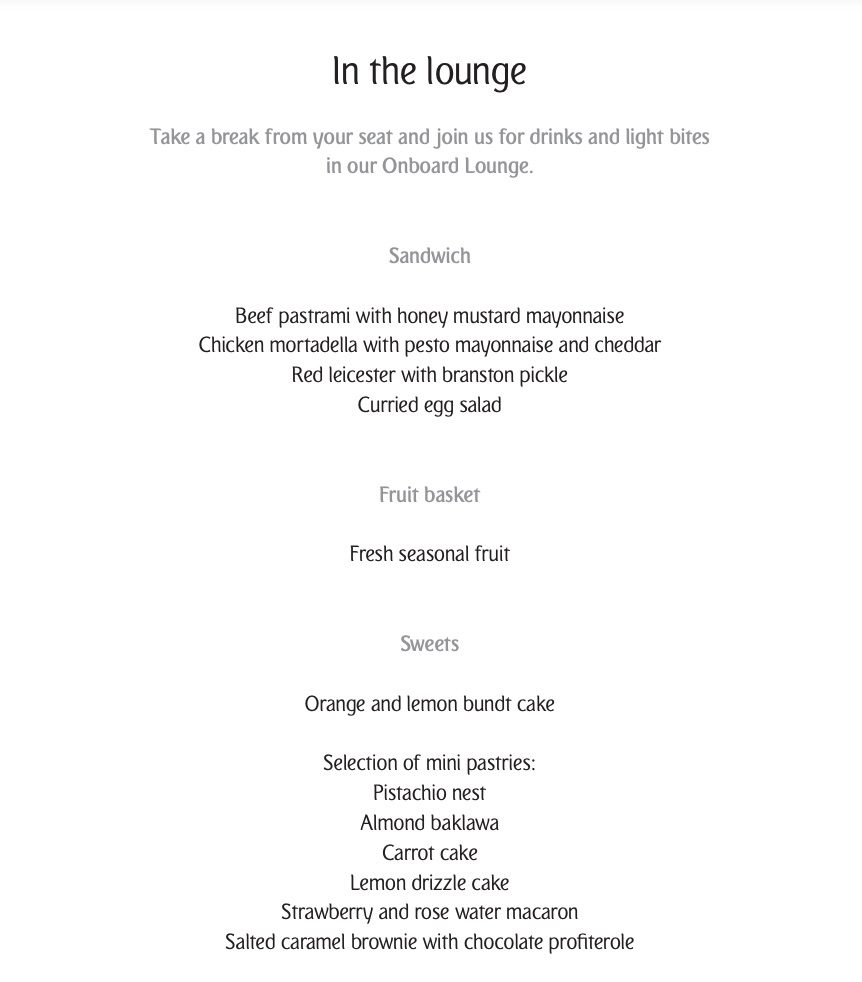 Emirates Business Class Seats
After a drink (or three – no judgment) at the bar, stumble back to your seat.
I chose seat 16A, a solo seat positioned closer to the window located roughly in the middle of the larger business class cabin. You'll never see more marbled, faux wood grain in your life.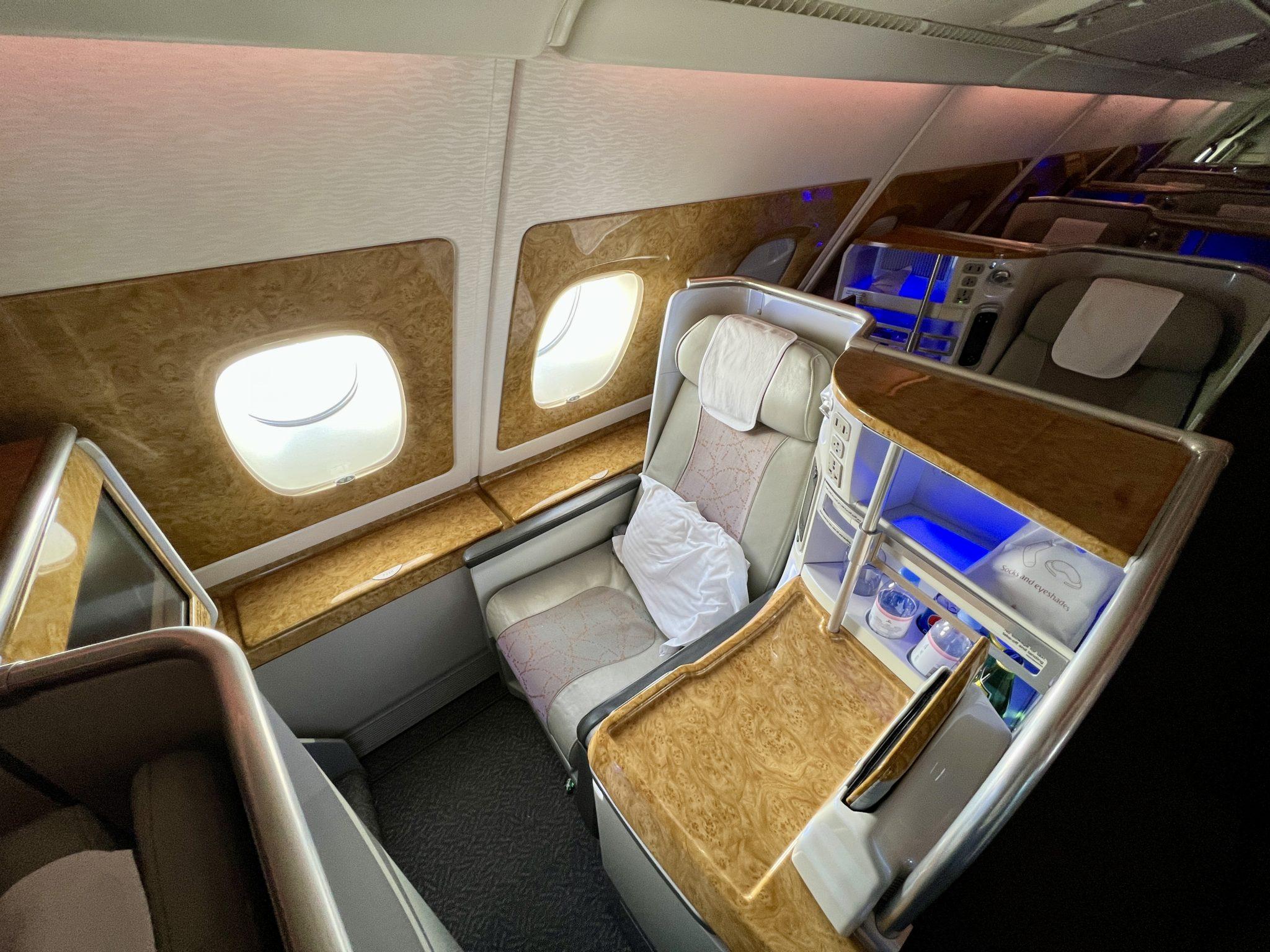 Outdated and over-the-top looks aside, this is a great, comfortable business class seat. No matter where you're sitting, each one measures in at 18 1/2 inches wide. While that's not the biggest business class seat you'll find in the sky, it felt wider and plenty spacious to me. You'll get 70 inches of legroom when reclined into lie-flat mode.
Sitting down, the seat itself felt … well, fairly stiff. While I certainly wouldn't call it uncomfortable by any stretch, the seat could use some better padding. There is, luckily, a pretty well-padded headrest.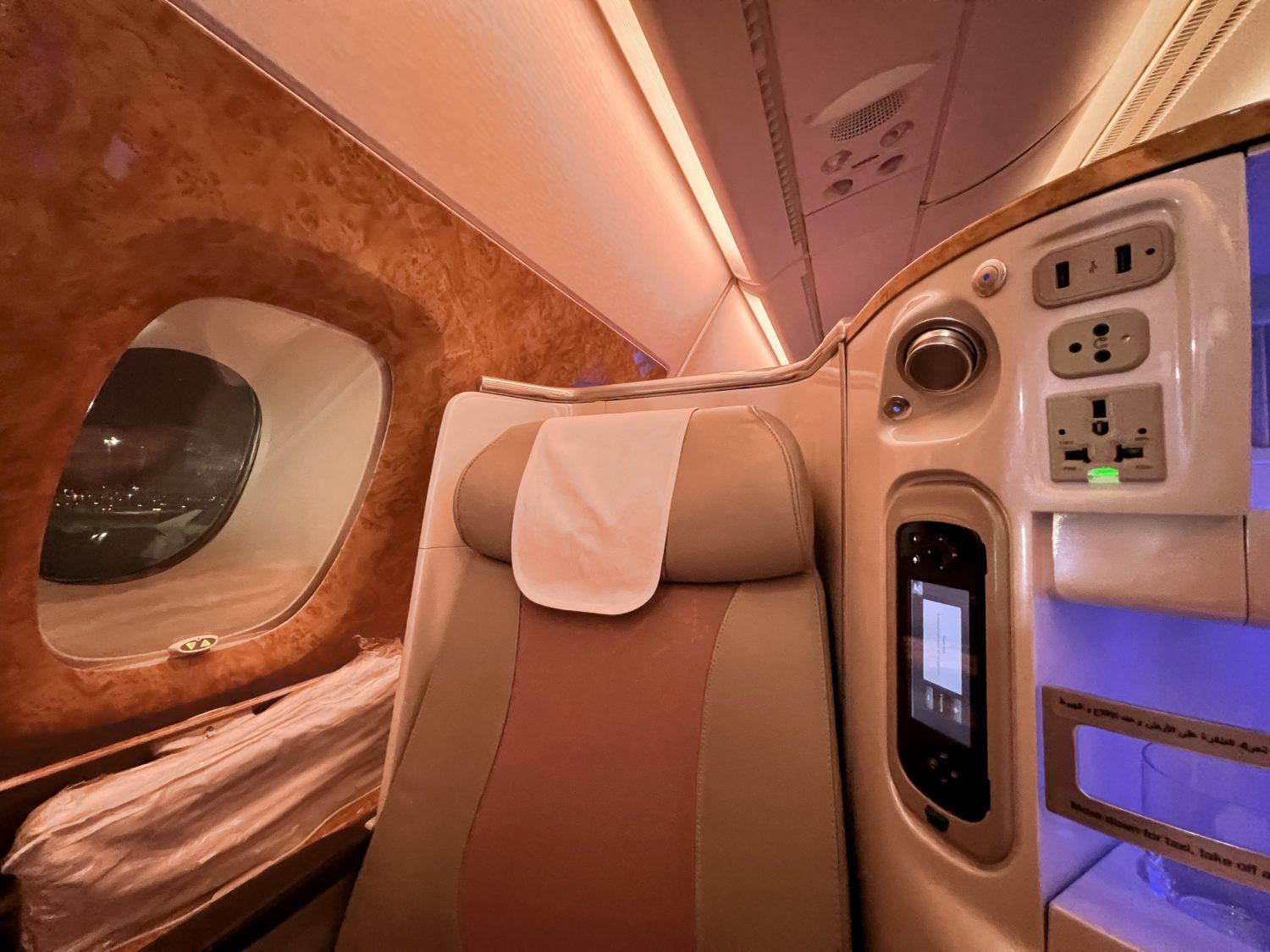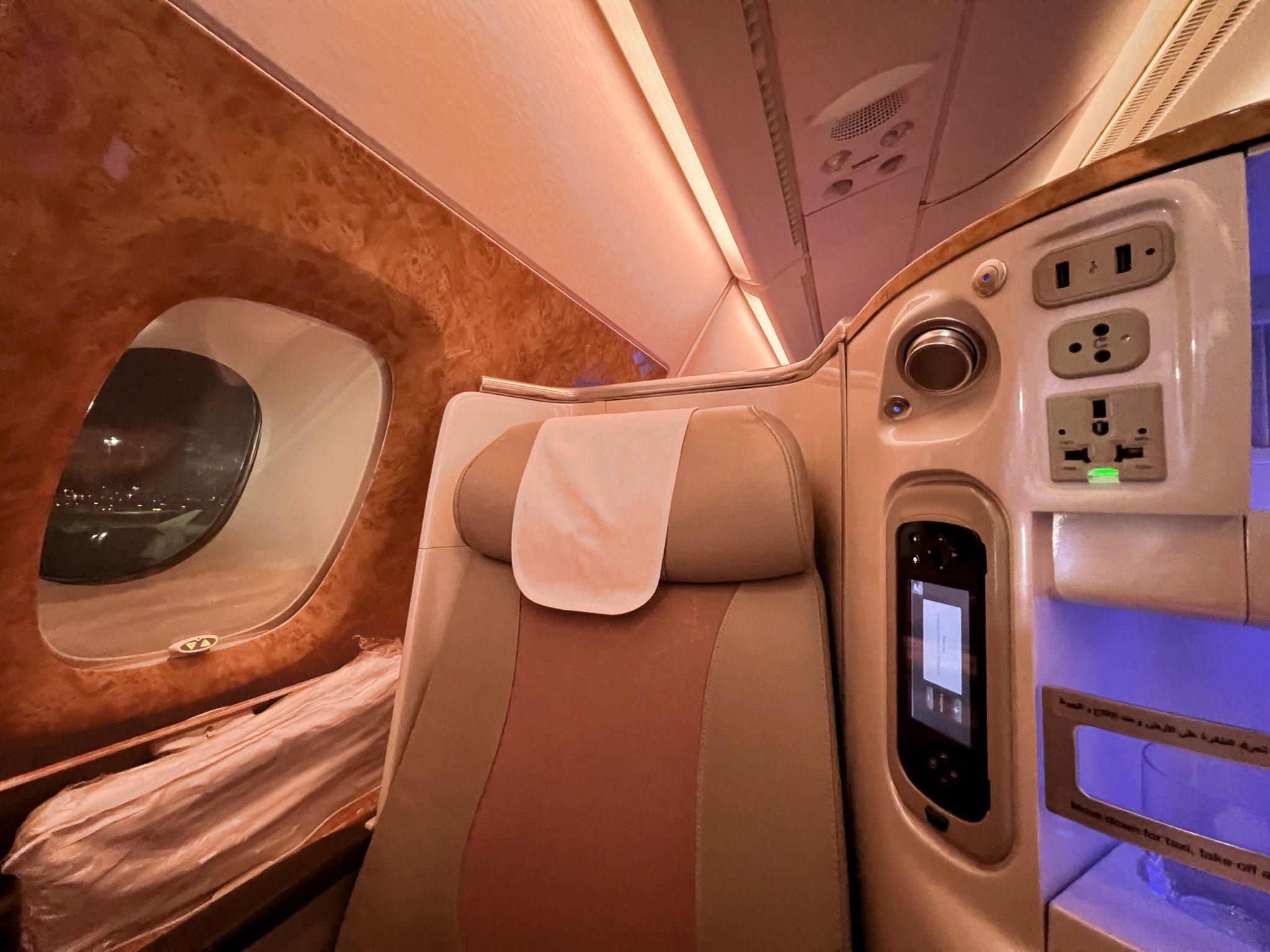 Looking ahead, your feet slide into a fairly small – though by no means too small – footwell cradled into the seat in front of you. While it certainly could have been bigger, it felt wide and long enough to me that my legs never felt constrained.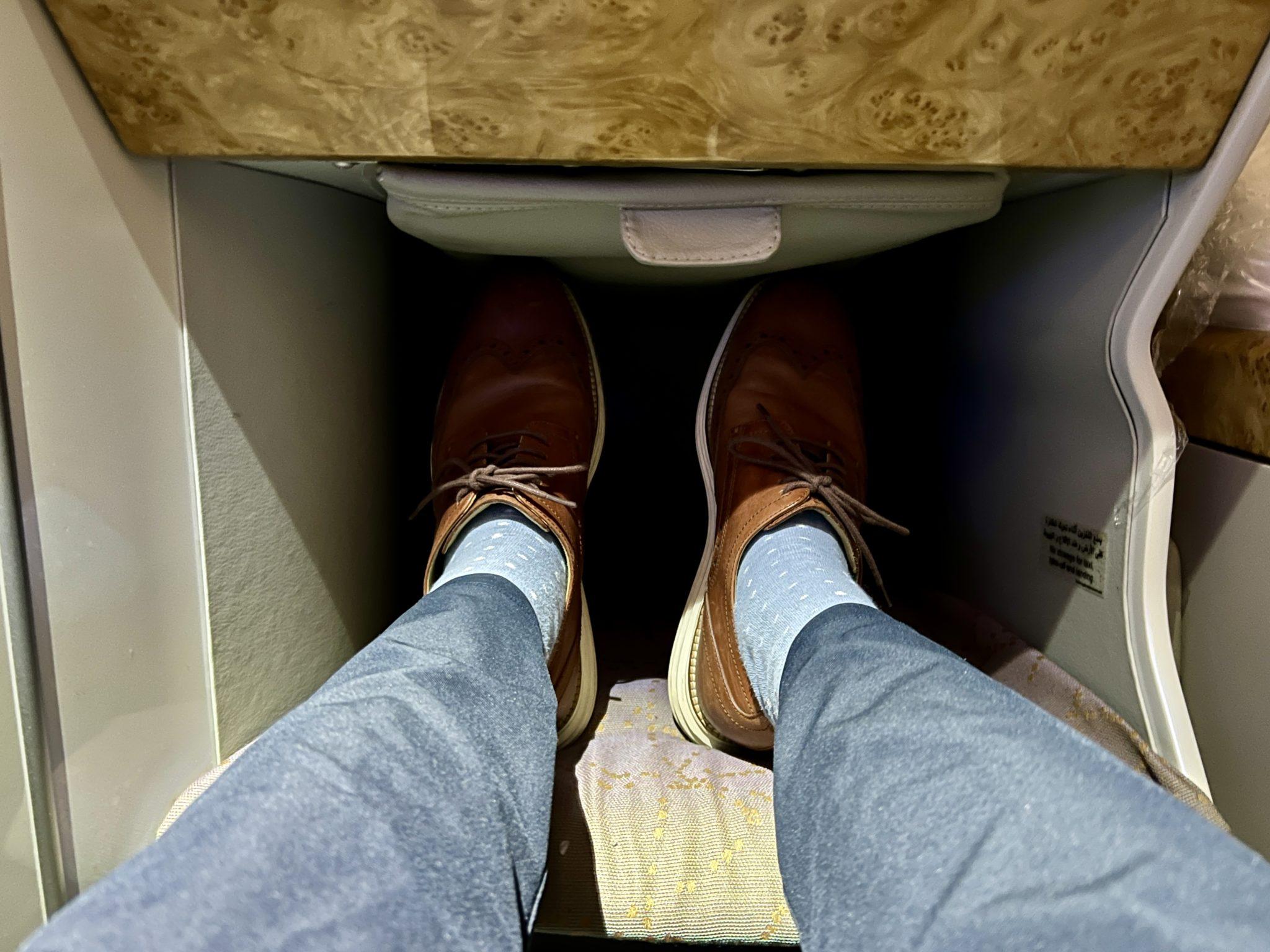 When it comes to privacy, there's certainly room for improvement in Emirates business class compared to the likes of Qatar's Qsuites or even United Polaris business class. While these seats closest to the windows are certainly the most private of the bunch, it still feels somewhat exposed to the bustle of the rest of the cabin.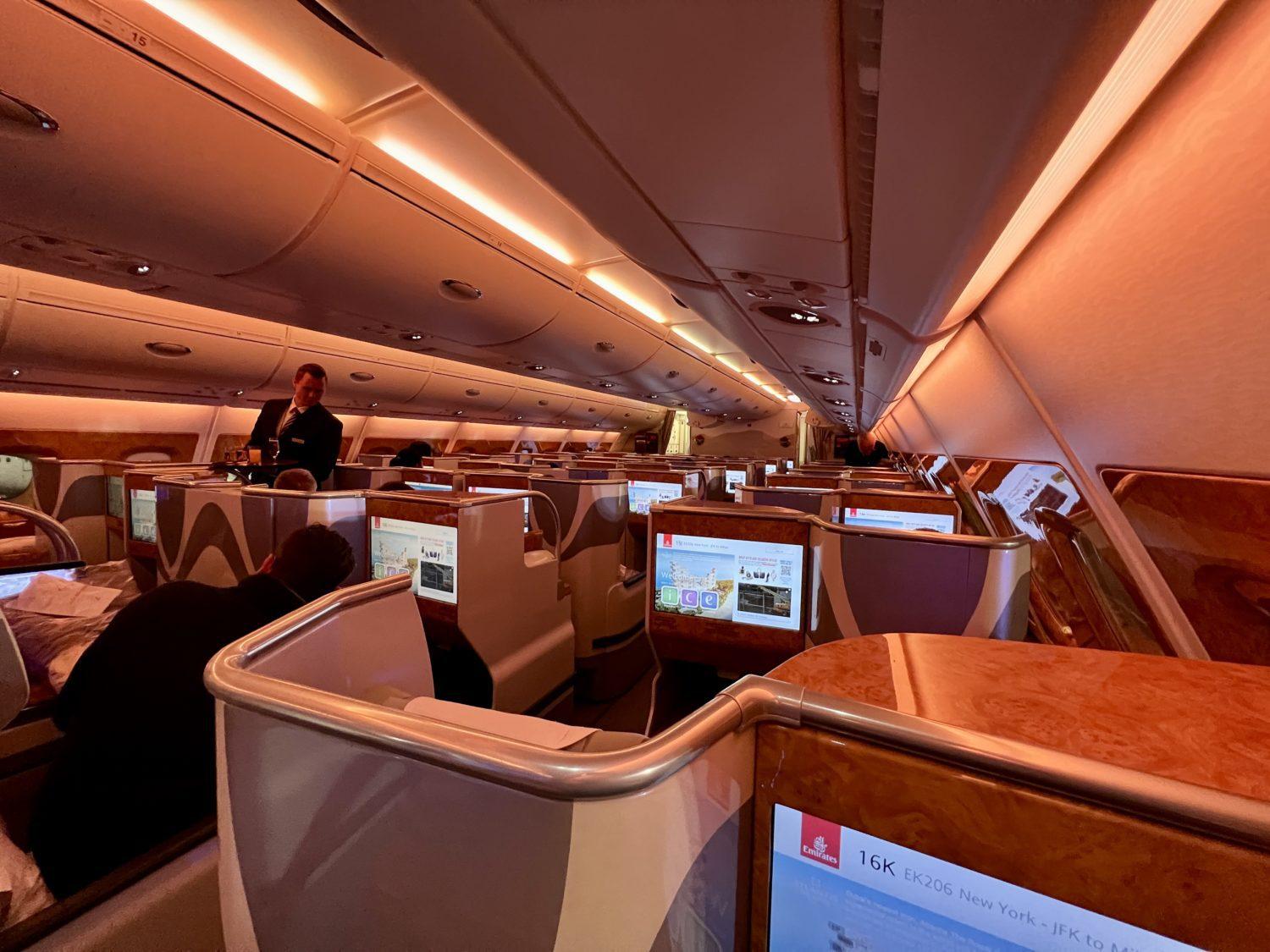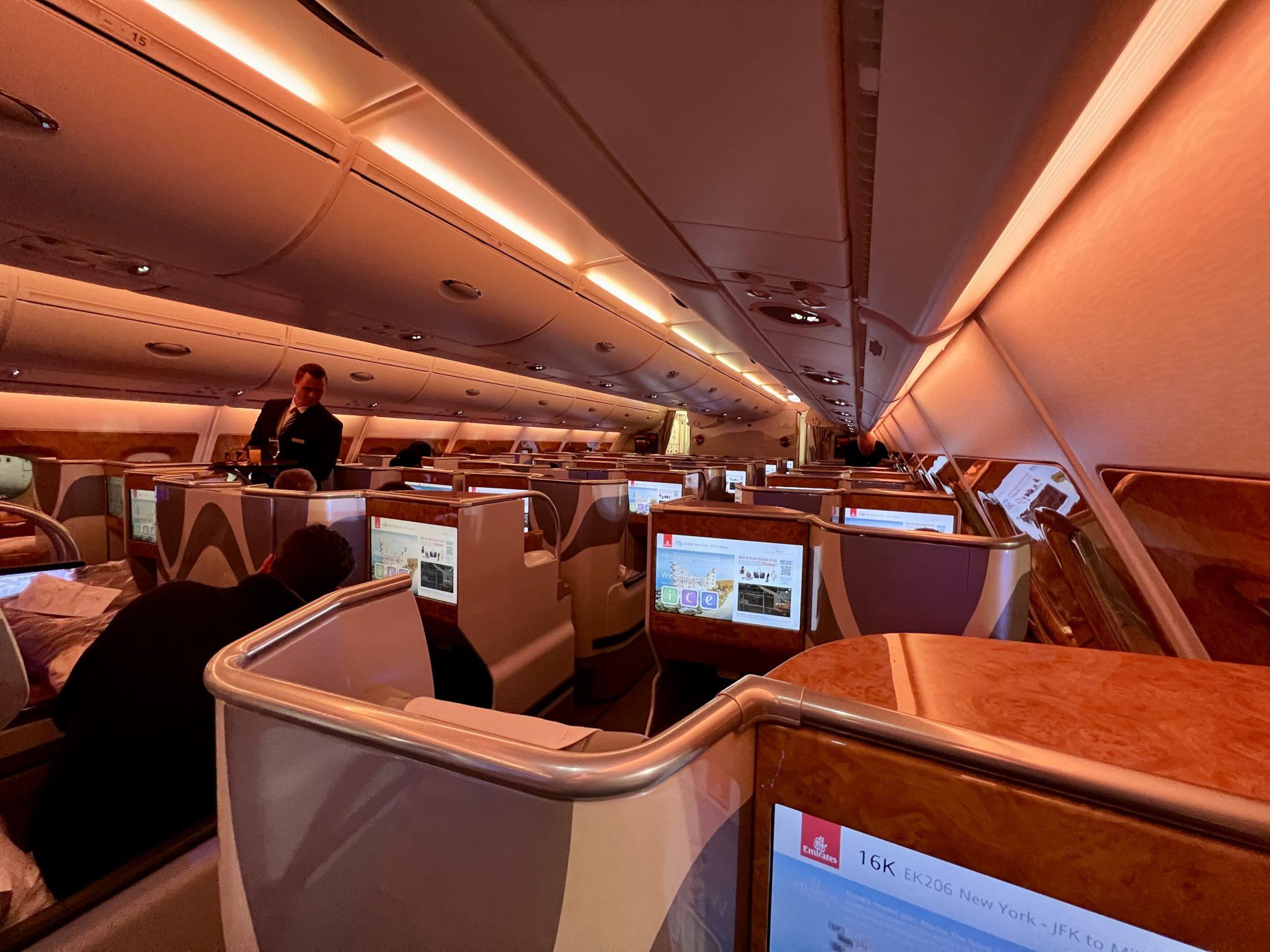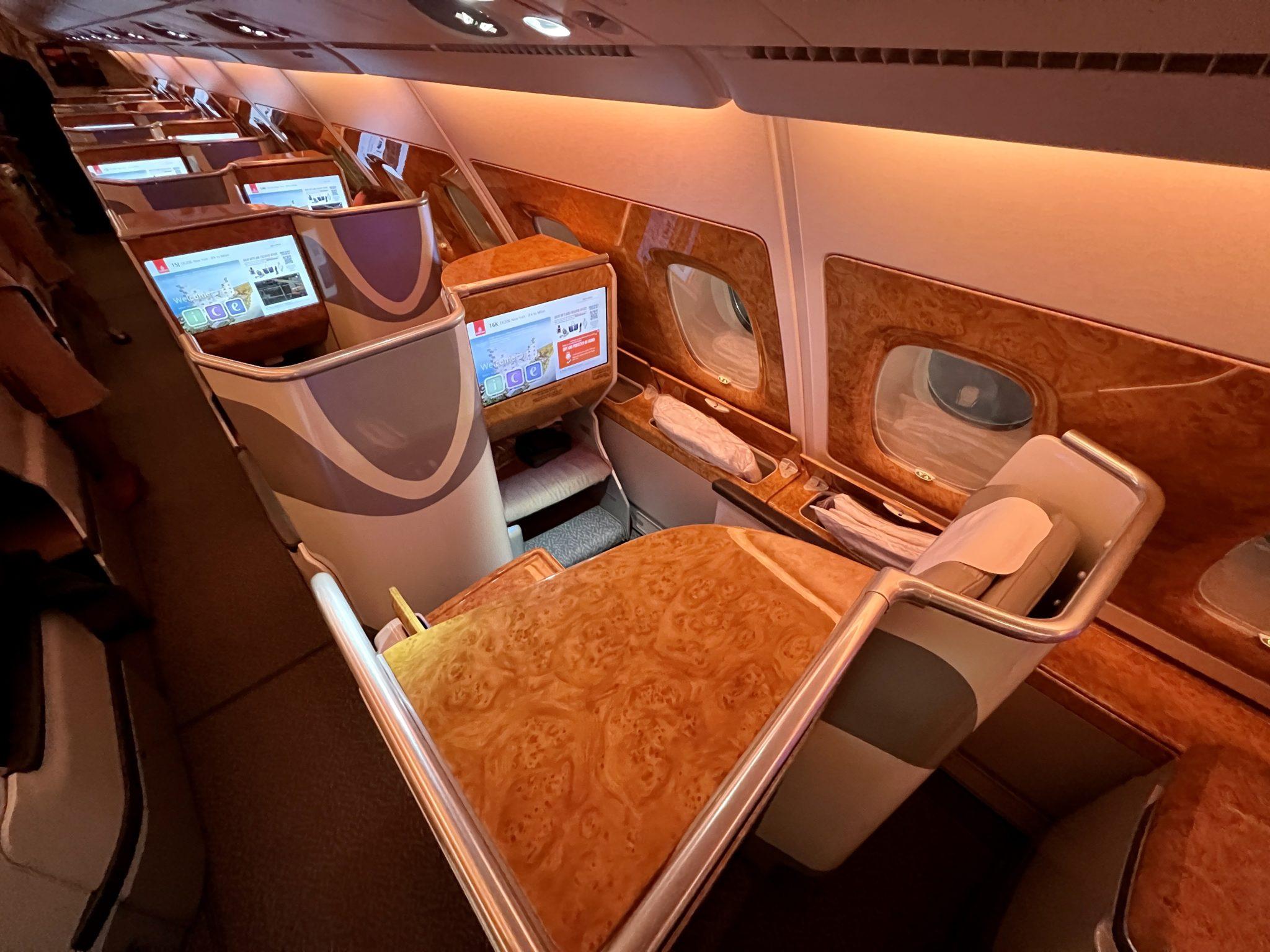 Don't get me wrong: Not every business class seat needs doors for privacy. But even a quick, easy fix would make a big difference, like using an actual privacy shield rather than a metal grab bar along the aisle.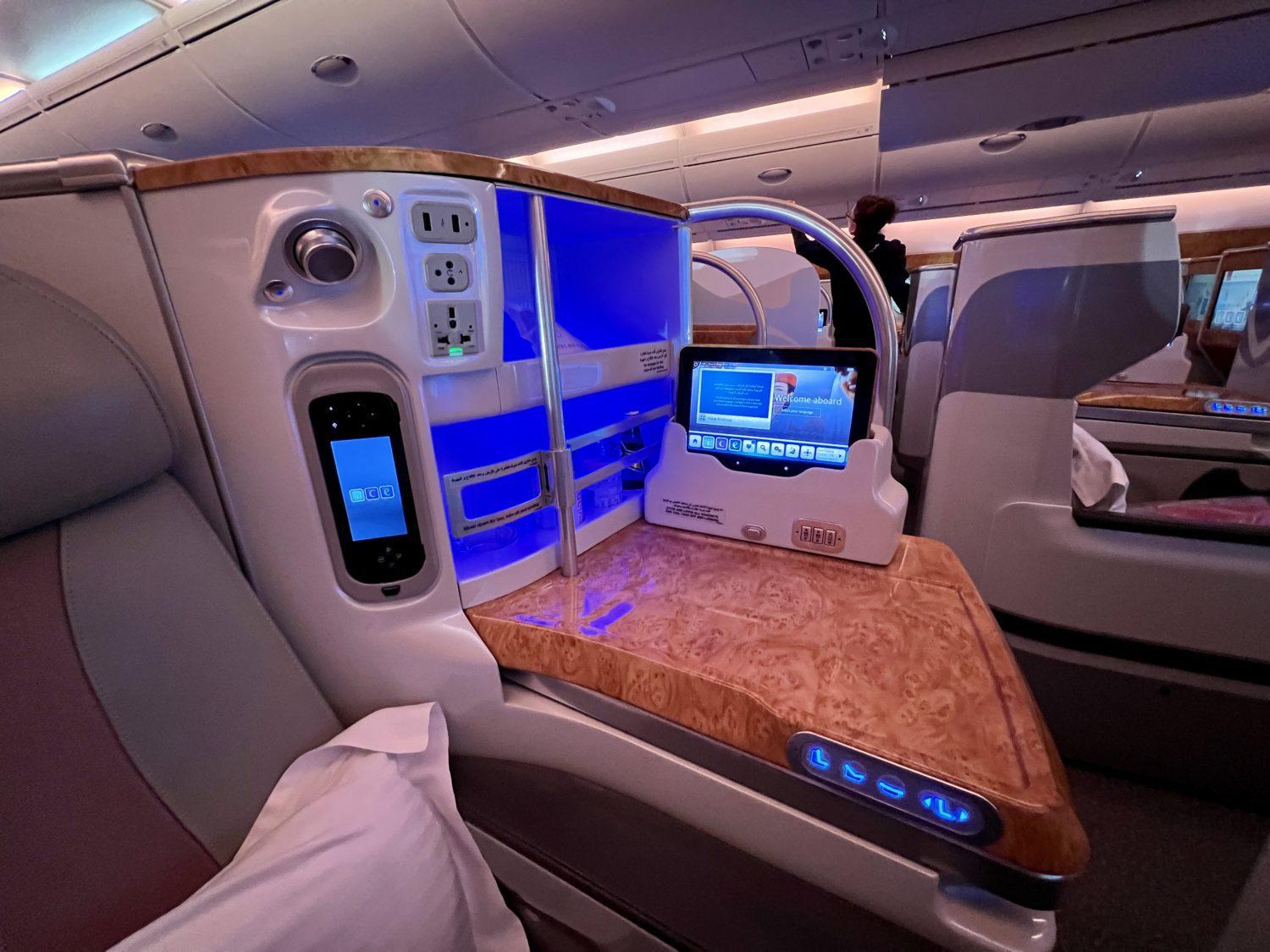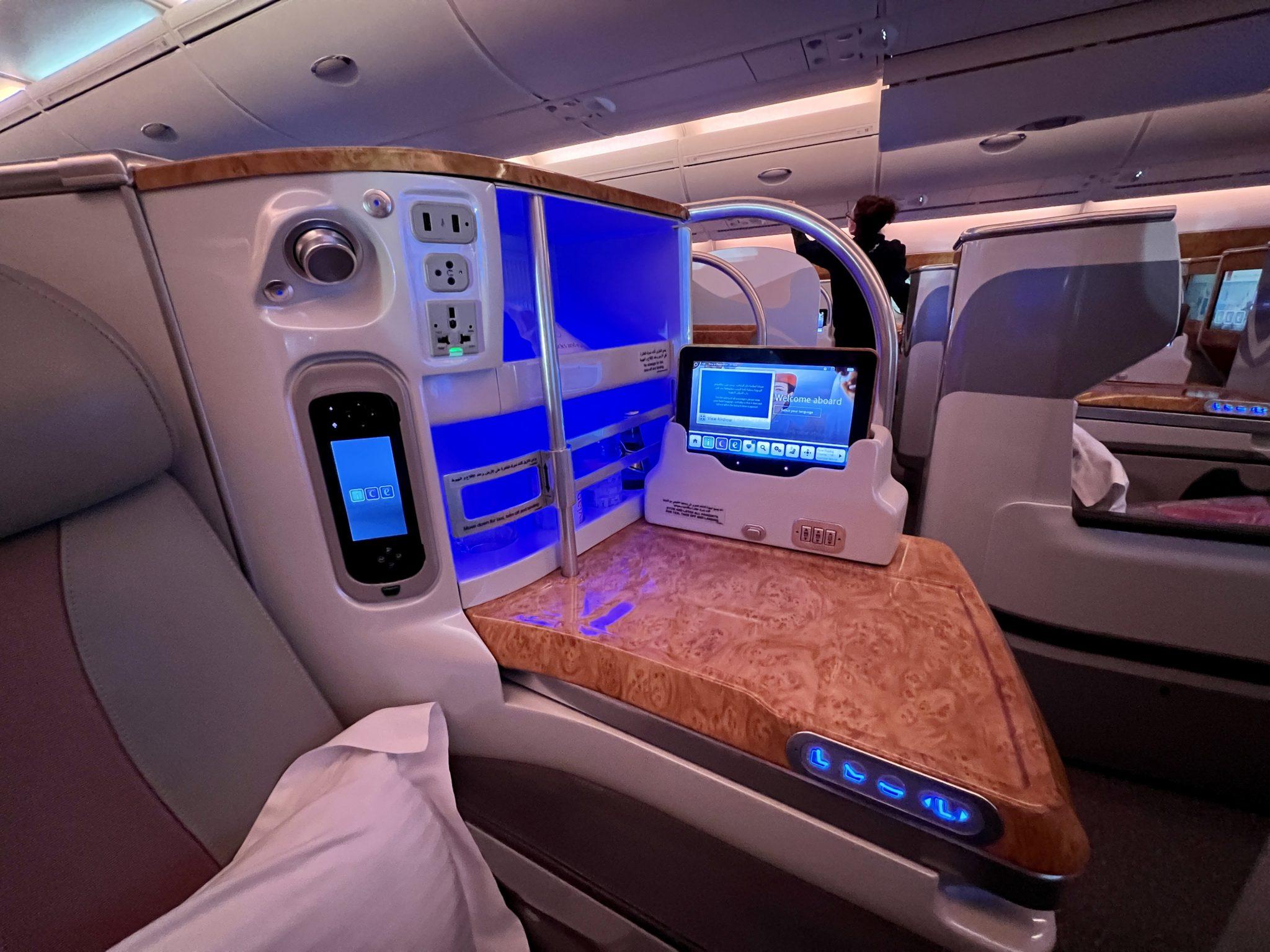 But just being separated from the aisle by the storage console helps. Over on that side, you'll find a few of the novelties that set this seat apart from others. It starts with your own mini-bar – just don't call it a cooler, as it's not refrigerated. Though a bit odd, it's great to have three bottles of water (two still, one sparkling Perrier) at the ready.
Just lift slide the metal bar up and grab what you'd like. There's also a storage compartment above, which is a good spot to stow an amenity kit, headphones, or other items.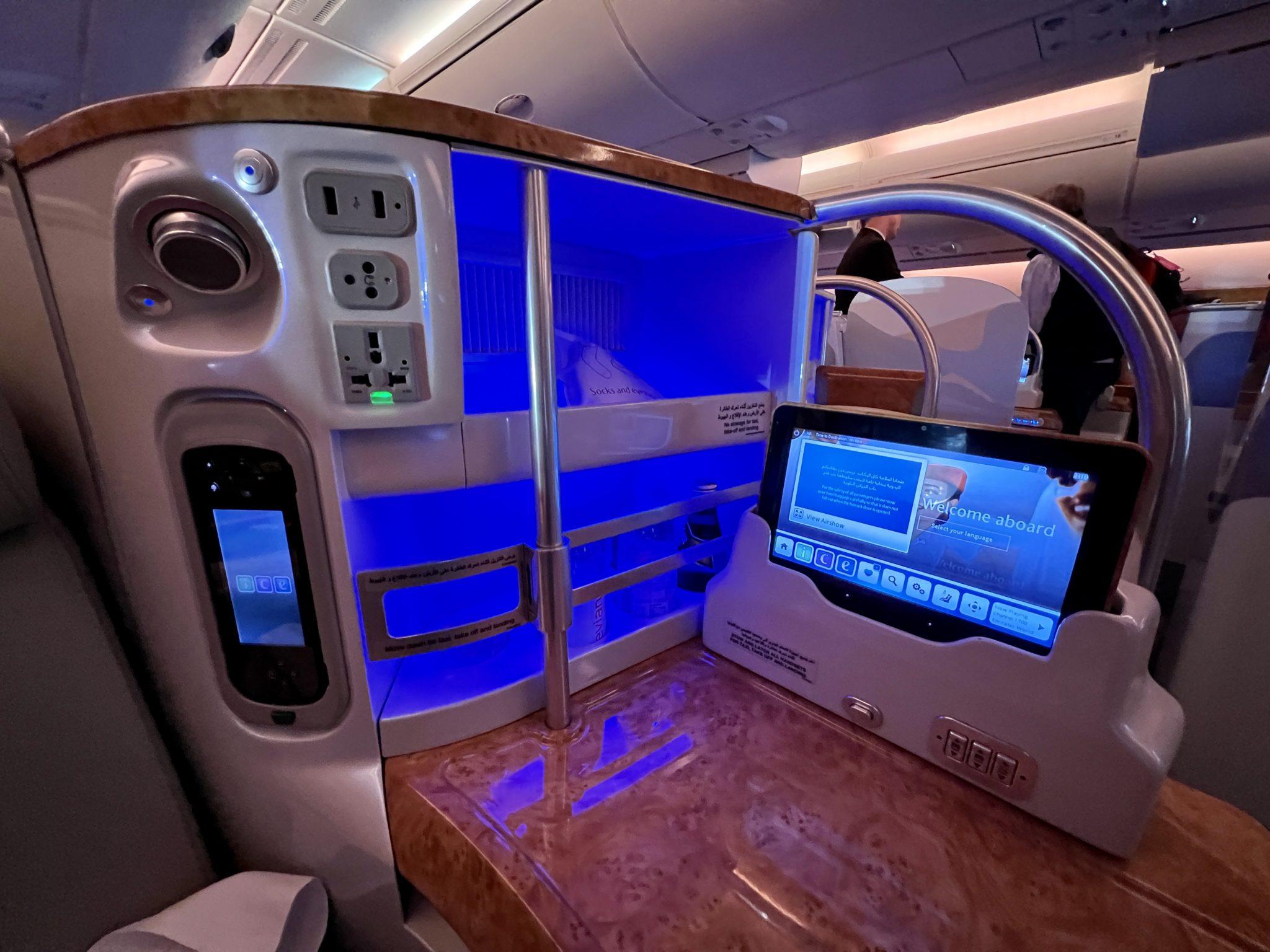 In addition to a touchscreen monitor and a wired remote, there's a tablet at each and every seat which you can pop out at the touch of a button and use to control almost everything at your seat: recline, sit up, massage, lighting, entertainment, maps, and more.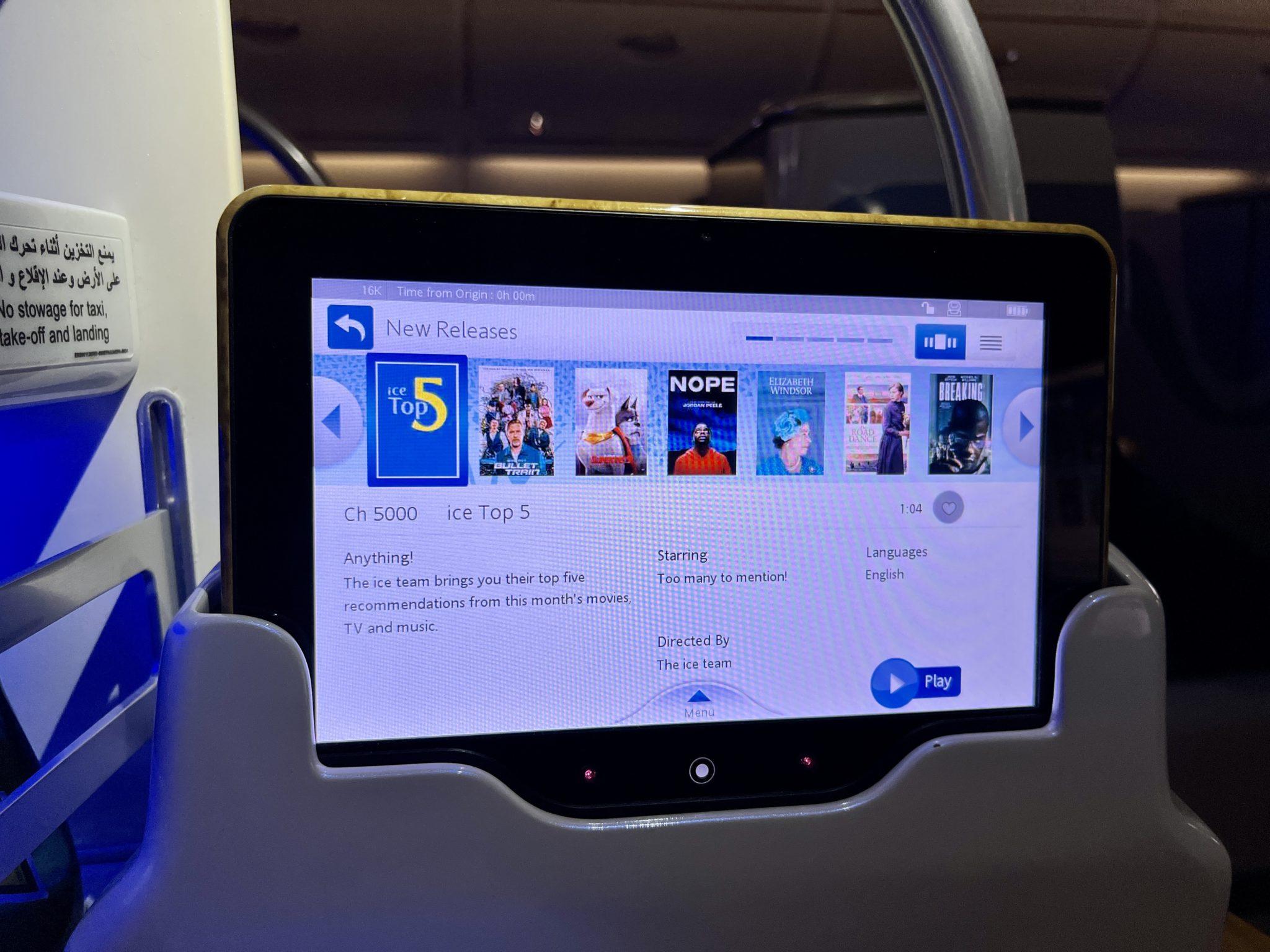 Closer to the seat itself, you'll find almost everything else you'll need: A few USB outlets as well as an international power socket, headphone jack, a reading lamp, and a wired remote. My one qualm with this setup is that it's quite easy to nudge the remote (and thus pause or rewind whatever you're watching) with your shoulder.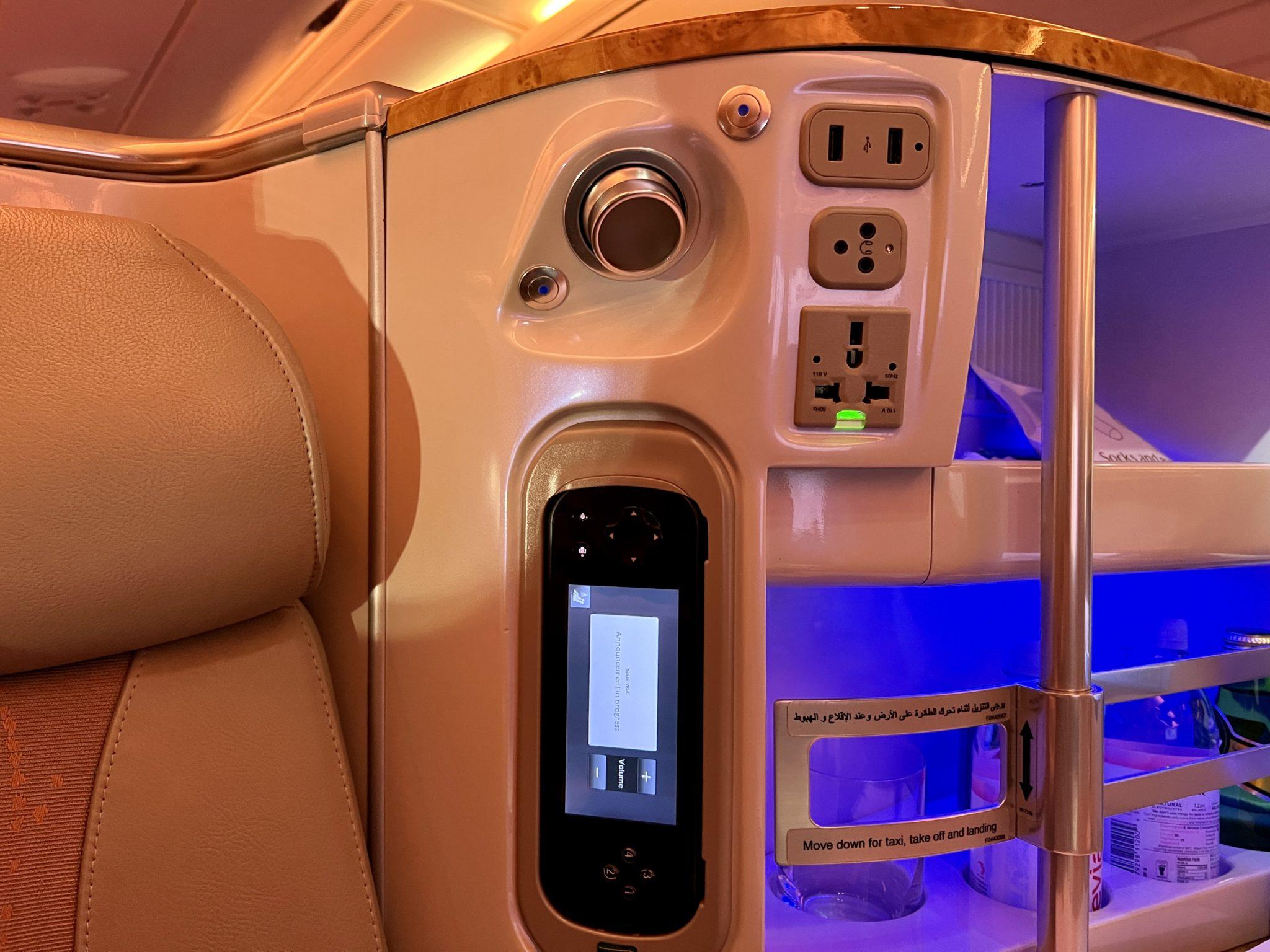 Along the console table, there's a simple set of seat controls which you can simply press to recline or sit upright. There's also a button to scoot your seat forward or backward, which comes in handy when it's time to eat. Below that is the tray table, which pops out and slides back in with an almighty shove.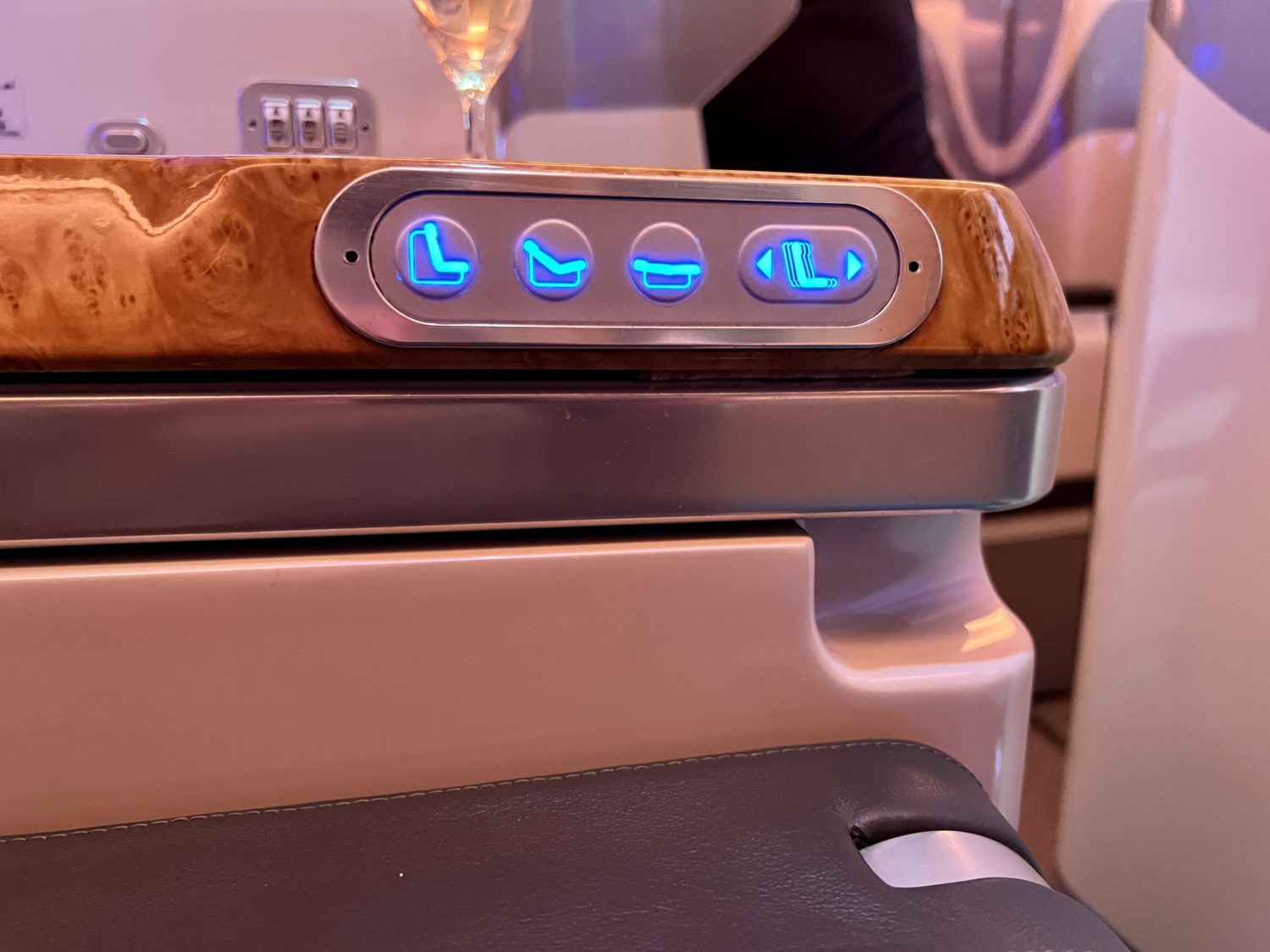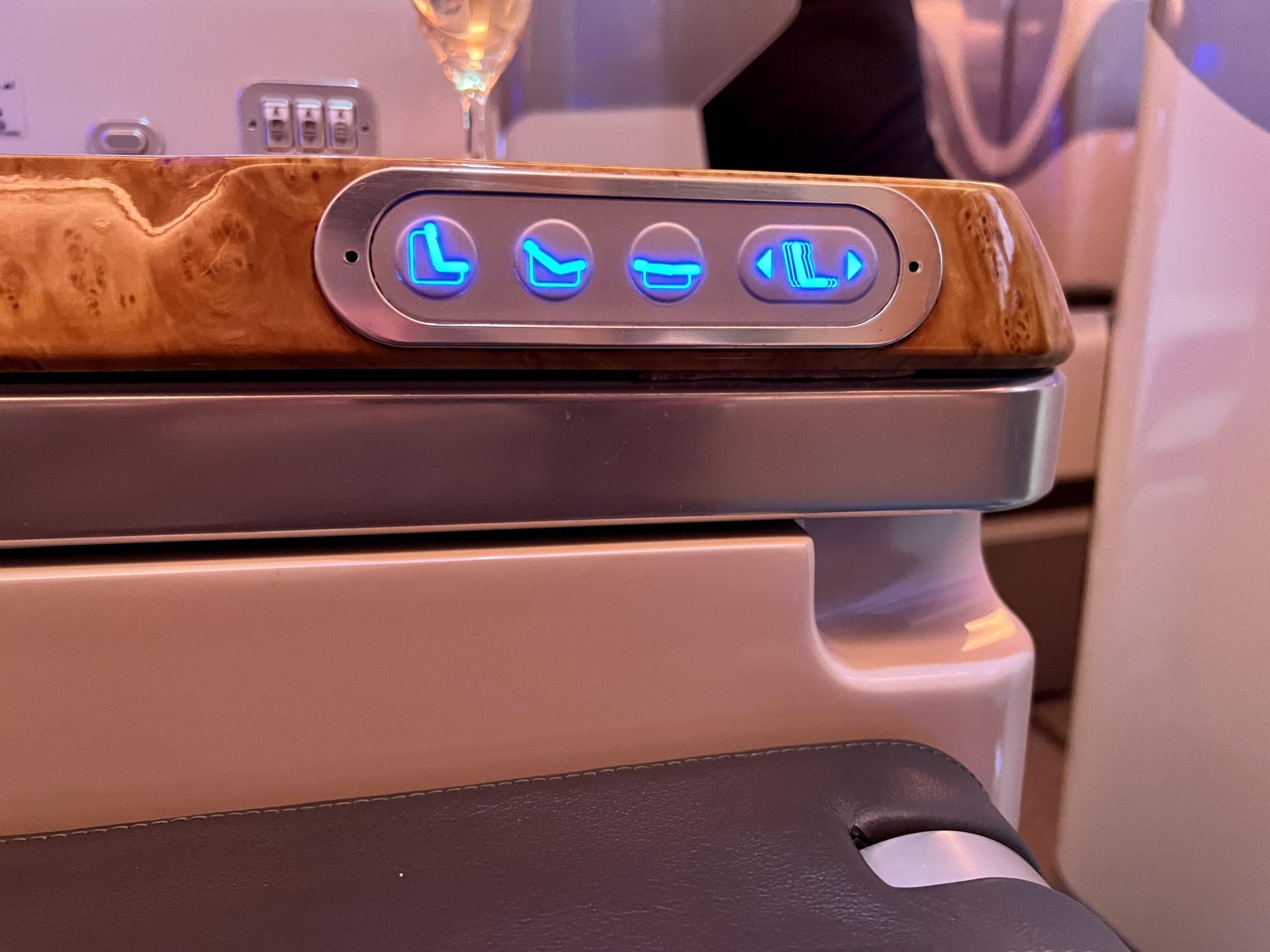 But the most astounding feature of these Emirates business class seat was the amount of storage. Thanks to the curvature of the A380s fuselage on the upper deck, there's a lot of room along the windows that can't be used for much … but boy, did Emirates use it: Massive storage compartments on the side of the seat.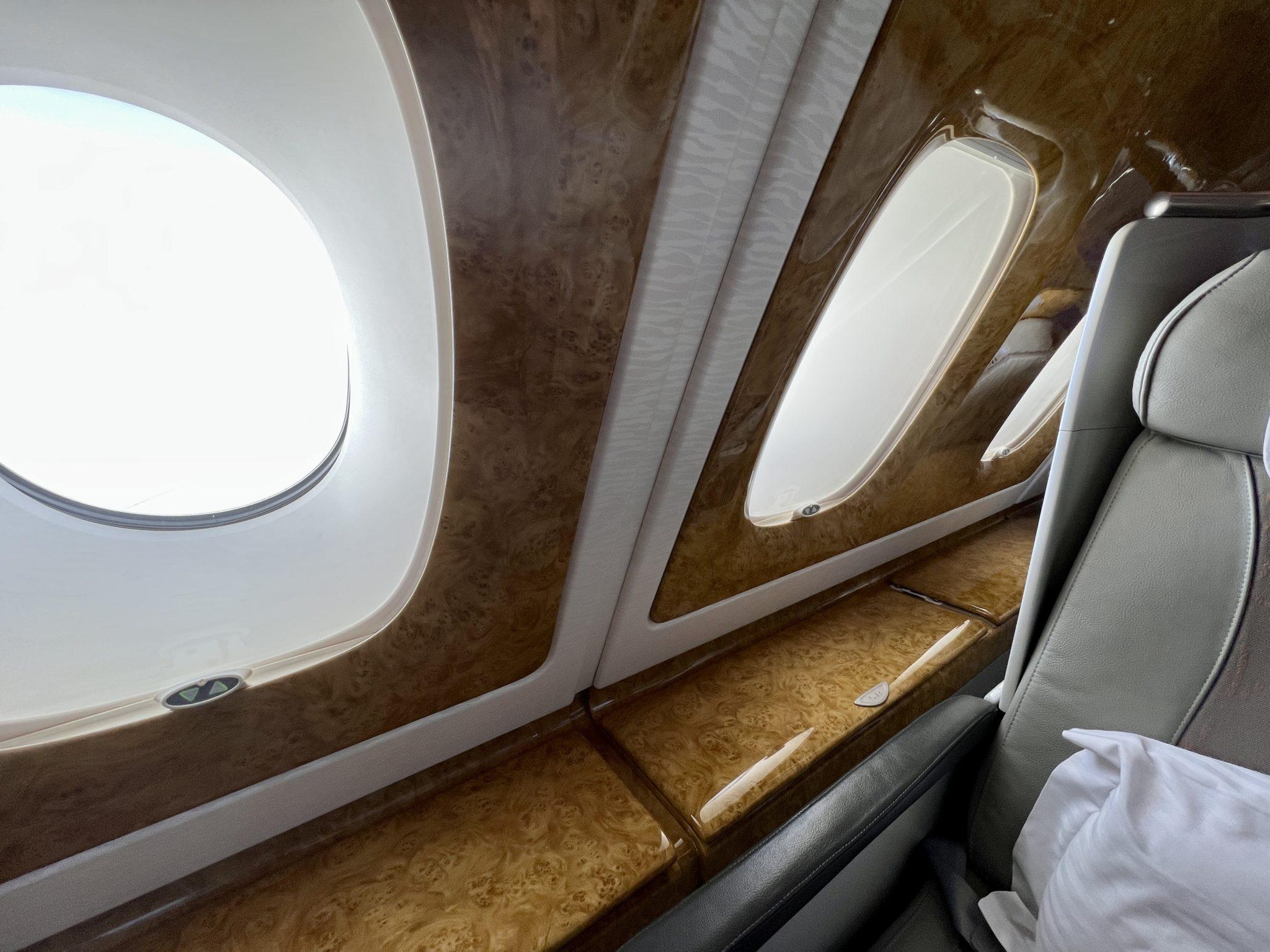 And when I say massive, I mean it: Each of these compartments is deep. Whether you've got a change (or three) of clothes, a bag full of toiletries, laptop, backpack – you name it, it can fit. Depending on which seat you're in, you might have two or even three of these compartments at your disposal. Combined with the overhead storage bins for luggage, it's the most storage I've ever seen in business class.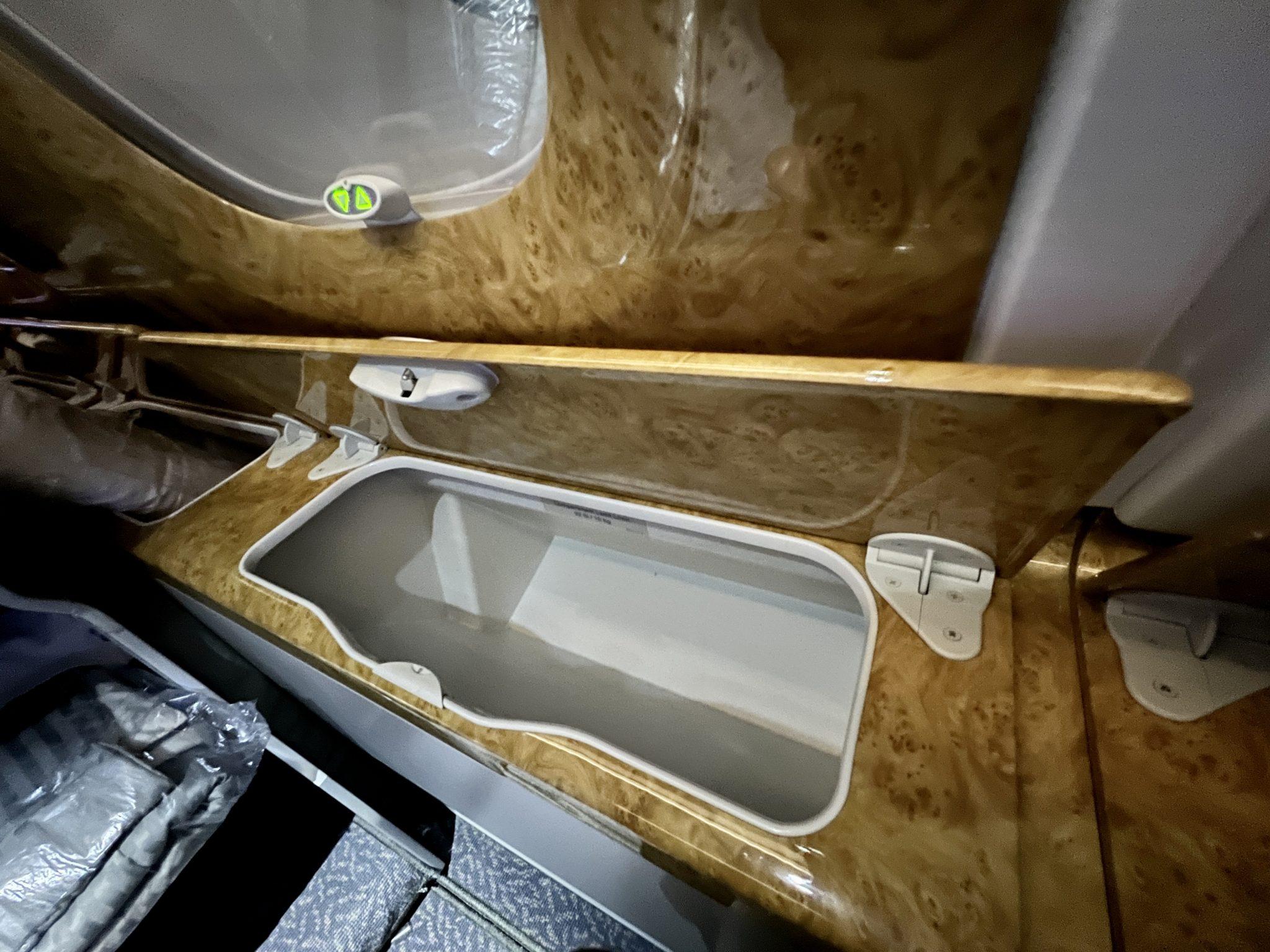 When I arrived at my seat, these storage cubbies were stuffed full of mattress pads for the seats.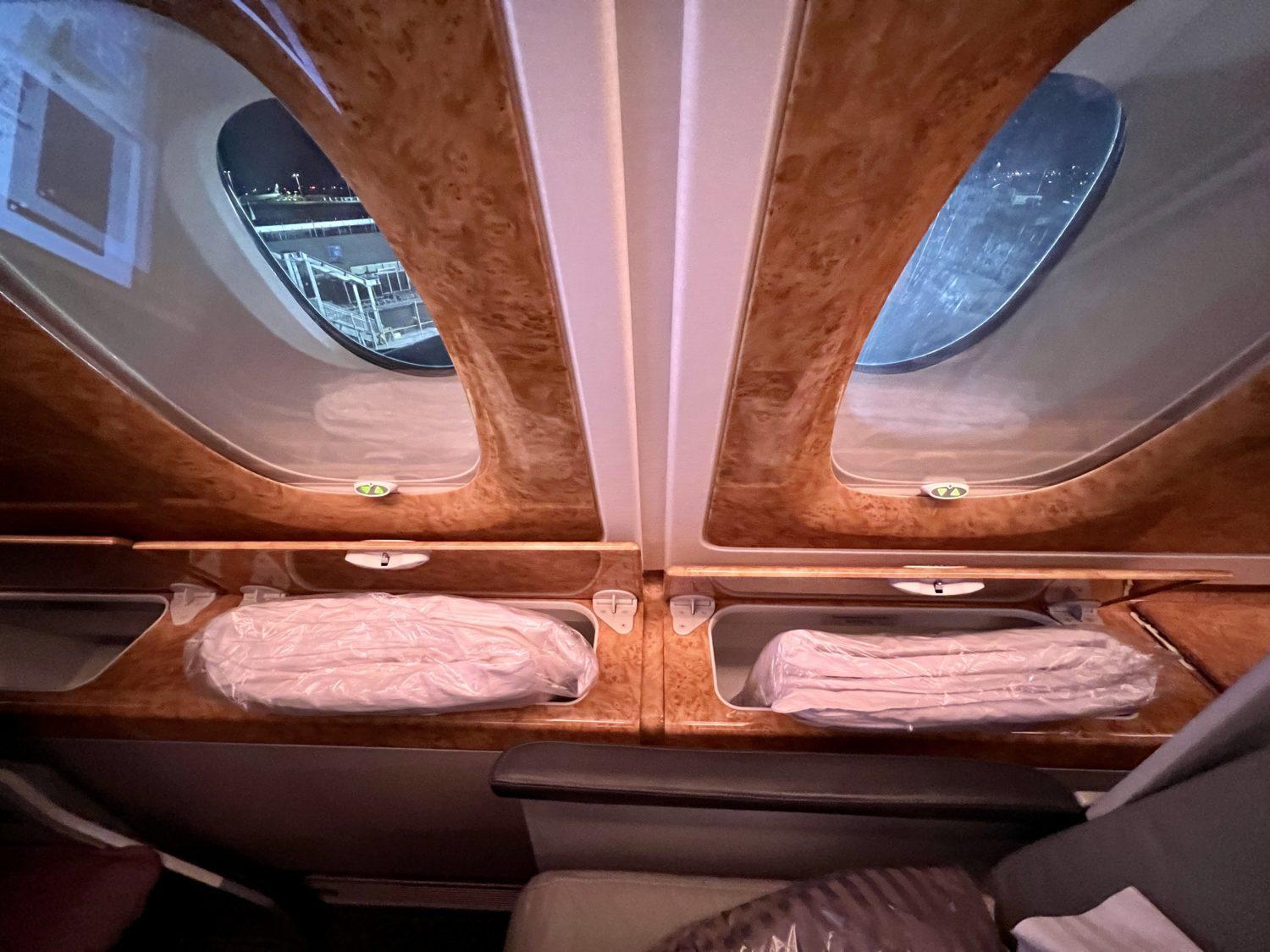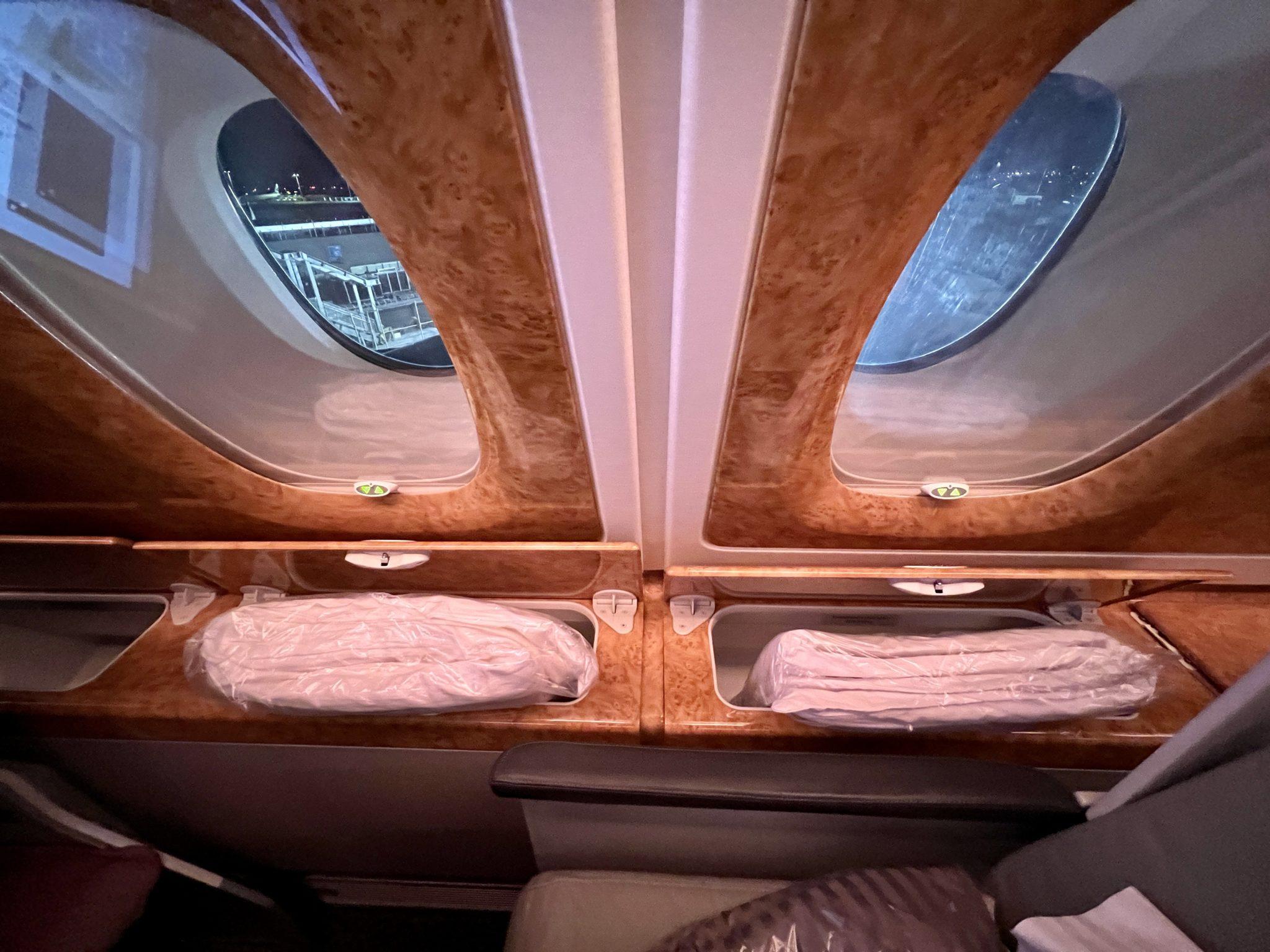 And I was grateful for that extra bedding. With the help of a flight attendant who offered turndown service shortly after dinner, those mattress pads transformed an otherwise fairly hard seat into a very comfortable bed.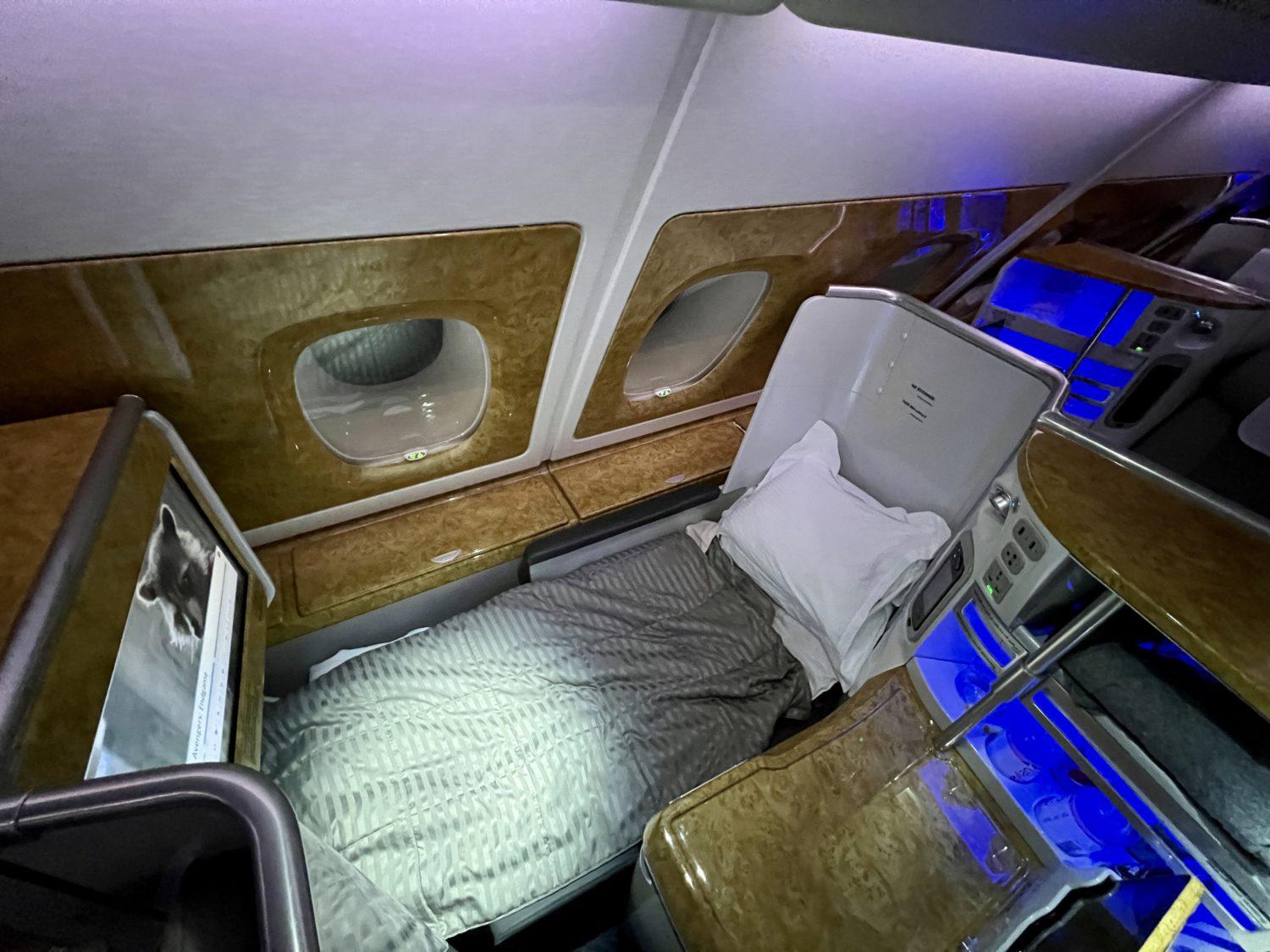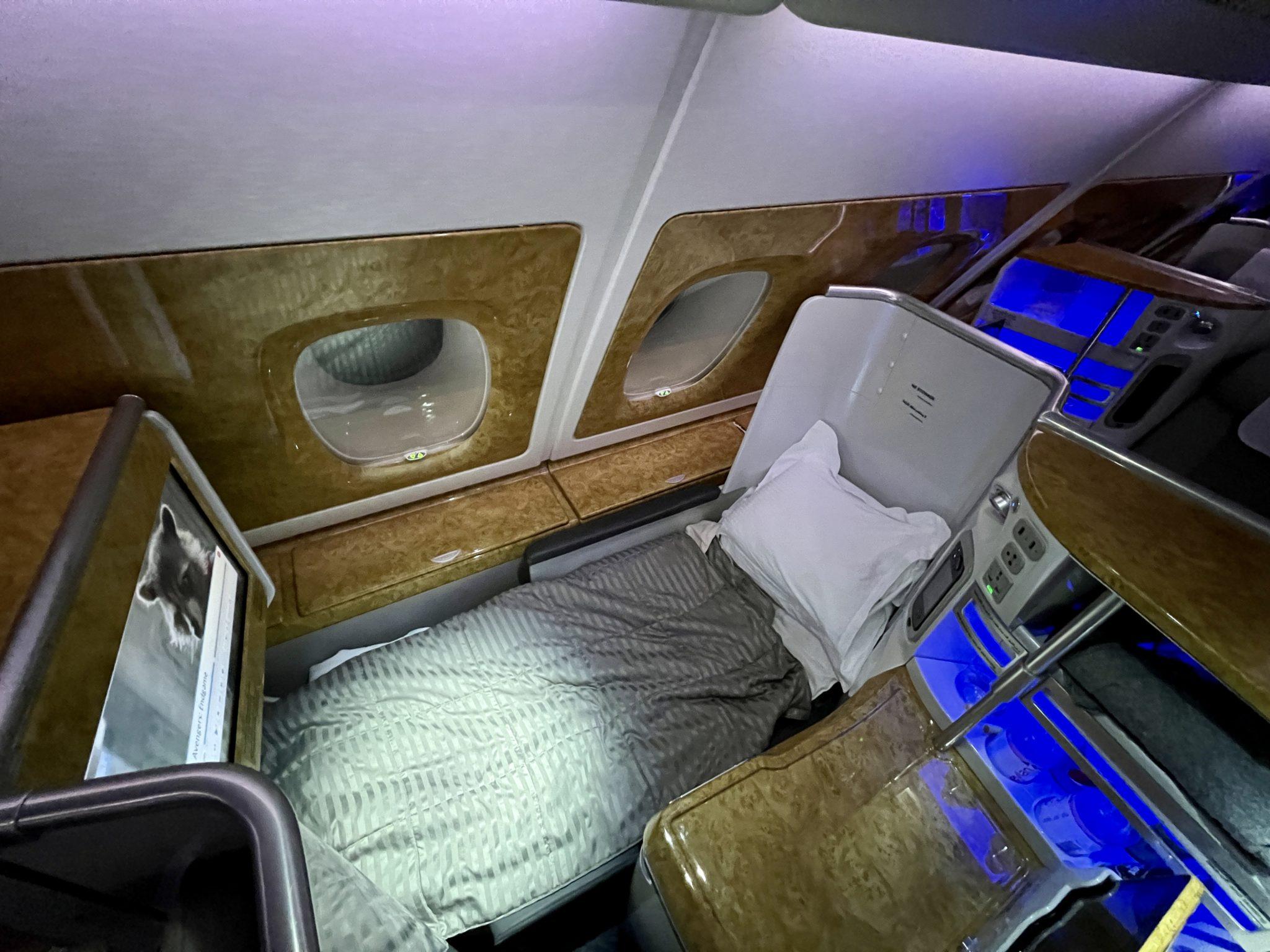 I slept great for three hours or so – about as much as you could hope for during a relatively short, overnight flight like this one. With overhead vents blowing some much-needed cool air and a starry sky over my head, it was a great setup for a nap.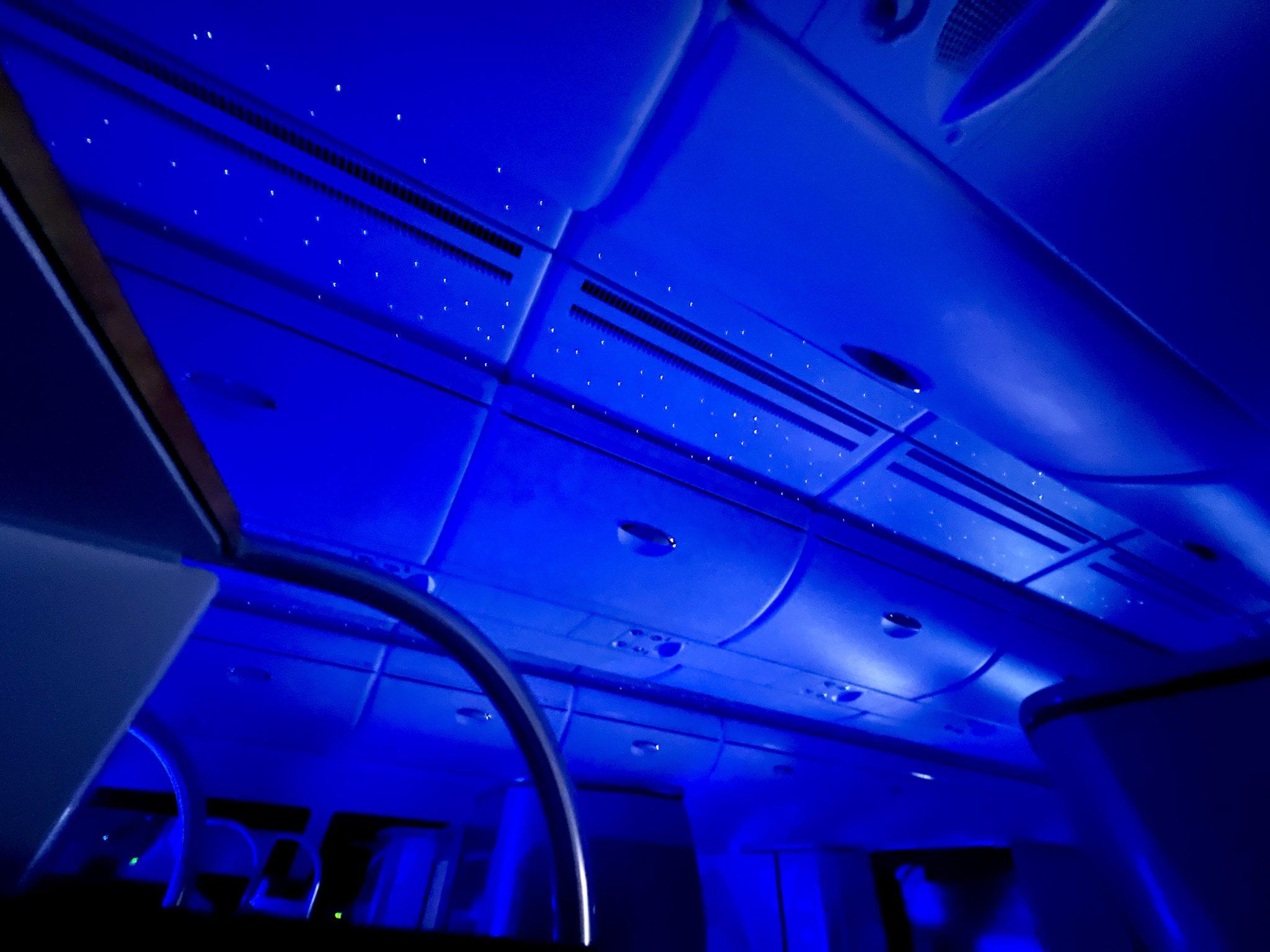 Amenities
The seats may need a bit of a facelift, but the extra amenities you get flying Emirates business class? Don't mess with a good thing, Emirates.
From the bedding to the amenity kit, the amenities onboard this flight to Milan were on par (or better) than any other business class flight I've taken. Each seat was fully stocked with goodies at boarding, including a great duvet and pillow, a set of headphones packaged in plastic, and that excellent mattress pad. There was also a small pouch in the storage console with an eye mask and pair of socks.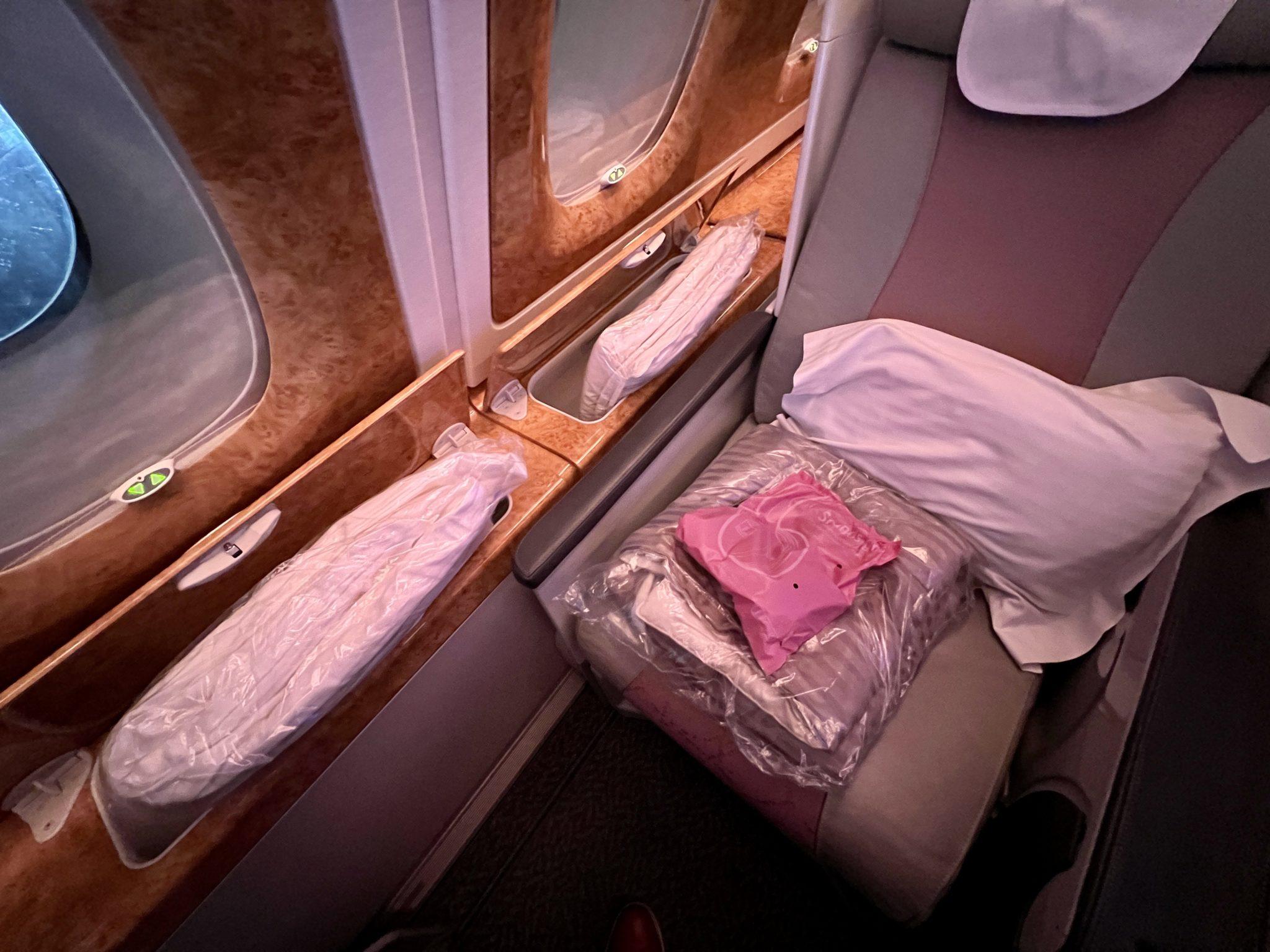 If there's a weakest link here, it was definitely the headphones … but that's not exactly a knock against them. Sure, they weren't Bose or Bang & Olufsen quality, but they were still among the nicest headphones I've had flying business class. The noise cancellation wasn't outstanding but they were comfortable with good sound quality.
It's yet another instance where Emirates clearly has to save the special stuff for passengers flying up front in first class. But really, this is about as good as it gets in business class.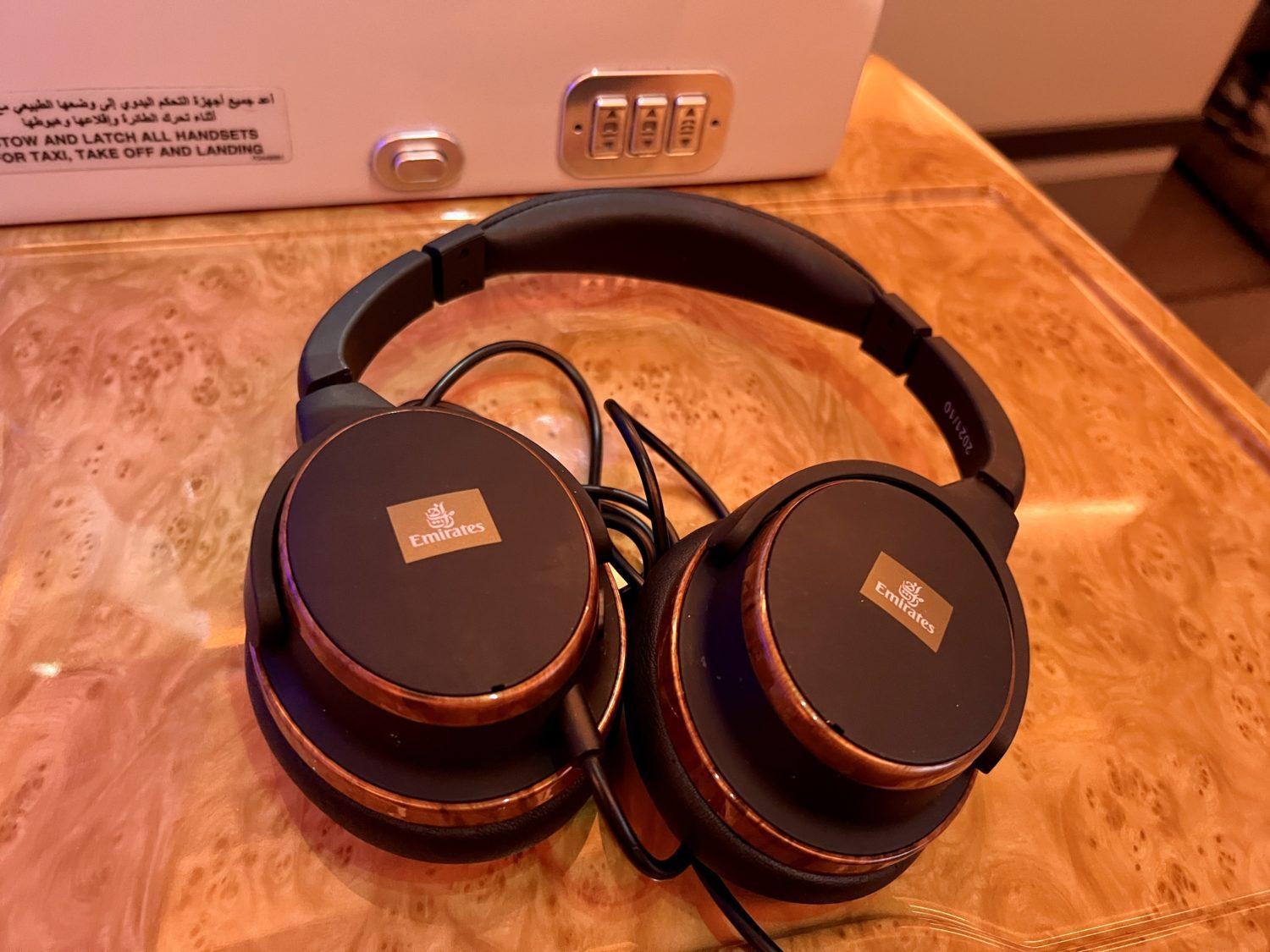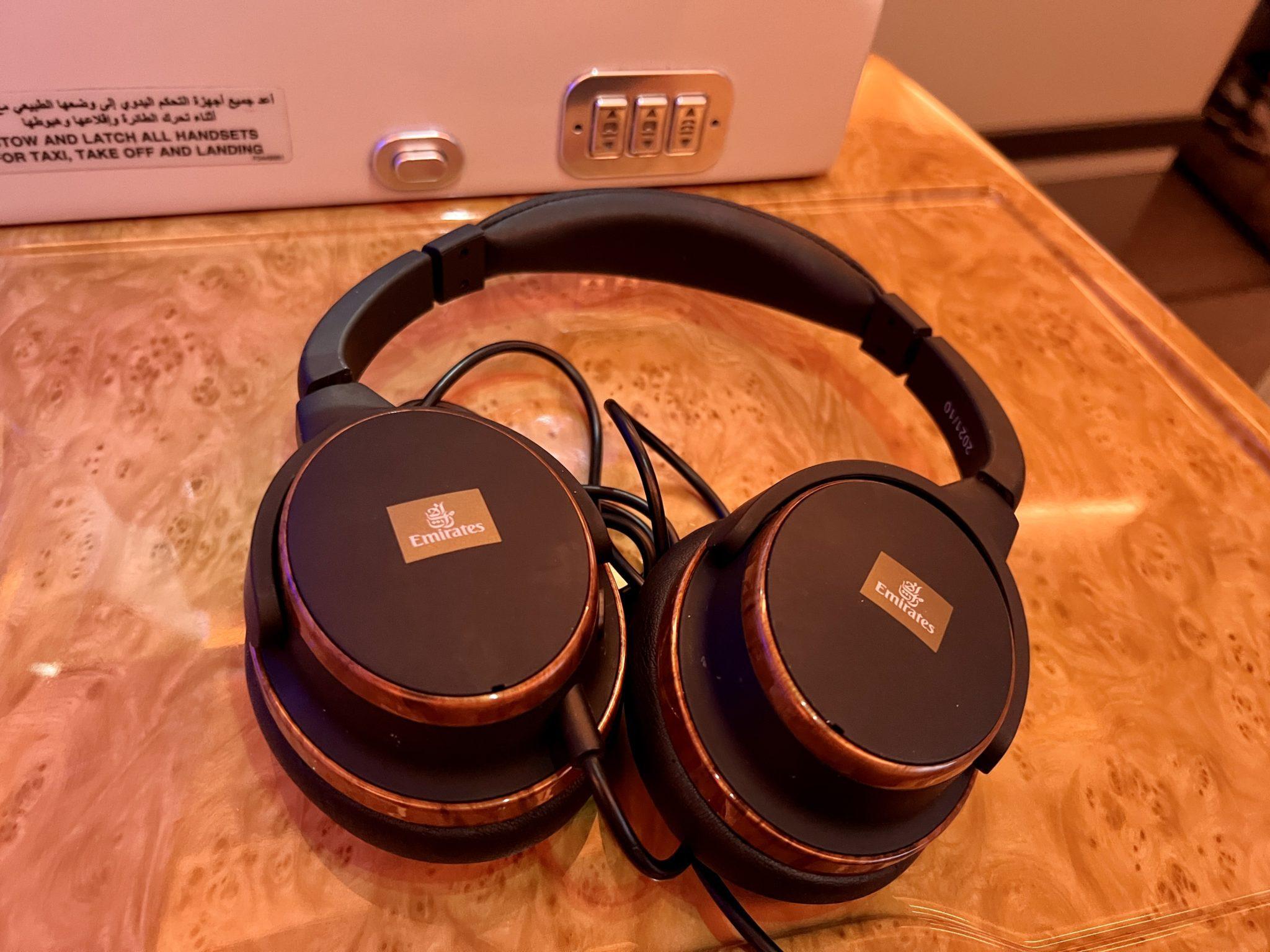 Shortly after boarding, flight attendants made their way through the aisles to drop off amenity kits, with different kits for men and women. No joke: These Bvlgari-branded kits were the most-impressive amenity kits I've received. The cloth, zippered pouch itself is quite nice, though by no means extraordinary.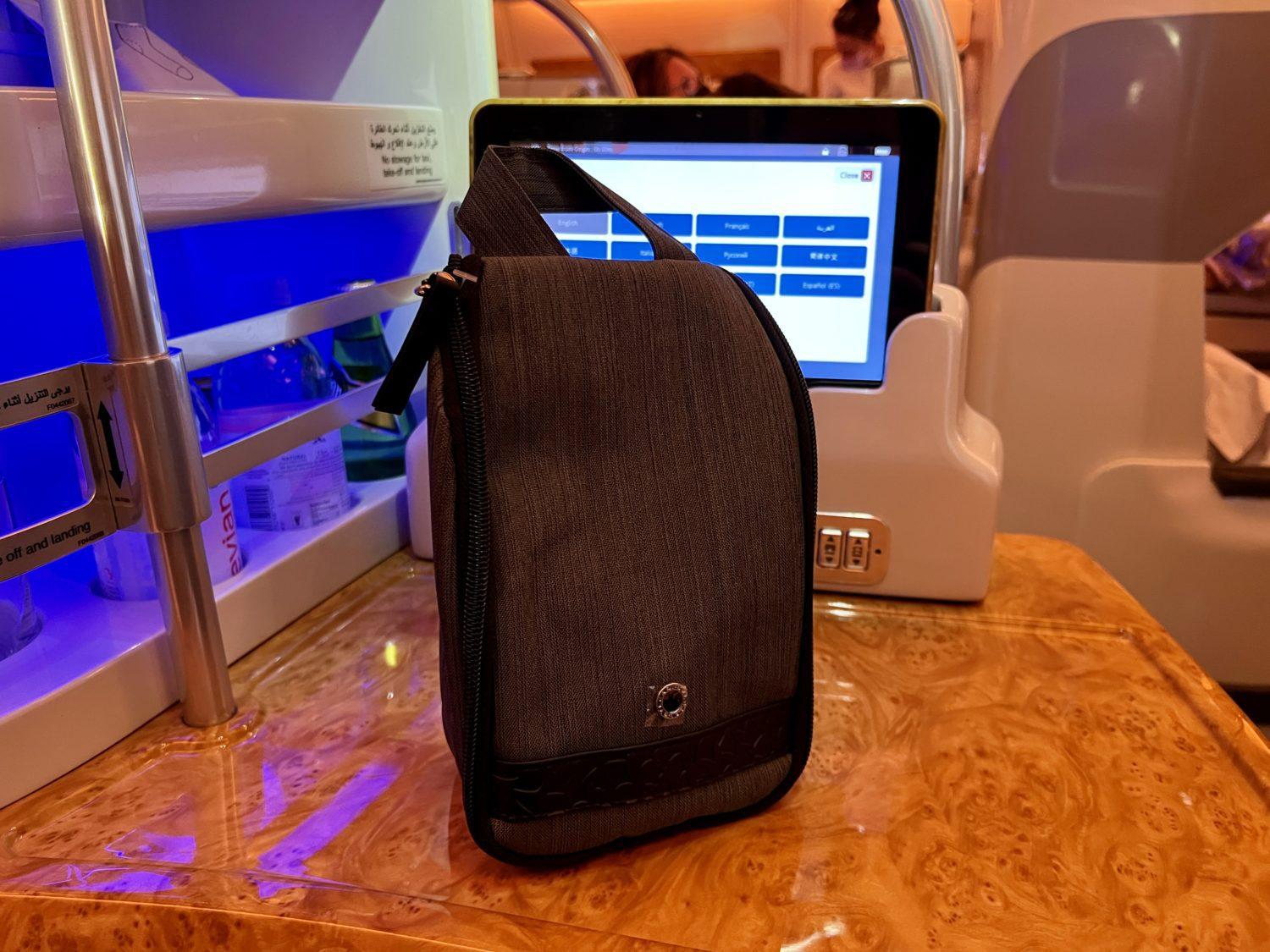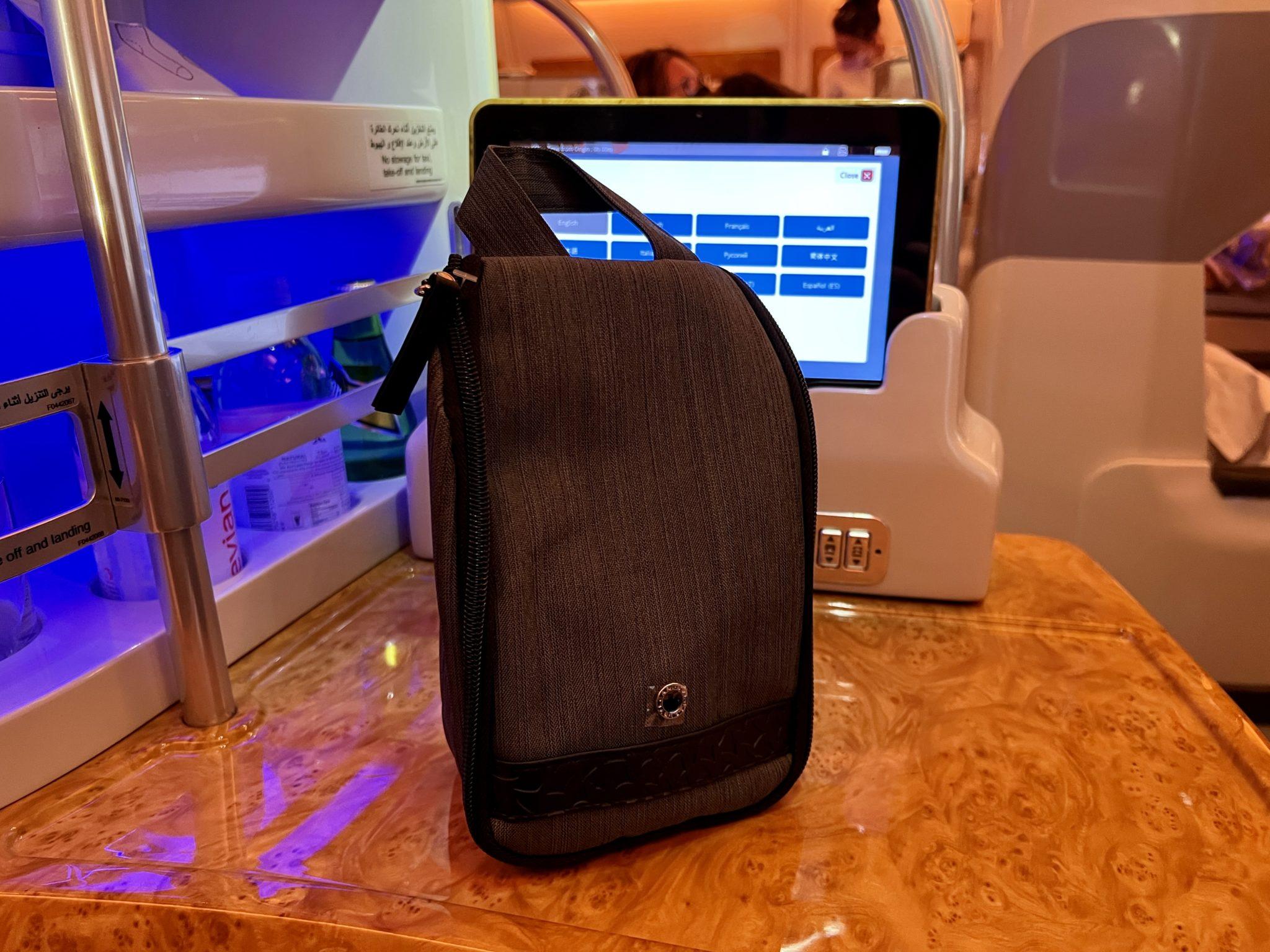 But it's what's inside that was truly stellar. There were the basics like a set of tissues, a dental kit, and a comb. Then there were extras you won't find in many kits like a razor, a bottle of shaving foam, and even some deodorant. To top it off, there were excellent Bvlgari Aqva toiletries including body lotion, aftershave, lip balm, and even a small bottle of cologne.
In both quantity and quality, this kit was unparalleled.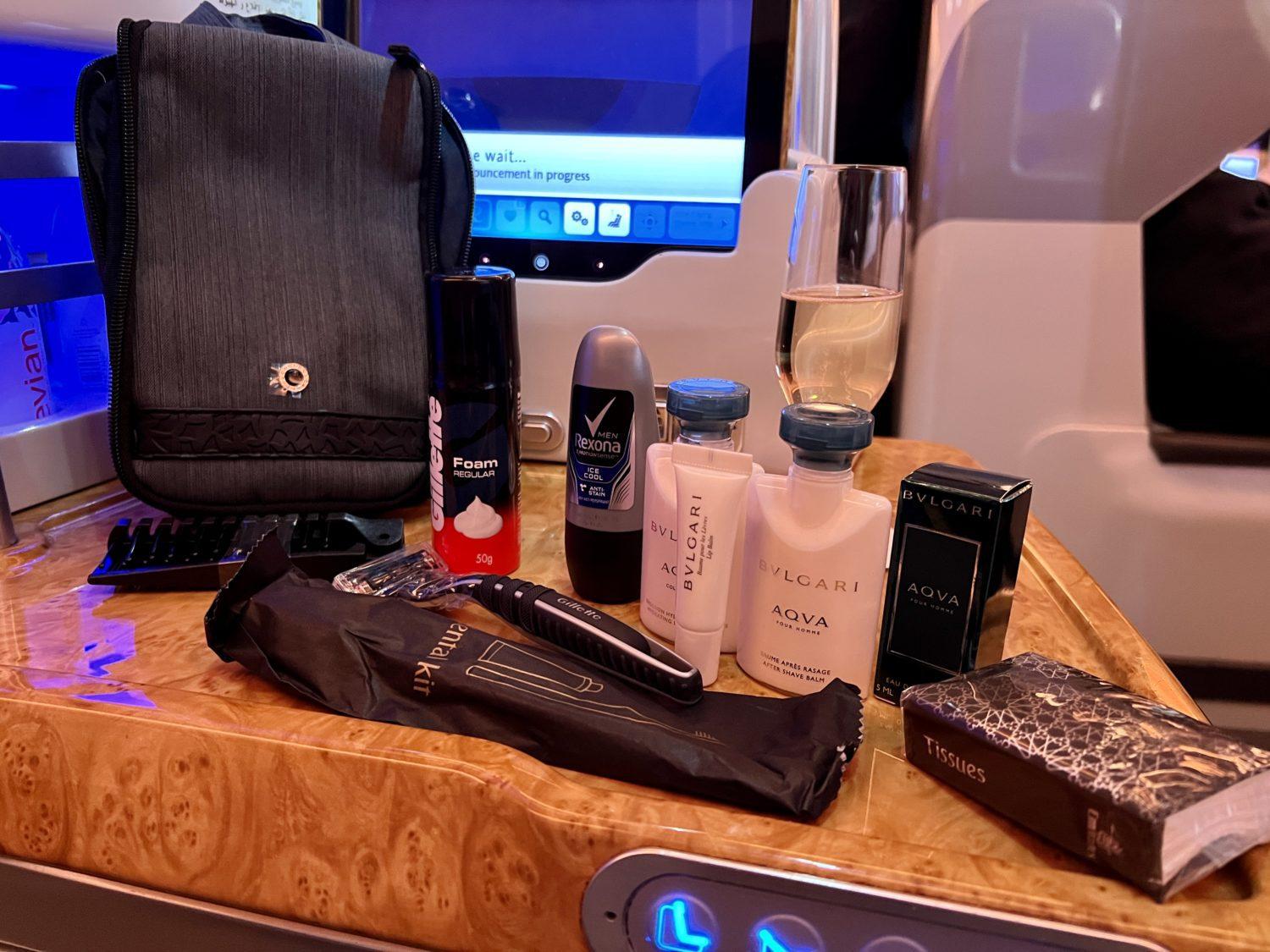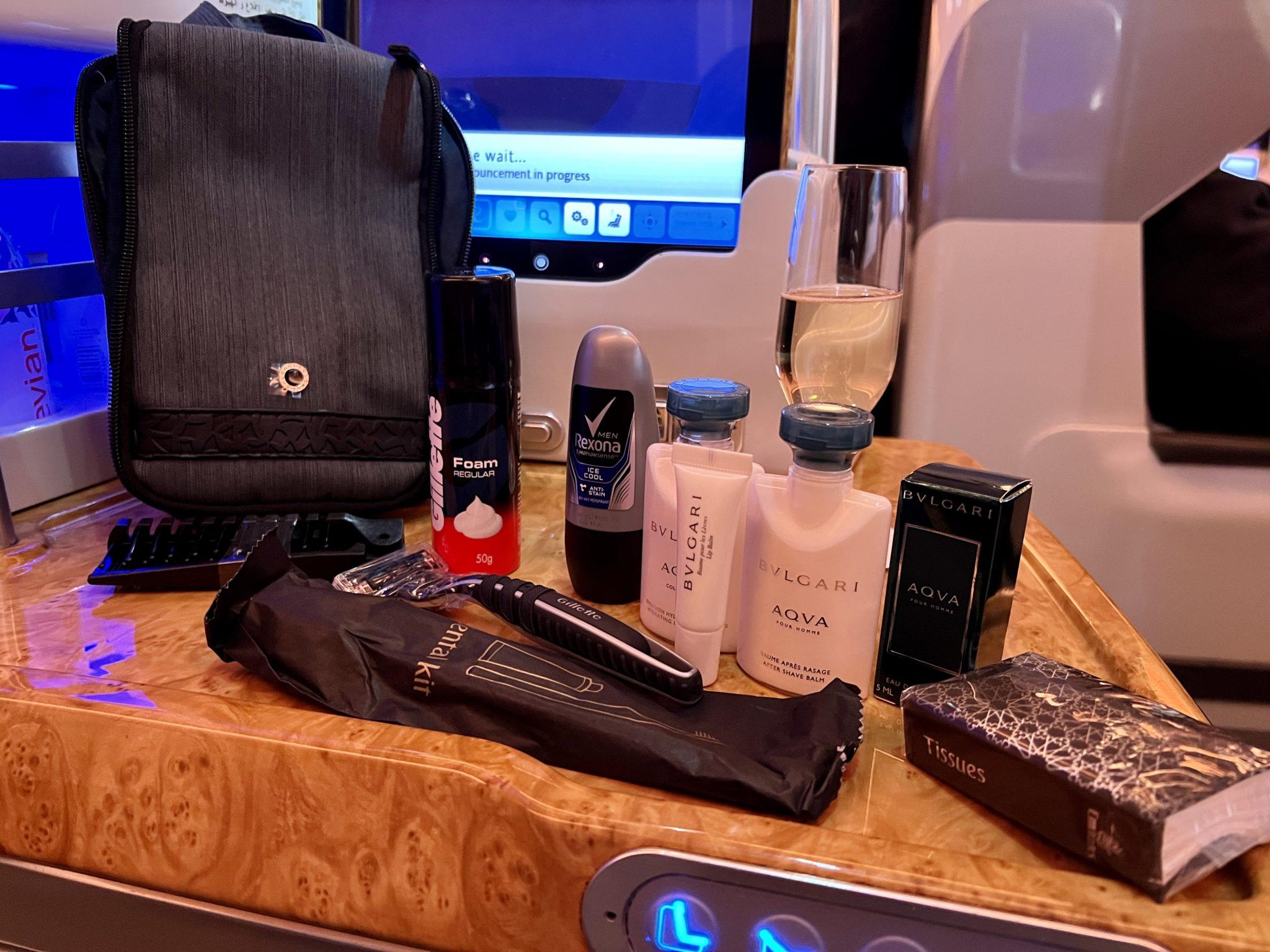 If there was one glaring absence, it was that I didn't see any slippers available.
Dining & Service on Emirates Business Class
The cabin crew working this Emirates business class flight to Italy did everything they needed and then some.
But on an overnight flight departing just before midnight and landing in Europe less than seven hours later? With two meals in between when many passengers just want to get to sleep? Oh, and up to 70-plus passengers to take care of onboard? That's a tall, tall task.
In the end, that was my major takeaway from this flight: There's just too much to do in a relatively short timeframe while crossing the Atlantic Ocean. You can enjoy a good meal after takeoff, head back to the inflight bar for a drink or two, have breakfast before landing, and maybe, if you're lucky, get a brief nap in … or you can recline your seat into a bed and snooze the whole way. Doing both is a logistical challenge. 
But as I said, the crew working this flight did their darndest. There were were even a few small touches throughout the flight that stand out.
The inflight service began while we were still on the ground, as flight attendants came through to pass out menus for the flight as well as a pre-departure drink. Champagne for me, thanks – Emirates pours Veuve Clicquot on all its business class flights.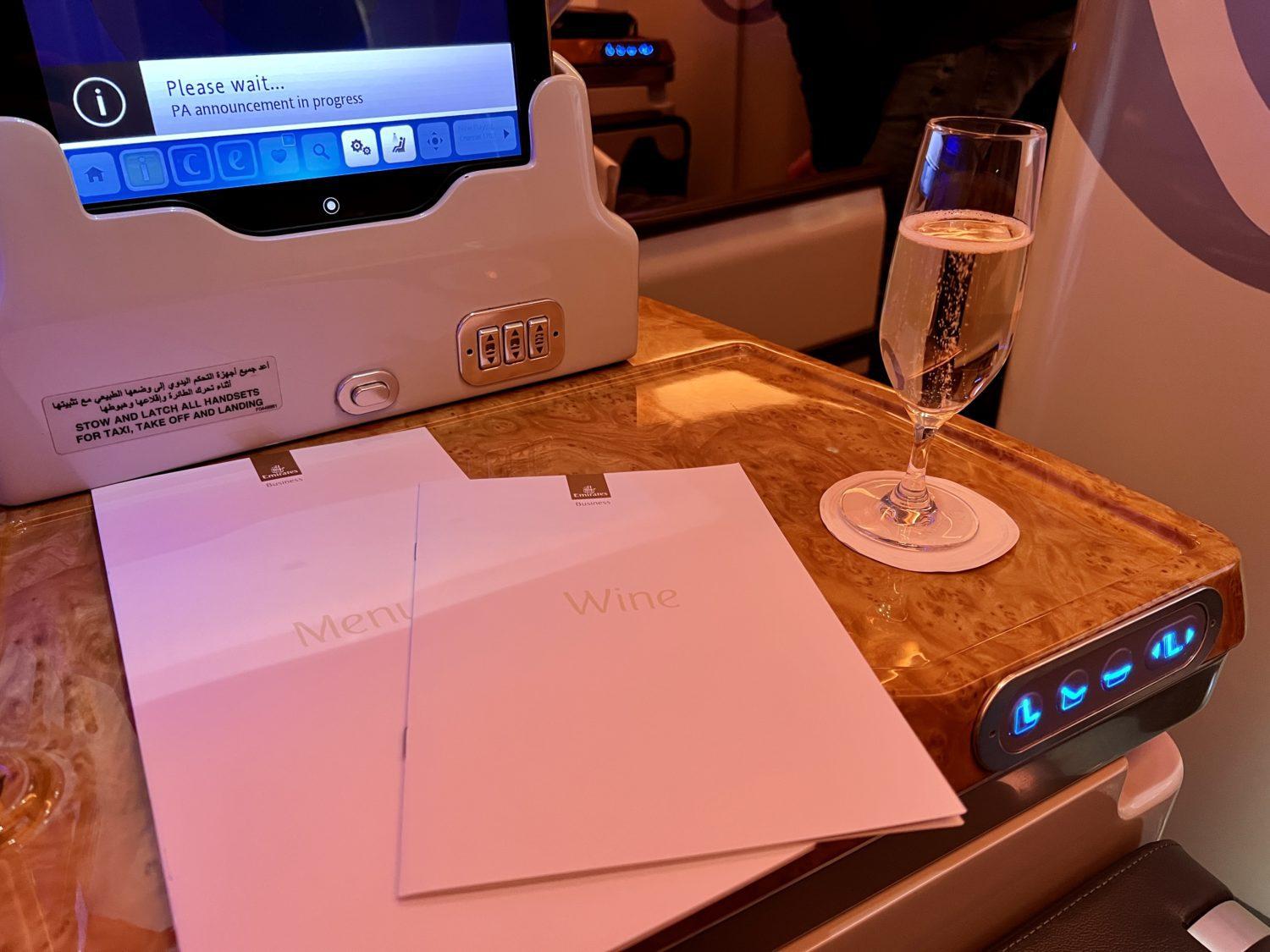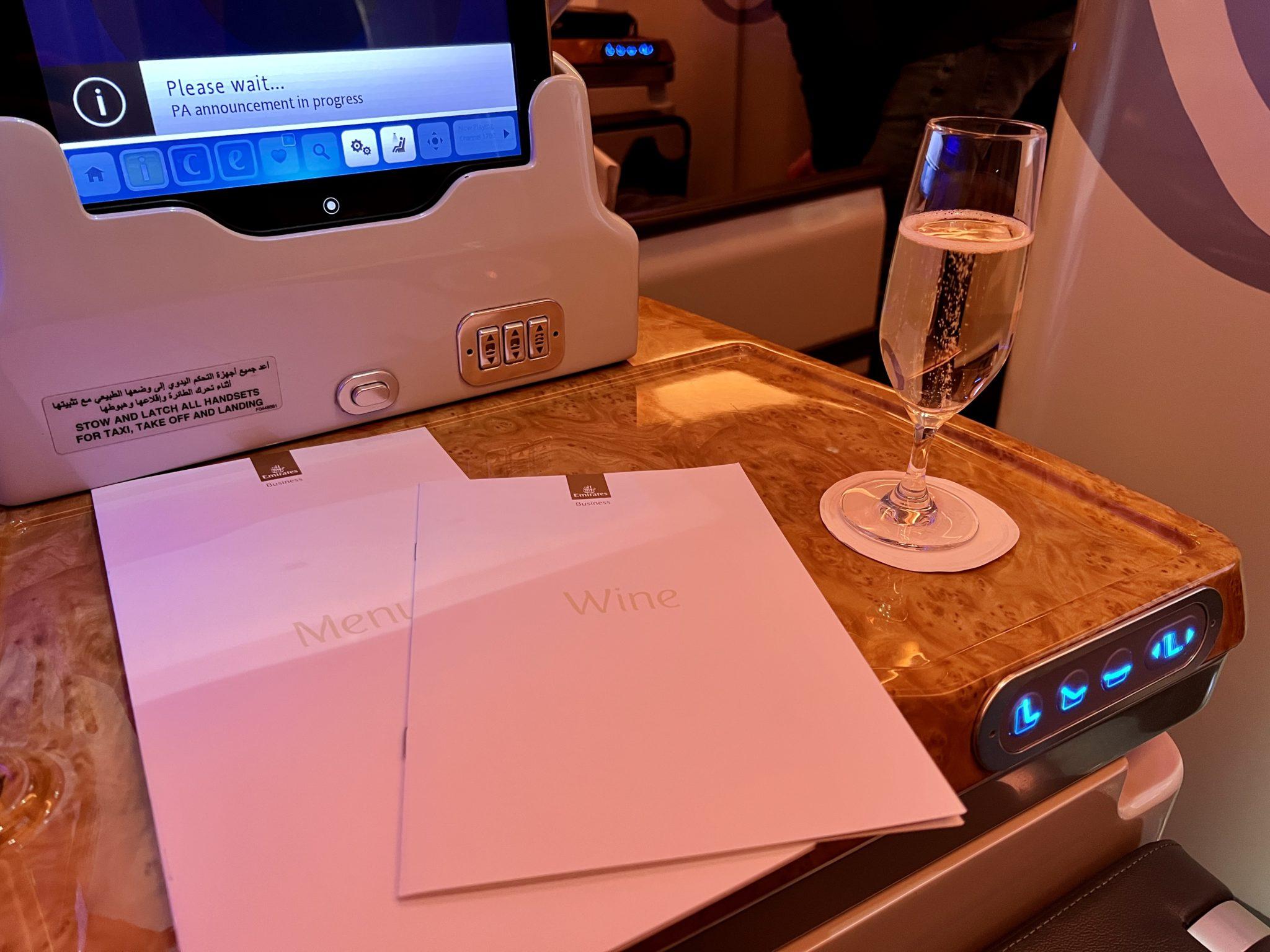 About 20 minutes or so after liftoff, there was an offer of another drink before the meal service as well as some marinated olives or nuts. Yes, please!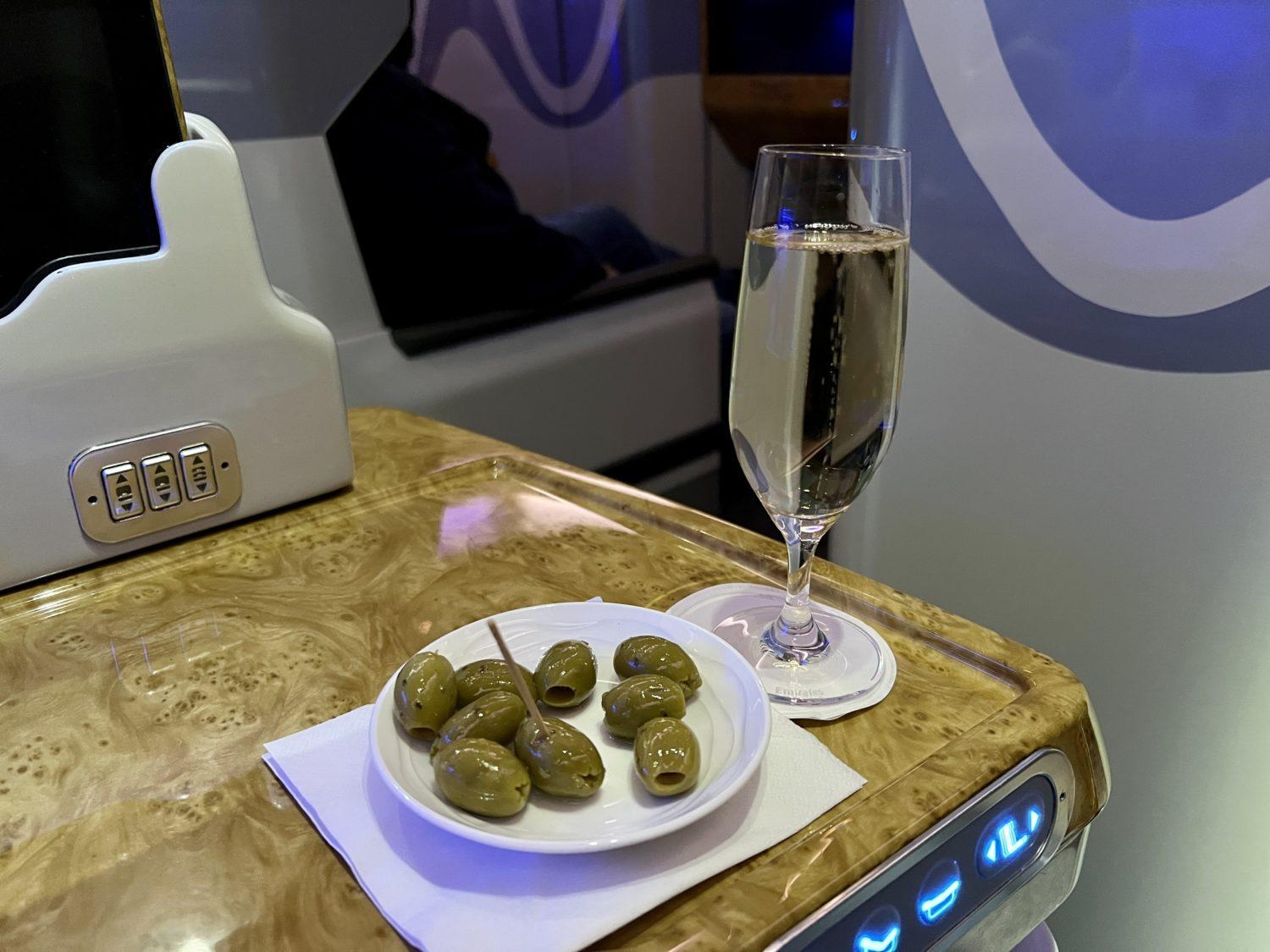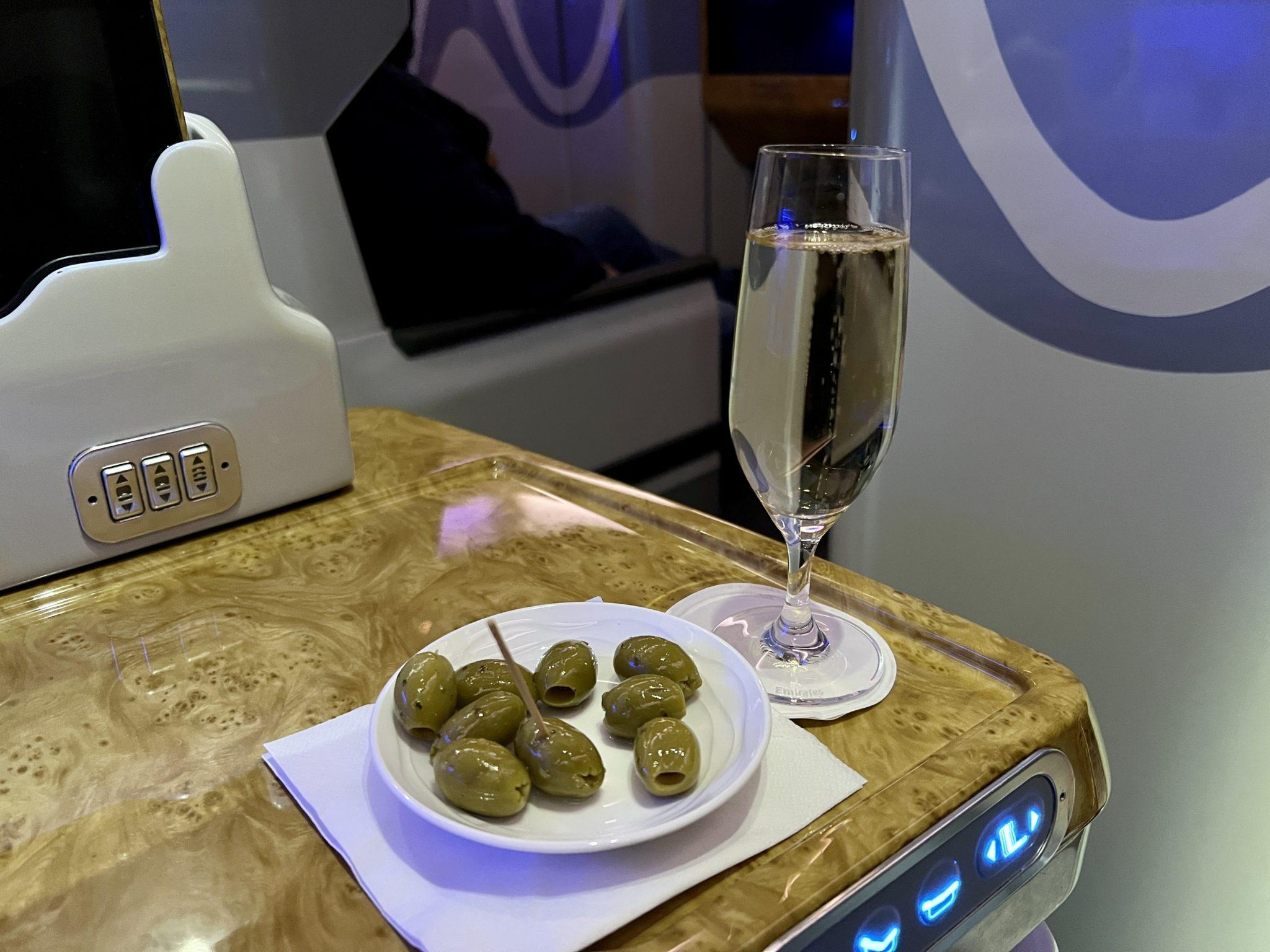 Flight attendants came through the cabin again to take dinner orders as well as breakfast – with a thoughtful and cheery ask if I'd like to be woken up to eat in the morning if I was still asleep. There were plenty of choices for dinner, from appetizers to the main courses.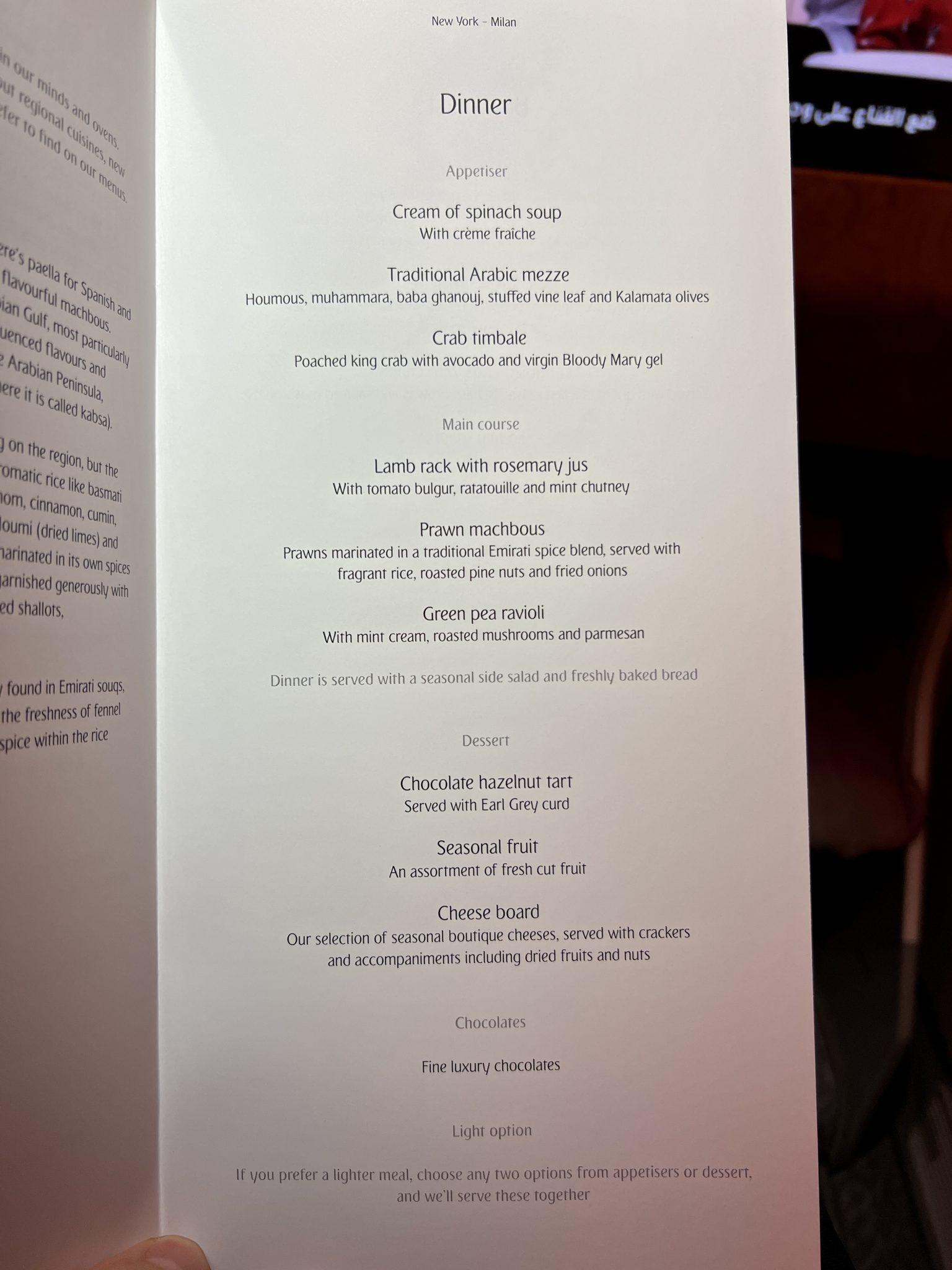 After getting my fill of mezze in the lounge, I started off with a crab timbale. It took another 30 minutes or so after that pre-dinner drink and snack for the meal to get started in earnest.
But the crab timbale was a great choice: It was one of the best starters I've ever had on a plane. The poached king crab tasted incredibly fresh, perched atop a layer of "virgin Bloody Mary Gel" that added some excellent flavor. There was also a choice of bread as well as a side salad, which was crisp but fairly boring.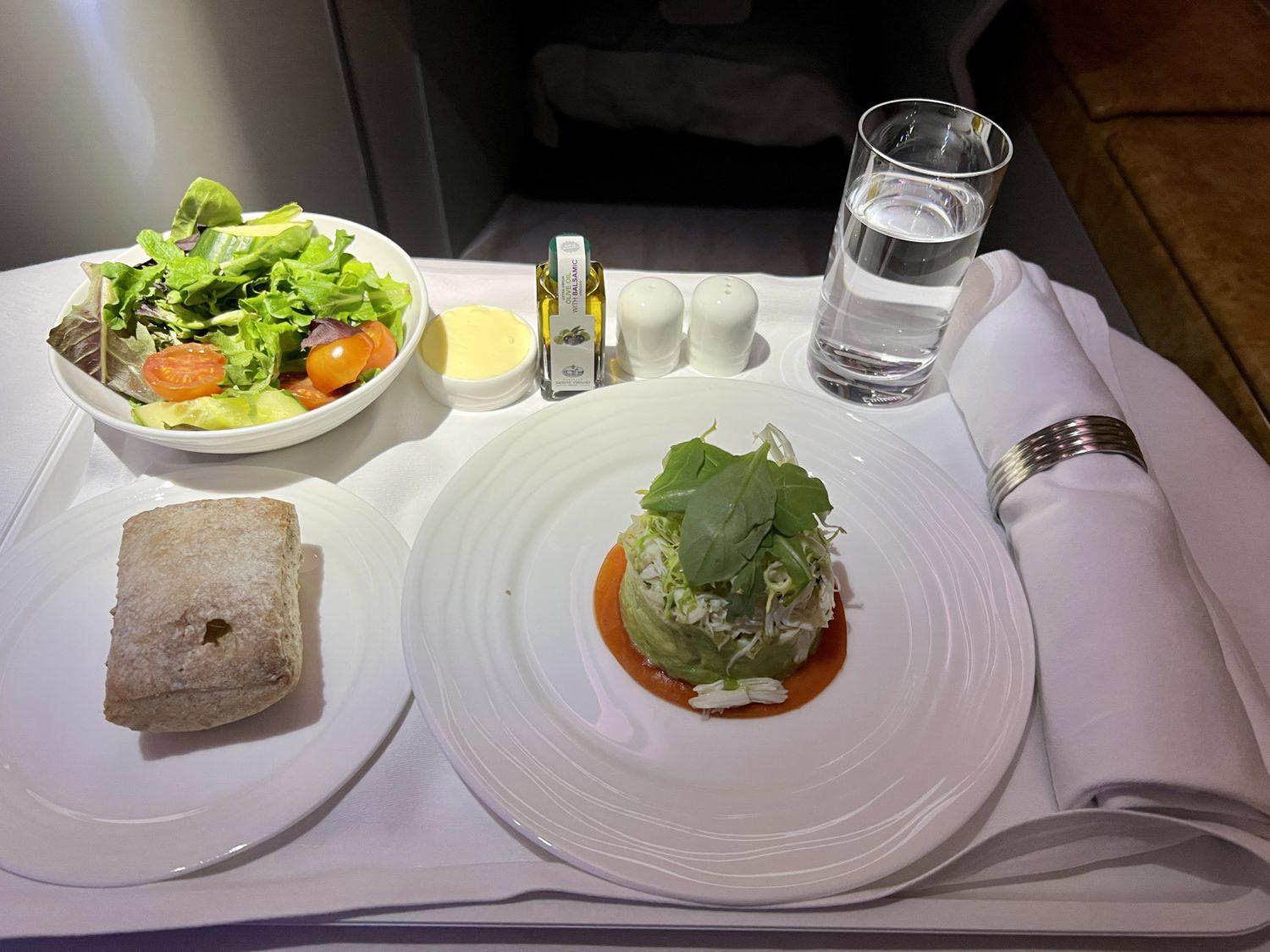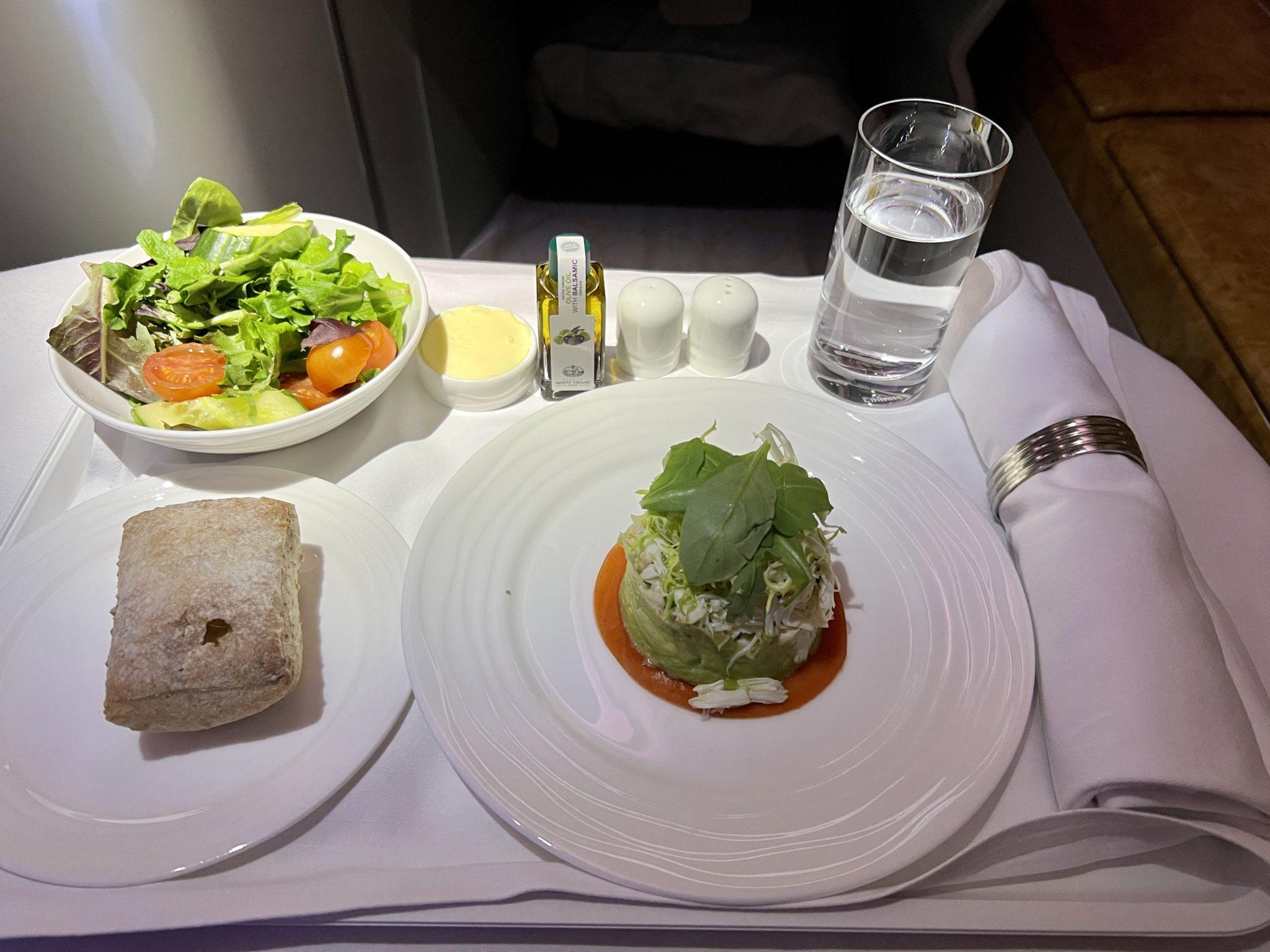 A few minutes after my last bite, a flight attendant came by to ask if I was ready for my main course … and promptly returned with the prawn machbous. While not a stunner in the looks department, it tasted great. The prawns themselves were a tad overcooked, but the rich, deep flavor and fragrance of the sauce made up for it.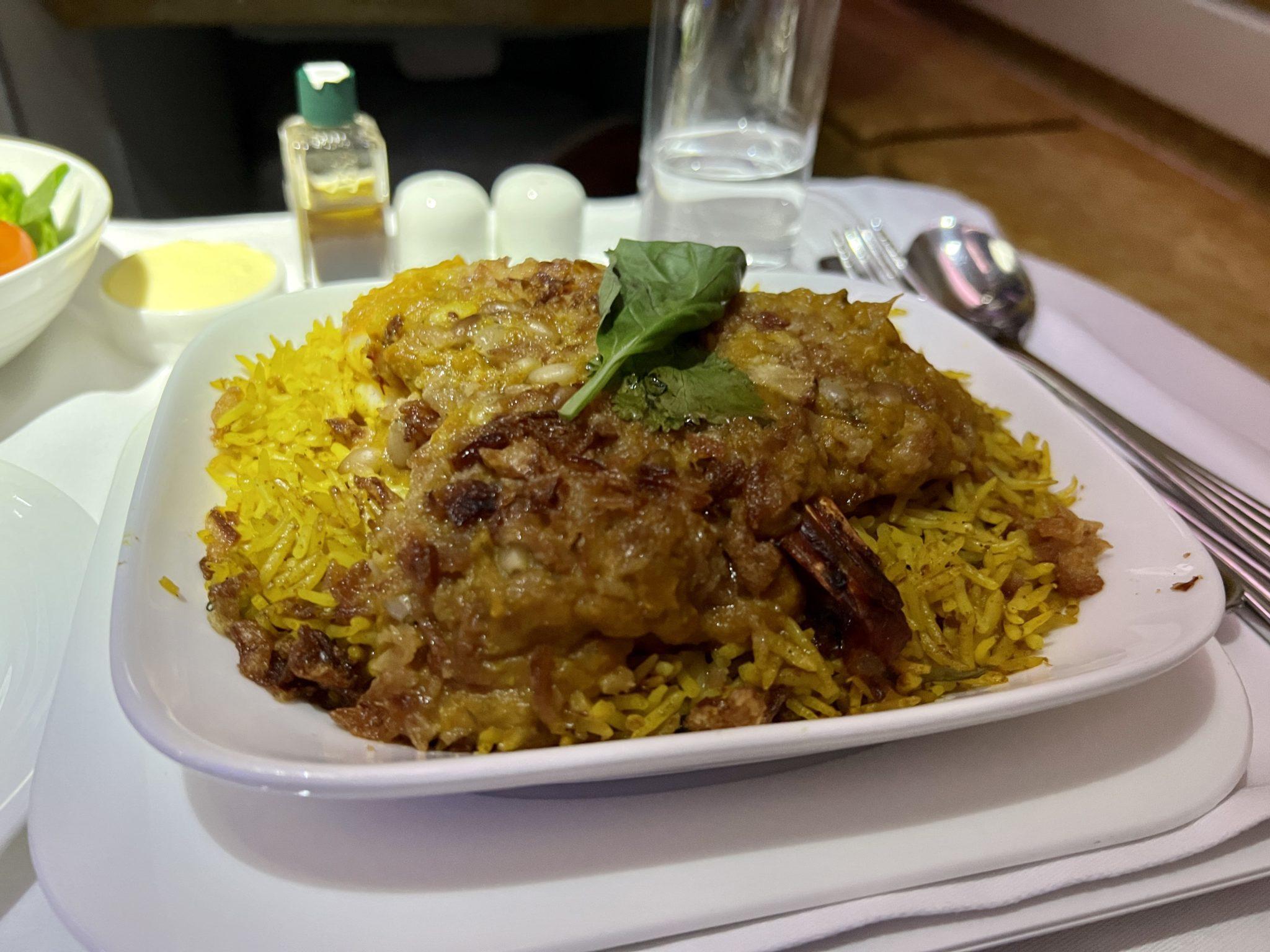 But by the time I was finished with the meal, we were more than two hours into the flight. That's a decent pace for such a massive business class cabin, but still left less than five hours of time in the air – with almost two hours carved out before arrival to begin the breakfast service.
So I decided to skip a cheese plate or chocolate hazelnut tart for dessert (as well as a night cap back at the bar) in a bid to get to bed as soon as possible. And sleep I did … at least until about two hours before landing, when the cabin lights came up and flight attendants made their way to get seats situated for breakfast.
Compared to dinner, breakfast in Emirates business class on this flight was a much simpler affair. There were just three choices, and passengers could even choose "express" service with just a pastry and drink.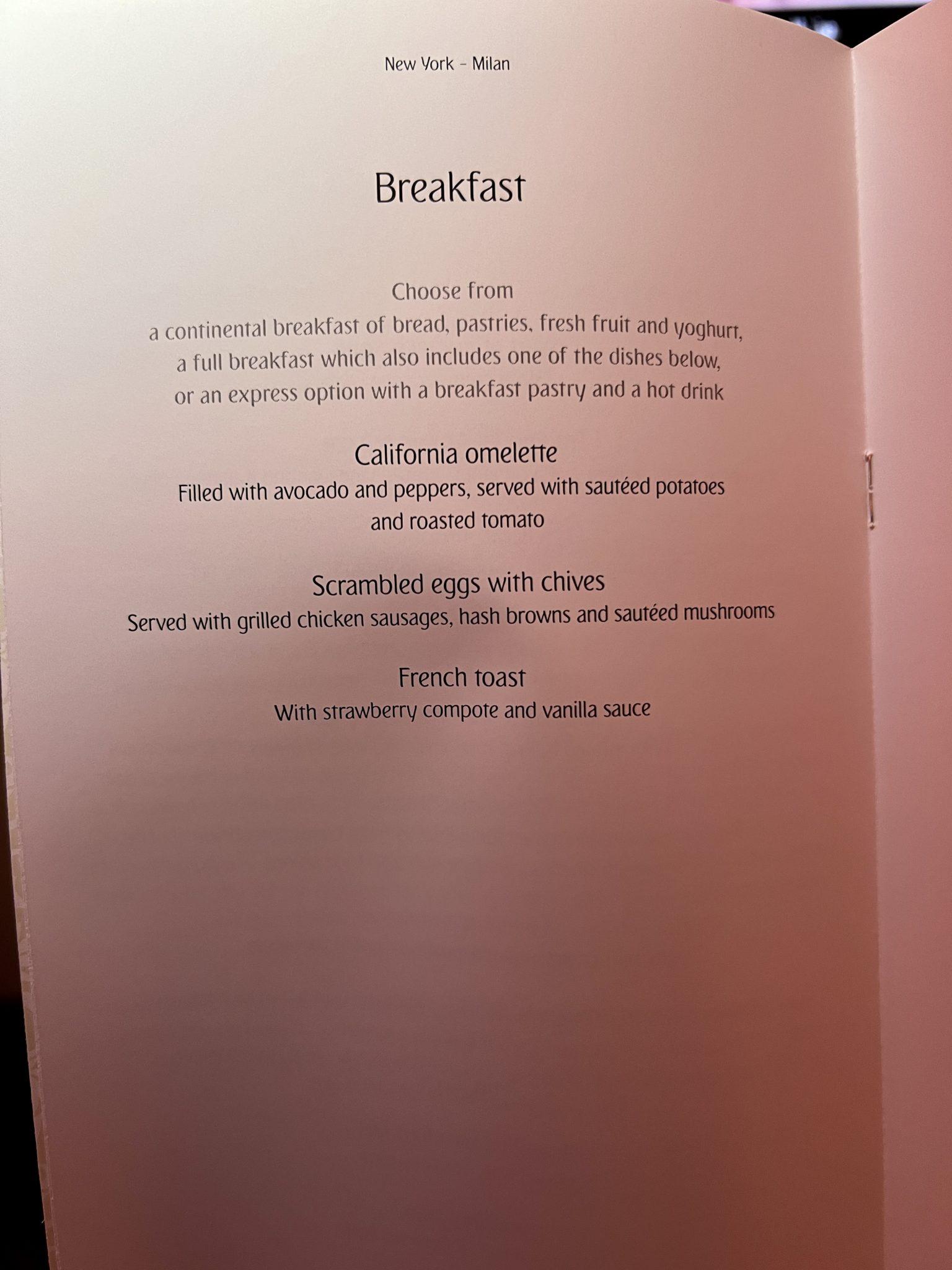 I put in my order for an omelette earlier in the flight. After coming by to set up the table and take my drink order (an Americano and an orange juice, please), a flight attendant came by with my breakfast tray. I ordered the California omelette, which was pretty tasty with the avocado filling but otherwise just OK – though the roasted potatoes and tomato were excellent and well-seasoned.
The pastries and fruit were completely forgettable, in my books, but the orange juice tasted fresh-squeezed.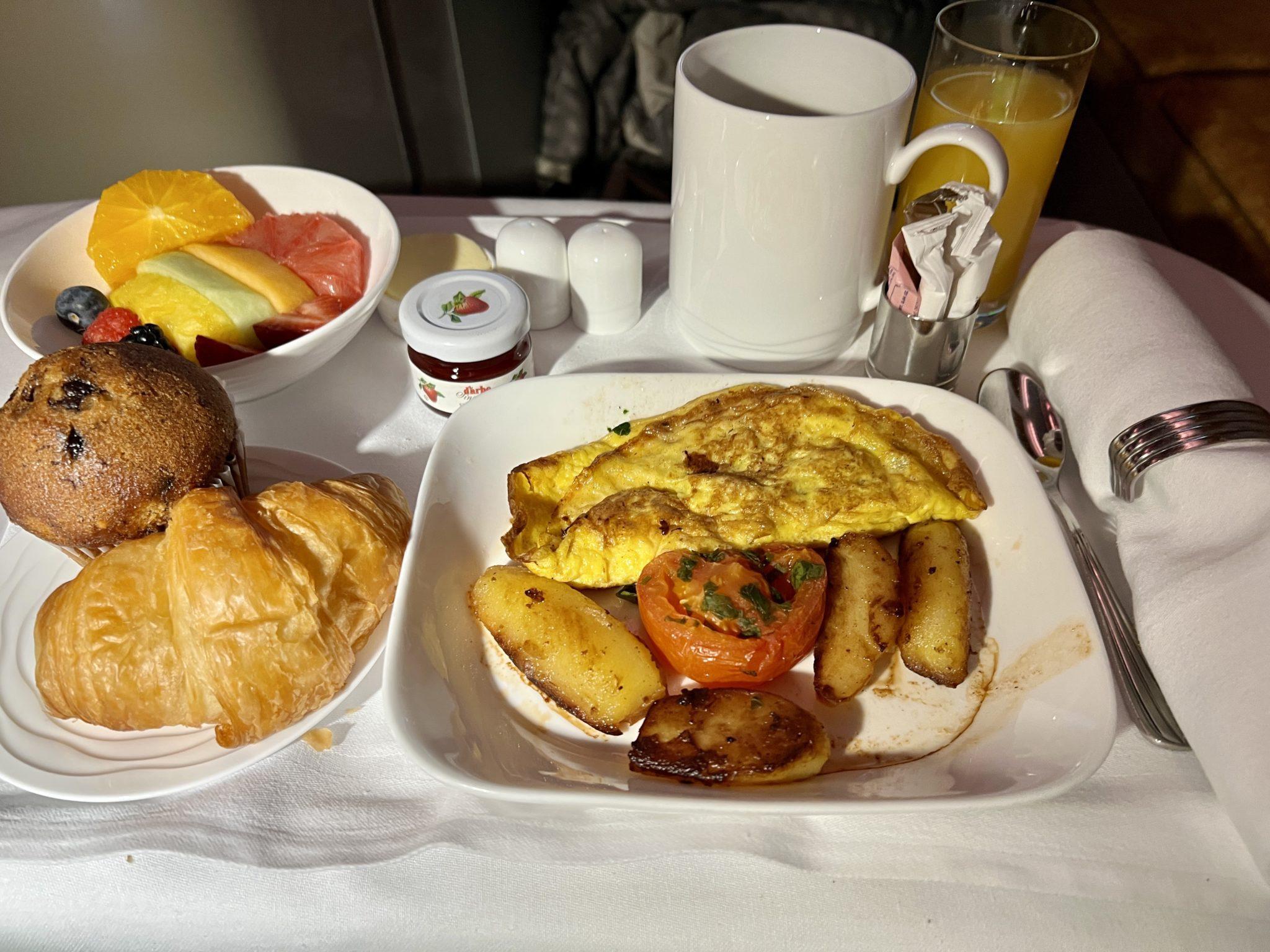 Every bite and sip throughout this Emirates business class flight was good – some of them great, even. But from the food to the drink menu to the service throughout, there's the unshakeable sense that there's something better up at the front of the plane … because there is. Emirates saves the best of the best for its first class passengers, even when other airlines give a bit more to their business class passengers.
Combined with the hurried timeline of the flight itself, the service and dining weren't the standout features of this flight.
Entertainment
Few airlines do onboard entertainment better than Emirates. But like the rest of the cabin itself, it might be time for a hardware upgrade.
Every seat on Emirates' A380 is outfitted with a fairly large touchscreen monitor. But because these seats are more than a decade old at this point, I wouldn't call these displays state of the art or high-resolution.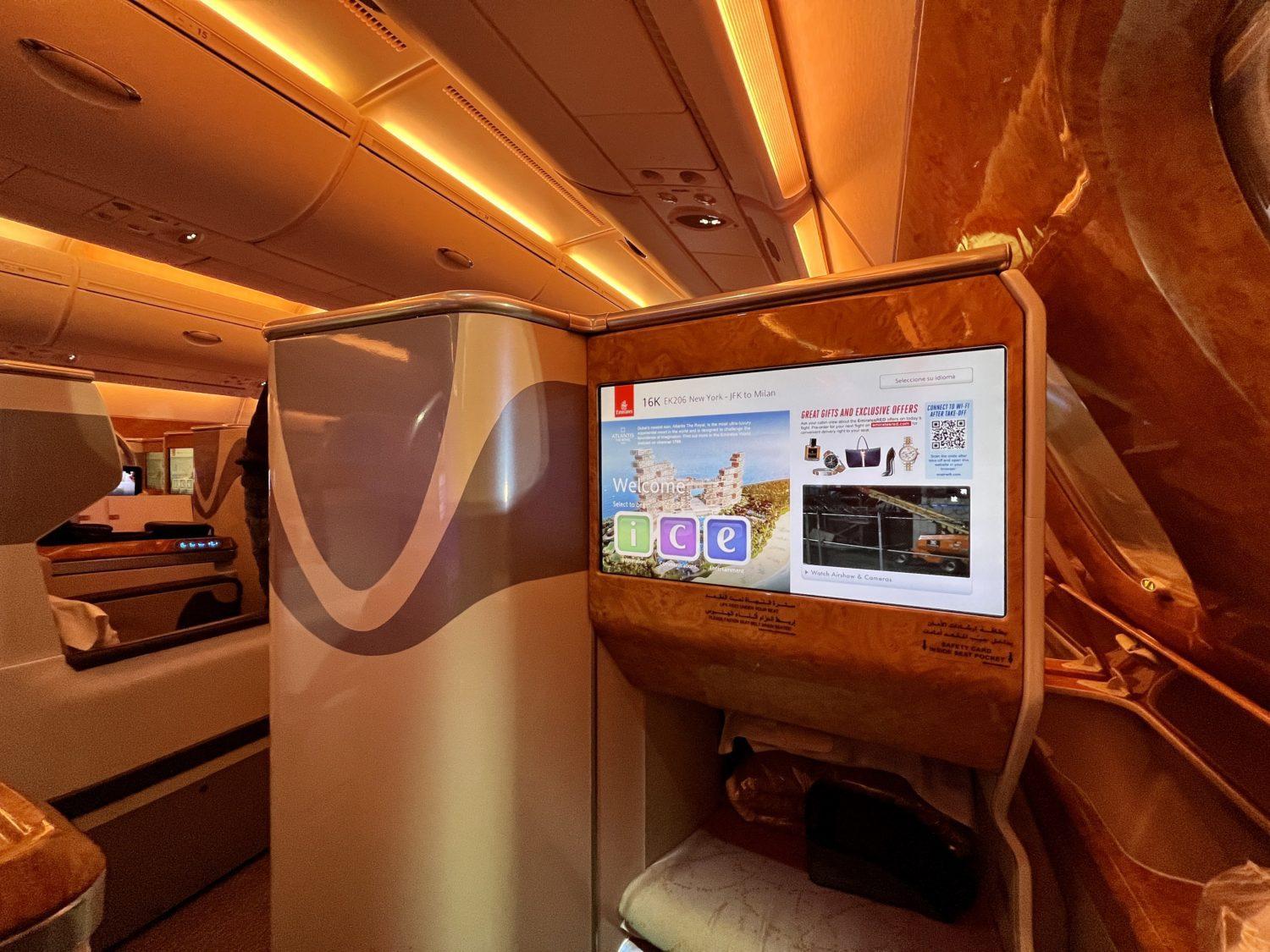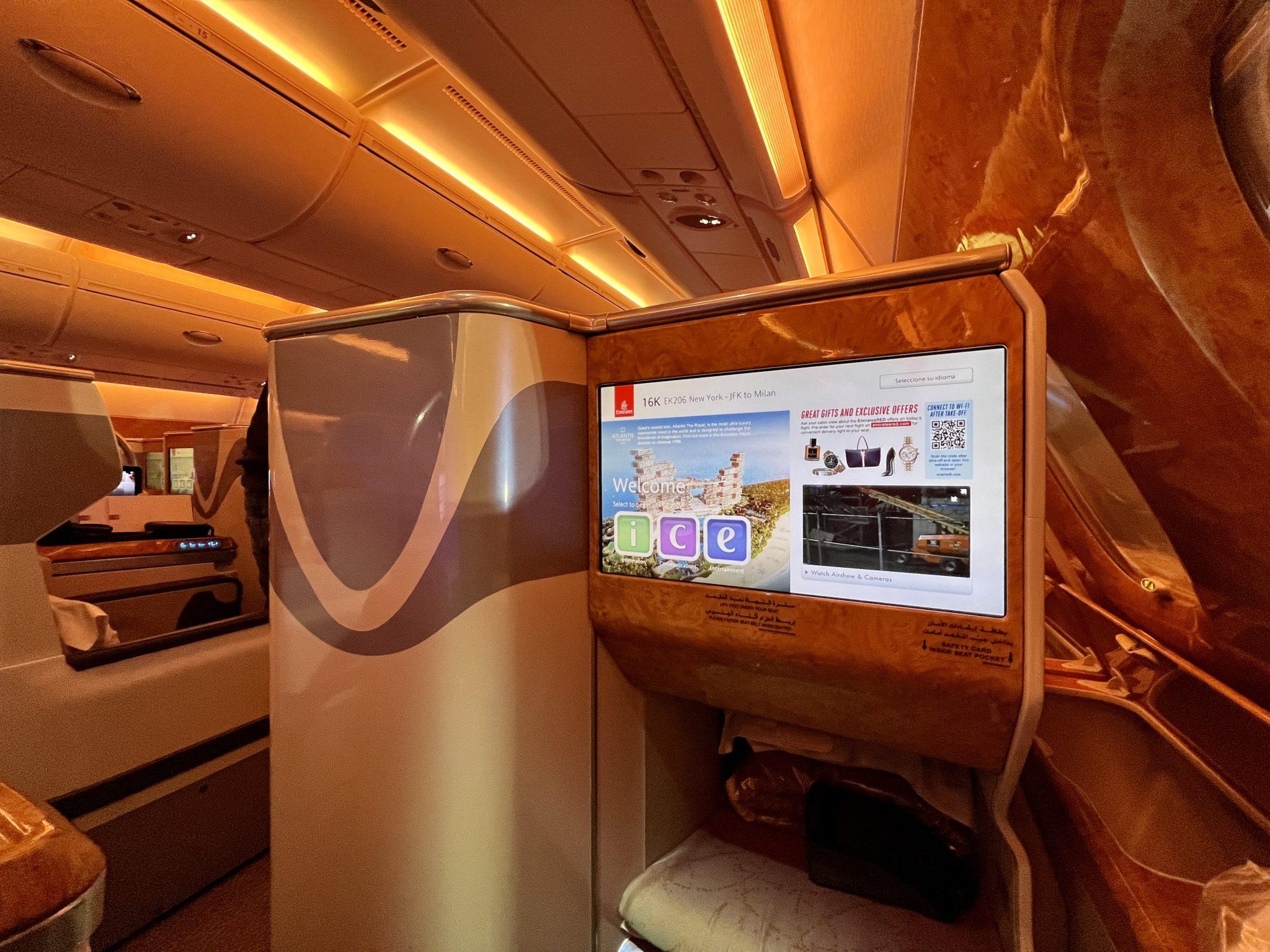 On the plus side, Emirates' ICE system (which stands for Information, Communications & Entertainment) is second-to-none in the skies, with more movies, shows, and other entertainment to keep you busy than you'll find on any other airline – though I'd argue Qatar Airways comes close. There are large collections of movies, including every Star Wars movie ever released, a huge selection of classics and new releases, foreign films divvied up by language, and more.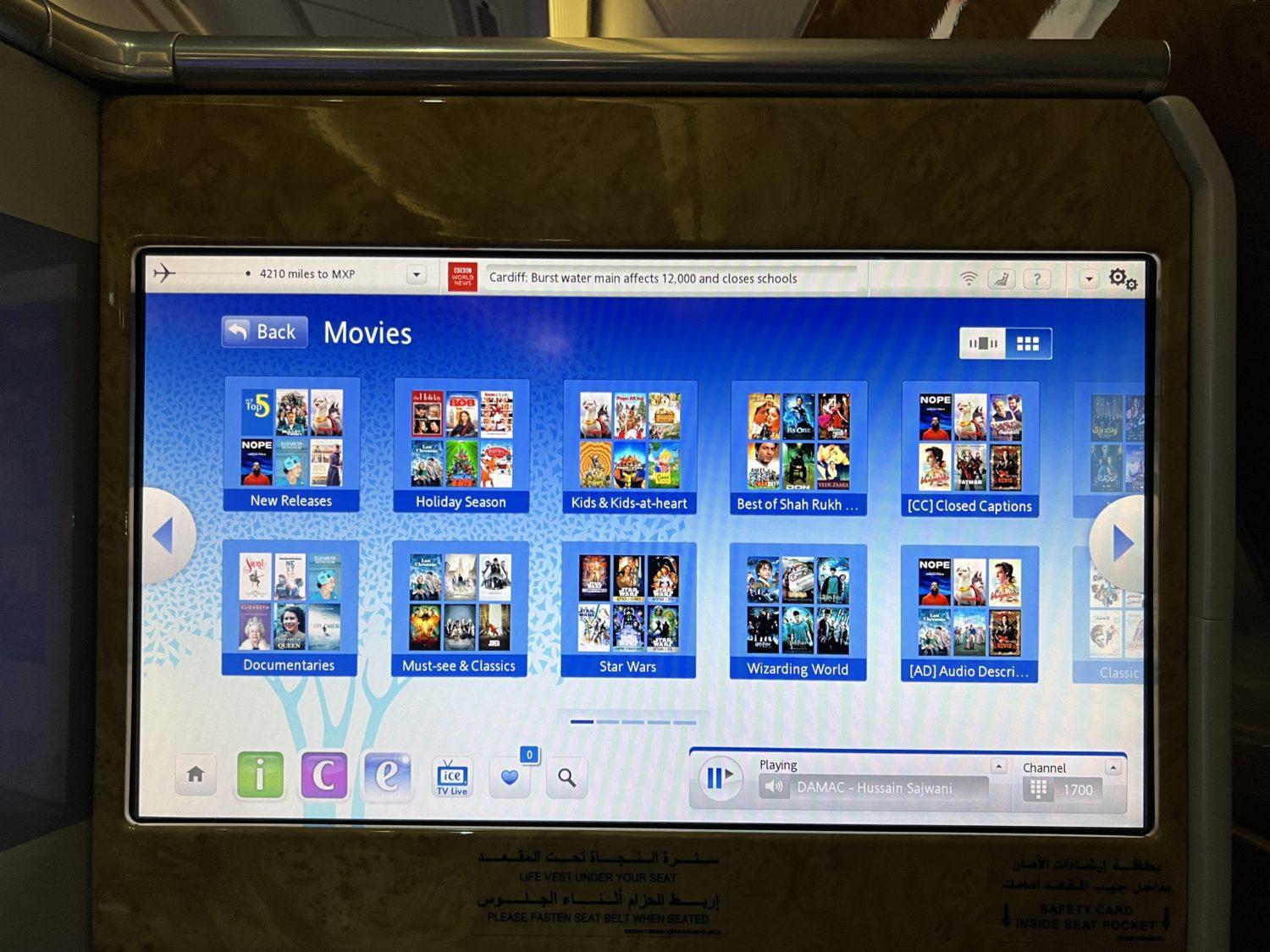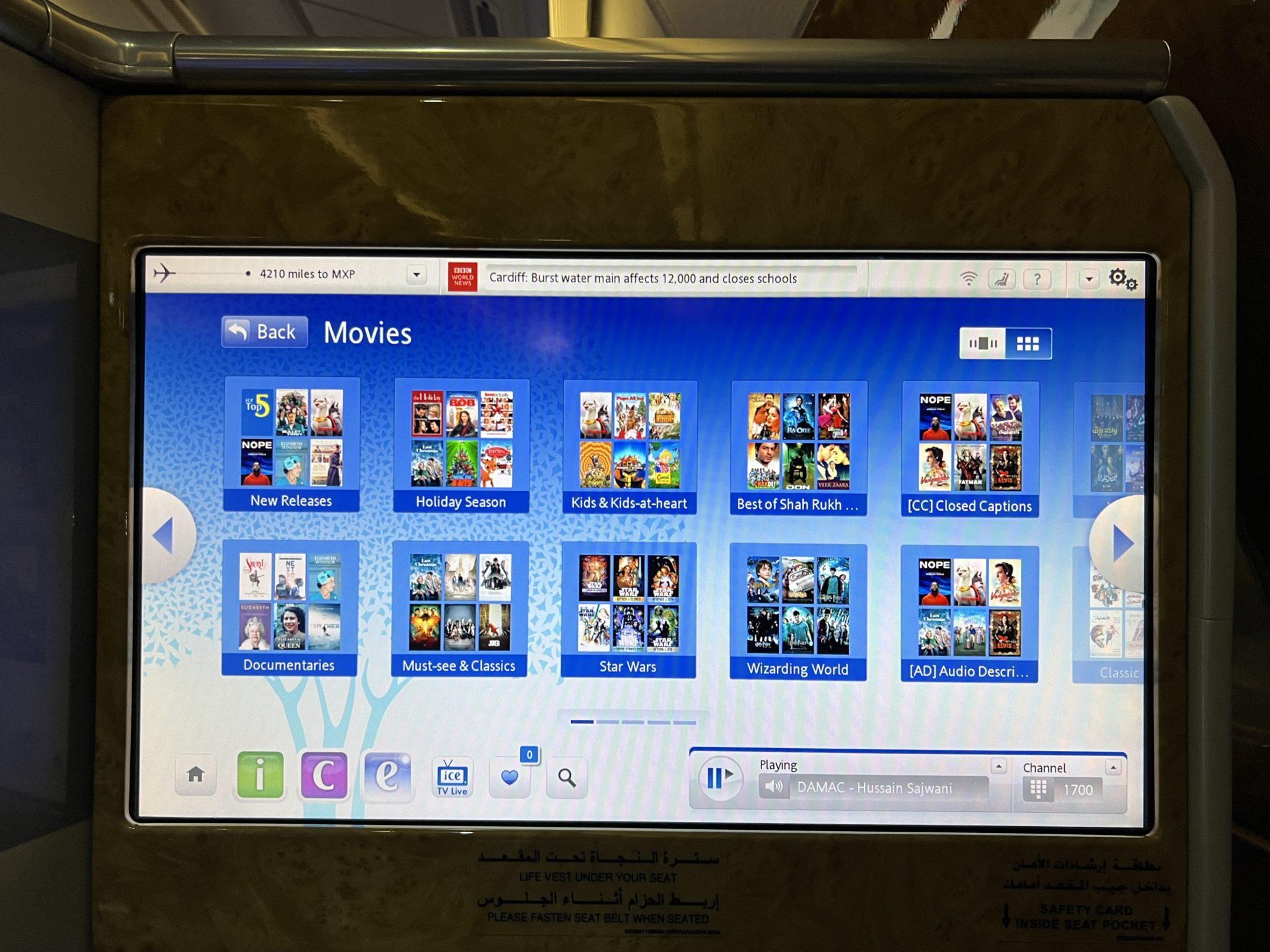 While the screen itself is just far enough away to be a pain to scroll through while sitting, you've got options … two of them, in fact. You can control everything from either your in-seat tablet or the wired remote.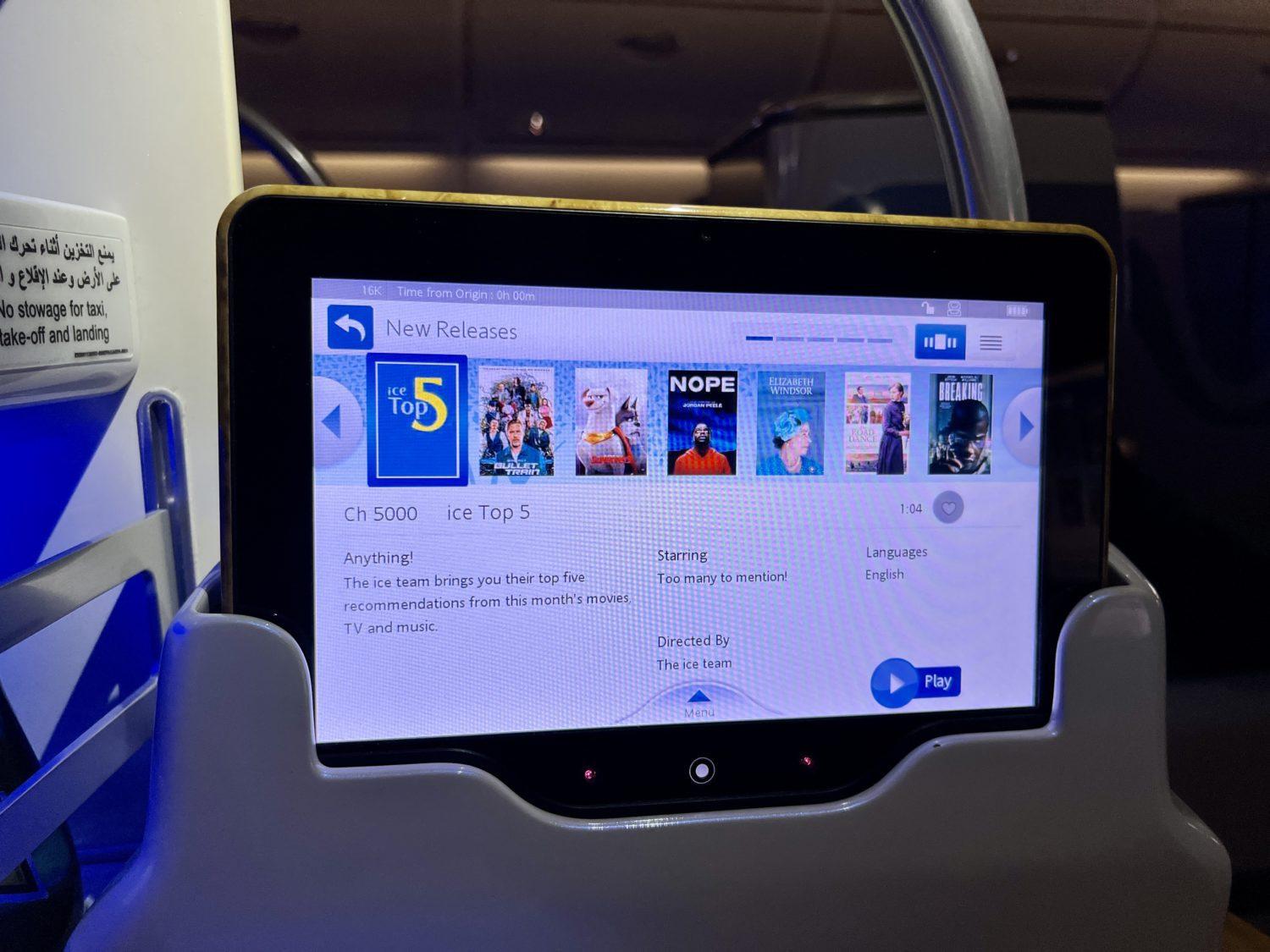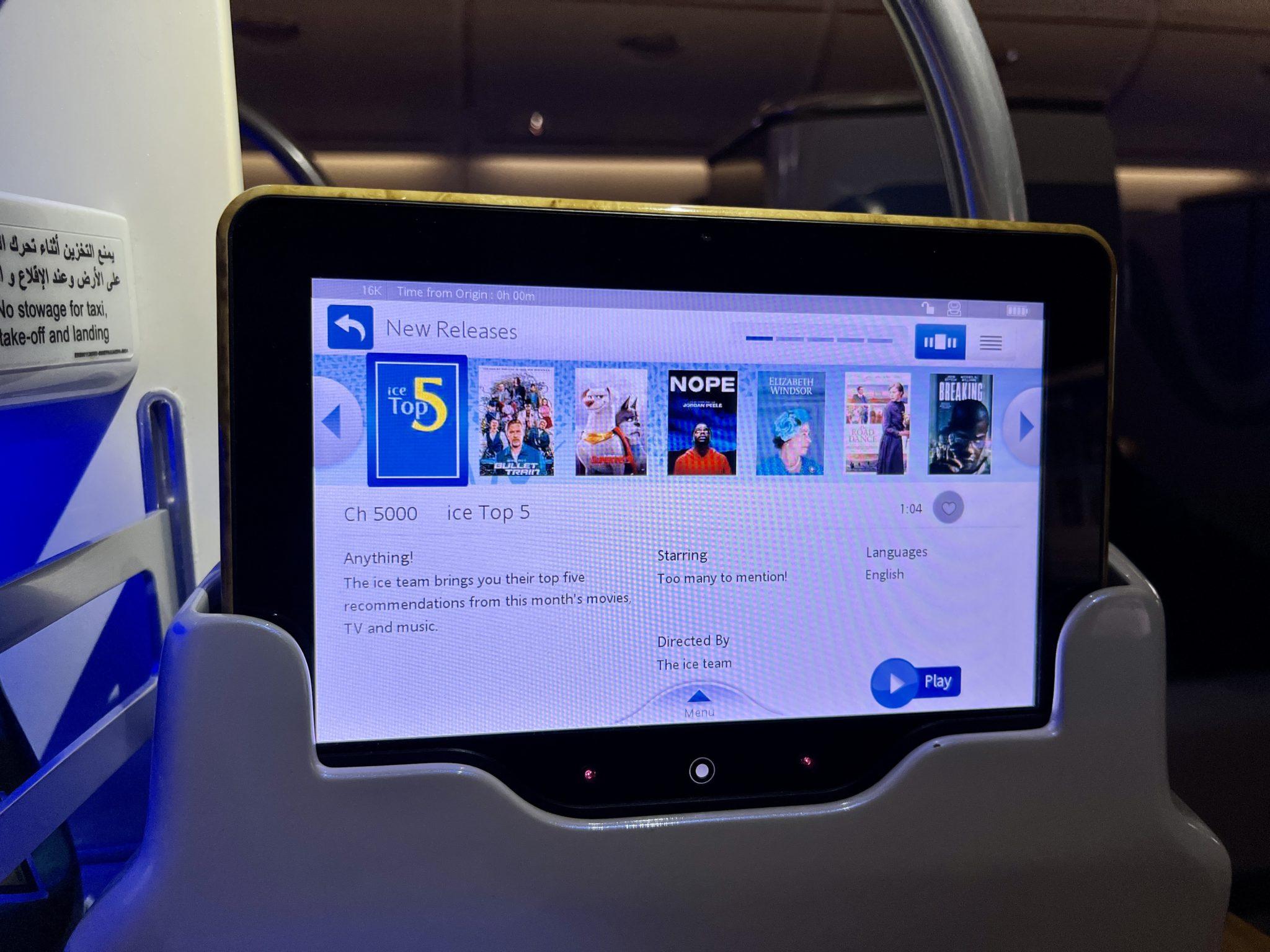 The tablet is particularly handy because you can monitor your flight map on it while watching a movie or TV on the full screen in front of you. Emirates also equips these massive A380s with several cameras so you can watch takeoff and landing as you soar through the sky.
Finally, Emirates offers free Wi-Fi to all business and first class passengers with a Skywards account, which is nice … in theory. But in practice, the connectivity on these older planes is often so slow that it's borderline unusable.
Case in point: I was unable to even successfully connect my account to get online after takeoff. But with the late hour of the departure and a focus on sleep instead of work, that wasn't a huge loss.
Bottom Line
Emirates business class is more than solid.
It's a great option and an especially fun one, considering that you can fly this renowned Middle Eastern airline flying between the U.S. and Europe. Booking it for as low as 90,000 miles roundtrip to either Milan or Athens makes it an incredible value, to boot.
Is it the best way to fly lie-flat to Europe? It's not perfect, but it's certainly in the conversation. Just don't count on getting a good night's sleep if you want a full meal and some time to relax at the onboard bar before bedtime on your way over to Italy …