I would have to swipe through five or six different mobile phone apps and websites to get the information Flighty puts all in one place for me when I fly, and that's why the Flighty Pro app is my favorite travel tool.
Flighty is a flight information tracking app that ingests and distills all of your flight's data into a clean, sleek interface in the palm of your hand on your smartphone. The app is often the first to alert you to critical changes like delays and cancelations and can also help you dig into the minutiae of air travel like how old your aircraft is, your estimated taxi time before and after takeoff, and what the weather looks like at your destination.
Perhaps best of all, when you link your Flighty account to your email (or better yet, your TripIt account), the app does all the work for you. You don't have to lift a finger for Flighty to start working for you once you've set up your account.
The Flighty app is now one of my iPhone home and lock screen widgets, and I have a desktop version of the app downloaded, too.
One thing to note: At the time of publication, Flighty is only available on the Apple App Store. Sorry Android, users.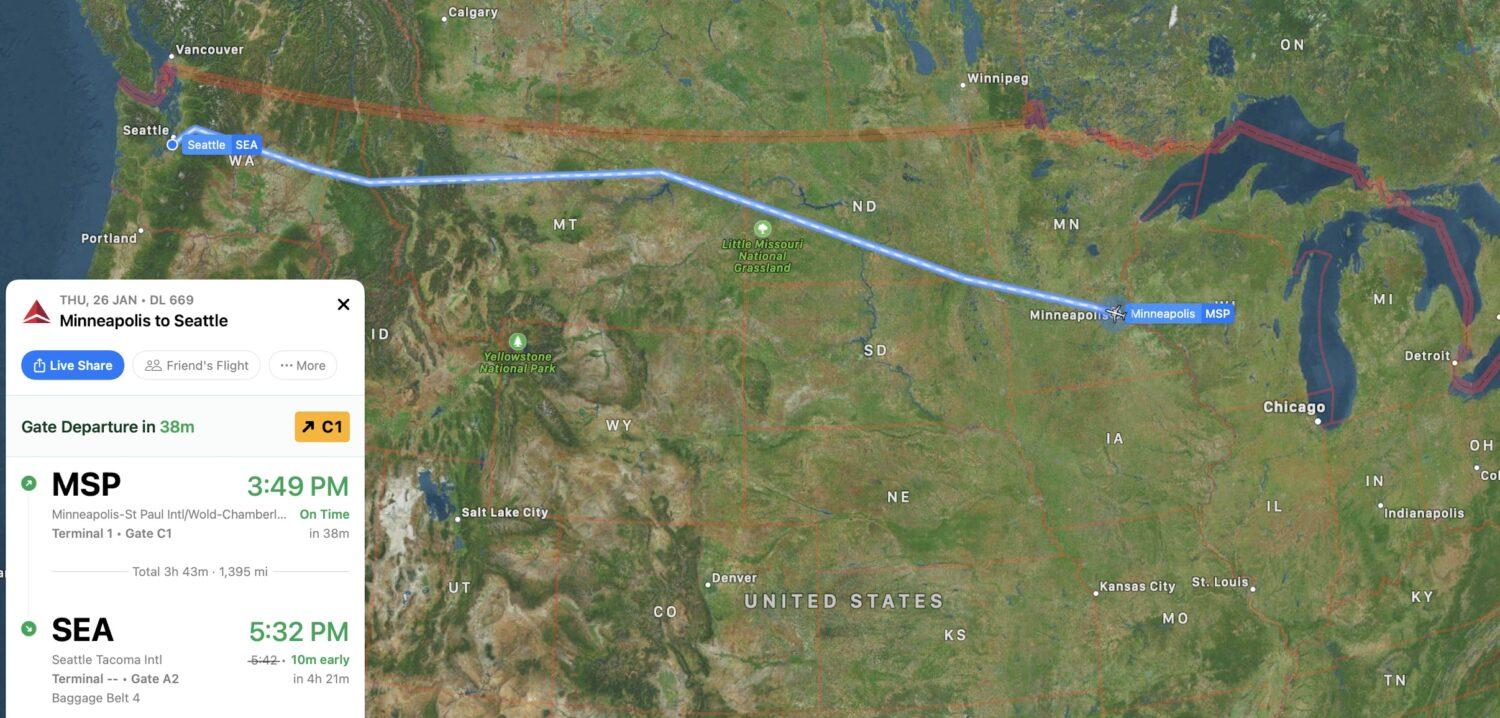 Flighty is a free app, but a Flighty Pro subscription starts at about $50 a year. For me, a relatively frequent flyer and a traveler obsessed with maps and flight data, that $50 is totally worth it all on its own.
I haven't regretted my Flighty Pro purchase for a second, and now I'm considering purchasing the "Lifetime" subscription option, because I know I'll be using this tool for years to come.
Let's dig into why I love this travel tool so much, and why I think it should be a staple app on the home screens of all avid travelers.
At Thrifty Traveler, we don't accept freebies. We use our own points, miles, or cash to pay for every single flight, hotel, or service you see reviewed here – including this one!
Flighty vs. Flighty Pro: What's the Difference?
Flighty is a free app you can download from your smartphone's app store and Flighty Pro is the subscription that gets you access to more alerts and details for all of your travels.
Flighty Pro is included for your first flight after you download Flighty, so you don't have to wait and wonder what it's like to get going, either.
After that first flight, you have a decision to make. Is Flighty Pro worth it at $49 a year? How about $249 for a lifetime subscription?
And then look at those family plans which can get you up to six memberships.
Here are the differences between the free Flighty and Flighty Pro as listed by Flighty in the App Store.
Free Flighty app:
Flight data
Live data
Weather
Historical flight lookup for the past 365 days
Lock screen widgets (limited refresh)
Flight route data
Aircraft model and image
Personal flight log and map
Flighty Pro: (From $49 a year)
Push alerts
Where's my plane tracking for 25 hours pre-flight
Live inbound plane tracking
Live lock screen widgets
FAA delay alerts
Delay predictions
Arrival forecast
TripIt sync
Calendar sync
Email forwarding
Tail number
Taxi times
As you can see, all the fastest, immediate data from Flighty comes under the "Pro" service, including all push alerts.
But if you only fly a few times a year and don't need up-to-the-second flight updates, the free app has a ton of useful data, too.
Ultimately, you should have the Flighty app on your home screen even if you don't purchase Pro.
How to Use Flighty Pro
Here's how Flighty Pro works for me.
First, Flighty Pro keeps track of all of my travel data, including flights I took many, many years before the Flighty App even launched. When I connected my TripIt account to Flighty, it pulled in all of the flights I had taken since I started using TripIt in 2011. Instantly, I had 12 years of flight data at my fingertips, and a fully formed map of dots and lines to prove it.
All of your past flights go into a section of the app called "My Flight Log." They're listed chronologically, but every flight is displayed linearly on the map.
When you touch one of your past flights, you get data like this. The example flight I'll use is a recent trip I took from New York (JFK) to Geneva (GVA) flying SWISS Economy.
These screenshots were taken after the flight, so all of this data has been fully fleshed out in the app. At the top, you see the flight map, including the exact route we took to get to GVA. It has the date, the flag of the carrier, and the flight number.
Underneath that are the final stats, including a total flight time of seven hours and 26 minutes and a total distance of 3,854 miles.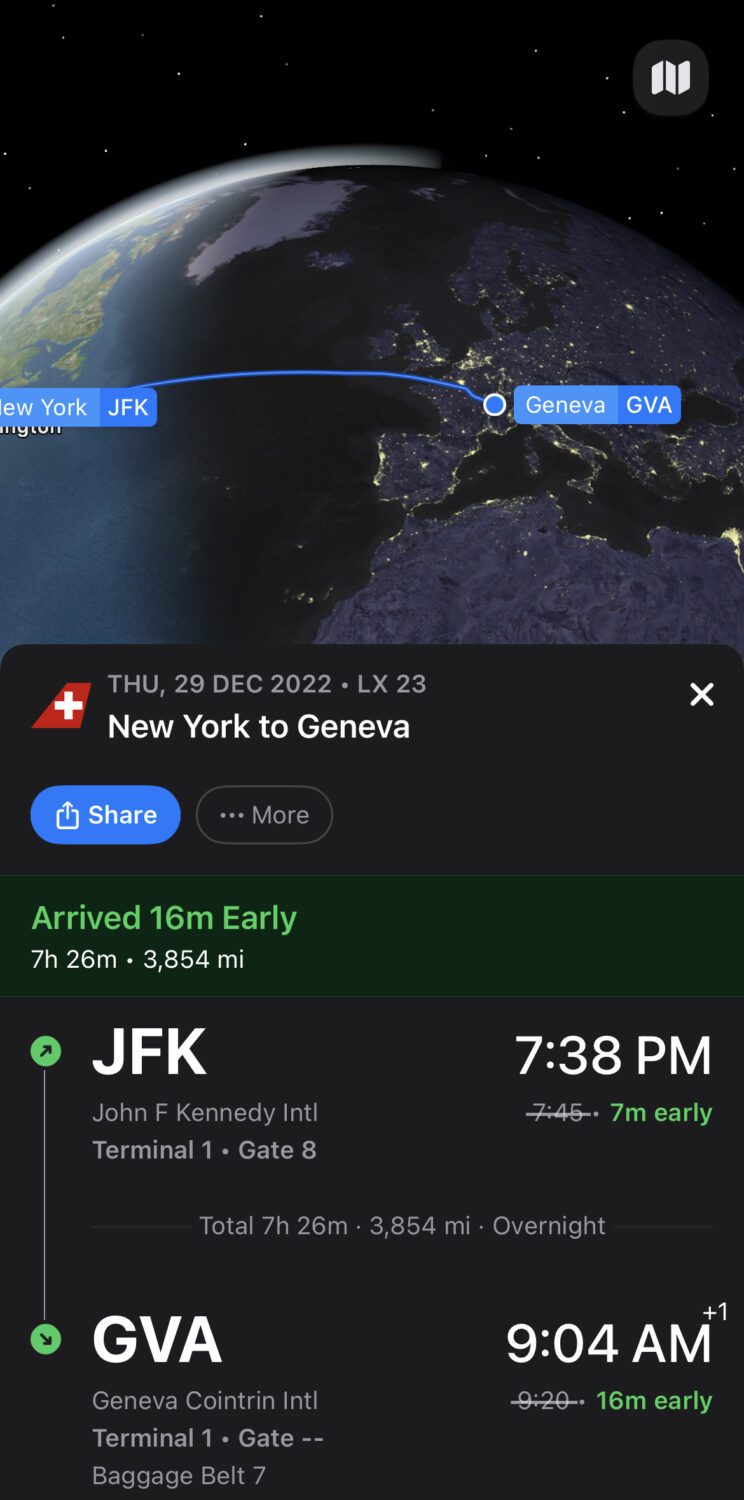 The green text means my flight was on time or early! We (impossibly) departed JFK early at 7:38 p.m. on a Thursday night and landed 16 minutes early in Geneva, too. Underneath the Geneva airport code, you can see information on where our baggage claim area is, too.
If you scroll below that primary information, you get more. It starts with your confirmation code, which you can easily copy if you're checking in for your flight. Plus, you can put in your own seat information (it copies over from some reservations and not from others) so you can put away your airline's app after you scan your boarding pass.
Plus, the app gives you information about the arrival weather and what kind of a time change you're looking at your destination.
One of my favorite features of the app is the "Arrival Forecast" which shows you how often the plane arrives early, on time, late, or not at all. This SWISS flight, from a sample size of 59 flights, arrives early more than half of the time, which was reassuring.
Below the arrival forecasts are the details of the plane itself. The "Where's My Plane?" section is really important and is usually the most indicative of whether or not you have delays.
If the plane ahead of you is consistently arriving late throughout the day, you might expect some delays on your journey. Luckily, this flight was just flying from JFK to GVA and back, making it pretty easy to make up for the 44-minute late arrival earlier in the day.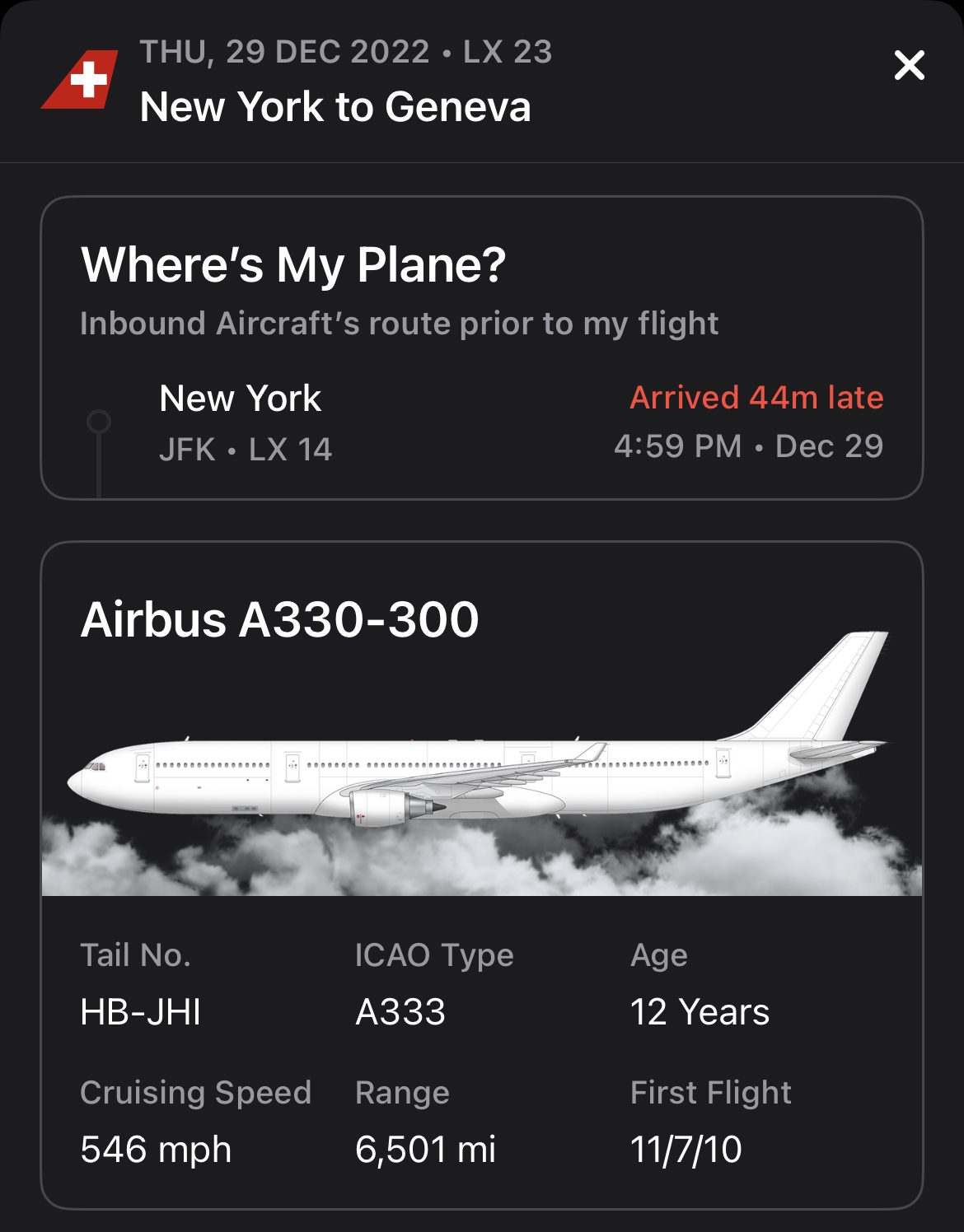 There's also very specific tail number information about your plane, including fun and interesting facts like the plane's age and its first flight. This can help you figure out what kind of product you'll get onboard, and can help you track a plane's history if you want to nerd out even more.
Below that is the "Detailed Timeline" section, which gets you up-to-the-minute information about your journey. This data is really helpful and interesting. For instance, at JFK on a Thursday night right before the New Year's holiday, I knew we were due for a long time on the tarmac. Before takeoff, we were "scheduled" for 10 minutes on the tarmac, but Flighty budgeted us for about 25 minutes. Flighty's estimate was much closer to the end result, as you can see in the "Taxi" section below.
Plus, when using Flighty Pro, you can see your taxi progress on the map, too. It shows all of the other planes lined up for takeoff in real-time, so you can see where you stand.
And while we departed the gate early, our takeoff was actually 10 minutes late. Clearly, we made up some time in the sky, landing nine minutes early and shaving eight minutes off our estimated taxi time at a sleepy Geneva airport the following morning.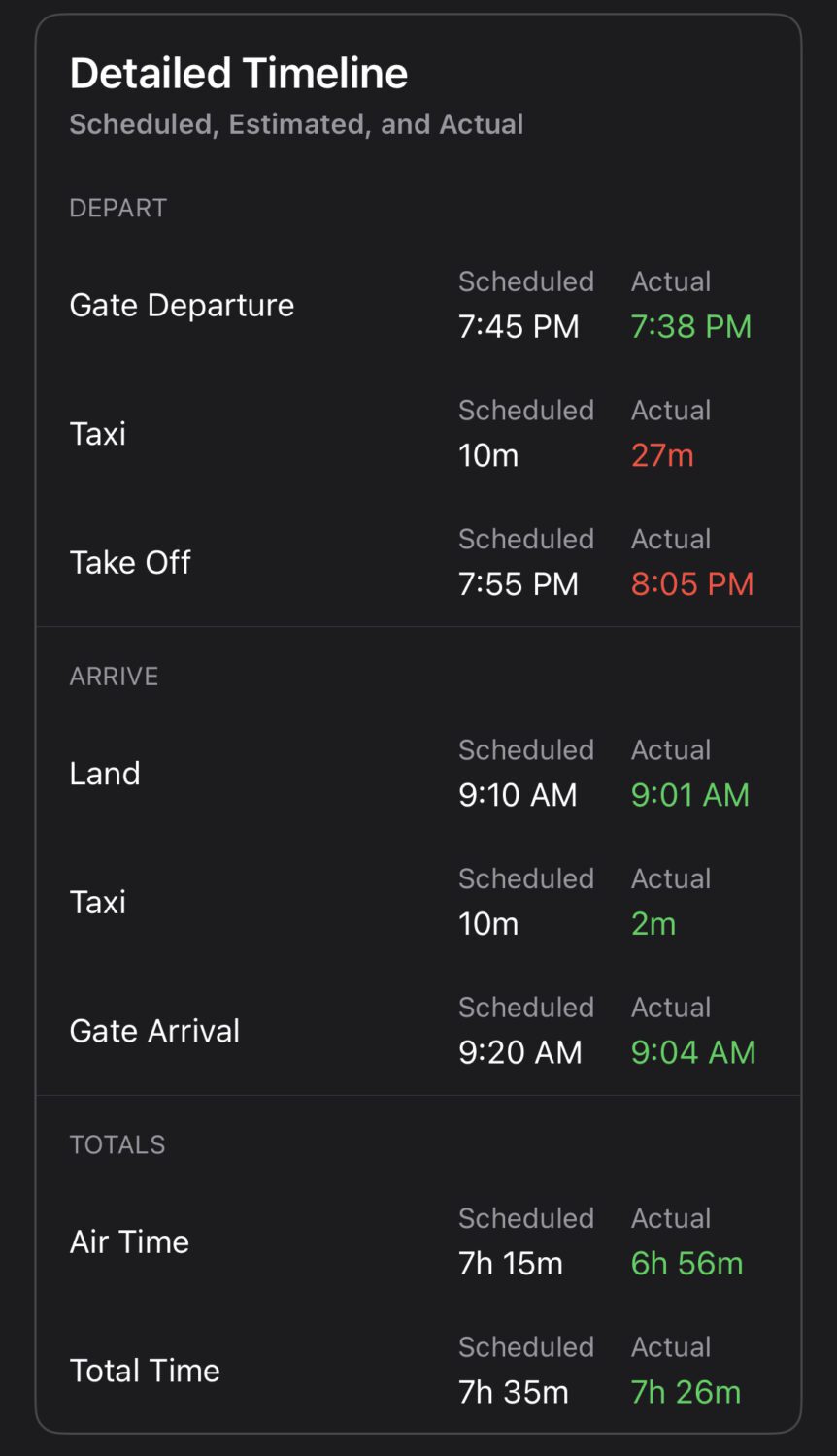 Finally, at the bottom of the app, Flighty aggregates SWISS's phone number, website, and social media accounts so you can get in touch with the airline with one touch if things go awry.
Below that, you get a history of your own travels on the route you're flying, too. Being this was my first time on that specific line, it just showed my completed flight.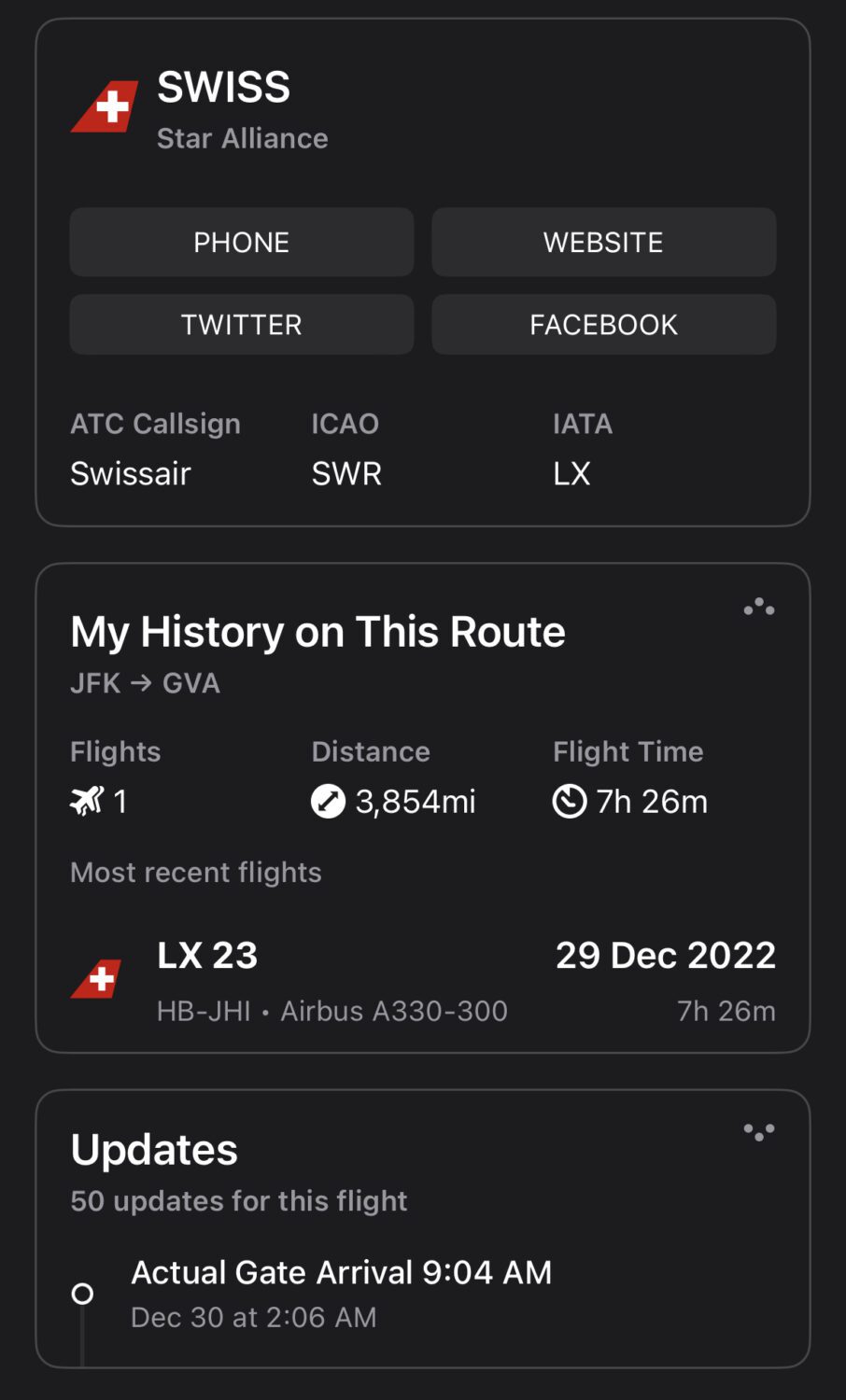 As we mentioned above, Flighty is also available via a desktop app for Mac, which I use when I'm working at 30,000 feet, or when I have my laptop out at the airport or lounge before my flight.
The Flighty app is beautifully designed and easy to use for any flyer.
My Other Favorite Features of Flighty Pro
I've spent a shocking amount of time on this app and have dug up what are some of my favorite ancillary features.
The first is having Flighty data on the lock screen of my iPhone. As part of the iPhone 14 iOS update, you can add widgets to your home screen, and the new interface launched with Flighty as a primary option.
I whipped up this phone screen to show the possibilities. Underneath the time, there is both the longer, horizontal Flighty widget and the small, circular one to its right. (The one on the far right is just the weather.) I don't use both on my normal home screen, this is just an example. I typically just use the small, circular one along with some other widgets.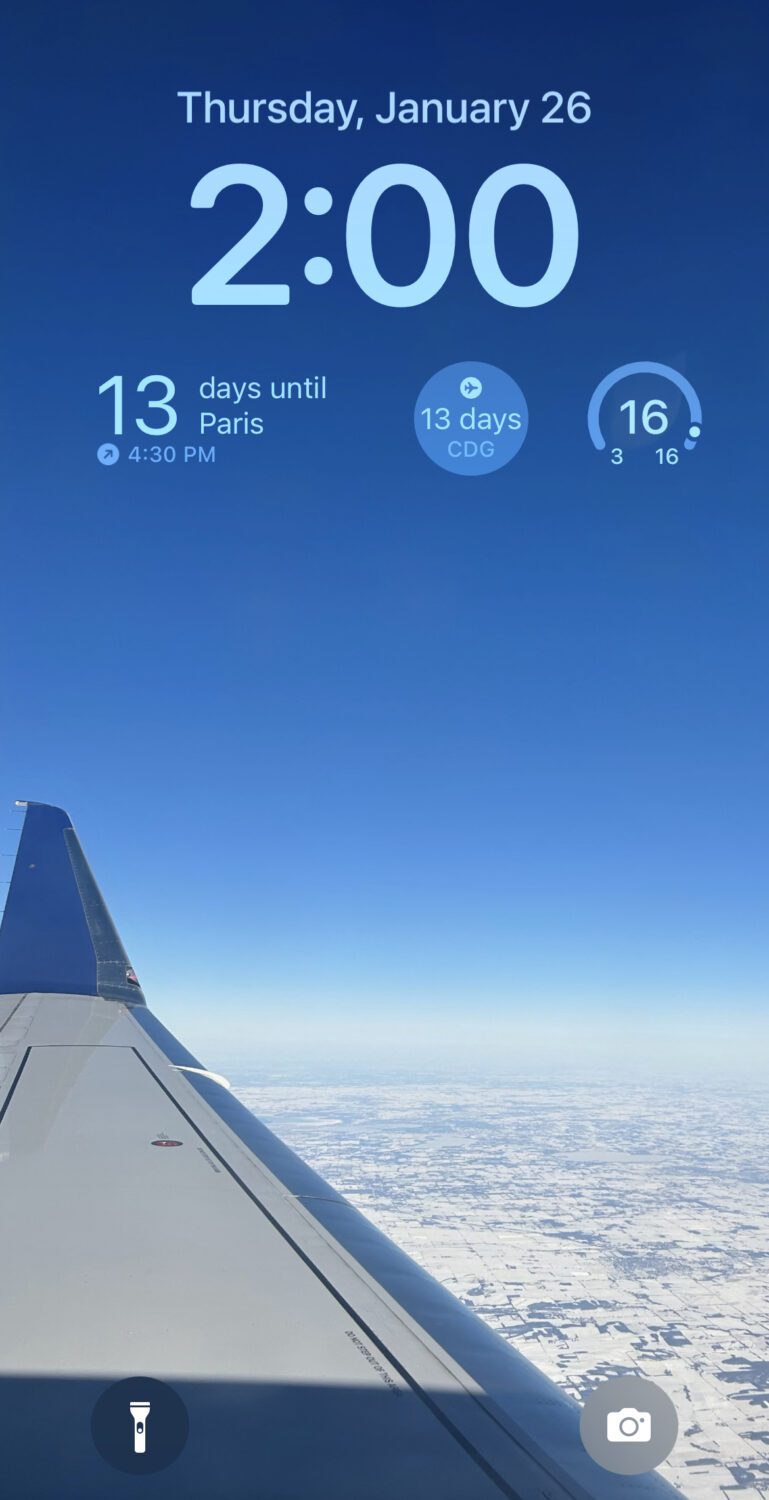 I love having a countdown to my next flight on my lock screen. The horizontal widget even shows the departure time of my scheduled flight. The smaller widget just displays a countdown and an airport code. Having these on the lock screen is also nice because, on the day you fly, it'll show you gate information, on-time information, and once you land, baggage carousel information.
I also love having a Flighty app widget on my home screen as well. Along with all of my favorite apps, I have Flighty as a big button on the top left of my screen.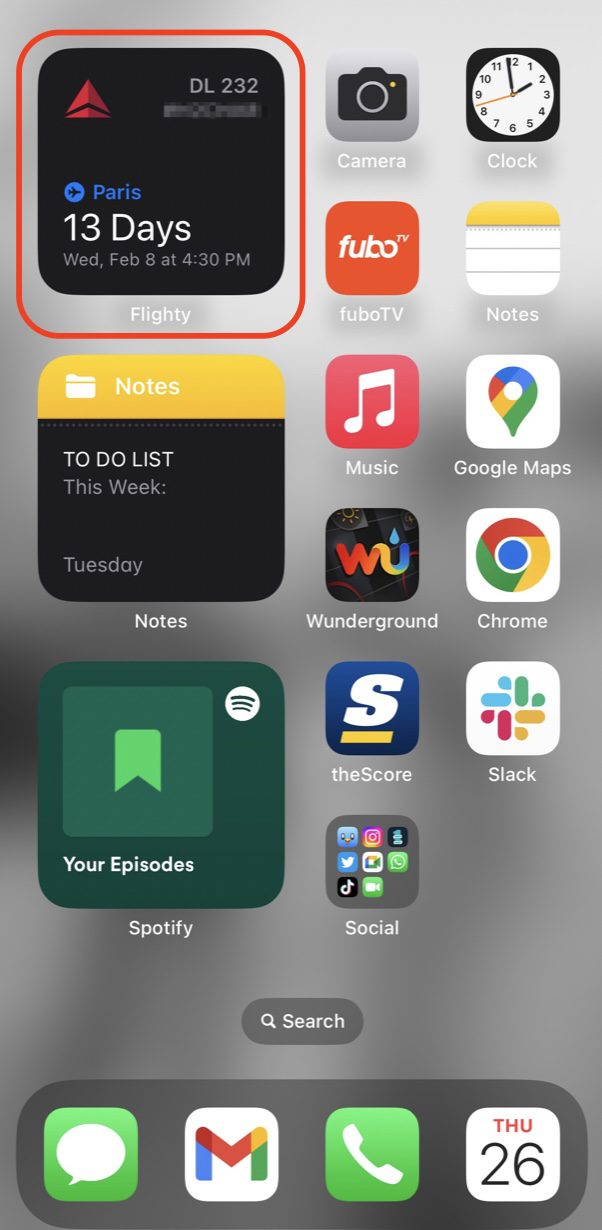 Having the ability to put Flighty on your lock and home screens is fun because of the countdowns, but also really helpful for a quick glance as I scurry through the airport.
Another feature I love is the Flighty Passport year-end roundup and the ability to see my all-time flight stats. You've likely seen Spotify Wrapped or other year-in-review-type content on people's social media, and Flighty does the same thing with Passport.
It gives you a map of all of your flights for the year, the number of flights, distance, flight time, airports, and different airlines you flew. It was a fun snapshot into a year in the skies, although slightly terrifying to see that I spent a full week in the air in 2022…or that I've spent a total of 25 days flying since graduating high school in 2011.
The most valuable parts of a Flighty Pro subscription are the push alerts. I find them helpful in many ways. Here is an example of some basic push alerts you get on the day you fly.
Usually, a day before your flight departs, you'll get a "flight plan filed" alert about your upcoming trip, which automatically loads most of the details on the app. You also get a 2-hour warning on the day of departure with some terminal and gate information.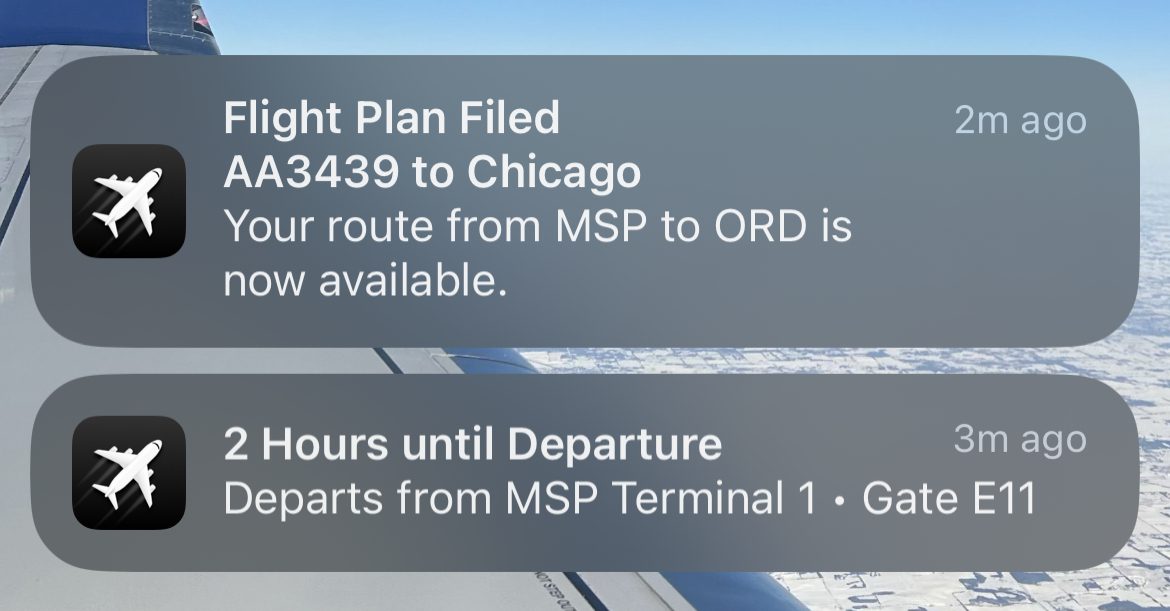 But there's much more information you get alerted to with Flighty Pro. In addition to those basic updates, you can opt into all of these push alerts, including any and all delays, gate changes, aircraft changes, when your incoming plane arrives at the gate, what gate you'll be at when you arrive, and a 1-hour warning until landing, too.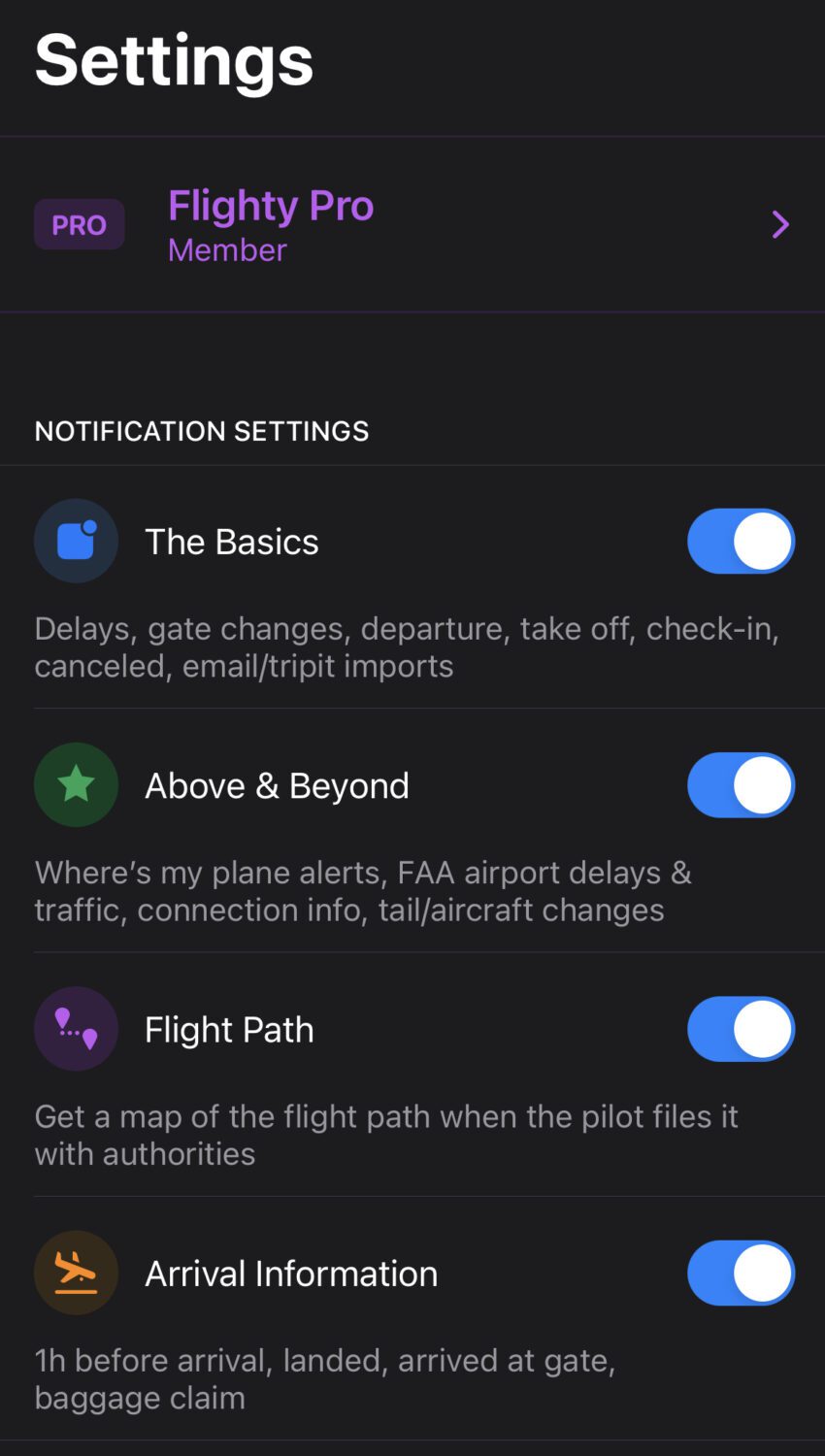 I also love the morning update you get from Flighty on the days that you fly. When I wake up on days when I have a scheduled flight, I get a push alert from Flighty telling me that my flight is on-time and it usually includes some weather information, too. It's an exciting push alert to get on travel days, but also lets me know if I need to scramble to book a new flight or change my existing one if something has gone wrong overnight.
This might be the most underrated aspect of Flighty and Flighty Pro: The app works on the basic, messaging Wi-Fi on planes. You know the normally free version of plane Wi-Fi that allows you to send text messages and WhatsApp messages while in the air? If you're connected to that, your Flighty app will update while you are in the sky, keeping you abreast of your connection information, arrival time, and more.
Finally, a feature I've been utilizing more lately is the Friends' Flights tracking feature. On a list kept separate from your own flights, you can monitor other flights with all of the same Flighty Pro data, too.
I've found this extremely helpful in a number of ways. I love to use it when I have to pick up my friends and family from the airport, as it gives me a countdown until landing and their flight status through push alerts as they go. I've also used it to track friends and family who are flying to the same destination as me from other places or on other flights. It helps keep a traveling group together and informed.
Plus, the "Friends' Flights" feature doesn't affect your own flying stats, either.
I know this review has been a love fest, but there is one gripe I have with the Flighty app. 
And it's because the app momentarily stopped my heart the day I was supposed to fly from the Maasai Mara back to Nairobi last year.
As recently as January, when your flight number changes, the Flighty App processes the change as a cancelation of your flight, giving you the big, scary, red "Flight is canceled" banner on the app.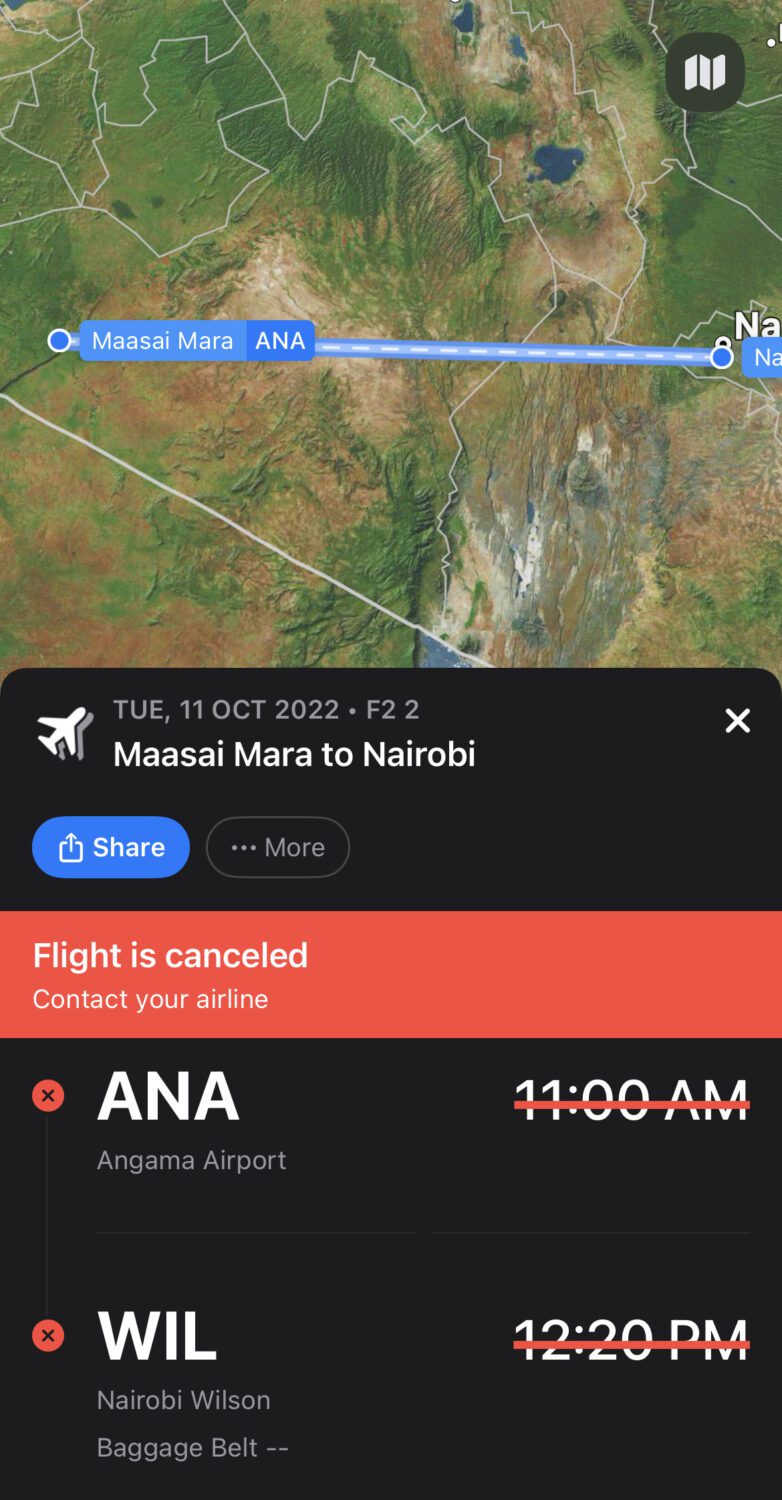 This flight was a very small, prop plane flight on a small, African carrier, so I knew nothing was wrong once I dug into the problem a little bit, but when you're traveling abroad or have tight connections, an error like this could send travelers inadvertently spiraling.
And I know this wasn't a one-off, either. It's a bug that's affected a few Thrifty Traveler team members over the past few months. It's certainly not disqualifying of a spot on your home screen but it's an aspect of Flighty that needs to be adjusted, for sure.
Bottom Line
The Flighty app and Flighty Pro is my single favorite travel tool and is absolutely the most valuable resource to have in your pocket on the day you fly.
Flighty Pro subscriptions get you up-to-the-second push alerts and can help you see all the data you could possibly want about your upcoming or previous travels, all in one app.
I keep finding new and useful ways to use Flighty's data, and the app is going to be a staple of my travels going forward.