Icelandair has made its name with cheap economy fares between the U.S. and Reykjavik (KEF) and onward throughout Europe. But there's also an Icelandair business class seat … and while it's far from the biggest or most luxurious business class seat, it's still a great way to cross the Atlantic.
I flew Icelandair's business class – dubbed Saga Premium Class – for the first time last month and was delighted during my relatively short flight from Reykjavik to Boston (BOS). The seat is spacious and comfortable – think domestic first class recliners rather than long-haul business class suites – with a great meal and attentive service throughout. Plus, access to Icelandair's excellent Saga Lounge and perks to move easily throughout the airport made it a good trip from start to finish.
So is it worth the premium to fly Icelandair Saga over a standard economy ticket? Read on for my full review.

Booking Icelandair Business Class
Booking Icelandair business class is pretty quick and easy thanks to Google Flights, a very slick Icelandair website, and wide open availability from all over the continent. And while it might not measure up to other international business class offerings, you can book these seats for much cheaper.
Icelandair flies to these 15 North American cities, connecting travelers to 29 cities across Europe.
Baltimore (BWI)
Boston (BOS)
Chicago-O'Hare (ORD)
Denver (DEN)
Minneapolis-St. Paul (MSP)
Montréal (YUL)
Newark (EWR)
New York City (JFK)
Orlando (MCO)
Portland (PDX)
Raleigh (RDU)
Seattle (SEA)
Toronto (YYZ)
Vancouver (YVR)
Washington, D.C.-Dulles (IAD)
Begin your search by selecting one of these departure cities. If you're not based at one of these hubs, consider booking a positioning flight to get yourself to one of these great fares.
As with nearly every airline, the best way to start your search for Icelandair Saga Premium flights is with Google Flights. To find Saga Premium fares instead of Icelandair's economy product, select "Business" in your fare type drop-down menu.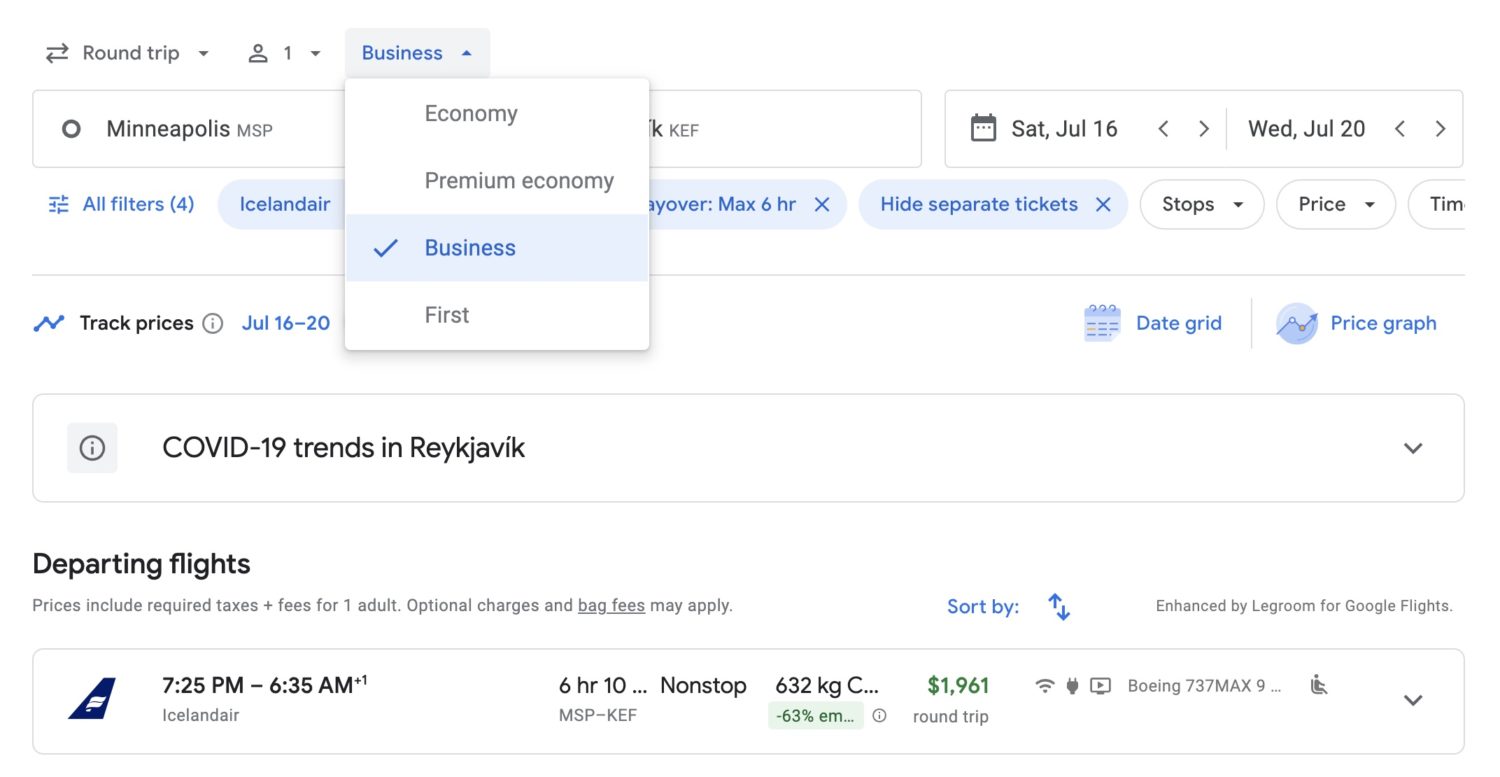 My flight in late April cost $797 one-way from Reykjavik (KEF) to Boston (BOS). That's a decent price … but we've found much better prices for our Thrifty Traveler Premium members over the years – including many roundtrip fares for less than $1,000.
At Thrifty Traveler, we don't accept freebies. We use our own, points, miles, or cash to pay for every single flight or hotel you see reviewed here – including this one.
Just last year, we found this fantastic deal on roundtrip Saga Premium fares from a number of U.S. gateways to all over Europe! It included a ton of great fares, all below $1,000 roundtrip!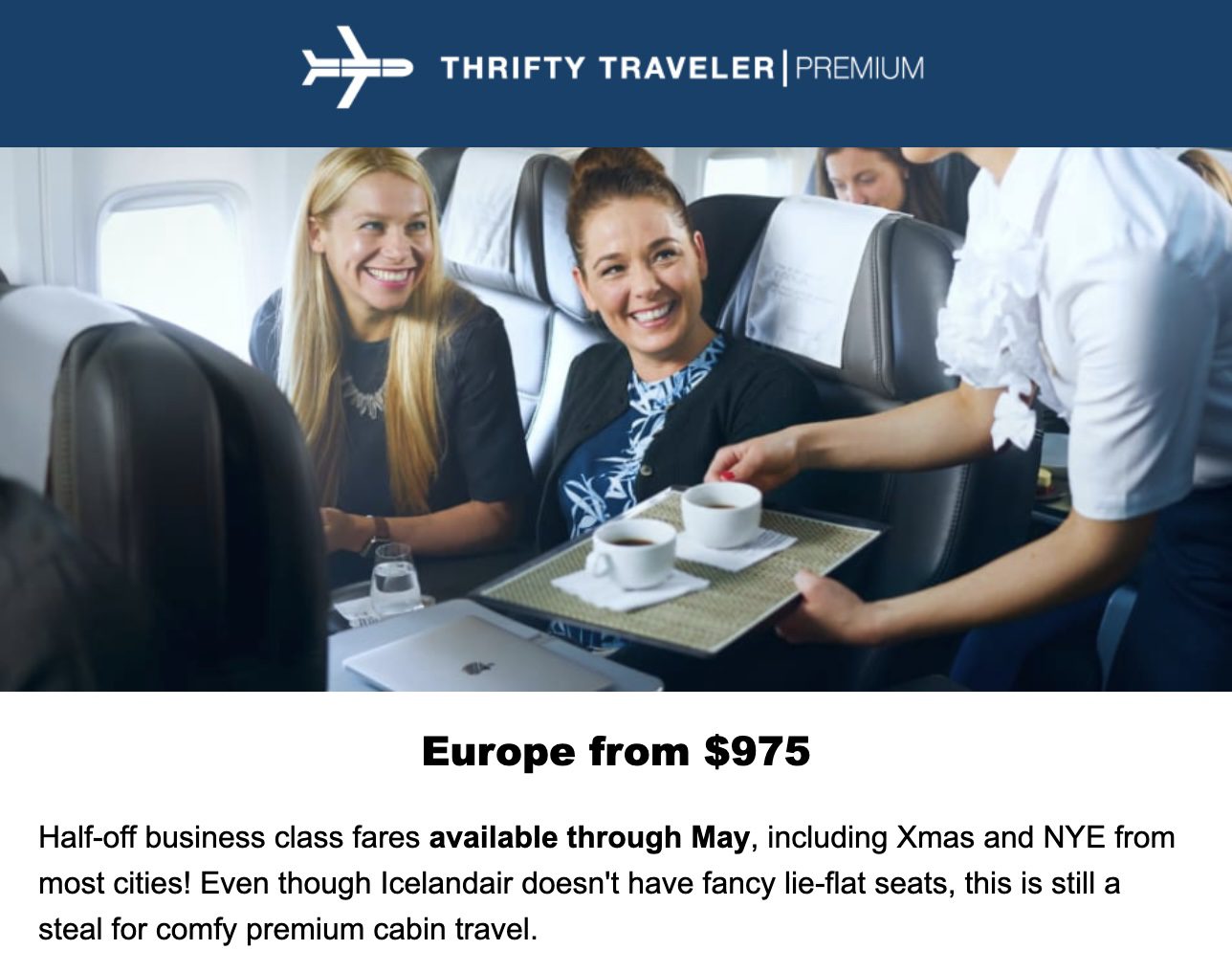 Get alerts like this one sent to your inbox with Thrifty Traveler Premium!
Icelandair Saga Lounge Review
The Icelandair Saga Lounge in Reykjavik (KEF) might just be the best part of the whole Saga Premium experience.
It's the only lounge at Keflavik, but it packs a punch. It's a big, modern space with all the amenities one would need to start a journey or during a layover.
An Icelandair Saga Premium ticket will grant you access to the Icelandair Saga Lounge, and that's the easiest way to get inside. Icelandair status holders and credit cardholders can gain access, along with some Lufthansa, Alaska Airlines, and AirBaltic credit cardholders as well. Plus, travelers flying business or first class on Lufthansa, first class on Delta, or business class on United can also access the lounge.

You'll find the lounge in the middle of the airport concourse. Check in, clear security, then walk through the duty free area and into the main terminal hall. Head down a narrow hallway that also serves as the boarding area for some Schengen zone flights departing from Iceland. You will see a big neon sign and the stairs and escalator going up. At the top, you turn left and there you'll see the front desk.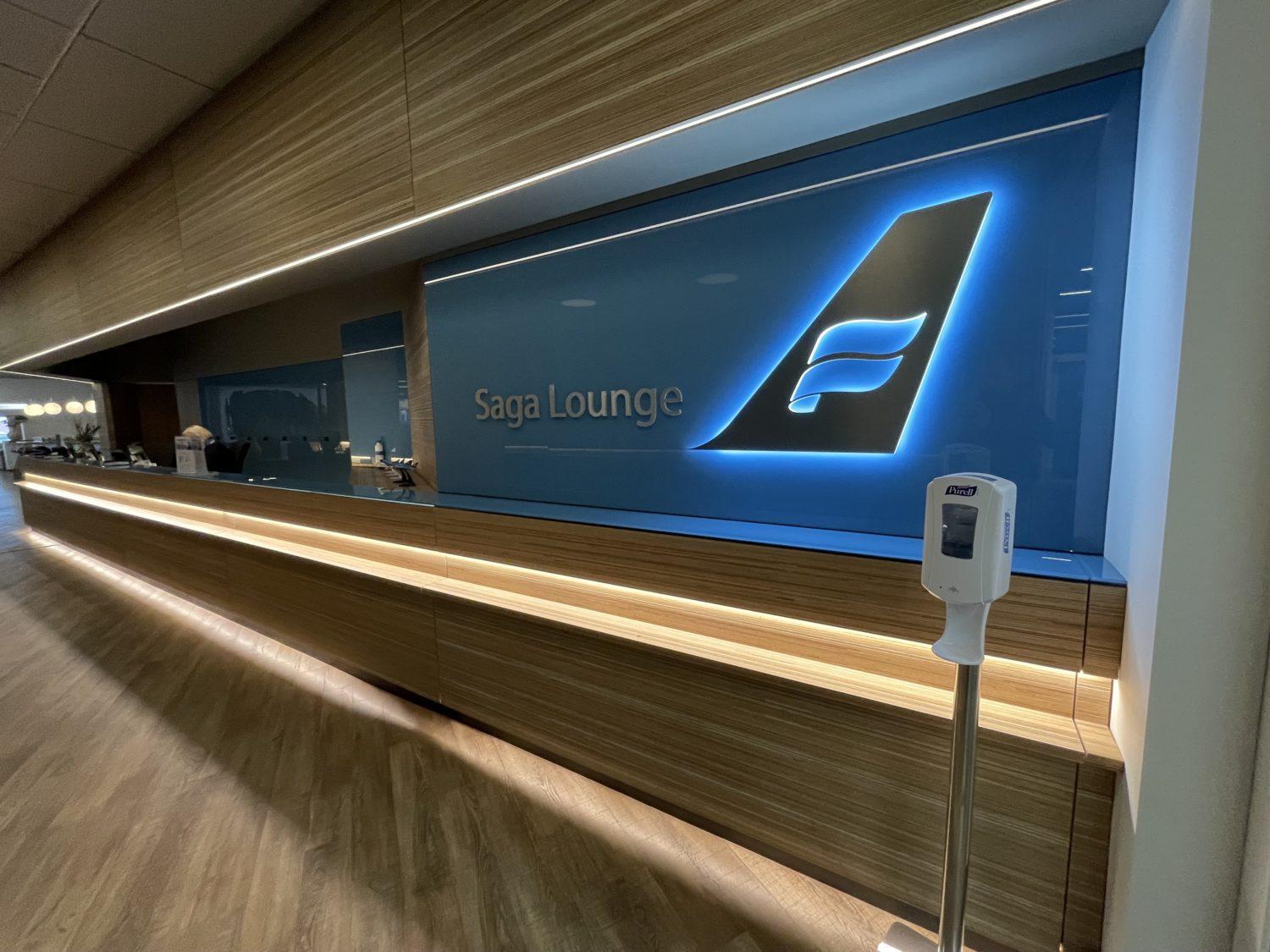 The lounge is just before border control, so be sure to give yourself a little extra time when leaving the lounge to clear border control before heading to your gate just in case there are lines.
Despite the long list of people who can get into the lounge, the lounge was not too crowded during my visit last month – even during the morning rush. There was no wait when I entered the lounge around 7 a.m. on a Sunday morning – a lounge attendant quickly scanned my boarding pass, and the lounge was mine. And about an hour later, the lounge was practically empty as many flights departed.
Right away, the space felt huge, but intimate. There was a glut of seating options, both social and private. The private seating areas were incredibly quiet and extra comfy.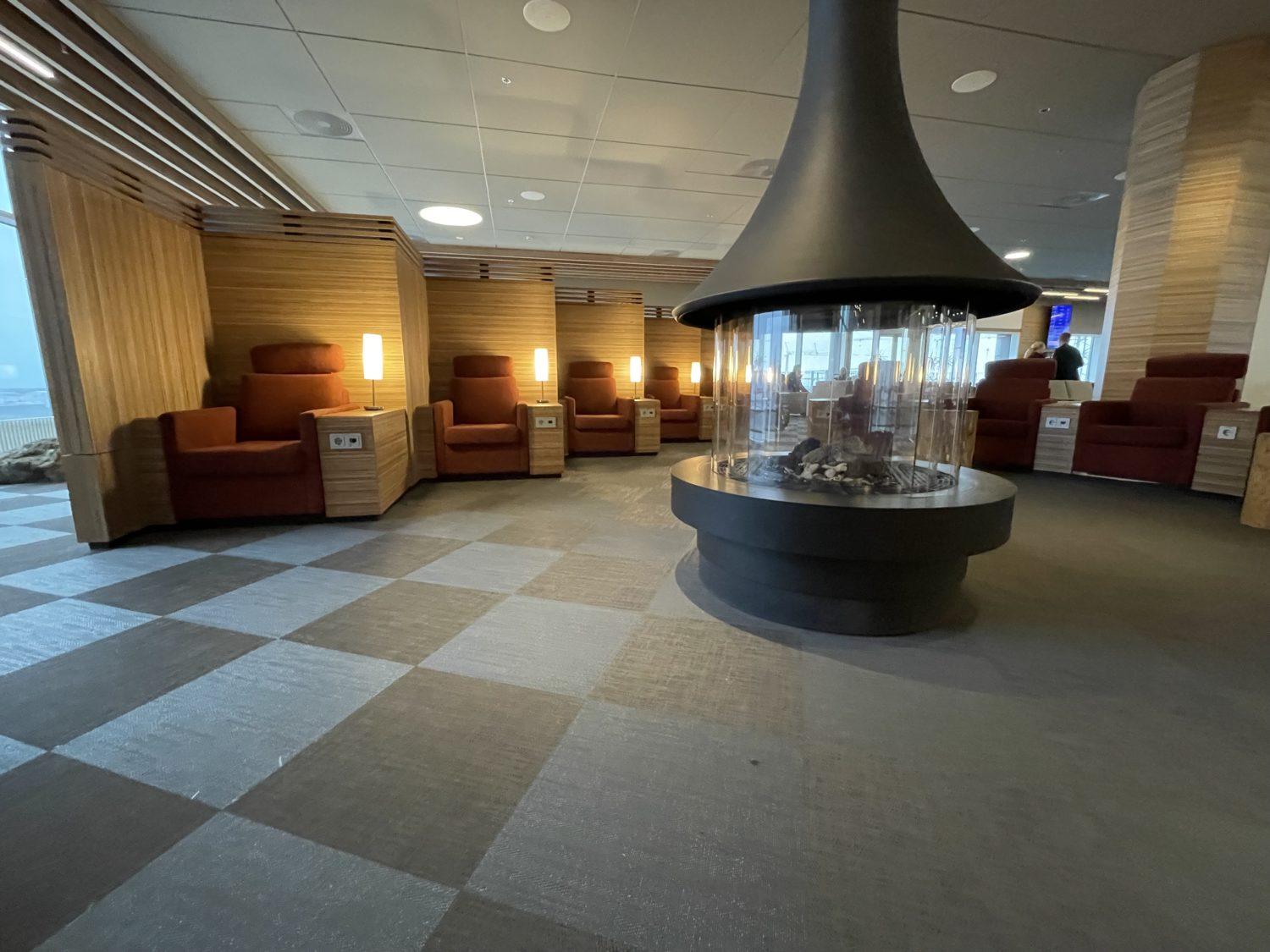 The staggered, individual seats around the hearth fireplace were some of the best in the house. Sadly, the fireplace was not running when I arrived.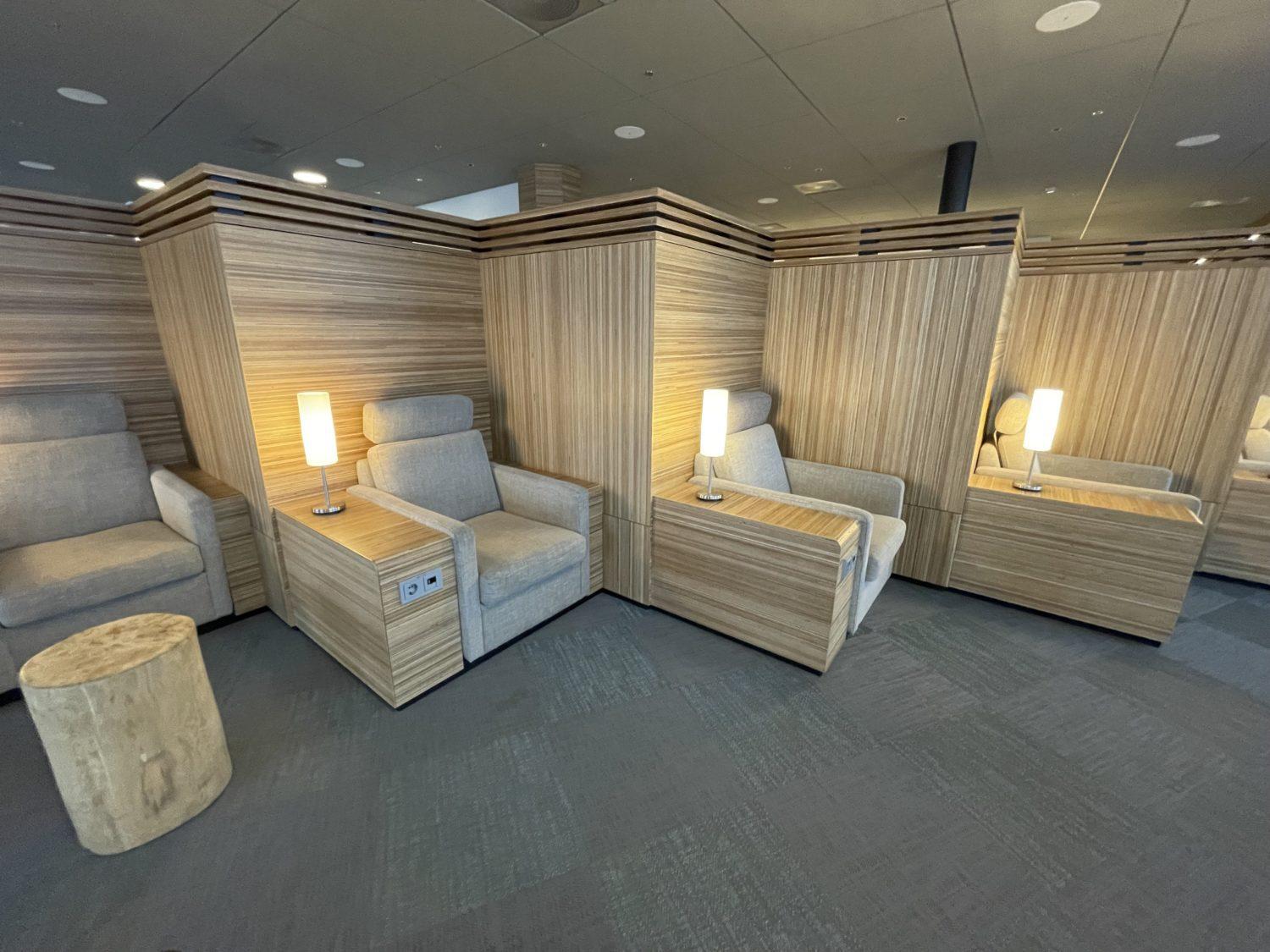 I chose one of these tan seats, as they were the most private and offered some views of the tarmac. On each side of these wooden barriers there were seats, and there were three rows of them scattered throughout the lounge.
The best seats in the house, however, were these green recliners.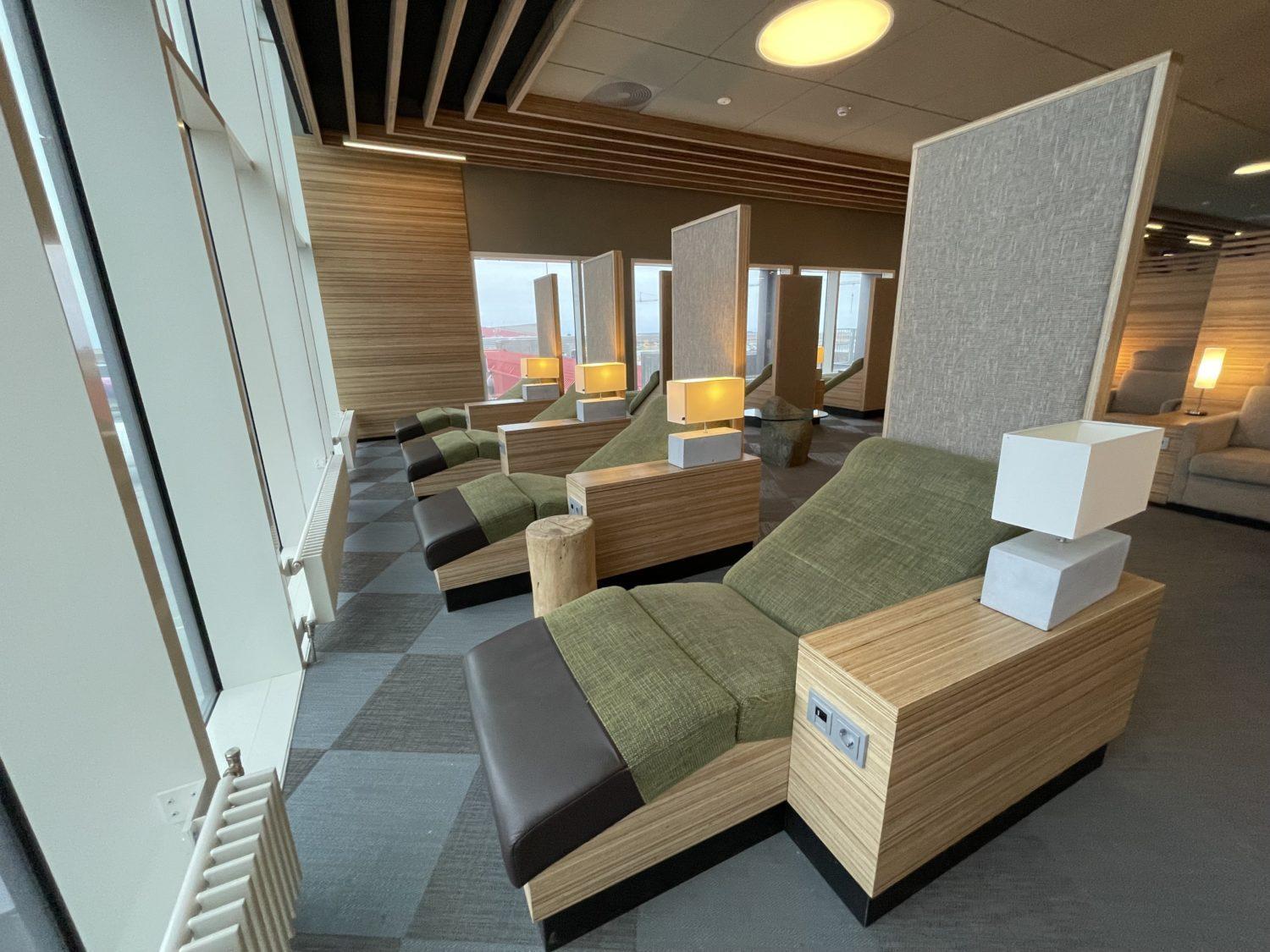 I spent a little bit of time laid back in one of these bad boys as well, but they proved a little too comfy for me! I had more to explore and couldn't afford to take a nap that morning.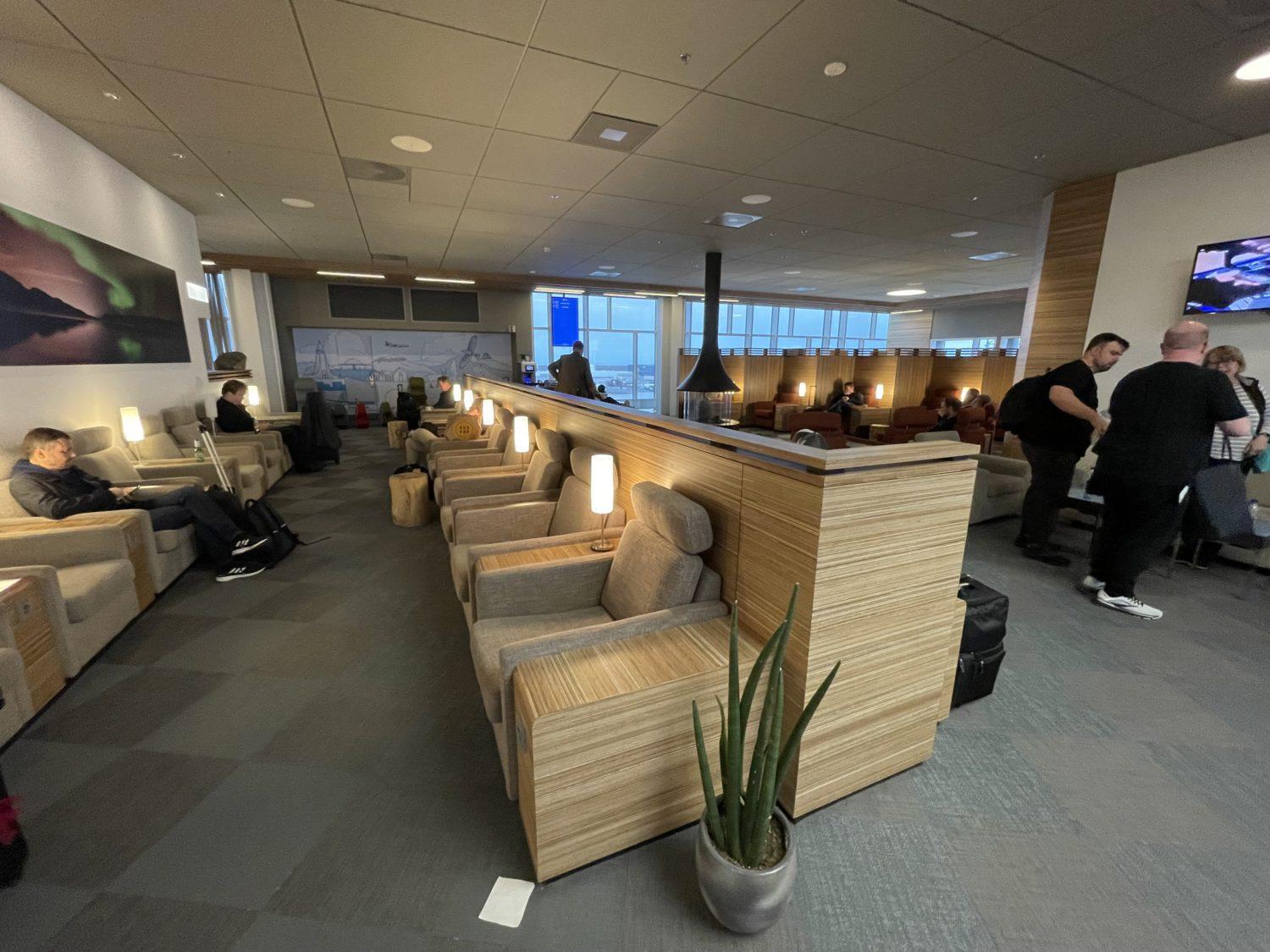 As you can see, there was no shortage of comfortable seats available to travelers in the Saga Lounge, even at the busiest part of the morning. Each one comes with its own light and its own plug-ins.
The standard European plugs were accompanied by USB ports at every single seat in the house except for the dining tables near the food.

A children's area (sans children that morning) was tucked away in the back of the club. The space contained these riding ponies and a cute Icelandic mural on the back wall, along with another chest of toys for the kiddos.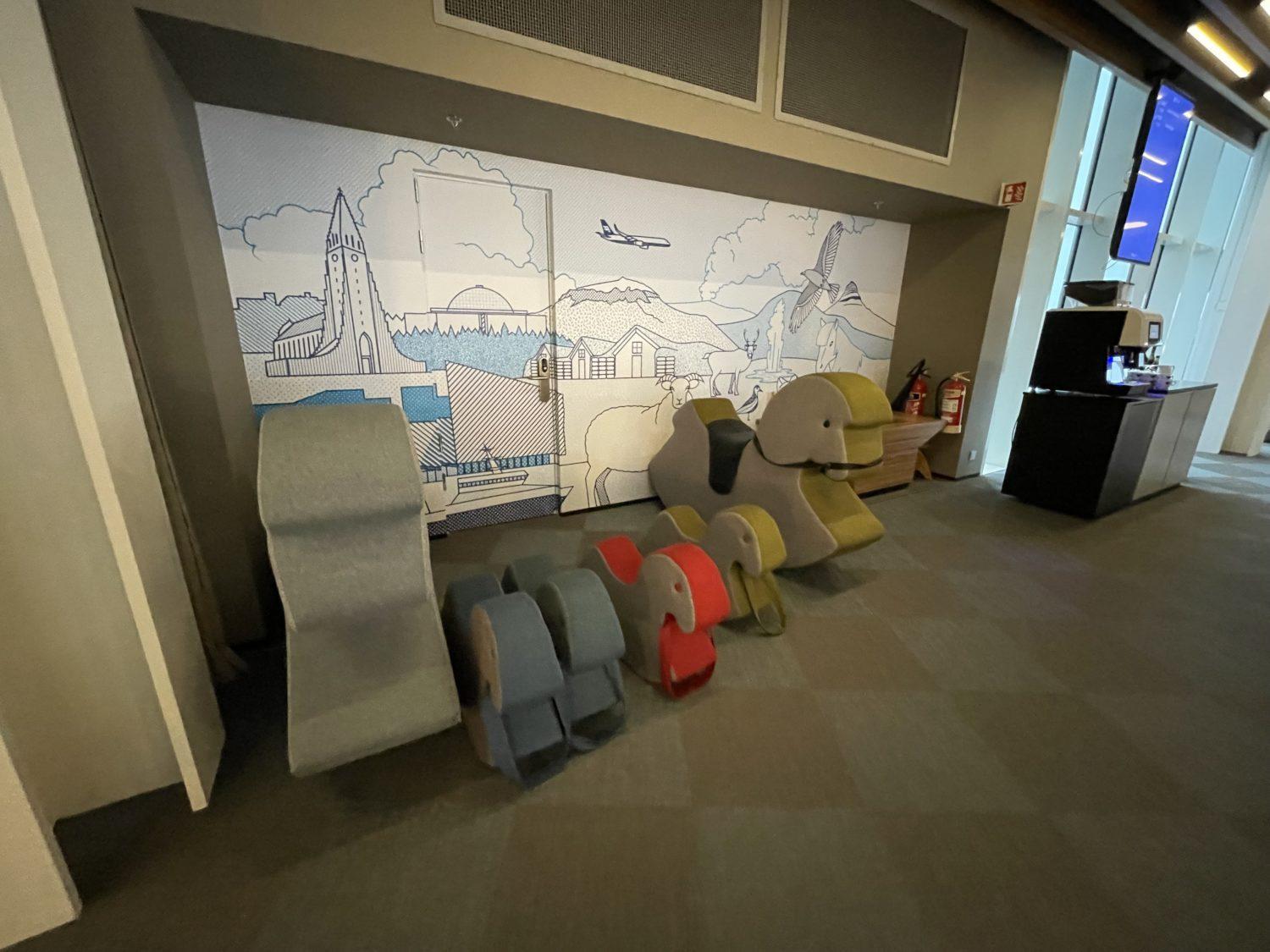 The decor inside the Saga Lounge was very nordic and especially Icelandic. Tons of lava-style rocks were strewn about the space. Heavy, seemingly random rock formations might not be what most people consider interior design, but it fits the Iceland vibe!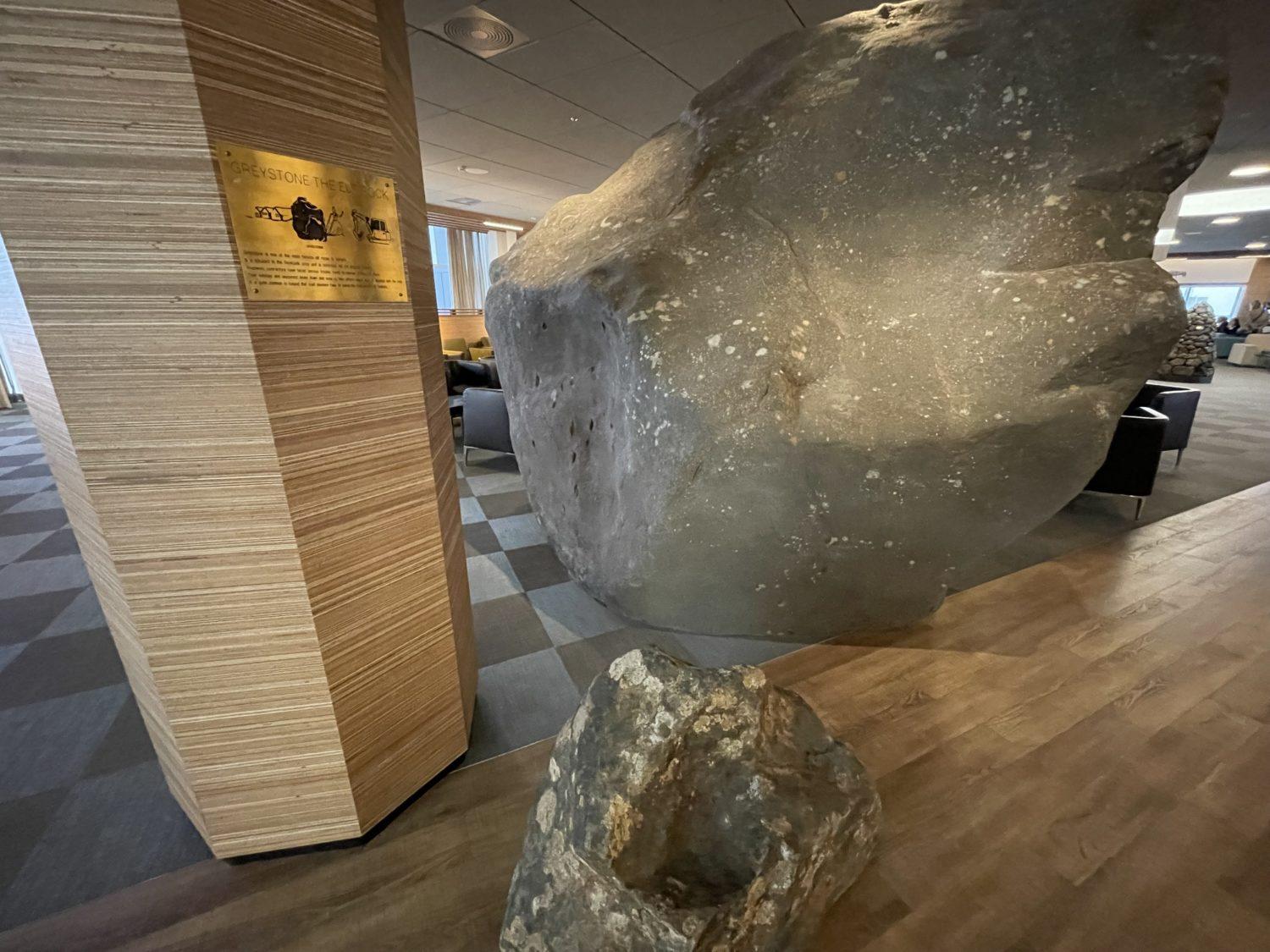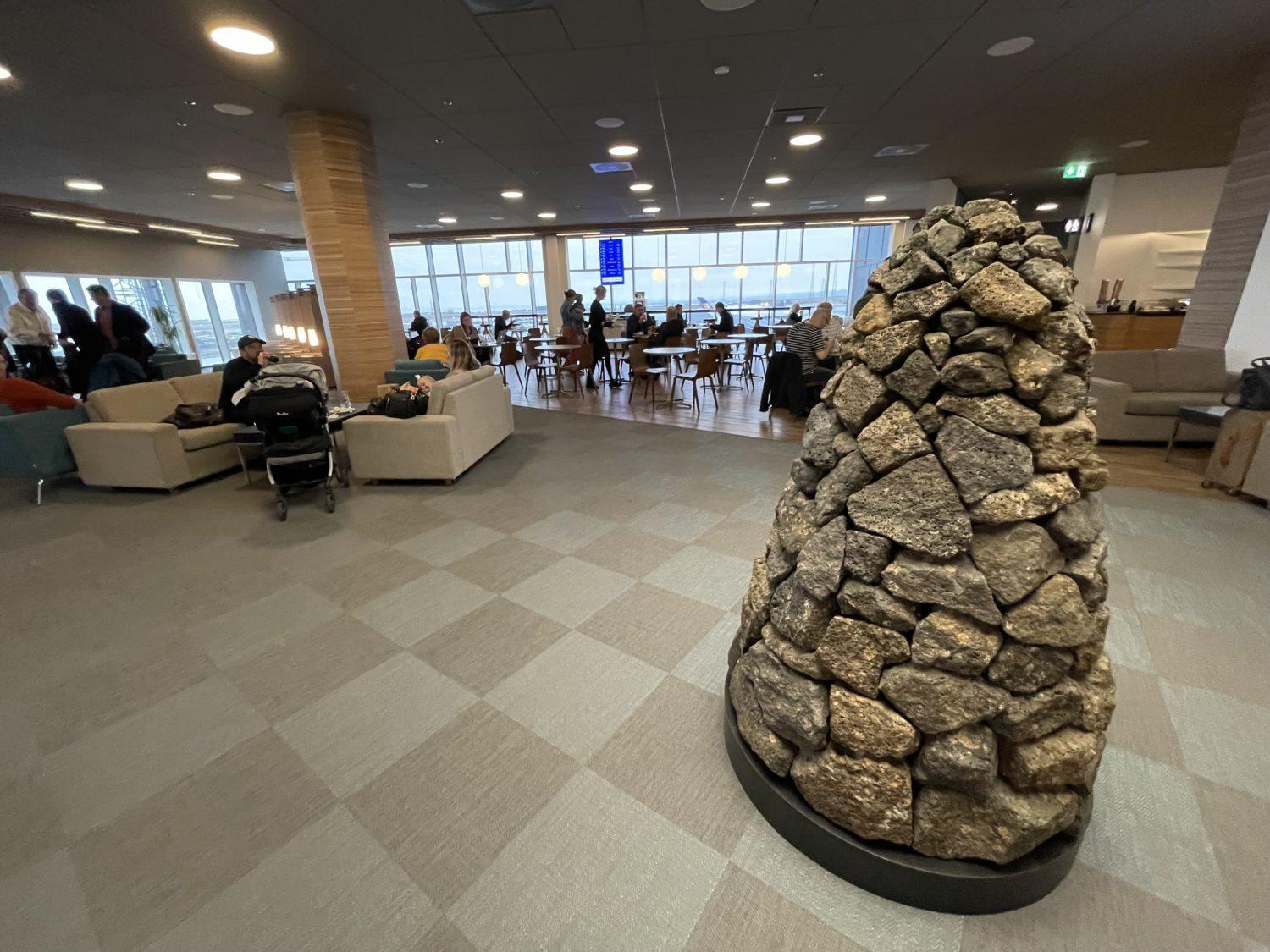 The dining and social area is at the back of the lounge, but the space is so large that none of the noise really filtered into more private areas of the lounge.
The food and drink selection at the Icelandair Saga Lounge was pretty good, too. The buffet-style food selection was pretty strong and the buffet was constantly attended to.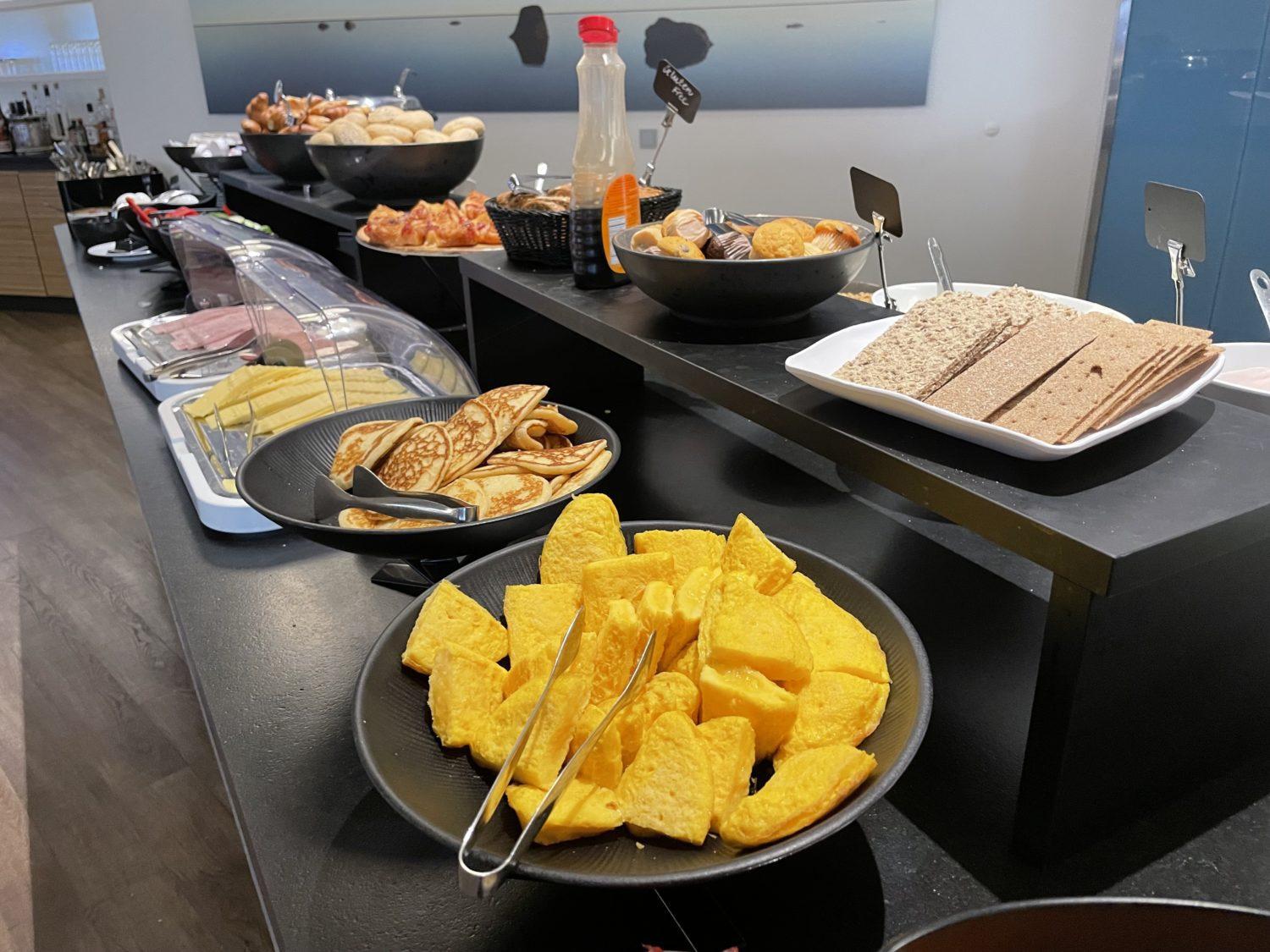 The breakfast spread was made up of typical European fare like yogurts, oatmeals, meats and cheeses, pancakes, and much more.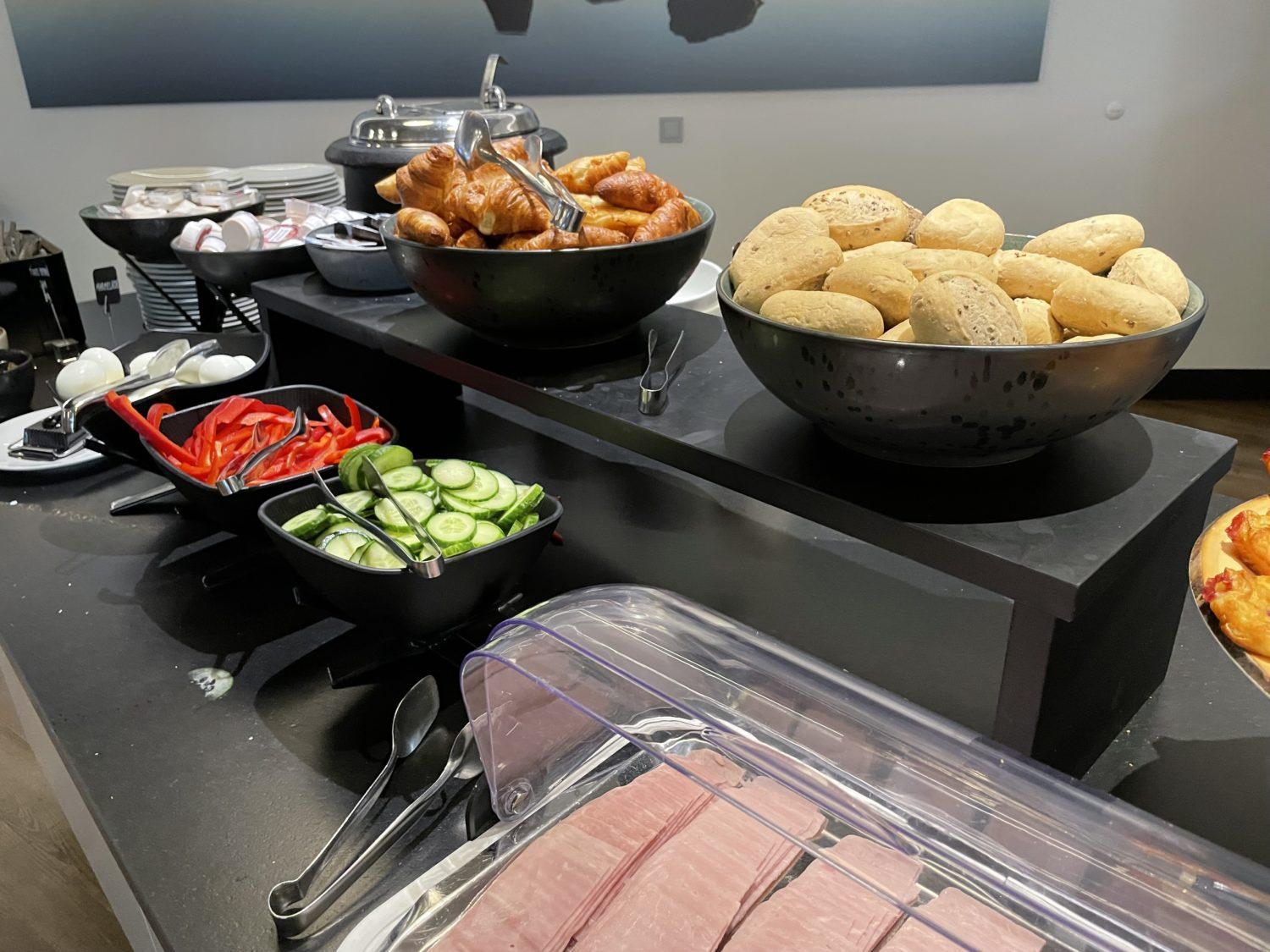 A juice, cereal, and toast bar sat beside it as well for someone looking for something lighter.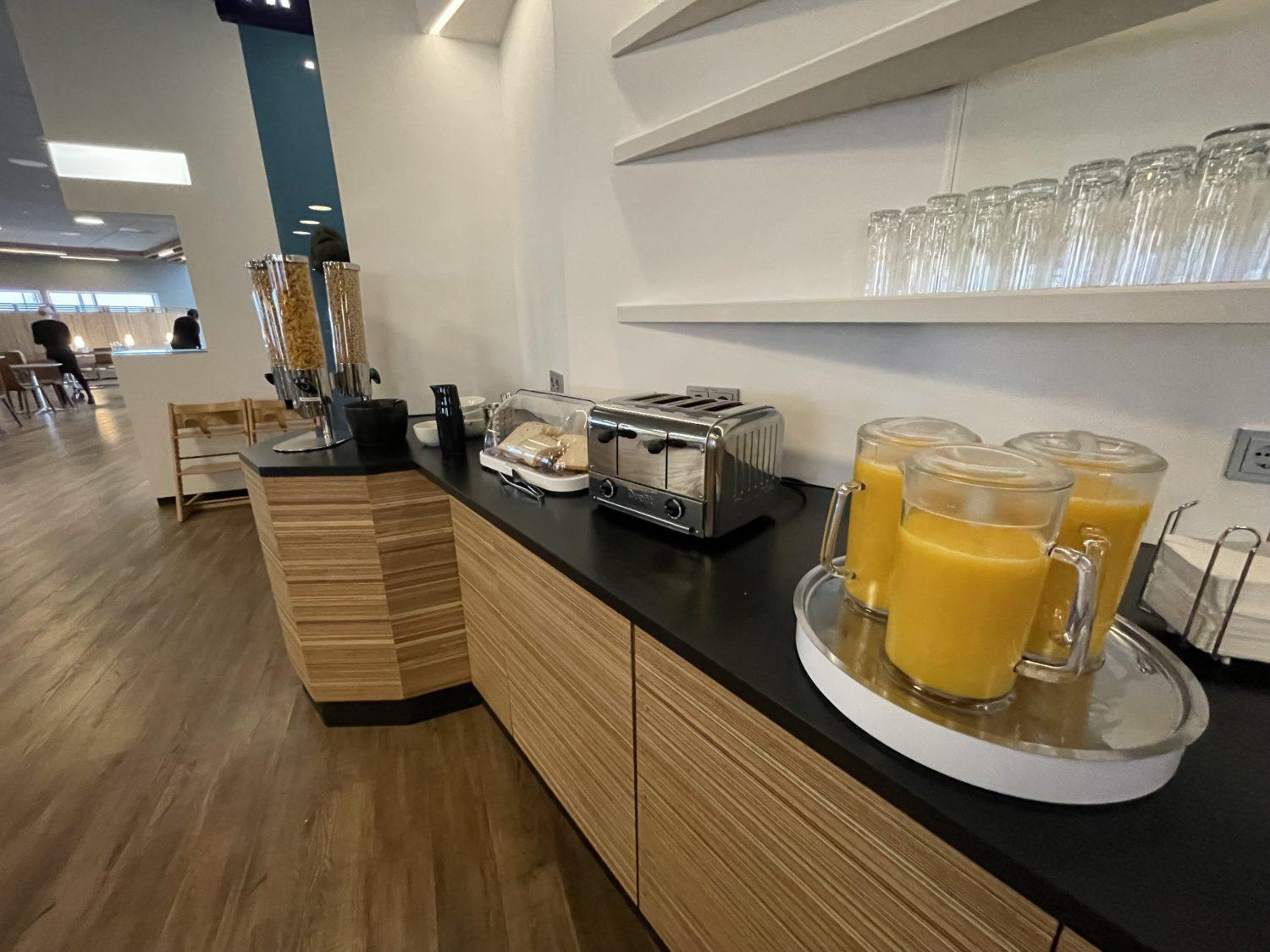 Behind the buffet were refrigerators full of beers (including Iceland's own "Gull"), sodas, sparkling wines and other drinks.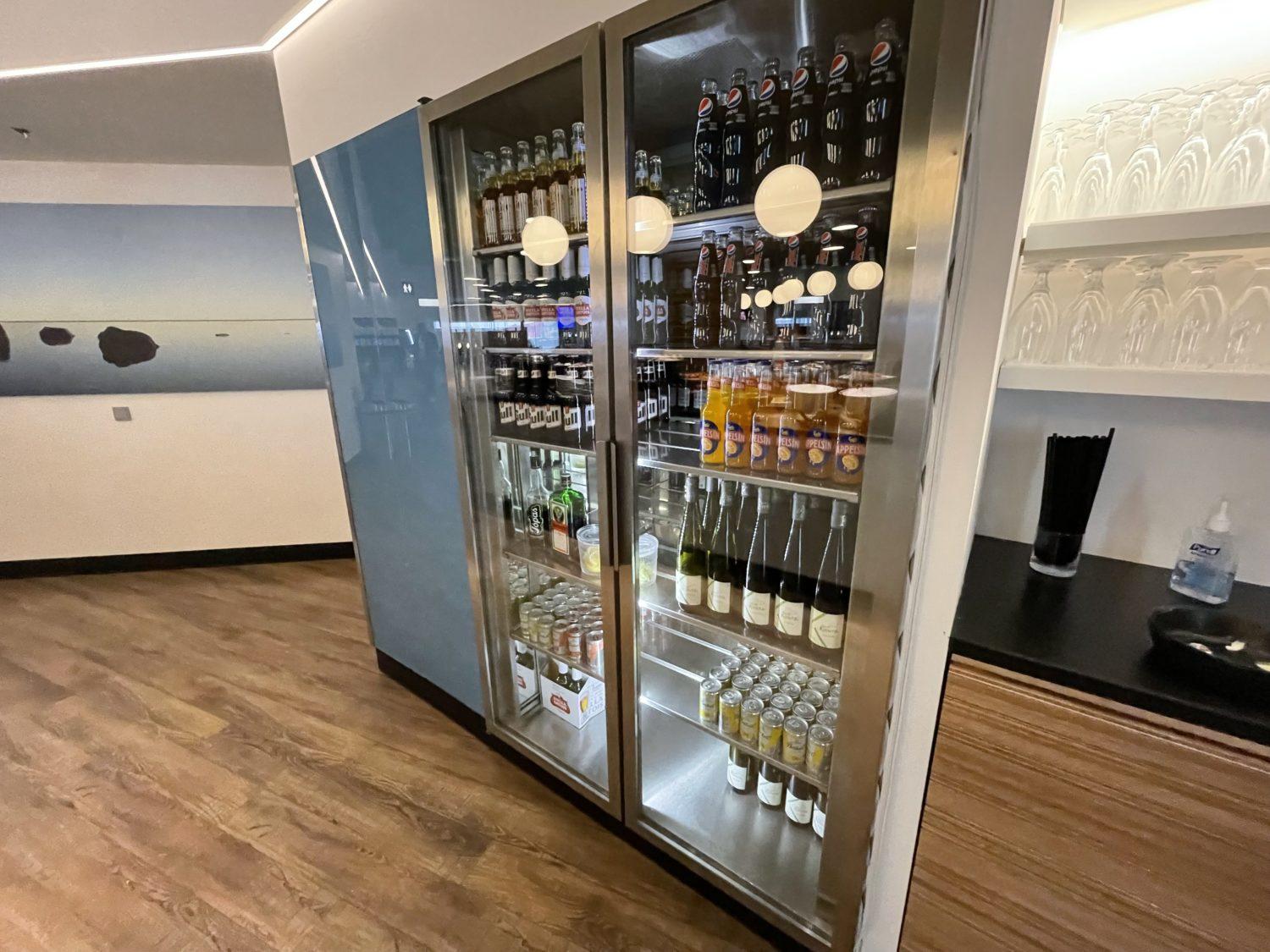 The refrigerators and this countertop replaced a traditional bar. There was nobody serving drinks at the lounge – it's a serve-yourself setup for drinks.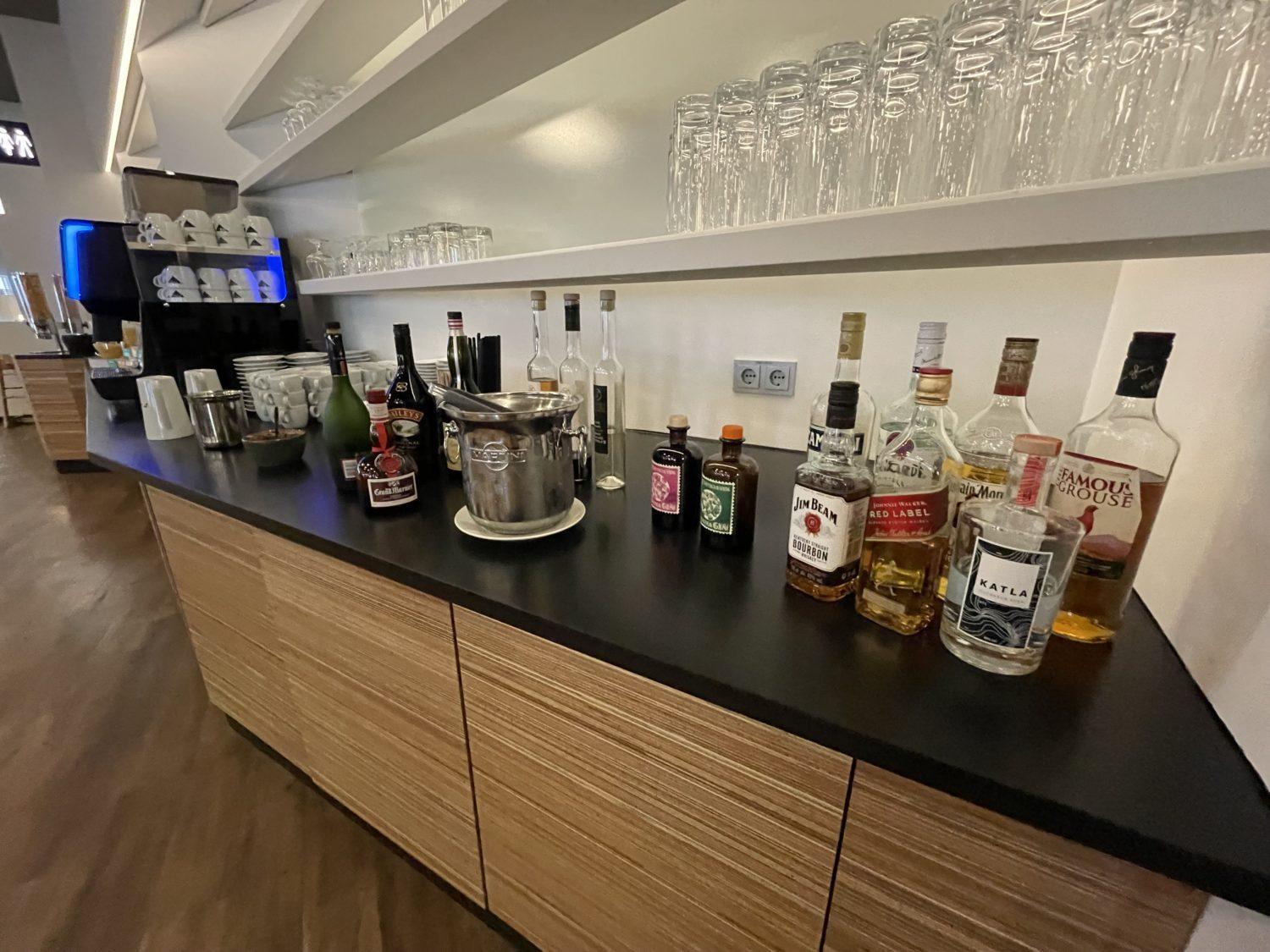 The self-service drinks included all coffee drinks, too, which were available from four or five different machines spread throughout the lounge.

Despite being machine-made, these robotic baristas whipped up some lovely drinks. I opted for a cappuccino, but there were options for espressos, americanos, coffees, macchiatos, and cortados, too.
Around the corner behind the buffet area are the restrooms, which were not huge or fancy by any means, but were very clean and nice.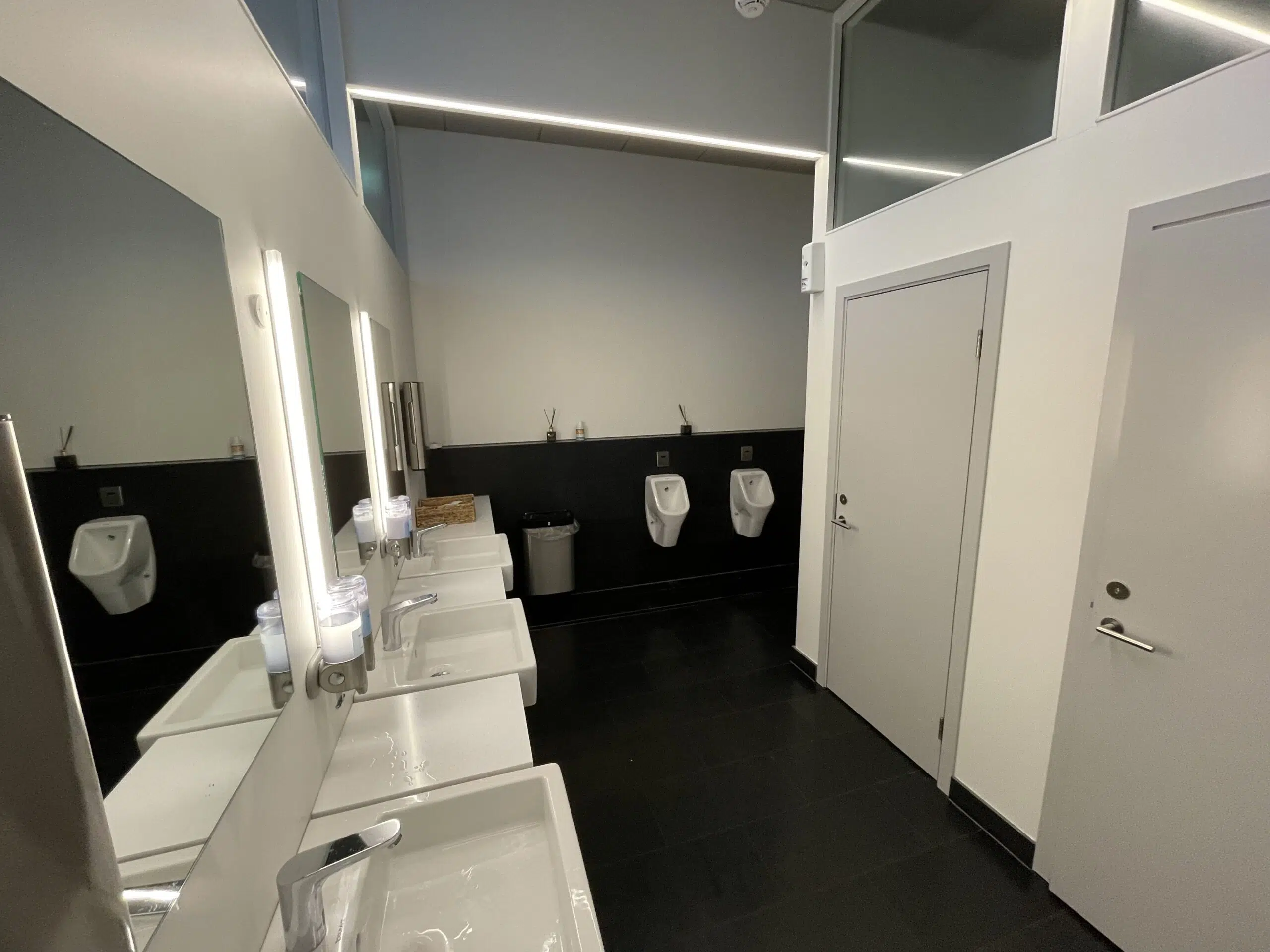 The hand soaps were Blue Lagoon-branded, as the famous Icelandic tourist attraction has also turned itself into a beauty and soaps brand, too.

Next to the restrooms were three dedicated shower rooms. They were relatively spacious and pretty nice. If I were connecting in Iceland after a long flight, these shower rooms would be a fantastic option before taking my next flight.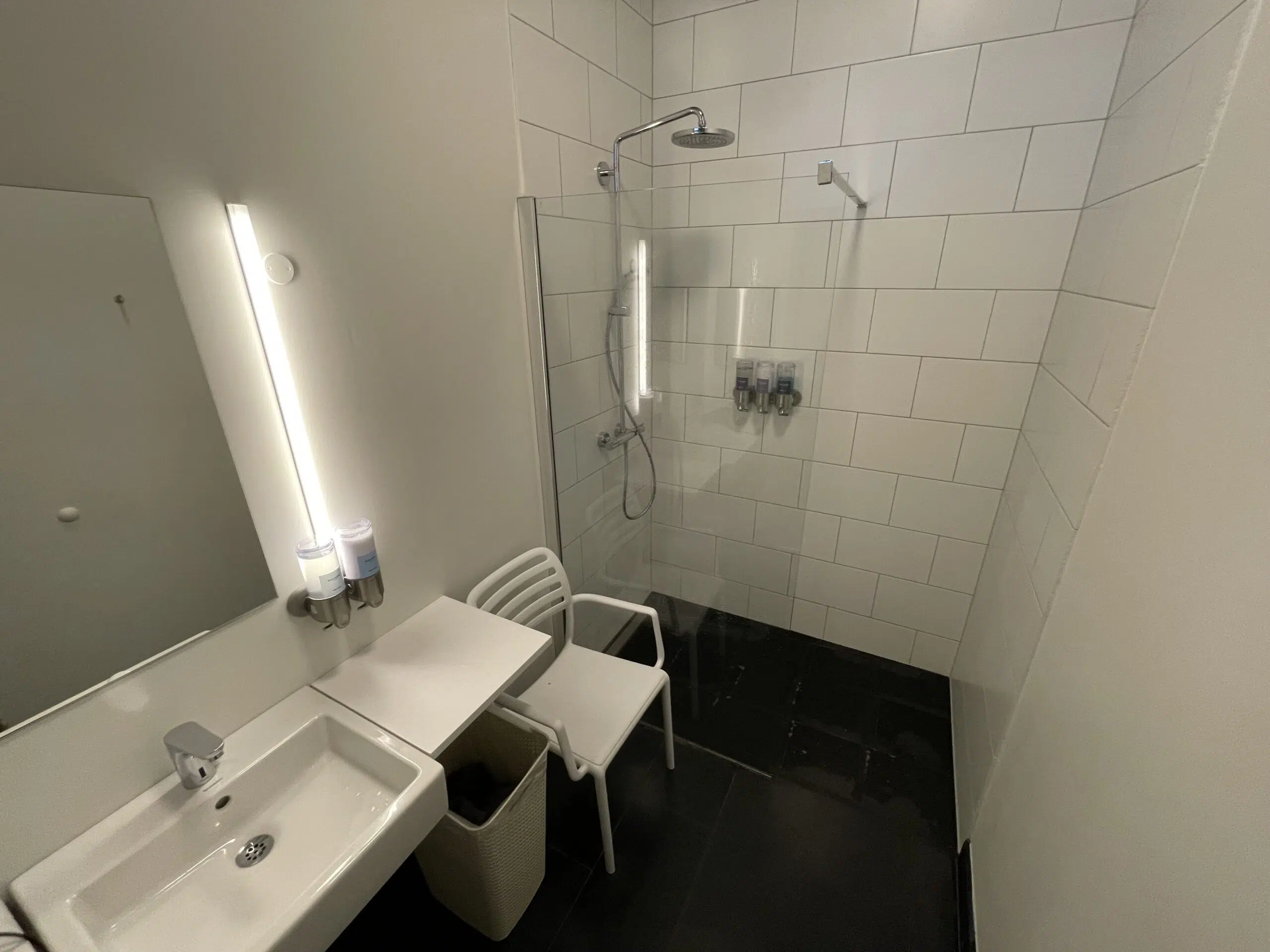 One other underrated and important element of the lounge was its Wi-Fi connection, which was lightning fast. Especially abroad, a good Wi-Fi connection can really help make a journey, and the Saga Lounge connection was snappy.

I really loved the Icelandair Saga Lounge at Keflavik Airport. I spent close to three hours there and I wish I had more time. Even during the busiest part of the morning, there was no line to get in and plenty of seats to pick from.
The seating and ambiance are exceptional. There is a great diversity of ways to experience the space. It can be both a very private lounge, or a great place to share a meal or a drink with some travel companions. You can get some work done on its blazing internet in solitude, shower and recharge after a long flight, or nap in the loungers overlooking the tarmac.
Check-in & Boarding
In addition to the lounge, one of the best parts of flying Icelandair's Saga Premium class is how easy Keflavik Airport (KEF) is to navigate with that ticket.
As Iceland's flagship airline, Icelandair give its Premium members a dedicated check-in area and a fast security lane to get you to your gate – or the Saga Lounge – faster and with fewer headaches.
To check in for your flight, Premium travelers need to go to the very far right end of the Icelandair check-in counters. Signage is pretty limited, but there are a few dedicated lanes for Premium check-in. There were no fellow travelers waiting in line when I arrived and I was helped right away.
After that, follow the signs for security by heading upstairs. At security, stay to the left in the "Fast Lane", which was also significantly shorter than the standard security checkpoint lane. Both perks probably saved me close to 30 minutes of check-in and security lines, helping me get to the Saga Lounge faster.
After spending a few hours in the Saga Lounge, I exited, went through border control, and headed to my gate. I was delayed in getting there due to some extra security screening, but was still able to board with the other Premium passengers ahead of the rest of the plane.
Icelandair Business Class Cabin & Seats
Icelandair's Saga Premium class is a more-than-comfortable way to travel across the Atlantic.
My April flight from Reykjavik to Boston clocked in at roughly five hours on one of Icelandair's newest planes, a Boeing 737 MAX8. But no matter which kind of plane you're on, the Saga seats are much the same.
The seat is closer to what you'd find in domestic first class on any U.S. carrier like American, Delta, or United. It may not hold a flame to the lie-flat offerings of Air France, Turkish Airlines, SWISS, or even TAP Air Portugal. But the service in Icelandair's Saga Premium cabin is what set it apart. The close attention from the flight attendants, the amenities, the food, and the drinks were closer to what you would find on those lie-flat, long haul business class products, in my experience.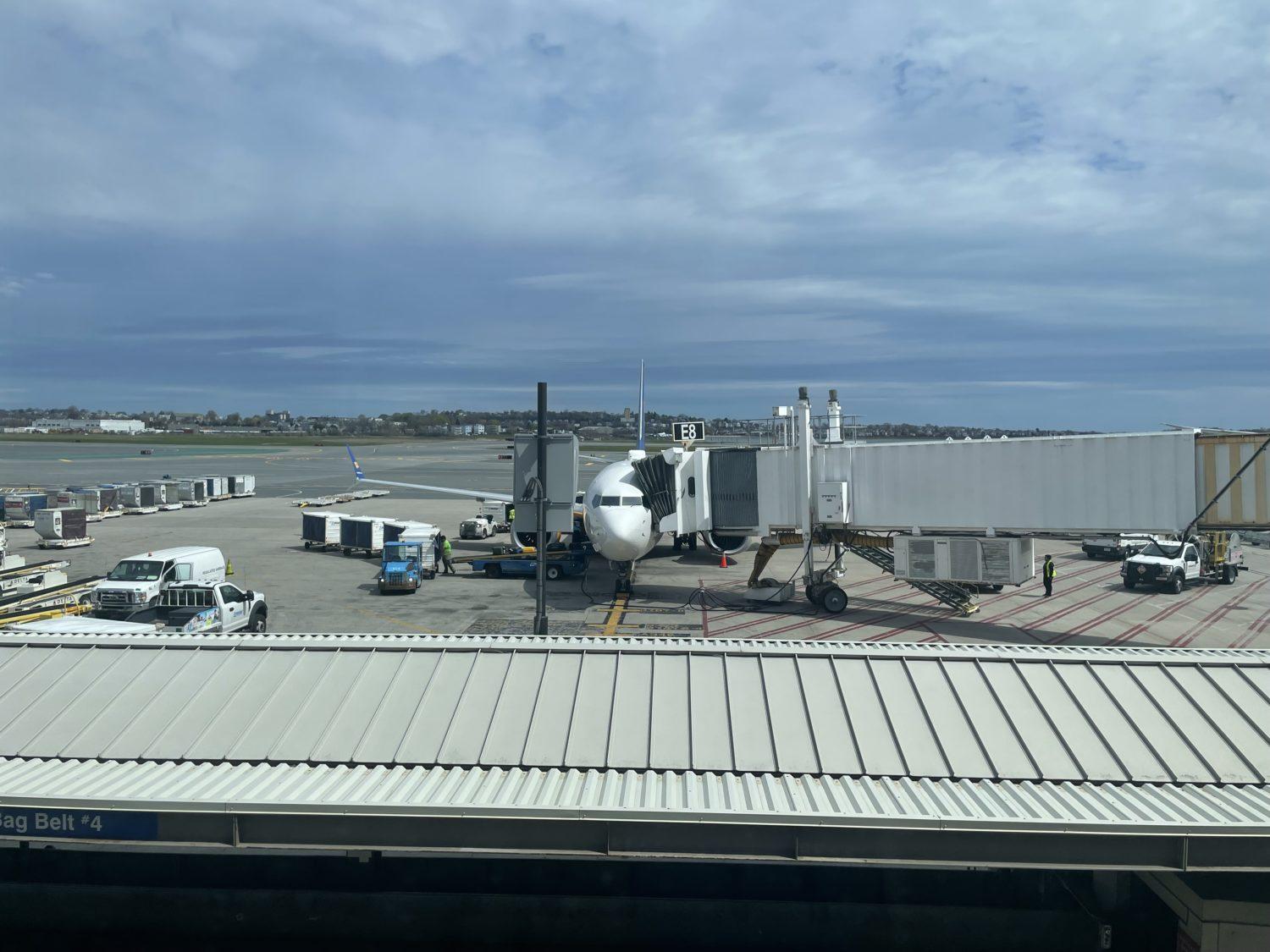 On our 737 MAX, there were just four rows of Saga Premium seats at the front of the cabin. Just like many domestic first class flights, there are two-seat sections on either side of the aisle for a grand total of 16 Icelandair business class seats.
That arrangement is typical of what you'll find on any Icelandair flight, though some other planes may have more Saga seats total.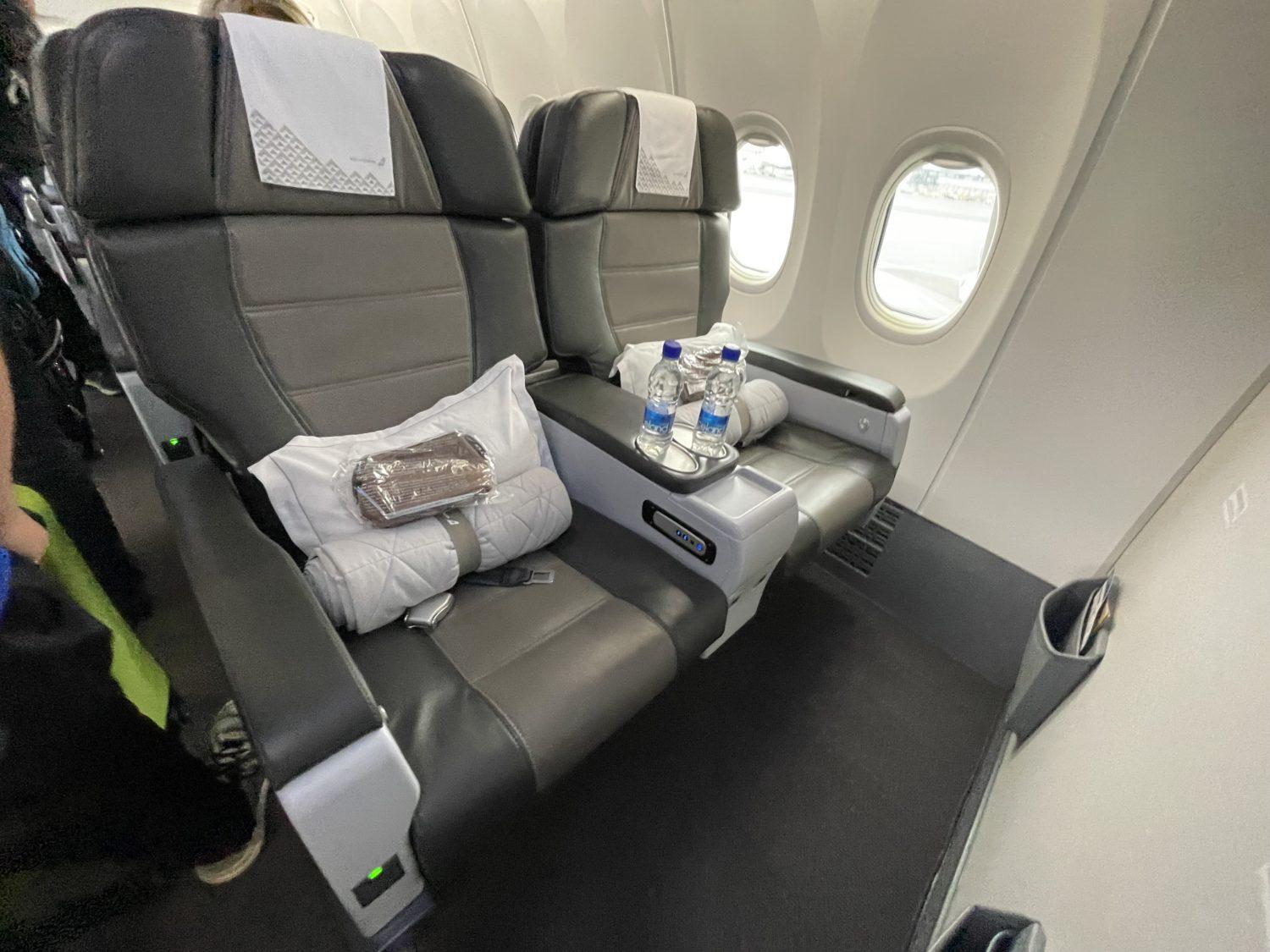 It only took a few minutes for all 16 passengers in the full Icelandair Saga cabin to get seated. After that, two flight attendants dedicated to the Premium cabin offered us pre-departure Prosecco – more on that later.
While these seats may be closer to Premium Economy than a true business class product, they're still wide, plush, and comfortable.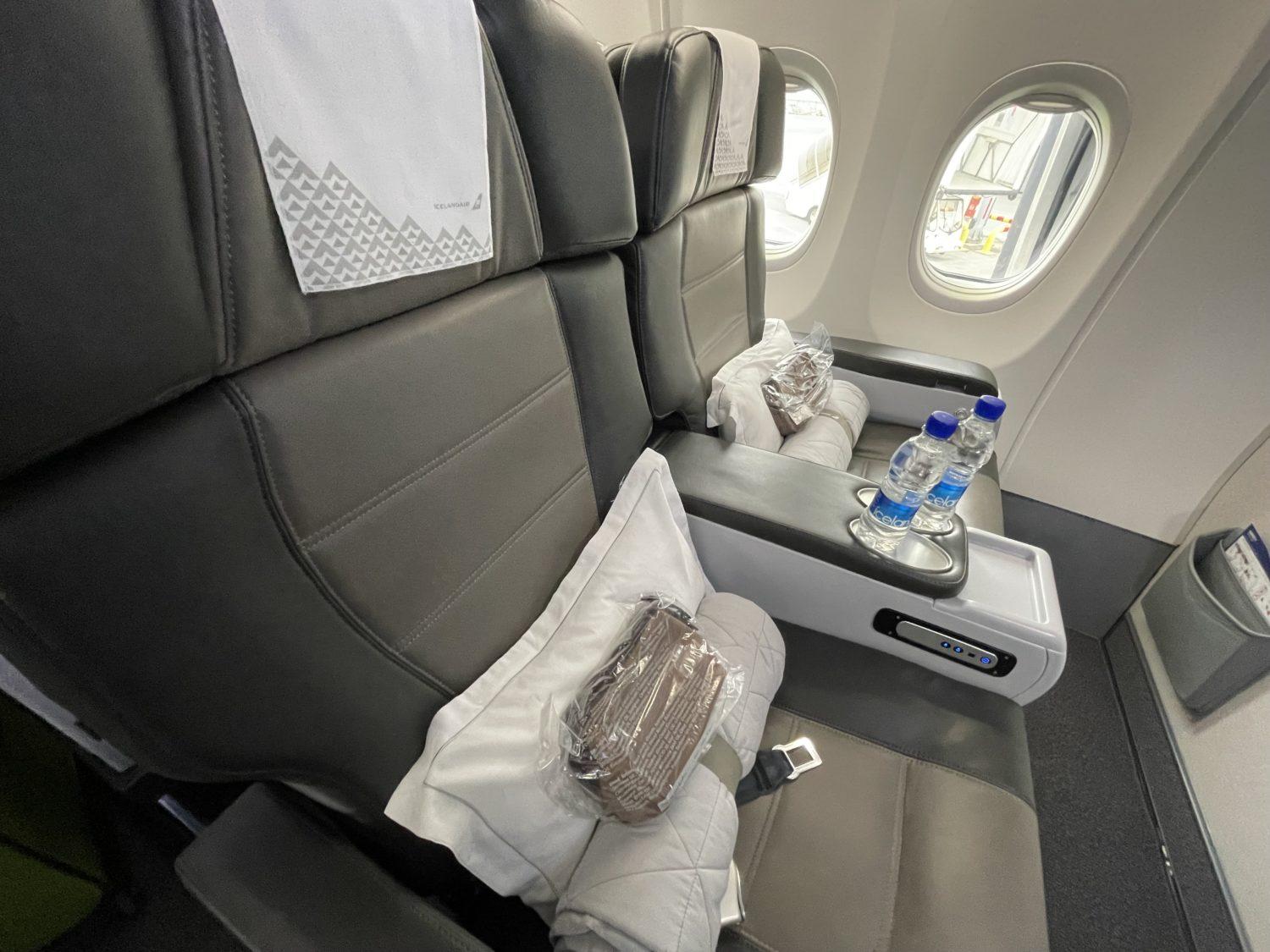 Every Saga seat on this Boeing 737 Max measured in at 20 inches wide, with 40-plus inches of legroom. The seats featured soft, winged headrests that you could position how you wish as well.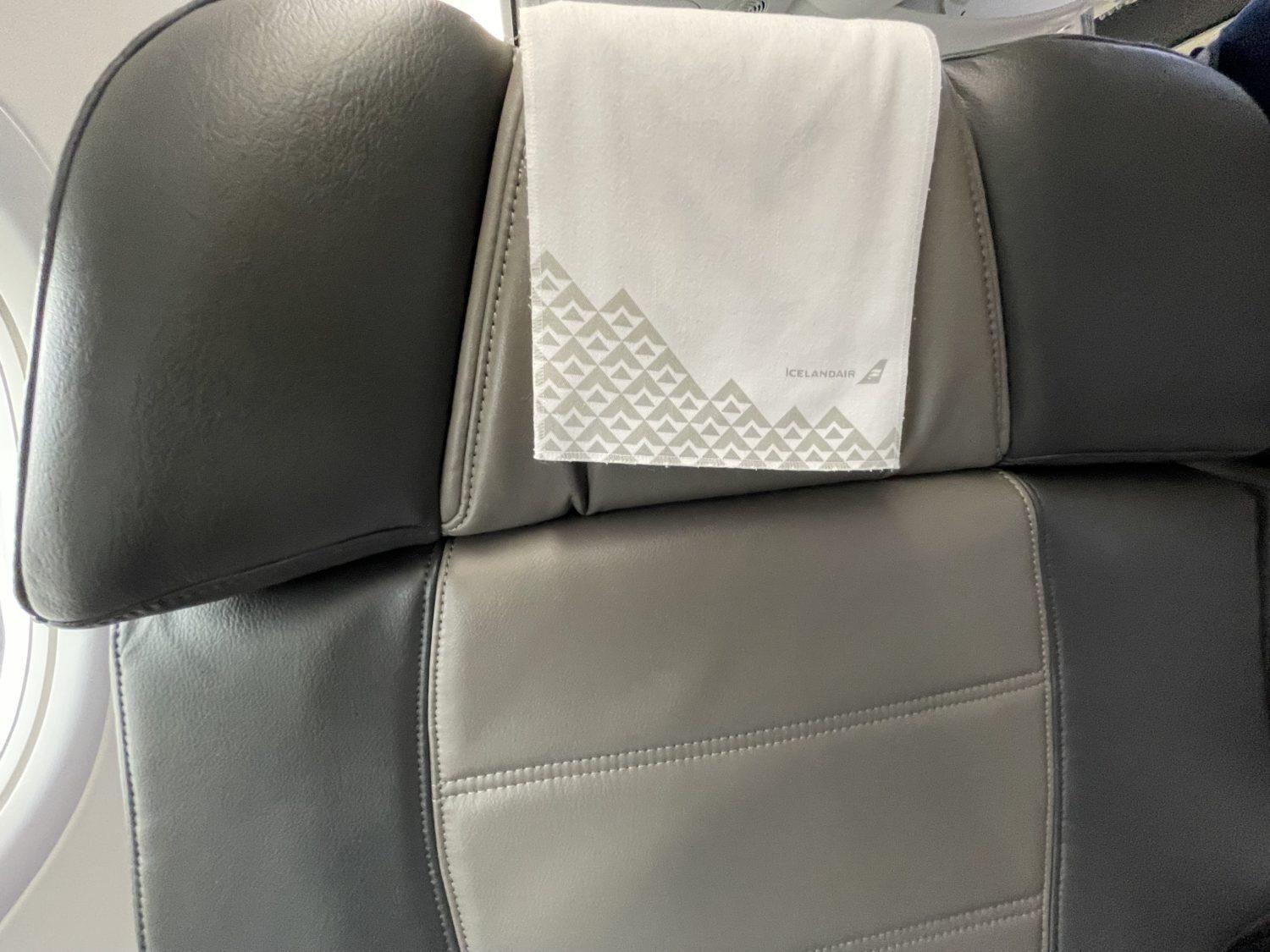 Every row in Icelandair business class had at least one window – while row 2, where I sat, had two windows. They offered great views over Greenland as we flew west. If you're flying over to Iceland, I'd recommend choosing a seat on the left side of the plane for potential Northern Lights viewing. If flying back to the states, pick a seat on the right side for views of the mountains of Greenland.
Basically, if you're into window views, you want to be facing north during your flight.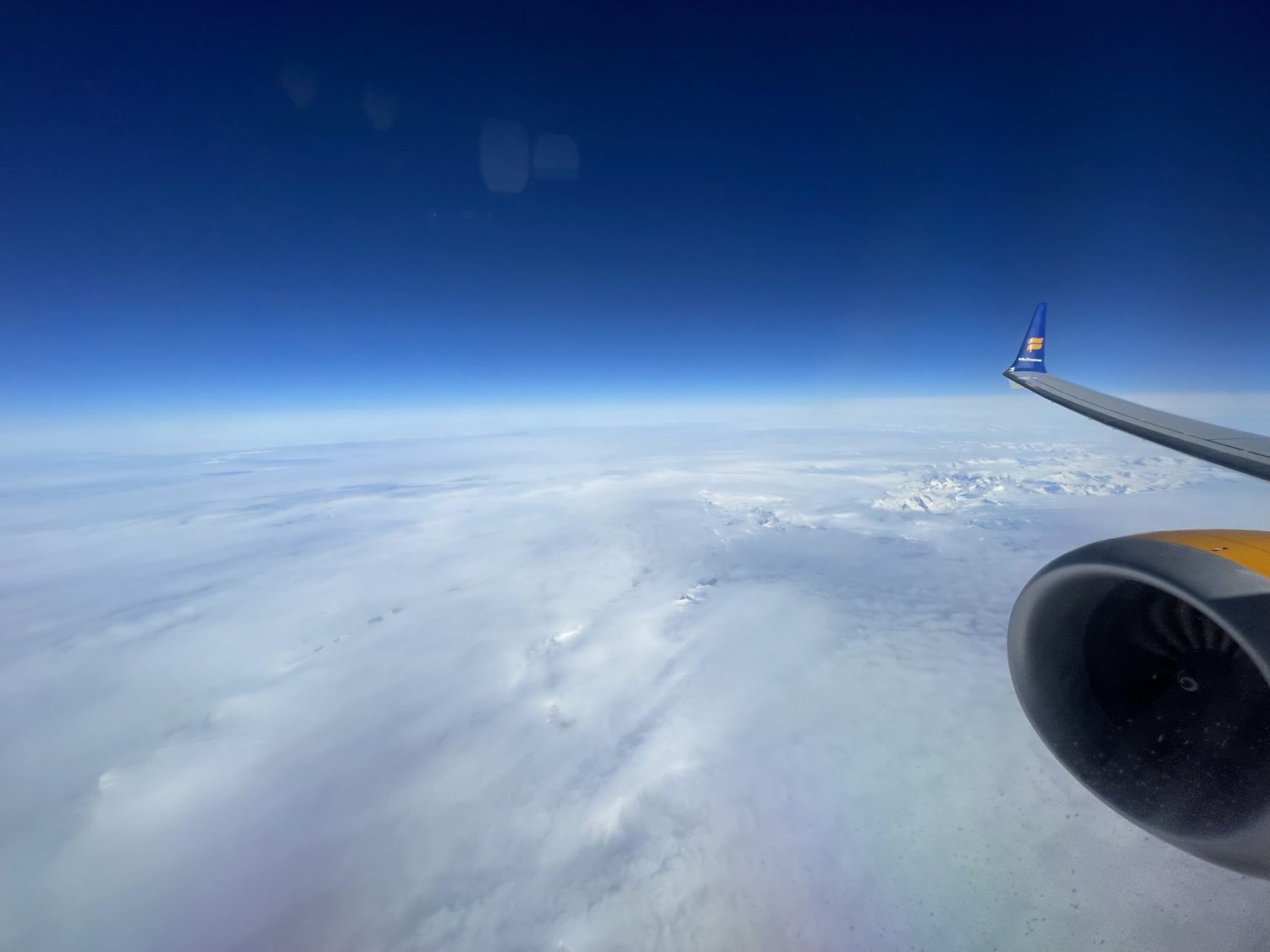 Back inside the cabin, the outer armrest stored the tray table for each Premium seat.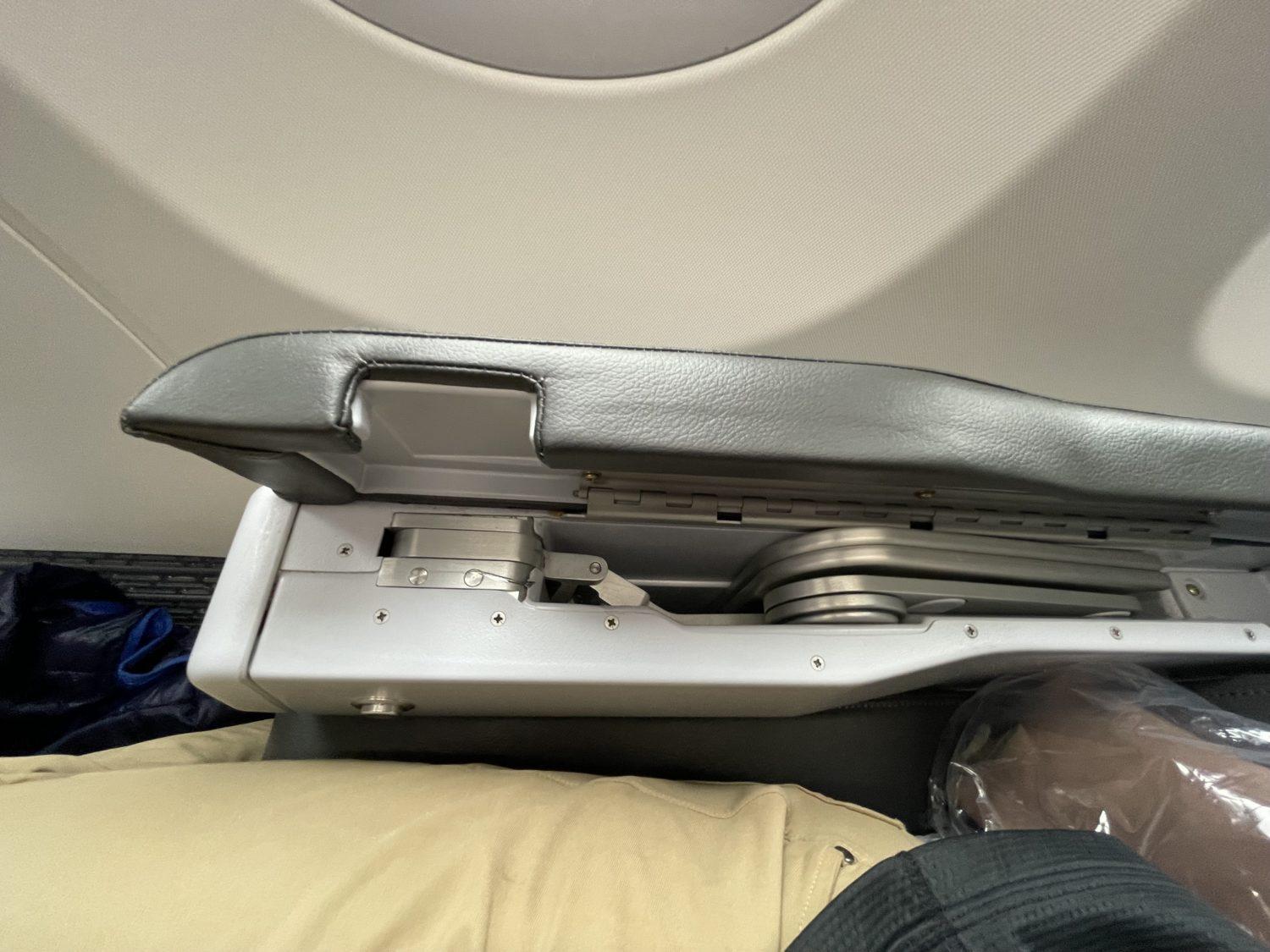 It unfolded into a half-tray first, which was nice for my pre-departure drink.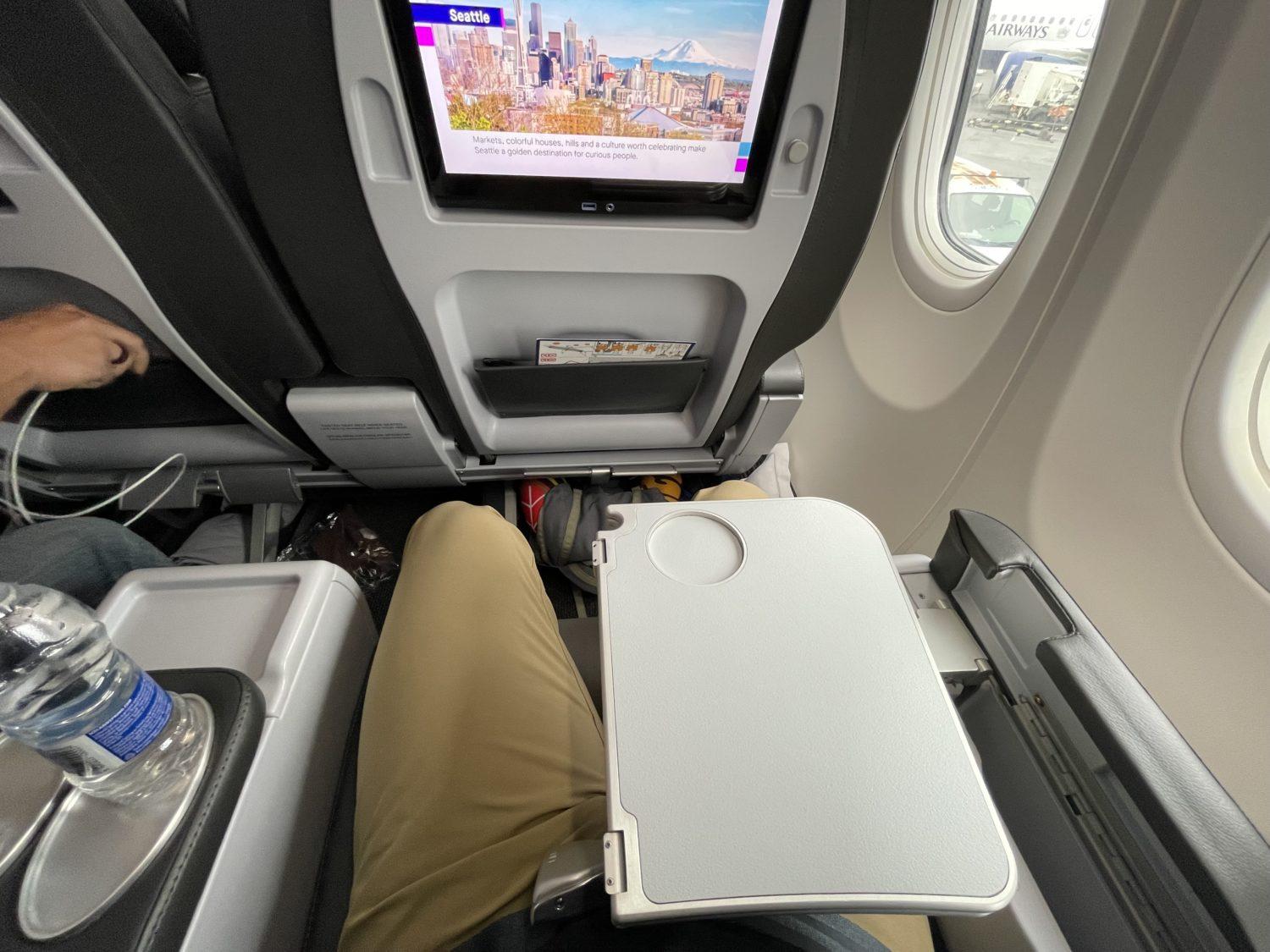 Then, it unfolded again into a full-sized tray table that was pretty spacious, covering the entire width of the seat.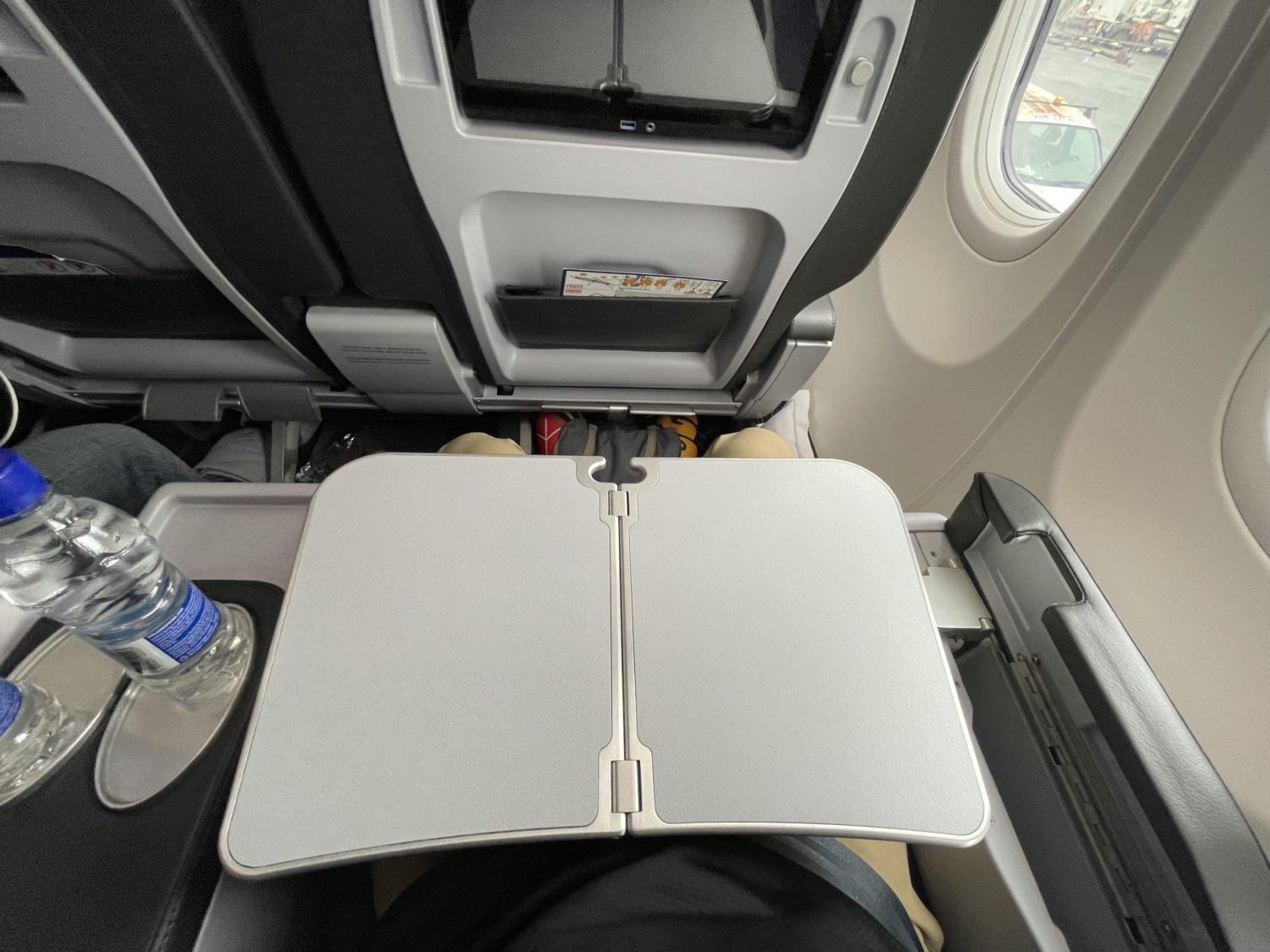 To recline the seat, you press the silver button on the inside of the right armrest, just as with a traditional economy plane seat. No automatic recline or lie-flat options here.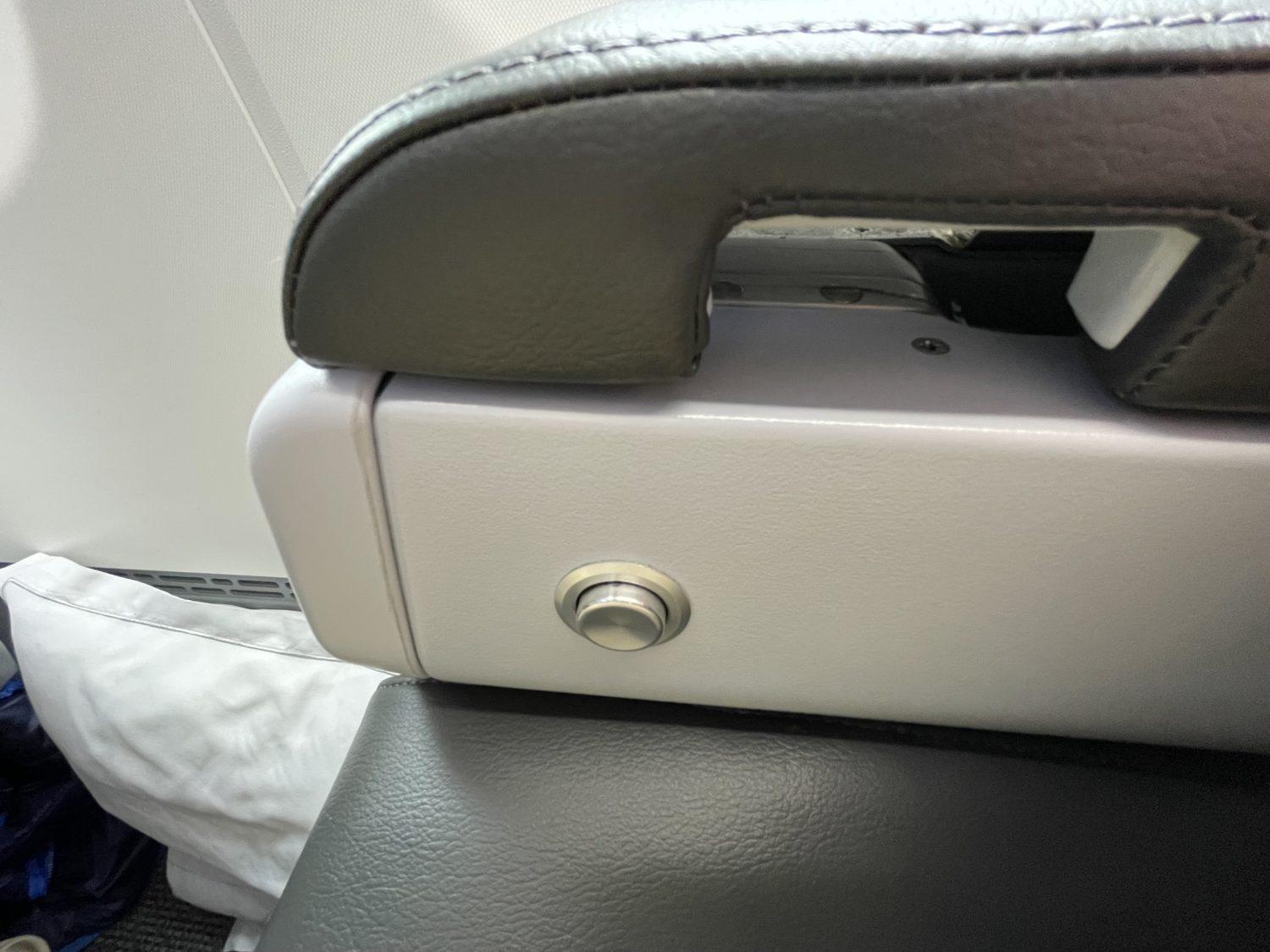 Each seat came with its own power outlet, too. It takes all kinds of plug-ins to help you stay charged inflight.

The air vents and lights were standard, offering three vents and lights for the two seats.

The lavatory was also as standard as they come. No special amenities here for Saga Premium Class passengers.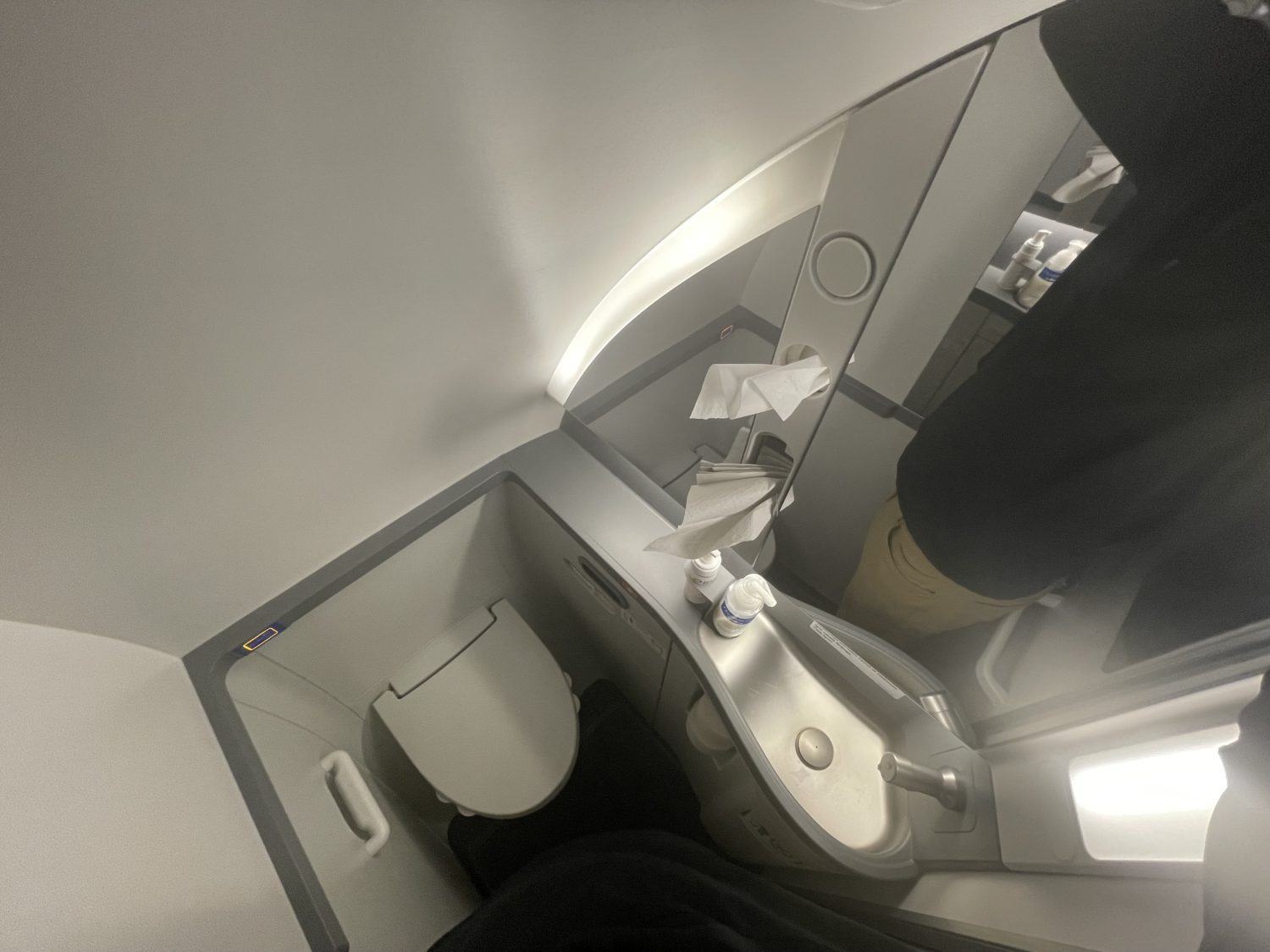 Amenities & Entertainment Flying Icelandair Saga
Each Icelandair business class seat came prepared with a pillow, blanket, and a leather amenities kit on top. Each passenger also got a bottle of water.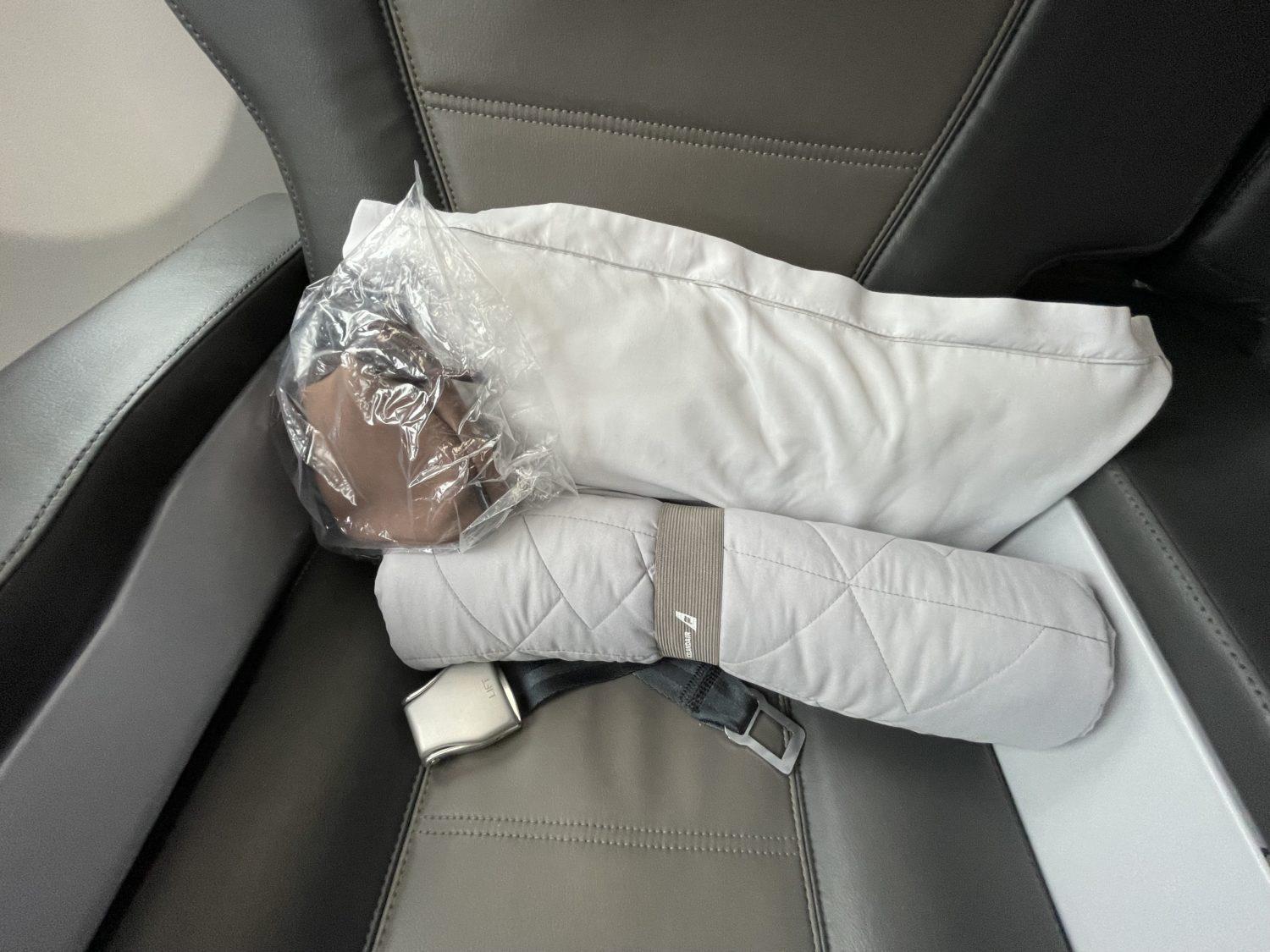 Inside the leather kits was a hand lotion, socks, a face mask, earplugs, a toothbrush and toothpaste, some hand sanitizer, and stickers to indicate if you want to be woken up for meals or not. It's a fairly basic amenity kit but on par with what you get even on premium business class flights to and from Europe.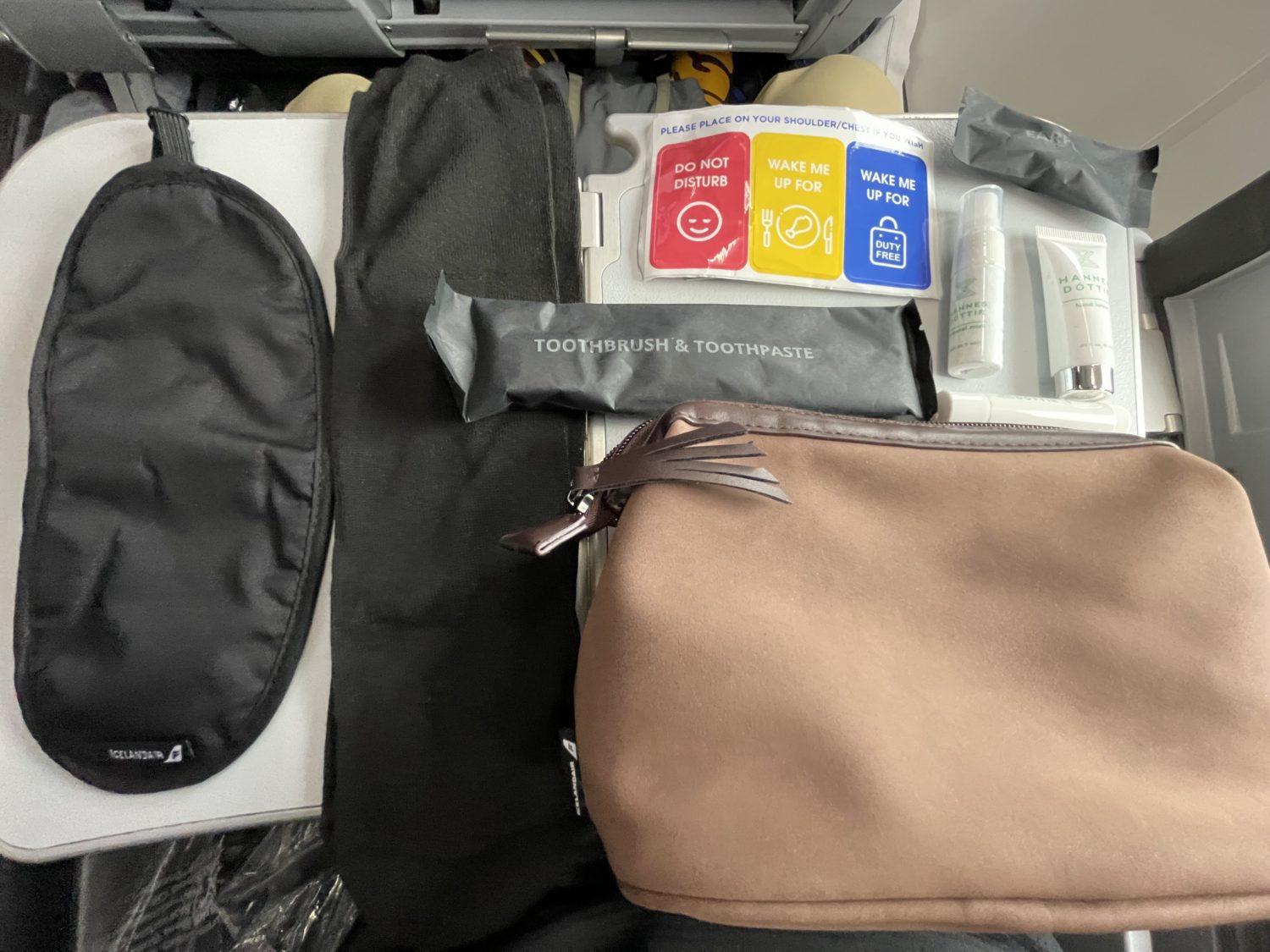 Each Premium seat featured a large entertainment screen, too. Next to the screen was a small coat hook. Below the seat-back pocket were two pedal-style footrests, which were a nice touch to take advantage of the additional legroom.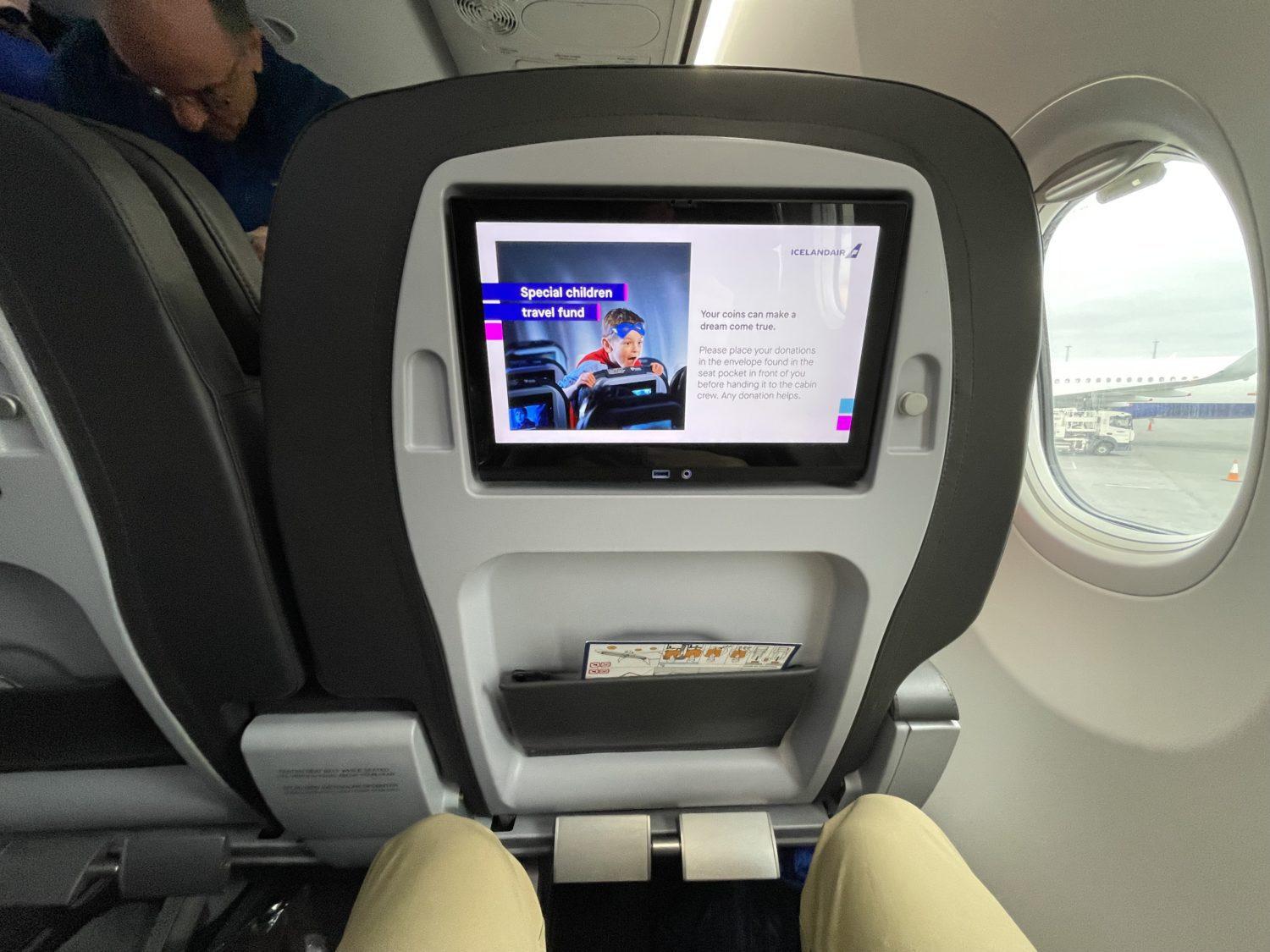 The seatback screens pulled out a little bit to improve viewing angles, which was handy especially when the seat in front of me reclined. Each screen is equipped with a USB charger and a headphone jack as well.
All passengers in Premium were offered complimentary noise-canceling headphones to use during the flight, too.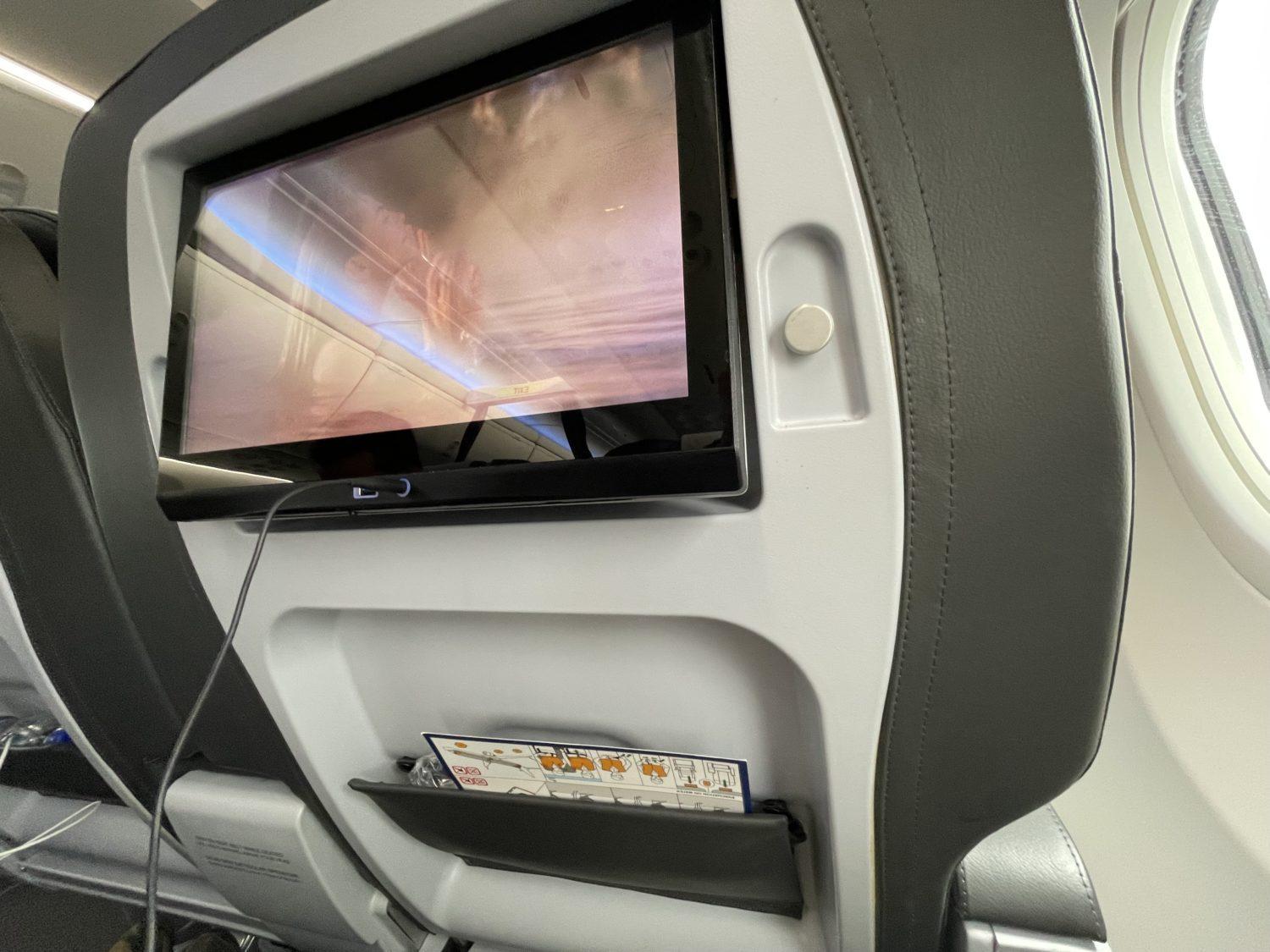 The entertainment system had a decent list of offerings for the flight. There were a total of 49 movies, 168 TV episodes, 330 songs, nine Iceland tourism videos, and 74 different movies, TV episodes, and songs for kids as well.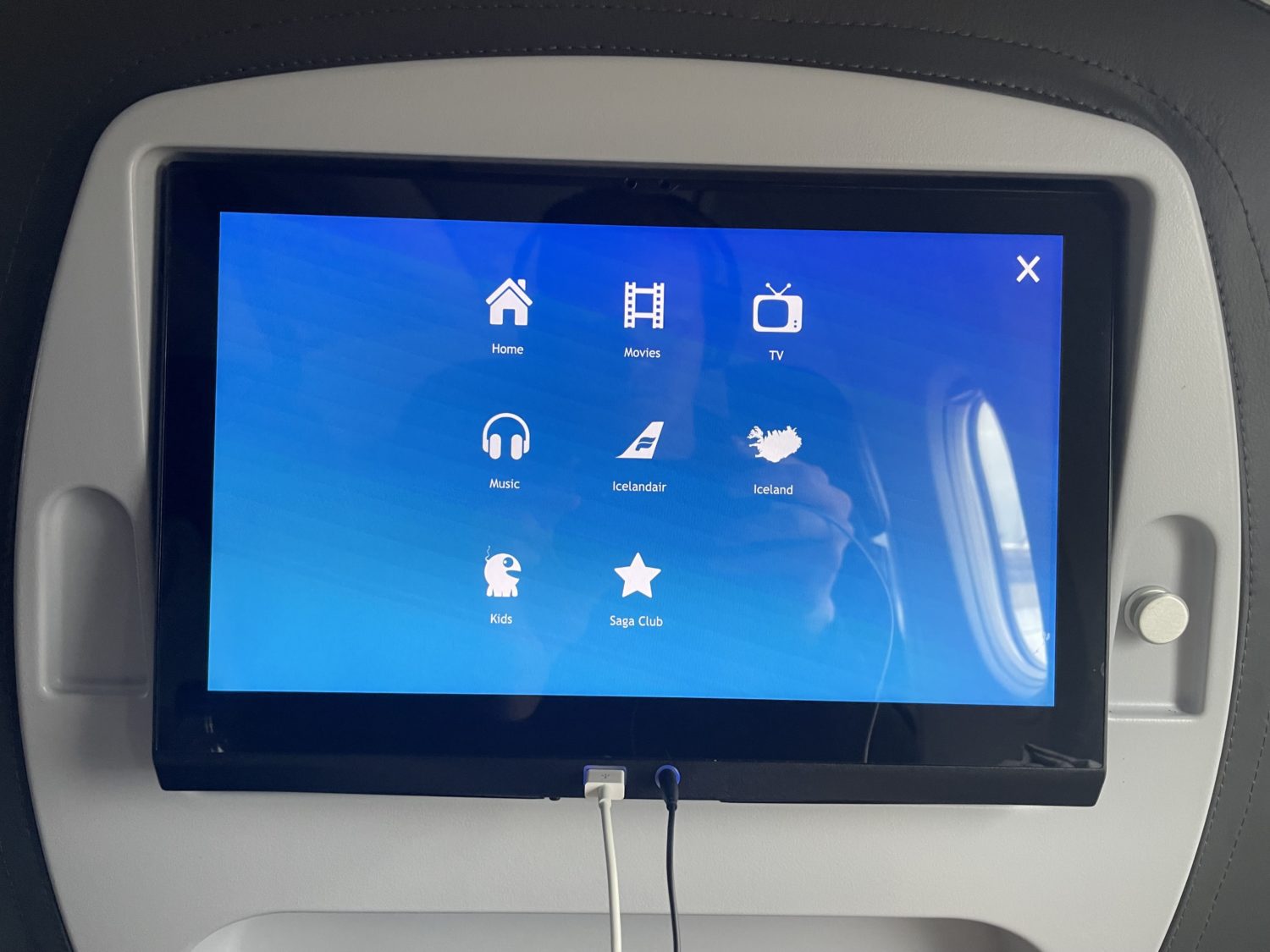 The flight tracker tool was fairly standard on the Icelandair 737 MAX8. It was a slideshow of flight data and map views that weren't controllable by the user.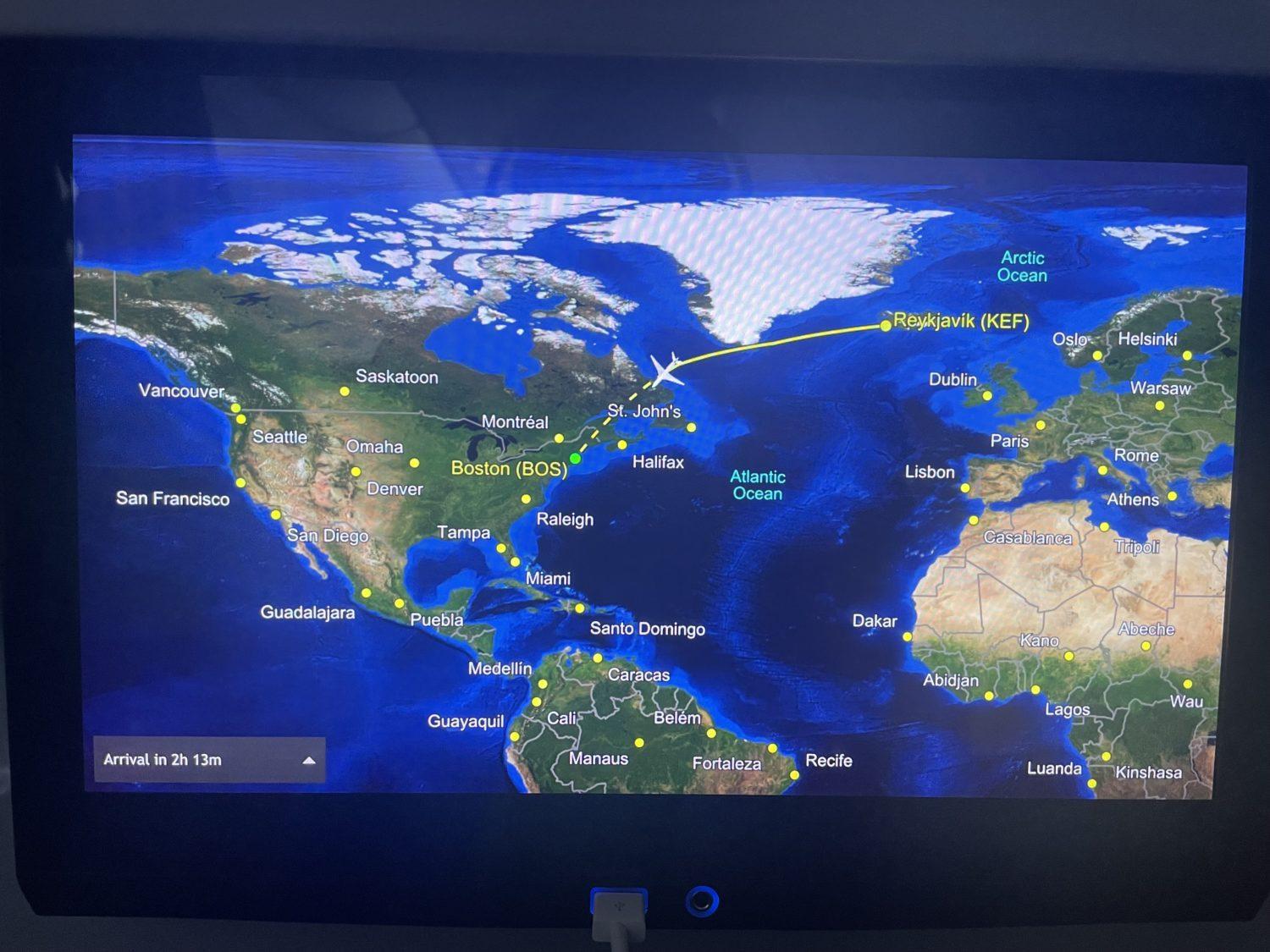 Premium fares on Icelandair also come with complimentary Viasat Wi-Fi: Just put in your name and your confirmation number. Unfortunately, the W-iFi was not speedy and cut out once for about 15 minutes during the journey, but it was more than enough to stay connected, browse the internet, and use email, Slack, and text message over the course of the flight.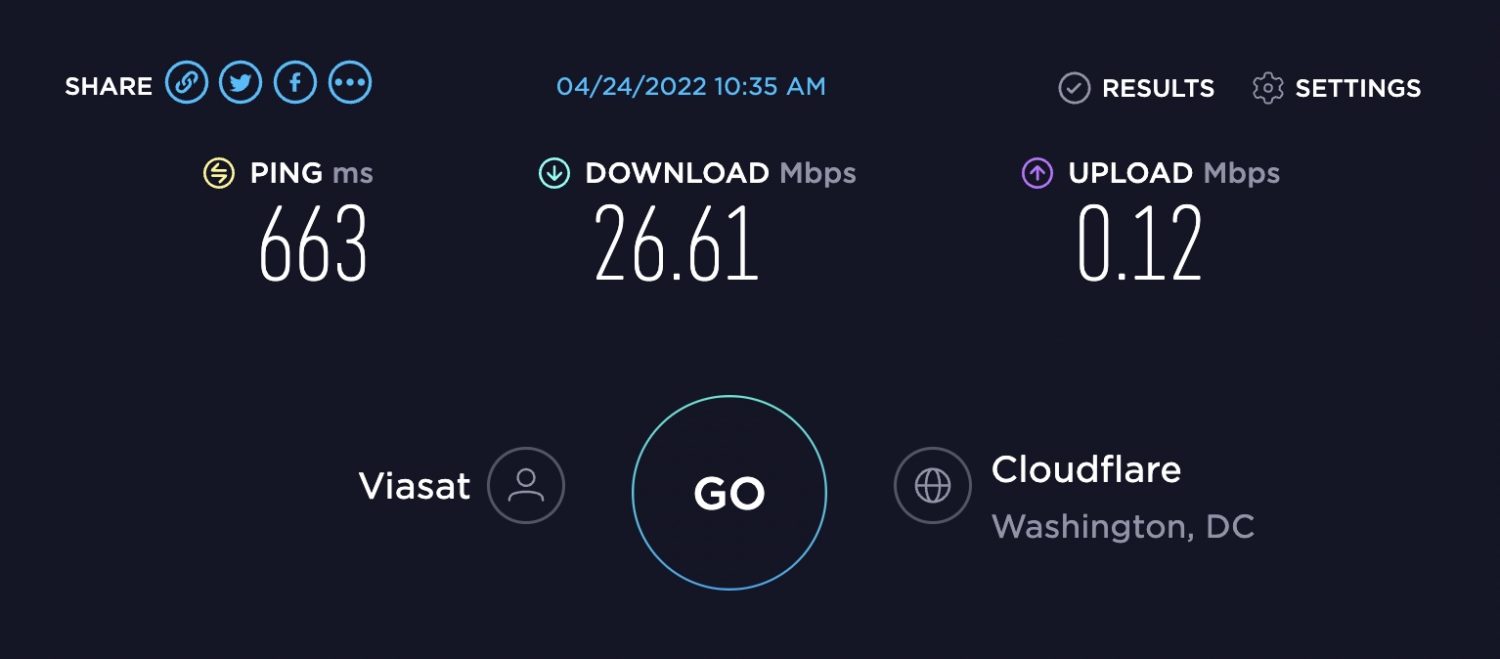 Icelandair Business Class Food and Drink Service
The food and drink service on Icelandair Saga Premium was fantastic. In fact, it was the main reason why the flight was so enjoyable.
Upon boarding, while the economy passengers were filing in, the flight attendants offered each Premium passenger a pre-flight Prosecco. Just a few minutes later, we were offered a top-off, too.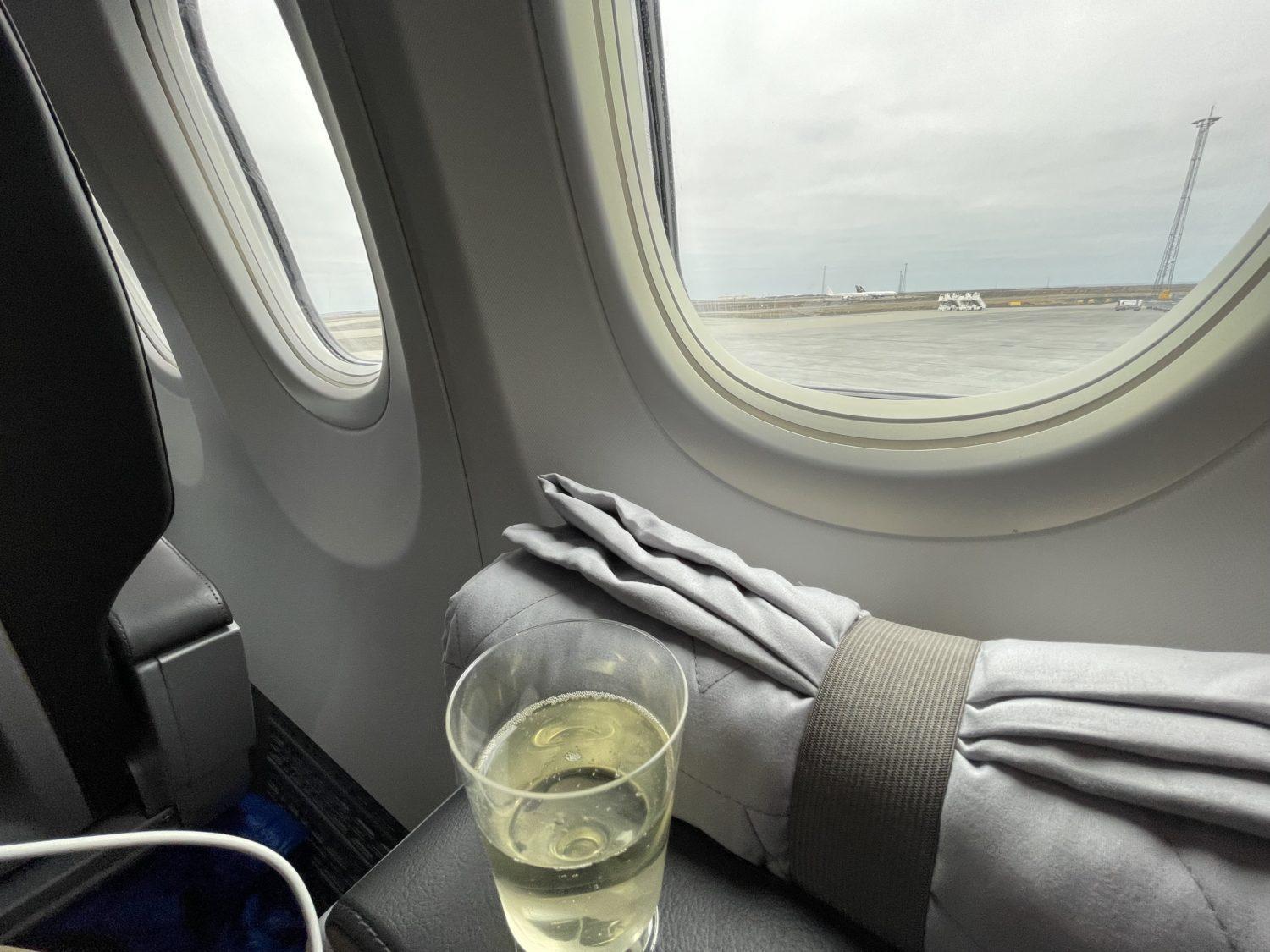 After we took off and got to cruising altitude, the flight attendants came by again with food and drink menus and took another drink order. With the first ordered drink, they brought around these cheese crisps, too. They were extremely tasty, so I asked for more, which they happily obliged.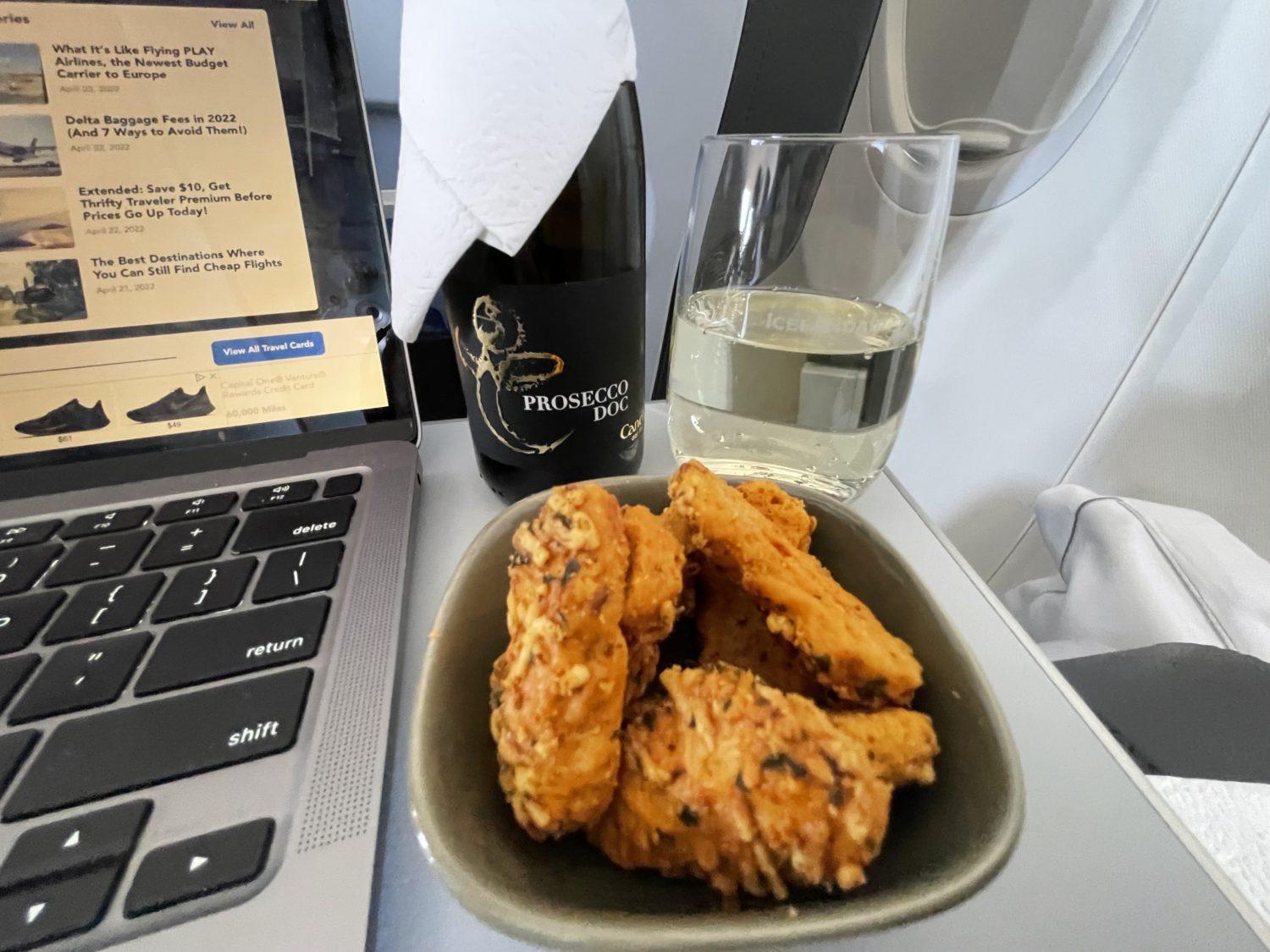 The drink menu was not extensive but more than sufficient. There were just two reds, two whites, and two sparkling wines, each selection was very detailed with recommended food pairings. In addition to Prosecco, Icelandair business class passengers could get Nicolas Feuillatte Reserve champagne, which is quite nice.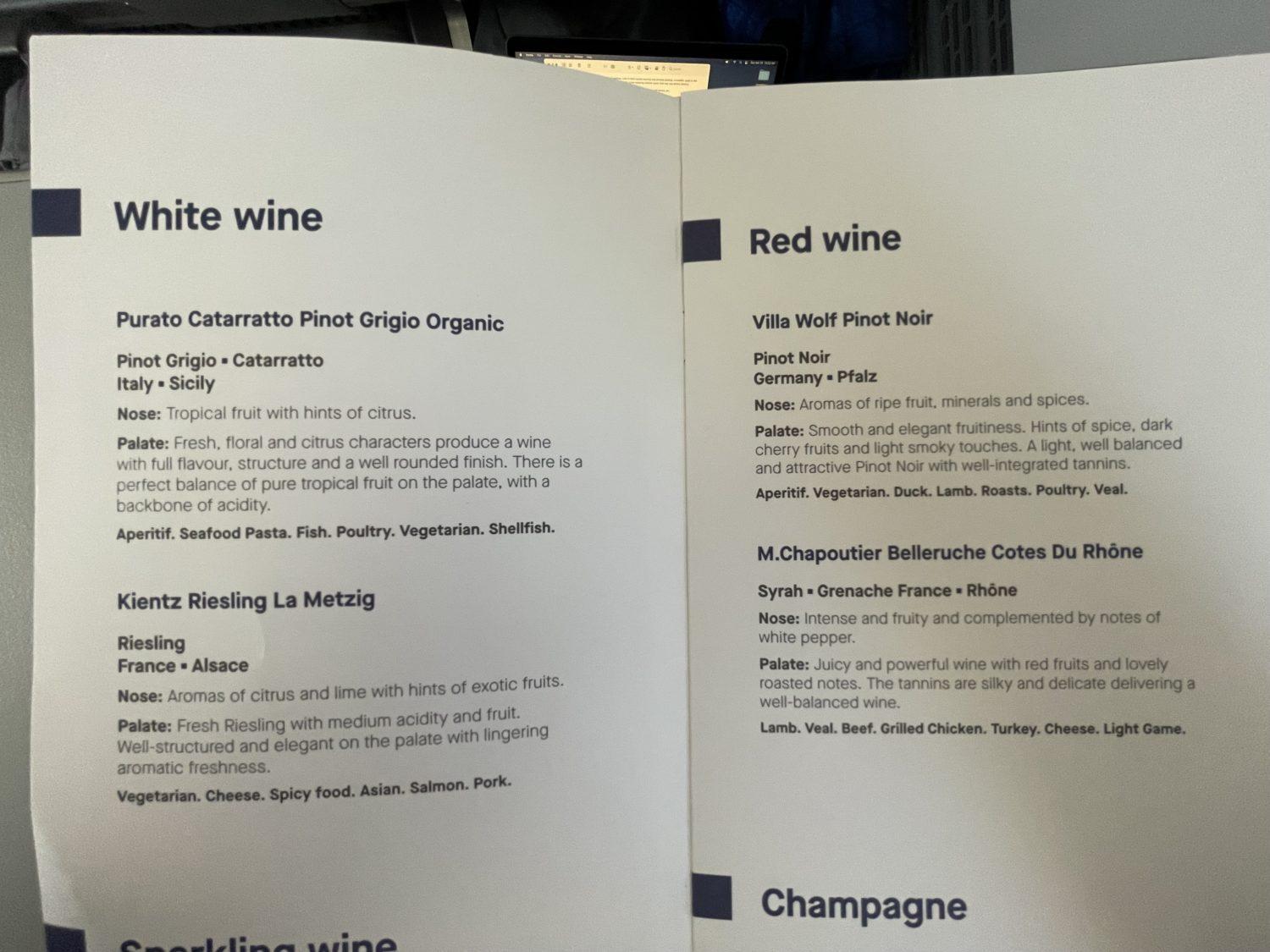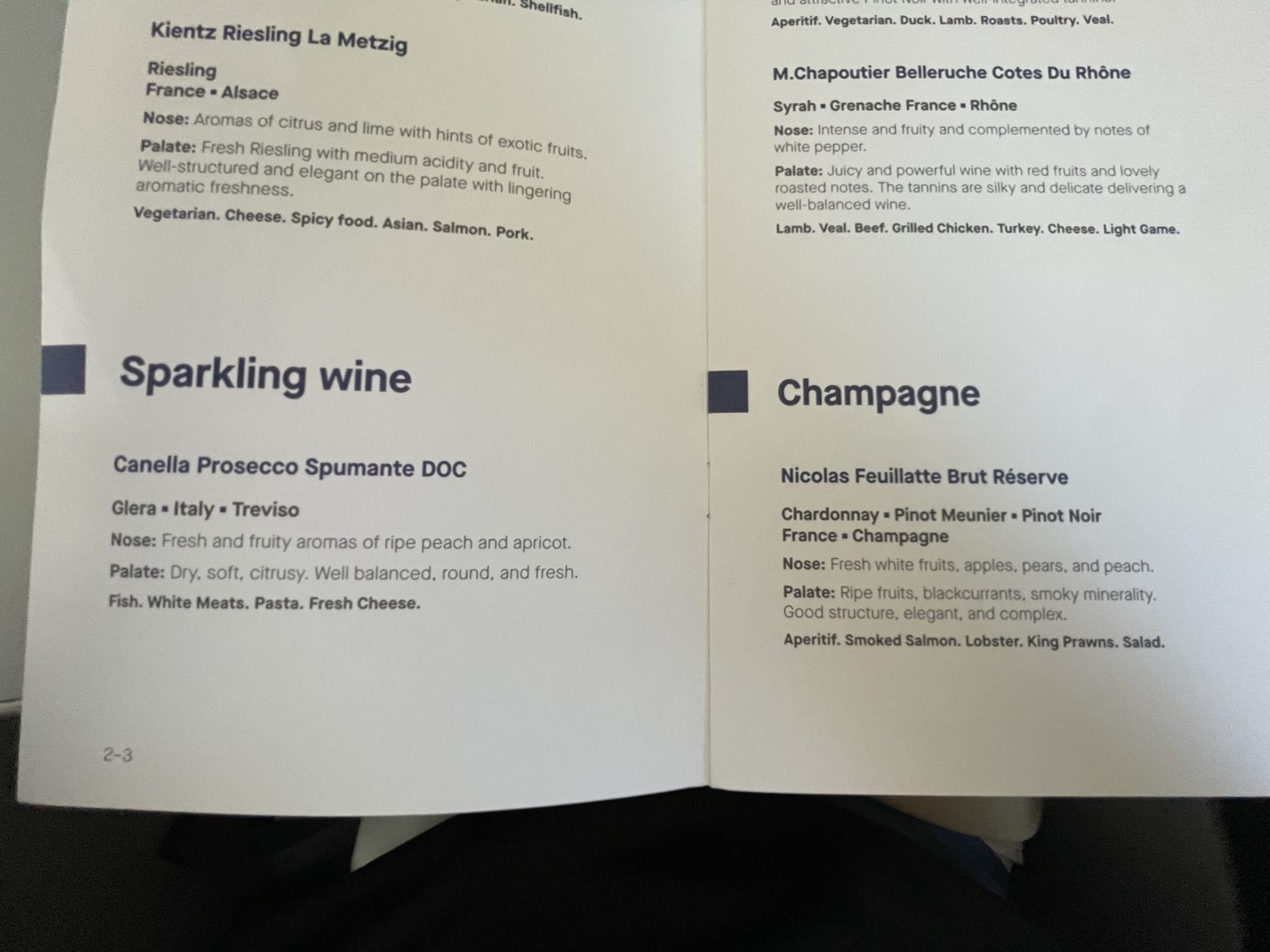 Icelandair also offered a soft drink menu and a selection of three beers, three liqueurs, and seven spirits. On the right were a list of snacks.

The gin list was the most extensive menu on the flight, including five Icelandic gins as well as Tanqueray.

Finally, we were given the food menu, which came with a designated starter and dessert, but gave each traveler the choice between two main courses.
On this flight, the course options were the beer-braised short ribs or the citrus arctic char. I went with the short ribs, having exhausted my seafood appetite in Iceland over the previous few days.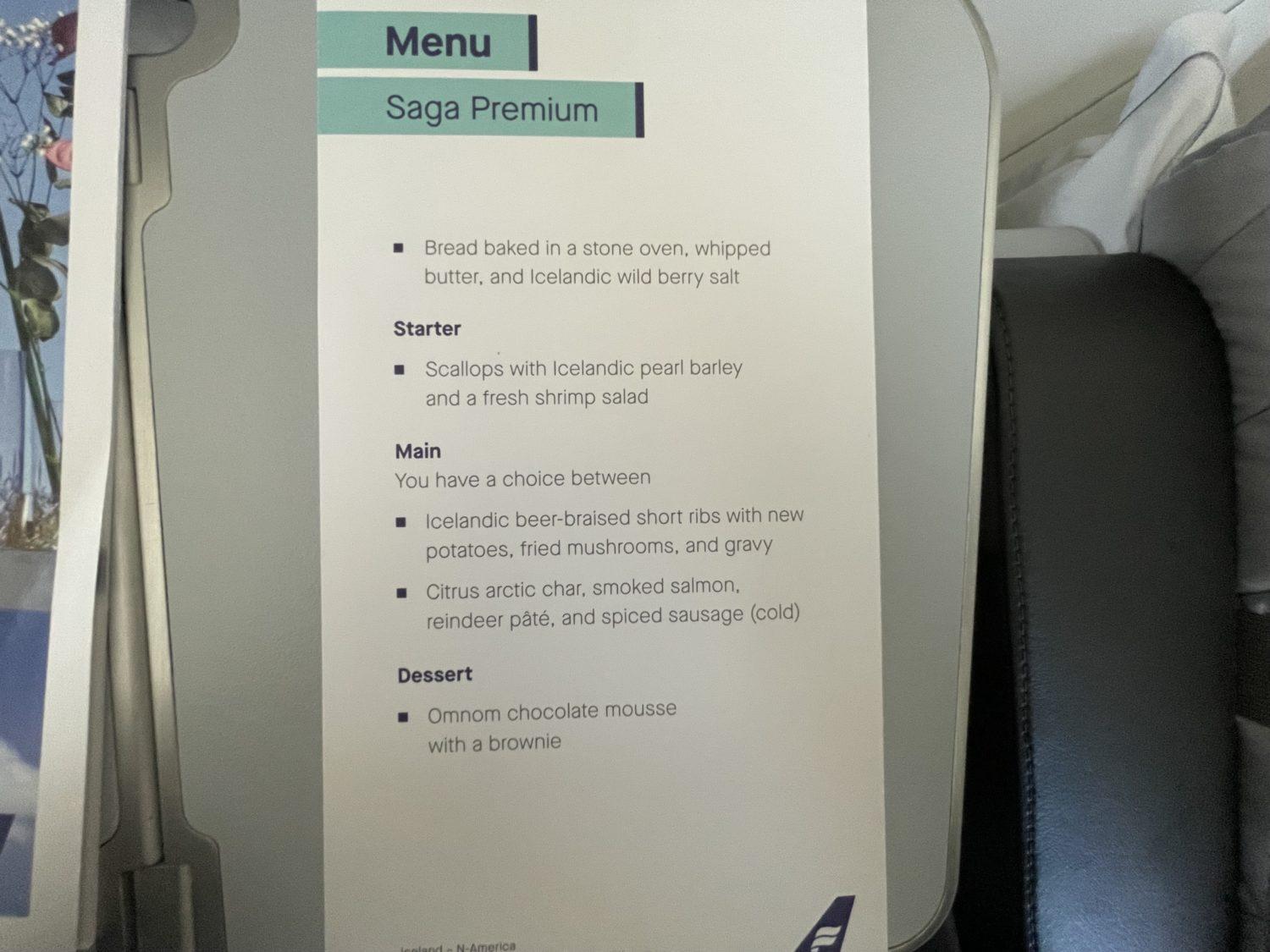 The meal was delicious. The scallops with a barley and shrimp salad was doused in a tremendous sauce. The short ribs were cooked perfectly, too. The potatoes, mushrooms, and green beans were all fresh and delicious as well.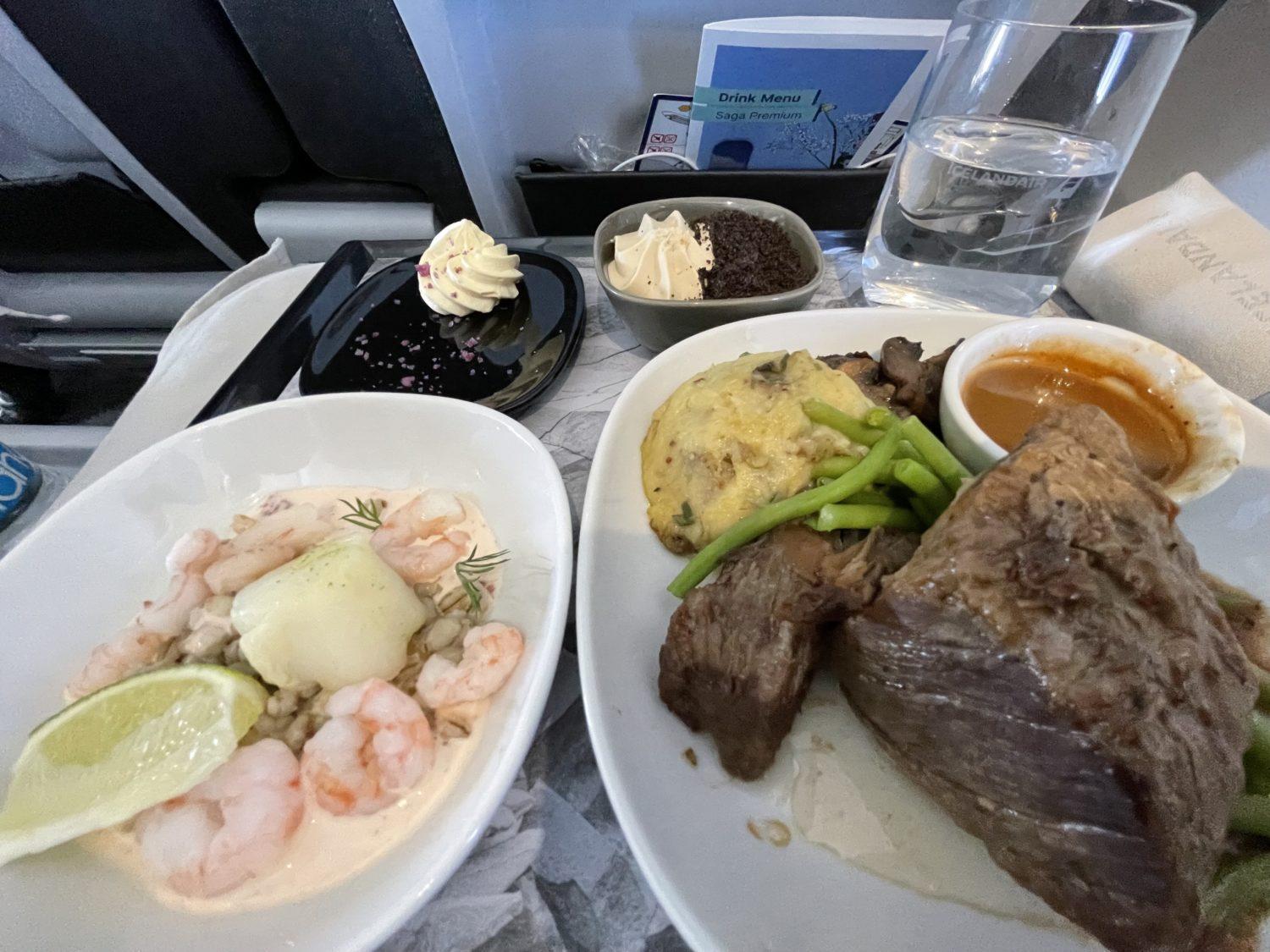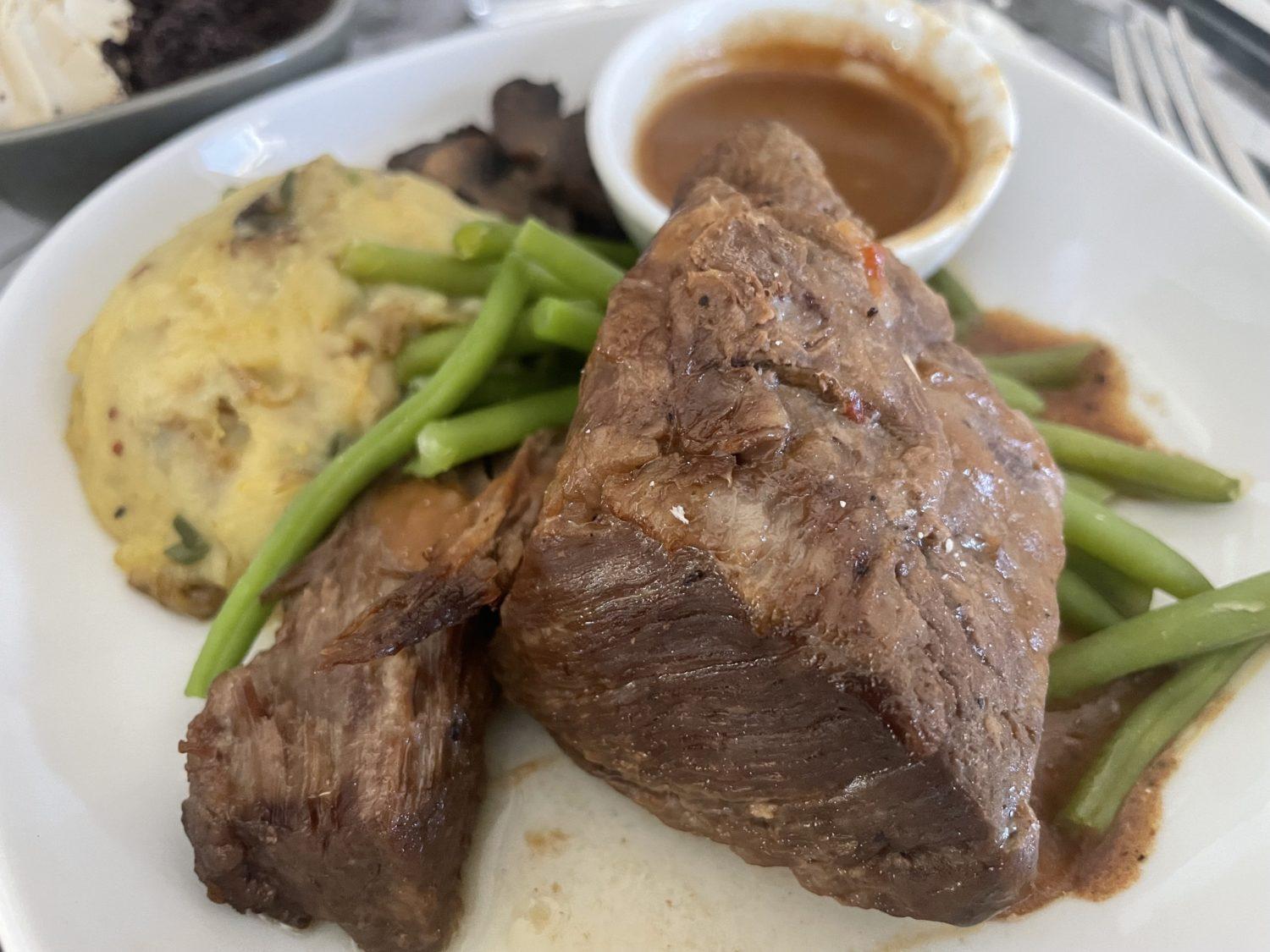 The chocolate mousse was also a treat and a delectable way to polish off the meal with the brownie crumble mixed in.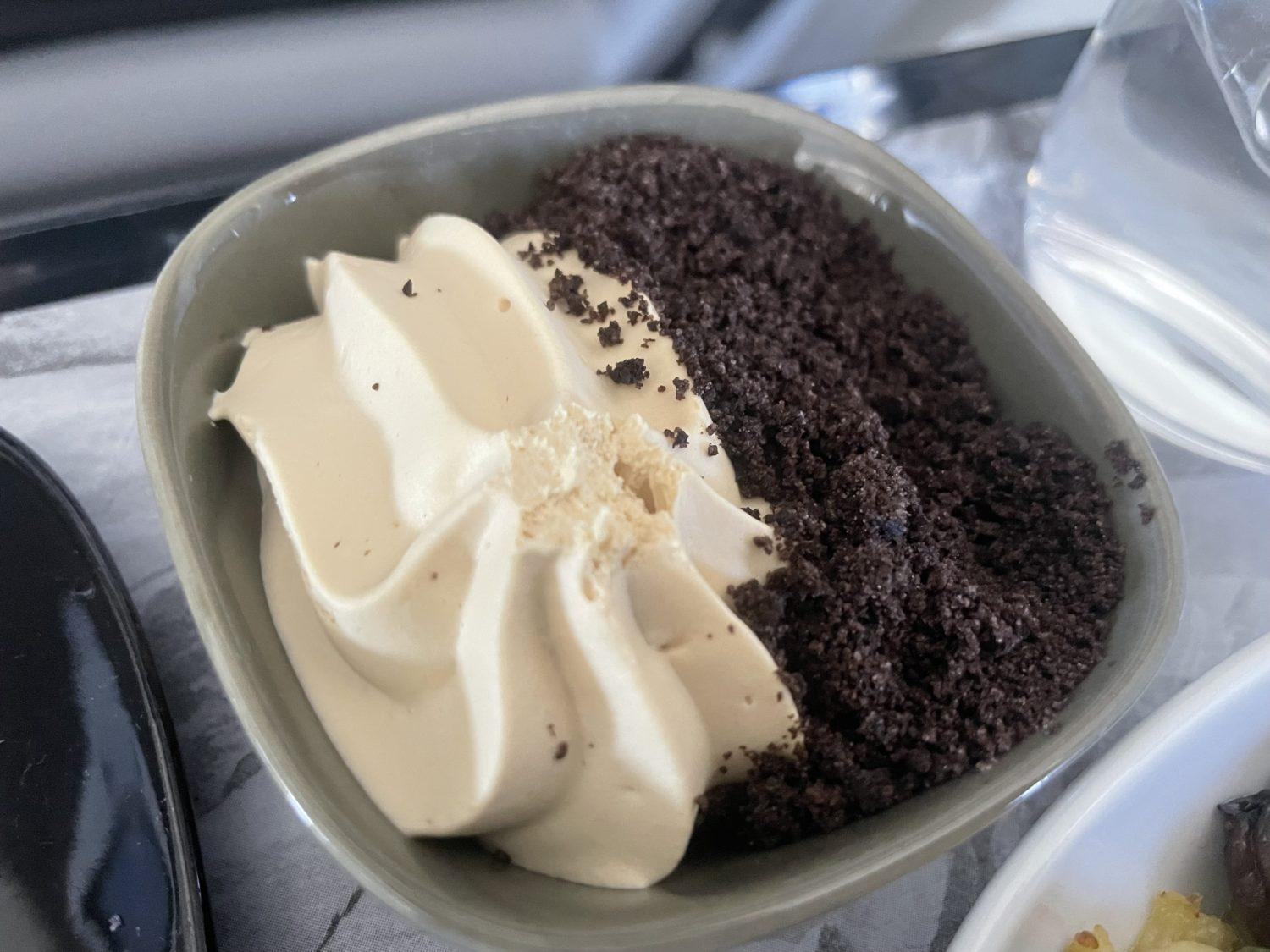 We were offered a coffee after the meal before we settled into a few hours of food-free flying. About 90 minutes before arrival, however, they came around with these tasty, spicy "Lava" chocolates with a little bit of chili pepper zest to them. I'll admit it was a tad strange and was not what I was expecting, but I didn't hate it, either.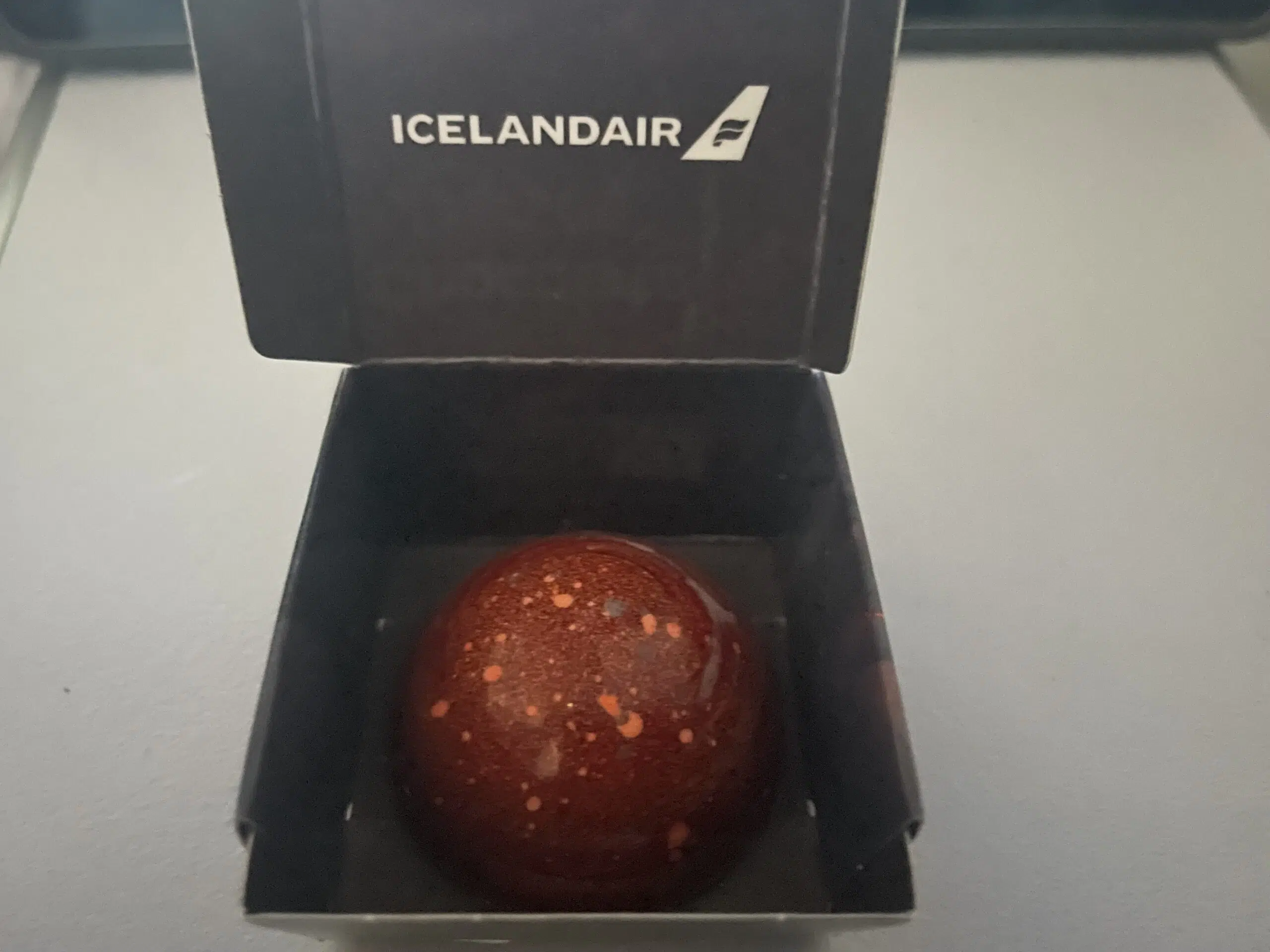 After the treat and before our descent, we were offered one final drink order.
Bottom Line
Icelandair business class might be a misnomer, as these seats are far from the lie-flat business class you find on many other airlines flying between the U.S. and Europe.
Even without those bells and whistles, the seats themselves are plenty comfortable and much more spacious than what you get back in economy with Icelandair. But everything else about Icelandair Saga Premium was outstanding, from the tasty food to the snappy service and an excellent lounge before the flight.
For the right price, I'd gladly fly Icelandair Saga Premium again.