I've wanted to fly Turkish Airlines business class for years.
Other carriers like Qatar Airways or Singapore Airlines might get more praise for their business class overall, but Turkish business class is nearly synonymous with high-end catering – there's even an onboard chef! There are spiffy new seats onboard their Boeing 787s and Airbus A350s, a massive lounge at their new Istanbul (IST) hub airport, and some great ways to book these seats using fewer points and miles than almost any airline would charge you. What more could you want?
So I hopped on the long flight from Istanbul to San Francisco (SFO) with some high expectations, to say the least. Did Turkish Airlines deliver?
Well … yes and no. Read on for the full review.
Booking Turkish Airlines Business Class
On many airlines, booking business class seats can feel like pulling teeth. Finding the award space to use your miles is one of the biggest hurdles to flying up front.
But that's not the case with Turkish Airlines business class. Whether you're booking nonstop flights between the U.S. and Istanbul (IST) or connecting onward into Europe or the Middle East, it's generally much easier to find two or even four seats on these routes. That's a big part of the appeal of Turkish business class – it's just easier. And it won't cost you a ton of points or miles either, thanks to some incredibly cost-effective ways to lock these seats in.
For example, we sent this award alert to Thrifty Traveler Premium members last year for a chance to snag two or more Turkish business class seats – and thanks to a promo from Turkish at the time, you could book roundtrip flights for just 63,000 miles. That's less than most airlines charge for a one-way flight to Europe!
Get business class award alerts like this one sent straight to your inbox with Thrifty Traveler Premium!
It varies from route to route, of course. But part of the reason it's so much easier to book Turkish business class is just a numbers game: Turkish has a huge network of U.S. routes … and it just keeps growing. The airline added a nonstop to Dallas-Fort Worth (DFW) and will soon launch service to Seattle (SEA), with Detroit (DTW) and Denver (DEN) expected to join the fold eventually.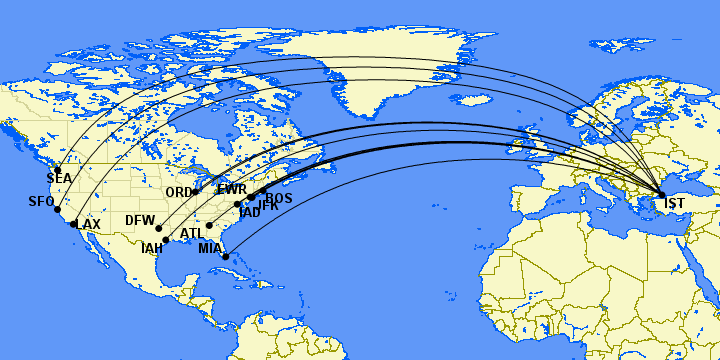 If you're starting from scratch, searching United.com is a good place to start your hunt for Turkish business class seats bookable with miles. It's best to start by searching for the nonstop routes between the U.S. and Istanbul for as many seats as you need. If you see a flight bookable for 77,000 United MileagePlus, you're golden – and because Turkish is part of the Star Alliance, you've got plenty of options to book it for even less.
Turkish's own Miles&Smiles program is criminally underrated. You could book this flight for just 45,000 miles each way – and you can get those miles easily by transferring Capital One Venture Miles or Citi ThankYou Points. Turkish tacks on $180 to $300 in cash fees, depending on which way you're flying.
Using Avianca LifeMiles will cost you 63,000 miles each way. They're transferrable from Amex Membership Rewards, Capital One Venture Miles, and Citi ThankYou Points.
Air Canada Aeroplan is a good option starting at 70,000 miles each way and low cash fees, though some longer routes will notch up to 85,000 miles. You can transfer from Chase, Capital One, and Amex points.
ANA Mileage Club has the lowest award rates at 88,000 miles roundtrip to Europe – but you must book roundtrip as one-way redemptions aren't allowed. Plus you'll get hit with about $500 in fees. ANA is another Amex transfer partner.
Finally, you can book for 77,000 United MileagePlus miles each way – transfer them from Chase Ultimate Rewards if you need some more.
In this case, we had some Amex Membership Rewards points to burn from cards like The Platinum Card® from American Express and the American Express® Gold Card. After a quick transfer to Avianca, we booked this flight for 63,000 LifeMiles and about $80 in taxes and fees.
At Thrifty Traveler, we don't accept freebies. We use our own, points, miles, or cash to pay for every single flight or hotel you see reviewed here – including this one.
Lounge Access & Boarding
Istanbul is home to one of the world's newest and grandest airports in the world. But pack your walking shoes: This place is massive.
After landing from an earlier flight from Abu Dhabi (AUH), I had about a 15-minute walk from our gate to the international connections area. No matter where you're coming from or going, you're better off assuming it will take you 15 to 20 minutes (or more) to get … well, pretty much anywhere.
Once you get to the heart of the terminal, Turkish business class passengers actually have two lounges to choose from in Istanbul. There's the Business Class Lounge, a space located near the E gates and reserved for travelers flying business class with Turkish or another Star Alliance carrier. Then there's the Miles & Smiles Lounge, which you can access near the C gates with a business class boarding pass as well as status with Turkish or Star Alliance Gold status or higher.
Both lounges are fairly massive at more than 18,000 square feet – and they're identical. No joke, Turkish built two lounges that are mirror images at the center of its mammoth hub airport. I headed for the Turkish Business Class Lounge, as it seemed the Miles & Smiles Lounge was busier during my early morning visit. That's a good and bad thing: While it meant more room to spread out, it certainly seemed like the signature food offerings Turkish is renowned for were slow to get started in the Business Class Lounge.
But there's no question this is a great lounge.
The metallic cathedral ceiling, the soft wood flooring, the curving light accents around the lounge – it all just works. This place has a lot of character – and no shortage of places to relax. There's a good mix of seating areas in open areas, including some overlooking the terminal below, as well as some cozier spots closer to the back of the lounge.
There's even a massive media center in the center of the lounge with a few seats and 12 screens playing different shows, news channels, and games.
The star of the show at the Turkish business class lounge is the food – at least it's supposed to be. There are a smattering of food stations around the center of the lounge cranking out fresh Turkish classics like flatbreads, dumplings, kebabs and other grilled meats, baked goods, soups, pastas … you name it, they make it.
But during my brief 6 a.m. visit, many of these food stalls weren't up and running yet. It looked like employees were starting to fire up the ovens as I walked out around 7:30 a.m. or so.
During my visit, there were just a few stands stocked mostly with prepackaged snacks, pastries, dips, salads, sandwiches, and desserts. It all looked quite good, but a far cry from Turkish's renowned spread of made-to-order food I was hoping for in the lounge.
On the bright side, there were dedicated tea and coffee stands open for business. The tea station was self serve, while there was a barista behind the coffee bar located near the rear of the lounge.
I was more than happy with a small pistachio treat and a Turkish coffee served in an adorable cup and platter. Turkish coffee is an absolute must-try if you've never had it – it's like rocket fuel … in a good way.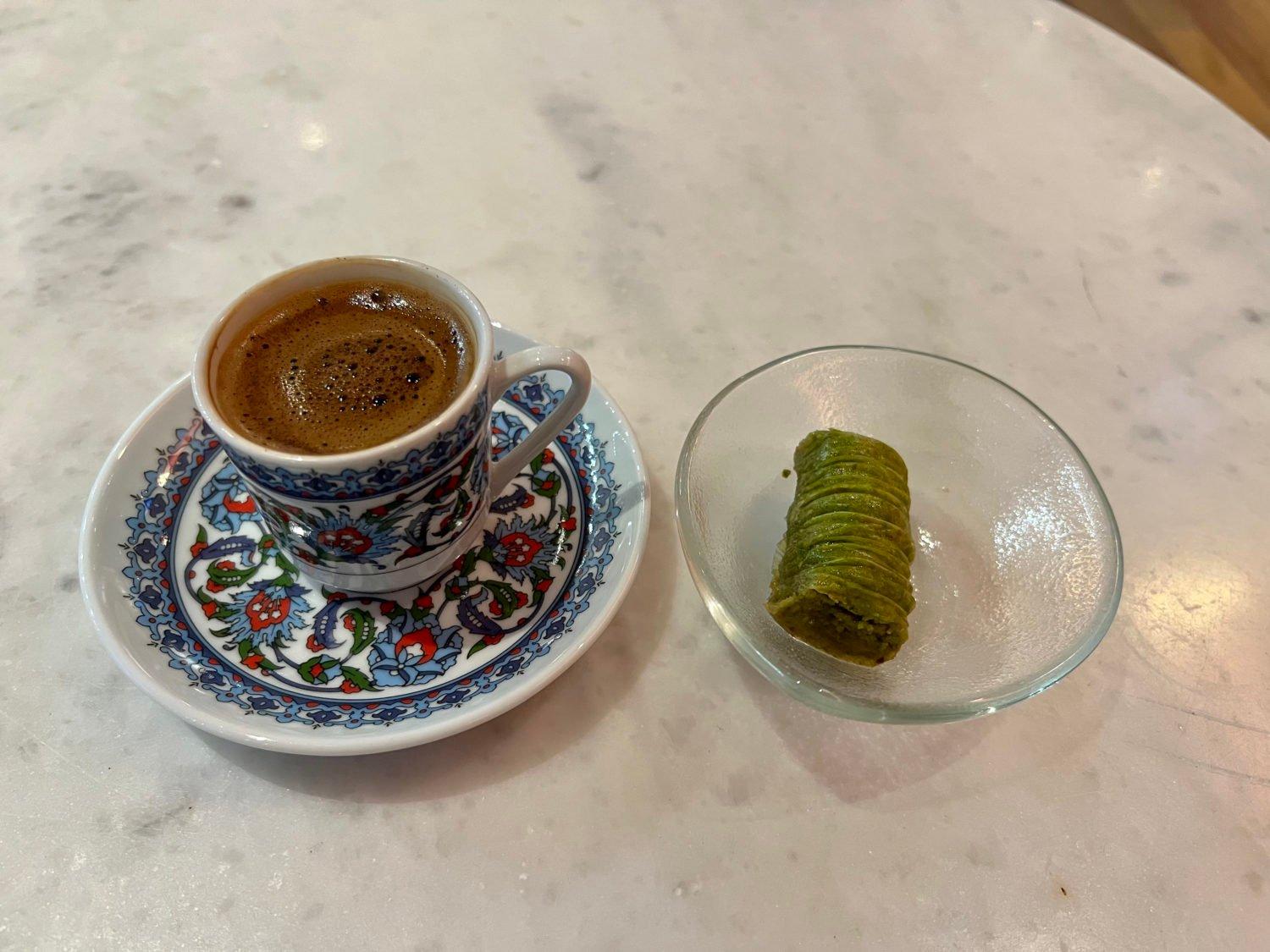 Turkish Airlines has some amenities you won't find in every business class lounge. For starters, there are sleeping rooms available, though only if you're departing or arriving from a flight of eight hours or longer – and have a layover of at least four hours. If you just want to freshen up, there are also shower suites available.
No matter what you need, just hang a left after entering the lounge, head to the concierge desk, and hand over your boarding pass. My layover wasn't anywhere near long enough to get a sleeping room, but I was glad for a chance to get a shower before the long flight to San Francisco.
While the shower suites feel a little cramped, they are quite nice featuring perhaps the tallest rain shower head I've seen in my life. These stalls have to be at least nine feet tall.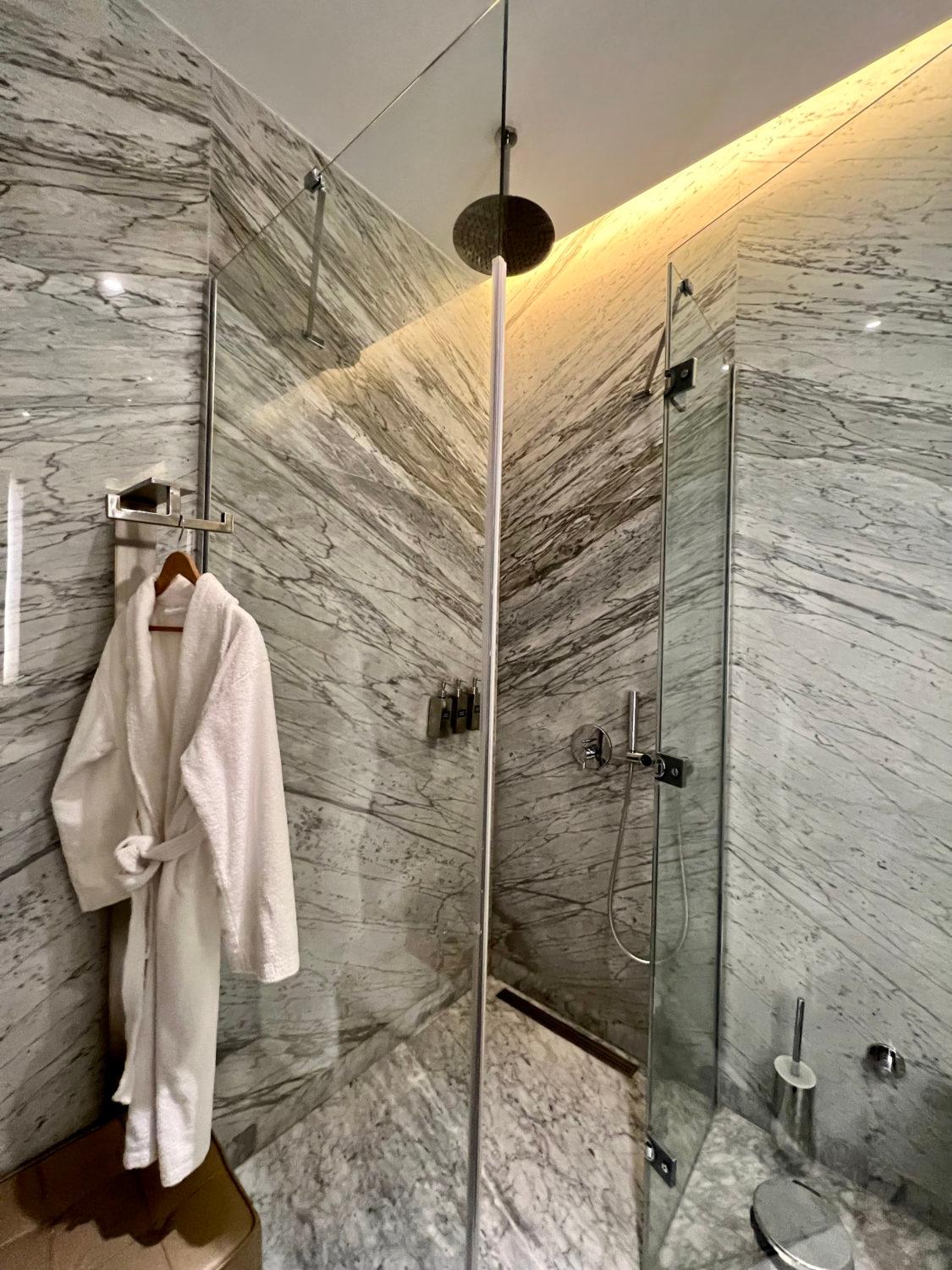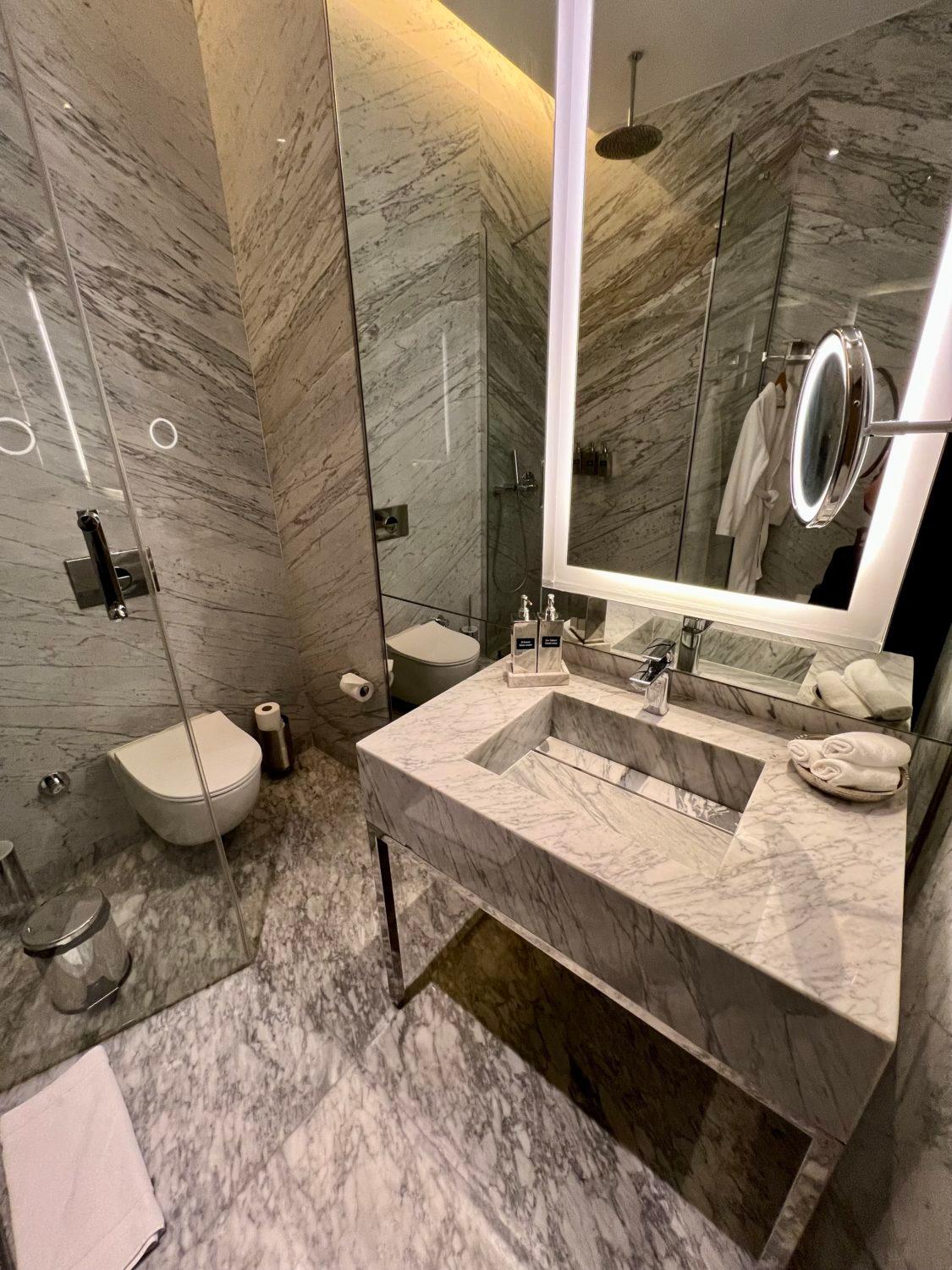 At the back of the lounge, you'll find a large children's play center as well as something incredibly cool called a scalextric race car track modeled after the city of Istanbul. It seemed to be out of commission during my visit, though that's probably for the best – I might have missed my flight while trying to get the hang of it.
There's even a golf simulator in the lounge – yes, a golf simulator. But that area of the lounge was completely closed down for repairs during my visit.
It was a good experience overall, but I'm eager to get back to TA's business class lounge another time to get the full food treatment that this lounge is known for. After a light bite and a shower, the departure board inside the lounge warned me to head to my gate. You'd be wise to heed that warning.
Getting into the boarding gate area for my flight back to the U.S. was incredibly time-consuming, with three separate document checks of my passport and recent negative COVID-19 test as well as having all my luggage searched by hand.
The Business Class Cabin
Even on the same airline, business class isn't created equally. Seats and setups vary from airline to airline. In Turkish Airlines business class, that distinction couldn't be more stark.
The airline flies its Boeing 777 workhorses on many routes to and from the U.S., with business class seats in a 2-3-2 configuration. It's still a nice ride with lie-flat seats, but the setup means not every passenger has direct access to the aisle. An update wouldn't hurt.
But I was flying on a Turkish Boeing 787 … and I chose it on purpose. Along with their Airbus A350, these jets are equipped with a brand new business class seat. Trust me: This is what you want when you fly Turkish business class.
Take a look.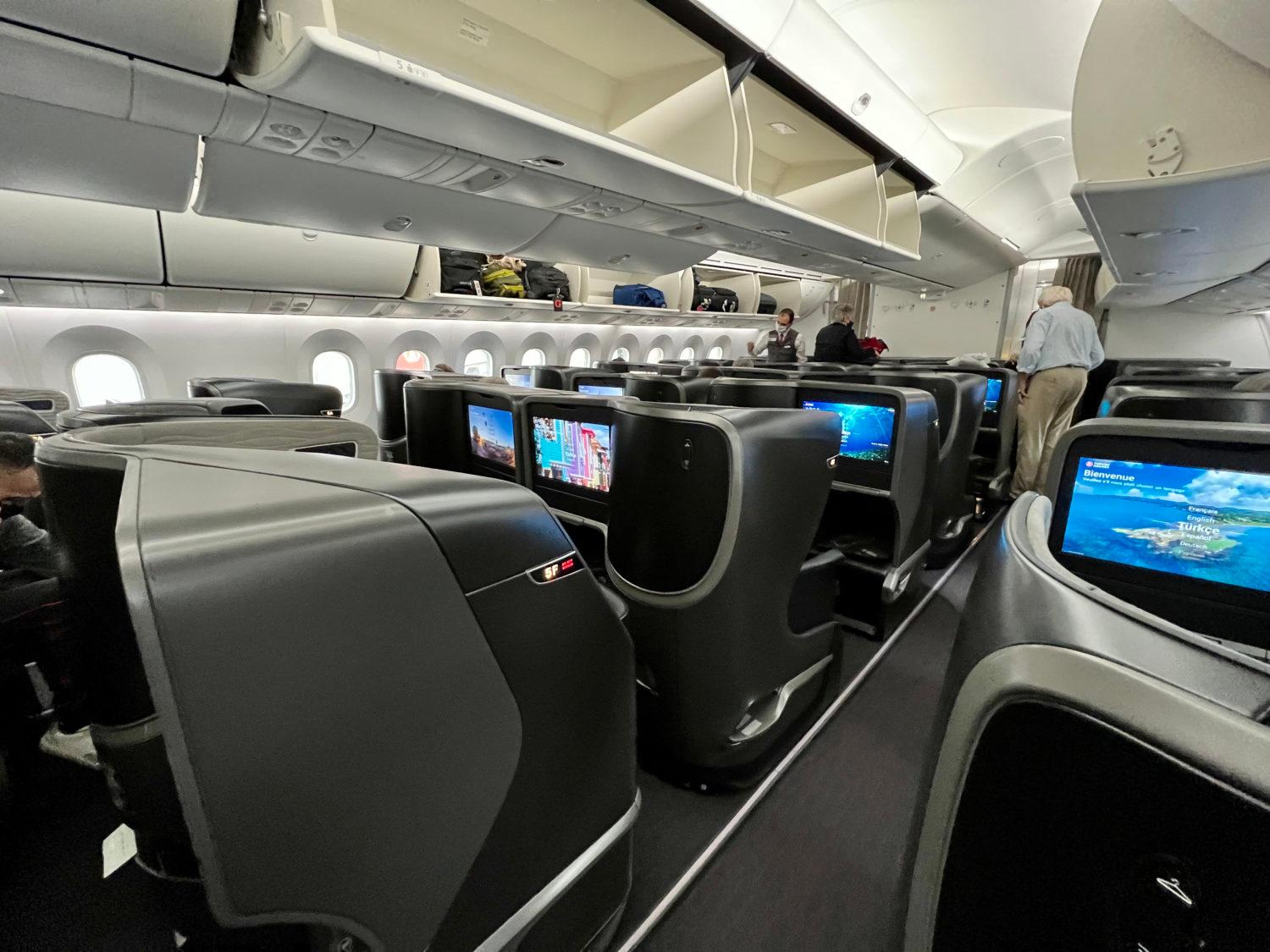 The business class cabin on the 787 has just 30 seats total spread across eight rows, each laid out in a 1-2-1 fashion to ensure every single passenger on board can walk out into the aisle without climbing over a companion or stranger. Looking forward into the cabin, it's fairly dark but sleek: Lots of black, and gray colors throughout the cabin.
The seats are staggered, with some closer to the aisle and others positioned farther away. Solo travelers should gravitate toward seats along the windows.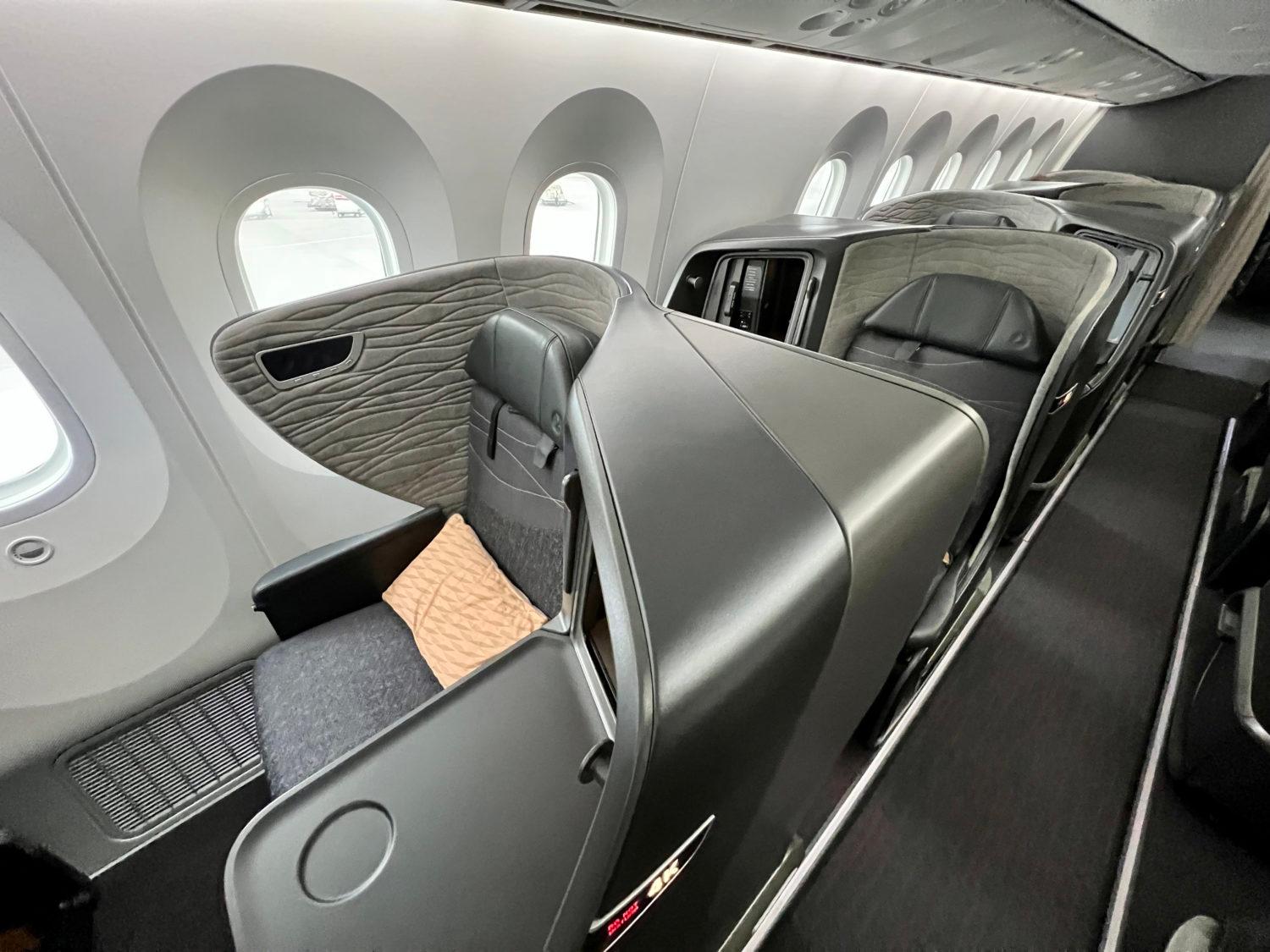 These solo seats are positioned closer to the aisle in odd-numbered rows, with the console along the window.
These seats up in row 1 have a ton of additional storage space, though you'd need to keep it empty during takeoff and landing. It also appeared as though the footwells at these bulkhead seats were much bigger than in any of the rows behind.
Seats in the even-numbered rows, meanwhile, are closer to the windows, separated from the aisle a console table to give them even more privacy.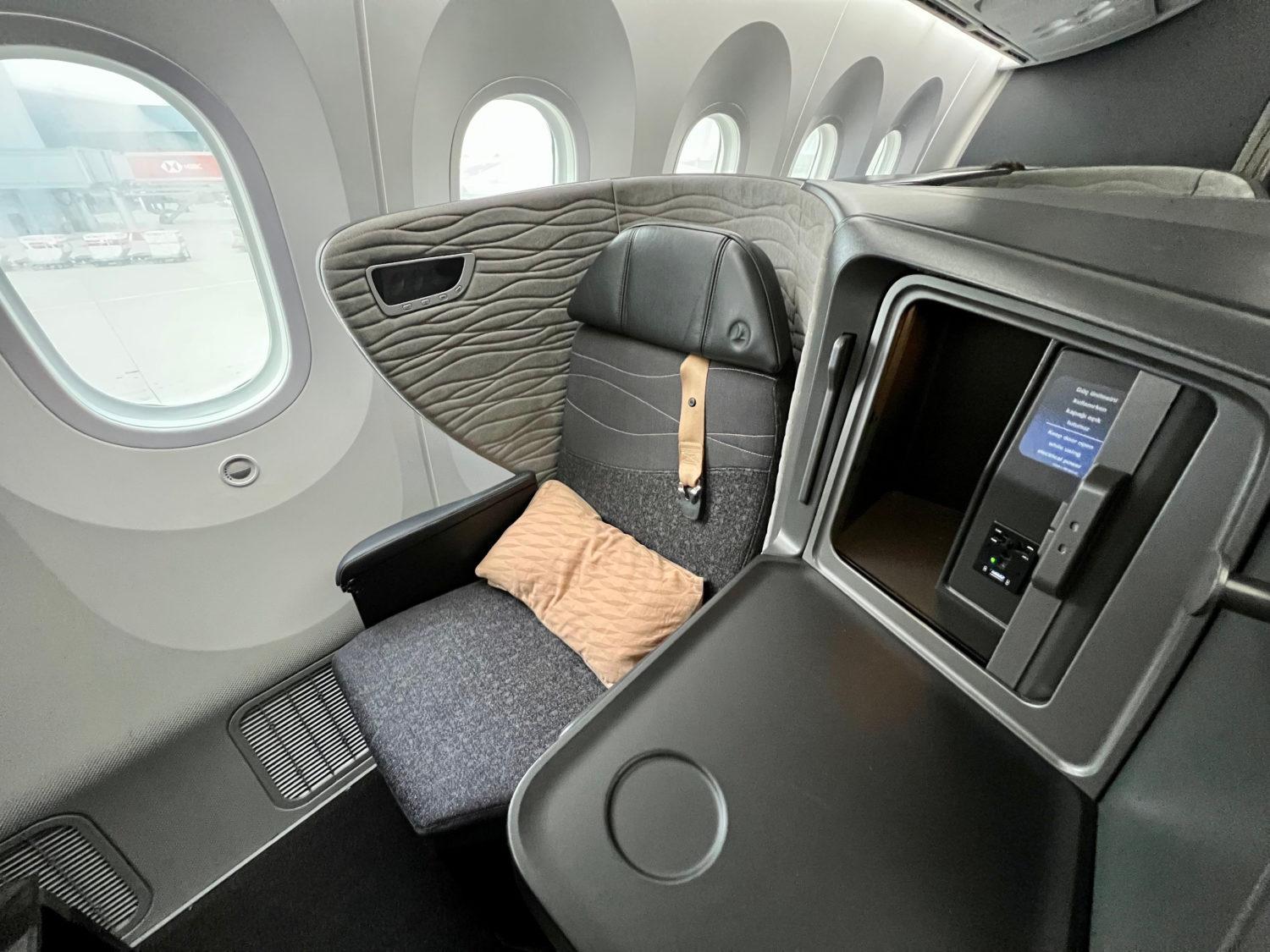 You'll find seats in pairs in the center of the plane. The worst of the bunch are easily those in the even-numbered rows, which are closer to the aisle but spread fairly far apart from one another. It sure is a sharp look with that golden Turkish Airlines logo on the rear bulkhead wall.
But the best seats for couples and companions in business class on the 787 are easily the middle seats in the odd-numbered rows, so-called honeymoon seats.
That's not to say they're the best business class seats for couples, period: With those privacy wings at the center, you'd still need to lean forward a bit to chat with your neighbor. And there's still a divider between the seats that goes all the way to floor, which can be raised if you don't know the person next to you.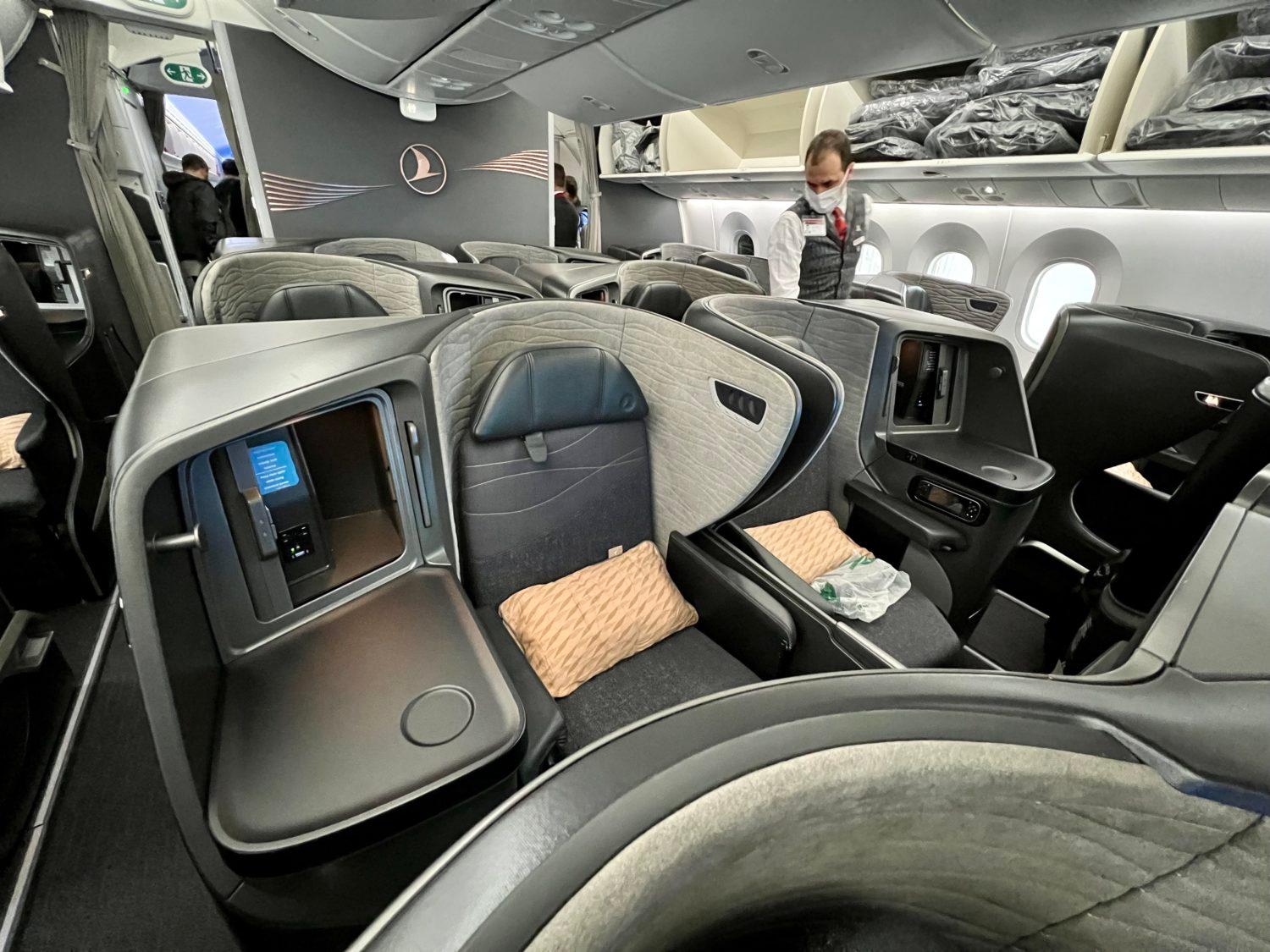 Here's a closer look at these honeymoon seats.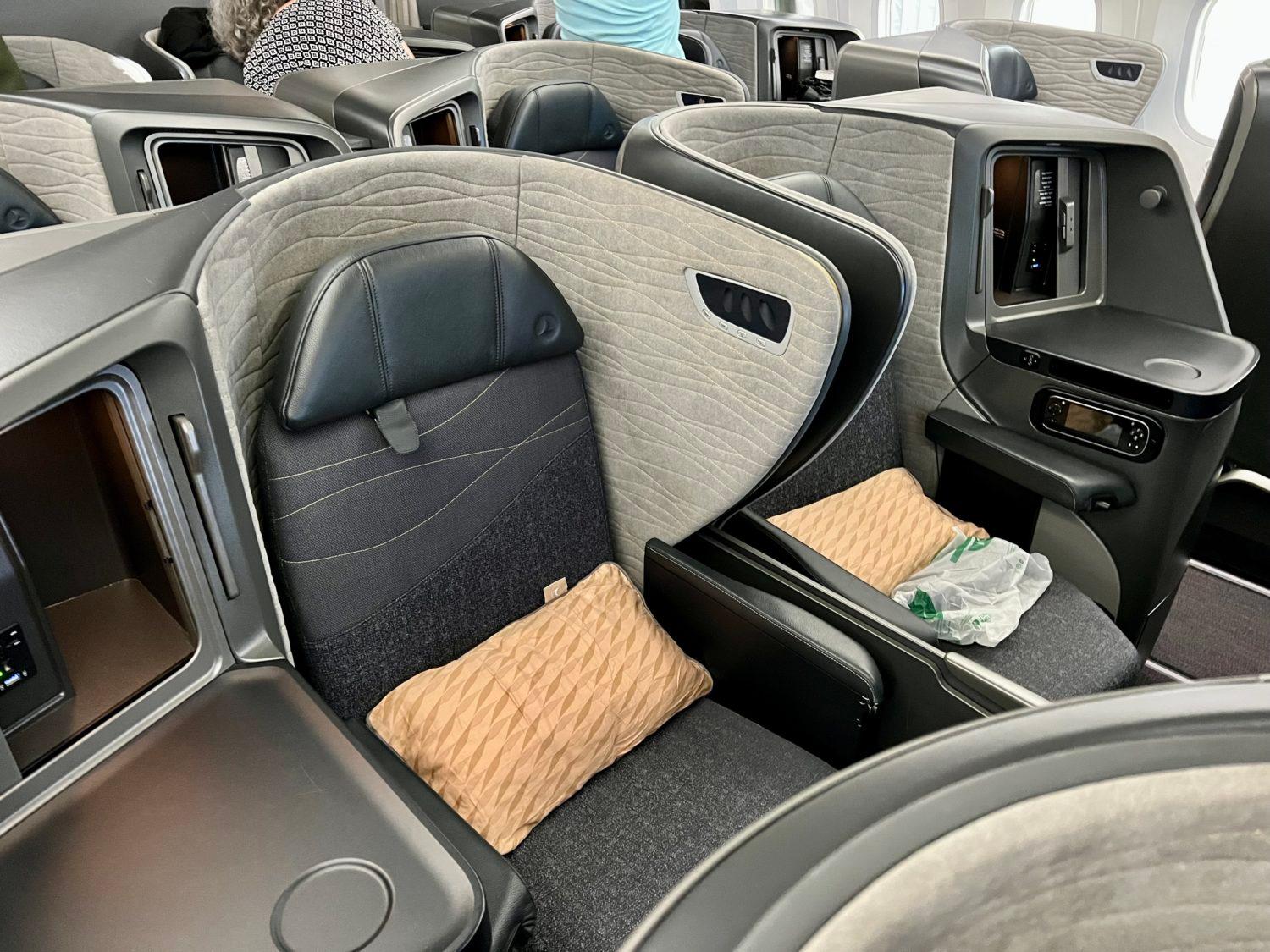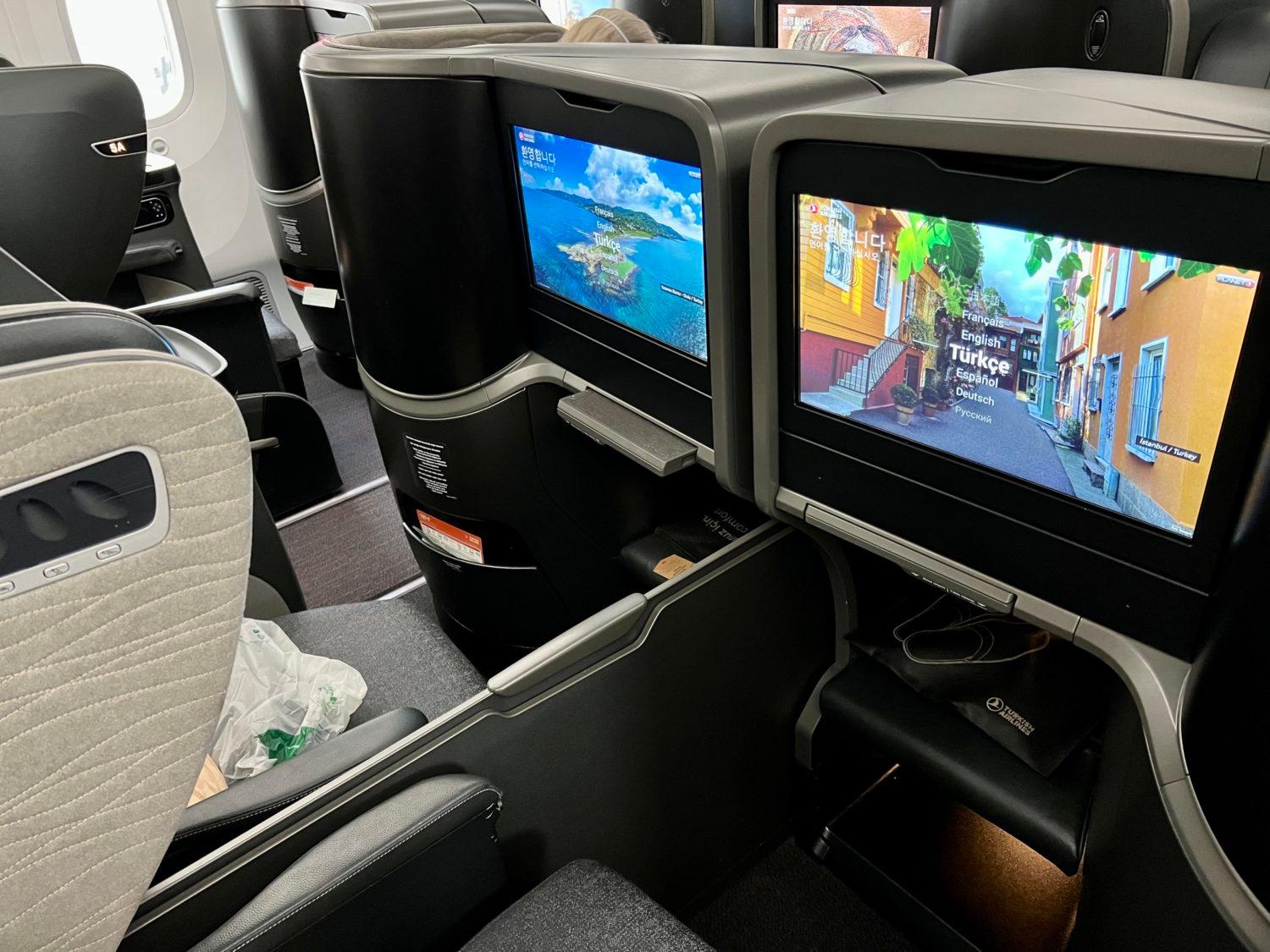 The Turkish business class cabin on the 787 is equipped with three lavatories: One at the front of the cabin and two at the rear, though economy passengers can also use the rear restroom on the left-hand side of the plane (as you face forward). The best option by far is the rear on the right side: It's the biggest of the bunch.
As far as plane lavatories go, it was nothing special … aside from a bidet toilet seat, which is always fun to see in the sky. But the lavatory seemed to be cleaned constantly throughout the flight. And I do appreciate when airlines install a foot lever to open the trash.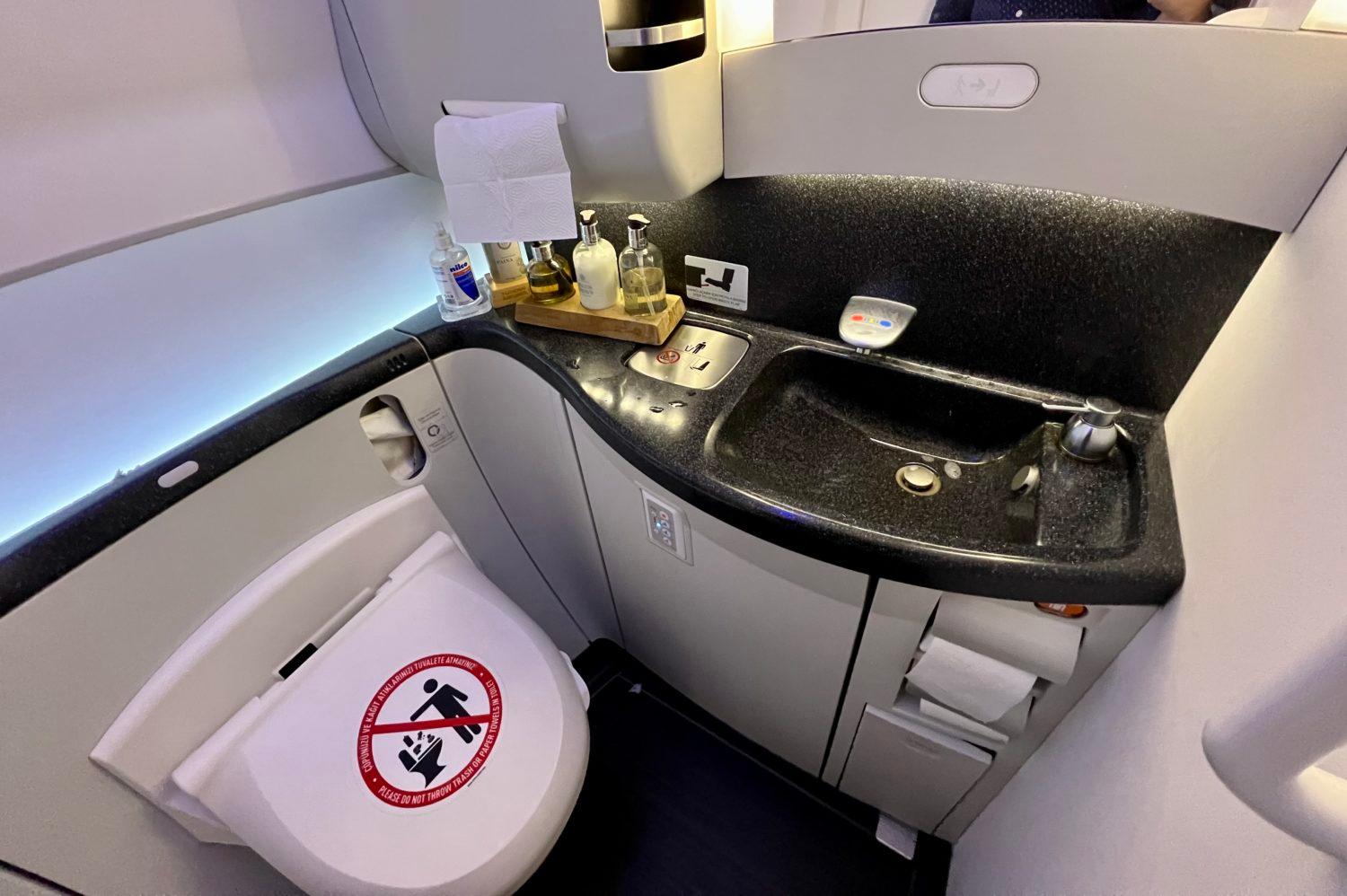 The restroom was also stocked with almost too many amenities: hand soap, lotion, and a reed diffuser from Molton Brown; a body spray from a company I didn't recognize; and a bottle of hand sanitizer, too. Even in this oversize lavatory, it took up all the counter space and then some.
The Seat
After a tour of the cabin, I made my way to my seat: Seat 6K.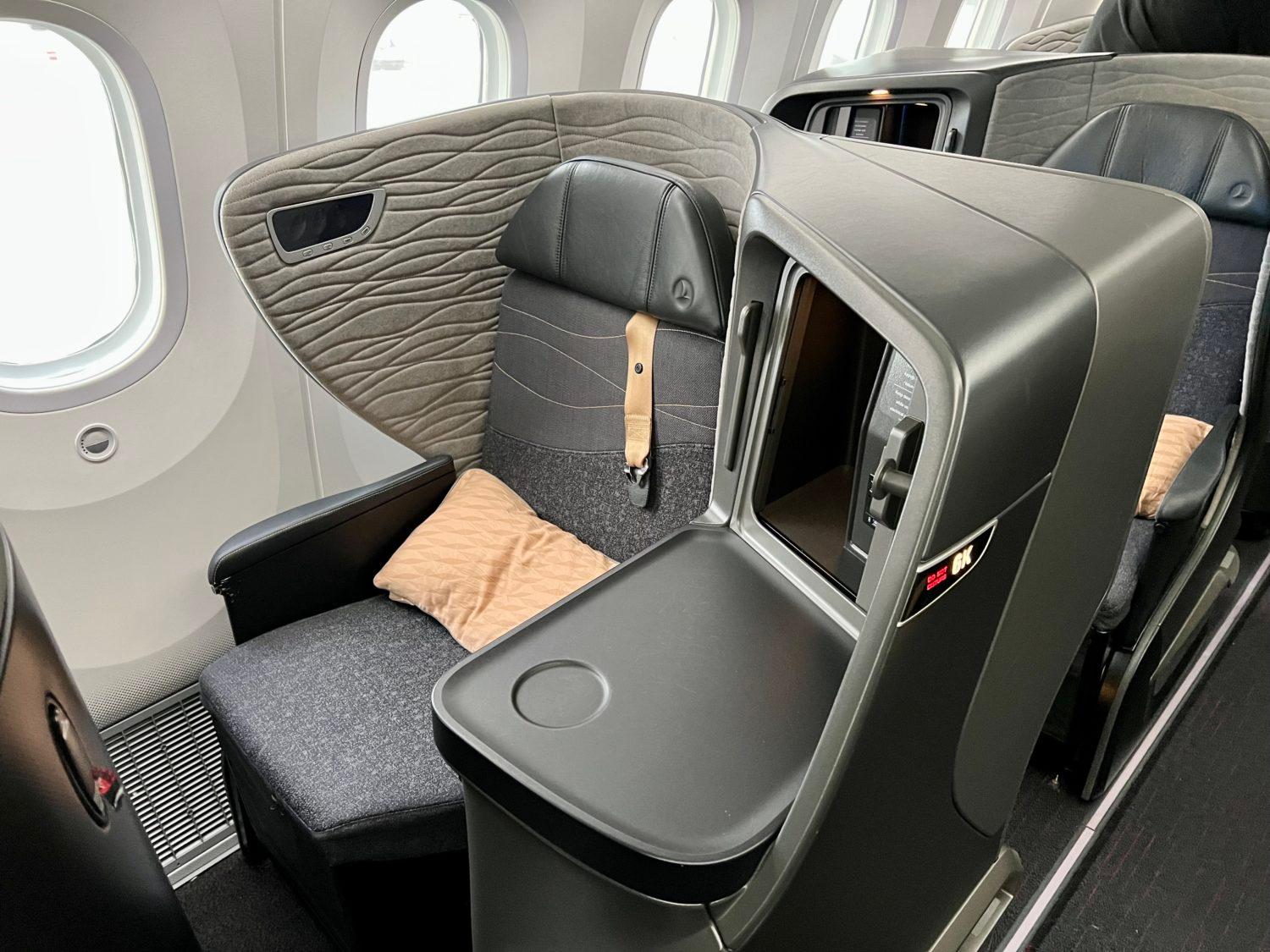 What a beauty, right? There's no question in my mind that Turkish Airlines hit a home run when it comes to style with this new business class seat. They lightened up an otherwise dark color palette with a splash of gold from the pillow and seatbelt. The stitching on the seat and headrest adds some additional flair. And the light gray stitching on the shell of the seat, to boot? Stunning.
Even compared to other airlines that have used a similar seat design including Singapore Airlines on some of its Airbus A350s, I'd say this one wins.
Turkish Airlines nailed the fashion, but how about function? Well, it's a mixed bag. Let's start with the positives.
The seat itself is incredibly comfortable with great padding from head to toe. On paper, the seats are fairly large, too: They measure in at just over 20 inches wide with 76 inches of legroom in lie-flat mode.
I loved that there's a substantial (and adjustable) leather headrest, something far too many airlines skip.
And these even-numbered seats along the aisle have a good amount of privacy – easily the most among the bunch, if that's what you're looking for. Here's a look at the rest of the cabin from my seat.
But in some ways, the emphasis on looks went too far. The shell around the seat looks fantastic, but it comes at a cost: It makes these seats feel fairly narrow.
On top of taking away from the views out the window, it eats into precious shoulder and elbow room. I lost track of how many times I bumped into it while eating, working, or just trying to stretch out a tad.
And one other thing: I could feel almost everything from my neighbor behind me. Every time they got up and used the seat to pull themselves up, I felt it. Every time they pulled out or pushed their tray table back in, I felt it. Heck, I could sense when they were reclining their seat.
Don't get me wrong, this is still a great business class seat – and a major step up from Turkish business class on the 777. But I can't help but feel that with a little bit of extra feedback and adjustments to address these issues, it could have been truly fantastic.
Back to the seat itself. Every seat has a handy reading light with several settings as well as an off button on the shell.
On the other side, the storage console is substantial … though there isn't a ton of room to put things aside from the counter space. I do like the dedicated headphone hook, though.
There's a compartment with a door that can be closed and opened, which is also where you'll find the universal power outlet as well as a USB port. But this cubby isn't all that large: You can store a pair of bulky headphones at most, along with a phone and your passport or wallet.
There's also a small mirror you can slide out near this compartment.
Alongside this storage table is where you'll find the in-seat controls, which light up with a tap. The seat controls were incredibly easy to use and responsive. You can also control the lighting in your seat here as well as a handy on/off button for the TV screen – a feature more business class seats should have. The three-prong socket for headphones is around here, too, along with the wired in-flight entertainment remote.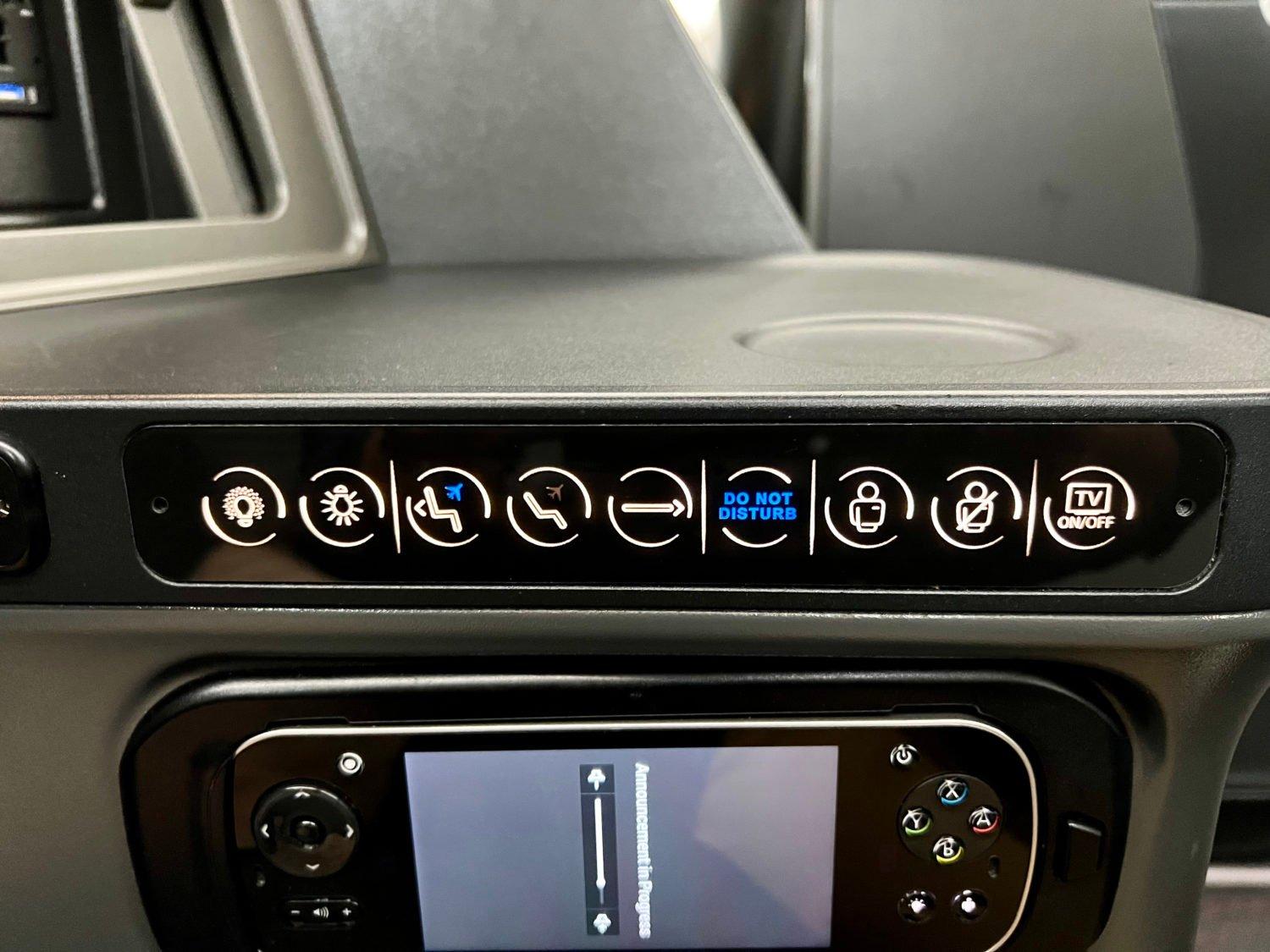 Look up and rejoice: Personal air vents! I'm starting to sound like a broken record, but these Turkish business class seats are chock full of features that really should be more common. For some reason, air vents in business class cabins have become a rarity on too many airlines.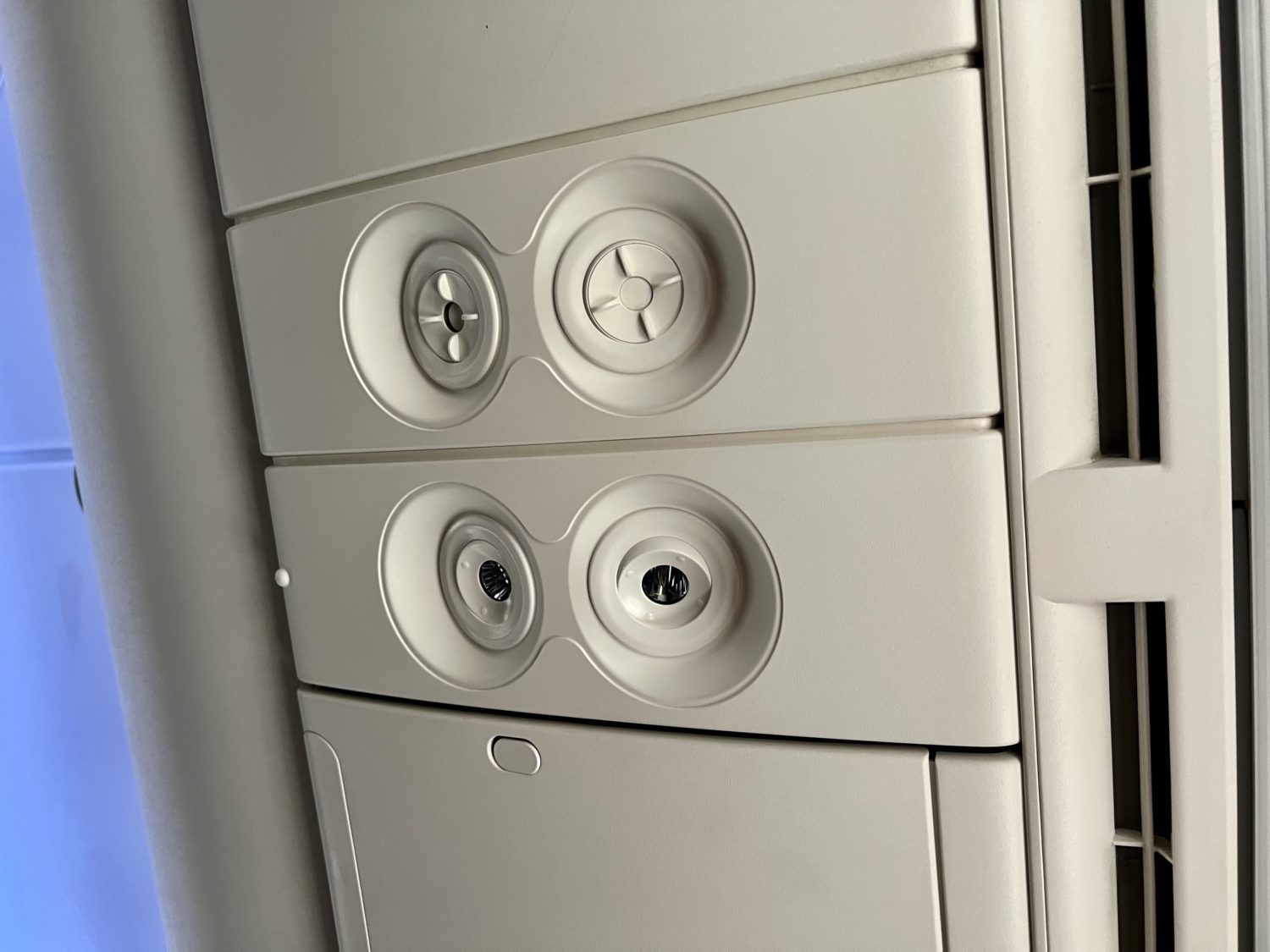 At the front of the seat there's a tray table that slides out from underneath the monitor, folding out into a pretty massive surface. In my experience, you need to give it a pretty good tug while holding a latch underneath to pull out. The tray itself sat up a bit higher than I'd like, resulting in some weird angles if you were working on a laptop. And unfortunately, there's no way to scoot the tray forward enough during meals to slide out of your seat.
And then there's the foot cubby at the front of the seat. While it's not the smallest, it's certainly far from the biggest you'll find in business class – especially in width, as it doesn't give you a ton of room to move your legs around while fully reclined.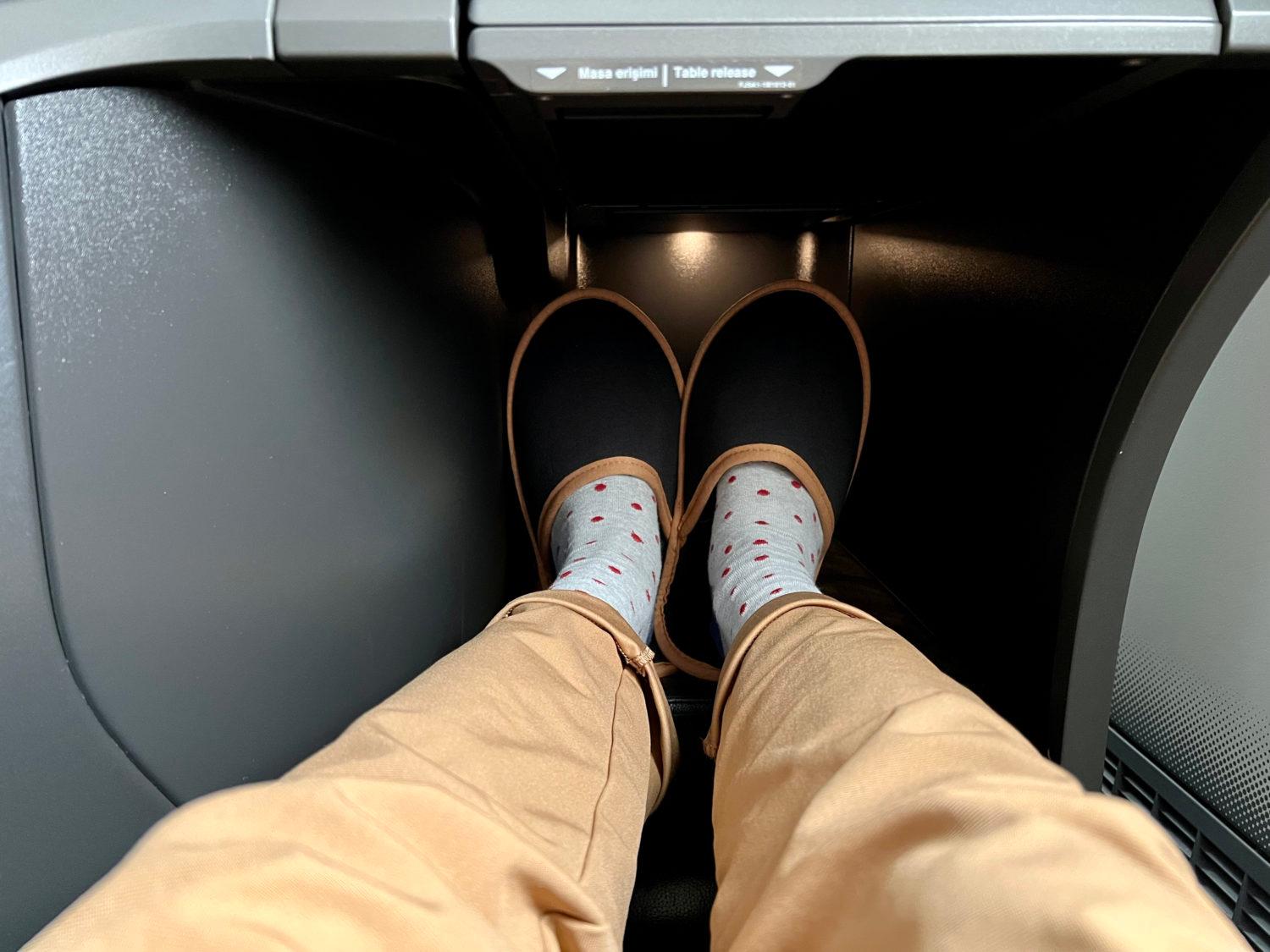 Finally, there's a decent amount of storage underneath that footrest – more than enough for a pair of shoes, a purse, or even a small backpack.
Back at the seat, there are two adjustable armrests on either side that can be raised or lowered with the push of a button, giving you a bit more width in the seat when it comes time to sleep. Some scuffs on the window-side armrest were really the only spot I noticed any damage: These seats have held up incredibly well.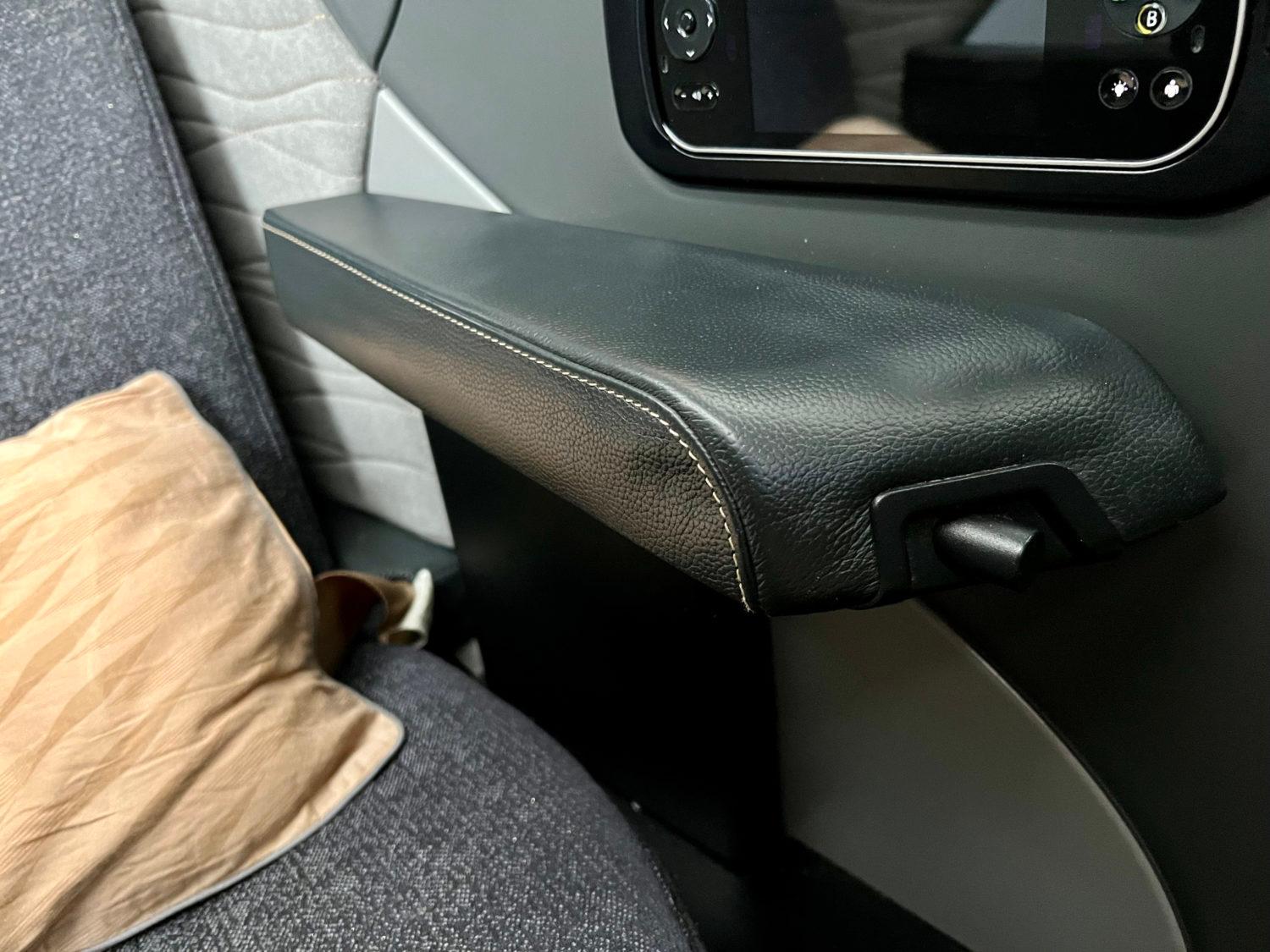 After wrapping up breakfast, a flight attendant offered turndown service, turning my cozy seat into an even cozier bed complete with a mattress topper, nice duvet, and a fairly flimsy pillow.
As I laid down, I struggled a bit to move my legs inside the narrow foothole and lay on my side. But maybe all that worry about the width of these seats was in my head, as I got a solid and completely uninterrupted four hours of sleep – and I could have easily slept for hours more had I not needed to wake up.
For all its flaws and areas that could be improved, this is just a darn comfortable seat.
Are these Turkish business class seats on the 787 my favorite of all time? No, but in the end, it's still a great seat with plenty of privacy and comfort – and a huge step up from their outdated seats on the Boeing 777. I'd love to fly Turkish's even newer Airbus A350, which sport a similar seat that's even wider than these, thanks to the bigger cabin.
Amenities
It's hard to ding Turkish Airlines when it comes to business class amenities.
If I have to subtract points anywhere, it's with the pillow. A small, fairly thin pillow was waiting at every seat during boarding. And even after bringing out some substantial bedding, that's all I got come bedtime, too. A better pillow would be a nice addition in my books. On the plus side, the duvet was great when flight attendants brought those out during turndown service.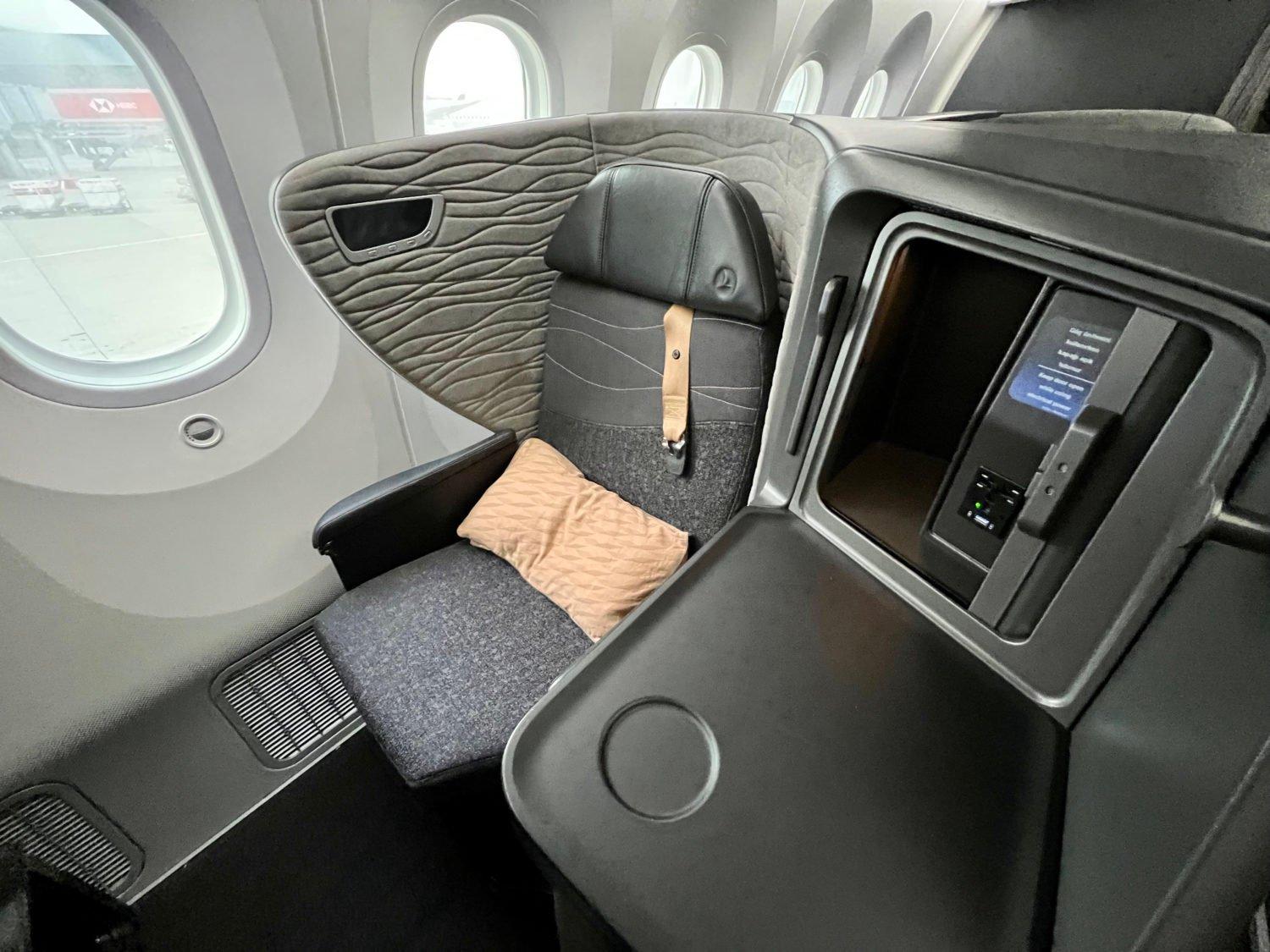 There was also a sealed set of slippers waiting at each seat, which were pretty nice and comfortable. As is the case with most airlines flying across the Atlantic, there were no pajamas available.
Shortly after boarding, a flight attendant came through the cabin and dropped off an amenity kit … housed in one of the softest leather bags I've ever felt. This bag branded by Versace was incredibly high quality.
The contents were quite good, too. In addition to the dental kit, there was a set of Versace toiletries including a facial mist, body lotion, and lip balm; a set of fuzzy socks; earplugs; and a truly excellent sleeping mask.
Soon after, another flight attendant dropped off a case with noise-canceling headphones from Denon, which were far better than the somewhat flimsy headphones you get from most airlines, even up in business class. I'd put them nearly on par with the best Bose headphones – and even more comfortable.
Unfortunately, flight attendants collected these headphones with about 45 minutes to go, swapping in a basic set from economy for the last bit of the flight.
Service & Turkish Business Class Dining
I'm just going to say it: The food on my business class flight was underwhelming.
I'm not saying it was bad – far from it. Everything was fairly tasty and presented well. I might have merely been a victim of my own sky-high expectations.
Few airlines have won more accolades for their onboard dining than Turkish: This is an airline with a dedicated chef onboard and dessert trolleys, after all. For years, flyers have overlooked the outdated seats on Turkish's Boeing 777s and Airbus A330s solely because the dining was so good up in business class.
But like almost every airline, Turkish Airlines cut many of the hallmarks of its onboard dining program during the pandemic, even serving only cold boxed meals in business class for a while in 2020 and into early 2021. While those days are long gone and high-quality meals are back in Turkish business class, it's clear they still have a few steps to go to get back to the lofty standards they set before the pandemic.
Service was a bit hit or miss, too. While every flight attendant was friendly, they were mostly impersonal, focused more on the speed of service than being proactive. Throughout the course of my flight, a few drink orders went forgotten. Those are ultimately small complaints, but it's the small things that set apart a truly incredible flight from a good or great flight.
The exception was our in-flight chef onboard, Hasan, who was easily one of the single best airline employees I've ever had. He was funny and engaging as he explained the meal service, sporting a smile you could easily see from behind his mask.
The in-flight service got started before we left the ground as Hasan dropped off menus for the flight and another employee offered a choice of pre-departure beverages: mint lemonade, raspberry juice, orange juice, and water. The glass of raspberry juice was slightly tart and completely delicious.
Hasan dropped off both a food and wine menu before the flight. On flights departing Istanbul, you also have the option to reserve a meal in advance online or through the Turkish app starting about a week before departure. The choices are the same as what you'll see on the menu onboard.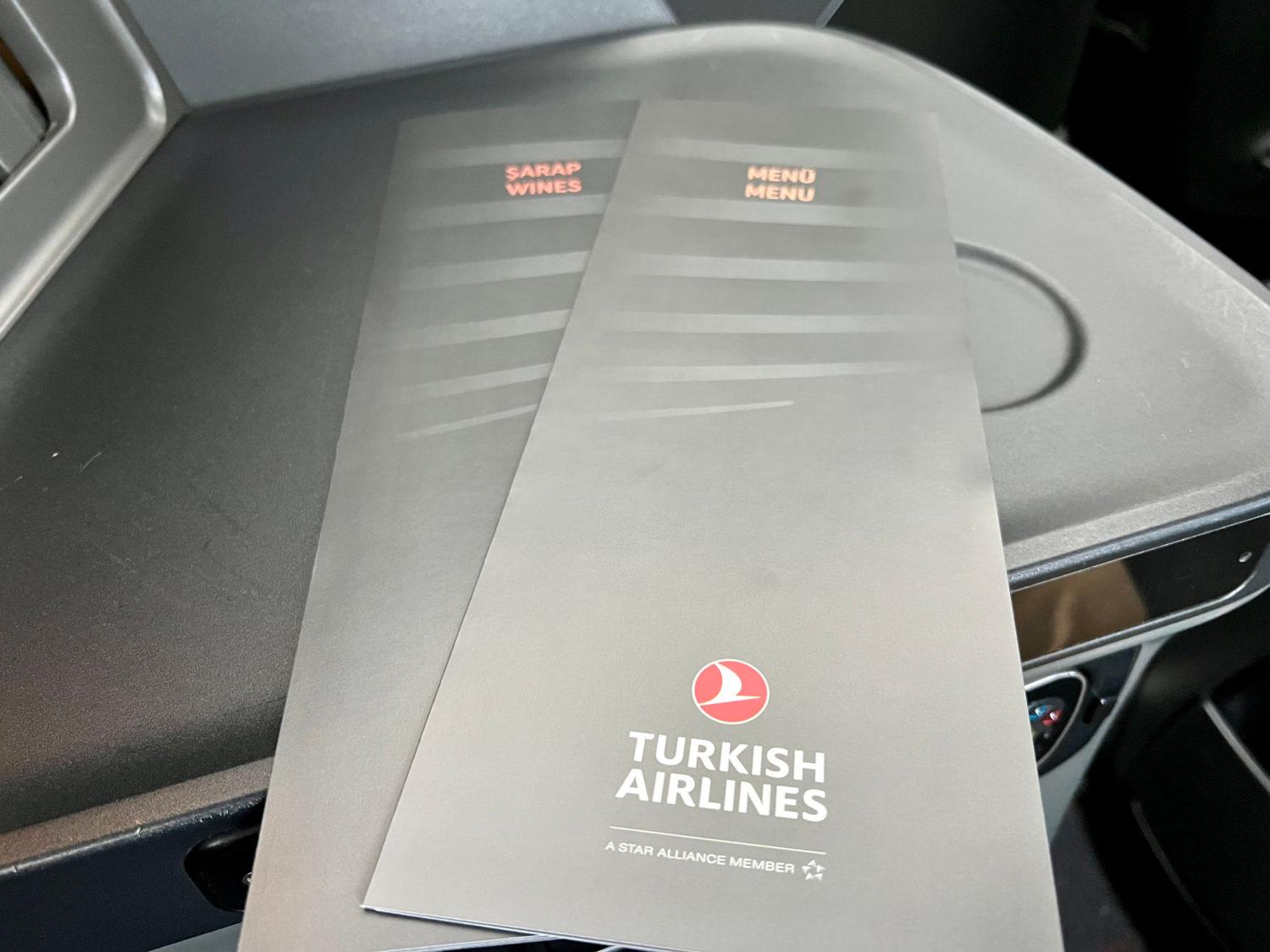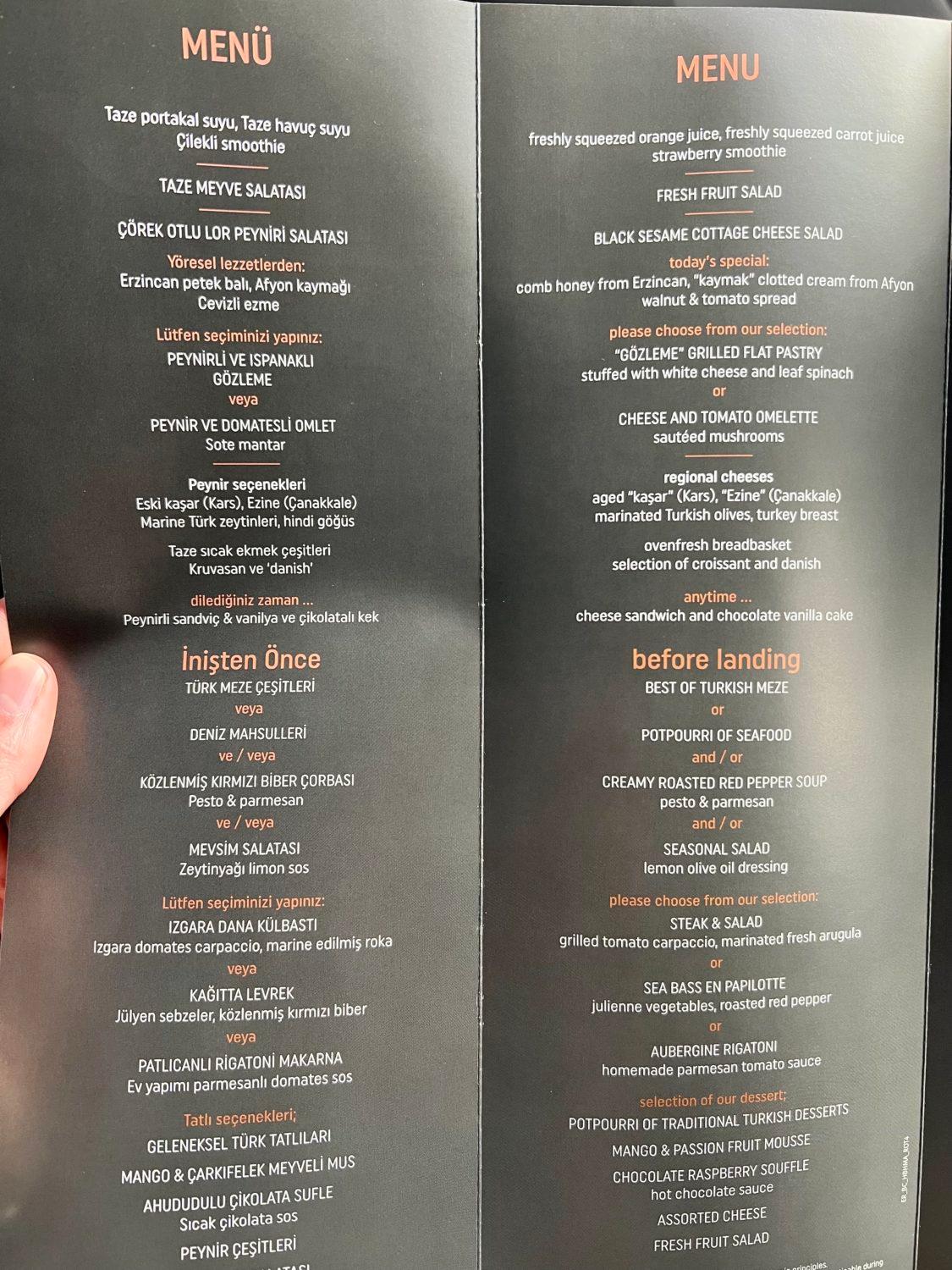 On top of your usual choice of spirits, beers, and champagne (Turkish was pouring Taittinger Brut Reserve on this flight), the airline has a pretty substantial selection of Turkish white, red, and even rose wines.
Our flight departed Istanbul around 9 a.m., so the first meal after takeoff was breakfast. After a hot towel and laying out the tablecloth, a flight attendant dropped off a tray with the starters: a platter of Turkish cheeses and turkey breast, some olives and fresh vegetables, a delicious black sesame cottage cheese salad, a crisp fresh fruit salad, walnut and tomato spread, and a small dish of clotted cream and honey. It all came out at once under plastic covers, and everything was great. A flight attendant came around with a warm bread basket, from which I chose a sun-roasted tomato loaf.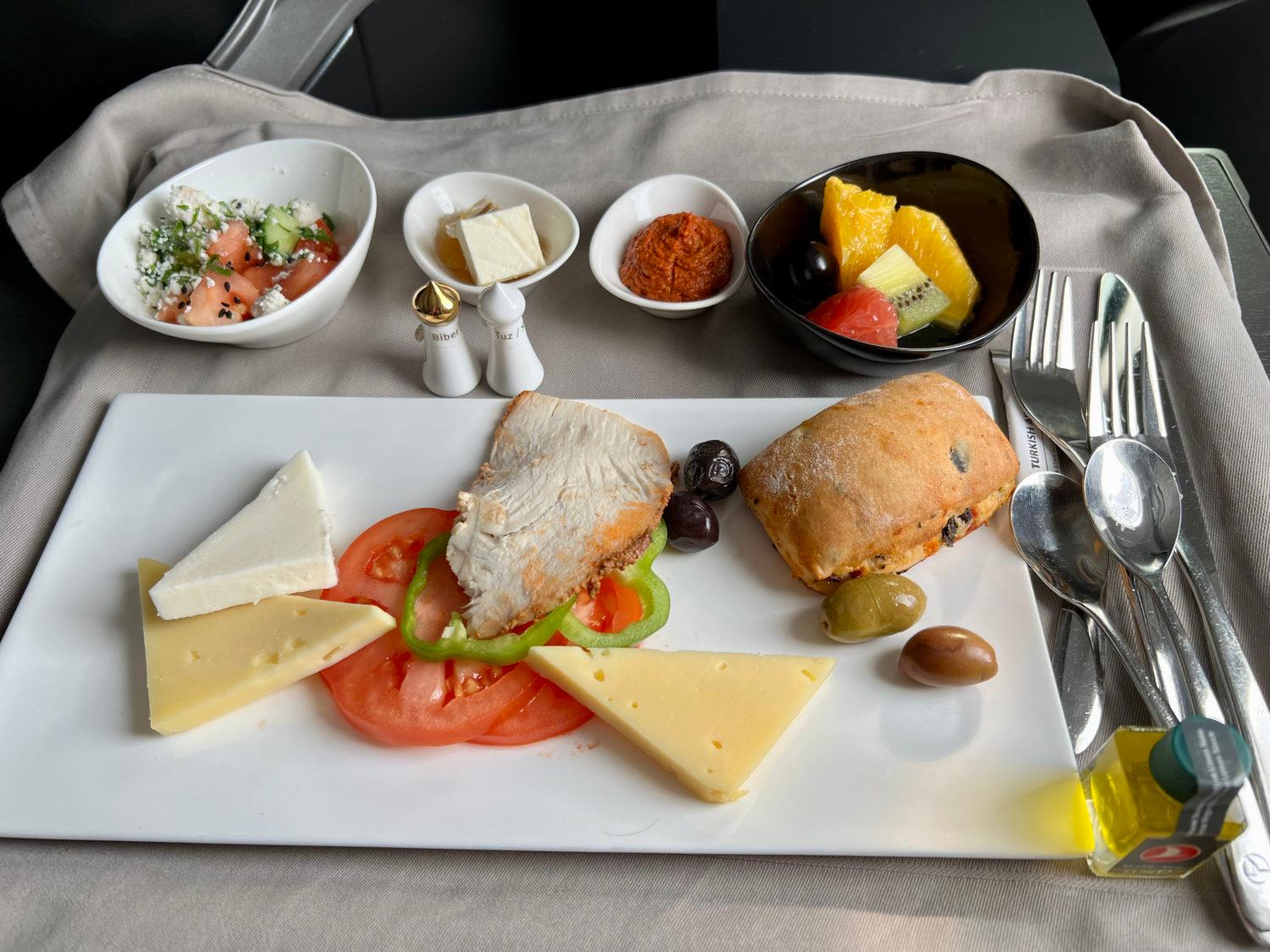 Take a second to appreciate the minaret-shaped salt and pepper shakers. Adorable.
Within a few minutes of my last bites, a flight attendant took away the main platter and promptly brought back my breakfast entree: a cheese and tomato omelet, complete with some sauteed mushrooms and a grilled tomato. As far as airplane omelets go, it was quite good – though not the best I've ever eaten in the air.
I had a glass of champagne as well as an orange juice with breakfast. It wouldn't shock me to find out the orange juice was fresh-squeezed – it's darn good.
The whole meal took about an hour or so, after which flight attendants hurried through the cabin to turn down seats for travelers to get some shut eye. After four hours of rock-solid sleep, I woke up to work and ordered a few coffees. The cappuccino was nothing to write home about, but the Turkish Coffee was outstanding as always.
As people woke up throughout the flight, flight attendants occasionally came through the cabin offering snacks like sandwiches or cake. But I saved my appetite for lunch: A far more intricate affair than breakfast, spread out over several courses with more of the flair I was expecting.
Lunch service began about 2 1/2 hours before landing as flight attendants came through the cabin to set up tables, offering drinks and a ramekin of warmed nuts. Turkish's signature "candlelight" service (complete with a flickering LED candle) had begun.
Soon after, flight attendants rolled through the cabin with a trolley offering a choice of appetizers: a spread of Turkish mezze or a potpurri of seafood. In the past, Turkish allowed business class passengers to sample bits of anything they wanted – this "one or the other" approach seems to be a pandemic cutback. But they also offered to ladle a bowl of soup at your seat, which is just cool. This pomp and circumstance during meals is what sets Turkish Airlines dining apart from other airlines.
I went with a bowl of the zesty red pepper soup and the Turkish mezze, and every bite was great. The Turkish mezze is a can't-miss, if you ask me.
Like clockwork, a flight attendant returned minutes after my last bites of the starter with my entree: Sea bass en papillote. This classic fish dish steamed in paper was moist and flavorful, with julienned vegetables on top.
But the fish itself was certainly overcooked. Ordering fish on an airplane is almost always either a slam dunk or an air ball, but this one was somewhere in between. The presentation, though, was top-notch.
I wrapped up lunch with an assortment of traditional Turkish desserts. While all these cakes tasted much the same – and heavy on the honey – that's not a complaint. Every bite was delicious, and the portions were just right.
In all, the food was great … but not quite outstanding, and it didn't quite measure up to the high expectations I had of Turkish business class catering. Then again, maybe that's on me.
Entertainment
One thing's for sure: You won't be bored on your flight.
Every seat in Turkish business class is equipped with a high-definition, 18-inch touchscreen monitor. The touchscreen is incredibly responsive with an easy-to-use interface, making it easy to scroll through an expansive selection of movies and TV shows. The monitor even tilts down slightly if you want to watch something while reclined. There's even live TV in addition to the usual flight maps.
Combined with the excellent Denon noise-canceling headphones, I had no problem staying entertained. Like I said before, I love that Turkish added a "TV On/Off" button to the seat controls in case you want to quickly turn off your monitor and get some shut-eye. There's also a wired remote you can use to control the screen or set to display your flight's progress.
But the highlight was the Wi-Fi situation: Turkish provides 1GB of free in-flight Wi-Fi to business class passengers. You can simply follow the instructions on the screen to log in via your device through the portal, entering your last name and seat number to get online.
Speeds were a little sluggish in spots, but that's to be expected when you're crossing the ocean. Most importantly, the 1GB cap was more than enough data to get about six hours of work done throughout the flight without purchasing additional access.
Bottom Line
Turkish Airlines business class gets more than solid marks. Compared to what you get flying most airlines flying business class across the Atlantic Ocean, this wins in a wash.
While these new seats onboard the 787 have some room for improvement, it's a sharp-looking and comfortable seat offering far more privacy than what you'd get on older Turkish Airlines jets. The food and service were far from perfect, but I'm eager to try Turkish business class sometime again and let the airline prove they've earned the accolades.