These days, staying connected while traveling abroad isn't just a luxury – it's often a necessity.
Major U.S. wireless providers each have their own offerings for international roaming, typically it's an add-on of $10 per day (or more) to your normal cell phone bill. Then there's Google Fi: For years this was our favorite way to stay connected while traveling out of the country without paying exorbitant fees. And while Google Fi is still a solid option, for infrequent international travelers, it may no longer be worth it.
In search of a cheaper, more convenient option, I decided to give Airalo's eSIM a try during my most recent trip abroad.
Airalo provides eSIMs for more than 200 countries around the world, allowing travelers access to mobile data without the sky-high price your regular wireless provider charges. With an eSIM from Airalo, you simply download and install a digital data pack for the country or region you're traveling to before your trip and you'll be connected the moment you land. There's no need to swap out physical SIM cards or pause and un-pause your service like with Google Fi. In terms of convenience, Airalo simply can't be beaten.
If Airalo's simplicity seems too good to be true, there are a couple of limitations that could make it a non-starter for some.
First off, your phone needs to be unlocked, meaning your device isn't tied to a specific mobile carrier. If you purchased your phone outright, it's likely already unlocked. But if you aren't sure, you can always contact your wireless provider to double-check.
The other thing you need to be aware of is that Airalo only works with eSIM-compatible phones. Most smartphones manufactured since 2018 are eSIM-compatible, but this can vary depending on your location and wireless provider. If you're unsure whether your phone has eSIM capability, take a look at Airalo's list of eSIM-compatible devices.
Read on for everything you need to know about using Airalo on your next trip abroad.
Picking Your eSIM Package
With an uptick in remote working arrangements following the pandemic, for many people, staying connected while traveling abroad is a must. And even if you're traveling purely for leisure, most of our favorite travel apps require an internet connection and it's hard to rely solely on WiFi. But whether you're a heavy data user or just need a little help from Google Maps, Airalo has a data package for every style of traveler.
To get started, you'll need to head to Airalo's website or better yet, download the app from the App Store or Google Play. You can use our personal referral link to save $3 when you signup. While that may not seem like a ton of savings, it could make your data package nearly free depending on the country you're traveling to.
Once you've created a login, you'll be able to start shopping for your eSIM package. Airalo allows you to pick an eSIM for a specific country or region, and they even have a global option, all with varying amounts of data and expiration limits. And you don't have to worry about waiting until the last minute to purchase your eSIM – the clock doesn't start ticking on expiration until you actually activate the eSIM.
In terms of pricing, if you're only traveling to one destination, the local eSIM for that country will be your cheapest option. However, if you have even a quick pitstop in a second or third country along the way, you'll be better off getting a regional eSIM instead. Exact prices vary from country to country and region to region but in general, the lowest level plans start out just shy of $5 for 1GB of data and seven days of validity, and on the high end, you're looking at $185 for 100GB of data and 180 days of access.
Pricing is most affordable in Europe and Asia, with packages starting at just $5 for 1GB of data and seven days of connectivity. Even moderate users should be able to get by for $20 on 5GB of data over a month's time.
The European package checks nearly all the boxes with coverage in 39 different countries, making it the perfect option if you're visiting multiple locations on your bucket list. The Asia region isn't quite as broad, but you'll still have coverage in 13 of Asia's most popular countries, making it a solid choice for most travelers.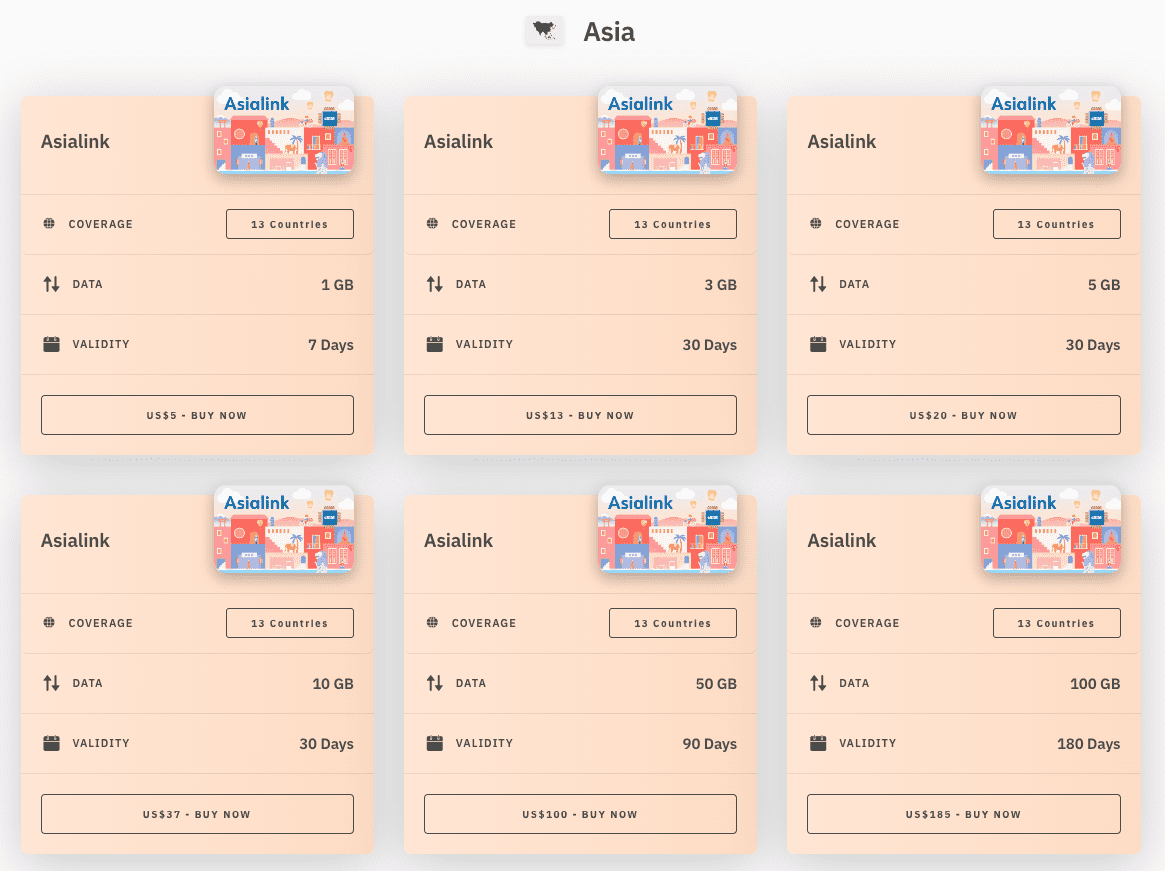 You'll find the highest prices for service in Africa and Latin America. The smallest packages in these areas start at $15 for 1GB of data and only a week to use it.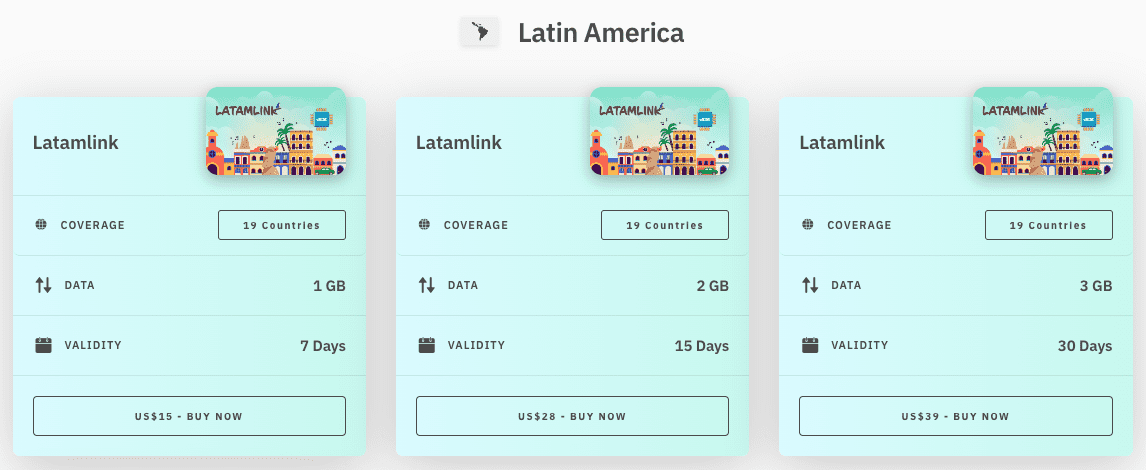 In these more expensive regions, you might even be better off going with a global package instead of paying for the regional option. The global packages include connection in 130 different countries – slightly less than the 200-plus countries Airalo offers service for – but if your destination is on the list, this would be the more economical choice. Global plans start at just $9 for 1GB of data and seven days of access.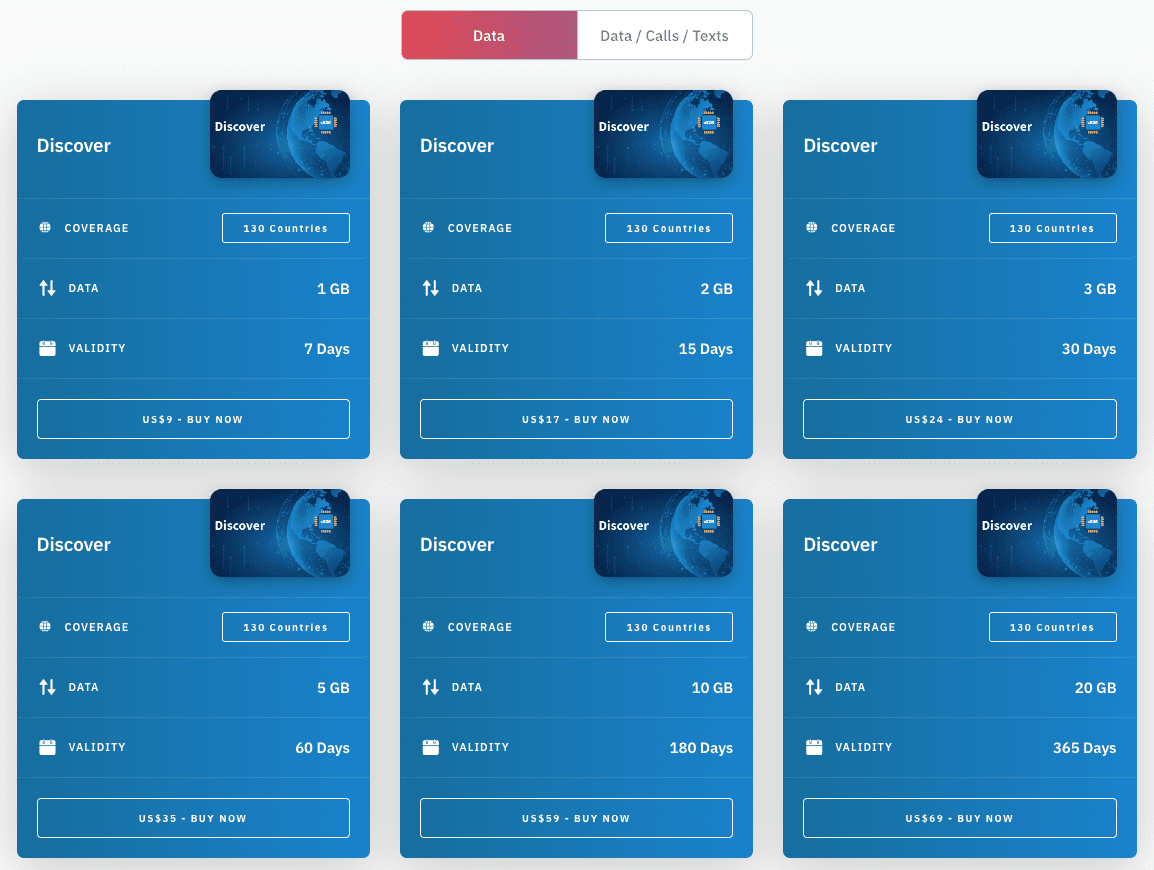 In addition to covering more countries than any other package, purchasing a global eSIM is the only way to get access to calls and texts. With all of the country-specific and regional packages, you'll be limited to data only. There are two different types of global packages available: Data only and data plus calls and texts.
I typically avoid phone calls at all costs, but when we arrived in Madrid and needed to call our hotel to request a shuttle pickup, it simply wasn't an option with the Airalo Eurolink package that I had purchased. Instead of getting a free ride on the hotel shuttle, we ended up ordering an Uber, which was a minor added expense.
When deciding which data package is right for your trip, keep in mind that you can always "top up" your plan with more data if you start to run low. You can check how much you've used in the app at any time and you'll receive a notification when you start to get low. As a point of reference, I used approximately .5GB of data per day with what I would consider pretty heavy use – Google Maps, social media, email, WhatsApp calls … you name it. After checking my usage pretty early on I realized that I would have plenty of data for my entire trip, so I wasn't shy with my usage from then on.
Installing & Activating Your eSIM
Once you've determined the perfect data package for your time away, the next step is installing and activating your eSIM. You can do this one of two ways: If you purchased your eSIM through Airalo's website without first installing their app, you'll receive a QR code that you can scan and begin the installation process. If you instead purchases your data package through the app, you'll find your new eSIM in the "My eSIMs" tab at the bottom of the app. And no matter which way you purchase your data package, you'll receive an email confirmation with payment confirmation and more details on how to install your eSIM.
In my case, I purchased my 3GB Eurolink data package directly through the app so it was easy to access in the "My eSIMs" tab.
Once I found my eSIM in the app I was able to begin the installation process by clicking on details and then pressing the "Install eSIM/Access Data" button. In order to begin the install, you do need to have access to an internet connection so it's best to do this right before you leave for your trip or while on WiFi at the airport.
After pressing "Install eSIM", the app gave me a few tips to keep in mind during the installation process. Things like maintaining a stable internet connection, don't interrupt the installation process (by leaving the app), and don't remove the eSIM once installed. This last one is pretty important as eSIMs aren't meant for sharing and can only be installed on one device. If you remove the eSIM without using all the data, your only option is to buy another one.
The whole process took maybe two minutes at most and once it was complete a big green banner appeared confirming that the install was successful. Thankfully, I didn't have any issues with my install but if you do, Airalo advertises 24/7 customer service through the "Contact Us" section of their app and website.  Their app and site also include FAQs for installing and setting up your eSIM as well as troubleshooting any issues you might have.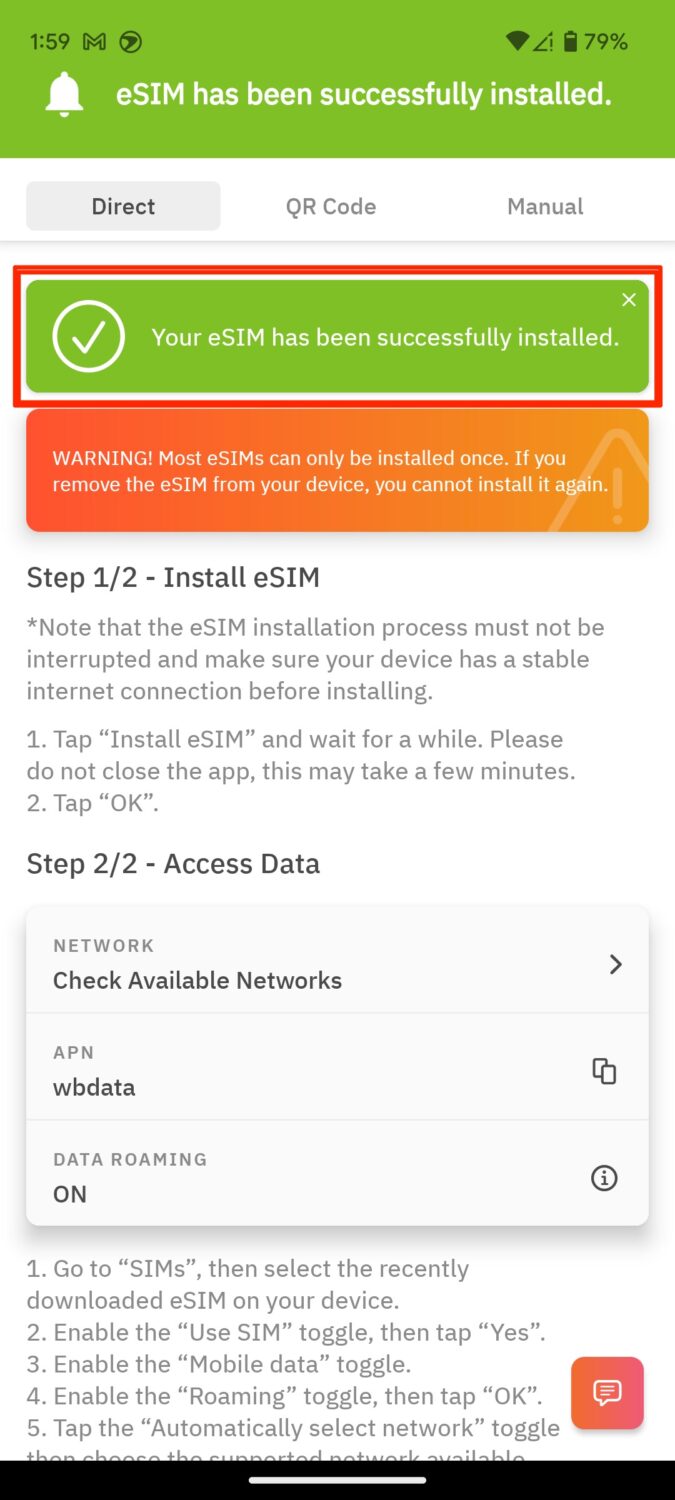 Since I removed the physical SIM card for my home wireless network before installing my eSIM, it turned on automatically once installed. You don't need to remove your physical SIM (like I did) or any other eSIMs in order to use your new Airalo service. I just did this to be sure I wouldn't accidentally connect with the wrong SIM and incur additional roaming charges from my main service provider.
If your phone doesn't automatically connect to your new eSIM, you can go into your network settings and select "SIMs" to find your new Airalo eSIM. Once you find it, you should be able to select "Use SIM" and toggle to allow mobile data and roaming. Within this same network setting, you can also ensure that any other SIMs are turned off so that you're only using data from your Airalo eSIM.
When it comes to using technology, I'm not entirely useless – but I certainly wouldn't define myself as tech-savvy either. In my experience, the Airalo eSIM installation and setup process was straightforward and as seamless as possible. If I can handle it, so can you.
Pros & Cons of Using Airalo
So, what was my overall experience with Airalo like?
After a little more than three days of test-driving the Eurolink data package, I'm impressed. It's certainly not perfect, but the cost and convenience of getting online should make it a winner for most travelers. I found the pricing to be really fair – especially when compared to what my cell phone provider at home charges for international roaming.
Another thing I enjoyed about the eSIMs from Airalo is that they include the ability to use your phone as a hotspot. This might not matter to some people but I wanted to respond to some emails on my laptop one day and I was easily able to turn my hotspot on and share my connection with another device. From my research, this functionality isn't always included with similar eSIMs from other competitors.
Even though my overall experience with Airalo was positive, there are a few drawbacks that I want to highlight.
I mentioned this issue earlier but one potential downside with using Airalo is that nearly all of the eSIMs are data only. This means you'll be unable to make or receive phone calls and text messages aside from using an app like Messenger or WhatsApp. For some that might be perfect – the less talking on the phone the better – but for those that rely on phone calls for work, it could be a deal breaker.
Another thing to note: If you're traveling with others, each person will need their own data package in order to get online. Outside of using your phone as a mobile hotspot, there isn't a way to share one data package with other people like you can with Google Fi. Depending on the number of people in your travel party and whether or not they need to be online, the cost of multiple data packages might end up being more than if you used a service like Google Fi instead.
There were also a few times that I had trouble connecting to the network. In my case, it would be working just fine, and then all of a sudden I'd lose the connection altogether. This was easily fixed by turning my phone on airplane mode and waiting a few seconds before turning it off again. It was a minor annoyance but worth noting nonetheless.
And in terms of speed, I found the connection to be pretty solid. I've grown accustomed to having 5G service while at home and although Airalo advertises speeds up to 5G, I consistently had a 4G connection while using an Airalo eSIM in two different countries. I don't have any reason to believe that my connection was being throttled and since I'm far from a telecommunications expert I'm just going to assume that this was the highest level of speed available on the networks that Airalo has partnered with. In other countries, 5G might be an option but that wasn't the case for me – and it really wasn't an issue either.
Bottom Line
Airalo is an eSIM provider that offers international data packages for more than 200 countries around the world. After using Airalo during a recent trip abroad, I'm sold on the convenience and cost of their coverage.
With local, regional, and global data packages of varying sizes and lengths of validity, every traveler should be able to find a plan that works for them.