I had heard all the hype for years. So when I finally made my way to the United Polaris Lounge Newark recently – my first-ever visit to one of United's exclusive business class lounges – my expectations were sky-high.
… and it smashed them. Years after opening, this lounge still shines brighter than almost any airport lounge in the country I've visited. Even American Airlines Flagship Lounges don't really come close to the space, design, food, and amenities available at United's Newark Polaris Lounge – and this Polaris Lounge was in another league entirely than even the best Delta Sky Clubs.
Come behind the scenes and see what makes this lounge so great – and how you can get in.

United Polaris Lounge Newark Access & Location
This much is clear: Part of the reason why this lounge is so great is its exclusivity. Forget top travel credit cards or even status – they'll do you no good here. There's no way to pay your way (or pay a bit more) to get in, either.
No, all Polaris lounges across the country are reserved specifically for flyers in long-haul international business or first class on United or their Star Alliance partners like Lufthansa, SWISS, Turkish, TAP, and more. Not even a transcontinental flight in United's fancy new Polaris business class seats will cut it.
But flying United itself can get you a bit of an edge with more Polaris lounge access:
Travelers with a United Polaris business class flight can get into Polaris lounges with a same-day ticket departing, arriving at, or connecting through the airport.
Travelers with a Star Alliance business or first class flight can only get into Polaris lounges at their point of departure – not upon arrival.
Whether you're flying Lufthansa, SWISS, Turkish, ANA, or United itself, you've got a ticket into the Polaris lounge. But getting there could be a bit more complicated depending on which airline you're flying.
The United Polaris Lounge at Newark is located in Terminal C. That's where most United international departures leave from … but many partner carriers depart from others, namely from Terminal B. That means you may need to switch terminals in order to hit the Polaris lounge before your flight.
The Newark AirTrain runs between the terminals fairly quickly and 24/.7, though it's located before security which means you'd need to clear security several times. United also operates a shuttle that runs between terminals.
Unfortunately, the shuttle running from Terminal B to Terminal C wasn't operating during my visit, which meant I had to take the AirTrain and reclear security in order to get to the Polaris Lounge at Newark. But to make it to my flight, I could hop on the shuttle that picks up near gate C71 for a quick, security-less trip back to Terminal B for my Lufthansa flight!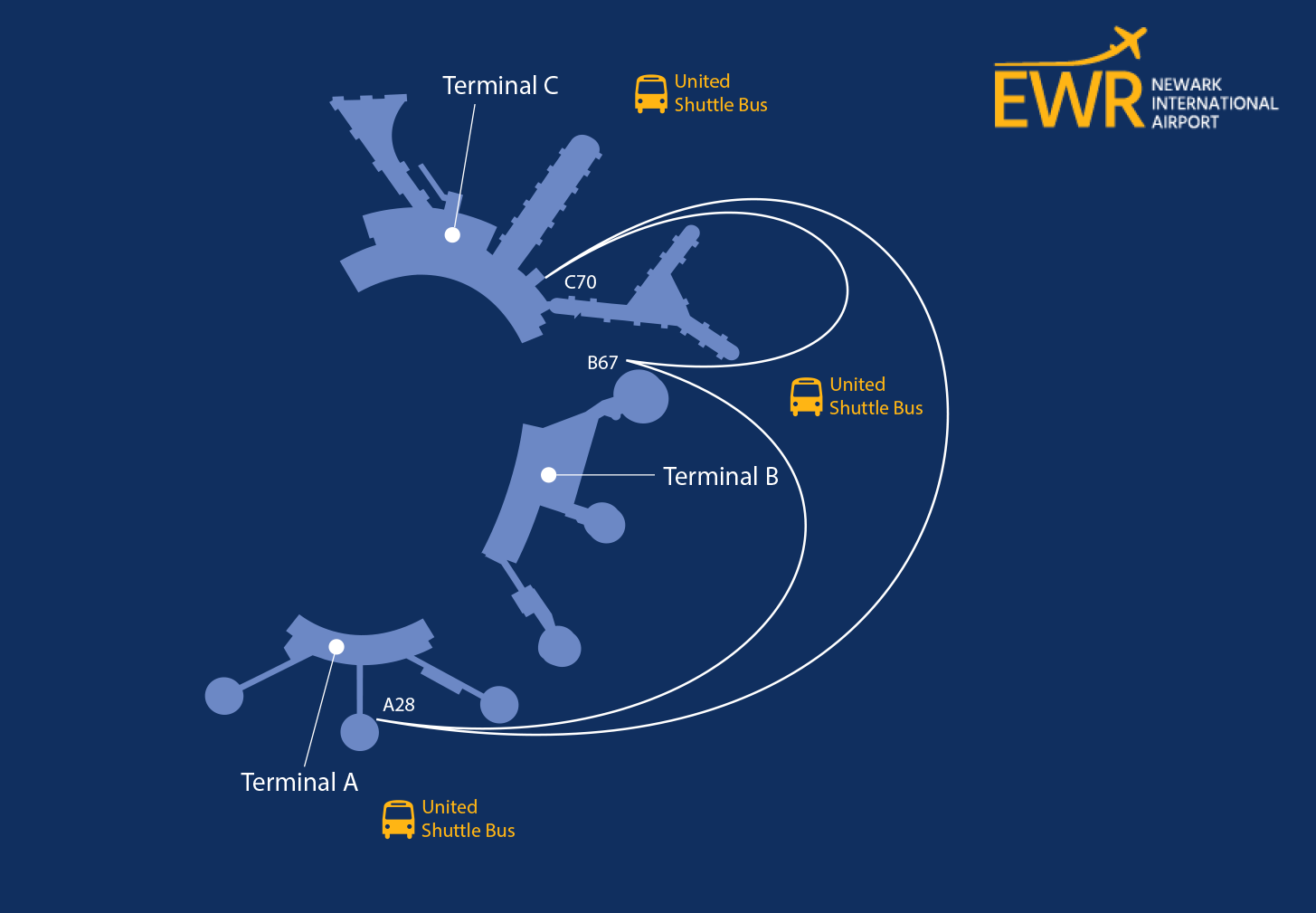 Once you make it into Terminal C, you'll find the Newark Polaris Lounge to the left of the central security checkpoint. Just follow the signs for gates C120 to C130.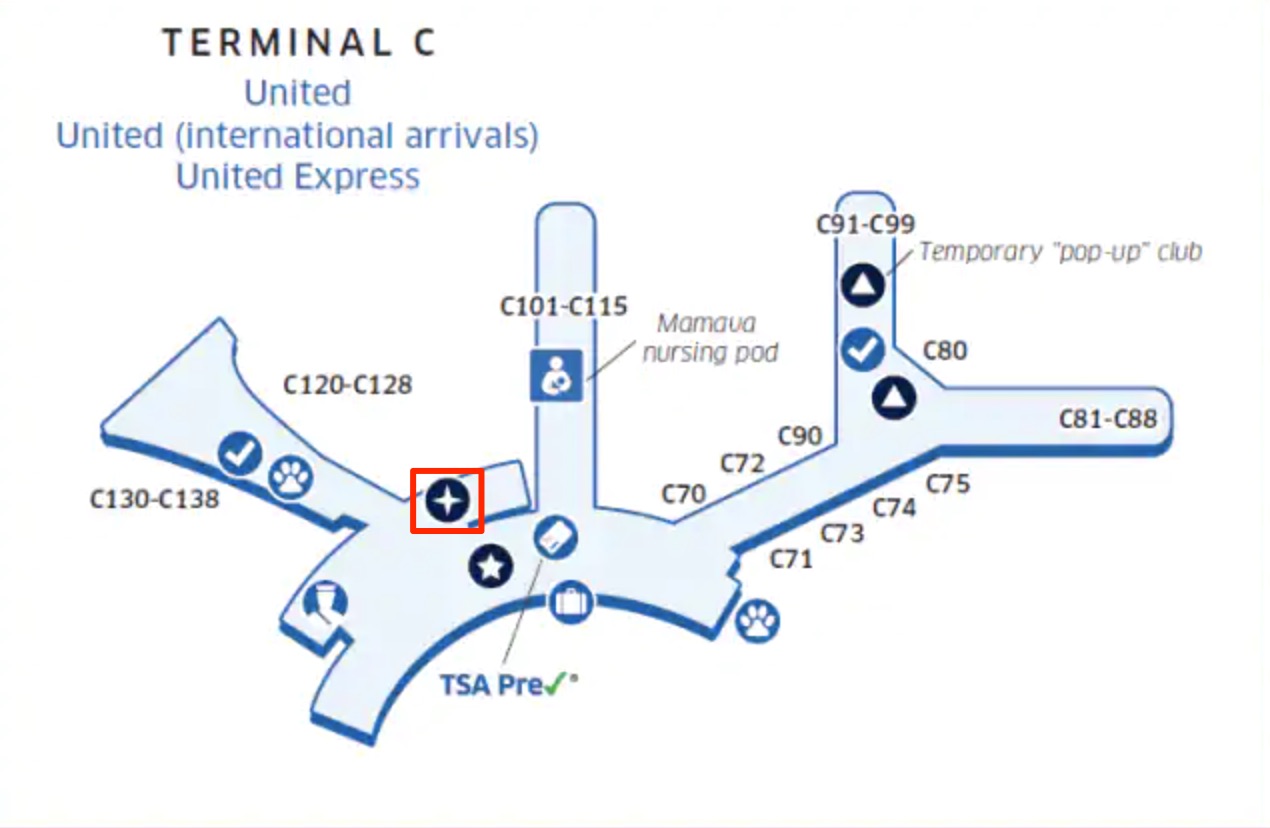 Before long, you'll see the beautiful entrance for the United Newark Polaris Lounge. Walk on in with your business class ticket and you're set.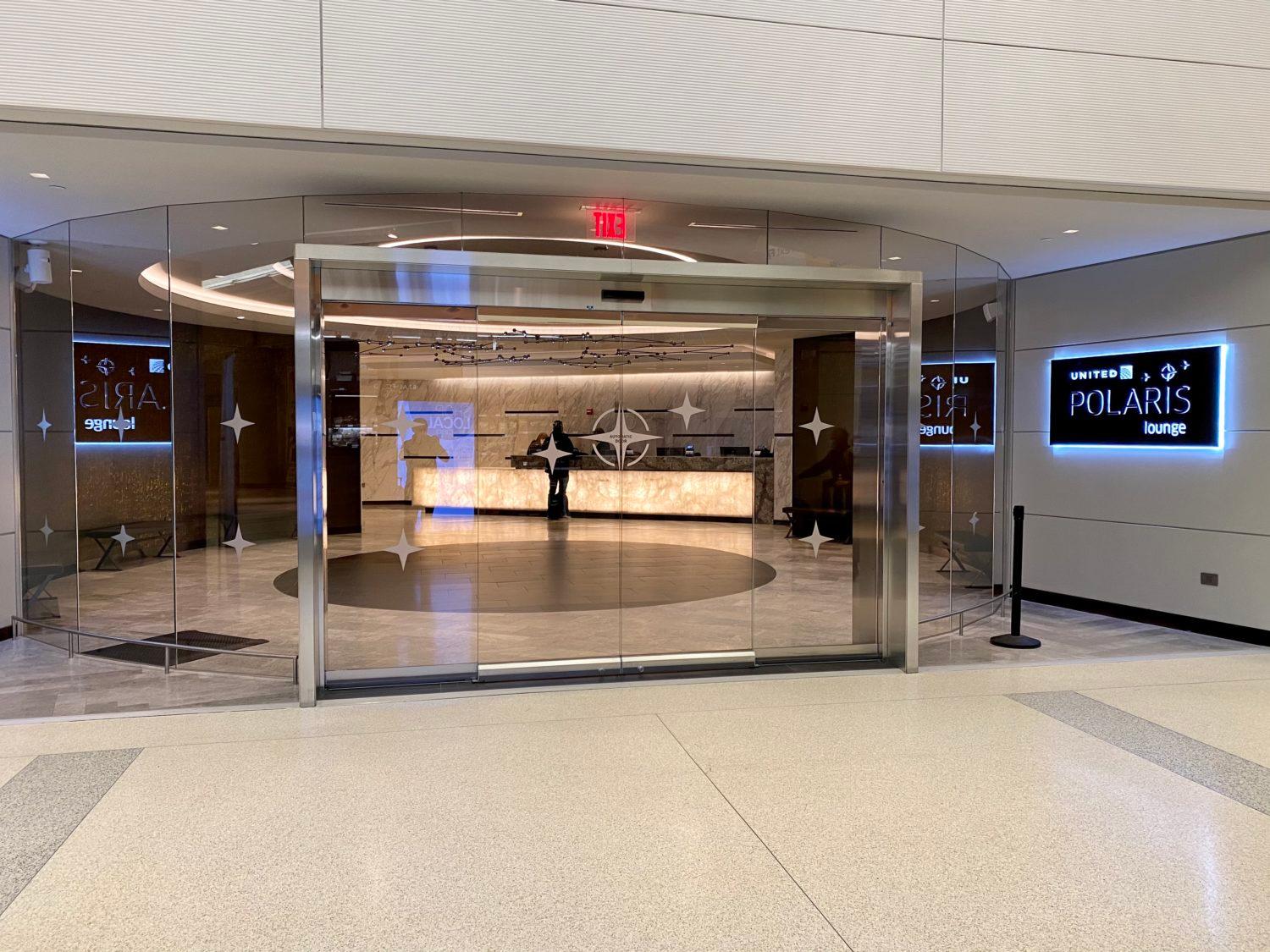 The Lounge
Wow.
This lounge is massive, clocking in at roughly 27,000 square feet – and it feels much bigger than that. Newark is a major hub for transatlantic flights to Europe. And since many of those don't leave until the evening, the Polaris lounge here was quite slow until about 4 p.m. or so.
It all starts at the front desk, with backlit counters, soft white marble, elegant lighting, and great finishes. From start to finish, this lounge puts pretty much every other U.S. airlines' top lounges to shame … by a wide margin.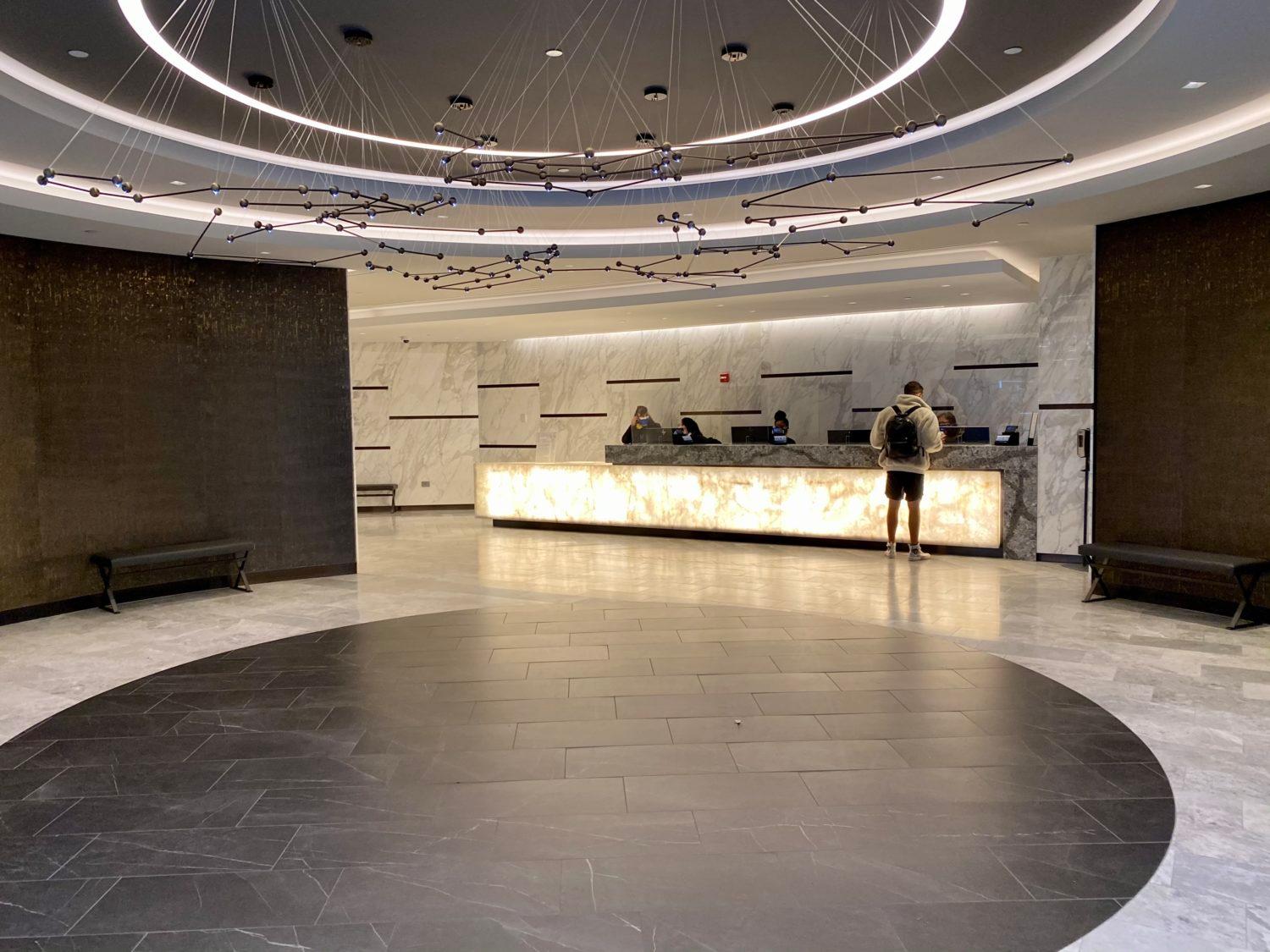 From the entryway, the Polaris Newark Lounge really starts to open up. Everything flows quite nicely from seating area to seating area, from the bar to the dining area. Nothing is walled off, but you really get a feeling that there are distinct areas to sit, relax, snooze, eat, drink, and more.
As you head left into the lounge, you'll get your first look at one of several focal points: the bar, with plenty of seating along the wall facing it.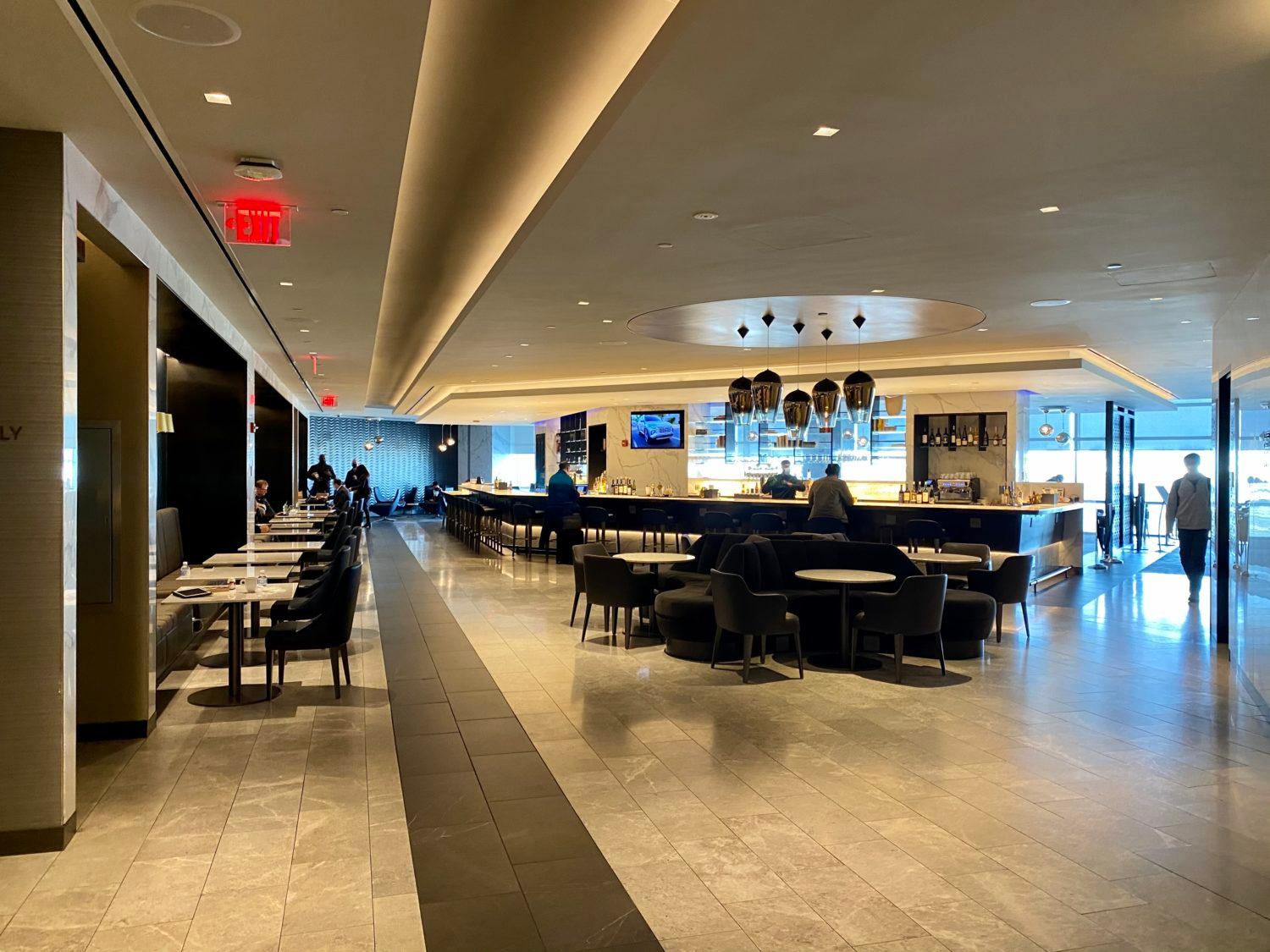 There's also a beautiful seating area just near the bar, the first of many cozy spots that seem to blend art and comfort. The marble, the dark tones of the furniture, the gold lighting overhead … for me, it all just works. You won't see such refined design in many airport lounges in the U.S.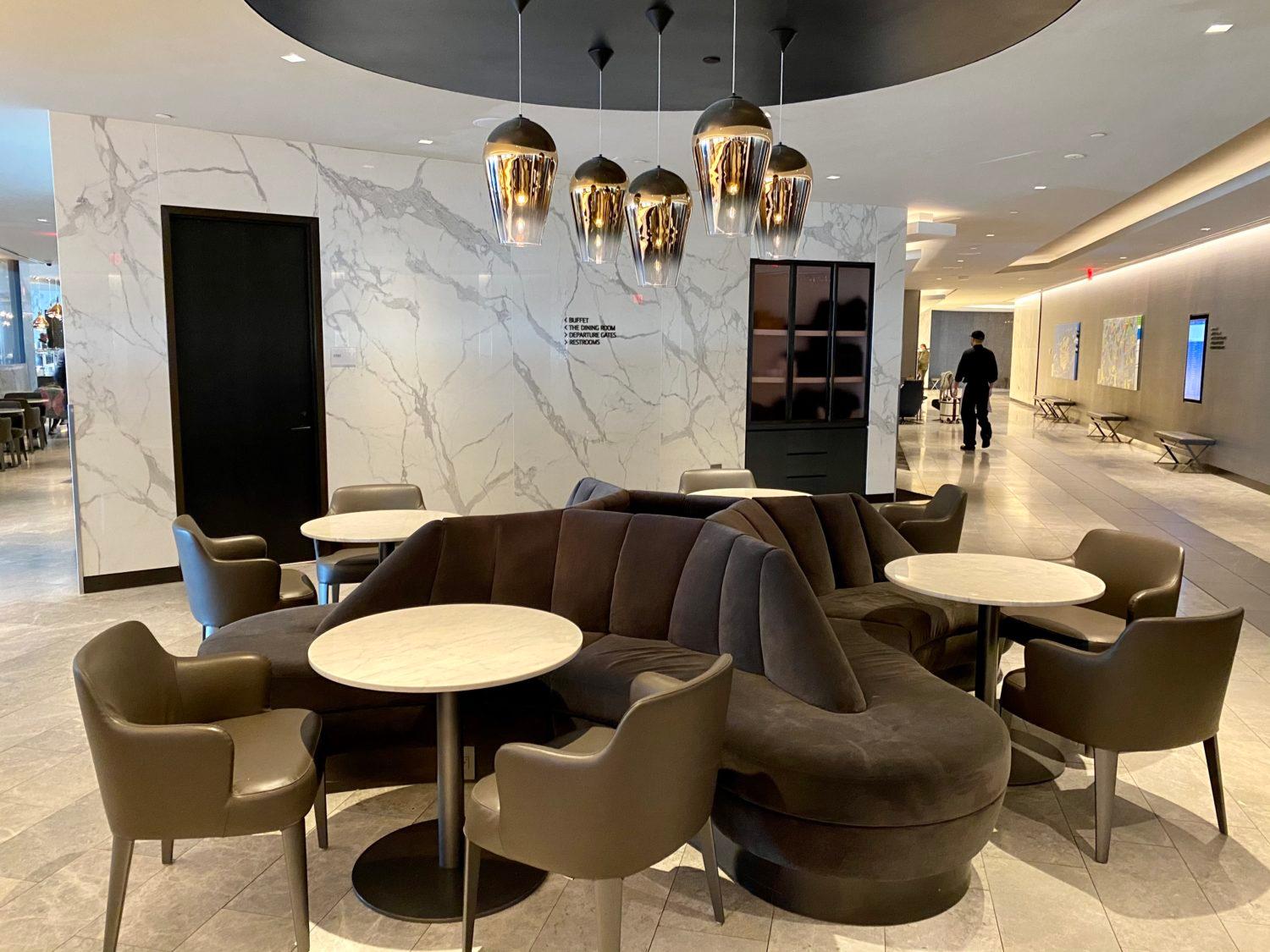 The seating extravaganza continues, wrapping around the bar and back to the floor-to-ceiling windows, overlooking United jets pulling in and out from their gates. This is a long, long space – easily the biggest (and most popular) throughout the entire lounge.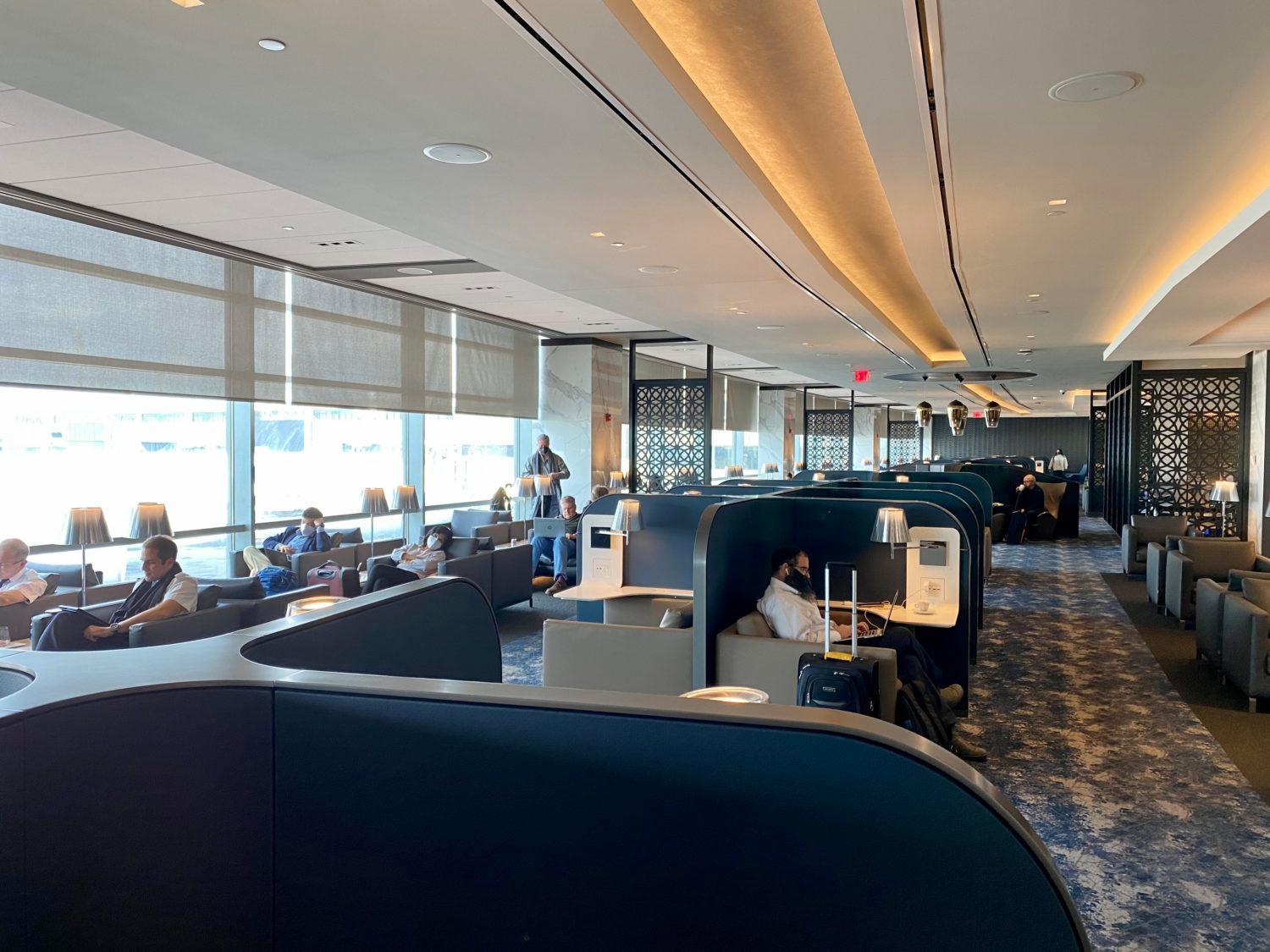 The black dividers positioned throughout the space help create some separation without making it feel smaller. So does the assortment of different seating options, from these beautiful (and clever) work pods…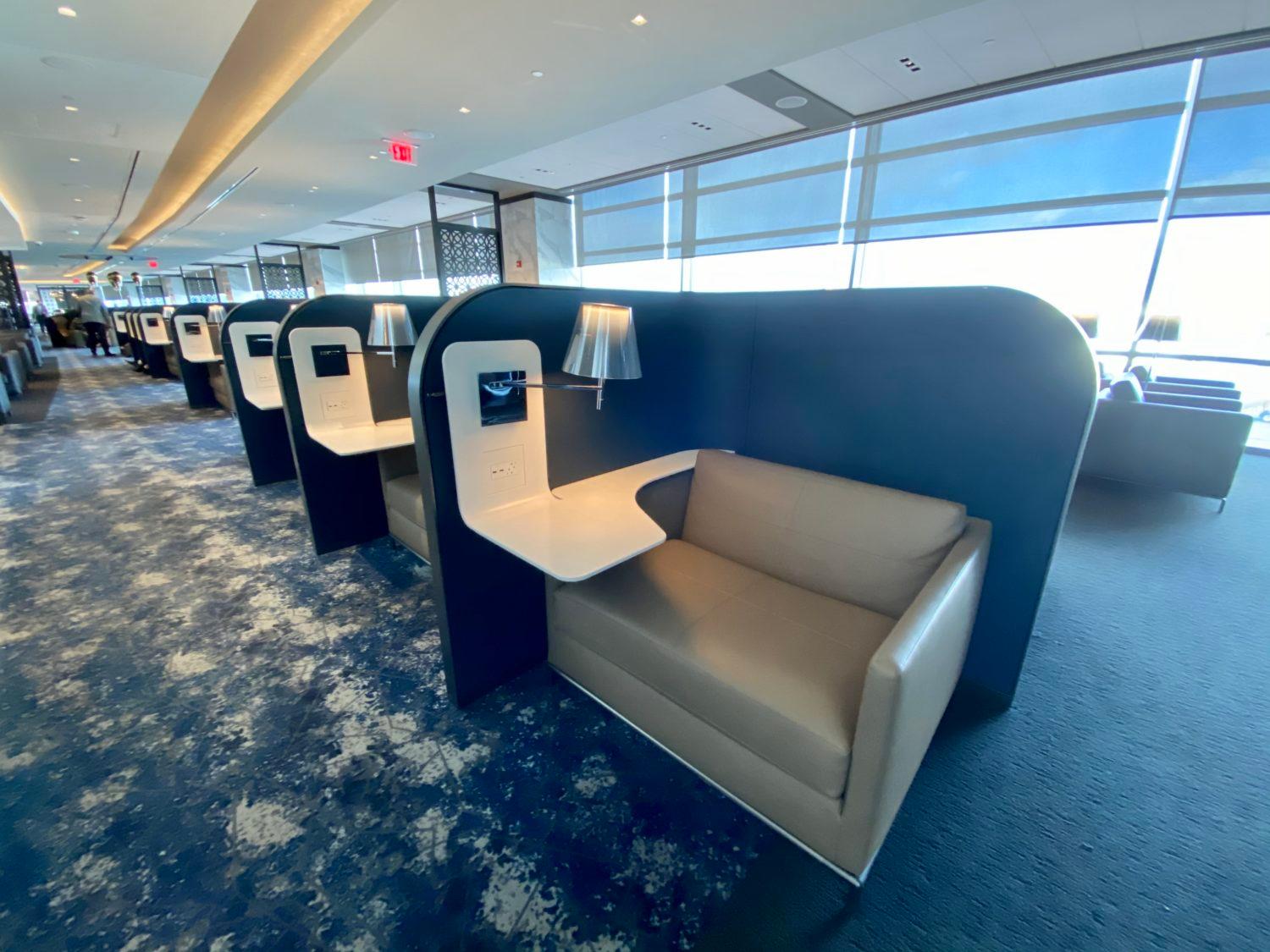 … to the rows upon rows of armchairs situated on either side…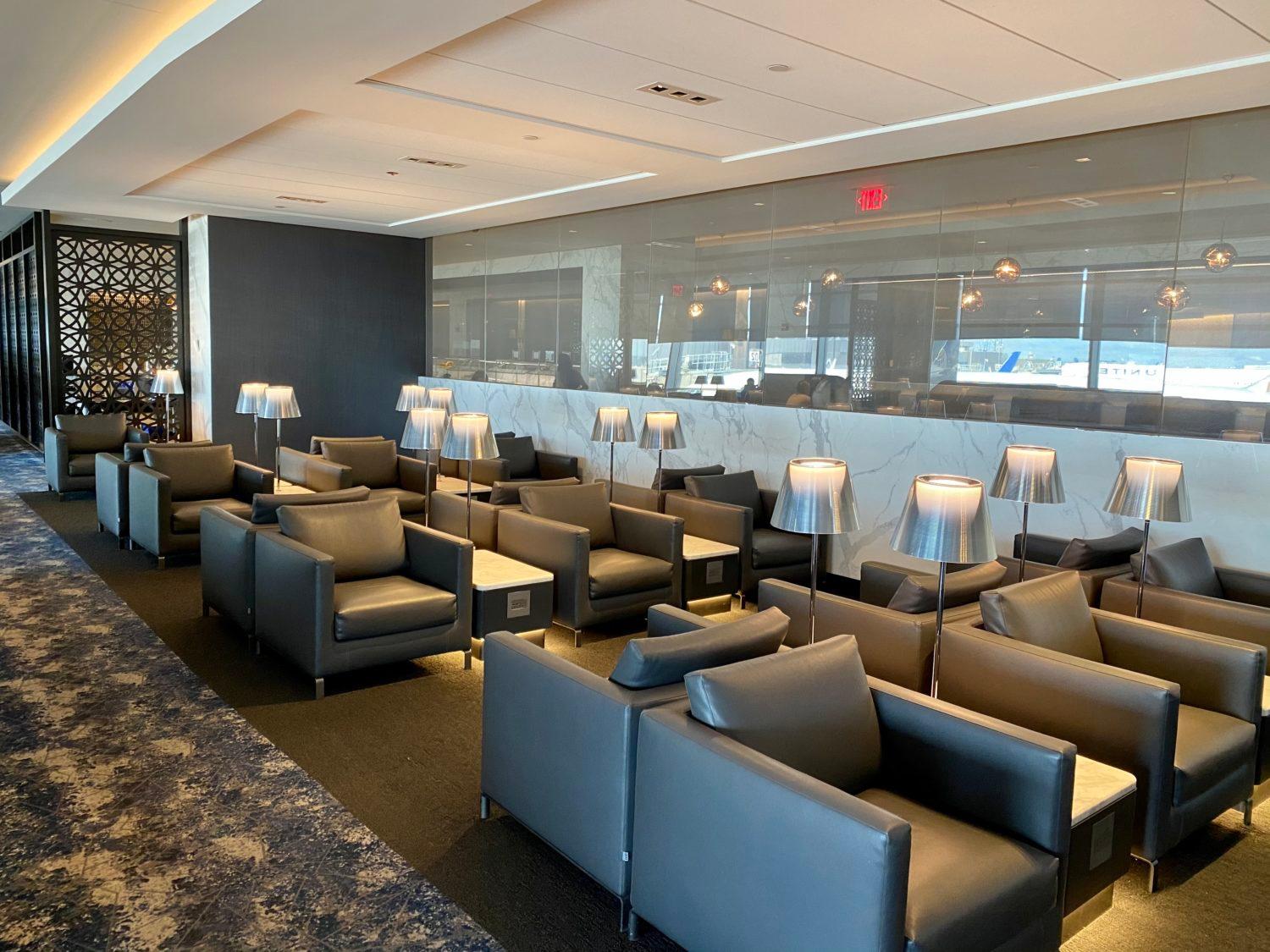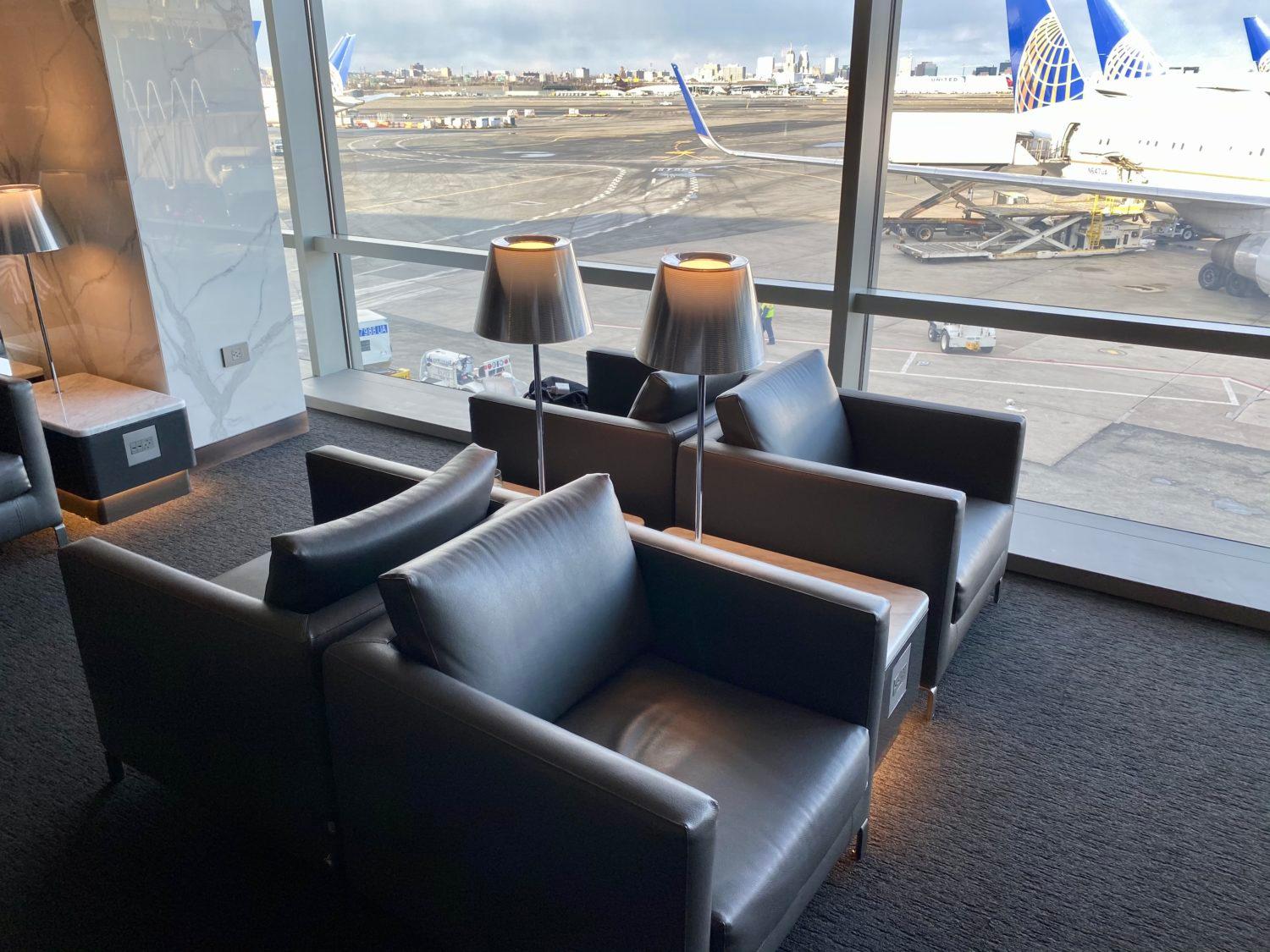 … to the occasional collection of high-backed armchairs, with a nice, artistic privacy divider.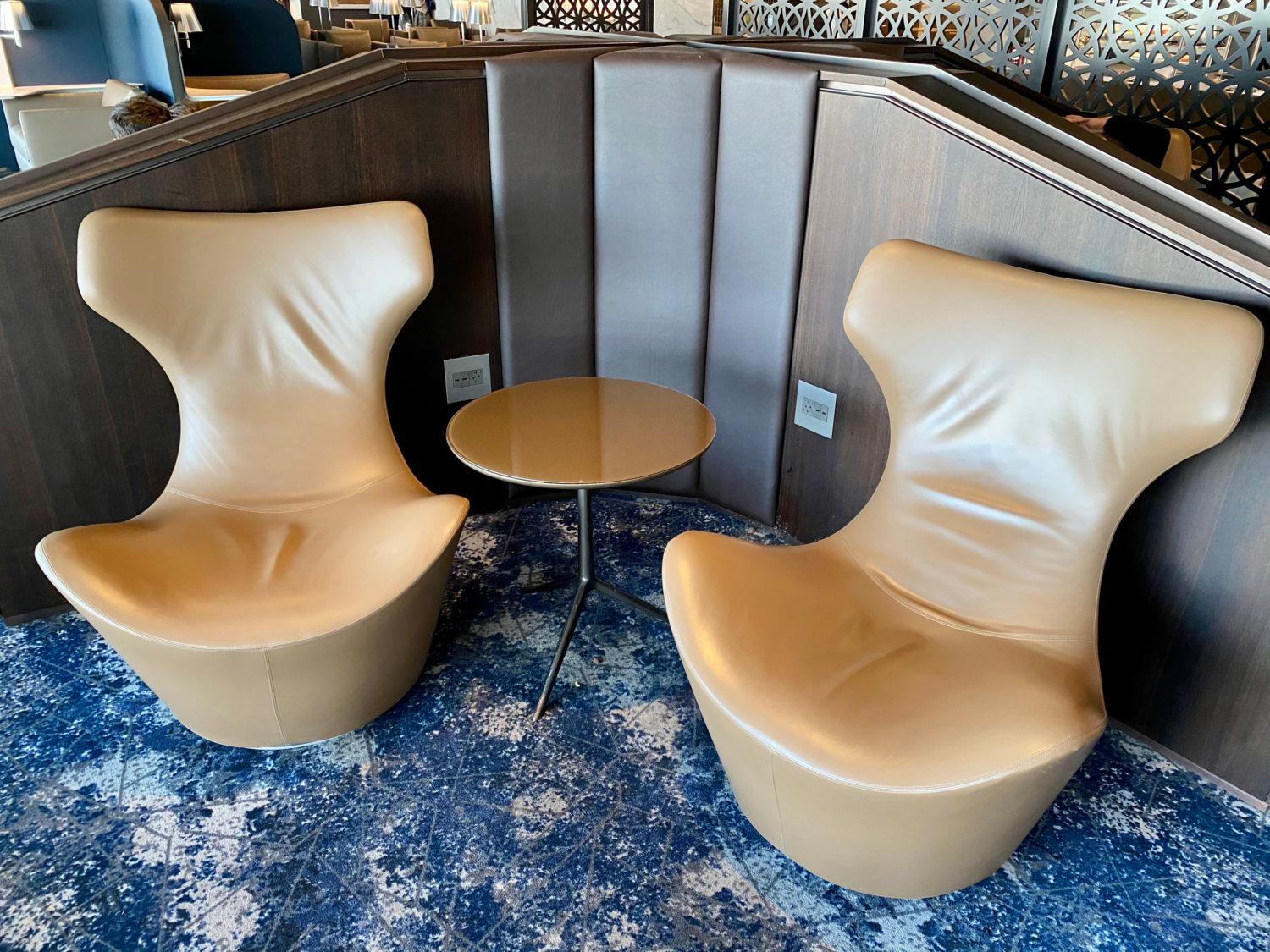 At the back of the lounge, you'll find one of several black accent walls with – you guessed it – more seating.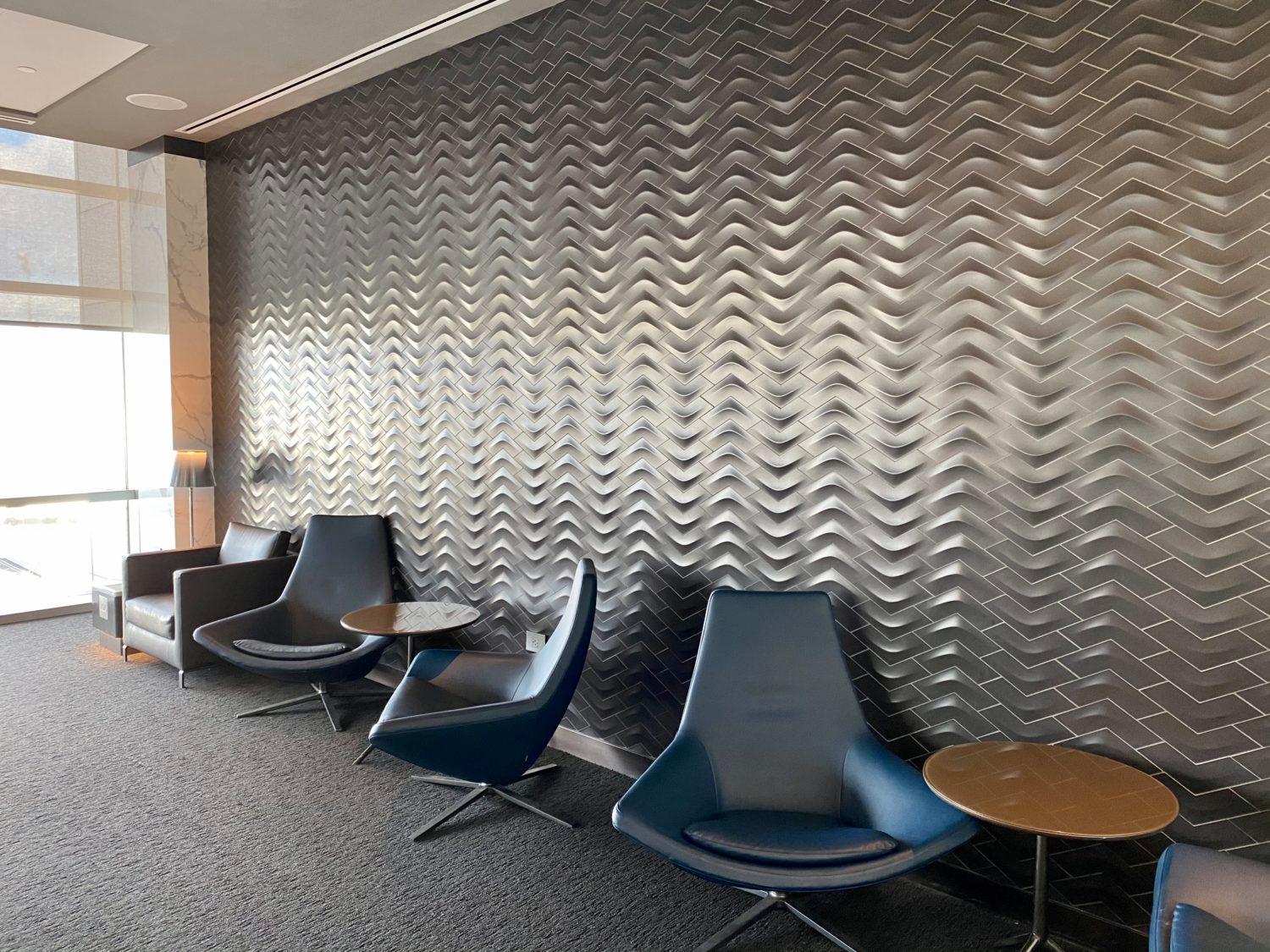 Here's a look back at the space. What a treat.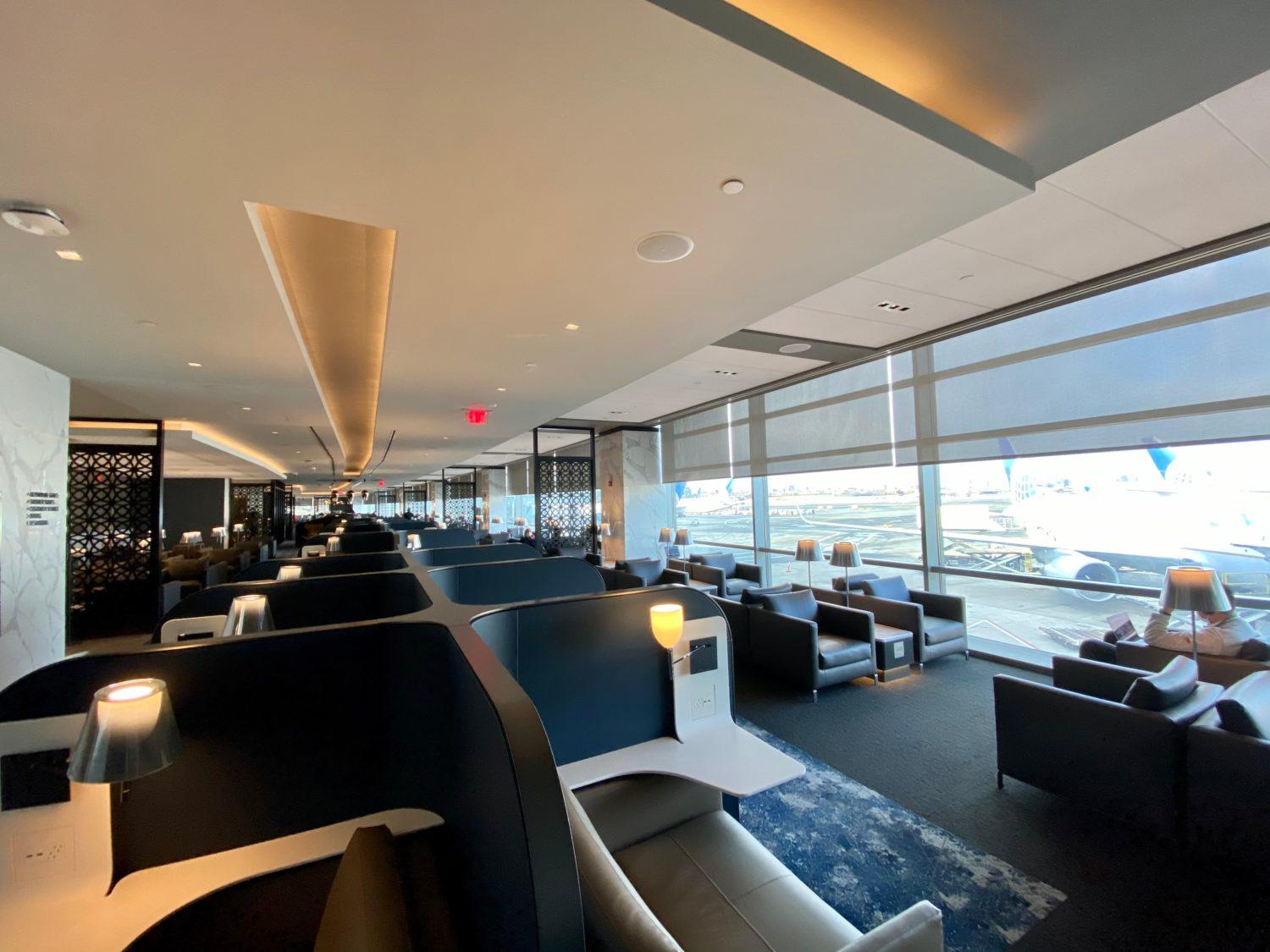 Without fail, almost every single seat in the house has a dedicated power outlet nearby. It's one of the lounge's strengths.
The center row of individual work pods is stylish, a great spot to plop down to finish some work or just enjoy a drink. The seats themselves are incredibly comfortable … though perhaps a bit too low. Each pod is equipped with its own power and USB outlets as well as a swiveling lamp.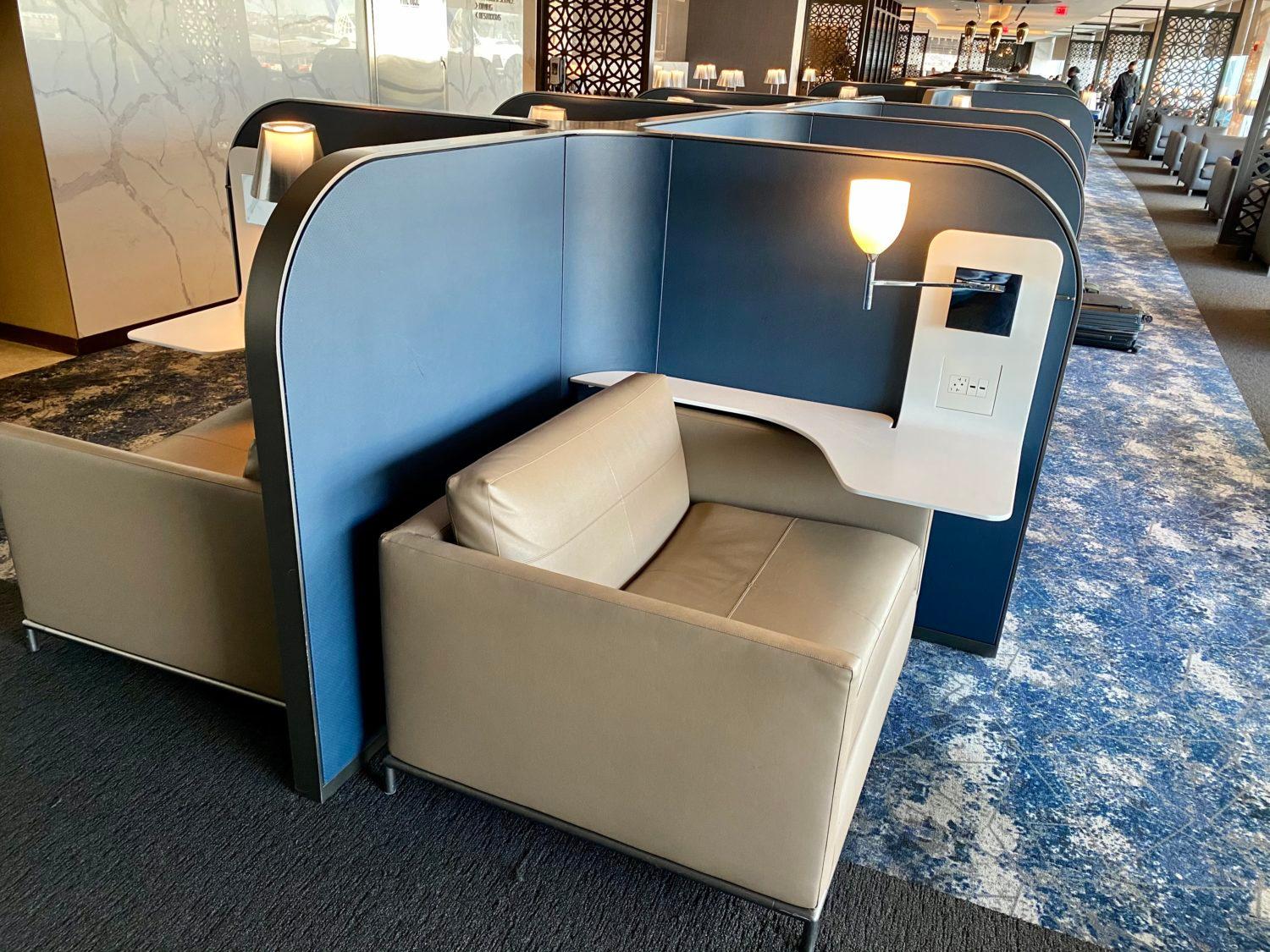 Mosey onward and you'll find that seating pretty much … goes on forever. As you head towards the buffet area, there are plenty of cafe tables and benches to grab a quick bite.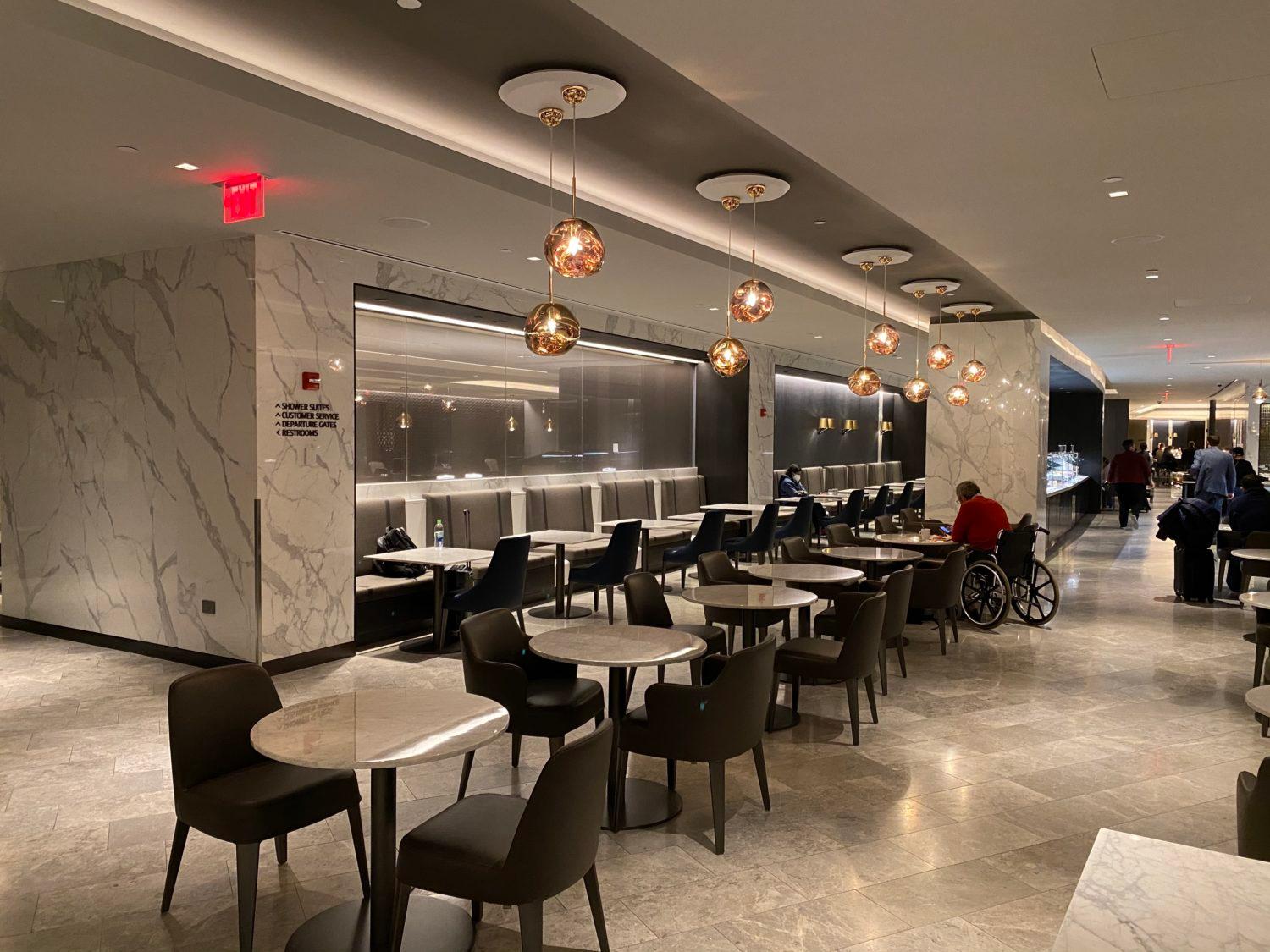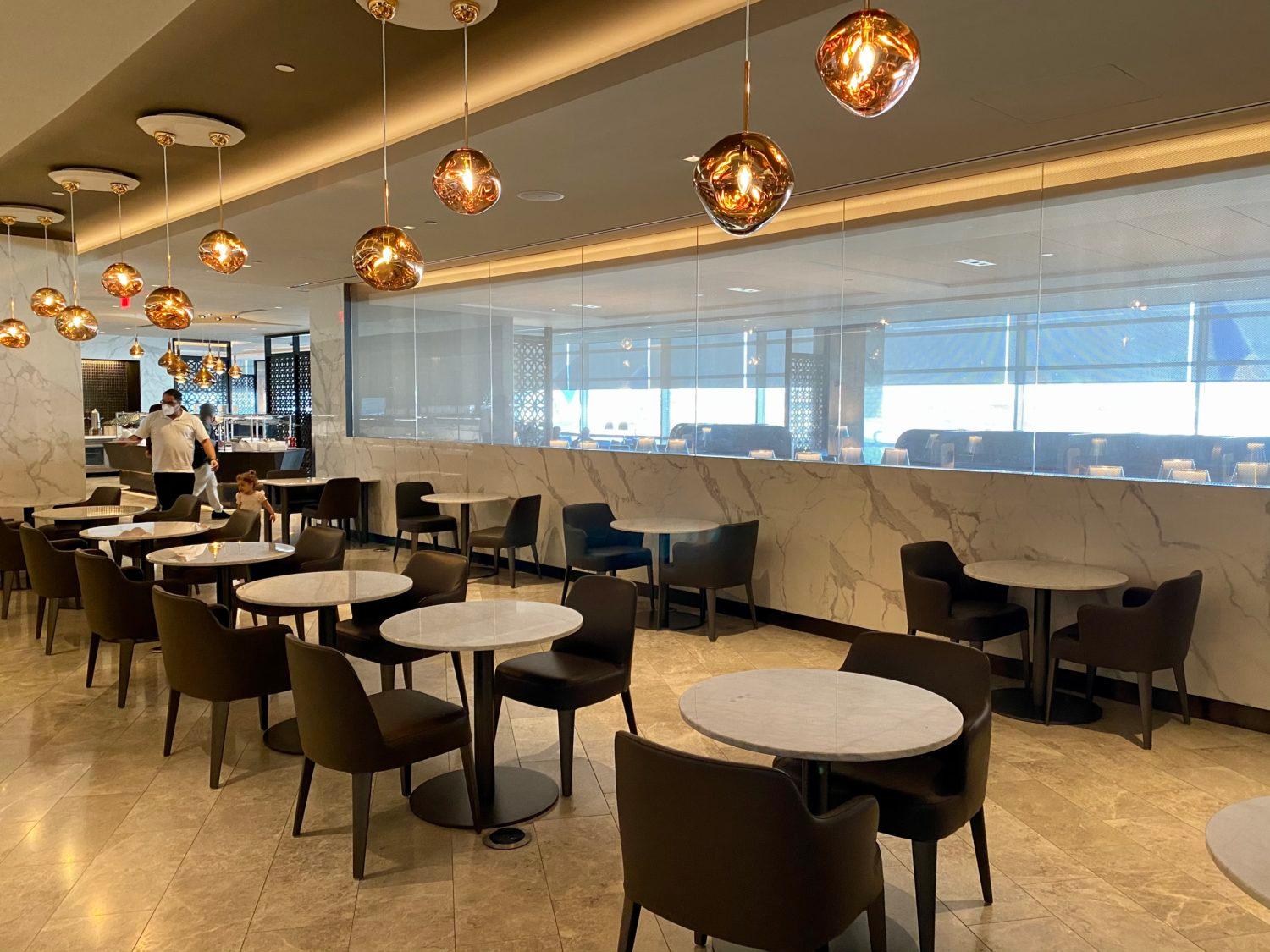 As you wind your way back towards the entrance, there's an incredibly quiet and beautiful area. I never saw more than one or two people here, making it a great spot to unwind – so long as you're fine giving up views of the tarmac.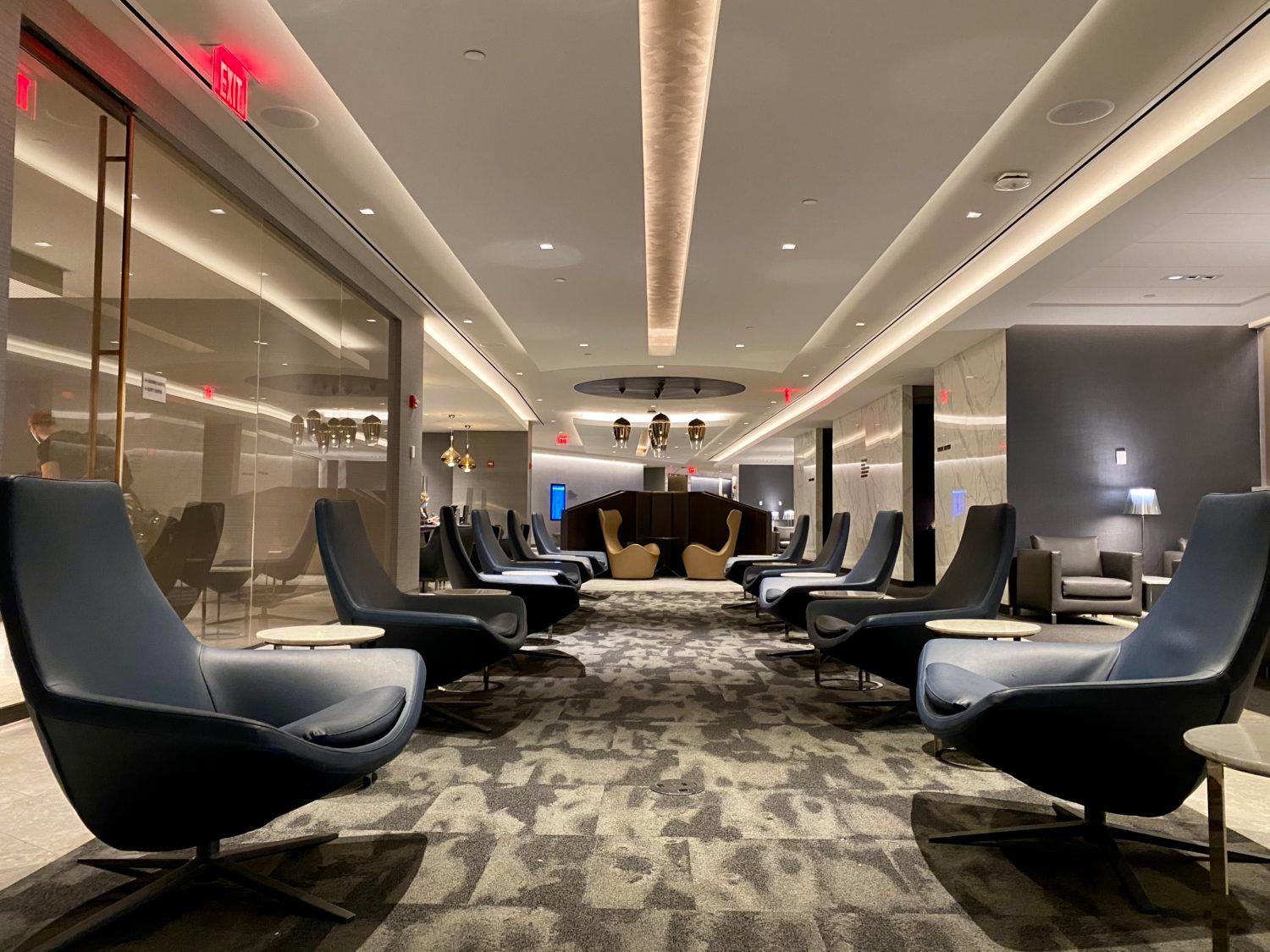 This is the area of the lounge where you'll find several amenities, including some concierge desks if you need help with an upcoming flight as well as a row of private phone booths. It's also where you'll find the entrance for shower and sleeping suites – more on those later.
Each phone booth is equipped with a desk if you need some privacy while working.

Finally, there are two corridors with bathrooms situated on either end of the lounge.

I counted 18 restrooms total split between the two corridors. Each is an individual, private bathroom, equipped with a toilet and sink. They were perfectly fine – and having your own private restroom rather than a shared space is a nice touch. That said, they could have been looked after a bit more frequently during my stay.

Dining & Drinks at the United Polaris Lounge Newark
This isn't food. This is dining. And boy, is there a difference.
In the center of the lounge, you'll find a buffet where you can dish yourself up. During my stay, I saw lasagna, braised chicken, meatballs, a few soups, roasted carrots and parsnips, a well-stocked salad bar, a nice charcuterie selection, and more.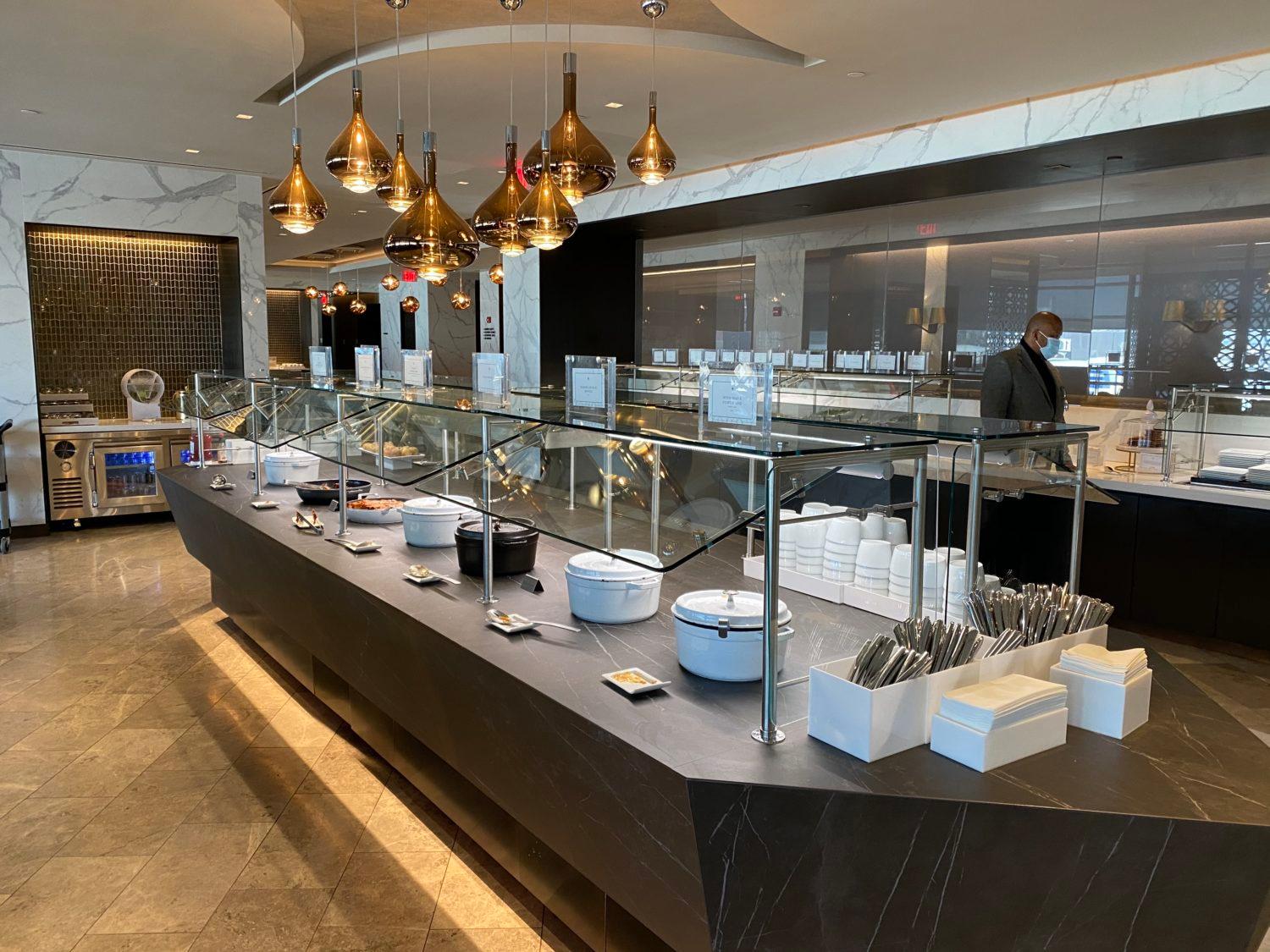 At almost any other lounge in the country, this is about as good as it gets. But like all of United's business class lounges, the United Polaris Lounge Newark kicks it into another gear with dining. So I skipped over the buffet altogether in favor of something better…
There's a full-blown, full-service restaurant in one corner of the lounge. And full-service is not an over-exaggeration: From the decor to the service to the food, everything here was absolutely restaurant quality. You can't say that about too many airport lounges in the world – let alone the country.
The Dining Room is divvied off from the rest of the lounge, with about 15 or so tables scattered about.

Just look at this table setting with the menu. This isn't your typical airport lounge.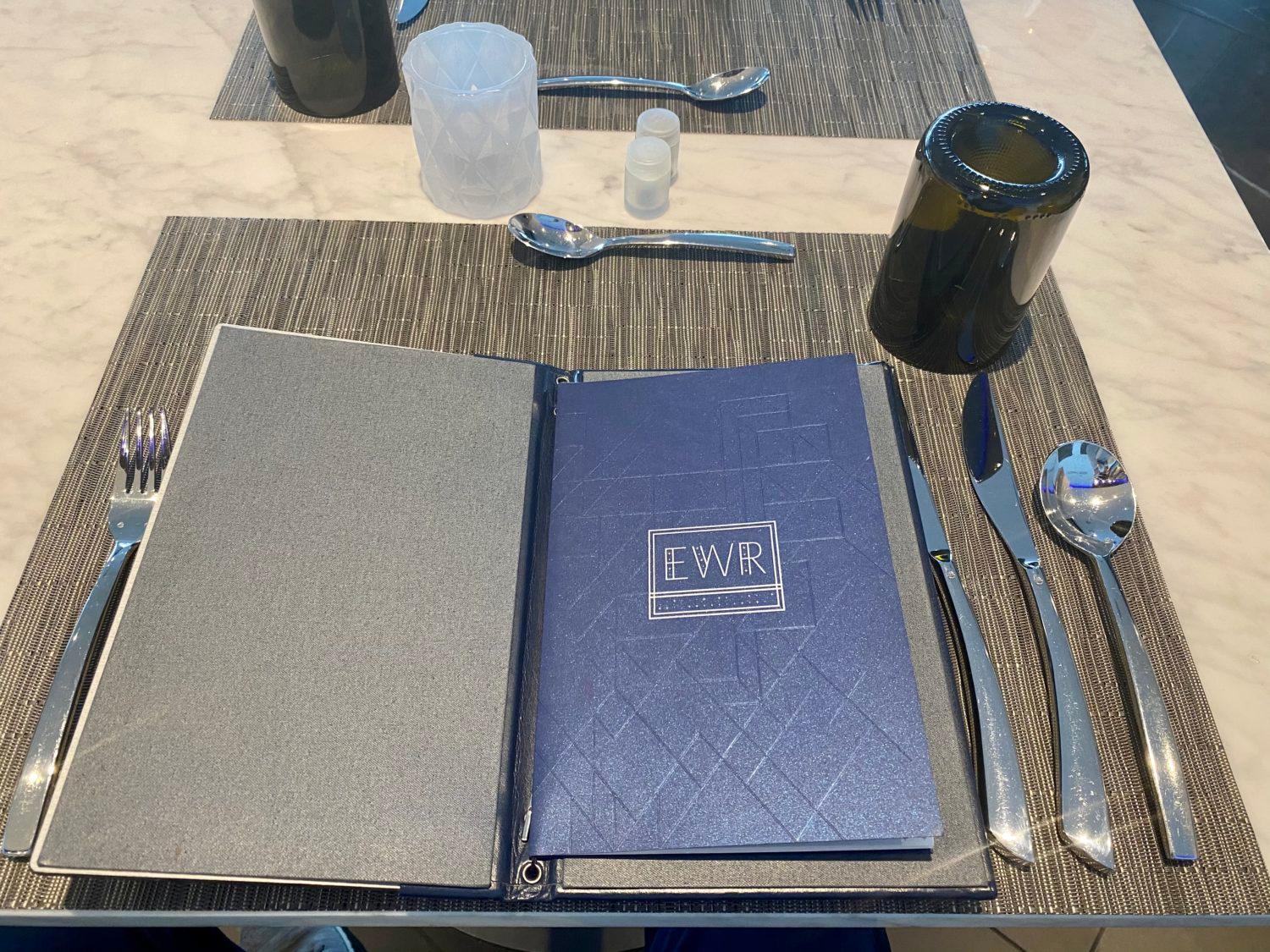 There are two meal services: You can order breakfast until 11 a.m., at which point the Dining Room switches over to lunch and dinner. The menu isn't lengthy by any means, but there is plenty here. Click the image below for a larger version.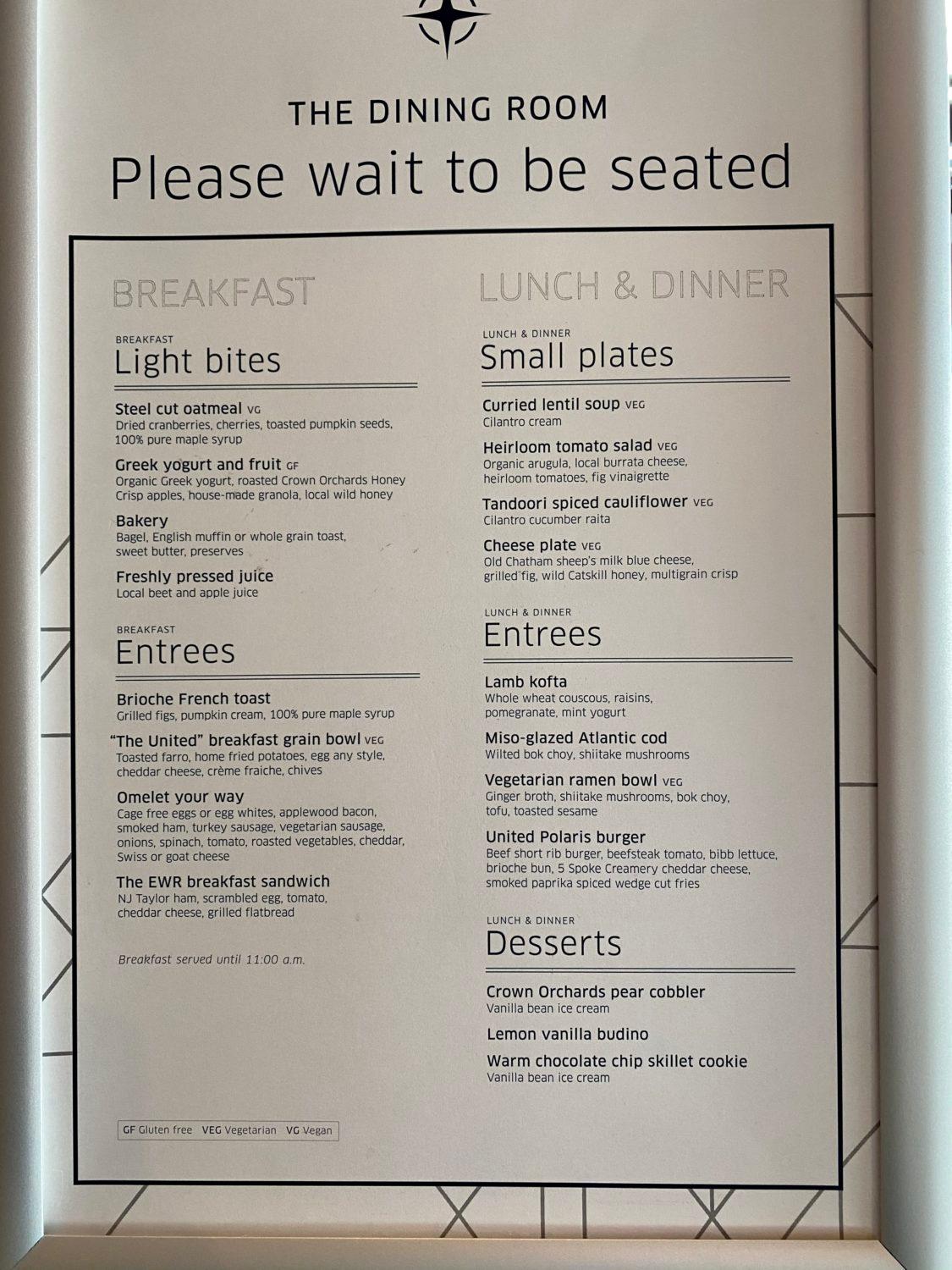 After being escorted to a seat by a lovely waiter, I ordered the heirloom tomato salad with a glass of champagne. The salad was delicious: Every tomato was wonderfully crisp and bright, with some peppery arugula on top, a zingy fig vinaigrette drizzled on top, and some creamy burrata on the side.
The presentation alone puts even the best airport lounge dining to shame, but the flavor and quality held up, too.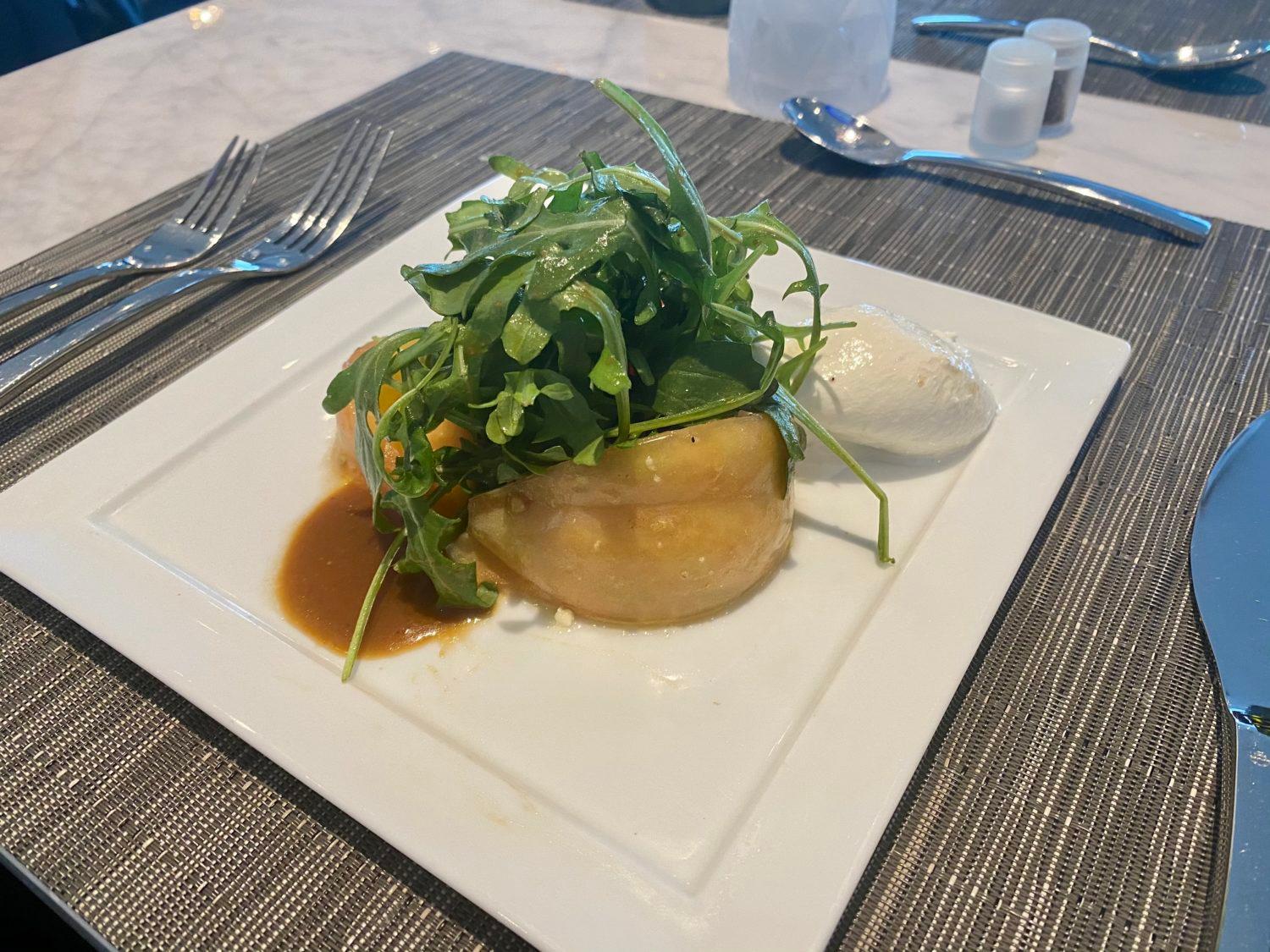 For a late lunch, I ordered the miso-glazed cod with mushrooms and bok choy. This could have gone horribly wrong in the wrong hands … but it was a home run. The fish was flaky and clearly perfectly cooked, as were the mushrooms and bok choy. With a bit of broth at the bottom of dish, it was incredibly tasty. And again, the presentation…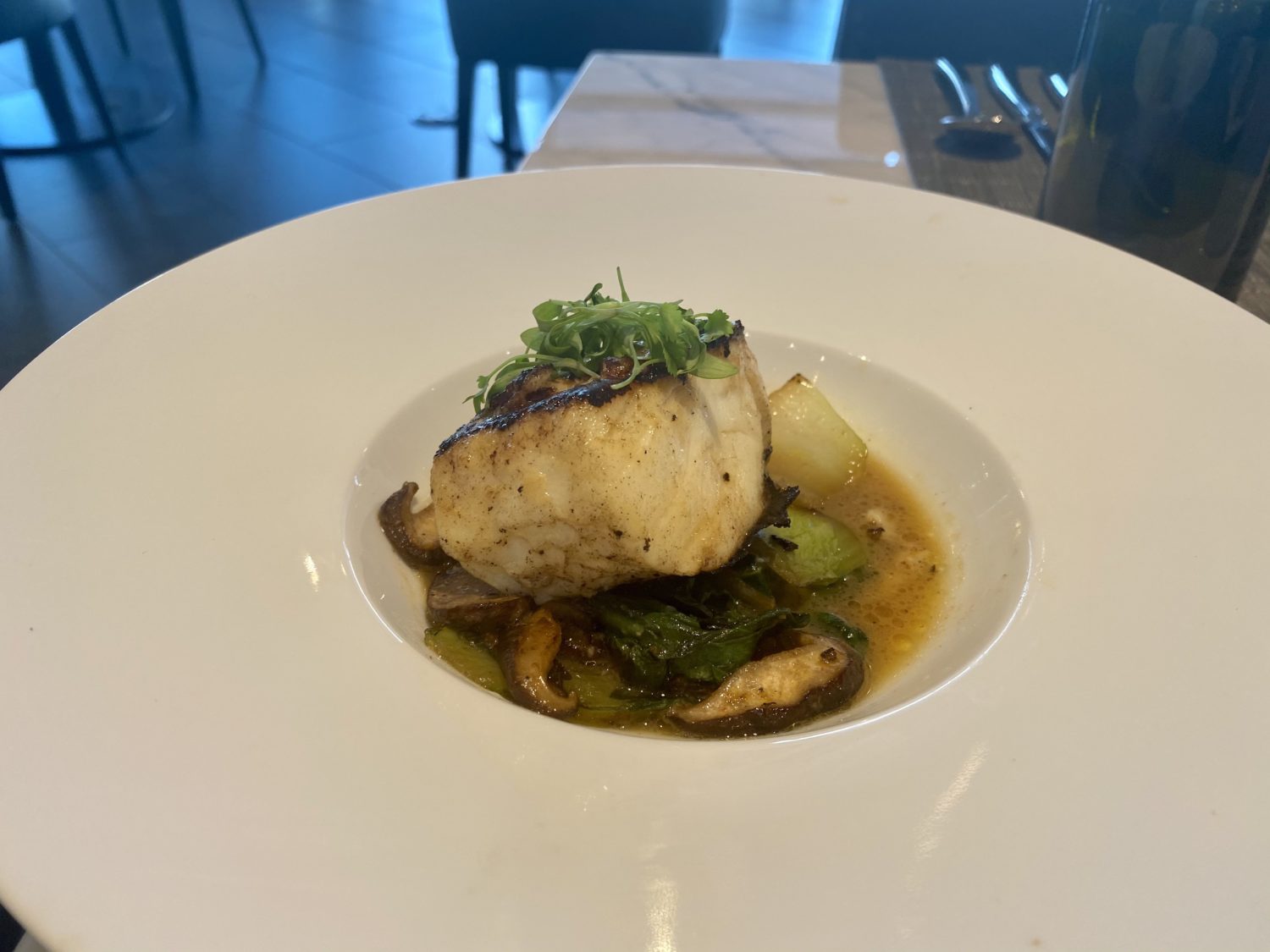 This was easily the best entree I've ever had in an airport lounge, bar none. Enjoying this dish while watching a United 757 pull into the gate just in front of me was an experience.
Within just a minute or two of taking my final bites, the waiter swung by my table to clean up and drop off a dessert menu. I ordered a chocolate chip skillet cookie and an espresso to cap off the meal, which was delightful.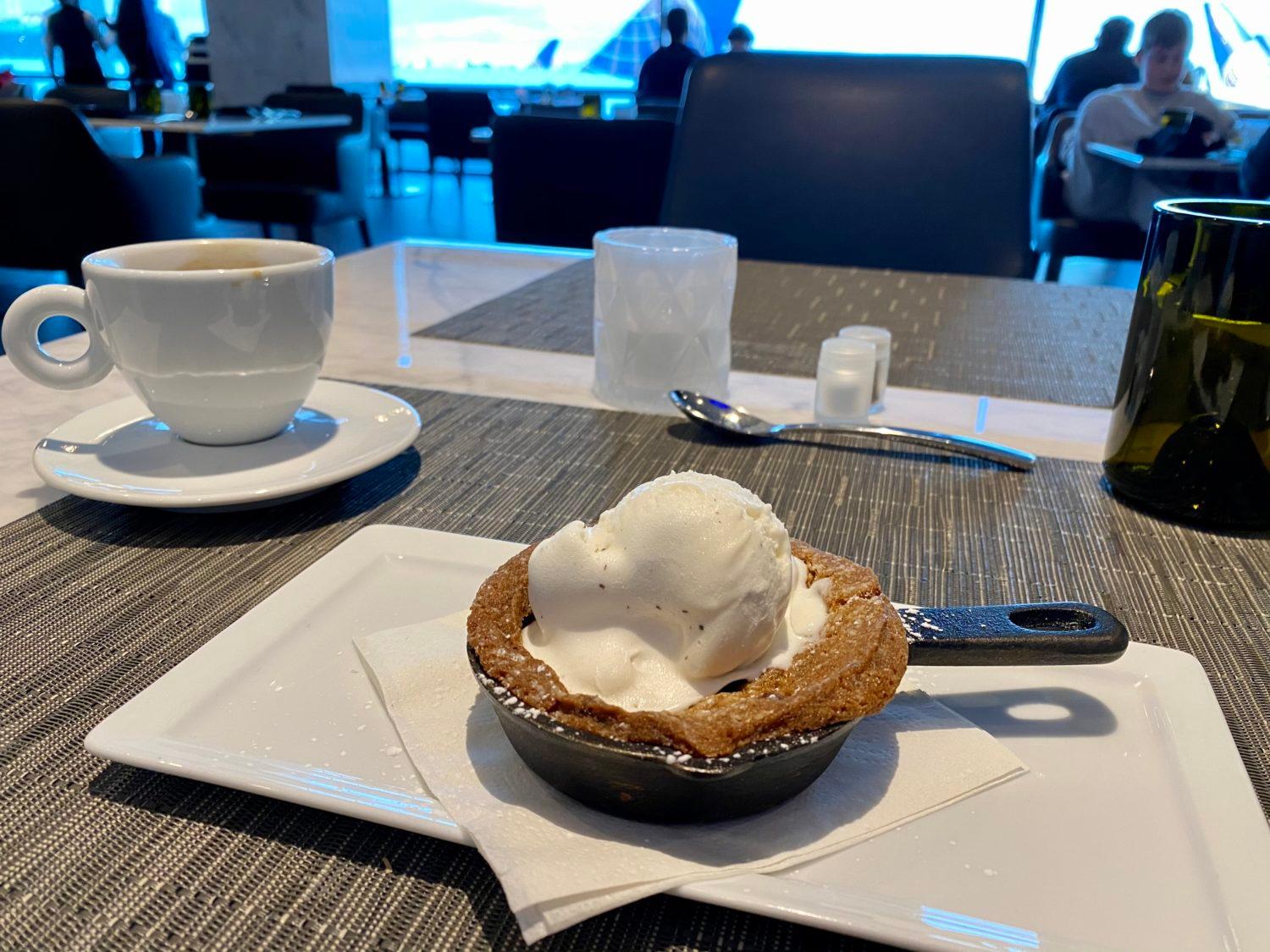 Let's get something straight: It doesn't get better than this in a U.S. airport lounge. Maybe not every dish will be as great as what I ordered during my visit, but that's beside the point.
Even for a business class lounge, a la carte dining is royal treatment. This is on-par with or better than what you can get even in American Airlines' Flagship First dining facilities – and it's leagues better than the snacks and hot buffet fare at most American Flagship Lounges or Delta Sky Clubs. I almost wonder how United can afford to do it … but trust me, I'm not complaining.
After a great meal, I eventually wandered over to the beautiful bar area. The marble-like bar surface with underlighting is a great look, if you ask me.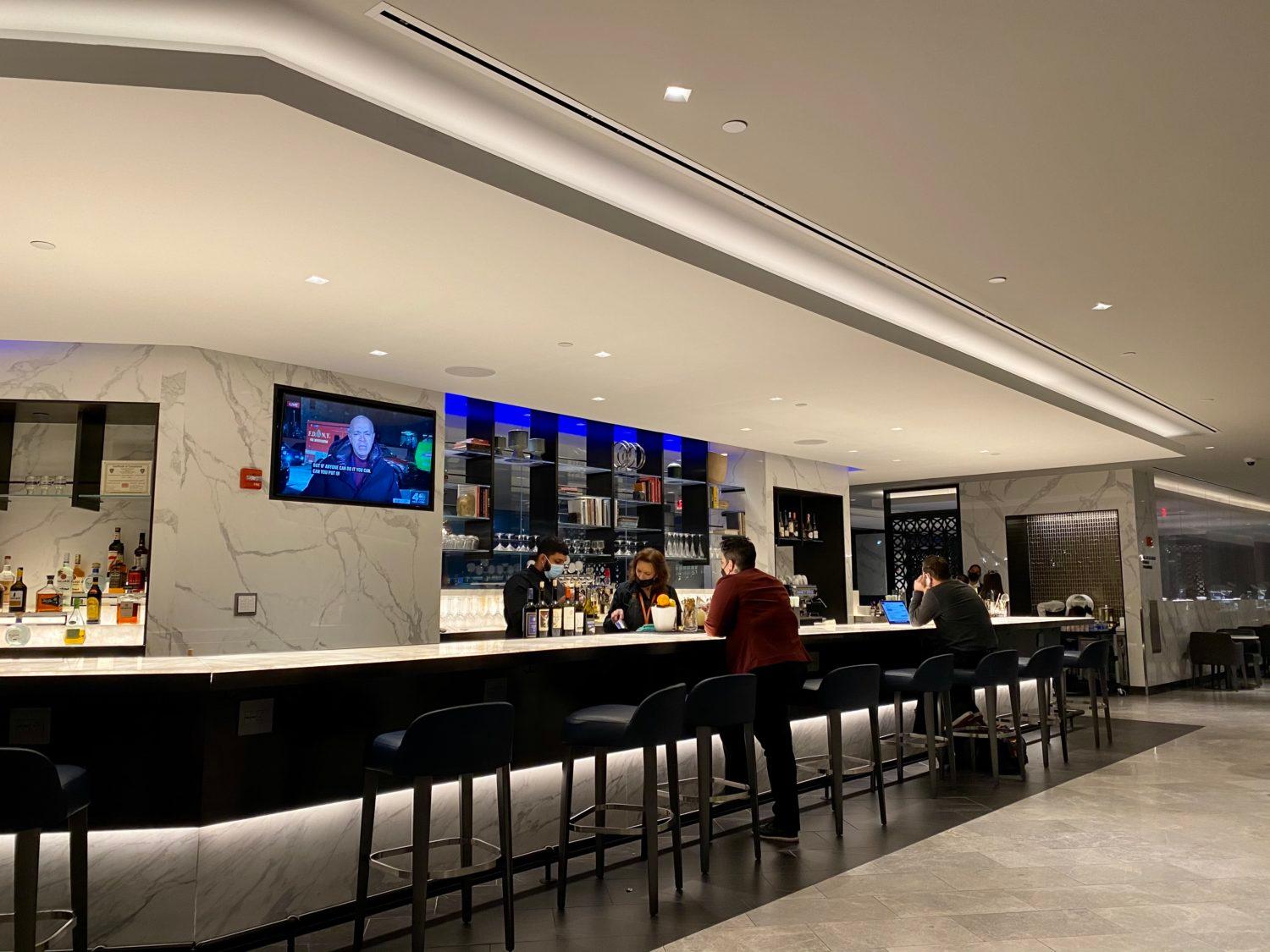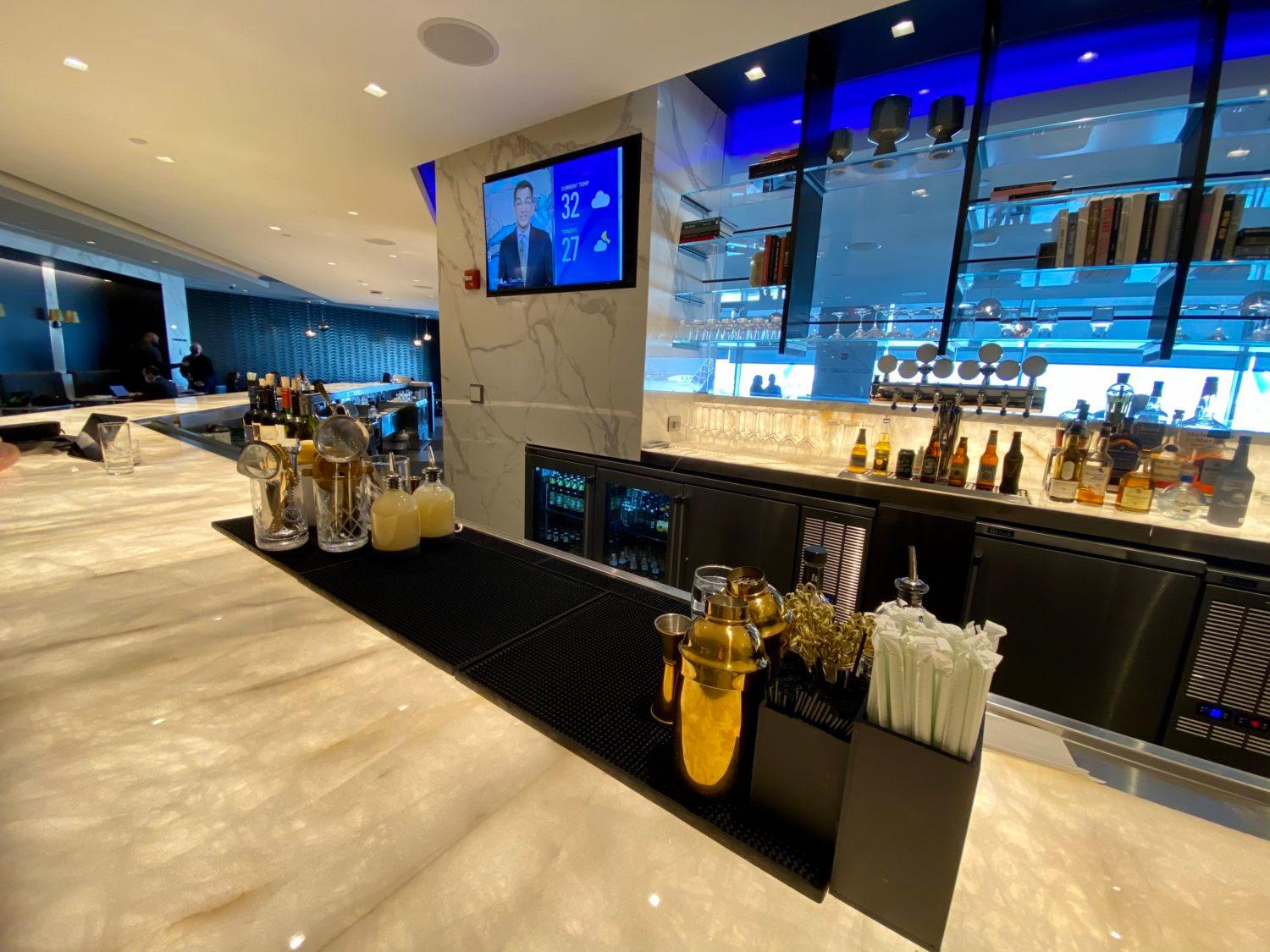 Bartenders were incredibly friendly and quite speedy. Yet when I asked to see a menu or hear about some specialty cocktails, the bartender told me they didn't have one – instead, he'd be happy to make or pour anything I wanted. While a nice offer, it struck me as odd that they didn't have a menu on hand.
So I ordered a Boulevardier to sip on. While it was just fine, it felt a bit thrown together for a bar program that's generally praised for its cocktails.

There are refrigerators scattered throughout the lounge where you can grab a bottle of water or a can of soda. There's also a dedicated beverage station towards the back of the lounge with infused waters, tea, coffee, and more.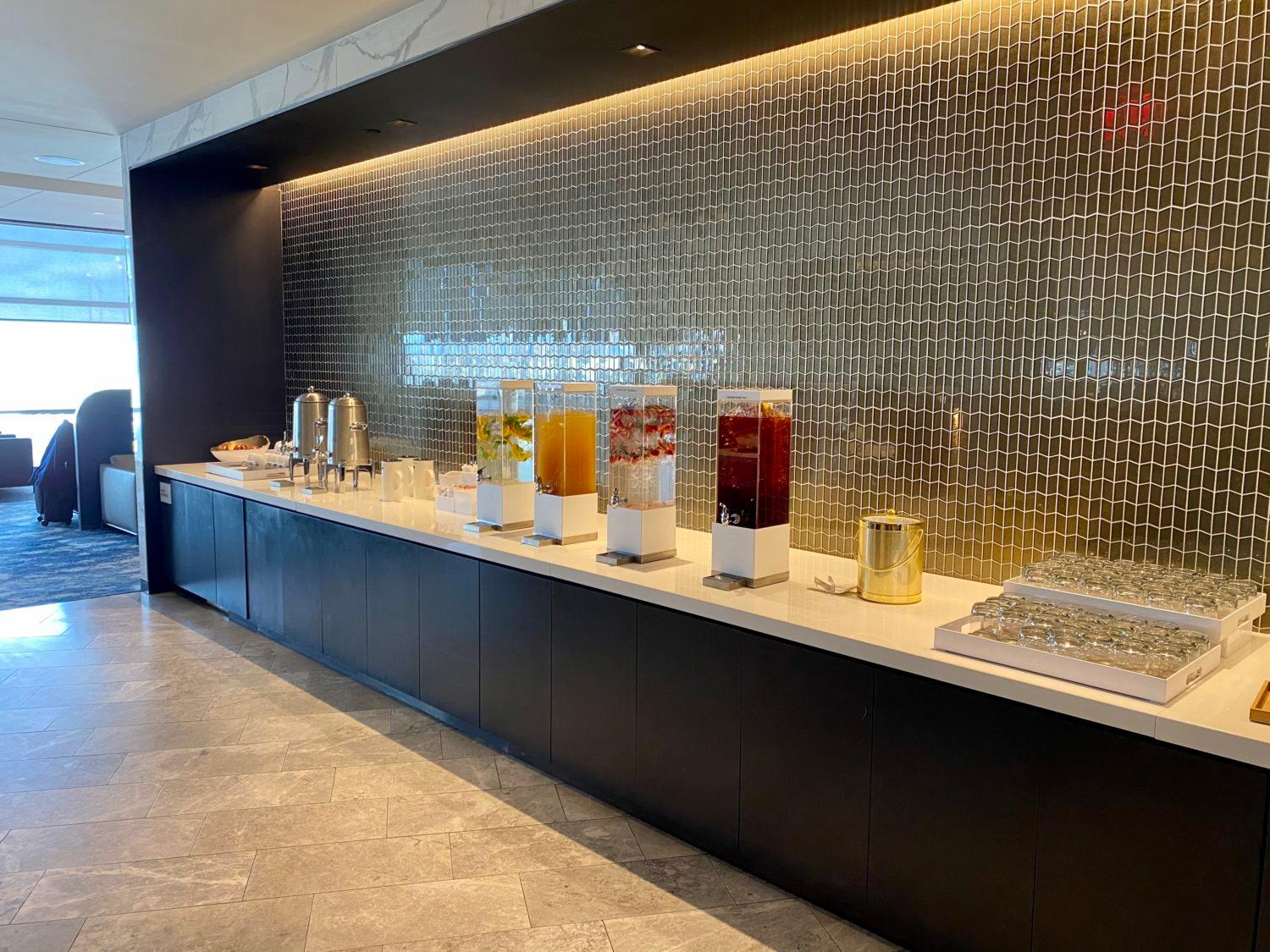 The coffee station was quite nice, complete with some fancy milk, half and half, and even oat milk containers. If you want something more like a cappuccino or espresso, you can grab one at the bar or flag a lounge attendant to grab you one.

Amenities at the United Polaris Lounge Newark
Beyond the outstanding dining, there are a few amenities you won't find in many other airport lounges at United's Newark Polaris lounge.
Near the entrance, there's a walled-off wing of the lounge where you can sign in to use a quiet room and shower suites.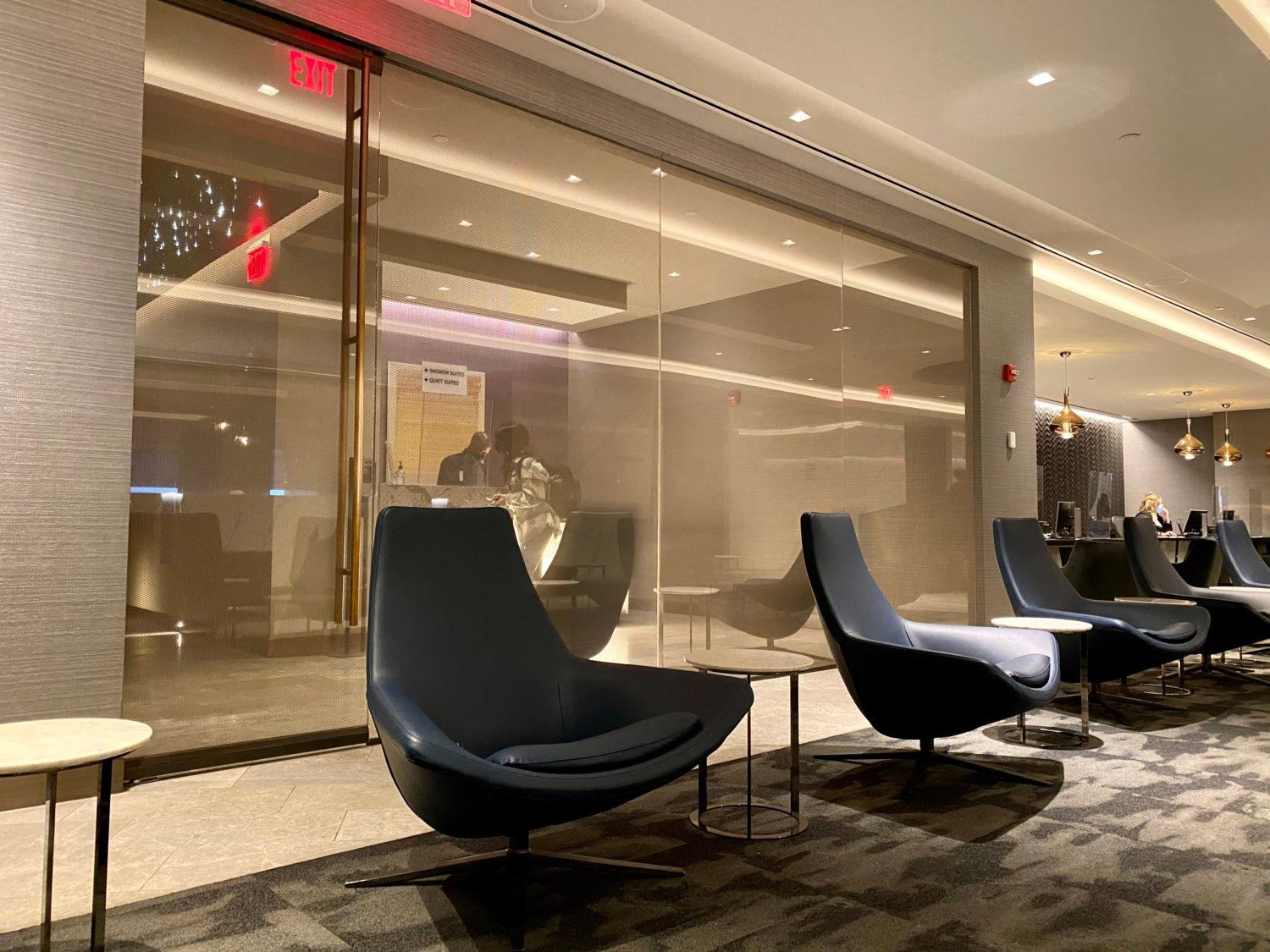 I signed in to check out one of the quiet rooms, and was promptly led down the hallway into one of several rooms. Each one is equipped with a lounger, a side table, lights that can be dimmed or shut off, and amenities like a United Polaris eyemask, ear plugs, and a bottle of water.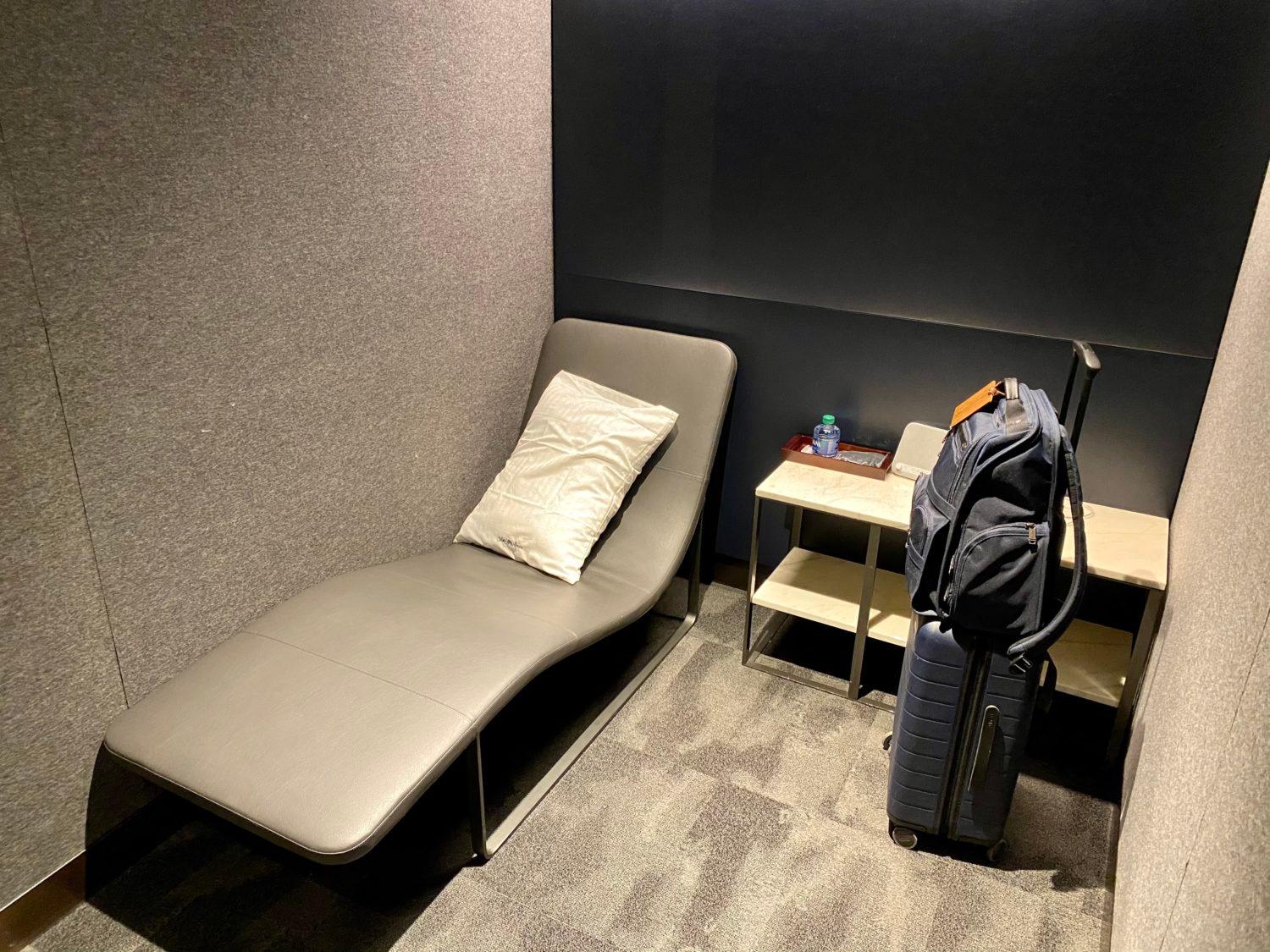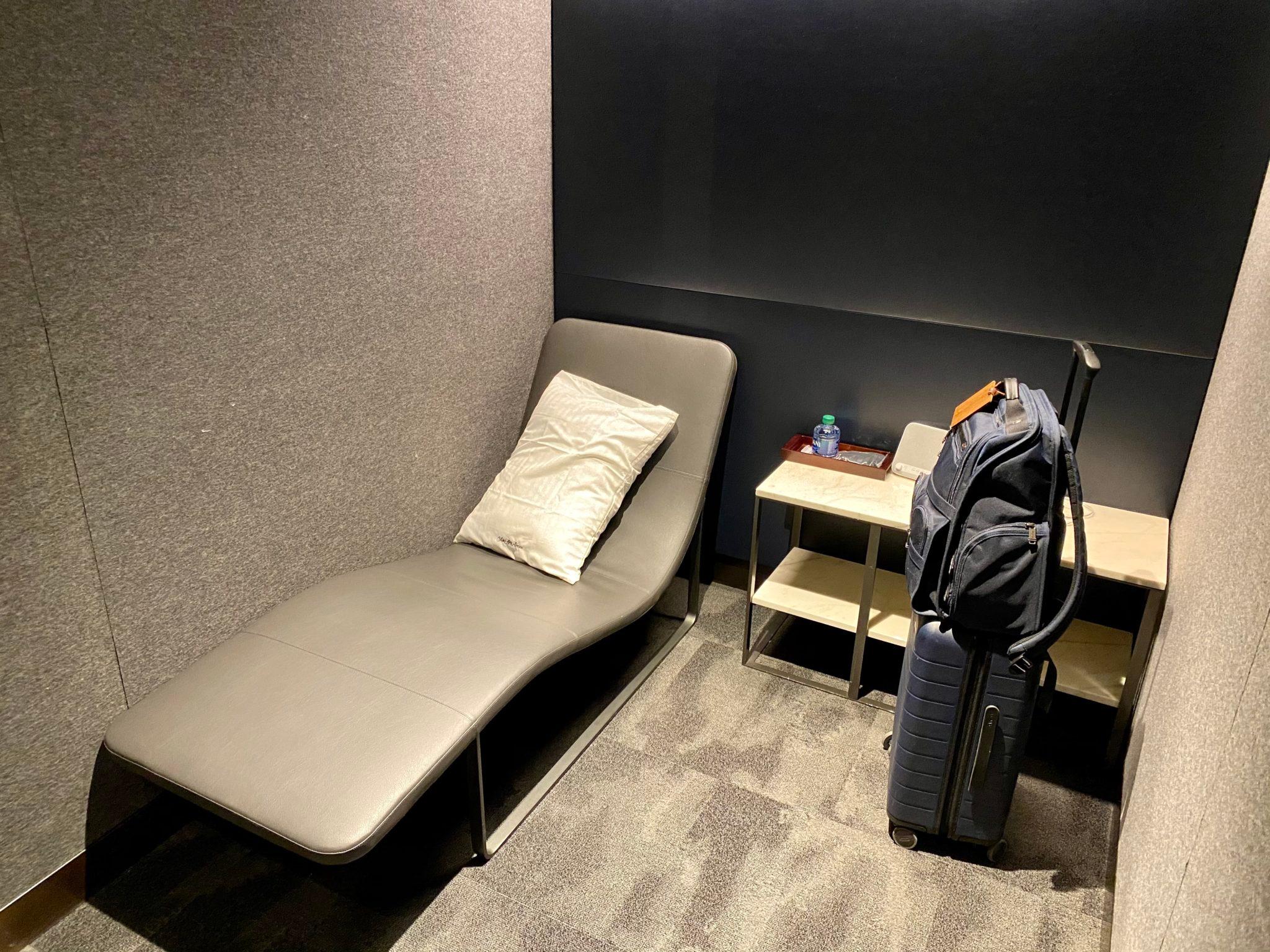 The friendly lounge attendant also brought over a warm blanket for me in addition to the pillow, which was a nice touch. Unfortunately, I just didn't find these lounge chairs comfortable. It's nowhere near horizontal, which made it a bit awkward for me to lay in. And the chair itself is on the hard side.
The suite I got was also near the hallway with motion-detecting lights, which turned back on anytime someone walked by. I'd definitely recommend asking for a suite farther down the corridor, if possible – and there are about eight quiet rooms, so that shouldn't be an issue.

There are also five-plus individual shower suites you can use to freshen up before or after your flight, though I didn't have a chance to check them out. You'll just have to reserve one at the amenity desk.
Bottom Line
United Polaris Lounges have set the bar for airport lounges in the U.S. If you ask me, everything else pales in comparison – and that includes the United Polaris Lounge Newark.
Not every single detail is perfect – but that's never the case. But with a full-service restaurant serving restaurant-quality food, the dining options are second-to-none. The design, layout, and size of the lounge are better than almost everything you can find in the U.S.
If you're flying Star Alliance business class out of Newark, make your way to this lounge. You won't regret it.