Airlines save their biggest and best lounges for their hub airports. And business class lounges don't get much bigger – or better – than Qatar Airways Al Mourjan Business Lounge in Doha (DOH).
The word "massive" doesn't even begin to cut it to describe this place: At more than 100,000 square feet spread across two levels, it makes some of the other largest lounges look tiny in comparison. It's got an endless supply of seats, shower suites, sleeping pods, relaxation rooms, a water feature, and not one but two restaurants.
This is a lounge that is truly worthy of Qatar Qsuites, the world's best business class seat, and easily worth a short (or even a long) stop as you connect in Doha (DOH) on your way to somewhere exciting or head home from a trip in the Middle East or beyond.
Take a look inside and see for yourself.

Getting into the Al Mourjan Business Lounge
Flying Qatar Airways Business Class? That's your ticket to getting into the Al Mourjan Business Class Lounge.
… kind of. It might depend on whether you booked an award ticket using miles or paid for a cheap(er) cash fare: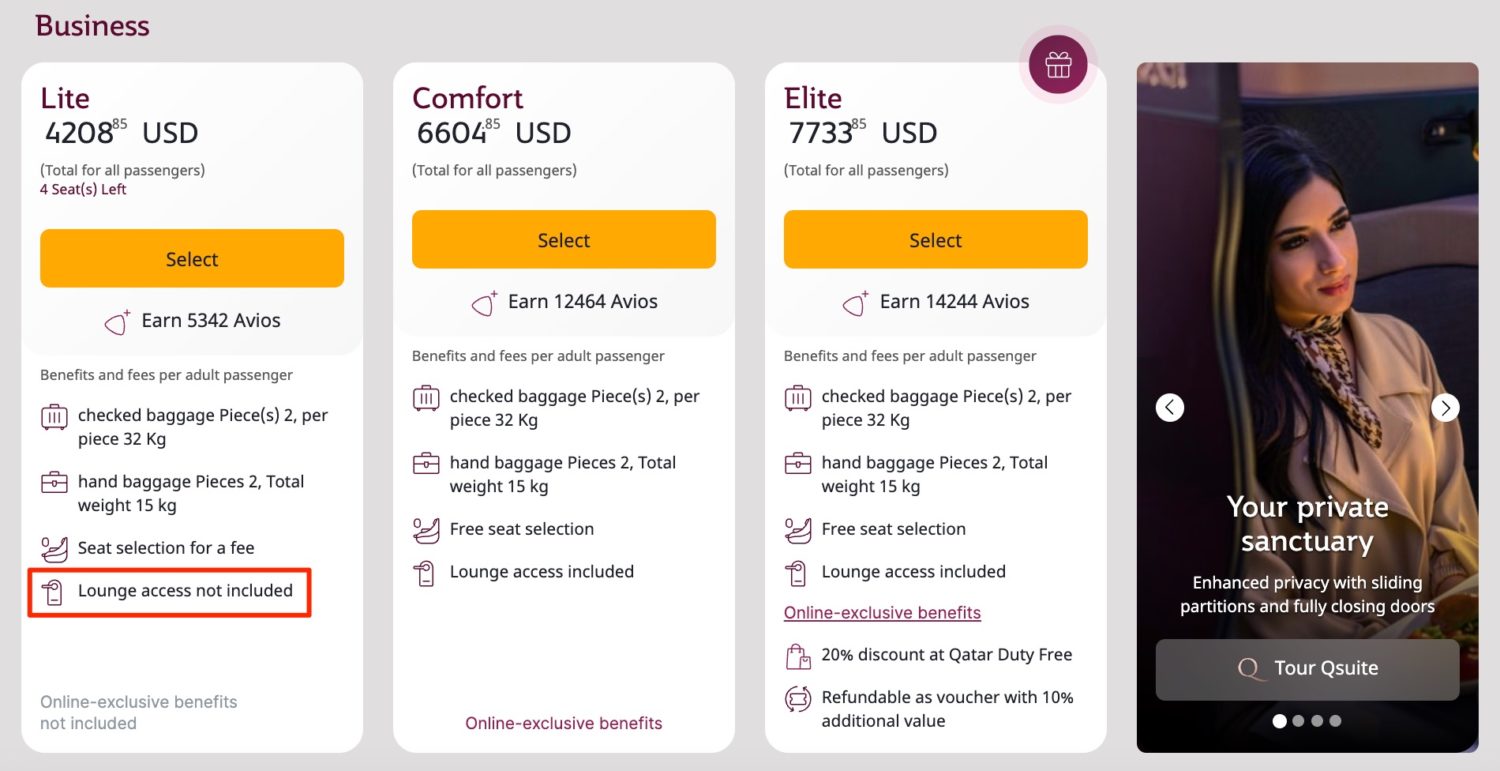 Read our guide on the best ways to book Qsuites business class using points and miles!
Whether you're connecting through Doha or departing from Qatar, you'll have lounge access. It's easy to find.
The Al Mourjan lounge is located smack-dab in the middle of the Doha (DOH) airport, where the concourses for gates A, B, C, D, and E meet in a central duty free area. Watch for the enormous (and quite unsettling) bear statue, and you'll know you're close.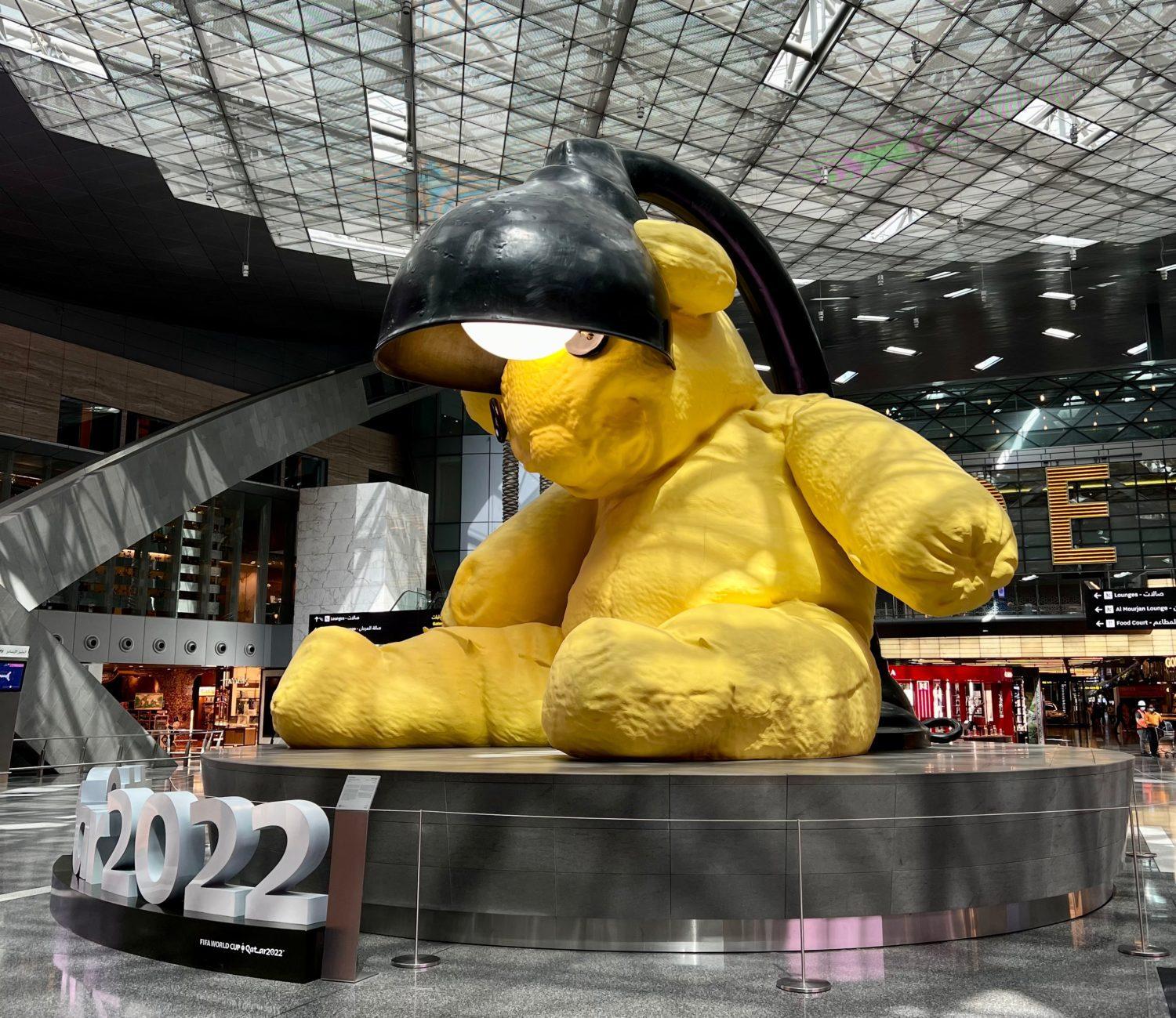 As you face the lamp bear head-on, follow the signs to the left for the escalator up to the Al Mourjan lounge.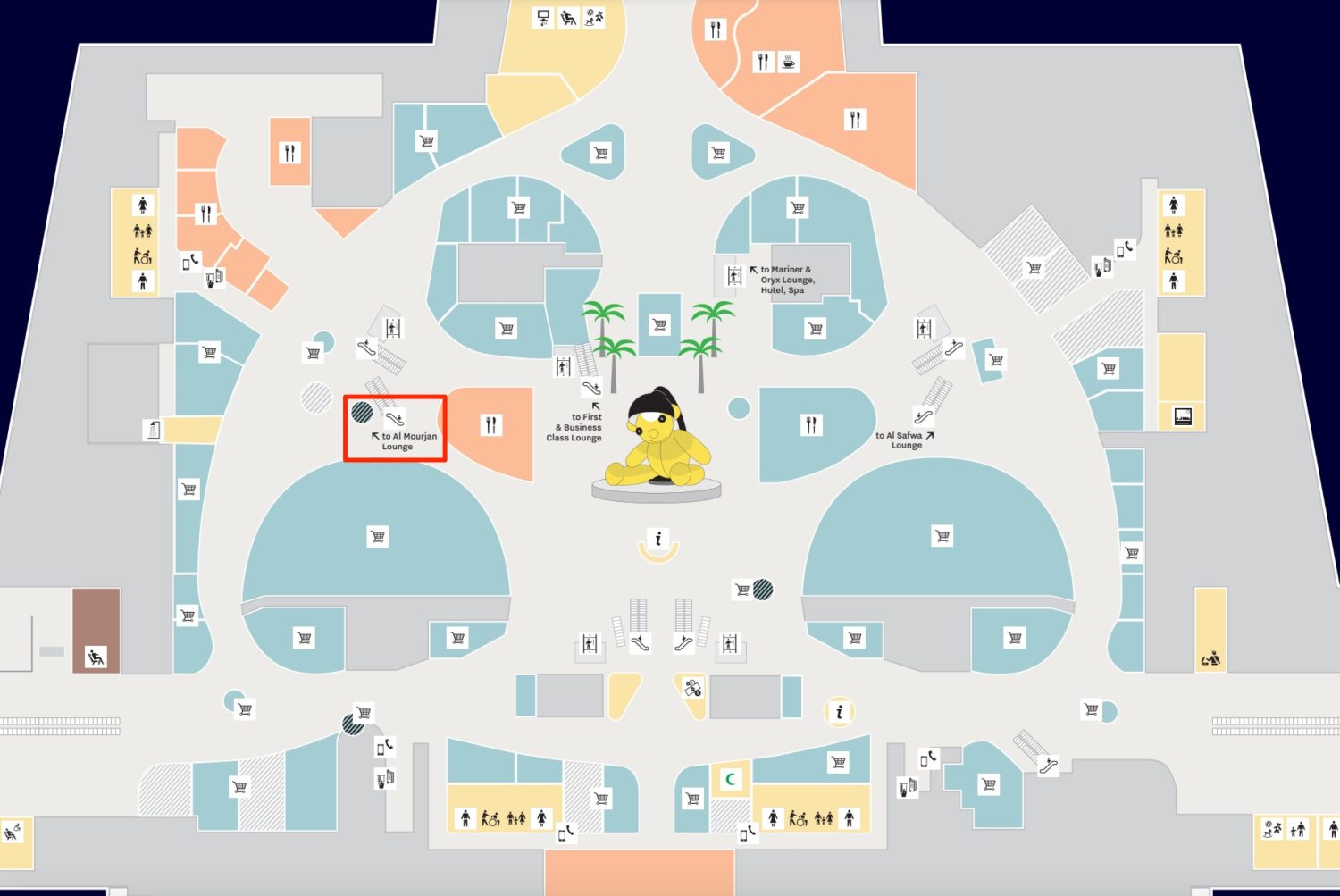 During my visit, a lounge attendant was stationed at the bottom of the escalator, checking boarding passes to ensure visitors were eligible to access the Al Mourjan lounge. Head up the escalator, flash your boarding pass one last time at the desk, and head into the lounge.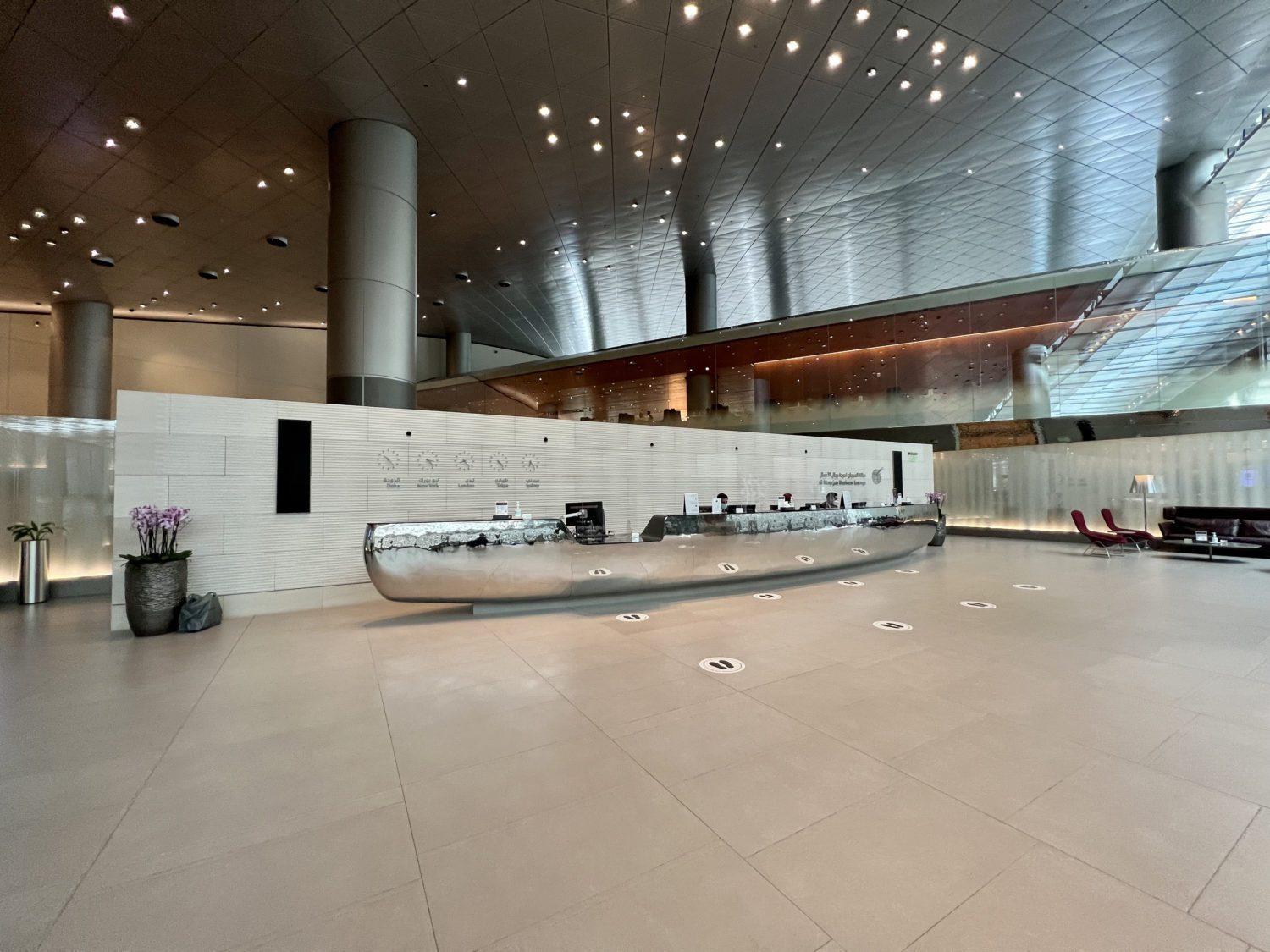 Thrifty Tip: There's a bay of luggage lockers just behind the entrance if you want to stow your bags while you explore the lounge.
How to Book the Al Mourjan Business Lounge
Got a business class ticket? You're set. Flying Qatar Airways economy but want to get into the lounge? You may be in luck … but you'll have to pay up.
Even with an economy ticket, you can often purchase access to the Al Mourjan lounge. Though the price seems to vary, it seems to hover between about $90 and $100 USD, based on our experience.
Just manage your reservation through the Qatar Airways' site (or app), otherwise head to the Al Mourjan page, click "Purchase lounge access," and enter your flight details to see how much it'll cost.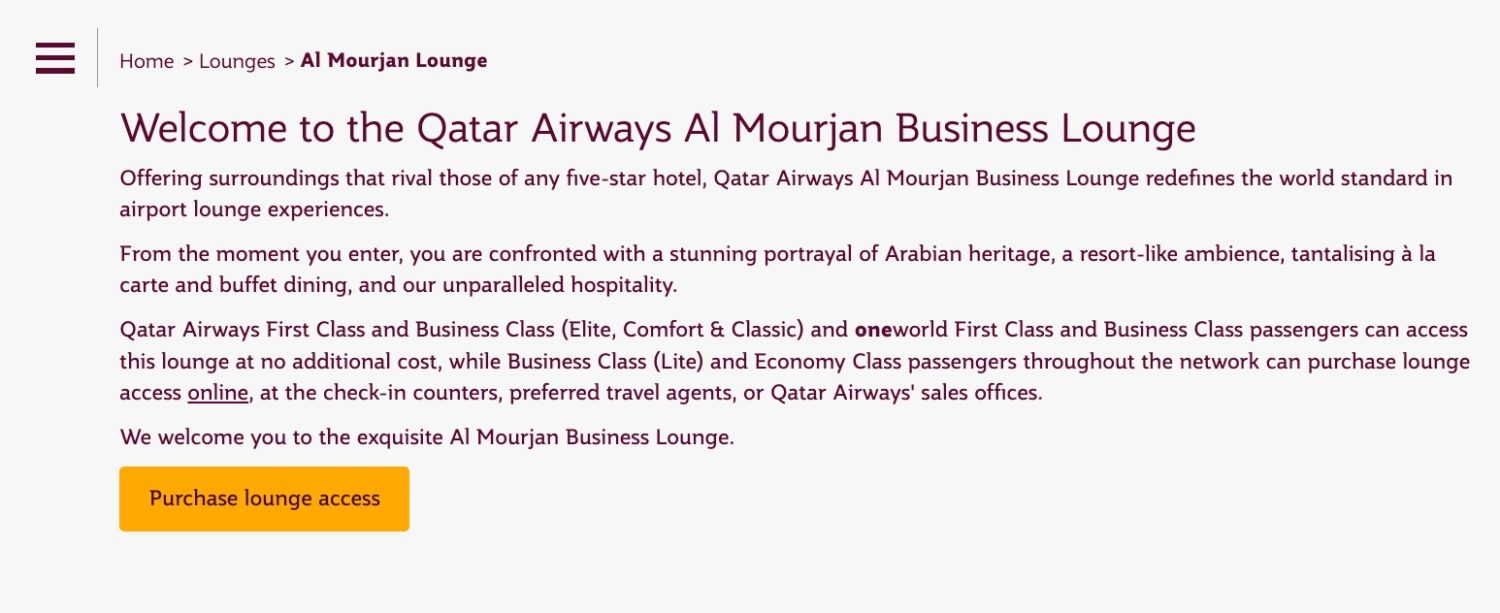 Even if you've got top Oneworld status, you can't get into the Al Mourjan lounge free.

The Lounge & Seating
Even among some of the best airport lounges, you measure in square feet – generally by the thousands. If you're really lucky, in the tens of thousands. The Al Mourjan lounge may need to be quantified in square miles.
Am I exaggerating? Absolutely, but this is the biggest lounge I've set foot in by far. From the moment you walk in, it's clear this isn't your ordinary lounge. The scope and size of this space hits you right away with high ceilings, multiple levels, and plenty of distinct areas, corridors, and walkways to explore. You could almost get lost here.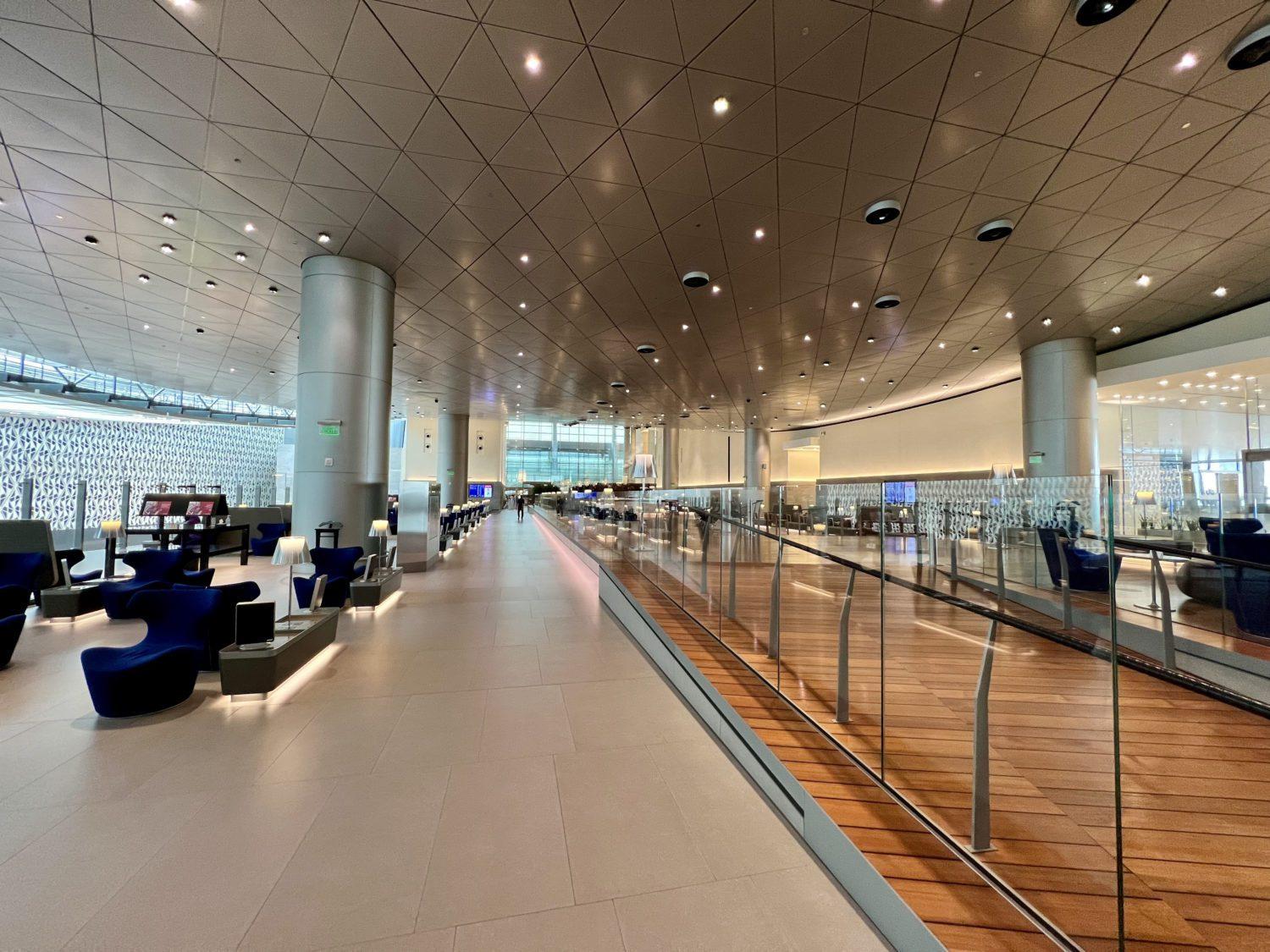 But just because it's massive doesn't mean the Al Mourjan Lounge doesn't get busy – just the opposite. It's this big precisely because it needs to be: During peak times, the Al Mourjan lounge hosts a staggering amount of people.
Qatar carefully tailors its schedules to accommodate quick connections … which means that most flights in and out of Doha land around the same times … which means that this lounge can still get crowded during those times. The busiest times are typically from:
About 11 p.m. until 1:30 a.m. or 2 a.m.
Again from roughly 6 a.m. until 7:30 a.m. or 8 a.m.
If you're visiting during these periods, getting a quiet place to sit, a shower suite, or a sleeping pod can be a challenge. But the lounge is open 24 hours a day. So if you luck out with a visit during off-peak times, as I did, it can feel like you have this enormous space nearly to yourself.
The space is incredibly well-designed, with a metric ton of seating in the main hall of the lounge that occupies a good chunk of the footprint.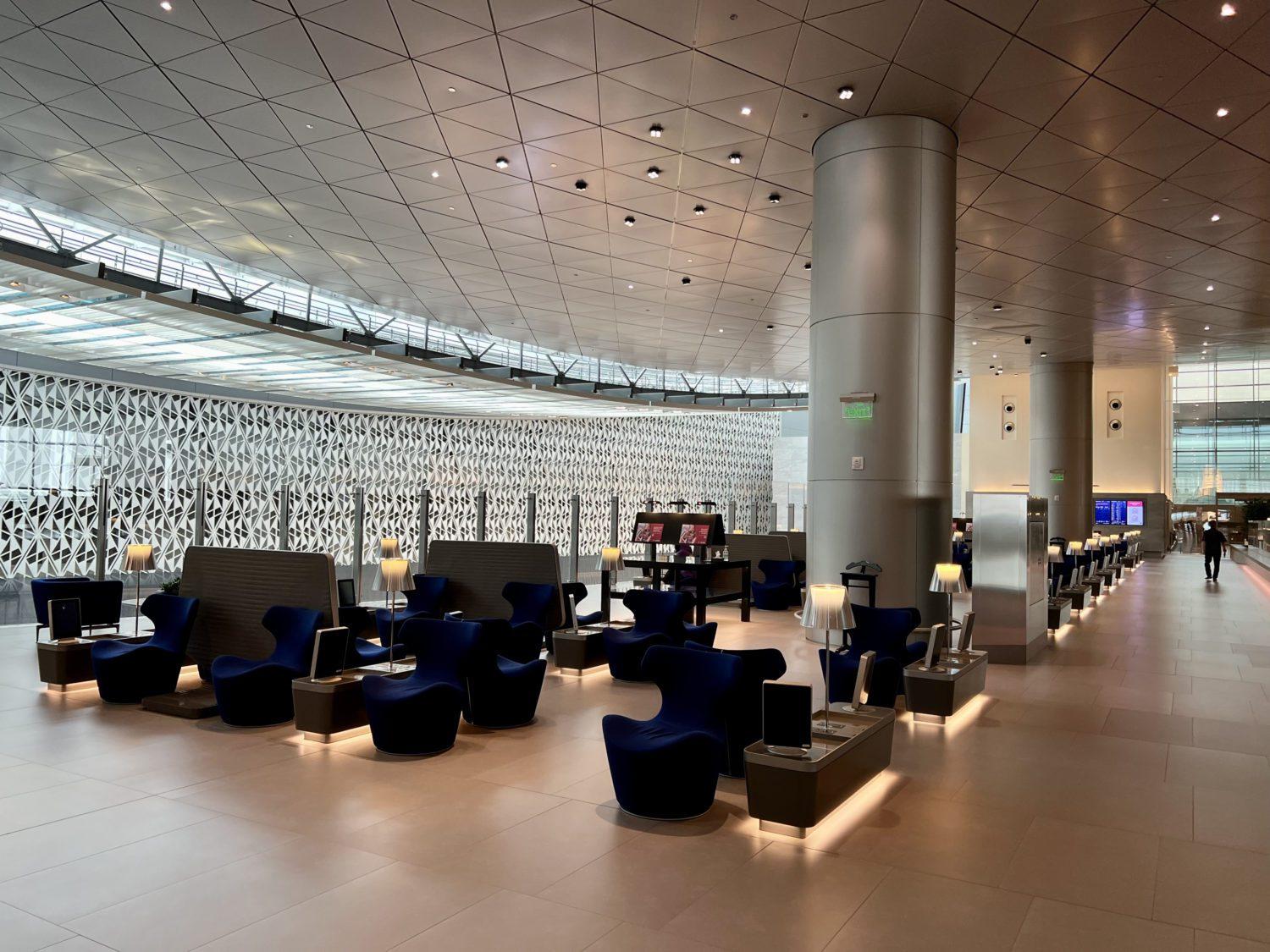 Here you'll find row after row (after row after row) of armchairs. While they aren't the most comfortable seats in the world, they're spaced out well with privacy dividers, to boot.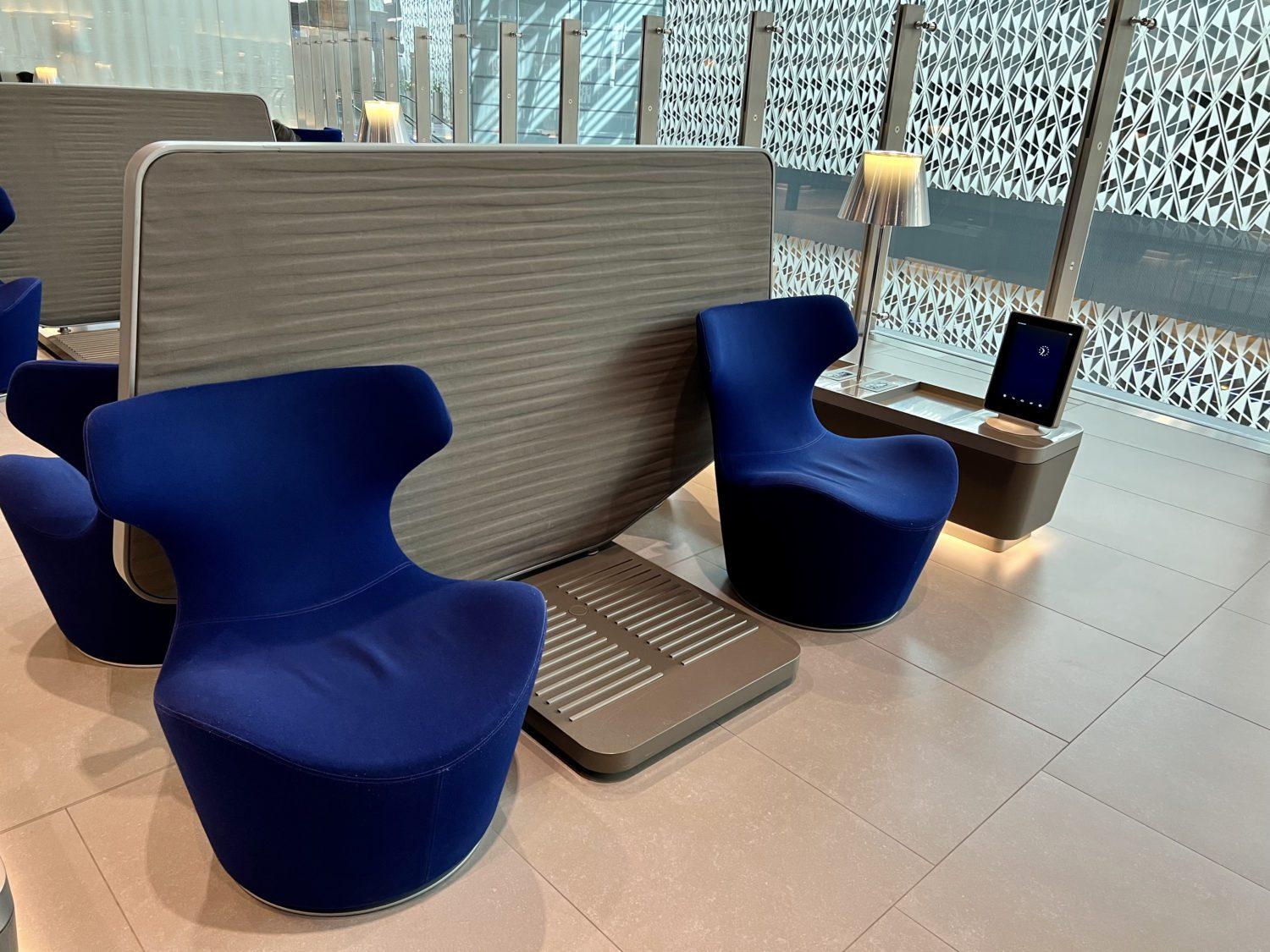 And I love that almost every single one of these seating pods is equipped with a flight monitor, where you can tap in your flight information and get updates at your seat. There's also dedicated power outlets, with both universal power and USB sockets, on each of these console tables.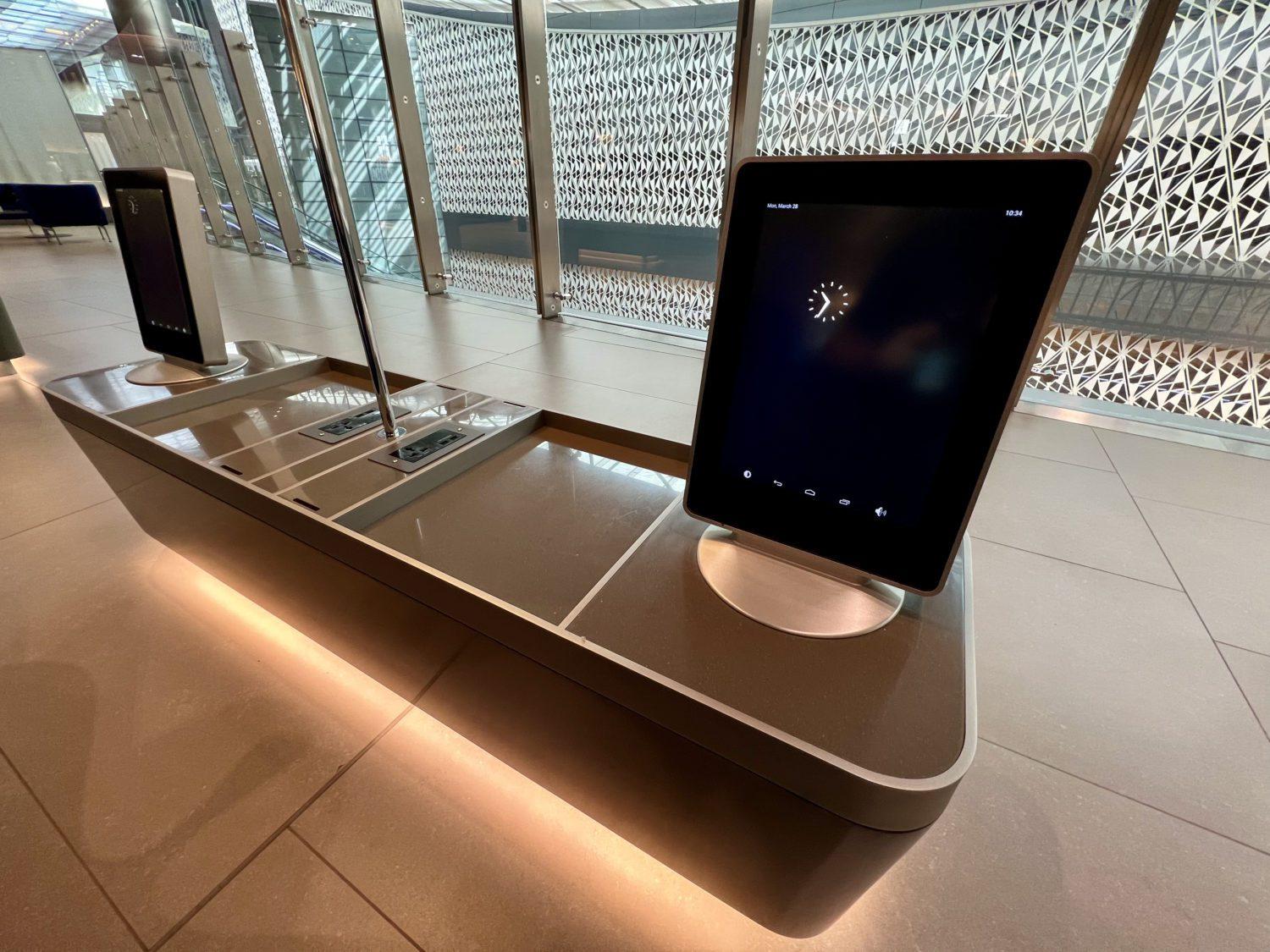 The center of this seating area is decidedly more interesting, with a raised wood-paneled floor and vine-like dividers between seating areas. That the Al Mourjan Business Lounge weaves in beautiful design touches in such a massive lounge is a testament to this place.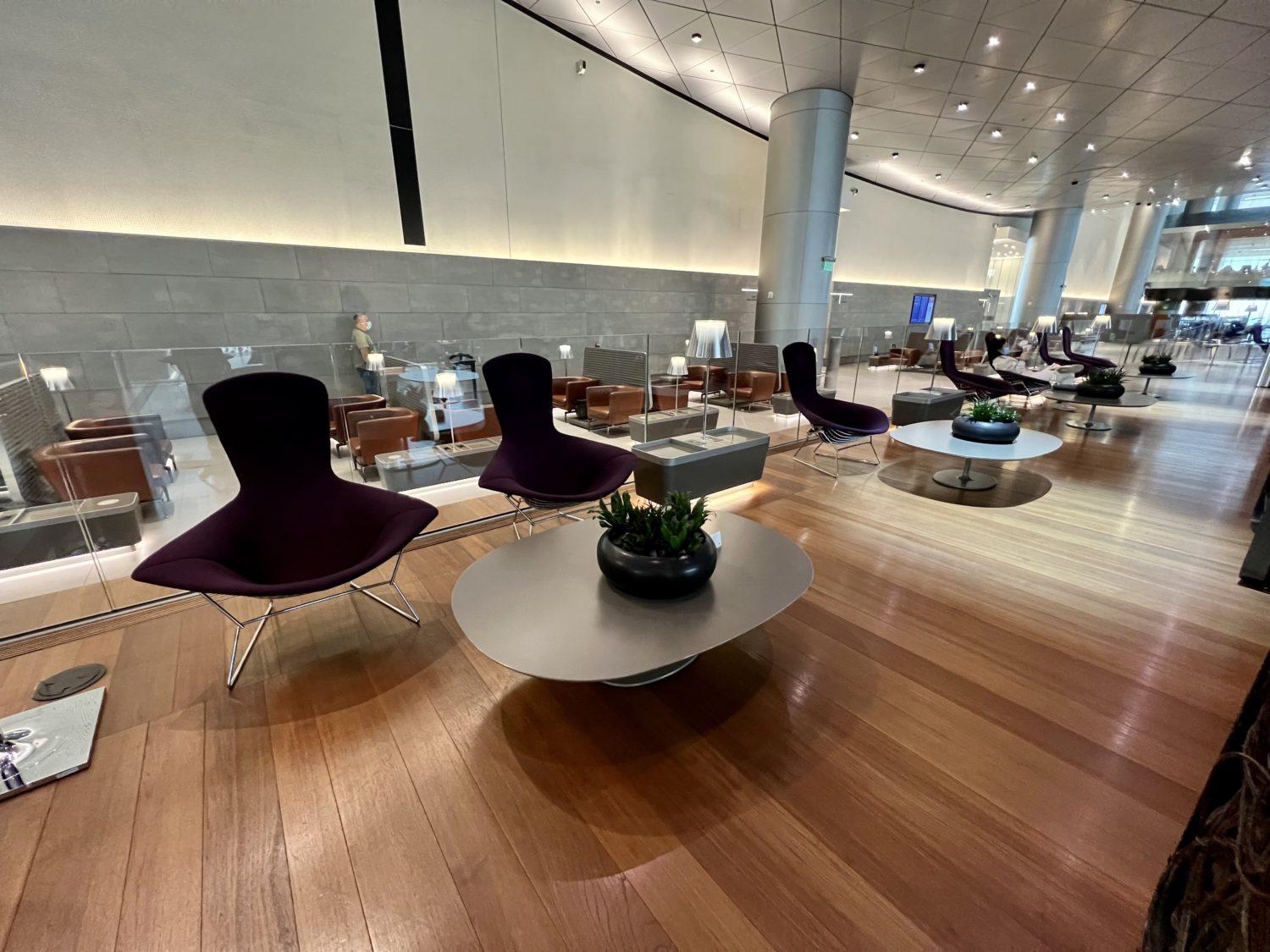 This center section definitely has a cozier, more private vibe.

Here you'll also find a few drink stations with water, sodas, and even coffee machines. They're all self-serve.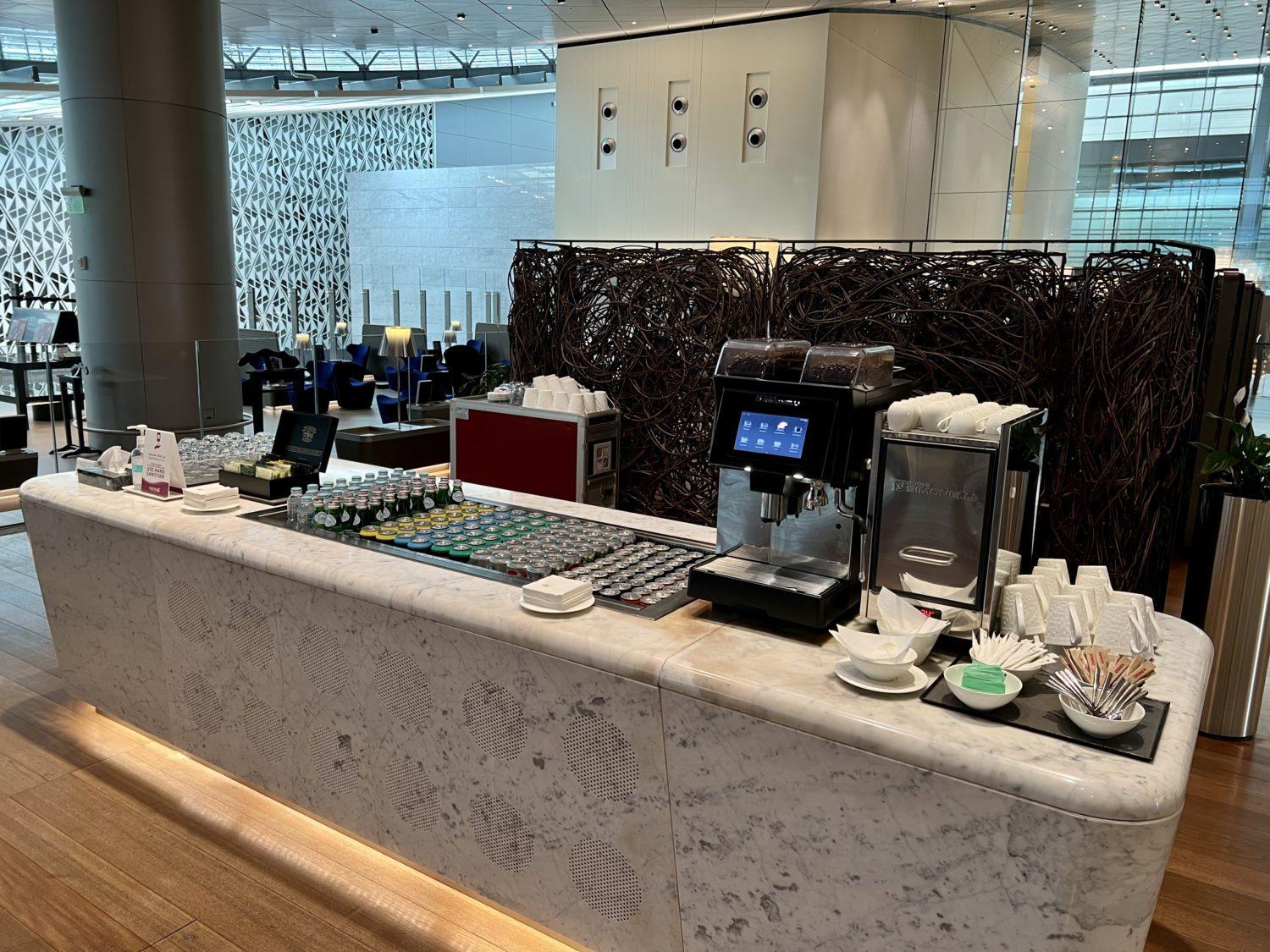 On the other side of this raised platform along the wall, there's an assortment of different seating areas – some far more intimate than the wide-open seating available elsewhere.

Around the mid-way point of this open hall, there's a doorway to another whole section of the Al Mourjan Business Lounge with – you guessed it – more seating. There's yet another beverage station around here, too.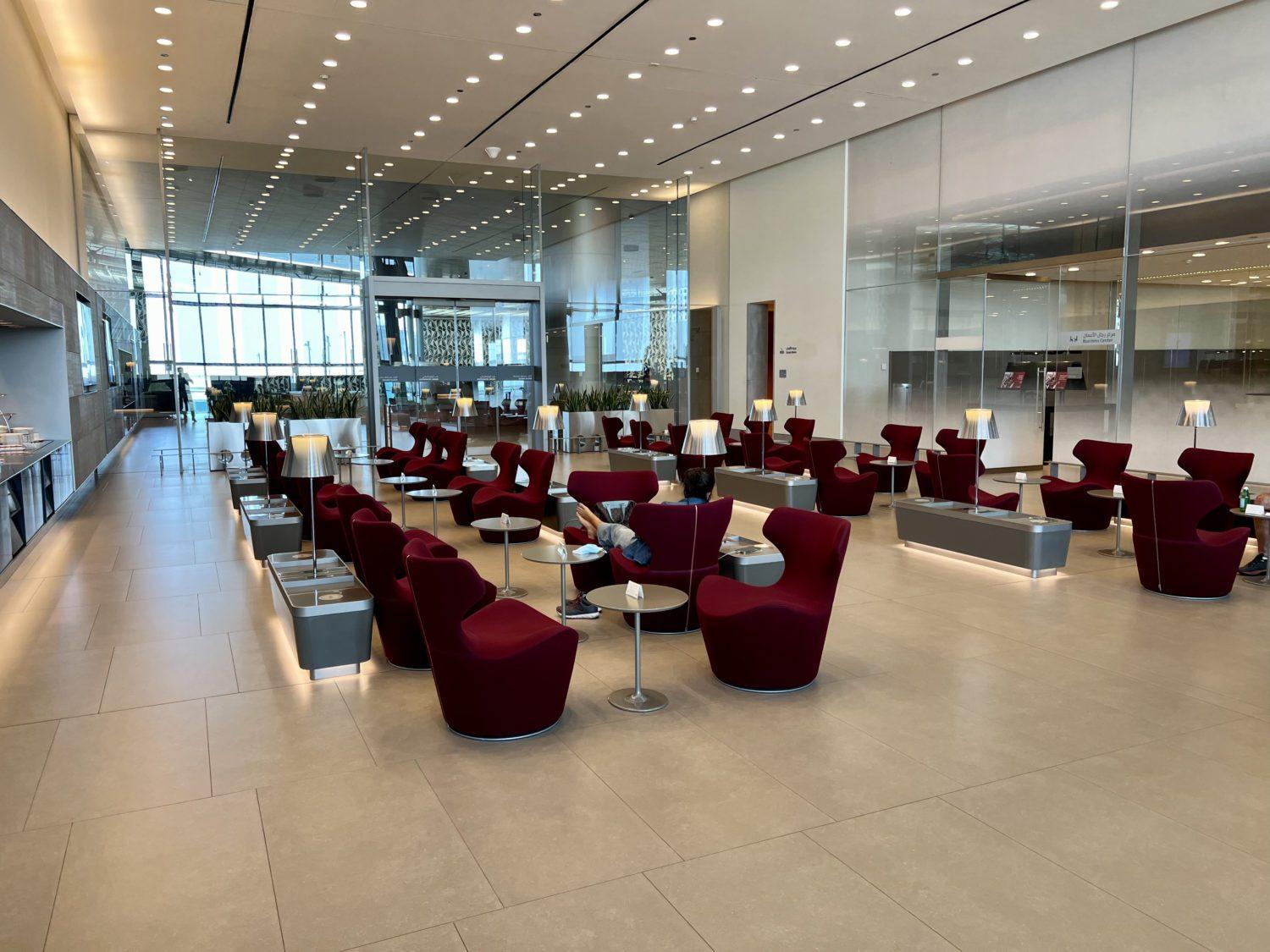 There's also a business center in this area – and I'm not talking about a few desks and a printer but a full-fledged working area. There are about a dozen private work pods, dedicated Macs and PCs available for us, long meeting tables, and several printers available for use.

Just next door, you'll find a dedicated game room with a foosball table, TVs, and video game consoles. It's one of several rooms throughout the lounge designed specifically for kids.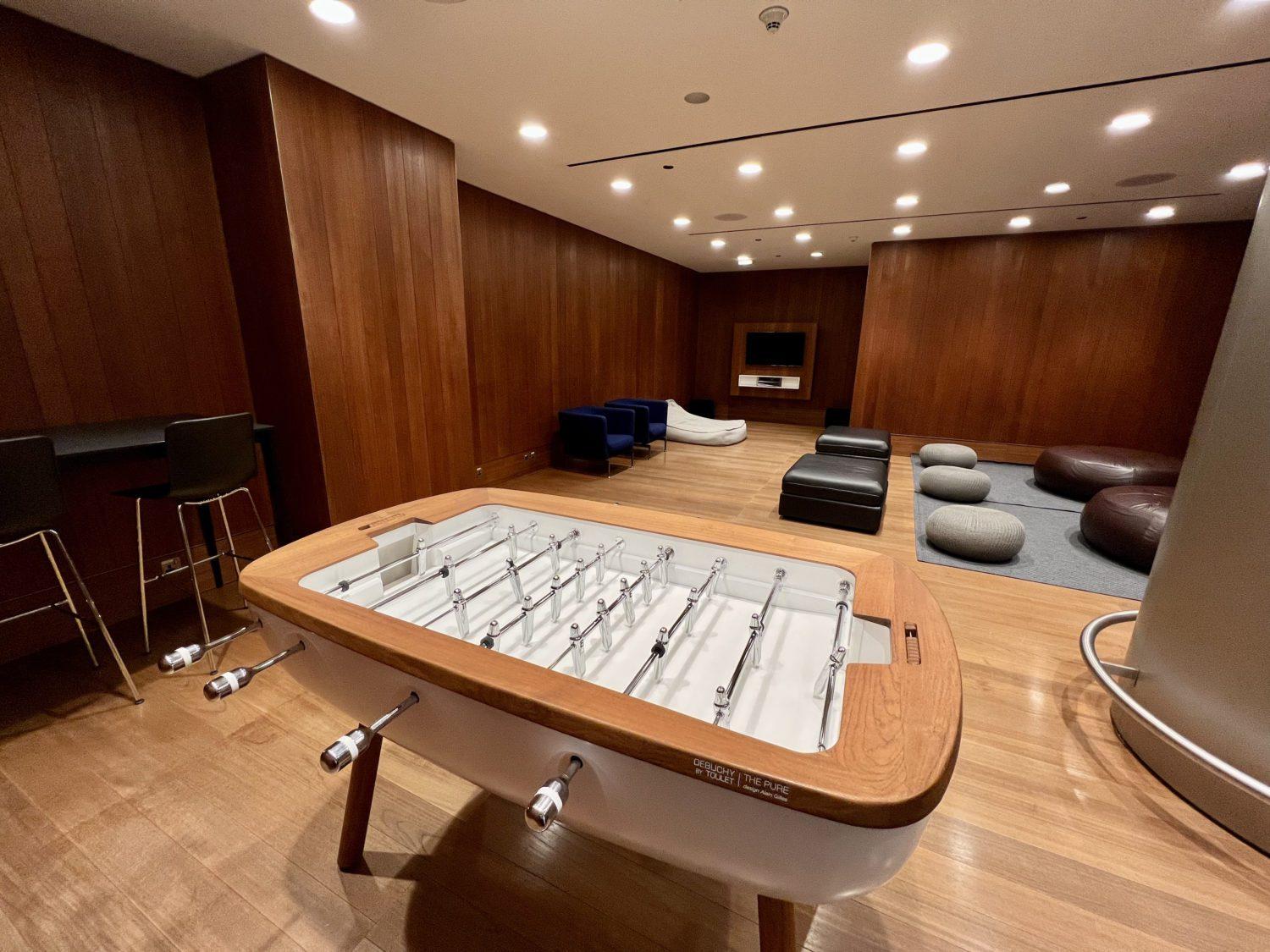 Toward the back of this area there are a few dozen lounge chairs with privacy shields. These aren't quite beds, but they're more than comfortable and private enough to grap a quick nap. You can even flag down a lounge attendant to bring you a blanket.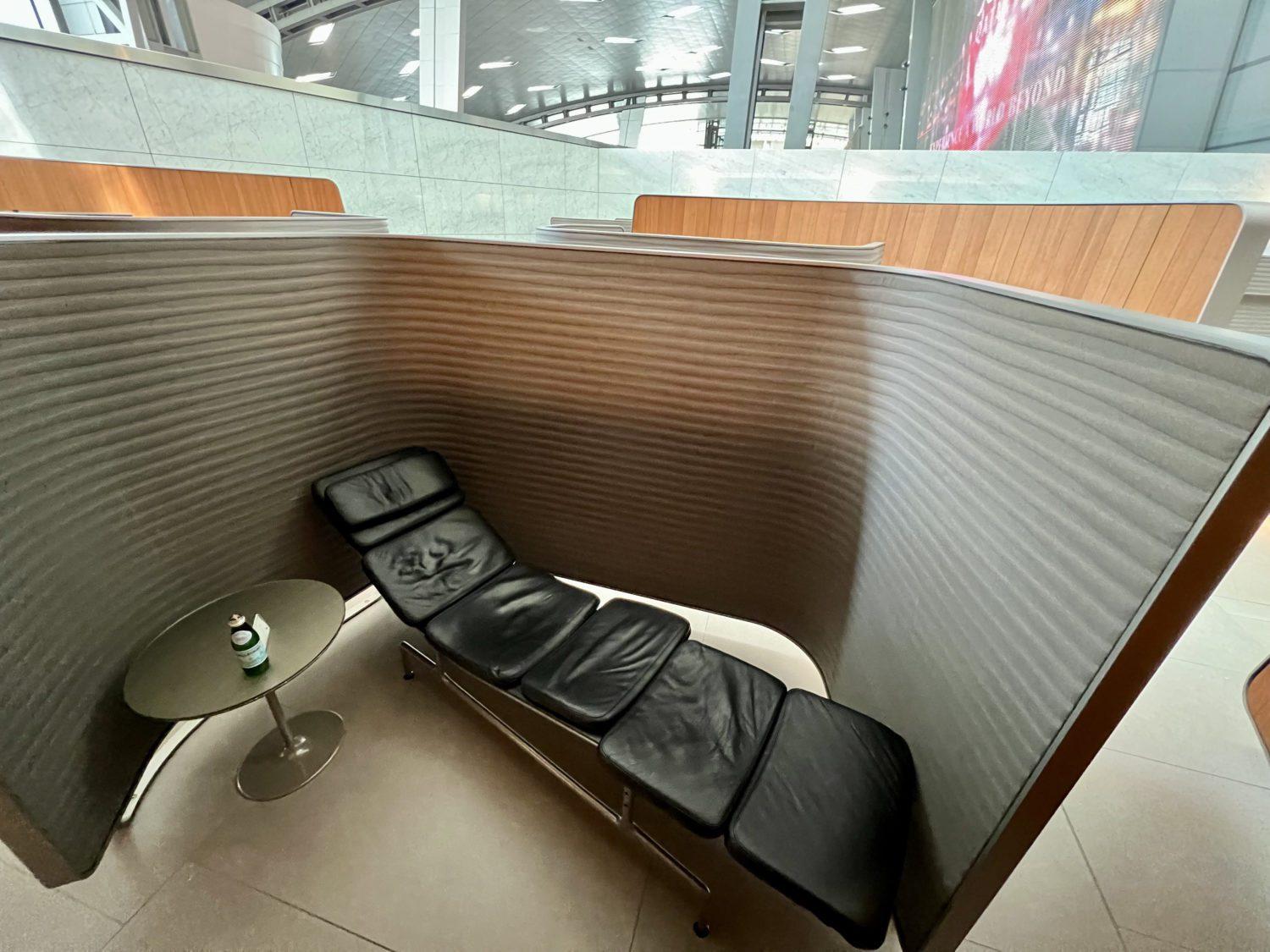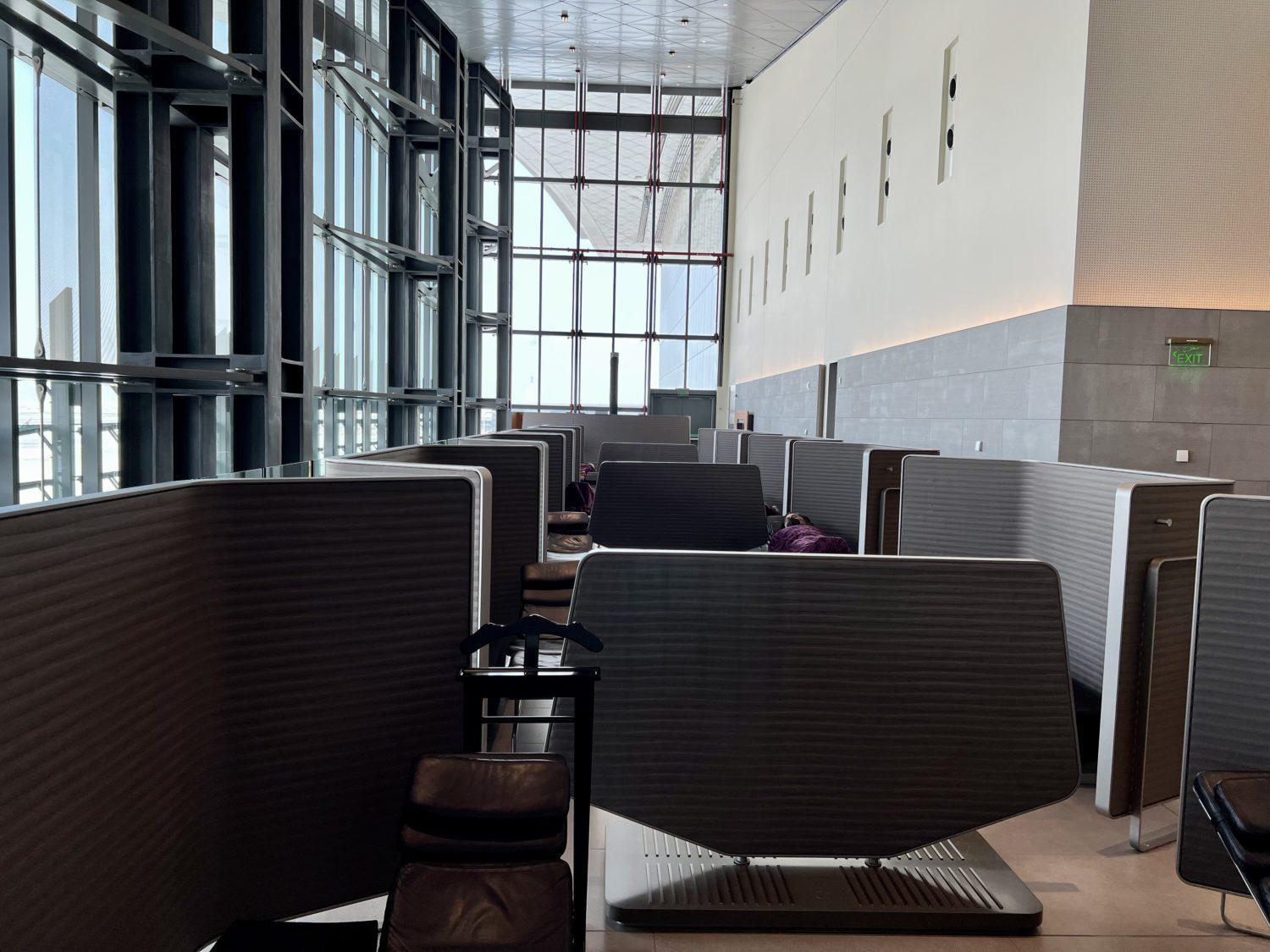 Finally, in the back corner of this space you'll find prayer rooms – with separate rooms for men and women.

Looking for a restroom? There are several scattered throughout the lounge – it's massive, after all. But the main bank of bathrooms is located in the near the center of the main hall, straight back after entering the lounge. As you might expect, they're huge – yet equipped with private stalls, which is quite nice. There's also a long wall of urinals in the men's room.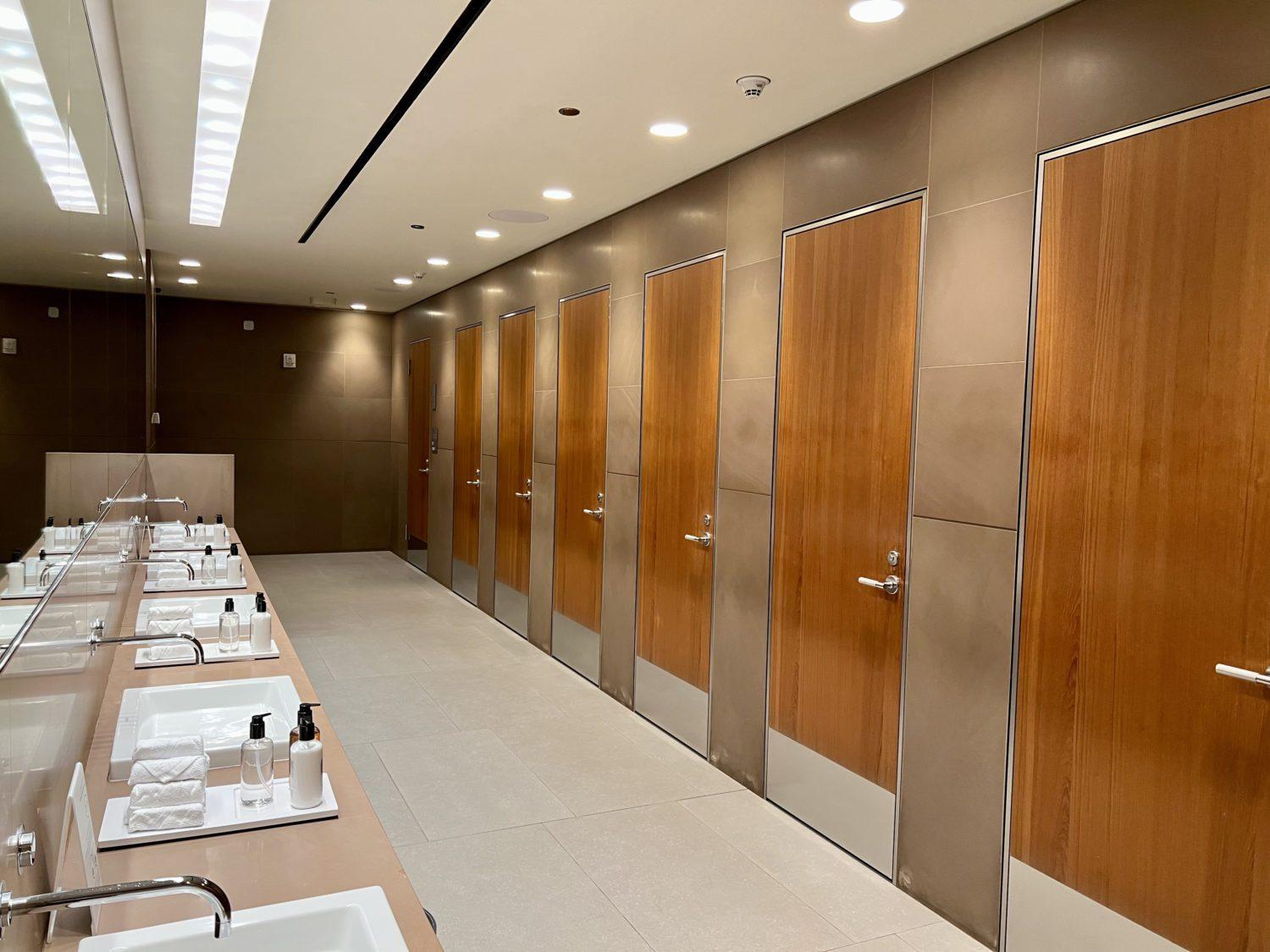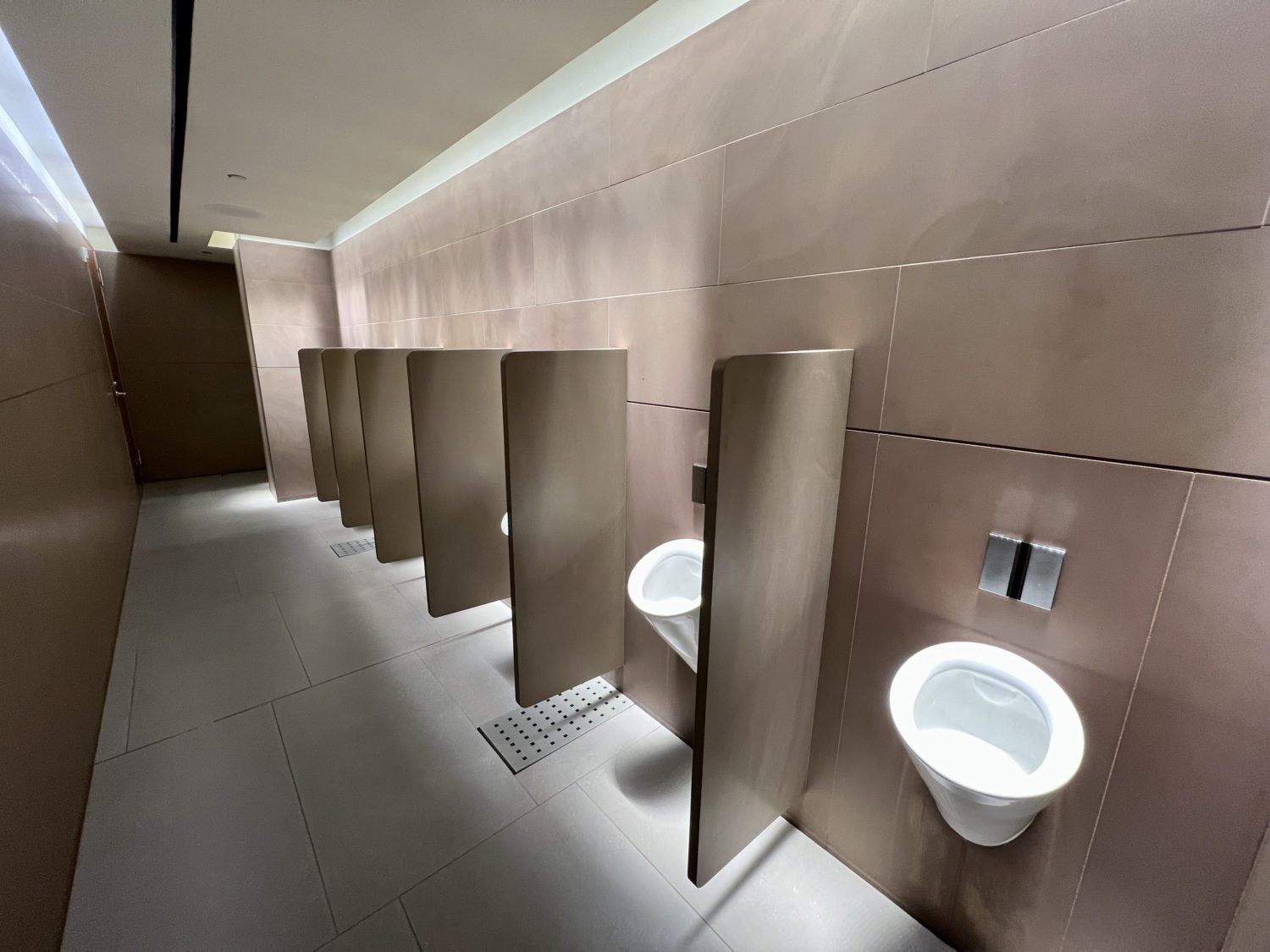 For a lounge this large, you couldn't blame Qatar Airways for scrimping on some of the little things. But they stock the restrooms with nice Diptyque amenities as well as cloth hand towels.

Back behind the lounge entrance, there's another seating area with plenty of armchairs as well as more lounge chairs to catch a nap.

Somehow we haven't gotten to one of the focal points of the lounge yet: A large reflection pool just past the entryway. It's a real design statement: A tranquil pool, shooting small drops of water up into the air and back down every few seconds. It's truly beautiful, and yet another reminder of how Qatar has blended style and substance throughout the Al Mourjan lounge.

Here's a look across the pool for a view of the entire lounge. Gorgeous.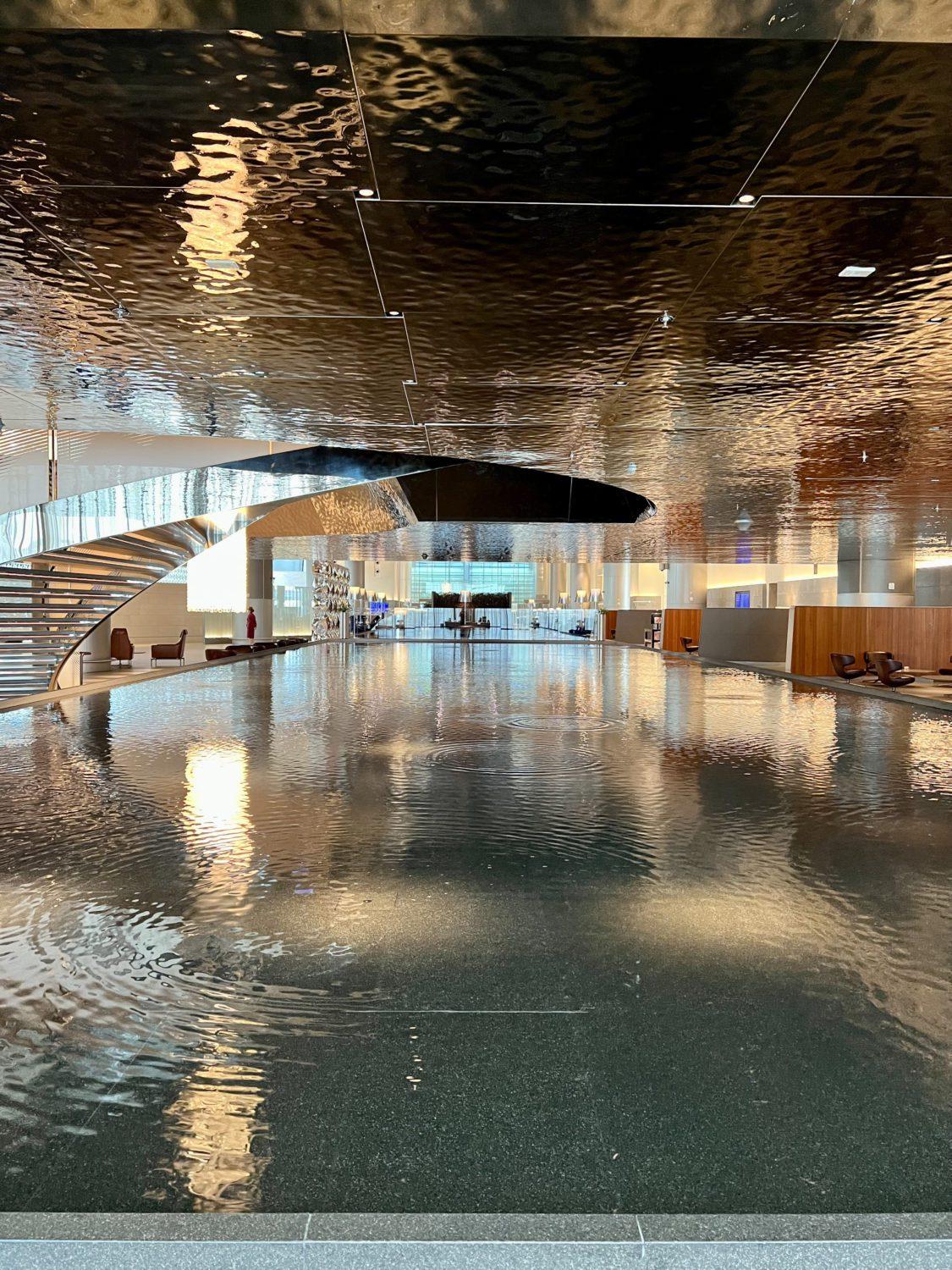 There's yet more seating straddled around this beautiful water feature, along with a dedicated smoking room behind glass doors.

There are also plenty more chairs back here – surprise, right? But with a beverage station nearby and the pool splashing in the background, this might be my go-to spot to relax for an hour or so before a flight. While Qatar has the curtains drawn, it's also one of just a few places throughout the lounge where you can catch some natural light.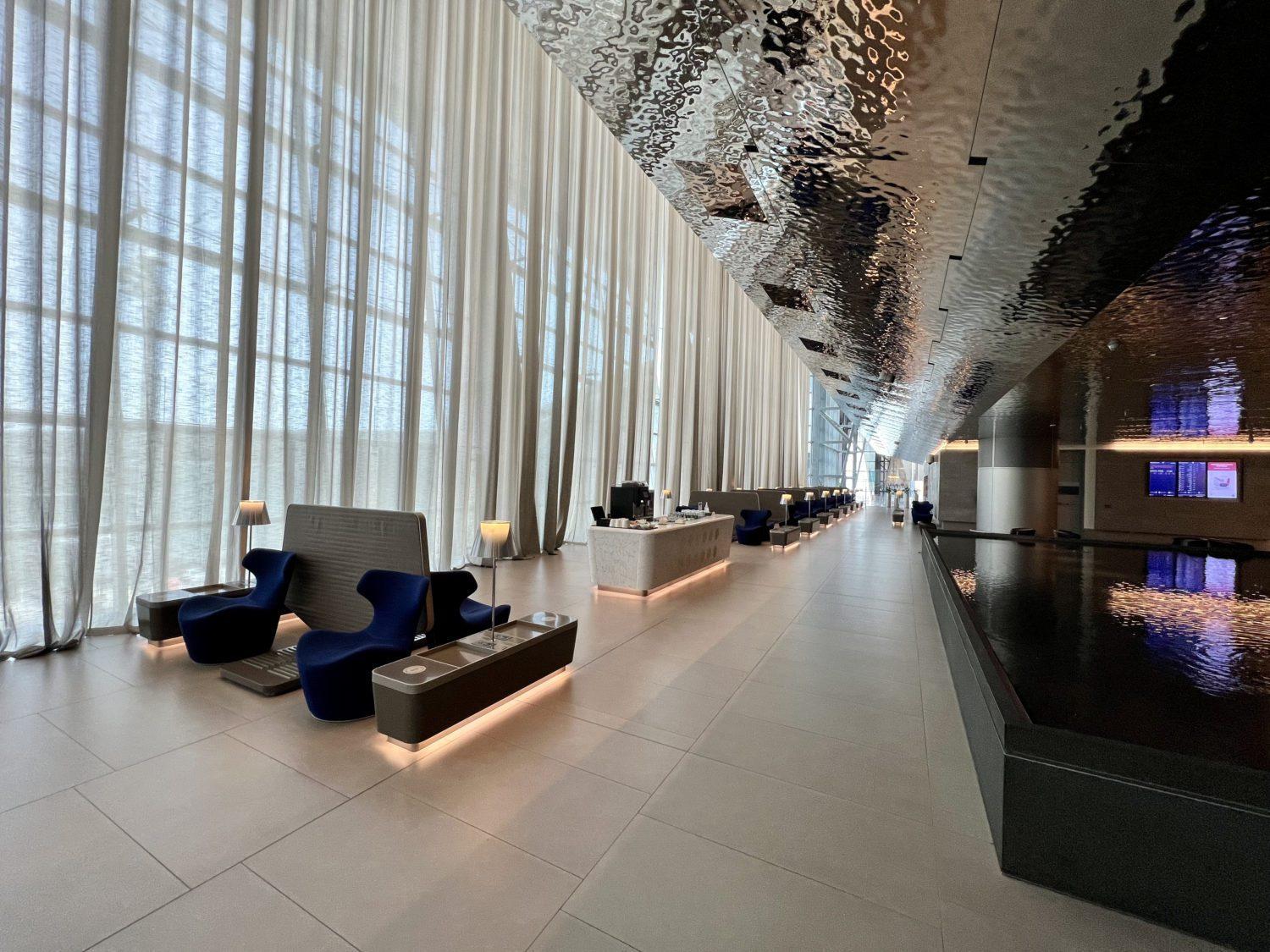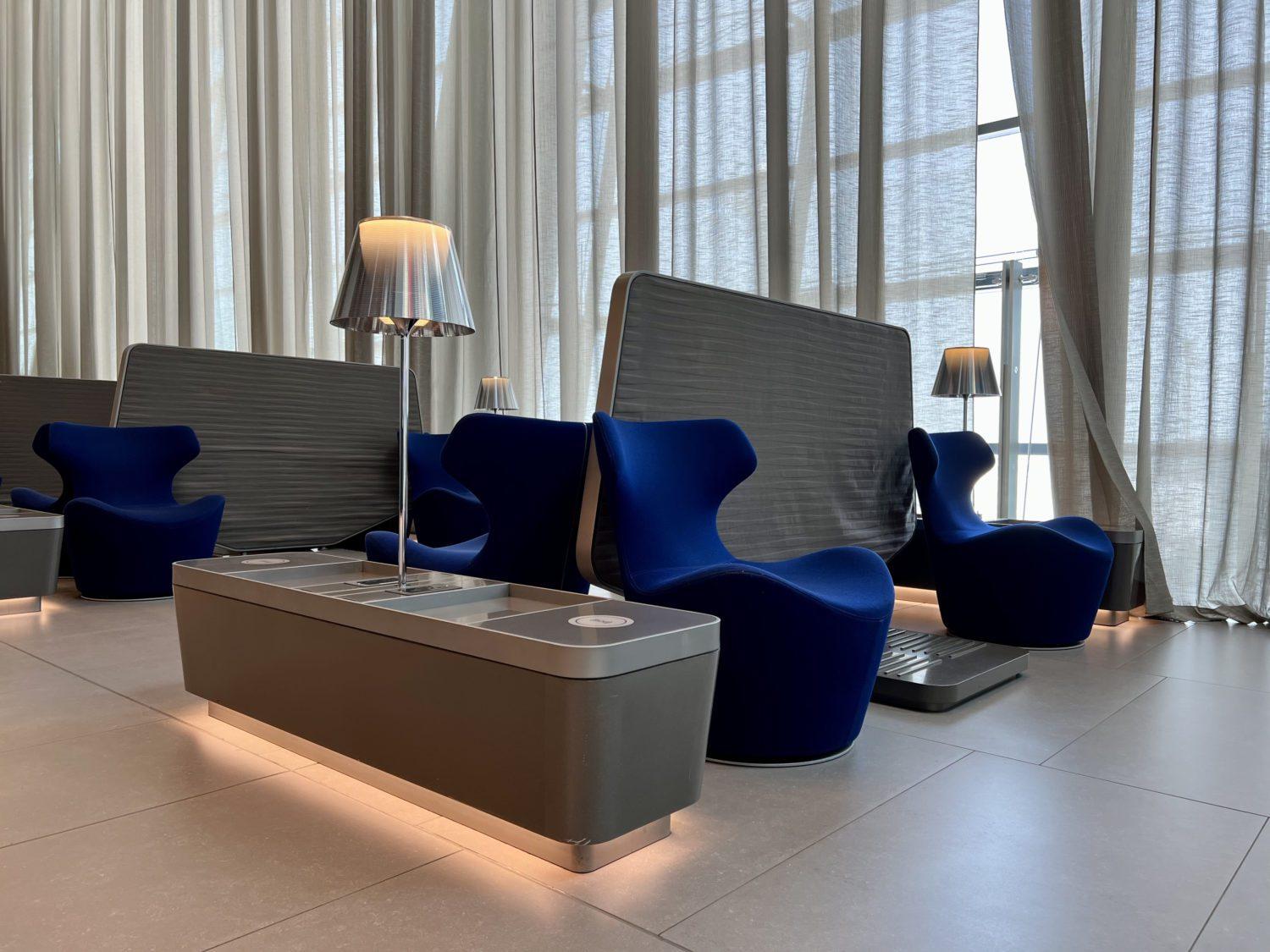 At the corner of the pool, there's a beautiful spiral staircase that wraps around a suspended chandelier.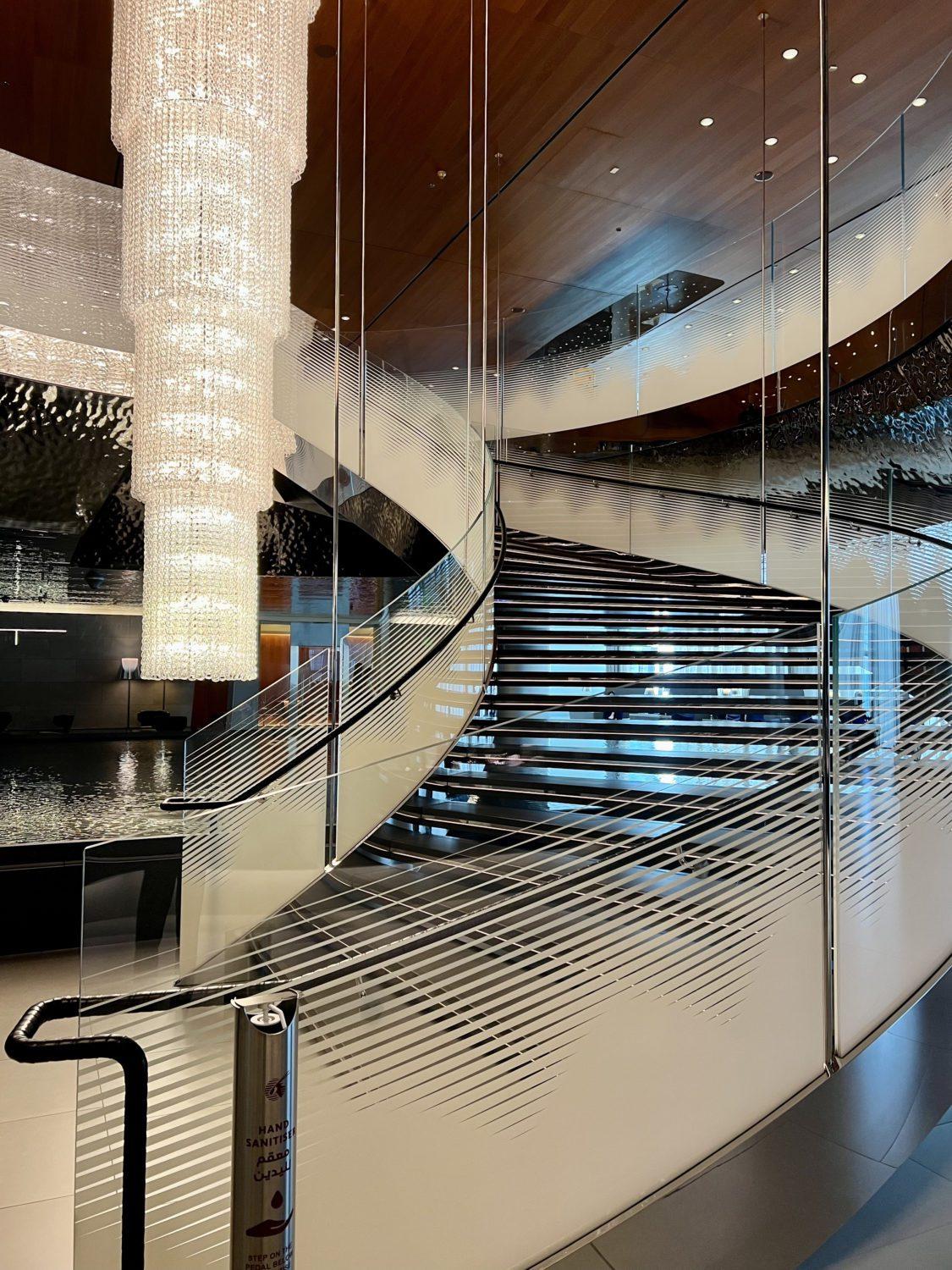 When you're ready to eat, just head up stairs (or take the nearby elevator).

Dining at the Al Mourjan Business Lounge
Go figure for a lounge this big – handling this many travelers – that there are two dedicated restaurants available. But the main show is up the stairwell on the second level.
Here you'll find a full-service a la carte restaurant, with some tasty made-to-order meals as well as some snacks and buffet options you can quickly grab on your own – including an incredibly well-stocked dessert case.
There are plenty of tables inside this dining room, but I could see how it would easily fill up during busy times. A friendly host at the top of the stairwell greeted me and brought me to a table at the back of the dining room.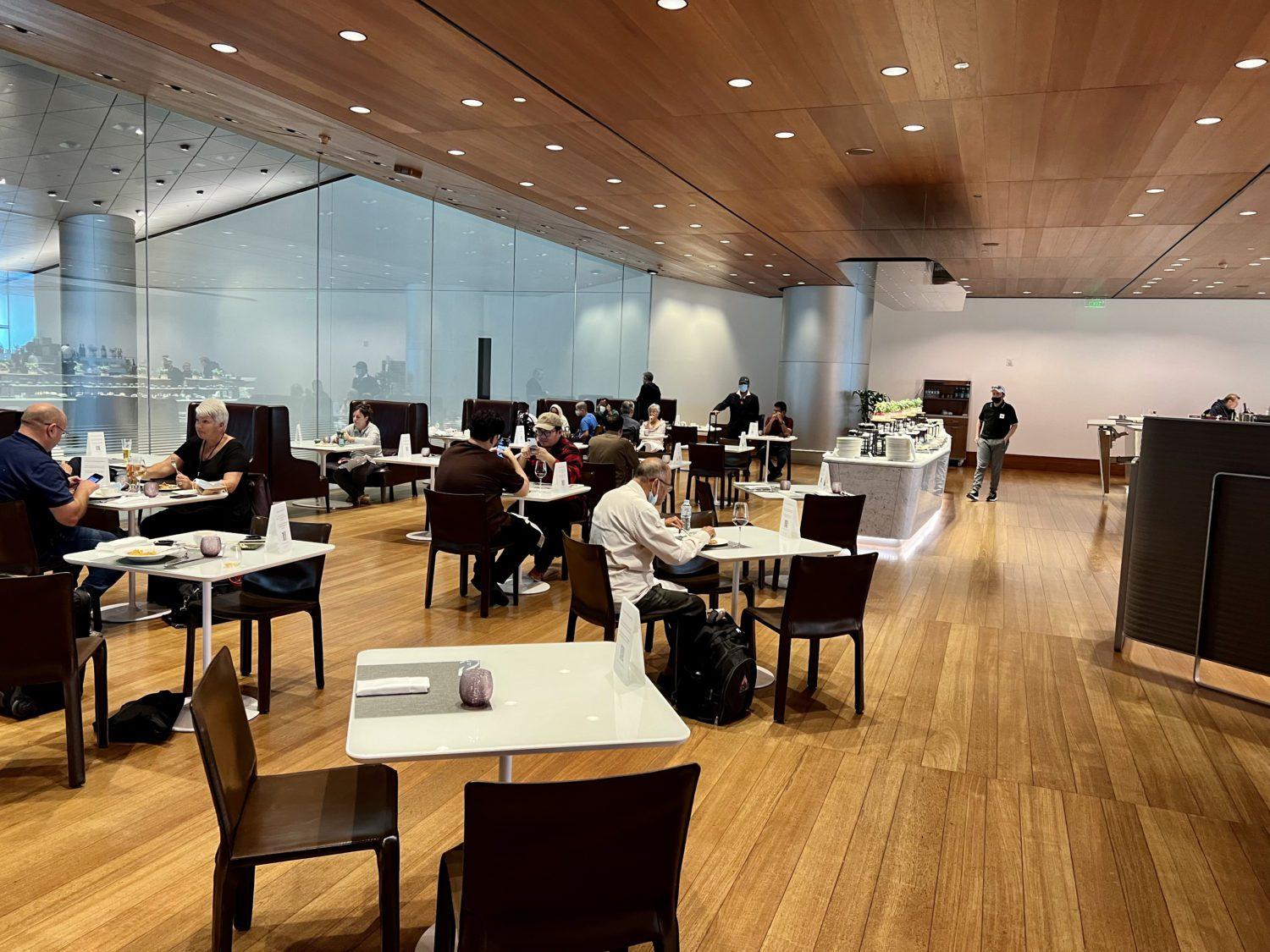 These tables with high-backed chairs overlooking the rest of the lounge below are the place to be.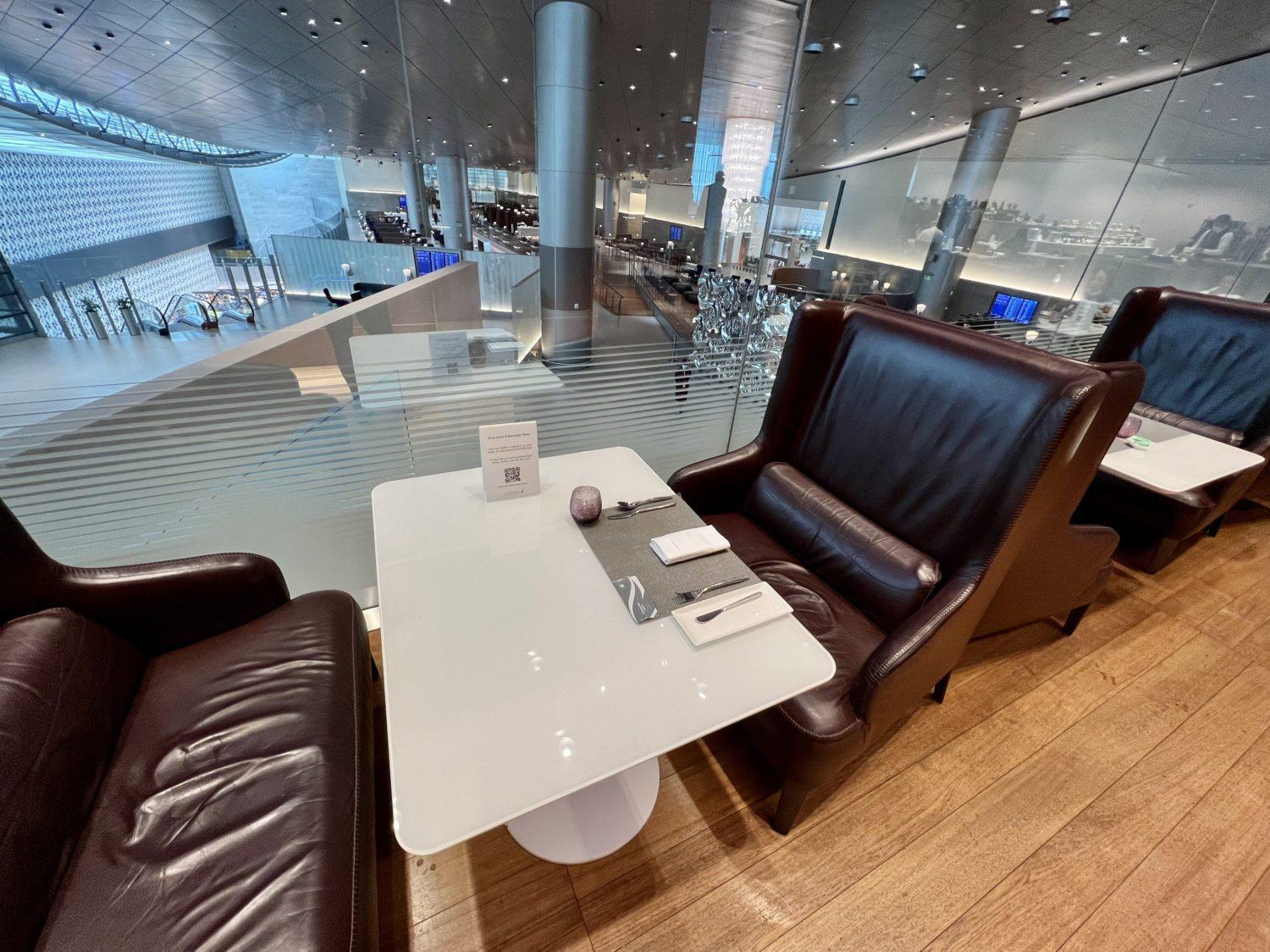 Qatar had QR codes at each table to pull up the menu on your phone, which you can download here to scope out – Qatar keeps this updated, so what you see should be what's available today. It's an excellent selection of a la carte meals for a business class lounge, and on par with what's offered over in the Al Safwa First Class Lounge, I'd say.
The lounge serves breakfast from 5 a.m. until 10:30 a.m., then switches over to dinner plates for the rest of the day from 11 a.m. all the way until 4 a.m. An incredibly friendly waiter came by within minutes to take a drink order as well as any food orders I'd like to put in.
Qatar pours some great champagne even in its business class lounge, so I ordered a glass. And after spotting the sushi bar on my walk in, I asked for a small platter.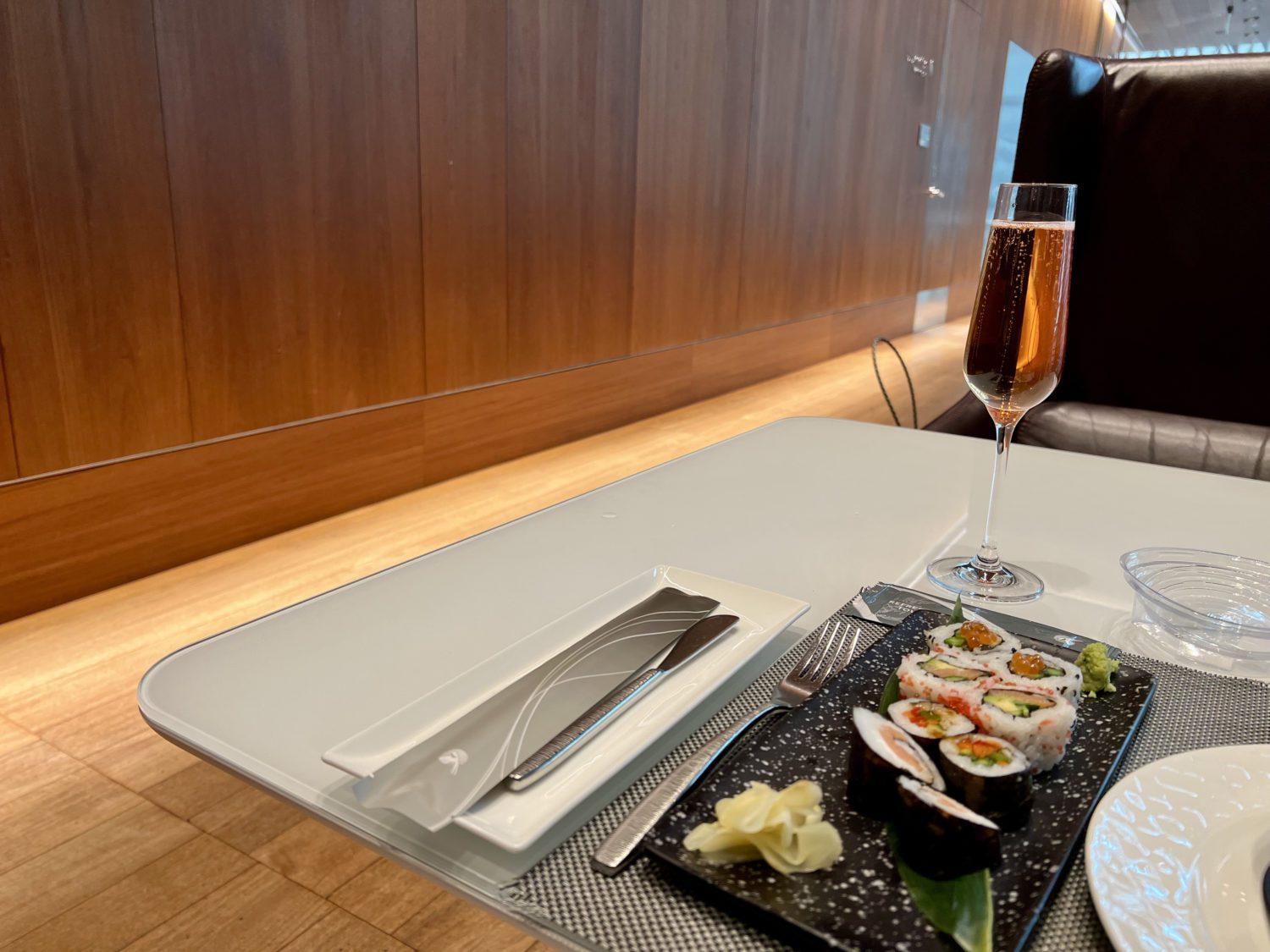 Both were excellent. I wasn't hungry enough for a full meal, but I also took a spin around the dining room to scope out the cold snacks available to grab.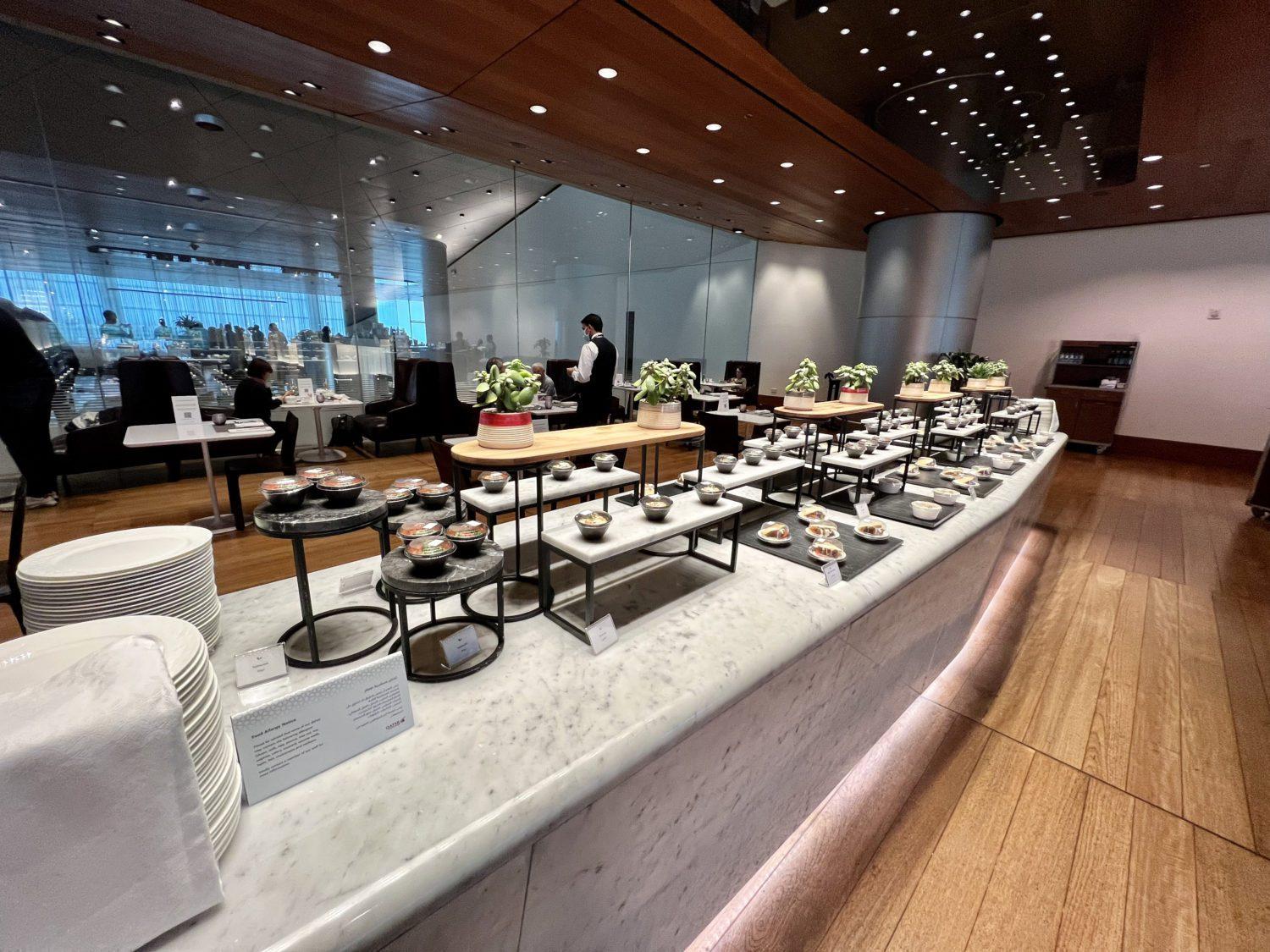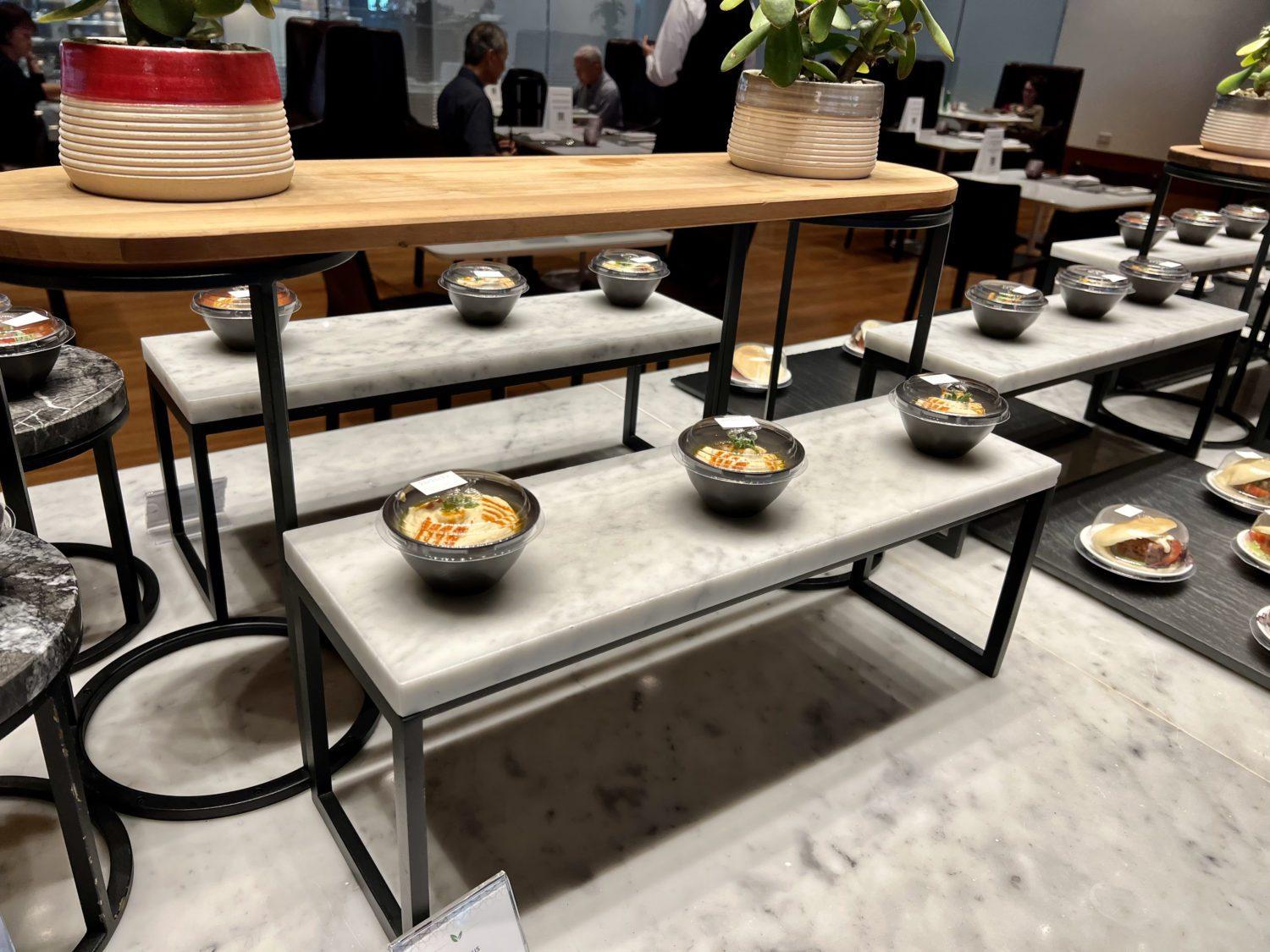 I wound up grabbing a dish of hummus as well as a small falafel wrap. Go figure they were both great – Qatar routinely knocks it out of the park with dishes like these.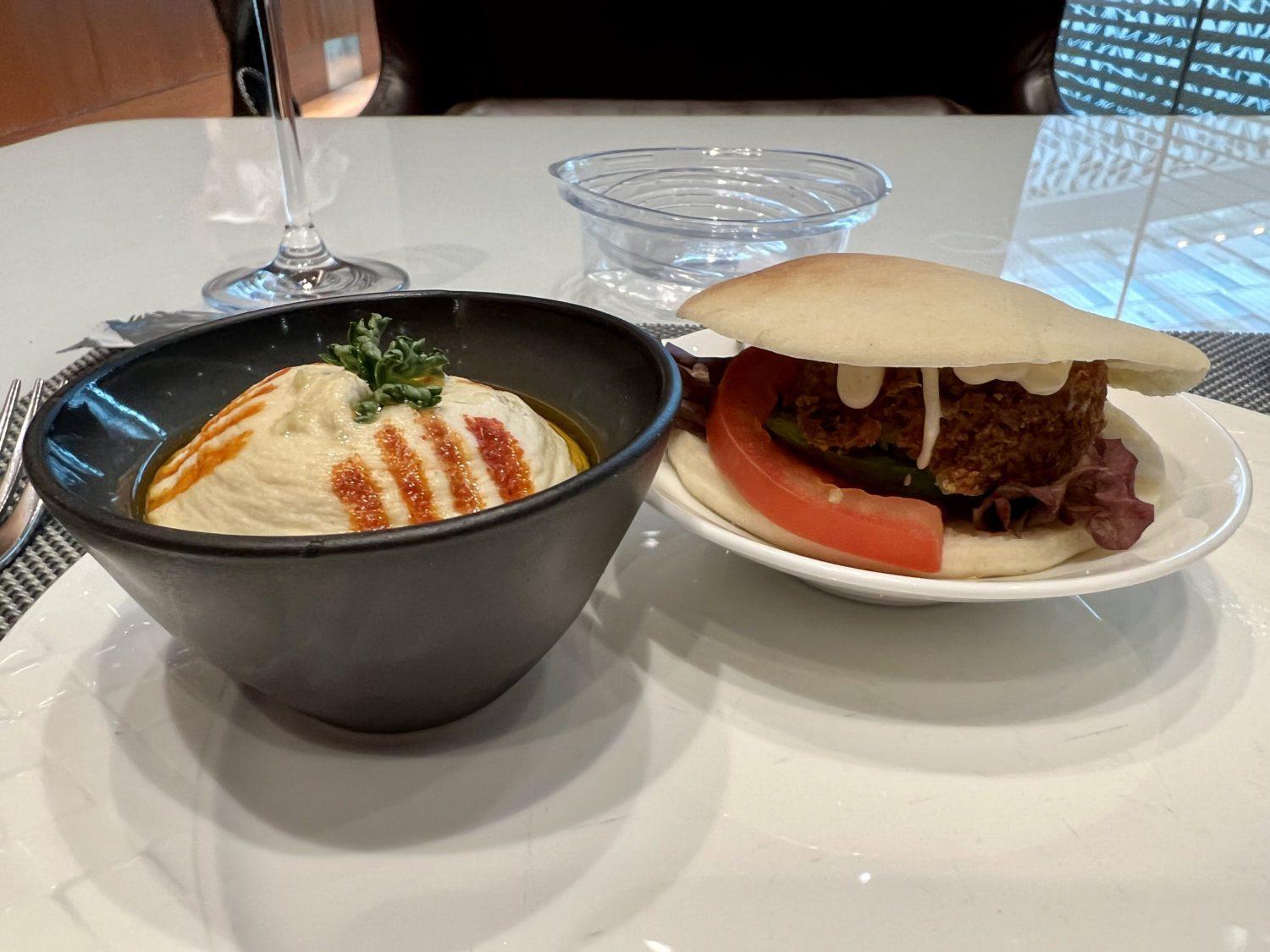 Perhaps the most impressive aspect of the restaurant was a dessert case, full of tasty treats like cakes, tarts, tiramisu, and more.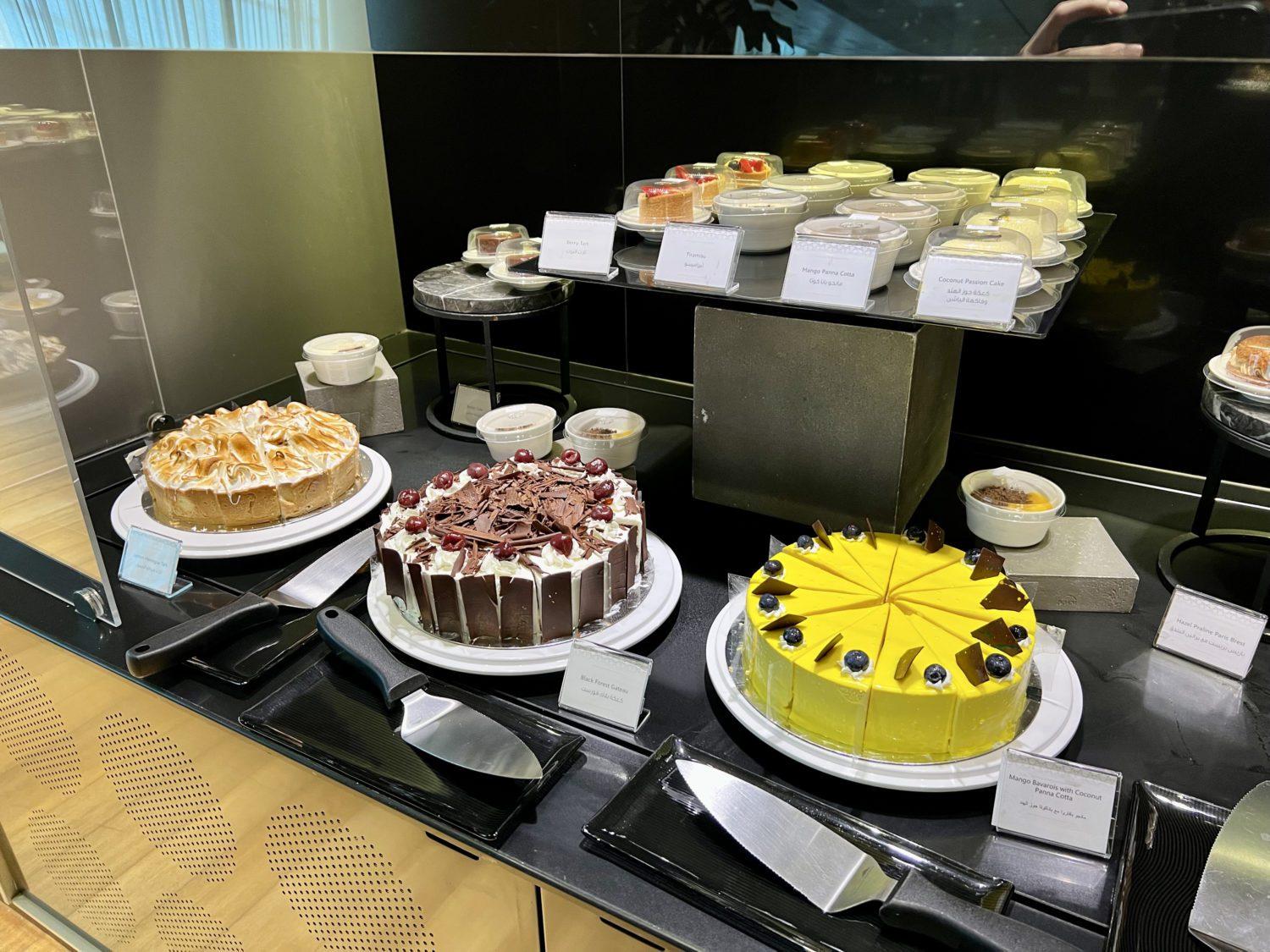 I snagged a small dish of mango panna cotta, which was light and tasty with some cookie crumble on the side.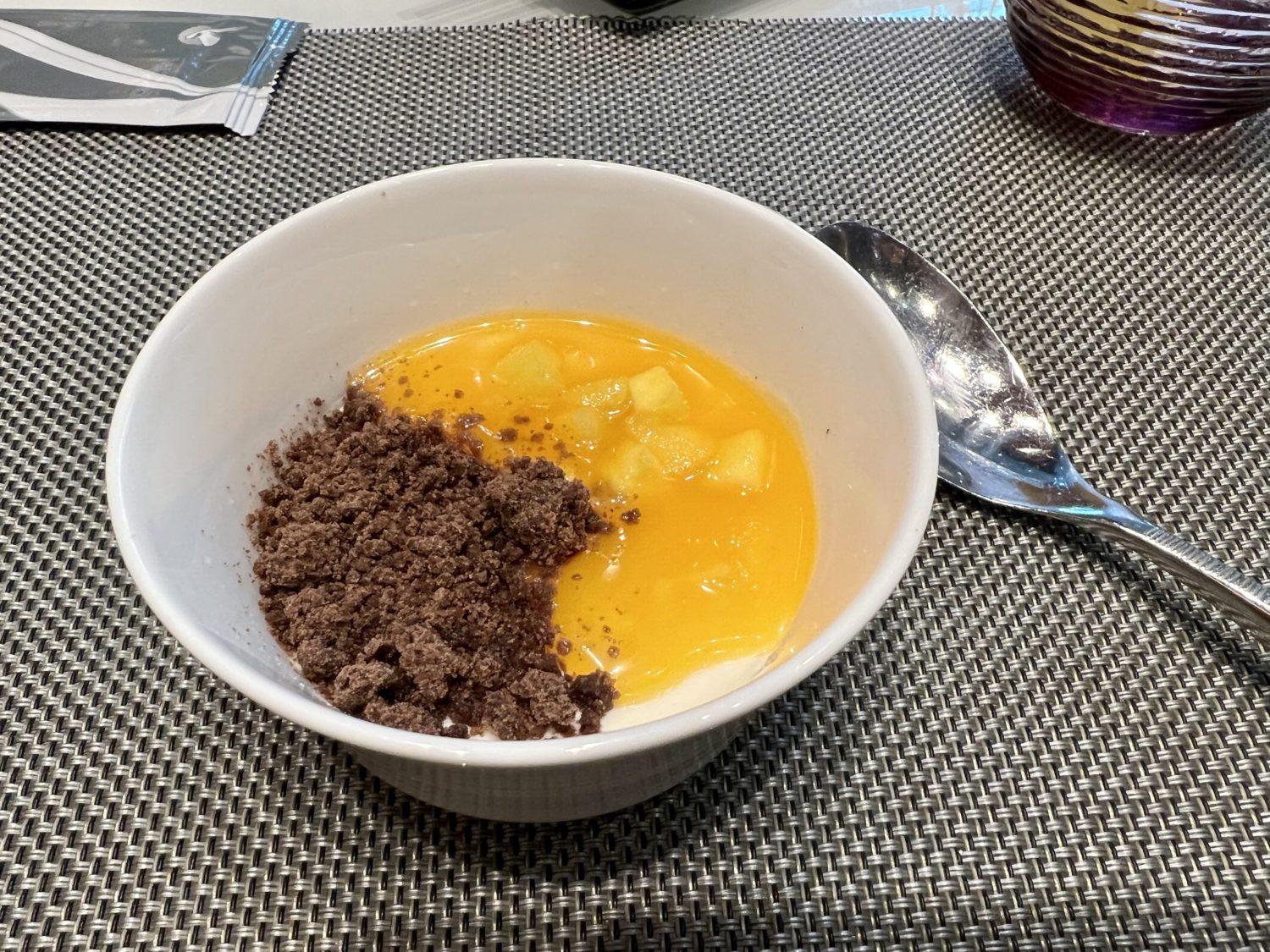 After wrapping up dessert, I walked all the way to the other side of the Al Mourjan business lounge … to the other restaurant. Informally called the deli or the "sandwich restaurant," this spot typically serves just sandwiches and salads. I didn't have the time (or appetite) to try anything out, but it's a beautiful space.

Excellent Amenities
Want a shower or a nap during busy periods?
You may want to hang a left after entering and beeline straight for the back of the lounge. Head through the deli and take a right, as that's where you'll find most of these lounges prized amenities – and they could be hard to come by if it's busy.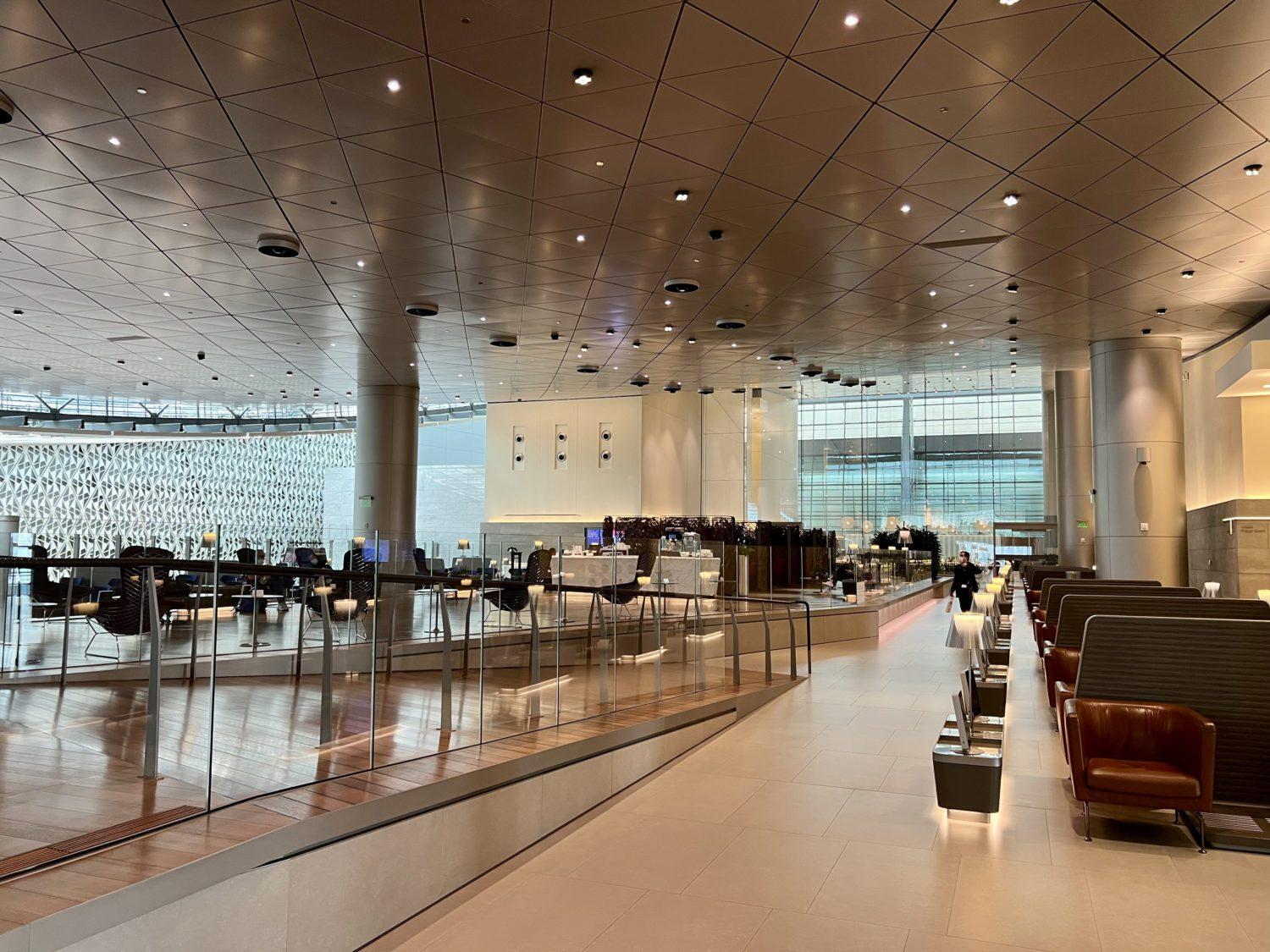 Once you make it back to the amenity wing, there's a desk where you can ask to book a shower suite or a nap pod. Booking a shower was easy enough: An agent quickly scanned my boarding pass and brought me through the door to a corridor with plenty of . Just keep in mind that during busier times, these are in high-demand so there could be a wait.
The shower suite was great. They're spacious, with plenty of room to hang up clothes and change. Plus, there's even a toilet inside each suite – something you won't find in every lounge with showers available.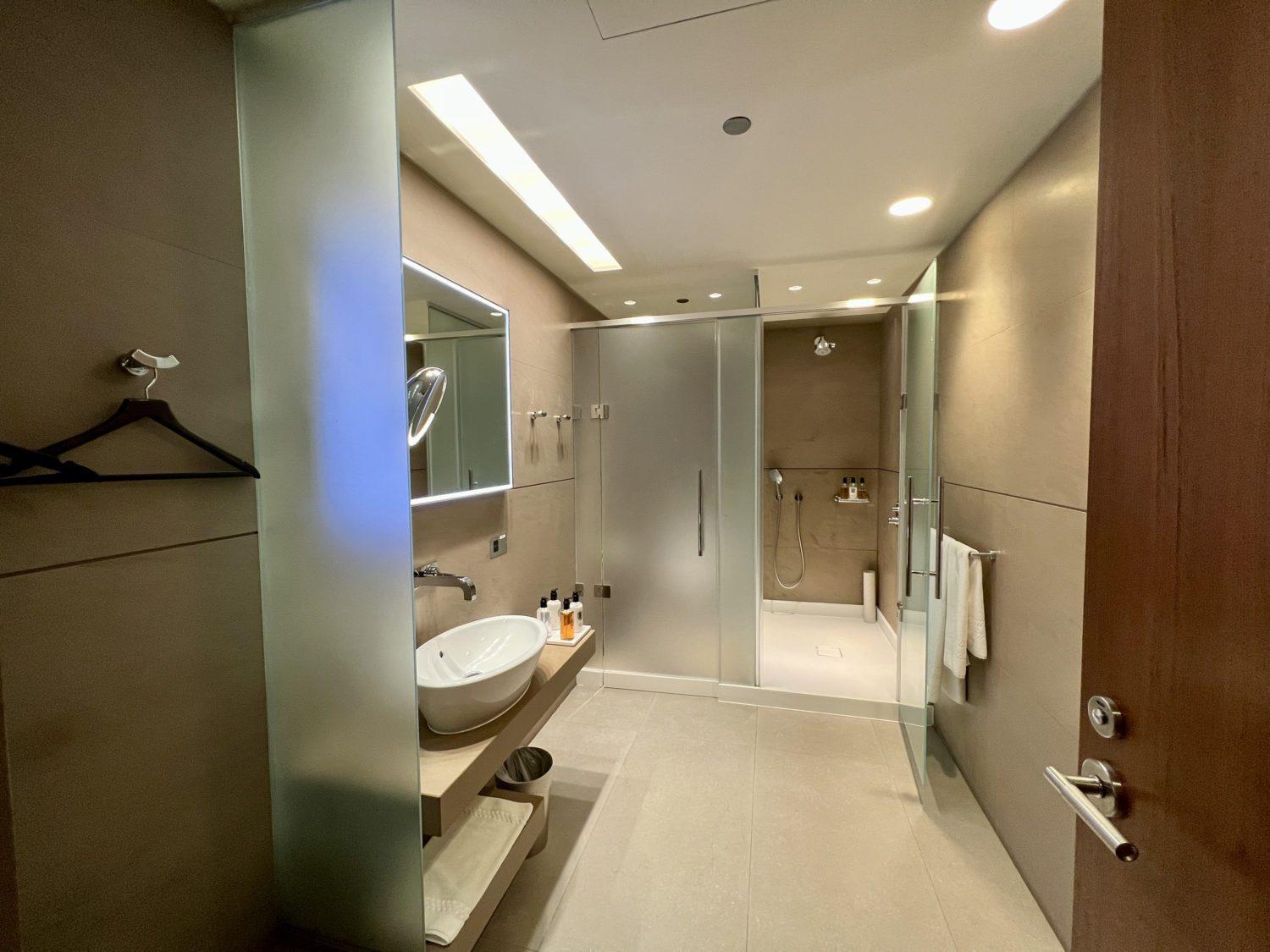 The shower itself was also nice, with strong water pressure and excellent Diptyque amenities available.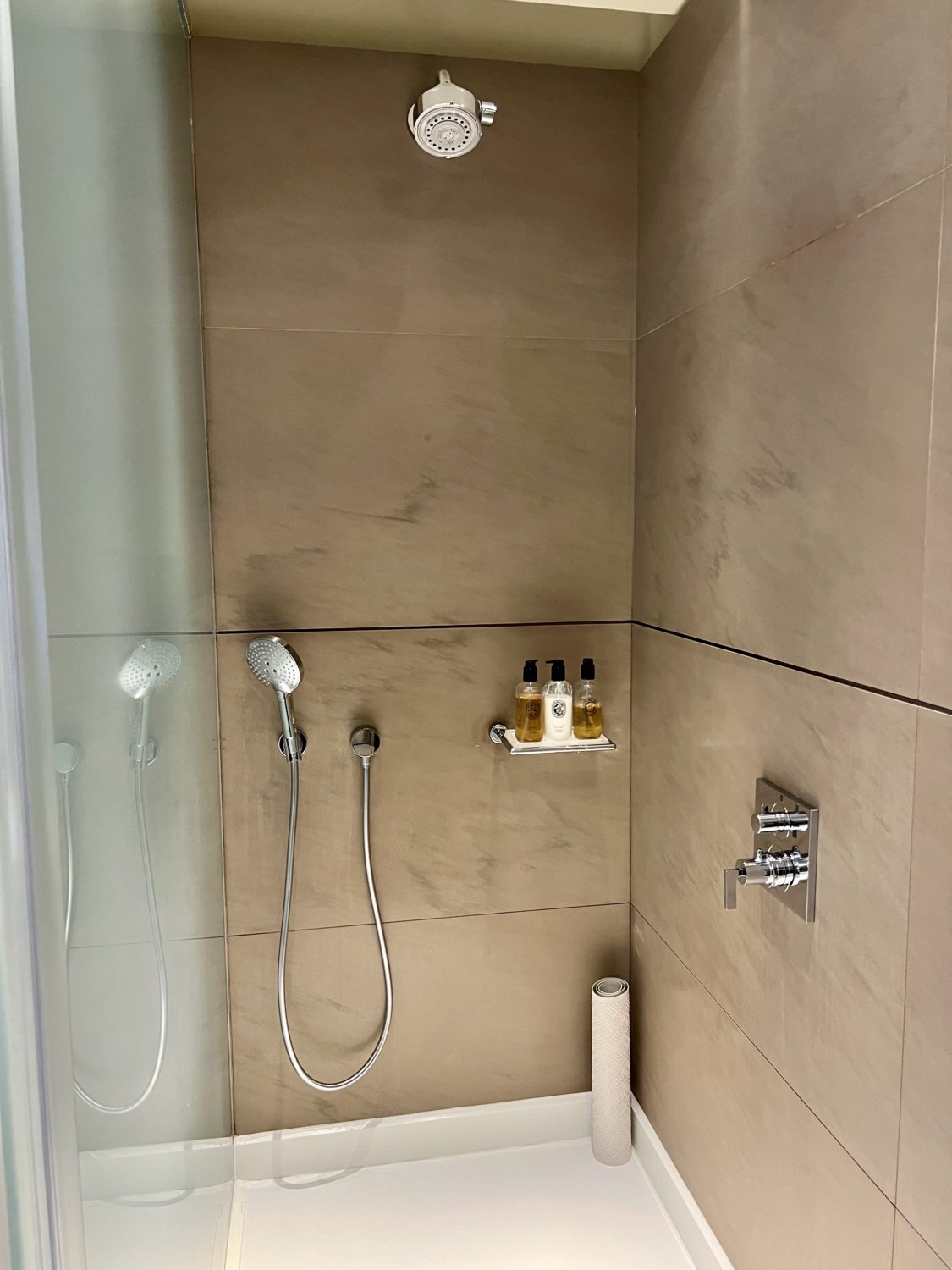 There are also a dozen or so nap suites available in this area – but only if you've got a longer layover. You can reserve one for up to six hours, but be warned: These are a hot commodity. If you're visiting during the peak overnight period, you might be waiting a long time to snag one of these spaces. There's no way to reserve them in advance.
I didn't have time to check one out during my visit, but every suite has high walls for plenty of privacy, with a cozy couch, armchair, and a departure board so you can monitor your upcoming flight.
This wing of the lounge is truly massive – bigger than most airport lounges, in fact. On the other side of the deli restaurant, you'll find a family area with distinct seating areas to hang out. It's another nice spot if you want to relax. There are also more game rooms and kid rooms in this area.

Bottom Line
Maybe it shouldn't be a surprise that the airline with the world's best business class seats also has one of the world's best business class lounges. But the Al Mourjan business lounge still needs to be seen to be believed.
The scale of this place is incomparable – it's almost funny how huge this is. But it's also a stylish lounge, with plenty of good amenities and solid food and drink to keep you busy during your stay.
Just keep in mind that depending on when you visit, you may not be alone … far from it.