Spirit Airlines might be best known for its knee-crushing legroom, but it doesn't have to be that way. That's where Spirit's Big Front Seat shines.
Spirit sells big seats at the front of the plane that are aptly named – you guessed it – "Big Front Seats." While nowhere near the full "first class" experience you'll get flying up front on many other airlines, it can be worth it for those travelers who can stand the thought of cramming into 28 inches of seat pitch.
It's unlike anything you'll find on almost any other ultra-low-cost carrier. And it could be one of the best deals in domestic flying if you're looking to fly in a first class seat on a budget.
Read on for our review of the Spirit Big Front Seat.
Curious about what it's like in the normal seats? Read our review of flying Spirit Airlines!
How to Book the Big Front Seat
Upgrading to the Big Front Seat is simple. You just have to pay for it.
When booking a Spirit flight online, you'll get to the landing page where you can pay to select a seat. Selecting an economy seat will typically cost you anywhere from a few dollars to $50, depending on the flight. Exit rows are generally a tad more.
But on most of its flights, Spirit offers this third option: The Big Front Seat. And there's no need to worry about upgrades or elite status to sit there. Buy it and its yours.
What you'll pay for a Spirit Big Front Seat can vary wildly based on what route you're flying, how close you are to departure, how many Big Front Seats are still available, and more. Generally, the rates to pick a Big Front Seat seem to range from as low as $25 to as much as $150 each way.
You can select a Big Front Seat right off the bat during the checkout process for your flight or manage your flight later on to move up front. We even received emails offering a chance to "bid" for one of these seats ahead of the flight.
For my flight from Minneapolis-St. Paul (MSP) to Phoenix (PHX) earlier this month, I paid an extra $81 to snag a Spirit Big Front Seat. That brought the total cost of my one-way flight to Phoenix to $142.97.

Rates were similar for the return flight, which would have brought the cost for a roundtrip flight to Phoenix in the Big Front Seat to about $286. That's significantly less than you'd pay for a roundtrip first class fare on any other airline.
But as the flight drew closer, I noticed something: The price to pick a Big Front Seat had dropped. I checked again just a few days before departure and saw a few remaining seats available for just $39 apiece. Like any airline, Spirit wants their planes to go out as full as possible. And it worked: Every Big Front Seat was taken for the flight.
Thrifty Tip: Got the Platinum Card® from American Express? Moving up to a Big Front Seat is a great way to use the annual Amex airline fee credits! Just make sure you select Spirit as your designated airline first.
Basics of the Big Front Seat
No matter what Spirit flight you're taking, the Big Front Seats are … well, big. Much, much bigger than what you'll find at the back of the plane – and if you ask me, bigger than most of the domestic first class seats you'll find flying the likes of Delta, United, or American.
Spirit puts just two seats across in each row of the Big Front Seat section, which makes them much wider than your standard economy seat. And unlike the notoriously slim and hard seats in economy, these are very well padded seats.
Exactly how many Big Front Seats you'll find (and what they look like) depends on which kind of Spirit plane you're flying. Some Spirit planes don't have Big Front Seats at all – just 174 plain economy seats.
All of Spirit's Airbus A320s and Airbus A321s have eight Big Front Seats spread across two rows. Most of the seats look something like this, a fairly modern looking seat.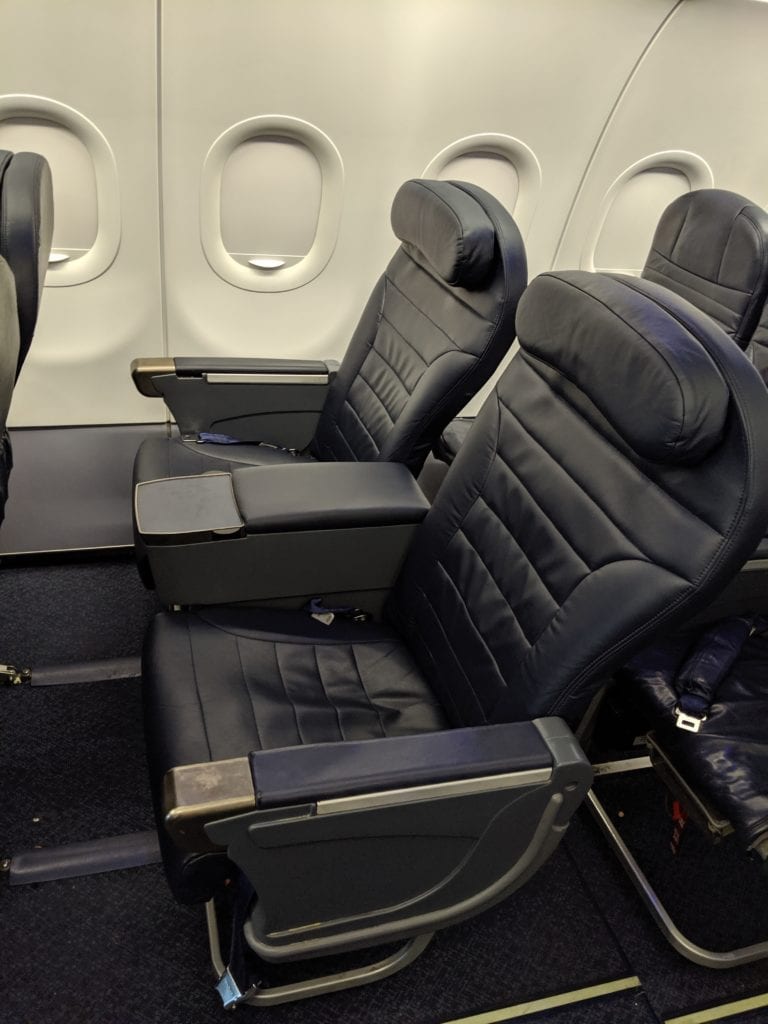 On their newest Airbus A320neos, the seats have an even fresher look, complete with memory foam padding and headrest as well as the signature black-and-yellow branding.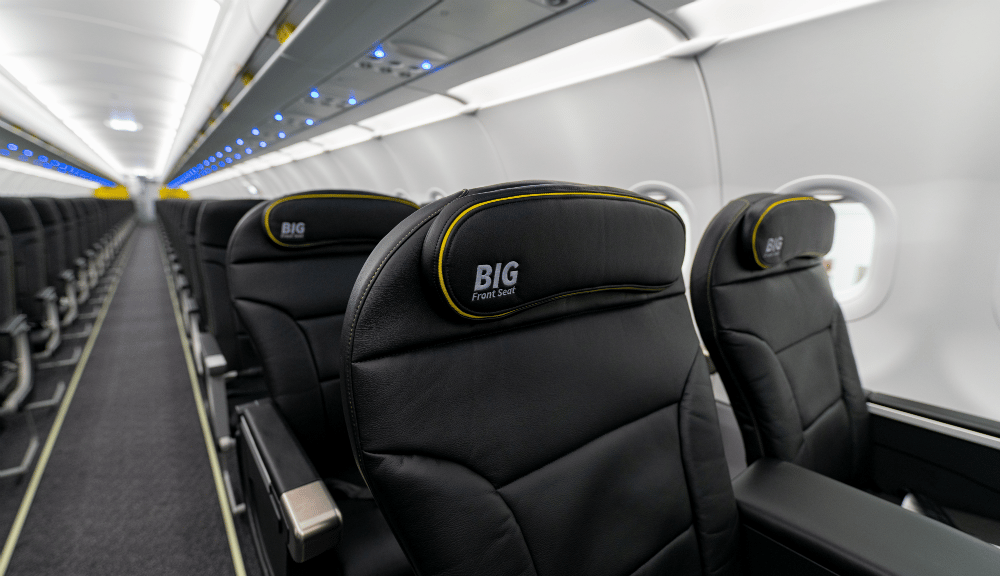 And then there's Spirits oldest Airbus A319 jets, with a different look. Plus, these planes have two extra Big Front Seats for a total of 10, thanks to one more two-seat section in the third row. That's what we flew down to Phoenix.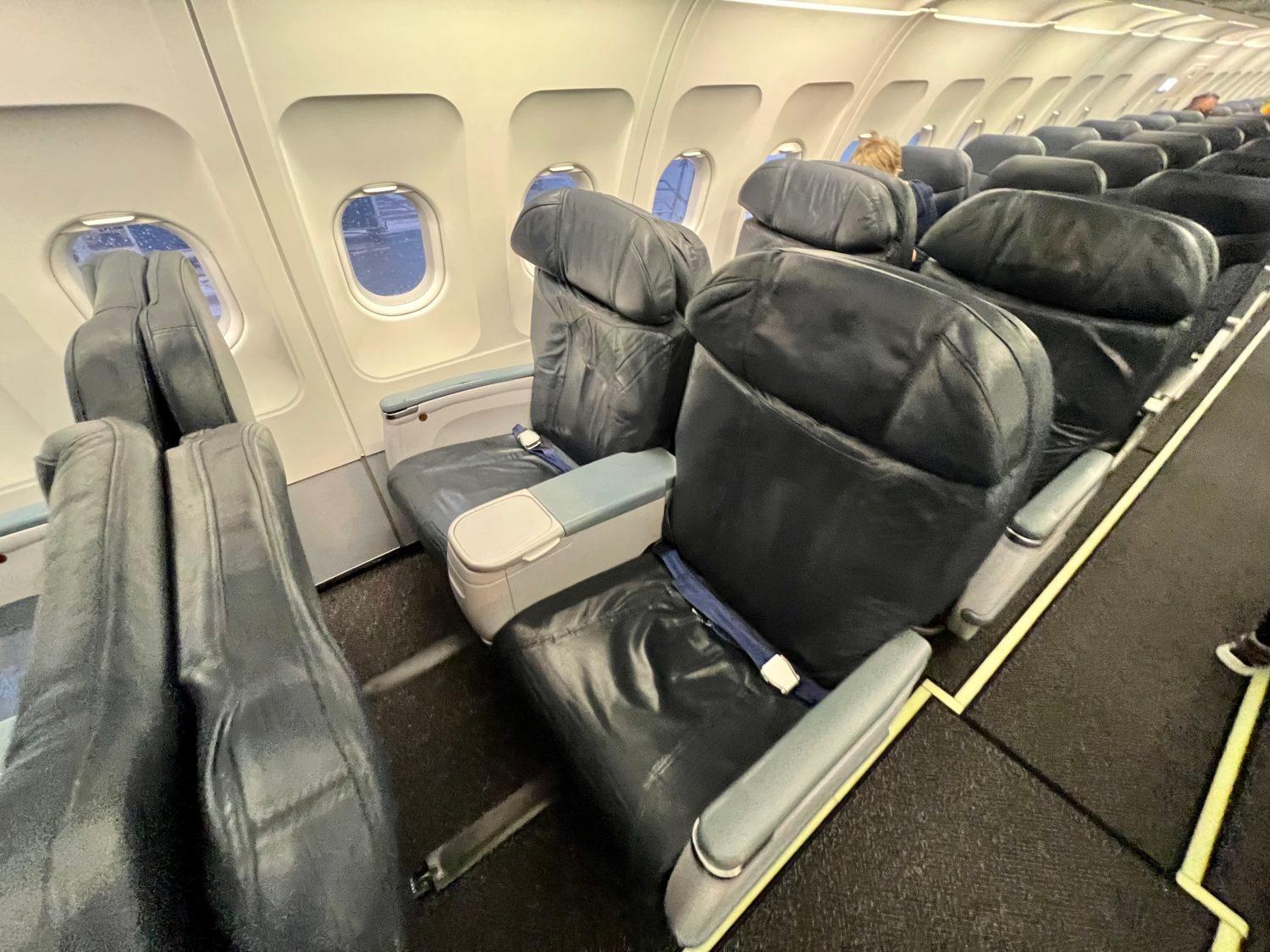 No matter which version you're flying, these seats officially measure in at 20 inches wide, with 36 inches of legroom – a whopping eight additional inches compared to what you get in Spirit economy. That's substantial.
But I have to say: These seats felt even bigger. The first thing that stood out to me was just how wide the Big Front Seat felt. I've felt far more constrained flying first class on legacy U.S. carriers like American or Delta.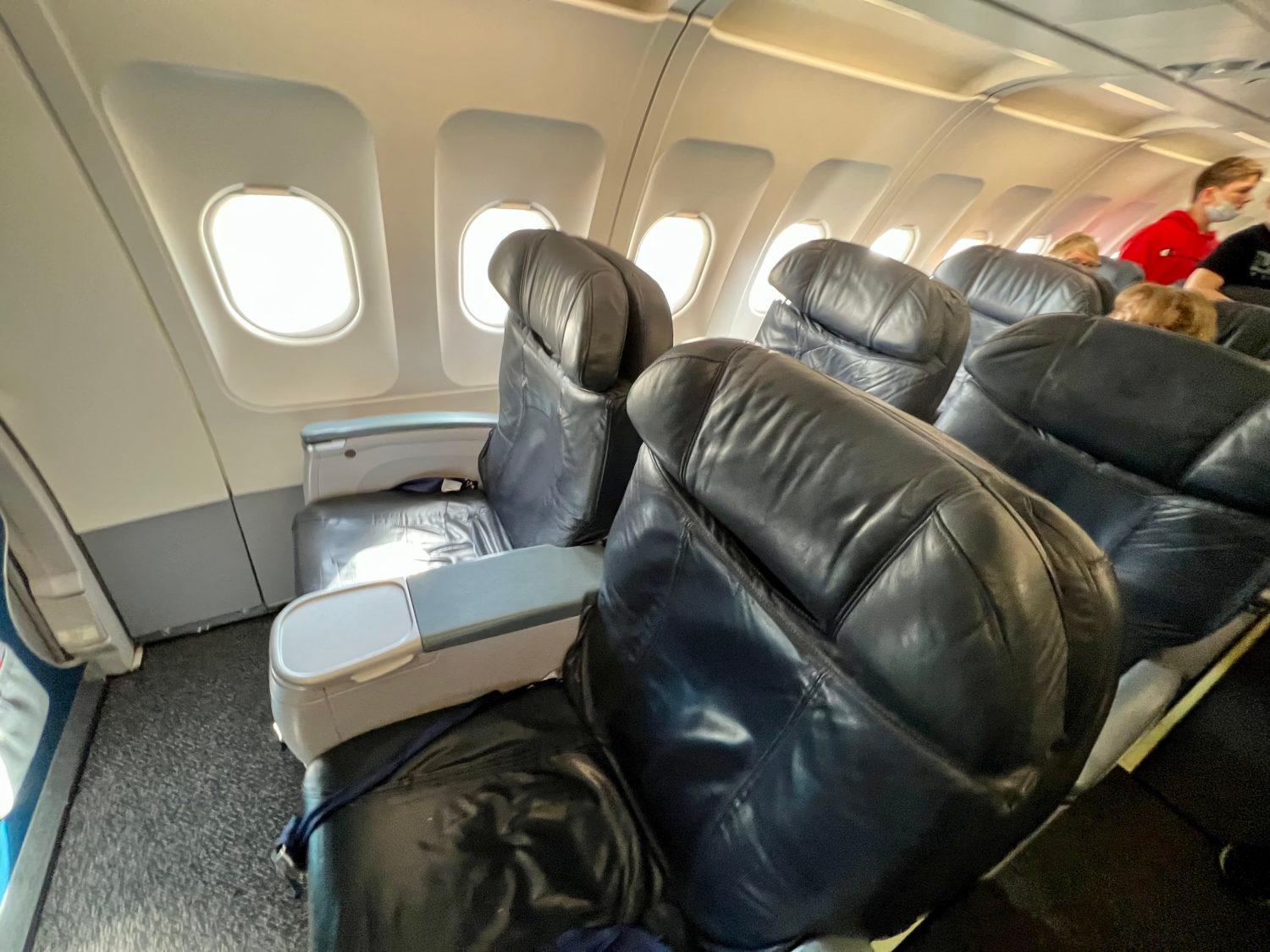 The legroom was also pretty impressive. It's not the most legroom I've ever seen up in first class … but you can't complain when you've got eight more inches of room to spread your legs than flyers behind you.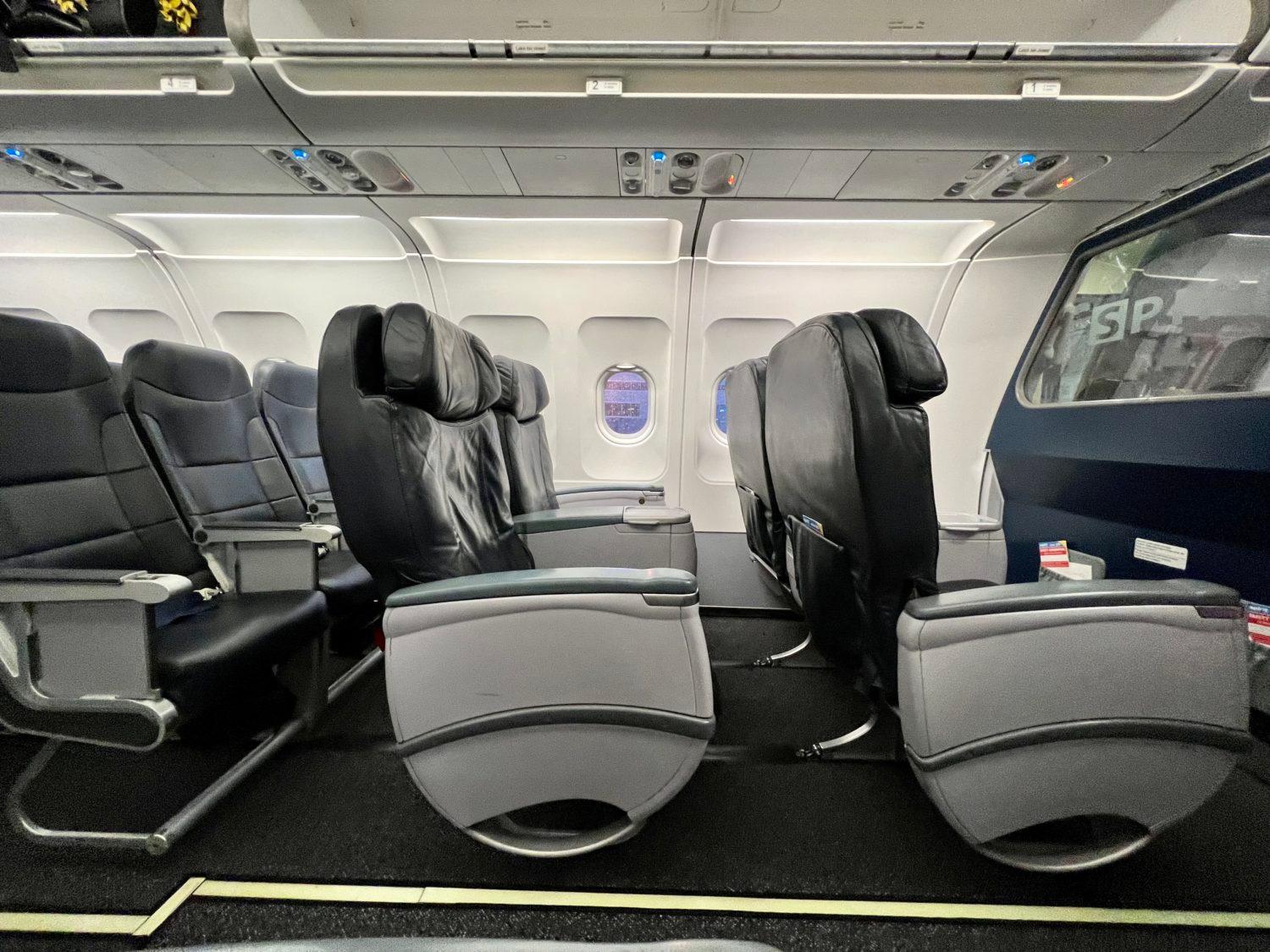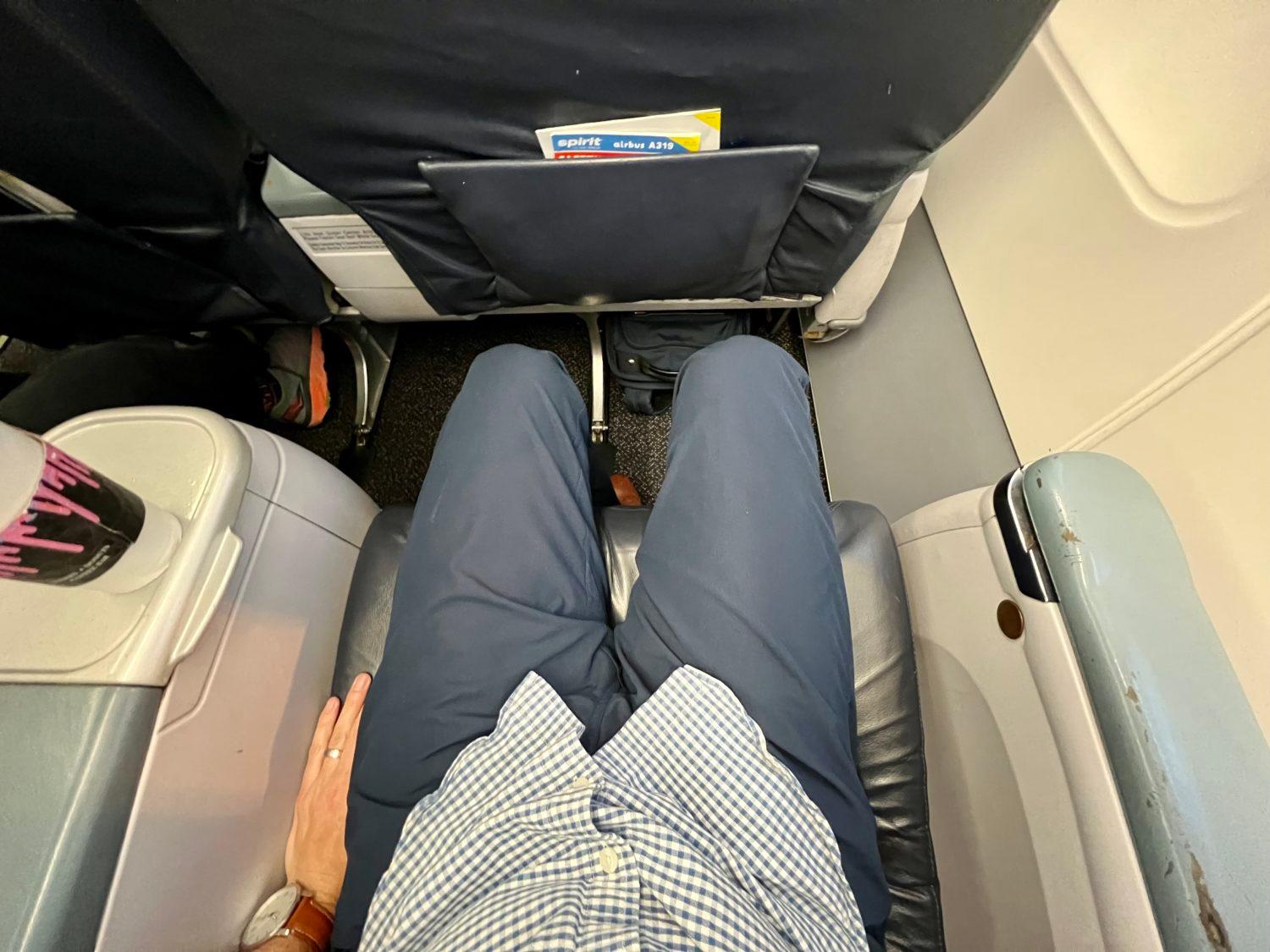 The seats themselves were covered in soft leather and fairly well padded. That included an adjustable headrest – something else you won't find back in Spirit economy. That said, I wish these headrests protruded a bit more as is the case Spirit's newer Big Front Seats.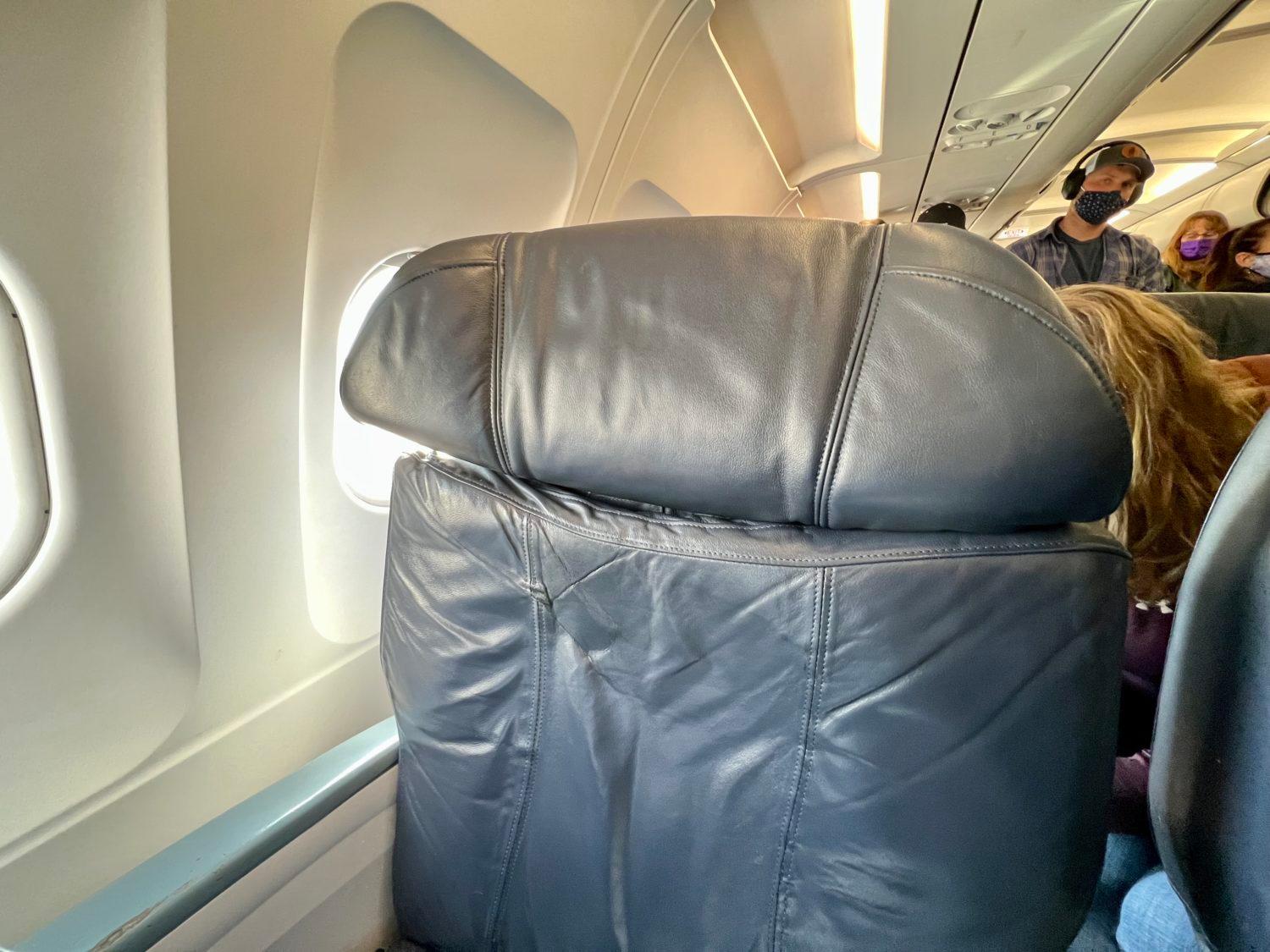 The Big Front Seats on these older A319s are definitely showing their age. The leather has seen better days and some parts of the seats are more than a bit beat up. Still, it was plenty comfortable.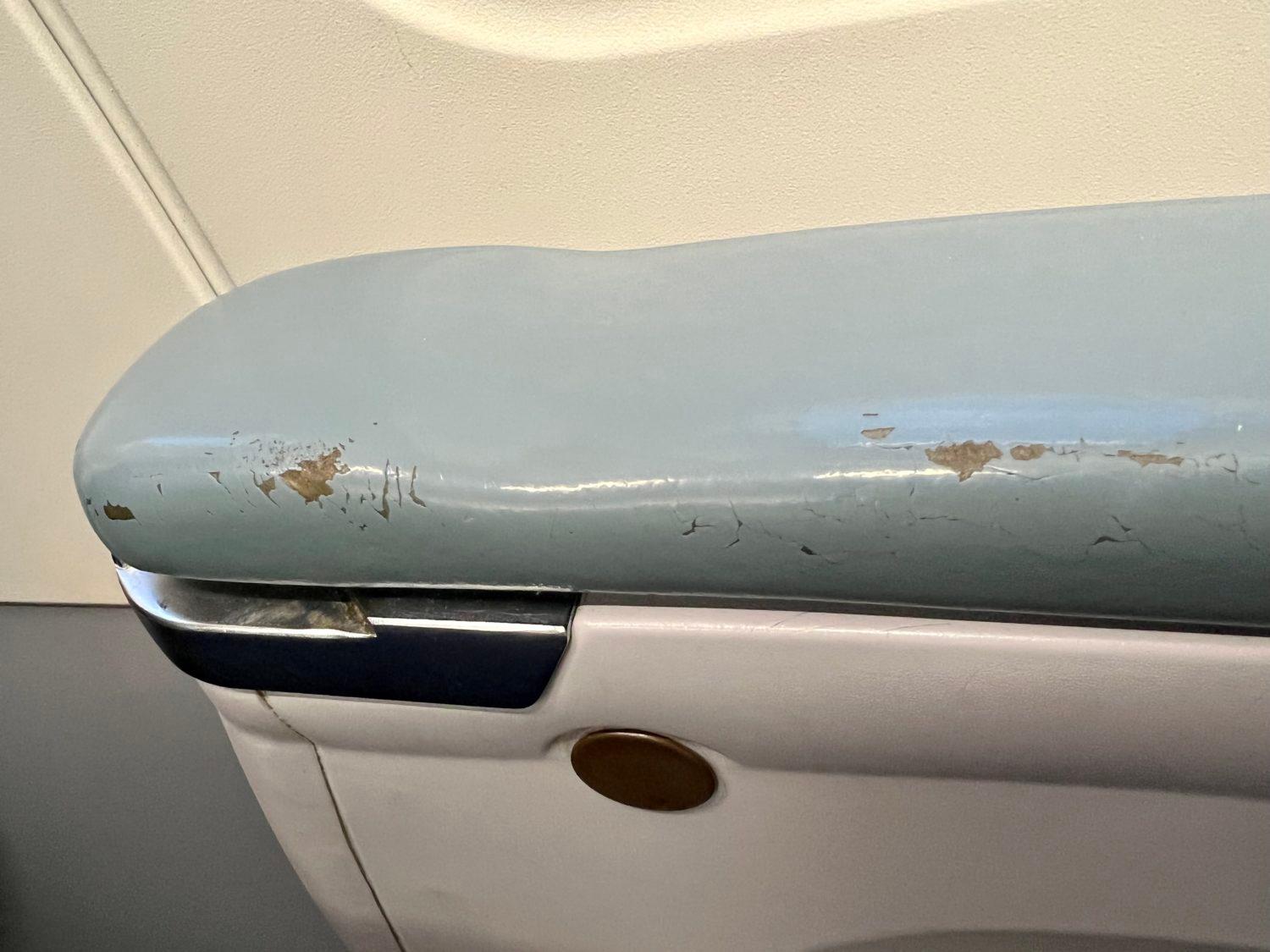 One feature you won't find in Spirit's Big Front Seats? The ability to recline. Just as throughout the rest of the plane, Spirit doesn't let you recline your seats. As you should assume, there's also no in-flight entertainment – just a blank seatback in front of you.

There was, however, a fairly large tray table inside the armrest.

The armrest between seats is also pretty substantial, so there's a place to put a drink – or simply not worry about rubbing elbows if you're flying next to a stranger.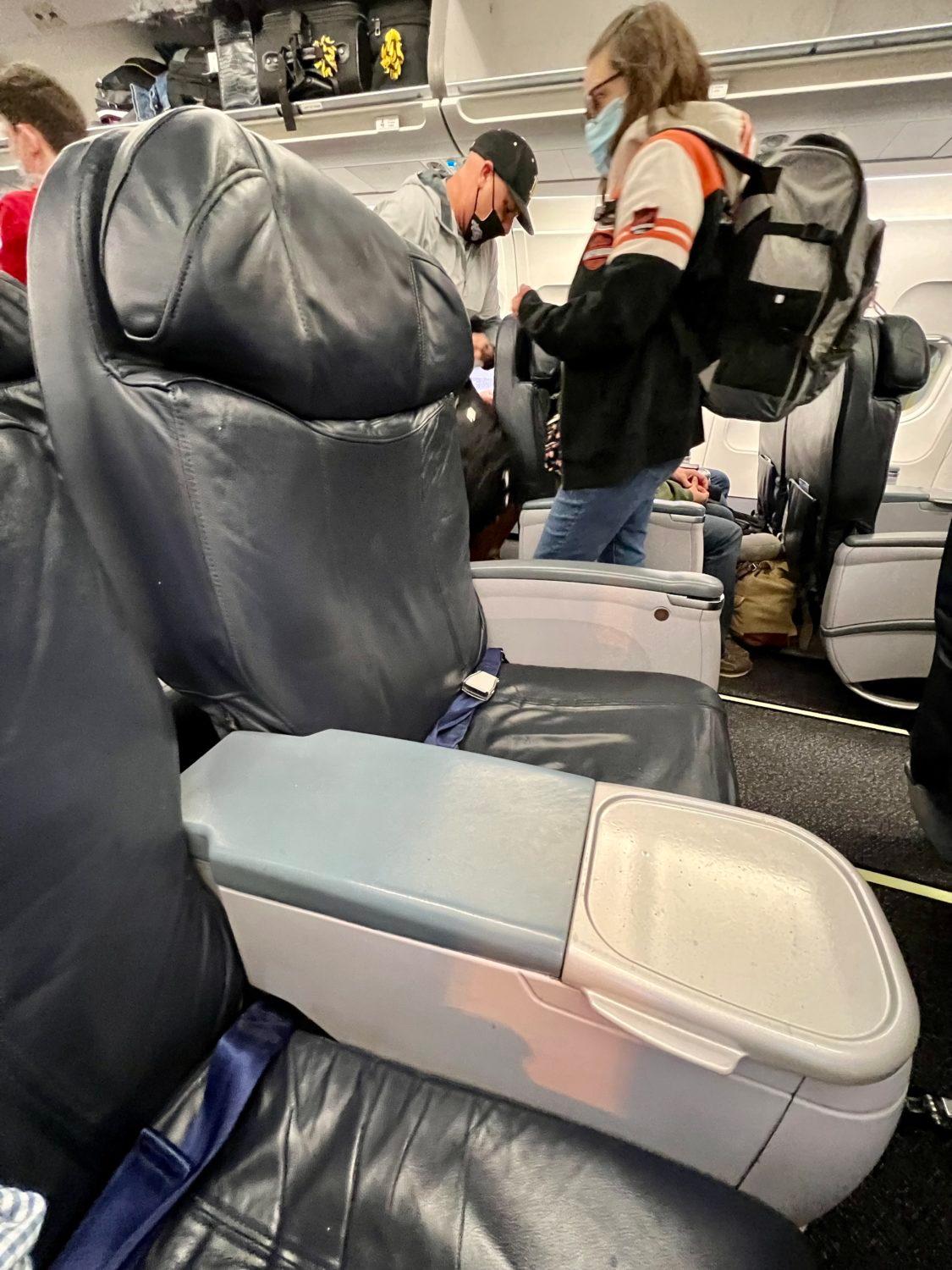 Unlike traditional first class on other airlines, there's no divider or curtain separating Big Front Seats from the rest of the plane. And that brings us to an important point.
The Rest of the Big Front Seat Experience
When you opt up for the Big Front Seat, you're paying for the bigger seat … and nothing else.
Besides its substantial size, the rest of the in-flight experience isn't any different than any other standard Spirit flight. Here's why:
There are no charging outlets in the seat.
There is no in-flight entertainment or Wi-Fi
There is no recline on the seats, even up front.
You board just as normal unless if you pay up for early boarding.
You might get a bit more attentive service from the flight attendant working at the front of the plane, but that's no guarantee.
Water, snacks, and any other service items are for purchase, even with the Big Front Seat. No water or beverages are included with the Big Front Seat.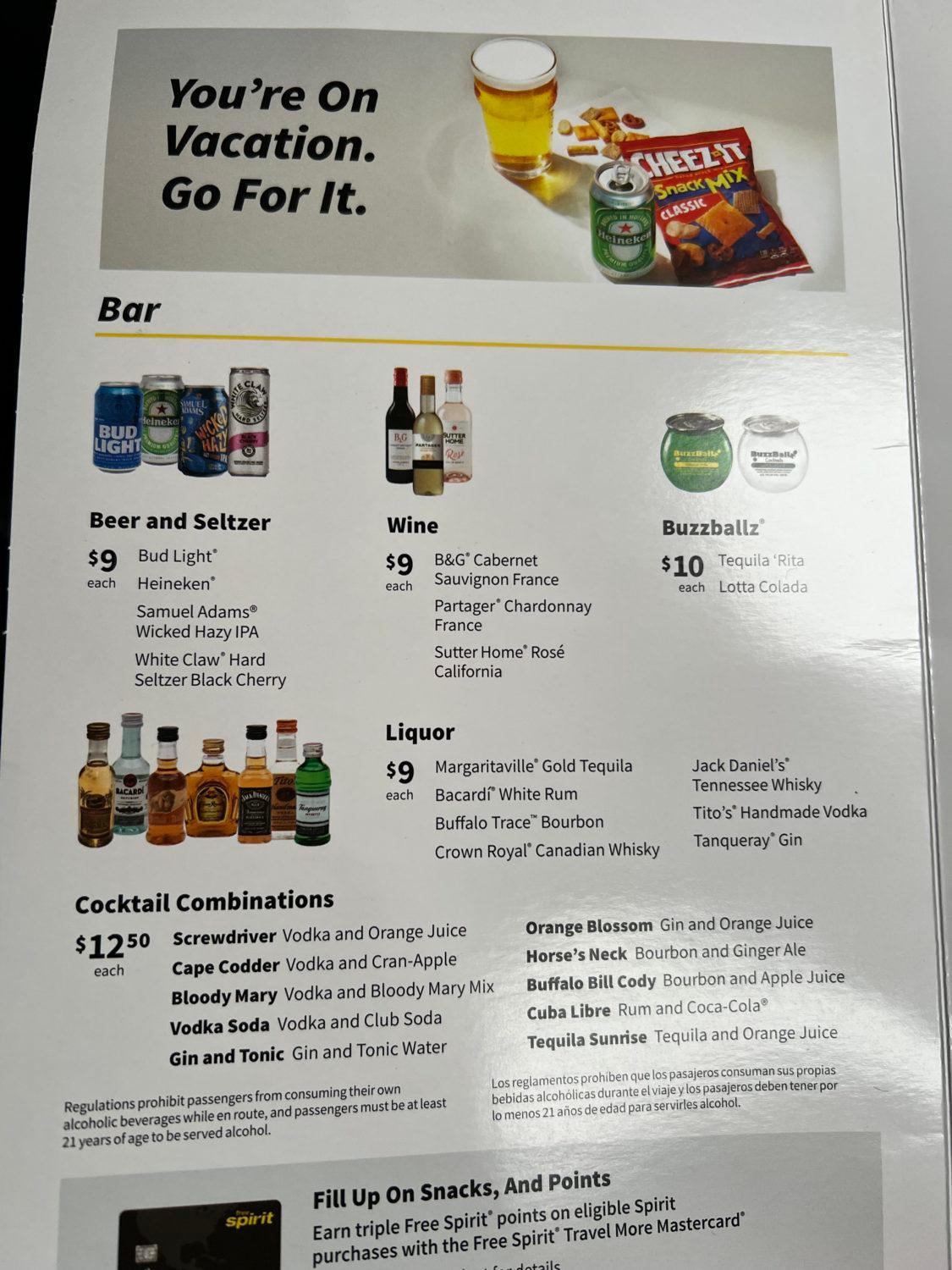 One unexpected challenge of flying Spirit is that there are only two lavatories onboard: One at the front and another at the rear. That means lines often form for both bathrooms. And Big Front Seat flyers don't get special access to the lavatory up front, unlike in most traditional first class cabins. The lavatories themselves are basic, as you'd expect.

Is the Big Front Seat Worth It?
The Big Front Seat is exactly what it says it is. It's a big seat.
That alone can easily make it worth it. Depending on how much Spirit is charging for one of these bigger seats up front, you could fly in a massive seat for the price of economy on many other airlines. If Spirit flies the route you're looking to buy, it's worth doing some price comparison to see how a Big Front Seat would stack up against a standard economy ticket on another airline.
But it's important to stress that the seat is all you get: No free drink (not even water), no charging, and no in-flight entertainment. In fact, aside from its (admittedly substantial) size, the Big Front Seat isn't all that different than economy.
Still, all that extra room can be the difference between a very pleasant flight and a miserable one for some travelers. And at the price point you can often snag a Big Front Seat at, this level of comfort is hard to beat – especially for longer flights.
Bottom Line
At the right price, the Spirit Big Front Seat can be one of the best deals in domestic flying.
The seats themselves are massive, on par or better with what you'll get flying first class on most other U.S. airlines. And while a big seat is all you'll get, that alone can be a game changer – especially compared to the cramped and stiff seats at the back of the plane on Spirit.