When flying to Europe, you can generally find a plethora of economy and business-class seats to choose from. But what if you want something in between?
Scandinavian Airlines (SAS) Premium Economy seats, called SAS Plus, are one of the few ways to fill that gap. SAS sells its SAS Plus premium economy seats on all flights between the U.S. and Europe. These are primarily operated by its Airbus A330 or A350 aircraft and you can sometimes book these seats on the cheap.
More legroom, a larger seat with more recline, free seat assignments, two checked bags, free WiFi, and SAS airport lounge access – a rarity for premium economy – are all included when booking a SAS Plus premium economy ticket.
On paper, these tickets include so much more than what you get in economy. But is it really worth the extra cost? I recently had the opportunity to fly SAS premium economy on a flight from Chicago O'Hare (ORD) to Stockholm (ARN).
Here's what my experience was like.
How to Book SAS Plus Premium Economy
SAS flies from eight North American gateways to its main hub in Copenhagen (CPH), with a few nonstop flights to other hubs in Oslo (OSL) and Stockholm (ARN) as well. Beyond these cities, you can also connect onward to many cities across Europe.
Currently, you can't book SAS Premium Economy seats using partner airline miles, so unless you have a stash of SAS Eurobonus points, you'll need to book with cash or book a cash-priced fare with credit card points.
The best way to book SAS Premium Economy is to book during one of its incredible sales. We sent a deal to Thrifty Traveler Premium+ members back in May, which included late summer travel dates starting from just $621 roundtrip.
Get premium economy deal alerts like this one plus cheap domestic and international fares in economy and business class with Thrifty Traveler Premium+!
Shortly after we sent this deal, we ended up booking a flight ourselves to see how this premium economy product stacked up against the competition.
For my flight schedule and travel dates, I was able to find a multi-city ticket on Google Flights flying from Chicago (ORD) to Stockholm (ARN), returning from Copenhagen (CPH) to Los Angeles (LAX), for just $713 roundtrip in premium economy booked through an online travel agency – or $769 booked directly with SAS.
I opted to book directly with SAS to eliminate additional complications in case there were any flight delays, cancellations, or necessary changes to my itinerary.

If this were a normal roundtrip, or if I was simply returning to the same point of departure, I could have booked this online. But, because I was departing from Chicago and returning to Los Angeles, I needed to contact SAS to complete the booking.
This was easy enough to do in an online chat. I was able to get a price quote from an agent over the chat after giving them the specifics. Since we wanted to compare premium economy with economy, we booked different cabins in each direction. Scandinavian Airlines calls its premium economy product SAS Plus and its economy product SAS Go.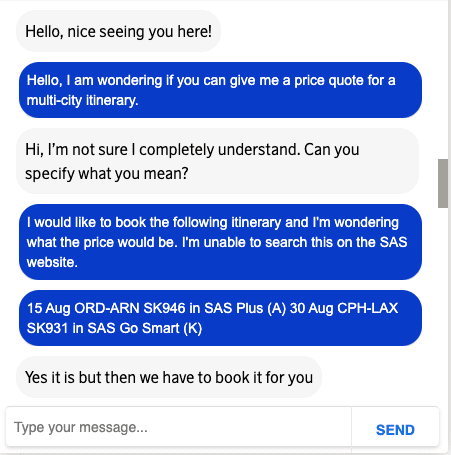 Oddly enough, it was actually more expensive to return in economy compared to premium economy on these travel dates. You gotta love it when you can fly in a better seat for a cheaper price. The agent offered to send a payment link in the chat, but I was still confirming my plans at the time and opted to simply call to complete the booking over the phone the following morning.
In total, we paid $792 for the roundtrip flights in August. On average, you'll find SAS Premium Economy tickets for around $1,500 roundtrip – usually more for summer travel.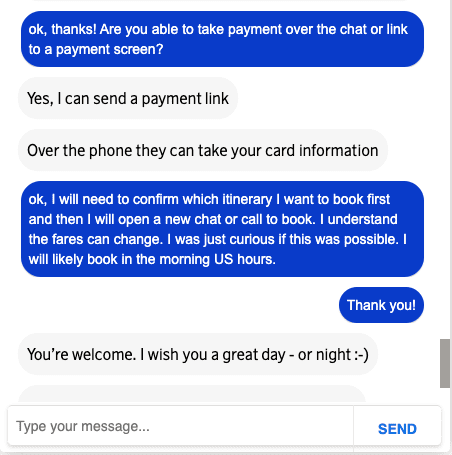 At Thrifty Traveler, we don't accept freebies. We use our own points, miles, or cash to pay for every single flight or hotel you see reviewed here – including this one.
Departing Chicago: Terminal Transfer & Lounge Access
I flew into Chicago (ORD) on a positioning flight from Minneapolis (MSP) on United. And this meant quite the transfer from Terminal 1 to Terminal 5 at Chicago's O'Hare International Airport (ORD). I was surprised at how long this terminal transfer took – especially considering United and SAS are Star Alliance partner airlines.
Since the terminal transfer bus that shuttles passengers between domestic terminals (1, 2 & 3) and Terminal 5 without leaving security was temporarily suspended, the transfer from T1 to T5 (where SAS departs) required exiting security, taking the Airport Transit System (ATS) train, and then going through security again at Terminal 5.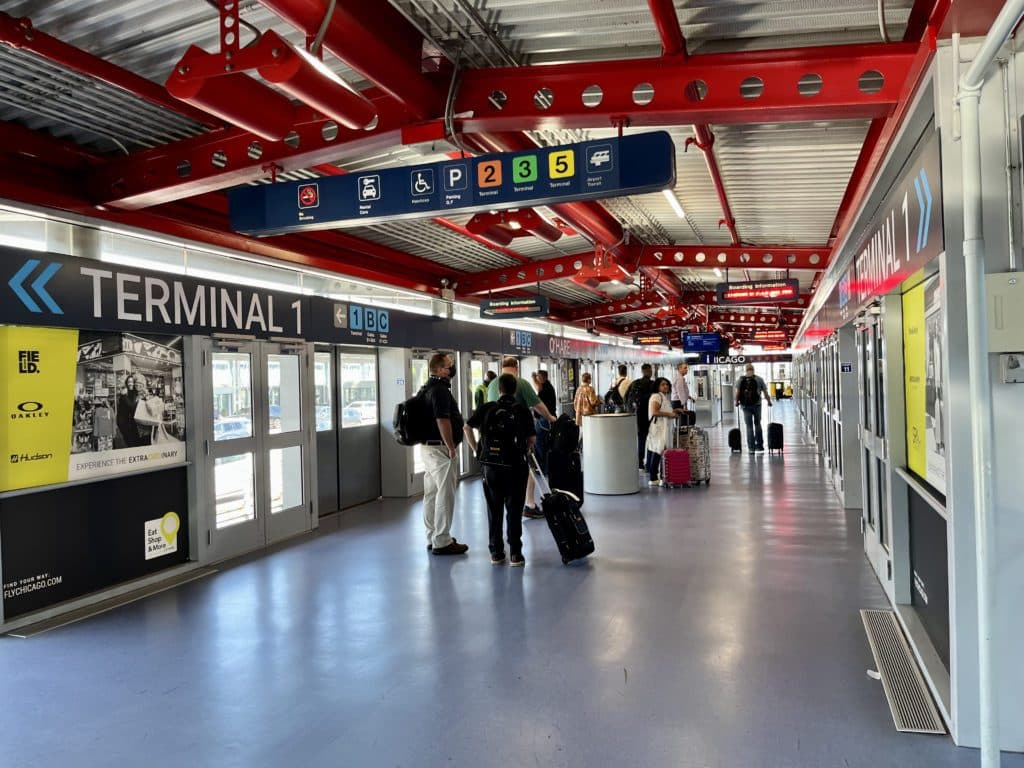 If you're traveling through O'Hare and connecting between a domestic United flight and an international flight on SAS, give yourself plenty of buffer time to make your connection.
SAS Plus Check-In
I got to the check-in counter shortly after noon for my 4 p.m. departure to Stockholm (ARN). There was a line of people waiting to check in with an agent, but since I didn't have a checked bag, I simply used one of the kiosks to print my boarding pass. If I did have to check a bag, it's nice to know that SAS Business and SAS Plus passengers have a separate check-in line.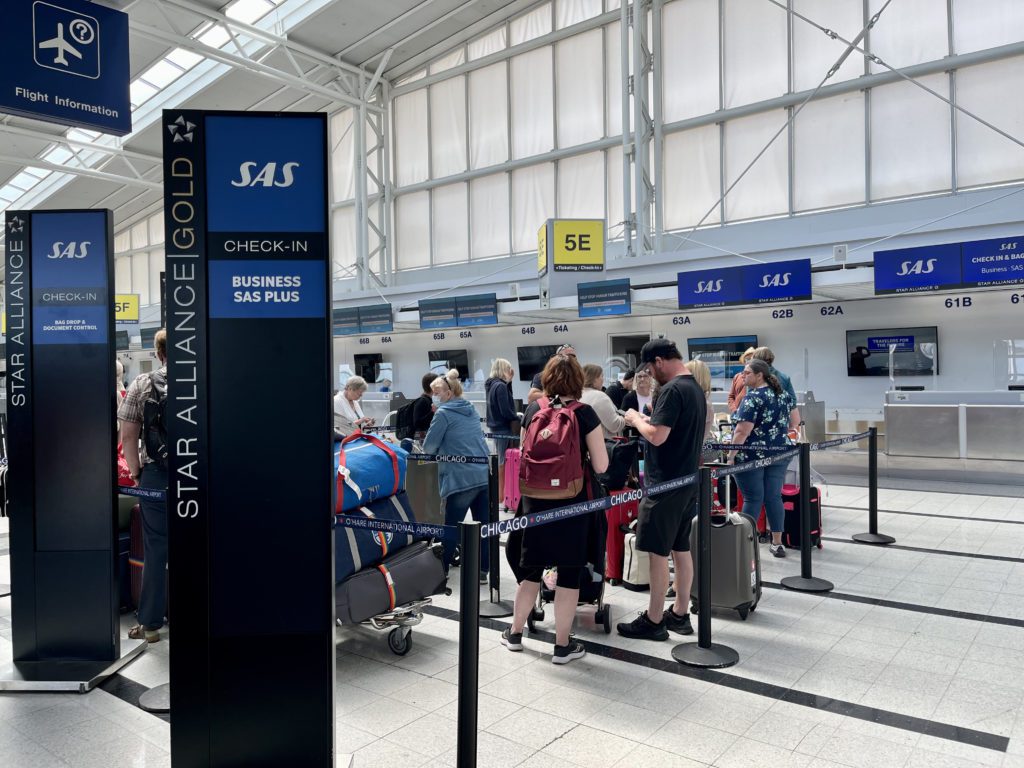 SAS Lounge Access at Chicago O'Hare Airport
One of the most unique perks you get with a SAS Plus Premium Economy ticket is SAS lounge access. At Chicago's O'Hare Airport, the lounge opens daily at 12:30 p.m. and I showed up shortly after it opened.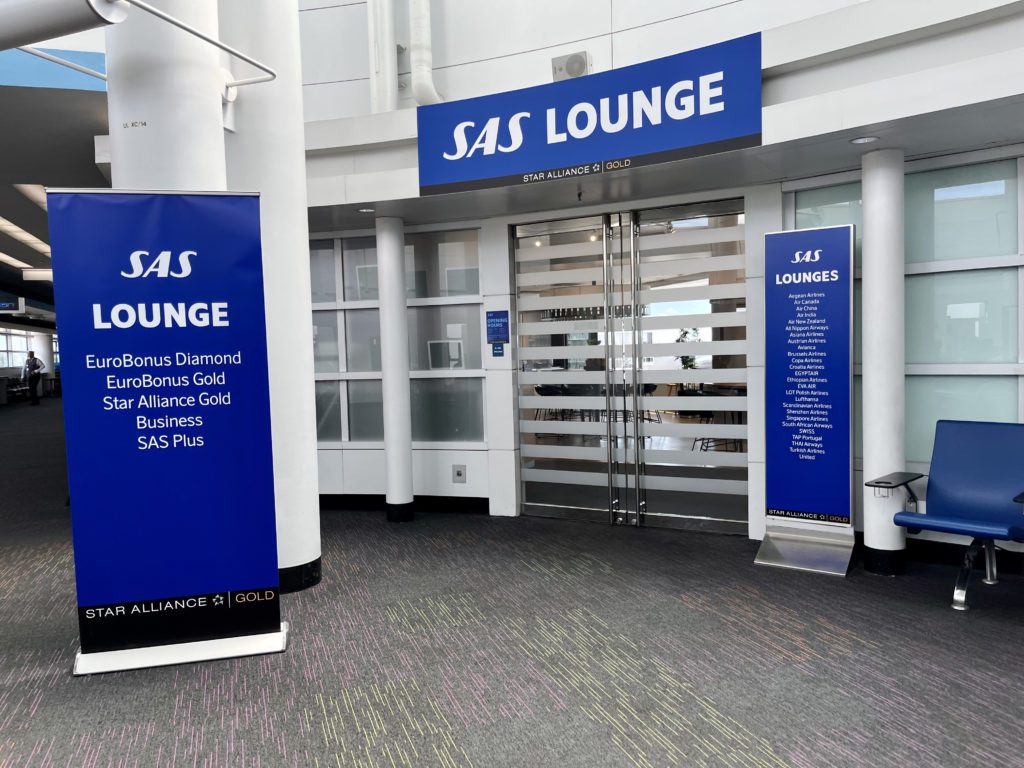 The lounge was pretty small but it was still a nice escape from Terminal 5 at O'Hare, which doesn't have much for seating or amenities. And it was a good thing I arrived early. The lounge was nearly empty when I arrived, but by the time I left, it was extremely crowded.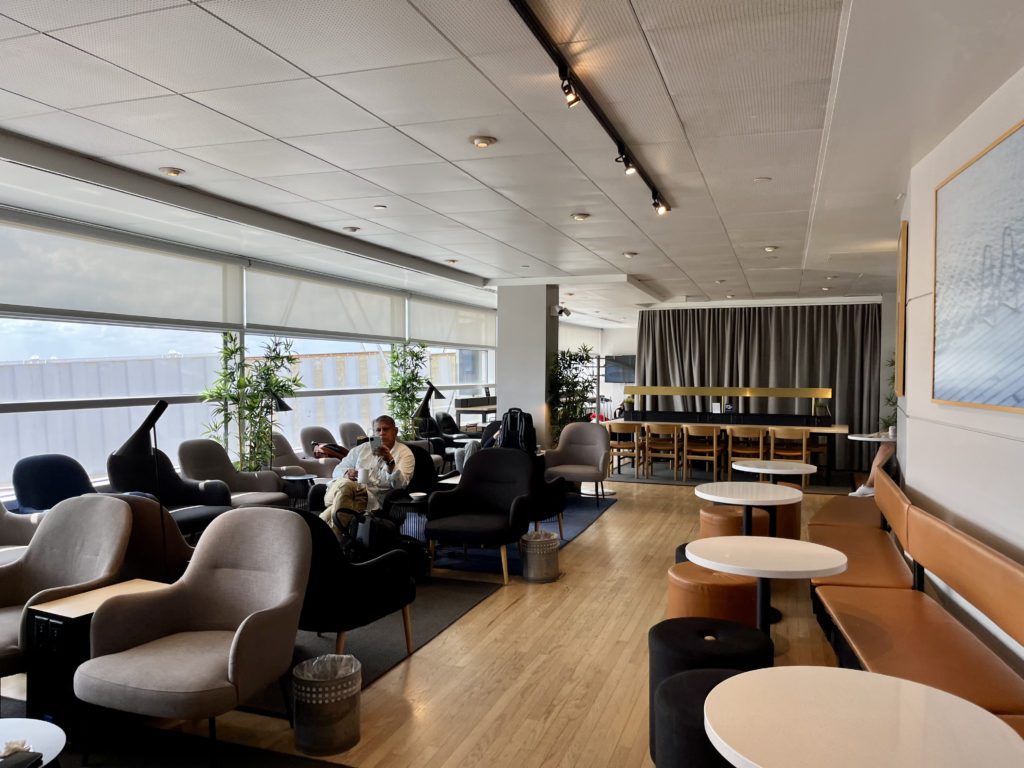 The lounge had a selection of sandwiches, a salad bar, cookies, instant noodles, and some fruit, along with a coffee machine and an assortment of self-serve drinks.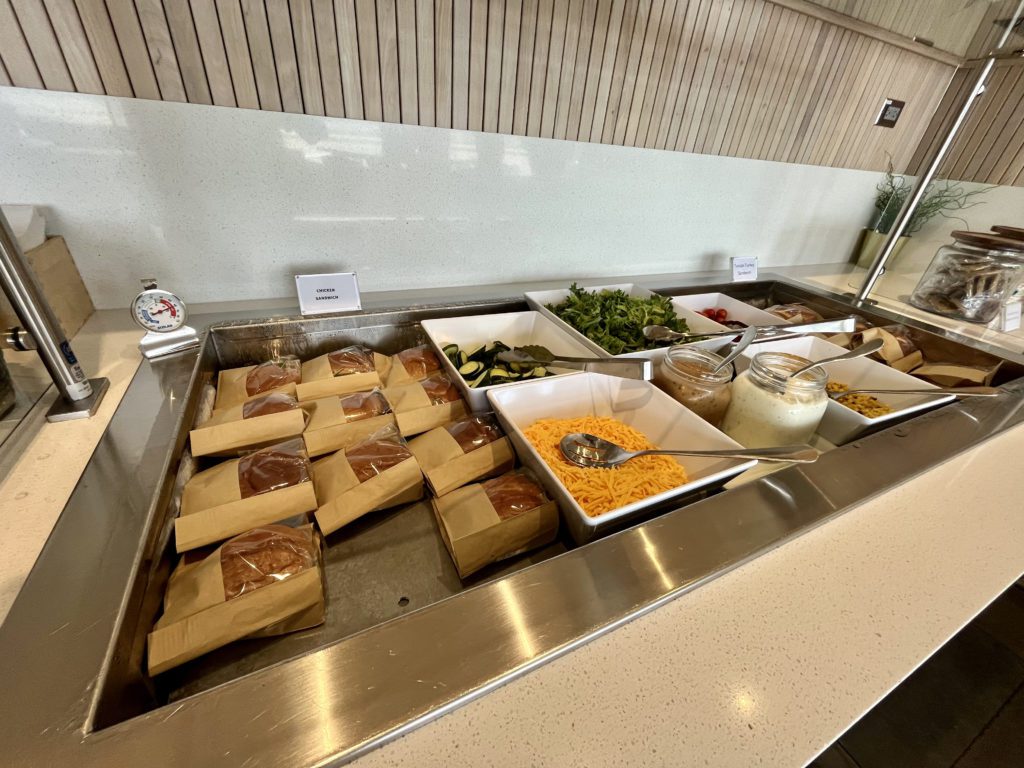 You could pour your own cocktail or grab a beer, juice, or soft drink from the fridge.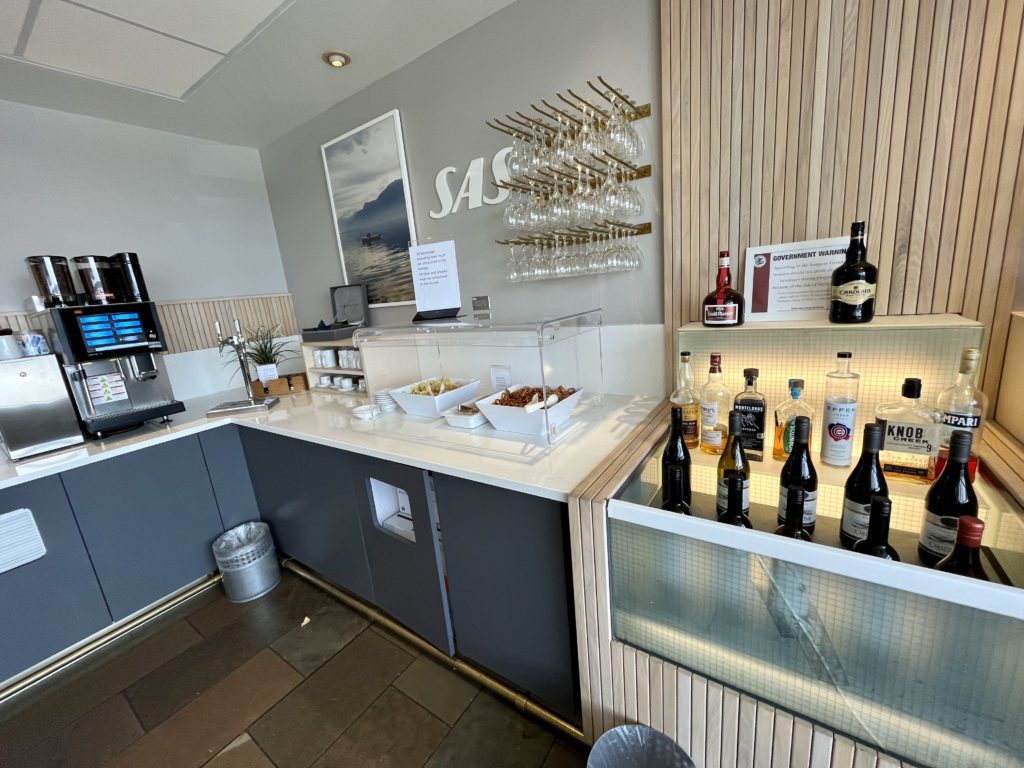 Unfortunately, there are no bathrooms in the SAS Lounge in Chicago. You'll need to exit the lounge to use the restroom in the main part of the terminal, but it's not too far away. Even though it's a small lounge that does get crowded, this is a nice perk that comes along with a SAS Plus Premium Economy ticket.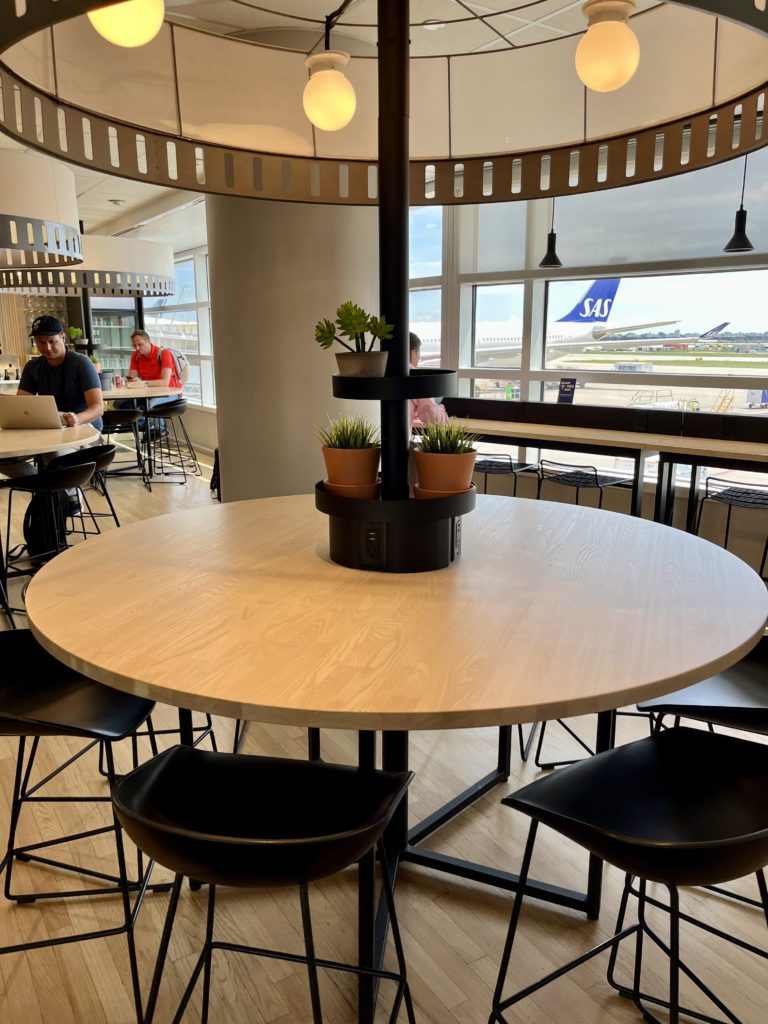 Boarding SAS in Chicago: A Bit Disorganized
When it came time to board, there was a bit of confusion. Boarding was supposed to start 45 minutes before the 4 p.m. departure, but there were no announcements made around this time.
I would have expected the business class passengers to board first, followed by SAS Plus premium economy passengers, and then regular economy passengers. Instead, all passengers just crowded the boarding gate, and once the agents handling the flight finally started boarding (around 3:30 p.m.), it was a free-for-all. I should note that on my return flight from Europe back to the U.S., boarding was much more orderly.
SAS Plus Cabin
The SAS Plus premium economy cabin is directly behind the business class cabin. On the Airbus A330, there are eight rows of premium economy seats in a 2-3-2 configuration – meaning there are two seats on either side of the plane, and three seats in the middle section. If you're flying on the Airbus A350, the SAS Plus cabin is in a 2-4-2 configuration with just four rows.
There are grey curtains and a bulkhead dividing the business class cabin at the front and blue curtains dividing the premium economy cabin from the SAS Go economy cabin in the back. You'll also notice a branded SAS Plus sign on the bulkhead at the front of the cabin.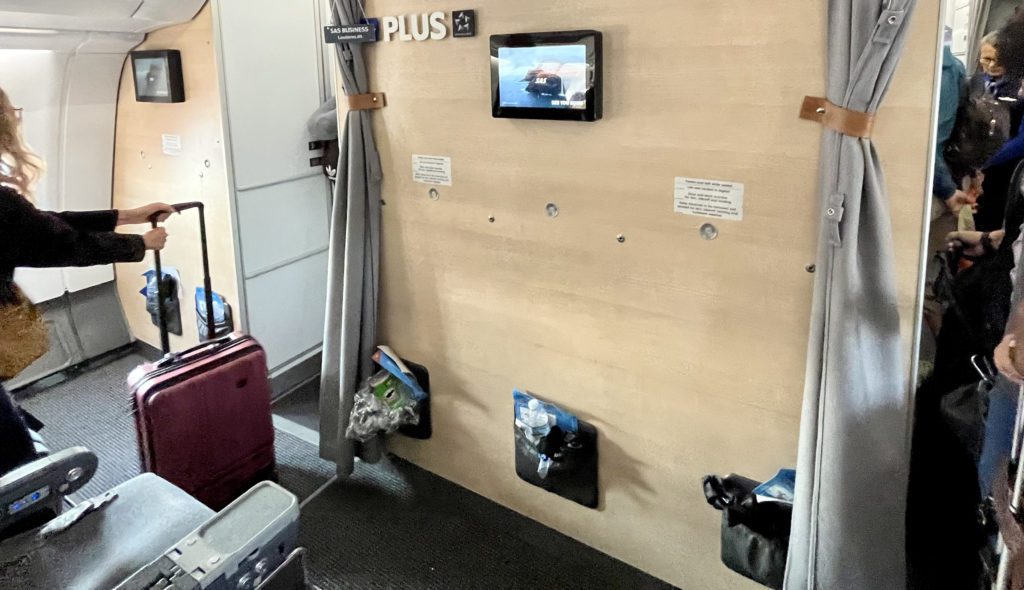 I was seated in a window seat at the back of the cabin. With only eight rows, the smaller cabin made this flight seem more intimate than sitting back in economy class. The red, white, and blue lighting was also a nice touch.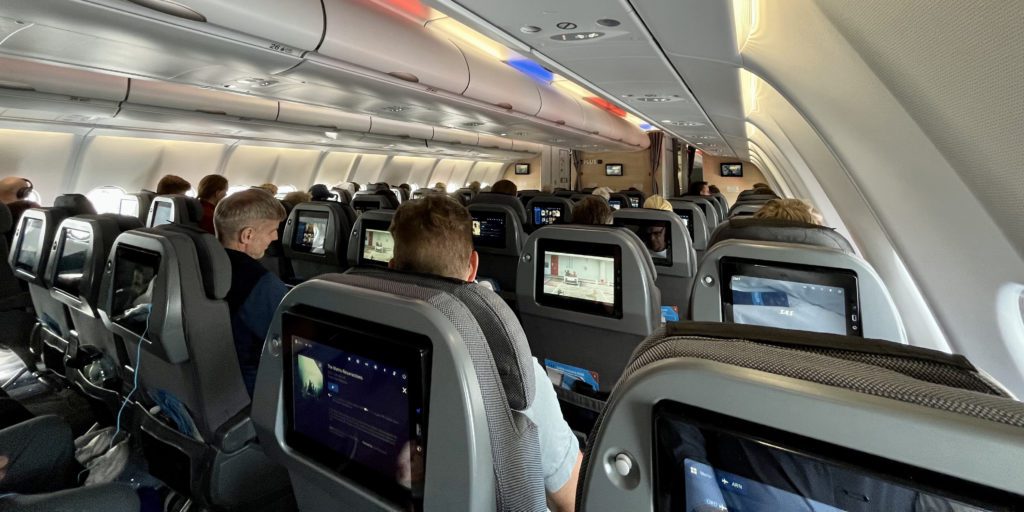 SAS Premium Economy Seats
Due to a bit of chaos during boarding, there were already passengers seated in both economy and the SAS Plus premium economy cabin when I got to my row. The center row is just three seats wide compared to four in economy, which allows for a slightly wider seat of 18.3 inches in premium economy compared to 17.3 inches in economy.
The seats along the fuselage are all two seats wide with one window and one aisle, just as they are in economy. But you'll have a bit more room in these seats with dedicated armrests for each passenger and a shared space to put a drink on the middle armrest. If you're traveling as a couple, these seats near the wall of the aircraft will be best for more privacy.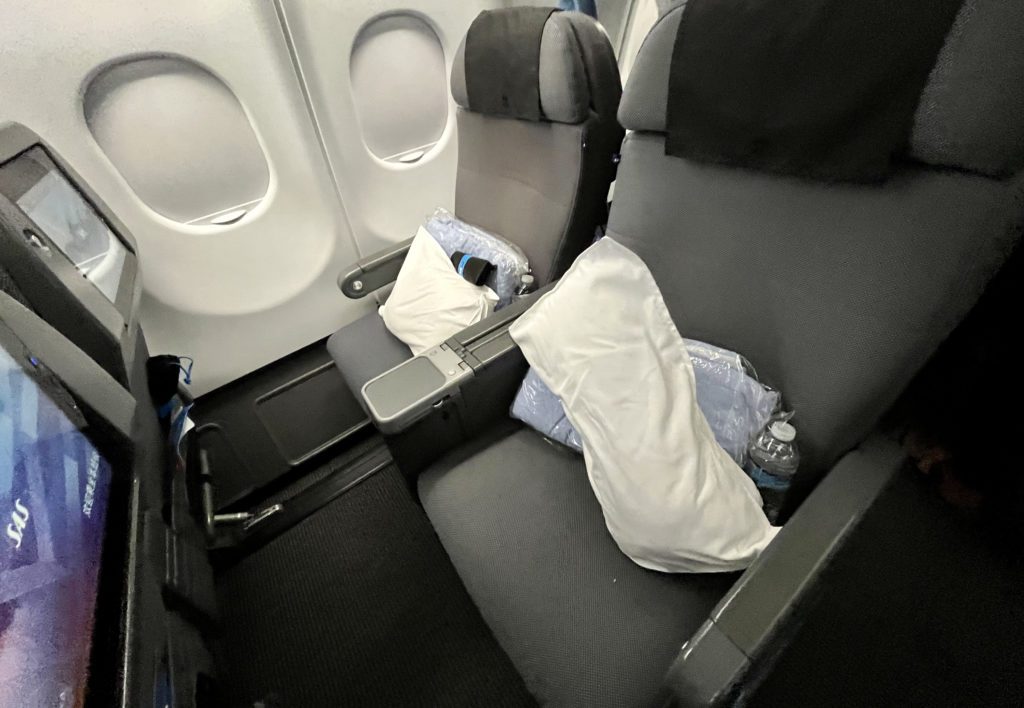 The best part of SAS Premium Economy is the legroom. You'll get a full six or seven extra inches of legroom compared to economy. SAS Plus premium economy seats on the A330 feature a 38-inch seat pitch and a footrest, which is nice for when you want to get some shut-eye on an overnight flight. Seats in the first row of SAS Plus have a leg rest instead of a footrest and slightly more legroom since you'll be sitting at the bulkhead.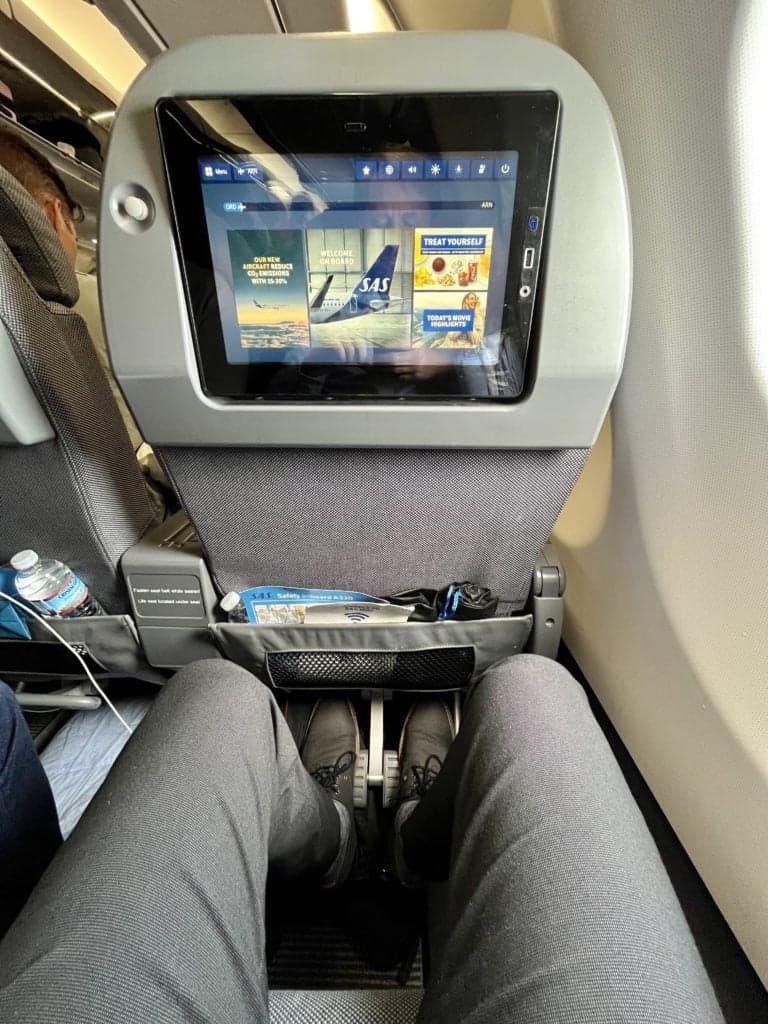 The footrest folds up so you can easily access anything stored under your seat. I like the extra storage space you get with a window seat. There's enough room to store a laptop and some essentials along the wall, which means I could have stored my backpack in the overhead and had more space to stretch my legs.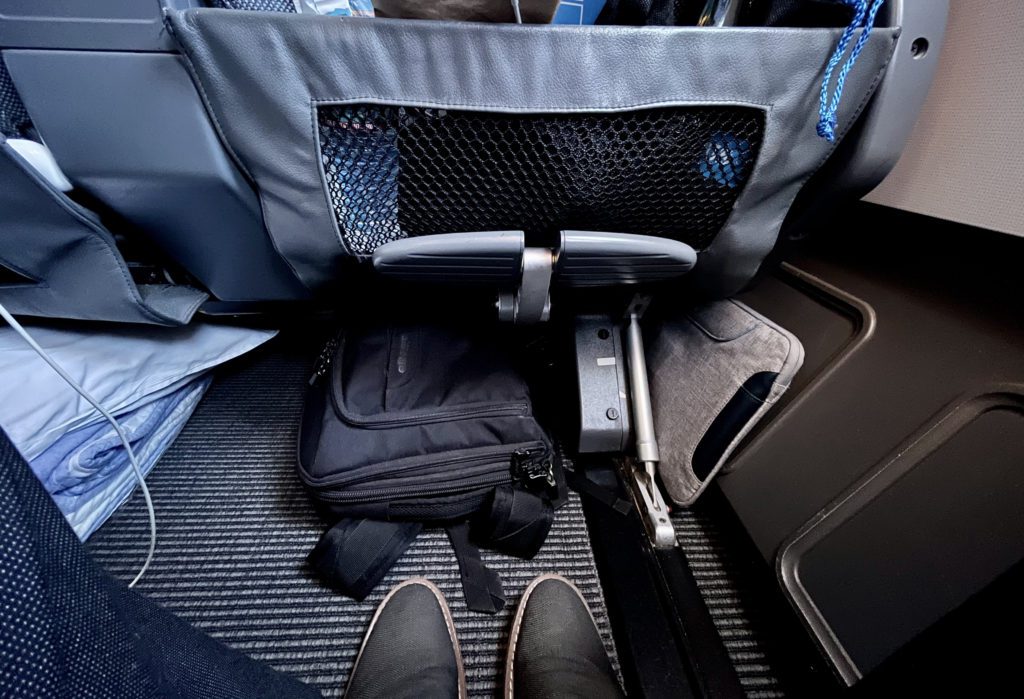 If you choose a window seat, you'll also have a small amount of storage space under your armrest. I chose to keep my water bottle there for easy access throughout the flight. To recline your seat, you'll have a simple push button, just like economy seats.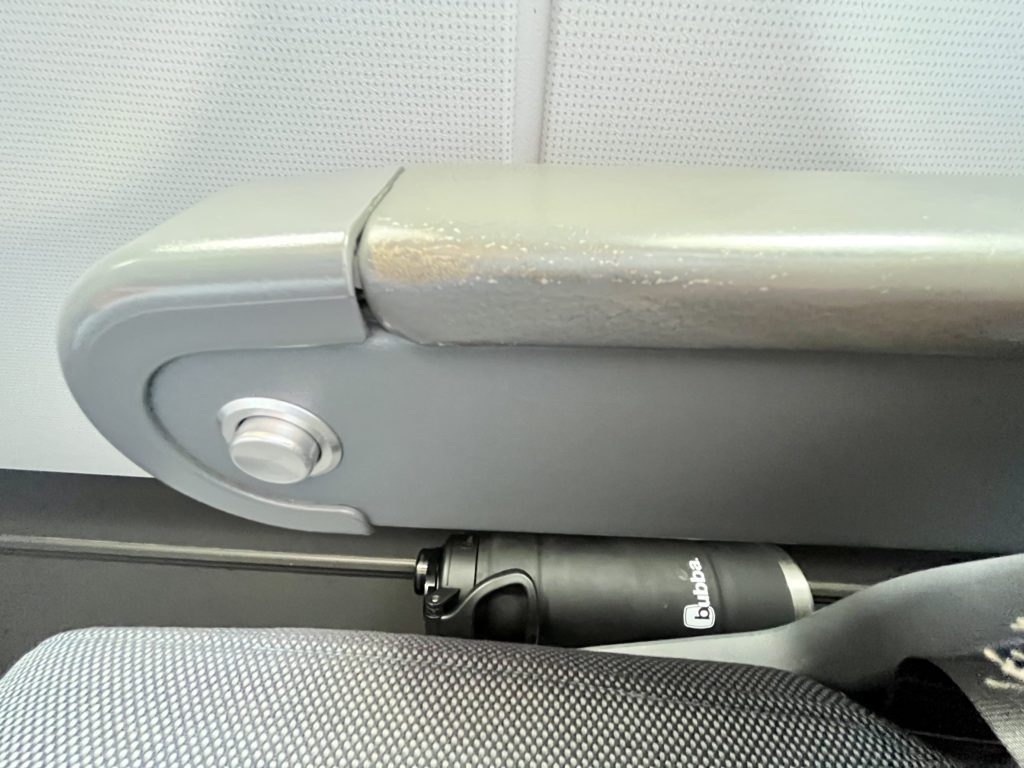 SAS Premium Economy seats seemed to have slightly more recline than you'd get back in economy. Still, it's nothing compared to a lie-flat seat up in business class. While it was a comfortable and spacious seat, it was still hard to get proper sleep without being able to lie in a more horizontal position.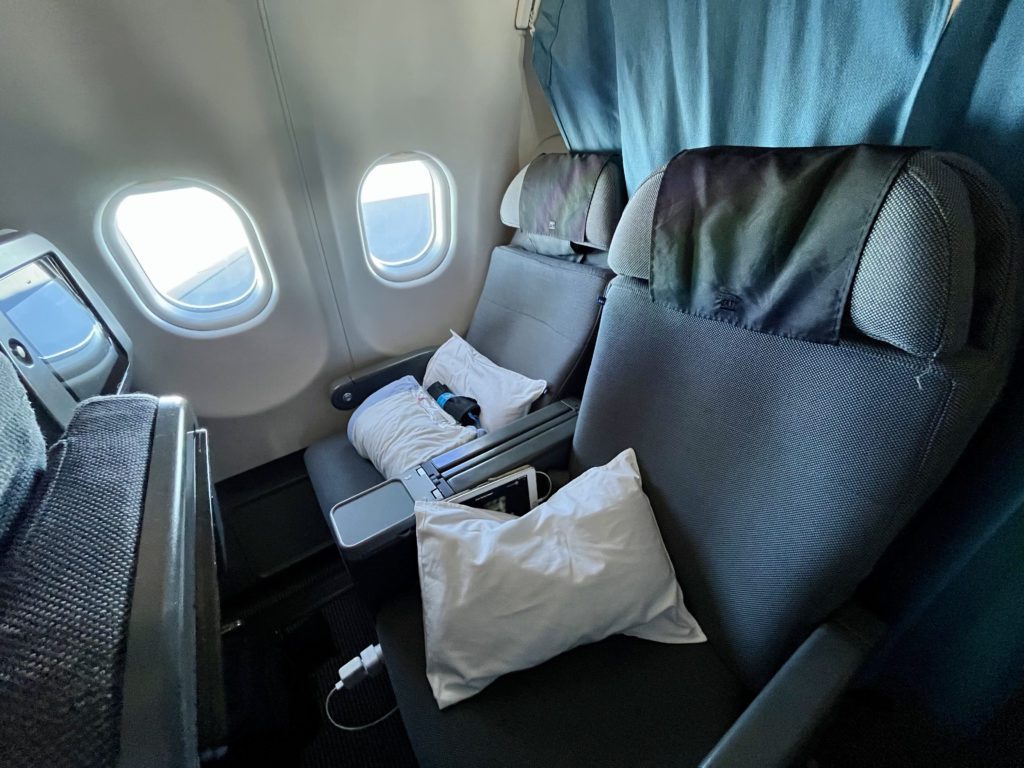 The headrest adjusts both up and down and folds at the sides, which allows you to lean towards either side without falling into your seatmate when trying to get some rest.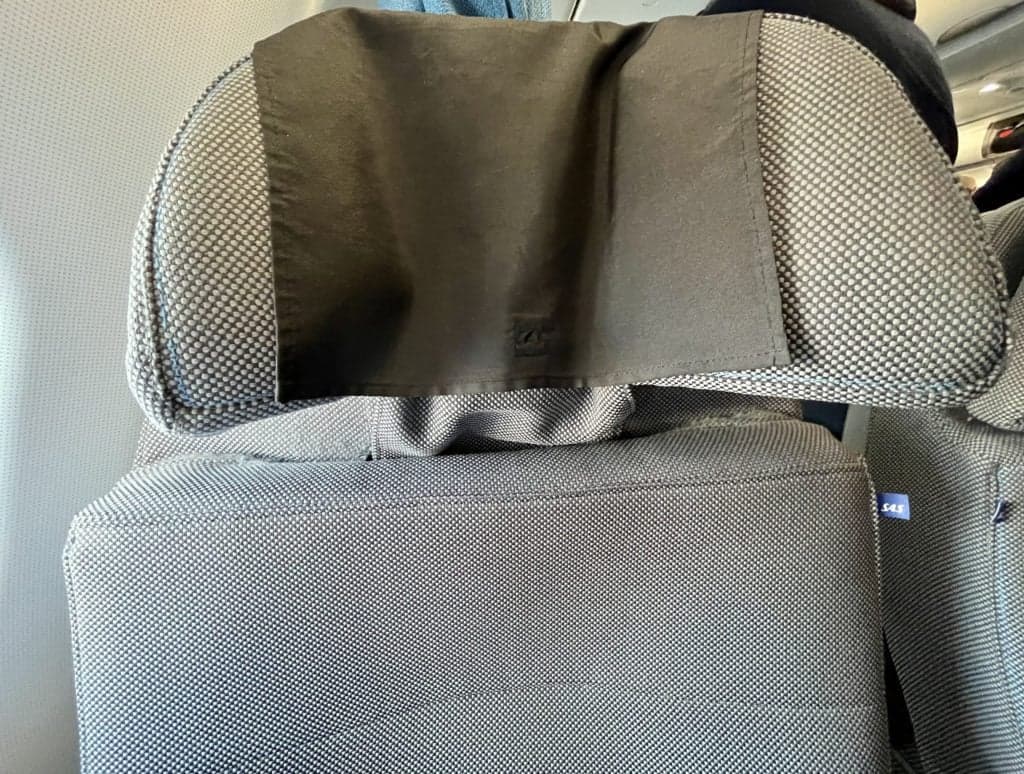 If you're trying to get some work done on a long flight, you'll be glad to know that you can keep your laptop charged with a dedicated power port between the seats in the SAS Plus premium economy cabin. These will work for most plugs without the need for any adapters.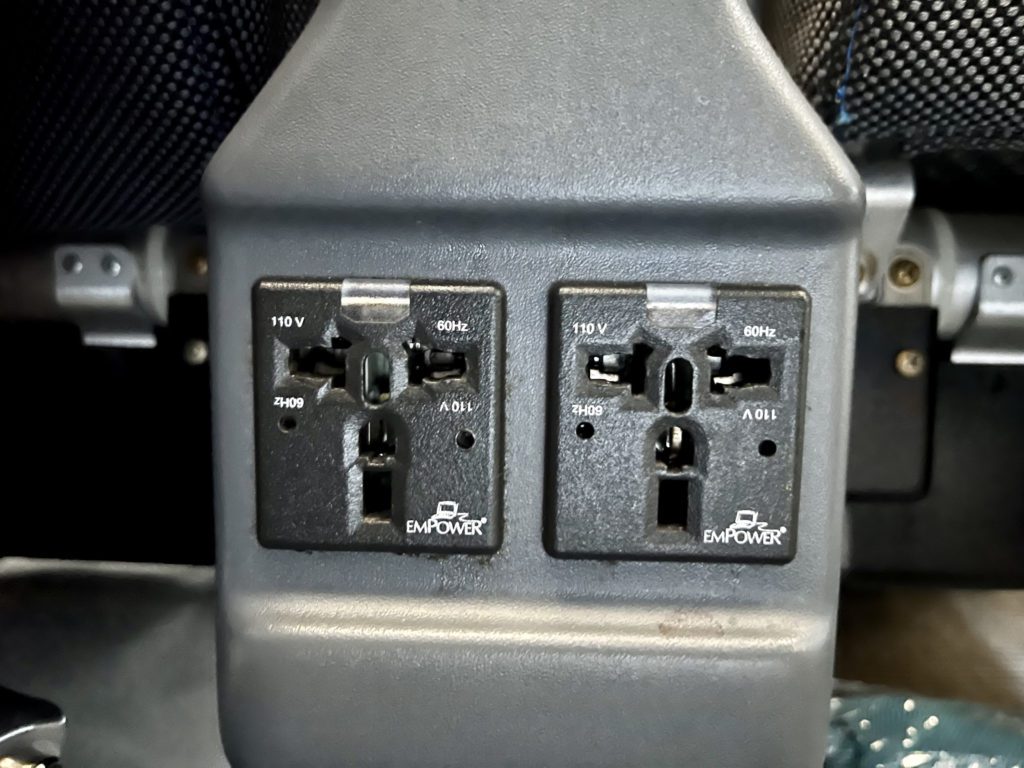 There is also a USB charging port and a standard headphone jack on the seatback screen. And a hook next to the screen if you'd like to hang your coat, though I've rarely ever seen these used during any flight.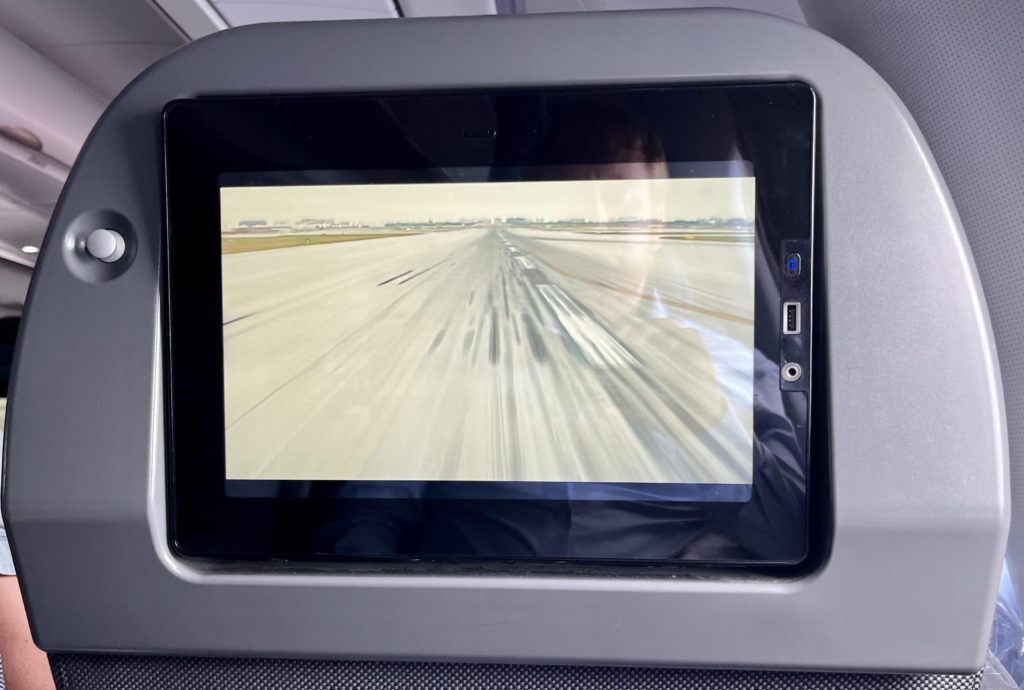 Entertainment & Amenities
At your seat, SAS Premium Economy passengers will find a pillow, blanket, amenity kit, and a bottle of water. The pillowcase and blanket are higher quality fabric than what you receive in economy, which makes for a more comfortable flight.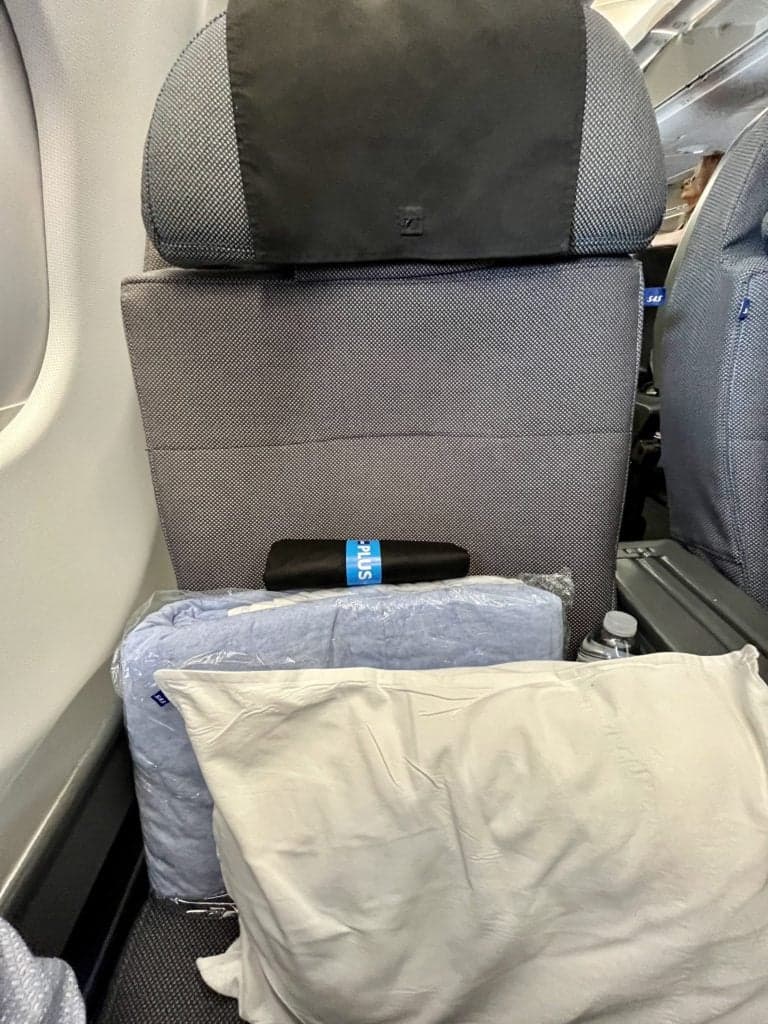 Inside the amenity kit, you'll find a toothbrush with toothpaste, and a pair of earplugs. The cool thing is that these come in a shoe bag, which will be very useful to pack an extra pair of shoes or sandals in my carry-on bag in the future.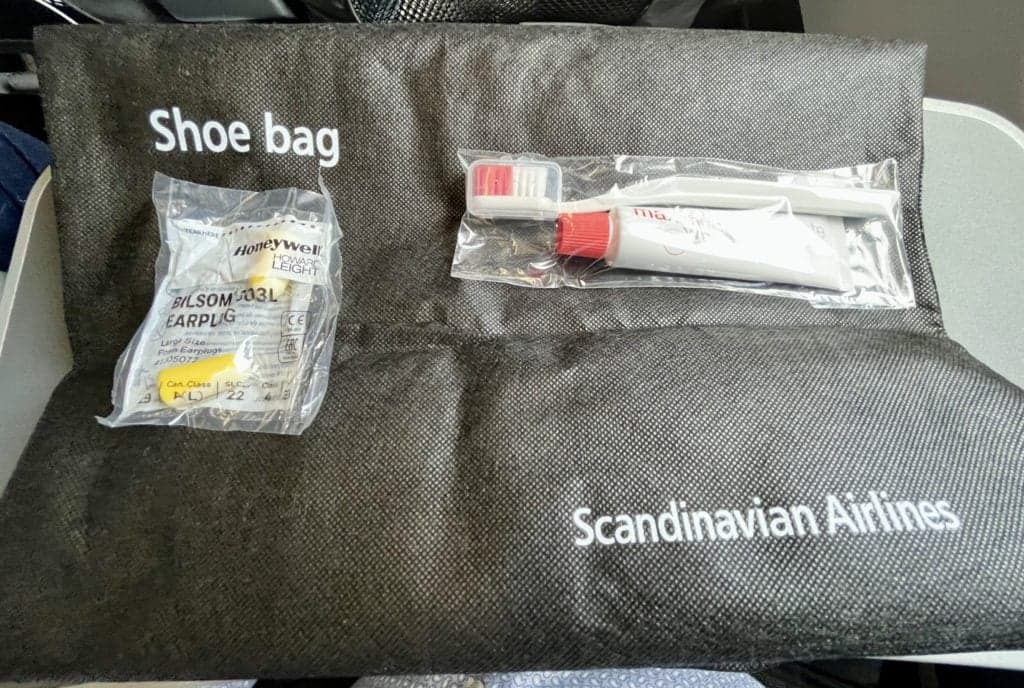 There were a total of five bathrooms to share between premium economy and economy passengers. Three in the middle of the economy cabin and two in the back of the aircraft. These are typical airplane bathrooms: Small, but well stocked and cleaned throughout the flight.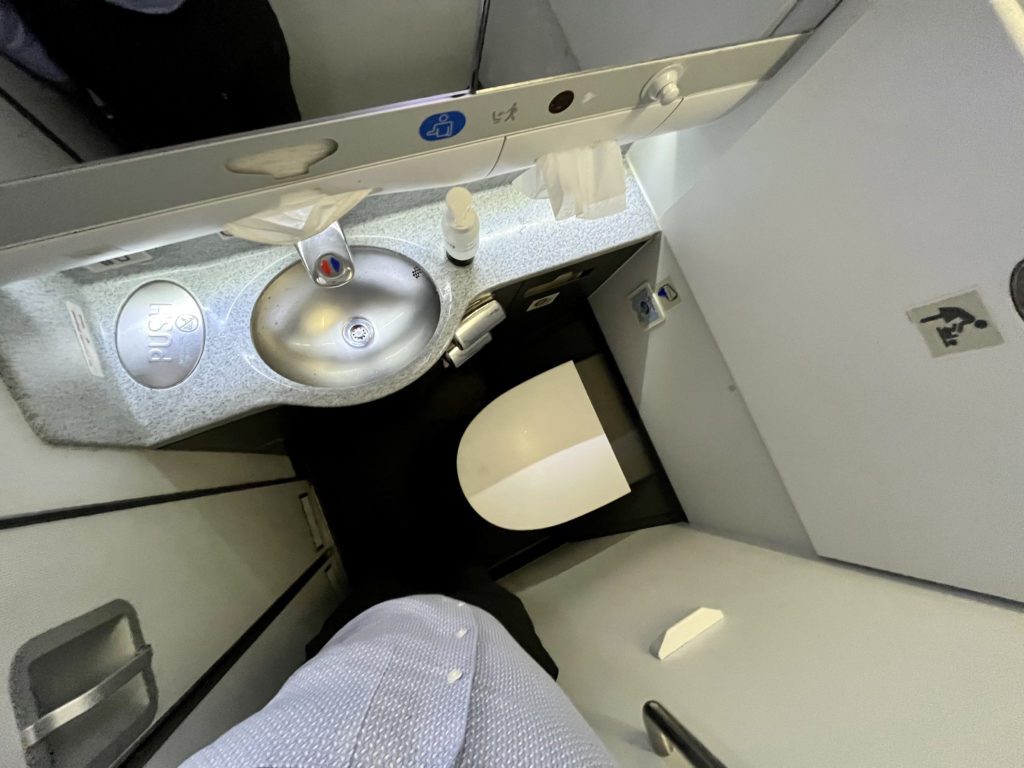 SAS Plus seats feature a 12″ HD entertainment screen with plenty of movies, tv shows, music, and games to browse through. It also has a moving map so you can keep track of your progress during the flight.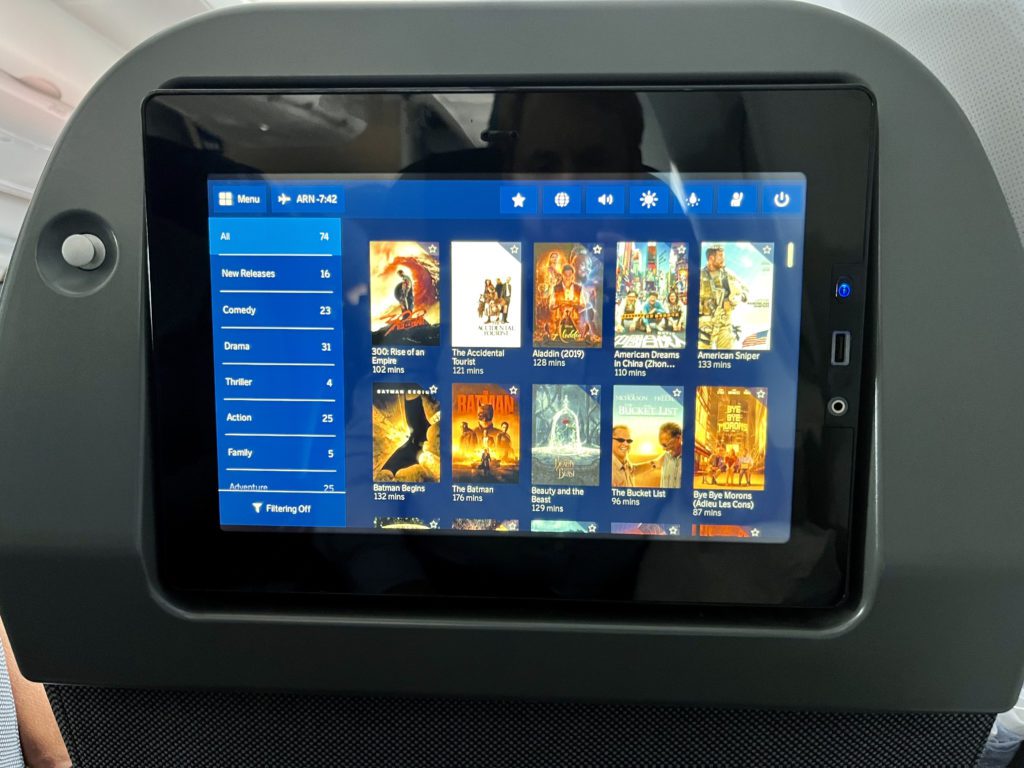 If you forget a pair of headphones, flight attendants pass through the cabin handing out free headsets shortly after boarding.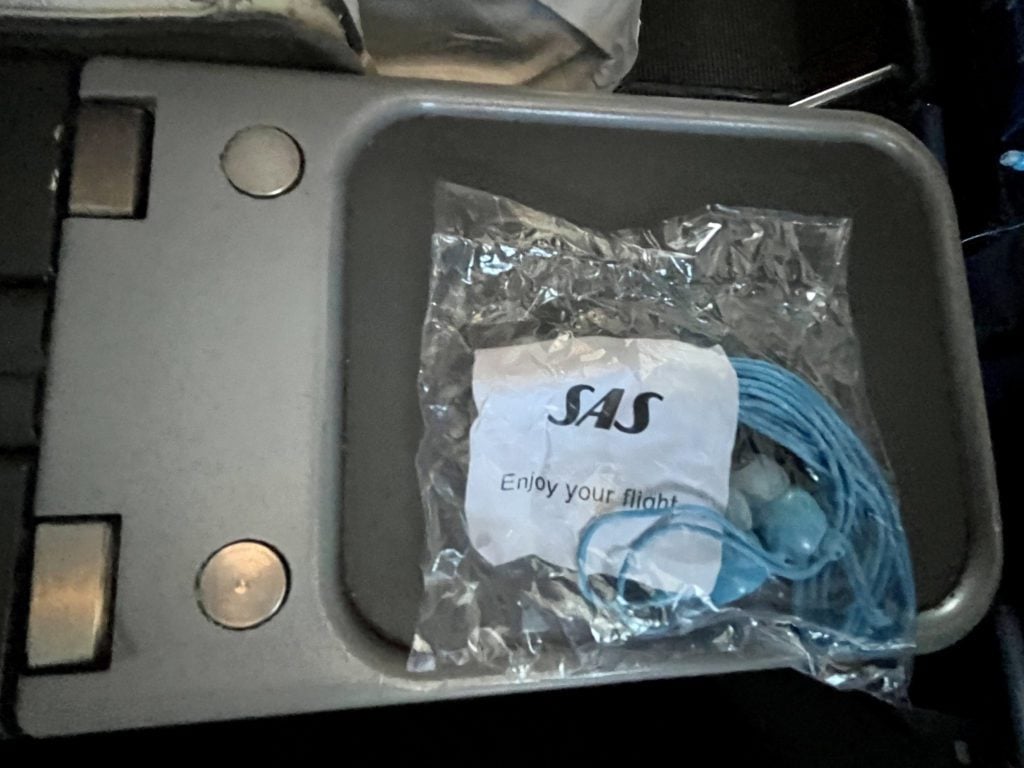 One of the coolest features of the seatback screen was the landscape camera. You could toggle between a forward-facing or a below-view. It was neat to see the landing strip from my seat upon landing in Stockholm.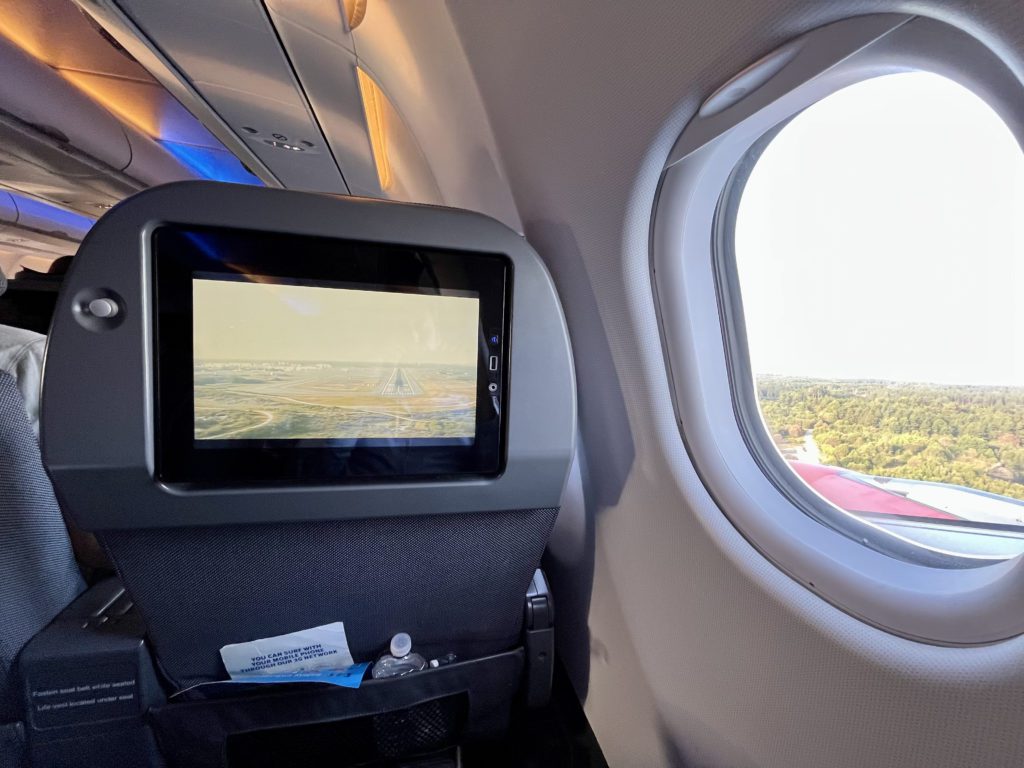 SAS Premium Economy passengers receive complimentary WiFi access throughout the flight. To connect, you simply enter your name, email, and booking reference number.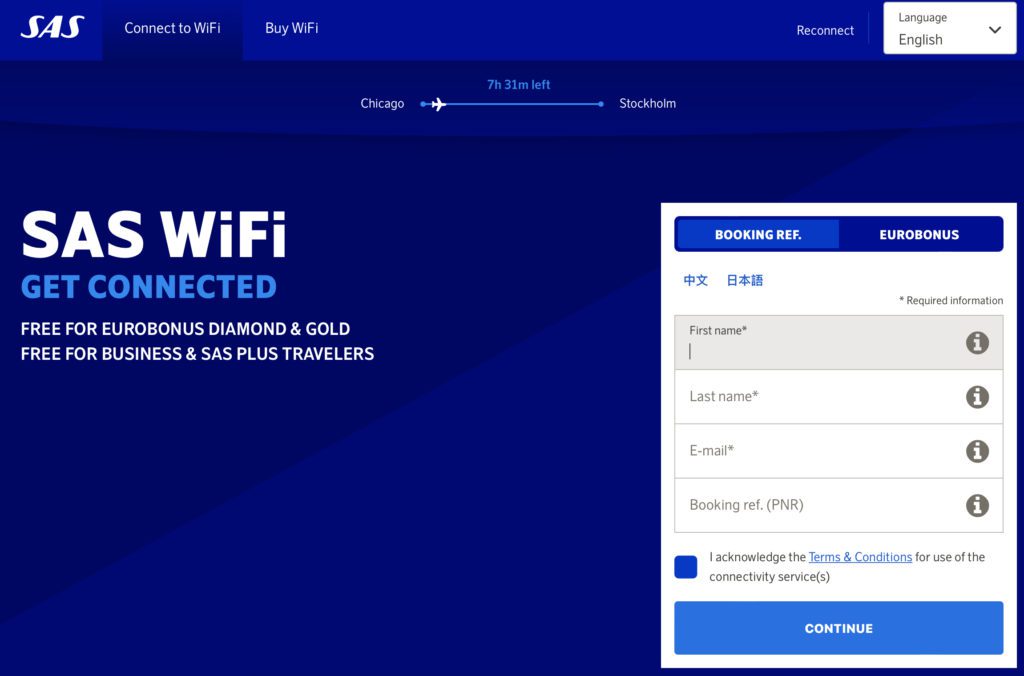 Although it was nice that it was free, I found the WiFi to be very spotty on this flight aboard the A330. The Speeds seemed to fluctuate quite a bit and sometimes I couldn't connect at all. I had a very different experience when I flew the Airbus A350 on the way home. On that flight, the connection was stable and it had consistent speeds. As with any flight, connecting to the internet at 30,000 feet can always be hit or miss.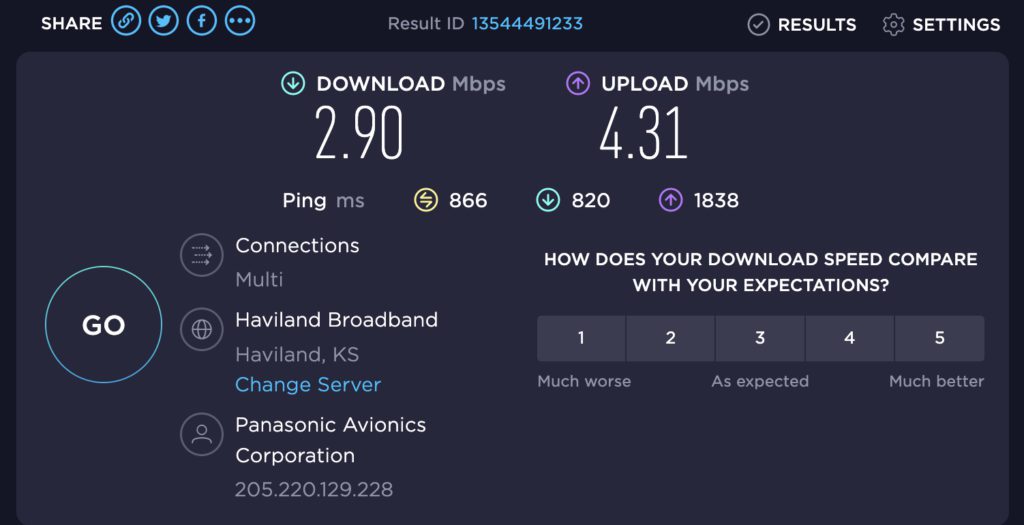 Dining & Service in SAS Premium Economy
I found the service to be particularly efficient in SAS premium economy. The smaller cabin means that service does not take longer than necessary and you won't be sitting with an empty beverage glass or waiting forever for the crew to clear your tray once finished.
The crew was friendly and greeted me in Swedish at first but quickly realized I didn't speak any Swedish and switched to perfect English.
Although there isn't a pre-flight beverage service for premium economy passengers, the flight attendants come through fairly quickly after reaching cruising altitude with a pre-meal beverage and snack.
Everyone was given some cashews and, to my surprise, you could even get a small bottle of sparkling wine when seated in SAS Plus premium economy. There was no issue when I asked for a glass of sparkling water as well. All snacks and drinks are complimentary in premium economy, which isn't the case if you're flying economy.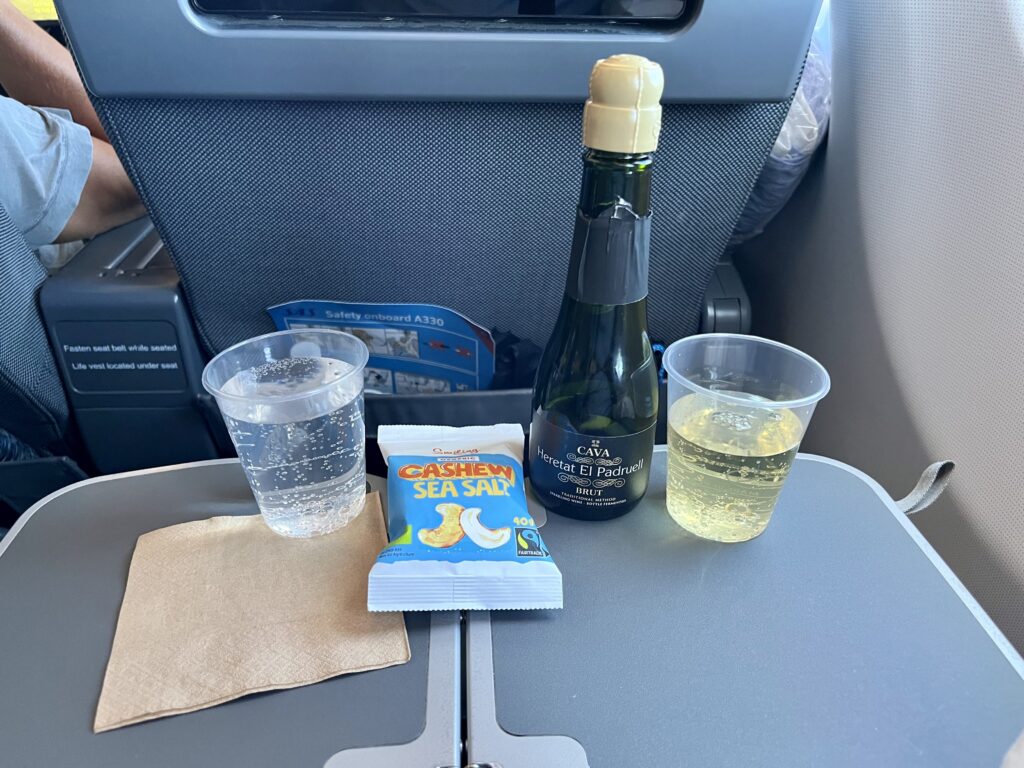 The tray tables are found in the center armrest and can be folded in half if you prefer a little more open space. The fold in the tray table does make it a bit uneven when expanded to full tray table mode, but this wasn't a major issue during my flight.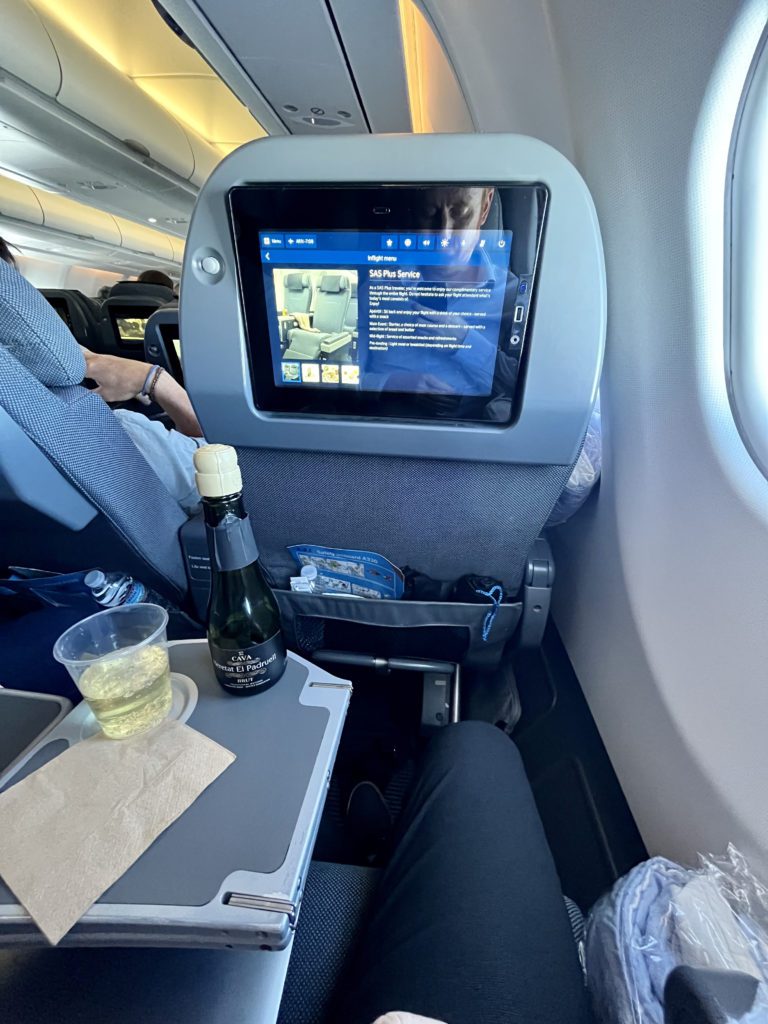 For dinner, there was a choice of chicken with pasta or salmon with potatoes. The meal and sides were all served on one tray with the hot meal wrapped in foil and the sides wrapped in plastic.
I chose to go with the salmon, which was served with a creamy sauce, steamed vegetables, and potatoes. On the side, grains with pepper and olive garnish were served topped with a ball of cheese. There were also crackers and Tillamook cheddar along with a cake for dessert. Warm bread and another beverage were also served with the meal. I went with a complimentary Carlsberg beer with dinner. Coffee and tea were also served after everyone had their meals.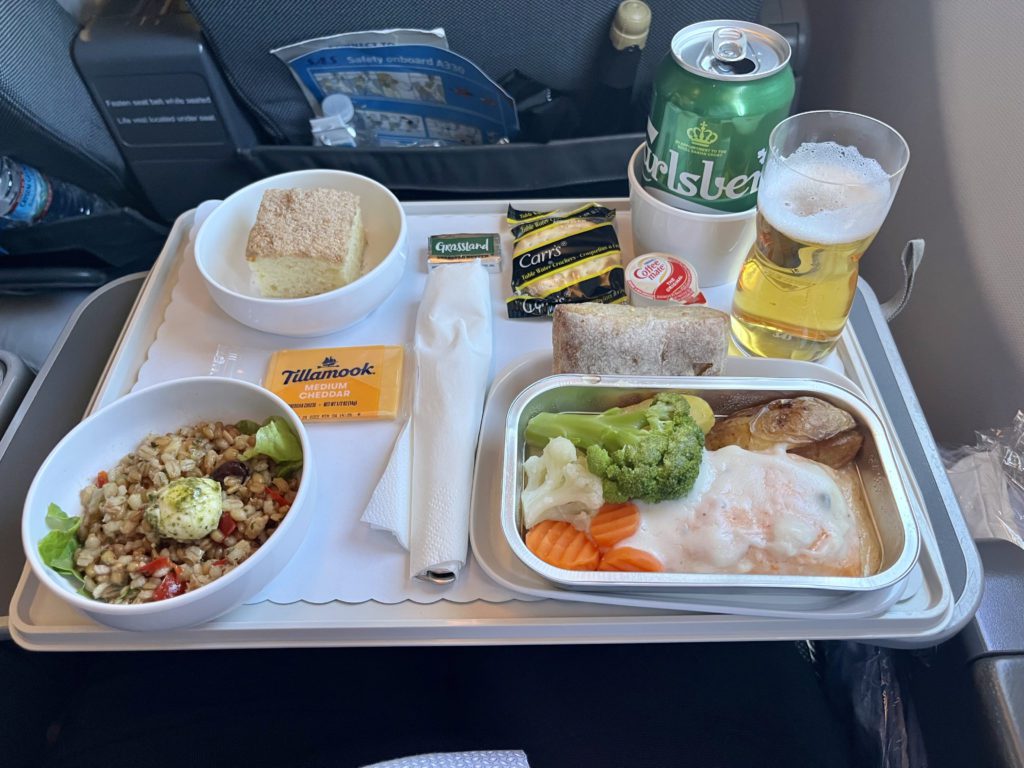 The meal seemed a step above what you'd get in economy class. I wouldn't say it blew me away by any means, but I've never really been too impressed by any meal on an airplane. That being said, some are better than others and this meal was tastier than most you'll find in economy class.
What really set it apart was the fact that you'll get real glass and silverware when seated in SAS Plus premium economy. It may seem minor, but this does give you a little sense of normalcy when enjoying your meal.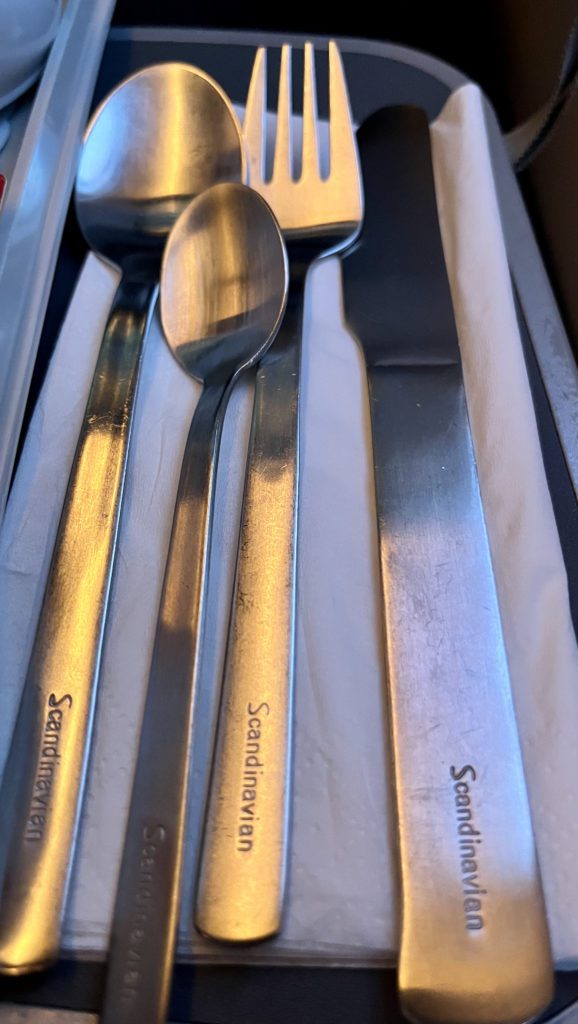 After the meal service, the trays were picked up quickly and the cabin lighting was dimmed for the remainder of the flight. I was able to get a few hours of sleep but didn't sleep throughout the flight as I normally like to during overnight flights across the Atlantic. Flight attendants did come through the aisle mid-flight with more snacks and a choice of beer, soda, or water.
About 90 minutes before arrival, the flight attendants gradually adjusted the mood lighting indicating it was time for breakfast. This is a nice way not to wake any sleeping passengers who wish to get as much sleep as possible.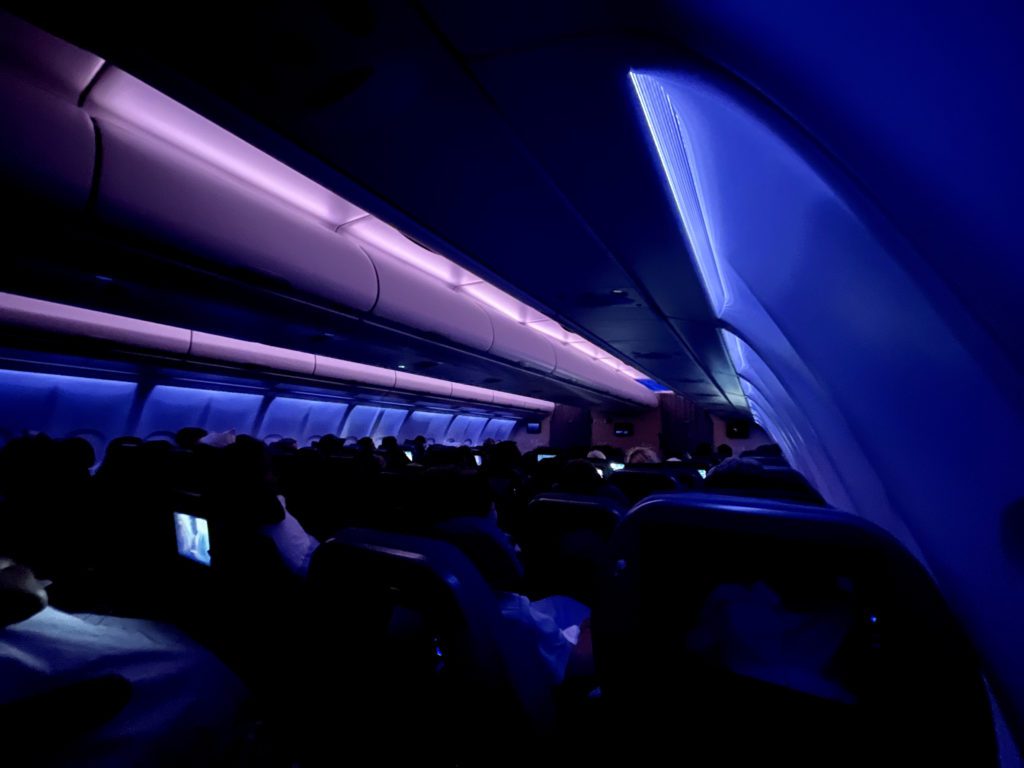 A European breakfast was served, including cold cuts, cheese, fruit, bread, yogurt, granola, juice, coffee, and tea. This was a perfect end to the flight and a great start to the day before landing in Stockholm. I always prefer a simple, cold breakfast – especially on airplanes.
Overall, I found this to be a pleasant flight. The extra space in the premium economy cabin made it possible to get in and out of the window seat without the passenger seated in the aisle having to get up, although it was a tight squeeze. I remained seated for the majority of the flight and was able to get a few hours of sleep on the red-eye flight over to Europe.
Bottom Line
SAS Plus premium economy seats give you more space and elevated service. It's a comfortable way to fly across the Atlantic if you're looking for something in between a standard economy seat and the fancy seats in business class.
The lounge access that comes with a SAS Premium Economy ticket is probably the biggest differentiator over other premium economy products. Time it right, and you can sometimes book these SAS Plus seats for an incredible value – even less than what you might normally pay for economy on some airlines.
The value for your money is what really makes the SAS Plus premium economy seats stand out. In my opinion, Delta Premium Select seats are a better product, but you probably won't find a better bang for your buck than SAS Premium Economy when flying to Europe.