*amex platinum card* is one of the best travel rewards credit cards on the market today, full stop.
While many travelers understandably shy away from the card's hefty $695 annual fee (see rates & fees), it offers a ton of benefits that can make it relatively easy to get the annual fee amount back in value each year … and then some. In fact, even occasional travelers who play their cards right can come out way ahead with the Platinum Card.
Interested in applying for the Amex Platinum Credit Card? We'll run through all the fantastic benefits of the card and explain why the Platinum card might be the perfect fit for your wallet.
Learn more about *amex platinum card*
Amex Platinum Benefits
American Express Platinum Card Welcome Offer
You can currently earn at least 80,000 Membership Rewards points after spending $8,000 in purchases in the first six months of card membership. But you may be able to get much, much more.
If you have never had an American Express credit card, you may be targeted for a welcome offer for up to 150,000 points via CardMatch! Otherwise, keep your eyes peeled for bigger bonuses via personal referral links … or just try searching for the Platinum Card in an incognito browser to see if you can beat the standard 80,000-point bonus.
Read More: How to Get the Biggest Offer on the Amex Platinum Card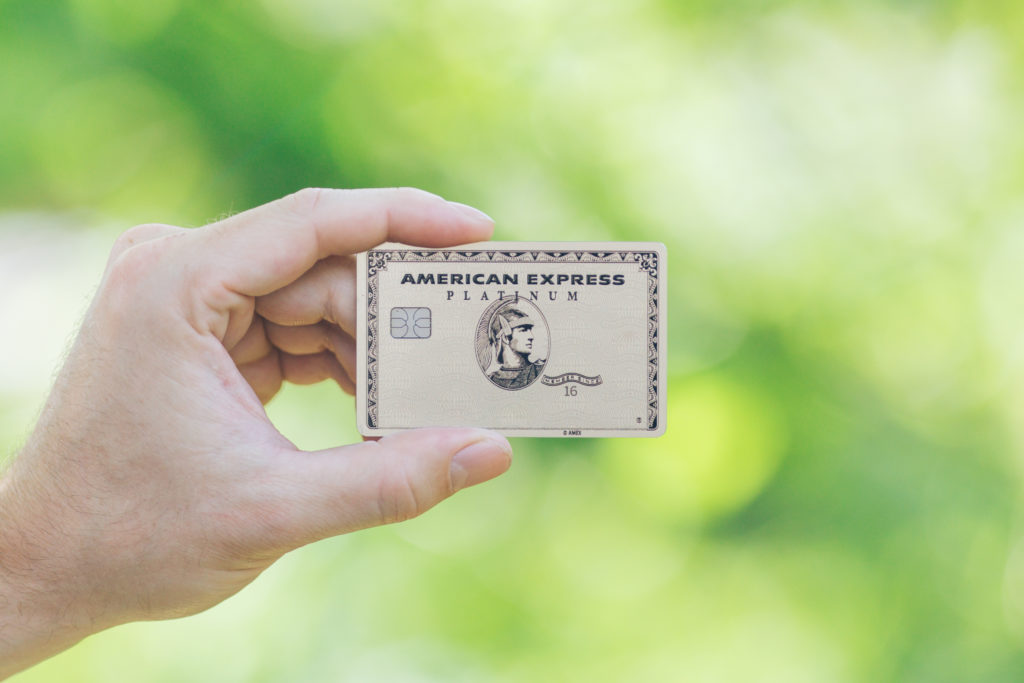 Read up on how you can snag a bonus of 150,000 points on the Amex Platinum Card!
We place a high value on Membership Rewards points, as they are extremely flexible. By using a bonus of up to 150,000 points through Amex transfer partners like Air Canada Aeroplan, ANA Mileage Club, Virgin Atlantic Flying Club, and even Delta SkyMiles, it's fairly easy to squeeze a ton of value out of these points – far more than you're paying for the annual fee.
Just remember: Credit cards are serious business. No matter how many points you can earn or rewards you receive, it's not worth it if you don't pay off every single dime you charge to your Platinum Card.
Read our guide on the best ways to use your Amex Platinum Card welcome bonus!
$200 in Annual Airline Credits
Each year you hold the Platinum Card®, you get up to a $200 credit to use with one selected airline. The credit is intended to be used for things like checked bags, change or cancelation fees, seat assignments, lounge access, and more.
On paper, that means you can't simply buy airfare with these credits. But in practice, there are workarounds you can use to put your credits toward booking flights – especially with Delta, Southwest, and United. Otherwise, using these credits to cover the taxes and fees when booking award tickets is our go-to.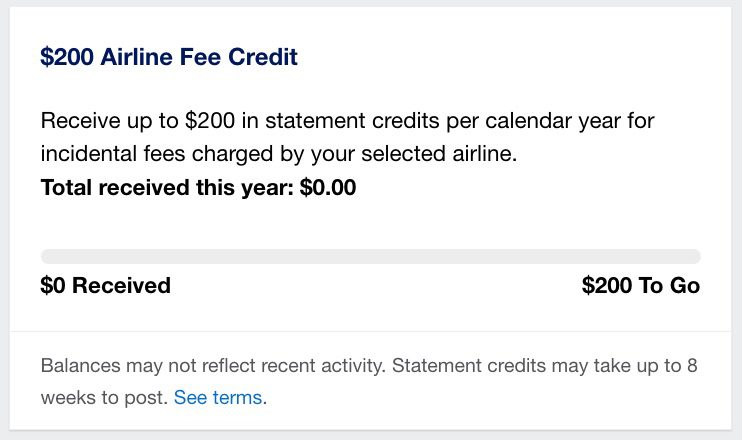 The benefit follows the calendar year, so each January you will get $200 to use. If you have any remaining credit from the previous year, it won't carry over.
So what airlines can you select for your credit? All the big U.S. carriers are eligible. Keep in mind you'll need to select one of these airlines in advance in order to use up the credits at the start of the year.
Delta Air Lines
United Airlines
Hawaiian Airlines
Frontier Airlines
Spirit Airlines
American Airlines
JetBlue Airways
Southwest Airlines
Alaska Airlines
Make sure to read our whole guide on the best ways to maximize your Amex Airline credits!
$200 Annual Uber Credit
Each year you hold the Platinum Card, you get credits for up to $200 toward Uber rides. You get $15 each month except for December, when you get $35 to round out the year for $200 total. 
You must use the full credit each month or you will lose any remaining value: The credits do not carry over from month to month. And even if you don't often take Uber rides, the credit can also be used on Uber Eats, Uber's food delivery platform. If Uber Eats is available in your area, it makes it relatively easy to maximize this benefit each and every year.
Up to $240 in Annual Entertainment Credits
After a major refresh back in 2021, Amex Platinum cardholders now receive up to $240 in annual statement credits for select entertainment services, split into monthly installments of $20. But this new benefit is incredibly restrictive: It currently only applies to purchases or subscriptions with the following services:
Audible (Starting on October 2, 2023, Audible will no longer be a participating partner).
SiriusXM
Peacock
The New York Times
Disney+
The Disney Bundle
ESPN+
Hulu
The Wall Street Journal
Unless you're already using and paying for one of these services, this is a mediocre benefit at best.
$300 Equinox Gym Credit
Another new benefit of the Platinum Card from American Express that was added in July 2021 is a credit of up to $300 to use for Equinox gym memberships or a digital subscription to Equinox+.
This credit improved in 2023 as you now get the entire $300 allotment upfront – not parceled out in $25 monthly installments, which was how it worked when it first launched.
Still, this benefit is more or less worthless if you don't live close to an Equinox club or don't already pay for a digital membership.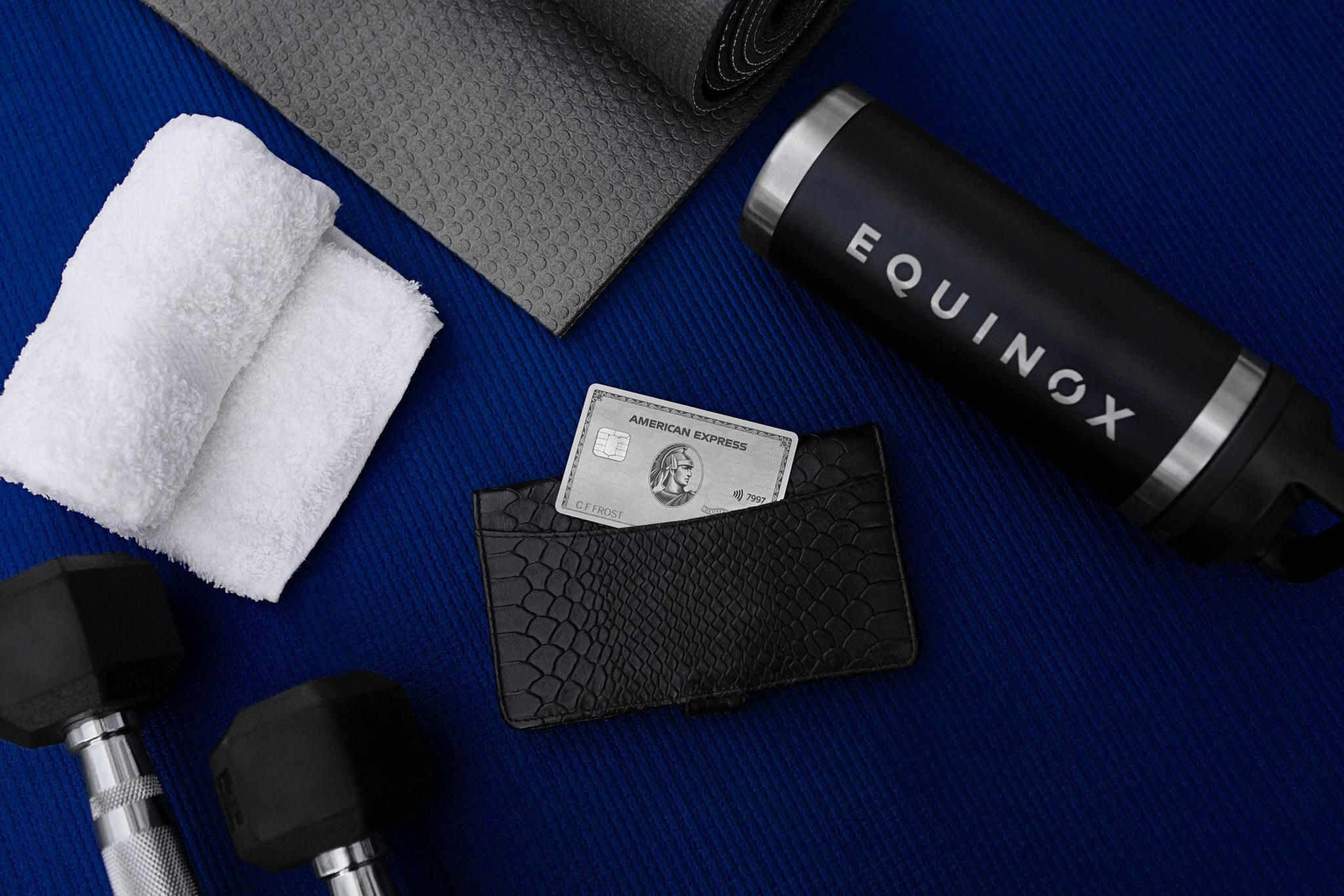 Equinox doesn't have a big footprint. With only 106 clubs around the world, it's unlikely you've got one nearby if you don't live in or near a major metropolitan area.
Amex Platinum Cardholders Get a Free Walmart+ Membership
This one's just weird. Nothing says "premium travel credit card" like a Walmart subscription, right?
On the heels of its summer 2021 overhaul when Amex hiked the Platinum Card's annual fee with additional benefits, the bank added several more perks, including a monthly credit of up to $12.95 for … a Walmart+ membership.
Odd or not, there are some decent perks with a Walmart+ membership that could make it worth signing up for, including:
Free next-day shipping from Walmart.com, with no order minimums
Free local delivery of groceries and other items, with a $35 order minimum
Discounts on prescriptions from Walmart pharmacies, with savings of up to 85% according to Walmart
Save 5 cents per gallon on gasoline from Walmart and Murphy stations.
Skip the checkout lane: Scan your items with your phone using the Walmart app, pay, and go.
Plus, a Walmart+ membership now gets you free Paramount Plus for at-home streaming of popular channels like CBS, Comedy Central, MTV, BET, and Nickelodeon as well as many live sports events and movies.
Like many others on this list, this is a monthly credit … and it's "use it or lose it."
$100 Annual Credit for Saks Fifth Avenue
Each year of card membership, you get two credits of up to $50 to be used at Saks Fifth Avenue stores.
One $50 credit will be available from January through June, with another available from July through December. Like the other credits available on the Platinum card, you will lose any remaining balance you have after the expiration date. And enrollment is required for this benefit.
The offer can be used both in-store and online. Per the terms and conditions of this offer, it will not work to purchase gift cards.
Saks Fifth Avenue isn't the cheapest place to shop, but you should be able to find a few things each year to use your credit on.
Global Dining Access by Resy
Amex Platinum cardholders will get access to the new Global Dining Access program from Resy. The Platform will give Platinum cardholders access to exclusive reservations at some of the world's top restaurants.
They will also get access to premium events and other perks like priority notifications and VIP status.
Premium Private Jet Program
Do you fly private? Or plan to do so? Yeah, we didn't think so.
But Amex Platinum cardholders will get a 20% discount on Wheels Up Connect and a 40% discount on Wheels Up Core memberships. You'll also get a $500 or $2,000 credit added to your Wheels Up account to use towards your initial flight within your first year, depending on which Wheels Up membership you select.
More information on this perk can be found here.
Earning Points Using Amex Platinum
Earn 5x Points on Airfare & Prepaid Hotel Stays
If you spend a lot of money on airfare, you won't find a more rewarding card than the Platinum Card.
That's because it earns 5x Amex Membership Rewards points for every dollar you spend directly with any airline or through the American Express travel portal at amextravel.com, on up to $500,000 spent each year. Combined with some excellent built-in travel insurance, it easily makes the Amex Platinum Card the best option for booking flights.
You'll also earn 5x points per dollar when booking prepaid hotel stays through AmexTravel.com. Otherwise, you'll earn just 1x point per dollar on all other spending.
American Express Platinum Travel Benefits
The Best Airport Lounge Access, Period
The Platinum Card offers one of the best credit cards for airport lounge access, and no other travel rewards credit cards come particularly close.
Just for holding the Platinum card, you will get access to the following lounge networks through their global lounge collection:
Amex Centurion Lounges: These are American Express's flagship lounges, available only to Platinum cardholders. Your card gets you in free, but as of earlier this year, American Express will charge up to $50 per guest. You'll find Centurion Lounges in more than a dozen U.S. airports and counting, with several international locations including Hong Kong (HKG) and London Heathrow (LHR).
Read our master guide to the Amex Centurion Lounges.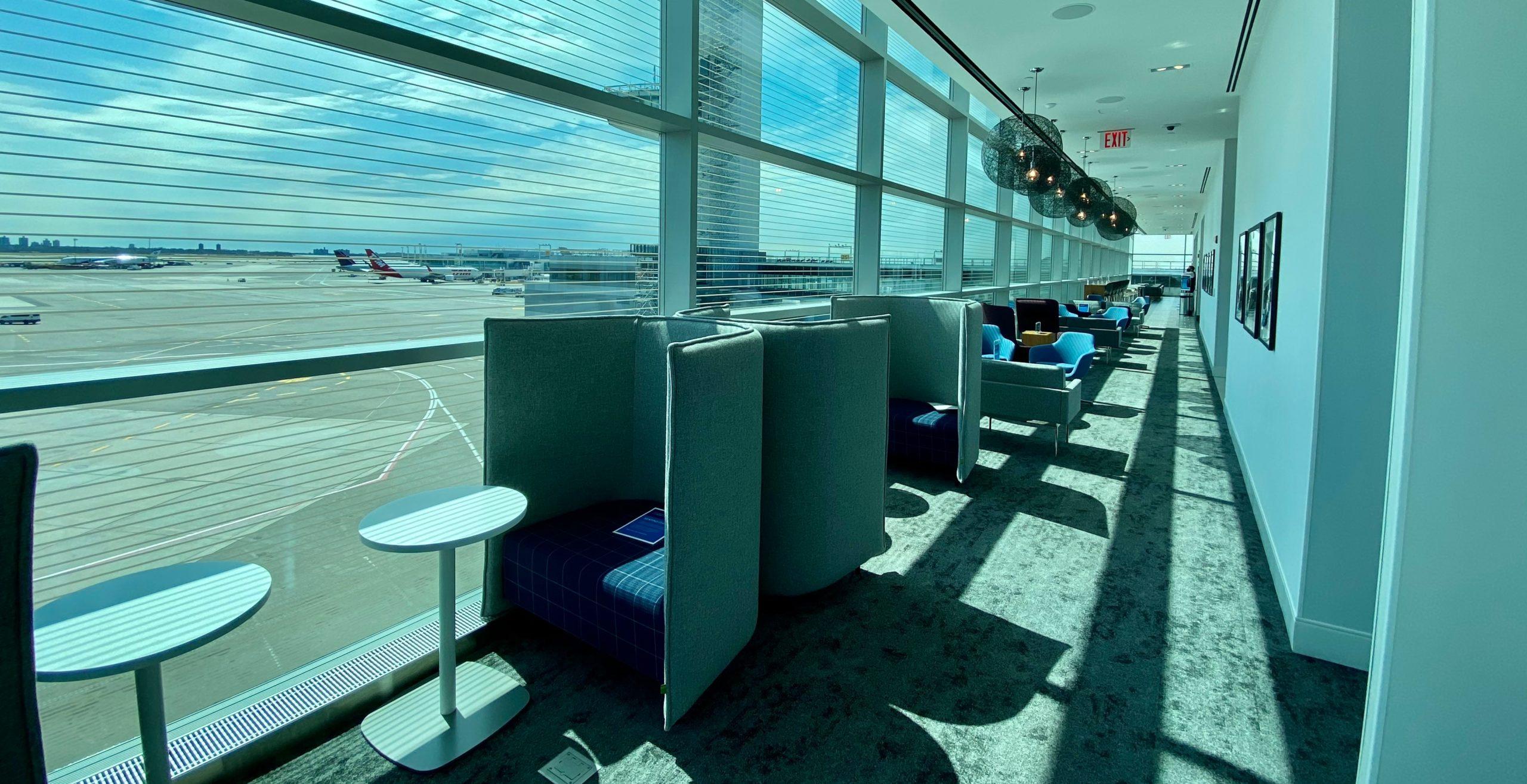 Delta Sky Club: If you often fly Delta, the Platinum Card is a no-brainer. Just for holding the card, you will receive complimentary access to any Delta Sky Club as long as you are flying with Delta that day. You can't bring guests in free – they'll also cost $50 each. See our guide to getting Delta Sky Club access!
Priority Pass: The Amex Platinum Card also offers Priority Pass Select membership, getting you and up to two guests in free at 1,200-plus lounges around the world. See our master guide to Priority Pass Lounges. 
Plaza Premium: Plaza Premium Lounges are a collection of more than 300 lounges around the world, with higher-end finishes and food than you'll find in your standard airline club or Priority Pass Lounge. They're mostly found overseas, though the company is building more and more of them in North America. For now, it also includes access to the excellent Virgin Atlantic Clubhouse lounges in the U.S.
The Escape Lounge:  Escape Lounges, the American Express Studio are a partnership with American Express. They're typically much smaller than your typical Amex lounge, but also regularly less crowded. You'll find them at airports across the country, even smaller regional airports. The Escape Lounge allows Amex Platinum cardholders to bring in up to two guests at no additional cost. Check out our reviews of the MSP Escape Lounge and the Escape Lounge in Phoenix!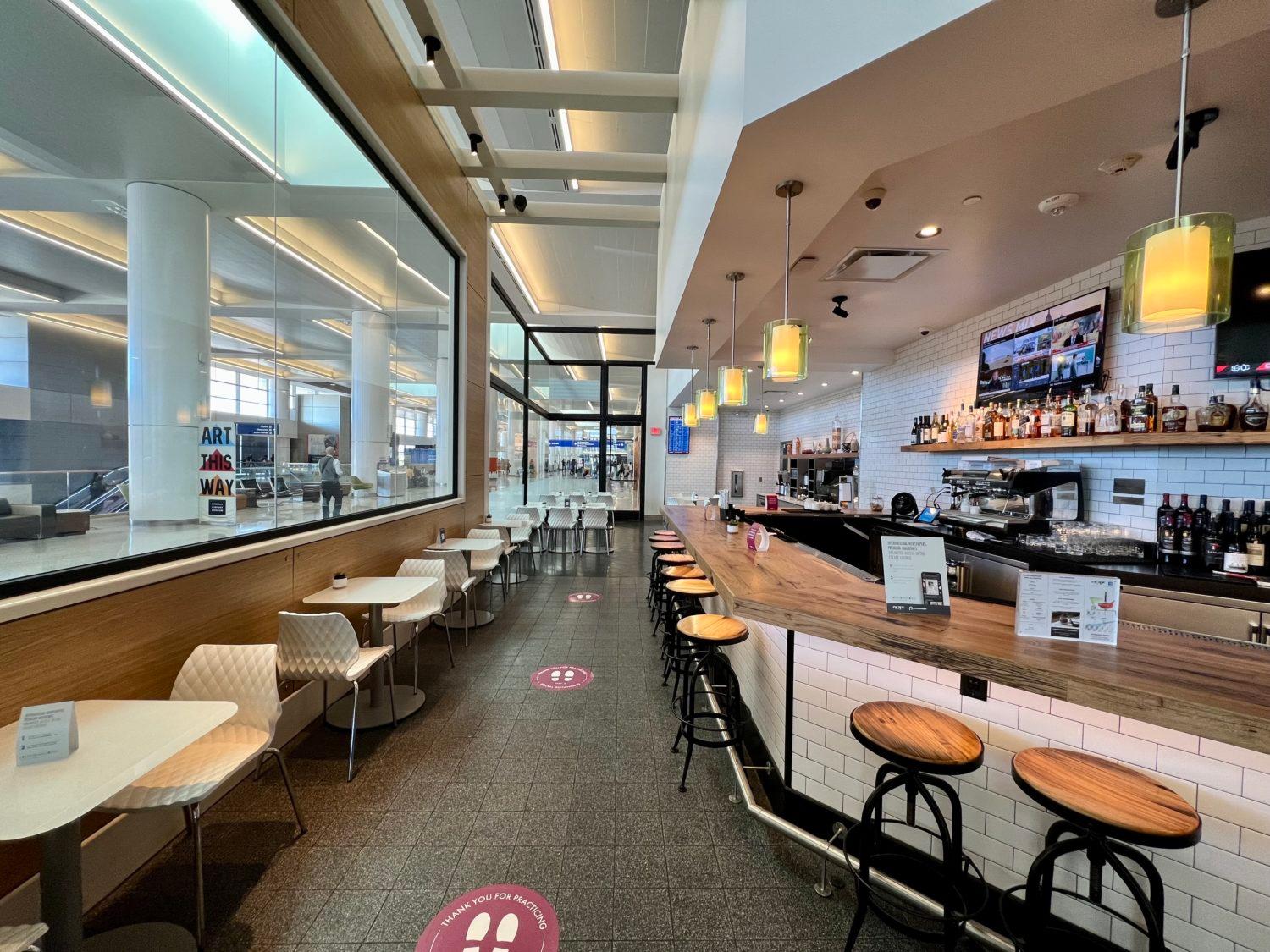 A $189 Annual Credit for CLEAR Plus
One of the most intriguing benefits of the Platinum Card from American Express will help cover the cost of a CLEAR® Plus Membership.
Platinum cardholders get a $189 annual credit for the privately run security program. It's one of two credit cards that will cover the entire cost of CLEAR Plus, as memberships start at $189 a year. Just pay for your membership with your Platinum Card and the credit should kick in automatically.
You can easily lower the cost of CLEAR to just $179 by being a Delta SkyMiles or United MileagePlus member, or even $149 if you hold a co-branded credit card from United or Delta or have status with either airline. That leaves some extra money on the table with this new credit, which you could use by adding a family member to your account for $70.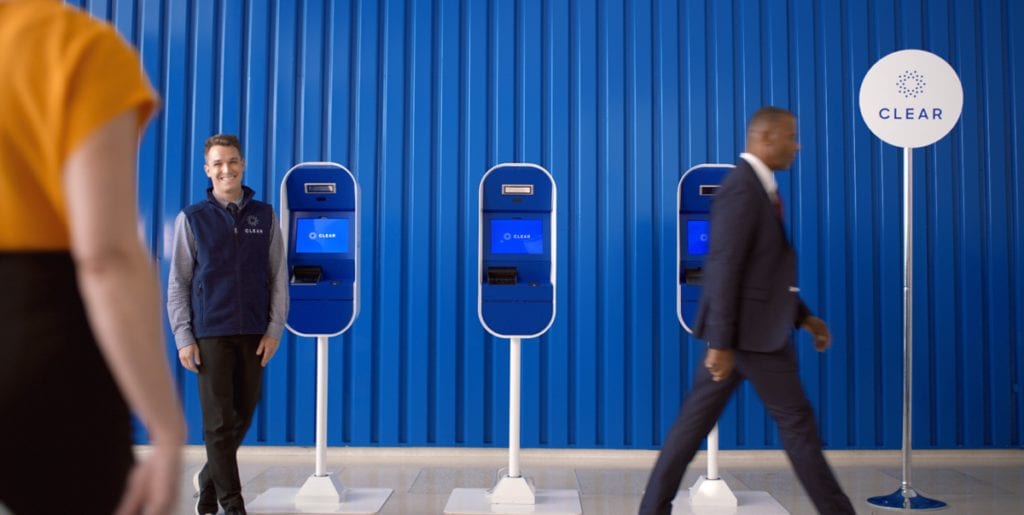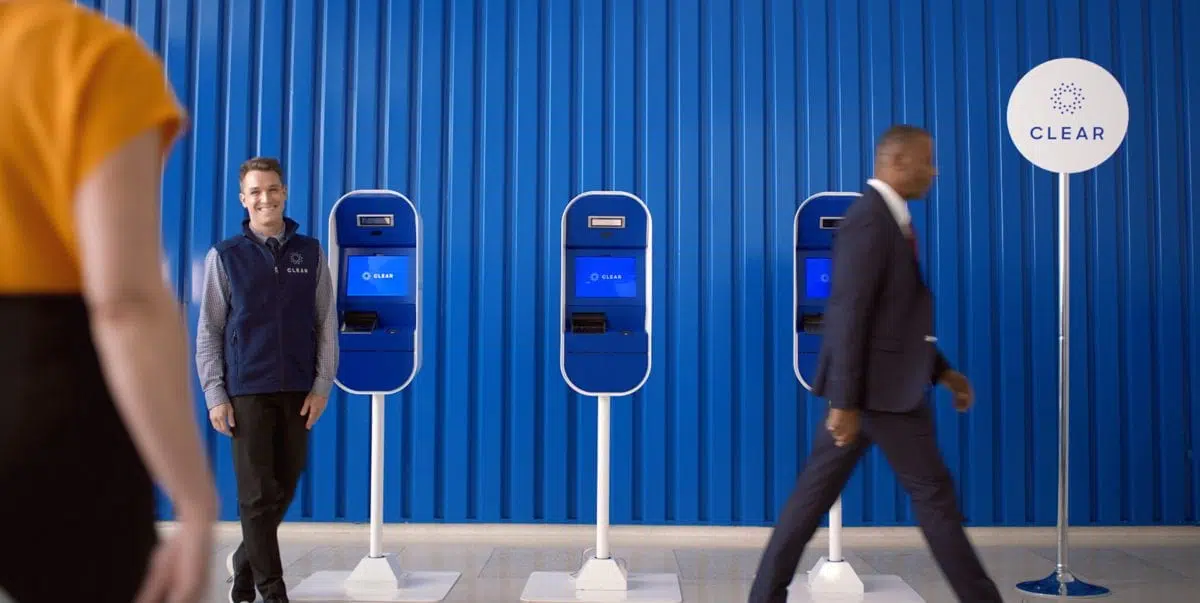 CLEAR Plus may not make sense for every traveler, but there's no denying this is a nice benefit. CLEAR Plus allows you to cut to the front of the security line at a growing number of U.S. airports.
Read more: Is CLEAR Worth the Cost Anymore? Our Full Review
Global Entry or TSA PreCheck Fee Credit
If you apply for either Global Entry or TSA PreCheck and pay with the Platinum Card, a credit will kick in to cover the entire cost ($100 for Global Entry and $78 for TSA PreCheck). You are eligible to receive this credit once every four years, and membership in either program is good for five years.
Global Entry also includes a TSA PreCheck membership. So if you plan to do any international travel, that's likely the best option. Just beware: Backlogs in processing applications and trouble securing a Global Entry interview appointment can make signing up a lengthy process.
Not sure which option is best for you? See our guide on Global Entry vs TSA PreCheck. 
Amex International Airline Program
The Amex International Airline Program (IAP) is an exclusive benefit available to both Platinum and Business Platinum cardholders that allows you to get exclusive savings on select airlines when you book your airfare through the American Express travel portal. It is only valid for international itineraries booked in first class, business class, and premium economy – so there are no additional savings here when flying economy.
American Express claims that the average savings are $150 on premium economy, $300 in business class, and $600 on international first-class round trip fares. In practice, we've seen these numbers vary depending on the routing, fare class, and the airline.
The discount will only apply on flights originating in the U.S., and from select Canadian airports. Additionally, Amex will allow you to apply the international airline program discount on up to eight tickets booked on the same flight. 

Read our full guide on the American Express International Airline Program.
Amex Platinum Hotel Benefits
Hilton Honors & Marriott Bonvoy Gold Elite Status
Just for holding the Platinum Card® from American Express, you get automatic Marriott Bonvoy and Hilton Honors Gold Elite status without having to meet any stay requirements. You'll just need to enroll on the benefits tab of your online account.
Marriott Bonvoy Gold Elite status typically requires 25 eligible stays in a calendar year. With the status, you'll earn 25% more points on stays, receive enhanced room upgrades upon availability, and enjoy a late checkout during your stays.
Hilton Honors Gold Elite status typically requires 20 stays or 40 nights in a calendar year. With the status, you'll earn 80% more points on stays, complimentary space-available upgrades, and complimentary breakfast for you and a guest at all Hilton hotels during your stay.
It's the main reason we think Hilton Honors Gold Elite status is the best mid-tier hotel program. Hilton Gold status benefits include free breakfast during your travels abroad for you and a guest. In the U.S., Hilton has replaced this with a daily food and beverage credit.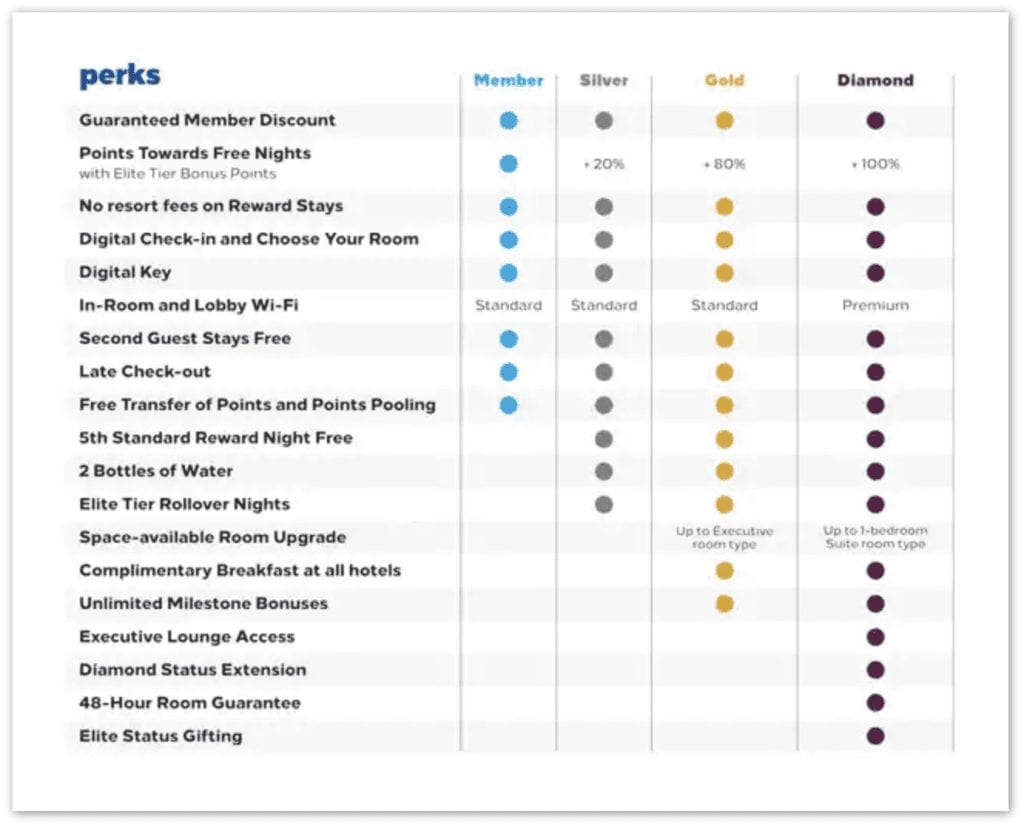 $200 Hotel Credit
Each year, you'll have a $200 credit to use at either Fine Hotels and Resorts or Hotel Collection properties.
All you need to do to get started is search for hotels through the Amex Travel booking portal. This new credit only applies to Fine Hotels + Resorts® (FHR) or Hotel Collection properties. Notably, Hotel Collection properties require a minimum stay of two consecutive nights.
Booking through these programs can provide some great value – especially when putting your $200 credit to use. Whether you are booking a Fine Hotels & Resorts or a Hotel Collection property, you'll get great benefits like daily breakfast for two, complimentary space-available room upgrades, late checkout, and credits of up to $100 to spend at the property's spa or restaurants.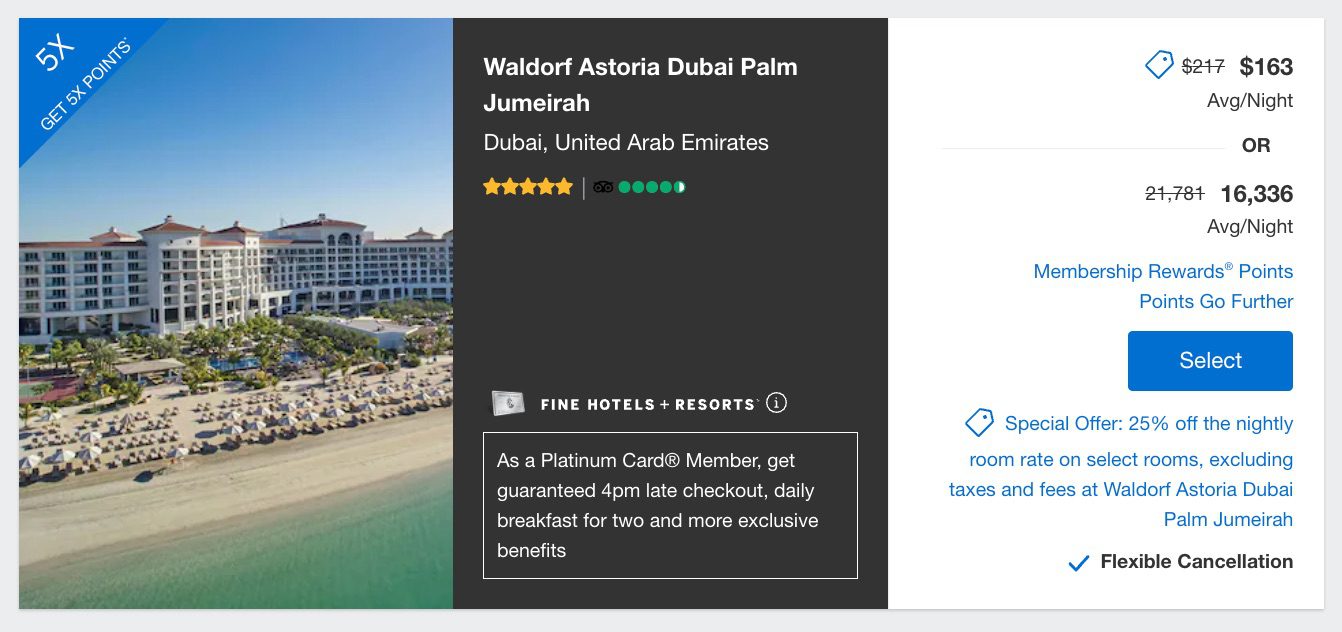 Unlike some of the other Amex Platinum benefits, there's no need to enroll for the credit before you use it. All you need to do is log in at Amextravel.com, search for a participating property, pay with your Platinum Card, and that $200 credit will kick in automatically.
But like many other credits on this list, this Amex hotel credit resets each calendar year, right on Jan. 1. But since this is a prepaid credit, you only need to book before the end of the year. You'll still be able to use it even if your stay is far into the following year so long as the charge posts to your account on or before Dec. 31 each year.
Check out our full guide on using the Amex Platinum hotel credit!
Other Travel Perks
Trip Delay & Cancellation Coverage
American Express has added trip delay and cancellation coverage to the Platinum Card. Add in the 5x points per dollar you earn when booking flights directly with the airline, and the American Express Platinum Card will become the absolute best way to book flights.
If you pay for your round-trip flight with the Platinum Card – or put the taxes and fees from an award flight on it – you will be eligible for:
Trip Cancellation Insurance: You can get reimbursed for up to $10,000 of nonrefundable expenses – and up to $20,000 a year total – if your flight is canceled due to weather, an injury or illness, and other "covered reasons."
Trip Delay Insurance: If your flight is delayed by more than six hours, you are eligible for up to $500 in reimbursement for lodging, food, and other associated expenses.
To qualify for coverage, flights must be round-trip – though booking a multi-city trip and sometimes even two one-way flights would still qualify for coverage.
Read more about the American Express travel insurance and coverage policy here!
Cell Phone Insurance Protection
As of March 2021, American Express added a cell phone insurance benefit to many of their top travel credit cards – including the Amex Platinum Card.
If a card member's cell phone is stolen or damaged (damage even includes a cracked screen), American Express will reimburse the cost of repair or replacement for up to two approved claims for a maximum of $800 per claim or $1,600 over a 12-month period.
Your phone line must be listed on the wireless bill and the prior month's wireless bill must have been paid with one of the eligible cards listed above.
Each claim will require the cardholder to pay a $50 deductible – a relatively small cost.
Read More: Amex Adds Cell Phone Protection to Many Top Travel Cards. 
Amex Platinum Concierge
Just for holding the Platinum Card® from American Express, you will receive around-the-clock assistance with travel planning and booking, shopping advice, and other personal requests through their Platinum cardholder concierge service. Simply email the platinum concierge at [email protected] or give them a call at 1-800-525-3355.
Amex Platinum Cardholders can also search, book, and manage restaurant reservations from more than 10,000 restaurants (and growing) around the world through the American Express mobile app thanks to their recent acquisition of the restaurant reservation service, Resy.
If you hold the Platinum card, head to the "Membership" tab in the mobile app. You will see the "Access Top Restaurants" button in your account.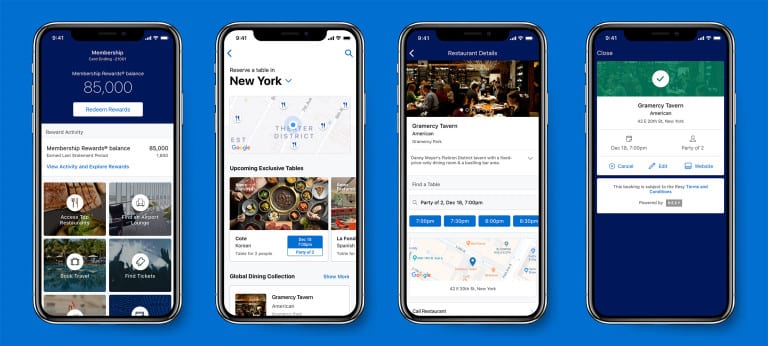 Adding Authorized Users to Your Amex Platinum
Adding authorized users to your travel credit card can be a great way to share travel perks with loved ones.
But if you want to add an authorized user, it will cost you. After a recent benefits update, adding an authorized user to your Platinum Card will cost another $195 per card each year – which certainly isn't cheap.
But there are some alluring reasons why you should consider adding an authorized user.
Your new authorized user won't get every single benefit that you do. Namely, some of the big-dollar credits don't pass over to your guest. But there's more than enough value here to offset the additional fee for many travelers. Here's a brief rundown of what your authorized users will get.
American Express Centurion Lounge Access: Yes.
Priority Pass Select Lounge Membership: Yes.
Delta SkyClub Access (When Flying Delta): Yes.
$100 Credit for TSA PreCheck or Global Entry: Yes.
Earn 5x Points on Airfare Booked Directly with Airlines and Hotels Booked Through Amextravel.com: Yes.
$200 in Annual Airline Fee Credits: No.
$200 in Annual Uber Ride Credits: No.
$200 Hote Credit: No.
$189 CLEAR Credit: No.
$300 Equinox Gym Credit: No.
$240 Digital Entertainment Credit: No.
$100 in Annual Saks 5th Ave. Credits: No.
Instant Hotel Status with Marriott and Hilton: Yes.
Instant Rental Car Agency Status with Hertz, Avis, and National: Yes.
One additional note: you can add a "Companion Platinum Card" to your account at no additional cost. These users won't get nearly as many benefits, but they will get their own reimbursements for TSA PreCheck or Global Entry.
Read More: Get TSA PreCheck for the Whole Family with 1 Credit Card
Is the Amex Platinum Annual Fee Actually Worth It?
The Platinum Card boasts an annual fee of $695 which is not waived in the first year (see rates & fees).
Because of all the benefits the card offers listed above, that can easily be a fair price … but it depends on you. If you are using the benefits, you should get far more value out of the card than you are paying for the annual fee. And if you're able to get a welcome bonus of 150,000 points, that alone could make it a no-brainer for at least the first year.
If you can't maximize those benefits or don't want to put in the (admittedly substantial) effort to do so, this card could be worth skipping.
Read More: Is the $695 Amex Platinum Annual Fee Worth It? An Honest Review

Learn more about *amex platinum card*
Bottom Line: Amex Platinum Full Review
Year in and year out, the American Express Platinum Card is one of our favorite travel rewards credit cards.
While the large annual fee isn't for everyone, there is no single credit card that can improve your airport and travel experience more than the Platinum Card. Throw in the big bonus, and it's easily worth considering.