Budget carriers like Frontier Airlines can strike fear in the heart of travelers for knee-crunching legroom, uncomfortable seats, and fees that can instantly outweigh what was once a cheap ticket. But this ultra-low-cost carrier has its place: Do it right, and it's a nice (and cheap) flight.
That was my takeaway after flying Frontier for the first time on a quick, bleary-eyed morning flight from Minneapolis-St. Paul (MSP) to Denver (DEN) recently. The seats certainly won't win any awards for comfort, but the legroom was surprising … and believe it or not, I mean that in a good way. And while you'll pay a hefty price to pick your seat or bring anything bigger than a backpack with you, whether you pay an extra $100 or $0 is up to you.
Will I fly Frontier again? I won't go out of my way to hop onboard one of their animal-emblazoned jets – especially if I need to bring some baggage or work for a few hours from the skies. But unlike many travelers who swear they'll never set foot on this budget carrier, I won't take pains to avoid them, either.
It's all about expectations. So read on for our full Frontier Airlines review.
Booking Frontier Flights
The trip with Frontier started long before getting on the plane. The experience of booking a ticket with Frontier Airlines is an adventure, filled with surprising twists and turns you won't find on many (if any) other airlines.
To be perfectly clear, everything went smoothly while booking my Frontier ticket from Minneapolis to Denver. But during the booking process, how many other airlines will:
Charge more for a carry-on bag, checking a bag, or even many seat assignments than the cost of the ticket itself?
Offer you a free, one-time change for an extra 99 cents?
Try to give you a bunch of coupons for free or discounted razors, Hello Fresh food deliveries, or a Walmart+ subscription after checkout?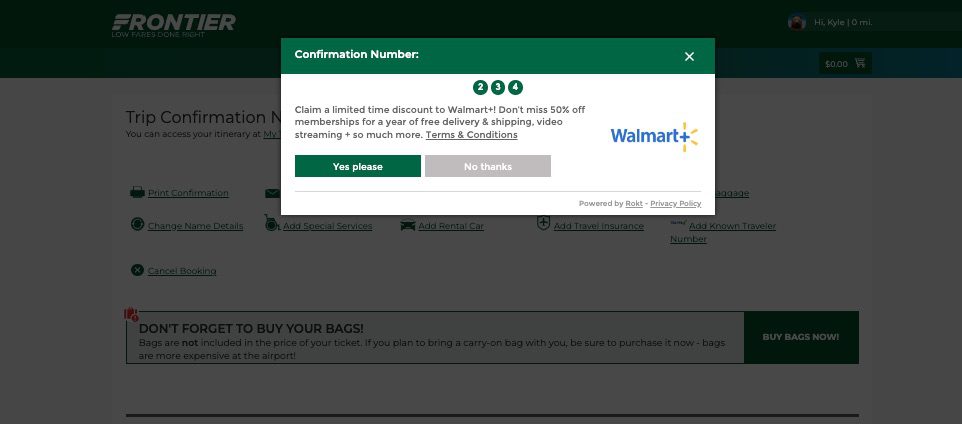 Much like any other ultra-low-cost carrier, there's one key thing to keep in mind when booking Frontier: The cost of your ticket might seem cheap at first, but the fees add up – and they add up fast. In fact, Frontier makes more revenue collecting fees on bags, seats, and early boarding than it does actually selling plane tickets.
That's exactly how they do it. By unbundling things like seat selection, baggage, priority boarding, and even drinks, Frontier can offer cheap fares while making more money on a handful of different fees. Think of it like basic economy fares on the major U.S. airlines, just on steroids.
In my case, it started with a $49 one-way fare from Minneapolis to Denver booked just two weeks before departure – a route that sometimes sinks as low as $29 or even $19 each way. It's easy to search for Frontier flights on Google Flights and click through to begin the checkout process with Frontier.
But right off the bat, Frontier tried to upsell me on various bundles that included bags, free seat assignment, early boarding, and other perks … for double or nearly triple the price of my ticket. I passed and went the a la carte route.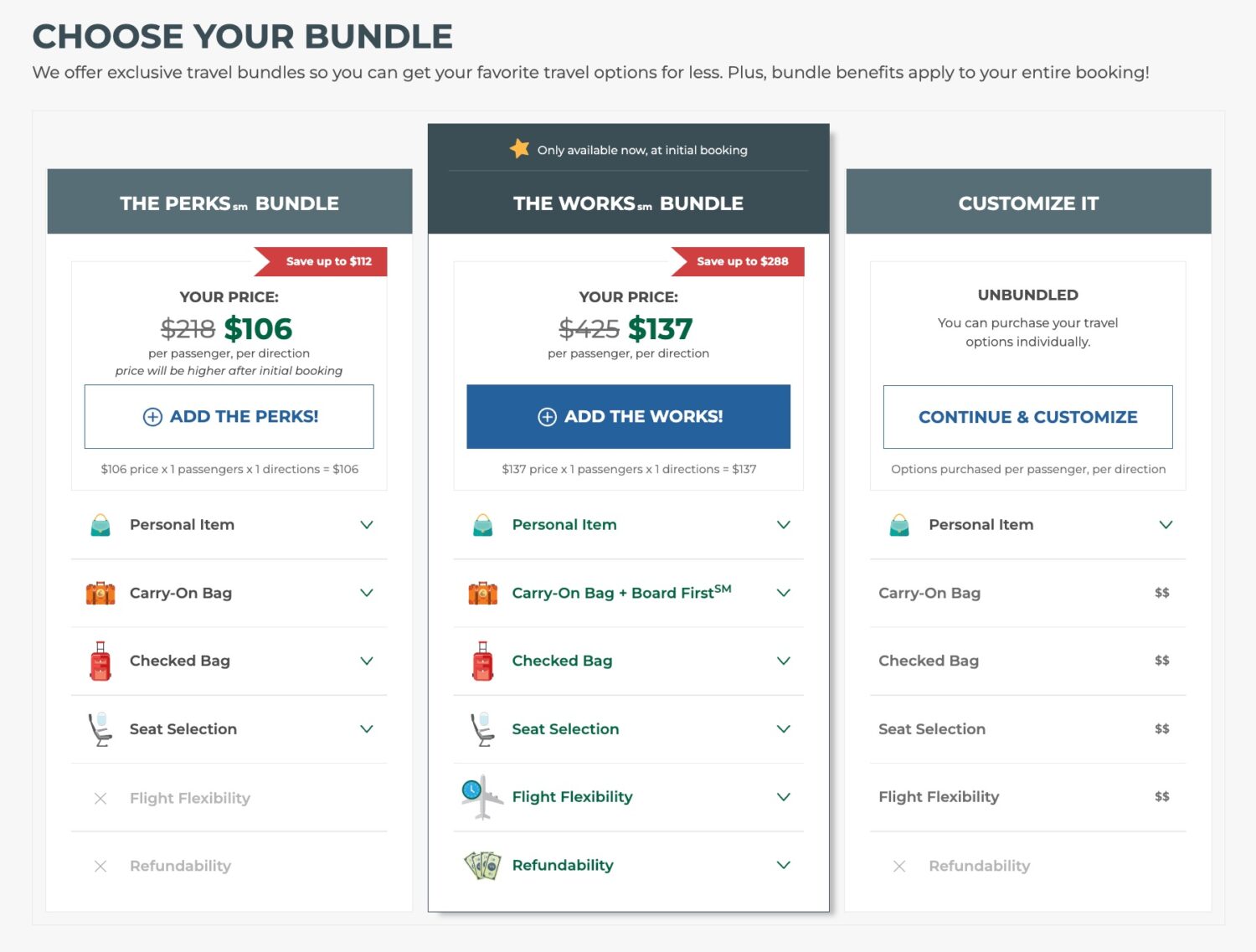 From there, it was time to select seats. Frontier was charging anywhere from $19 for a seat at the back of the plane to as much as $55 for a "Stretch" seat with some extra legroom at the front of the plane. If you need a seat assignment, it's wise to pick one and pay up during the checkout process: Seat fees increase after you book. Otherwise, you can roll the dice and get assigned a seat for free at check-in.
Oddly, Frontier was charging more for middle seats than for those along the windows or aisles … because on many of its planes, those middle seats are actually a bit wider. No matter: I went with an aisle seat in the middle of the plane for an extra $25.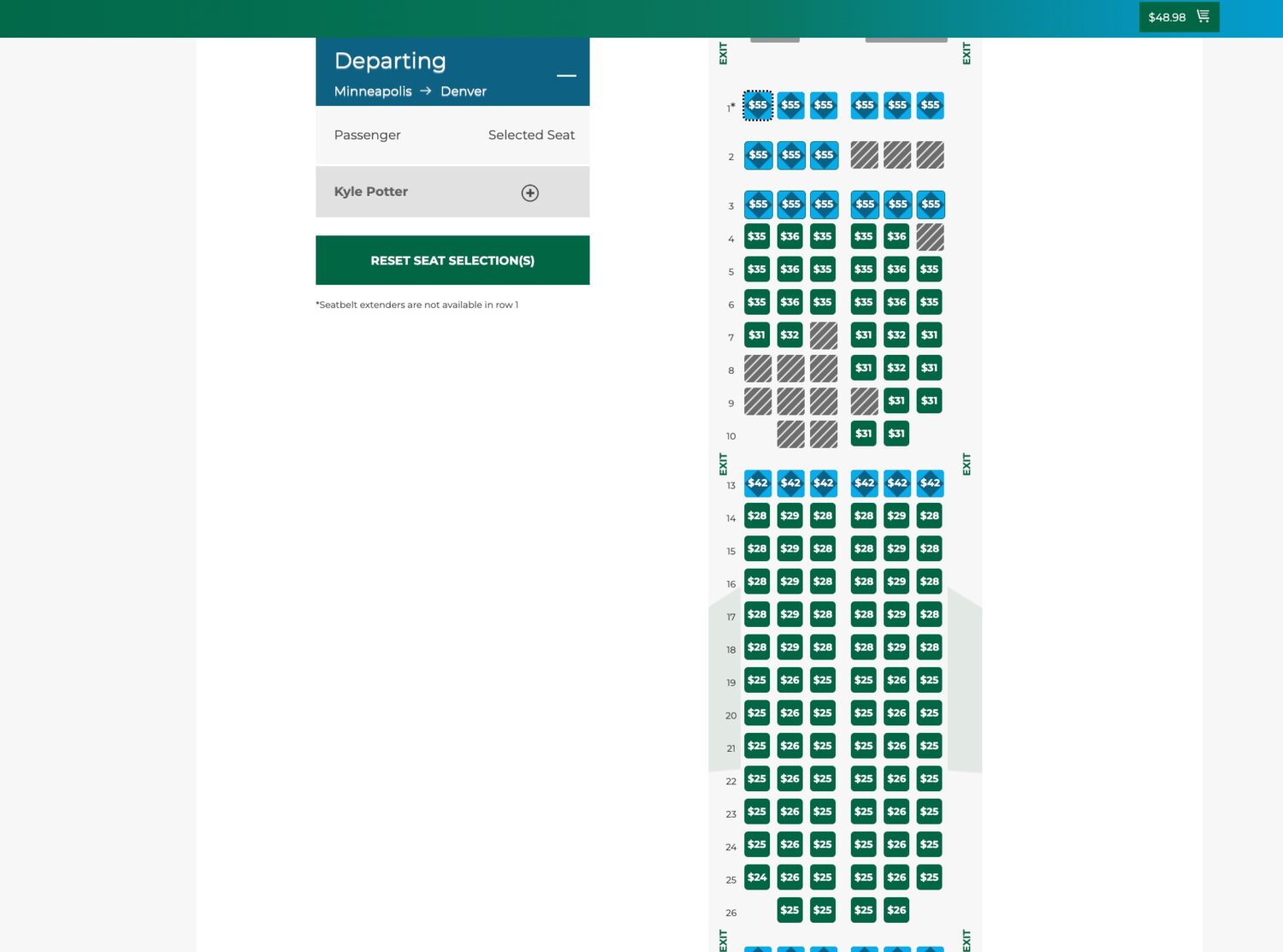 Flying Frontier, the only thing you can bring onboard for free is a personal item – like a backpack or purse – that you can stow underneath the seat in front of you. Adding a checked bag or even a carry-on to your reservation will cost you dearly: In my case, adding any bag to my flight was more than the ticket itself. Paying $69 or more each way for a bag is steep, especially compared to the $30 or $35 standard on major U.S. carriers like American and Delta.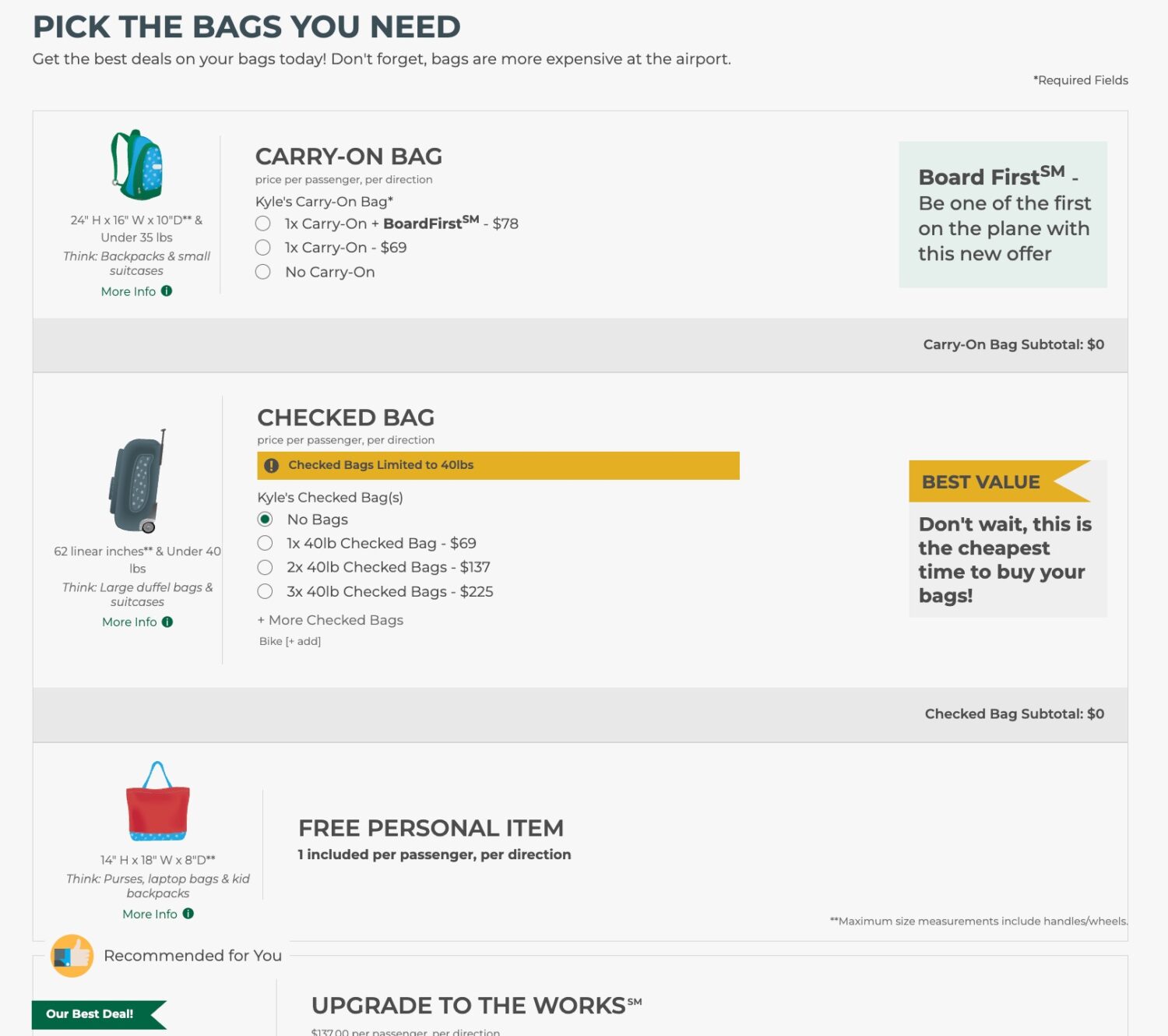 Read our full breakdown of Frontier baggage fees!
I kept things simple and skipped a bag. At every turn, Frontier tries one last time to upsell you on these additional fees, warning that adding a bag after completing the checkout process will cost even more.
The fees don't end there. Frontier also offered a free one-time change for 99 cents – though it may be higher on other flights – as well as the option to add priority boarding for another $7.99.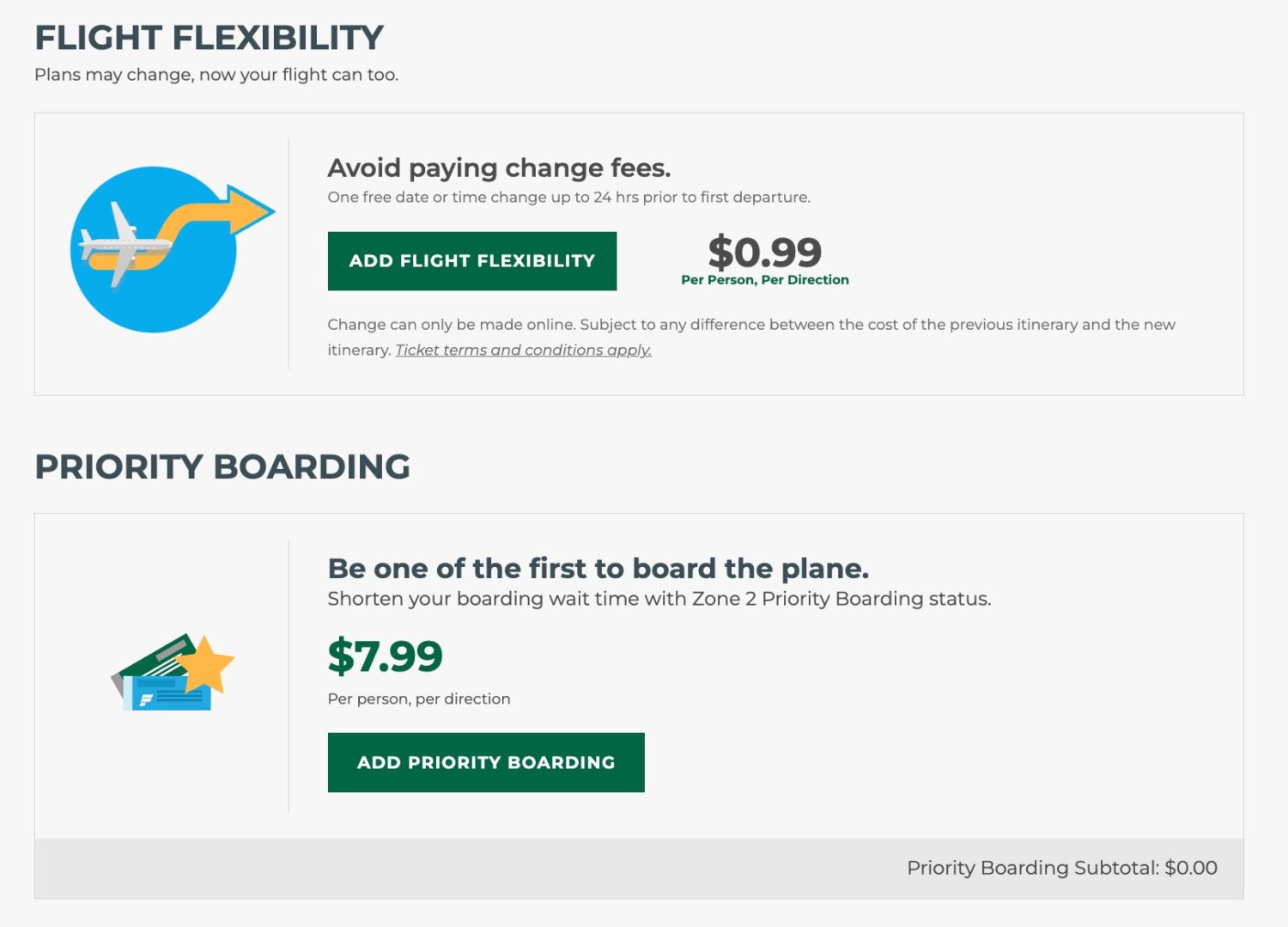 And there was yet another last-ditch attempt to add something extra, like a rental car and what Frontier calls "Agent Assistance" – a $20 fee for having a Frontier agent check you in and print your boarding pass at the airport. Pass.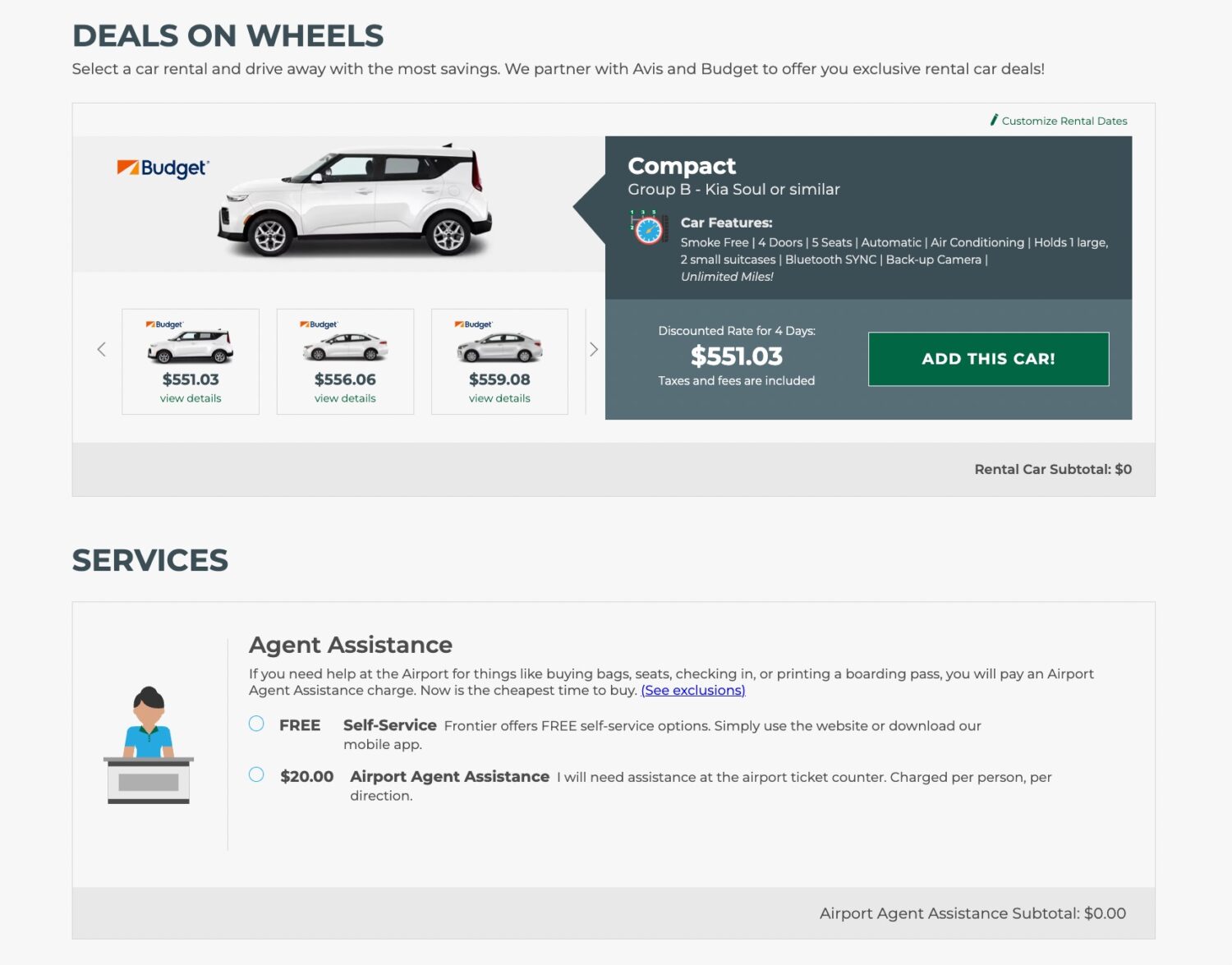 I was traveling light and didn't need much, so I was able to book my one-way ticket to Denver with a seat assignment and a one-time free change – why not? – added in for a grand total of just under $75. That's not bad at all … but you have to do the math for yourself. If you need to bring a carry-on bag and pick a seat with extra legroom, those extra fees flying Frontier could easily push the cost of your ticket over the likes of flying Delta, American, United, or Southwest.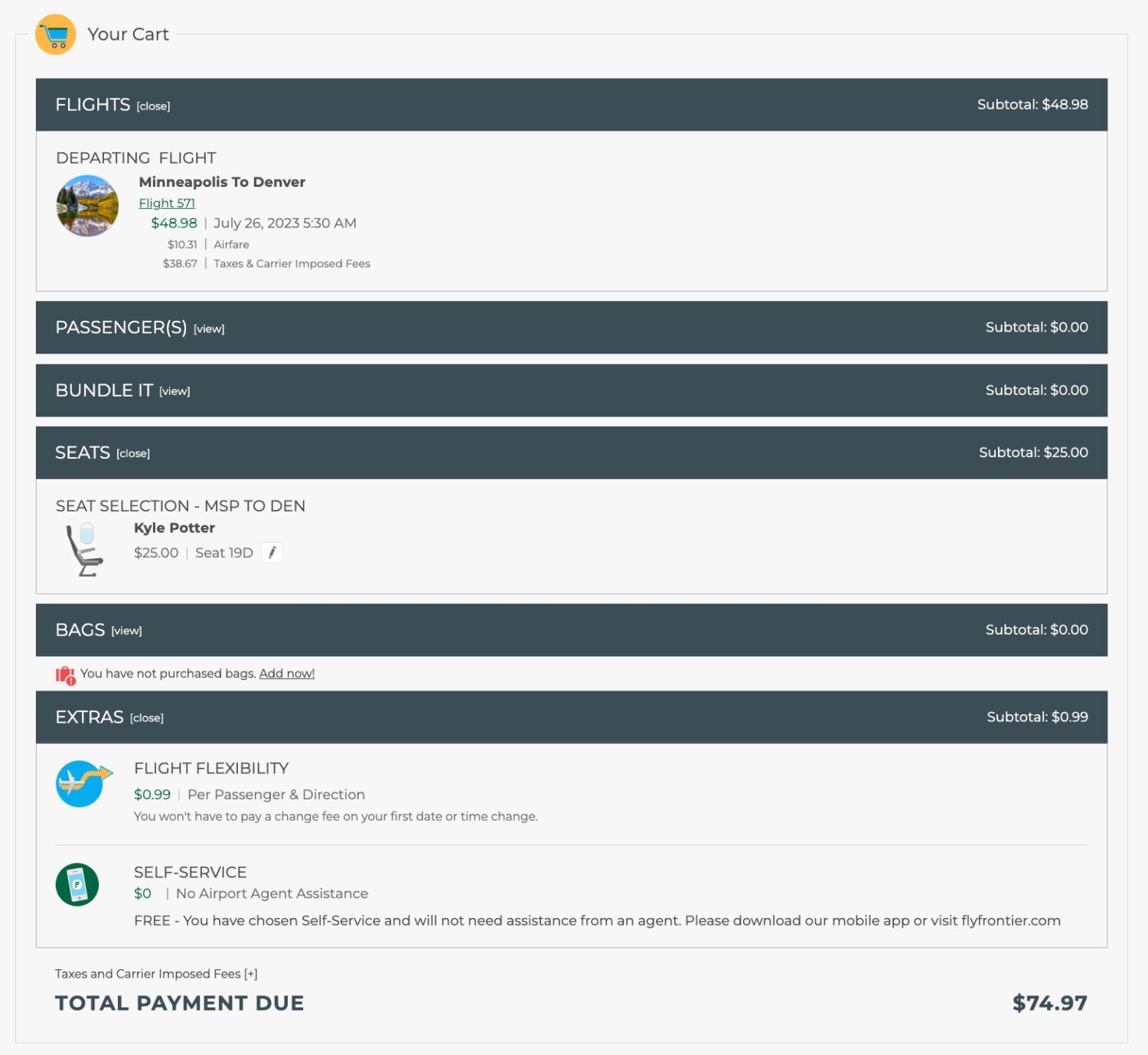 At Thrifty Traveler, we don't accept freebies. We use our own points, miles, or cash to pay for every single flight or hotel you see reviewed here – including this one!
Checking In & Boarding
Don't procrastinate when flying Frontier. And definitely don't get to the airport late.
As of Aug. 16, Frontier will close its check-in counters and bag drop one hour before each flight's departure. That's substantially earlier than most airlines, who give travelers a 30- to 45-minute window before domestic flights. So whether you need a paper boarding pass or just have to check your bag, you'll want to get to the airport earlier before a Frontier flight.
Traveling light or checking in online or via a smartphone app, like me? You should be set. Checking in through Frontier's app and adding my boarding pass to my Apple Wallet was a cinch.
Flying in and out of Minneapolis-St. Paul (MSP), you'll need to pay close attention to the terminal. Frontier now operates out of the airport's smaller Terminal 2, a move it made a few years ago.
Frontier flies a fleet of Airbus A320s and A321s, each emblazoned with an animal on the tail and a corresponding name. Our A321 – dubbed "Joe Bob the Badger" – was ready and waiting at the gate for our bright-and-early departure to Denver.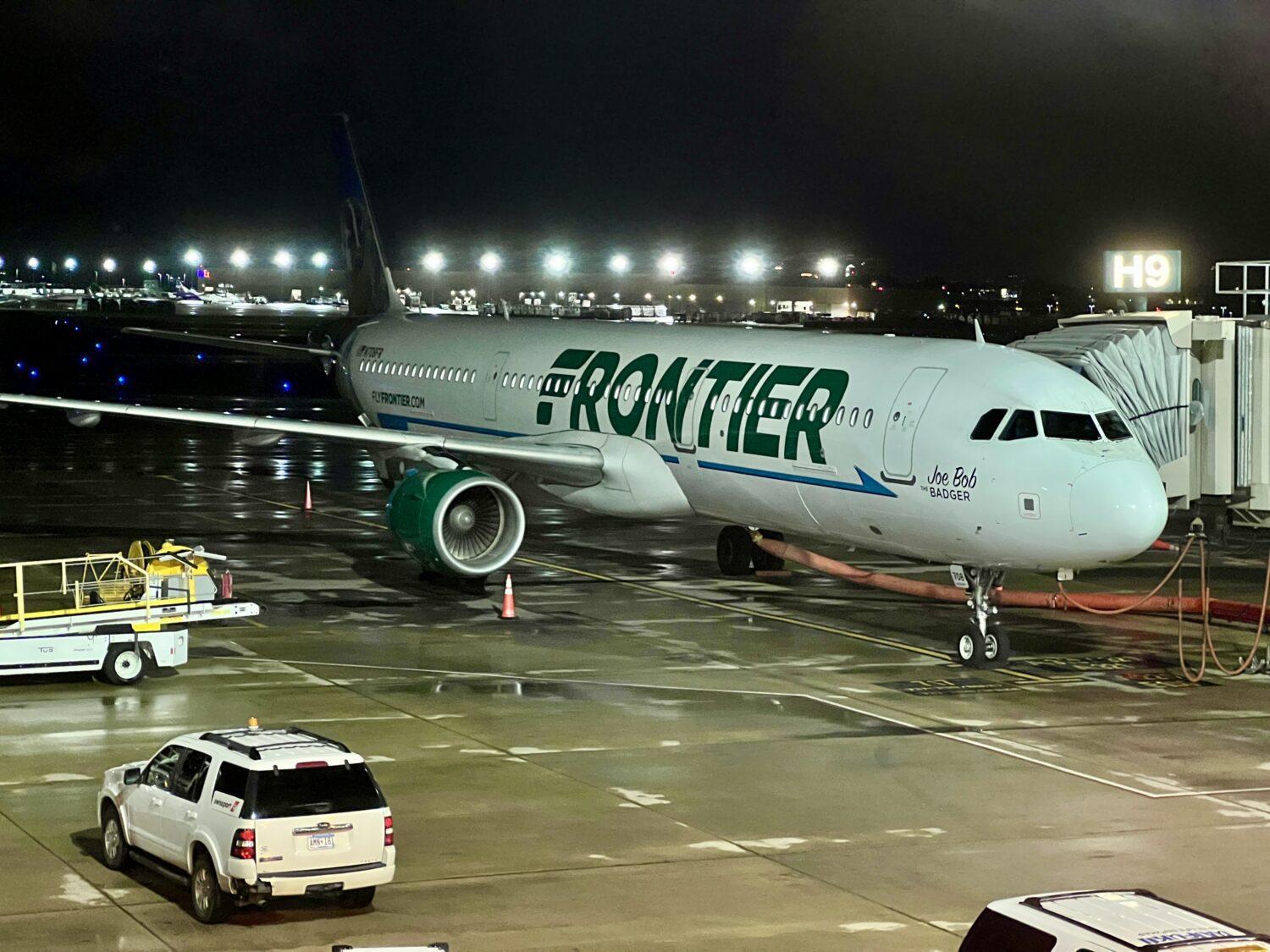 Frontier handles its boarding process differently than most airlines – and it's all about how the airline enforces its "don't you dare bring a carry-on bag onboard unless you paid for it" policy. Zone 1 boarding is solely for passengers who have paid to bring a carry-on bag. After that, Zone 2 through Zone 5 is for the rest of the passengers bringing just a personal item on board.
There were sizers at the gate for both personal items and full-size carry-ons, and the gate agent did not hesitate to use them to ensure no bags were too big.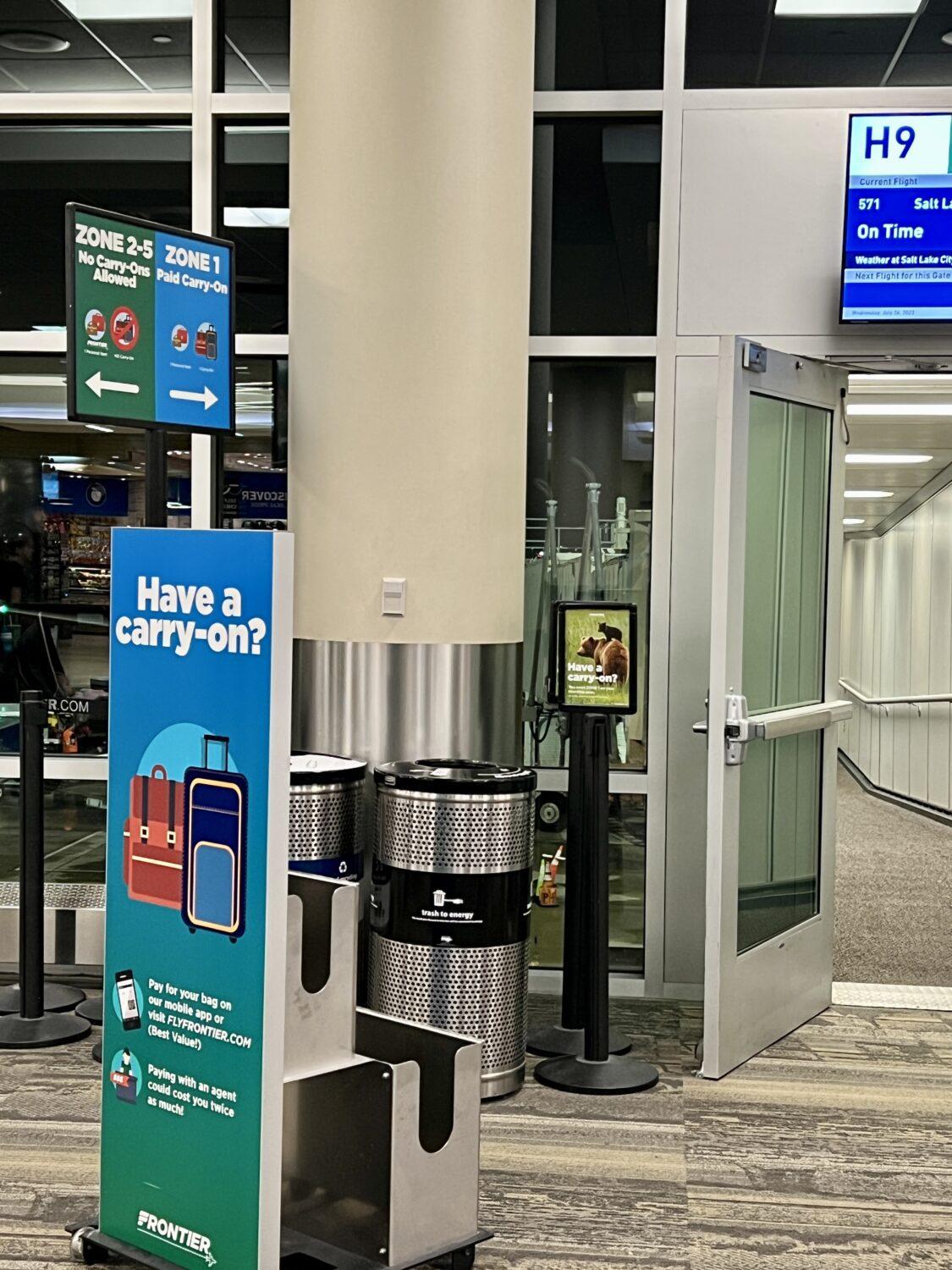 With just a handful of passengers boarding in Zone 1 and stowing carry-on bags overhead, boarding went pretty quickly.
Frontier Airlines Cabin & Seats
Like all budget airlines, Frontier Airlines packs a lot of seats on its planes. Maximizing passengers is the name of the game.
In all, there are a whopping 230 seats onboard this Frontier A321. Compare that to the 191 seats Delta installs on the exact same planes, and you can immediately tell that Frontier squeezed in as many seats as it could.
The cabin is about as basic as it gets, with black leather seats, gray seatbacks, and … not much else. But hey, it's a cheap ride to get you where you need to go!
Really, the only differentiation in the cabin is in the "Stretch" seats at the front of the plane and in the exit row, which are in jet-black leather with some patterned cross-stitching to set them apart from the rest of the plane. There are three rows of these extra legroom seats at the front of the cabin and another, single exit row – each sporting a few extra inches of legroom for an additional fee.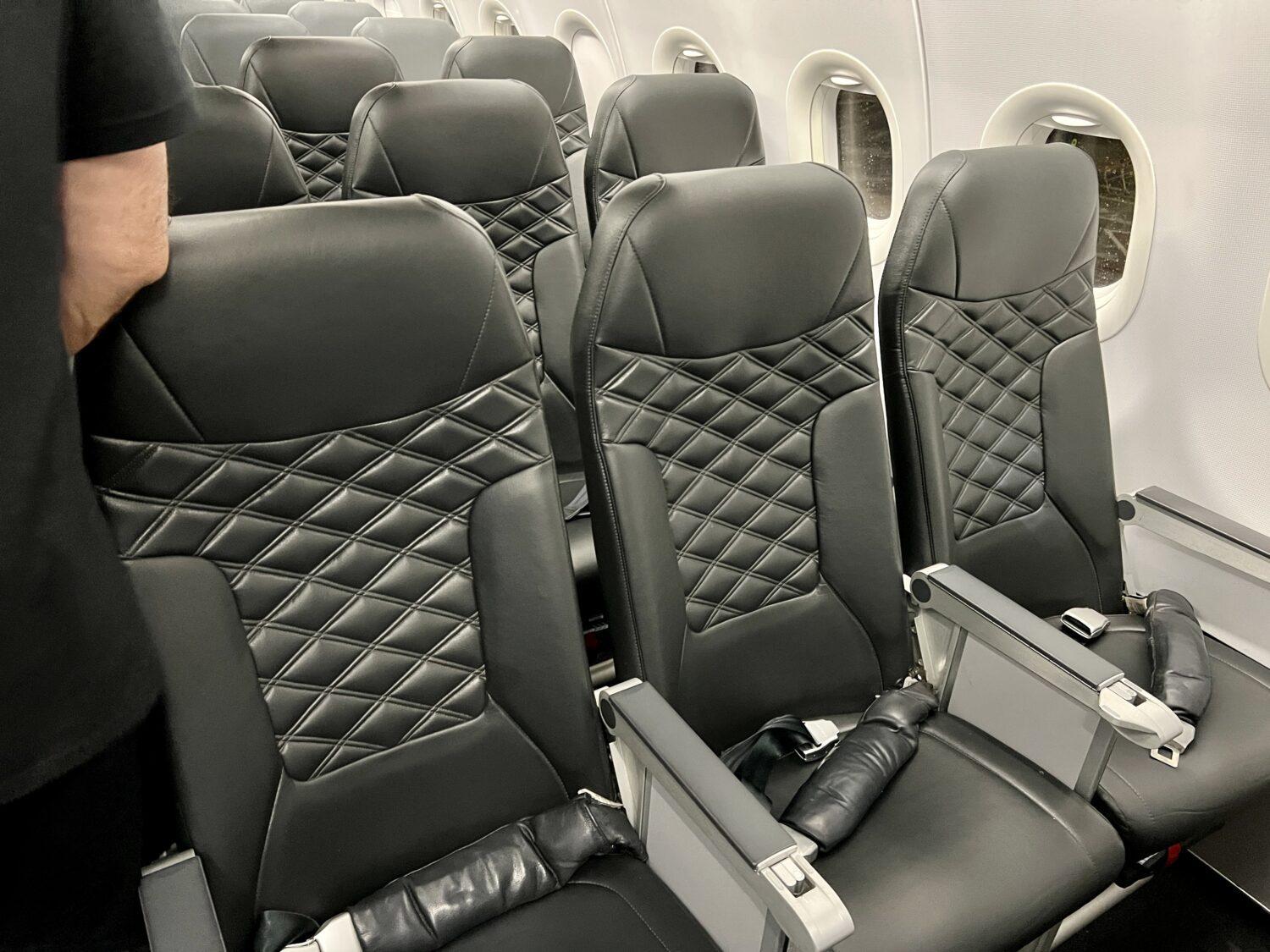 The rest of the 200-some seats throughout the plane were largely identical, with plain gray leather and a few details here and there.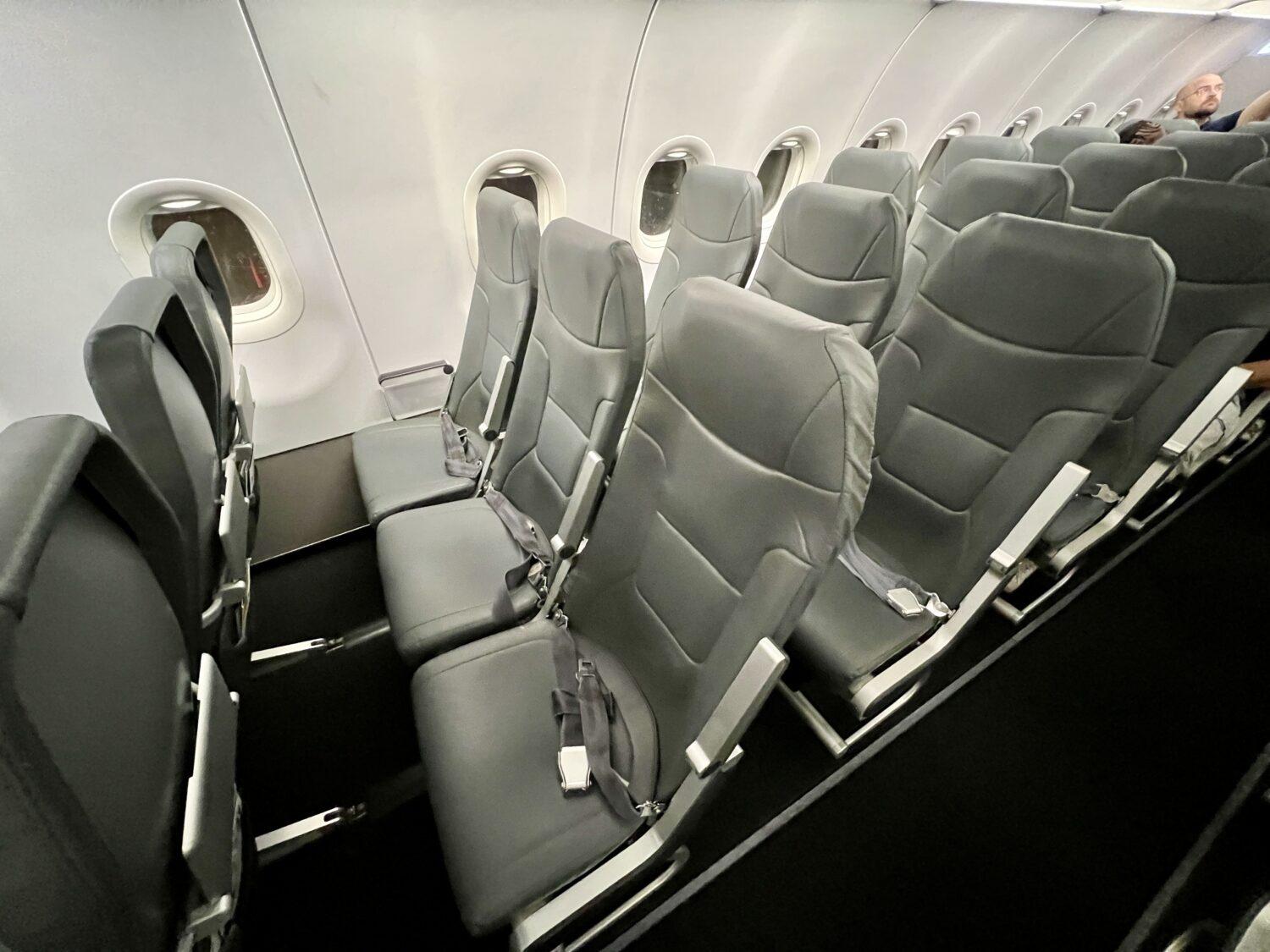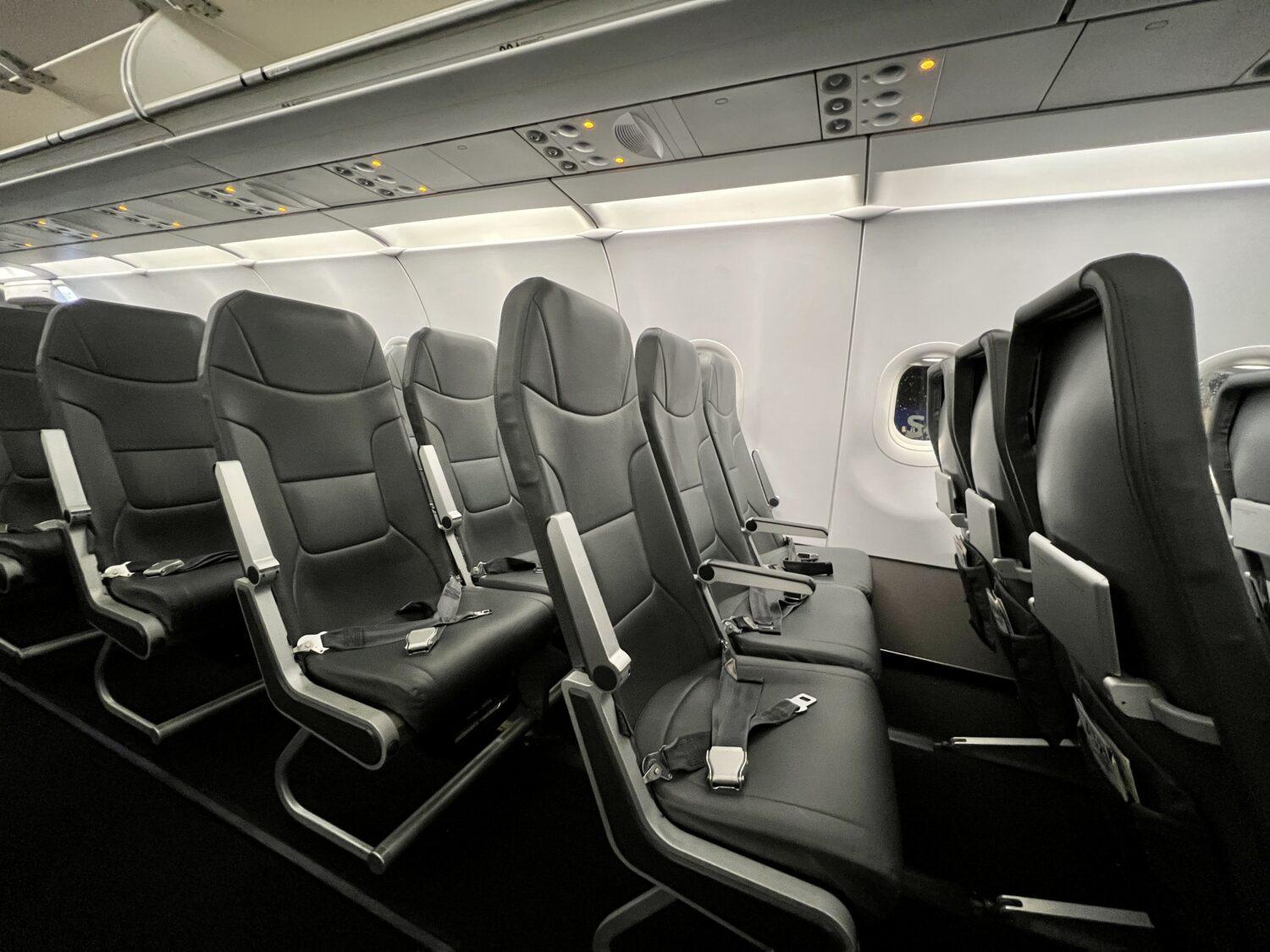 The seats themselves are … well, they're there. They exist. They're upright. They have a place to put your butt, a back to lean against, and a seat belt to keep you strapped in.
That's about all you can say about these seats, which are about as unforgiving as it gets. Aside from some leather and a bit of padding, there's not much to separate this from a standard wooden dining chair. It's obvious just how ultra-slim these ultra-slim seats are from the side.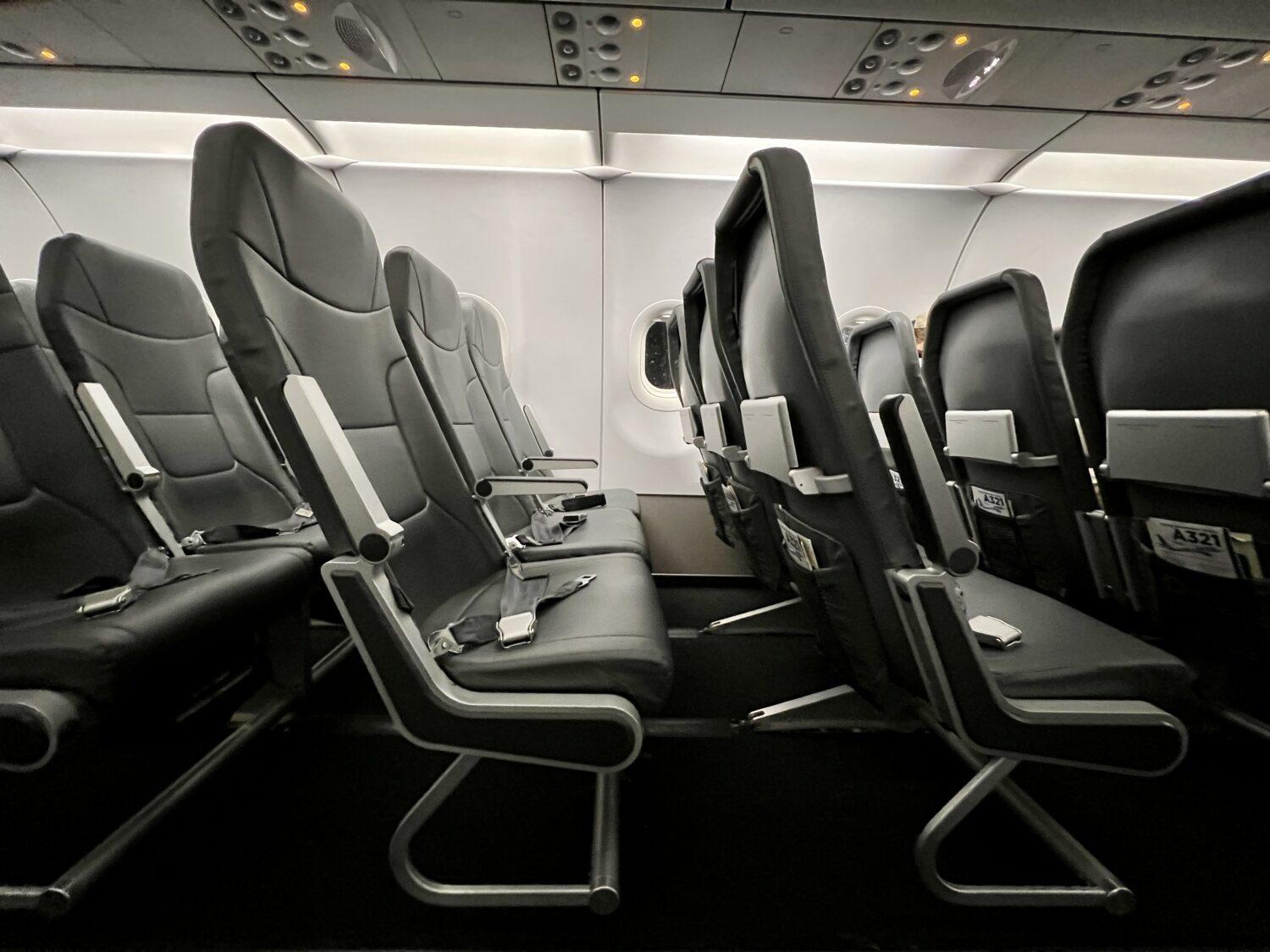 And that's not a complaint! I'm a 30-something-year-old in good health, so spending two hours flying in these Frontier Airlines seats was more than fine – especially for the price. A three hour-flight would probably be OK, too. But much longer than that and I'm not sure I'd walk off a Frontier flight feeling that way. And travelers who have back or mobility issues might wind up paying a steeper price for the discomfort.
The lack of padding is most obvious with the headrest: There really isn't one. And it might be just me, but these seats also feel a bit shorter than your average airplane seat.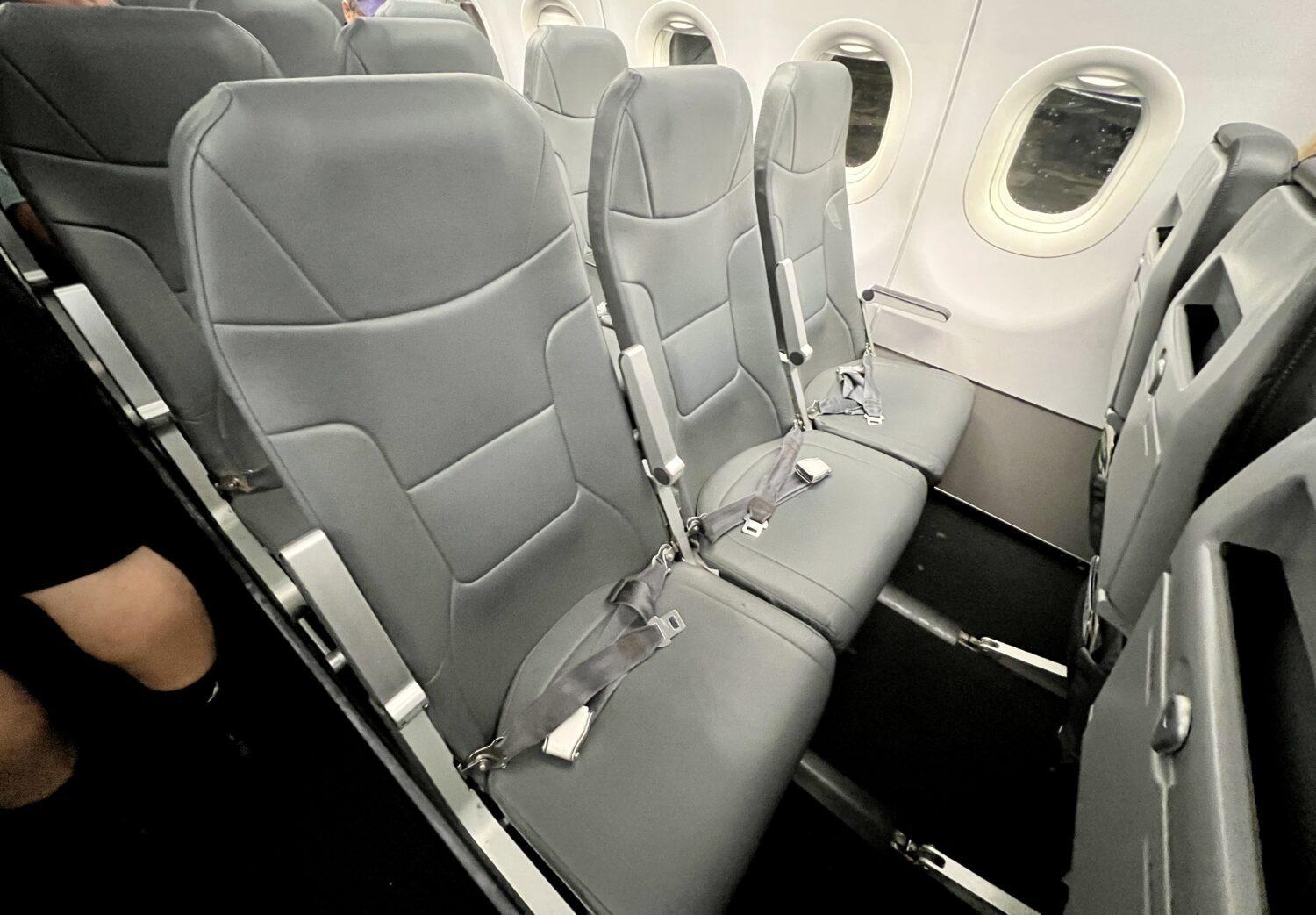 But the legroom was a surprise … and a pleasant one, at that! On paper, Frontier offers just 28 inches of seat pitch – the standard aviation measurement of legroom from the back of one seat to the next. Compared to the standard of 31 inches or so on most major carriers (and even more on Southwest or JetBlue economy), you might assume your knees would be crunched.
But that's not the case. The lack of padding, seatback extras, and the scalloped shape of the back of each seat makes the legroom pretty manageable. In fact, I'd say it's close to on par with any major U.S. airline.
Read more: The Airlines with the Best Legroom (& How to Find Them!)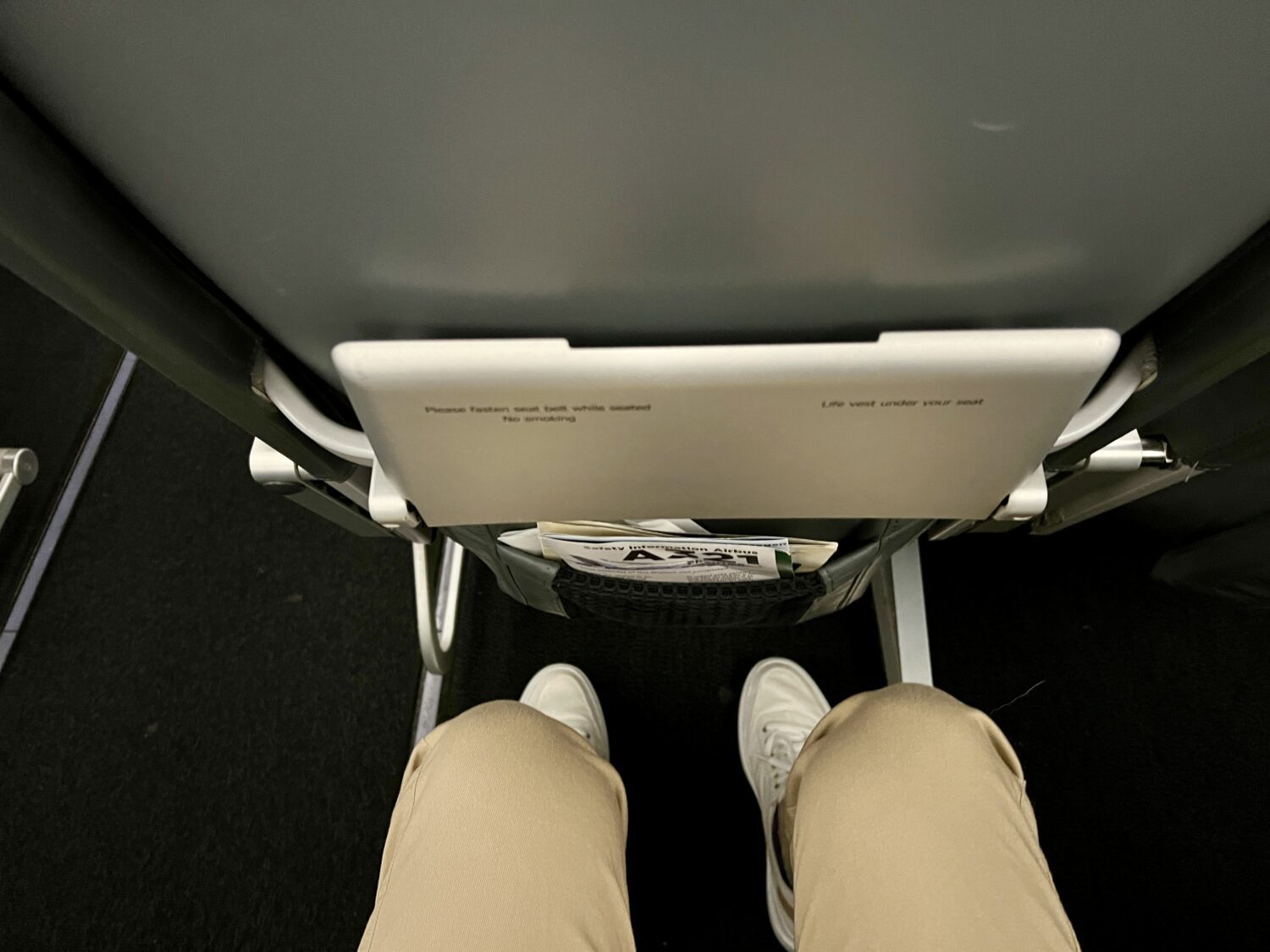 The under-seat storage, however, is another matter. With how compact each seat is, there's just not much room for a bag underneath without eating into valuable foot space. My normal-sized backpack clearly stuck out.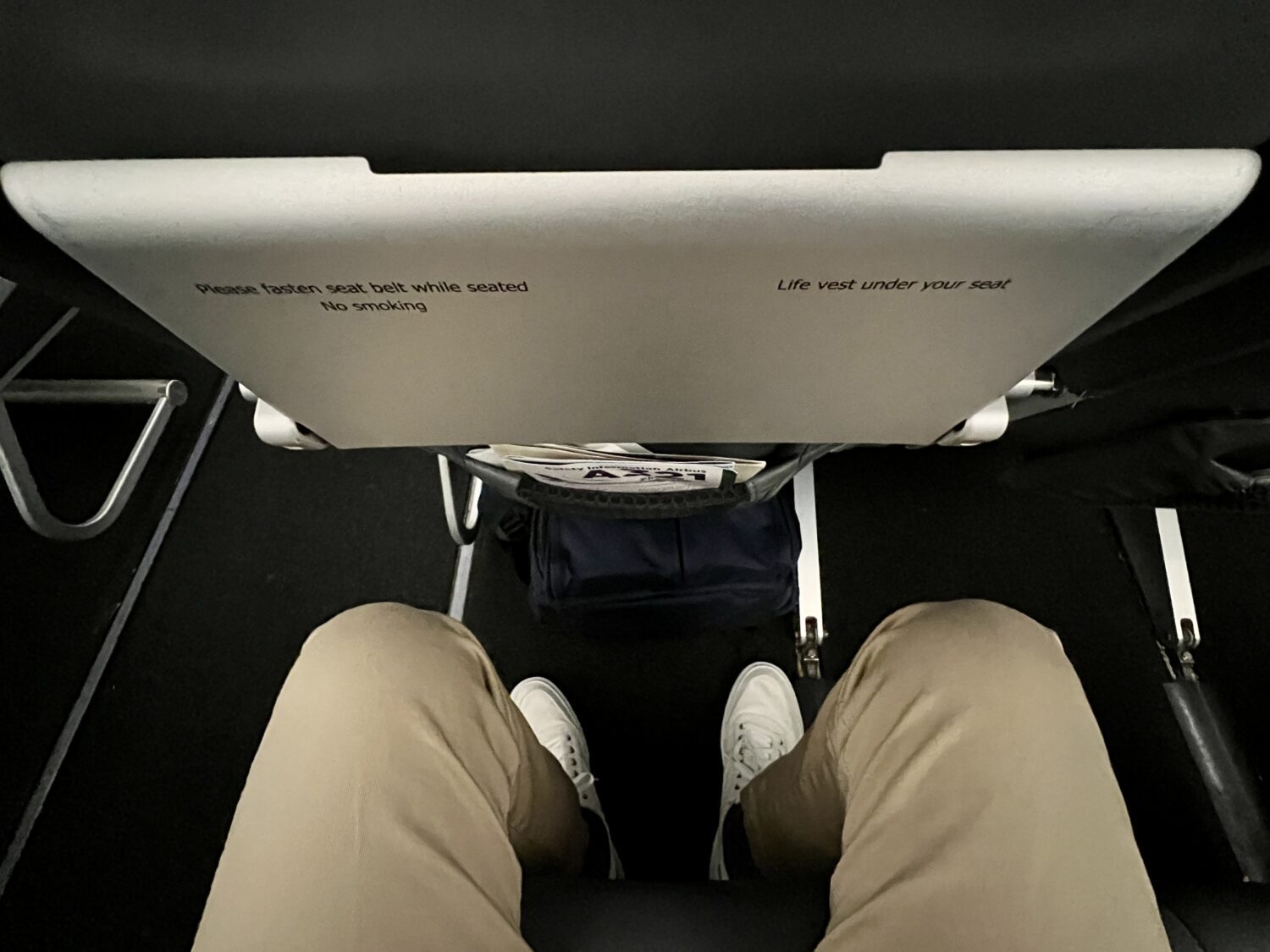 While the padding and seat pitch might feel tight, at least there are still just six seats in each row – the same as any other airline flying these narrowbody planes. That means each seat is about as wide as you'd expect – though Frontier makes middle seats in each row a tad wider. That's not enough for me to take a spot between two strangers, but you do you!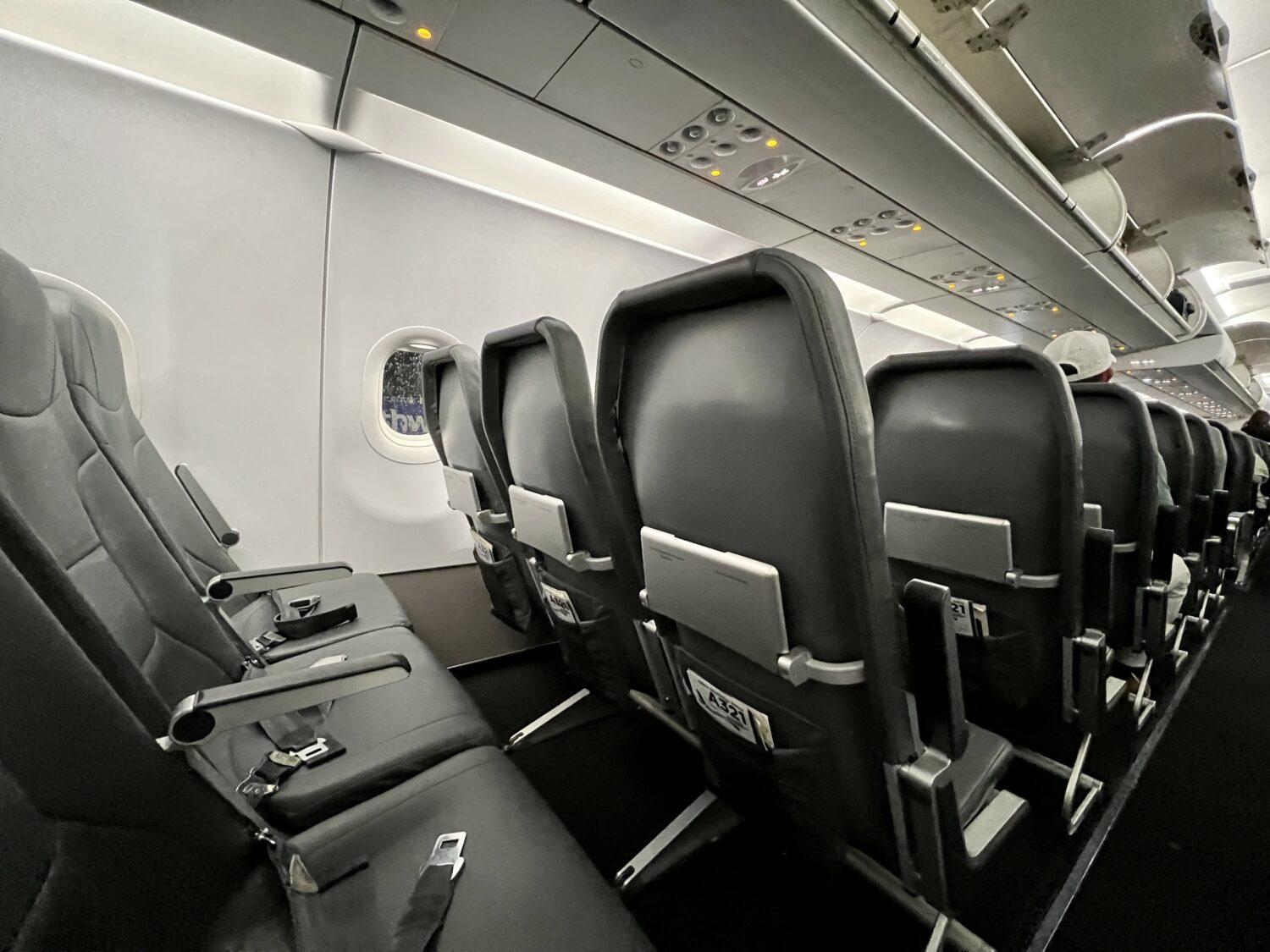 What's that on the seatback? Pretty much nothing. Don't expect a seatback screen to stay entertained flying Frontier Airlines. And Frontier doesn't currently offer inflight Wi-Fi, so there's no way to get connected to work in flight. There are also no power outlets or USB sockets to keep your devices charged.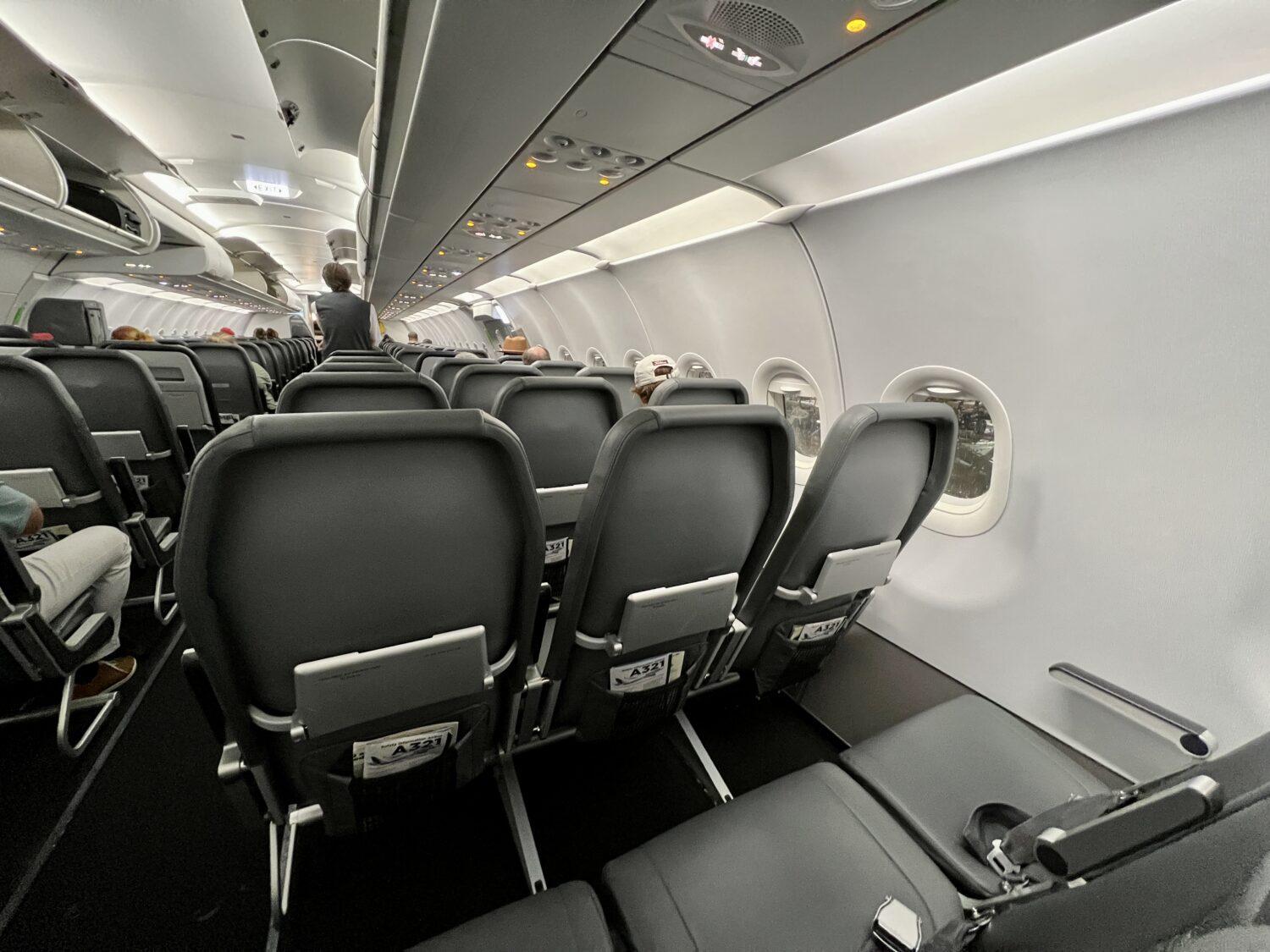 Each seat does have a tray that folds down, though it's almost comically small – enough to set down a drink and not much else. There's also a small pouch for literature and anything else you might want to store.
Fortunately, there are air vents overhead if you need to cool off.
There were just three lavatories on the plane: One at the front and two all the way at the back. With our departure before dawn, passengers were slumbering rather than getting up to use the bathroom. But during a daytime flight, I'd probably worry about lines forming outside each lavatory.
Service, Food & Drinks Flying Frontier Airlines
Forget about morning blues: The five flight attendants working this Frontier Airlines flight were cheery for our 5:30 a.m. flight.
A pair of flight attendants buzzed down the aisle shortly after leveling off with a drink cart – and given the early hour, there weren't many takers. But if you want something, prepare to pay for it: Frontier Airlines charges for everything.
A soda, juice, full bottle of water, or coffee all cost $3.99. Beer, wine, and liquor each cost $9.99 while Buzzballz cocktails clock in at $10.99 and a small bottle of sparkling wine will cost you $11.99. There are also some snacks like candy, chips, and even cheese trays available for purchase.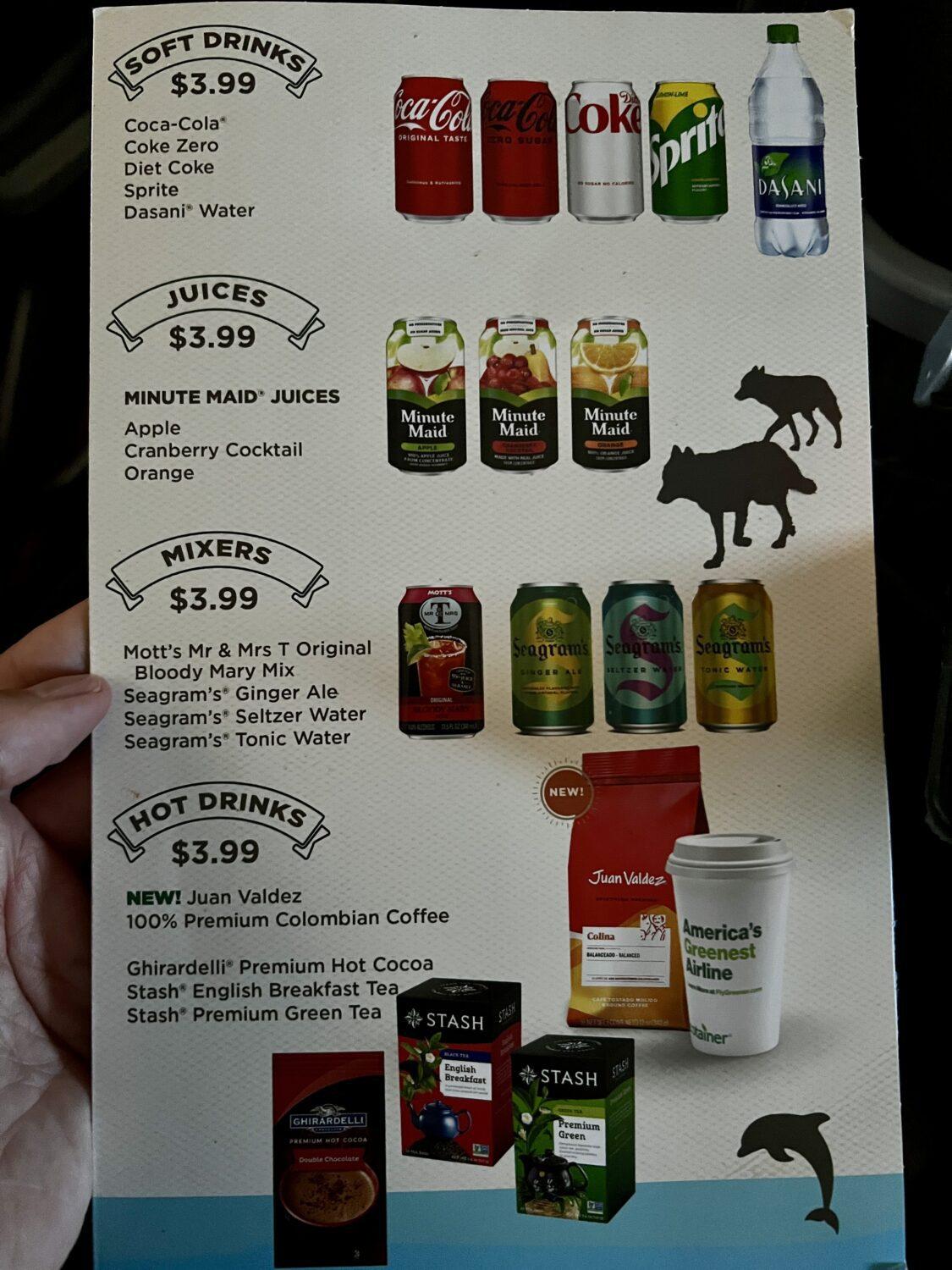 I settled on a cup of coffee, which was brewed and served a few minutes later in a cute cup with the claim that Frontier is "America's Greenest Airline." Refills were free, which was an unexpected touch.
Bottom Line
Above all, the price was right.
At $49 for a one-way flight, Frontier was substantially cheaper than my other options for getting to Denver – even after adding a seat assignment for $25. But add in bag fees and all the other extras, and the math would have quickly changed. And that's the entire point: Frontier and fellow ultra-low-cost carriers are banking on drawing in travelers with dirt-cheap fares, then collecting much more in additional fees.
If you can travel light and survive a stiff seat for a few hours, flying Frontier Airlines is just fine if you ask me.