With roundtrip fares often just over $600 and the possibility to book a one-way flight for half that, Zipair is an appealing option for U.S.-based, budget-conscious travelers when flying to Japan. But are the savings worth it?
There's no doubt that Zipair is often the cheapest way to fly nonstop from the West Coast to Tokyo. But if you're not familiar with its low-cost business model, you could be in for a surprise. The Zipair flying experience can be quite different compared to other major airlines flying between the U.S. and Japan, including its parent company Japan Airlines.
I recently flew Zipair economy from Los Angeles (LAX) to Tokyo-Narita (NRT) on its Boeing 787 Dreamliner and found it to be one of the most basic flights I've ever taken. The price was definitely right … but with no possibility of making any changes after booking and extra fees for everything from baggage to water onboard, there's a lot to consider before buying a cheap, long-haul flight on Zipair.
From booking to check-in to the inflight service, here's what it was like to fly Zipair economy from the U.S. to Japan.
Where Does ZIPAIR Fly?
Zipair flies from four U.S. gateways to Tokyo's Narita Airport (NRT), including Honolulu (HNL), Los Angeles (LAX), San Francisco (SFO), and San Jose (SJC). From Tokyo, you can also fly to a few other destinations in Asia, including Bangkok (BKK), Manila (MNL), Seoul (SIN), and Singapore (SIN).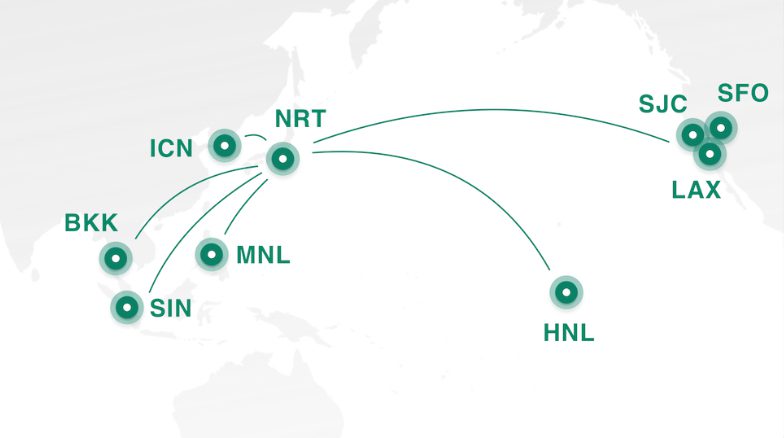 How to Book ZIPAIR Economy Flights
You'll find Zipair flights when searching on Google Flights so you can compare the base fares with other airlines. However, keep in mind that it's not an apples-to-apples comparison.
Everything other than a random seat on the plane and a 15-pound carry-on bag costs extra on Zipair. Even if you toggle on the "1 carry-on bag" filter on Google Flights, it won't add in Zipair's extra fee to carry more weight onboard the aircraft. Therefore, make sure to compare the total cost after adding any extras like baggage, meals, seat selection, etc.

If you're trying to use points to book a Zipair flight, you're mostly out of luck. You won't find these flights on the Amex or Chase travel portals. But if you buy your flights with your *venture x* or *capital one venture card*, you can use your Capital One Venture Miles to remove the purchase from your statement.
Adding Extras During Booking on ZIPAIR
When you land on zipair.net to book your flight, you'll want to pay close attention to ensure you add any extras you need when booking. The first price you see is just the bare minimum. Choose "Standard" if you're looking to book economy. Zipair also has a business class, which it calls "ZIP Full-Flat."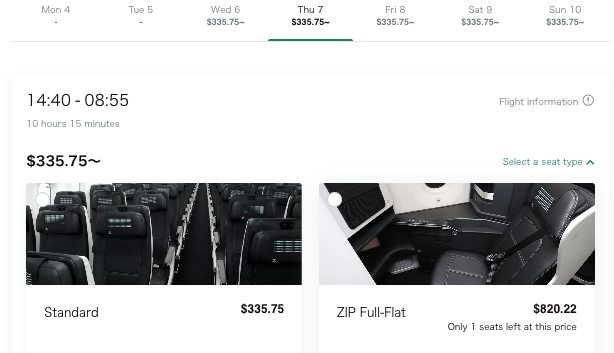 If all you need is a little extra weight for your carry-on or a checked bag, it's cheapest to add this à la carte. You can add an extra 8kg (17 lbs.) for a total of 15 kg (33 lbs.) of carry-on weight for $38 each way. That should be enough to cover a carry-on bag plus a personal item. Checked baggage fees start at $54 per bag.
But if you want anything else like a seat assignment or in-flight meal, you may want to purchase one of the packaged bundles.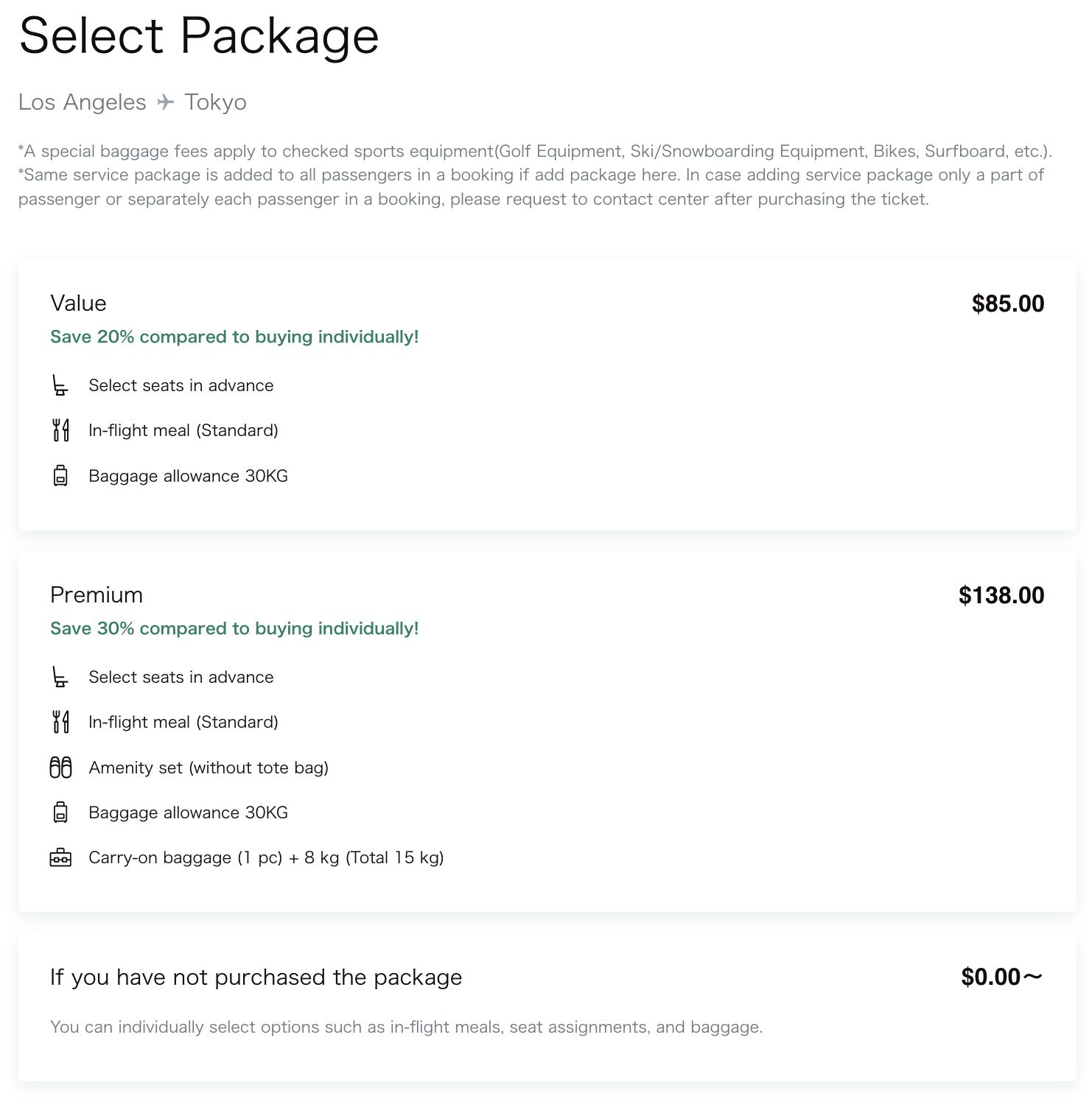 Choosing seats in advance also costs extra. One neat thing about Zipair's seat map is that it explains which seats have certain restrictions such as not being able to raise the armrest.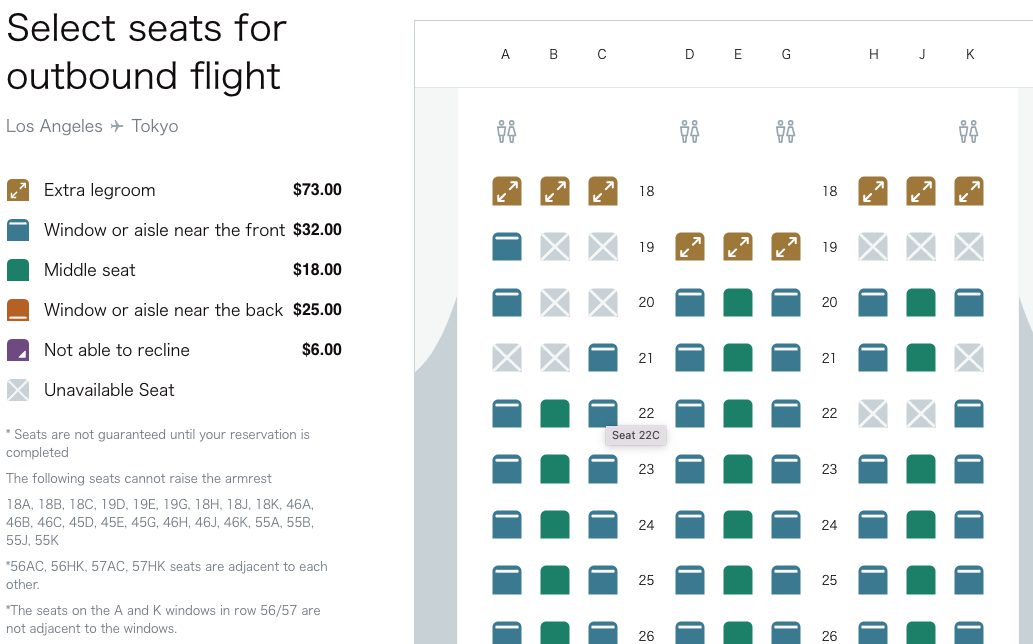 For a 12-hour flight, you may want something to eat. You'll have more options if you pay for your meal in advance since Zipair will cater the plane with meals that are pre-ordered. There will only be limited options if you choose to purchase a meal inflight.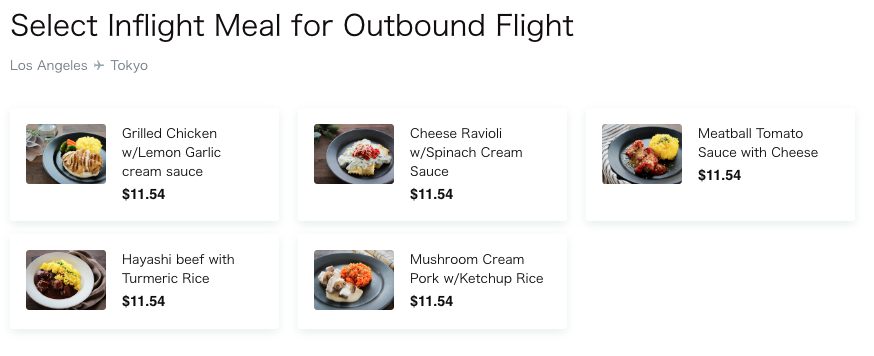 You can also pre-order an amenity kit and special treats like banana-flavored Kit Kats. There's even an option to purchase a pair of women's shorts for around $50 but I think you can do better by just bringing your own pair.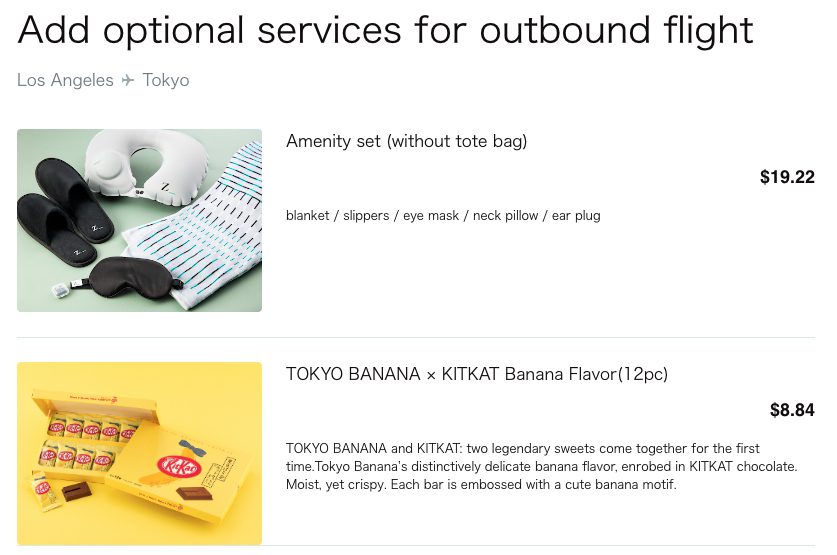 No Changes or Cancellations Allowed
Possibly the biggest caveat to flying Zipair is the fact that all tickets are use-it-or-lose-it. No changes or cancellations are allowed after the 24-hour rule, period.
Even the more expensive fares don't allow changes, not even for a fee. If you book a ticket and later decide you need to change plans, you'll simply need to eat the cost and buy a new ticket. That can be a pretty tough pill to swallow when you're shelling out hundreds of dollars for a flight to Japan.
There's also no way to contact customer service other than through the email form found on its website. I used this to ask if there was any possible way to pay a fee to change the date on my reservation but was told I would need to cancel and make a new booking. The fare rules indicate that taxes could be refunded if you cancel your ticket but you won't be refunded any of the actual airfare.
In the end, after adding an amenity kit, meal, and a bundle for extra carry-on weight allowance and a seat assignment, my one-way Zipair economy flight came out to around $445. 
At Thrifty Traveler, we don't accept freebies. We use our own points, miles, or cash to pay for every single flight or hotel you see reviewed here – including this one.
ZIPAIR Check-In and Departing Los Angeles
I wasn't able to check in online so once I arrived at Los Angeles (LAX) on a short positioning flight from my home airport in San Diego, I had to find the check-in counter at the Tom Bradley International Terminal where ZIPAIR operates.
Since I was there nearly three hours before departure, there was no line at check-in. Luckily, my flight took off just after Zipair became a participating airline in the TSA PreCheck program, so I had the agent add my known traveler number at check-in.
I was traveling light with just a backpack but the check-in agent did need to weigh my carry-on bag and put a tag on it indicating it was approved for carry-on. I would expect to have your bags weighed so it's best to pay for the baggage you need during booking. It will cost more if you need to pay any bag fees at check-in.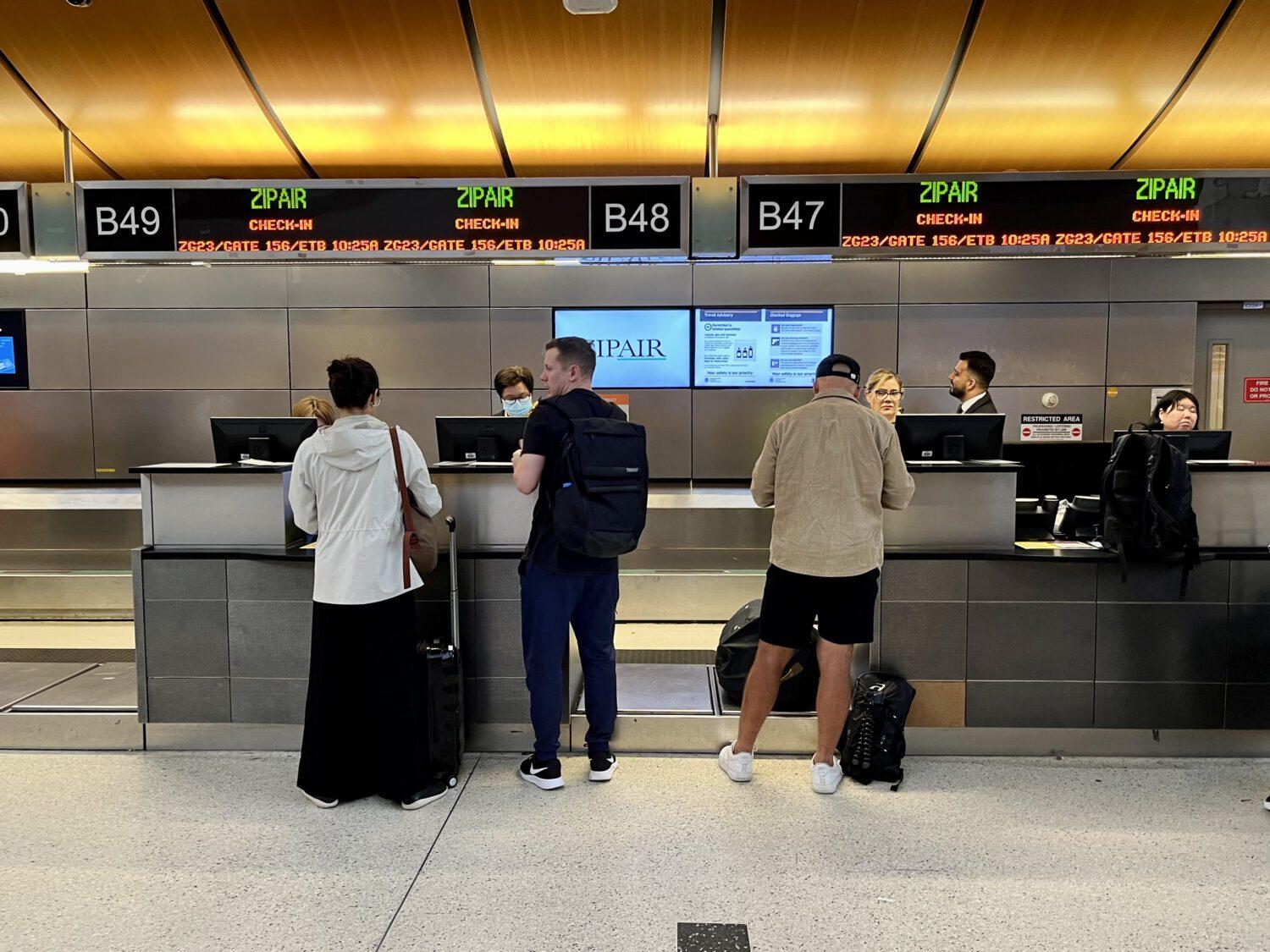 If you have a premium credit card that gives you lounge access, there are plenty of lounges to pass the time before you depart from LAX. Since I hold *amex platinum card*, I visited the Amex Centurion Lounge for some breakfast before I headed to the gate. The food on the plane is not the best (as you'll read about in a bit), so I'd recommend eating a good meal at the airport before the long flight.
Agents walked around the gate area before boarding to check everyone's boarding passes and passports ahead of time to streamline the process. Boarding began about 30 minutes prior to departure and was surprisingly quick considering there are a total of 290 seats on Zipair's Boeing 787 Dreamliners.
ZIPAIR Economy Cabin
My first impression of Zipair's economy cabin was a good one. The plane still seemed new, the seats looked sharp, and the cabin was very clean.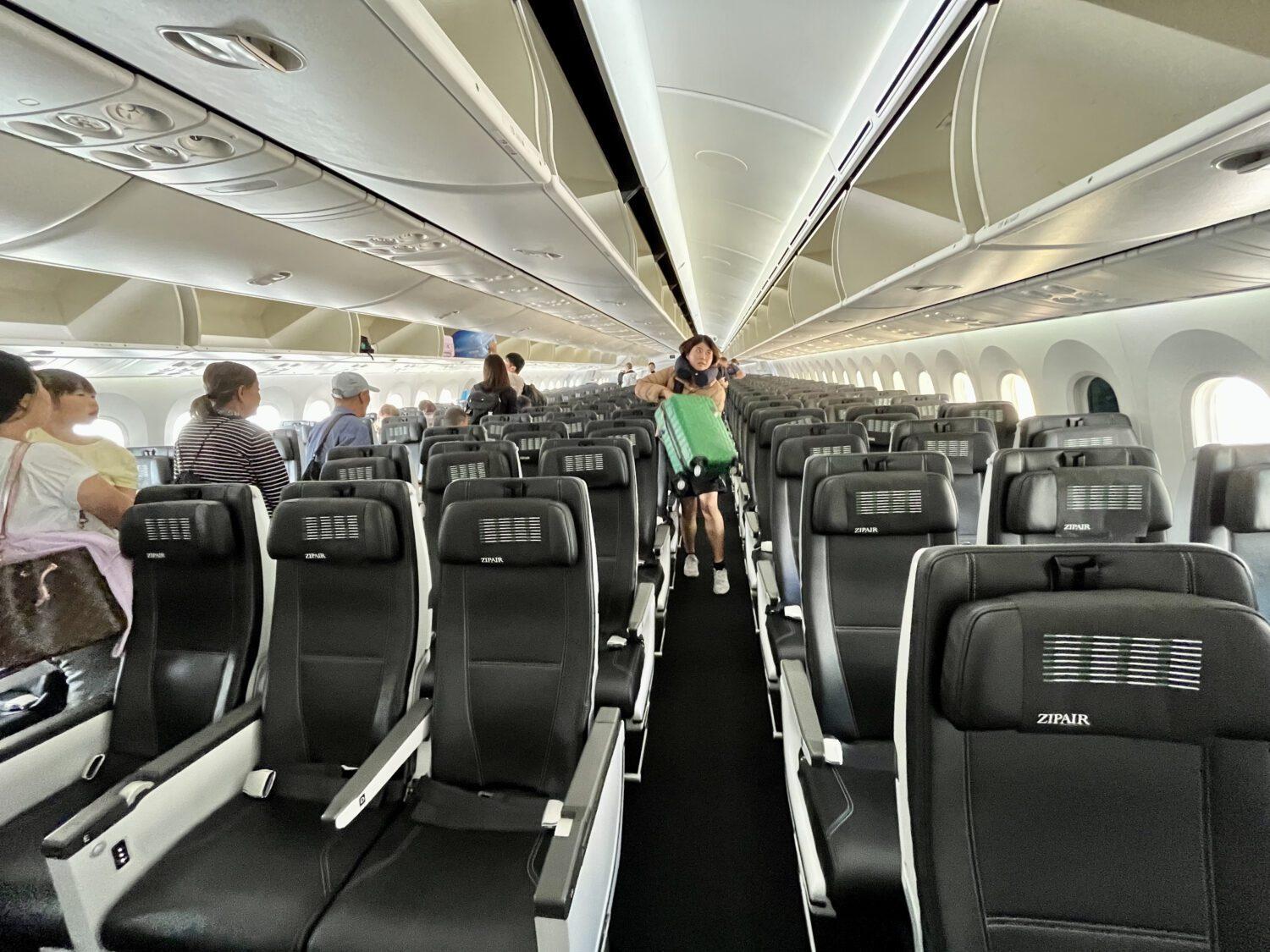 The overhead bins are quite large so you shouldn't have any trouble storing your belongings near your seat.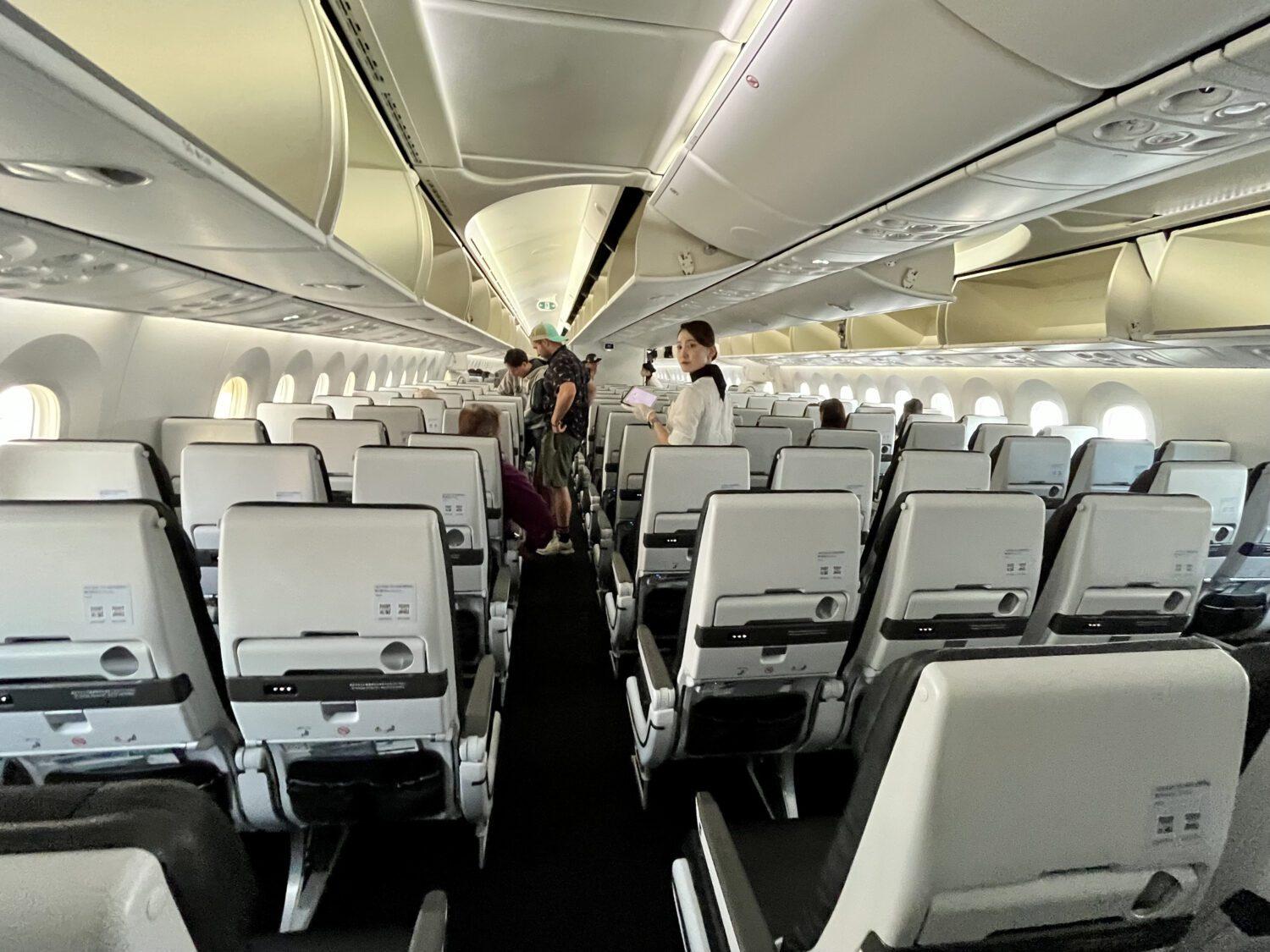 Zipair has 272 seats in economy from rows 18 through 57. The best seats are at the bulkhead just behind the boarding door in row 18 or at the exit row 46, seats A, B, C, H, J, and K, which are the sections closest to the windows.
Of course, it will cost more to choose these seats with extra legroom but it could be well worth it for the long flight to Japan. The only downside to these seats is your tray table is stored in your armrest so it may feel a little cramped at the sides.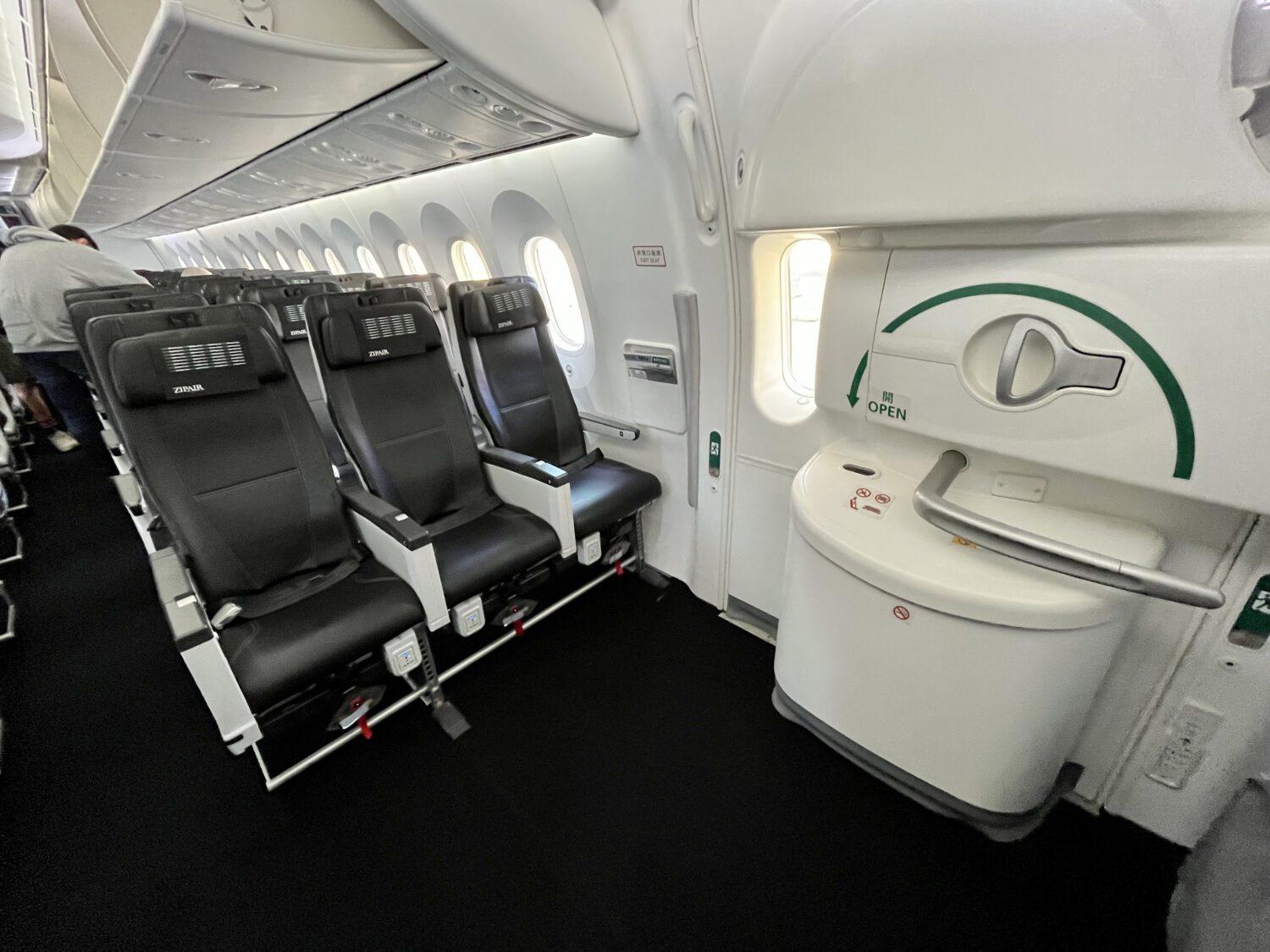 In the middle section of the plane, you'll get the most legroom in rows 19 and 45, seats D, E, and G, which are at the bulkhead.
While most of the rows are arranged in a 3-3-3 configuration, meaning there are three seats in each section, the last two rows of the plane only have two seats together closest to the windows.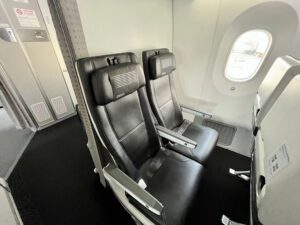 You may want to avoid the very last row due to limited recline. But the second to last, row 56, seats A and C or H and K, could be a great option for couples traveling together if you don't want to have a stranger sitting with you. The downside to these seats is that there is a gap between the window and the seat, and you'll be close to the restrooms and galley at the back of the plane.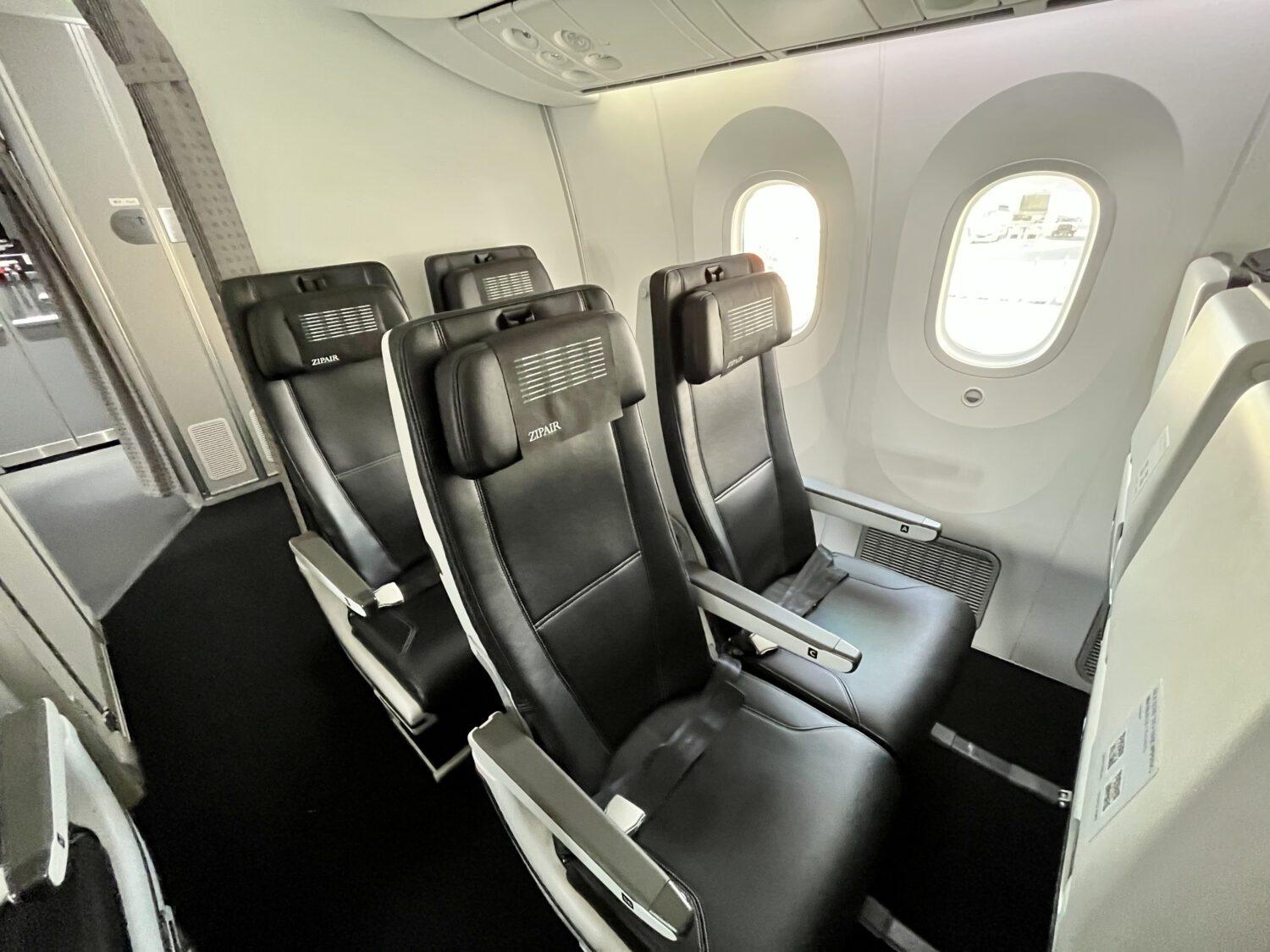 The bathrooms were clean throughout the flight but I noticed that the soap was nearly empty later in the flight. For those traveling with infants, there were folding diaper-changing tables in each bathroom as far as I could tell.
While there were reading lights and air vents overhead, the cabin still seemed warmer than usual throughout the flight.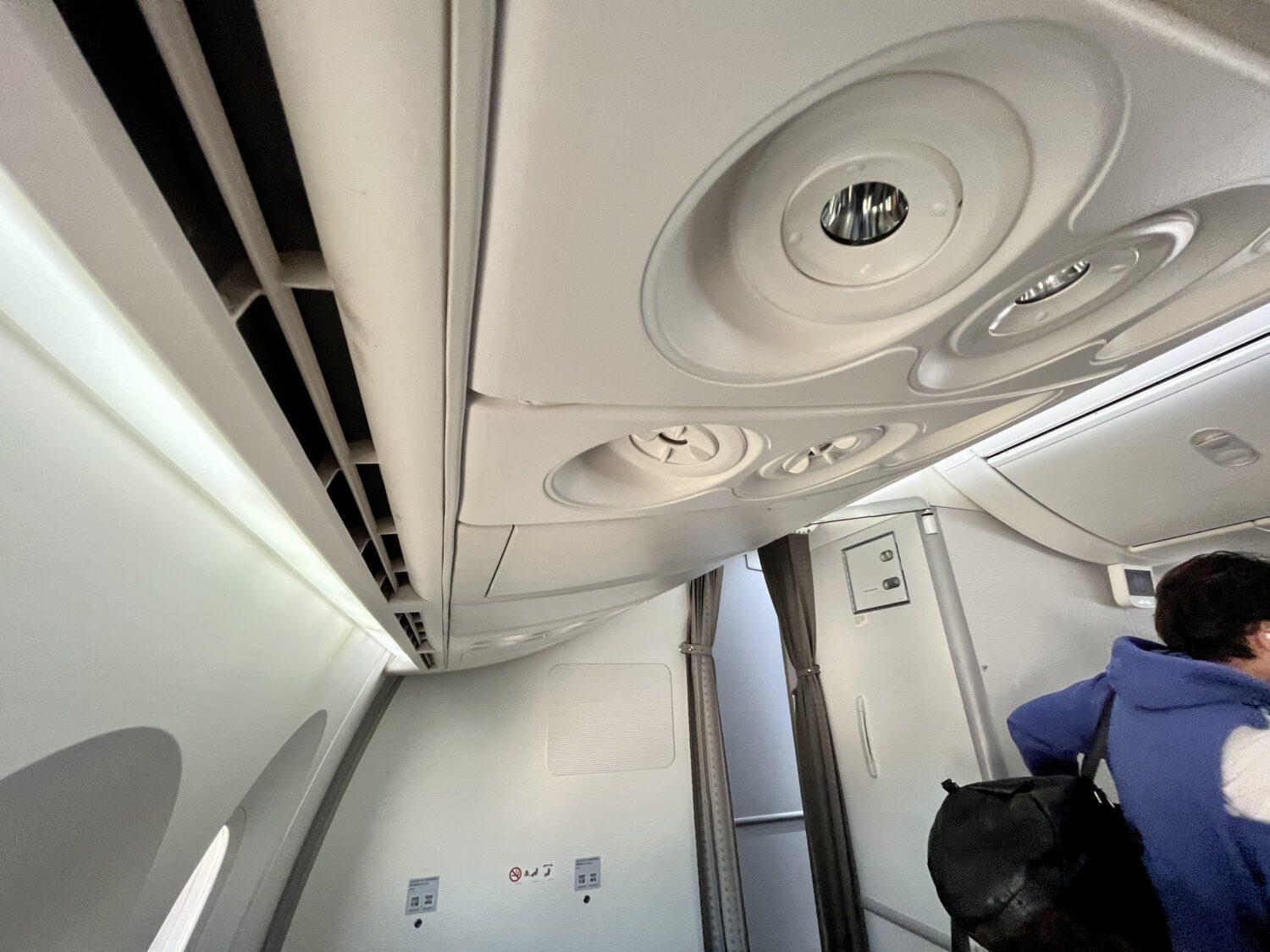 One downside to the 787 Dreamliner is that there aren't any physical window shades. Instead, there's a push button that allows you to dim or brighten the amount of light passing through the window.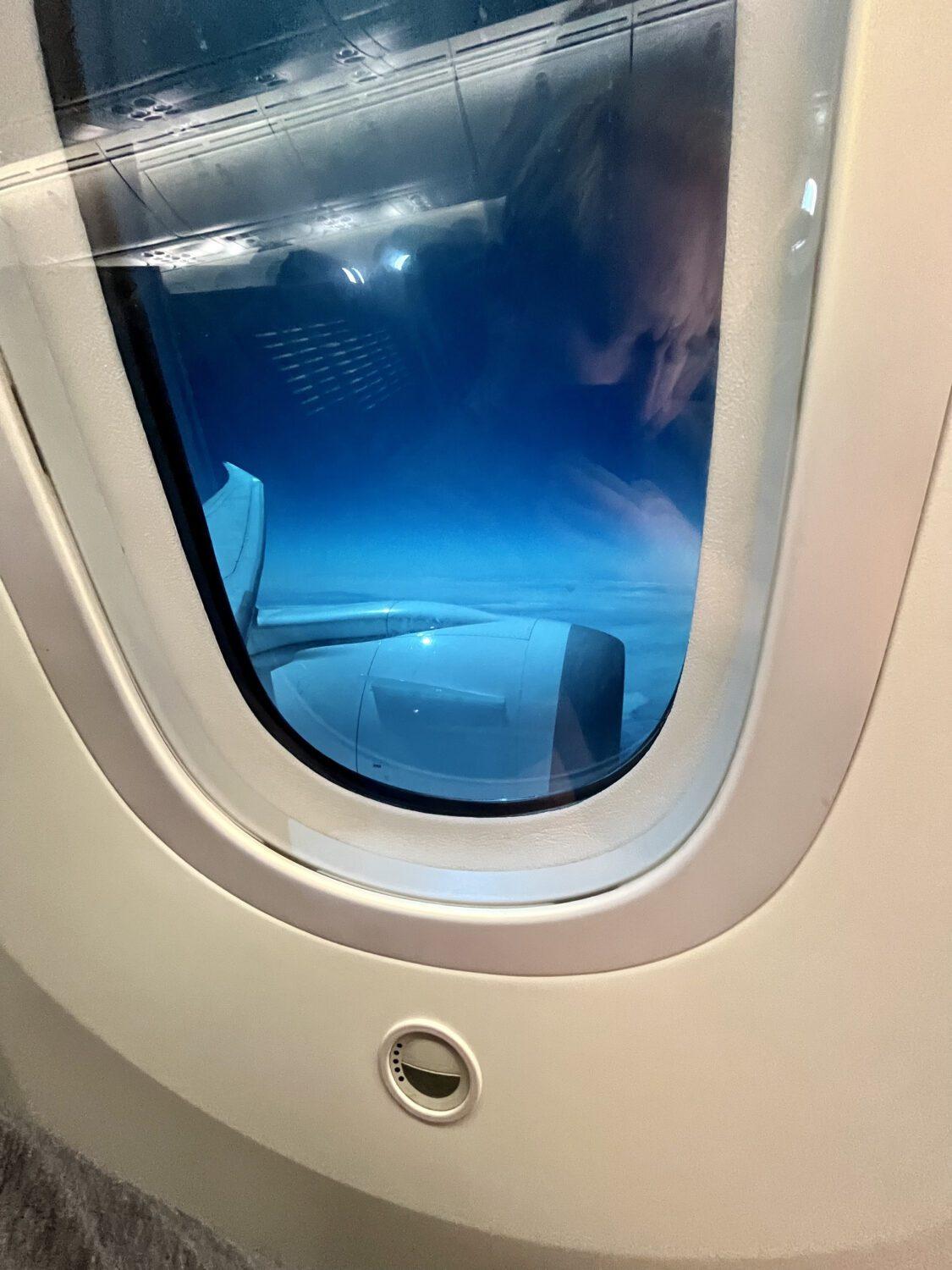 Ultimately, this means it never gets completely dark and it also doesn't block the heat from the sun. This can make it hard to sleep on the daytime flight from the U.S. to Tokyo.
ZIPAIR Economy Seats
Zipair's economy seats are pretty slick and efficient. You can tell a lot of thought went into the design of these seats, but overall it still felt a little cramped for a 12-hour flight.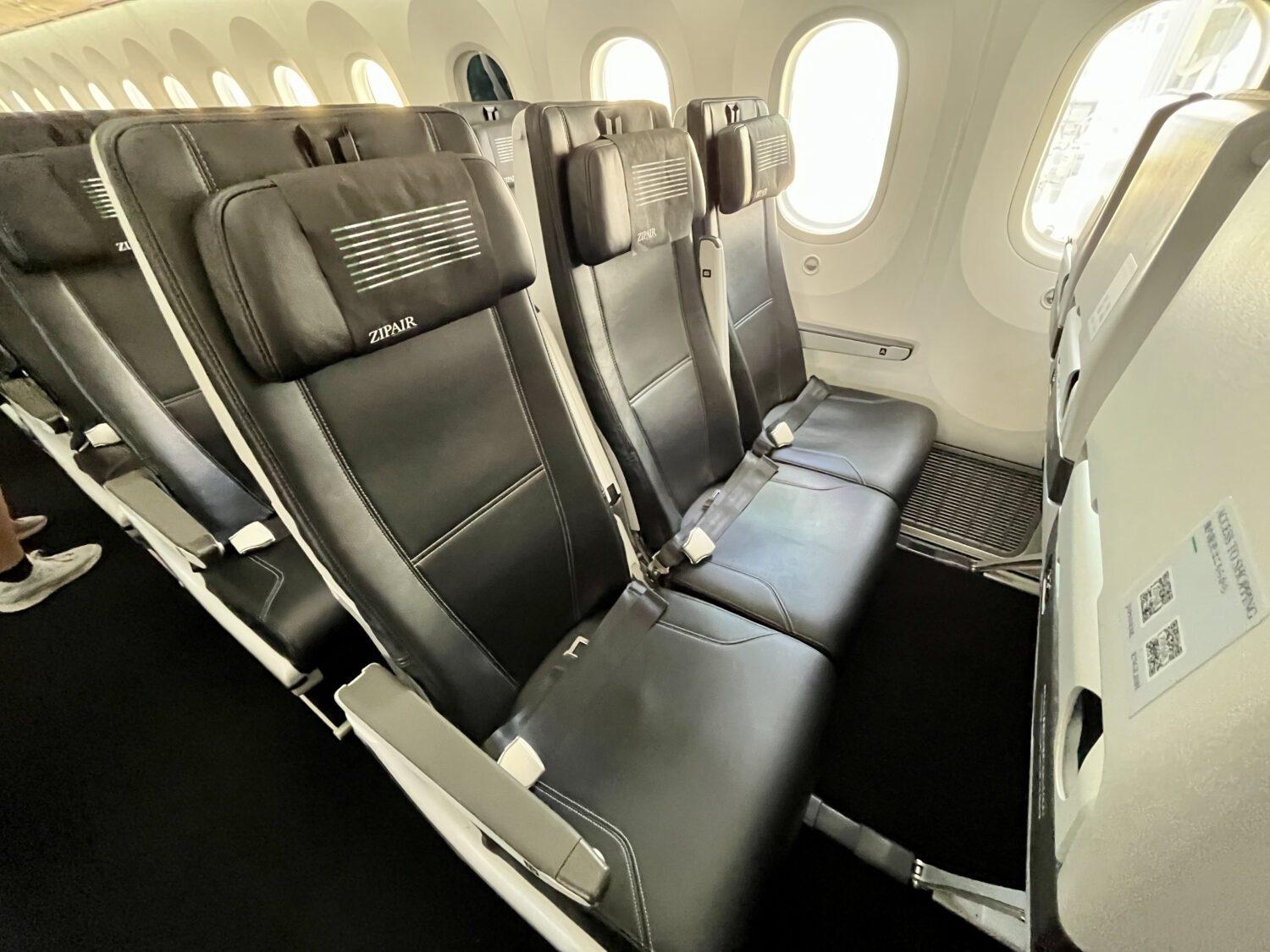 I chose a standard legroom seat 19A as this was included in the bundle I had purchased. With 31 inches of seat pitch – the standard aviation measurement of legroom from the back of one seat to the next – it's on par with U.S. airlines flying between the U.S. and Tokyo, but you'll get up to three extra inches of legroom on its Asian competitors, including ANA, Japan Airlines, and Singapore Airlines' fifth-freedom route.
The seat cushion felt comfortable initially and the design of the seat meant there was just enough room between my knees and the seat in front of me. At 5 feet 9 inches tall, that's rarely an issue for me.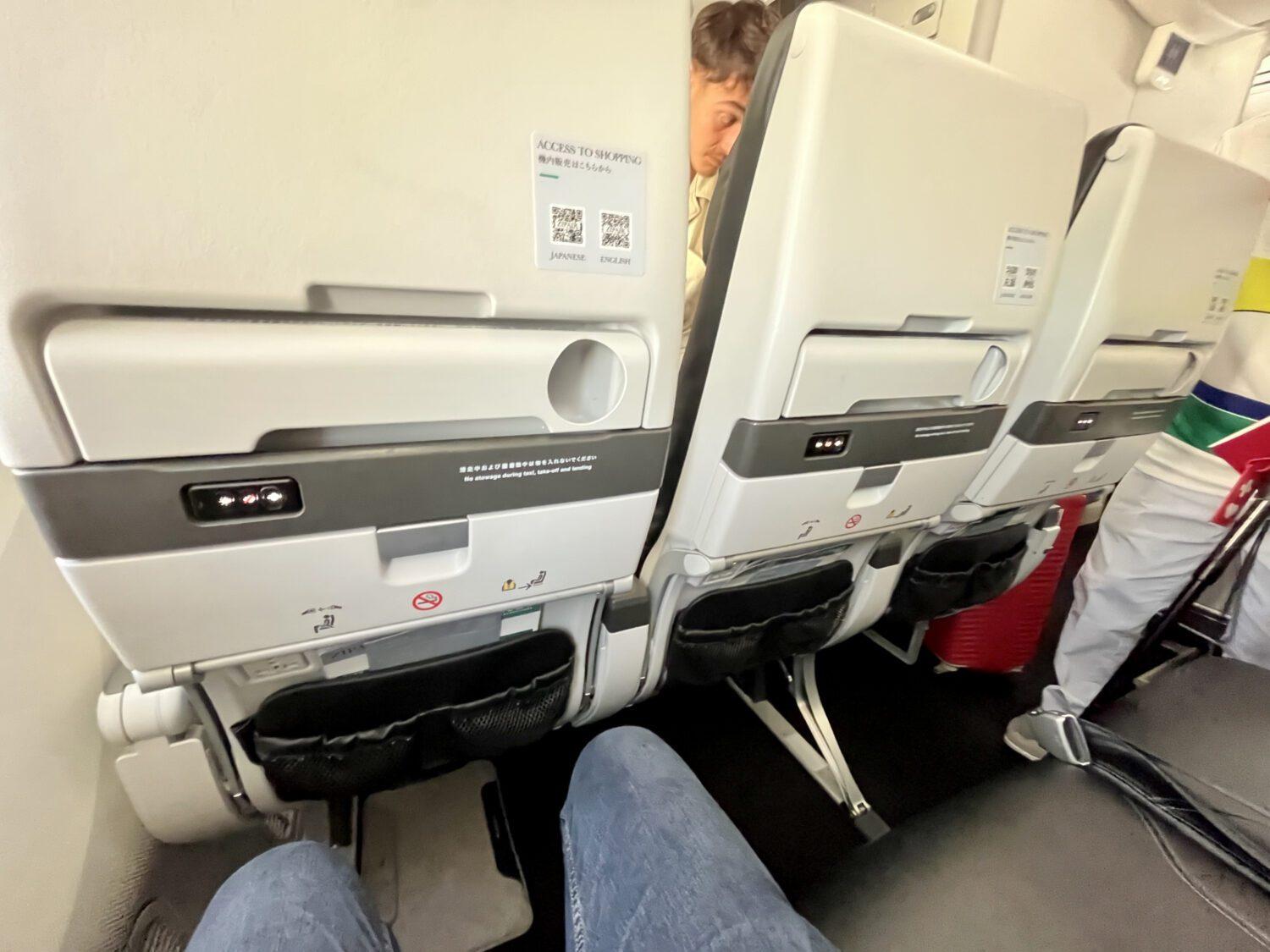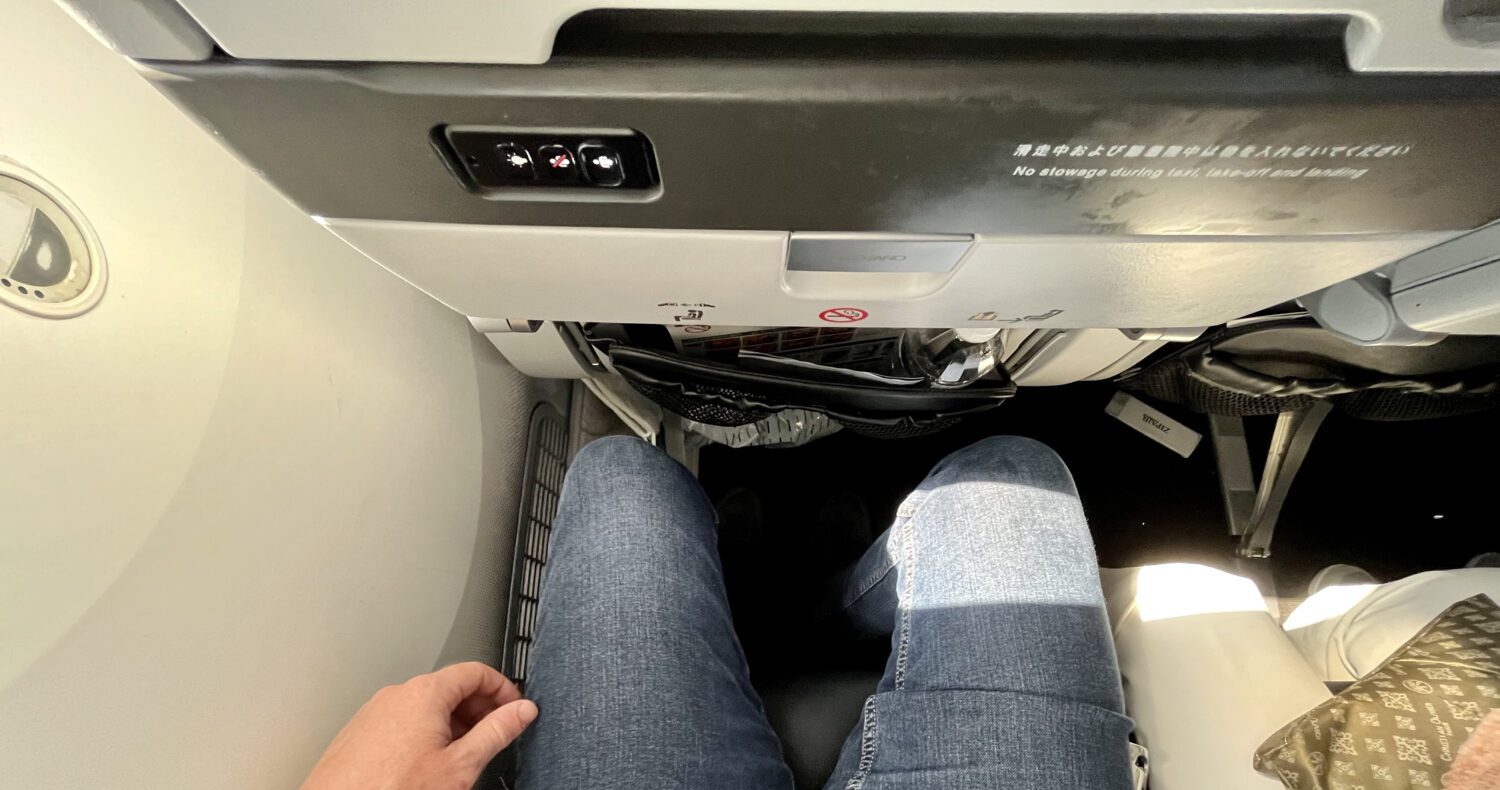 Throughout the flight, I did start to feel more cramped and sort of trapped in my window seat as the two passengers next to me did not get up very often. I usually select a window seat so I can lean on the window for sleeping, but in hindsight, I may have been better off choosing an aisle seat in the middle section for the long daytime flight.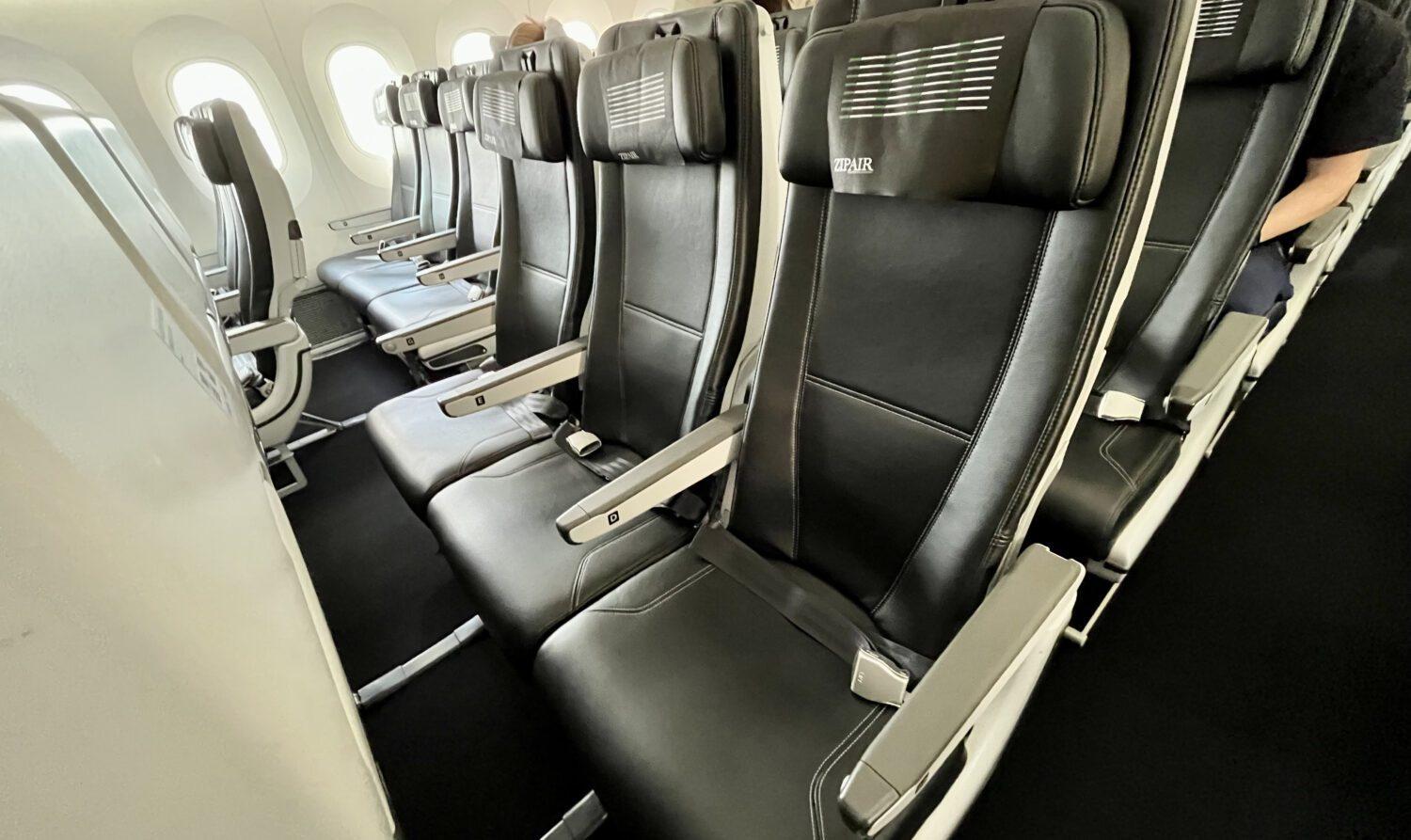 The coolest thing this seat offers is a multi-function power outlet at every seat and a ton of storage compartments. In addition to the large seatback pocket, there are two smaller mesh pockets on the front allowing you to keep your inflight essentials organized.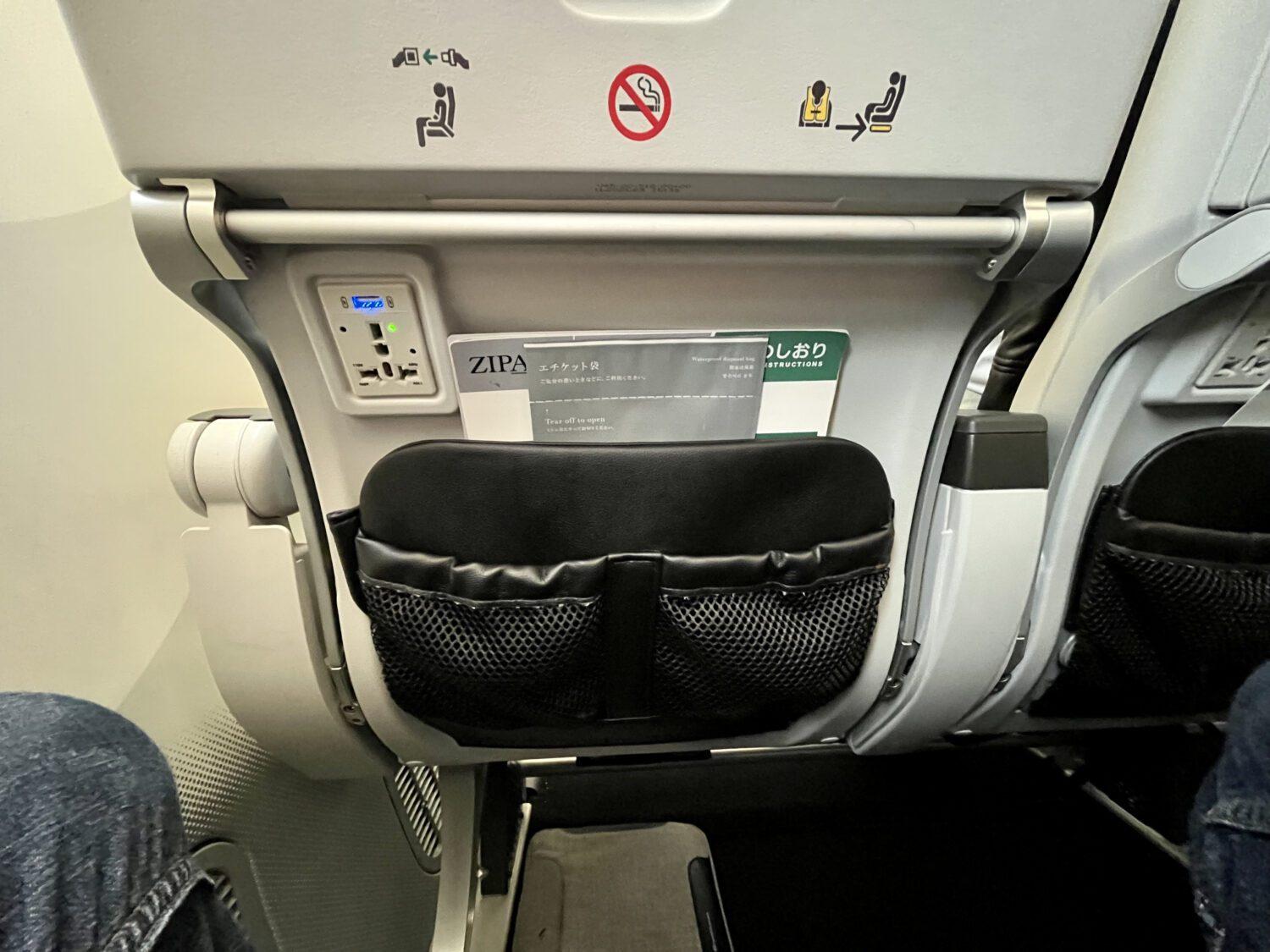 Underneath the seat, there's plenty of room to store a bag or just a laptop if you'd rather keep your bag in the overhead bin for more legroom.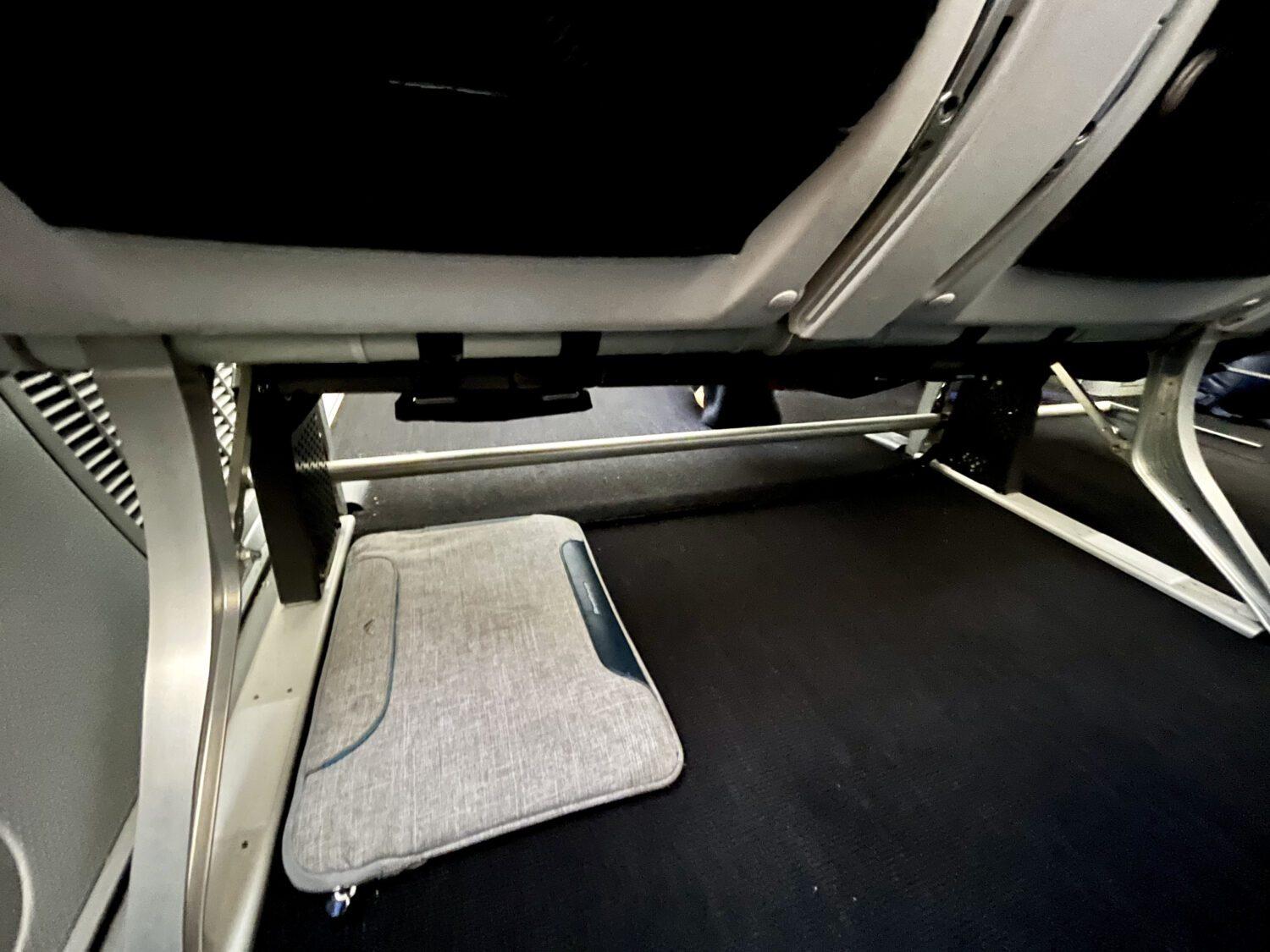 The storage doesn't end there, either. Each seat has a neat storage compartment behind the tray table that is perfect for small items like earbuds or an eye mask.
Speaking of the tray table, it's a solid and sturdy table that can be folded in half if you want more open space. And if you want to set up your phone or iPad at more of an eye level, you can fold down the separate top tray as well.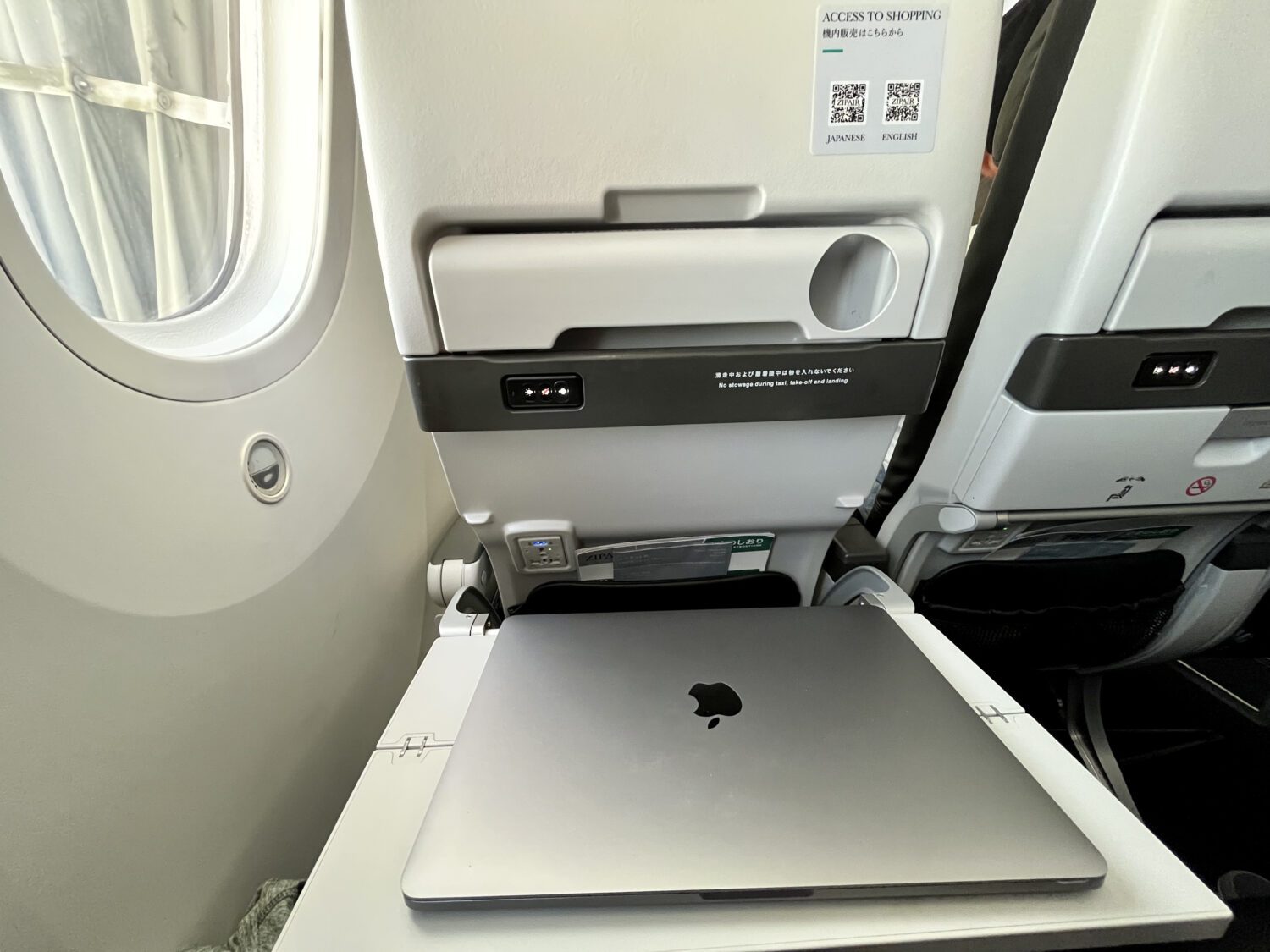 You'll be glad to know that most seats do recline up to 3 inches. It felt like a standard amount of recline comparable to major airlines although I still wasn't able to sleep much.
One of the best features of Zipair's economy seats is the adjustable headrest. Not only can you fold each side to allow you to lean in either direction, but you can also adjust the height of the headrest as well.
ZIPAIR Amenities and Entertainment
Zipair doesn't include much as far as amenities and entertainment. There are no seatback screens, and the Wi-Fi doesn't work for internet access. However, you can purchase some extras to make it a more comfortable flight.
Since I had pre-ordered an amenity kit, a flight attendant delivered it to my seat shortly after takeoff. Everything came in a Zipair-branded plastic bag and the items inside were individually wrapped.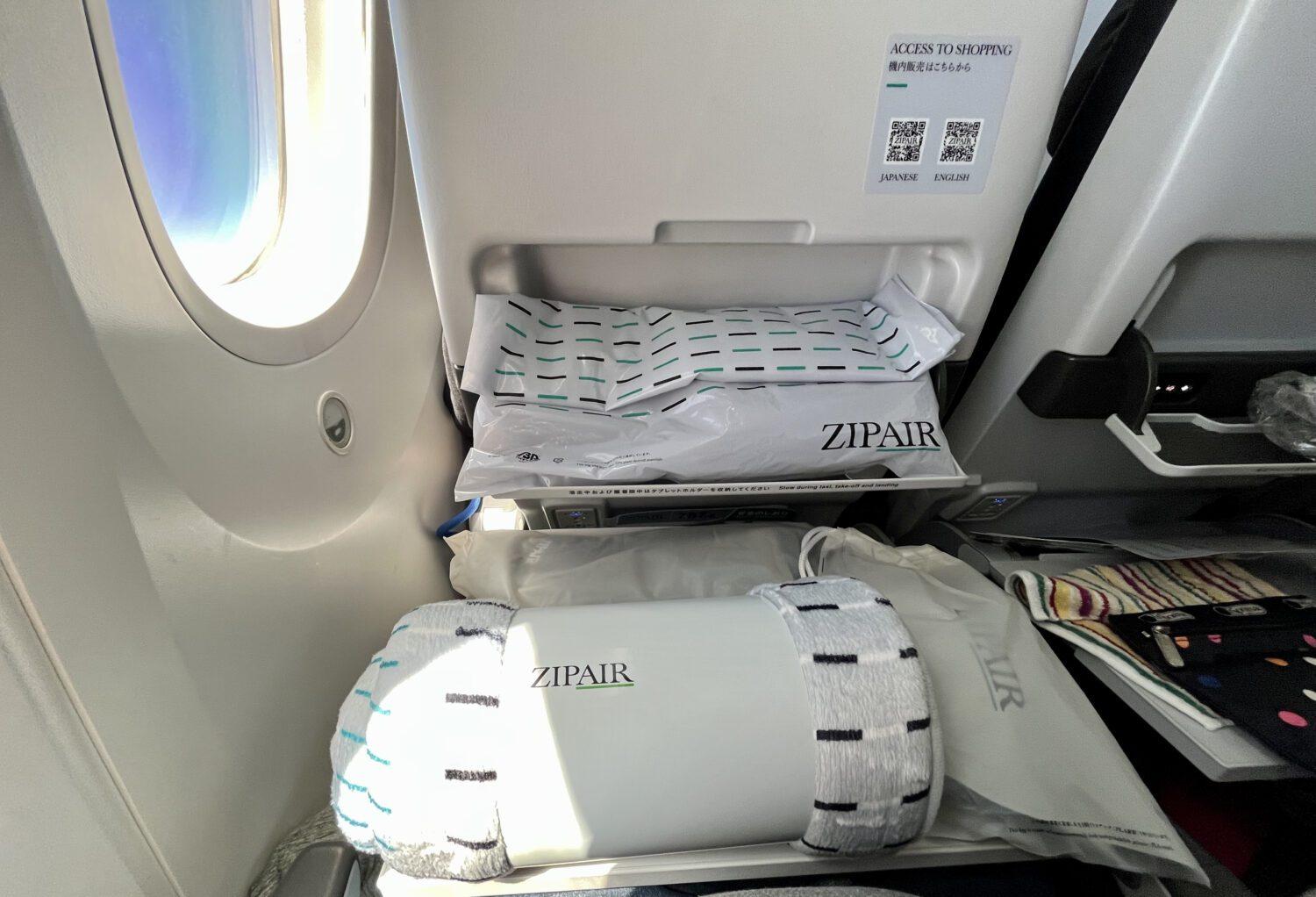 After opening it all up, I found a blanket, a pair of slippers, earplugs, an eye mask, and an inflatable air pillow. The blanket was super soft and comfortable and it came with a small bag making it easy to travel with.
The pillow was … not comfortable at all. That didn't surprise me, though, as I have yet to find a comfortable neck pillow in general, let alone an inflatable one. It was kind of neat that it had a built-in hand pump though.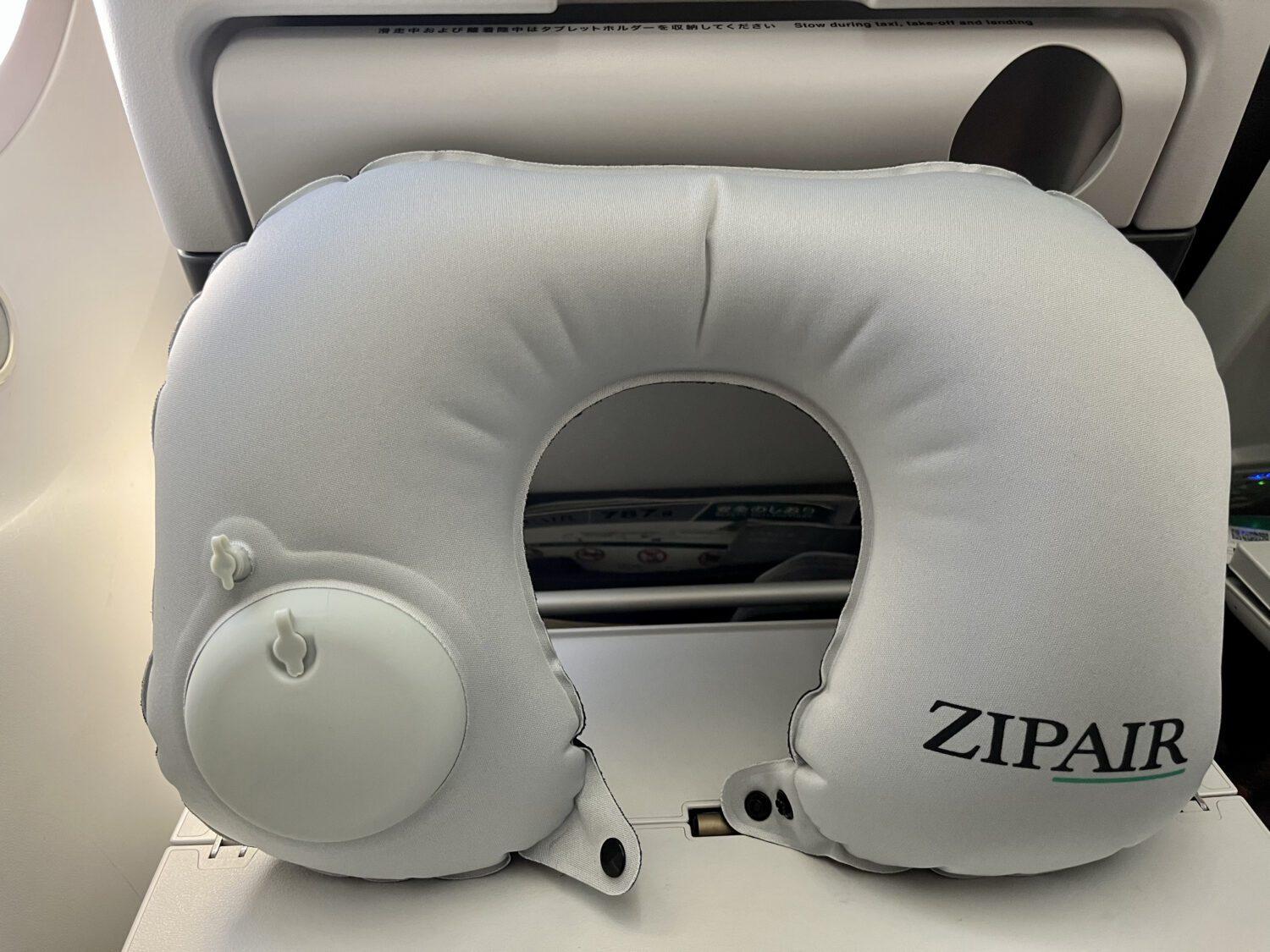 The slippers and extra-thick eye mask were extremely soft and a nice touch but being in an economy seat, I lost track of them in the ether of the under-seat storage during the flight.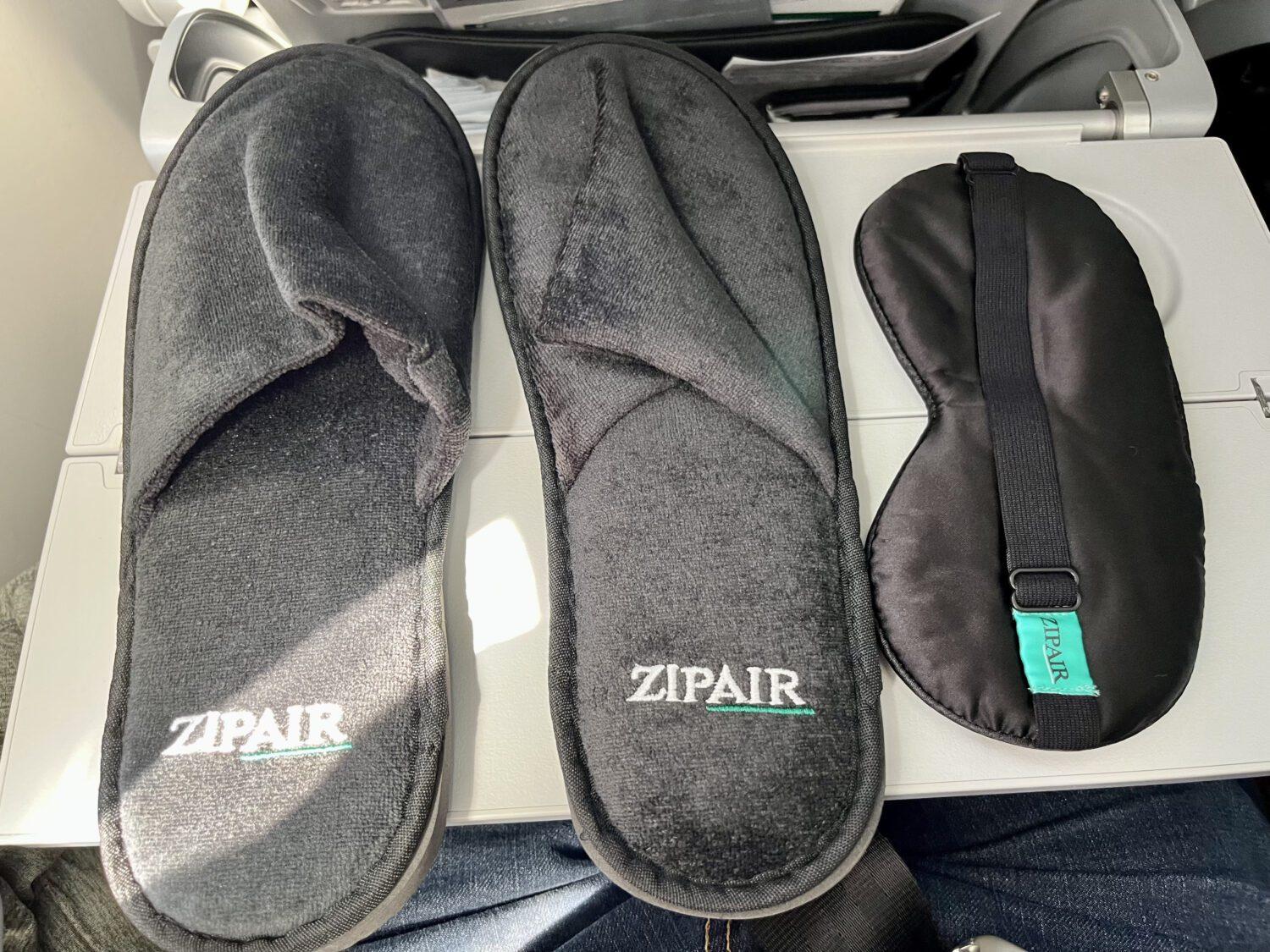 As for entertainment, you'll want to consider loading up your electronic devices with some music and movies beforehand – or better yet, bring a good book. As previously mentioned, there aren't any seatback screens for your entertainment.
Zipair does have Wi-Fi onboard, which the airline says you can use to connect to the internet for free. But in reality, it only functions as a way to connect to its inflight shopping menu and stream movies from its very limited selection.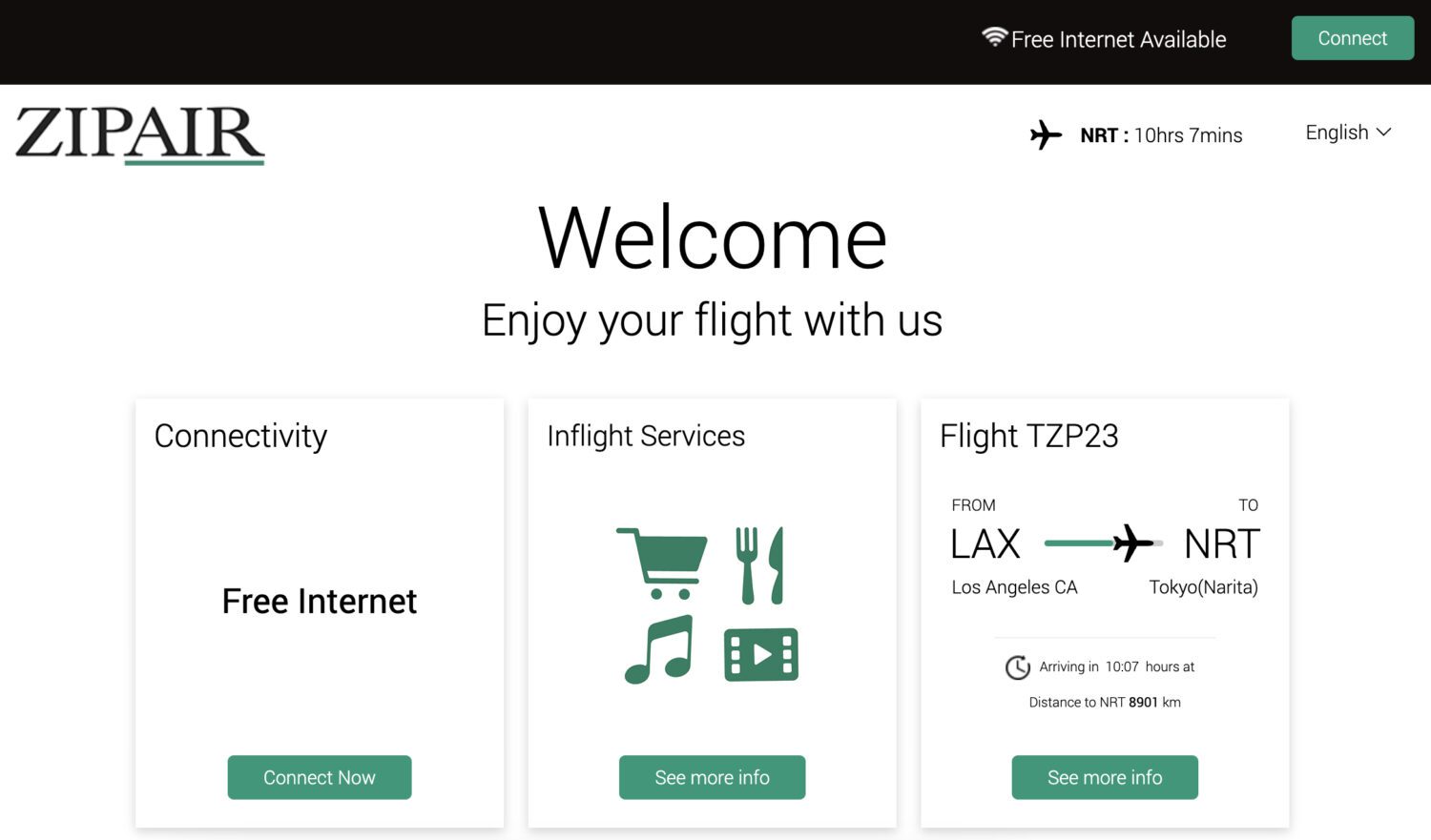 I tried numerous times to connect to the internet but could never get any website to load. Eventually, I decided to watch "The Intern" to pass the time because I was having trouble getting comfortable enough to sleep.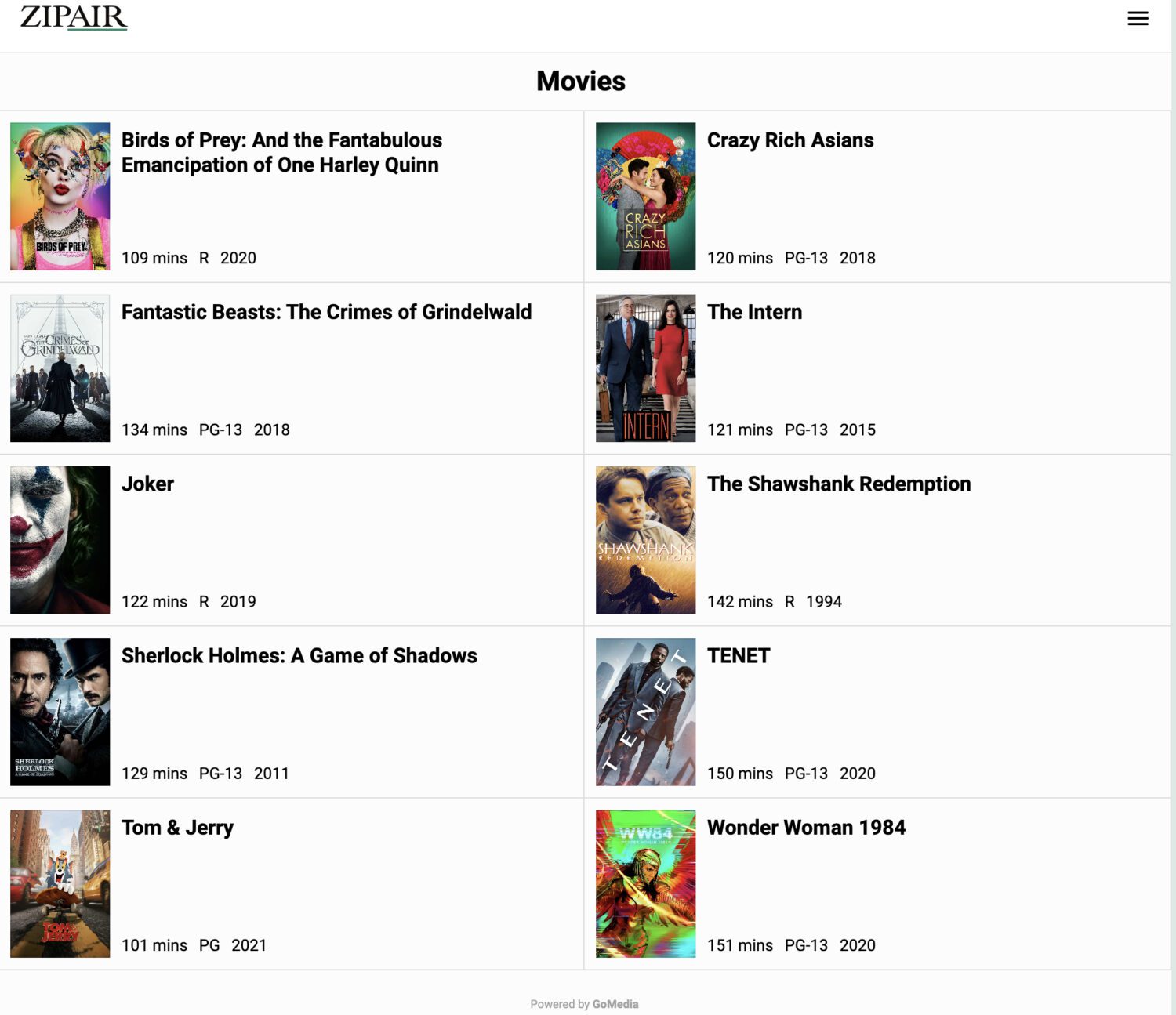 Zipair also says you can stream music inflight through Spotify. However, this feature would require a better internet connection. I tried to listen to a few songs but gave up quickly after repeatedly getting a message saying that it "Can't play the current song" due to buffering issues.
I did appreciate, however, that the Wi-Fi connection allowed me to keep track of the flight status. I always enjoy glancing at the moving map throughout my flight.
ZIPAIR Inflight Service
One of the biggest surprises to me for this 12-hour flight was that there technically wasn't any inflight service – at least not in the traditional sense.
I expected to pay extra for just about everything. But for some reason, I thought the flight attendants would at least go through the aisles and offer free water and other drinks and snacks for purchase. That was not the case.
Since I had pre-ordered a meal, that was delivered to my seat after we hit cruising altitude. The flight attendant needed to see my boarding pass for verification. Thankfully, the meal came with a bottle of water.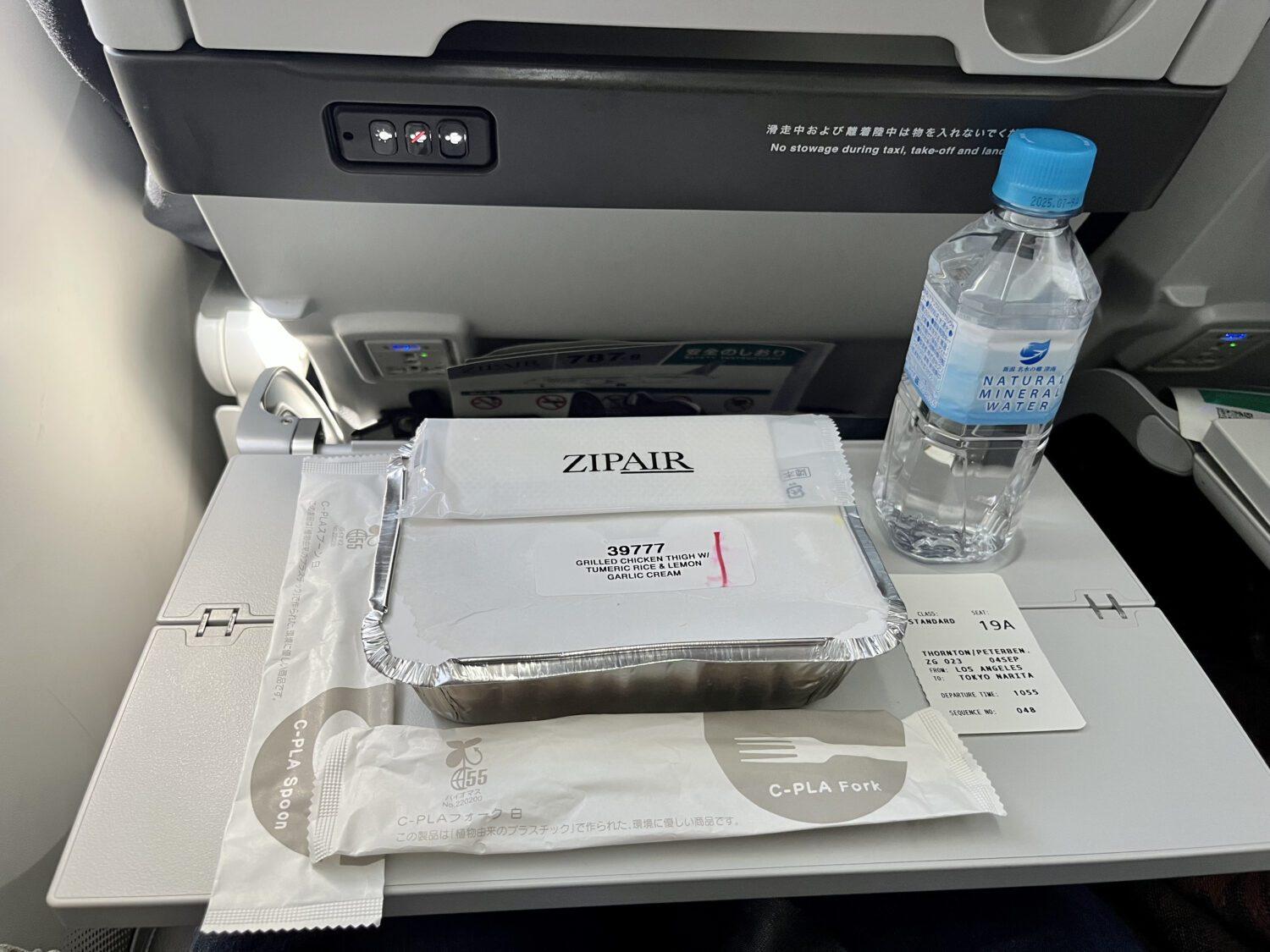 I wasn't expecting much, but the grilled chicken thigh with turmeric rice and lemon garlic cream with a side of broccoli and carrots didn't look appetizing at all.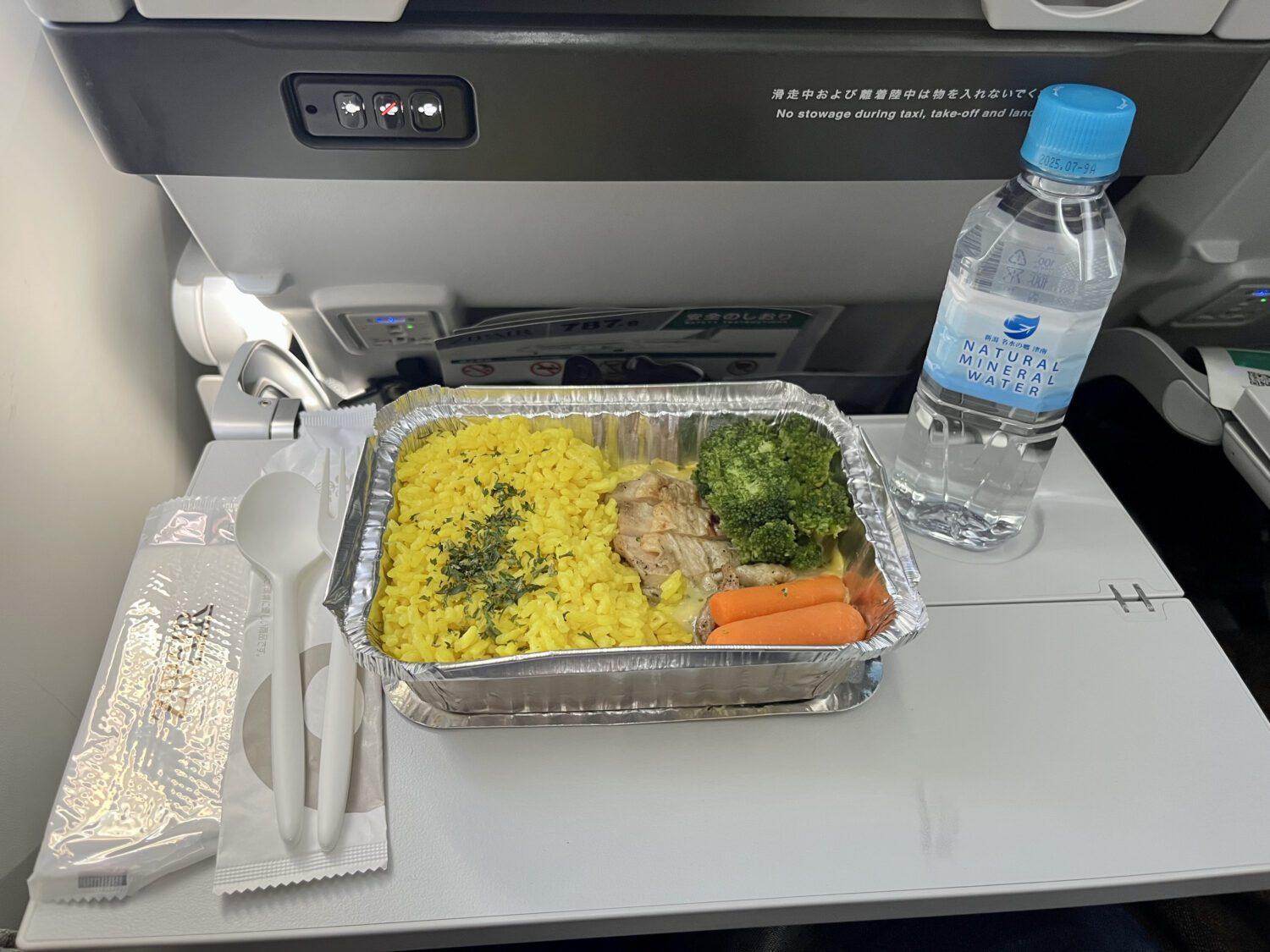 As is often the case with airplane food, it was barely edible. It was good to have some protein and sustenance for the 12-hour flight, but that was about all I got with this meal. There was not nearly enough sauce and no salt or pepper to spice it up.
The top tray worked nicely to hold my water bottle while I ate. Interestingly, the flight attendants didn't offer any other beverages during the flight, not even for purchase.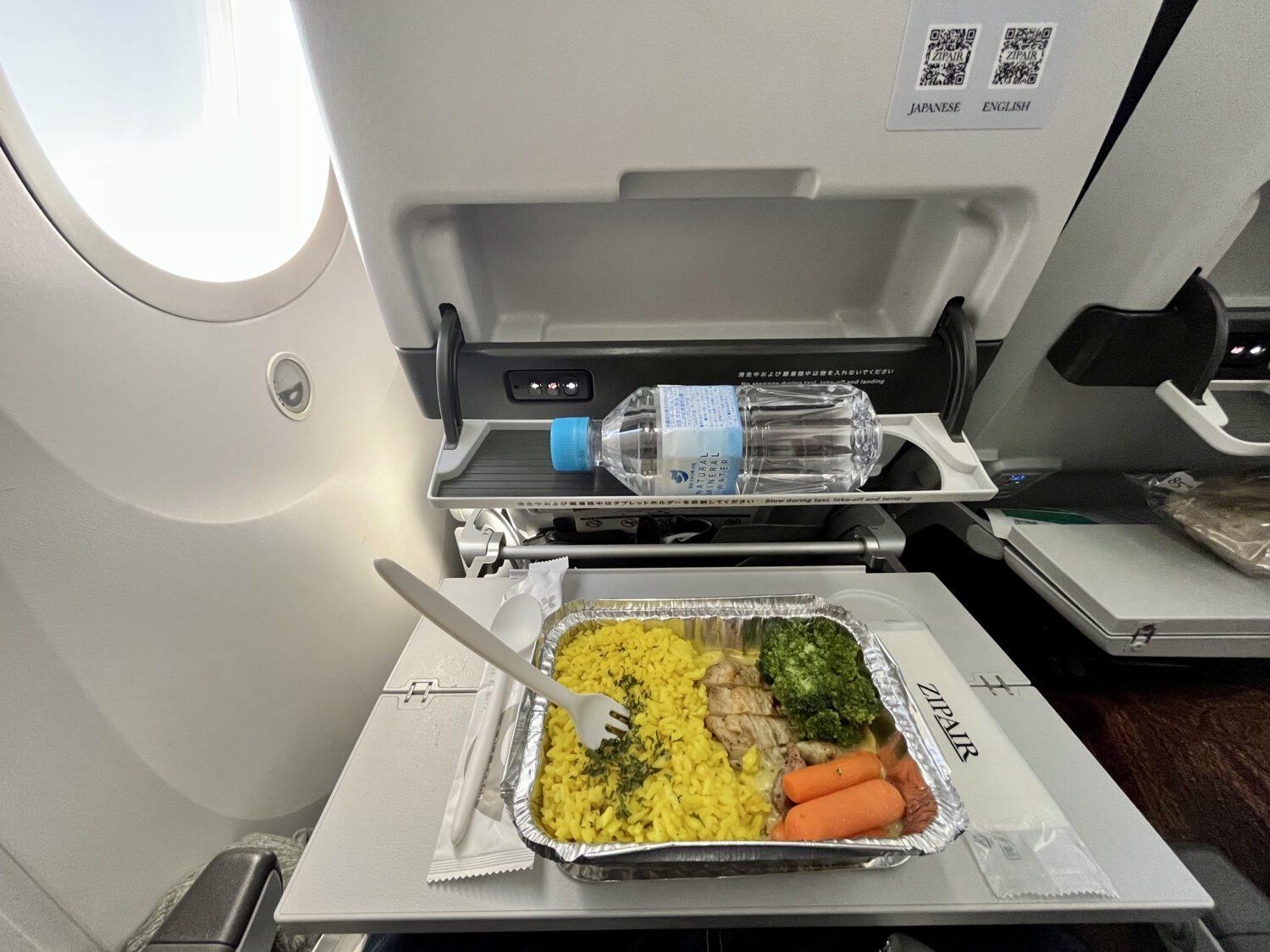 The only way to order more drinks or snacks was to use the inflight shopping menu available through the Wi-Fi connection, something that took me a while to figure out. It's possible they mentioned it during one of the overhead announcements, but it was pretty hard to hear.
This could also be confusing for older travelers or those unfamiliar with technology. I'm sure the friendly flight attendants would help out with orders if asked, but it can be hard to get their attention if they aren't specifically going to your row with a service item.
Once I pulled up the online menu on my laptop, I saw there were plenty of snacks and beverages you could order inflight. The prices were surprisingly reasonable, too.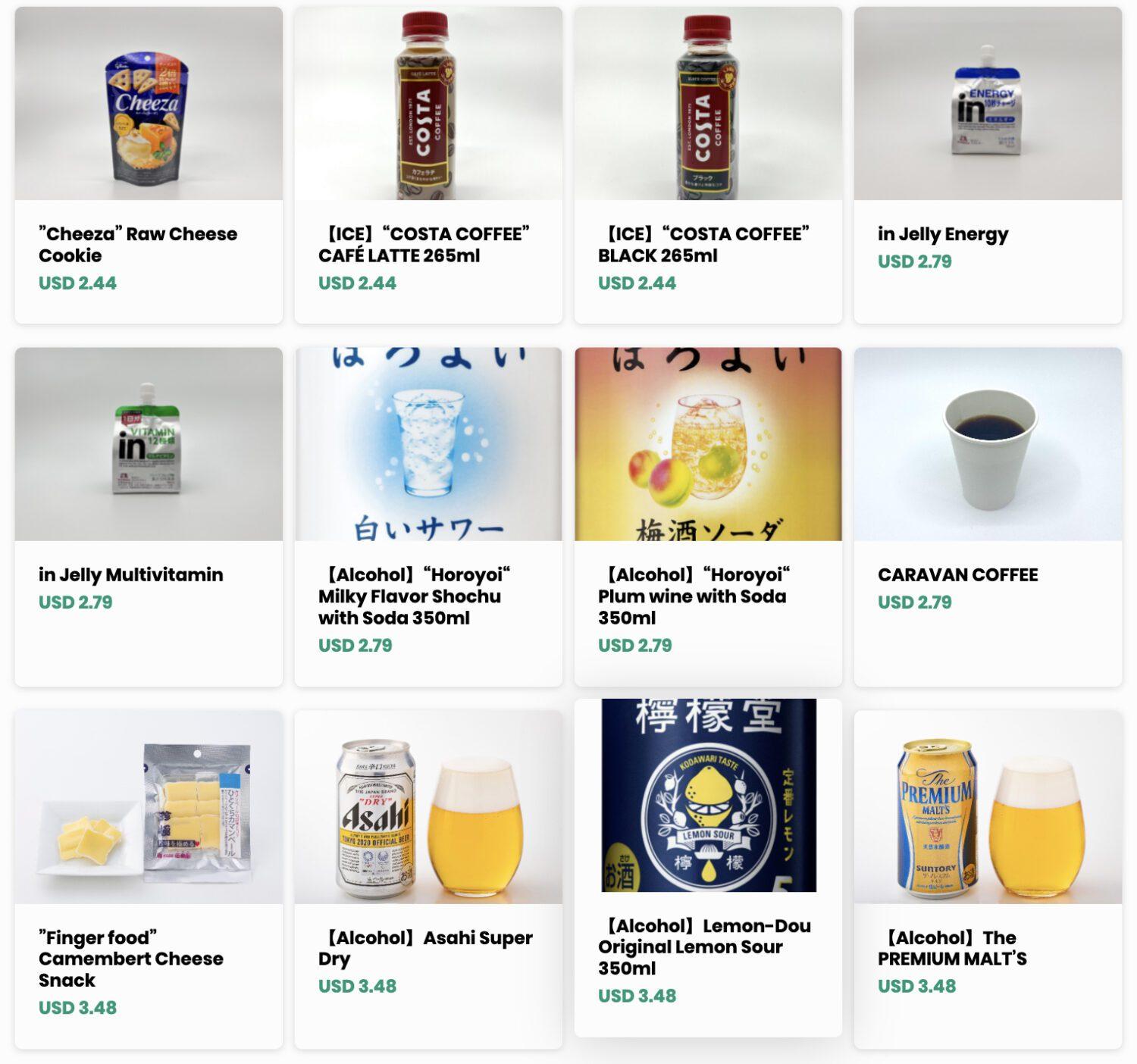 If you just want a light meal, you could order some noodle soup. They even have some ice cream for dessert.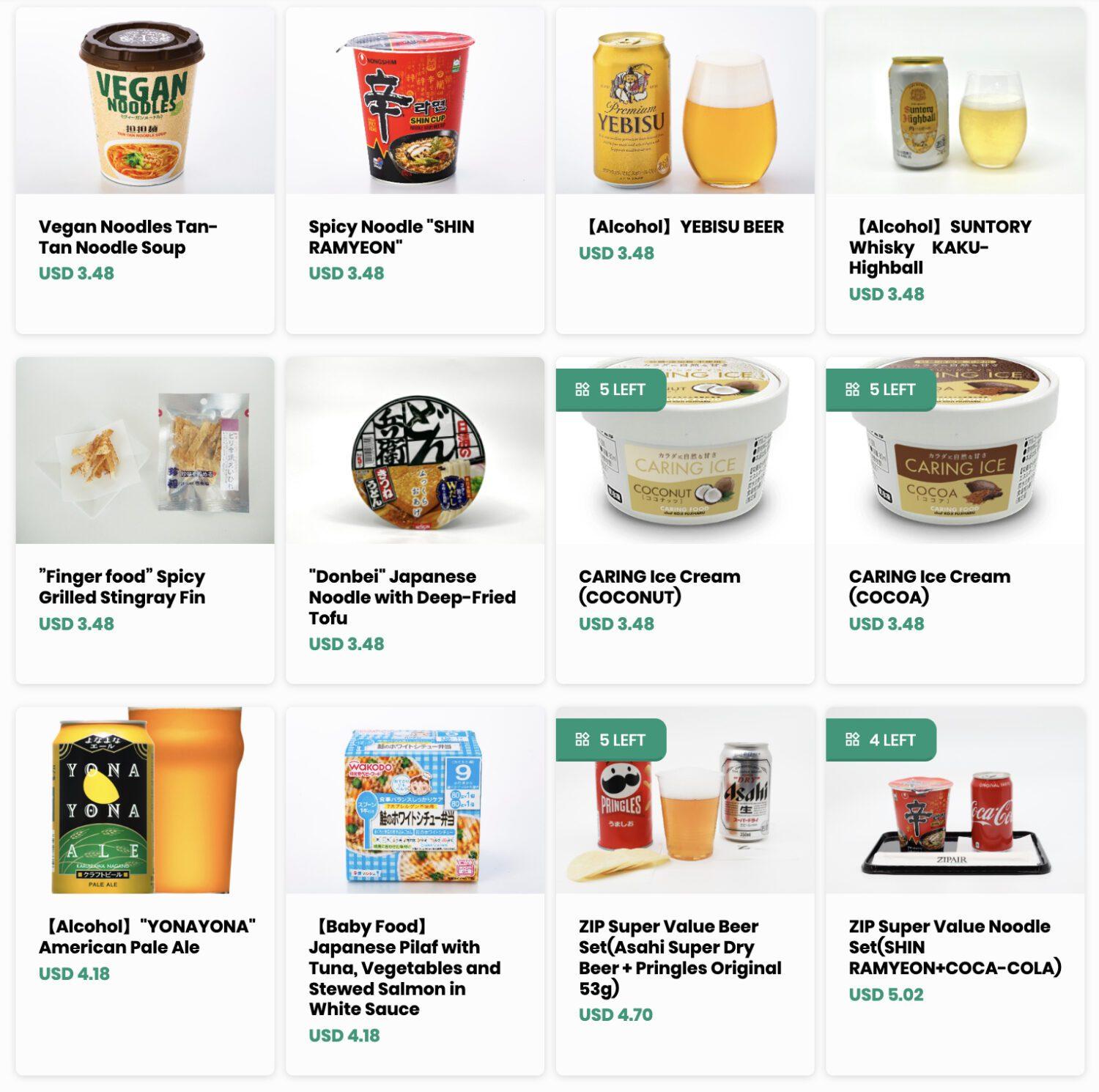 There are also a few different wines, sake, and special chocolates to try. If you forgot to pre-order a hot meal, there was one option to choose from inflight but I'd probably just opt for the cup of noodles instead.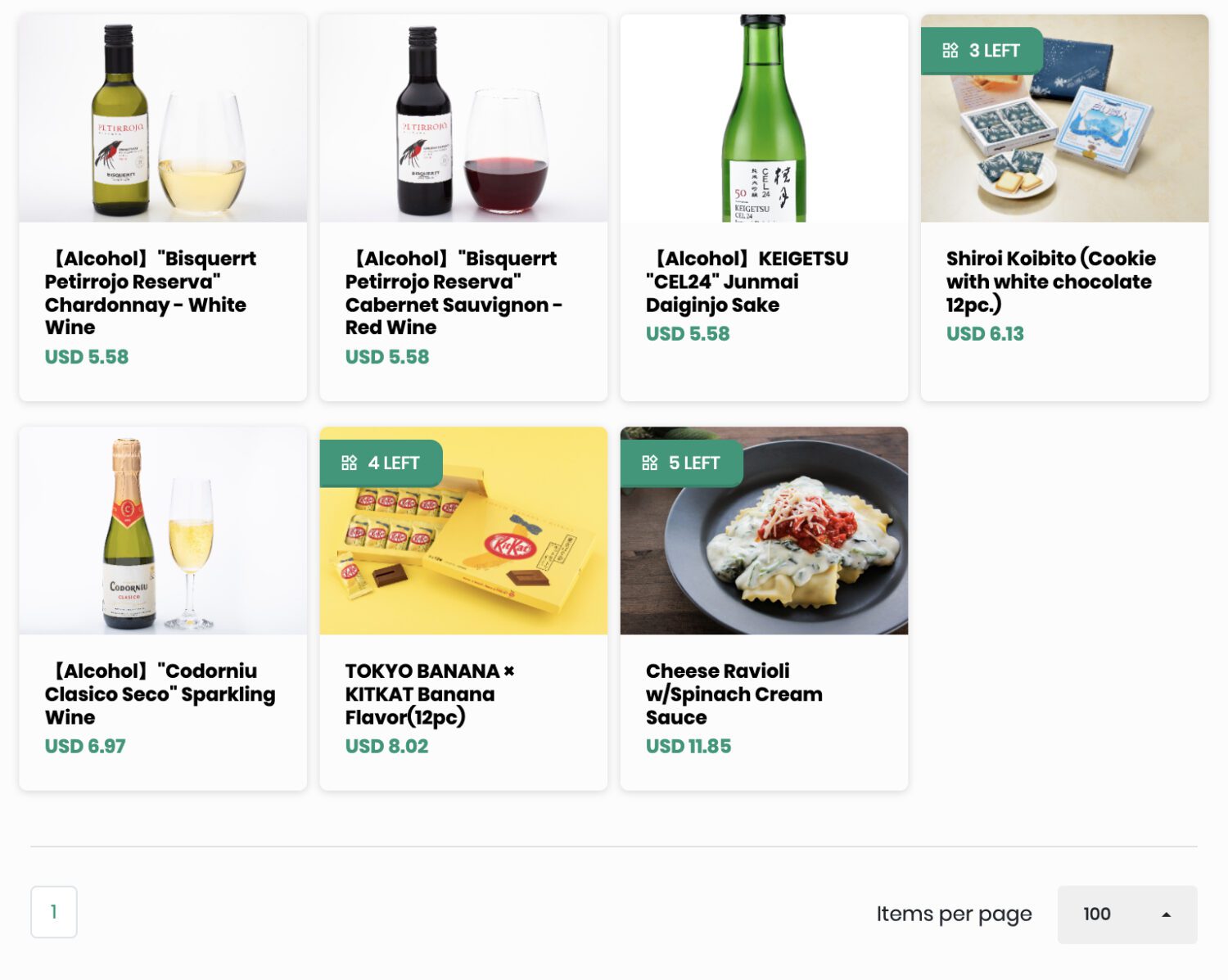 There were several more pages of food and amenities you could order inflight, including charging cables, headphones, compression socks, and those signature shorts. Some of these items did run out of stock during the flight so you may want to check early if there's something you want to purchase.
I chose to purchase some green tea and a "Black Thunder" chocolate snack after dinner. Not bad for under $4. You'll need to pay with a credit card through the online menu system.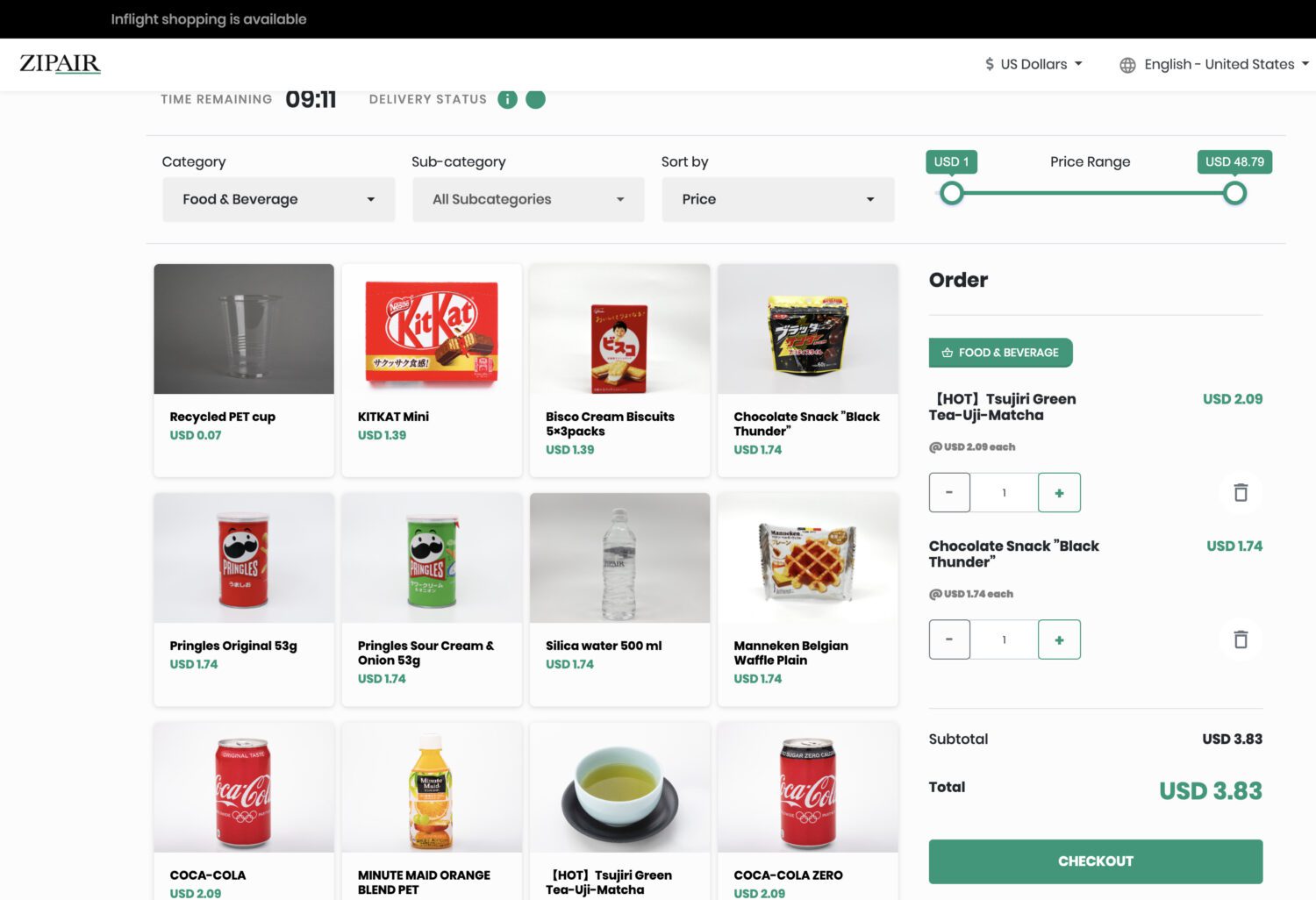 While I got a few "login failed" errors when I tried to order on my laptop, I eventually got it to work on my phone. I believe the issue was I needed to enter my full name and seat number when logging in to order.
Once I figured out the system, it was pretty slick. You can even track the delivery status of your inflight orders. The green tea and chocolate were delivered on a tray and had an extra protective sleeve in case there was any turbulence.
The "Black Thunder" chocolate had a chocolate cookie taste to it, which was nice to get the taste of dinner out of my mouth. And I can never get enough of Japanese green tea.
Overall, I had a hard time getting very comfortable during the flight. The seating felt very cramped and the passenger sitting in the aisle seat of my row had a cane so I didn't want to make him get up just so I could stretch my legs.
Since it was a daytime flight and there were no physical window shades, the cabin never got completely dark and I could feel the heat from the sun throughout the flight. This resulted in very little sleep, though I believe I nodded off for a brief nap toward the end of the flight.
If I had to do it again, I'd probably choose an aisle seat or pay more for a window seat in one of the exit rows so I could get up as I please.
In the end, flying Zipair can be a great way to get to Japan if you're looking to fly on the cheap – especially for a one-way ticket. But you'll often find other airlines competing with Zipair's fares in the markets where they fly, and they might offer a more comfortable economy seat and more inflight amenities than what you'll get with Zipair.
Bottom Line
My flight with Zipair was about as basic as it gets: a seat on a plane across the Pacific Ocean.
With extra fees for everything from carry-on baggage to water onboard, you don't get much for that initial low fare you see. And the fact that there's no possibility of making any ticket changes after booking makes Zipair a hard sell if your travel plans aren't set in stone.
If you're looking for the cheapest way to get from point A to point B, Zipair could be your ticket. Just do the math first to figure out how much you're actually saving and whether or not those savings are worth it.