There are business class seats, and then there are business class suites. And with Delta, it's the latter.
The airline set itself apart in 2017 when it started flying its brand new Delta One Suite, with closing doors that give passengers unrivaled privacy. But just how good are these suites, and does the rest of the experience live up to the name?
We found out firsthand on a flight from Tokyo-Haneda (HND) to Minneapolis-St. Paul (MSP) on one of Delta's retrofitted Boeing 777s, which have since been retired due to the COVID-19 pandemic. But thankfully, the Delta One Suite is here to stay on some of Delta's other jets.
So keep reading to see what the experience is like. Spoiler alert: They're pretty fantastic.
Booking Delta One Suites
Delta often charges exorbitant amounts to fly in one of these suites. Finding an award under 150,000 SkyMiles is a chore – and it's not rare to see them over 300,000 SkyMiles for a one-way flight. Needless to say, that's bad. Don't pay that many SkyMiles to fly in a suite.
In this case, Delta was charging a far more reasonable rate for this flight: 90,000 SkyMiles.

But we did even better, thanks to a great trick to save some serious SkyMiles: booking Delta flights using Virgin Atlantic miles. Thanks to a close partnership between the two airlines, you can book Delta-operated flights using Virgin Atlantic Flying Club miles. And when the timing works out, you can often save a ton of miles by doing so, like booking a Delta One seat to Europe for just 50,000 miles. 
In this case, we were able to book the exact same flight for just 60,000 Virgin Atlantic miles, plus the same cash fee of roughly $49. And the beauty of these miles is that they're so easy to earn, as you can transfer them from Chase, American Express, and Citi directly to a Virgin Atlantic account.

Unfortunately, Virgin Atlantic has since drastically raised award rates for these Delta redemptions. But we booked before that change was made. And I'd say we got a pretty great deal for what's normally a $3,000-plus flight.

Lounge Access at Tokyo-Haneda
Delta doesn't have its own lounge at Tokyo-Haneda (HND) – though the airline is planning to build one.
But at the time of my flight, Delta contracted with the company that runs several lounges inside the airport to give business class passengers a spot to stay. These contract lounges are generally nothing special, so I wasn't expecting much. But I was pleasantly surprised by the TIAT Annex Lounge, which is located by Gate 41 in the international terminal. It won't win any awards, but it was clean, chic, and airy.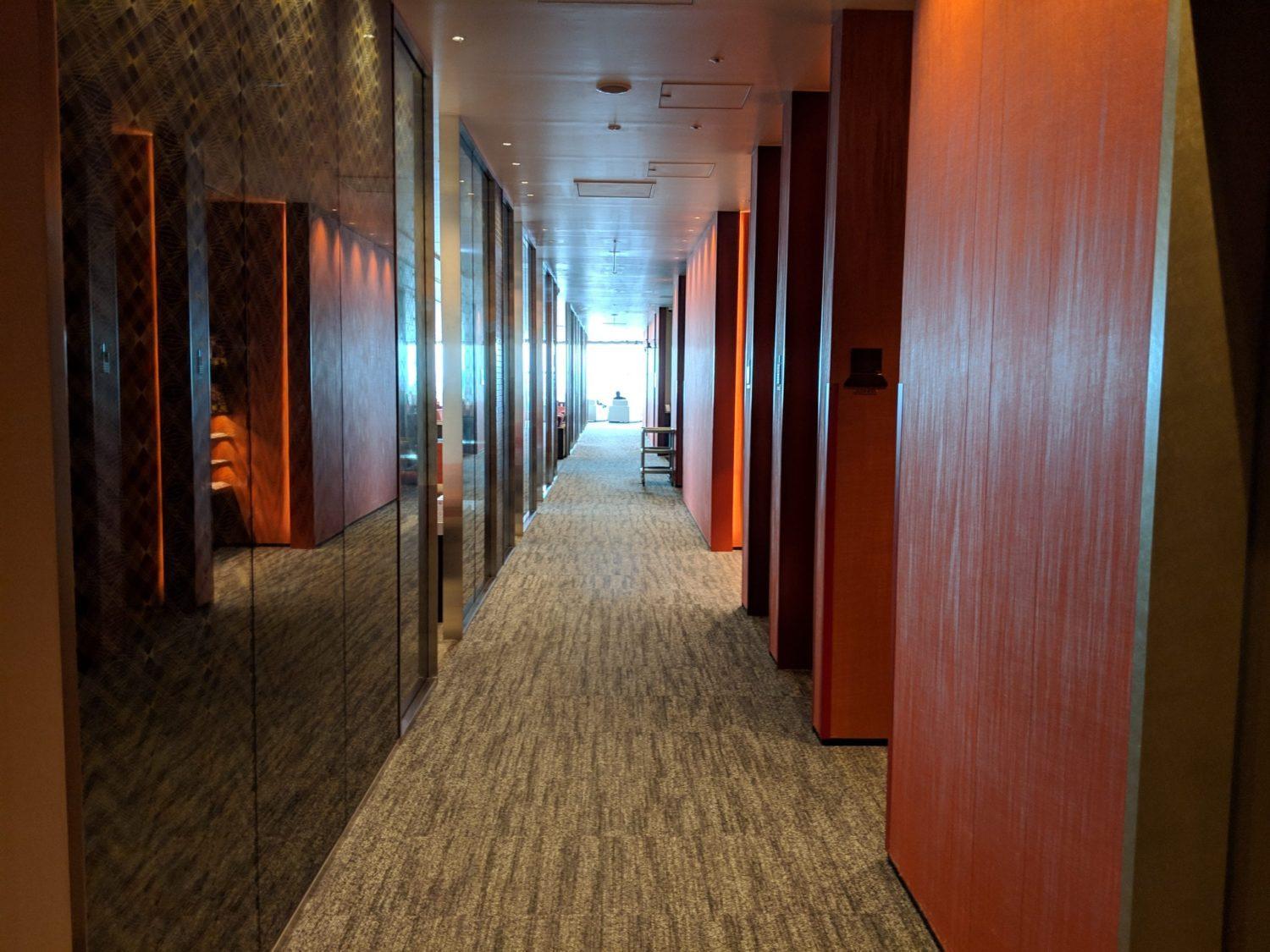 Best of all, the space was absolutely huge – and nearly empty. That's the recipe for a great lounge, as there's nothing worse than struggling to find a seat in a cramped lounge. But there was a ton of seating, and nearly every chair scattered throughout the lounge had its own power ports to charge your devices.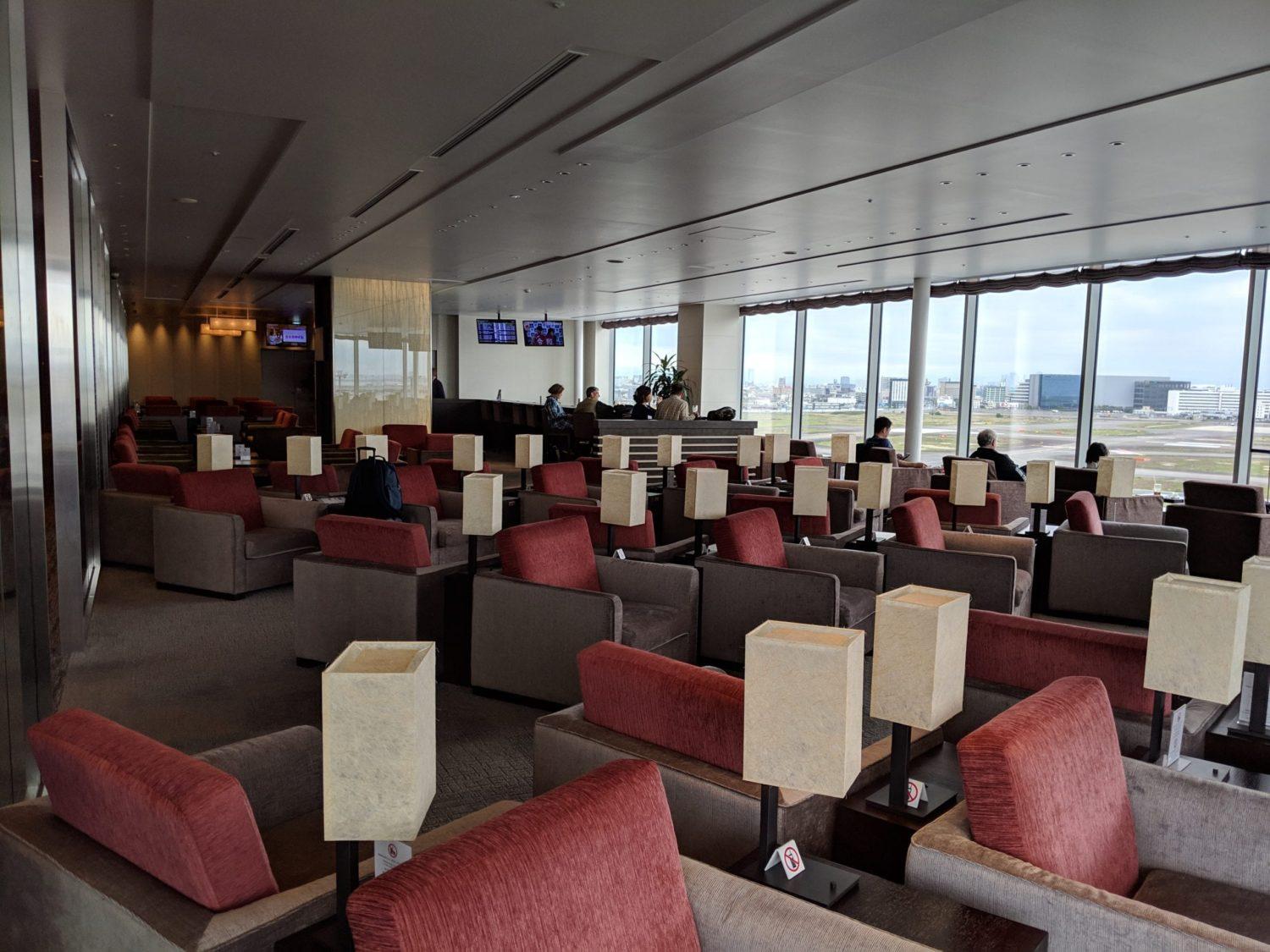 I love a lounge that's full of natural light, and this one fit the bill with huge, floor-to-ceiling windows along two entire walls of the lounge. It made it easy to spot my ride home.
The lounge had a decent spread of both hot food like fried noodles, curry, and eggrolls, along with some smaller finger foods. And considering this is in Japan, it had one of the self-pouring beer machines serving Asahi. I didn't sample the food, but couldn't resist testing out the beer robot.
The lounge also had four or five shower suites. And like the lounge itself, they were nothing flashy. But they were absolutely spotless, and a perfect spot to get refreshed quick before the long flight.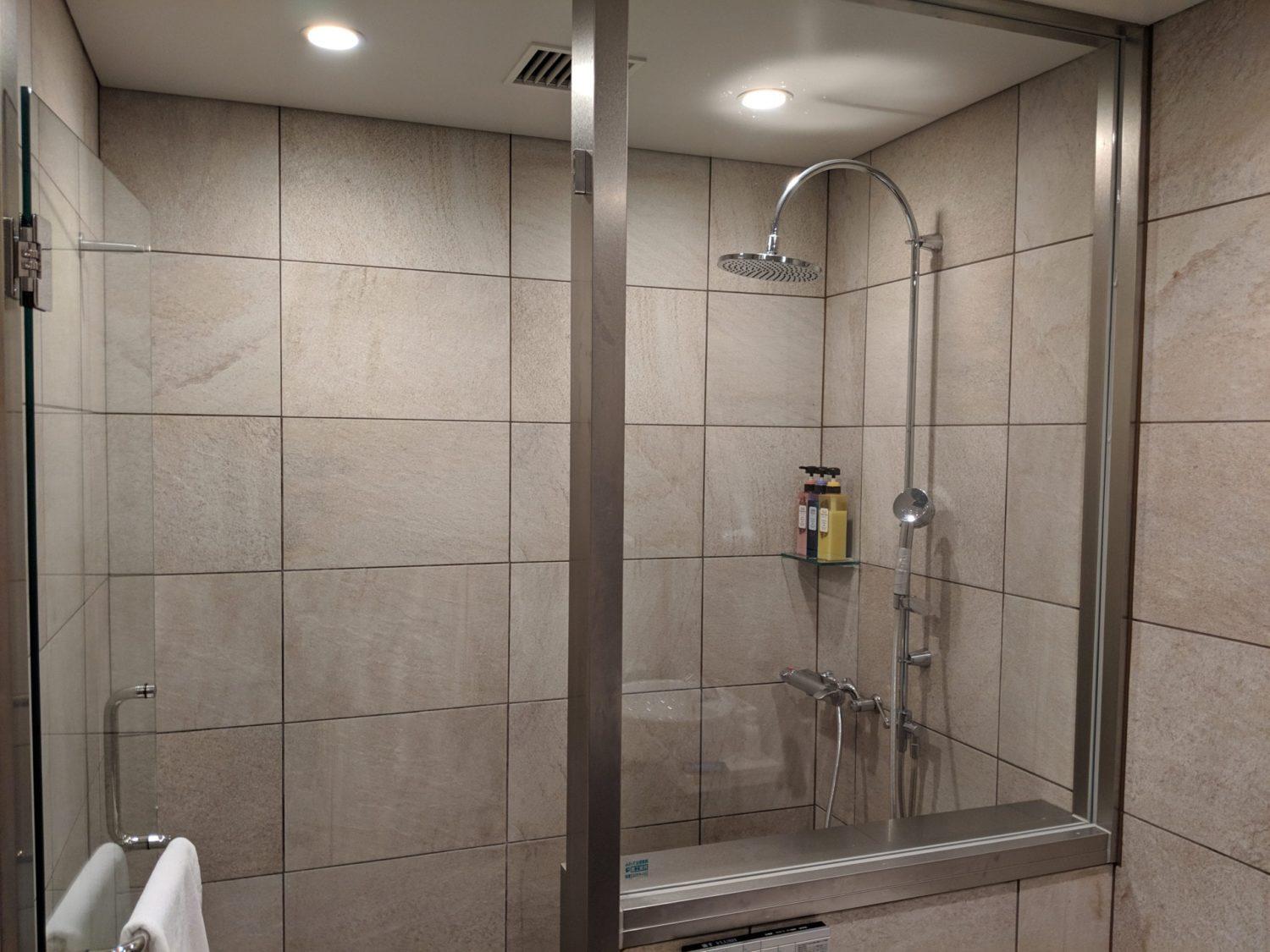 The Delta One Suite Cabin
Even up in business class, Delta planes have generally looked a bit … well, drab, on the inside. The same could largely be said of both United and American.
But Delta is going all out with its new Delta One suites and Premium Select seats, ordering brand new Airbus A350s and Airbus A330s. And these planes are a different story.
For starters, some sharp wall art welcomes you as you board the plane between the business class and Premium Select cabins.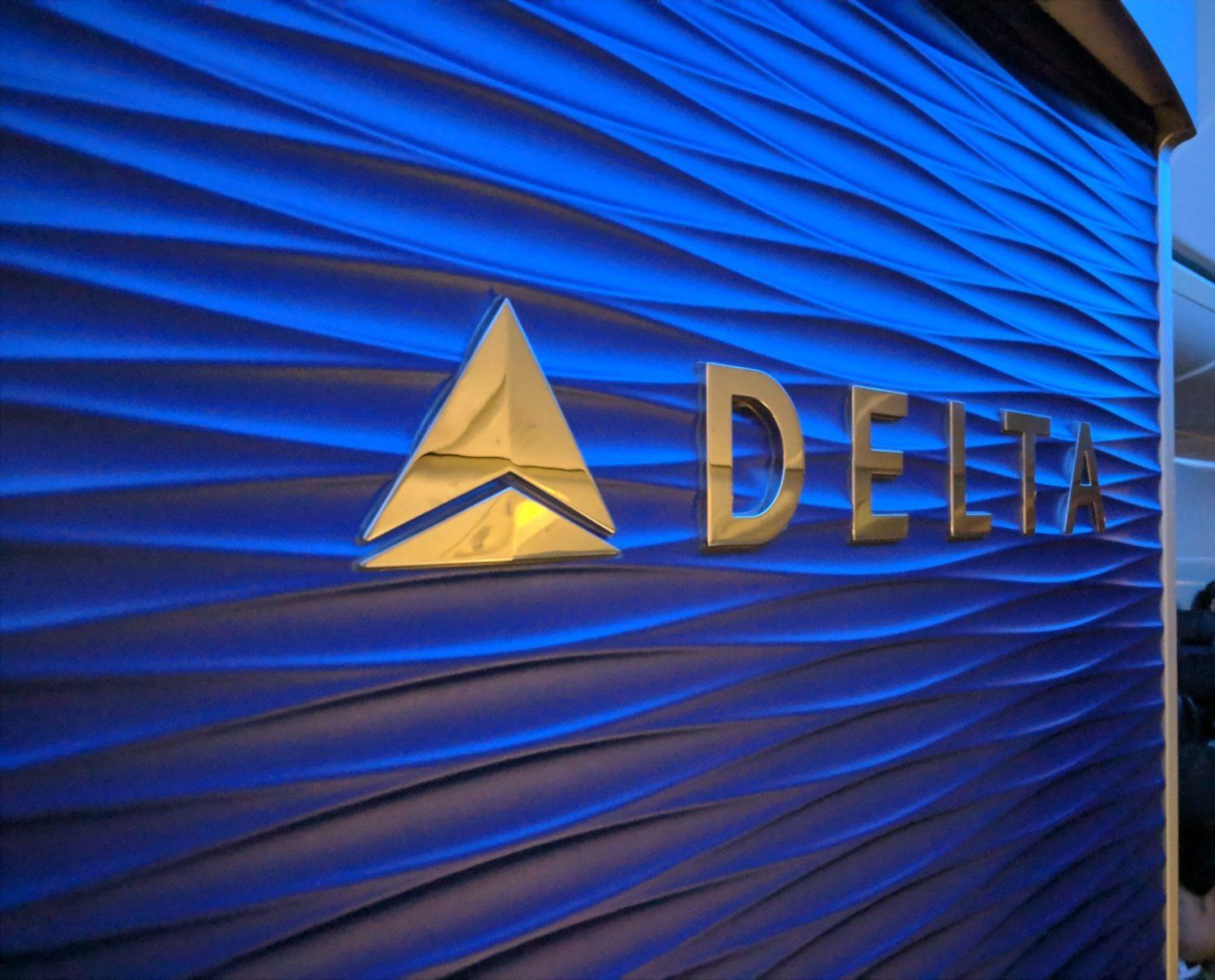 And then there's the business class cabin itself, which is a massive improvement over Delta's older offerings. They're called Delta One Suites, after all.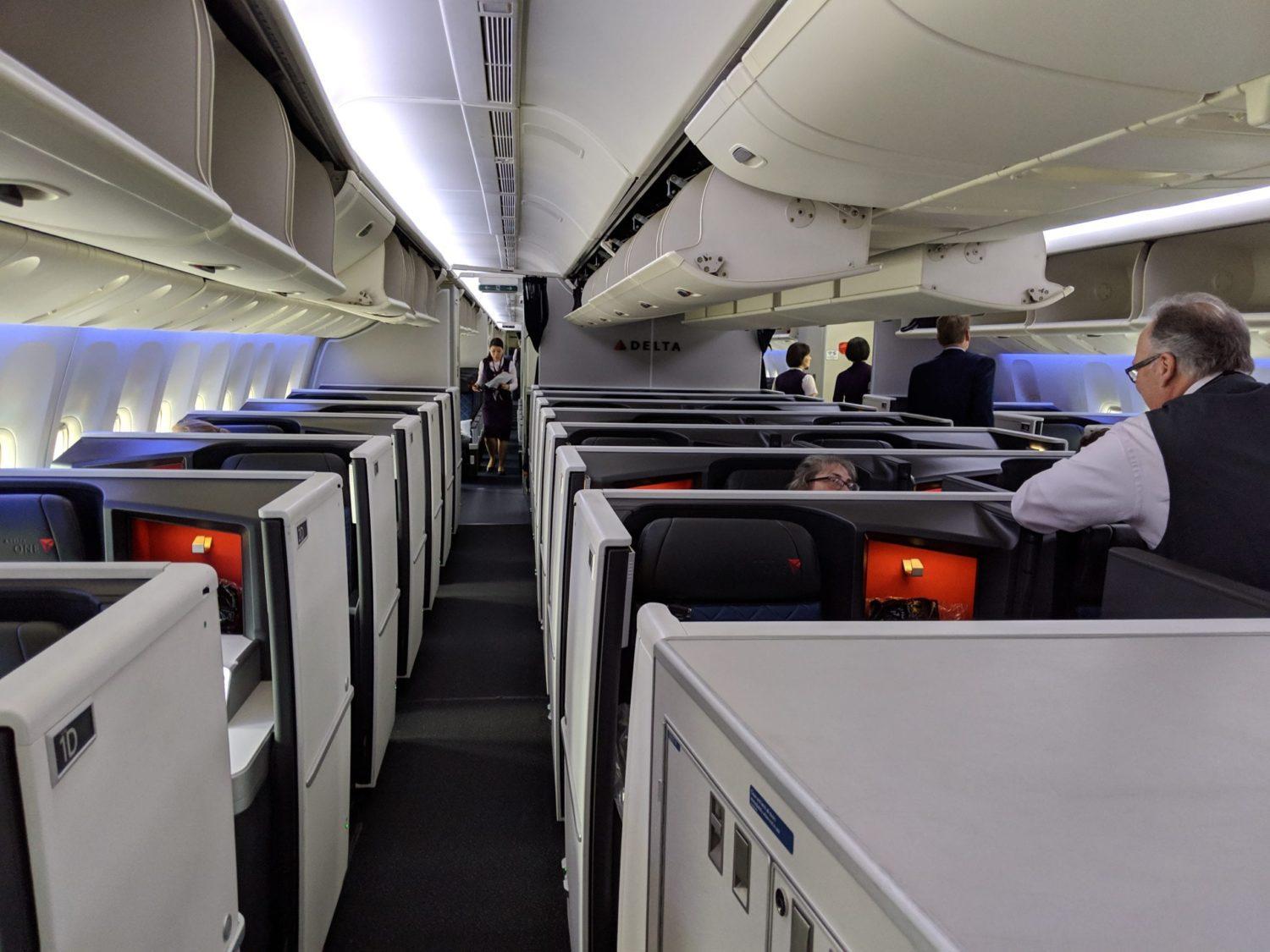 Although this particular plane was more than 10 years old, it felt and looked brand new on the inside thanks to this refurbish job. All 28 Delta One Suites are laid out in a 1-2-1 arrangement, giving every passenger a straight shot into the aisle.
The seats themselves are staggered in each row: Some are closer to the aisle with a console table along the side, while others are positioned farther away from the aisle and separated by the console. These alternate row by row. If you're flying Delta One solo on an Airbus A350, the odd-numbered seats along the wing are closer to the window, while even-numbered suites are closer to the aisle.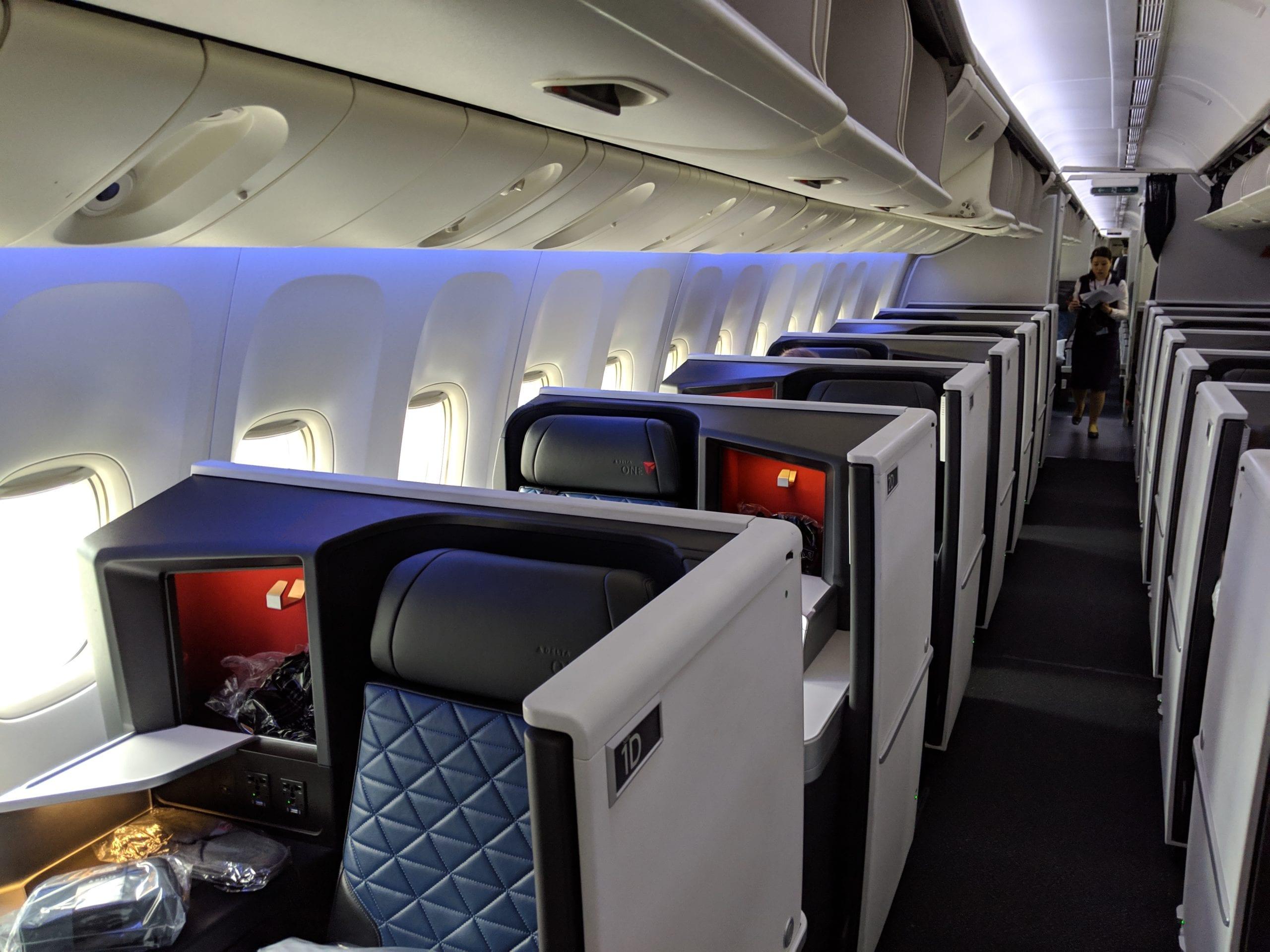 But on the 777, it was the opposite. So if you're looking for extra privacy, go for an even-numbered suite to be even farther away from the aisle.
Of course, that might be moot – these are suites, after all. And with closing doors at every suite, it's easy to get some privacy. One of the common criticisms of these suites is that the suite walls and doors are only about 4 feet tall. And while that's true, it's hardly a problem unless if you've got a neighbor peering over.
Delta really loves the cool blue mood lighting, and I have to say: It really works. Delta picked a color scheme and stuck with it.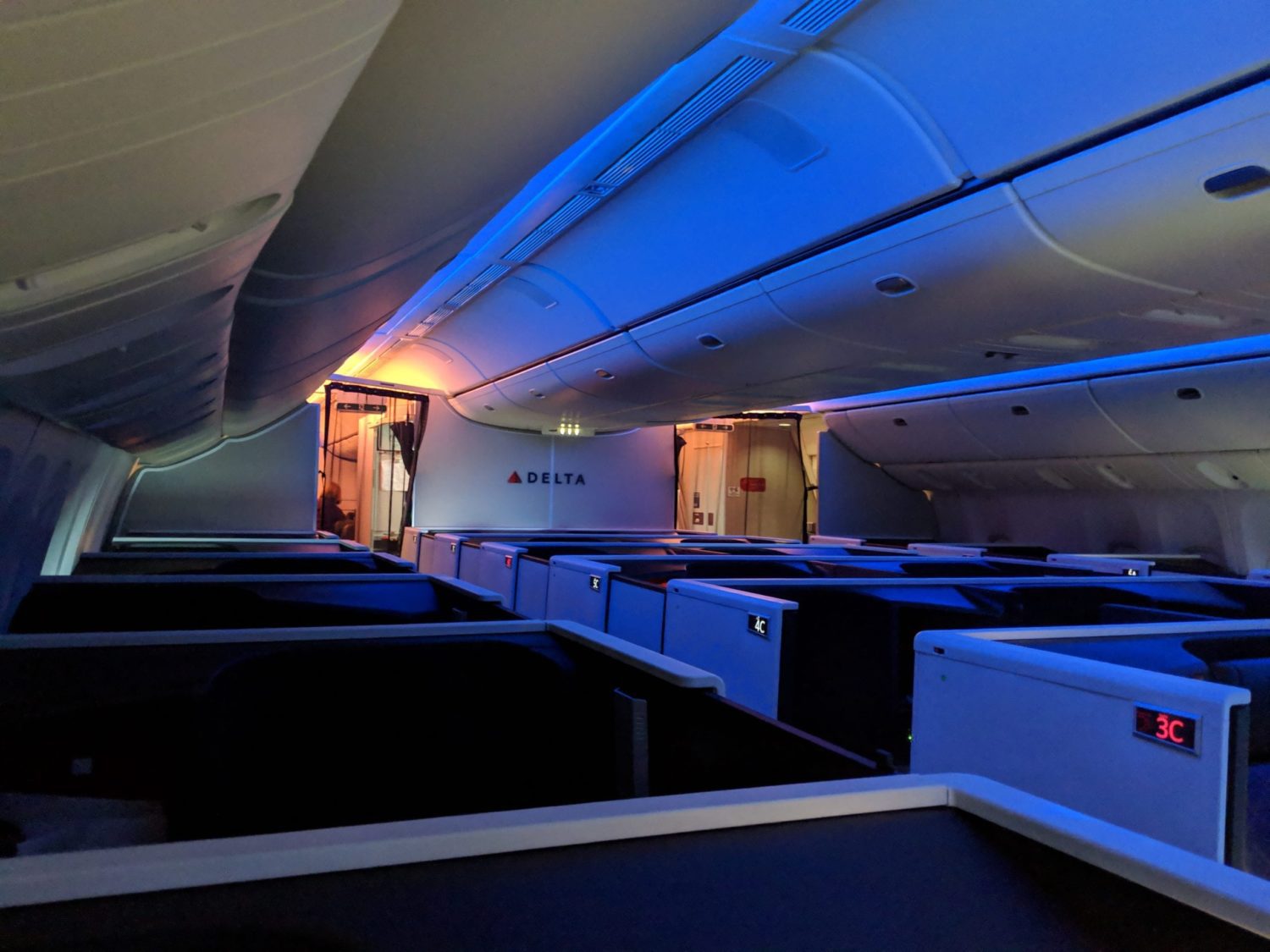 The bathrooms on board this Boeing 777 got a facelift, too. There are just two lavatories at the front of the cabin on most refurbished Boeing 777s. And while nothing special or spacious, they look nice.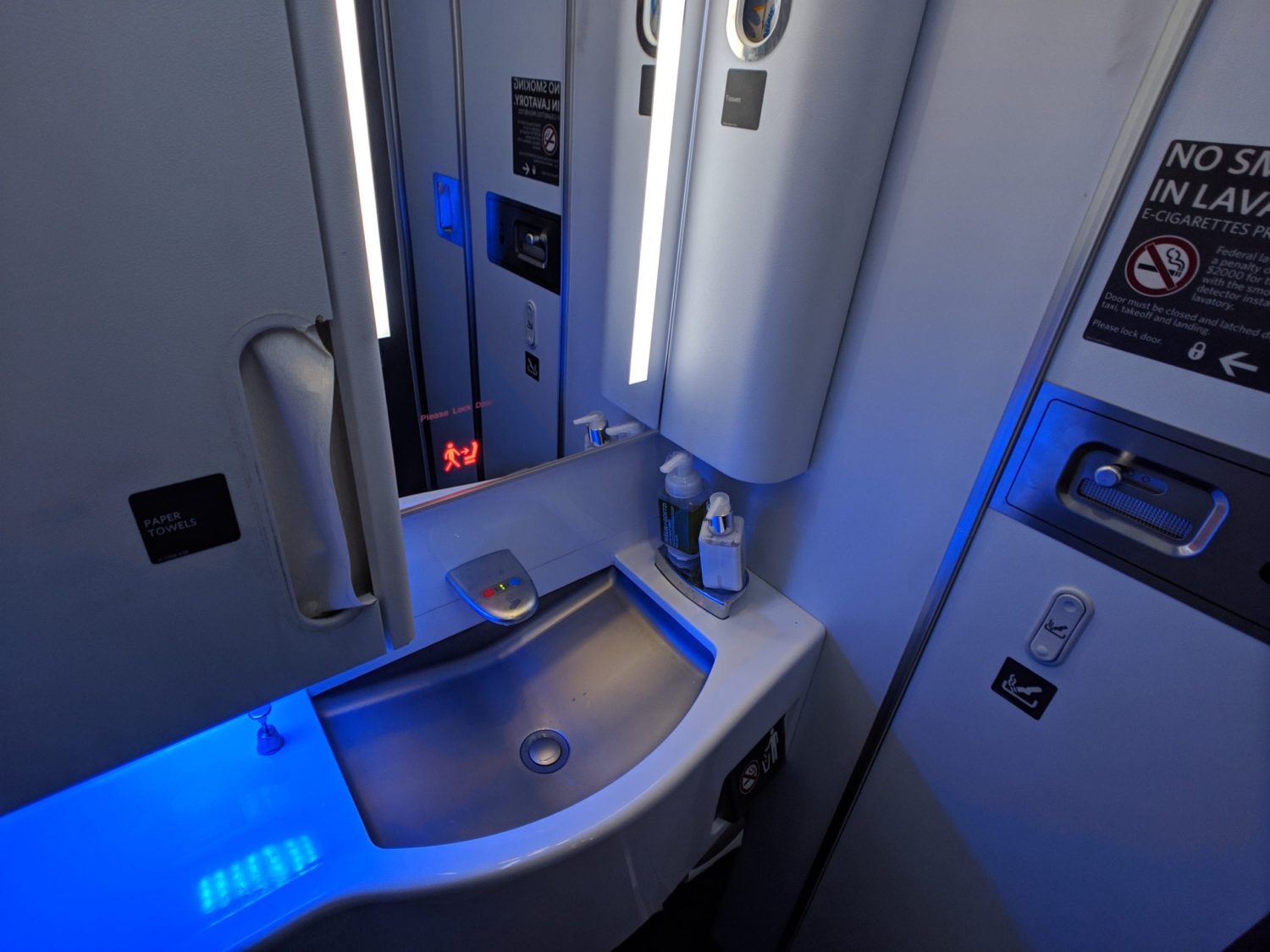 In business class, they were stocked with Malin + Goetz handsoap and moisturizer, which is pretty nice.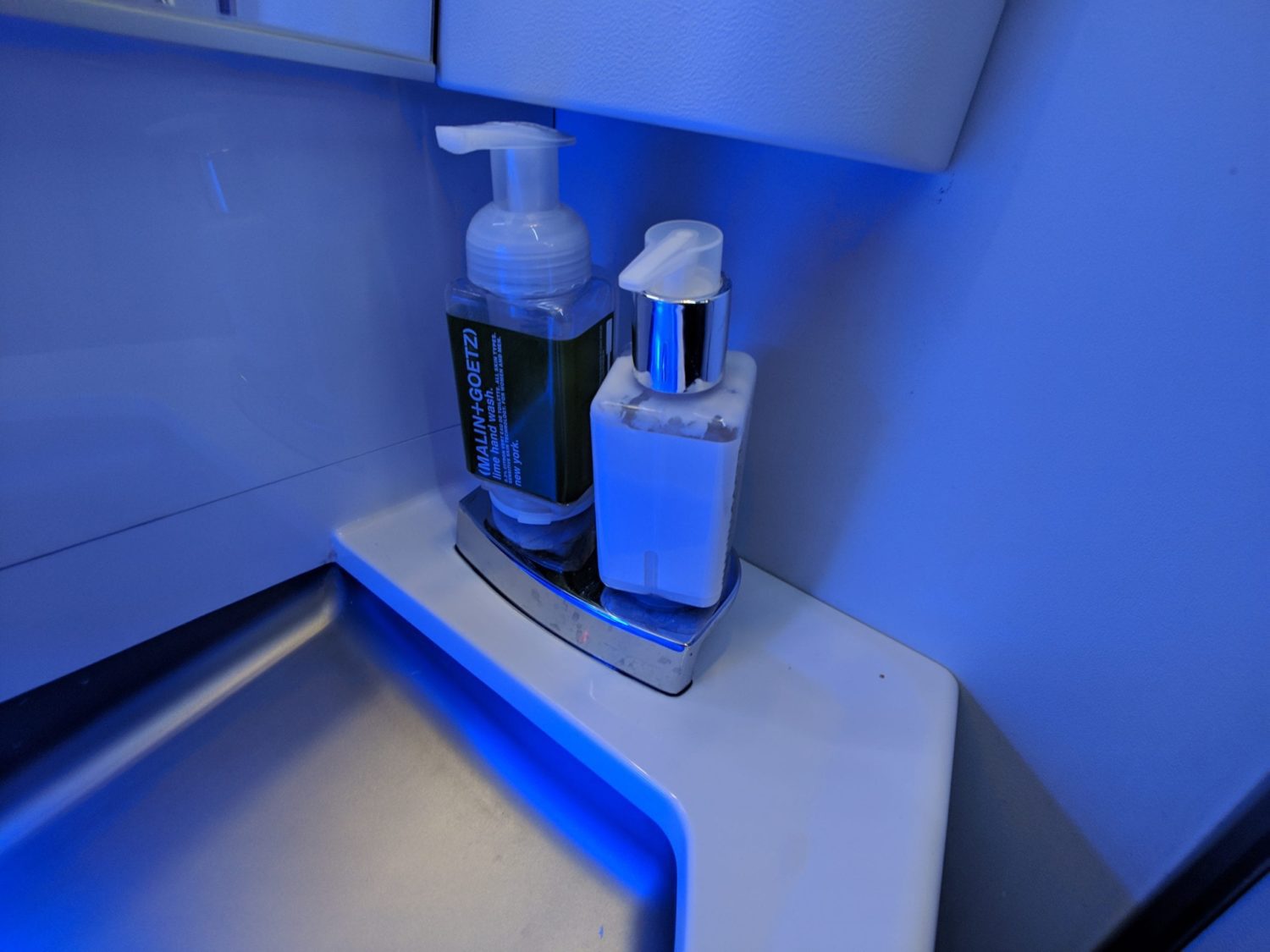 Delta One Suite Seating
Delta is still one of just a few airlines offering fully closing suites in business class – and it's the only U.S. airline to do so.
Our verdict: These are easily one of the five or so best business class seats in the sky. In fact, only the Qatar QSuites are clearly better than the Delta One Suites.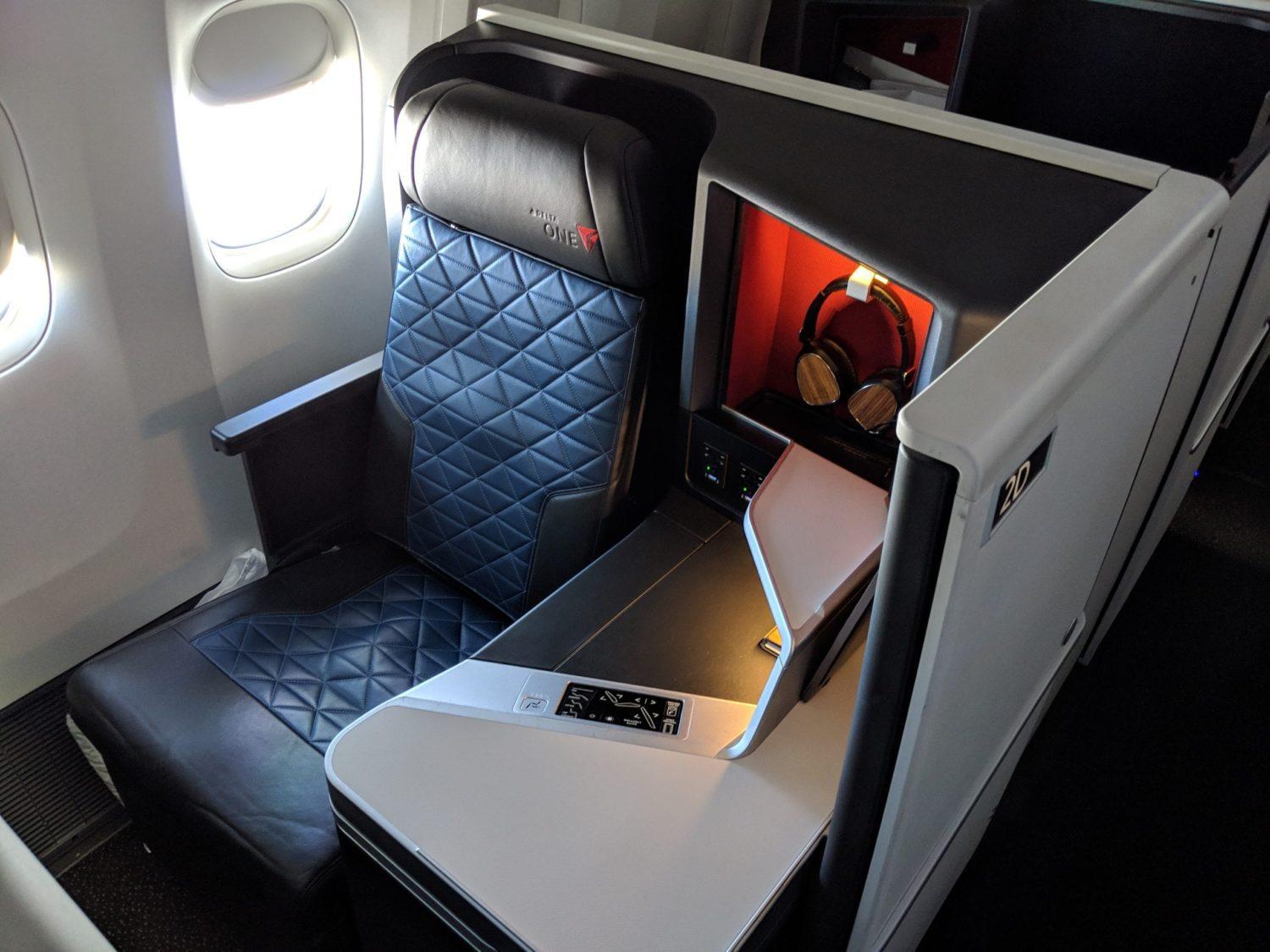 I picked suite 2D, in the second row back on the right-hand side of the plane. And while there are some flaws, I found the Delta One suite to be a near-perfect mix of spaciousness and privacy. That's not always easy to pull off, but Delta threaded that needle well.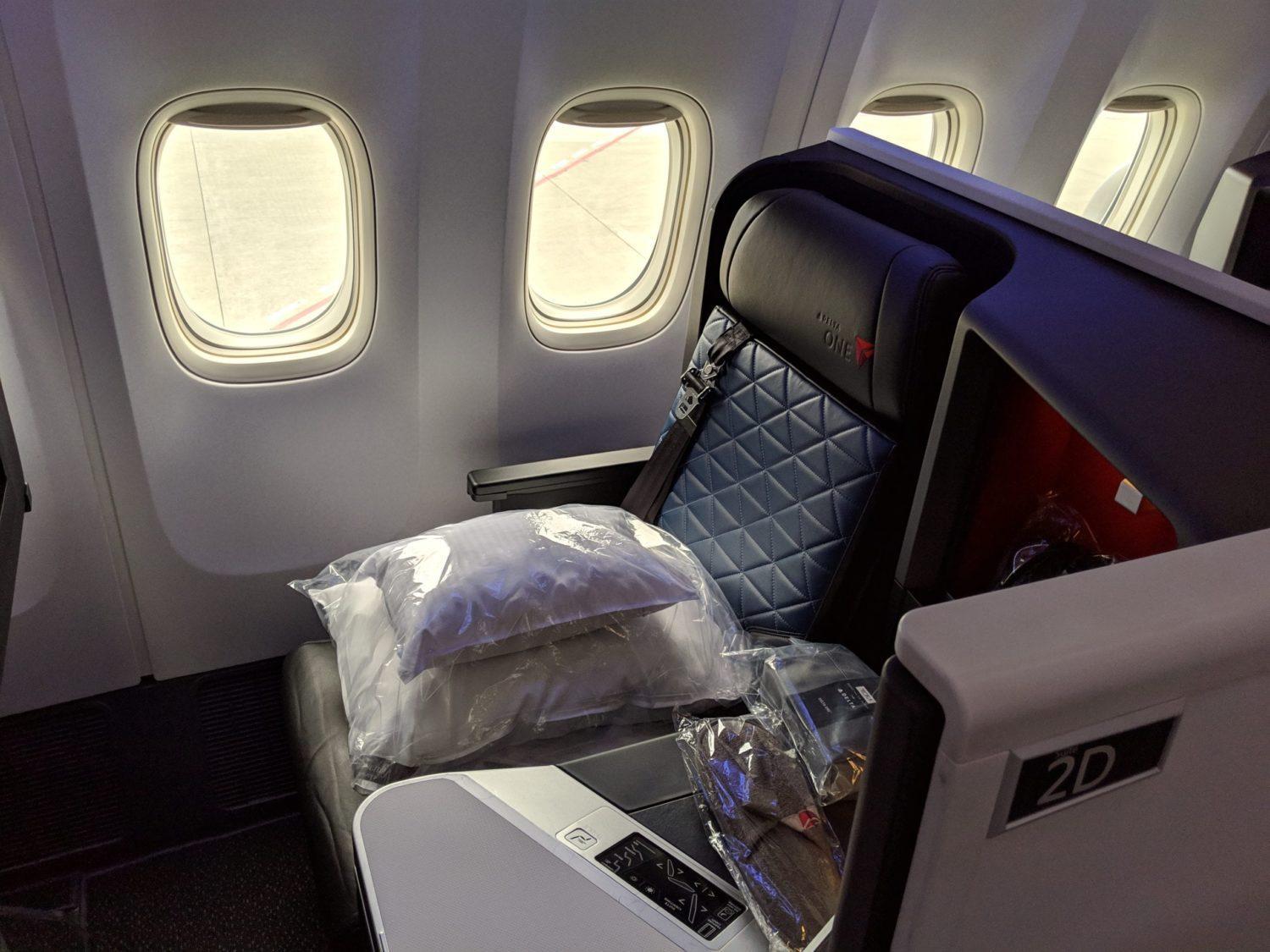 I just don't buy the criticism that these suites are too private, or could be claustrophobic. At 24 inches wide, the seat isn't the widest you'll find in business class – though far from the narrowest. And after you add in the extra space from the table console, there is plenty of room to stretch out within the suite walls. Just an example, I thought this setup was far more spacious than the Japan Airlines SkySuites, with just as much privacy.
The suites are plenty long, as well. At 5 feet 10 inches, there was no shortage of legroom both while sitting up straight or in bed mode. The footwell is big, though the downside is that thanks to the sloping floor that leads up to it, there's no room for a personal item here.
Odd-numbered seats along the wings are positioned closer to the aisle, with a console table along the window side. Still, there is plenty of space here.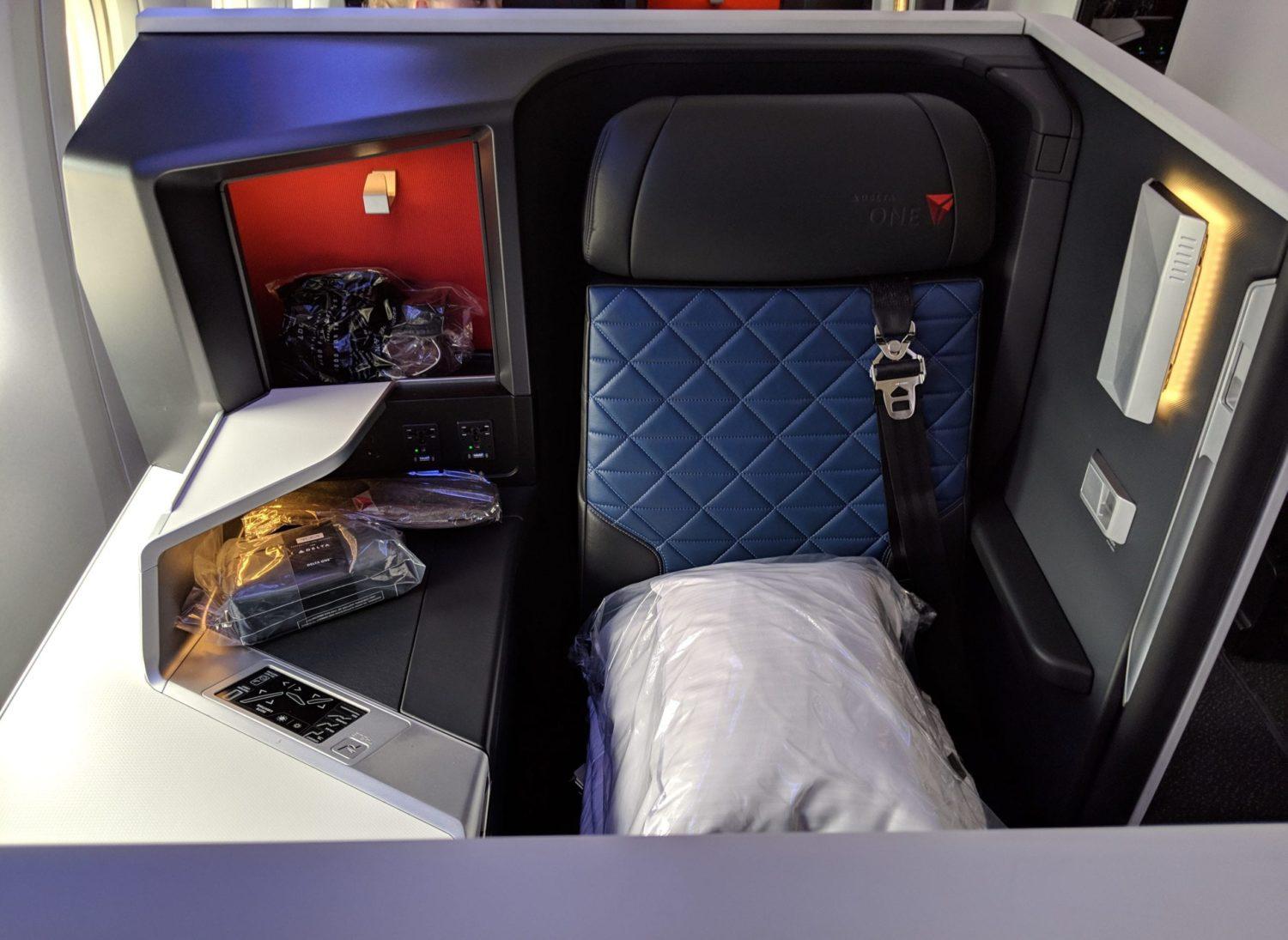 Center section seats, meanwhile, alternate row by row, too. Couples and companions traveling together will never be seated right next to each other, so cuddling is out of the question. But with a movable center divider, it's easy to either talk with your neighbor or block them from view.
But the one thing that stood out to me most about the Delta One Suites were the details you can't quite capture well in photos. Up close, it looks even nicer. Look at the stitching and patterns on the seat, for example.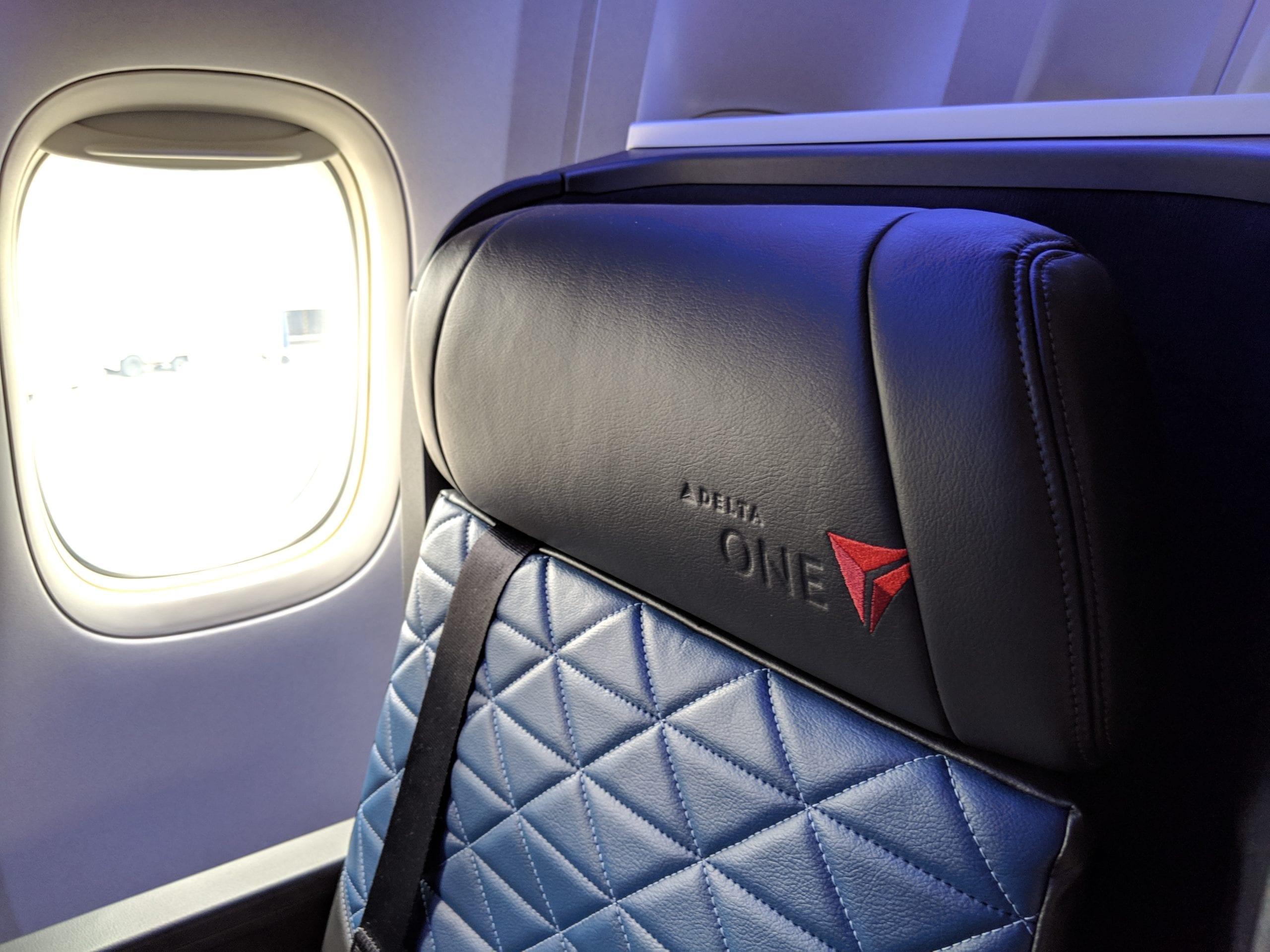 Or the blue backlighting on the front wall of each seat behind the TV screen.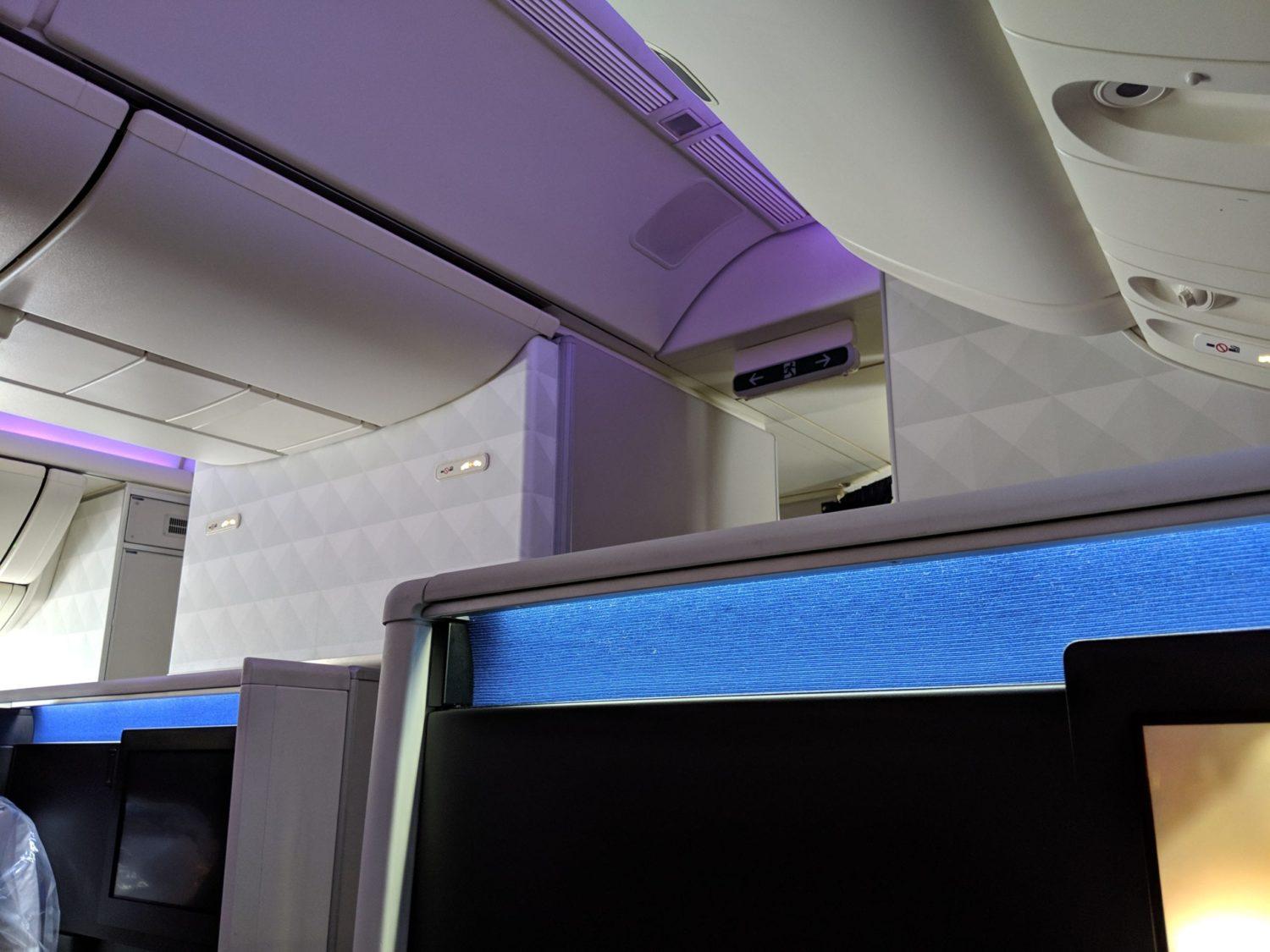 If there's one downside to the seat itself, it's the storage. There's just not much dedicated space to store your belongings. With no room below the footwell, stashing a backpack in your suite is out of the question. Seats positioned closer to the aisle have a small cubby near your feet, but mine had no such thing. On the plus side, the side console table is absolutely enormous, with plenty of room to hold a laptop, phone, passport, and whatever else you may need to put aside during the flight.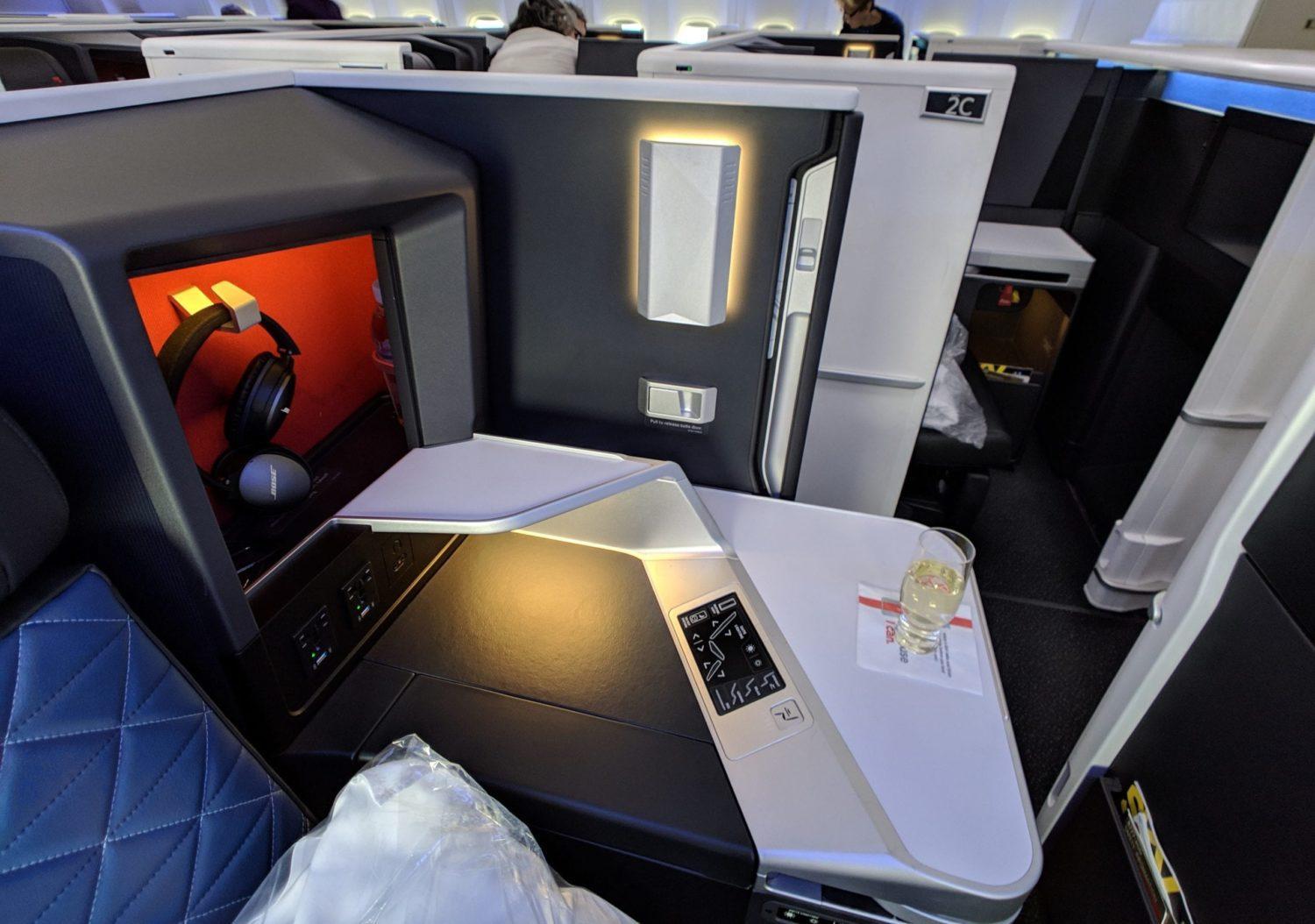 There was also the cubby where the headphones can be hung up, along with a dedicated holder for a water bottle. There's some extra space in here, as well.
In all, the storage situation was not great but adequate. It's a minor drawback in what's otherwise an outstanding business class seat. And you can get some more storage space by choosing a seat that's closer to the aisle.
So what's the biggest plus? I have to admit that I was skeptical about the main selling point of these suites: the door. How much additional privacy would the door actually provide? Would it come at the expense of space? Was it functional, or just flashy?
But I am sold. They're both functional and flashy. It adds an extra layer of privacy without sacrificing the spaciousness of the seat.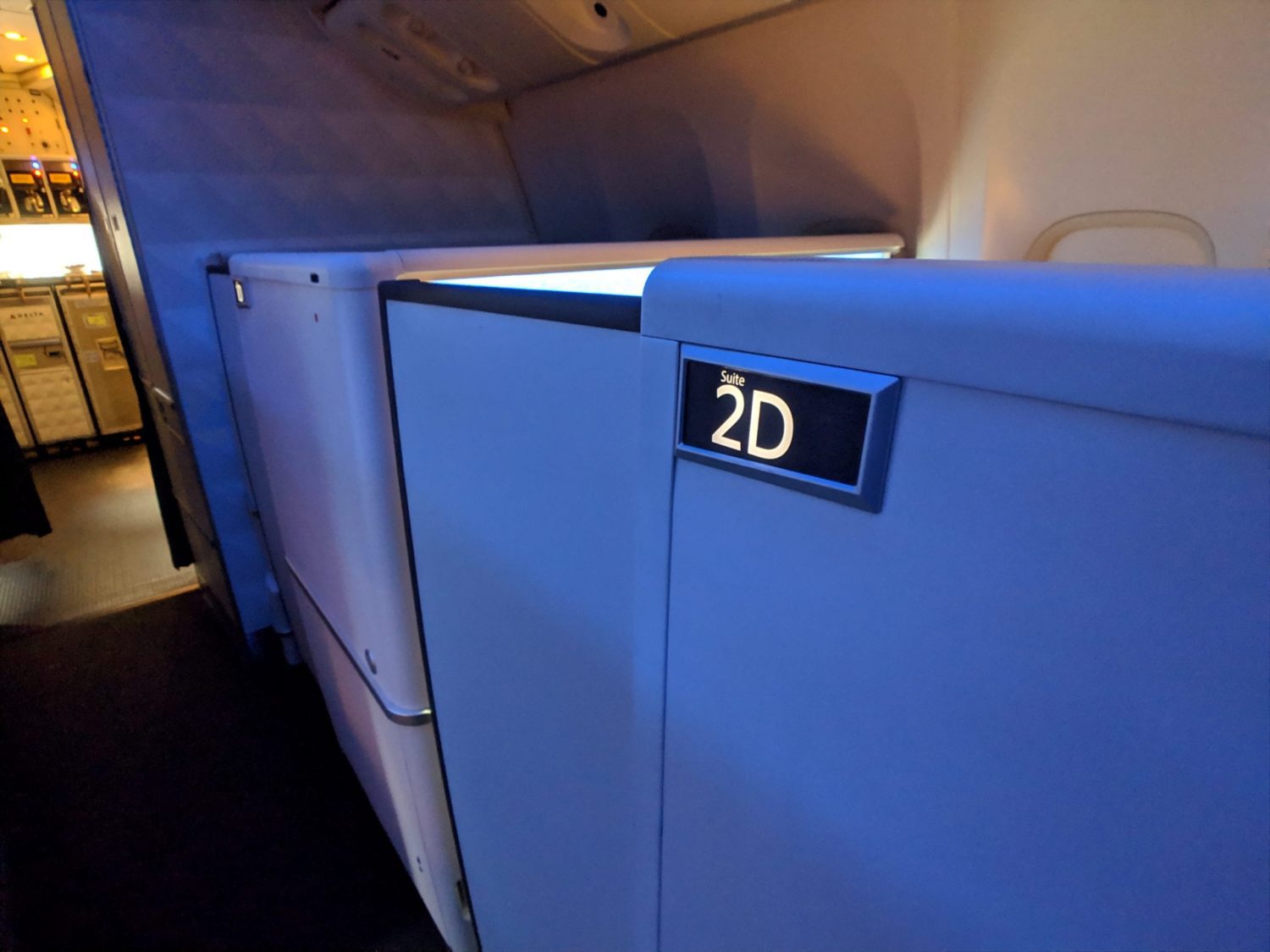 Inside the suite, this door is easy enough to use. Just pull the latch to release it, and then manually pull it shut with your hands. The one thing to keep in mind is that these doors are locked in the open position during takeoff and landing. Flight attendants come around to unlock it soon after takeoff.
These doors actually leave a 1-inch gap with the wall of the suite. And in my case, it was more like 2 or 3 inches. But no matter: That didn't affect the insane amount of privacy one iota unless you leaned far, far forward.
Back inside the suite, there's a sharp-looking sconce light on the inside of the door.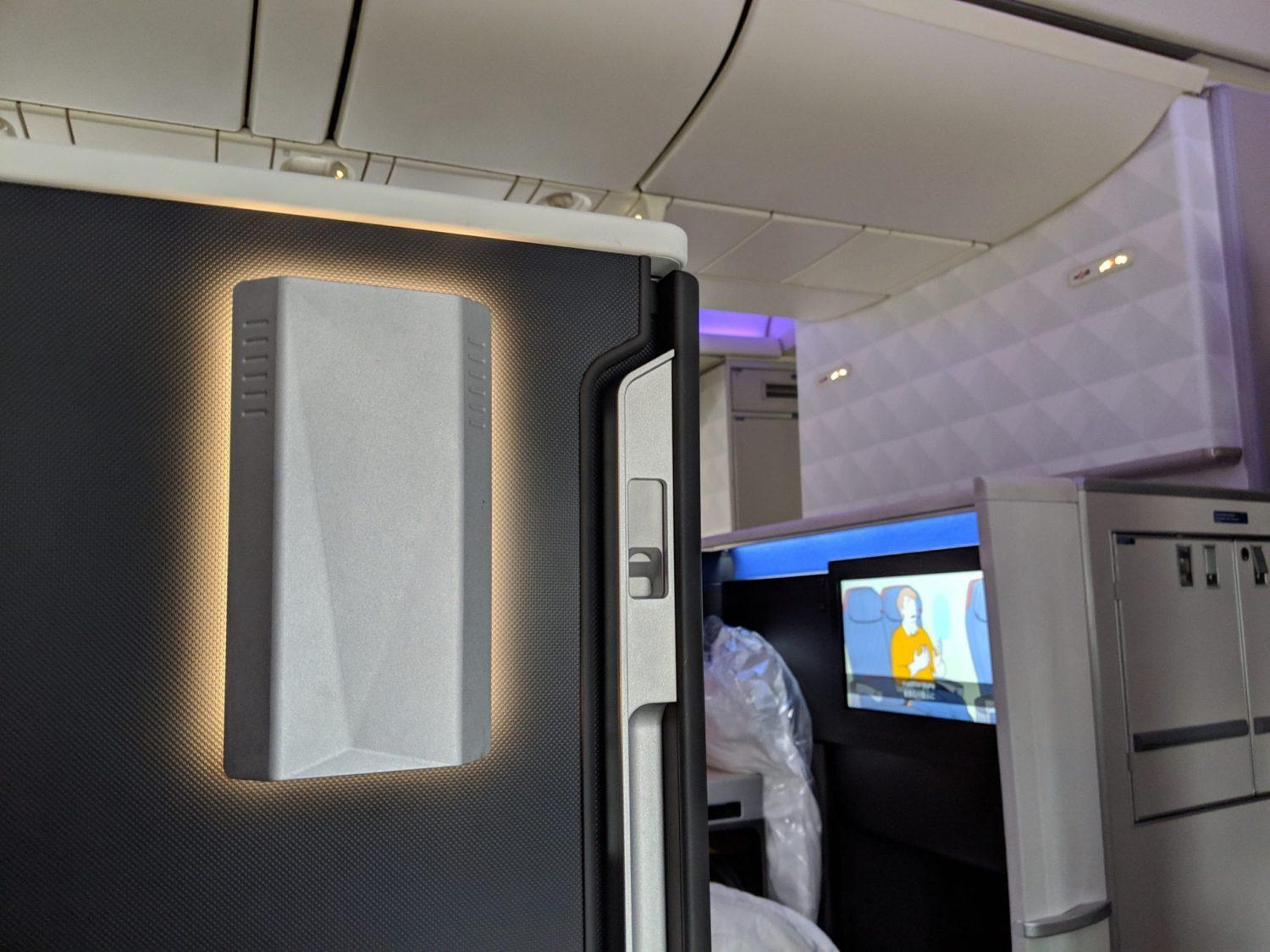 There's also a bank of universal power outlets and USB ports along the console table, as well as a two-prong headphone jack.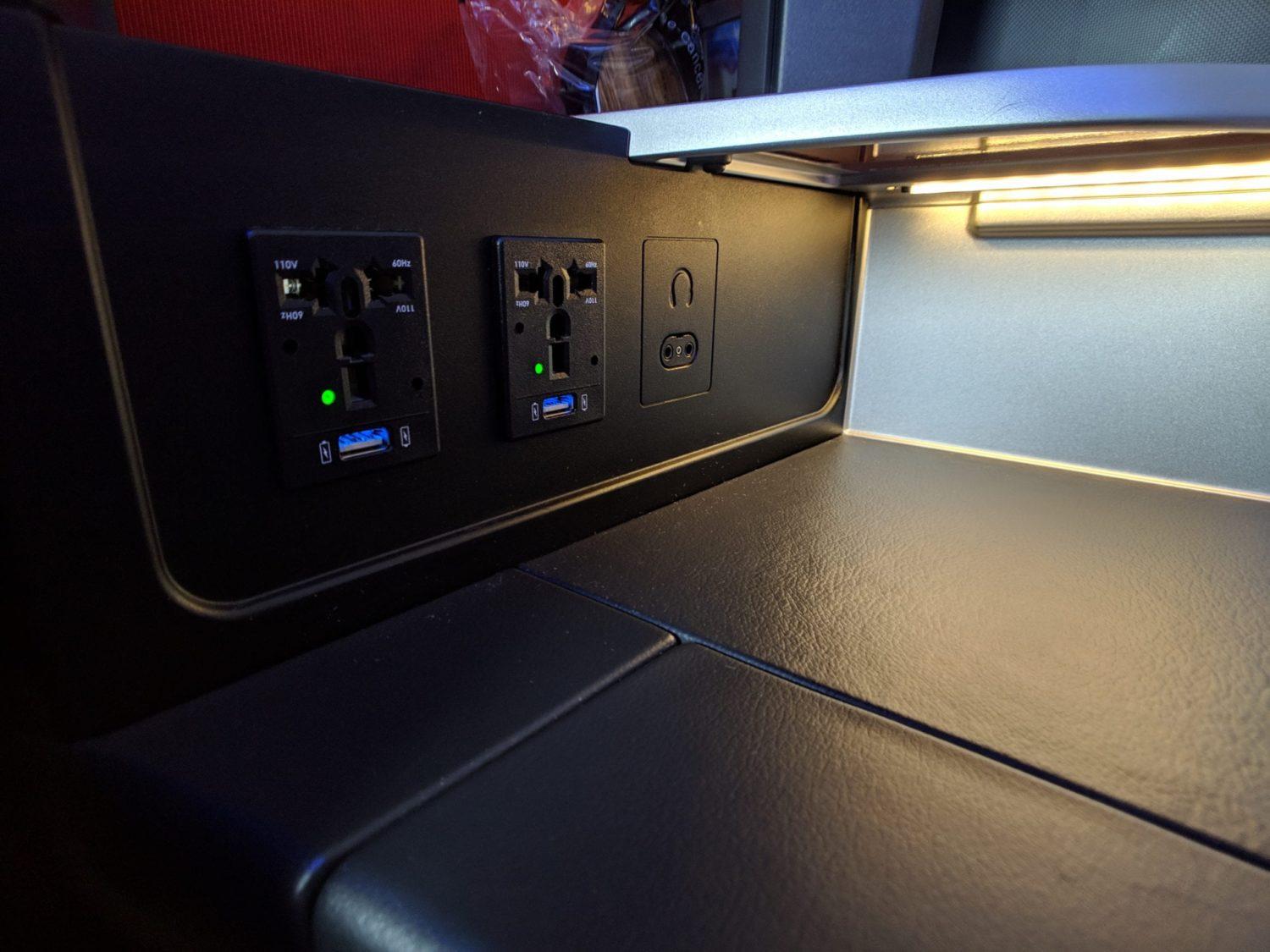 At the edge of the console table there's a small flap that lifts up to expose a wired remote for the in-flight entertainment. There's a mirror inside this flap – a nice, if somewhat odd, touch.
And then there are the controls – which includes the mood lighting throughout the entire suite, as well as the "do not disturb" light that illuminates on the outside of the suite door. You also pop out the tray table with this panel. While the seat controls are pretty straight forward, mine were pretty finicky and not very responsive.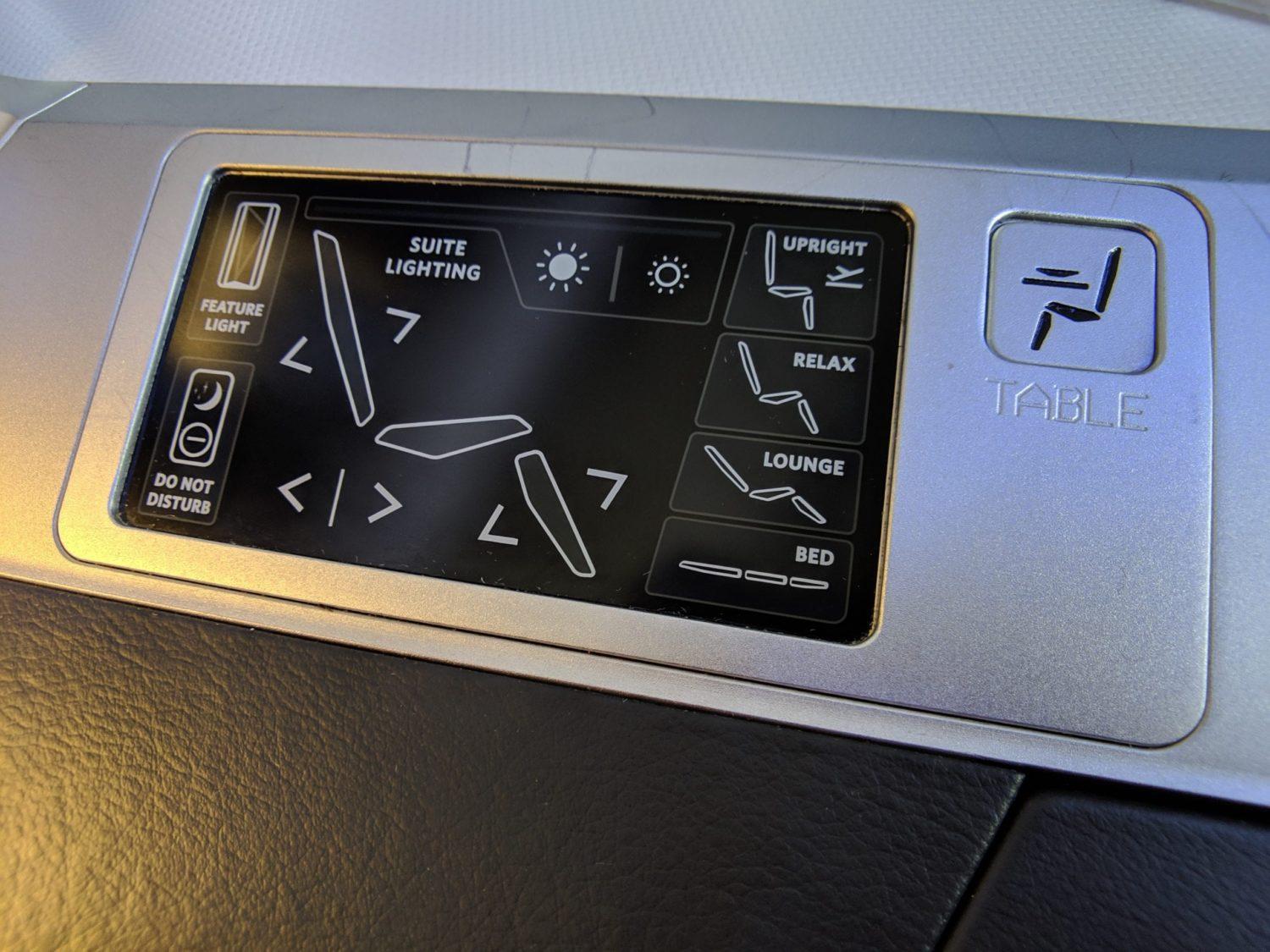 Luckily, there's a second set of controls farther down the console wall that was much easier to use.
After pushing the release button, the tray was simple to slide over to the side and put in place. But while you could push it forward or pull it closer, there was no way to slide it far enough over to the side to leave your seat during meal service. That's a small flaw for a sizable and sturdy tray table.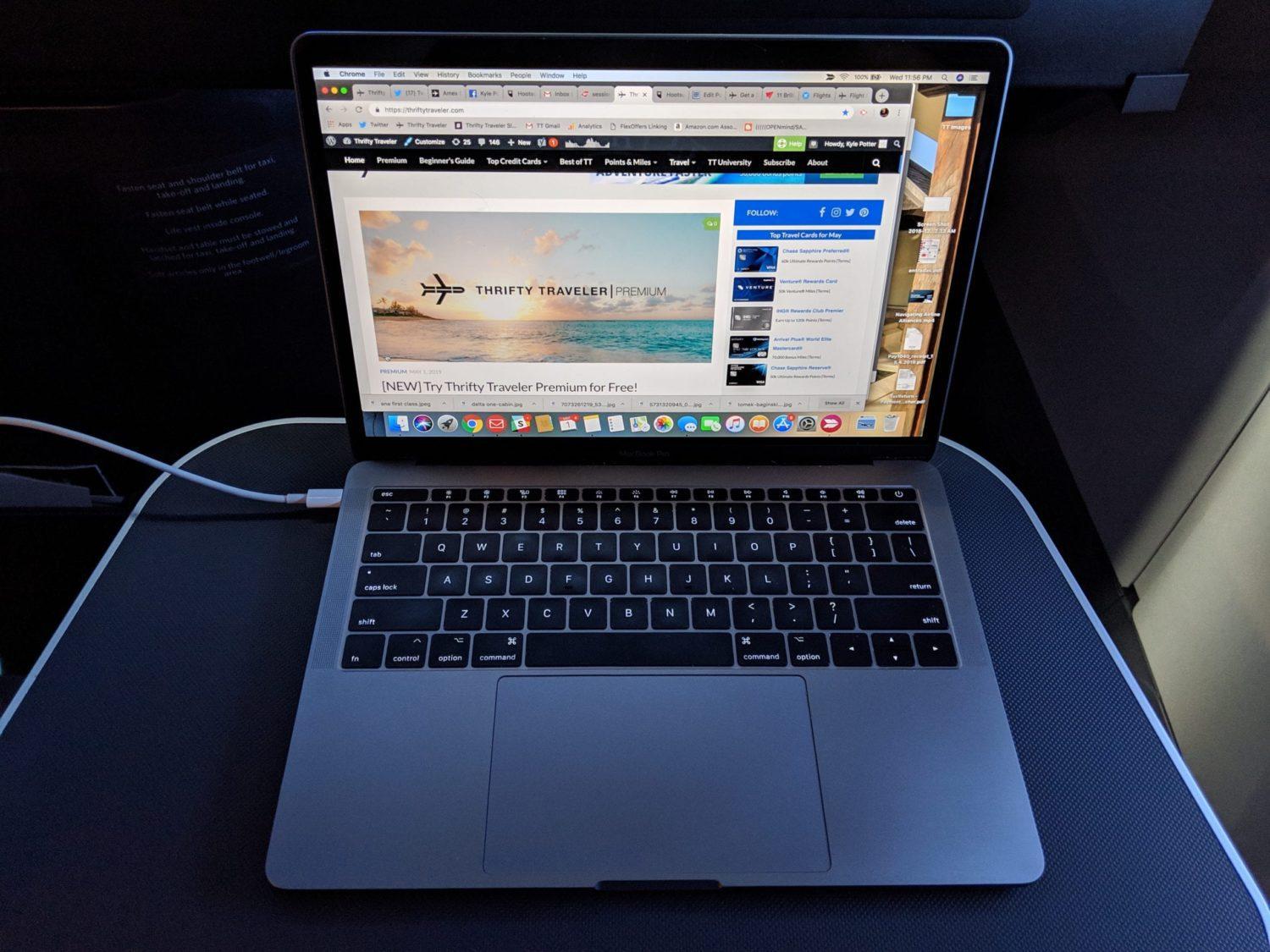 At bedtime, it was easy enough to recline all the way back into lie-flat mode. But there are two quirks with this seat that bear mentioning.
Though the seat itself is padded extremely well, serving as a pretty good mattress, there's a small gap in the padding in the back when reclined all the way. I didn't find that bothersome, though others might.
And as you recline all the way into bed mode, the seat seems to sink a fair amount. While that means more privacy, it also makes the bed feel a bit more restrictive. Still, it's plenty comfortable – especially with Delta's outstanding bedding (more on this later).
Delta One Amenities
It's not perfect, but Delta's amenity game is strong in these suites.
There were stacks of goodies waiting in each suite at boarding. Let's start with the best of the best: The bedding.
I cannot overstate how great the pillows (yes, plural) and duvet were on this flight. The two pillows – one large and one smaller – were plush yet remained firm. The duvet was thick enough to be substantial but not so thick that it was too warm – a frequent problem on planes. It was truly hotel quality bedding, and that makes sense. At the time, this bedding was co-branded from Westin's Heavenly line. You'll be hard-pressed to find better bedding on a plane.
There was also a Tumi-branded amenity kit waiting in each suite.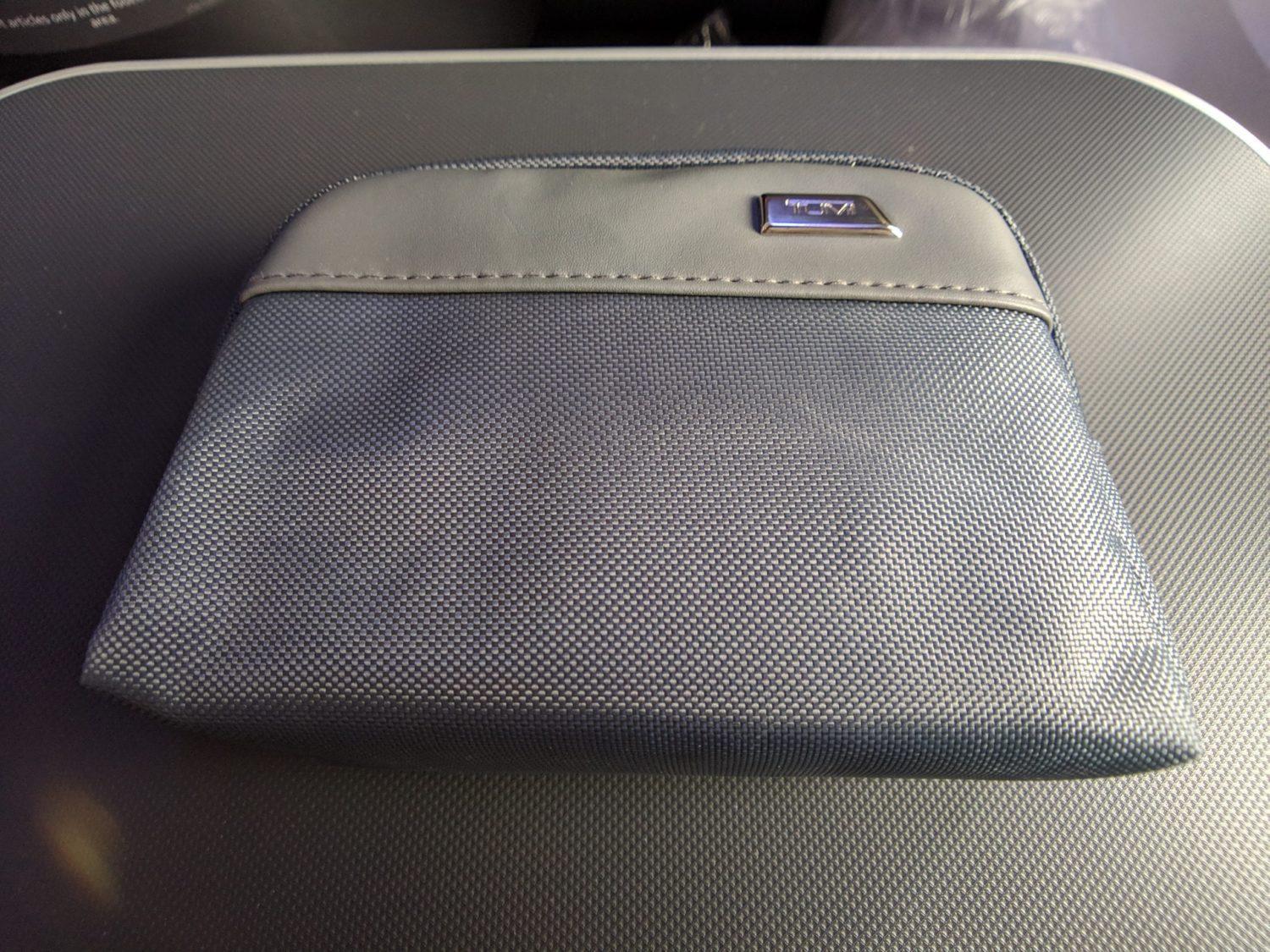 And the contents were pretty good. It came with a pair of socks, toothbrush and toothpaste, mouthwash, a Tumi facemask, earplugs, hand sanitizer, tissues, a pen, and some products from Kiehl's.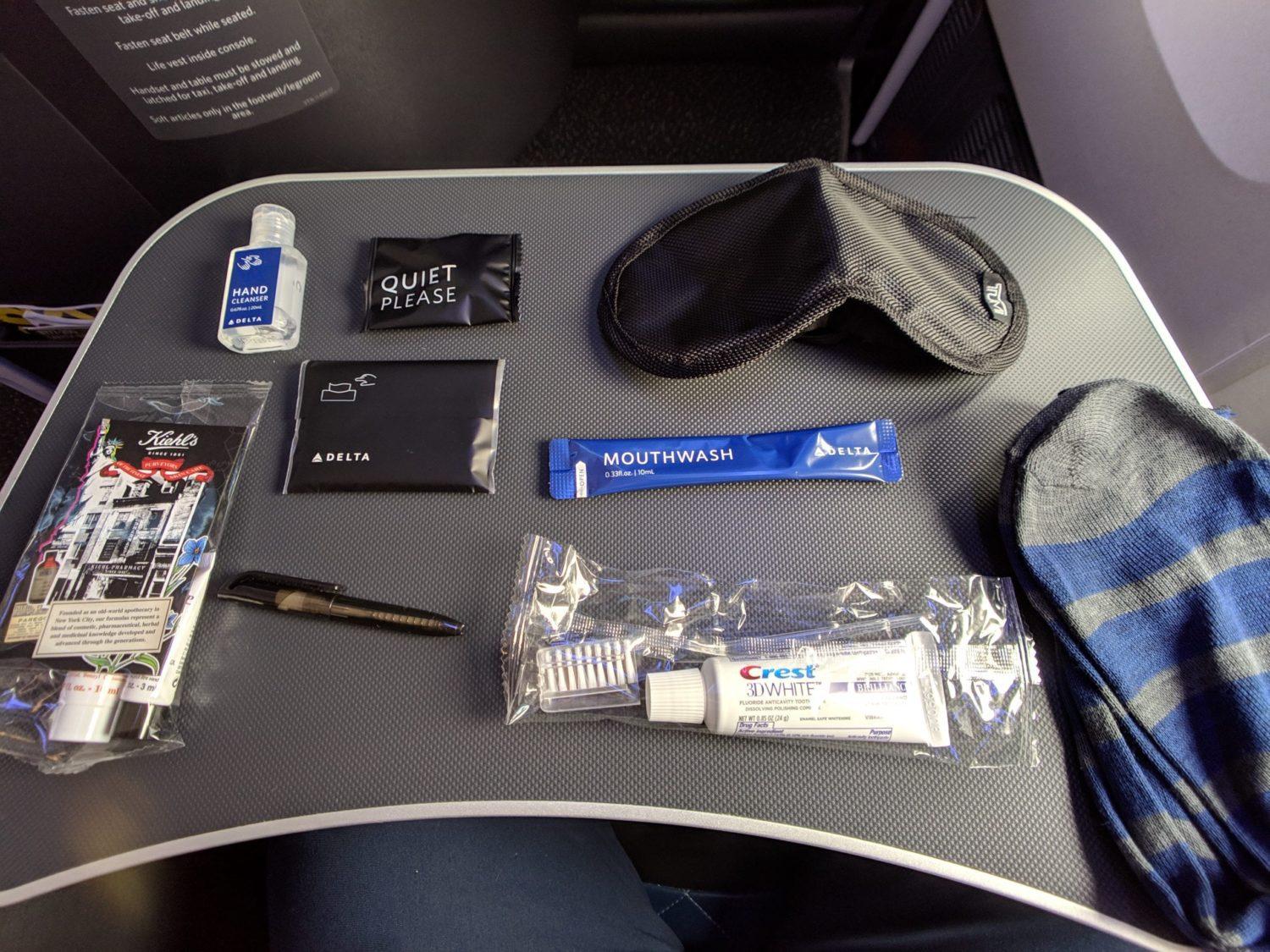 Just a handful of airlines give out pajamas to business class passengers. And while Delta started off with pajamas when it launched its Delta One suites back in 2017, it has since stopped. There are, however, a pretty great pair of slippers.
But there's one area where Delta falls woefully short: Headphones. Every Delta One passenger gets a set of headphones from LSTN, thanks to a relationship between the airline and the company. And while they look really nice, they're just … not.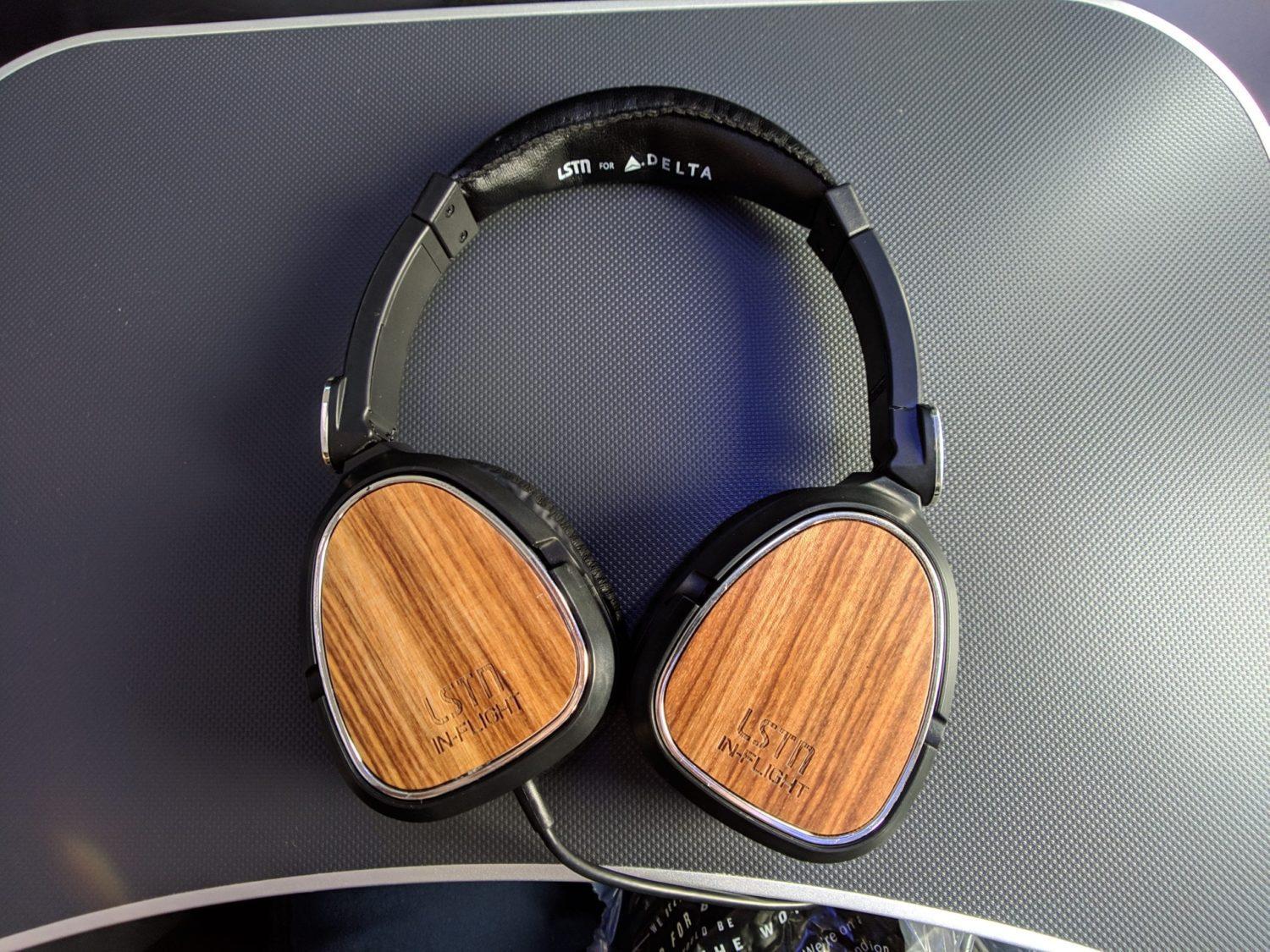 Don't get me wrong, they're certainly passable and an upgrade over what you get in economy. But they're not particularly comfortable, have just decent sound quality, and next to no noise cancellation. Considering American Airlines hands out Bang & Olufsen headphones, these headsets are a major shortcoming for Delta.
Service and Dining in Your Suite
Delta has a top-notch business class seat in its Delta One Suites. But does it have the service and food to match and compete with the world's best airlines?
Not quite.
Throughout the flight, the service was pretty great, but not outstanding. The meals were all good, but far from the best. And while that might sound like nitpicking when you're flying business class, that's what separates the great airlines from the world's best like Singapore Airlines, Qatar Airways, and EVA Air.
Most of the flight attendants working the cabin were warm and friendly – especially the purser, who introduced himself to every passenger, was quick with a joke throughout the flight, and ended the flight by walking around with a tray of chocolates. A few others were far more passive, happy to help out with any request but not particularly engaged, steering clear of the passengers.
During meal service, Delta gets a lot of details right. I really like the Alessi glassware Delta uses, for starters. And the airline recently introduced the ability to pre-select meals in business and first class. I got an email about 72 hours before departure asking for my meal preference – though only for the first meal.
The first meal service kicked off with a drink and a small dish of nuts.
And then it was time to settle in for the full meal. Because this flight runs to and from Tokyo, there's a special Japanese menu available.
That's what I pre-ordered, and I'm glad I did – just a few rows behind me, a passenger tried to order the same thing onboard but was told it had already run out. There are also a handful of different western meal options available.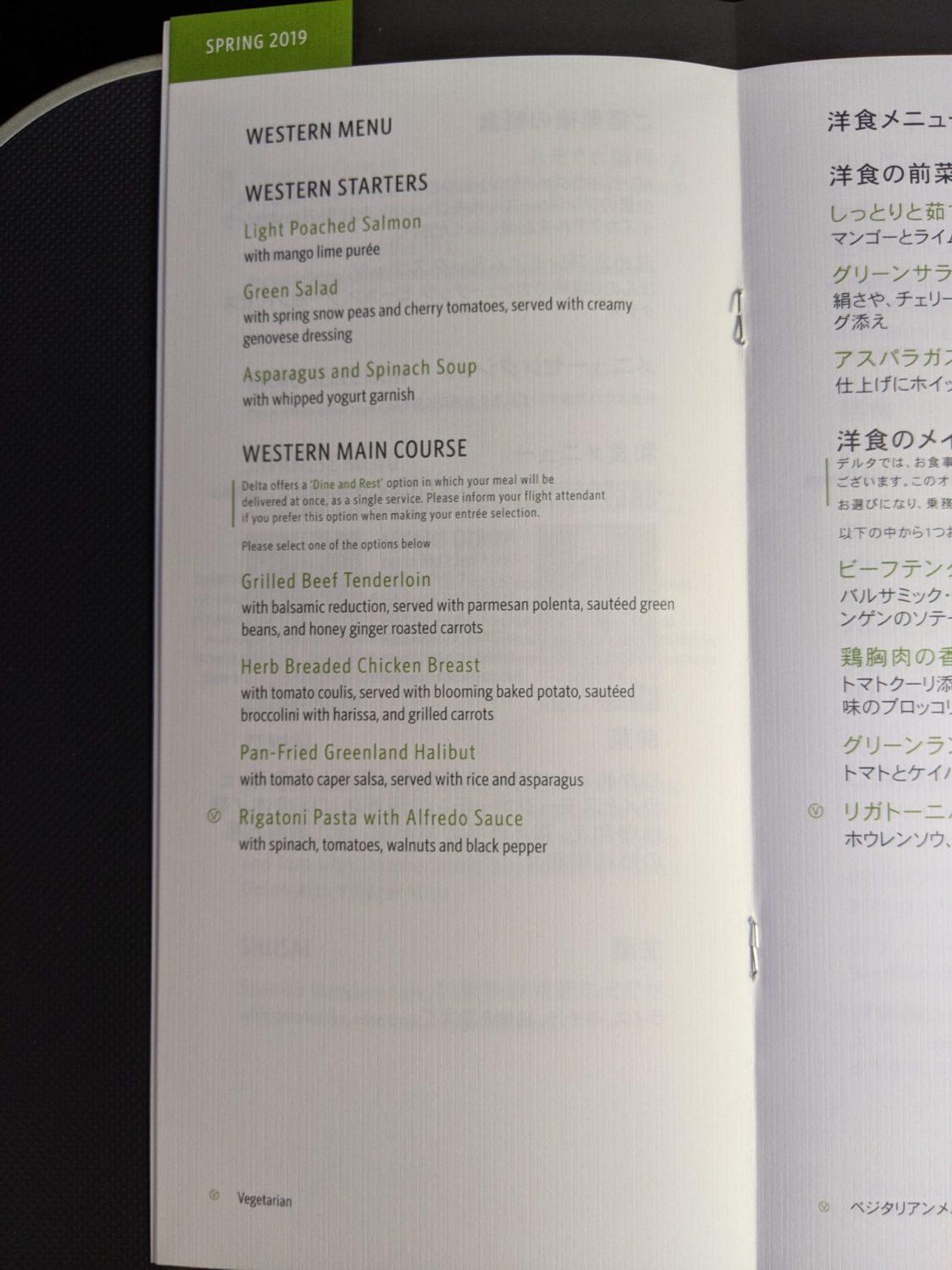 About 10 minutes after the meal service began, a flight attendant brought out the first course: Zensai, a collection of bite-size dishes. The flight attendant meticulously laid each one out in front of me.
Every bite was pretty good, but not outstanding either. It lacked the punch and deep flavor that made a similar meal on Japan Airlines so amazing. On the plus side, Delta's wooden chopsticks are high quality, and really cool.
Not long after the flight attendant dropped off this course, some of the worst turbulence I've ever felt set in – like 15 straight minutes of "hold your drink and struggle to get food in your mouth" turbulence. Flight attendants had to take their seats, so that set the rest of the meal service back. No fault of Delta's, of course.
Eventually, the second course came out: A filet of mackerel in a delicious and slightly zesty miso sauce, with a side of steamed rice, some pickled vegetables, and miso soup. This dish was definitely tasty, though the fish was a tad overcooked – almost certainly because of the turbulence. Steaming the rice inside of an (artificial) banana leaf is a cool touch.
Finally it was time for dessert, and there was a choice between an ice cream sundae, peach cheesecake, and a selection of cheeses. I went with the ice cream sundae, which was great.
In all, the first meal service took a tad over 2 1/2 hours. And while that's normally pretty sluggish, it was totally understandable given the horrible turbulence partway through.
Delta has a second meal about 90 minutes before landing, but also had some snacks you could order midflight. I wasn't feeling hungry so I didn't dabble.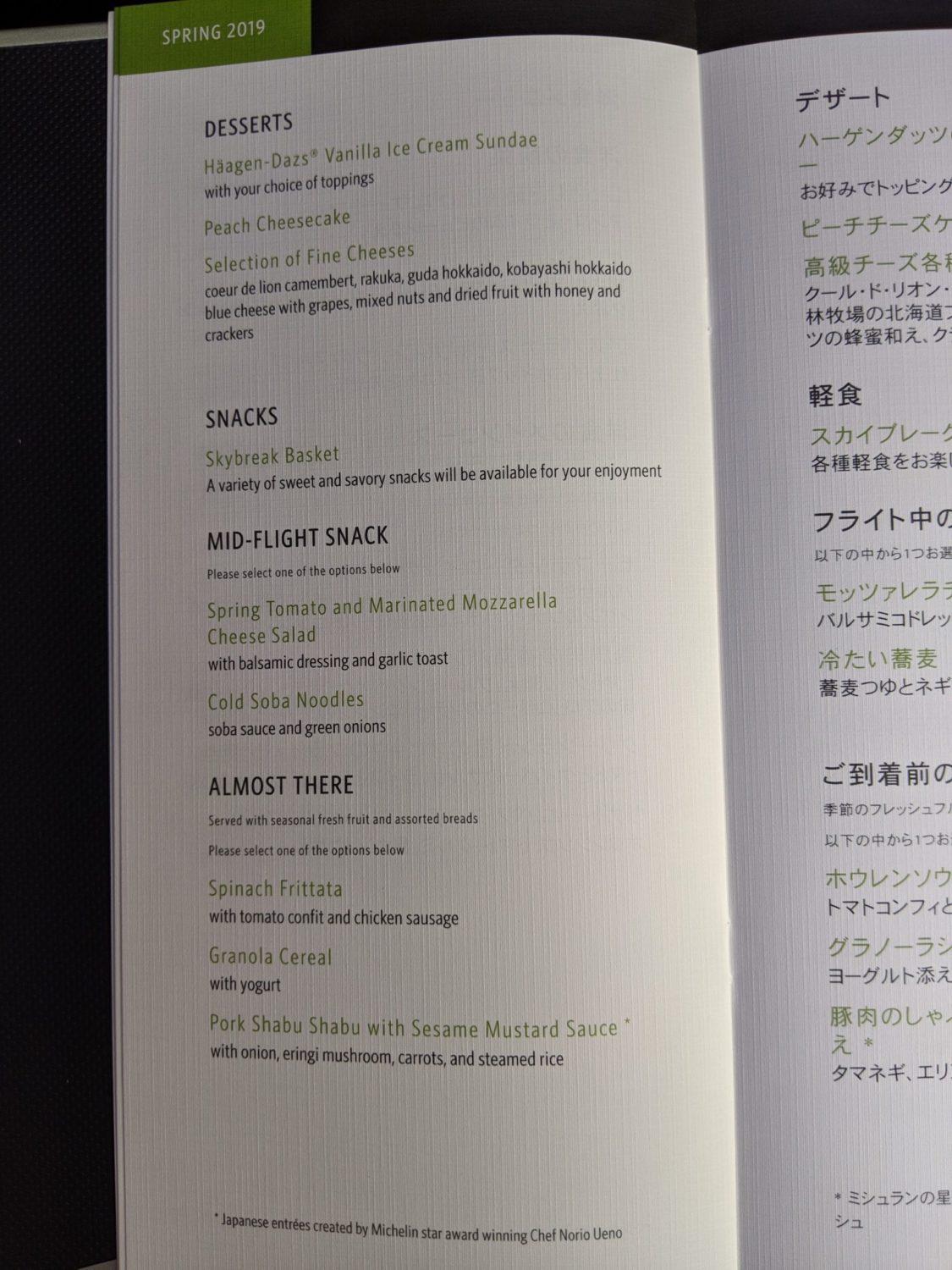 I ordered the pork shabu shabu in sesame mustard sauce for the pre-landing meal. Though the pork itself was definitely on the fatty side, it was pretty tasty thanks to the sauce, which had more of a peanut taste to it.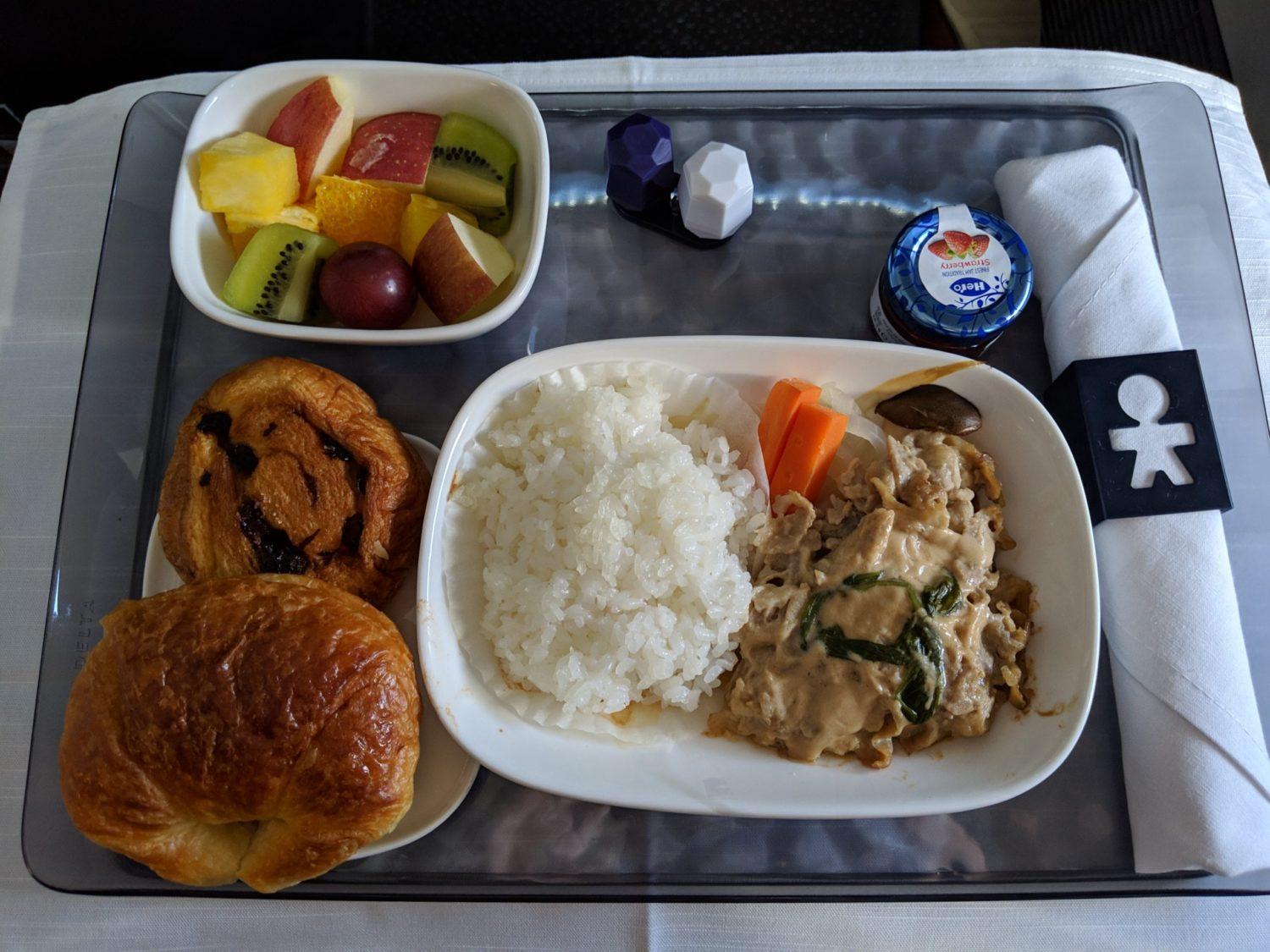 Delta also has a decent, though not spectacular, drink selection on board. The airline recently switched up its champagne and is now pouring Champagne Gardet Brut Premier Cru.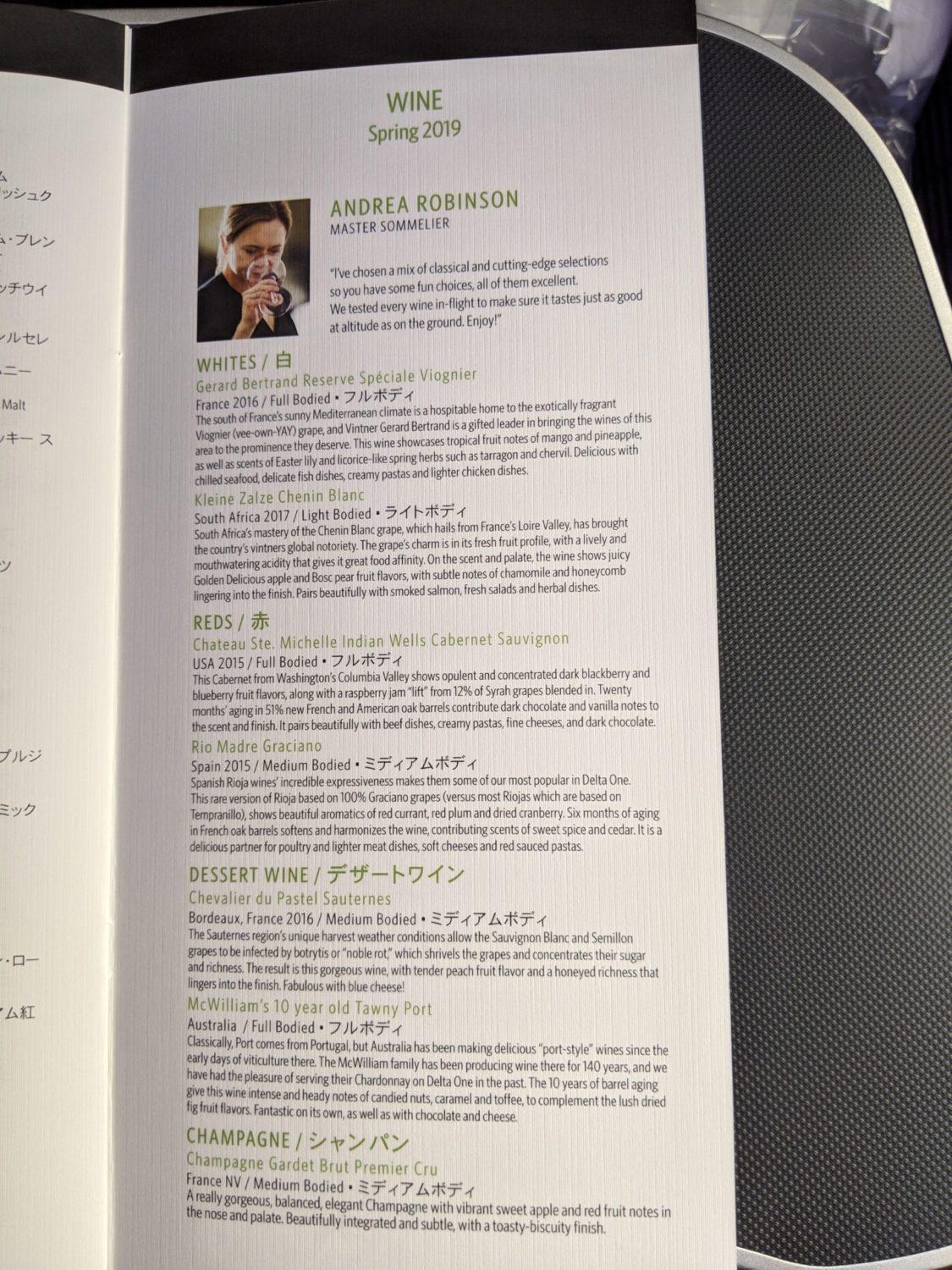 Entertainment
Every single suite is equipped with an 18-inch TV screen. And while that's not that large on paper, it's positively massive thanks to how close it is to your seat. Not too close, but just right, in my mind.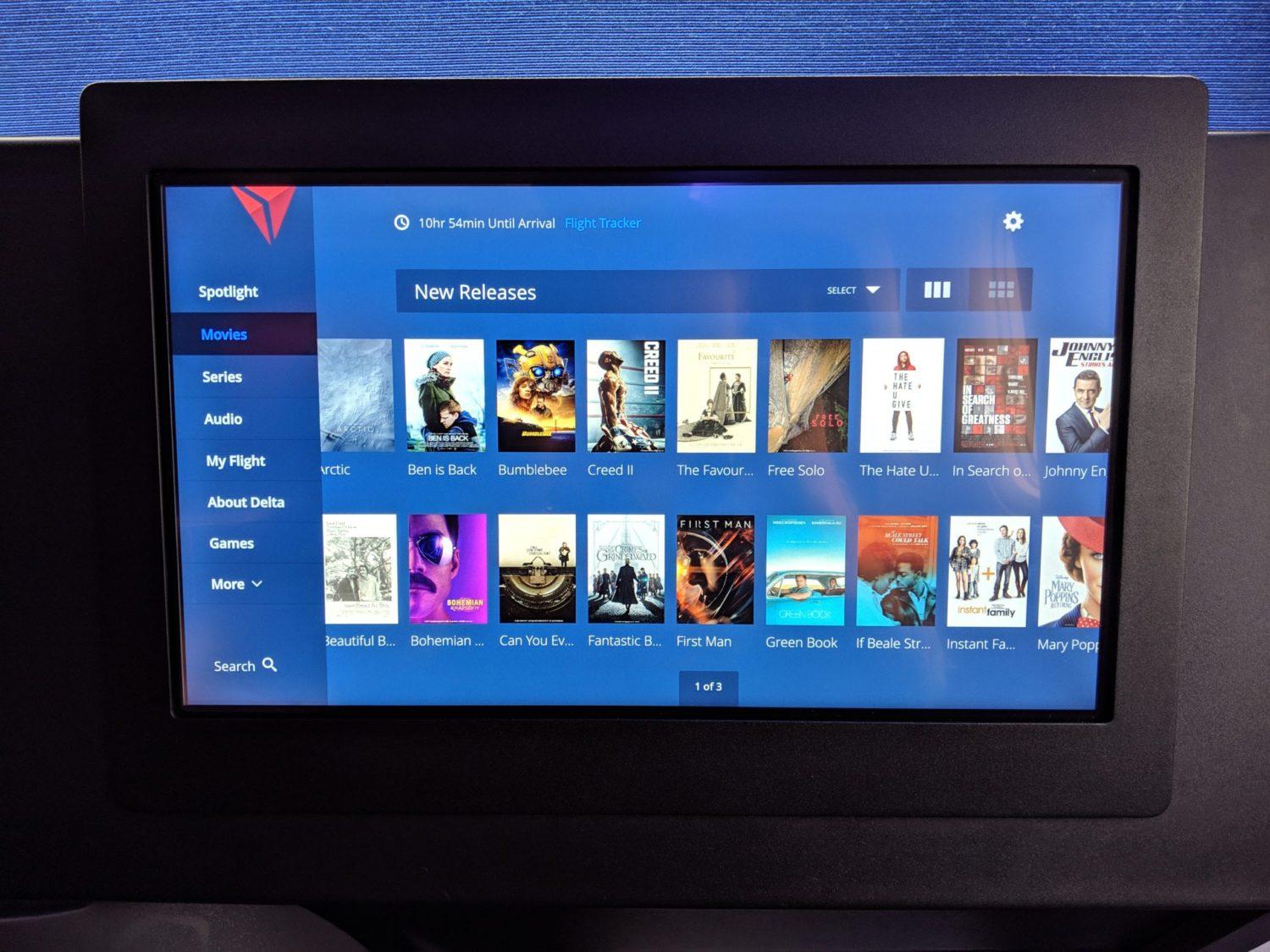 As always, Delta has a fantastic selection of movies and TV loaded – better than any other major U.S. carrier, if you ask me. There was a great smattering of new releases, some older classics and full seasons of several TV shows. You can always check in advance to see what is streaming onboard Delta every month.
If you need to stay connected inflight, Delta is dynamite. For starters, these planes have been equipped with Delta's latest GoGo 2Ku inflight Wi-Fi. And in our experience, it's typically some of the fastest and most reliable Wi-Fi in the skies.
Better yet, it's very reasonably priced. A pass for the entire flight was just $21.95. Considering many airlines charge based on how much data you use, that's a great deal. And it may soon get even better, as Delta is working toward offering free Wi-Fi across its entire fleet.
Bottom Line
Delta is knocking at the door of being one of the best business class offerings with its Delta One Suites. The seat itself is outstanding. While there's definitely some room for improvement on the service, food, and amenities, it was still a great flight overall.
And considering you can book this 12-plus hour flight for just 60,000 miles, it's one of the best values out there to fly business class.