When it comes to getting through airport security faster, there are a few options. There's TSA PreCheck, a government-run program, and then there's CLEAR® Plus, a privately operated service. And they serve drastically different purposes.
CLEAR Plus allows you to cut to the front of the line: On its own, you can skip to the front of the standard security line. In tandem with PreCheck, you can skip to the front of that shorter, faster line – keeping your coat and shoes on and keeping electronics inside your bag, too.
So what's not to love about CLEAR Plus? For one thing, the price: It starts at a whopping $189 a year, though fortunately there are a handful of ways to cut that cost (or even make it free with some travel credit cards). Even so, that can be a tough price tag to swallow.
And it's gotten even harder for many travelers to see the value lately. As more and more Americans have signed up, long lines have formed in CLEAR Plus kiosks at airports around the country, leading to longer waits than PreCheck lanes. And looming changes that will eventually require all CLEAR Plus members to show ID could make them worse, negating the service's major selling point of speedy, touchless travel.
From signing up to getting through security, here's our review of using CLEAR® at the airport.
CLEAR vs TSA PreCheck: The Basics
CLEAR Plus is a privately run trusted-traveler program that takes both your fingerprints and iris scans to confirm your identity before security screening. Once you've signed up (more on this shortly) and finalized your registration, you simply head to the CLEAR® lane, confirm your identity at a kiosk, and get whisked away to the front of the TSA line by a CLEAR ambassador.
There's no need for another ID check once you make it to the front of the TSA lane – at least for now. Just flash your boarding pass to the TSA agent and you're on your way. If you've got TSA PreCheck too, you'll head to the front of that line – otherwise you'll cut to the front of the standard TSA line.
Read our full guide on how CLEAR works!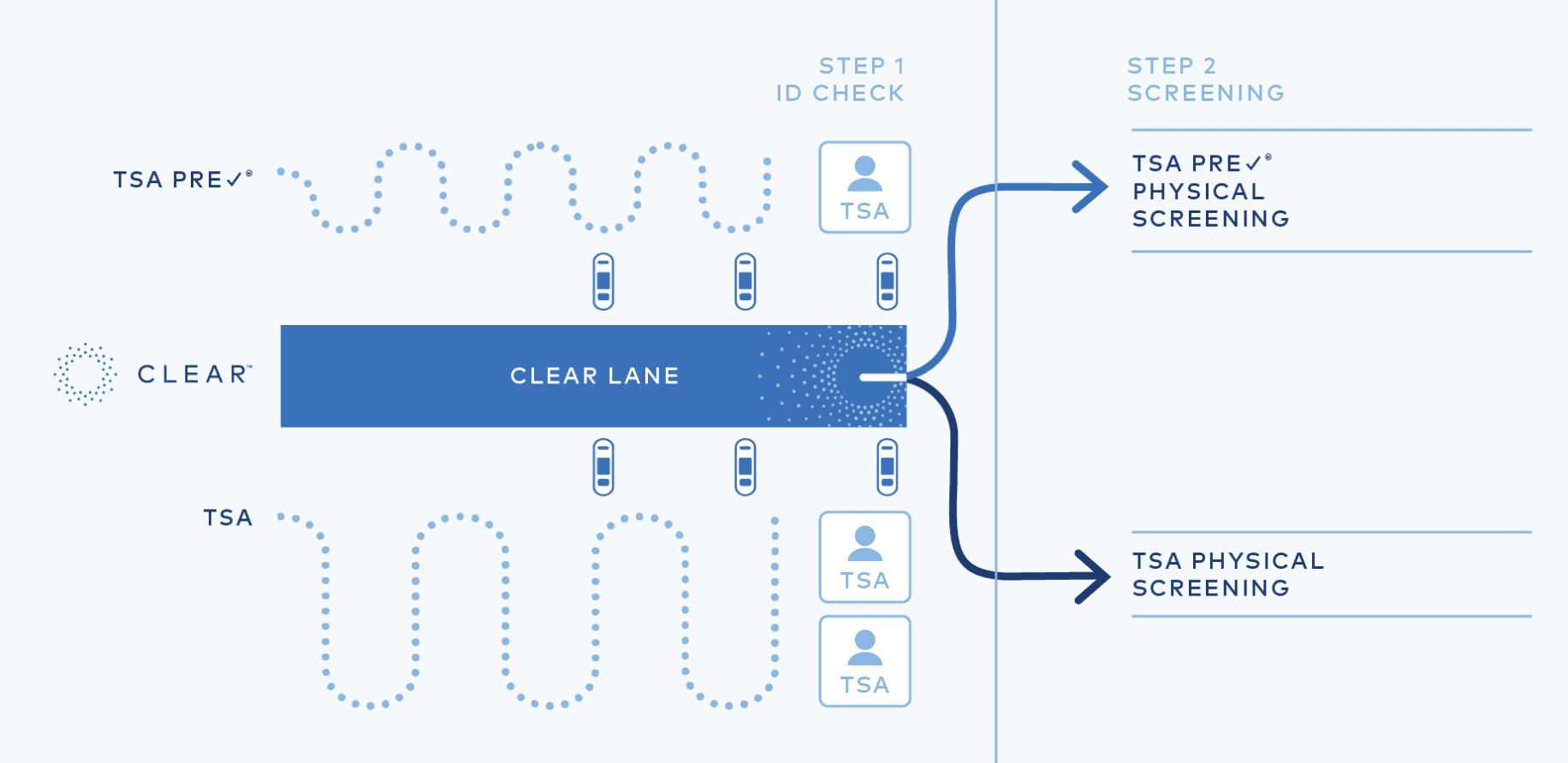 The one hitch with CLEAR Plus is that it's not available at every airport – but its presence is growing fast. It's available at more than 50 U.S. airports and counting, with more locations at even small airports added seemingly every month. Scan through the list and you'll find plenty of Delta and United hubs, thanks to close partnerships between the companies.
| Airport | Terminal(s) |
| --- | --- |
| Atlanta (ATL) | North & South Domestic Terminals |
| Austin (AUS) | Checkpoints 1 & 2 |
| Baltimore (BWI) | Checkpoints A,B,C, D & E |
| Birmingham (BHM) | Main Terminal |
| Boise (BOI) | Main Terminal |
| Boston (BOS) | Terminal A |
| Chicago-Midway (MDW) | Main Terminal |
| Chicago-O'Hare (ORD) | Terminal 1 & 2 |
| Cincinnati (CVG) | Main Terminal |
| Cleveland (CLE) | Center & South Checkpoints |
| Columbus (CMH) | Main Terminal |
| Dallas-Fort Worth (DFW) | Terminal E |
| Dallas-Love Field (DAL) | Terminal 1 |
| Denver (DEN) | North & South Entrances |
| Detroit (DTW) | North & McNamara Terminals |
| Fort Lauderdale (FLL) | Terminals 1 & 2 |
| Greenville-Spartanburg (GSP) | Main Terminal |
| Houston-Intercontinental (IAH) | Terminals A, B, C and E |
| Houston-Hobby (HOU) | Main Terminal |
| Kansas City (MCI) | Main Terminal |
| Las Vegas (LAS) | Terminals 1 & 3 |
| Long Beach (LGB) | Main Terminal |
| Los Angeles (LAX) | Terminals 1 - 7 |
| Miami (MIA) | Checkpoints E & H |
| Milwaukee (MKE) | Main Terminal |
| Minneapolis−Saint Paul (MSP) | Terminal 1 |
| Nashville (BNA) | Central Checkpoint |
| New Orleans (MSY) | Concourse D |
| New York City-John F. Kennedy (JFK) | Terminals 2 & 4 |
| New York-LaGuardia (LGA) | Terminals C & D |
| Newark (EWR) | Terminal C |
| Oakland (OAK) | Terminal 2 |
| Oklahoma City (OKC) | Main Terminal |
| Ontario (ONT) | Terminal 2 & 4 |
| Orlando (MCO) | East & West Security |
| Palm Beach (PBI) | Terminal A/B & C |
| Palm Springs (PSP) | Main Terminal |
| Phoenix (PHX) | Terminals 3 & 4 |
| Raleigh-Durham (RDU) | Terminals 1 & 2 |
| Sacramento (SMF) | Terminal A & B |
| Salt Lake City (SLC) | Terminals 1 & 2 |
| San Antonio (SAT) | Terminals A & B |
| San Diego (SAN) | Terminal 2 |
| San Francisco (SFO) | Terminals 1-3, International Terminals A & G |
| San Jose (SJC) | Terminal A & B |
| San Juan (SJU(+) | Terminals A, B & C |
| Seattle-Tacoma (SEA) | Checkpoints 1-5 |
| St. Louis (STL) | Terminal 2 |
| Tulsa (TUL) | Main Terminal |
| Washington, D.C.-Dulles (IAD) | Main Terminal & East Security Checkpoint |
| Washington, D.C.-Reagan (DCA) | Terminals A, B & C |
| Westchester County (HPN) | Main Terminal |
There's also a growing list of professional sports venues offering CLEAR®, too, helping you get into the stadium or arena faster.
| Sports Venue | City | Where to Access |
| --- | --- | --- |
| SunTrust Park | Atlanta, GA | Chop House, First Base & Third Base Gates |
| Oriole Park at Camden Yards | Baltimore, MD | Gate C |
| Progressive Field | Cleveland, OH | E. 9th Street Patio Gate |
| Globe Life Park in Arlington | Arlington, TX | First Base Gate |
| Coors Field | Denver, CO | Gates C & D |
| Comerica Park | Detroit, MI | Gate A |
| STAPLES Center | Los Angeles, CA | Figueroa Street Entrance |
| Banc of California Stadium | Los Angeles, CA | Northwest Plaza & Northeast Gate |
| AmericanAirlines Arena | Miami, FL | Gates 1 & 2 |
| Target Field | Minneapolis, MN | Gate 34 |
| Yankee Stadium | New York, NY | Babe Ruth Plaza, Suite Entrance, & Gate 6 |
| Citi Field | New York, NY | Jackie Robinson Rotunda & Seaver Gate |
| Madison Square Garden | New York, NY | 7th Ave South Entrance |
| Oakland-Alameda County Coliseum | Oakland, CA | Gate C & D |
| Oracle Park | San Francisco, CA | Willie Mays Gate & King Street Gates |
| Avaya Stadium | San Jose, CA | Main Gate |
| T-Mobile Park | Seattle, WA | Home Plate & Left Field Entrances |
| CenturyLink Field | Seattle, WA | North Plaza & Southwest Entrance |
Signing Up For CLEAR Airport Screening
Signing up for CLEAR Plus at the airport is easy. It's the price tag that's scary.
Head to CLEARme.com to register for your membership. At $189 per year, it's a steep cost – especially considering a TSA PreCheck membership costs just $78 for a five-year membership.
But there are easy ways to cut that cost … by a bit.

For starters, all Delta SkyMiles members can enroll in CLEAR® for just $179. So even if you're not flying Delta, you can quickly sign up for a free SkyMiles account to save $10 a year. But if you've got status with Delta or hold one of the co-branded Delta SkyMiles American Express, that drops to $149. And the lowest pricing of all is reserved for top-tier Delta Diamond status holders, who can select an annual membership as a free perk.
United has also partnered up with CLEAR® to offer similar pricing to its own members.

These discounts don't go nearly as far as they did just a year ago after CLEAR® raised these "special partner pricing" rates earlier this year.
Not sold yet? CLEAR® occasionally offers free two- to three-month trials, which allows you to give the program a test-run before ponying up for a full membership.
But it can potentially get even cheaper … or even free.
Cover CLEAR Plus with Travel Credit Cards
*amex platinum card* got a huge overhaul a few years back, with a higher annual fee and a slew of new benefits – some better than others. But one great new benefit is an annual credit of up to $189 a year that covers CLEAR® enrollment.
If you've already got this card, just pay for your membership with it each year and voila: A statement credit will kick in automatically to cover the cost. The Business Platinum Card® from American Express also has an identical CLEAR Plus perk.
Learn more about *amex platinum*.
But you don't need to pay a $695 annual fee (see rates & fees) for a premium travel credit card to cover the cost of CLEAR Plus. The *Amex Green Card* also carries an annual $189 credit towards the cost of CLEAR® membership after an update to the card's benefits in November 2022. The Green Card charges an annual fee of just $150 (see rates & fees).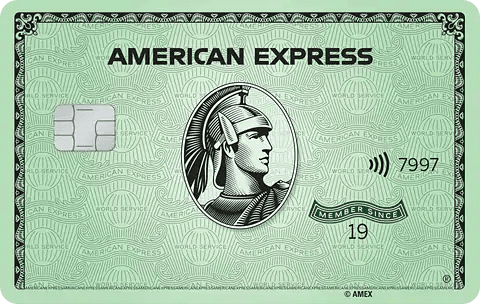 Learn more about the *Amex Green Card*
After signing up, you'll need to finalize your enrollment at the airport before your flight. Don't worry – it's not hard.
Finalizing CLEAR Enrollment at the Airport
After you've signed up and received a confirmation email from CLEAR®, you're all set. Just head for the designated lanes at security checkpoints – with bright neon signs, they're hard to miss – as if you're ready to go through security. Tell a CLEAR ambassador you need to finalize your enrollment, and they'll guide you toward a kiosk.
You won't need anything but your boarding pass and an ID. A CLEAR ambassador will help you finish everything up. That includes getting fingerprints, thumbprints, and an iris scan. They'll take a quick snapshot of your face and scan your driver's license. And that's it. The whole process of finalizing enrollment takes about five minutes.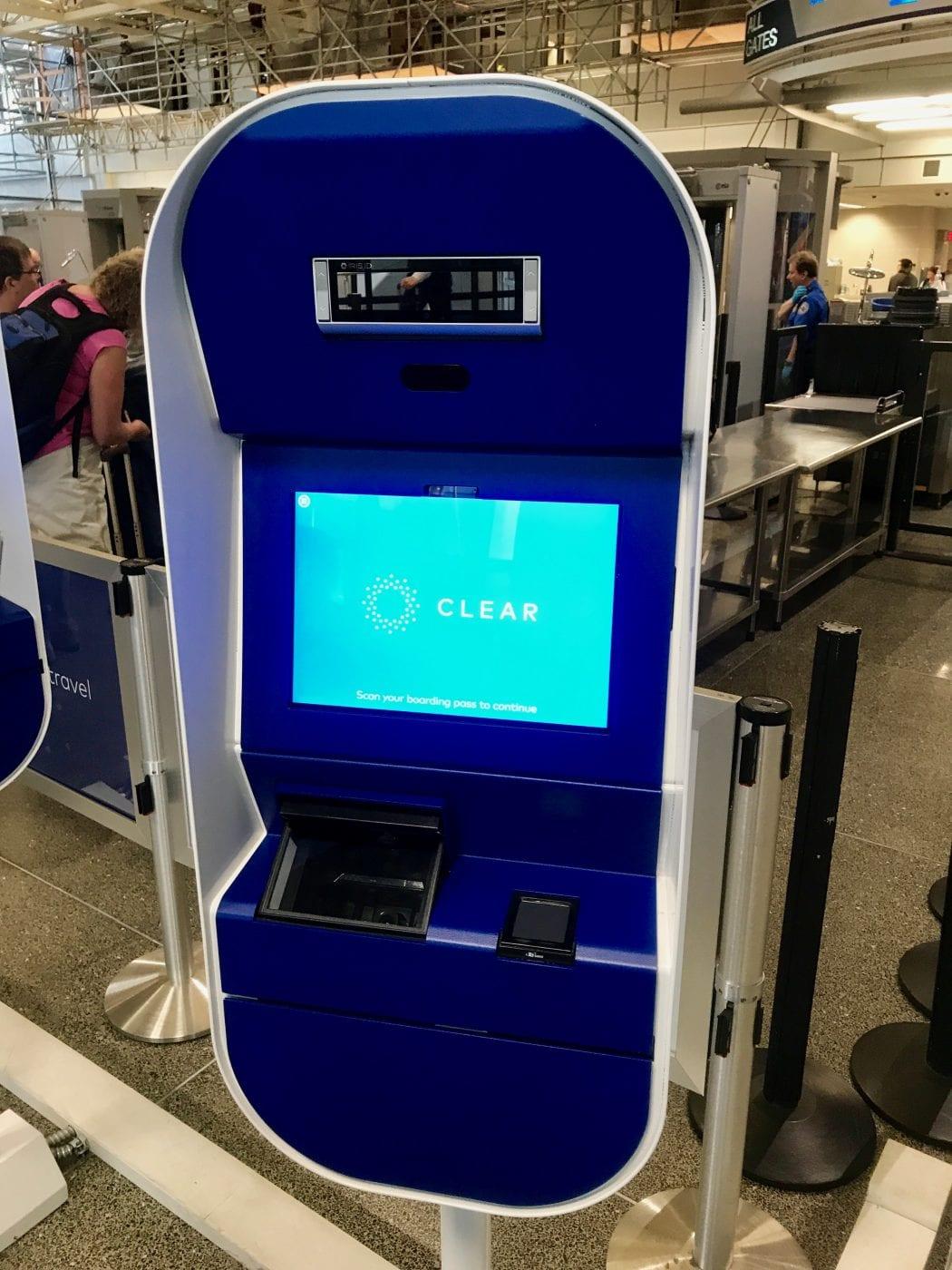 How to Use CLEAR Plus to Cut to the Front of TSA Security
Once you've finalized your enrollment – or if that's already taken care of – you're off.
Just head for the CLEAR Plus lane at the security checkpoint with your boarding pass in hand. An agent will once again bring you to a kiosk for a quick scan of your eyes or fingerprints, glance at your boarding pass (or, in some cases, scan it at the kiosk), and then escort you to the front of the TSA line. Most CLEAR Plus members don't currently need to show their ID – that's the point of the service.
From there, you're ready to go through TSA security.
Over the course of the last few years I've used CLEAR Plus about 40 times, maybe more. And it's a mixed bag.
Early in the pandemic, I routinely made it through airport security in five minutes or less thanks to the powerful combo of CLEAR and TSA PreCheck. When it works well, a quick, touchless trip through security is unbeatable.
But as travel demand has grown, lines have grown much longer, too. That's true of the standard security lines, TSA PreCheck queues, and CLEAR Plus too.
Some airports are better than others. Atlanta (ATL), for instance, is notoriously awful for CLEAR® Plus members with bloated lines that mean heading straight for TSA PreCheck is almost always a better yet. But even at my home airport of Minneapolis-St. Paul (MSP) CLEAR Plus lines that were once short have become lengthy on a regular basis, too.
The Growing Problems with Using CLEAR Plus
Americans are traveling in record numbers. And more and more of them have
As American Express has added CLEAR Plus credits to more of its credit cards, CLEAR®'s enrollment has exploded – especially in markets where travelers are more likely to have these cards. In many cases, there are clearly more humans trying to use CLEAR Plus than the company can handle.
It gets worse. One of the main selling points of CLEAR Plus (and its hefty price tag) is about to take a huge hit.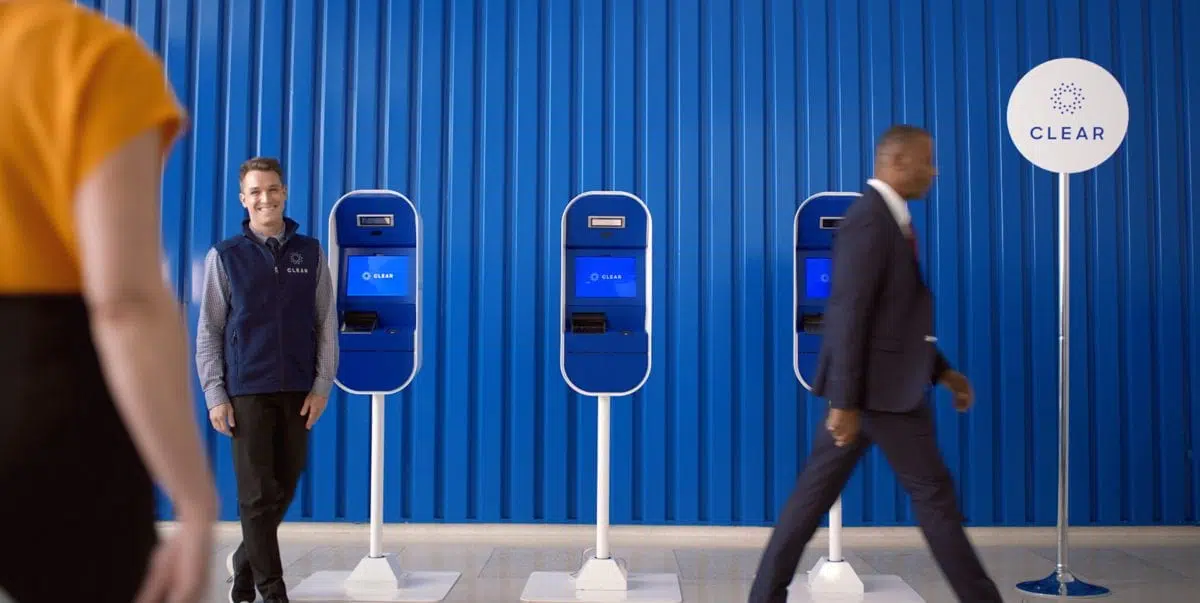 Part of the reason why CLEAR Plus lines move faster is that CLEAR® is handling the ID verification process for the TSA. Rather than handing over your boarding pass and ID and waiting for the OK, you check in with a CLEAR Plus agent and cut to the front of the line.
After years of random (and rare) ID checks for CLEAR Plus members, the TSA has been increasing the frequency of those checks. But eventually, all CLEAR Plus members will be subject to the same TSA ID checks as all other travelers, including those also enrolled in TSA PreCheck, a TSA spokesperson previously confirmed to Thrifty Traveler.
It's unclear when mandatory ID checks will become a part of the CLEAR Plus process. But when it does, it could negate much of the program's value.
Bottom Line
Is CLEAR® Plus worth it for everyone? Hardly. It depends on how much you travel – and how much you'd wind up actually paying for CLEAR.
At $189 a year, it's hard to make sense of paying for CLEAR Plus for the occasional traveler. Flying five-plus times a year, you might be able to justify the cost. And of course, signing up using credits from the Amex Platinum or Amex Green Card makes it free?
But the sheer amount of travelers using CLEAR Plus these days combined with looming changes to the program spell trouble for CLEAR®. And that could change the math on whether it's worth signing up or not.
Lead image courtesy to Career Employer