When you're going to spend 10-plus hours in a metal tube, you want it to be comfortable. The more space, the better. Some great service, food, and amenities won't hurt, either.
Japan Airlines – also known as JAL – ticks all those boxes and then some. On a recent flight home to close out a crazy trip around the world in six days, I was blown away by my flight from Tokyo-Narita (NRT) to Seattle (SEA) on one of JAL's Boeing 787 Dreamliners.
For starters, Japan Airlines has some of the most generous legroom and seat width you'll find in economy on any airline. And it just gets better from there.

Booking
There are a handful of ways to book flights on JAL, thanks to its partnerships and spot in the Oneworld alliance. And JAL has nine gateways in the U.S., so you have plenty of options.
But the best way to do it is with American AAdvantage miles. A one-way flight between Tokyo and the U.S. will run you just 35,000 AAdvantage miles. That's a steal, and it works out at that price whether you're flying nonstop from Tokyo-Narita (NRT) to Seattle (SEA) like me, or need to add on a connecting flight within the U.S. to reach your final destination. And of course, a one-way flight from the U.S. to Tokyo is still just 35,000 AAdvantage miles, too.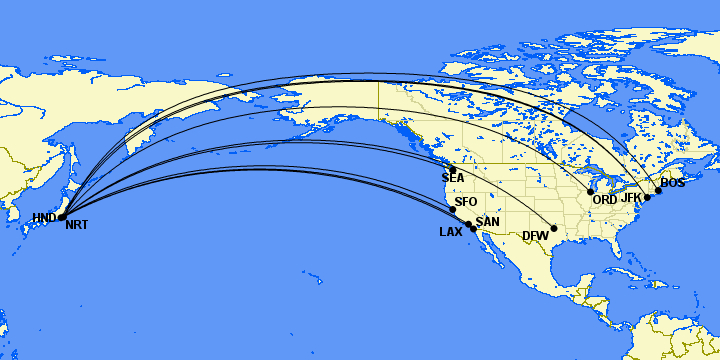 Thrifty Tip: Not sure which Tokyo airport to fly in or out of: Tokyo-Narita (NRT) or Tokyo-Haneda (HND)? If you've got a choice, go for Tokyo-Haneda (HND). It's much closer to town.

Seats & Cabin
This is the real difference-maker. The seats in Japan Airlines are a gamechanger. Even in economy, you'll get more legroom and a wider seat than you'll find on any competing airlines.
JAL calls these "Sky Wider Economy" seats, and they live up to the name. At up to 19 inches wide, these seats are substantially wider than what airlines like American flies on many of the same routes, where you'll get 16 inches to 17 inches of width. And in economy, every inch is critical.
So what's up with the difference? JAL decided to install just eight seats in each row of economy on its Boeing 787s – while most airlines opted for nine-seat rows. That means much more space for every passenger.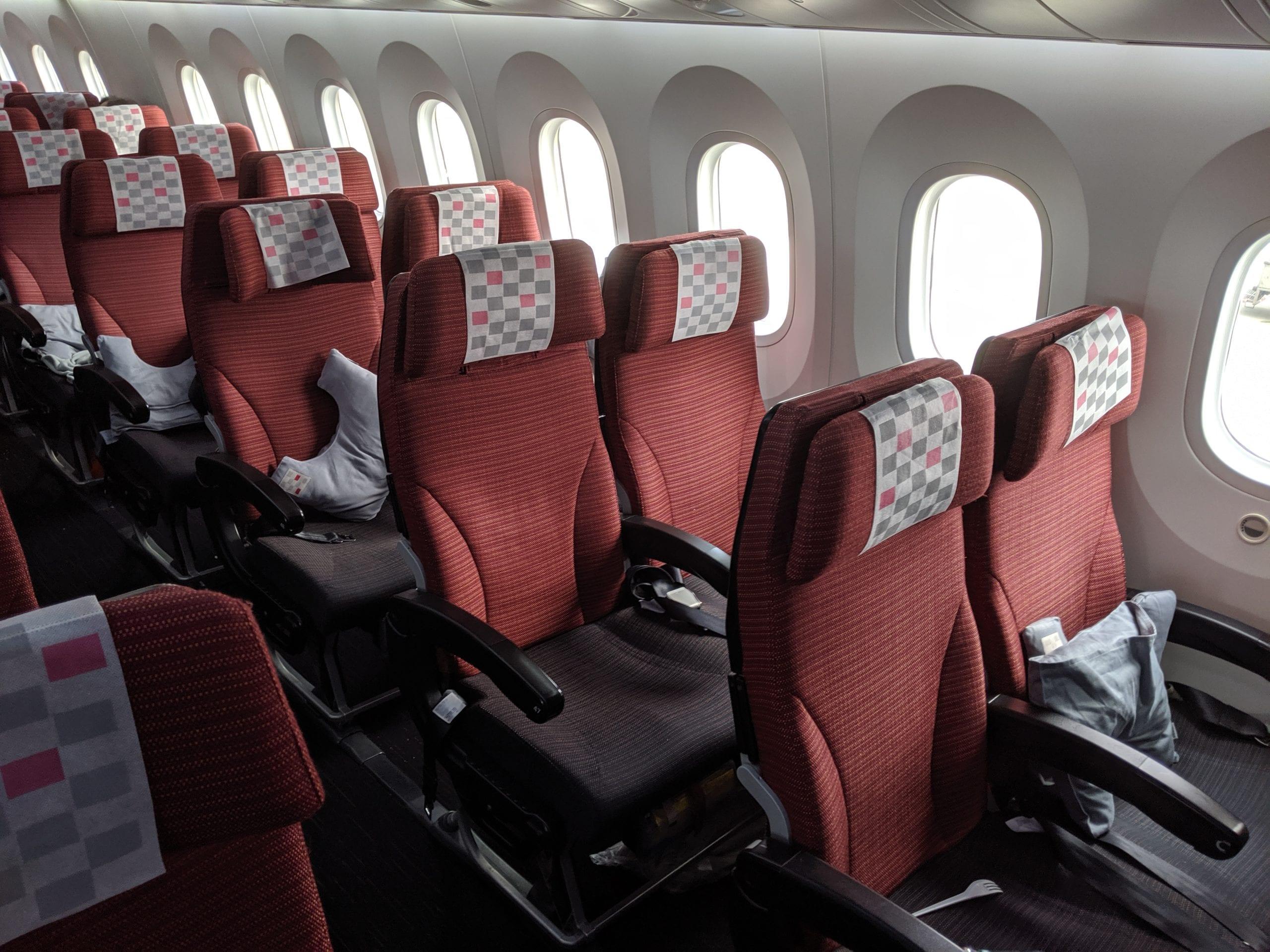 There's good news for legroom, too. Most of the planes JAL flies on these long-haul routes have 33 inches to even 34 inches of legroom at every seat – while the standard for most airlines is 32 inches.
You could tell these seats were well constructed, with comfortable padding and the decorative flap that is JAL's signature. It didn't take long to get comfortably situated as these seats just the right amount of support and cushioning to keep me happy for the long flight. As a finishing touch, they were dressed with a solid pillow and a comfortable blanket.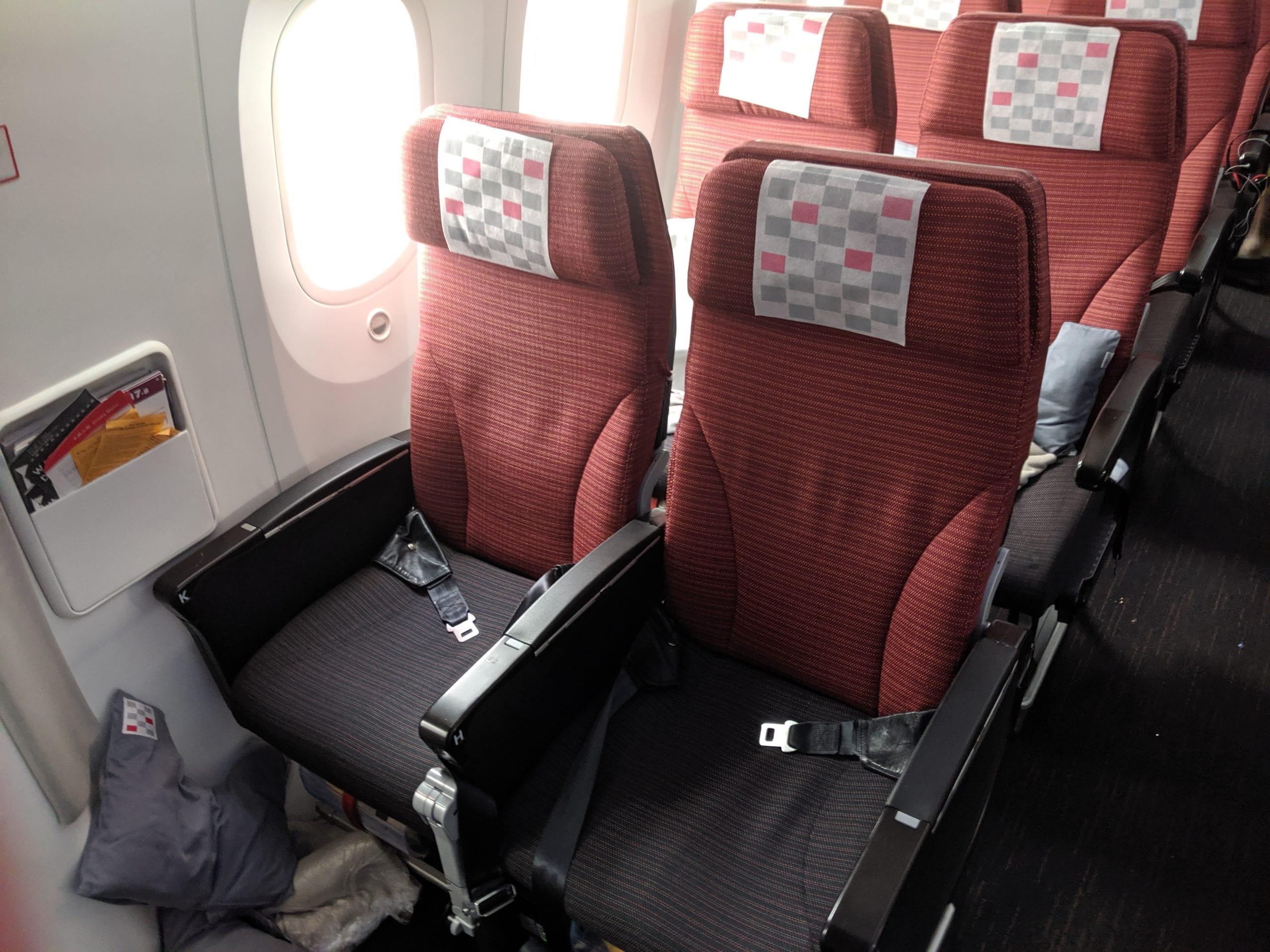 In my case, I lucked out even more and was able to pick a seat at the bulkhead for even more legroom. And the 2-4-2 cabin arrangement meant there was no middle seat to worry about on my wing-side seat.

Seatback entertainment (or in my case, armrest entertainment) was high-quality, with many movies to watch on their well-organized and easy to navigate touchscreen entertainment system.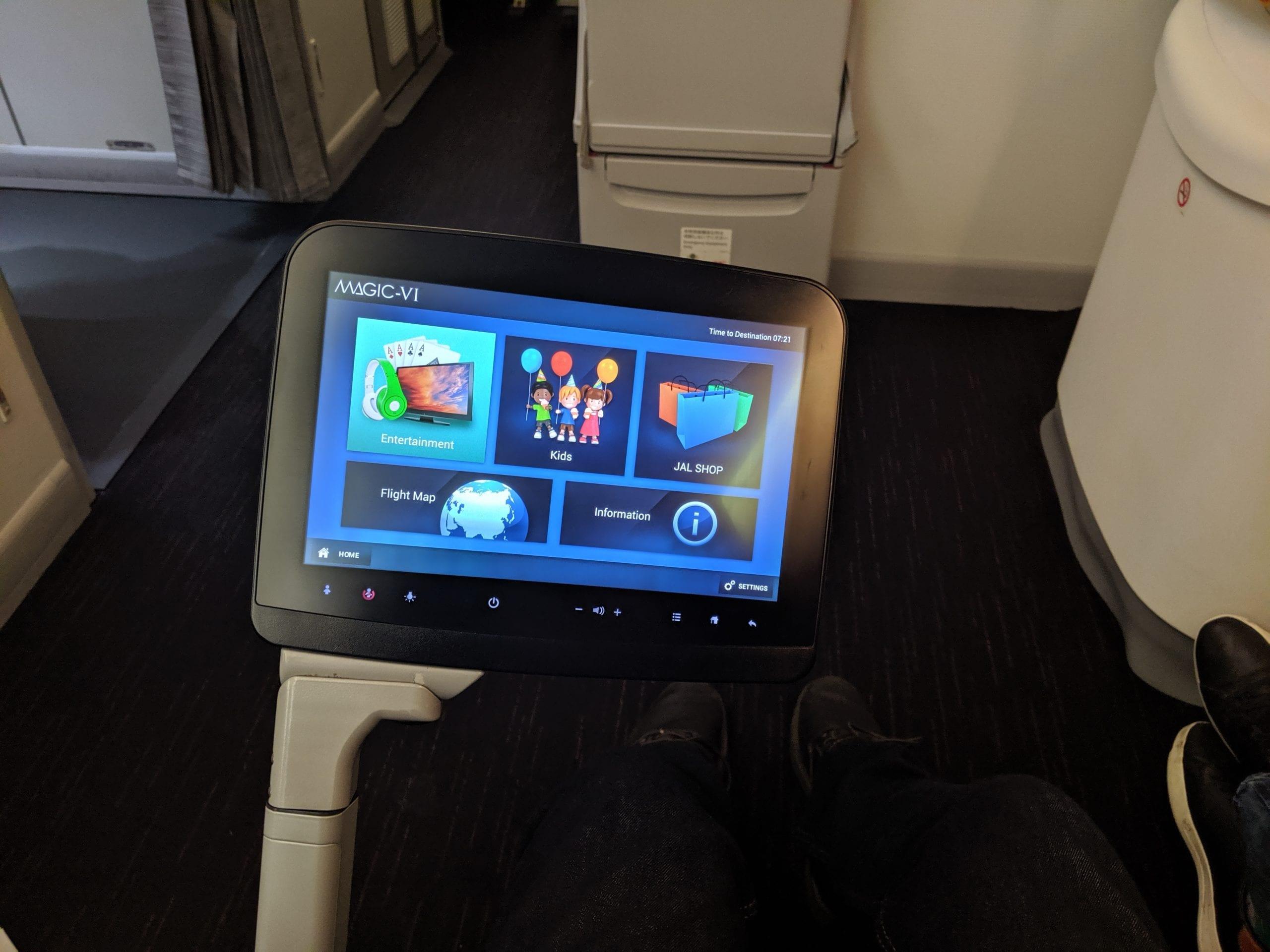 Even the lavatories felt more spacious on JAL. At 6 feet 3 inches, I usually fear using the bathroom on planes – slanted ceilings and limited room make it difficult for many larger travelers. But that wasn't the case at all here. I had plenty of room to maneuver. And the crew did a great job keeping the lavatories clean throughout the long flight.

Food and Drink
"Economy" and "airline food" typically don't mix well. It's a sad thought.
But ignore your preconceived notions – at least for JAL. With their emphasis on Japanese cuisine and fresh flavors while not being too adventurous, I was a big fan of both of my meals on JAL. The flavors of the food (some unfamiliar to my simple palette) were great while the serving sizes seemed to be perfect – not too big, not too small. Everything in the culinary department stood out, setting the stage for what else was to come.
Dinner consisted of seasoned beef with fresh vegetables served with a bed of fluffy steamed rice. The tasty side dishes, including a small yet crisp salad, were also a solid addition. And the cherry on top (if you'll pardon the pun) was the Hagen Dazs for dessert.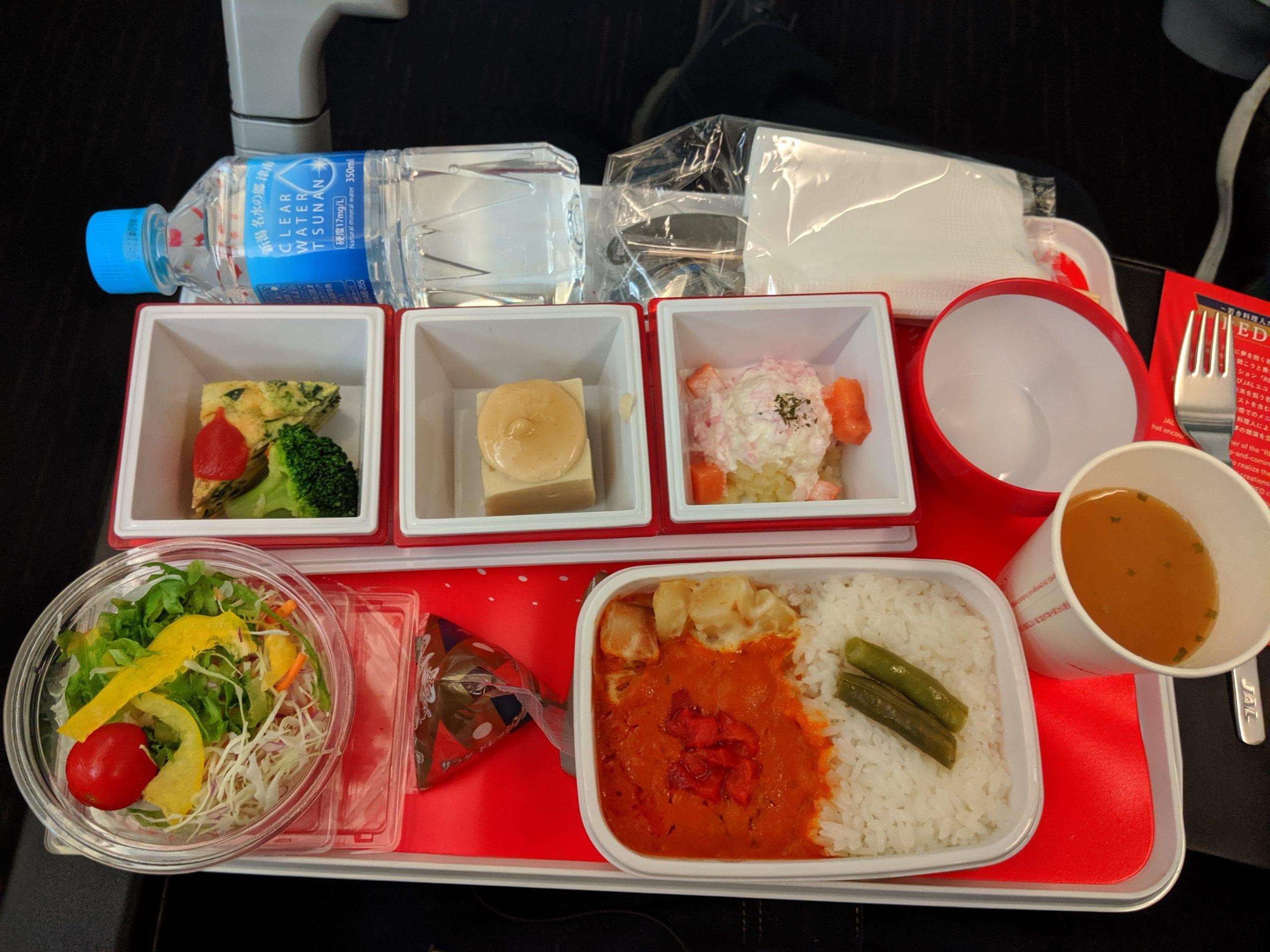 As the flight drew to a close hours later, it was time for another meal: breakfast. The main dish was a juicy beef concoction served with onions, rice, sauce, and red pickled ginger. This was part of a JAL's creative partnership with food chain Yoshinoya, which is only available on select flights. And it's safe to say this was the best dining experience I've personally had in economy.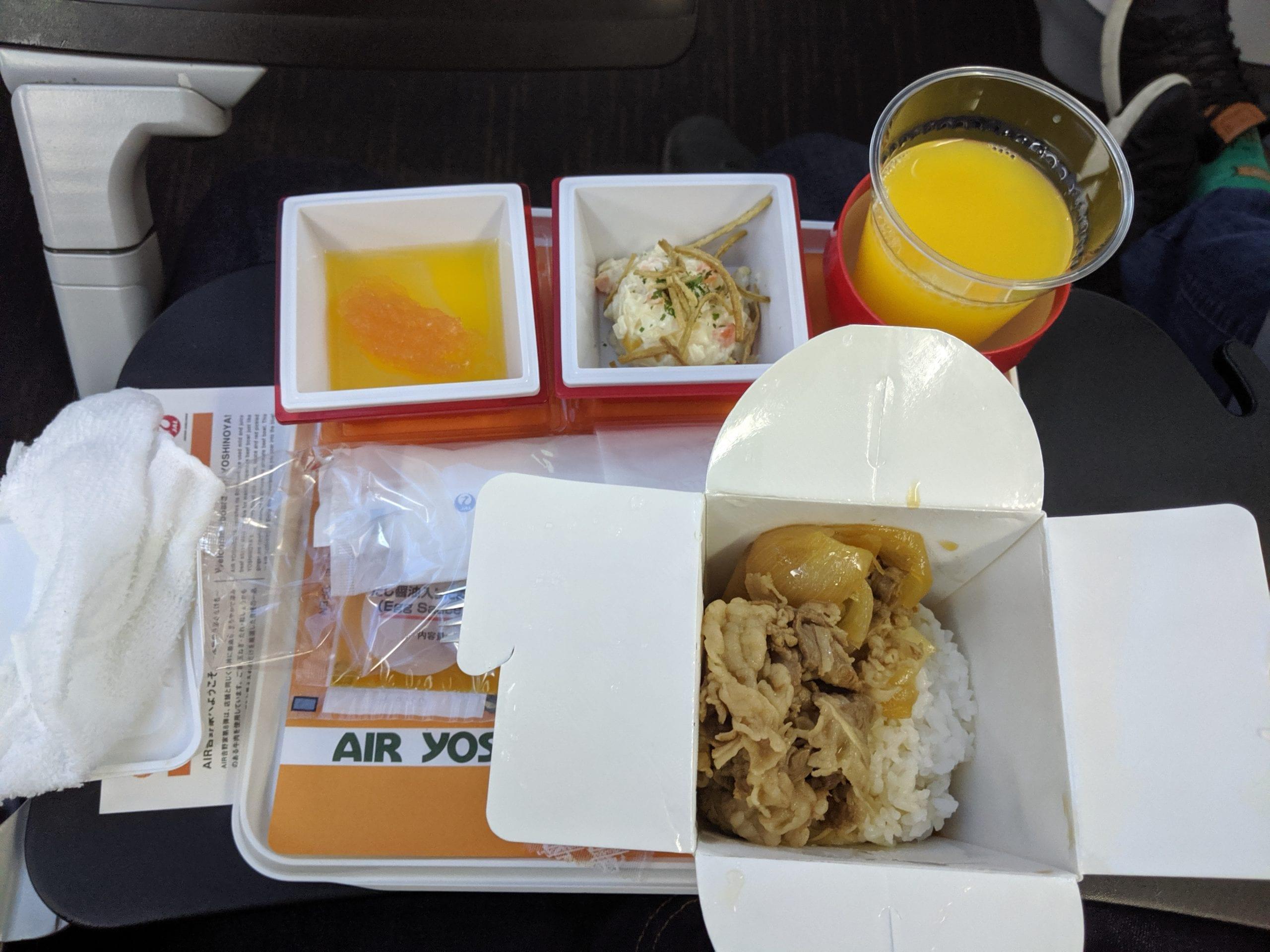 Service
JAL is known for its impeccable service. Even in economy, my flight was no different.
The Japan-based crew on my flight was outstanding, and seemingly trained to near-perfection. They were very friendly as they pleasantly greeted all boarding passengers, which is not the case on many other airlines.
Flight attendants were very attentive to customers' needs, offering over-the-top assistance whenever necessary. They were quick to assist the busy family to my left struggling to put their kids to bed. The attendant hurried over and prepared the bedding for the baby as her parents graciously accepted any help they could get.
These small moments of extra effort speak volumes for what kind of company JAL is. The finishing touch? After landing, they politely requested passengers "do not talk on their phones because it may annoy the people sitting next to you." Sheer brilliance.
Bottom Line
It's always a good sign when a ten-hour flight feels like only a few hours.
Even after flying the world's best business class and an amazing first class across the world, JAL's economy still stands out. Everything flowed so easily, from the boarding process to the in-air experience, to the landing and deboarding. I've flown a few other carriers across the Pacific Ocean in economy and JAL by easily my favorite.
If you're not interested in splurging for business or first class, JAL economy is the perfect option. It will be tough to top the premium experience for the cost of economy.