United's latest-and-greatest Polaris business class seats are the crown jewel of an airline that fancies itself America's premier international airline.
Whether you're flying to Europe, deep into South America, or over to Australia and Asia, United Polaris has become a mainstay and one of the easiest ways to score a lie-flat seat if you're cashing in points and miles. Fortunately, they're darn comfortable and good-looking, too.
But flying business class is more than just about the seat. It's about the onboard service, dining, and all the extra goodies that flyers have come to expect when they splurge for a trip abroad. I flew United Polaris from Chicago-O'Hare (ORD) to London-Heathrow (LHR) on the airline's flagship 767-300 last month with one question in mind: Would it score high marks on all fronts?
Yes … but also no. Read on for the full review.

Booking United Polaris
Thanks to its membership in the massive Star Alliance network, there's no shortage of ways to book a seat in United Polaris business class whether you've got United MileagePlus miles, miles with a partner airline like Air Canada Aeroplan or Turkish Airlines Miles & Smiles, or transferrable credit card points from Chase, Amex, or Capital One.
Instead, the biggest thing to look for when booking United business class are the seats themselves: Not all Polaris seats are created equal. No matter whether your plane has the airline's latest-and-greatest seats or positively ancient cabins with eight seats (yes, eight) across in each row, United calls it all Polaris business class.
It varies from plane to plane … and where you're heading. Fortunately United has made some great strides in the last few years to renovate its planes and install these flashier seats onboard almost all its major international routes – and more are on the way.
All of United's Boeing's 787-10s, 787-8s, and 767-300s have the new seats onboard while most Boeing 787-9s and 777-200s have them, too. Many older Boeing 767-400s and some Boeing 787-9s flying to Europe are more likely to sport older, outdated seats, though that should change within the year as United continues to refresh its fleet.
To ensure you've got the best seat possible, check the seat map for your flight right on United.com. If it shows business class in a 1-2-1 configuration (or 1-1-1 on the Boeing 767), you're set. Anything else, try another route.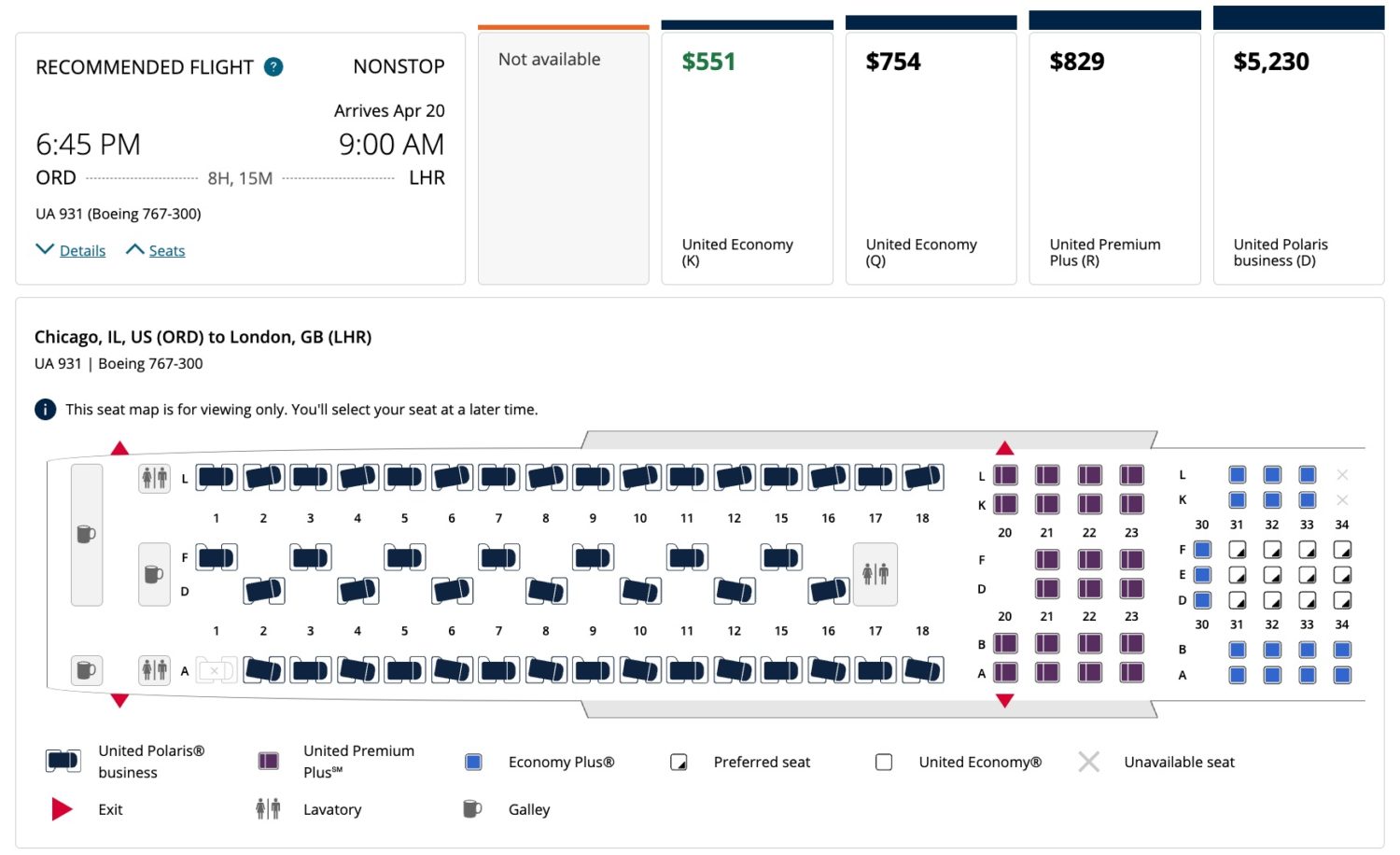 Finding award availability to book United Polaris overseas can be hit or miss, though United seems to be more generous than either Delta or American – especially if you're OK booking within just a month or two of departure. No matter which miles you intend to use to book, United.com itself is the best website to use for award availability to book with your miles.
But sometimes the floodgates open. Just weeks ago, we sent Thrifty Traveler Premium members the heads-up for two or more travelers to fly in United Polaris to London in early 2023 … or even in the summer!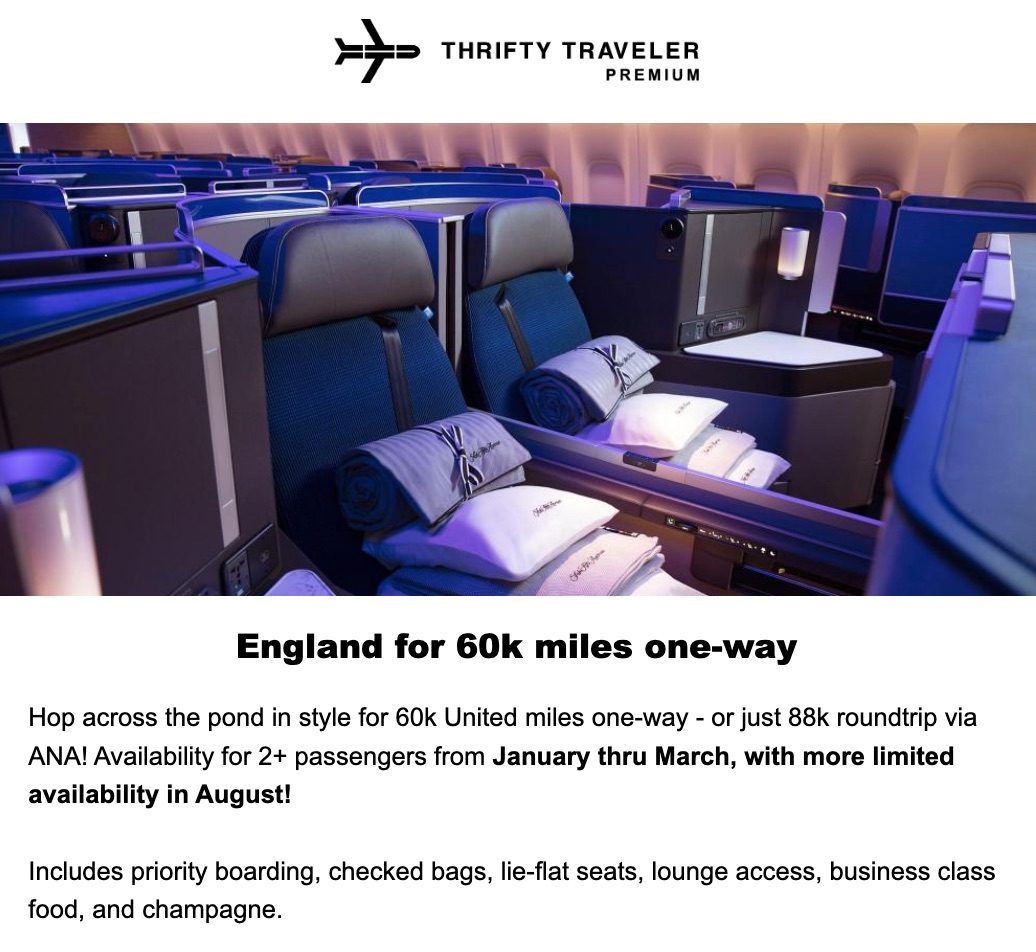 Get award alerts like this one, plus cheap domestic and international fares, with Thrifty Traveler Premium!
Using cash? Expect to pay north of $3,000 roundtrip to Europe or much more to Asia or Australia. Yet it seems like we unearth an unbelievably cheap Polaris business class fare a few times a year, like this sub-$1,200 fare down to Brazil we discovered late last year.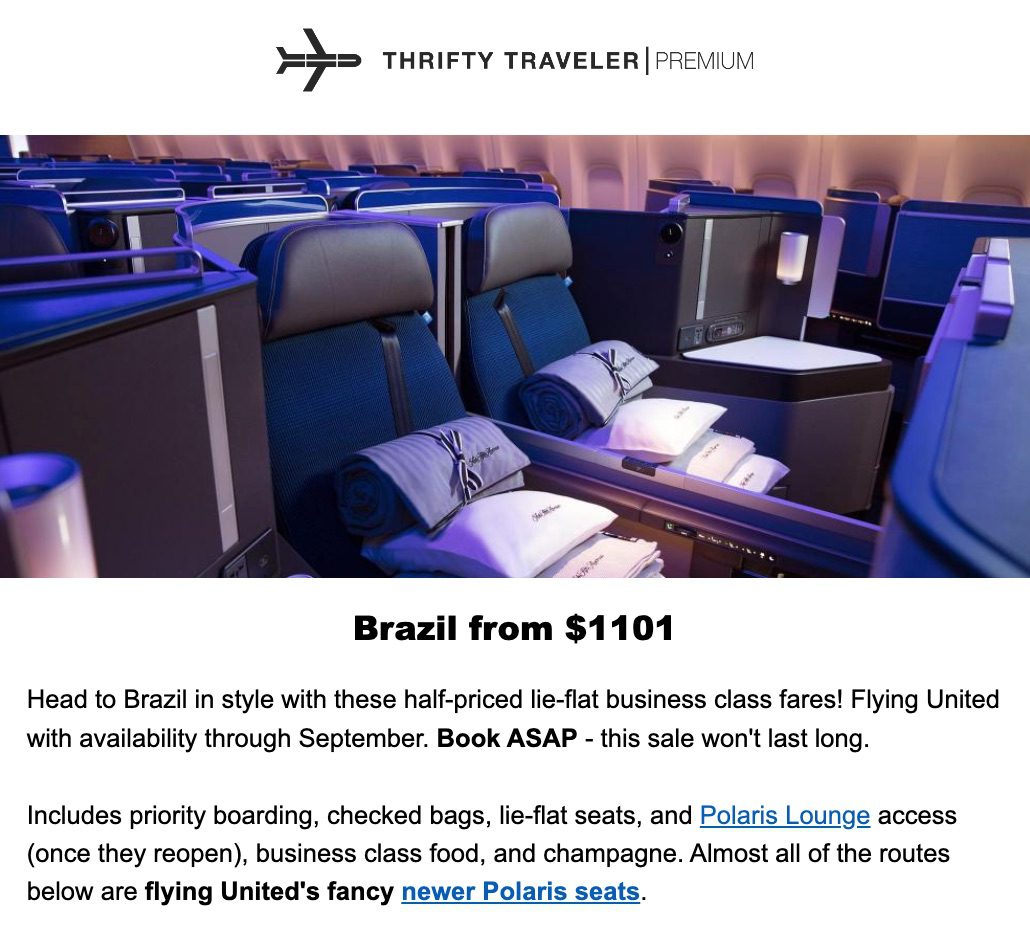 But if you're using miles, you're in luck: You've got plenty of options.
If you're flying roundtrip, look no further than ANA Mileage Club. You simply cannot beat booking roundtrip business class seats to Europe for just 88,000 ANA miles. While the cash surcharges are low, you must book roundtrip as one-way redemptions aren't allowed. ANA is an Amex transfer partner, so points from cards like The Platinum Card® from American Express and the American Express® Gold Card will do you right.
Need a one-way from the U.S. to Europe? Look to Turkish Airlines Miles & Smiles, which charges just 45,000 miles each way with low fees when flying United. Turkish is a Capital One transfer partner, so you can get the miles you need from cards like the Capital One Venture X Rewards Credit Card. It's also a Citi ThankYou transfer partner.
United MileagePlus itself is a strong option with award rates as low as 60,000 miles each way with low surcharges. It's a Chase transfer partner, if you need to top up your miles with points from cards like the Chase Sapphire Preferred® Card. As a bonus, you can often start your journey from another airport and connect through a United hub before hopping on your business class flight abroad for the same rates as a nonstop.
Trying to fly between Europe and the East Coast or Chicago? Look to Air Canada Aeroplan, with award rates starting at 60,000 miles each way for these shorter hops to Europe. You can transfer points from Amex as well as Chase and Capital One cards.
Using Avianca LifeMiles will cost you 63,000 miles each way. They're transferrable from Amex Membership Rewards, Capital One Venture Miles, and Citi ThankYou Points.
In this case, we had Amex Membership Rewards points to burn so the best option for a one-way redemption was transferring them to Air Canada. All it took was 60,000 points, a few seconds to transfer, and a $5.60 tax-and-fee bill to book a ticket flying business class from Chicago-O'Hare (ORD) to London-Heathrow (LHR) – in peak summer, to boot!


At Thrifty Traveler, we don't accept freebies. We use our own points, miles, or cash to pay for every single flight or hotel you see reviewed here – including this one.
Lounge Access
Flying United business class out of Chicago is a treat for one reason and one reason alone: The United Polaris Lounge Chicago.
Much like the United Polaris Lounge Newark (EWR) and locations at other major United hubs, this lounge puts your standard airport lounge to shame. It's reserved only for United and Star Alliance business class flyers, and that exclusivity raises the bar.
The lounge is located in United's Terminal 1 in Concourse C, just up the escalator from the underground walkway connecting Concourses C and E – steps away from many United international departures. It's currently open from 7:15 a.m. until 9 p.m. daily.
While not massive by any means, its 16,000-square-foot layout gave plenty of space for travelers to stretch out … at least until the lounge started to fill up late in the afternoon. But there's a good mix of solo work cubbies and armchairs, along with a beautiful bar and dining spaces, too – all overlooking the tarmac.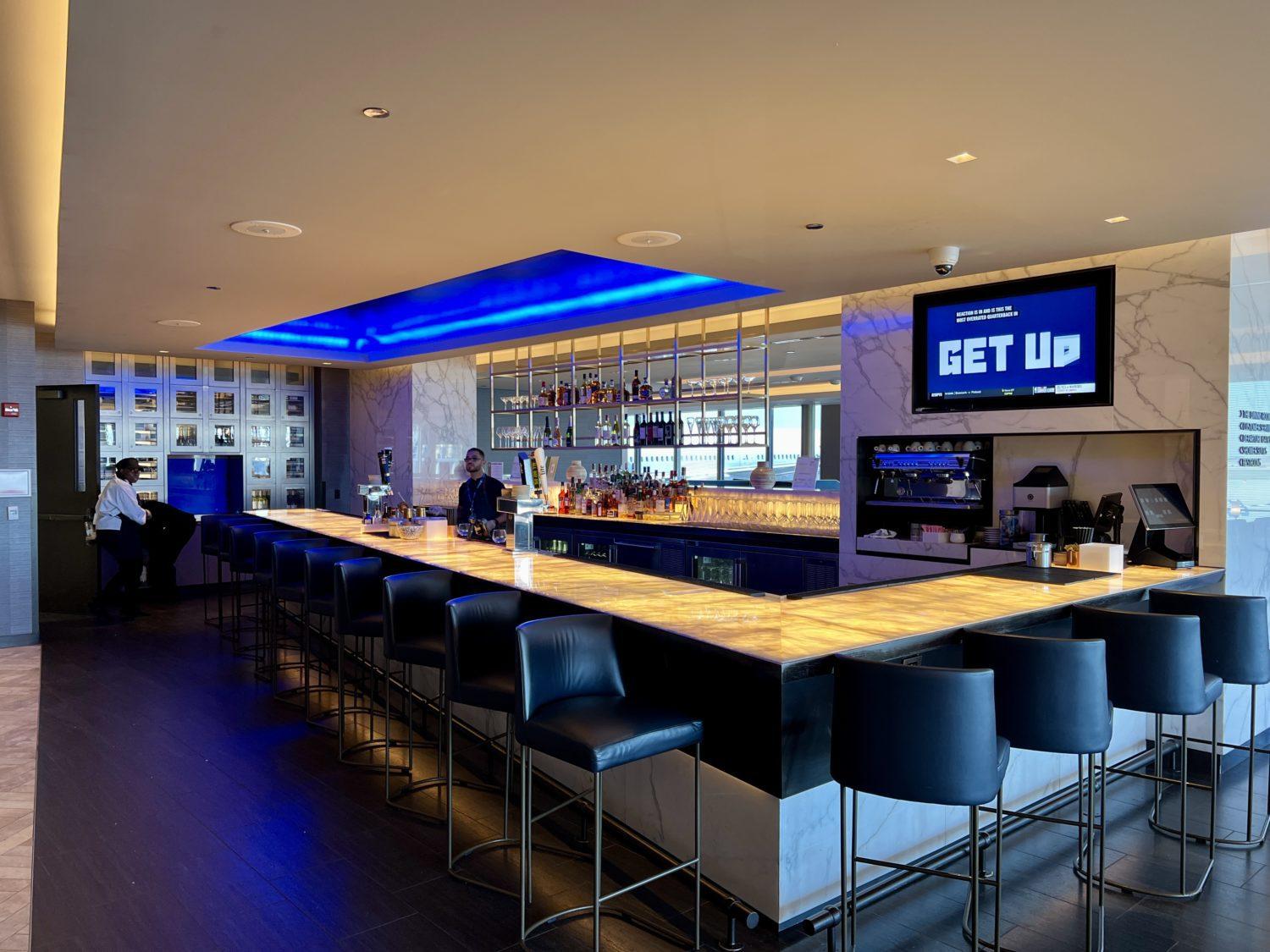 There's plenty to eat at the serve-yourself buffet area, but the star of the show is the Polaris Lounge's dedicated dining room. It's quite small and seating is available only on a first-come, first-served basis, but the lunch here was some of the best food I've eaten in an airport lounge.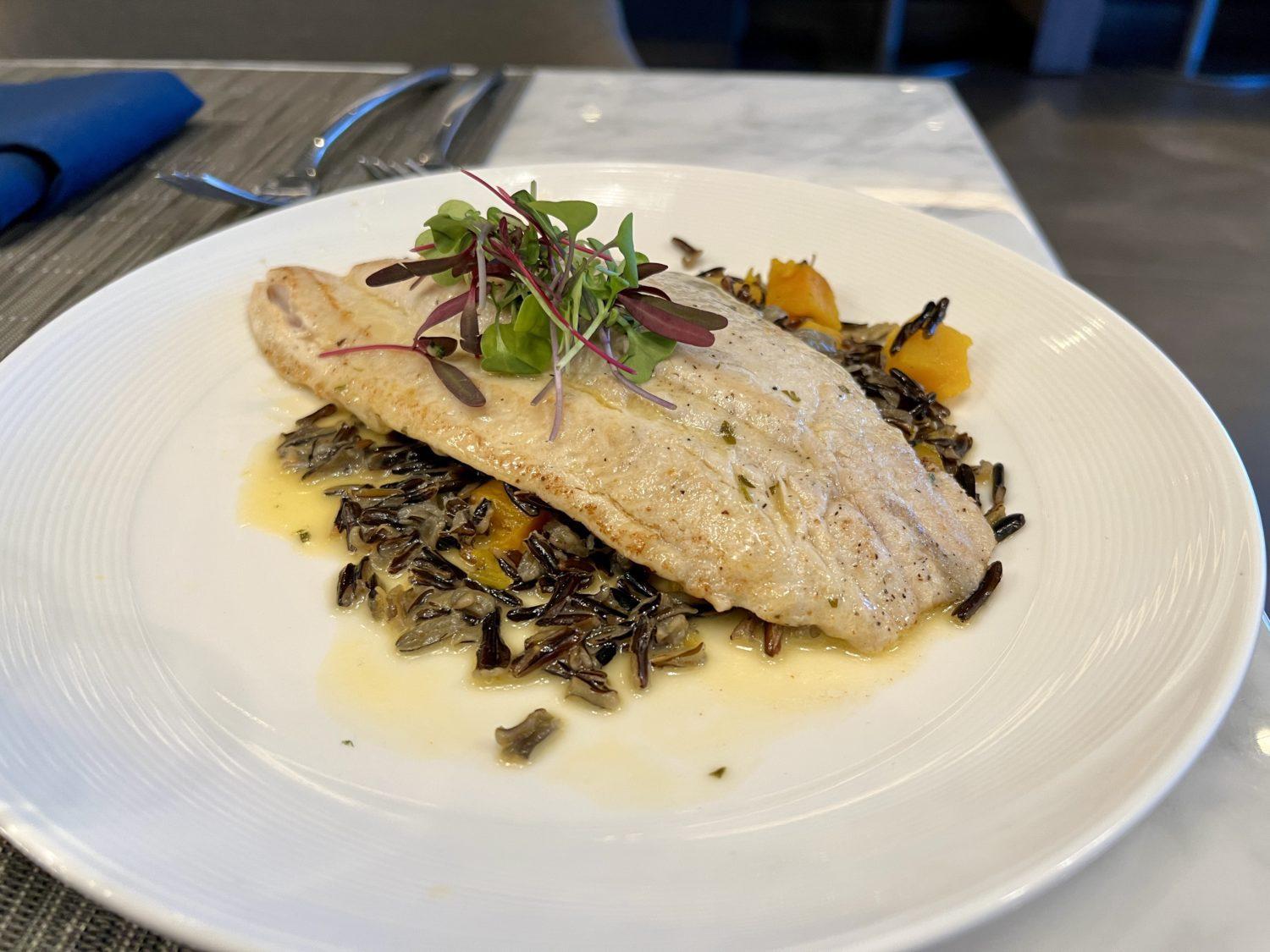 Plus, there are some amenities you won't find in every lounge like dedicated quiet rooms to take a nap on lounge chairs as well as an array of shower suites, which are truly top-of-class. Pre-flight showers don't get much better than this.

Cabin
On many routes to Europe, including this flight over to London, United flies one of the biggest business class cabins you'll find in the skies.
Dubbed United's "High J" planes – a nod to the J fare class used for business class – roughly half the square footage on these Boeing 767-300s is devoted to business class seats. And there are a lot of them: 46 business class pods in all, spread across 16 rows in the single cabin.
It's a beautiful cabin with these new finishes. And boy, is it long.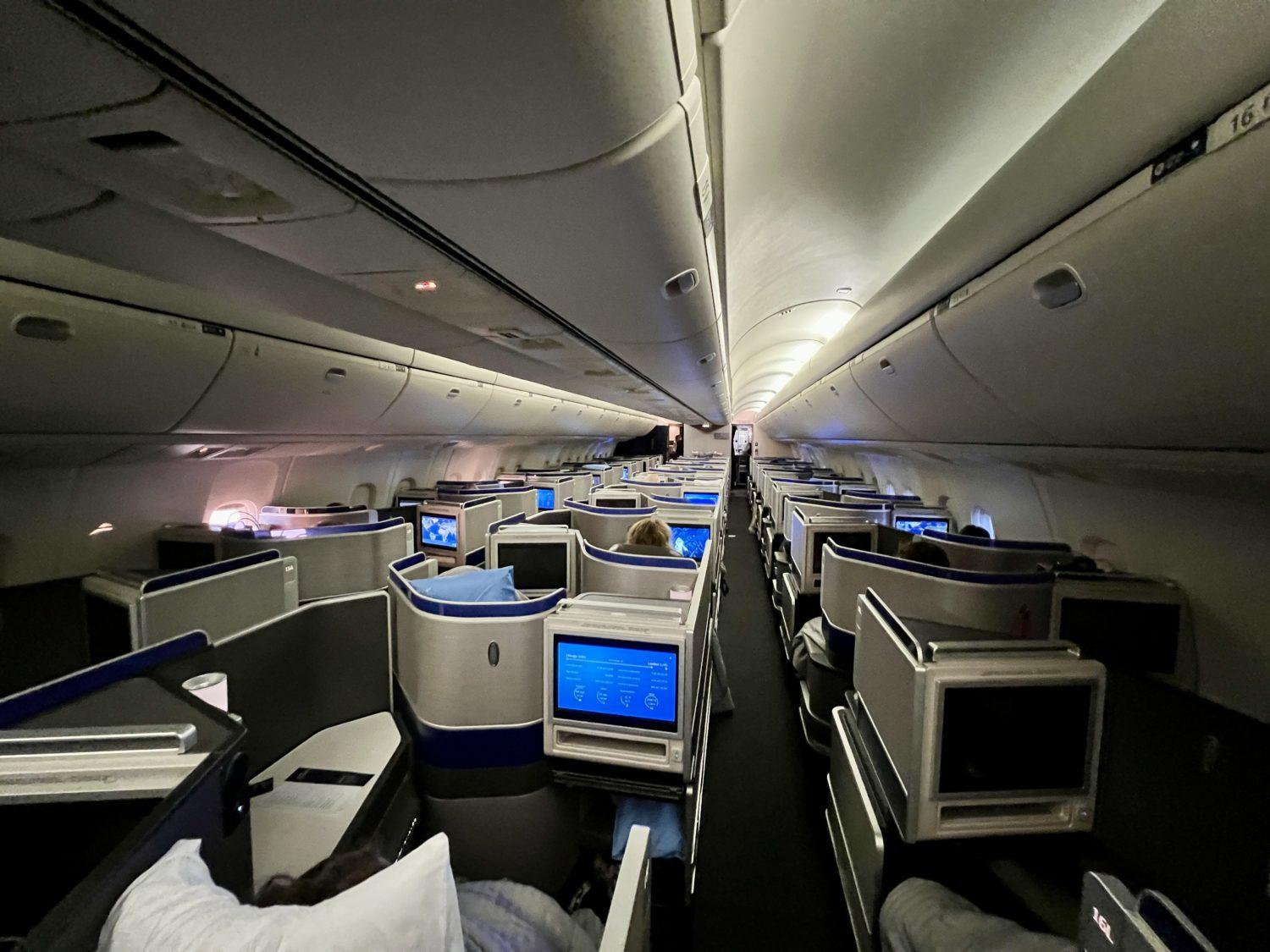 United's sharp blue and metal color palette is complemented well by the faux-marble countertops on each console table. Throw in some nice mood lighting overhead, and it certainly looks sharp. United designed these new Polaris cabins in a clever way to pack in plenty of seats without sacrificing privacy or direct-aisle access.
But again … what a massive business class cabin. Is it too big? Does that even matter?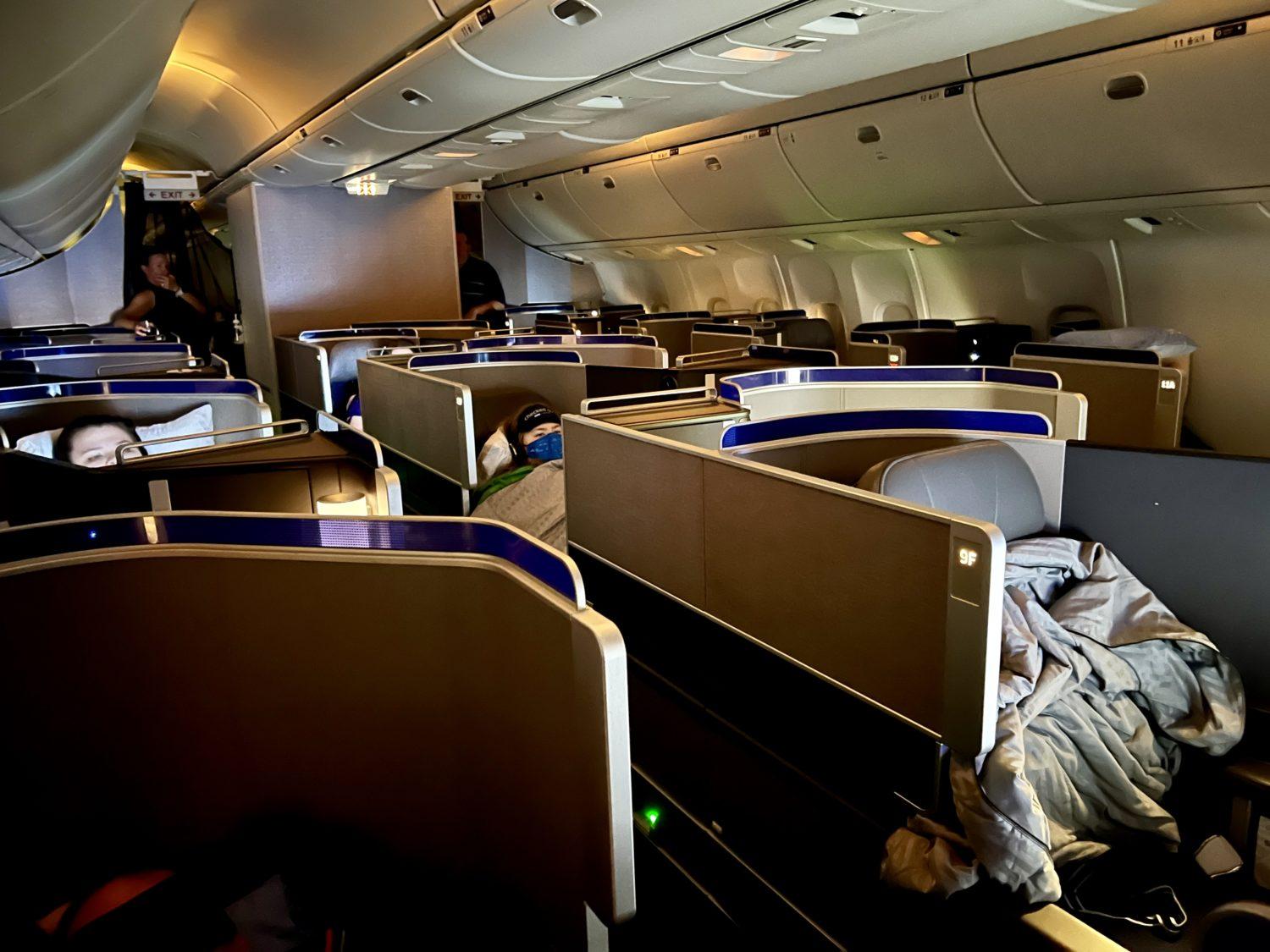 But unlike the bigger Boeing 777s and 787s that are also equipped with newer United Polaris seats, there are just three seats in each row. They're laid out in a 1-1-1 configuration, each with a straight shot right into the aisle.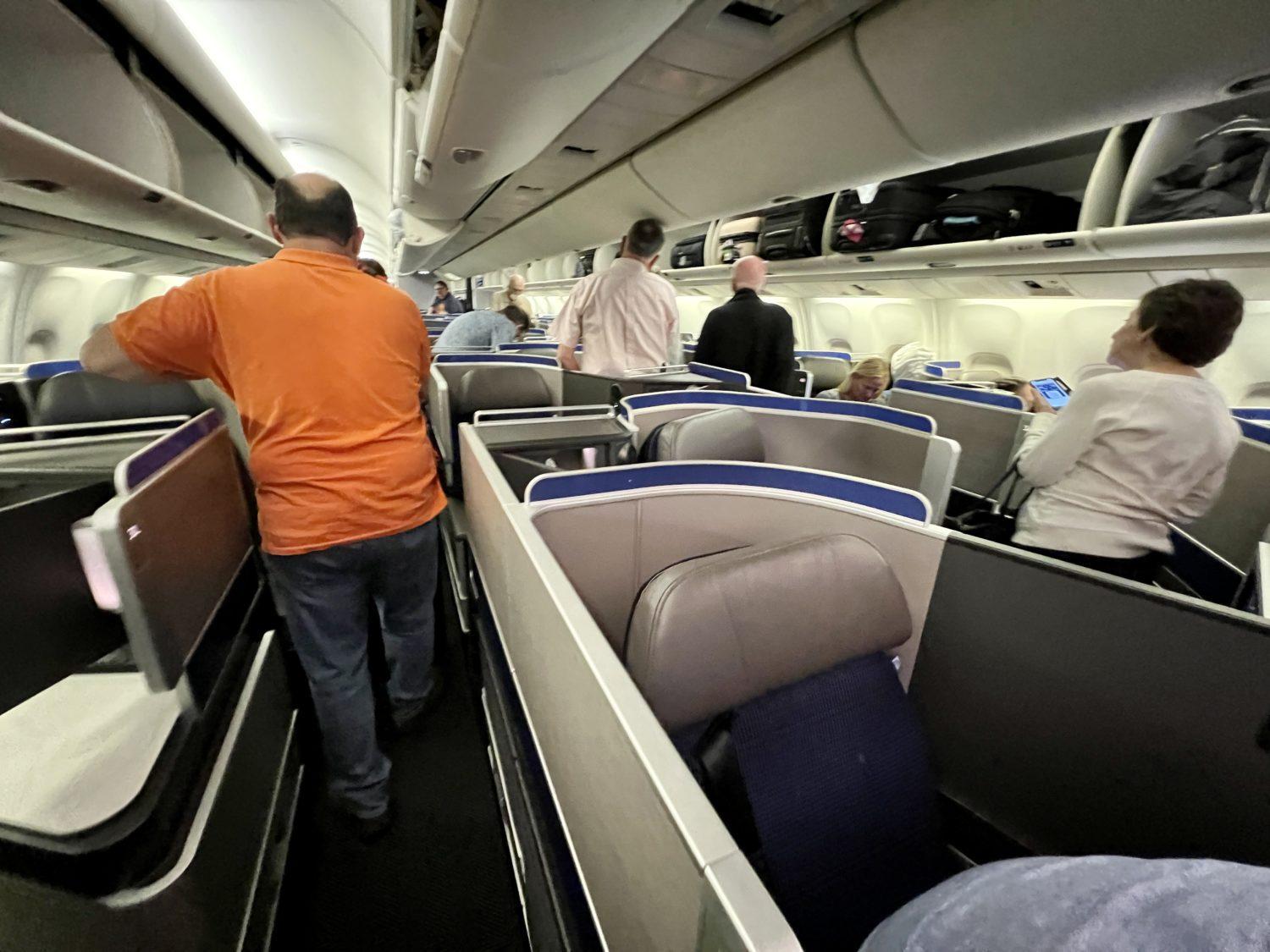 That makes this Boeing 767-300 fantastic if you're traveling solo: There's absolutely no chance you'll be stuck smack dab next to a stranger. On the flipside, that means the 767s are less-than-ideal if you're traveling with someone.
Not only is there not a two-seat section at the center of the plane, but each row of seats is slightly offset from one another in each row – seats in the center section are set a ways back from those along the windows. That means more privacy … and less chance that you'll be able to talk with your neighbor across the aisle.
See what I mean?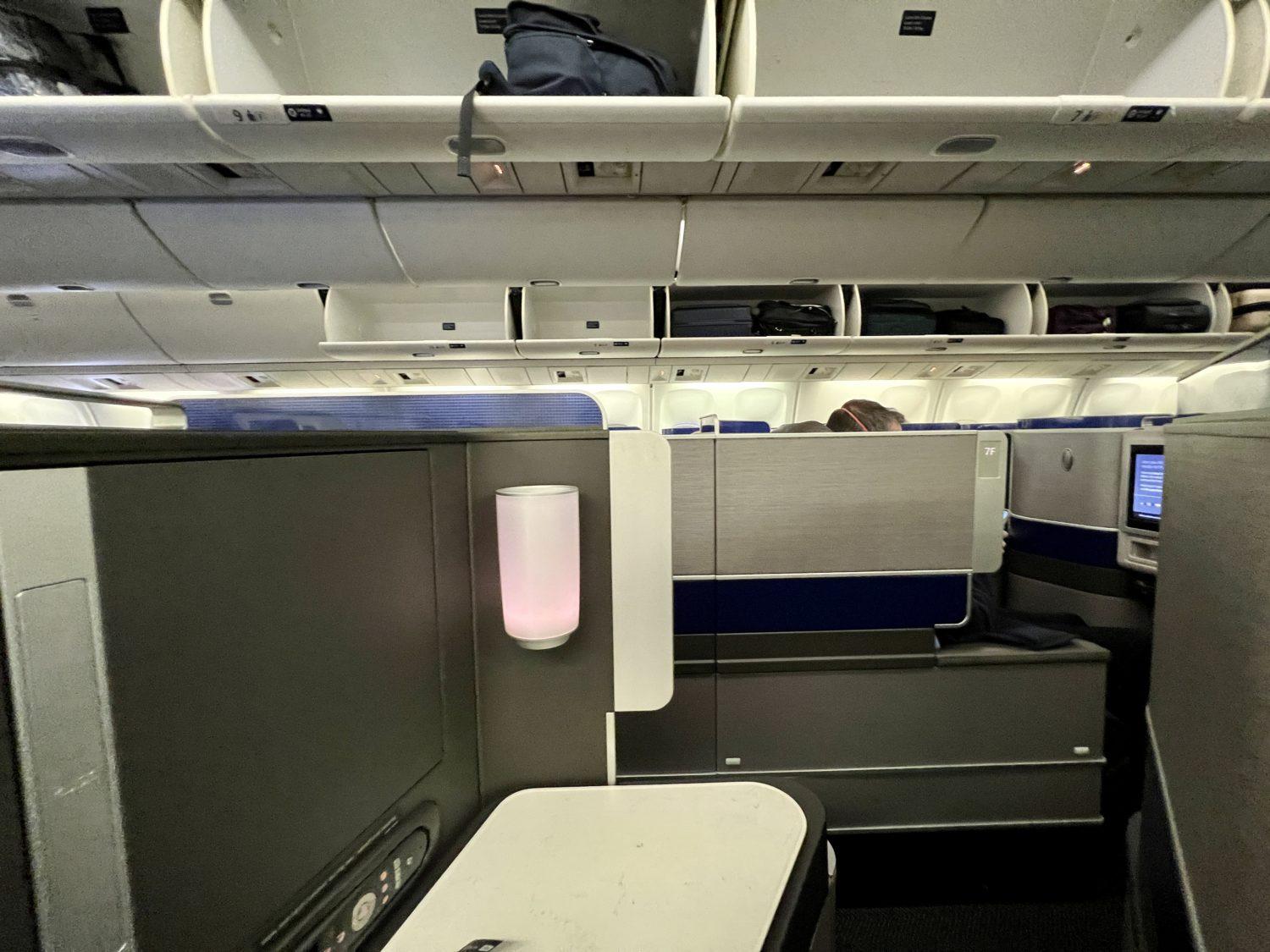 If there's one way for a couple to get some face time during the flight, it'd be by selecting certain seats in the center and window sections … but not in the same row. For example, seat 7F in the center and 8L on the right side of the cabin might be able to have a quick chat – with a good lean.

Whether you're along the window or in the center, every row of seating is more or less the same in United Polaris on this 767-300. Odd-numbered seats are facing straight forward, while even-numbered seats are angled slightly toward the aisle.
I'd almost always lean towards a seat in the odd-numbered rows, as they've got a little more privacy from the aisle – especially along the windows, where seats are also positioned a bit farther away from the aisle.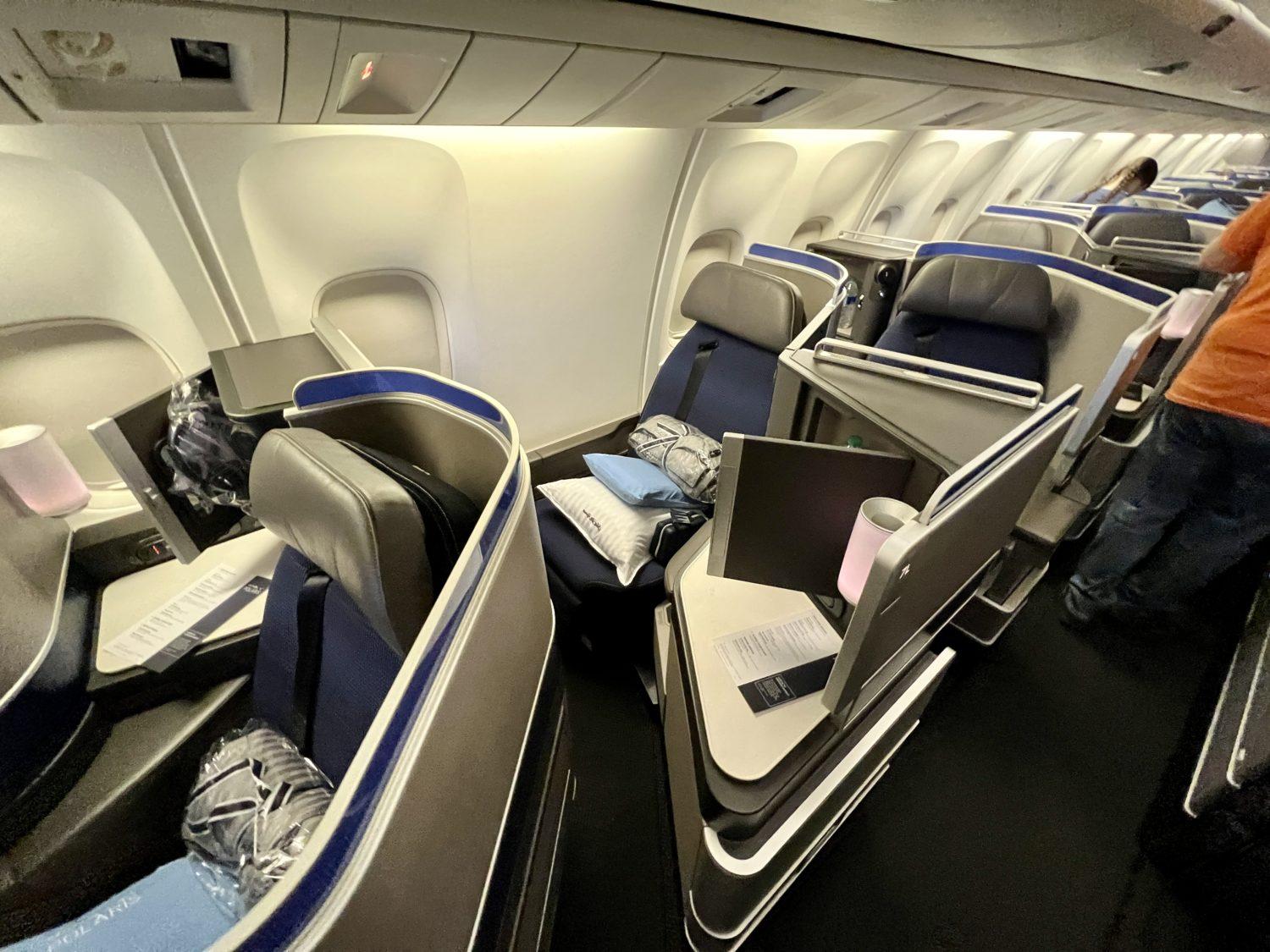 That said, not even all window seats are created equally. Window seats in rows 7 and 11 only have one window, while the rest have two. And both seats 18A and 18L don't have windows, period.
One of the biggest downsides is that because United packed all 46 Polaris seats into one cabin, there are just two bathrooms at the front of the plane. They're nothing special and quite small, in fact. As far as special amenities go, there was only some Sunday Riley facial mist and wrinkle release spray up here.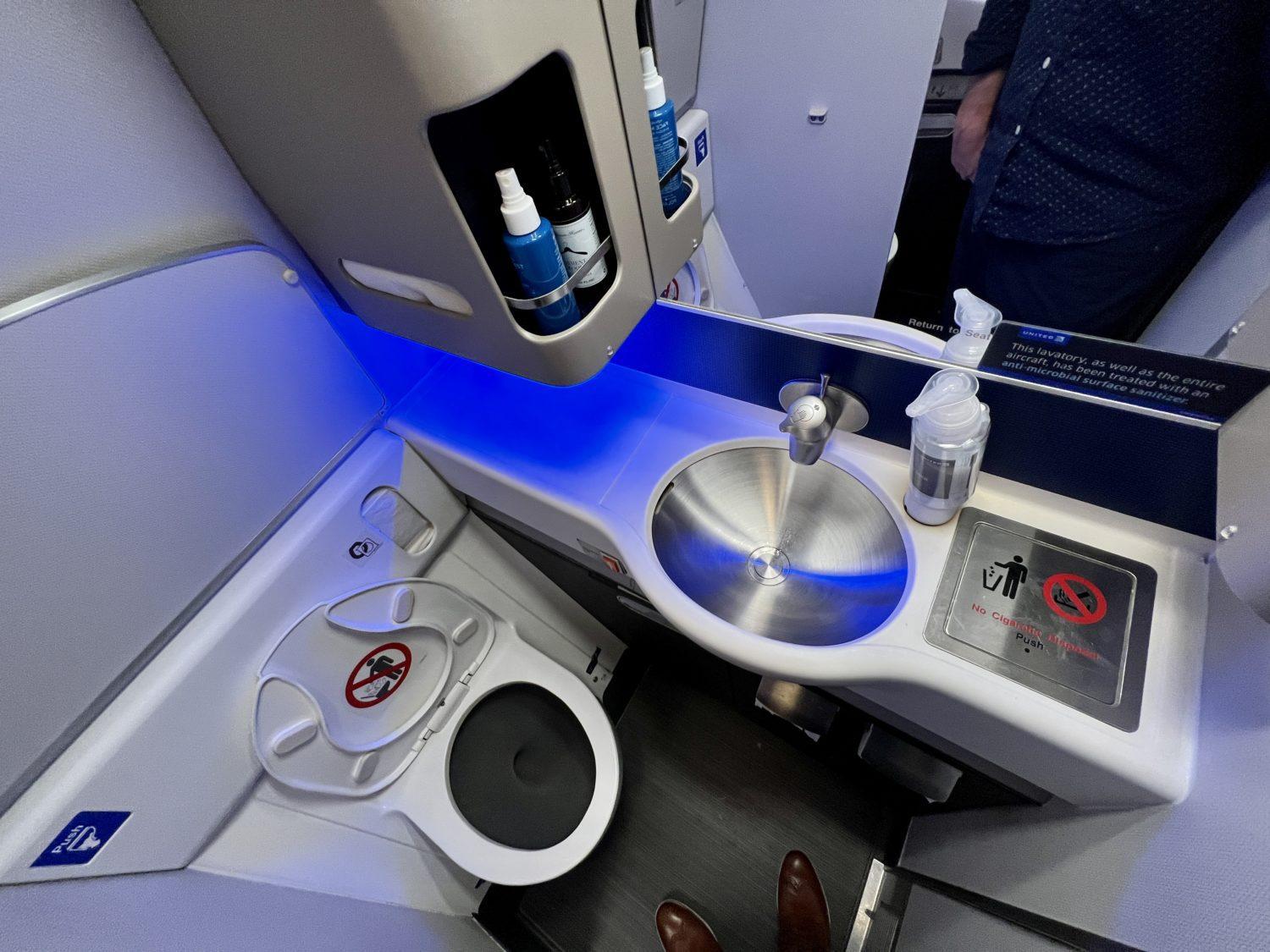 Fortunately, there's a third lavatory at the rear of the cabin – and it's much larger. But travelers in United Premium Plus seats can also easily slide up to use this bathroom so there were no additional amenities in this lavatory. Still, the extra space means it's the best choice, if you ask me.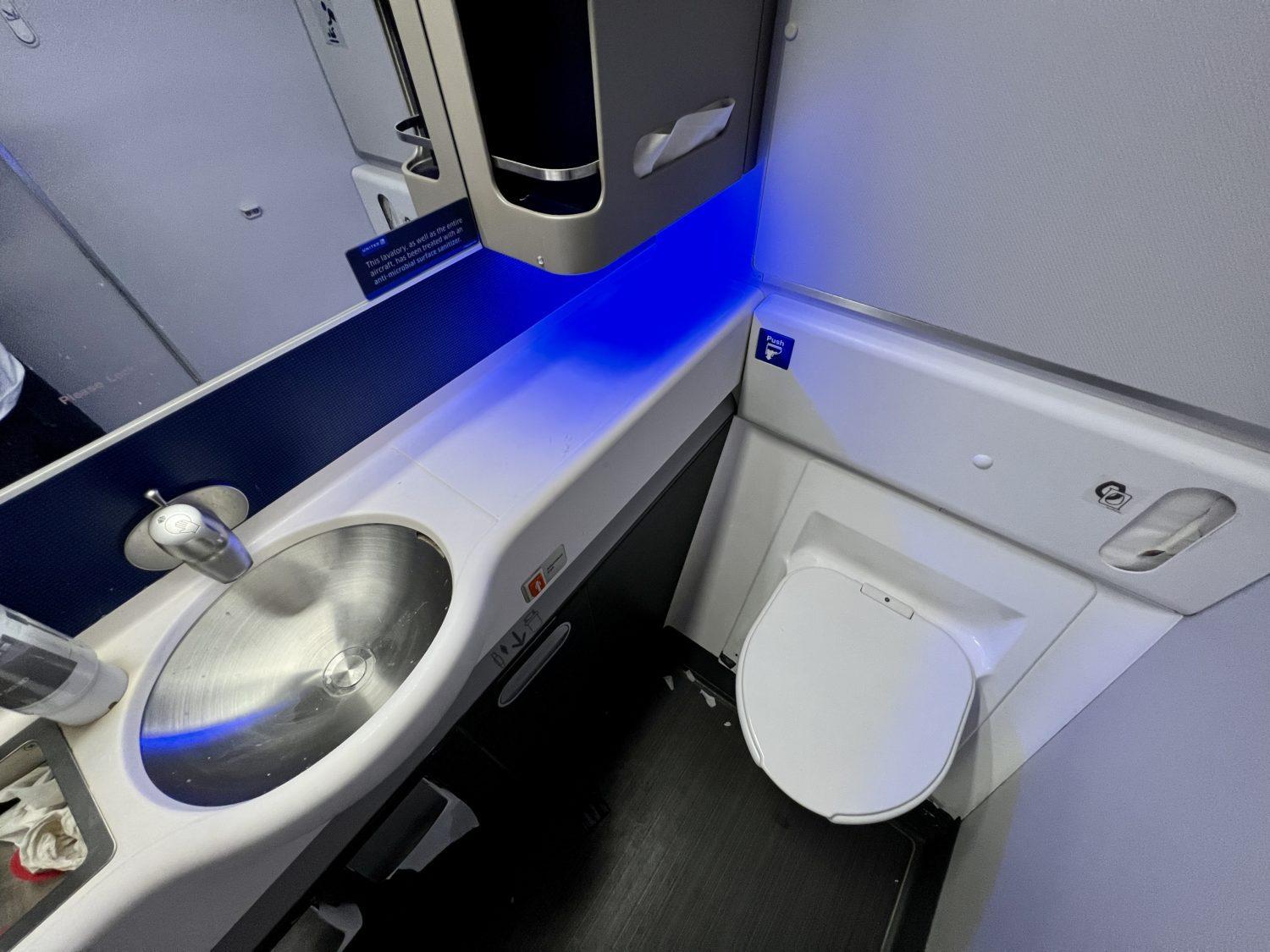 United Polaris Business Class Seats
Boarding the airplane and making my way down the massive United Polaris business class cabin, I headed roughly halfway down the aisle to find my seat: 9L, a window seat on the right side of the plane.
There's no denying it – this is a nice business class setup.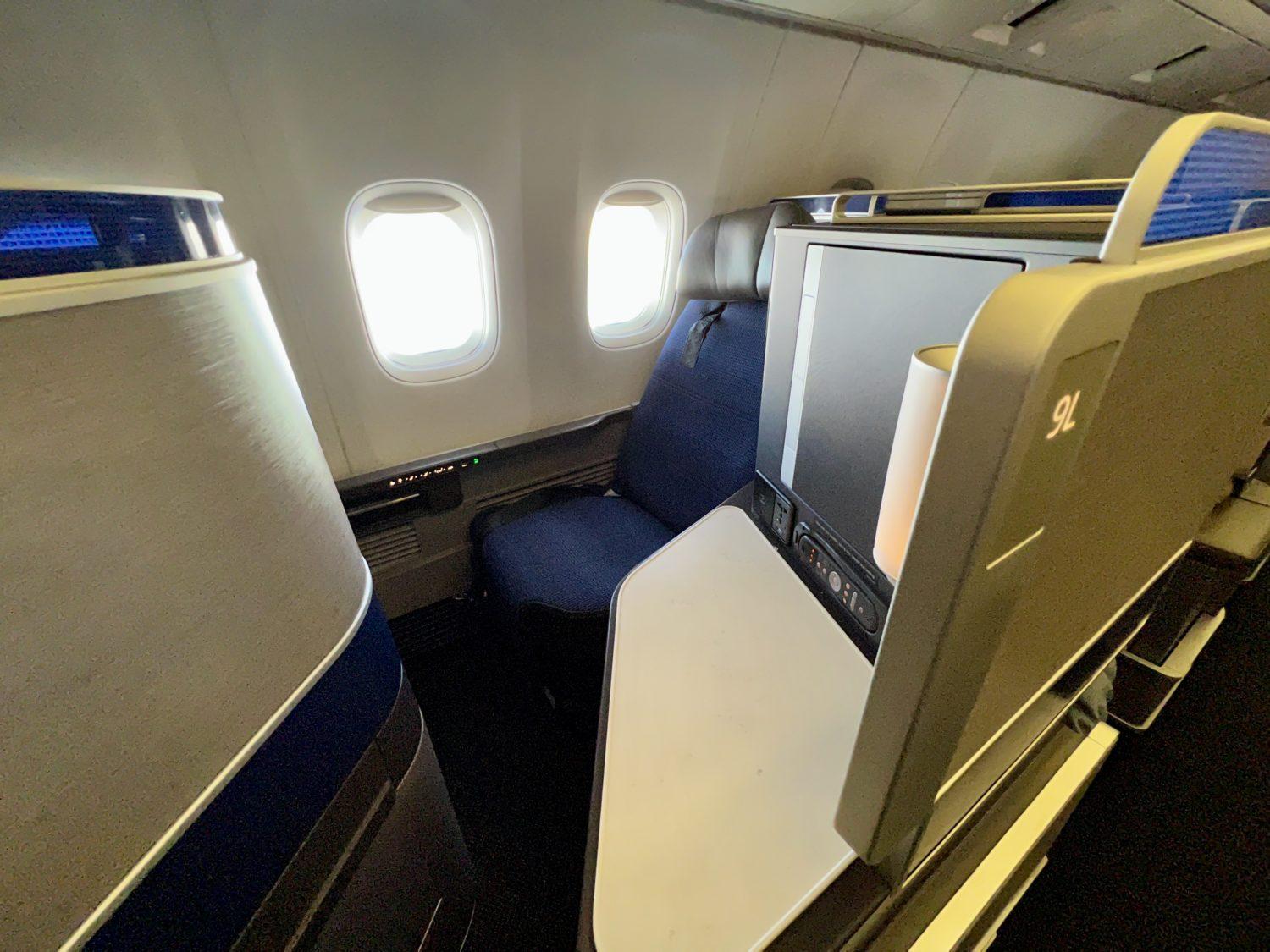 Like all odd-numbered seats, my seat was positioned closer to the window, with a fairly large console table and shield creating even more privacy from the rest of the cabin.

It's a much different story from the even-numbered seats along the windows, which are far more exposed to the aisle.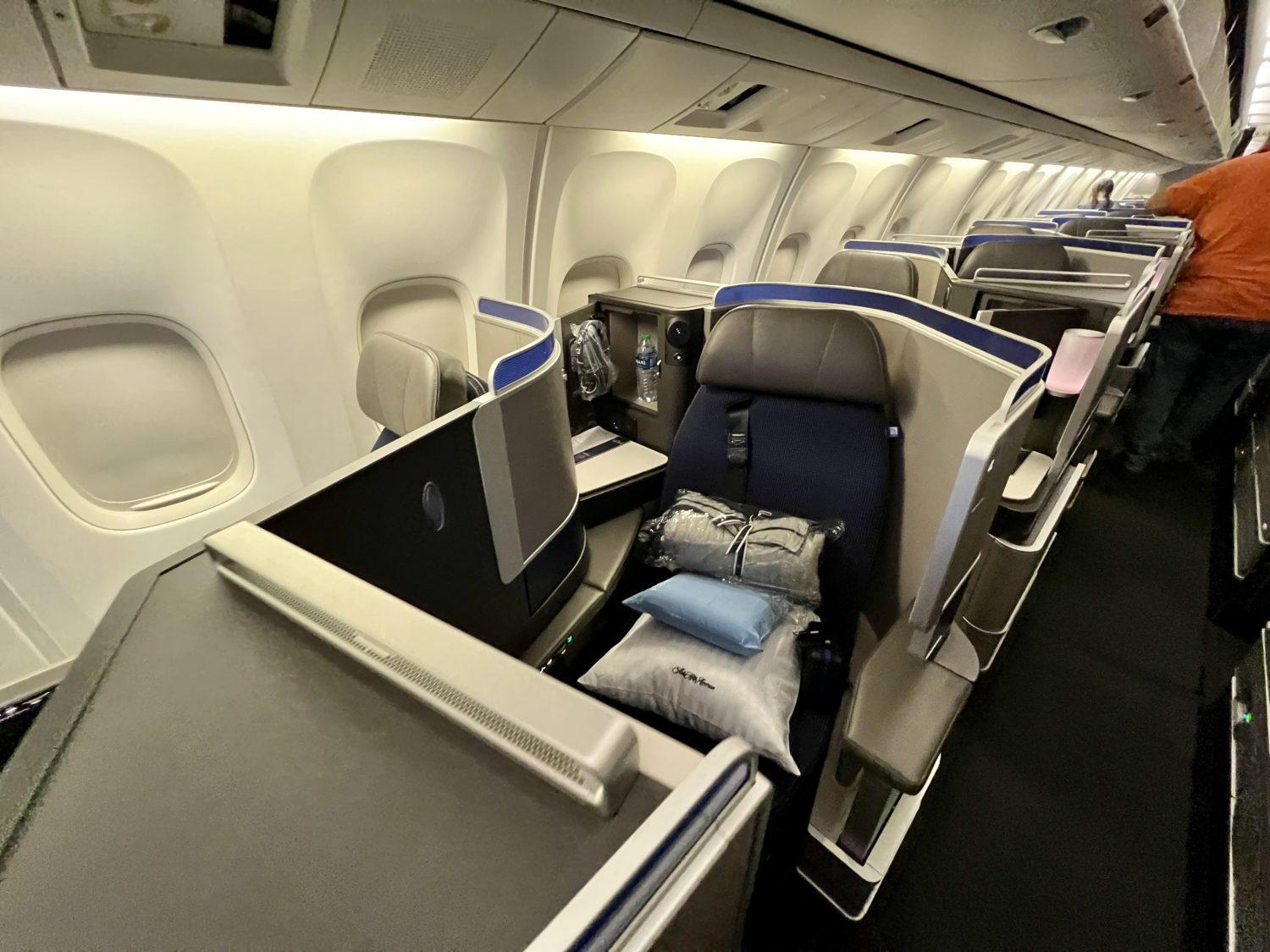 Each seat measures in at just under 21 inches wide, which felt plenty wide – at least around the shoulders. Reclined fully flat, there's a whopping 77 inches of legroom, too. Most importantly, I thought the seat was very well-padded and comfortable. I'm glad that United opted against leather upholstery and went with a crisp blue fabric – aside from the substantial leather headrest, which was adjustable.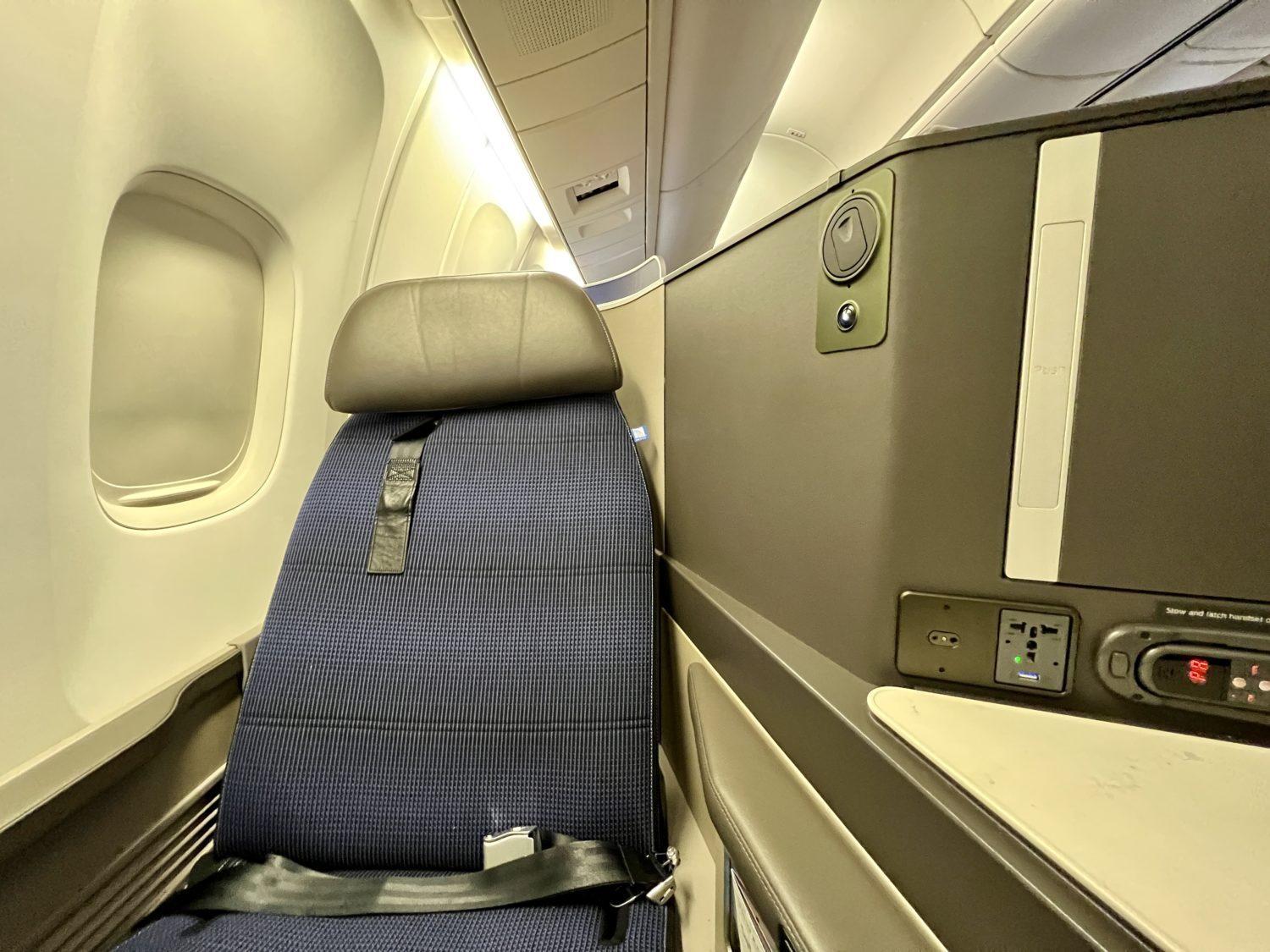 It's comfortable and private, and that's what matters most. But how does it look? I'm a bit torn. On the one hand, there's no question this is a major step up from older iterations of United business class – or almost any airline. The sconce lighting at every seat is a nice touch.
But the dark grays, blues, and metallic finishes at every seat and throughout the cabin just don't quite do it for me. It almost feels too industrial. But that's nitpicking: This is a sharp look. Compared to the ancient cabins some other airlines are flying across the Atlantic Ocean, United Polaris business class blows them out of the water.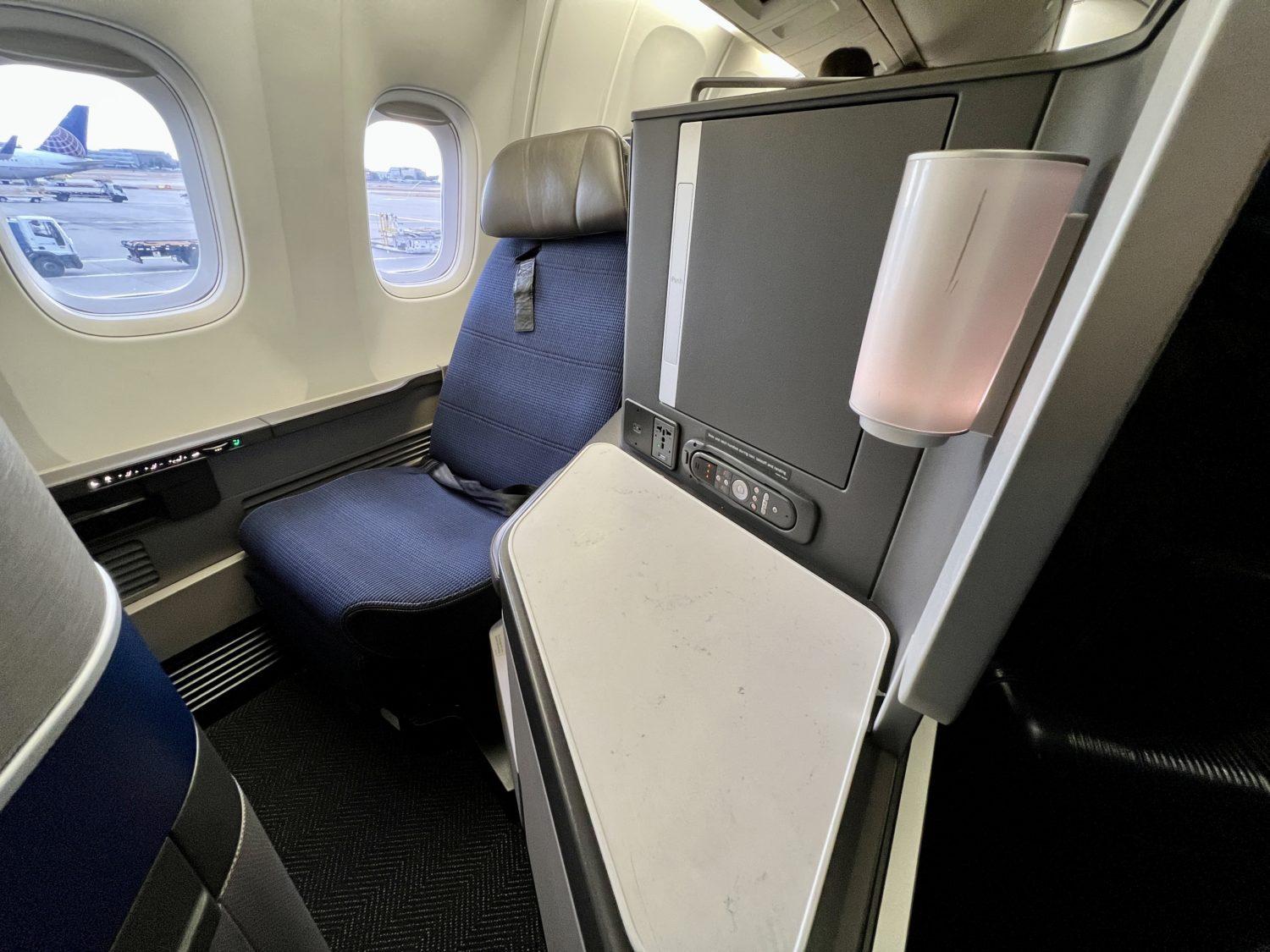 There's a tray table that slides out from under the monitor at the front of the seat. Fold it out, and it's a positively massive surface for working or eating.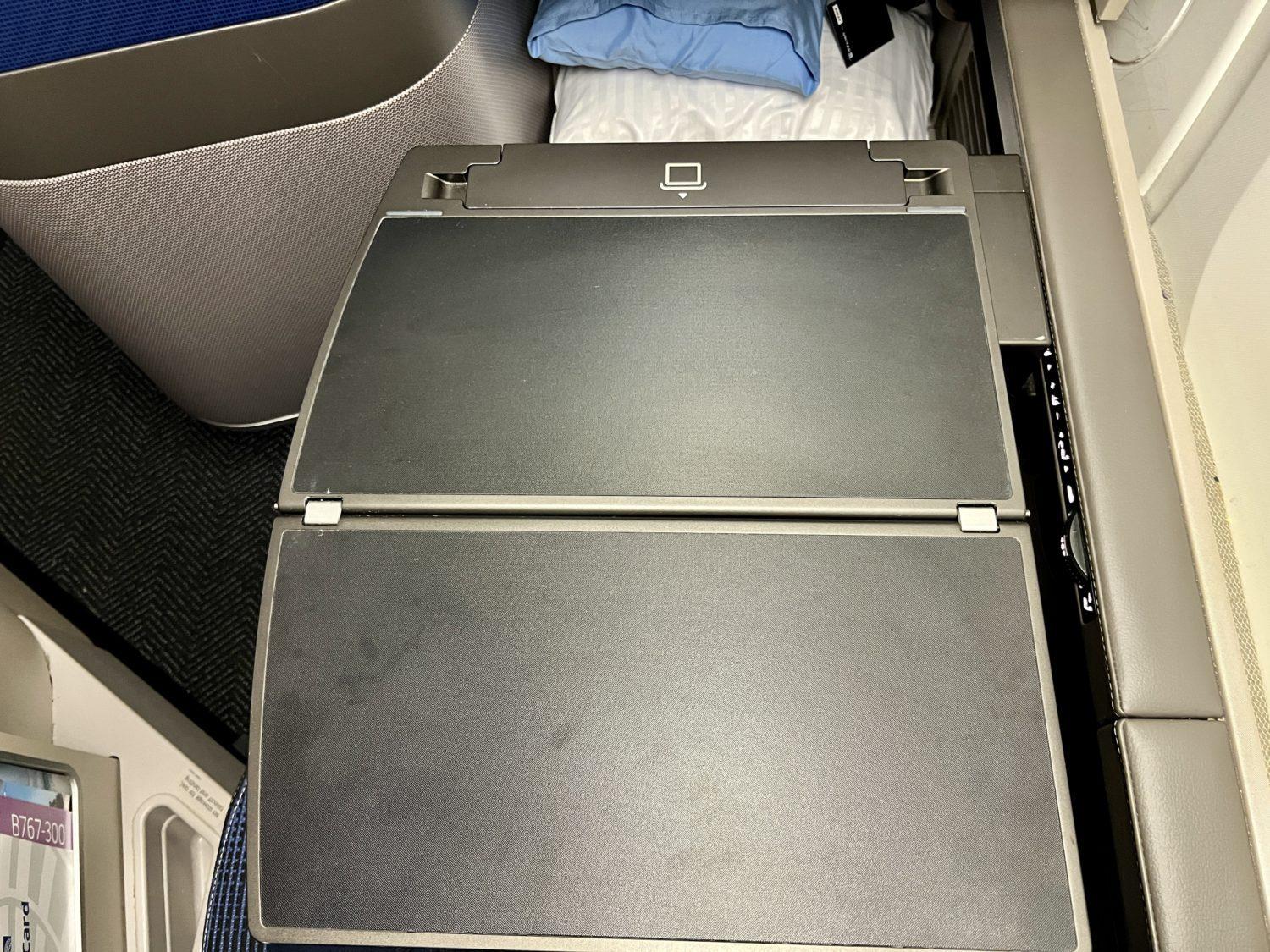 Each seat has a thin armrest along the windows, under which you'll find a handy set of controls to control your seat as well as lighting. I can't tell you why, but I really like the wheels you can use to recline or bring your seat back upright.

On the other side of the seat you'll find a more substantial armrest, which can be raised and lowered – a nice touch to give yourself a bit more space when laying down. It also doubles as a handy literature pocket. There's also a small compartment here, perfect for stashing a bottle of water.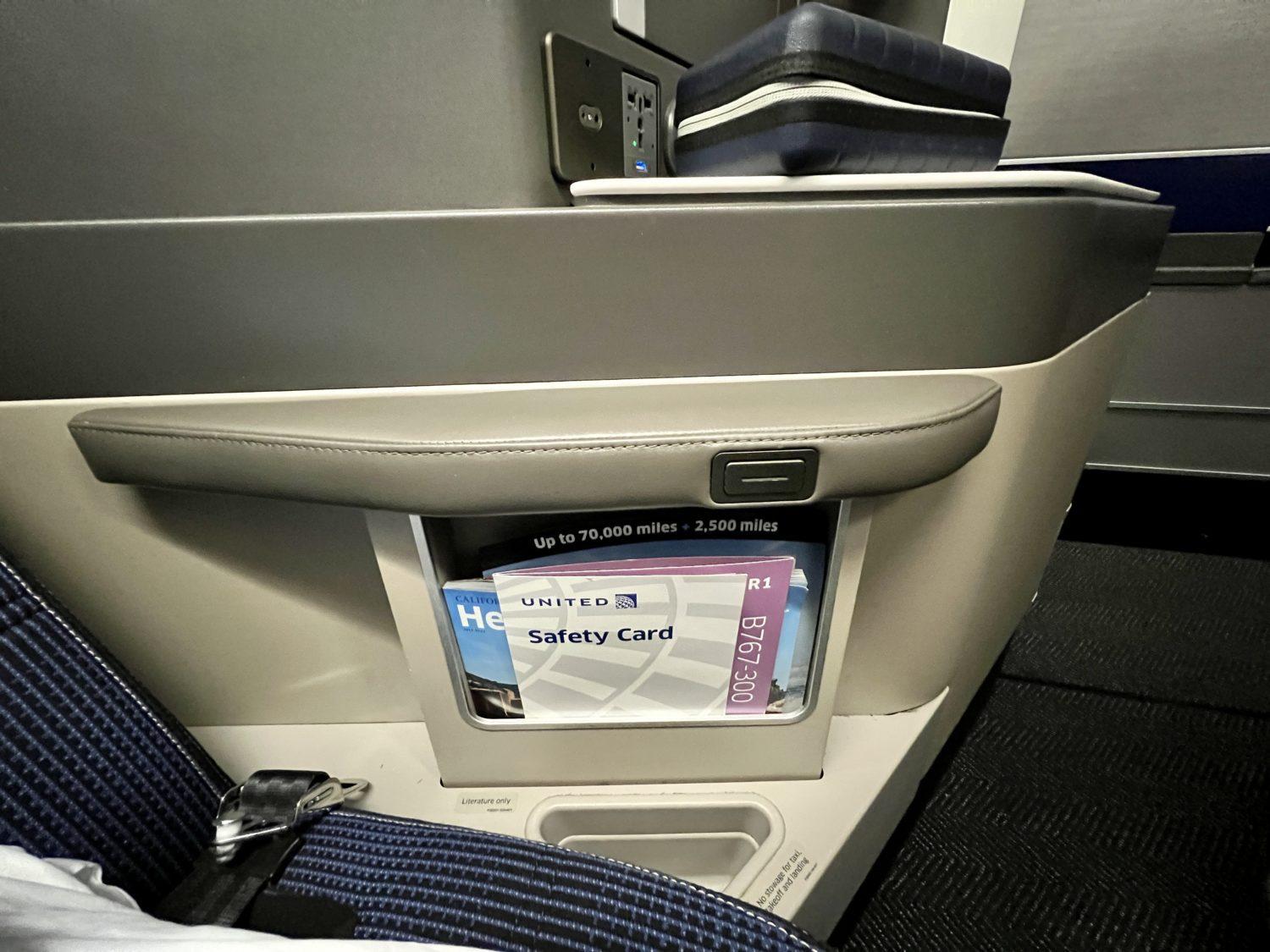 But the storage goes far beyond that, and it's quite impressive. It starts with the sizable faux-marble console table, which is more than large enough to rest a laptop – or, in my case, a drink.

Built into this large storage console along the aisle, you'll also find a handy reading light, headphone jack, universal charging along with a USB socket, and a wired remote for the in-flight entertainment.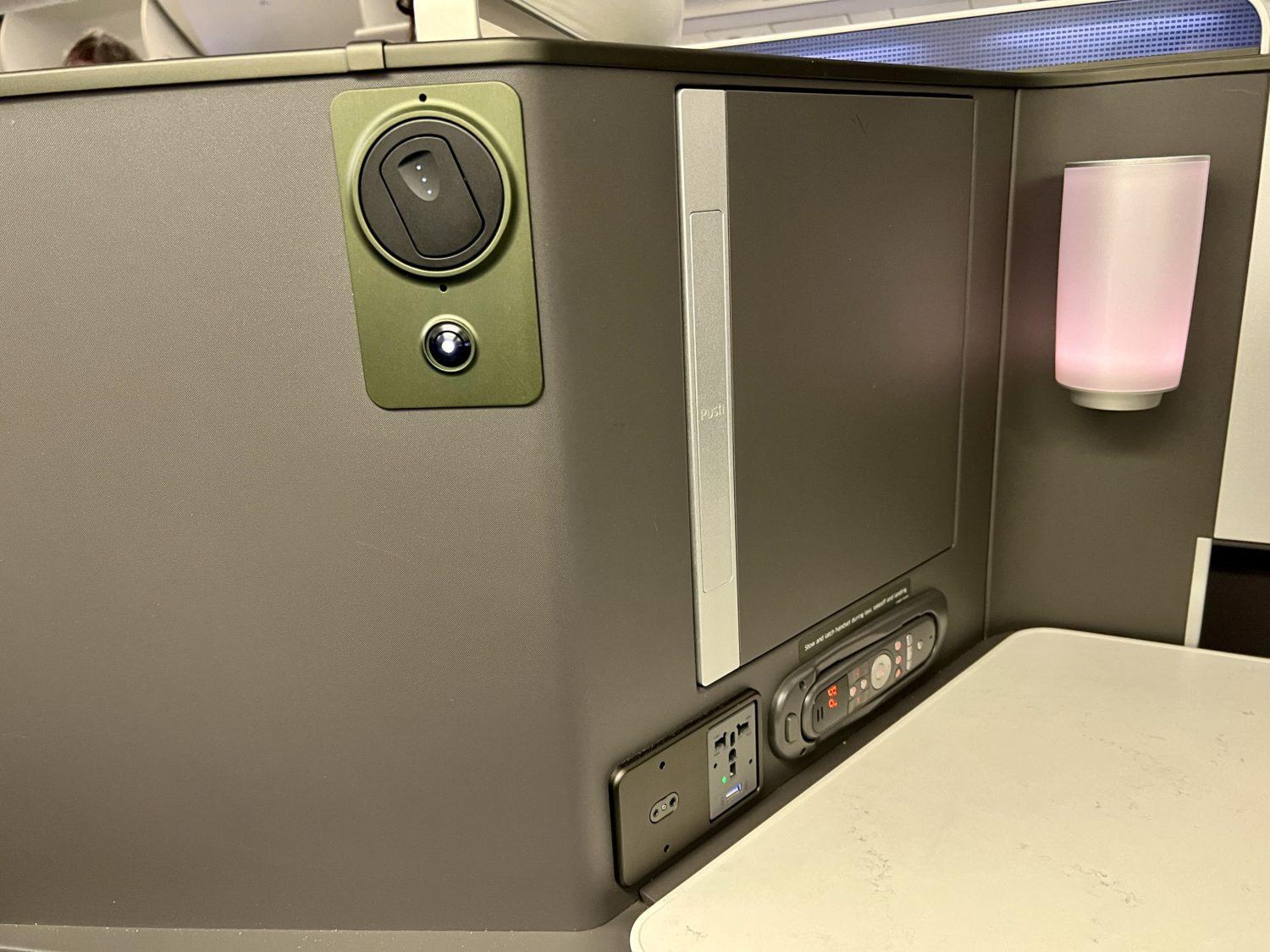 And then there's the storage cubby itself, which pops open with a (sometimes almighty) push. It's a fairly sizable compartment, capable of storing a water bottle, amenity kit, wallet, and a few other items. It's also where United hangs its business class headphones – plus a small mirror on the door.

At the front of the seat, there's the customary coat hook built into the shell of the seat. Does anyone actually use these?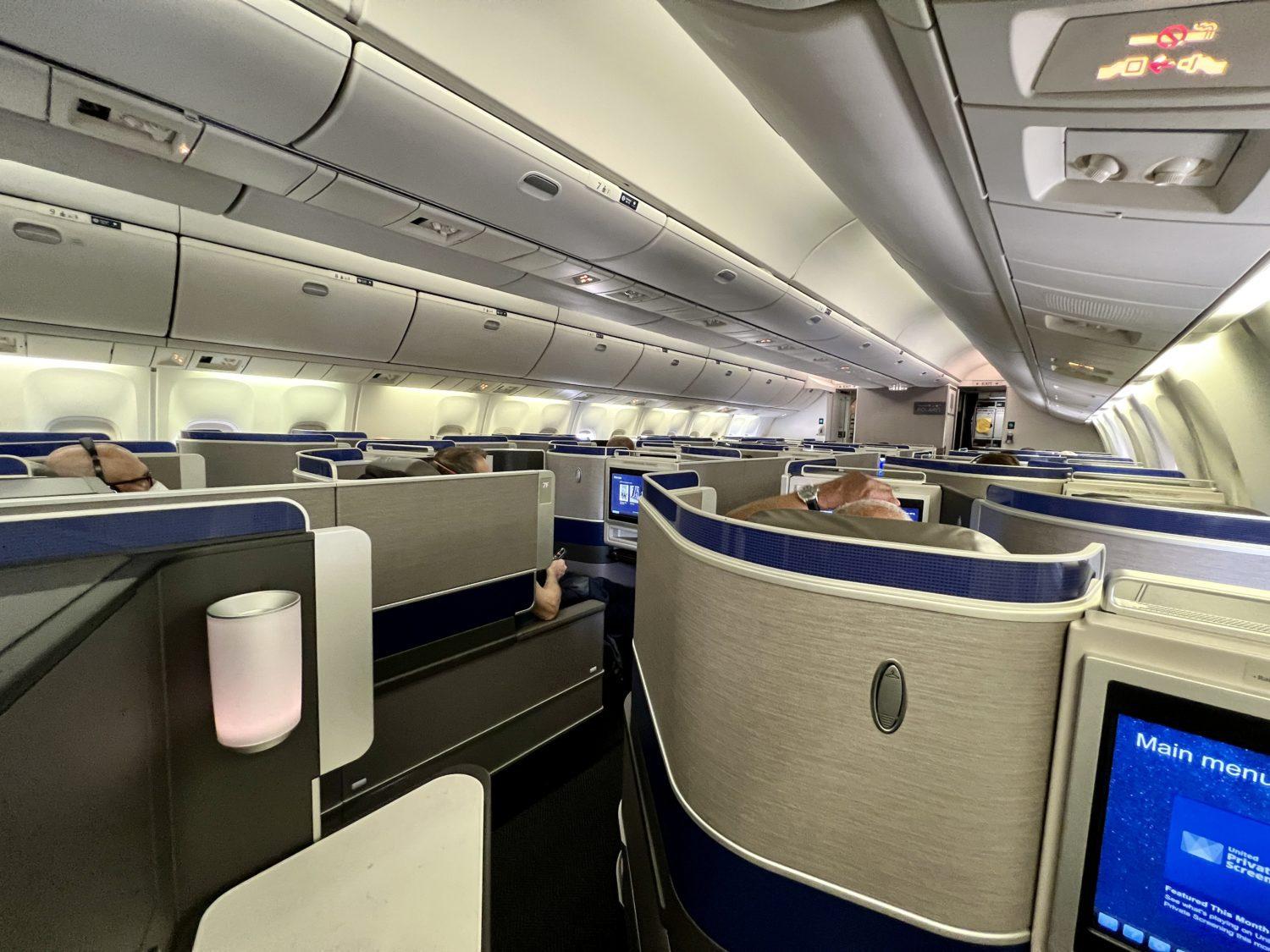 And underneath the monitor at the front of the seat, there's yet another shallow but useful storage spot, a good spot to stow a phone or passport. There's also yet another USB port to charge your devices here.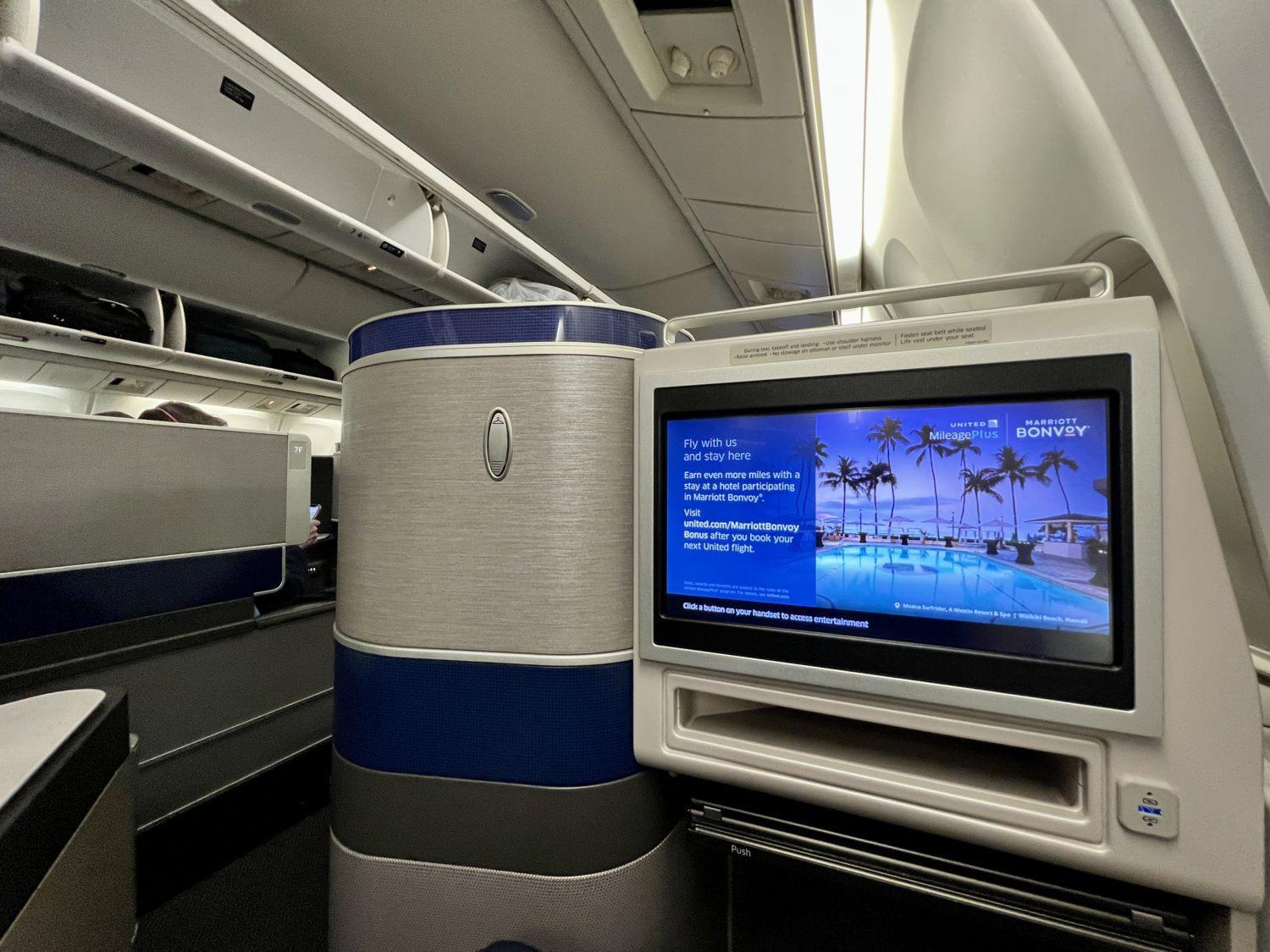 Finally, there's the footwell at the front of the seat. The footwell itself is fairly decently sized – not the biggest nor the smallest I've ever seen, with plenty of room for all but the tallest, largest-footed travelers.

And directly underneath this, there's one last storage spot. It's not quite large enough for bigger backpacks, but I'd imagine a slim laptop bag or purse could fairly easily fit under here.

What's that overhead? Rejoice: Air nozzles! One of the saving graces of older planes like this 767-300 is that these dedicated air nozzles are almost a guarantee – and that's not the case on newer models. It kept the air moving on an otherwise warm flight.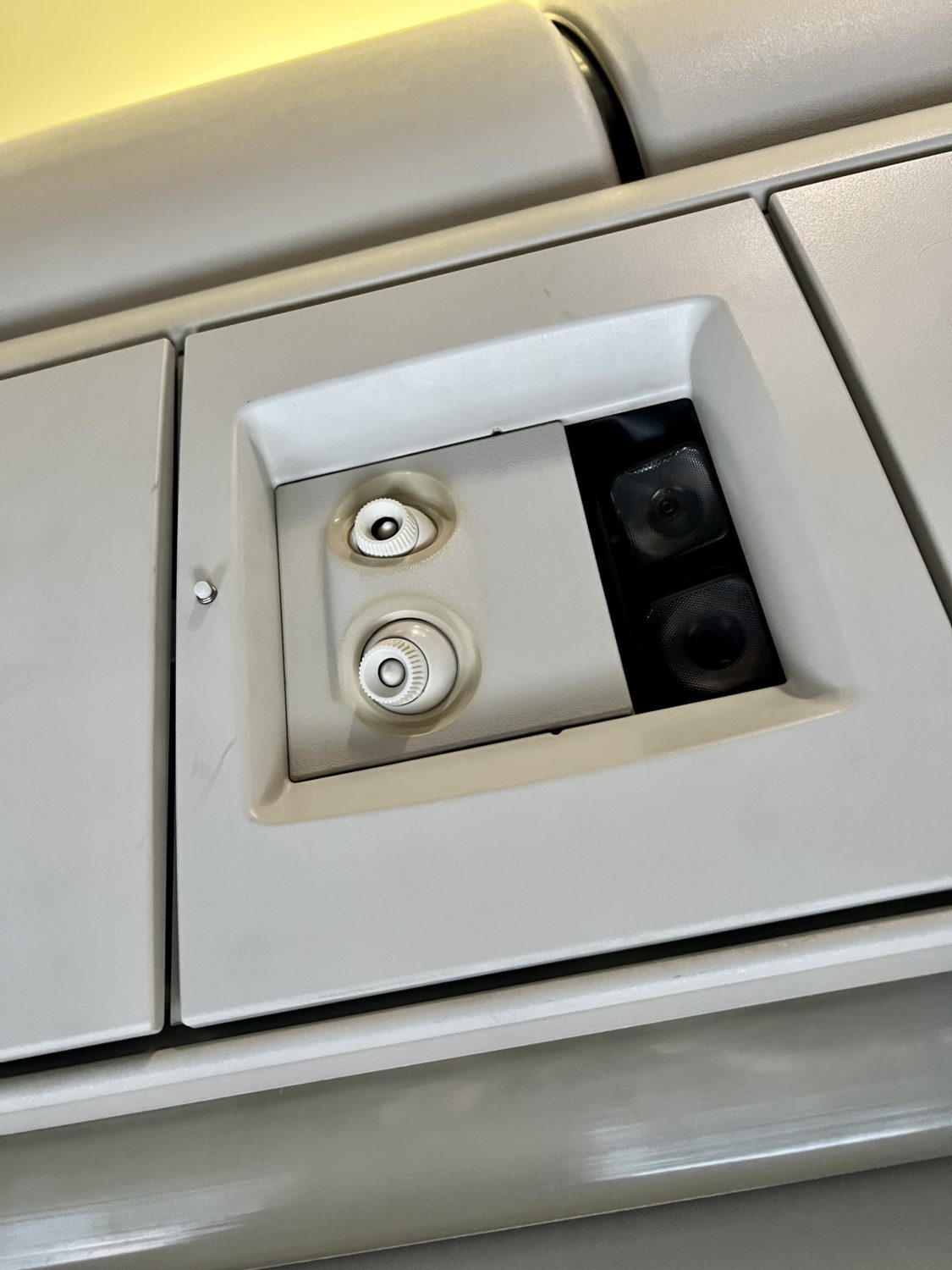 Reclining the bed back into bed mode was a cinch with the seat controls. But that might be where my praise of this seat ends…
Don't get me wrong, the sleeping surface is plenty comfortable – especially with the excellent bedding United provides, including a mattress pad (upon request) and Saks Fifth Avenue-branded duvet and pillows. But the space itself was another story.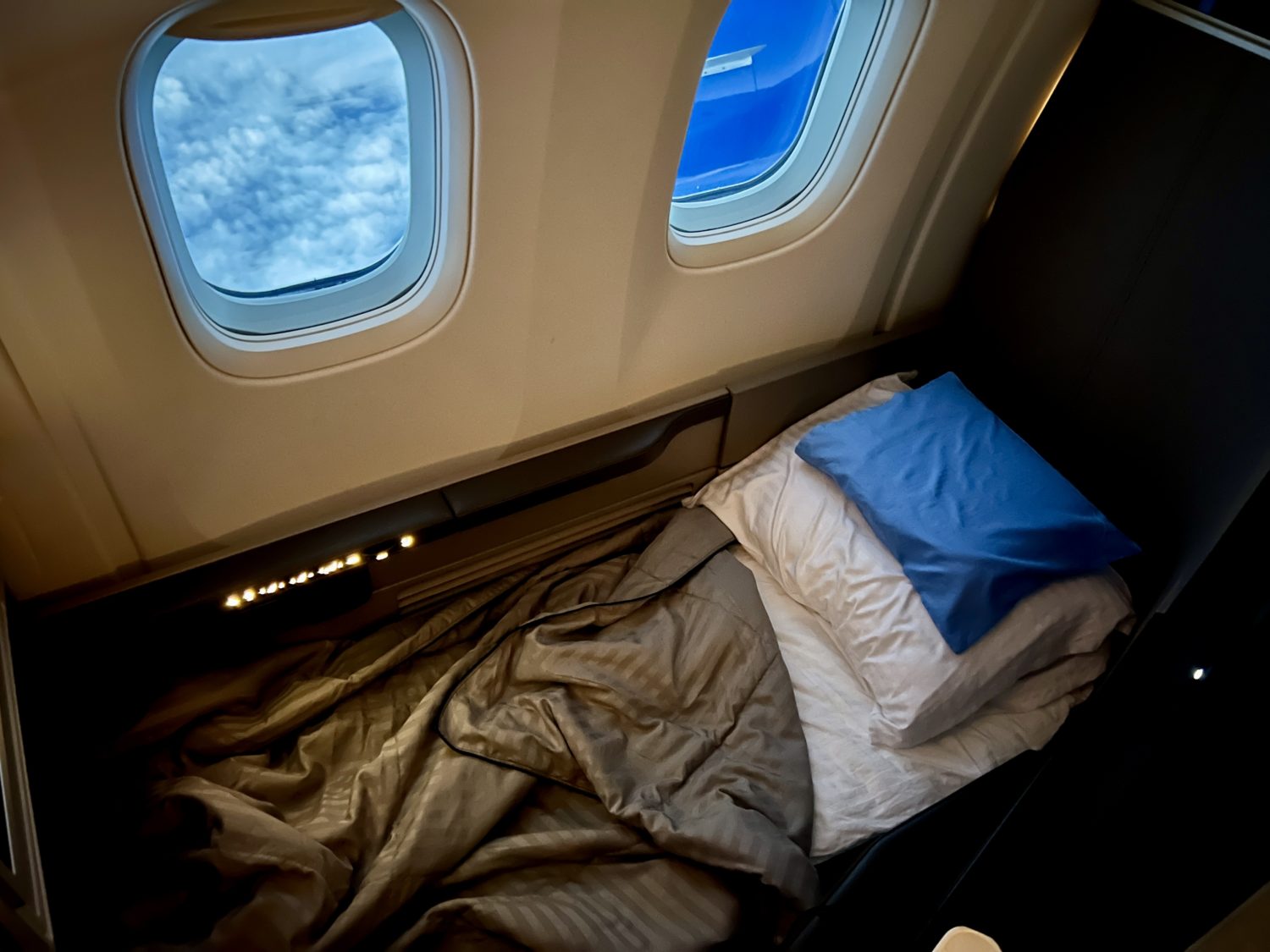 Sitting upright, I felt the seat was plenty wide. Laying down, it started to feel too narrow – especially as a side sleeper. While the footwell was certainly high enough, it extends so far into the seat in front that you're putting half (or more) of your legs inside. That meant I was constantly knocking my shins on the sides of the seat while shifting around to get comfortable.
Amenities
United Polaris absolutely knocks it out of the park when it comes to extra goodies – with one glaring exception.
My seat was filled to the brim with almost everything I needed upon boarding the plane.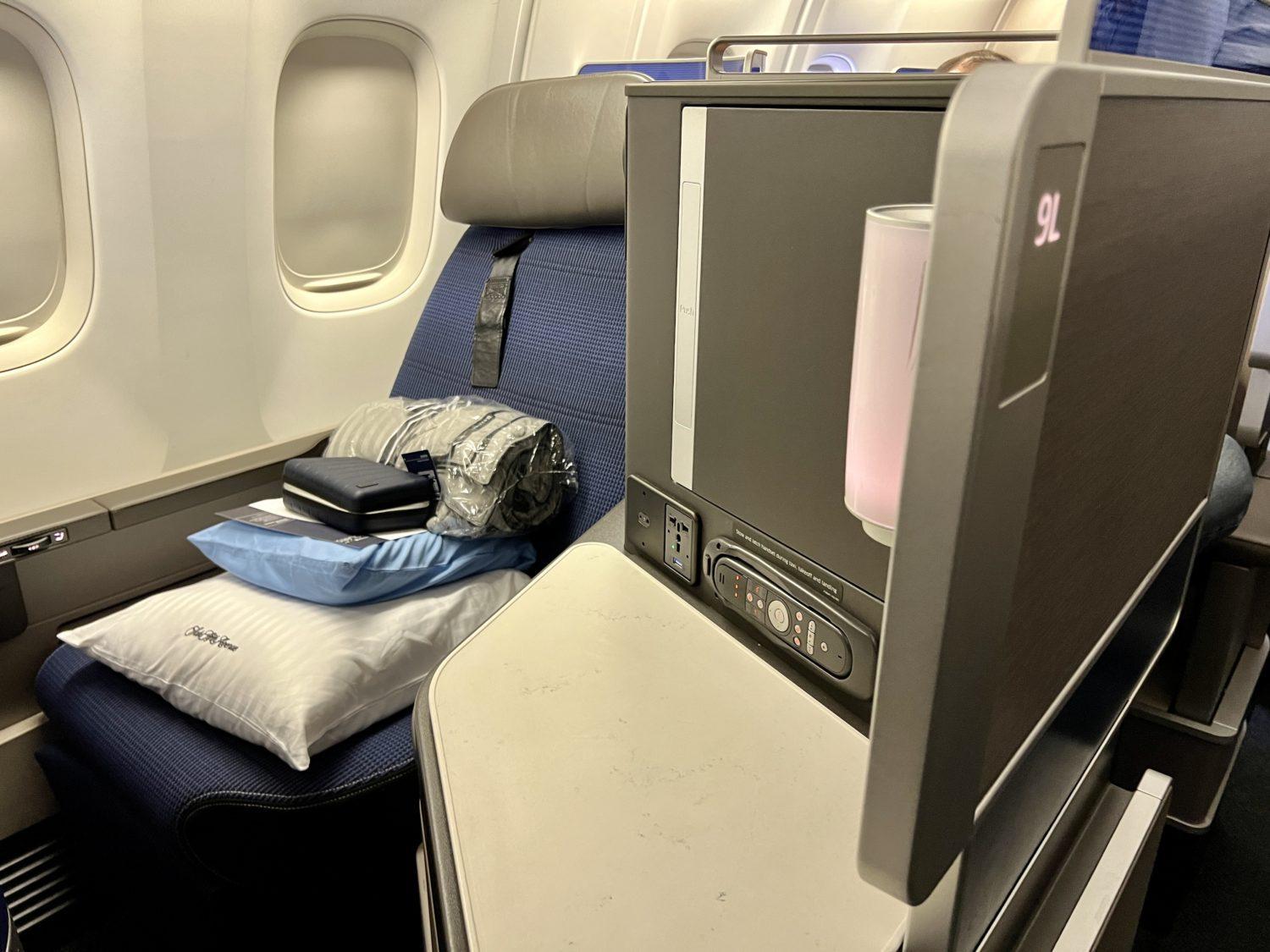 The Saks-branded bedding is easily some of the best I've ever used on a plane – not just among U.S. carriers, but across the globe. That includes a substantial pillow and a perfect duvet: not too thick, not too light. United also offers what it calls a "gel cooling pillow" to each passenger. It might sound like a novelty, but it's fantastic.
Compared to other, even five-star airlines that offer flimsy pillows, United stands out. There are also dedicated mattress pads available, but only upon request. They're thin but certainly add some extra padding. There were no slippers nor pajamas available, but that's not to be expected on these relatively short hops across the Atlantic.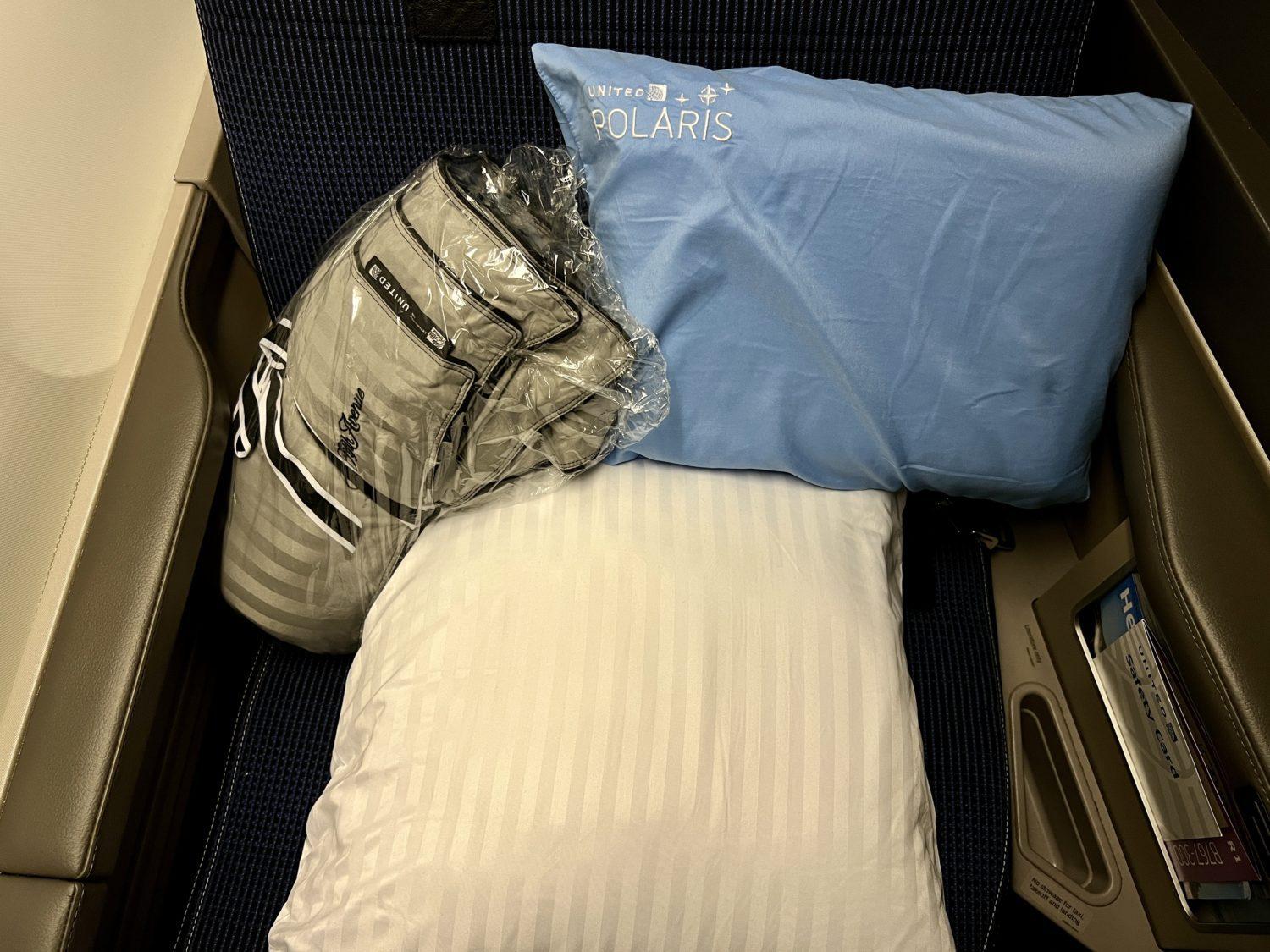 United also recently launched a brand new amenity kit, pairing up with fan-favorite luggage brand Away. No doubt about it, these little kits are darn cute.

The contents were excellent, too. Inside, you'll find a pair of socks, a pen, eye mask, tissue papers, dental kit, ear plugs, and some high-quality face lotion, hand cream, and lip balm from Sunday Riley.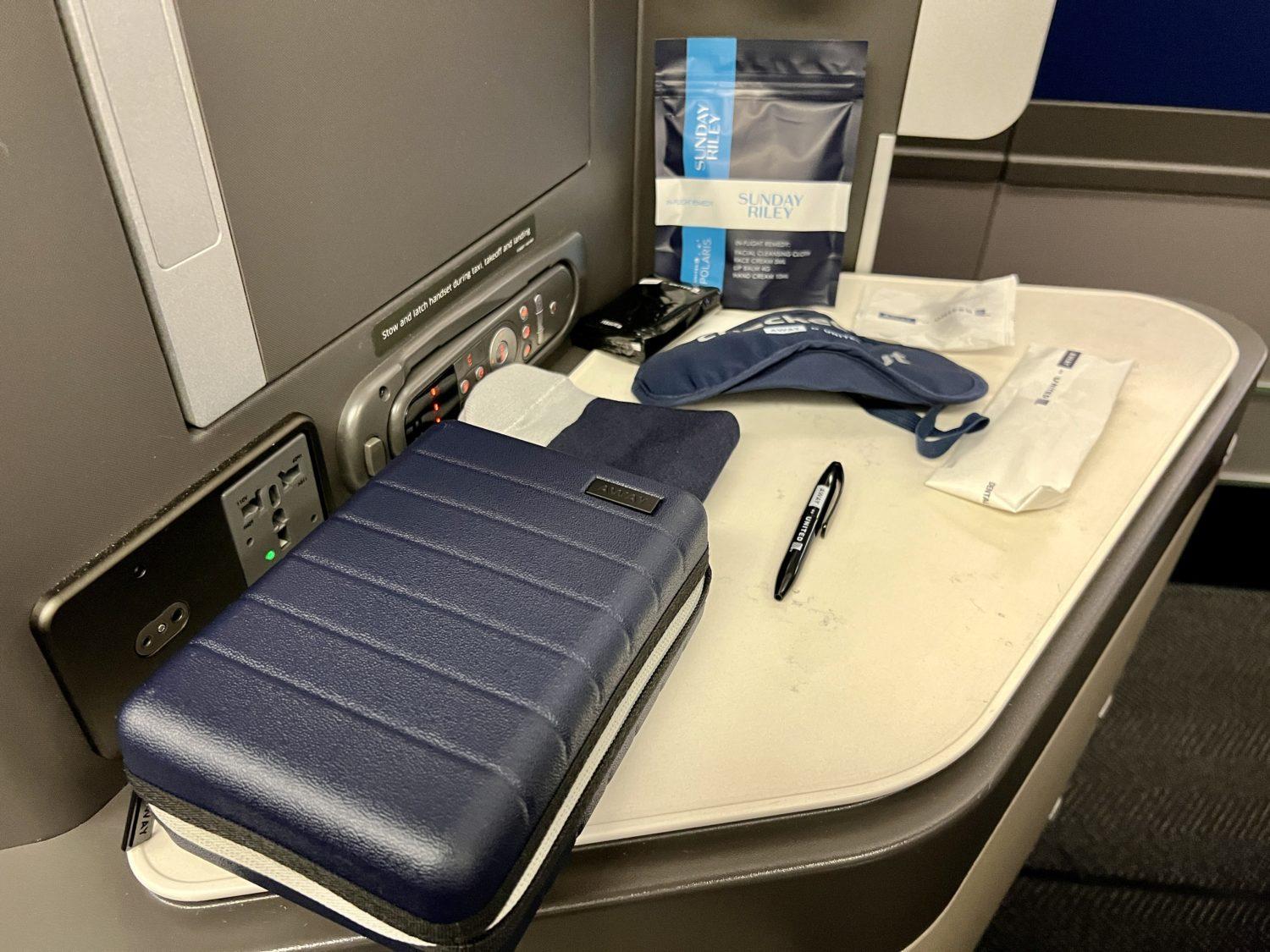 For as great as these amenities were, the headphones were … just bad. They're flimsy and feel cheap. They're not particularly comfortable, and the sound quality and noise cancellation is pretty poor.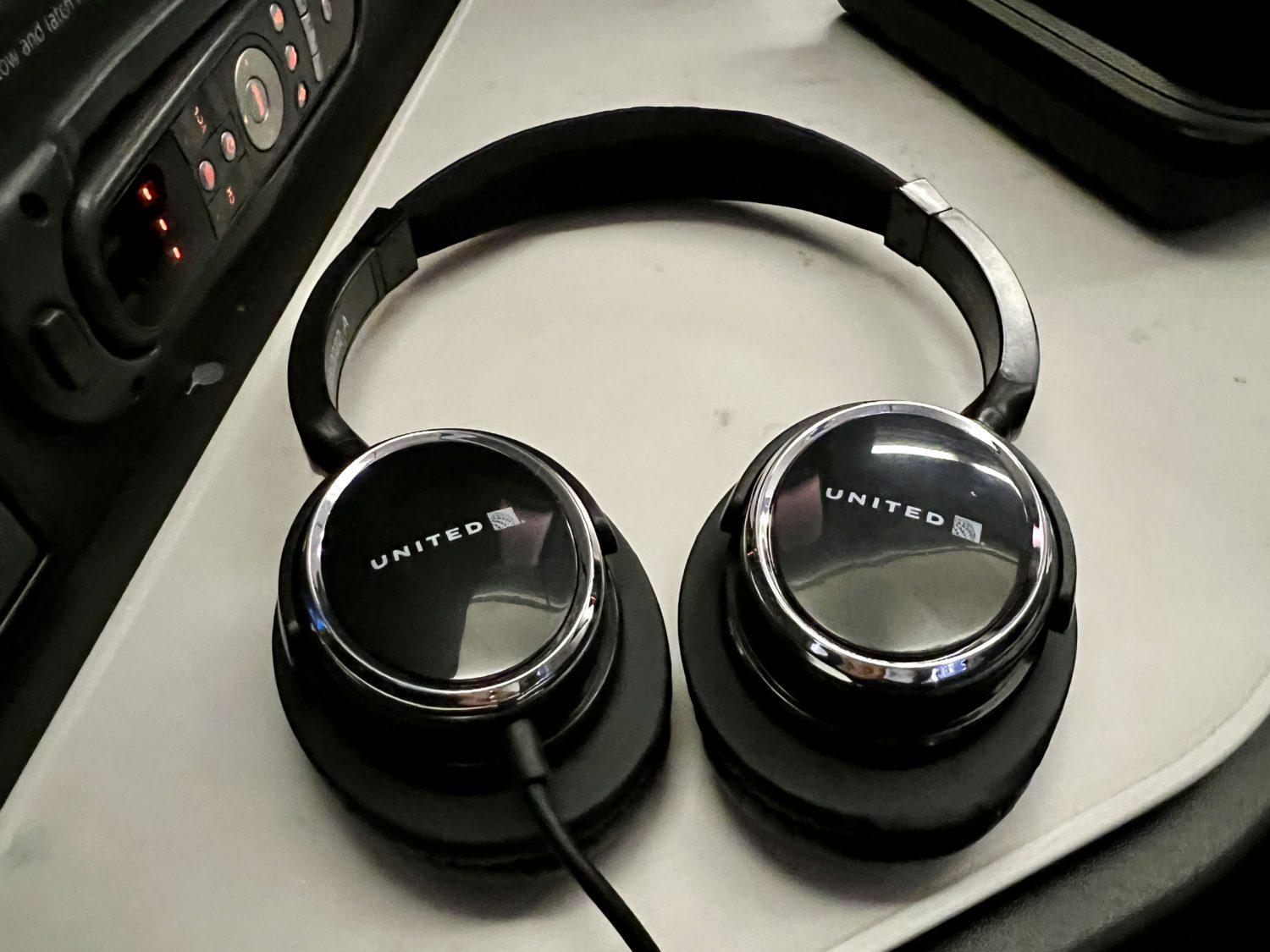 With a better pair of headphones, United Polaris would have hit an absolute grand slam on the amenity front. As it stands, it was more like a solid triple.
And that's still quite good – better than you'll get on most airlines.
Service & Dining on United Polaris
From the moment I walked on board, it was clear a London-based crew was working the flight. But even their cheeky humor and warm service wasn't enough to save United from its lackluster dining.
But let's start with the positives. The service was great and quintessentially British – a big step up from some of the U.S. crews you'll get on United and other carriers. The flight attendant working my aisle, Federico, was excellent: warm and funny, quick to crack a joke and a smile, and even quicker to offer refills of water, champagne, or coffee. Every flight attendant I interacted with was a pleasure.
One of those Cheeky brits came by soon after boarding with a choice of water or sparkling wine before takeoff. Another returned minutes later asking cheerily "Will you be joining us for dinner?" requesting both my first choice for a meal as well as a backup.
Dinner service kicked into action about 40 minutes after takeoff. Federico came by to set my table with a nice blue tablecloth and then take pre-dinner drink orders. He returned just a minute later to drop off a ramekin of warmed nuts and a glass of water along with a flute of champagne: Nicolas Feuillatte, which is quite nice.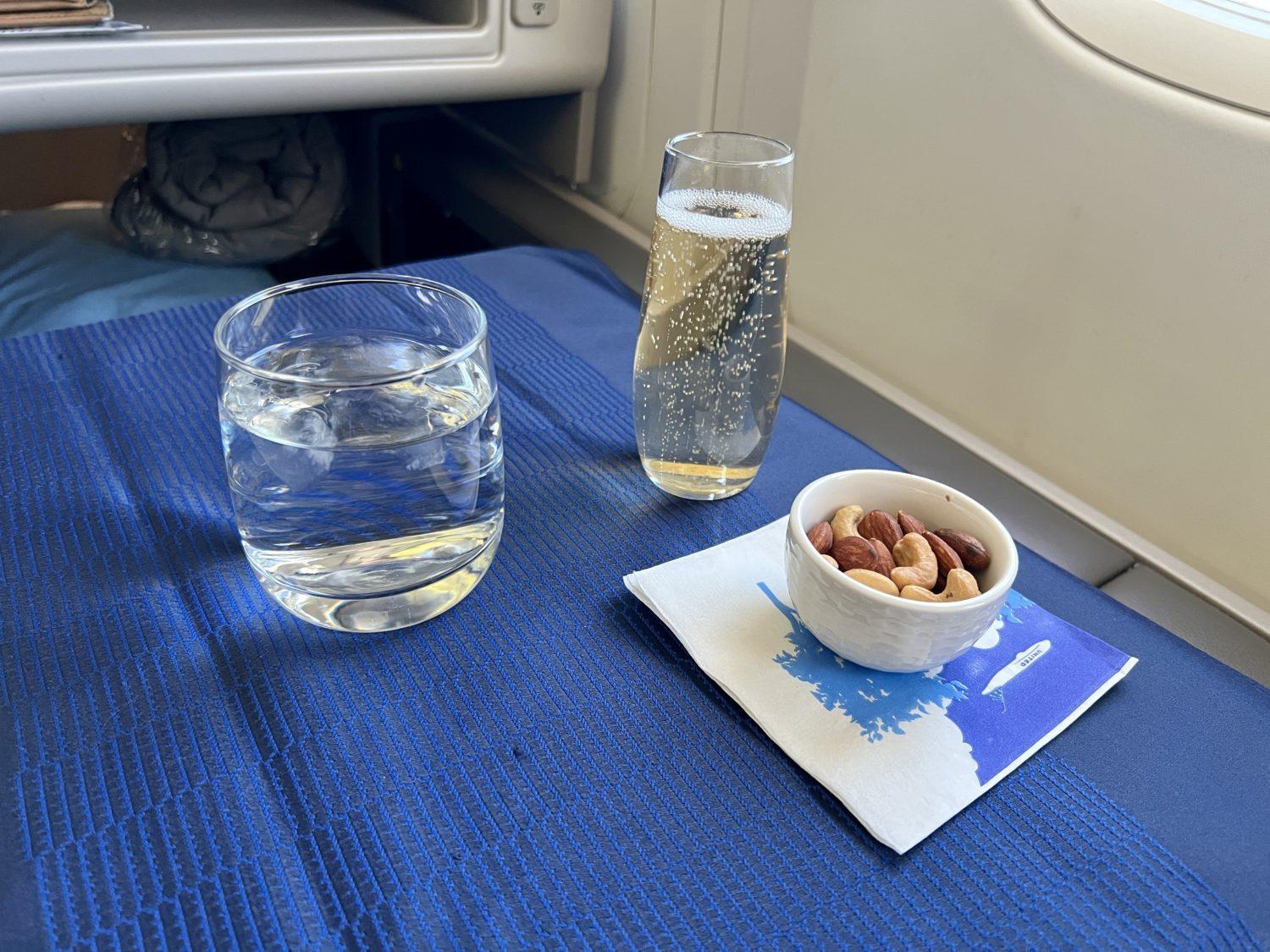 United doesn't have a full wine-and-drink menu, but they have brought back paper menus for dinner and breakfast service to scope out your options. Here's the list for my flight – and what you'll find on almost any long-haul United Polaris business class flight these days, for that matter.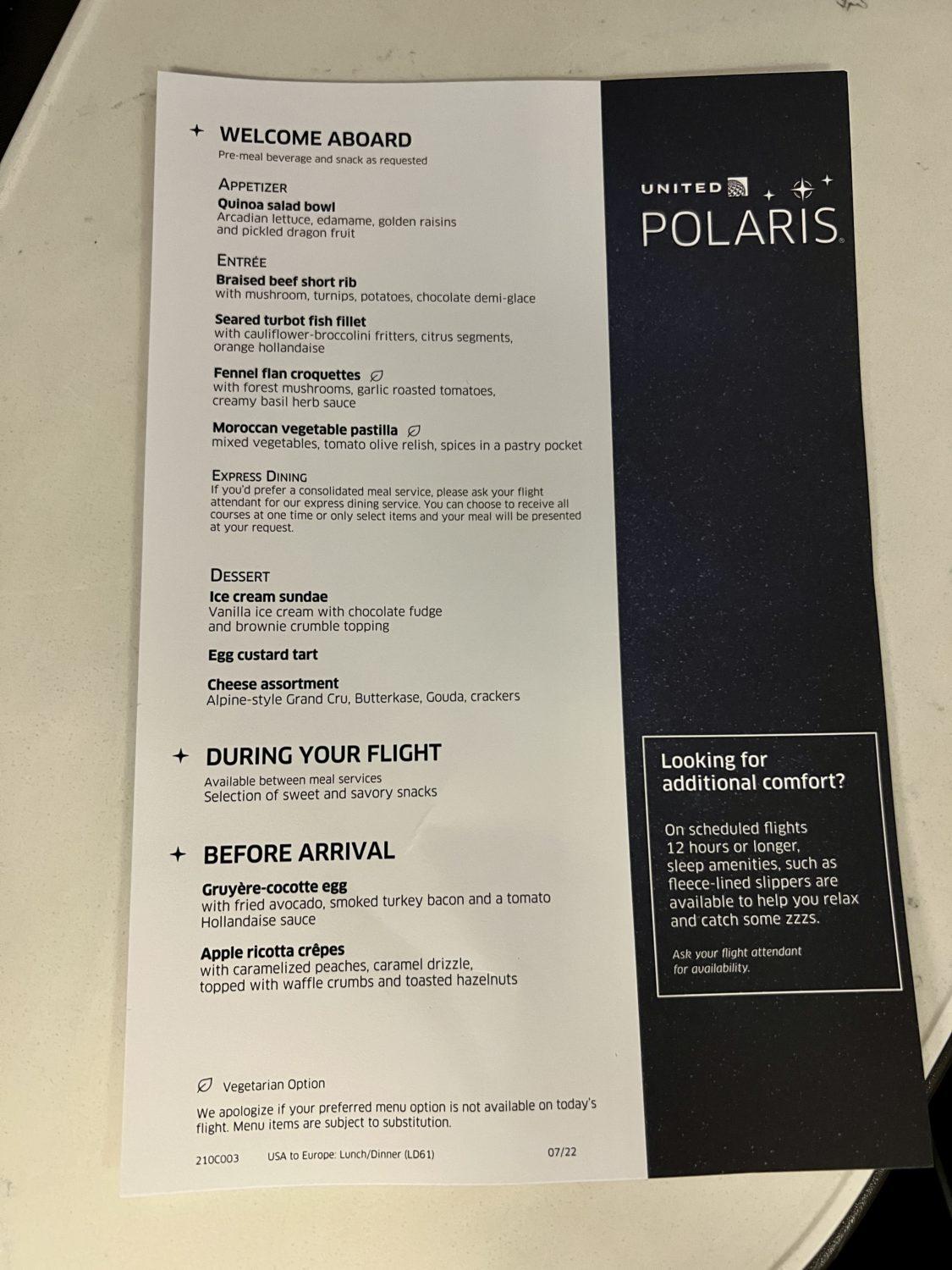 I went with the seared turbot fish fillet, and that's just what I got. Dinner was serve at once all on one tray.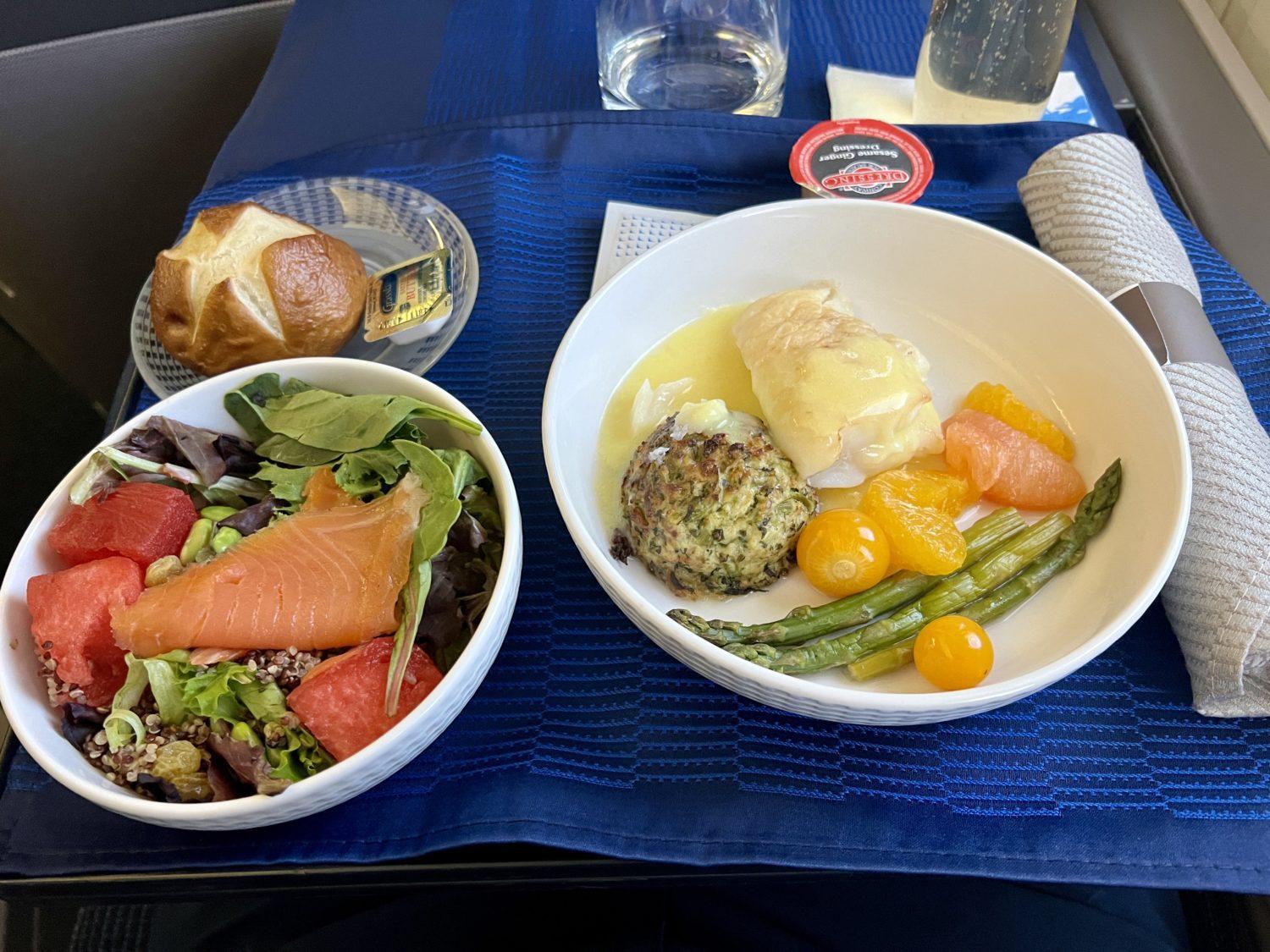 Let's start with the salad … because it was just strange. Quinoa and lettuce? Sure. Watermelon? Ok… Throw some smoked salmon and raisins on top? Wait, what? What are we doing here? The ingredients all tasted fine, but that's all it was: ingredients. The sesame ginger dressing was delicious, but not delicious enough to save a truly maniacal concoction. I'm still puzzled.
There was a slightly warm and entirely tasty pretzel roll to go with it.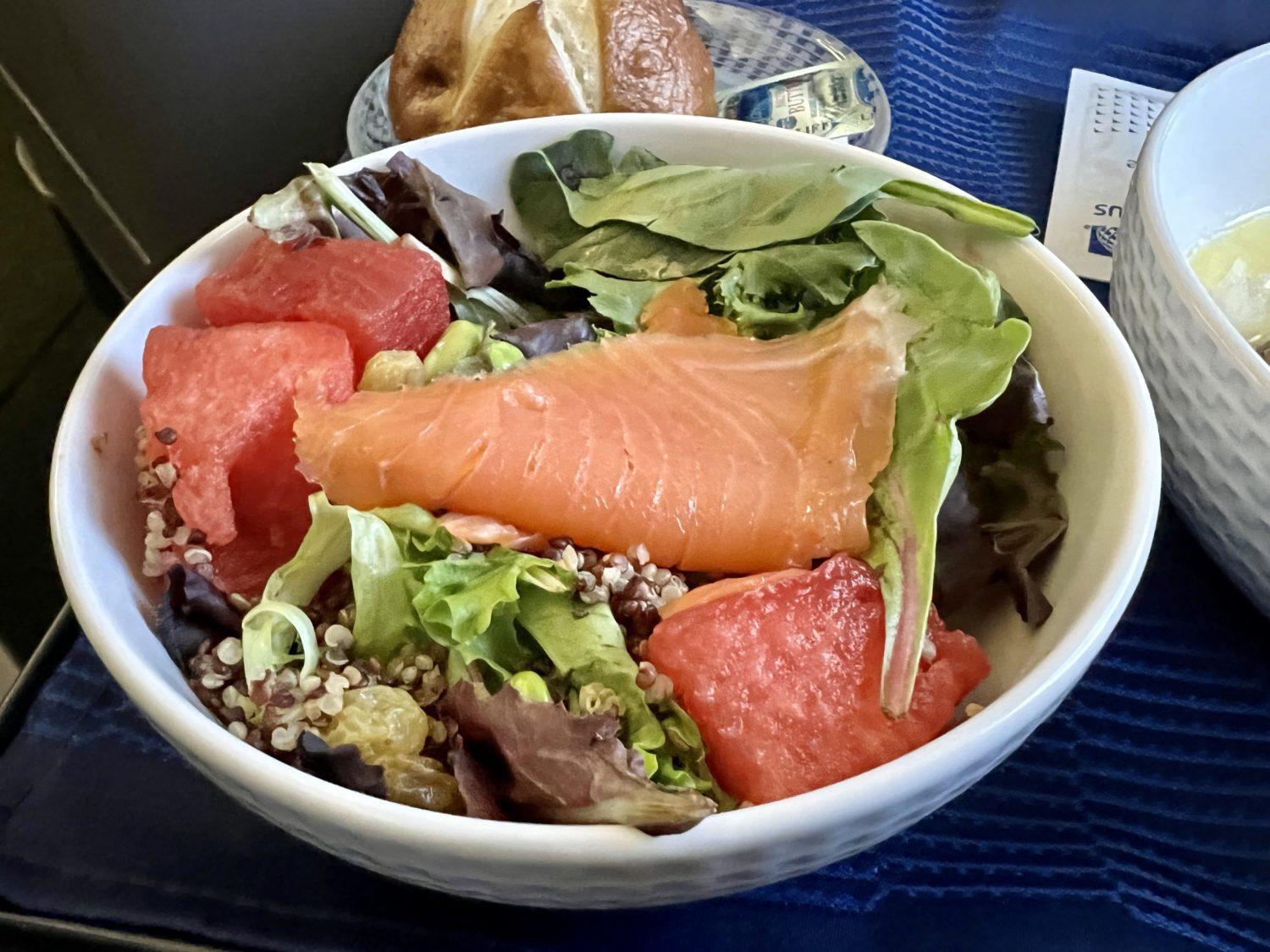 The entree was better … but not by much. The fish itself was cooked well, but the orange hollandaise didn't save it from being bland – only salt could do that. The same goes for the lump of what United called cauliflower broccolini fritters. Warm slices of mandarin oranges and grapefruit were not a complement but a distraction. And the asparagus was cooked beyond all life, shape, and flavor.
I've shook my head in disbelief while eating at 35,000 feet, amazed that some airlines can crank out such high-quality meals at altitude. During dinner on United Polaris, I was shaking my head … not in disgust, but just in confusion.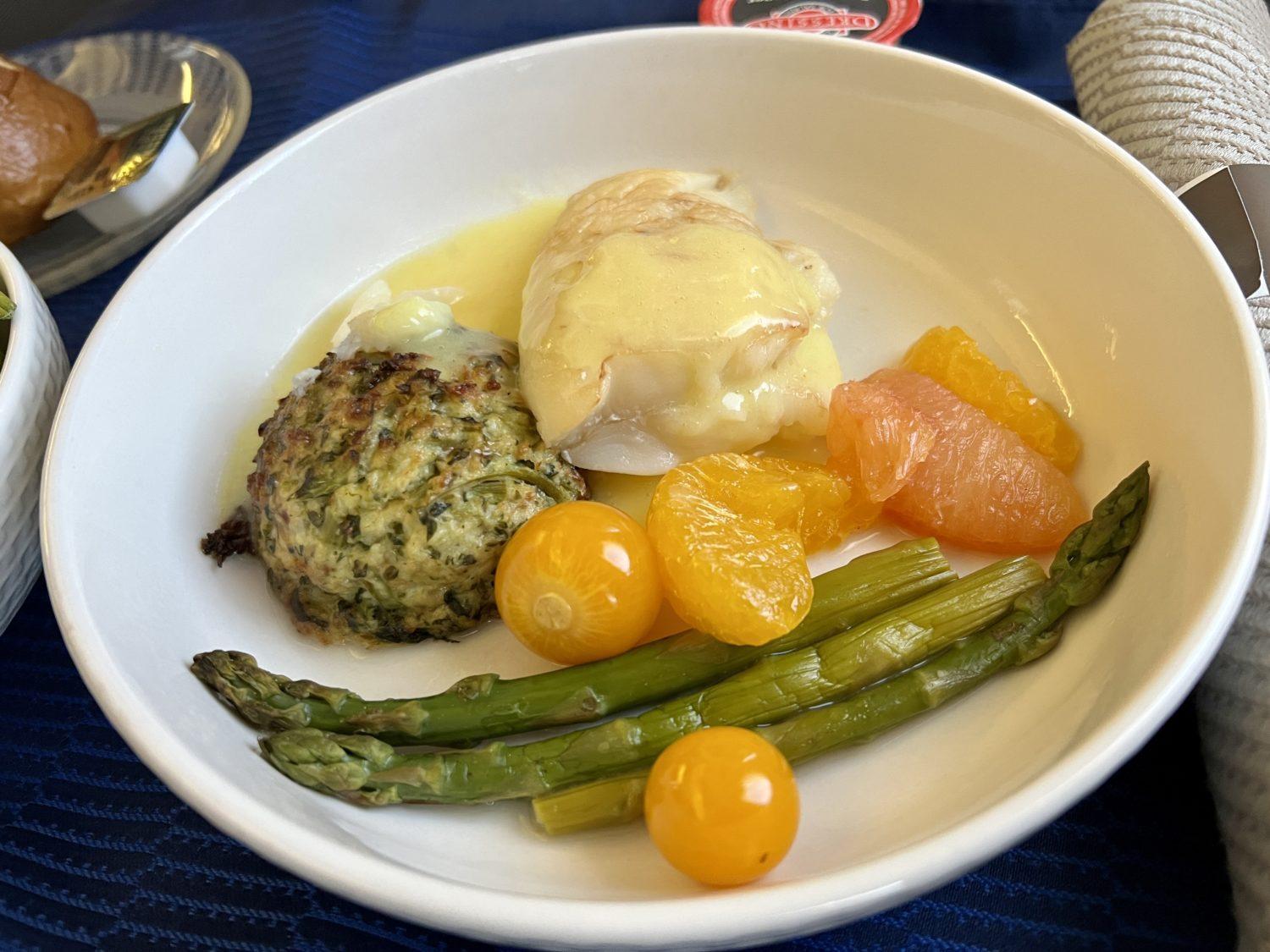 Look, it feels wrong to be this harsh. It was all certainly edible, and all a step up from what you'd get back in economy. I'm always grateful for any meal on a plane, even a decent one. But decent doesn't cut it when you're spending thousands of dollars or tens of thousands of miles on flights. These are the things that set apart great business class flights from the merely good ones.
Other airlines have clearly bounced back from COVID-19 cutbacks much faster (and further) than United has. The seats and and amenities flying United Polaris business class are good as ever. The food has a long, long way to go.
Fortunately, dessert was a simpler and tastier affair. I love that United flight attendants come through with a tray of all three options so you can really scope out what you wanted: an ice cream sundae, a Portuguese egg tart, and a cheese plate. I asked for the cheese plate but a flight attendant insisted I take something sweet, too.
The custard tart was great but couldn't hold a candle to the best of the best in Lisbon. And the cheese plate was just fine, though the cheeses were a bit too boring to hold up well at altitude.

The lights went down as the flight attendants made their final rounds for desserts and after-dinner drinks. United offers some snacks through the remainder of the flight, though I passed.
After a few hours of sleep, the cabin lights came back up with about 90 minutes to go into London. It was time for breakfast, and unfortunately, it regressed back to the mean.
I ordered the "Gruyere-cocotte egg," which, on paper, consists of a fried avocado, poached egg, smoked turkey bacon and a tomato hollandaise sauce. In practice, it was a fairly mushy avocado coated in breadcrumbs, a limp slab of turkey bacon, and a puck of overfried egg. But the yogurt parfait was light and fresh, and the coffee was hot!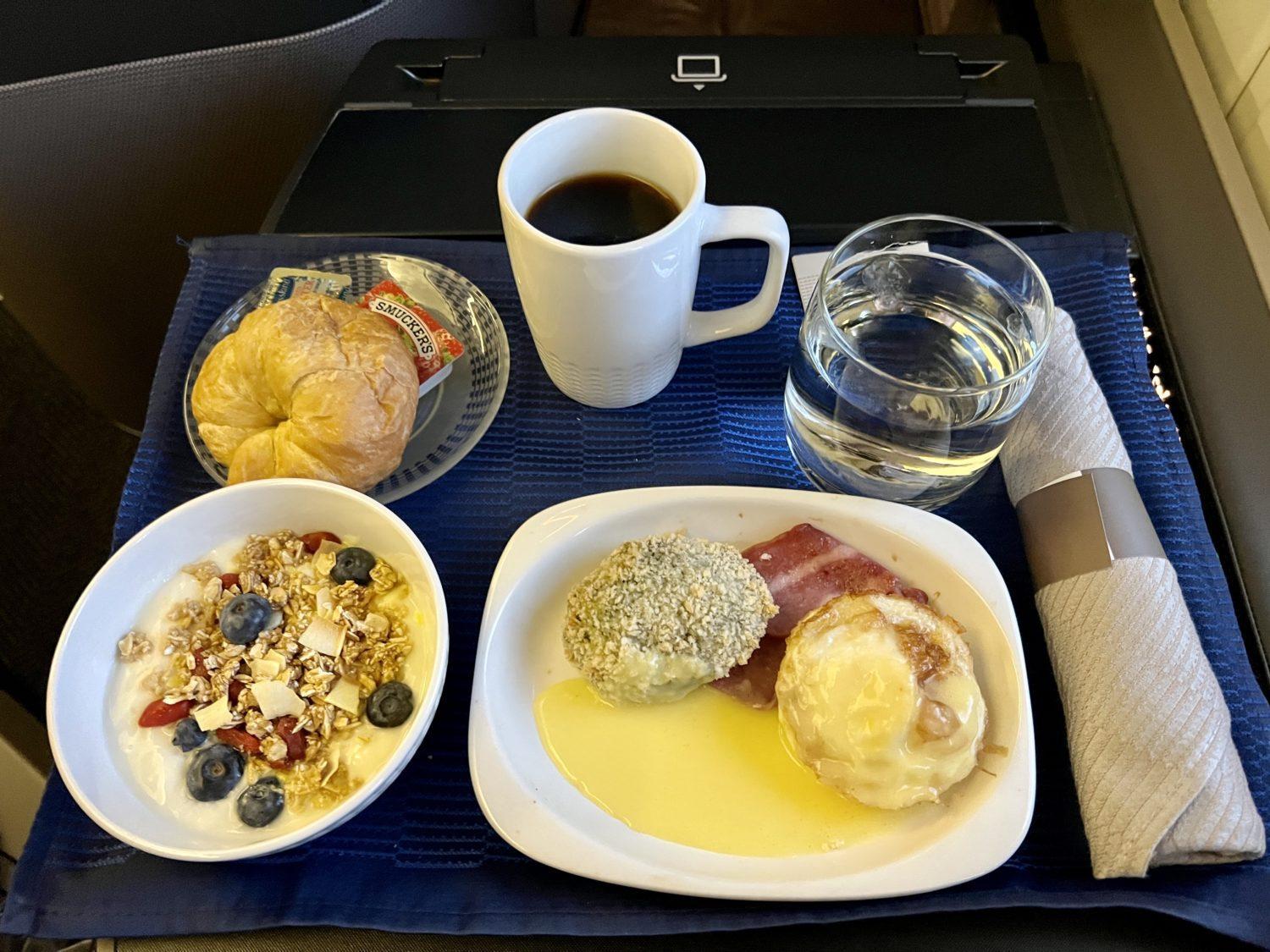 In all, the food was the weakest part of this United Polaris business class flight – and it wasn't even close. It's always a treat to fly in a lie-flat seat, with all the extra perks that come with business class. But until United steps it up on the dining flight, I probably wouldn't board a Polaris flight hungry.
Entertainment
The entertainment setup in United Polaris business class on the 767-300 is a mixed bag.
Let's start with the good: Every seat is equipped with a crisp, 15-inch HD touchscreen monitor. And it's loaded with entertainment options, including a huge selection of both newly released movies and some classics as well as plenty of TV episodes. Die Hard, anyone?

But personally, I found the interface to be a bit clunky. You can scroll through just four titles at a time. And the old-school wired remote doesn't help all that much. Still, it's a small complaint. You won't be bored on these flights.
Of course, there's also an inflight map you can use to track your progress across the pond.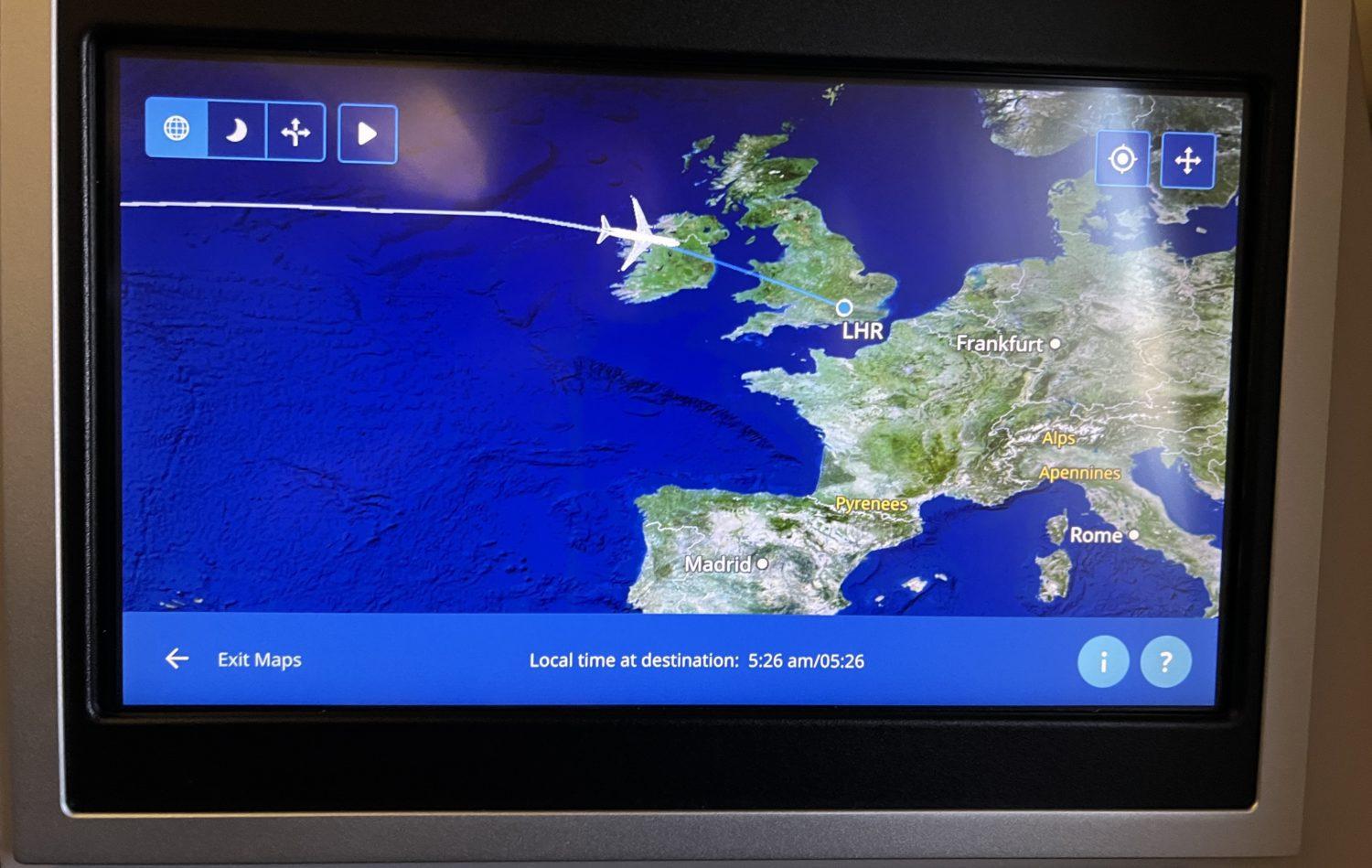 There's Wi-Fi available onboard, and it should be fast and reasonably priced whether you need to connect for just an hour or the entire flight. But since this was an overnight flight, I didn't bother logging on to scope things out.
But the best entertainment of all was making the approach into London-Heathrow (LHR). Seeing the London Eye, Big Ben, Tower Bridge, and other iconic spots all winding along the River Thames just out the window was a perfect way to end the flight.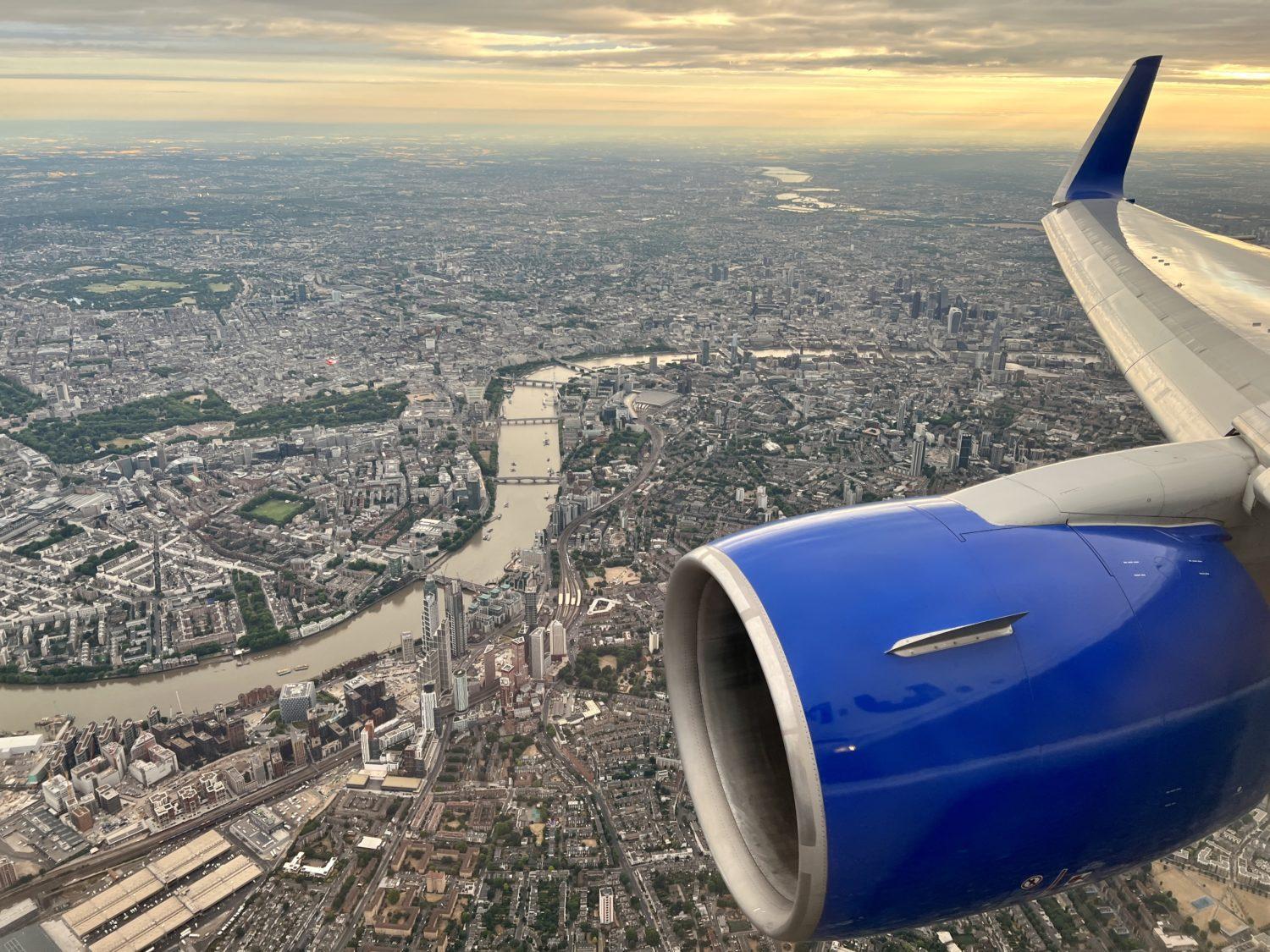 Bottom Line
United Polaris business class seats are great – at least these new ones, anyway. The amenities are truly world class.
But when you can get all that and more on other airlines, the subpar dining was a glaring shortcoming on this flight. I'd fly United Polaris again in a heartbeat … but maybe not until they've had time to spruce up their dining.