There are dozens of credit cards out there to accelerate your travels, but two are a cut above the rest: The Chase Sapphire Reserve® and the Platinum Card® from American Express.
These aren't introductory cards for the average Joe or Jane, but rather powerful weapons for the frequent traveler. And while the hefty annual fees may scare some off, they come with top-of-the-line perks that could make that easily worth it.
With travel bouncing back, it's time to put these two titans of travel rewards under the microscope again. Which card comes out on top? Which premium perks win out?
We'll break it down, category by category.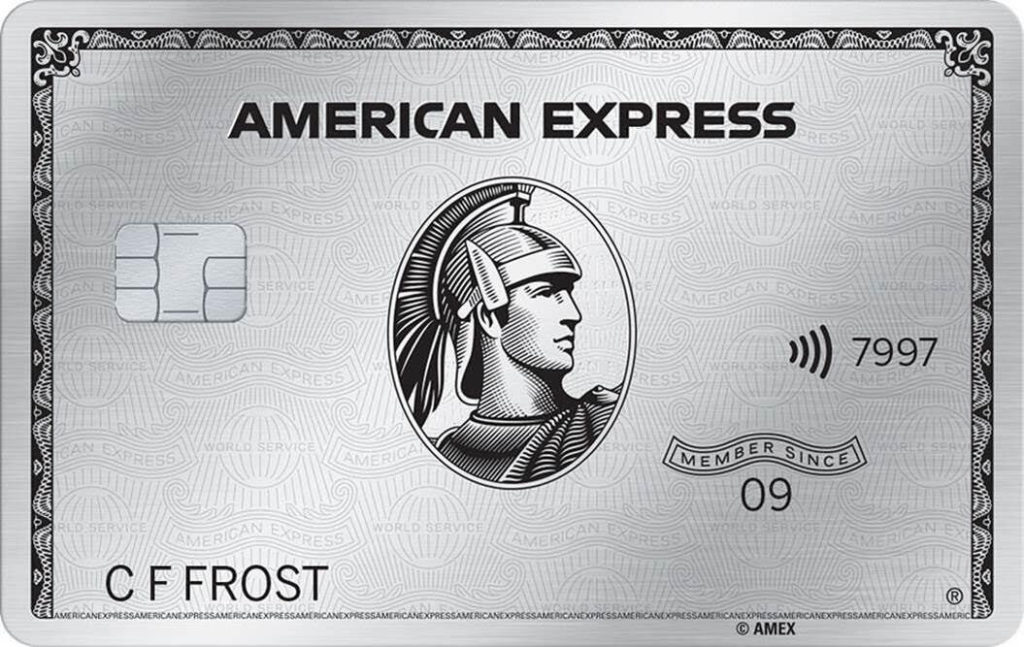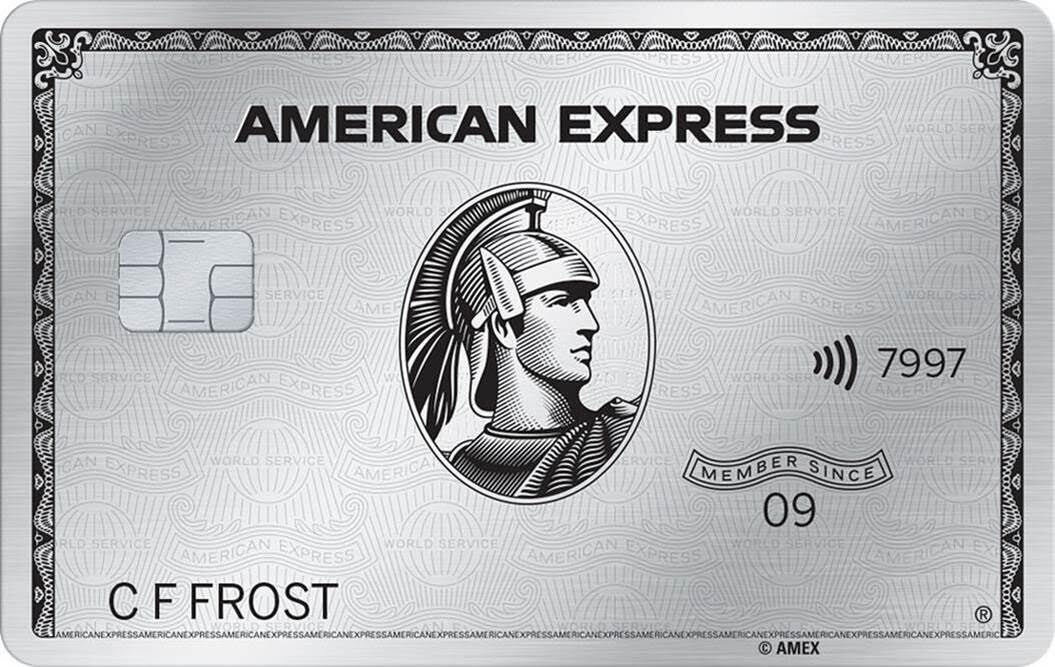 Click Here to learn more about the American Express Platinum Card.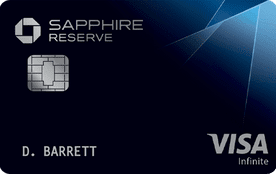 Click Here to learn more about the Chase Sapphire Reserve. 
Annual Fee
Let's get the sticker shock out of the way first. 
After a few years of clearly being the value play, the Chase Sapphire Reserve increased the annual fee to $550 in early 2020. And thanks to the Platinum Card's latest refresh, the annual fee is now $695 (see rates & fees).
Again, you shouldn't make a decision between these cards based on the fees alone. And if your eyes are popping at these big fees, remember to do the math before ruling out either card. As we'll lay out below, both cards come with an unbeatable set of perks that can more than offset the fees. 
But for now, the Sapphire Reserve is the clear winner.
Winner: Chase Sapphire Reserve.
Welcome Bonus
There's a clear winner on the main reason you may be considering either card: A big cache of points. 
Back when Chase launched the Sapphire Reserve card, it touted a 100,000-point sign-up bonus. But those days are long gone. Currently, you can earn a 50,000-point bonus after spending $4,000 in the first three months. A bonus of 50,000 Chase points is great, but that's lower than the current bonus available on its less-powerful sibling, the Chase Sapphire Preferred Card.
You won't find a more eye-popping bonus on the market than on the American Express Platinum Card. That starts with a welcome bonus of at least 100,000 Membership Rewards after spending $6,000 in six months. But you may be eligible for a 150,000-point bonus via CardMatch.
Winner: The Platinum Card from American Express. And it isn't close.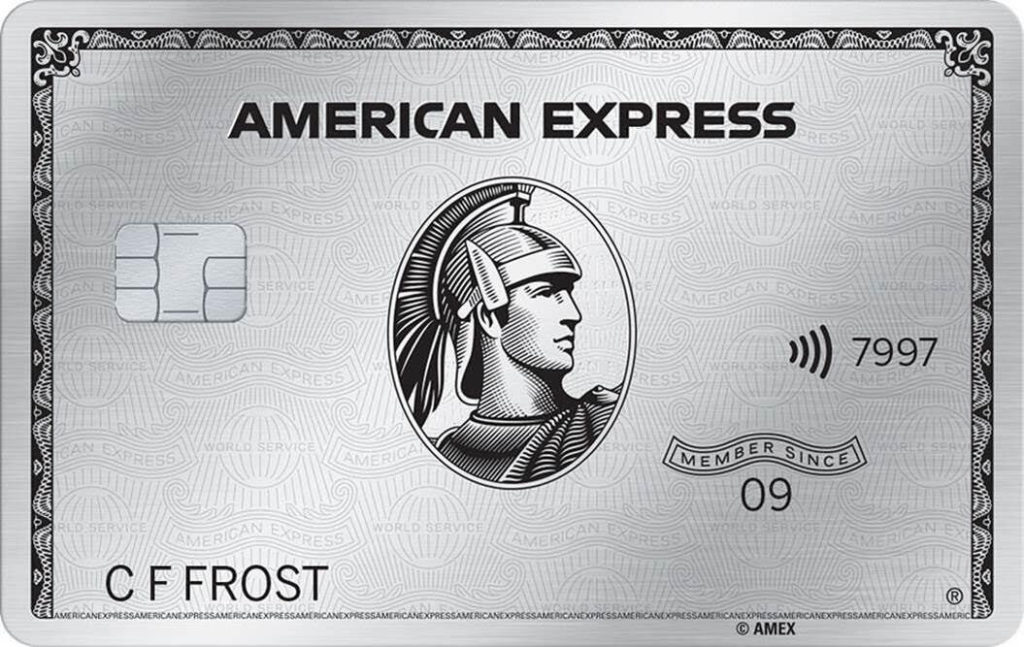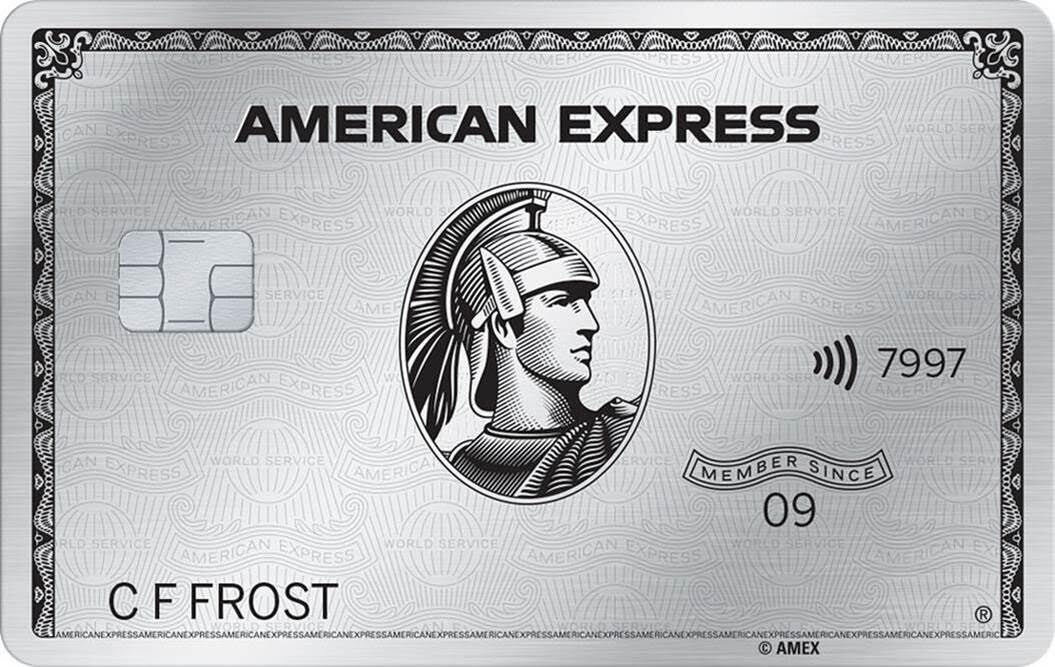 Bonus Earning
Of course, those big mileage bonuses are alluring, but both cards offer some alluring returns on ongoing spending. 
The American Express Platinum card gives you an unbeatable 5x points on airfare booked directly with the airline or through its travel portal. That's an easy way to rack up extra points if you travel frequently. You'll also earn 5x points on hotels booked through Amex Travel, the company's travel portal.
With the Chase Sapphire Reserve, it's a little bit broader. You get 3x points on all travel purchases, whether it's a flight booked with the airline or online travel agency, hotels, cab rides, you name it. You also get 3x points at restaurants across the globe. And the Chase Sapphire Reserve has upped the ante even further, getting you a whopping 10x on all Lyft rides (or scooter and bike rentals!) through March 2022.
The fact that you can earn extra points on more purchases gives Chase's top card a narrow win here. But that could easily flip if you're frequently buying flights.
Winner: Chase Sapphire Reserve.
Travel Portal Booking
Booking flight deals like those you find here at Thrifty Traveler or with your Thrifty Traveler Premium subscription is one of our favorite ways to use points. And one of these cards is the clear favorite.
That distinction goes to the Chase Sapphire Reserve. And it's all because your Chase Ultimate Rewards points are worth 1.5 cents each when you hold the card.
That makes your 50,000-point welcome bonus worth $750 towards travel when booking directly through the Chase travel portal. The personal version of the American Express Platinum card simply can't compete with that.
Winner: Chase Sapphire Reserve.
Transfer Partners
Transferring points to your airline accounts can unlock some serious value, and both Chase and American Express have some great options. 
All told, Chase can transfer to 10 airlines and three hotel brands. You can send your American Express Membership Rewards points to nearly 20 airlines and three hotel chains. 
The two credit cards share a handful of airlines as transfer partners, including Singapore Airlines, Air France/KLM and British Airways. But American Express has more options, including some alluring opportunities. It's one of the main reasons why we think  Amex points could edge out Chase points in the battle between Amex vs Chase points.
| Program | Type | Transfer Ratio | Transfer Time |
| --- | --- | --- | --- |
| Aer Lingus | Airline | 1:1 | N/A |
| AeroMexico | Airline | 1:1.6 | 2-12 days |
| Air Canada Aeroplan | Airline | 1:1 | Instant |
| Air France/KLM | Airline | 1:1 | Instant |
| Alitalia | Airline | 1:1 | Instant |
| ANA | Airline | 1:1 | 1-2 days |
| Avianca | Airline | 1:1 | Instant |
| British Airways | Airline | 1:1 | Instant |
| Cathay Pacific | Airline | 1:1 | 1-7 days |
| Delta | Airline | 1:1 | Instant |
| Emirates | Airline | 1:1 | Instant |
| Etihad | Airline | 1:1 | Instant |
| Hawaiian | Airline | 1:1 | Instant |
| Iberia | Airline | 1:1 | 1-3 days |
| JetBlue | Airline | 1.25:1 | Instant |
| Qantas | Airline | 1:1 | Instant |
| Singapore | Airline | 1:1 | 12-48 hours |
| Virgin Atlantic | Airline | 1:1 | Instant |
That includes ANA, which offers a way to fly in business class to Japan for roughly the same amount of miles you'd pay for economy on other airlines. Other standouts include Delta, Virgin Atlantic, Aeroplan, and Avianca LifeMiles.
And American Express travel partners frequently offer bonuses when you transfer points – something we don't see often with Chase. That includes excellent promos like a 30% bonus when transferring points to Virgin Atlantic. Or bonuses as big as 50% when transferring points to British Airways. 
Chase has started to match Amex on that front with occasional transfer bonuses, like a recent 30% bonus when sending points to British Airways or Iberia. And it's definitely close overall – and some advantages of Chase points could easily win you over.
That's especially true if you value Hyatt points – and you should. With redemption rates starting at just 5,000 points per night, it's easily the most lucrative hotel loyalty program. Here's the rest of the Chase transfer partners.
| Program | Type | Transfer Ratio | Transfer Time |
| --- | --- | --- | --- |
| Aer Lingus | Airline | 1:1 | Instant |
| Air Canada Aeroplan | Airline | 1:1 | Instant |
| Air France/KLM | Airline | 1:1 | Instant |
| British Airways | Airline | 1:1 | Instant |
| Emirates | Airline | 1:1 | Instant |
| Iberia Plus | Airline | 1:1 | Instant |
| JetBlue | Airline | 1:1 | Instant |
| Singapore Air | Airline | 1:1 | 12-24 hours |
| Southwest Airlines | Airline | 1:1 | Instant |
| United Airlines | Airline | 1:1 | Instant |
| Virgin Atlantic | Airline | 1:1 | Instant |
| World of Hyatt | Hotel | 1:1 | Instant |
| IHG | Hotel | 1:1 | 1 day |
| Marriott Rewards | Hotel | 1:1 | 2 days |
Two quick caveats about transferring American Express points. First, American Express charges a very small fee (.06 cents per point) on transfers to domestic airlines. So if you transfer 100,000 points to Delta or JetBlue, you'll get charged $60. These fees are capped at $99. And unlike Chase, there are a handful of transfer partners like JetBlue to which your points won't transfer on a 1:1 basis.
However, the unique transfer partner options and opportunity to cash in on frequent transfer bonuses gives American Express Platinum the edge here. But it's really, really close.
Winner: The Platinum Card from American Express.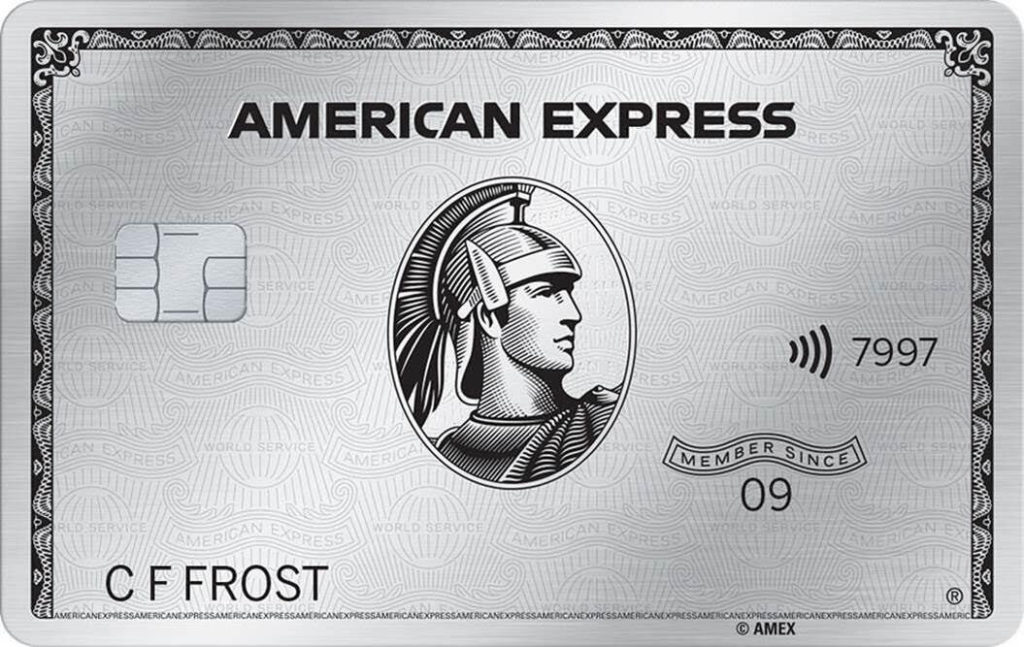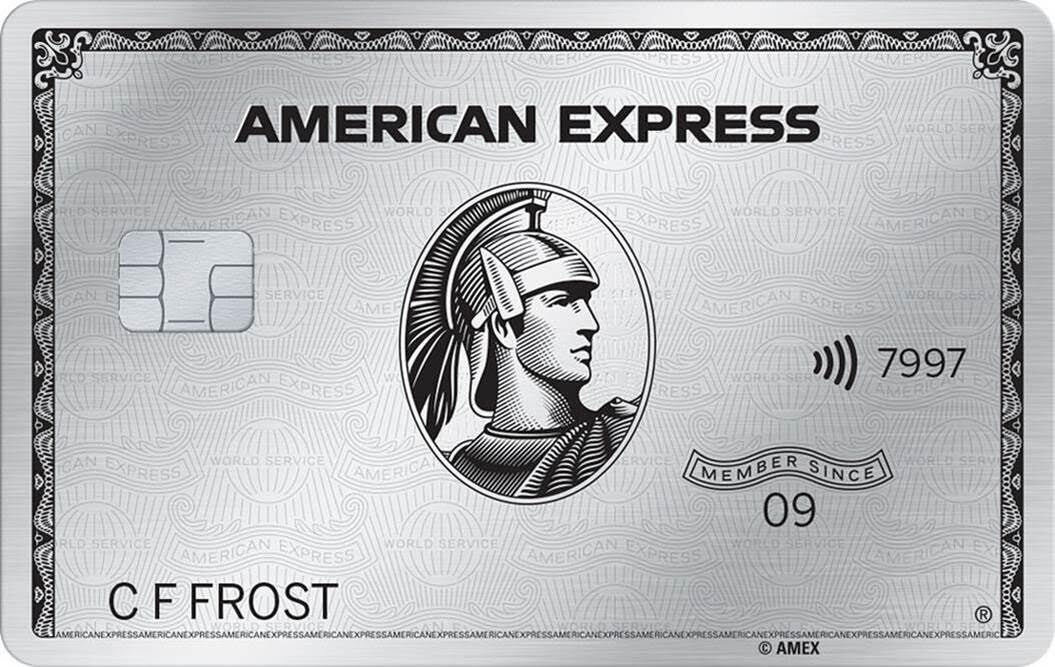 Lounge Access
One of these cards is far and away the best credit card in the world of miles and points when it comes to scoring lounge access. 
The American Express Platinum card will open the door to hundreds of lounges at airports worldwide. You'll get access to the growing network of Centurion Lounges, easily some of the best domestic lounges in the country with more on the way. You'll also get a Priority Pass membership, your key to 1,000 more lounges worldwide.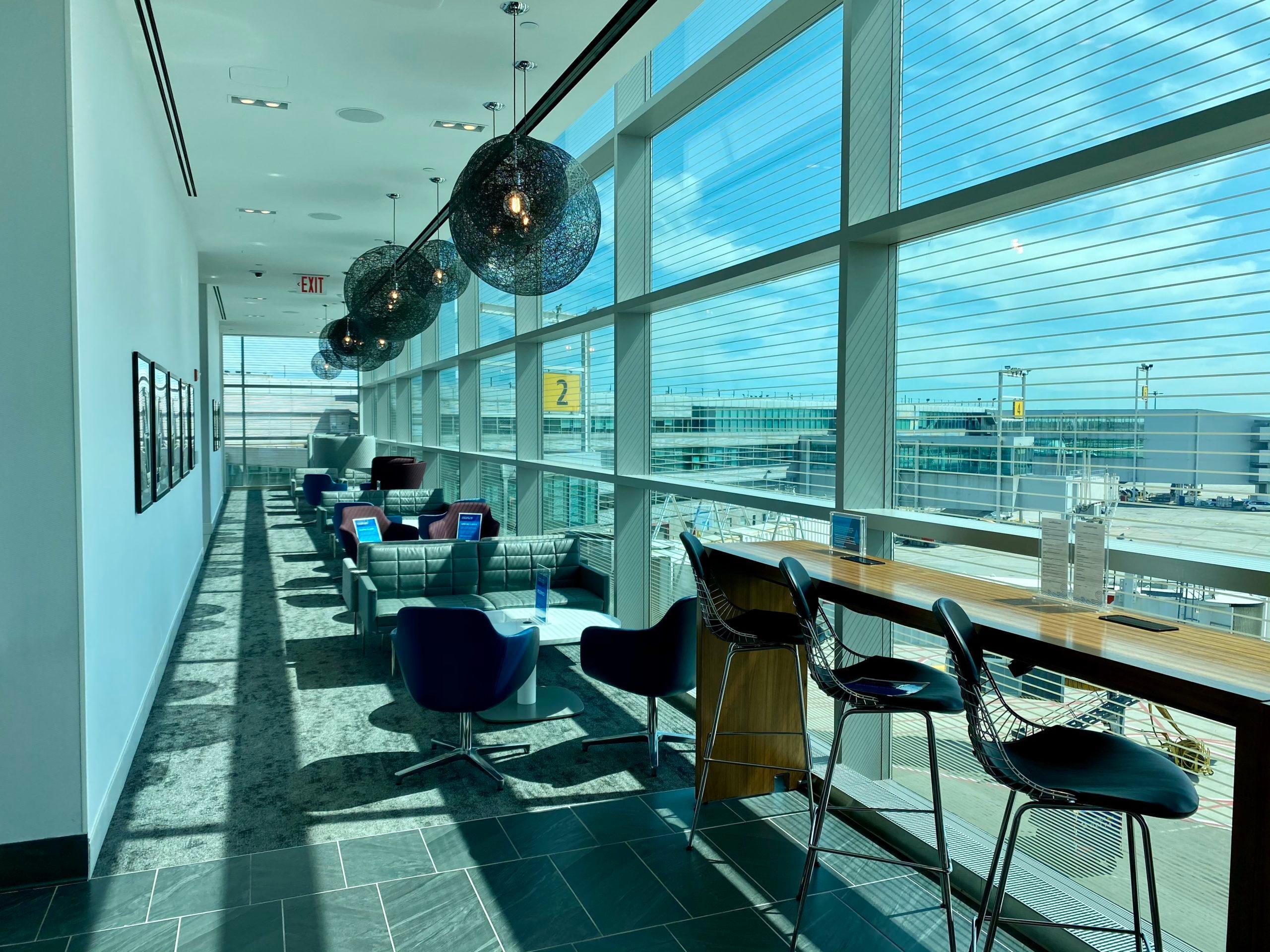 With the American Express Platinum card, you can also get in Delta Sky Clubs if you're flying Delta that day. And you can also access smaller lounges like the Centurion Studio, which is our favorite at our Minneapolis-St. Paul (MSP) home base.
The Chase Sapphire Reserve card only comes with a Priority Pass membership. There is one advantage there: You can still use your Chase-backed Priority Pass membership to get dining credits at a growing number of airport restaurants. Unfortunately, American Express eliminated that benefit in 2019.
Still, there's a clear winner here if you're looking for lounge access.
Winner: The Platinum Card from American Express.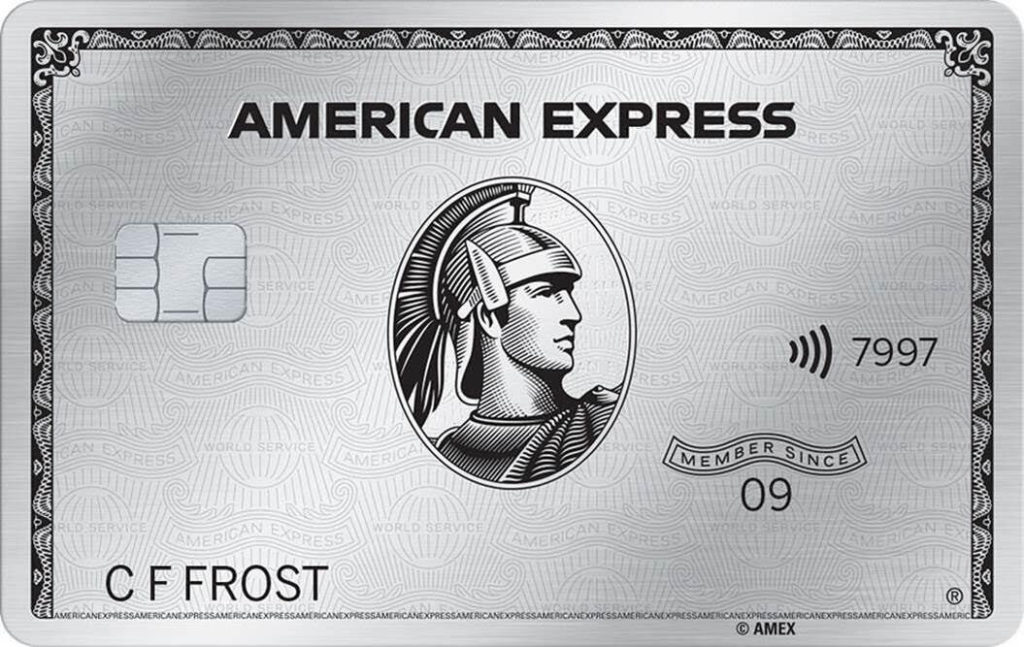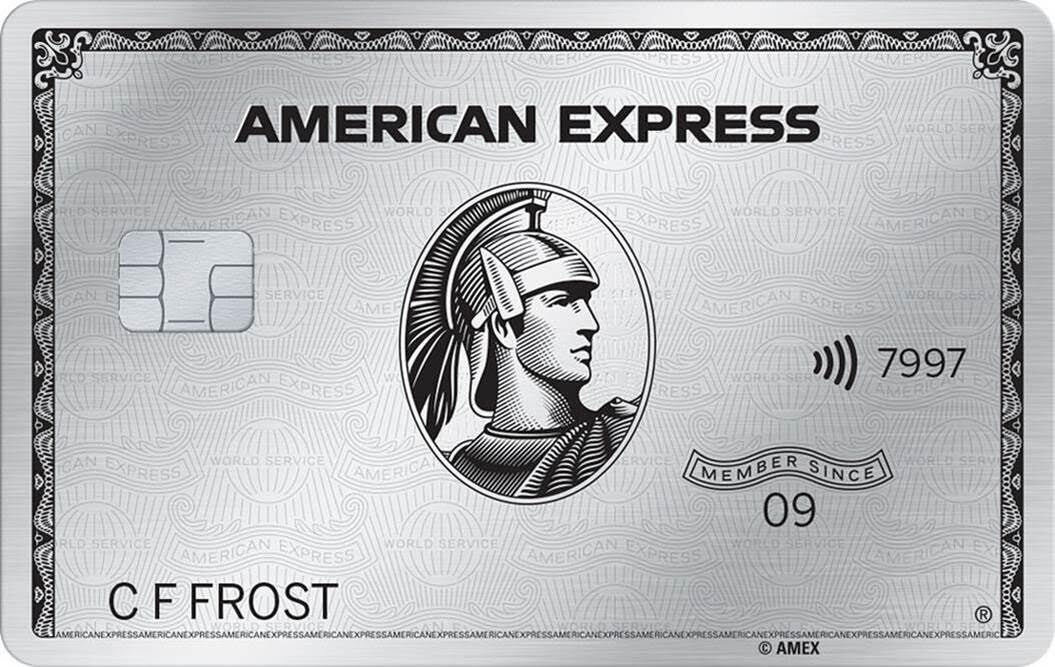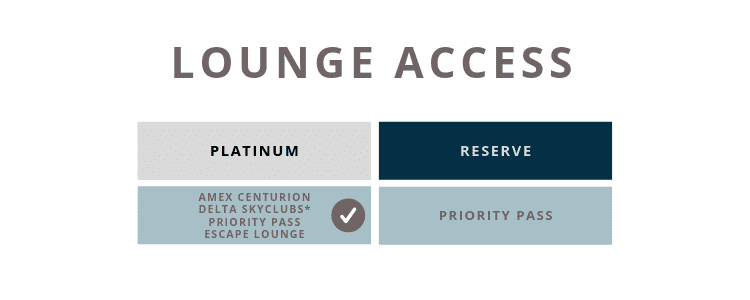 Global Entry and TSA PreCheck
Getting through airport security and clearing immigration is a breeze with either card. 
Both the Chase Sapphire Reserve and American Express Platinum will cover the cost of either a TSA PreCheck or Global Entry membership. Considering Global Entry includes a PreCheck membership, that should be an easy choice. Read up on how to apply for Global Entry – and how to speed up the process amid a big backlog of applications.
This is becoming a common feature on many cards. And seeing as both of these top-tier cards offer an identical benefit, this one isn't decisive.
Winner: Tie.
Annual Credits
Both cards offer some serious travel credits that can immediately reduce the upfront costs of big annual fees. 
With the Chase Sapphire Reserve, you get a $300 annual travel credit … and it couldn't be any easier to use. Any purchase coded as travel – airfare, airline fees, hotels, taxis, Ubers and more – will get covered. That's so easy to take advantage of that you can essentially consider your annual fee $250, right off the bat. Chase is also adding $60 annual credits for DoorDash deliveries through 2021.
American Express structures its own travel credits differently, and critically, there is a lot of them. 
You'll get up to $200 that goes toward fees on a domestic airline that you designate each year. Maximizing these Amex airline credits has become a challenge in recent years: They're meant mainly for incidental fees like seat assignment, baggage, award taxes and fees, and more.
Another up to $200 gets split up into $15 monthly credits for Uber rides (you get $35 for December). Next, you get up to $100 in statement credits to Saks Fifth Avenue each year – $50 for January through June and another $50 for July through December.
New in 2021, you'll get up to a $200 hotel credit for Amex Fine Hotels and Resorts bookings made through Amex Travel, an up to $300 credit for Equinox gym membership, an up to $240 digital entertainment credit, and a $179 credit for CLEAR®.
To us, the ease of using an all-encompassing $300 travel credit edges out the bigger sum of credits split between Uber rides, airline fees, Equinox, etc.
And it is likely you won't be able to take advantage of each and every credit. But that doesn't mean you can't come out farther ahead with the Amex Platinum card with some extra work. 
Winner: Chase Sapphire Reserve.
Instant Hotel and Car Rental Status
Only one card will get you status with hotel chains: The American Express Platinum. 
You can easily enroll for Gold status with both Marriott as well as Hilton Honors. Just beware that you have to manually sign up with each hotel chain to make it happen.
And the benefits are worth it. With Hilton, you get extra points on paid stays, free breakfast and your fifth night free when booking with points. Marriott Gold status get you room upgrades when available, extra points when paying for your stay and more.
What's more, the Platinum card will also get you perks with Hertz, National, and Avis car rentals. National Executive Status is our favorite by far, as you can skip the check-in desk when you rent any midsize car and head straight to the Emerald Aisle, picking any car that's available!
The Chase Sapphire Reserve offers no hotel status or rental car perks. In that vein, it's giving Lyft Pink memberships to cardholders: 15% off on all rides and priority airport pickups.
But really, the winner here is obvious.
Winner: The Platinum Card from American Express.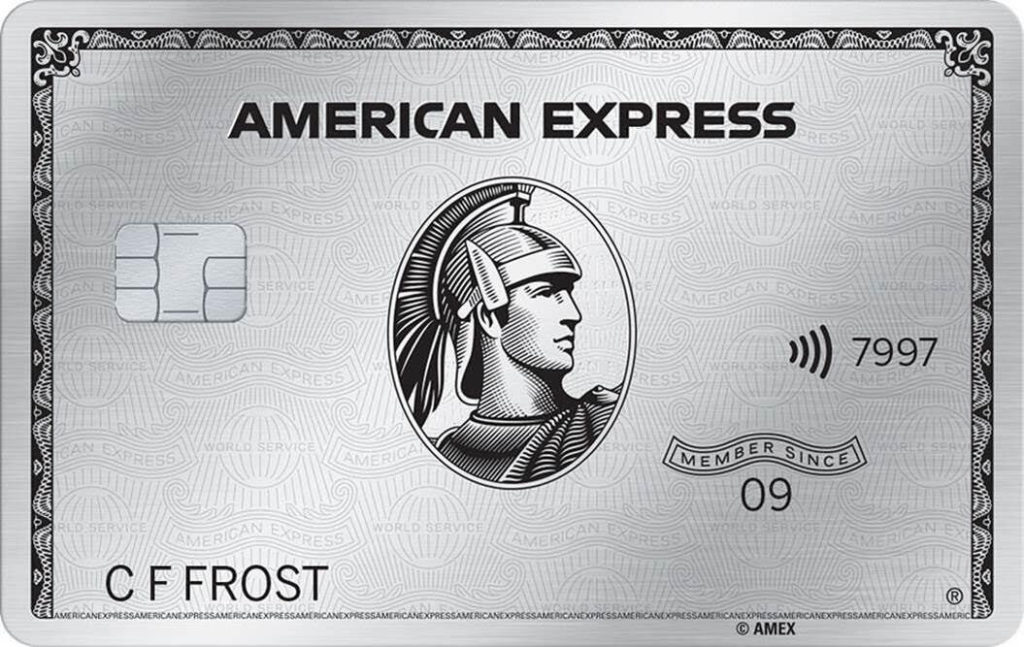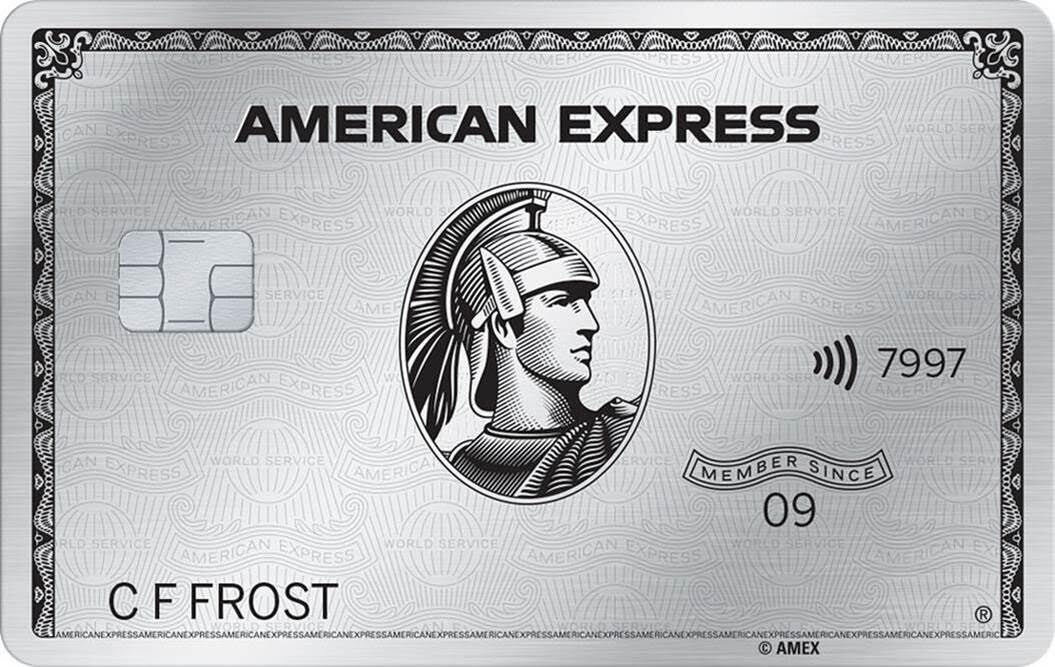 Trip Insurance
This one's a doozy.
Between coverage for lost and delayed baggage, medical insurance, and getting reimbursed if your flight gets delayed, there's a lot to unpack. We've devoted a whole post to breaking down the best credit cards for these different policies. But if we have to declare an outright winner, it's got to be the Chase Sapphire Reserve.
It starts with offering up to $100 a day if your baggage is delayed by six hours or more. Its trip delay and cancellation coverage are second-to-none, reimbursing you for associated expenses of any delay of six hours or more – so long as you pay for your flight with the card. The Chase Sapphire Reserve also has some great car rental coverage. And it offers some hefty coverage for some injuries during a trip that was paid at least in part with the card – including medical evacuation.
American Express has upped the ante in 2020 with the Platinum Card and other top cards by adding some trip delay and interruption coverage – long a weak spot for the card. Unfortunately, it requires round-trip bookings to be put on the card for this coverage to kick in – a quirk you won't find with the Sapphire Reserve.
The Platinum card's car rental coverage isn't quite as good, nor is its baggage policy. And Amex also removed an unbeatable travel accident and medical evacuation policy.
So while the addition of some travel insurance to the Platinum card makes it a great option for booking flights, there's still a clear winner for which card offers the best trip insurance overall.
Winner: Chase Sapphire Reserve.
Which Wins? Chase Sapphire Reserve vs. Amex Platinum
By the numbers, the Chase Sapphire Reserve wins five of these categories, while the Platinum Card also wins five. Two end in a tie. But that doesn't tell the whole story.
Every traveler should weigh these different categories differently. So you need to decide what matters most to you in a premium credit card before choosing one over the other.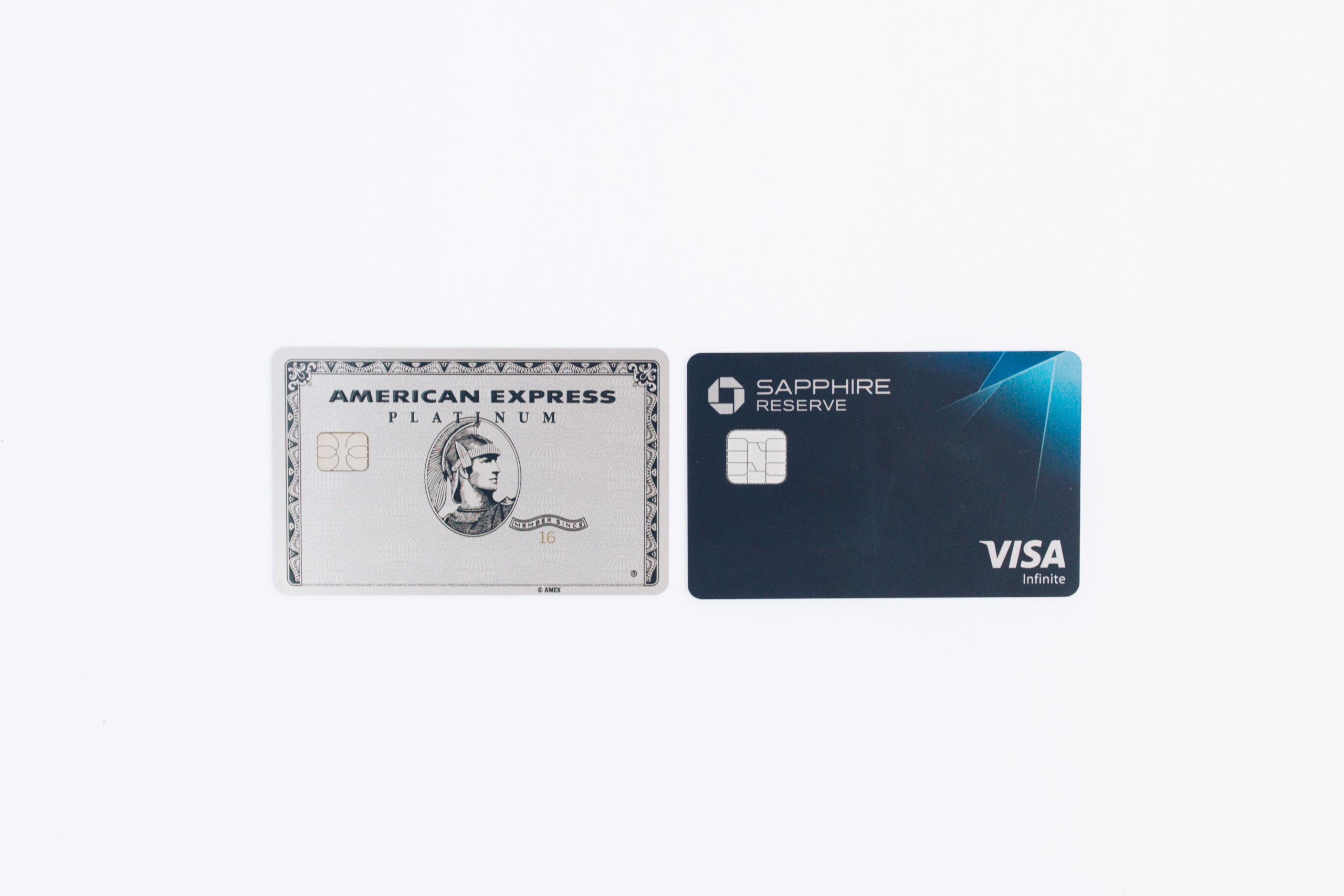 For example, there's no denying that the travel perks that come with the American Express Platinum are the best on the market. If getting into more lounges and upping your hotel and car rental game with instant status are what you're after, it's the obvious winner here. If you're concerned mostly with booking flights, there's no better card than the Amex Platinum – period.
But the Chase Sapphire Reserve really shines in other aspects. While American Express has closed the gap with recent changes, Chase still has unbeatable travel insurance coverage. It offers an extra bonus when booking cash fares with points.
So which card is better? It really depends on which of these categories you value more. But now that both cards will cost the same each year, that decision just got much harder for many travelers.
Bottom Line
Whether they're top-of-the-line cards or introductory offerings, every traveler should consider the ins and outs of cards before deciding which one to open. Hopefully, this breakdown helps you decide between the Chase Sapphire Reserve and the American Express Platinum.